German street foods always stimulate the taste buds and curiosity of culinary enthusiasts. The unique and charismatic flavor of many German delicacies will enchant you after the first bite. It is time to discover them. 
In this article, you can find a list of various famous German street dishes and specific information about them. It can be a good reference for your future trip to this beautiful country. So let's give it a look and start your culinary journey now!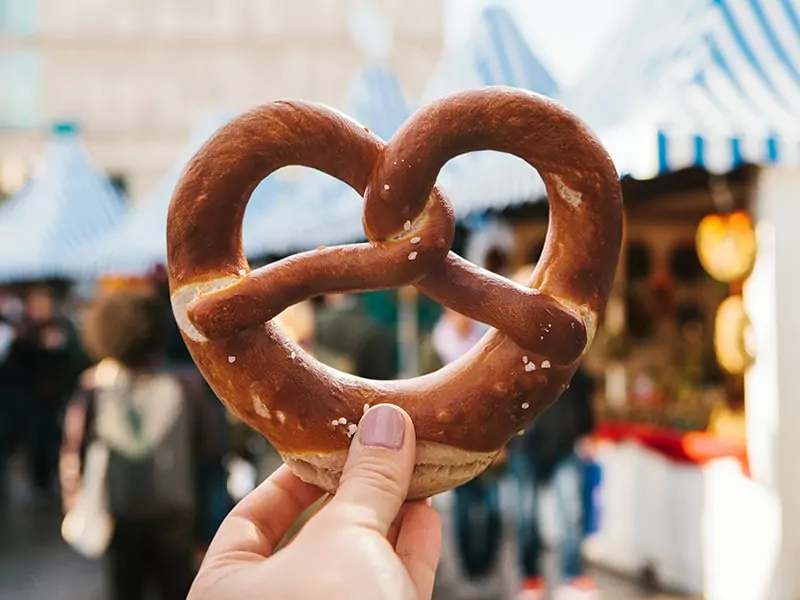 In Berlin
Berlin is a famous city in Germany, and this place also has a lot of worth-trying street foods. So keep scrolling down the page to see what they are.
1. Boulette
(Meat Patty)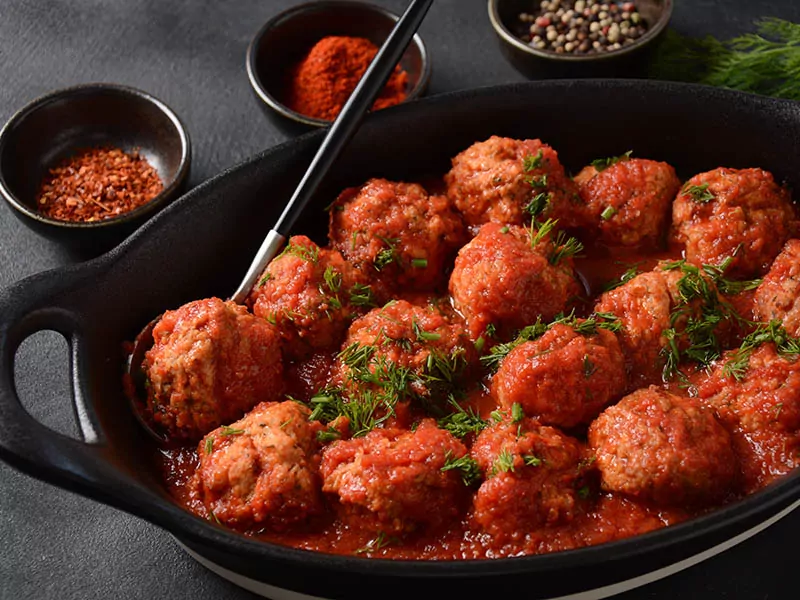 There are many mouth-watering German street foods made from meat, and Boulette is one of them. You will think of hamburger patties right away when you see this food, but it is not clamped by bread. This recipe is a snack eaten with sauces, salads, or veggies.
You will fall in love with the flavor of ground pork or beef in this recipe. In other German regions, it is also called "Frikadelle". This food originated from northern Germany and is famous in Holland, Poland, and Scandinavia.
2. Currywurst
(Spicy German Sausage)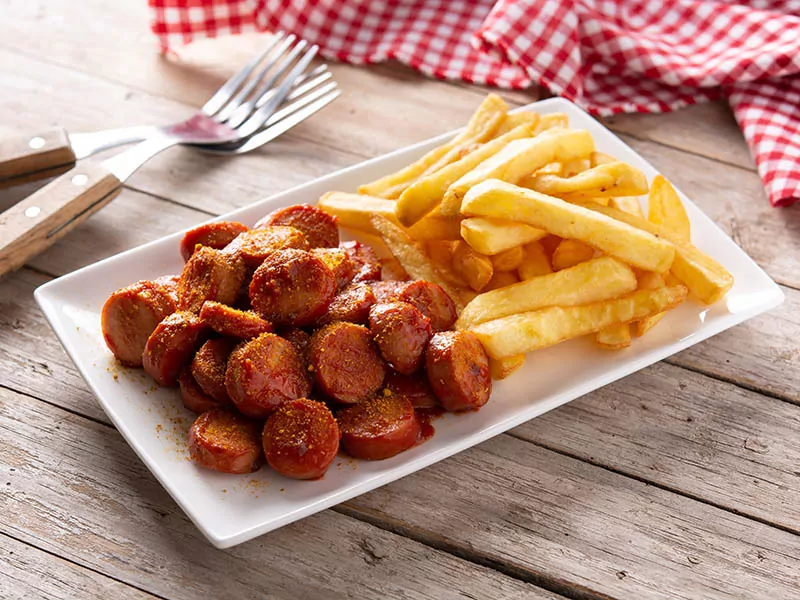 Unfortunately, if you do not enjoy Currywurst when you arrive in Germany, this street food with these bite-sized sausage pieces will stimulate your taste buds. In particular, the curry ketchup, tomato paste, or curry powder topping will enhance its taste and value.
Herta Heuwer created this food for the first time in 1949 in Berlin when she combined ketchup, grilled sausage, and curry powder gathered from British soldiers. She started selling it on the streets in the Charlottenburg district of Berlin.
Until now, it is still popular, and you can buy it at takeaway food shops or restaurant menus. This is a tremendous consumption when about 800 million Currywurst is eaten each year in Germany, and Berlin takes up the most significant number with 70 million.
3. Shawarma
(Roasted Meat wrap)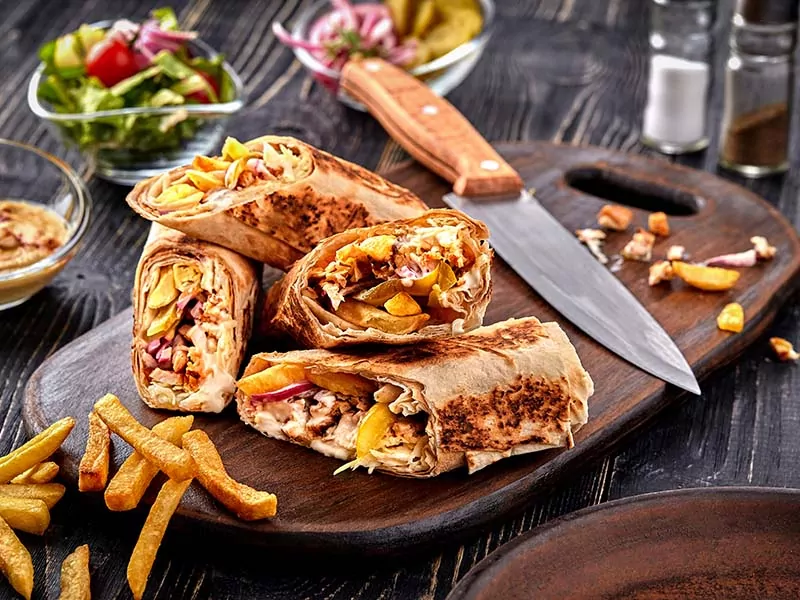 Shawarma is not a German-originated food but its popularity in the country is huge. In fact, it is a Middle Eastern delicacy that includes spitting fire-roasted meat, pickles, vegetables, and garlic sauce covered by flatbread. You can also find chili flakes or yogurt sauce when buying it at the vendors.
The method to toast meat is similar to Doner Kebab when cooking on a vertical rotisserie. It was born in the 19th century during the Ottoman Empire. Its name "Shawarma" means "turning" in Arabic; this helps you think of turning rotisserie.
The Germans are not the only ones who enjoy Shawarma immensely. It's also a prevalent dish in the gastronomic culture of Saudi Arabian, Jordan, Lebanon, and many other nations.
This incredible dish appeared first in Berlin, Germany, in the 1970s when Turkish brought it here.
It is time to find out the origins of the mouthwatering Shawarma.
4. Doner Kebab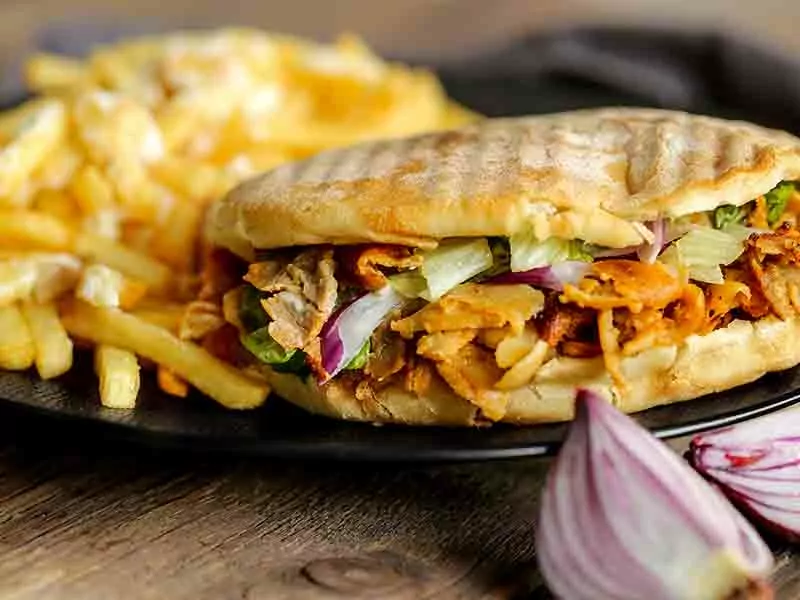 Doner Kebab is a popular dish in Germany and many other European countries. This recipe is made up of meat prepared on a vertical rotisserie. The vertical rotisserie was an invention of the Ottoman Empire in the 19th century.
Doner Kebab is often associated with sandwiches or flatbread. This attractive dish was born in Berlin in 1972. Kadir Nurman (a Turkish restaurateur) created it first when he wrapped the kebab and other ingredients into the bread to eat.
Discover the ways Doner Kebab came to Germany.
In Bavaria
If you want to travel to Bavaria, you can refer to the famous dishes in this section. They will help you not feel hungry when walking on the streets.
5. Bratwurst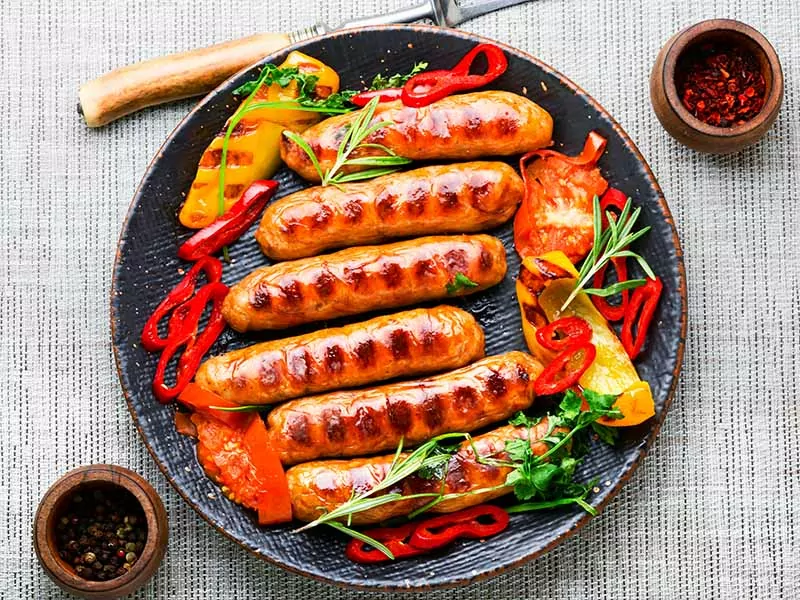 Bratwurst is one of the famous German foods you should not ignore. When you walk on the streets in Germany, especially in Bavaria, you will easily come across these vendors selling this delicious food. This German recipe is mainly made up of pork, veal, or beef.
You will be served with mustard sauce, bread roll, and ketchup when eating it at the vendors. The first data of Bratwurst first appeared in 1313. This wonderful dish originated from Franconia (Northern Bavaria).
It has about 40 different variants that appear throughout Germany. It is also famous in many other German-speaking countries, and it is pretty familiar to football fans in Germany. The word "Brat" means "without waste", and "wurst" means "sausage".
6. Leberkäse
(German Meatloaf)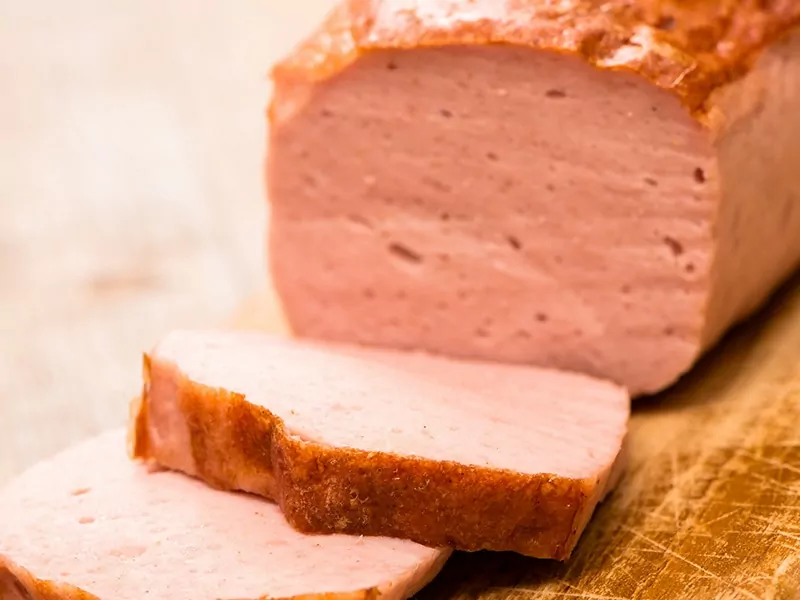 Leberkase is considered a European food when it is famous in Germany, Austria, and Switzerland. This fascinating recipe combines pork, corned beef, and bacon sausage. Leberkase's outer layer is brown since it is baked.
The Germans often eat it with sweet mustard, Semmel, and bread roll. It is sold pretty much throughout Oktoberfest in Germany. This food was born in 1776 in Germany. Its "Leberkase" name means "Liver-Cheese", but you will not find liver and cheese in this food.
According to the German Food Law, If Leberkase wants to be called "Bavarian Leberkase", it is required not to contain liver, while other versions are allowed to contain more liver.
7. Schneeball
(German Snowballs)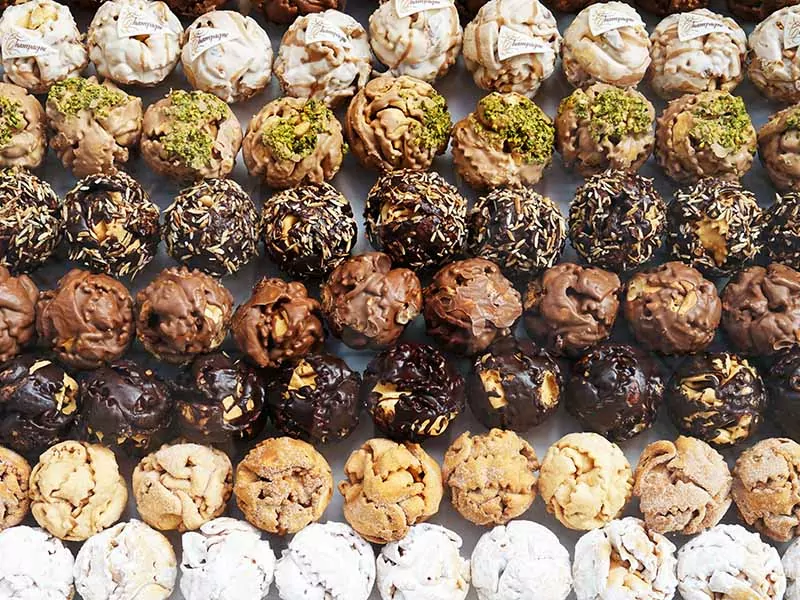 If you come to Germany, you must enjoy Schneeball. It is a kind of pastry processed from a shortcrust pastry. This recipe is pretty famous in Rothenburg ob der Tauber. Its name originated from its round ball-like shape.
You will love the crispness and sweet taste of this fantastic snack. This recipe appeared around 400 years ago in Franconia and Hohenlohe. It is an indispensable option on special occasions, especially weddings.
8. Germknodel
(Sweet Dumplings)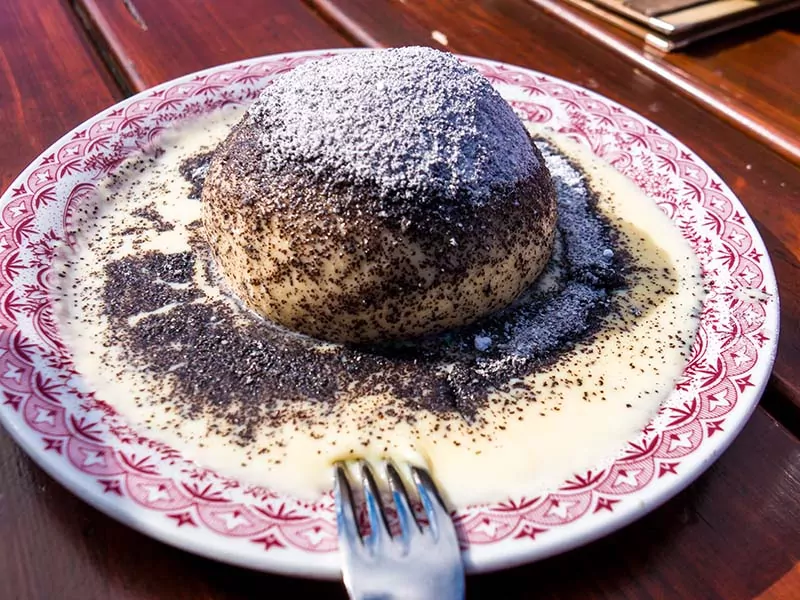 If you search for a sweet European dessert, Germknodel is a great answer. This sweet dish appears popular at the street food markets in Austria and Bavaria (Germany). This fluffy dumpling is made from the yeast steaming process.
The plum jam will enhance the flavor of this food. This bun-like shaped recipe is served with vanilla sauce, melted butter, or custard. A Bohemian cook introduced this food in Vienna of Austria and gradually spread to Germany and other nations.
9. Brezel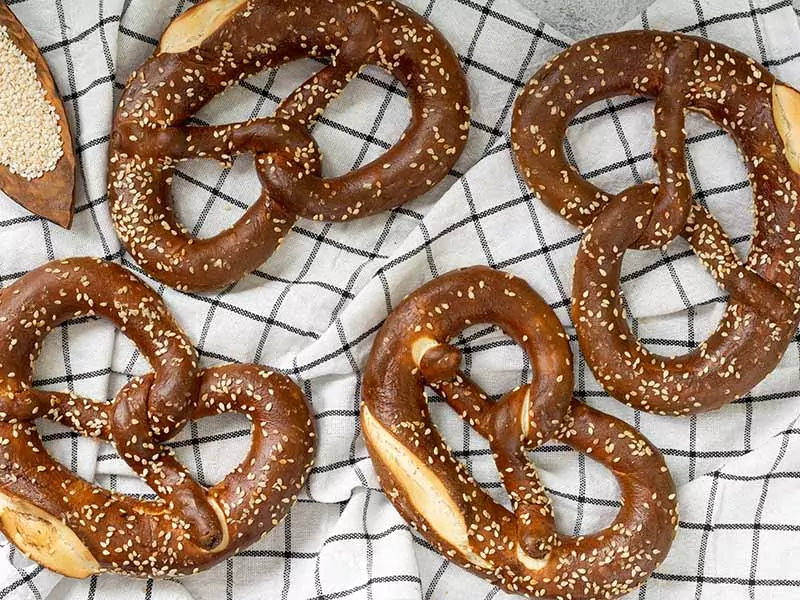 Brezel is a famous bread on the streets in Germany. It is a kind of pastry baked with dough as the primary material. Its unique knot shape will leave an impression on you. Today, you can find many different forms of this food.
You can choose the soft Pretzel version if you want to eat as soon as the making process is finished; the hard-baked Pretzel version will have a long shelf life. There are many opinions about its origin, but the most common is that European monks have created it.
Its name "Brezel" originated from Latin bracellus (meaning bracelet). This food is said to appear in the southern regions of Germany from the 12th century.
10. Laugenbrezel
(Lye Pretzel)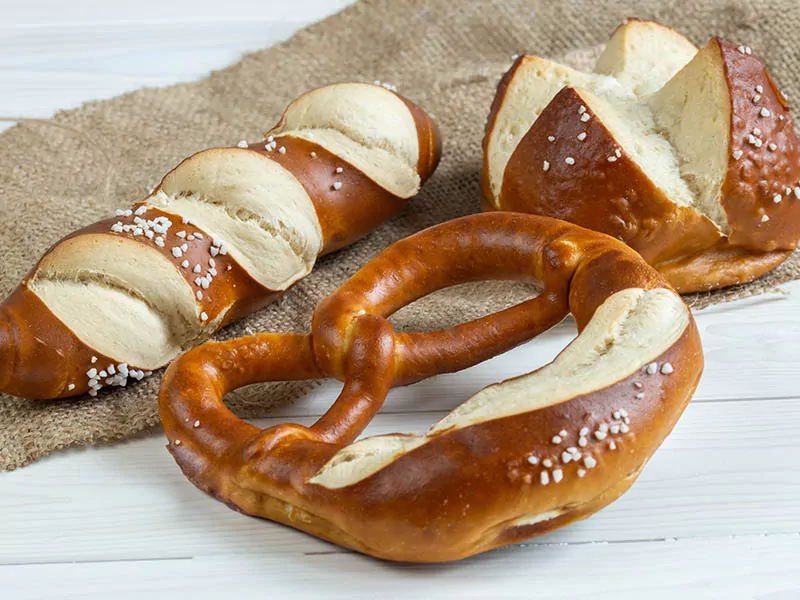 Laugenbrezel is considered a famous variant of Pretzel. It has a typical brown shell when blanched in salty solution. This salt glaze originated in Bavaria in 1839, and Anton Pfannenbrenner accidentally found it when brushing dough with lye solution.
The name Laugengeback is for all baked recipes embedded in lye. However, rolls or buns versions will be called Laugensemmel. You can find this version in France with the name Mauricette.
In Other Regions
Delicious choices in this section will help you diversify the options. You will not be afraid of being hungry when traveling in Germany if you save these fine street foods to your travel book.
11. Schnitzel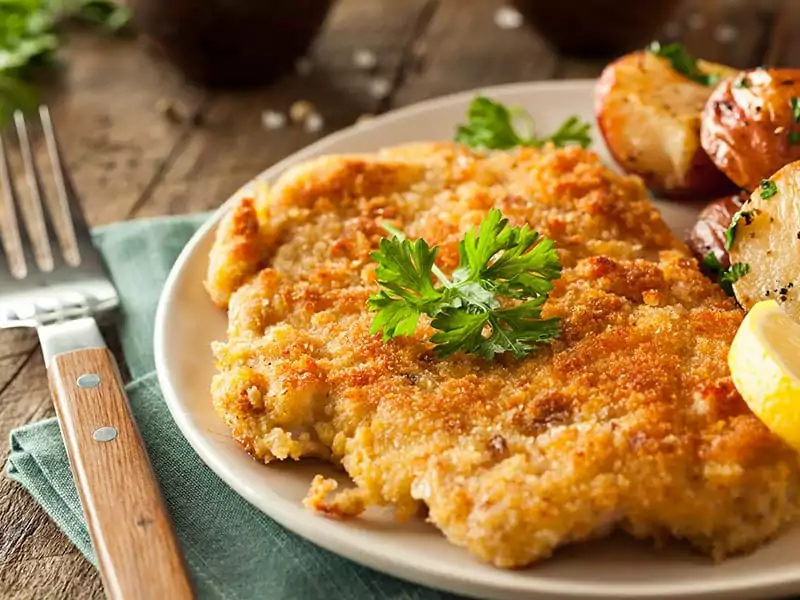 Schnitzel is famous in Germany, Austria, and other European countries. It is made up of pork, flour, egg, and bread crumbs. Its crispiness helps it become a great snack of German cuisine.
It has many variations and is eaten with different sauces, such as pepper sauce, mushroom sauce, and creamy sauce. If you search for a European appetizer, you can choose it as it is famous throughout Europe and other continents.
Ashkenazi Jews in Israel brought it to Europe and gradually became popular here. Nowadays, chicken and turkey are also used to replace pork. German immigrants introduced this food in Texas in the 1850s.
12. Kartoffelpuffer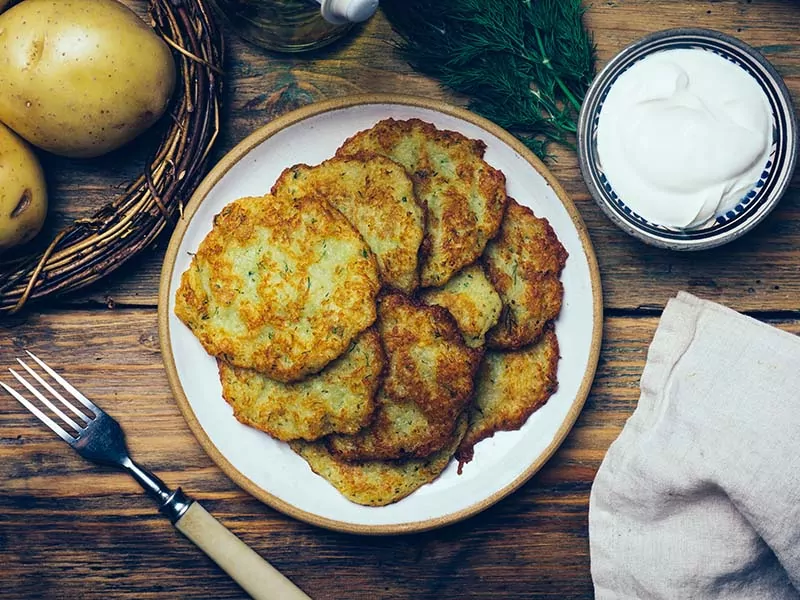 If you like the dishes made from potatoes, you should not ignore this appealing Kartoffelpuffer when walking on the streets in Germany. This recipe is also known as a potato pancake and is made up of flour, eggs, mashed potatoes, and spices.
You will love the crispness of this pancake, and the golden-brown skin will impress you immediately. The seller will serve it with apple sauce and cinnamon as a delicious German dessert when you order it.
It has been a long-standing recipe in Germany and other European countries since the 18th century. Initially, it was also called "Puffers" or "Latkes". It appeared in Texas when German immigrants brought it here, and it was introduced in New Braunfels in the 1960s.
13. Flammkuchen
(Alsatian Pizza)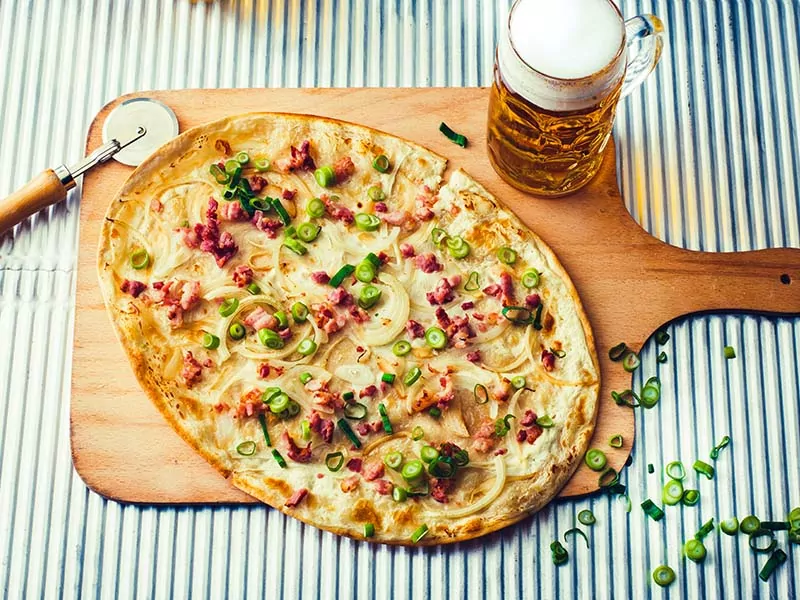 If you want to eat pizza in Germany, Flammkuchen is an ideal suggestion. It is a perfect option to mix with beer. To process it, the chef will roll out dough thin in the oval or rectangle shapes and coat it with onions, lardons (bacon), and Fromage blanc (fresh cheese).
Regarding its origin, Germanic farmers from Baden, Alsace and Palatinate have created this delicious pizza. Its name means "pie baked in flames".
It has various variations, such as Gratinee (added Gruyere cheese), Forestiere (added mushrooms), Munster (added Munster cheese), and sweet version with apples and cinnamon.
Flammkuchen originated in the Alsace region, which, after years of flip-flopping between Germany and France, is now geographically, if not culturally, within French borders. Besides these two countries, Flammkuchen is considered a classic in Luxembourg cuisine.
The neighboring German state, Saarland, also now claims Flammkuchen as its own invention.
14. Fischbroetchen
(Fish Sandwich)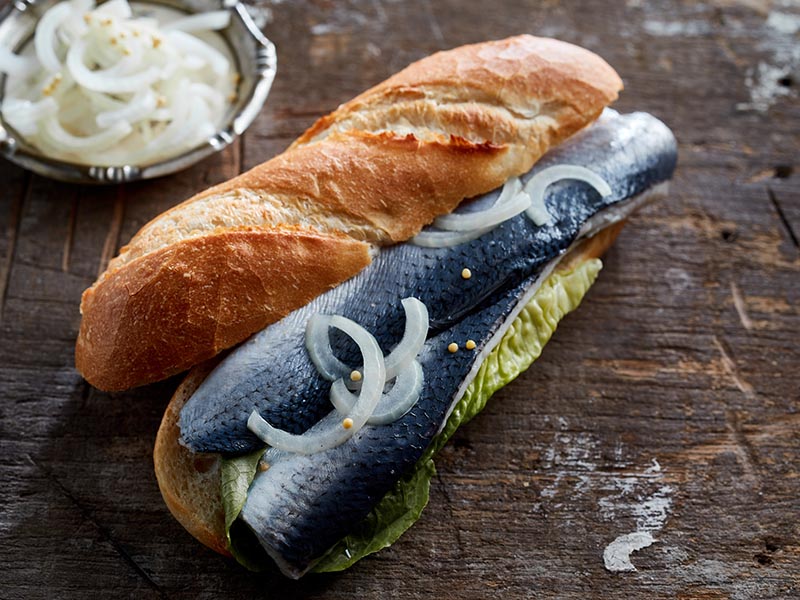 Fishchbroetchen is an indispensable dish in the German street foods list. It is a type of sandwich with fish being the main component. Germans often use Bismarck herring, soused herring, salmon, or cod to make this food.
In addition, to make this sandwich recipe more flavorful, the chef will add dried onion, pickles, horseradish sauce, and remoulade. This food is popular in northern Germany because this area borders the Baltic Sea and the North Sea.
15. Apfelstrudel
(Apple Strude)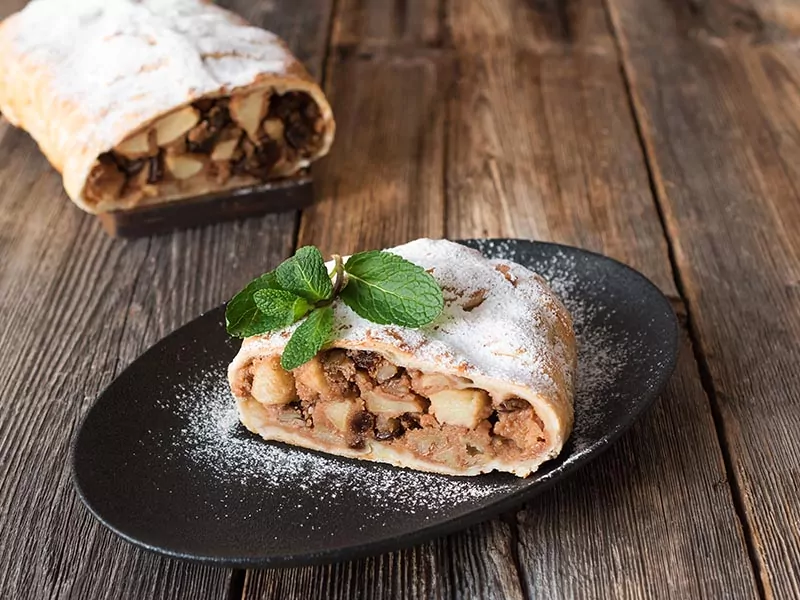 Apfelstrudel is a portion of famous German street food and a European recipe when it is renowned in many other European countries like Austria, Czech Republic, Italy, Slovenia, etc. This sweet apple pie will bring a crispy, soft, and typical apple flavor.
Besides, you also find the taste of cinnamon, raisins, and nuts in this recipe. If you think it comes from Germany, you are wrong, because it is an invention of Austrians.
The oldest apple strudel appeared in 1697. This recipe was still in the cookbook in Vienna Town Hall Library.
16. Bratkartoffeln
(Fried Potatoes)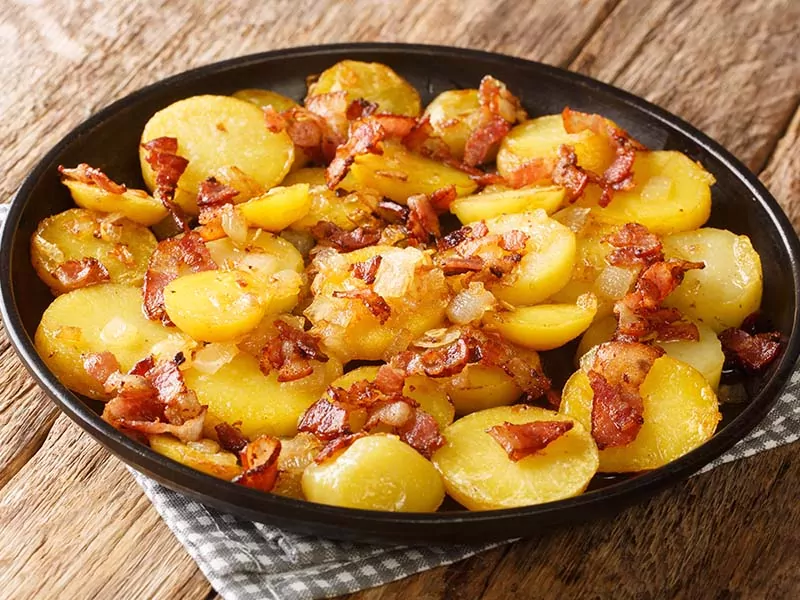 Bratkartoffeln (aka German potato fries) was called "fries" or "American fries" in the US during World War I. And its name appeared in American and British cookbooks in the 1870s.
This is a simple dish that you can also make it at home by yourself. The typical way to make is to fry raw potato slices in vegetable oils or butter and spices with salt, caraway, rosemary, and garlic. This food is usually served with bacon and caramelized onions as well.
17. Schwäbische Kartoffelsalat
(Swabian Potato Salad)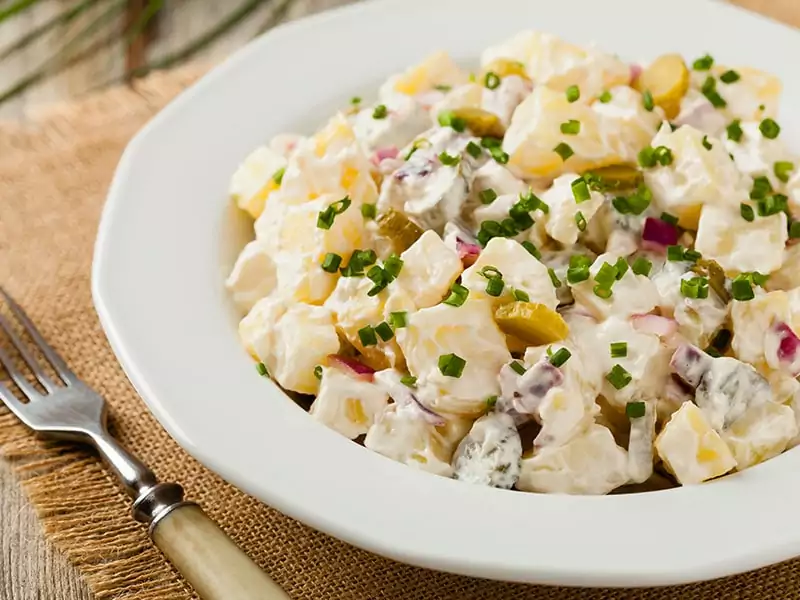 If you are looking for a German side dish, Kartoffelsalat is ideal. This potato salad comes from the Swabian region of Germany and is famous throughout Europe. You can also find it in the US as German immigrants have brought it to the US in the early 19th century.
Its attractive flavors include boiled potatoes, minced onions, parleys, oil, vinegar, and hot broth. You will be immersed in the deliciousness of this famous street food.
This salad will be sold with mayonnaise, bacon, and pickles at the street stalls. It has many different variations in various regions across Germany.
18. Spatzle
(Egg Noodles)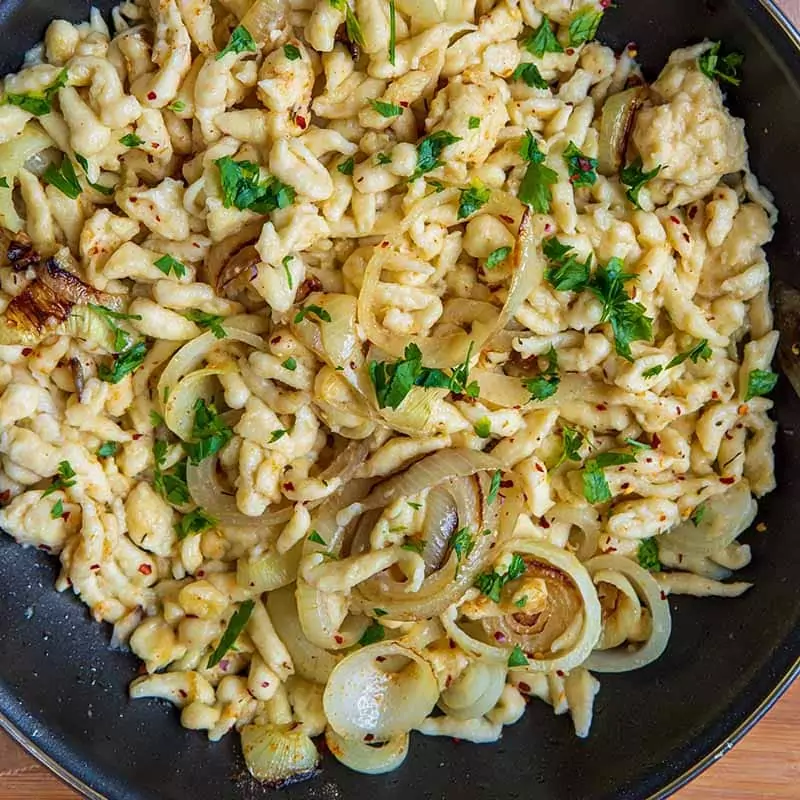 Spatzle is a street recipe that promises to make you fascinated. These small, chewy, and tender noodles are made up of eggs and are a perfect choice to combine with meat dishes with gravy. It comes from South Germany and is tied with Swabia.
The Spatzle processing appeared in the 18th century; however, medieval illustrations believe it was born earlier. The spatzle manufacturing industry in Germany is pretty strong, with about 40,000 tons created every year.
In Swabia, it is considered a specialty. In March 2012, Swabia's Spatzle received EU quality certification for "Protected Geographical Indication" (PGI). For Spatzle to receive this certification seal, it needs to prove the production attached to the corresponding area.
19. Heisse Maronen
(Roasted Chestnuts)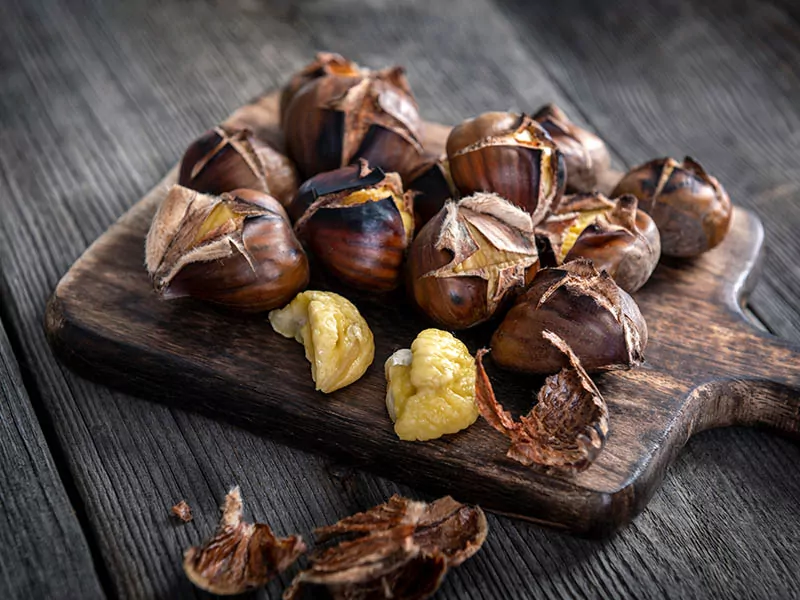 When you come to Germany on cold days, roasted chestnuts will help warm your body. The Germans often eat it on traditional holidays, especially in winter.
That's why you can find this food on the streets or Christmas markets. On the other hand, its nutrients are significant with high amounts of fiber, minerals, and vitamins. They are low in fat as well.
They are normally sold in a brown paper bag. To consume it, you need to remove its shell first. And be careful because they are very hot after roasting.
I guarantee that the flavor of these beautiful street foods will be the perfect choice for your upcoming tours to Germany. Besides these dishes, there are still many other delicacies, so let me know any dishes you know in the comment section.
Moreover, do not forget to give it a like or share it with others if you find it very helpful. Thanks for your time!