Until now, I still cannot forget the beautiful flavors of Ethiopian foods that I enjoyed on my last trip. This country in East Africa has a lot of strange and unique dishes that I believe you will love immediately.
If you are about to explore the cuisine of this nation, the list of amazing Ethiopian recipes that I have compiled in this article will be valuable to you. Therefore, please focus on reading this post so as not to miss any excellent dish.
Kick Off Your Day With Delicious Ethiopian Breakfast Foods
There are many great options for starting your day full of energy in Ethiopia. I hope the following list of delicious breakfast foods will energize you for an exciting day of exploring Ethiopia.
1. Genfo – Traditional Barley Flour Porridge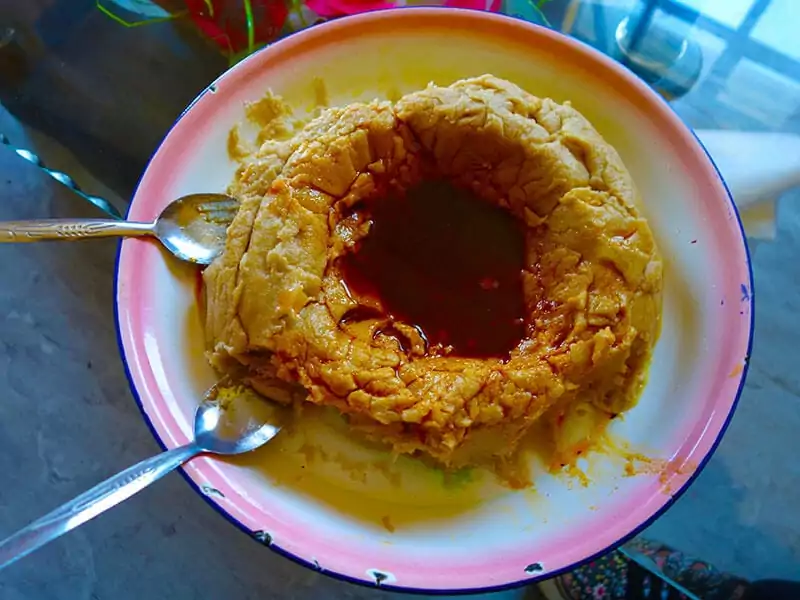 Genfo – a unique porridge among its different kinds, is a recipe suitable for many people, so you should enjoy it with your family. When added to boiling water, dry roasted barley flour will create a dense and silky porridge.
The way to make a hole in the center of this porridge bowl is pretty unique. Ethiopians will place a finjal (coffee cup) in the middle of the bowl to make this hole. They may put butter, spices, or yogurt in it.
2. Enkulal Firfir – Start A Day With Scrambled Egg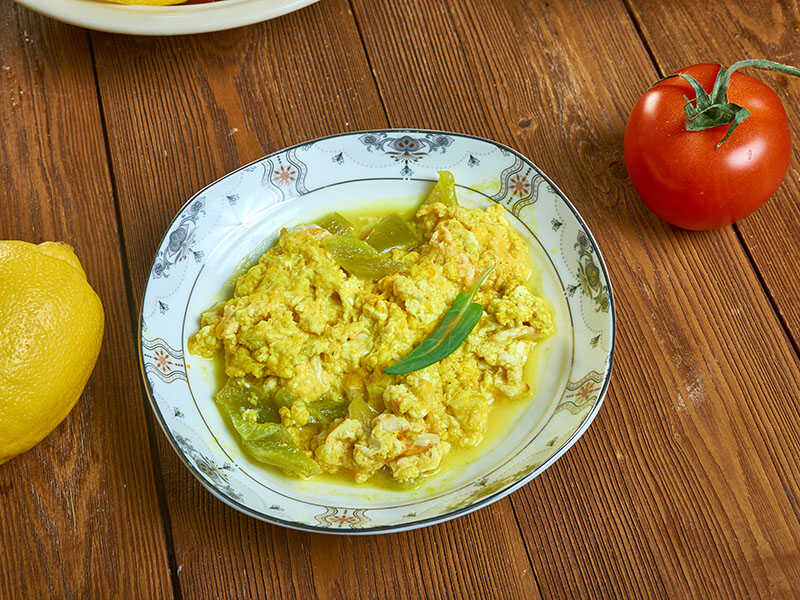 You will easily see Ethiopians eating bread with a plate of scrambled eggs. This fantastic egg dish is called Enkulal firfir. The chef will cook the eggs with nitre kibe, butter, and chili peppers for extra flavor. You will eat it with bread rolls that just came out of the bakery.
The egg's eye-catching yellow color will make you unable to take your eyes off it. It is not like western egg dishes with pale colors. You will be captivated by the softness of this scrumptious egg food when you taste it.
3. Chechebsa (Fit-Fit) – Tortillas Bathed In Butter And Berbere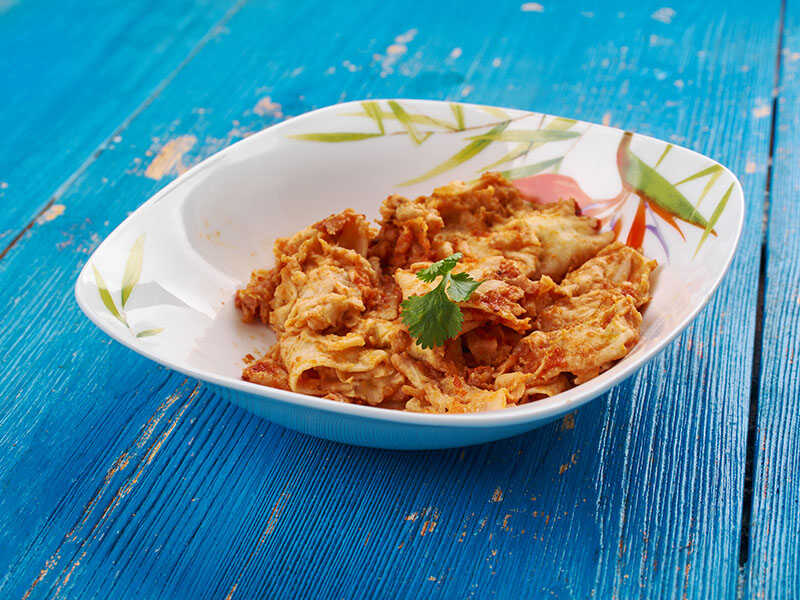 Let's start your day in Ethiopia with delicious chechebsa. These bite-sized tortillas are bathed in butter and berbere for a nutty and rich flavor. Breakfast will be more complete when you enjoy it with a cup of tea or milk.
This unique Ethiopian breakfast recipe has been around for a long time in this beautiful country. Besides Ethiopia, many argue that this food originated from Eritrea, where it's also known by the name fit-fit.
4. Fatira – 3-Layer Cake Recipe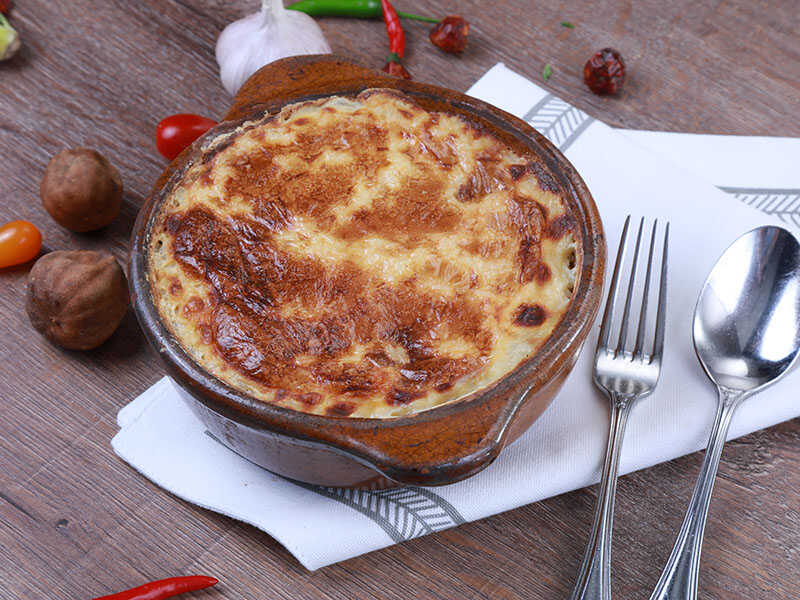 A great way to start your day in Ethiopia is with a fatira and a cup of Ethiopian coffee. The locals typically enjoy this morning meal with honey for dipping and some scrambled eggs. The eggs, which people usually mix with vegetables, can either be served on top or inside the pancake.
This breakfast food is pretty famous in the Horn of Africa region. Another popular variation of it is the street fatira. You will easily find this version on the streets of the Eastern Ethiopian city of Hara when it is cooked in a large pan.
5. Sambusa – Delicious Fried Dough Pastry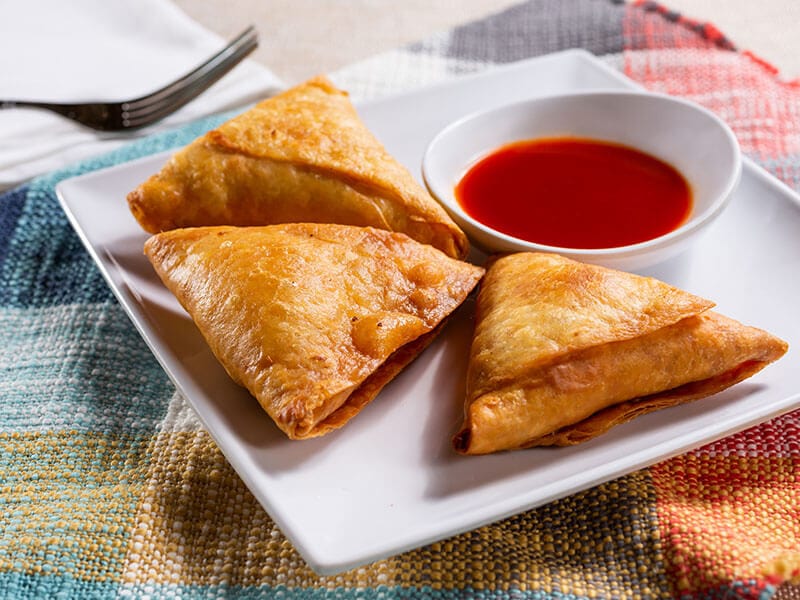 Do not forget to try sambusa before you leave Ethiopia. This signature triangular pastry is a favorite among travelers coming to Ethiopia. The crispy outer layer will cover the delicious meat and lentils filling.
Although it is popular in Ethiopia, it originated in the Middle East in the 10th century. And, it was brought to the Indian subcontinent by Middle Eastern traders in the 13th and 14th centuries. In Ethiopia, it is widely eaten during Ramadan, Meskel, and Christmas.
Let's try the incredible flavor of sambusa right now.
6. Firfir – Yummy Shredded Injera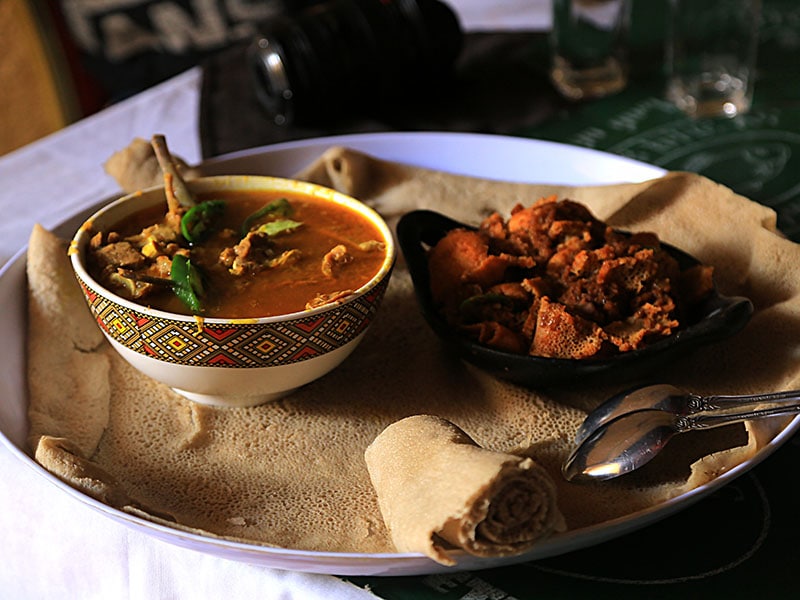 Energize your day with this scrumptious firfir. The food is a convergence of spicy and tangy flavor that will leave an indelible impression in your mind. Its spiciness and signature flavor come from berbere and spiced butter.
In Ethiopia, you can find two variations of firfir depending on the ingredients. Injera and kitcha are two types of flatbread used frequently to make this incredible breakfast.
Personally, I prefer injera. After all, injera is so delicious it has become a famous dessert everywhere in Africa. For your information, another cousin of Injera is Canjeero – a tasty food for the Somali people, but their ingredients and flavor might be a bit different.
Let's see how to eat delicious Ethiopian injera.
Signature Ethiopian Plant-Based Food For Fasting Days
Fasting is a long-standing tradition among Ethiopians. There are many vegetarian days and festivals in one year in this country, so many vegetarian dishes have been born to cater to the locals' needs.
7. Kik Alicha – Famous Split Peas Curry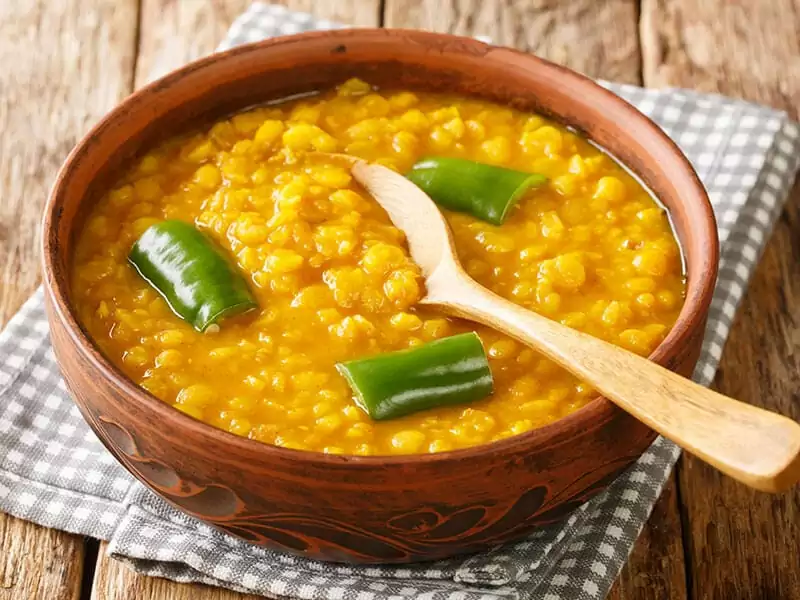 Kik alicha is an amazing recipe that you must eat in Ethiopia. Your menu of Ethiopian dinner recipes cannot be complete without this food. The peas with a brilliant yellow color are stewed in a salty and spicy broth until they reach the perfect softness.
When enjoying it, you will fall in love with the rich flavor of this dense curry. Restaurants will serve it with injera to provide an excellent experience for diners.
Go to the kitchen to make split peas curry to treat your loved ones.
8. Gomen – Vegan Collard Greens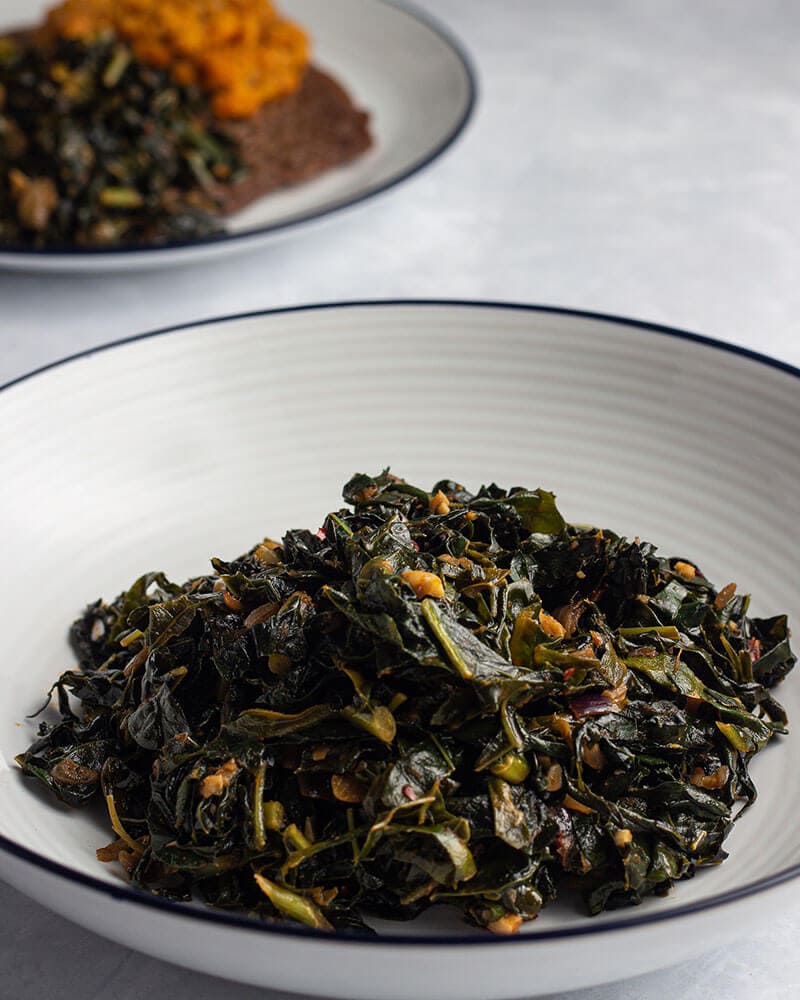 You will regret it if you skip the traditional Ethiopian Gomen. It is a combination of many plant-based ingredients to make a perfect recipe. The intense and distinctive flavors of cardamom and black cumin will leave deep impressions.
This is a food loved by Ethiopians on fasting days. In Ethiopia, Wednesdays and Fridays are obligatory days of fasting except when it coincides with Easter, Christmas, and Theophany. They will eat this food with injera and mitmita.
When you add some smoky bacon to collard green, it'll become a delicious food that can complement red beans and rice. If you ever feel like whipping up red beans and rice, don't forget to pair it with this delicious Ethiopian dish.
9. Timatim – Fresh Tomato Salad
Referring to the outstanding dishes of Ethiopia, it is impossible not to mention the wonderful and refreshing tomato salad. When you order it, you will be served with traditional injera. Moreover, it is combined with shredded bread to diversify the flavor.
Timatim is a popular recipe in both Ethiopian and Eritrean cuisines. It plays an essential role in Ethiopian Lent. Not only that but it is also served on ordinary days at restaurants if tourists want to enjoy it.
10. Beyaynetu – Ethiopian Platter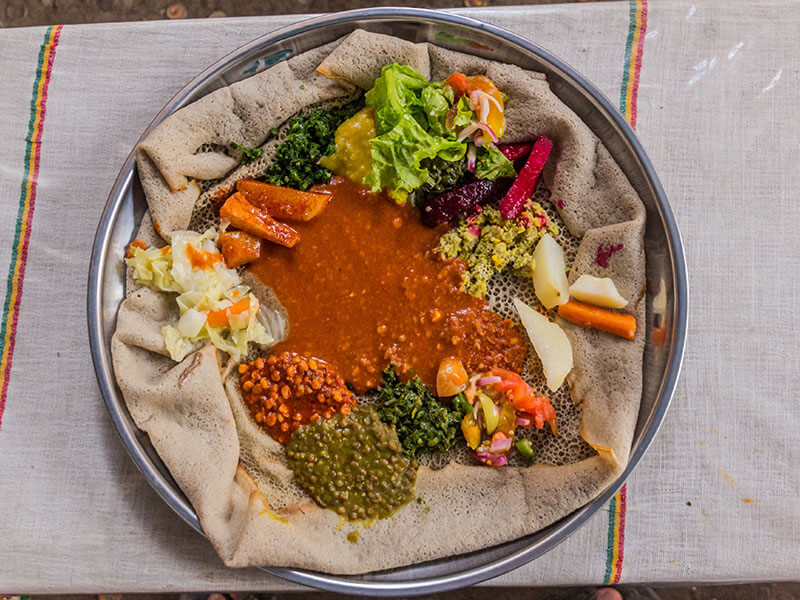 Beyaynetu is an indispensable recipe in your culinary list when coming to Ethiopia. Its name is translated to mean "a bit of every type". Therefore, a tray of Beyaynetu will be colorful with various vegetables, curries, and lentil stew.
You should enjoy it with your hand to get the most authentic experience. This plant-based food is a favorite component on fasting days. Because of its popularity, Ethiopian restaurants always include it on their menus.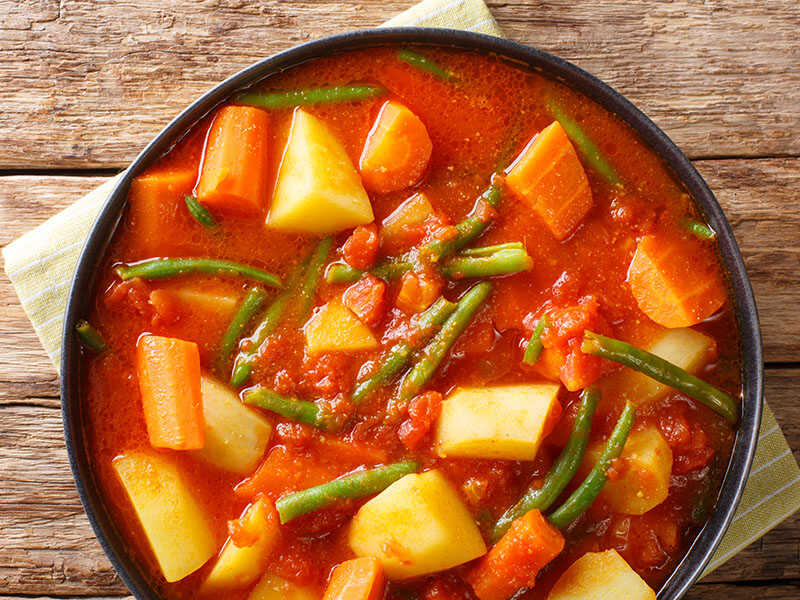 Ethiopians are very religious, so they have many fasting festivals throughout the year, such as Lents, Ramada, or fasting Wednesdays and Fridays. Yataklete kilkil is a product of this age-old custom.
This is a healthy food with an appealing flavor. Vegetables such as carrots, potatoes, and green beans are stewed in a spicy broth until desired softness is achieved. If you want spicy, you can add chili when eating it.
12. Azifa – Healthy Lentil Salad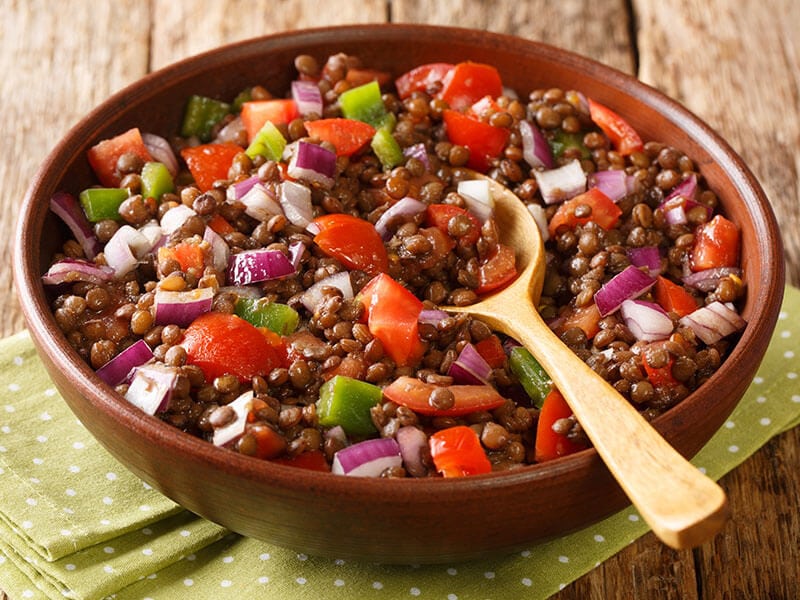 Another traditional recipe that will make it hard to forget when you leave Ethiopia is Azifa. The presence of meser, chili, and onions creates a savory dish with a characteristic hot spicy flavor. If you like intense spiciness, you can add more chili.
Restaurants will bring azifa along with injera or bread for you to enjoy together. This signature recipe significantly influences the vegetarian customs of people in Ethiopia in particular and in Africa in general.
To whip up Azifa, you can use the rice cooker to cook lentils to save yourself a few minutes. During this hand-off cooking period, you can prepare the fresh vegetables to add to Azifa. How convenient is that?
13. Shiro Wat – Ethiopian Chickpea Stew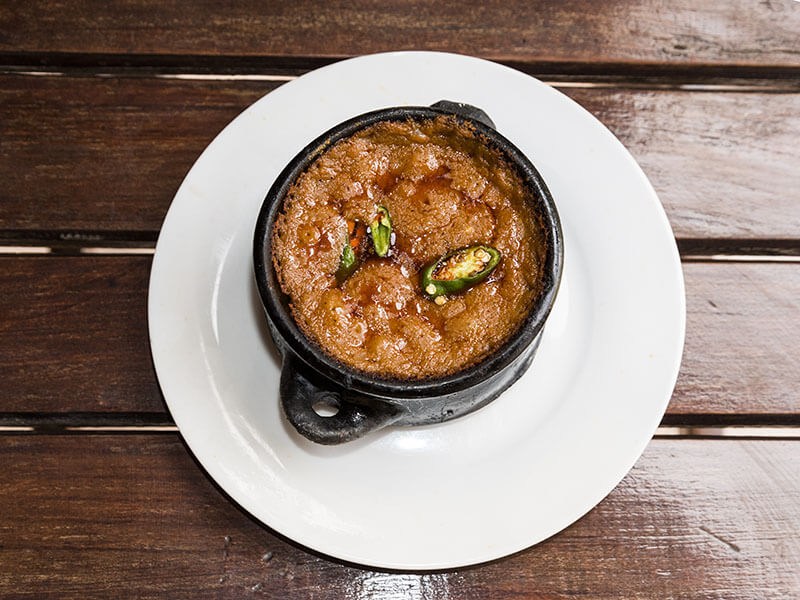 Shiro wat, also known as Tsebhi Shiro, is a food that appears in the daily meal of Ethiopians. Especially on fasting occasions like Lent and Ramadan, it is eaten more. It plays an essential role in Eritrean and Ethiopian cuisine.
The original version comprises pureed beans, chopped onions, and garlic. Its other variations often add tomatoes, peppers, and ginger. Its non-vegan variation usually contains butter and meat called Bozena Shiro.
When making this dish, perhaps you'll encounter difficulties whether to choose chickpea or garbanzo. However, rest assured, either is fine since they are basically the same.
Take a trip to Ethiopia to taste delicious Shiro wat.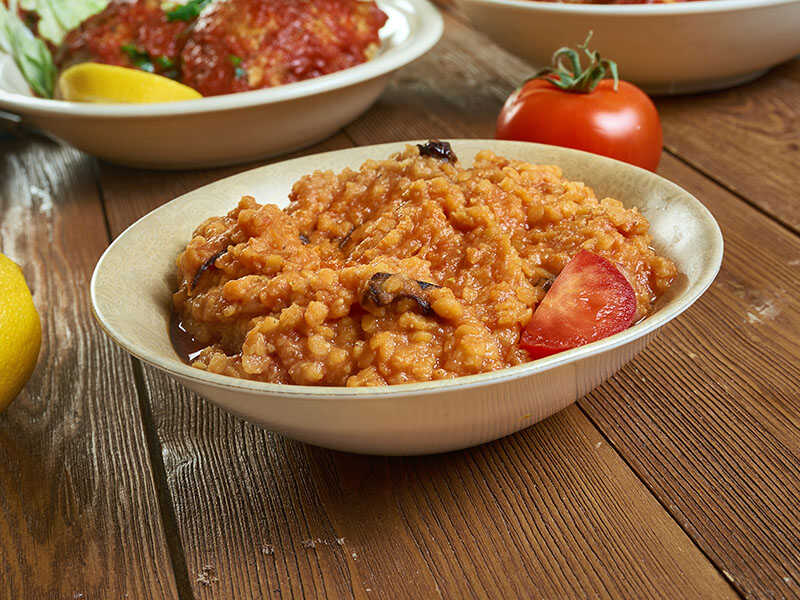 Misir wat or lentil stew is one of the typical dishes of Ethiopian cuisine. Lentils appeared in Ethiopia pretty long ago, and they are grown a lot in this country. The Ethiopians use lentils to cook up many delicious dishes on fasting days.
The food is made from stewing lentils with vegetables and berbere. When tasting it with injera, you will feel the incredible softness of lentils along with the characteristic flavor of spices.
Mouthwatering Meat And Seafood-Based Ethiopian Dishes
If you're a fan of hearty meat-based dishes, you'll love this list of famous meat and fish dishes. Take the opportunity when you come to Ethiopia to taste all these delicacies.
15. Minchet Abish – Excellent Beef Stew For Lunch Menu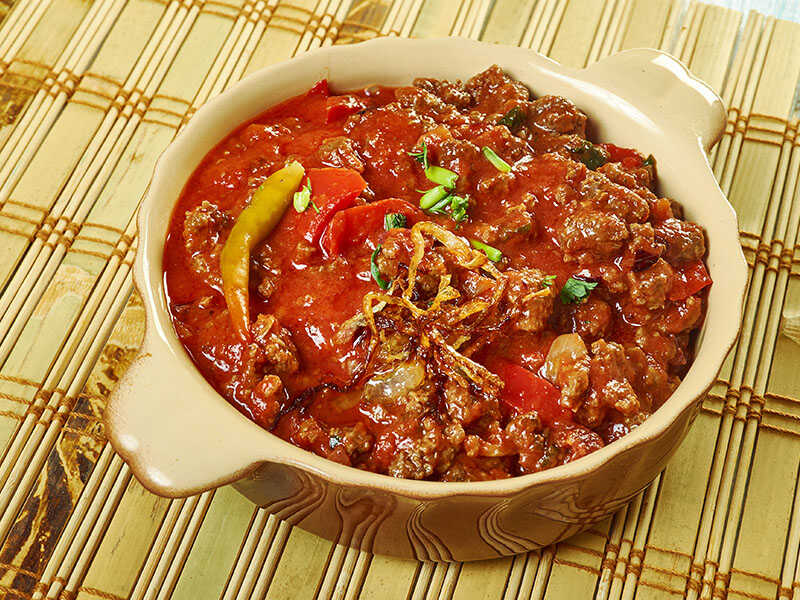 You will not go hungry with this Ethiopian lunch recipe. This minchet abish is always on the menu of most Ethiopian restaurants. You will love the rich flavor of ground beef when stewed with onions and berbere.
Spicy is the characteristic flavor of this food when it has berbere. Because berere is an intense spice mixture, it will bring a distinctive and beautiful red color to your beef stew. If you cannot eat spicy food, it is not for you.
16. Doro Wot (Doro Wat) – Spicy Chicken Stew For Your Dinner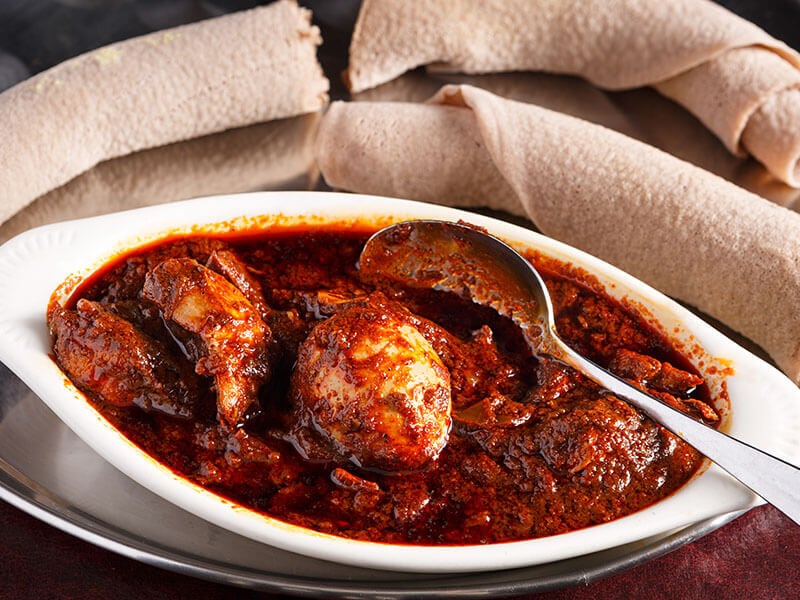 It is time to satisfy your spicy food cravings with Ethiopia's national Doro wot. In the tradition of Ethiopia, this popular food throughout the African continent is popularly eaten on special occasions or religious holidays.
Chicken is cut into 12 different parts and cooked with various spices and boiled eggs. These 12 parts of the chicken are given different names. For example, fereseya would be served to the host, and married people would eat the mequadesha.
Follow these instructions to make mouthwatering Doro wot.
17. Tere Siga – Weird Raw Red Meat Cubes
If you want to experience thrills with a weird dish, tere siga will satisfy your craving. Red raw meat cubes will not be for the faint of heart. Let's dip them into mitmita and eat with bread so you will not get chills.
This strange food was born in the 16th century when Ethiopian soldiers actively ate uncooked meat to avoid being detected by the enemy due to fire when cooking. Although eating raw meat is an unhealthy practice, Ethiopians are still in good health.
18. Kitfo – Yummy Food With Roasted Meat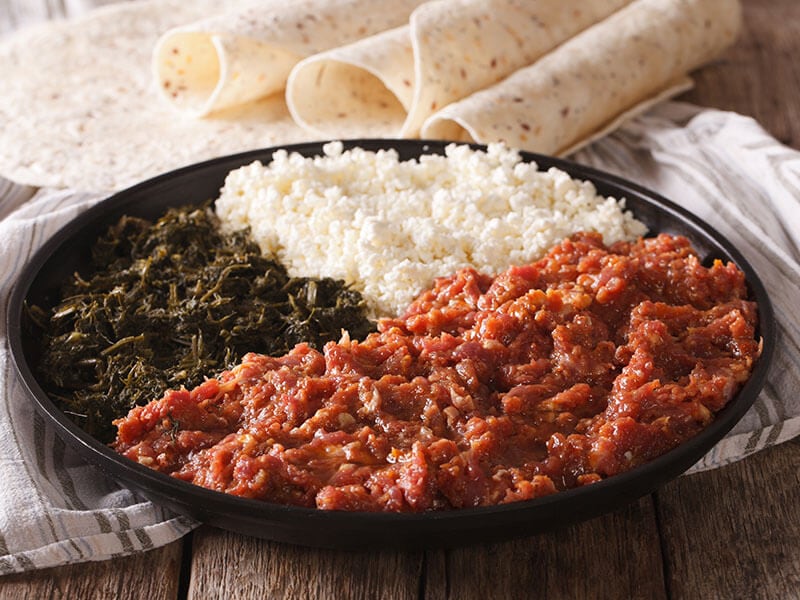 If you visit Ethiopia on essential occasions, you will have the chance to enjoy the famous kitfo. Minced meat will be combined with mitmita, butter, and cardamom to create a perfect whole. You will enjoy this yummy food in a warm pan.
There are three different variations of kitfo depending on the roasted meat. You can enjoy this food with medium-roasted, well-roasted, or raw meat. It was invented in the Gurague region in Central Ethiopia.
Watch this video to know more:
19. Tibs – Fall In Love Delicious Ethiopian Sliced Beef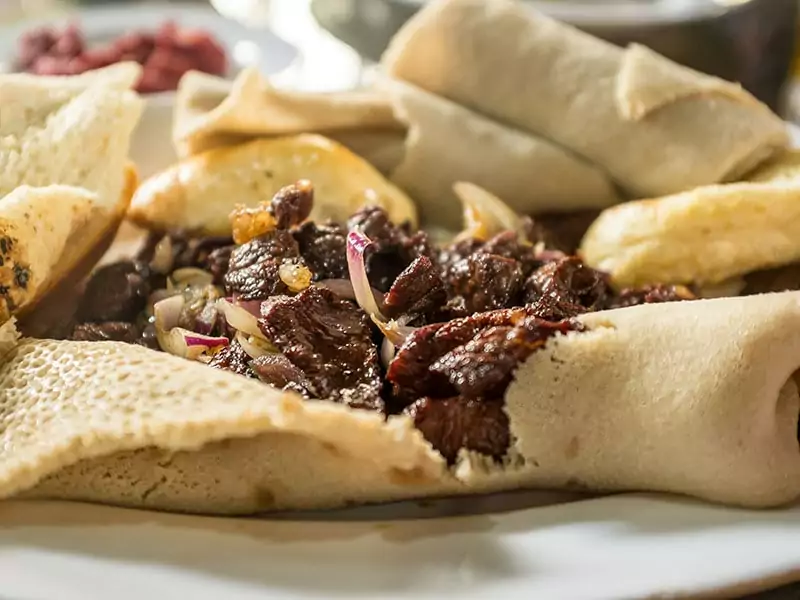 Tibs is one of the famous Ethiopian dishes. Beef slices seasoned with spices and butter creates an irresistible flavor. Awaze hot sauce is an indispensable element when eating tibs. This food is popular on special occasions and holidays among Ethiopians.
There is still no exact information about the origin of tibs. However, many argue that it appeared with other traditional Ethiopian dishes from the Aksumite empire and is popular to this day.
20. Asa Tibs – Ethiopian Deep-Fried Fish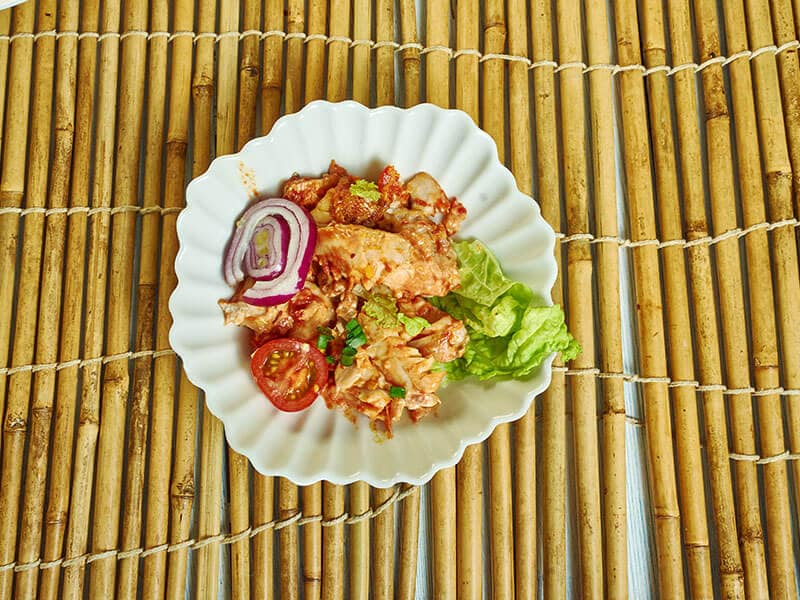 When traveling to Ethiopia, you have to taste Asa tibs. Deep-fried fish will be displayed on a large plate. Ethiopians will use their hands to eat fish with bread and a cup of attractive sauce.
They will eat little by little and leave no part of the fish. Asa tib is a unique variation where portions of fish are marinated with Berbera and lemon juice before frying. You will not worry about filtering bones when eating this fish version.
Refresh Yourself With Typical Ethiopian Drinks
Ethiopia is famous for its many delicious drinks from coffee to alcoholic beverages. In this section, I bring you two common Ethiopian drinks for your dessert or refreshment.
21. Kahawa – Well-Known Ethiopian Coffee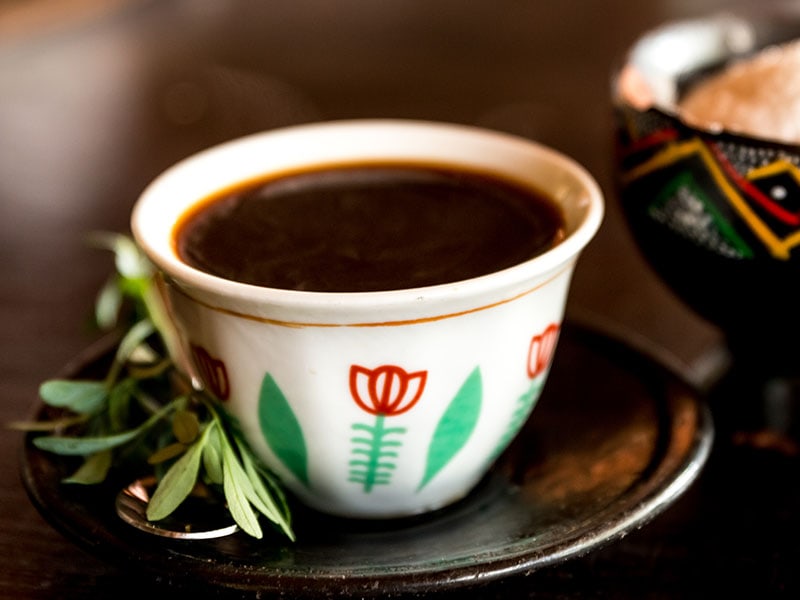 Coffee is an Ethiopian delicacy you should not miss. This place is considered the hometown of coffee, so your trip will not be complete without enjoying this signature beverage. You can enjoy a cup of Ethiopian coffee with popcorn or toasted barley.
And if you find Ethiopian coffee to your liking, I'm certain that Vietnamese coffee will be your "cup of tea" as well. So whenever you have the chance, don't forget to try out this staple Vietnamese delicacy as well, alright?
The Ethiopian nomads were the first to discover coffee in the country in the 10th century. Today, it has become a significant export of the nation. You will often encounter coffee ceremonies held in Ethiopia, and they are considered a feature of the country's tradition.
22. Teff Injera – Cultural Sourdough Flatbread For Wedding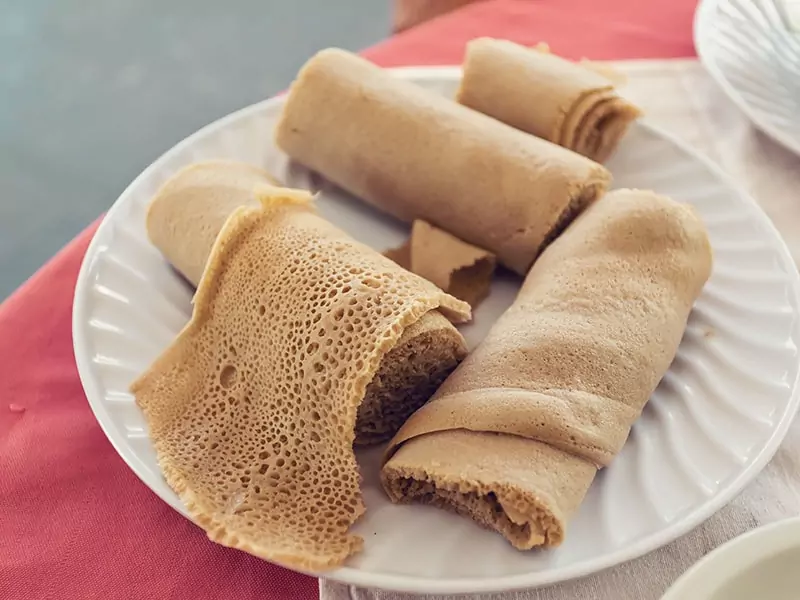 Injera is an essential dish in most Ethiopian meals. It is combined with many various foods to enhance their flavor. Injera is always a crucial dish on special occasions, such as weddings, festivals, and funerals.
This national food is made from teff grains. It is an ancient nut that has been cultivated in Ethiopia since 3350 BC. The processing of injera was first recorded in 600 AD. Therefore, it has an essential role in the history and culture of Ethiopia.
The Perfect Ethiopian Dessert Options To End The Meal
Besides savory dishes, Ethiopia is also famous for many attractive desserts and drinks. Here are some possible suggestions that you can refer to add to your travel book.
23. Dabo – Traditional Honey Bread
The traditional Dabo bread is the following incredible recipe I recommend to you. You can eat it as a dessert or for breakfast. Dabo bread with a thick and spongy texture will make you want to enjoy it again and again.
There are many variations of Dabo with the appearance of rosemary, cardamom, and other spices. This is a favorite food of Ethiopians during Shabbat. Initially, the Ethiopians used a clay pot to bake the Dabo, and the dough would be wrapped in klabo and banana leaves.
24. Tej – Common Honey Wine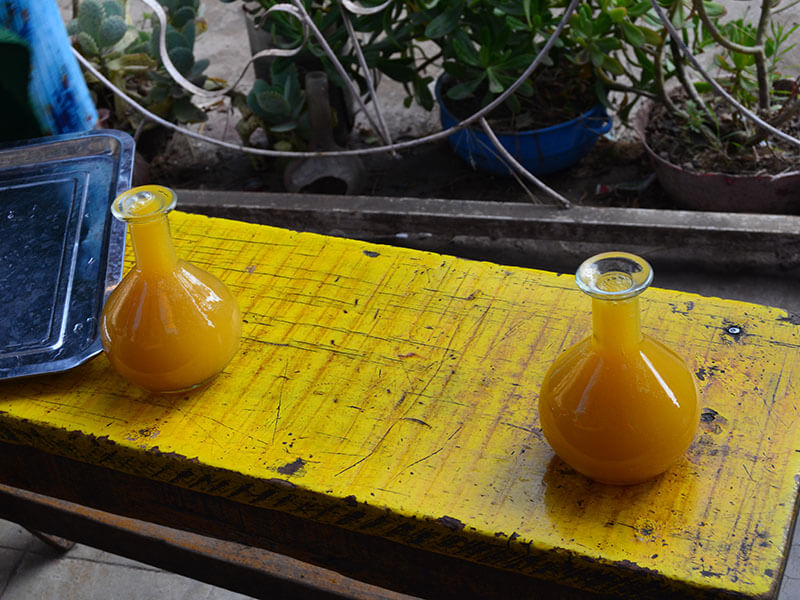 Tej will be a perfect choice to sip with friends while in Ethiopia. Honey wine is a traditional drink made at home with the powder of the leaves and twigs of the gesho tree. You can enjoy tej at tej houses all over Ethiopia.
Tej will be contained in a circular vase called a berele. If the tej is steeped for a long time, it will have an intense sweetness and high alcohol content. You can opt for the Berz variant with a sweeter taste and less alcohol content.
Do not forget to enjoy a vase of tej before leaving Ethiopia.
25. Himbasha – Tender Ethiopian Flatbread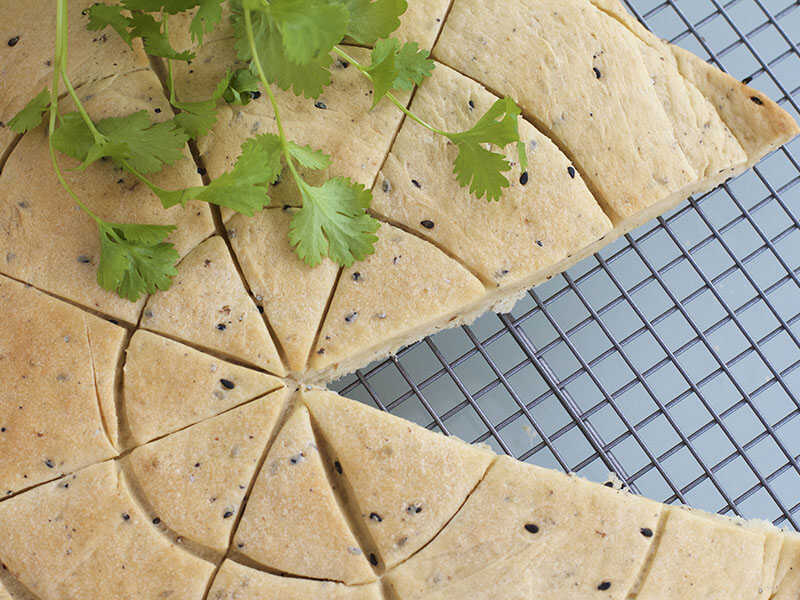 Himbasha is one of the most loved desserts in this East African country. This is a flatbread with a nice round shape. It looks like a giant pizza without the topping. You will feel the flavors of cardamom, sesame, and raisin when eating these pieces of bread.
Himbasha is also known by another name Ambasha. It was first created by the Eritreans and used for celebrations. Gradually, it became a signature food of Ethiopian cuisine on special occasions.
Do You Know Any Other Foods?
Are you satisfied with the list of foods that I have provided? Thanks to this fantastic article, I believe that planning your upcoming trip will be faster. Therefore, do not forget to like this post if you get a lot of value from it.
Perhaps, I missed a few dishes on this list, so please help me add them by commenting below. Besides, feel free to leave questions; I'll try to answer them as soon as possible. Thanks for reading!