Preparing an Austrian food list is essential when you plan to travel there. Austrian cuisine is quite diverse with the influence from different countries: Germany, Switzerland, and Italy. However, Austria foods still keep their unique characteristics and become a European icon.
If you are wondering what dishes you must try when visiting Austria, my list will provide you with the best recommendations. Let's explore right now to have an unforgettable trip.
13 Savory Austrian Recipes For Fulfill Meals
If you are looking for tasty Austrian foods for a satisfied lunch or dinner, the dishes below are a gift for you. Check them out.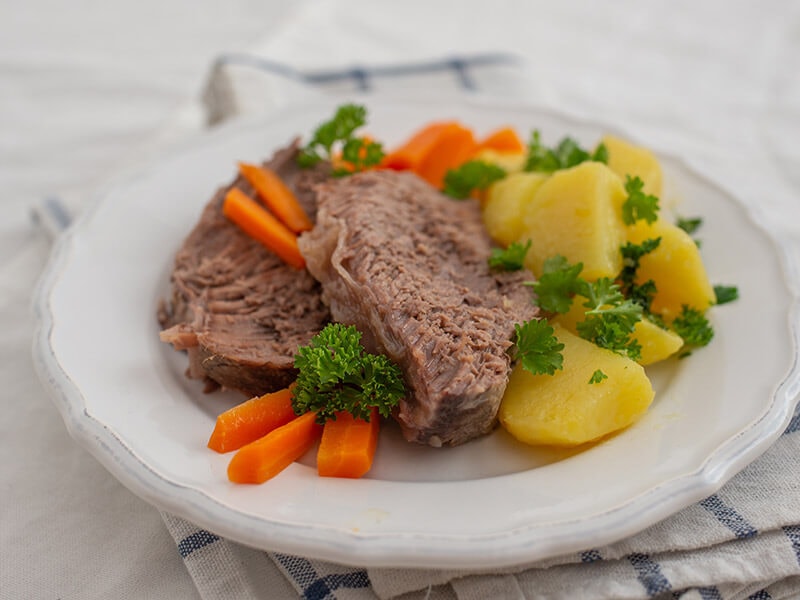 Tafelspitz is the name of the Austrian national dish and the part of meat used to prepare the dish. To have an authentic flavor, the chefs usually choose the tip of meat located near the tail.
A cookery book published in 1912 demonstrated that the Emperor's party couldn't be completed without Tafelspitz. This is also the favorite dish of the King of Austria – Franz Joseph.
Before people serve it on the table, they need to simmer beef with veggies and spices for a long time. You can request a mixture of minced horseradish and apples, roasted potato slices, or chives combined with sour cream to eat together.
Let's make Tafelspitz to bring "Austrian colors" to your kitchen.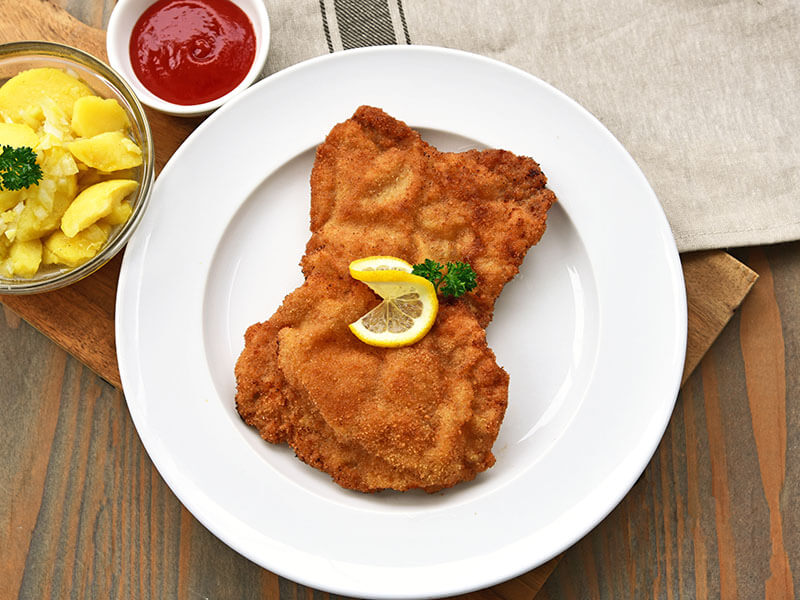 Do you know that the Viennese are so proud of their Wiener Schnitzel? Not only here, but the European people also fall in love with this food after the first try. Although its name has a tight relationship with Vienna, it is from Northern Italy.
This theory says that an Austrian person bought the original recipe from Italy in 1857 and reported it to the king. Besides, this food was also printed in a cookery book from 1831. You can choose veal cutlet or pork. In Latvian gastronomy, there's a very similar dish called Karbonāde.
For the traditional experience, the locals will recommend you to combine butterhead lettuce with vinaigrette dressing, cucumber salad, and more to eat with it. These fresh veggies can refresh your taste buds after you bite greasy fried meat.
If you don't want to consume too many side dishes, a lemon slice and parsley will be a great selection.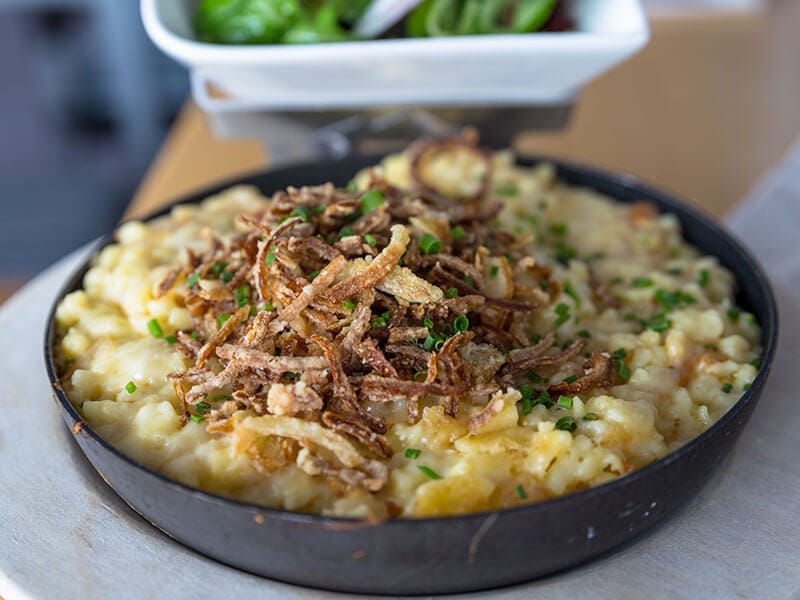 If you ask me which dishes can comfort your stomach on a chilling day in Austria, I highly recommend Kasespatzle. It is made from macaroni and cheese yet in Austrian style. This is an indispensable dish for people living in the mountains.
You can eat it as a side dish or main dish to warm up your body. The hometown of Kasespatzle is in Swabian, an area of Germany, and you can find numerous variations in other countries.
The chefs usually use Spatzle egg noodles to have a chewy texture. Moreover, they will pour Emmentaler cheese sauce and sprinkle caramelized onions cooked in the butter on the top to create a hearty dish.
The creamy sauce and buttery flavor can persuade your taste buds. Not only the locals but tourists also fall in love with Kasespatzle.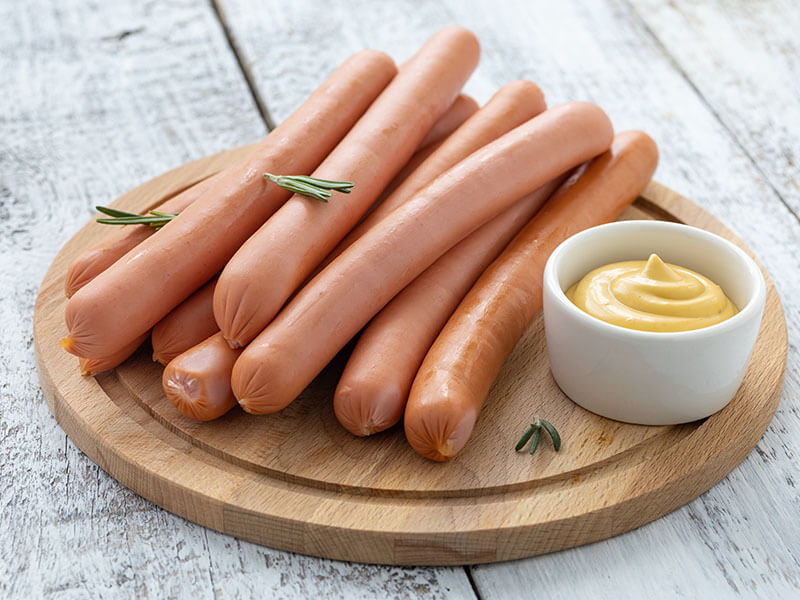 As you know, Wiener equals Vienna. Thus, Wiener Wurstel is another soul of this region. Despite its name, this unique sausage variant was created by a German – Johann Georg Lahner. He immigrated to Vienna and introduced this dish at first in 1850.
Since he learned to become a butcher in Frankfurt, he called it Frankfurter sausage. Thus, you need to pay attention to this name in case you cannot find it under "Wiener Wurstel".
Its shape is thinner than Western sausage, and Wiener Wurstel is usually par-boiled before selling. The locals can choose pork or beef to stuff in the sheep's intestines.
When trying it, you will taste a gently smoky flavor as the chefs have already smoked it at a low temperature, then cooked it in water. You can order Semmel or Mit Brot to eat with the sausage and bread or bun.
Semmel goes with bread, and Mit Brot is enjoyed with buns. The chefs usually prepare sausage slices and stuff them into bread or bun to help you taste the dish conveniently.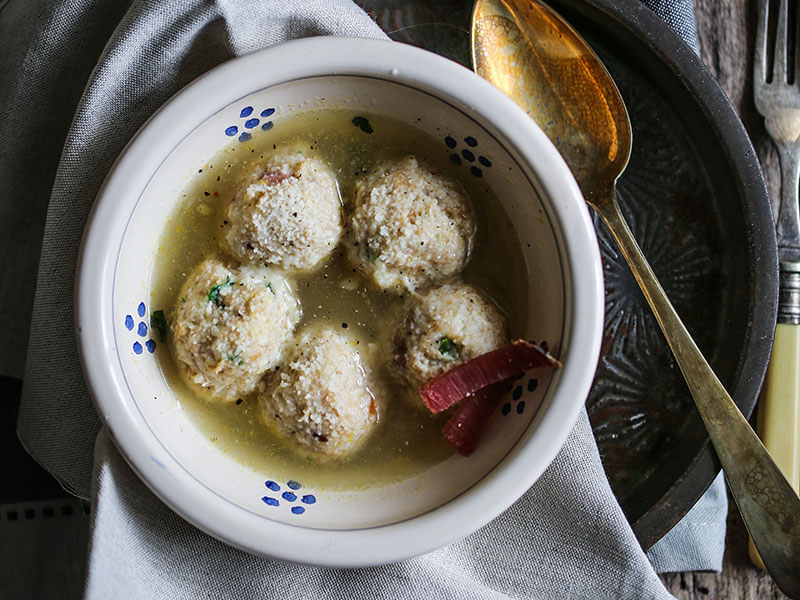 The word Knodel comes from the German language, translated loosely as "a little knot". However, you can find numerous versions of this dish outside German cuisine. In Austria, you can enjoy more than 10 variations of Knodel with different fillings and flavors.
Not only common in these places, but it is also a beloved dish in East and Central Europe. You can order both savory Knodel and sweet Knodel to serve it as a side dish for your meal. Moreover, flour or bread is also a favorite choice of some cooks.
In Austria, people usually choose cooked or raw potatoes to prepare these dumplings. To provide more nutrients for your body and create a twist in taste, the chefs add eggs, semolina butter, or ham filling to the food.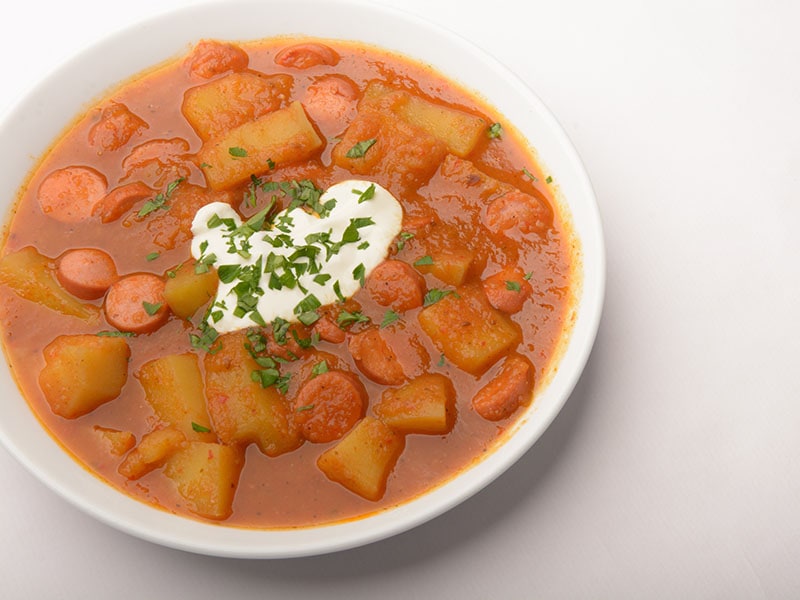 Like Knodel, you can find various Goulash in different countries, although its hometown is Hungarian food culture. If you are looking for a hearty Austrian dish, don't skip Erdapfelgulasch. The Hungarian shepherds were the first to enjoy Gulasch in the 9th century.
In Erdapfelgulasch, the chefs can add bacon, potatoes, onions, and Viennese sausage in the end to create a delicious flavor that can seduce your heart after the first scoop. There are 2 versions of Goulash: with paprika and without paprika.
The present-day recipes usually contain paprika to season meat and veggies, while the earlier versions didn't add this powder. You can enjoy it with boiled potatoes, dumplings, or bread. Your preferences are always the priority.
Austria is well-known for its beautiful scenery. If you can travel here, don't forget to visit the excellent mountains and enjoy Tiroler Grostl. As its name implies, Tirol is the birthplace of this dish.
This is also one of the dishes in Alpine meals that is simple yet rich in flavor. Tiroler Grostl is a smart way to make use of leftover food and turn it into a delicious dish. That is also a good story behind it.
After skiing and hiking, you can restore your energy by eating this food made from fried potatoes, bacon, and onions. The locals usually serve it in a pan and enjoy it with Kaiserchmarrn to create a hearty lunch.
You can try Tiroler Grostl with the same Austrian flavor in your kitchen.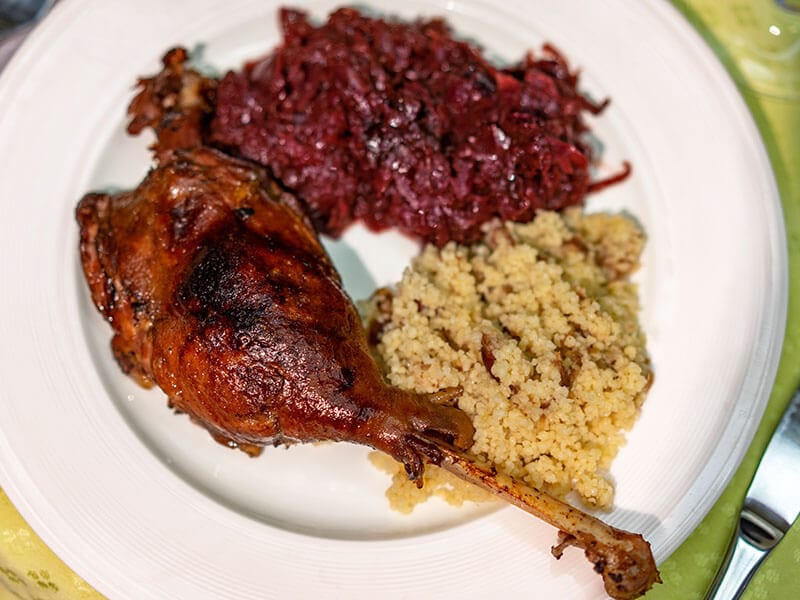 When you hear Martinigans, it can remind you of St. Martin's day on November 11st in the Christian calendar. If you visit Vienna on that day, you can find almost all the restaurants here that serve this food.
The dish name can be translated literally as Martin's goose in English; thus, you can know that the main ingredient in this dish is the goose. Although Martinigans originated in Germany, you can realize different versions in other countries, especially Hong Kong.
The Austrians usually stuff chestnuts and dried plum mixture into the goose to create natural sweetness for this.
The side dishes to match this food are potato dumplings and cooked red cabbage. The chefs usually place the goose in the center and arrange 2 veggies around it. If you cannot visit Austria on St. Martin's day, you can still taste this dish, yet it can take longer to find the restaurants.
9. Spargel – Spring Asparagus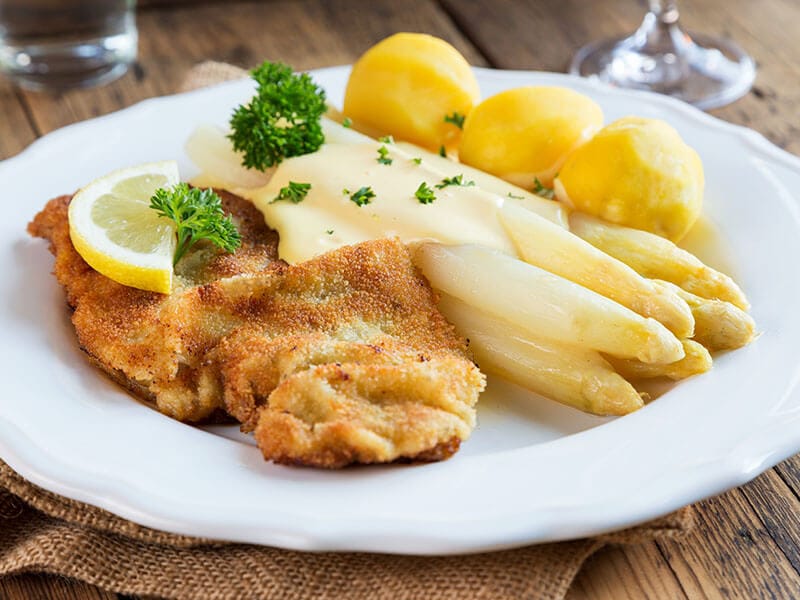 If you ask me what time is the best to visit Austria, my answer is always in the spring. The spring will make the mountain view in this country more stunning and allow me to enjoy Spargel, which is spring asparagus.
The locals usually tell me that the appearance of Spargel in restaurants signals that the most beautiful season of the year has come. This veggie has white color instead of regular green. Thus, there are countless methods to transform it into a fresh and mouth-watering dish.
The chefs can add butter, breadcrumbs, lemon, and prosciutto to the recipe that creates an interesting flavor in your mouth. Moreover, the Schnitzel can inspire the cooks, and they coat asparagus with breadcrumbs and fry it.
Don't forget to warm up your stomach and recover your tastebuds with some sip of Gruner Veltliner wine.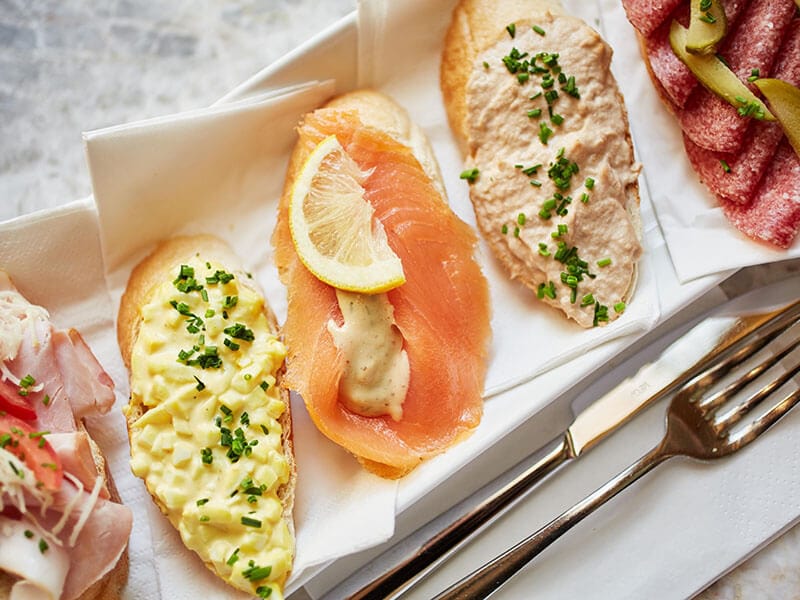 Come to Austria, yet you are still obsessed with sandwiches? Don't worry; I have found an Austrian-style sandwich that can captivate your heart – Belegte Brote.
Instead of consuming it as an Austrian dish to serve for breakfast (Austrian breakfast recipes) or a quick meal, the Viennese people eat it as a mid-morning snack.
The toppings for this dish depend on your preferences, and Belegte Brote's humble size is also an interesting feature that draws tourists' attention. Unlike other variants, this food just has a slice of bread, and the chefs don't cover it with another slice.
Another surprising information is that it doesn't come from Viena, despite being so common here. Its true hometown is Poland, and the first store was opened in Vienna in 1902 by Franciszek Trzesniewski – a Krakow immigrant.
Many locals will suggest you drink a glass of beer while enjoying this dish.
11. Mondseer – Austrian Cheese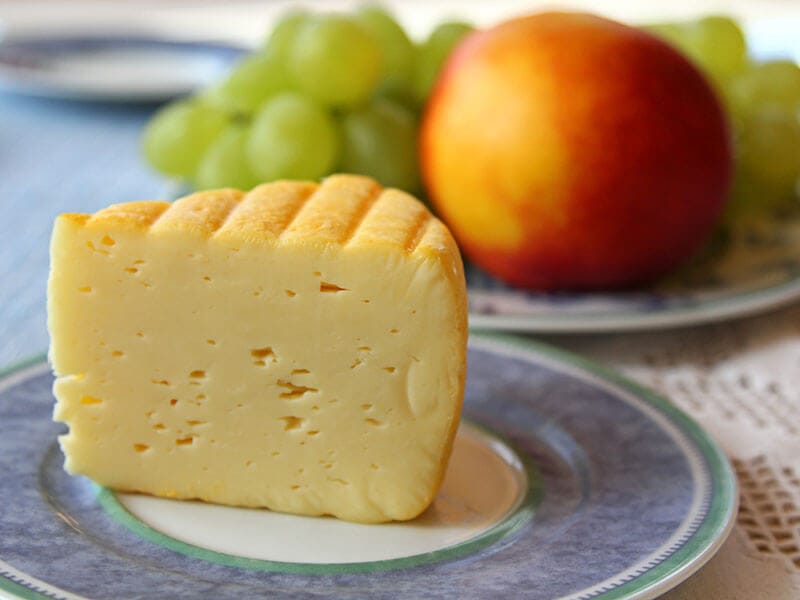 Hearing that name – Mondseer, can you guess where it comes from? Bingo, it is from Mondsee town in Austria. Its birthday is still a controversial topic. Some people claimed it appeared in 1818, while some argued that the locals created it in 1955.
Another story told that the first time it was produced was in 1830. Although the cooks usually shape it into a large block, the detailers can divide it into small pieces and place it in small wooden boxes for convenient use.
This iconic type of cheese has a light yellow color with a semi-hard texture. During the aging process, the yellow-reddish rind can form on the surface. It has a strong aroma; thus, prepare for yourself before opening it.
In contrast to its scent, it is smooth, creamy, and firm with some sweet and spicy taste due to the infusion of saltwater and red cultures.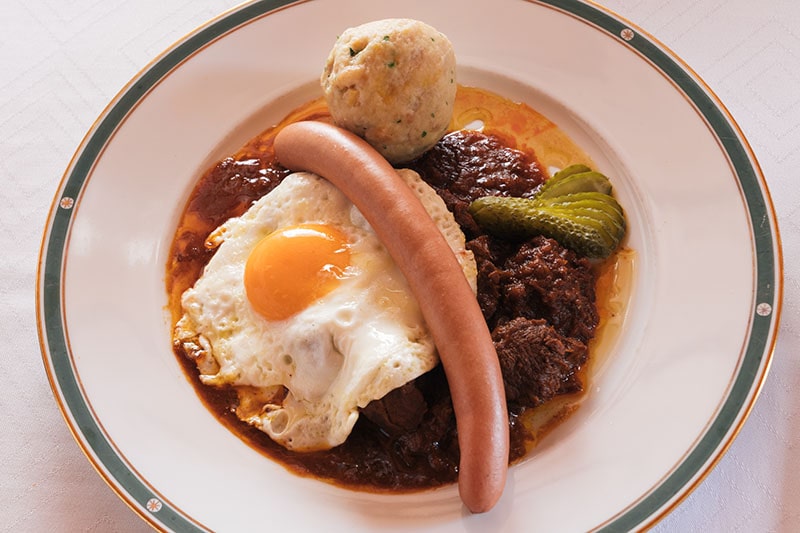 You surely want a hearty and nutrient Austrian dish for your breakfast on windy days, and I am here to help you. Fiakergulash is a potential option. This food is one of the traditional Viennese Goulash in Austrian cuisine.
Beef is considered a good hangover remedy for those who have butterflies in their stomach. In the 19th century, it quickly became the beloved dish of horse-drawn carriages, but now, almost all people are also addicted to it after several bites.
You should not enjoy this food alone. Let's combine it with fried Viennese sausage, bread dumplings/boiled potatoes, undercooked york fried egg, and pickled gherkins. I am sure that this is an unbeaten combo.
Fiakergulasch is a bit different from other Viennese Goulasch recipes. Chefs often serve this dish with some accompaniments just like with beef stew: Wiener sausages, pickles, dumplings, and sunny fried eggs.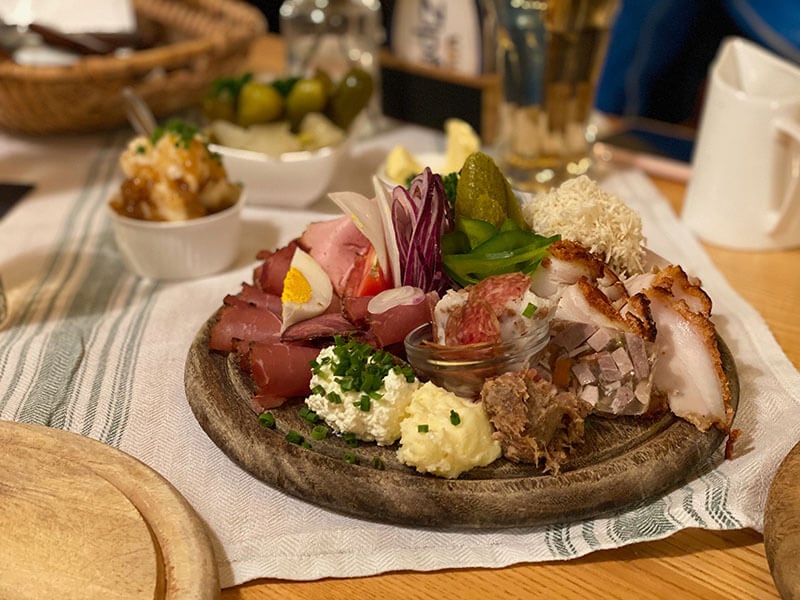 Have you ever tried cheeseboard in Western cuisine? Brettljause is a similar dish. If you research the meaning of this word in English, you can understand it is "snack served on a wooden board and enjoy between meals".
Of course, what distinguishes the Austrian version from others is the local specialties: meat, spreads, pickled vegetables, and bread. The ingredients to arrange on the board is not fixed; the chefs can run their mind wild to create a version perfect for seasonal features.
In each eatery you enter, the cooks will serve you different Brettljause. Thus, you will not feel bored when tasting it many times. Let's explore Austrian cuisine a little by little.
Austrian Desserts Are The Gift Of God
The Austrians love card-dense foods, leading to different pastry desserts in their cuisine. Austrian sweet treats usually use natural sweetness from fruits or honey instead of sugar. So everyone can enjoy freely without watching out the scale.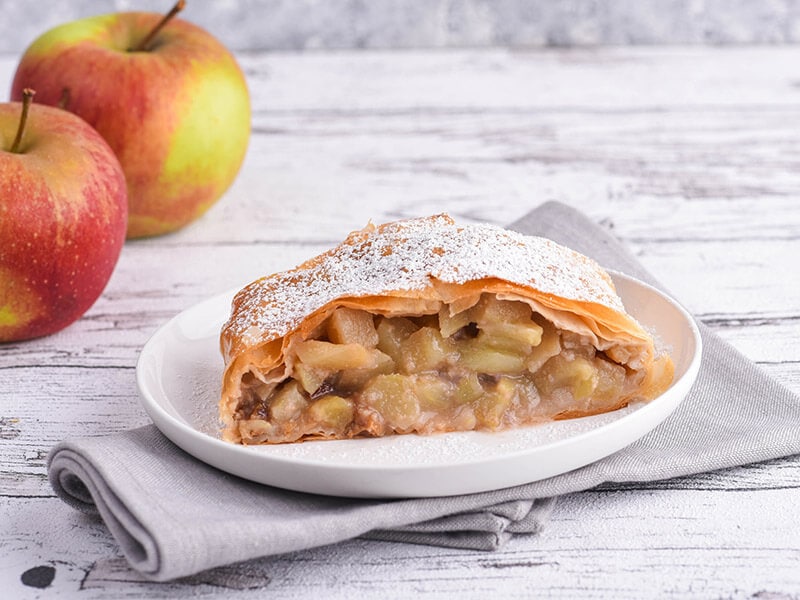 If the Americans have apple cake, the Austrians have Apfelstrudel, which is a traditional dessert. Its name relates to the German language and can be translated loosely as whirlpool or swirl.
Besides being well-known in Austria, it's a beloved dessert in other European countries.
The first strudel recipe appeared in the 17th century in a hand-written form. The chefs can stuff sweet or savory filling inside during the first stage. It was not until the 18th century the strudel became popular thanks to Habsburg Empire.
As its English name implies, the locals have to carefully add apple filling to the unleaved dough to create a whirlpool appearance. If you want to try this dessert, let's choose the Viennese coffee house and use it with espresso, vanilla custard, or whipped cream.
If you want to bring an Austrian atmosphere to your kitchen, let's make Apfelstrudel.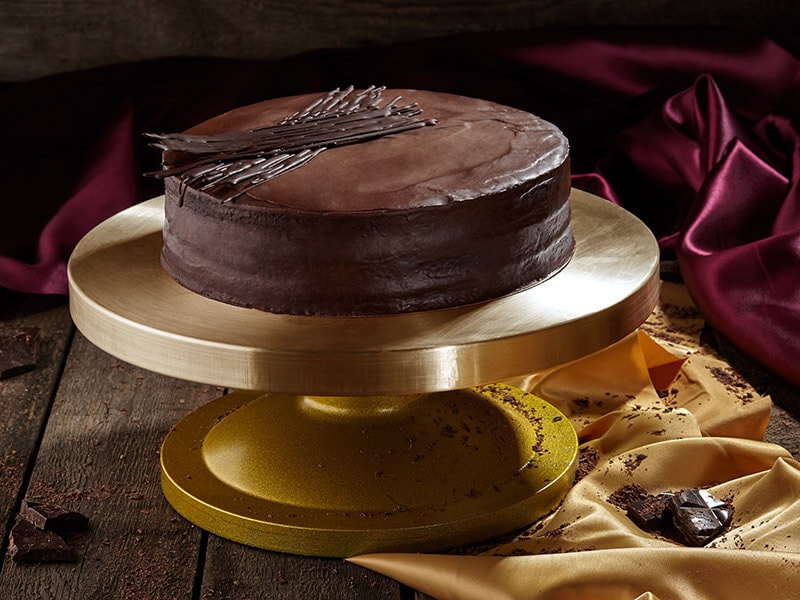 Who can resist the heavenly flavor of Sacher Torte, a chocolate cake? In addition to having 2 halves of sponge cake, this sweet treat is filled with apricot jam in the middle. Its appearance will be complete with a layer of chocolate icing covering all sides of the cake.
Sacher Torte is one of the most famous and beloved Viennese desserts. The first chef creating this attempting treat is Franze Sacher. In 1832, he invented it to satisfy the ask of Prince Klemens von Metternich.
Nowadays, numerous variations are based on the original recipes, such as Demel's Eduard-Sacher-Torte, Sacher-Masoch-Torte, and more. Unsweetened whipped cream is the best combination when ordering a piece of chocolate cake.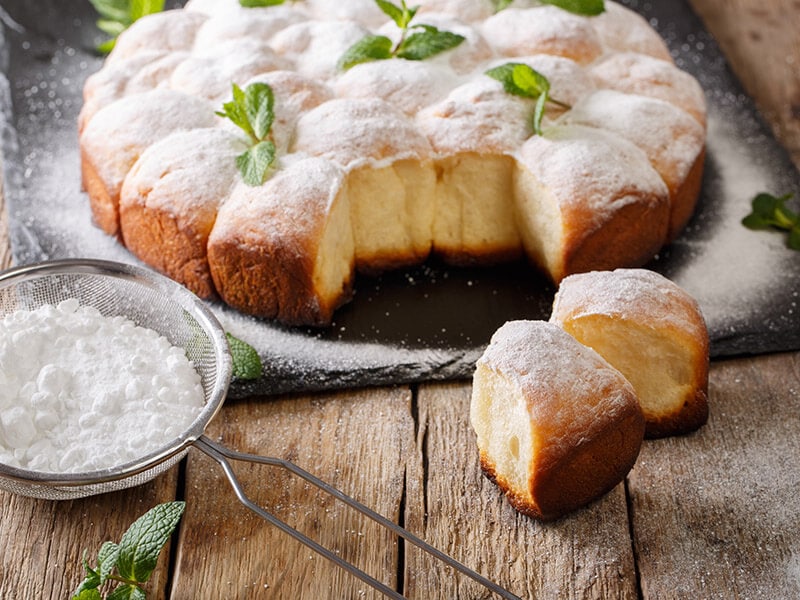 In Austria, the locals call pull-apart rolls Buchteln. Although its hometown is the Bohemia region, it also plays an essential role in Austrian, Hungarian, and other cuisines. Behind a simple look is a rich history relating to the Austro-Hungarian Empire.
In the past, people enjoyed it as a main dish or a dessert since it could make them feel full. The main components to produce a Buchteln are yeast dough, jam, Powidi, poppy seeds, or quark filling. Since it is cooked in a large pan, you need to pull Buchteln apart to taste it.
The locals used to cook it as dumplings to enjoy in the 19th century. But for me, the baked version is more wonderful as the cooks can serve it warm with vanilla sauce and powdered sugar.
Moreover, the golden brown color on the outside is also a signature appearance of this dish.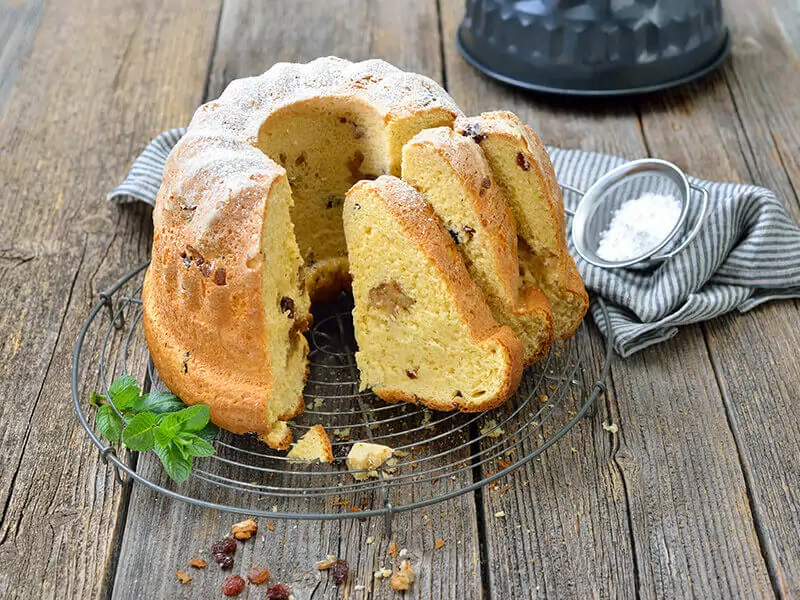 Don't forget to try this original Austrian sweet treat – Gugelhupf, when you visit this country. The root of Gugelhupf is France, and a document shows its ancient name is "Ostarrichi".
However, the Austrians don't wonder about it as they have enjoyed this dessert since childhood.
Throughout history, you can find it under various names, including Ash Cake, Rodon Cake, Pot Cake, or Babe, and the ingredients to produce it are varied too. In 1581, this dessert was printed in Ein new Kochbuch written by Marx Rumpolt, thanks to its popularity.
Like other desserts, enjoying a piece of Gugelhupf with a cup of hot coffee is an elegant hobby. If you want to try to live like a local, this is a must-try combo. Sitting in a Viennese coffee house can multiply this feeling so many times.
Gugelhupf is one of the must-try dishes when you visit Austria.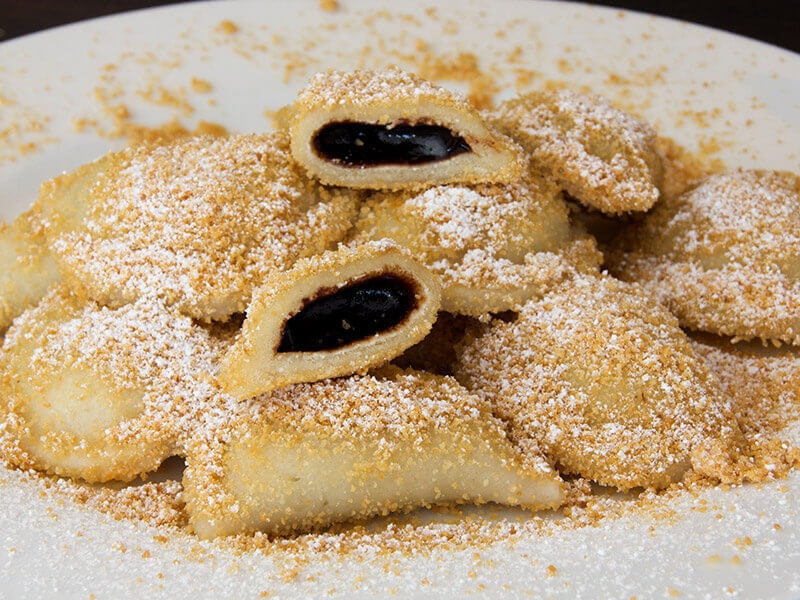 Austria is well-known for delicate desserts, and Powidltascherl is one of them. Powidi is a Bohemia word that means plum jam. Powidltascherl is simply plum jam turnovers and comes from this region.
You can just buy it from bakeries in Austria, Eastern Europe, and Germany. Therefore, it is certainly a must-try dessert when you come to these places. Its flavor is an excellent combination of potato dough, plum jam, cinnamon, vanilla, and more.
There is a note that each bakery can produce its own Powidltascherl version. Yet, almost all of them will sprinkle the mixture of butter, walnuts, breadcrumb, and drizzle sugar or chocolate sauce on the top before serving.
19. WIener Melange – Viennese Coffee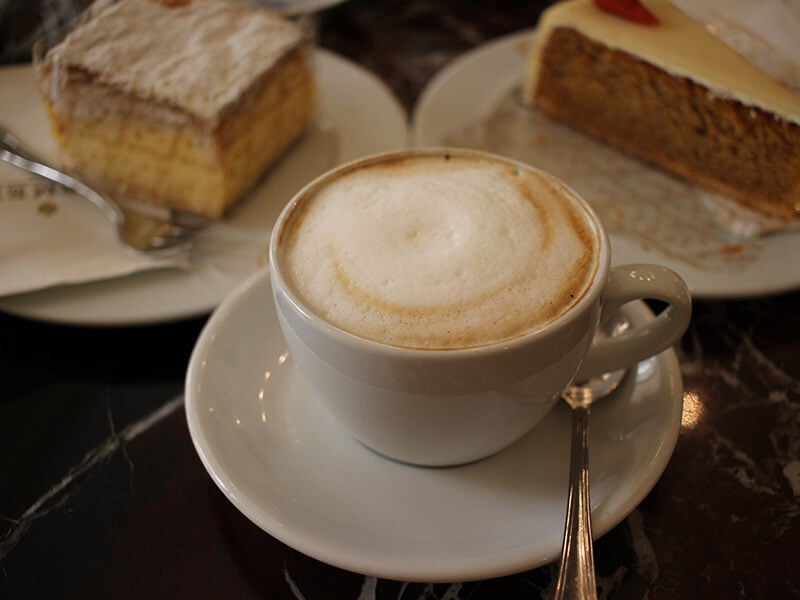 Viena is the Austrian capital, and this place is also used to name a signature drink – Viennese coffee. You can find it quite similar to a cappuccino the first time, yet it doesn't contain cocoa powder.
As you might not know, Vienna also has a large coffee consumption like Paris and Rome. The first coffee grains appeared in this area quite early, from the 18th to 20th century, and quickly became an indispensable part of Austrians' lives.
Cakes are a perfect choice to serve with Viennese coffee to create an unbeaten combo. Imagine sitting outside and sipping a cup of coffee topped with foamed and hot milk in a 1:1 ratio. What can be more wonderful?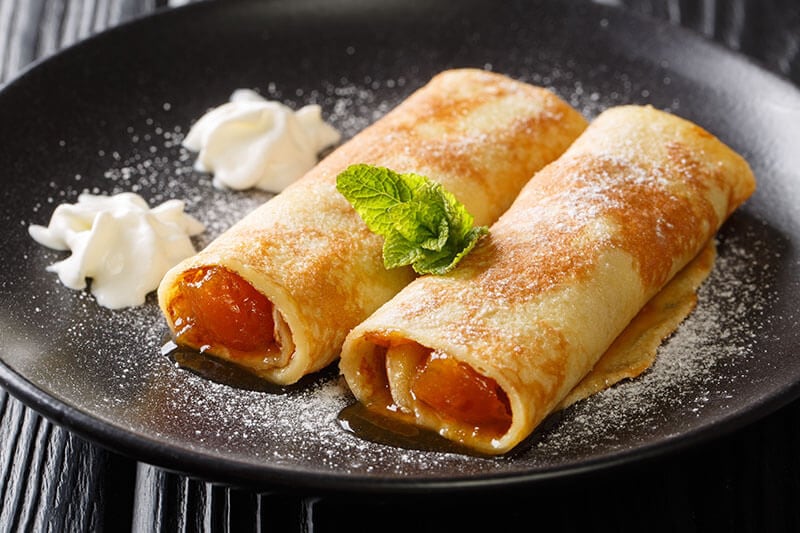 Palatschinke is one of a variety of thin crepe from the Greco-Roman period. The origin is quite simple, yet its name history is quite complicated. The Palatschinke is a borrowed word from various languages.
It is a perfect Austrian dish to serve at your dinner or lunch as you can freely choose your favorite fillings.
The earliest people mentioning "Plakous" were Green poets in the 350 BCE. This word inspired the Latin language, and people called it Placenta.
Throughout history, you can find this dessert under different names such as Palaçinka in Albanian cuisine, Palacinka in Sovak, and more.
Its shape looks like a French crepe, but its cooking process is a different story. After mixing dough, the chefs pan-fry it immediately instead of waiting for a while like a crepe.
If you are obsessed with Palatschinke flavor, let's learn how to make it.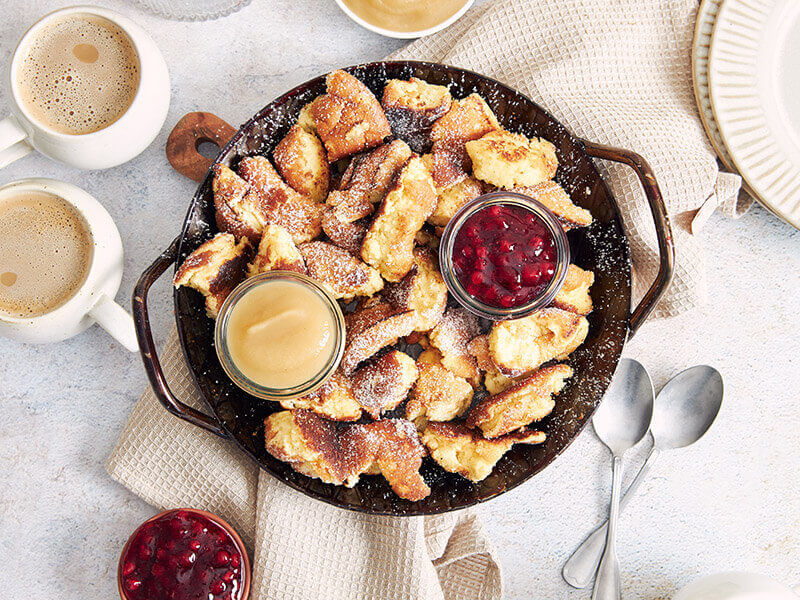 Although its appearance is quite messy, the flavor is enough to surprise you. Franz Joseph named these gently sweet pancakes as he was addicted to the fluffy texture of this pancake. Besides being served as a dessert, the Austrians can prepare it as a light lunch.
Not only in Austria, but you can also enjoy this dish in the cuisine of Croatia, Hungary, and many more nations. There is no fixed formula for the chefs; they can cook it in any way they want.
Besides the familiar ingredients to make a pancake, people can add cherries, nuts, raisins, and more to level up the flavor.
While the pancake is still on the pan, the cooks need to split it with forks and sprinkle powdered sugar to have a scrambled effect.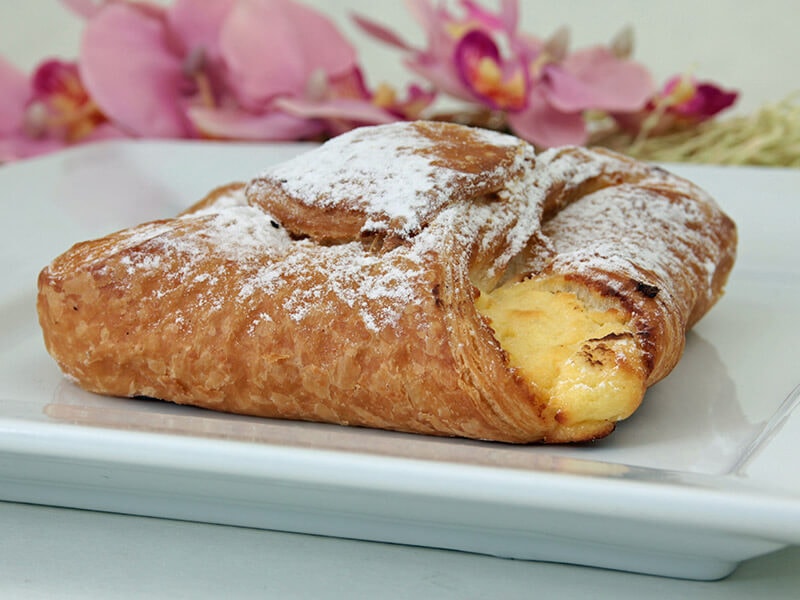 Here is a wonderful gift for the sweet tooth – Topfentascherl. You can see both sweet and savory versions of this dessert when entering Austria restaurants, bakeries.
The former variant is filled with curd, and fresh fruits replace sugar as the natural sweetness is better for your health.
The latter version has cheese fillings. As you might not know, it is as common as apple strudel crepes, so don't hesitate to order it if you have traveled to Austria for the first time.
The locals love to combine this dessert with apricots and bananas due to their balance in sweetness and sourness. However, you can add more fruits as you want.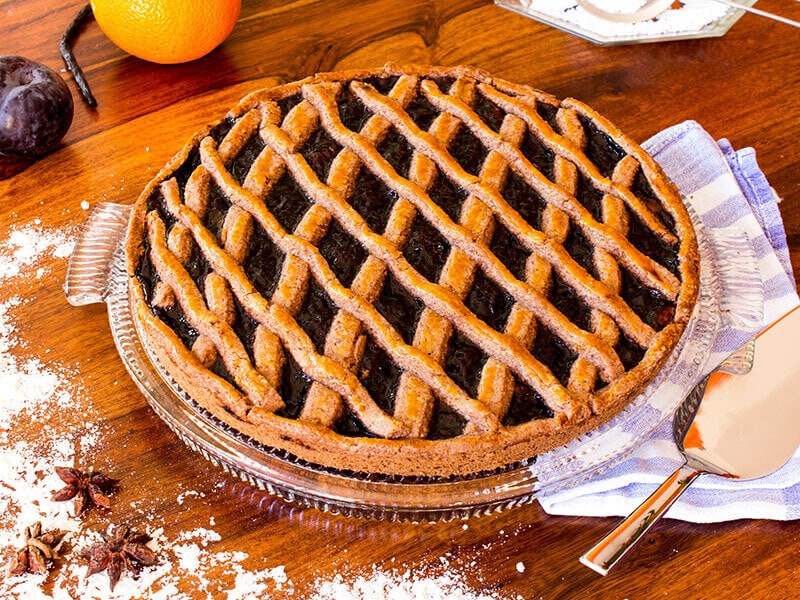 Linzer Torte is a traditional dessert usually enjoyed at Christmas in Austrian, Swiss, German, and other countries. The origion of Linzer Torder is still mysterious topic. Some people say Linzer or Franconia Johann Kondrad Vogel produced this treat massively around 1823.
The others assume Franz Holzlhuber brought Linzer Torte to Milwaukee in the 1850s. However, I can ensure that the name, Linzer Torte, is named after the city of Austria – Linz. This shortbread form has a single layer like pies and tarts.
The chefs frequently decorate the cake's top with nuts and fruit preserves in a lattice design. You can order Linzer Torte with different fillings such as raspberry, redcurrant, or apricot preserves.
You can find a "smaller" version of Linzer Torte in some bakeries in North Amerian, and people call it Linzer Cookies or Linzer Tarts. This variation has a circle-shaped narrow hole in the center of the cookies.
The bakers fill the hole with fruit preserves and coat it with powdered sugar instead of sliced nuts.
You Should Fly To Astria At Least Once In Your Life
Although Austria is not as famous as Italy, Germany, or some European countries, it still has some specialties that can leave a mark on your mind, especially foods. Their flavor will kick off your taste buds and help you enjoy Austrian culture.
Almost all Austrian foods can draw foodies at first sight. When enjoying foods in foreign countries, you should enter a restaurant run and cooked by a local. You can ask some citizens here, and they will give you a trusted answer.
Like, share, and comment on some words in the box chat to tell me how you love this post. Don't forget to come back to read more interesting articles. See you soon!