What can you expect from Taiwanese foods? You don't have to worry about that! Their tastes will never disappoint you, and all you need to do is give them all a go.
Taiwan is a society with many ethnic groups and a diverse culture. They harmonize with each other and create a sophisticated culinary culture. To deeply experience Taiwanese cuisine, start by enjoying the following local recommendations.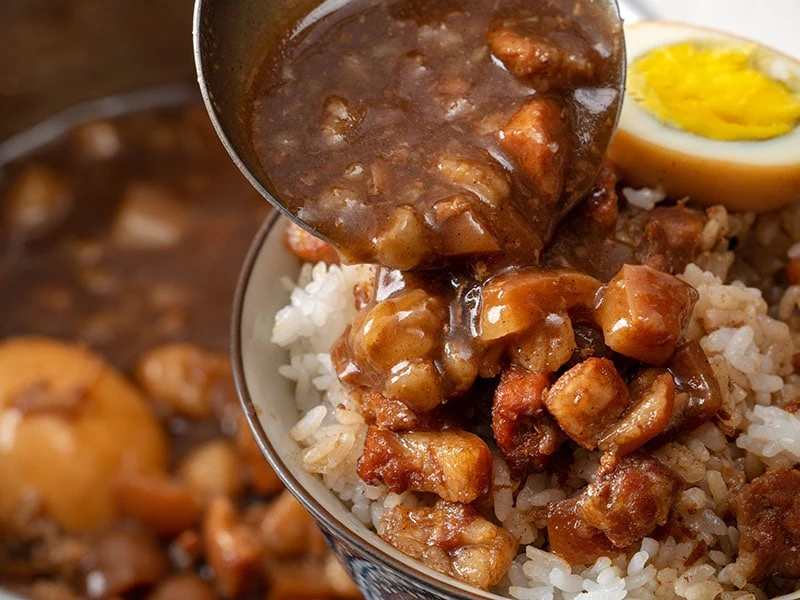 Luscious Rice And Noodles Dishes You Should Try In Taiwan
On the island of Taiwan, the locals attach great importance to noodles and rice dishes because they have a unique flavor and carry many meanings.
Even in the capital Taipei, there is an annual festival dedicated to one particular type of noodle, and many rice dishes are considered the national spirit of their country. So, don't miss the chance to try these delicacies.
1. Ta A Mi (Slack Season Danzai Noodles)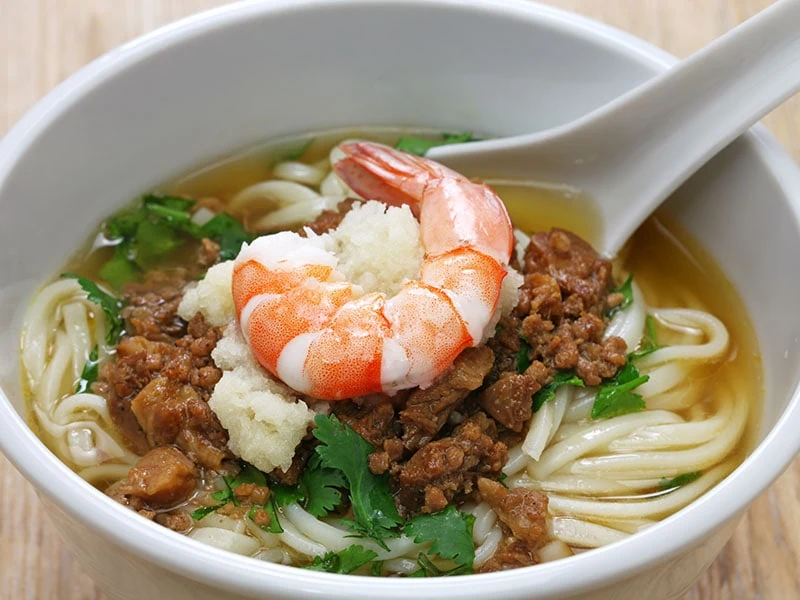 Ta A Mi is believed to be created during the Qing dynasty (around 1895) by a fisherman (called Hong Yutou). The treat was first made and served for the slack season (off-season) when the weather worsened, making fishing more dangerous.
A standard bowl of Ta A Mi consists of both seafood (shrimp) and meat (minced meats) with additional vegetables/herbs (coriander) for a more refreshing taste.
Each restaurant holds its own secrets to making Ta A Mi, so you might have chances to experience different kinds of Slack Season Danzai Noodles in Taiwan. People in Taiwan usually serve a small portion of Ta A Mi; therefore, you won't be too full after having it.
How to get a perfect bowl of Danzai Noodles in Taiwan?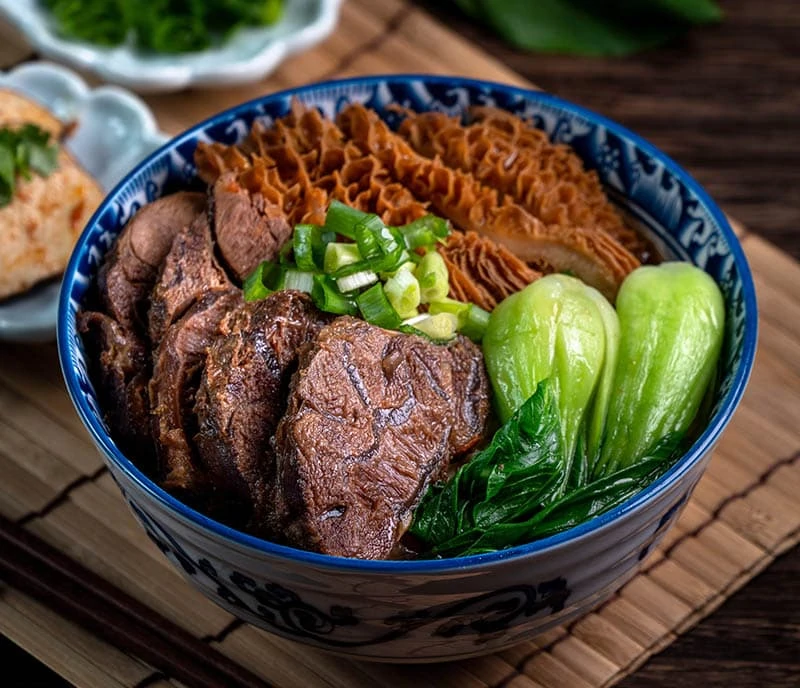 Beef Noodles Soup is one of the delicious dishes of the Taiwanese people that you definitely should not miss. A delicious Niu Rou Mian bowl must include three indispensable factors: noodles, broth, and tasty beef.
The broth is the quintessence of Niu Rou Mian and is often divided into two main categories: spicy and non-spicy. The specialty of Taiwan is the variation with the red soup base called Hong Shao Niu Rou Mian.
It was first created by the Sichuanese Kuomintang veterans and inspired by the ancient Lanzhou Beef Noodles Soup (from the Tang dynasty).
With a combination of stewed brisket and tendon, each stall selling Beef Noodles Soup in Taiwan creates a unique character of its own. Gradually, thanks to continuous improvement, Taiwanese Niu Rou Mian has become a culinary masterpiece.
3. Shan Yu Yi Mian (Eel Noodles)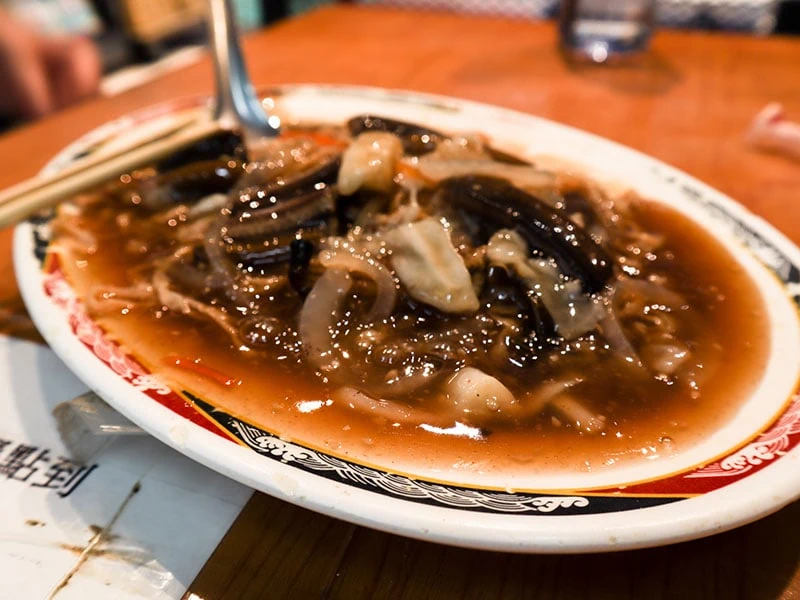 Shan Yu Yi Mian or Eel Noodles Soup is a specialty of Tainan, Taiwan. The food consists of fresh egg noodles with a unique sauce made of soy sauce and vinegar.
The flavors of this sauce will vary based on different regions. For example, the Tainan version provides sweet and sour flavors, while the Shanghai variation offers a more dominant salty taste.
When serving, they will mix the viscous-consistency sauce with the noodles and top with plenty of fatty flesh of eels. How flavorsome!
The best way to know more about Shan Yu Yi Mian is right here!
4. Zhu Tong Fan (Taiwanese Bamboo Rice)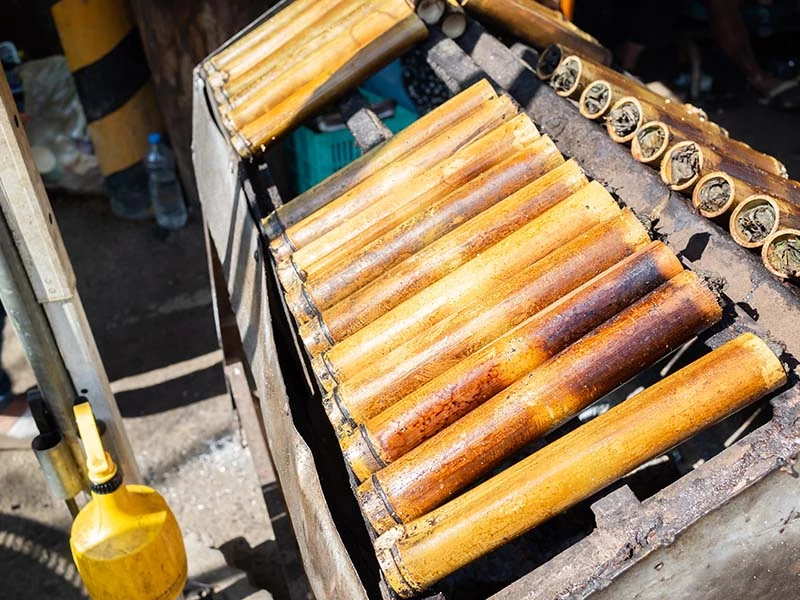 Bamboo Rice is a rice specialty in Taiwan, and people love it for its exquisite flavors. They don't just use plain glutinous rice but mix the rice with other ingredients (dried shrimp, mushroom, or pork).
All the components will be stuffed inside bamboo tubes and grilled directly on an open fire. The heat and smoke is the key factor that creates a gorgeous distinctiveness of the treat that you cannot find elsewhere.
During their long hunting days, the Taiwanese aboriginals created the food and brought these rice stuffed bamboo tubes with them.
5. Tsao Mi Fun (Taiwanese Stir-Fried Rice Noodles)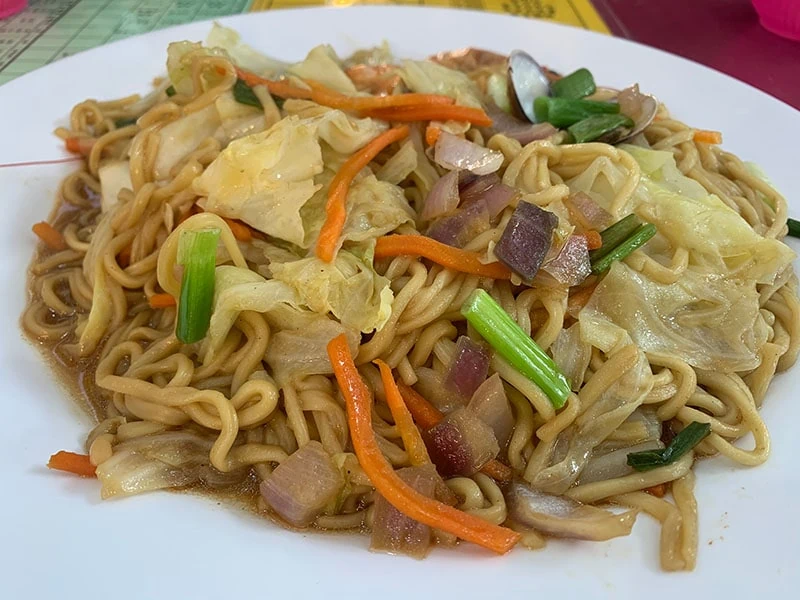 Not a typical type of Chinese noodles, but this Tsao Mi Fun asks for rice noodles, a special kind of noodles in Taiwan. You can find almost everything on your plate of Tsao Mi Fun, from pork, veggies, and mushrooms.
A prominent flavor you can detect here is the scent from the five spices mixture. To create the dish, Taiwanese chefs will mix all ingredients with vinegar mixed soy sauce to taste. If you want to have something light and fresher, try this Tsao Mi Fun out!
A detailed guide to making Tsao Mi Fun that can help you know more about the food!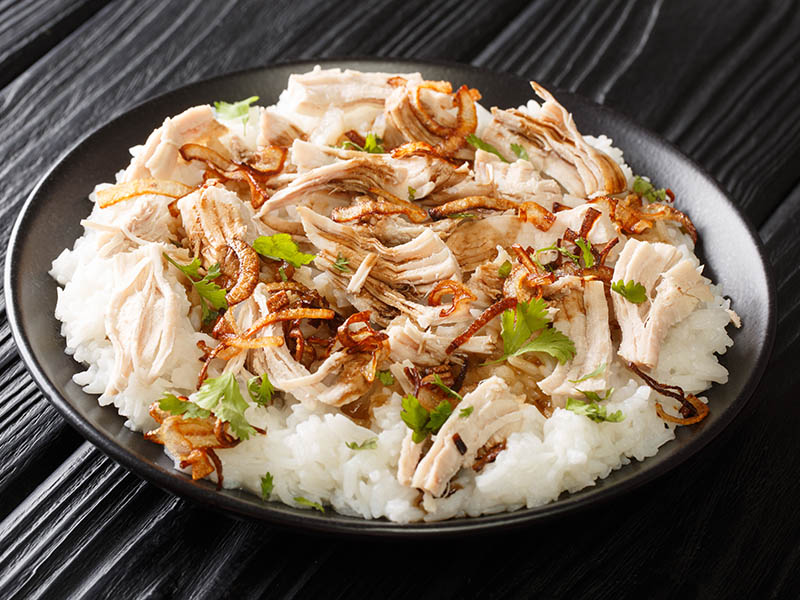 How can turkey, an American-native chicken breed, appear in a list of Taiwanese dishes? Before talking more about this singature Taiwanese recipe, you should know more about the origin of these Taiwanese turkeys.
Historians believe that the turkey was brought to Taiwan by the Dutch settlers in the 1600s, and it took a long time until the chicken was used in an Asian dish. Ling Tianshou, the man who created the treat, started to sell his specialty in Jiayi in 1949.
The idea to serve this treat is similar to Hainanese chicken rice. The cooks will use the shredded turkey breast with ginger, green onion, and pickled daikon with a bowl of white rice. It might be simple, but it will be distinctively toothsome as a whole.
7. Lu Rou Fan (Braised Pork Rice)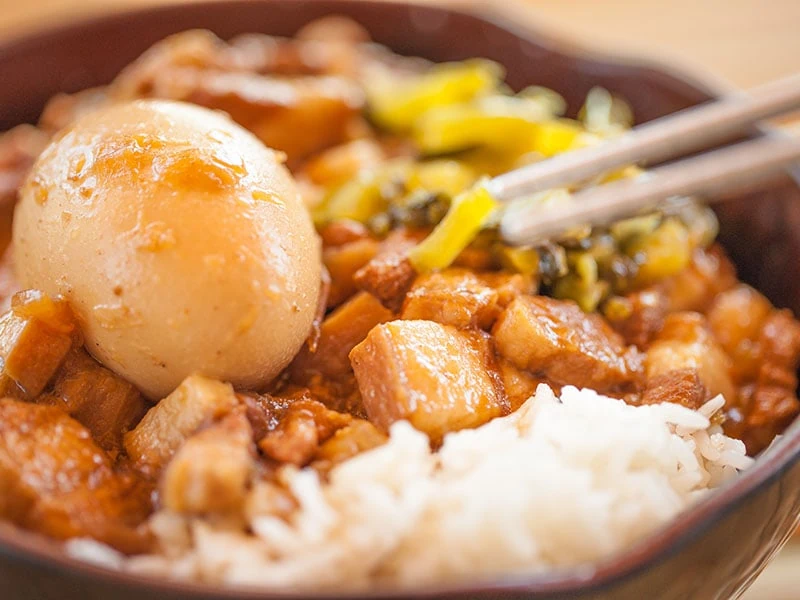 Lu Rou Fan is a delicious Taiwanese-style pork belly recipe with a lot of sauce and is usually eaten with steamed white rice. This dish has a long history which started in the Zhou dynasty and various variations from other Chinese regions.
The primary principles for Lu Rou Fan are relatively simple, consisting just of finely cut pork belly, fried yellow onions, and aromatic five-flavored soy sauce.
If you ever visit a local family, you will find out that Lu Rou Fan is a typical dish in their daily meal. Lu Rou Fan might not be the healthiest option on this list since there are a lot of fatty ingredients, yet, it will surely be one of the most tempting ones.
Something you should know more about Lu Rou Fan will be shown here!
8. Orh Ah Mee Sua (Oyster Vermicelli Noodles)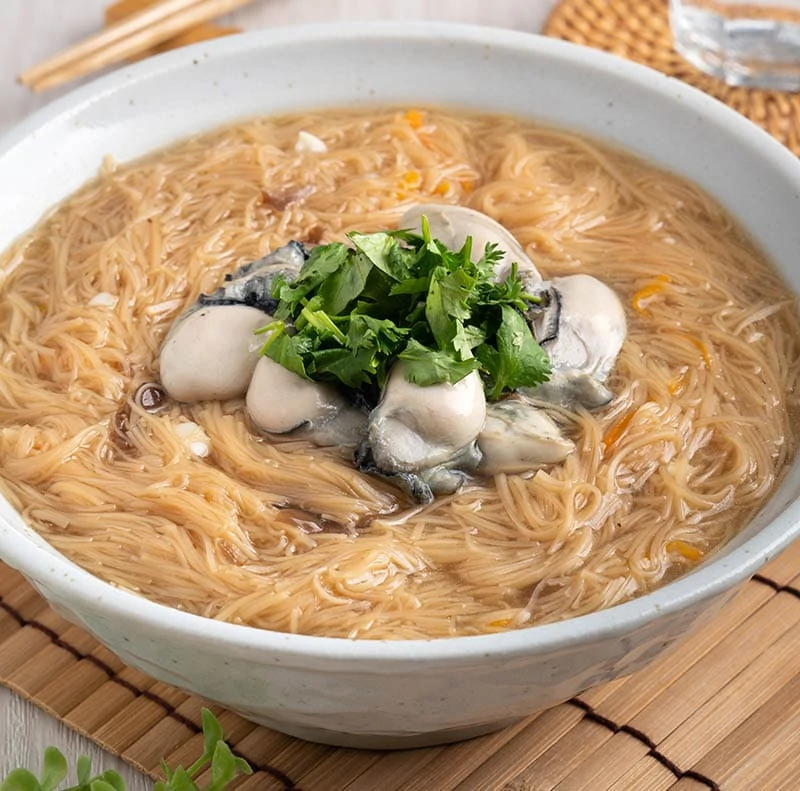 Orh Ah Mee Sua is a fairly old dish in Taiwan, and it has crept into every small street or market corner. You can easily encounter the treat at the roadside curbside carts.
Pork intestines and fresh, rich oysters are the essential components in these delectable Taiwanese Oyster Vermicelli Noodles. The chefs will clean the pork intestines carefully before cooking them with several fragrant natural herbs to reduce the odors.
Each store has its unique recipe that creates varied flavors depending on the cooking procedure. Overall, an attractive bowl of Taiwanese Orh Ah Mee Suai with a thick, rich, sweet sauce combined with fresh, greasy oyster will surely make you extremely satisfied!
9. You Fan (Taiwanese Sticky Rice)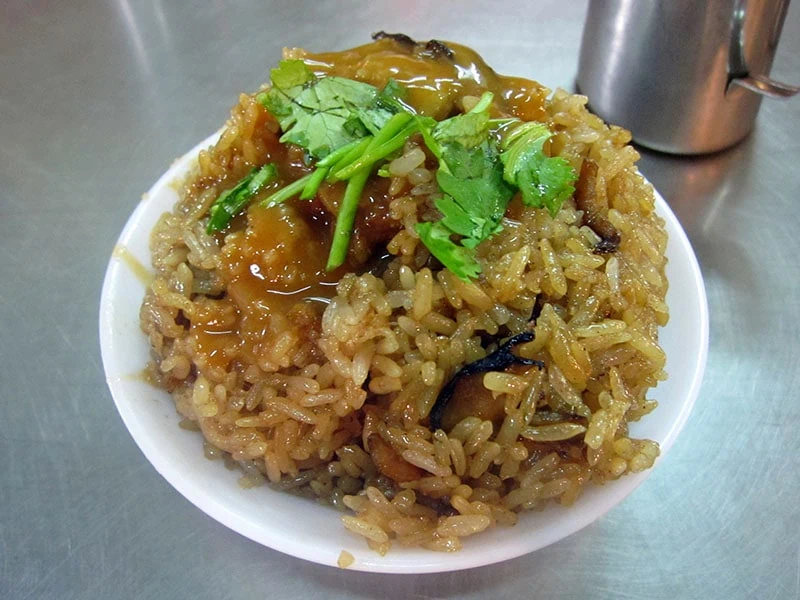 Many Taiwanese people love sticky rice dishes, and You Fan is one of them. It delivers plenty of rich and toothsome flavors that can easily please your taste buds.
In Taiwan, people usually prepare You Fan to celebrate the one-month birthday of their children (especially the boys). Wedding receptions are also an ideal place to find a bowl of festive You Fan.
The sticky rice dish will serve various ingredients such as pork, dried shrimp, shiitake mushrooms, some spices (ginger, garlic), and condiments (soy sauce and brown sugar). Some vegetarian-friendly variations are typically sold at the temples.
10. Ding Bian Cuo (Slippery Rice Flour Pasta)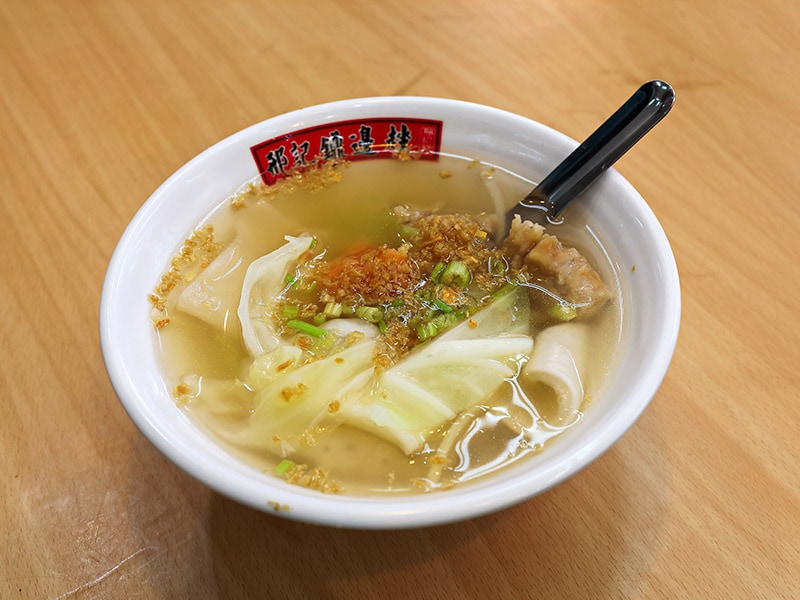 Have you ever experienced freshly made pasta that is only made right before serving? Ding Bian Cuo is a dish like that. The chef will make the noodles/pasta by spreading the rice flour directly on the hot metal wok and serving it with a bowl of steaming hot broth.
The broth will be rich and full of sweetness from pork bones and seafood. When eating, you can feel the gorgeous chewiness together with the satisfying flavor from the broth.
Having a bite of the pork/shrimp cakes with fresh cabbage with the Ding Bian Cuo will make your taste experience even more memorable.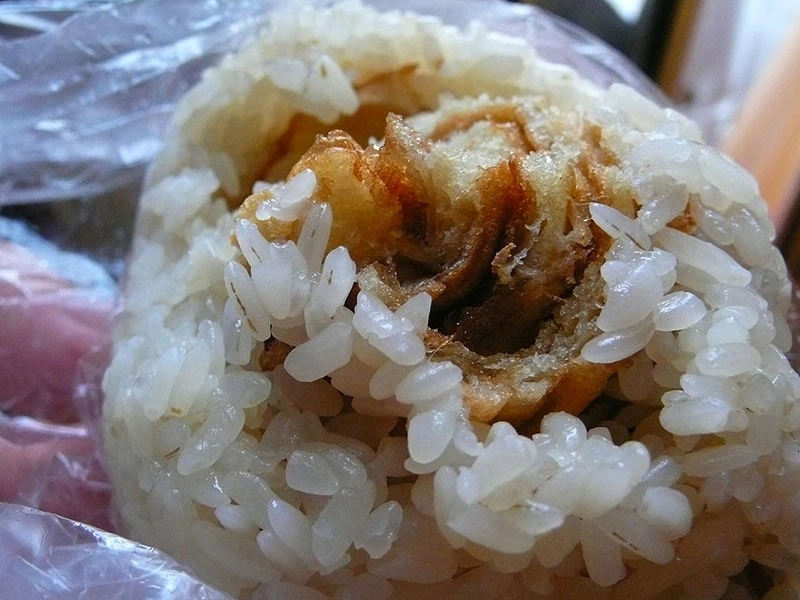 If you ask a local person for a breakfast recommendation in Taiwan, they will indeed suggest this Fan Tuan (or Cifantuan). You can also find this food in many Hong Kong street vendors or some other regions of China.
It simply consists of sticky rice wrapped with essential ingredients like Chinese Bread Sticks (You Tiao), pickled radish, sauerkraut, fried egg, cotton balls, bacon, and sometimes sugar. However, its delicious taste is undeniable.
Nowadays, there are several types of Fan Tuan with different rice colors, and the most popular one is purple. Sometimes, Fan Tuan is called "Chinese Burrito", yet, instead of using flatbread, Taiwanese use plastic wrap to shape the rice rolls.
What can you expect from a piece of Fan Tuan?
Irresistible Dumplings To Eat In Taiwan
Being solidly influenced by Chinese and other Asian cuisines, Taiwan cuisine is also famous for its dumplings. Yet, the dumplings made in Taiwanese ways will be totally distinguished from the others.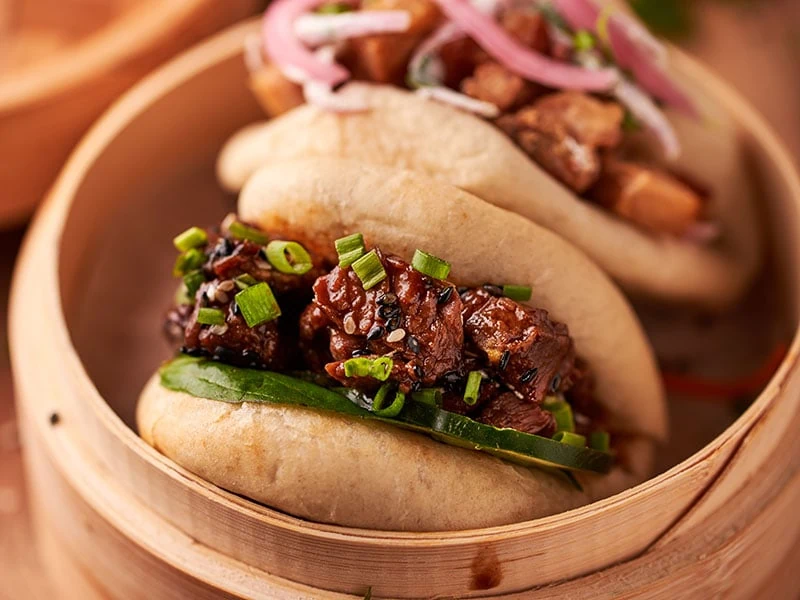 Gua Bao, or Taiwanese Hamburger, is a distinctive Taiwanese-style dumpling filled with pork belly, pickled cabbage, cilantro, and crushed peanuts.
The fillings are "sandwiched" between two layers of white, plain dumplings rather than packed within the dough as in traditional dumplings. This delicacy was first introduced to Taiwan by Fuzhounese immigrants.
In certain regions of Taiwan, Gua Bao is informally known as Ho Ka Ti, which translates as "tiger biting a pig." It's because the shape is reminiscent of a tiger's mouth, and the pork filling is so enormous that it oozes out.
This name is also close to the original Fuzhou (Fujian) variant, "Hu Yao Shi". Some creative chefs have improved on the traditional filling and added novel ingredients such as fried chicken, fish, egg, or beef stew to create their variations' highlight points.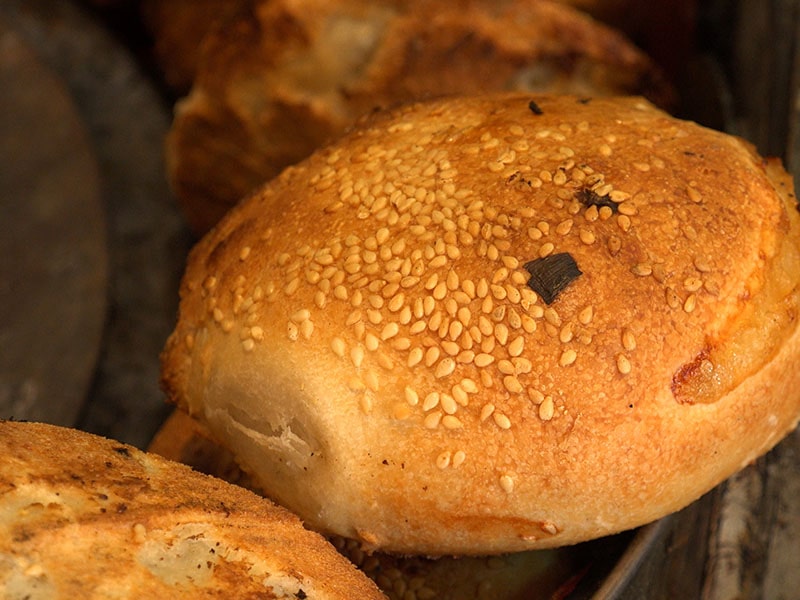 Hu Jiao Bing's appearance might remind you of the fried dumplings; yet, the dough is totally different. This treat originated from Fujian, China, and the original variation is called "Fuzhou Pepper Buns".
Hu Jiao Bing is prevalent street food in Taiwan, and you should not buy only one at once because it will be so palatable that you might need to come back for more.
The buns will be baked in a traditional clay oven until their shells turn into a beautiful yellow color and the dumpling-like filling with minced meat is cooked. The food is called " Pepper Buns " since there is always white/black pepper inside the filling mixture.
This is how people enjoy a piece of Hu Jiao Bing on the street.
14. Ba Wan (Giant/Mega Meat Dumplings)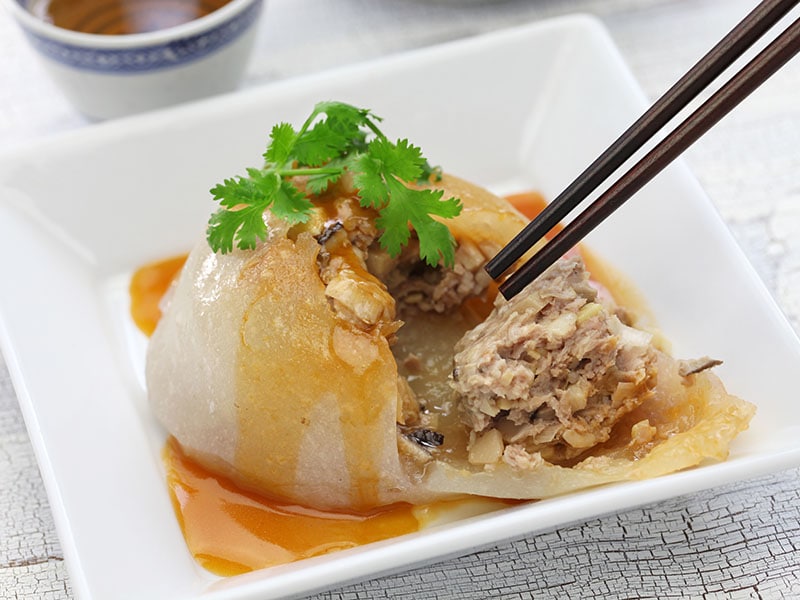 Unlike some other kinds of dumplings, the dough/shell of Ba Wan consists of plenty of flour (rice flour, sweet potato, and cornstarch) which makes their shells beautifully chewier, crusty bottom, and translucent after cooking.
Ba Wan is also not an authentic Taiwanese treat; it was first created in the Beidou township of Changhua County in 1898. There was a catastrophic flood that year, and people in that town decided to make special dumplings for disaster relief.
Nowadays, the Taiwanese Ba Wan is derived from the original Changhua variation, which is usually served with sweet gravy and pork/veggies fillings. If you love eggs, you can also ask for that variation too.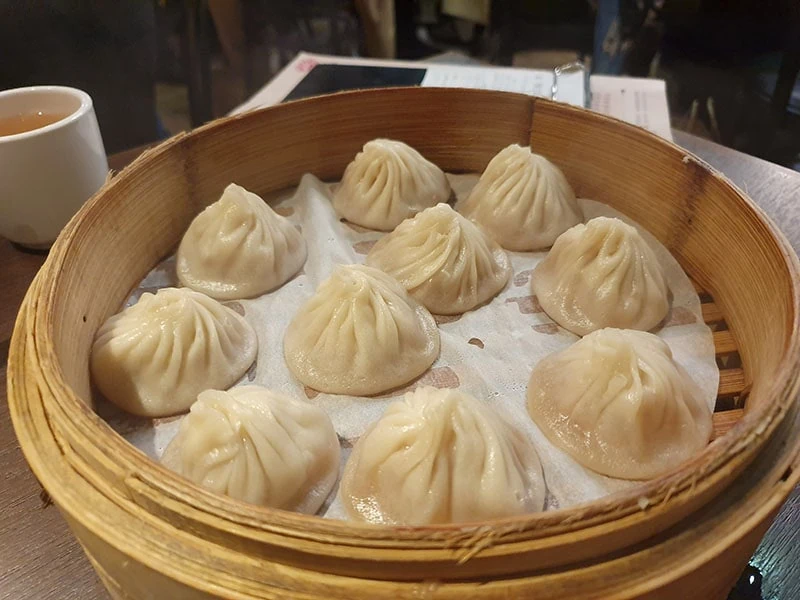 If you have great enthusiasm for China's diverse cuisine in particular or Asian cuisines in general, you might be familiar with this Xiao Long Bao. The dumplings are renowned for the juicy filling that literally "pops" in your mouth when you have a bite.
Although this dumpling type is not from Taiwan (it came from a Shanghai suburb 150 years ago), people believe that the Taiwanese Xiao Long Bao genuinely lifted the standard of this food up.
Thin skin, filled pork filling, and luscious broth contained are all the things you can expect from a piece of Xiao Long Bao. This food should be eaten hot when the broth is still warm and runny. Believe me, it will be absolutely enticing!
You should see this review to know more about Xiao Long Bao.
16. Zong Zi (Sticky Rice Dumpling)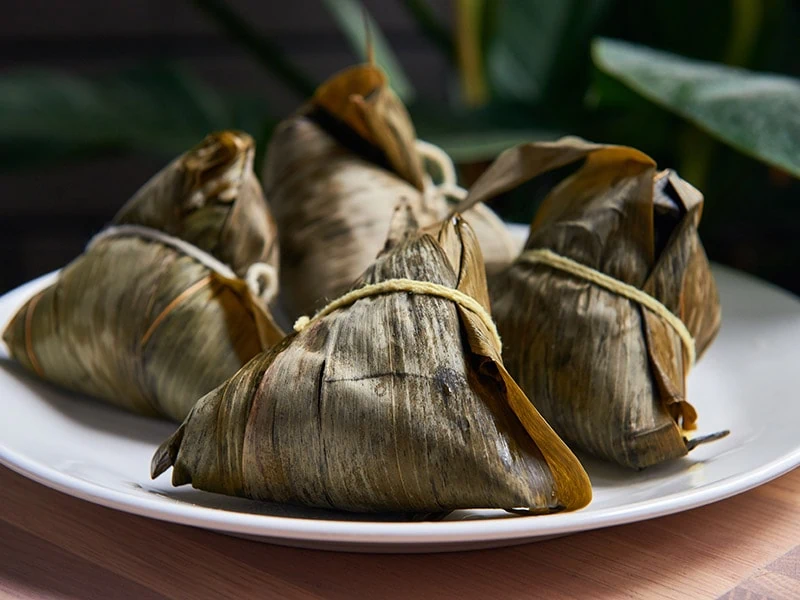 Zong Zi is a must-have dish during the Lunar Mid-Year Festival (or Dragon Boat Festival), and people in Taiwan frequently eat it to hope for good luck and ward against calamity. A piece of Zong Zi can be filled with pork belly, ham, chestnuts, or lotus seeds.
It may be easier to spot the meaty version (Rou Zong) with pork, jujube, and egg yolk in Taiwan. There are also Some Zong Zi with sweet fillings (peanuts/chestnuts), so go for them if you prefer something more vegan-friendly.
Although Zong Zi is a celebratory rice dish, you may enjoy it all year since street vendors serve it often.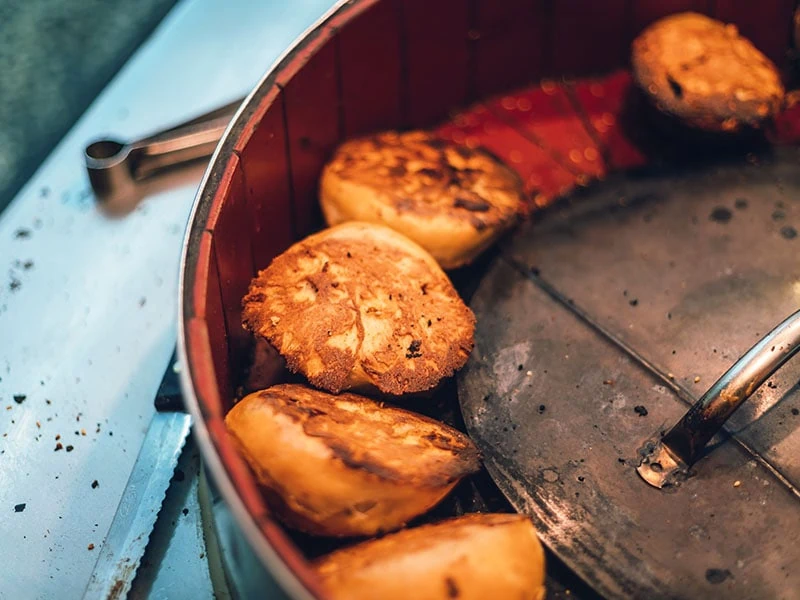 Sheng Jian Bao is frequently linked with chefs at a modest breakfast restaurant wielding a massive black skillet with a hefty wooden top. This treat has its roots in Shanghai from the 1900s and has been a beloved breakfast treat there since then.
The Taiwanese Sheng Jian Bao has some significant differences from the original versions. For instance, the Taiwan variation has a bigger size and is seared on different sides. Who can say no to a dumpling with a crispy crust and a juicy, hot filling?
Do you want to know more about how Shengjian Bao is made?
Meat Dishes In Taiwan That Can Allure You
Let's move to the category of meaty Taiwanese dishes! All of them are toothsome and worth trying once in a lifetime.
18. Yan Su Ji (Taiwanese Fried Popcorn Chicken)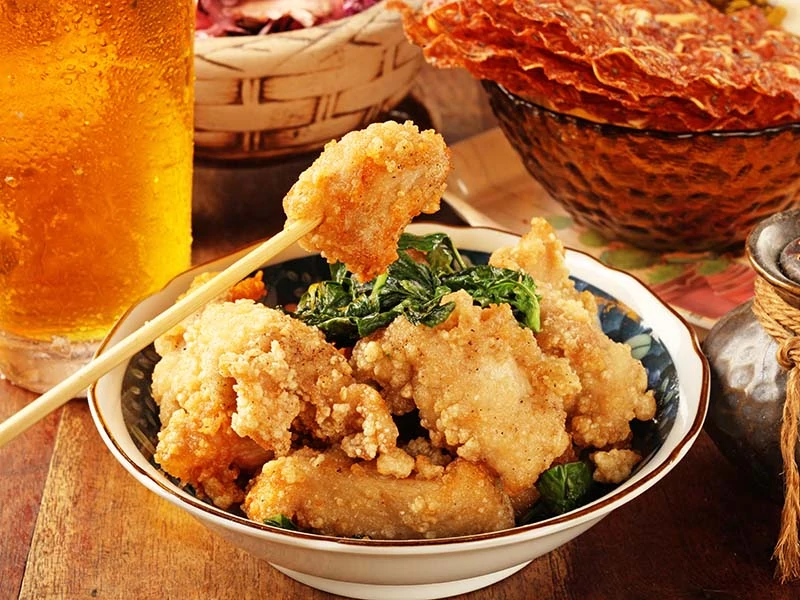 Taiwan is home to many delicious chicken delicacies. While there are many other appealing fried chicken types, Taiwanese Popcorn Chicken is among the most popular. It is a famous chicken dish created in Tainan, Taiwan, in 1979 by a woman named Ms. Yeh.
Ms. Yeh and her newly-wed husband (at that time) thought of a way to eat the KFC-style chicken more conveniently without making their fingers covered with greasy oil. She then made her own fried boneless chicken variations, which turned out great.
The chicken portion is cut into small pieces, well-marinated, and are deep-fried to a golden yellow hue with a crispy, flaky crust. Yan Su Ji now has earned its place in many Taiwanese people's hearts and has become an undeniable street food of this island.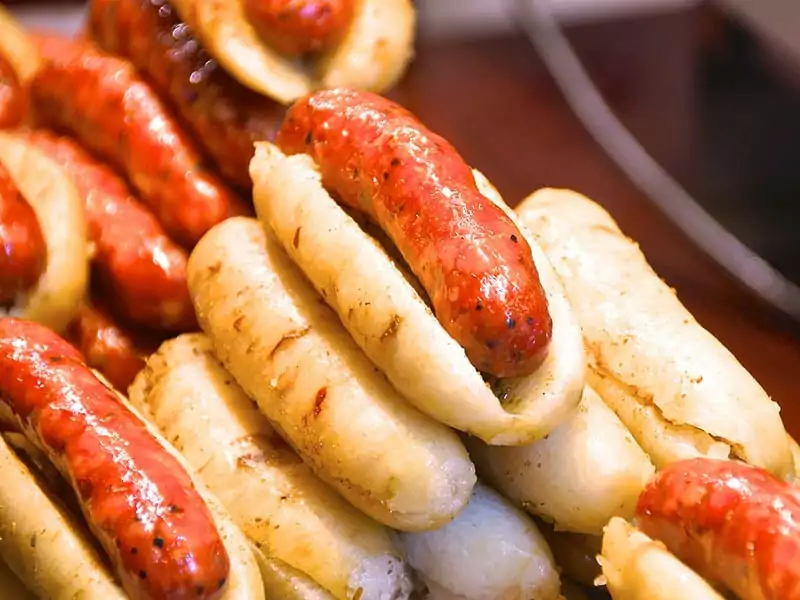 This dish first appeared in Taiwan at the end of the 20th century and has since become a prevalent snack at all the country's night markets.
Its appearance might make you think of regular hot dogs, with bread wrapping around various kinds of sausage. Yet, Da Chang Bao Xiao Chang consists of glutinous rice sausage instead of bread. The toppings for a portion will be pickled veggies, garlic cloves, and lettuce.
The sellers will include some soy sauce or their esoteric spicy sauce to blend all the flavors and offer a tantalizing spicy taste. You might not be able to stop at the first portion, so you should buy two of them at once.
20. San Bei Ji (Three-Cup Chicken)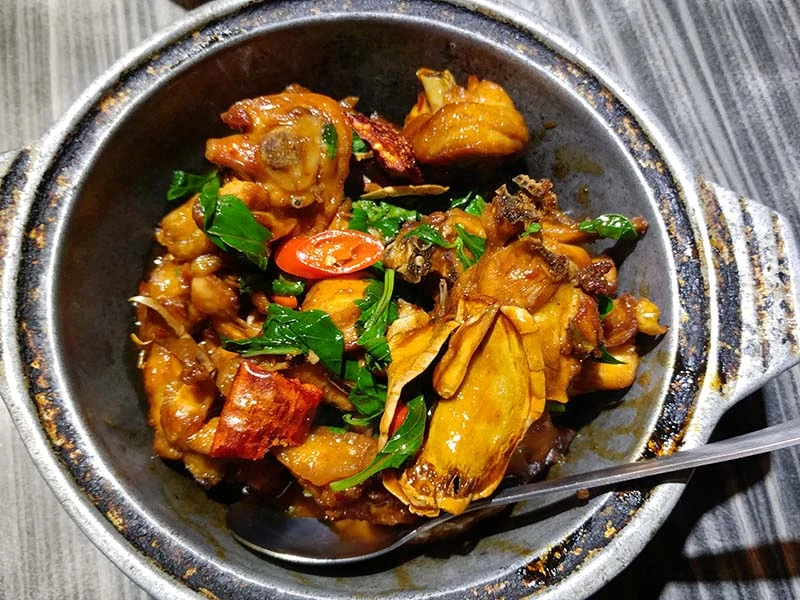 San Bei Ji, also known as Three-Cup Chicken, is a famous lunch dish in Taiwan, and you can find it easily in many family restaurants there.
It consists of three main components: 1 cup rice wine, 1 cup sesame oil, and 1 cup soy sauce. It's also why San Bei Ji has such a unique name. Furthermore, San Bei Ji will taste a bit sweeter in Taiwan than other variants.
San Bei JiJi is enriched with fresh garlic, ginger, and basil, in addition to the three primary spices. Fresh chicken meat with rich golden fat will be sautéed in a hot skillet with ginger, garlic, and Asian-inspired spices.
All of them helped the food that was popular throughout the ancient Southern Song Dynasty (1127-1279 AD), famous to this day.
Let's see the steps to create a perfect San Bei Ji and know more about it.
21. Ma You Ji (Taiwanese Sesame Oil Chicken Soup)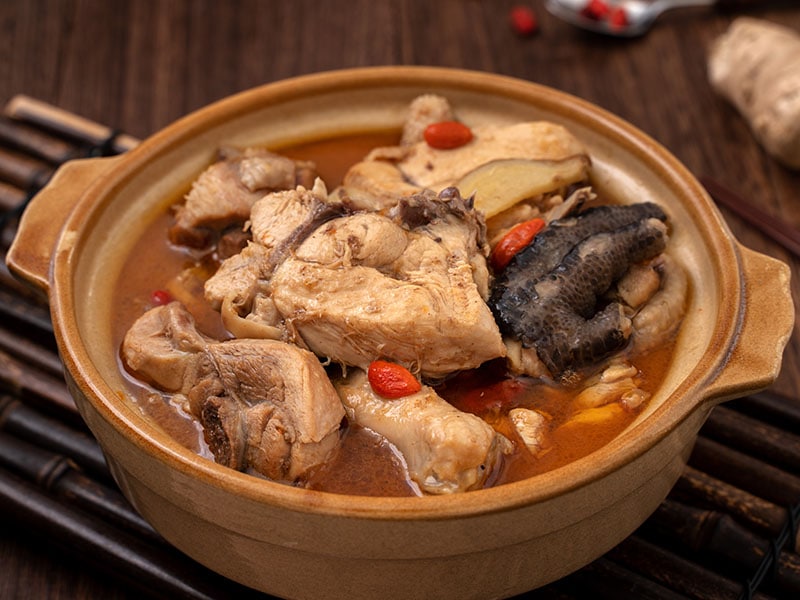 Not only a heart-warming dish, but Ma You Ji is also a famous "body-warming" treat thanks to the use of various hot spices/condiments. Ma You Ji also has a great effect on supporting blood circulation, so it is considered a nourishing food in Taiwan.
Ma You Ji is a dish that is ideally served on winter days or for someone who has cold hands/feet. If you want a suggestion for a classic Taiwanese dinner recipe, opt for this treat. Since it always goes with glass noodles and other veggies, Ma You Ji is surely filling!
22. Huo Yan Shai Zi Niu (Flamed Beef Cubes)
Can you believe that exquisite torched beef cubes are street food? It is at least possible in Taiwanese and Singaporean cuisine, and you won't regret trying it once. This dish deserves to be sold in luxury restaurants thanks to its delicious taste.
The carefully marinated beef part and the unsparing processing make the delicate flavor linger in your memory forever. No one can resist such deliciousness, slightly crispy on the exterior and juicy inside.
I suggest eating it with steaming hot white rice like some other Asian foods since it will never go wrong when pairing a savory dish with rice!
23. Lu Zhu Jiao (Taiwanese Braised Pork Feet)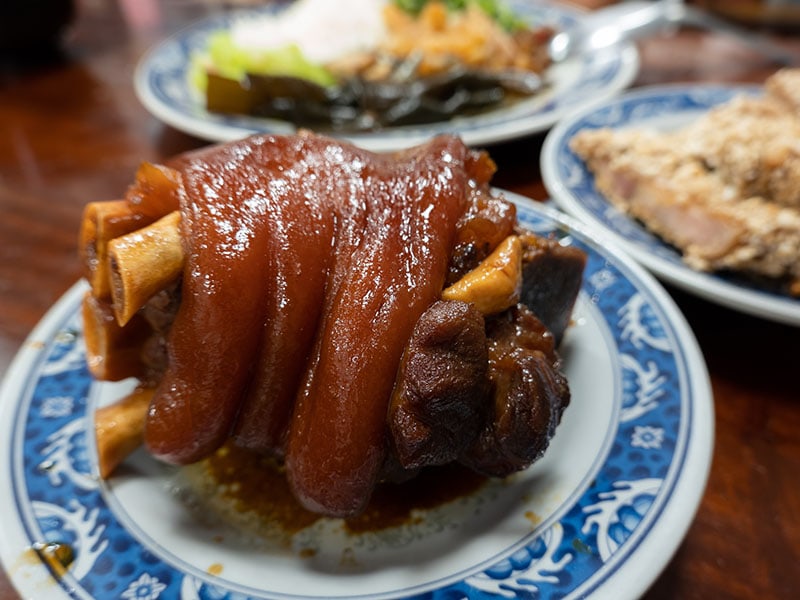 Any part of cattle can be processed and taste great in Asia, and this dish is solid proof for that quote. With high collagen contained inside the pork feet/hock, the food is renowned for its benefits of supporting skin conditions.
A bowl of Luan Zhu Jiao will not go alone; they will serve the special pork stew with noodles or rice as a plain base.
People believe that Luan Zhu Jiao stands for "improvement" and "forwardness" in Taiwan. Therefore, they usually serve this dish on special occasions that celebrate a new beginning, such as New Year and birthday. Do you want to have a bowl of this for your birthday?
A scrumptious Luan Zhu Jiao will be made this way!
Scrumptious Taiwanese Seafood Treats To Try Once
This upcoming section is about seafood, and you should never ignore it if you are a seafood lover. You can expect the freshest and most scrumptious ingredients from the sea here.
24. O Ah Jian (Oyster Omelet)
O Ah Jian doesn't have its origin in Taiwan but in the region of Fujian or the city of Chaozhou (Teochew, China). Later on, it became a specialty of Hokkien people and gradually gained popularity in Taiwan.
A perfectly fried oyster will have a crispy exterior made from sweet potato flour mixed with potato flour. Since the way to make the food is relatively simple, every street vendor and restaurant has unique ways to create its dipping sauces.
You should definitely try this dish when walking around the night market in Taiwan. It can be a light snack for dinner.
This is an easy peasy way to make O Ah Jian in a Taiwanese method for you!
25. O Lian / Yu Wan Tang (Fish Ball Soup / Taiwanese Oden)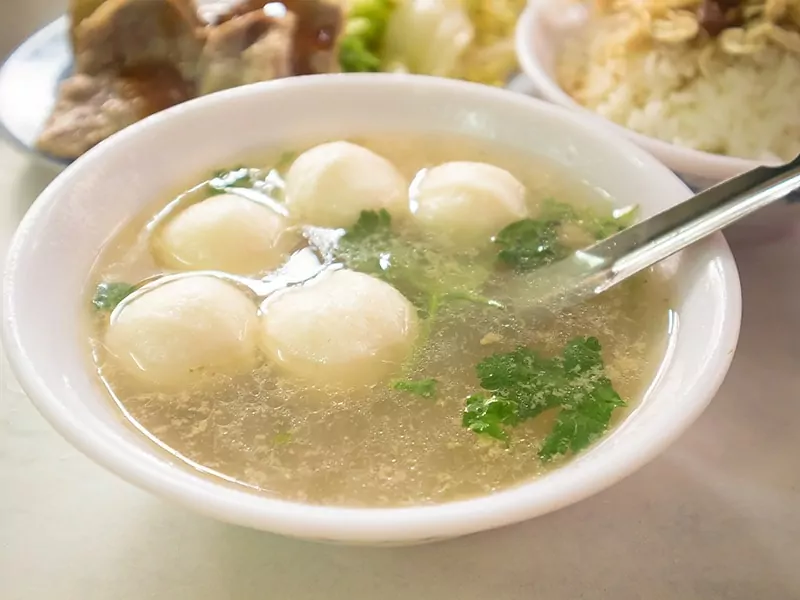 Both Yu Wan Tang and O Lian describe a type of Fish Ball Soup, yet, O Lian is more frequently used in Taiwan. The soup consists of Taiwanese fish cakes, veggies, tofu, and other ingredients.
The special Taiwanese handmade fishball will be soaked with rich broth, so you can fully taste the goodness in every bite. You can also opt for processed fish balls, which will provide a milder taste.
The food is so popular and easy to prepare that you can find it almost everywhere, from the night market to the fancy restaurants. O Lian is a perfect option for lunch, don't miss out!
26. Kao You Yu (Grilled Squids)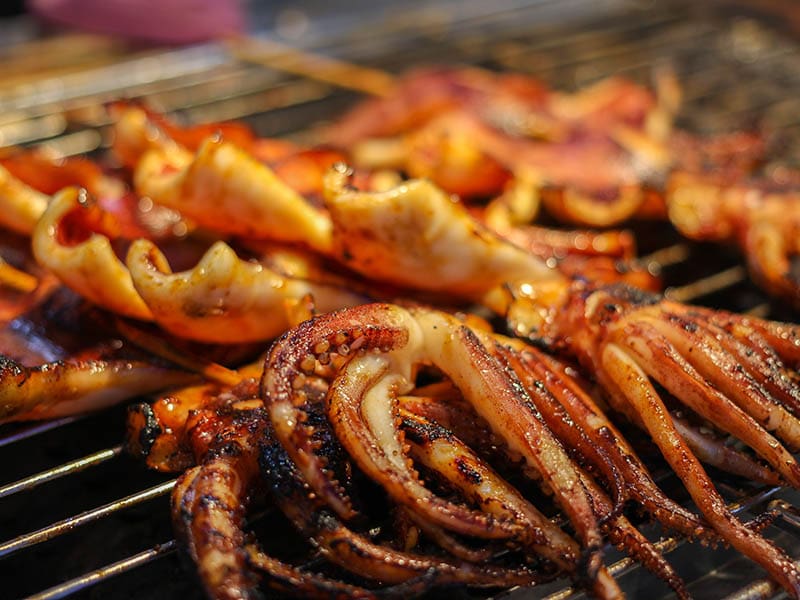 There is no fussy thing about this treat; Taiwanese people will simply skew the fresh squid, marinate and grill it directly on an open fire. You can easily find the food at the street vendors, and the sellers will offer you sauce to pair with it.
Sprinkled toasted sesame seeds will also be flavorsome on the freshly grilled squid. I can guarantee the delicacy's natural sweetness/umami flavors since the main ingredient is absolutely fresh. When you don't know what to eat, Kao You Yu will never fail you.
Let's take a closer look at how Taiwanese sell these Grilled Squids on the road.
27. Tian Bu La (Taiwanese Fish Tempura)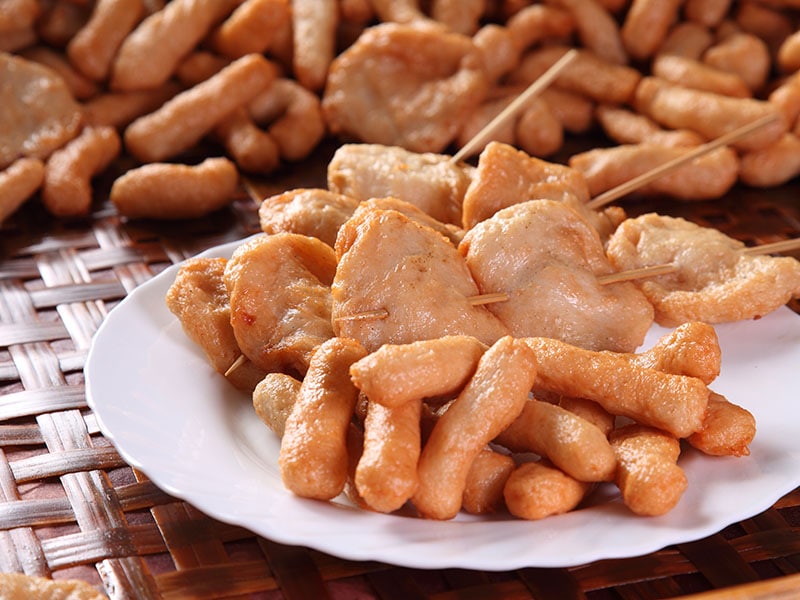 Tian Bu La is a Taiwanese term for a fish cake made of fresh fish filet. The food offers a "bouncier," tougher, and chewier texture compared to some other kinds of fish cake. One other remarkable thing about Tian Bu La is its signature sweetness.
Although you can eat Tian Bu La right after deep frying, Taiwanese people often will recook them in special soy sauce with spicy spices/condiments to enhance the flavor. The dish is delicious either way.
Typically, they won't serve the food alone; Taiwanese people love eating it with Zhu Xie Gao (Pig's Blood Cake), crispy tofu, and fresh cilantro/celery as fresh garnishes. It might look like the previous O Lian, but Tian Bu La includes the red sauce while the other doesn't.
28. Shimu Yu (Milkfish Soup)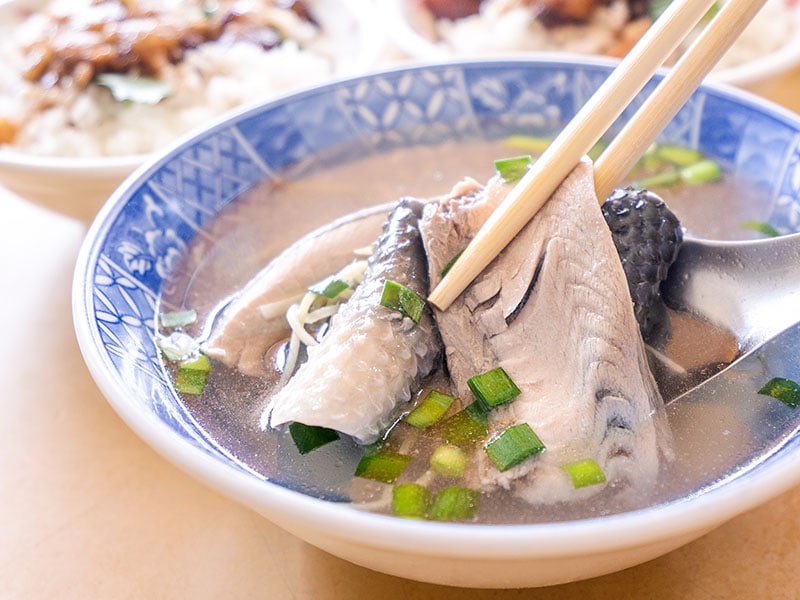 Milkfish is an essential ingredient in Taiwanese cooking, and it has the name "Shimu yu" based on a fascinating story. A long time ago, Koxinga or Zheng Chenggong (Prince of Yanping) came to Taiwan and helped people there beat the Dutch outposts in Formosa.
The fishermen there were so glad and treated him with some milkfish dish, and he asked them in Chinese, "Zhe shi shenme yu?" (meaning "What kind of fish is this?" ). The people didn't understand his question and misunderstood the term "shenme" to "shimu".
And milkfish has been called "shimu yu" since then. With the miso soup base, ginger-infused and scallions, the Shimu Yu Geng/Milkfish Soup's flavors are accentuated quite well. You can feel the light, creamy, and rich taste right after tasting it.
Discover a great method to make an authentic Milkfish Soup here!
Toothsome Taiwanese Desserts And Sweet Treats
Once talking about one specific cuisine, you shouldn't ignore their desserts, and these Taiwanese sweet treats won't let you down. You can choose anything for the first try, and it will still taste marvelous.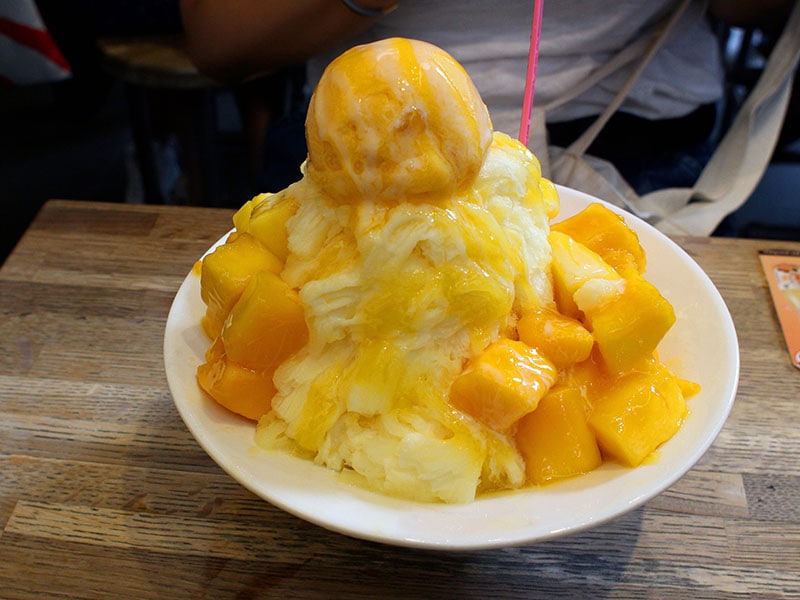 The long history of this dish is well documented as records of it date back to the early 7th century in China. This fantastic dish gradually becomes a unique sweet dessert loved in many places, especially countries with long hot summers.
The shaved ice dish consists of a layer of ice stacked high like a small mountain, topped with syrup and fruits. All ingredients of Bao Bing are natural with carefully selected fresh fruits. It will deliver a very light taste, a smooth and excellent feeling when eating.
If you have a sweet tooth, you can consider adding more condensed milk and ginger syrup to your treat.
30. Ai Yu (Aiyu Jelly)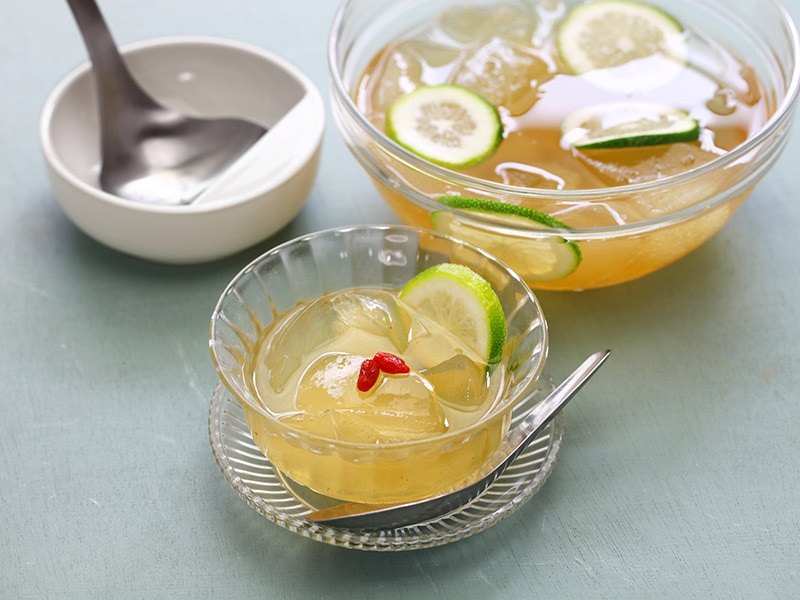 The name Ai Yu comes from the fig seeds that make up this jelly. It is a precious vine of the world. Ai Yu plant is a variant of the kudzu, belonging to the Ficus mulberry family, which grows in the mountains 1,000 meters above sea level.
Since pure Aiyu Jelly has no sugar, is low in calories, and effectively distributes heat, it is also regarded as the "divine delicacy" of the summer. You can pair this dessert with milk tea fresh juice or eat it on its own with a blend of honey, lime juice, and shaved ice.
Ai Yu is believed to have originated in the nineteenth century when a tea merchant was relaxing in Taoyuan Mountain and discovered transparent chunks of jelly floating in a nearby stream.
After tasting one, he discovered that they had a surprisingly cool and mouth-watering flavor. The merchant glanced around and saw vines with wonderful purple fruit, so he picked one and delicately scrubbed it in the flowing spring water.
He discovered that the purple fruit is responsible for the delectable jelly, so he took it home, and today's Ai Yu was born like that.
Check out how Taiwanese prepare their Aiyu Jelly right here.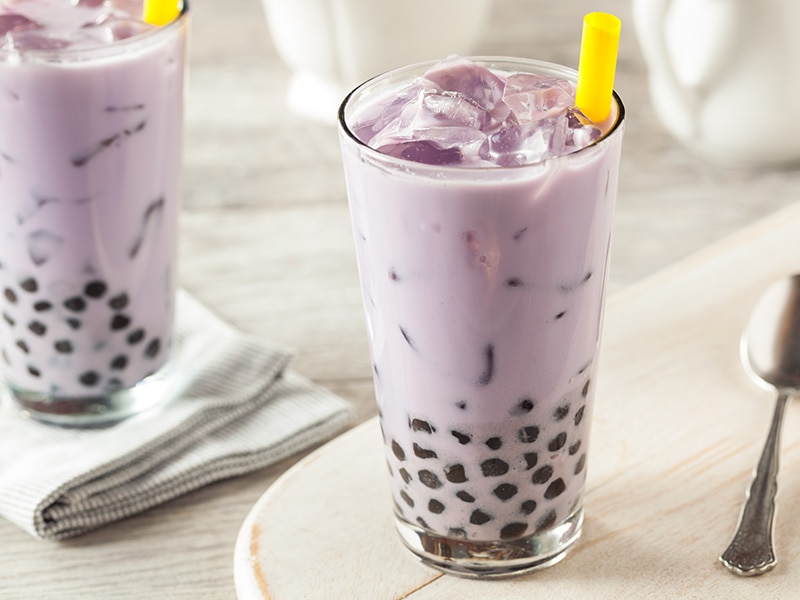 This charming Taiwanese drink has developed its scale globally since there are not a few, but thousands of Taiwanese Bubble Tea stores opened globally. The first stall that sold Zhen Zhu Nai Cha opened in the early 1980s, and the drink became famous not long after that.
The "selling point" in every Taiwanese Bubble Tea brand is their "bubbles/Zhen Zhu". Although the recipes to create the balls are simple to follow, not everyone can perfect their own variations of Zhen Zhu.
Chun Shui Tang and Hanlin Tea Room both said that they were the first to create these toothsome bubbles, and their original idea was to combine tea with traditional sweetened tapioca pudding. As long as the drink is luscious, who the creator was is not a matter.
The special bubbles' chewy texture mixed with the solid tea fragrant can appeal to anyone, especially those who have a sweet tooth. You will have thousands of Bubble Tea flavors to opt for, so feel free to take time and find your favorite ones.
Let's see why Zhen Zhu Nai Cha is addictive now!
32. Cao Zi Guo / Tshau A Gui (Herbal Rice Cakes)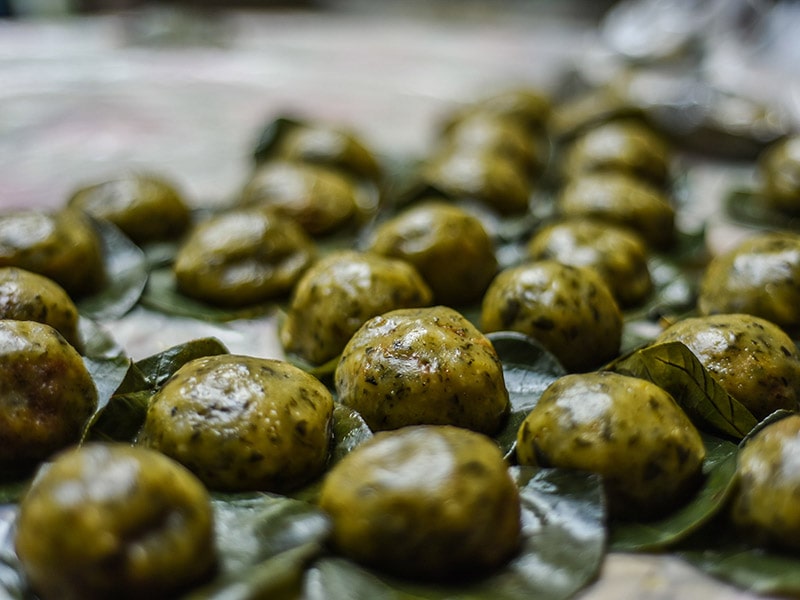 These greenish rice balls might remind you of the famous Japanese Mochi, and it is reasonable since the ideas to make them are quite the same. Cao Zi Guo or Taiwanese Herbal Rice Cakes is also made of glutinous rice mixed with herbal ingredients.
The significant difference is Cao Zi Guo calls for the crunchy, diced veggies or even meats as its fillings (instead of sweet paste). You can expect the soft and chewy texture when biting and a gorgeous crunchiness from the filling when eating this delicacy.
33. Feng Li Su (Pineapple Cake)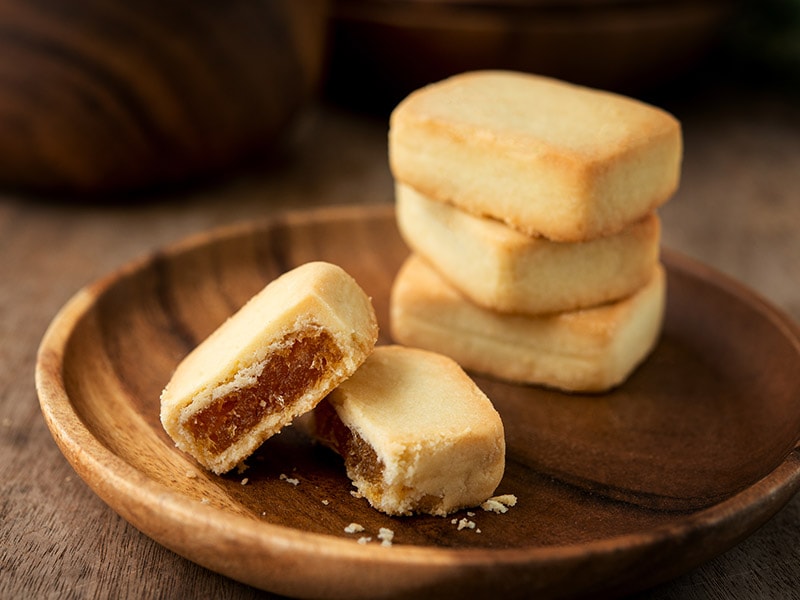 Whether fresh or made into a cake, Pineapple symbolizes wealth and prosperity in Taiwanese culture. The name of this pineapple cake in Taiwan is "Feng Li Su", with "Feng Li" meaning "pineapple".
The word is also a homophone for "fortune will come"; therefore, the special cake will exist in any Taiwanese Lunar New Year as a long-favored sweet treat. Filled with chewy pineapple jam and offering a rich outer shell taste, this dish has a distinctive Taiwanese flavor.
One notable thing about these cakes is you can preserve them for a long time. Therefore, tourists often buy them to give to relatives and friends as souvenirs.
This in-depth tutorial will show you the Taiwanese way to make Feng Li Su.
34. Che Lun Bing (Wheel Cakes)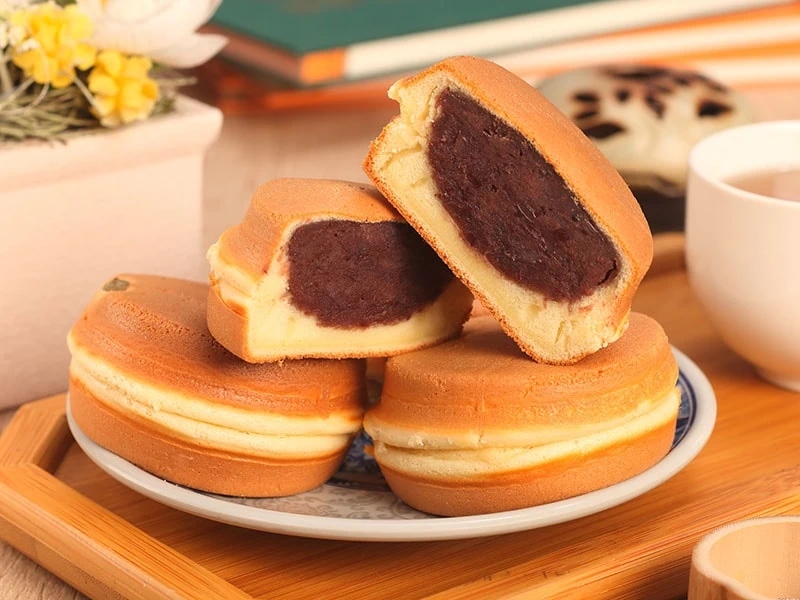 The name of this food, "Che Lun Bing", means "wheel-shaped bread" in English. It is a simple bread with a typical round shape and yummy fillings that you can easily find in any Taiwanese night market.
There are various filling options for Che Lun Bing that you can choose from, such as taro, red bean, butter, custard, matcha, and tuna. This food tastes best when it is still warm, so eat it right after you receive it from the sellers.
To have the best experience in your first time trying the treat, you can ask local people for their recommendations.
Other Yummy Foods In Taiwan To Add To Your Foodie List
Taiwanese foods are diverse, and the above recommendations are not everything you can get from this article. If you haven't chosen your favorite one, let's take a look at some suggestions below!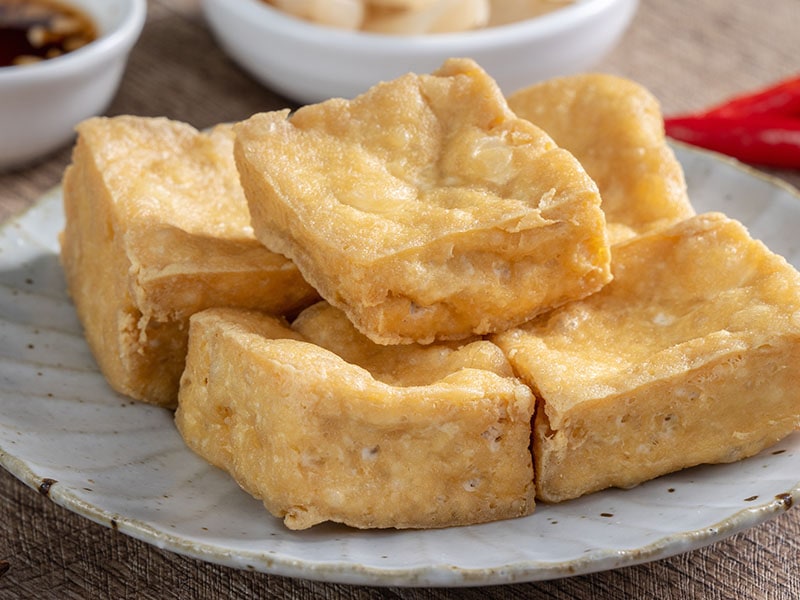 Chou Tofu or Stinky Tofu have scents that you'll immediately avoid if you are not brave enough to give them a try. However, the treat will taste great for people who have a high tolerance or have gotten used to their smell. To Taiwanese people, the smellier, the better.
The special Tofu will be fermented for several days (or up to a week) in a brine that is made of cabbage, tea leaves, dried shrimp, and some herbs. After that, Taiwanese sellers will cut the tofu into bite-size cubes, and deep fry them in sizzling oil.
Salted cabbage is a regular side dish beside this Chou Tofu to enhance the food's deliciousness.
Follow this introduction and know where to eat the best Chou Tofu in Taiwan now!
36. Xia Juan (Shrimp Rolls)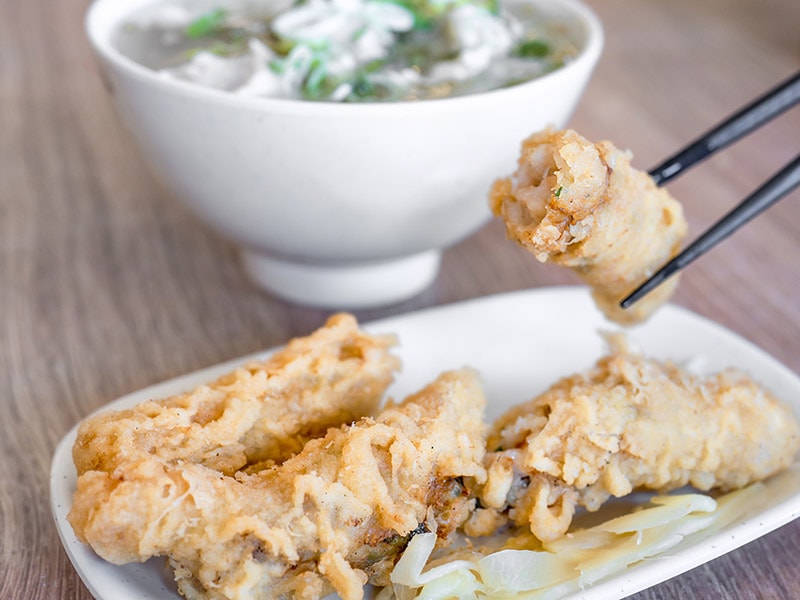 Shrimp Rolls or Xia Juan is not made of only shrimp, but the food includes a combination of pork, shrimp, offal, and fresh spices/herbs like chopped shallots. All of the components will be wrapped in a thin layer of tofu skin or pig's diaphragm lining (which is more classic).
After being deep-fried, Xia Juan is served with simple sauces made of green/yellow wasabi. If you love something sweeter, you can try the sauce with the prominent red color.
The treat is not an authentic Taiwanese dish, people started to make it 40 years ago in Tainan, and the original recipe was from a Fuzhou chef. Nowadays, you can easily find it in various Taiwanese night markets.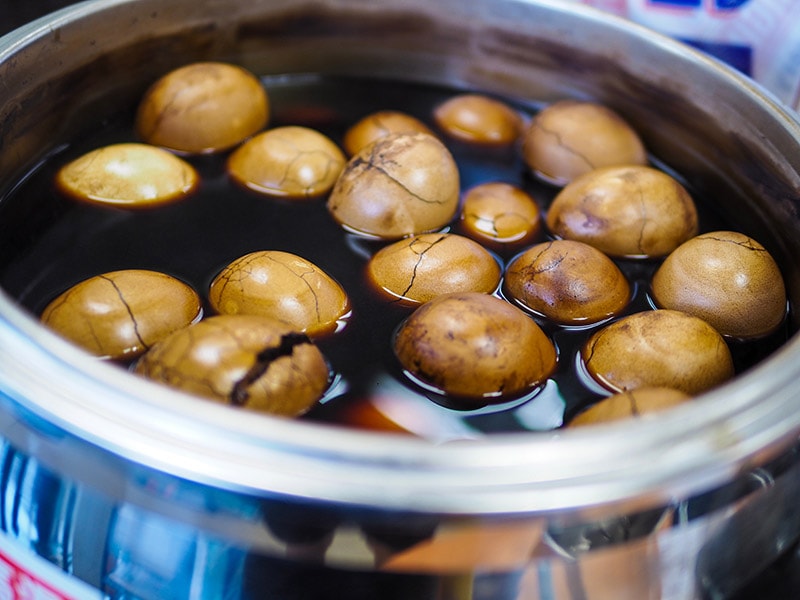 The ancient Chinese created this exciting recipe by steeping eggs in tea mixed with soy sauce and spices such as ground cinnamon, star anise, anise, cloves, and Sichuan pepper.
With the beautiful marbling pattern on their exteriors, these Tea Eggs capture my eyesight from the first moment. Not only the appearance but Tea Eggs' flavors are also remarkable, which can surely amaze you.
In Taiwan, you can easily buy these eggs in convenience stores to enjoy them as a snack or side dish. In recent years, to improve on this traditional dish, major tea egg producers have created fruit-flavored eggs (raspberry or blueberry) and other flavors.
Cha Ye Dan is relatively easy to make, and this illustration will tell you how.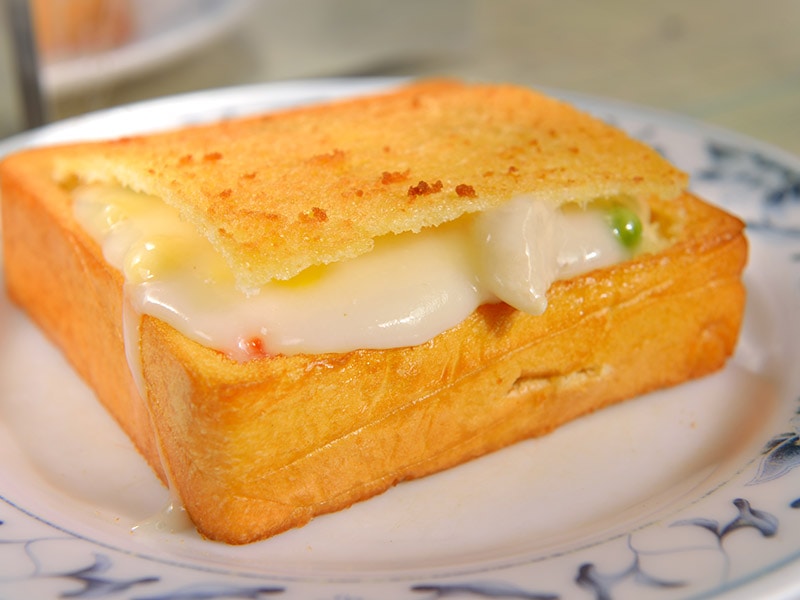 A cook called Hsu invented Taiwanese Coffin Bread in 1940. At first, he called this type of bread "Shakaliba," which translated to "entertainment center" in Japanese because Tainan has long been a location where people came to rest and gather.
Later, because the bread's shape is similar to a coffin (with a hollow interior), the name of this food was changed to "Guan Cai Ban," which literally means "Coffin Bread" in Taiwanese.
The name sounds a bit "terrifying", but Coffin Bread is still one of the special Taiwanese delicacies that many tourists enjoy every time they visit Tainan, Taiwan. It is one of Taiwan's well-known street dishes that provide variety and depth to the country's culinary culture.
Collect everything you want to know about Guan Cai Ban through this guidance today!
39. Pi Dan (Century Eggs / Iron Eggs)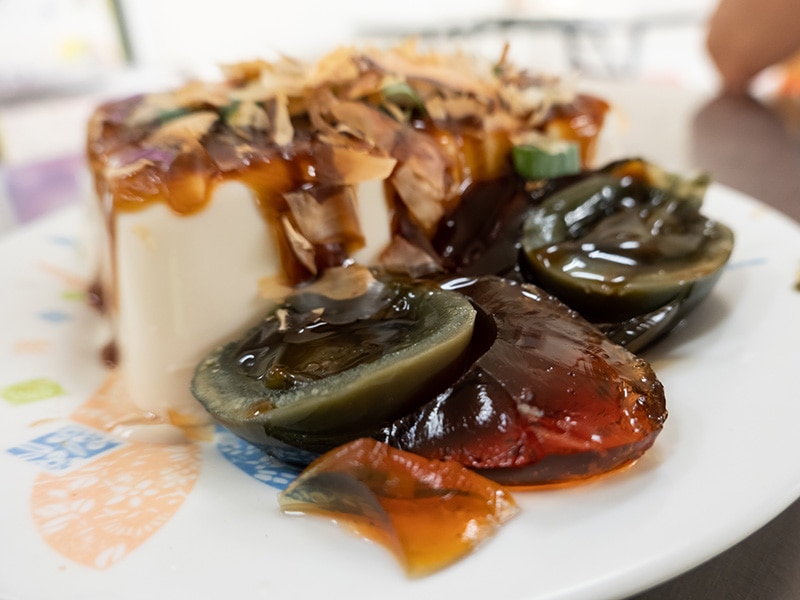 As a highly appreciated dish in Taiwan tours, Century Eggs is a delicacy you can easily find on the streets or at night markets.
Although Pi Dan looks ugly with black egg white and a slightly unpleasant odor to those not familiar with it, it is a highly nutritious food. Ignoring the intense feeling in the first bite, you will gradually feel that the special egg is vibrant, fatty, and palatable.
The way to enjoy the egg is also simple. You can pair it with cold, soft tofu, sweet soy sauce, some green onions, or a side dish/topping for soup, noodles, and congee. Trust me; you will not regret trying it once.
Want to know exactly how Century Eggs taste like? You should see this review!
40. Zhu Xie Gao (Pig's Blood Cake)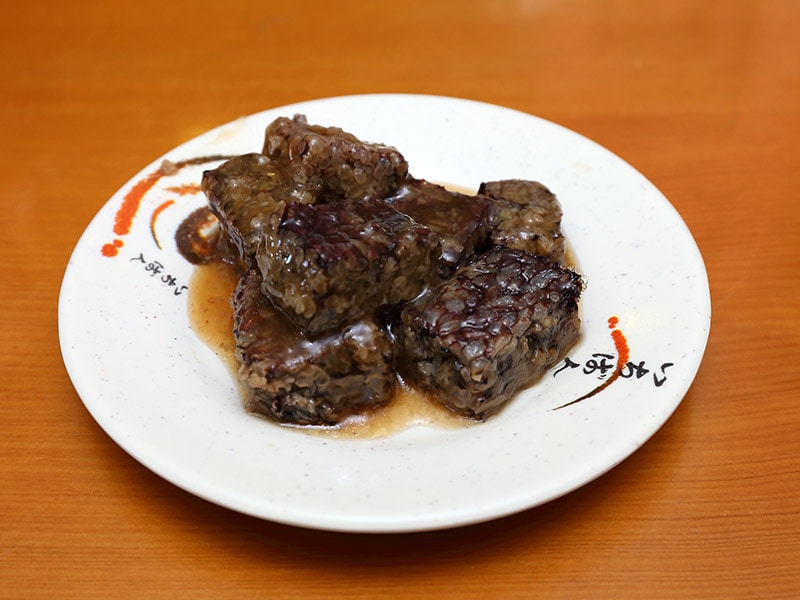 Zhu Xie Gao is a flexible meal that may be served on its own or as a side dish to any main dish. Pork blood and sticky rice are the major components in Zhu Xie Gao. To improve the flavor of the dish, peanut powder and refreshing, fragrant herbs (cilantro) will be added.
The entire thing will be skewed, steamed, then grilled over a fire. People claim the dish tastes like ordinary pudding but with a smokier, meatier flavor.
Because Zhu Xie Gao is a popular street snack, you may get it in Taiwan's night markets. It is so well-known that you may find it at certain other vendors that serve Taiwanese Oden or Tempura.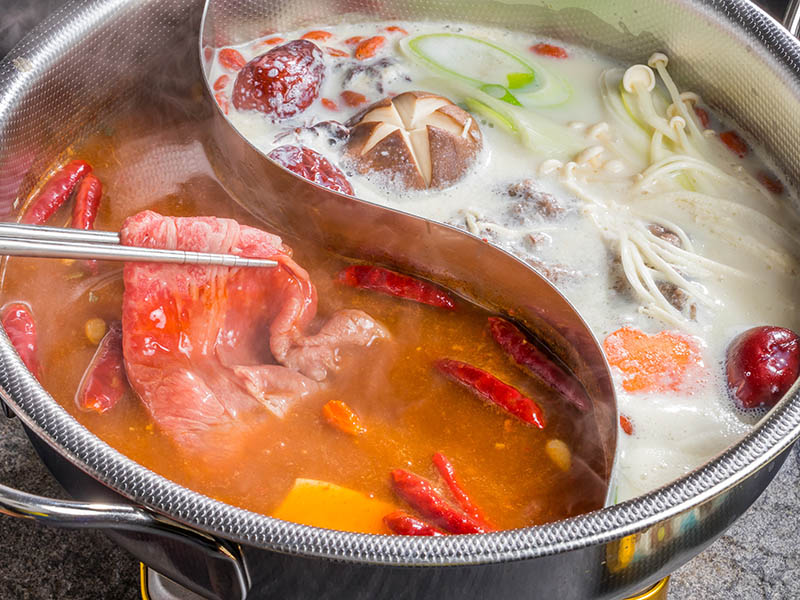 There are various Hot Pot stores/restaurants in Taiwan, and each of them will process their dishes with different cooking methods. Thanks to that, you can experience many different styles of Hot Pot there whenever you want.
The broths are the soul of Hot Pot, so the waiters/sellers will ask for your favorite flavors first before serving. About the dipping or side dishes, you can choose all you want to eat from seafood, meat (usually thinly sliced), dumplings, wonton, mushrooms, jujubes, and more.
The dipping sauce is also essential, and you will also be introduced to quite a few varieties to opt for, such as sesame oil, soy sauce (with garlic, chopped scallions, black vinegar, and sugar), or hot chili sauce.
It is time to learn more about Taiwanese Huo Guo!
42. Cong You Bing (Flaky Scallion Pancakes)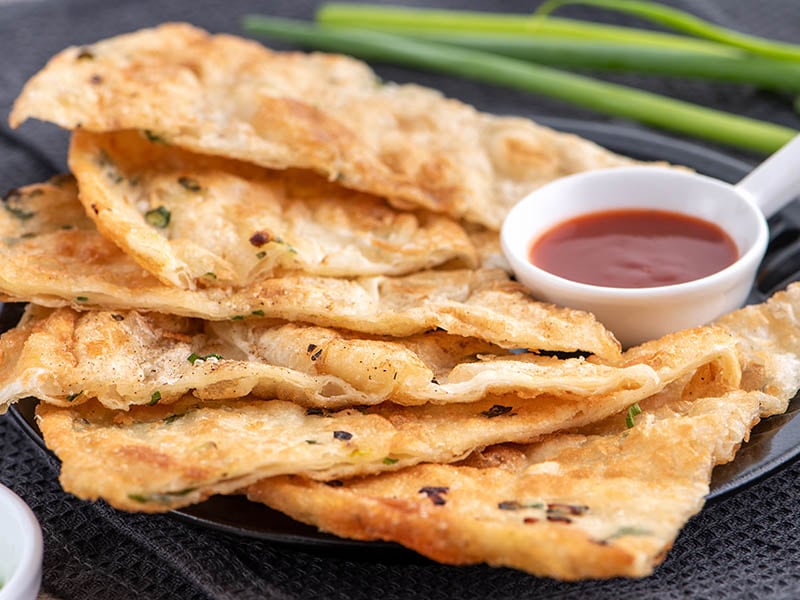 Once having the first bite, you will find its shells similar to the croissant, and it is reasonable if you think so. The batter of this pancake is mixed in a distinctive way that makes it beautifully flaky and savory.
There are various ways to eat the treat; you can have it with basil leaves cheese or use Cong You Bing as a flatbread to wrap the fillings of ham, corn, and beef. The texture will be extra chewy, and each bite will be even more fragrant.
The origin of Cong You Bing is relatively controversial; some say it has Italian roots, some others say it came from Shanghai and derived from Indian traditional Naan. No matter which cuisine is the "birthplace" for this food, Cong You Bing is the staple street food in Taiwan.
43. Dan Bing (Taiwanese Egg Crepe)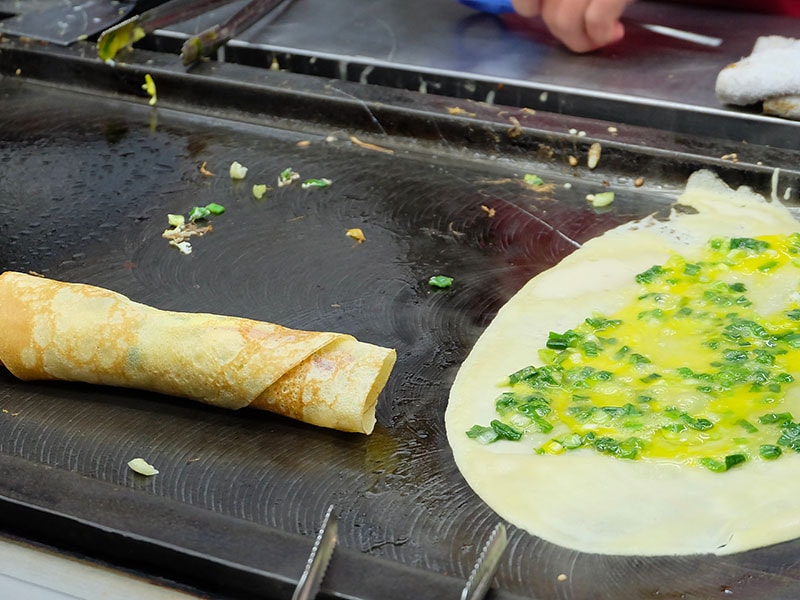 Dan Bing, which literally means "egg pancakes" in Taiwanese, is a dish that was derived from the previous Cong You Bing from the time when China and Taiwan were at war.
Taiwanese people at that time simply thought of adding an egg into the Scallion Pancake to enhance the food's nutrition. After that, they tried to include more ingredients inside the food, such as corn, cheese, tuna, ham, etc.
That is a brilliant idea, and it has helped Dan Bing become a long-time favorite morning treat on this island. Don't underestimate this food; making a proper dough-base for Dan Bing may need a lot of expertise and technique.
If you encounter Dan Bing at a breakfast truck or store in Taiwan, make sure to try it at once!
Travel, Eat And Be Happy
Despite being located on such a small island, Taiwan has a vast culinary world with many different foods and flavors compared to other nations.
What do you think about the recommendations above? From street food, snacks, desserts to main dishes, I have offered you the most prominent nominees. If you have some other suggestions, feel free to comment below and share your opinions.
I hope you will find my humble article beneficial and share it with your loved ones if you think so. Every contribution from you will motivate me in my future articles a lot.