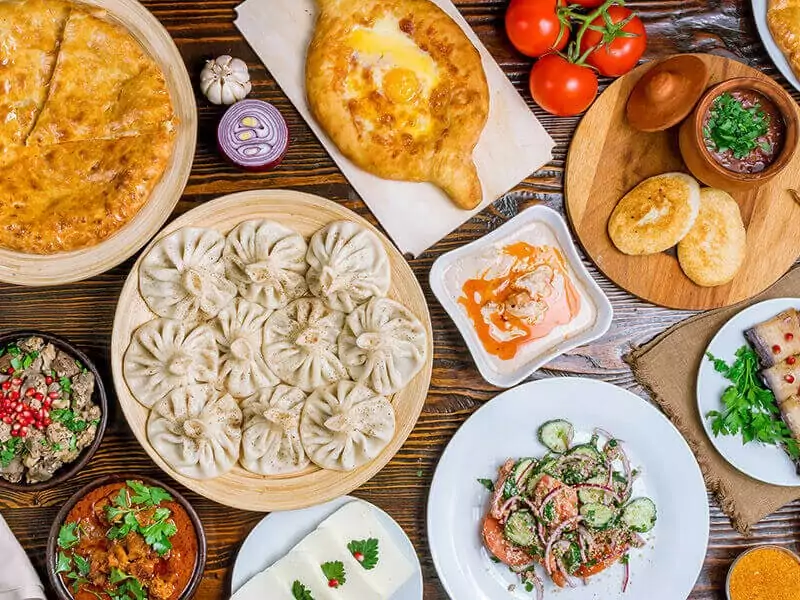 Georgian foods are highly underappreciated by the world, especially when compared with European and Asian cuisines. This has to change, starting with you!
With adapted flavors from the Mediterranean and Greece along with influences from Persia and Turkey, all the dishes in Georgia are delicious and unique in their own ways.
Whether you're planning a trip to Georgia, seeking the best dishes to order at a Georgian restaurant in your area, or trying to learn some new Georgian recipes, this article has got you covered!
Must-have Georgian Savory Dishes That You Would Love
Georgia is mainly known for its savory dishes since people rarely make dessert here. So if you're ready to learn about the most famous Georgian savory meals, let's get started!
Meat-based Dishes In Georgia That Can Satisfy Your Hunger
First, I will list some of Georgia's most well-known and well-loved meat dishes. This nation has a lot of options when it comes to meat and its various types. Whether you like lamb, pork, beef, or chicken, Georgia will have a dish for you!
1. Chakapuli – Georgian Lamb Stew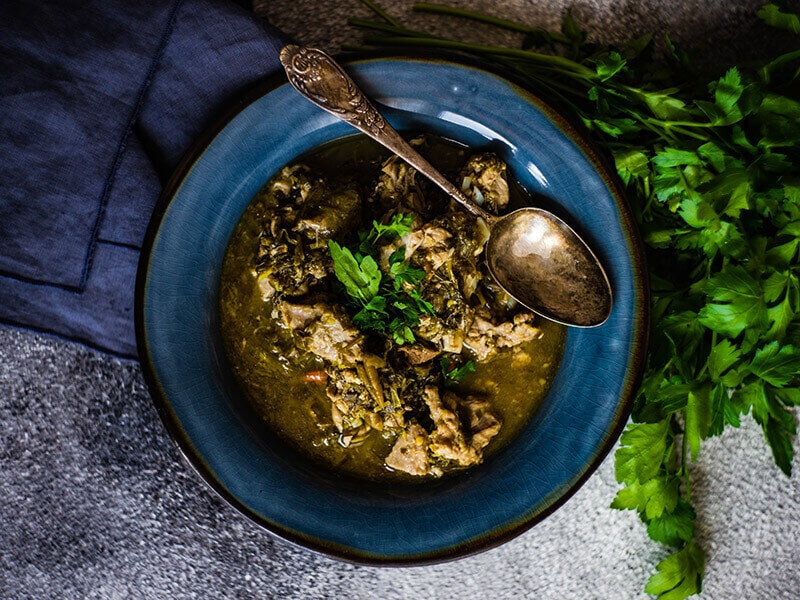 Chakapuli is a traditional Georgian stew made with lamb chops or veal, spring onions, sour cherry plum or tkemali (cherry plum sauce).
The flavor of this stew can also be boosted with a variety of herbs and seasonings like parsley, coriander, mint, dill, and garlic.
This popular Georgian dinner recipe is typically served hot during the Orthodox Easter feast with Georgian bread on the side. If you don't enjoy the taste or smell, don't worry, there is another version of this dish that includes beef or mushrooms.
If you want to make Chakapuli at home, here's a recipe from a local!
2. Chanakhi – Georgian Lamb And Tomato Stew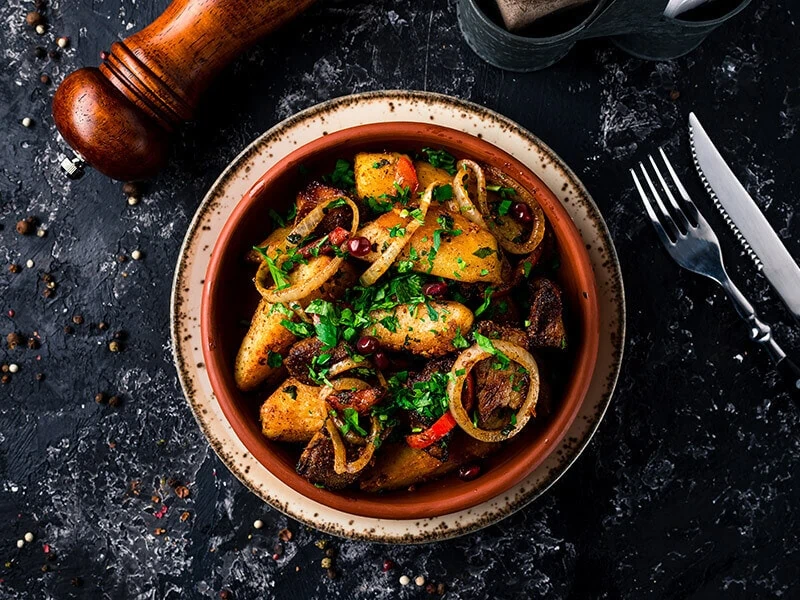 Chanakhi is another filling and comforting lamb stew, but with the addition of tomatoes, potatoes, and aubergines. This fascinating stew is made in layers, with lamb at the bottom and vegetables stacked on top.
Chanakhi used to be split into individual portions and cooked in small pots. However, nowadays, people often prepare the stew in a big pot to save time.
The meltingly delicate lamb and rich, savory sauce undergo a remarkable transformation in the oven, bringing all the flavor together. When reheated the next day, all of the ingredients will be mixed together, making the stew more flavorful and tasty.
Overall, this is a hearty and satisfying dish for a chilly winter evening. Chanakhi is best served with cheese and bread.
3. Chakhokhbili – Georgian Chicken Stew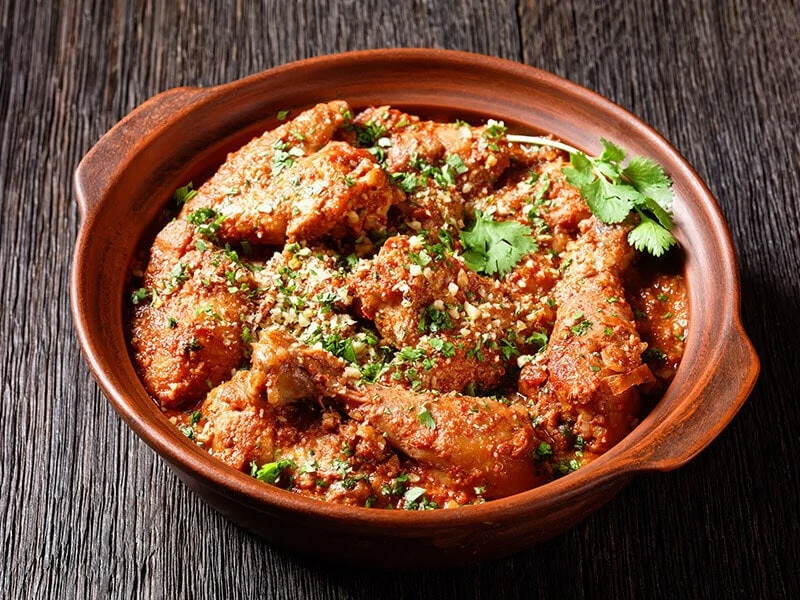 Chakhokhbili is a popular Georgian stewed chicken dish with tomato and fresh herbs.
In the past, people used pheasant meat to make the stew. In fact, the name itself is derived from the word khokhobi, meaning pheasant in Georgian. But since pheasant is relatively inaccessible nowadays, chicken becomes a go-to alternative.
The trick to making the most delicious bowl of Chakhokhbili is to use homegrown tomatoes – great news for anyone who lives near a farm or has their own garden.
Chakhokhbili is not only delicious and aromatic, but it's also healthy. So be sure to grab a bowl when you have the chance to visit Georgia.
4. Kharcho – Georgian Beef Soup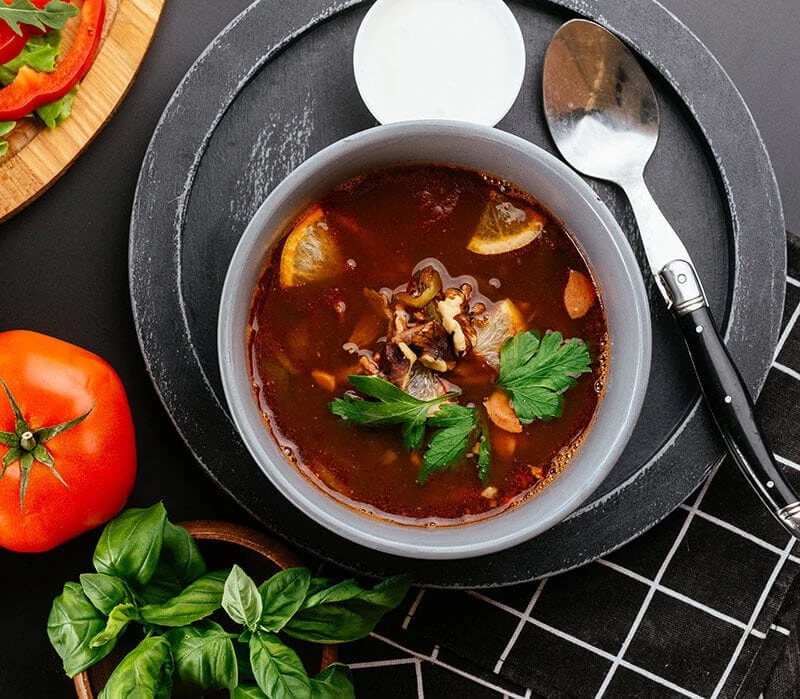 Kharcho (or Harcho) is a Georgian soup made with fatty pieces of beef (typically chuck or brisket), cherry plum puree, rice, and chopped walnut. The locals sometimes add a bit of Khmeli-suneli (a traditional Georgian spice mix) to the soup to bring it to the next level.
Another critical ingredient of Kharcho is the cherry plum puree, a souring agent made from tkemali that gives this thick and hearty soup a distinctive flavor.
This famous winter soup is often served with crusty bread. You can also pair it with a glass of fine Georgian wine to make the experience more enjoyable.
5. Khinkali – Georgian Dumplings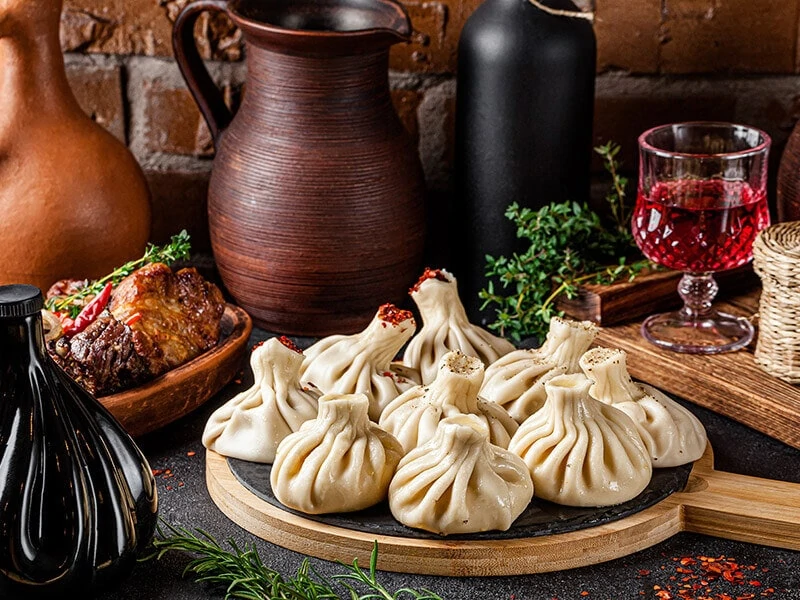 Dumplings are a popular food in China. So how about Georgian-style dumplings? Indeed, eating dumplings has always been a thrilling adventure for your mouth, no matter how they taste. Khinkali – a well-known dumpling in Georgian cuisine is no exception.
These delectable dumplings are made with twisted dough knobs filled with spices and meat inside. This Georgian lunch recipe usually calls for minced meat (either lamb, pork, or beef), onions, chili, cumin, and salt. However, meat can be replaced with potatoes, mushrooms, and cheese nowadays.
Khinkali is comparable to Chinese soup dumplings (Xiao Long Bao), except they're a lot bigger. Traditionally, these delicious little bags of goodies are served on giant platters and shared among friends.
To prevent the dumpling from bursting, you must hold the dumpling with your hand, turn it upside down and suck the juices out before taking a mouthful. Using a fork or other utensils is not recommended.
The top, where the pleats connect, is quite hard and should not be eaten. Instead, people will put it back on the plate to keep track of the number of dumplings they've eaten.
Let's see how the locals make their Khinkali and learn how to eat it!
6. Satsivi – Chicken in Garlic Walnut Sauce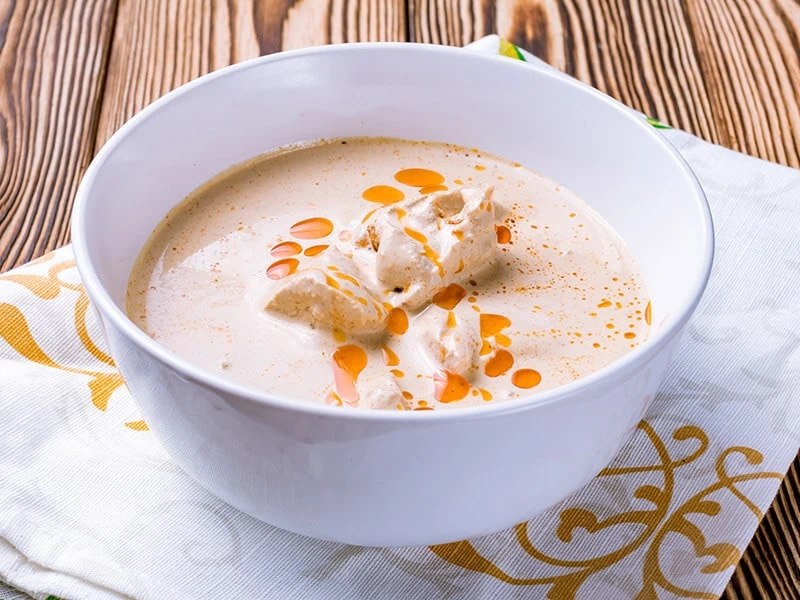 This delicious Georgian meal consists of chicken cooked in a walnut sauce. During Christmas and New Year, the locals will use turkey instead of chicken. Satsivi is also a general title for a wide range of poultry-based dishes cooked with walnut sauce.
Served with rice, Lavash flatbread – a classic Middle Eastern dish that originated in Armenia, and a simple garden salad, Satsivi is the perfect dish to satisfy your comfort food cravings during cold winter days.
This dish truly stands out among a plethora of savory Georgian dishes since Georgian foods are usually heavy on grilled meats, herbs, and spices. However, this dish is healthy, nutritious, yet easy to prepare.
7. Kuchmachi – Chicken Livers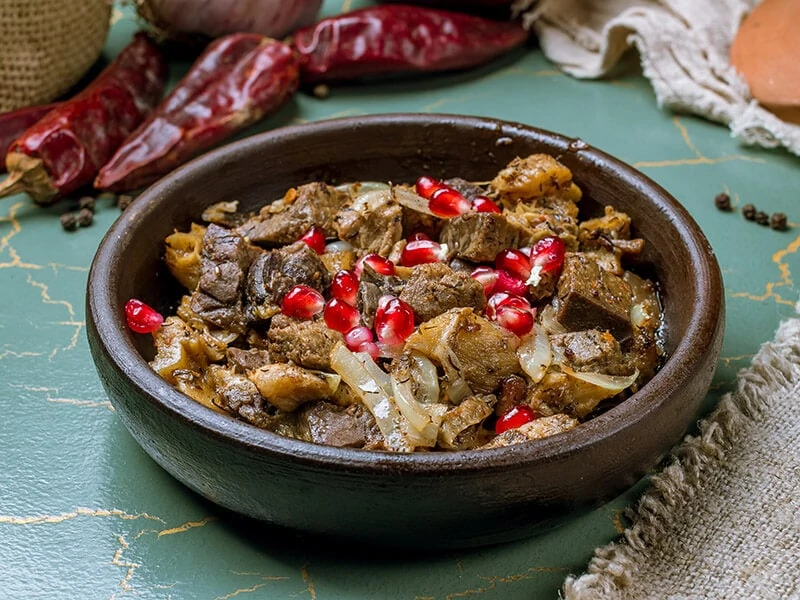 Livers or offals might not be everyone's favorite food. But if you consider yourself an adventurous foodie, Kuchmachi is definitely a must-try.
Kuchmachi is a well-known Georgian dish consisting of the livers, kidneys, hearts, spleens, and gizzards of a chicken. Sometimes, the chicken offals can be substituted with pig or bull offals.
Onions, garlic, and seasonings like coriander, and bay leaves are used for cooking the offal. This dish will then be served hot with walnuts and pomegranate seeds sprinkled on top for flavor enhancement.
Kuchmachi is not only delicious, but it also has a ton of health benefits. Pomegranate may support the immune system, while vitamin A from the chicken liver helps protect your vision.
8. Mtsvadi – Grilled Pork Kebabs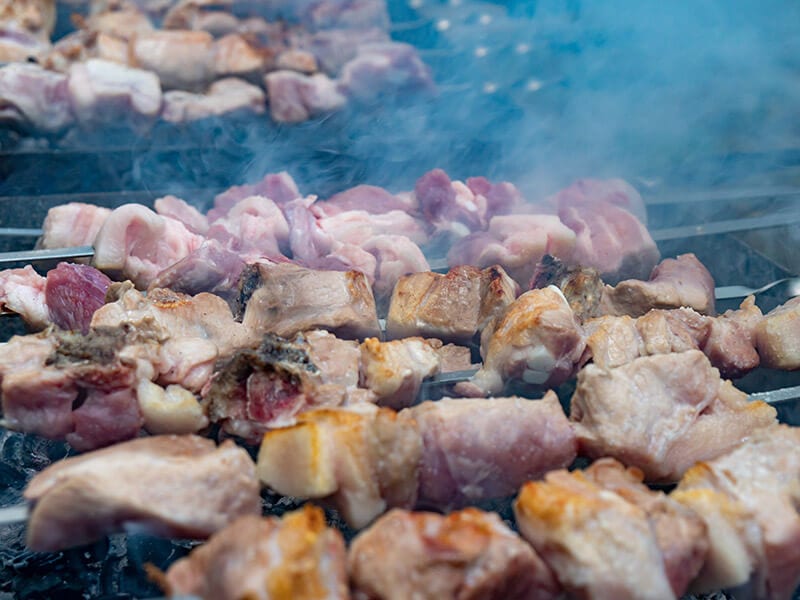 If you want some barbecues for lunch, then Mtsvadi is hands-down the best dish to satisfy your craving. Mtsvadi is a skewered and grilled meat cube meal similar to Shish kebab in unique Turkish cuisine. It is known by various names throughout Central Asia and became popular in the 19th century.
Originally, people used grilled lamb meat to make Mtsvadi. However, Mtsvadi can now be cooked using beef, pork, or chicken. This dish tastes best with sour plum sauce and pomegranate seeds.
Pan-frying is a common method, but the locals prefer grilling these meat skewers in a mangal (Middle Eastern grilling apparatus) to maintain the juicy taste. People often cook Mtsvadi outdoors during social gatherings, just like how the Americans host BBQ parties.
9. Tolma/ Dolma – Stuffed Vine Leaves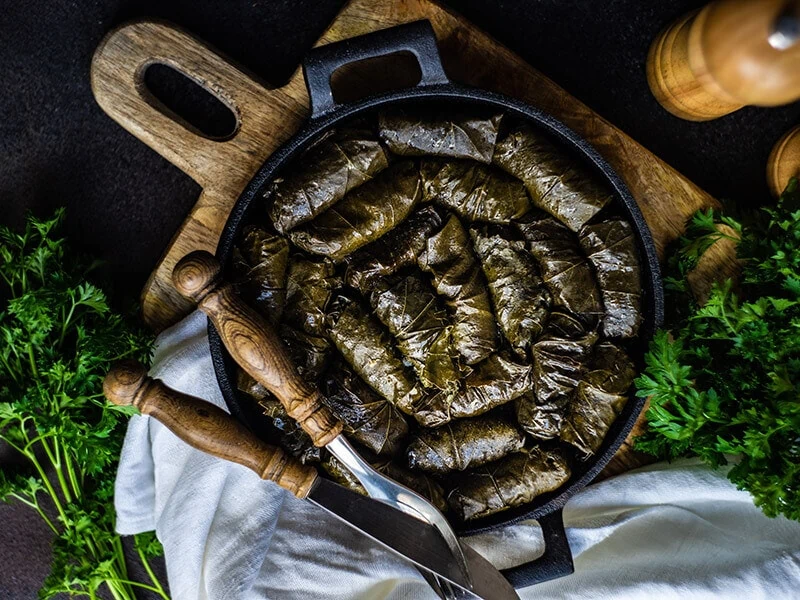 People have had meat-stuffed vegetables for a very long time. From cabbage rolls to stuffed peppers or tomatoes, the combination of meat and veggie never disappoints. Tolma, a stuffed vine leaves dish, is one of those dishes.
Tolma, also called Dolma in Azerbaijan cuisine, or Armenia and Turkey, is a popular Georgian and international dish with numerous variations. Although most people don't usually associate stuffed vine leaves with Georgia cuisine, no one can deny their popularity in this country.
Flavorful Georgian Veggie-based That You Must Know
Although the meat dishes in Georgia are genuinely fantastic, the traditional veggie-based dishes deserve some attention too. Be healthy and go for veggie-based dishes from time to time. Don't worry; Georgia will never run out of vegetarian dishes to try.
10. Lobio – Bean Stew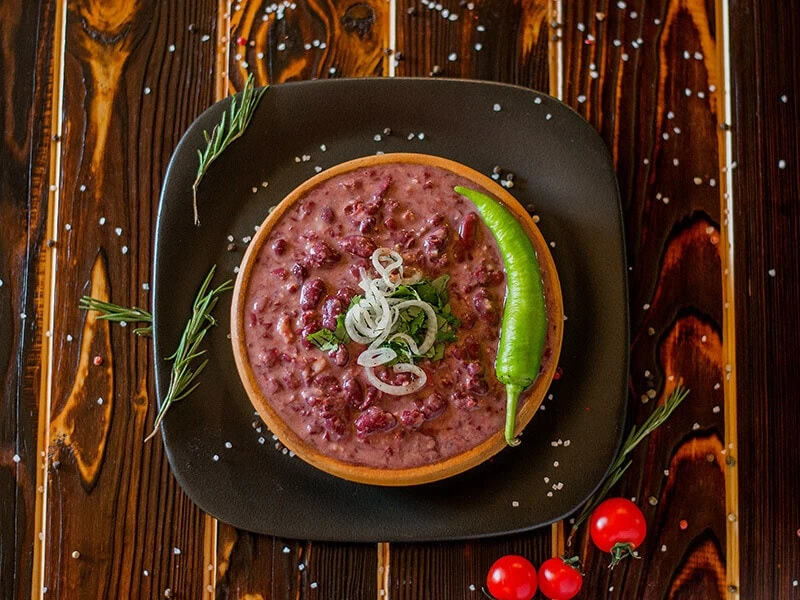 Lobio is a classic Georgian meal made with coriander, walnuts, onion, and garlic and made with several types of beans (either boiled or stewed).
Lobio has both hot and cold versions, suitable for any season of the year. The cold one (Lobio Nigvzit) can have herbs, marigold petals and vinegar. The hot version contains meat and is served in a clay pot with a side of cornbread.
Originated in Georgia, Lobio has been a go-to dish for the people of this country for years and years. Today's most popular version of this bean stew utilizes red kidney beans, a staple food of the Americas that were introduced to Georgia after the 1500s.
Lobio is easier to make than you think; check this out and find out!
11. Ajapsandali – Vegetable Stew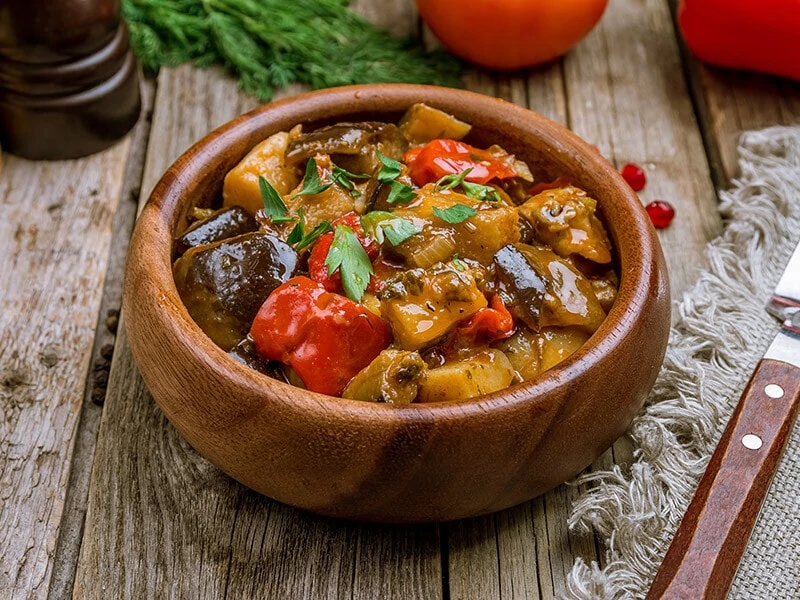 This typical Georgian vegetable stew calls for many vegetables, such as tomatoes, potatoes, onions, and bell peppers. Ajapsandali is usually available around the end of summer when the veggies are bountiful. However, it can also be a great comfort food during winter.
This is also an excellent vegetarian recipe in Asia. The chosen veggies are stewed, grilled, or fried in vegetable oil and seasoned with garlic, dry coriander, and basil to make this dish. Ajapsandali is usually served as part of a family supper in Georgia.
If you're a fan of the worldwide famous Ratatouille from France, this dish will surely make you smile. Ajapsandali is also a well-loved dish in Armenia and the North Caucasus.
12. Pkhali – Vegetable Pâté with Walnut Paste
Pkhali is a chopped and minced Georgian vegetable dish made with different veggies, garlic, herbs, and ground walnuts. Although Pkhali used to be a famine food, it is still a common and well-loved dish among other modern Georgian recipes.
Sometimes this dish can be called a Mkhali. Pkhali also has many variations, the most well-known being Chicken Pkhali, or Katmis Mkhali.
The traditional pâté usually comes in three types in Georgian restaurants: beetroot (as shown above), spinach, and white beans.
13. Ajika – Red Peppers Dip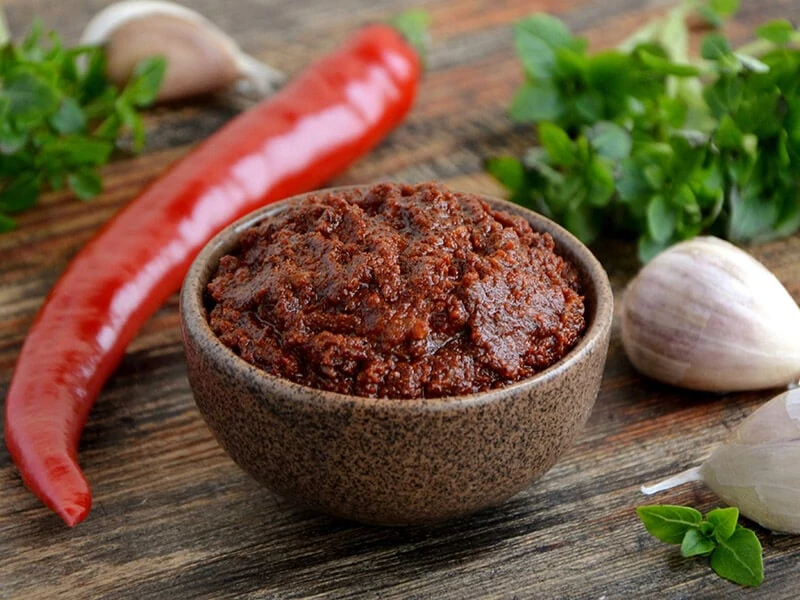 Ajika or adjika is a hot, spicy, yet mildly flavored Georgian-Abkhazian dip. Ajika is not just a regular dip to flavor foods; it is an essential part of Georgian cuisine and history. The ajika technology was even included on Georgia's list of Intangible Cultural Heritage in 2018.
This dip is made from garlic, salt, red peppers, and spices. It can be eaten raw as a dip or used to flavor a variety of Georgian foods like grilled meats, seafood, soups, vegetables, and salads.
Ajika is traditionally made with sun-dried red peppers, but it can also be prepared with unripe peppers. But in this case, Ajika will be green, not red.
In Georgia, the dish is made entirely of peppers. However, a milder version that contains tomatoes or tomato paste is popular in Russia and Ukraine.
Delicious Georgian Bread That Can Make Your Mouth Water
If you consider yourself a fan of carbs, this is the section for you! There are many kinds of bread, but bread in Georgia is not like anything you have seen before. The shape, the texture, the fillings, everything about them will leave you in awe.
14. Khachapuri – Georgian Cheese Bread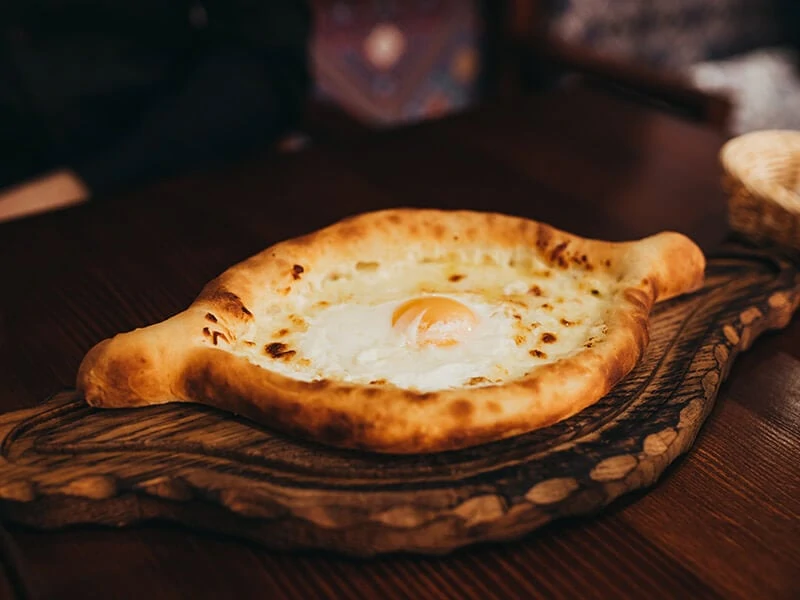 Khachapuri is a traditional Georgian dish featuring fluffy handmade bread, a variety of fresh or aged cheeses, and a runny egg in the middle. The bread is leavened and allowed to rise before being shaped into different forms. Overall, it's super cheesy and tasty.
This cheesy bread is shaped like a boat to honor the sailors and fishermen. The egg yolk, on the other hand, represents the sun that they often see on their journey at sea.
This delectable bread is one of the most mouthwatering Georgian breakfast recipes. However, it can also be served as a side dish for supper alongside other Georgian dishes such as Chakhokhbili, a herbed chicken stew.
When you order this magnificent dish, you must first combine the cheese and yolk with a spoon. Then, while it is still hot, tear off a piece of bread at the corner, dip it in the cheesy mix and enjoy.
It's also available at several Kiosks along Georgian highways. The people here love this dish so much that they even dedicated a special day (27th February) to celebrate this timeless pastry.
This tutorial will teach you how to bake and enjoy a Khachapuri at home!
15. Lobiani – Georgian Bean Bread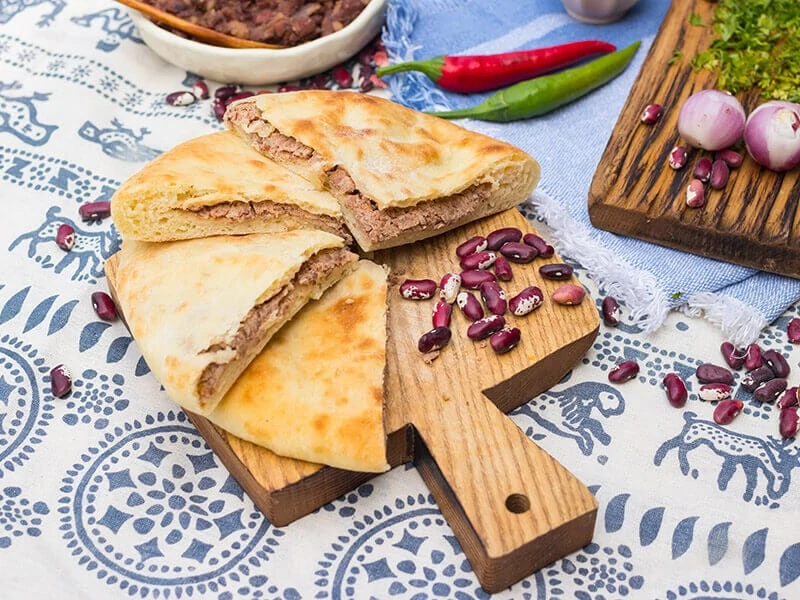 If you're lactose intolerant or not a fan of cheese, maybe you should go for some Lobiani. The texture of Lobiani is quite similar to Khachapuri. However, Lobiani contains bean paste instead of cheese and eggs. Lobiani is slightly healthier as well.
This fresh, flaky bean-filled bread is a one-dollar handheld meal that captives Georgian visitors for many years. Although the combination of beans and bread might sound basic, this buttery flatbread with flavorful beans will get you hooked after the first bite.
16. Shotis Puri – Georgian Baton Bread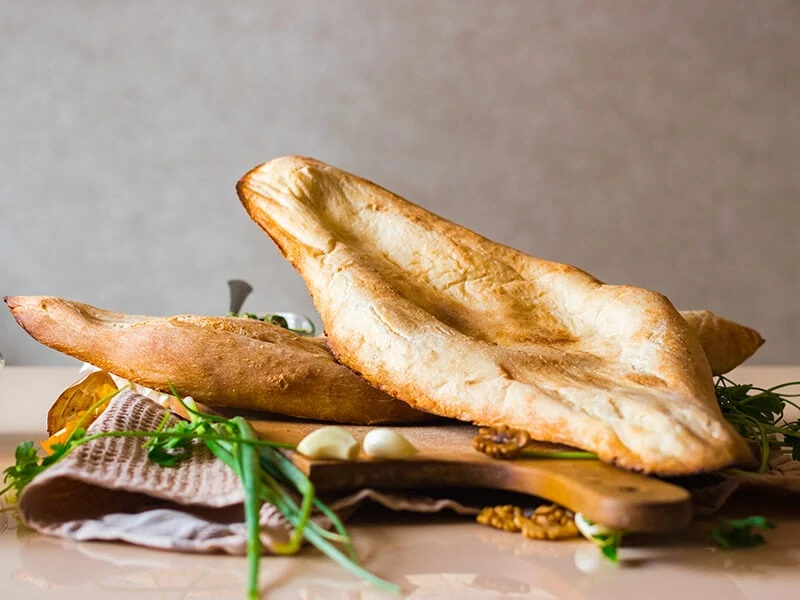 People will certainly talk about Shotis Puri when they think of Georgian bread. With a unique shape and crispy texture, Shotis Puri is undoubtedly one of the best traditional bread in this nation.
This standard table bread can be eaten anytime, anywhere in Georgia. However, it is more prevalent during special occasions and holidays like birthdays, weddings, Christmas, Easter, and New Year Eve.
To make this tasty bread, long strands of dough adhere to the inside of a round-shaped brick or clay oven (also known as a tone in old Georgian). That is the reason behind Shotis Puri's distinctive shape.
Learn more about how Georgian bakes make Shotis Puri using their special bread oven!
17. Tonis Puri – Georgian Bread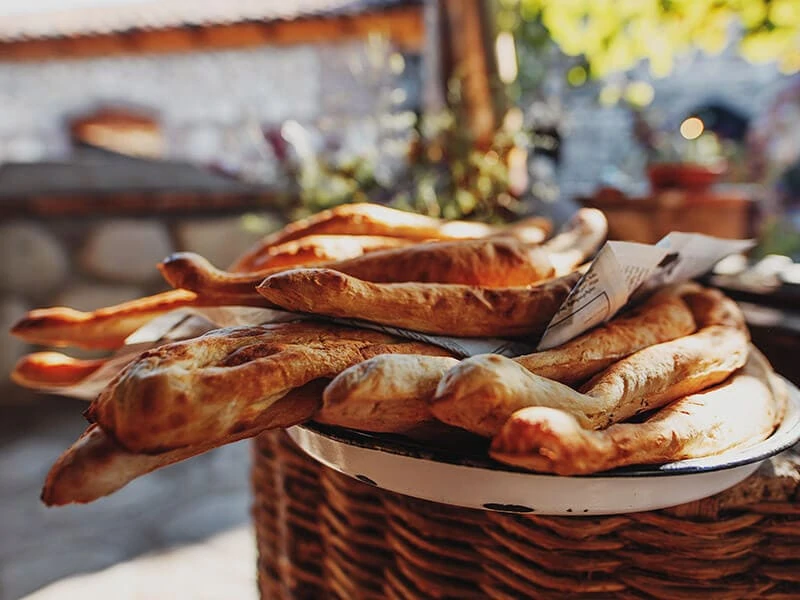 Tonis Puri is nearly identical to Shotis Puri in terms of taste, texture, and even cooking method. What sets Tonis Puri apart from Shotis Puri is its shape. This version of Georgian flatbread has the classic round shape that everyone knows and loves, similar to the Naan bread in India.
However, it seems that the locals tend to favor its cousin, the Shotis Puri. Tonis Puri is also lesser-known among foreign visitors.
Treat Yourself To Some Delightful Georgian Desserts
After filling yourself up with meat dishes, this might be a great time to think about Georgian desserts. As I mentioned earlier, Georgia is not widely known for its sweet treats. But that doesn't mean there is no national dessert in this country.
So get ready to complete your culinary journey by trying the delectable desserts below!
18. Matsoni – Georgian Yogurt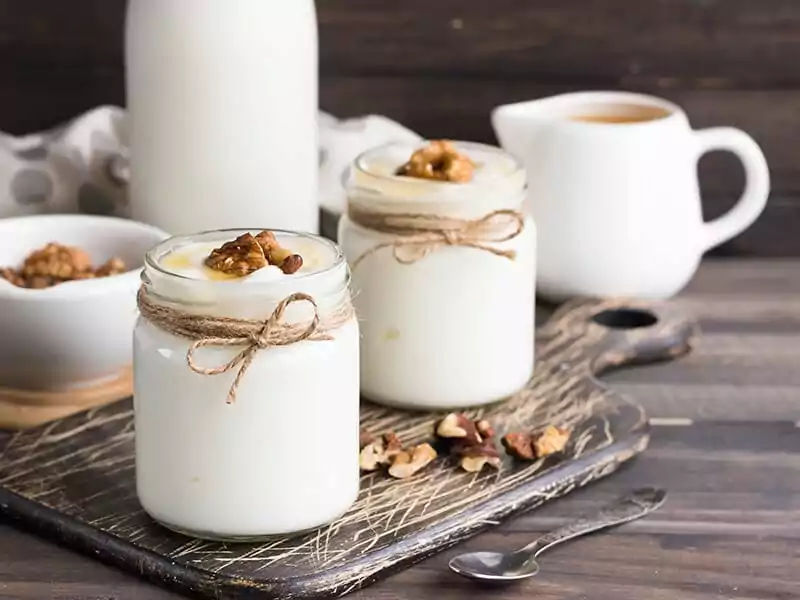 Not all desserts have to be unhealthy and fattening; allow Matsoni to prove it! This Georgian yogurt is quite sour, so it tastes best when paired with drizzles of honey and fresh fruit. This dessert is also a must-try food in Armenia. And this shall be the perfect breakfast-time snack.
Besides, Matsoni can also be an excellent savory side dish when served with Khachapuri and meat-based dishes.
If you want to try Matsoni, I advise you to buy it straight from the farm. Not only will it taste fresher and more delicious, but it also contains some medicinal properties that are beneficial for the human body.
19. Churchkhela – Georgian Snickers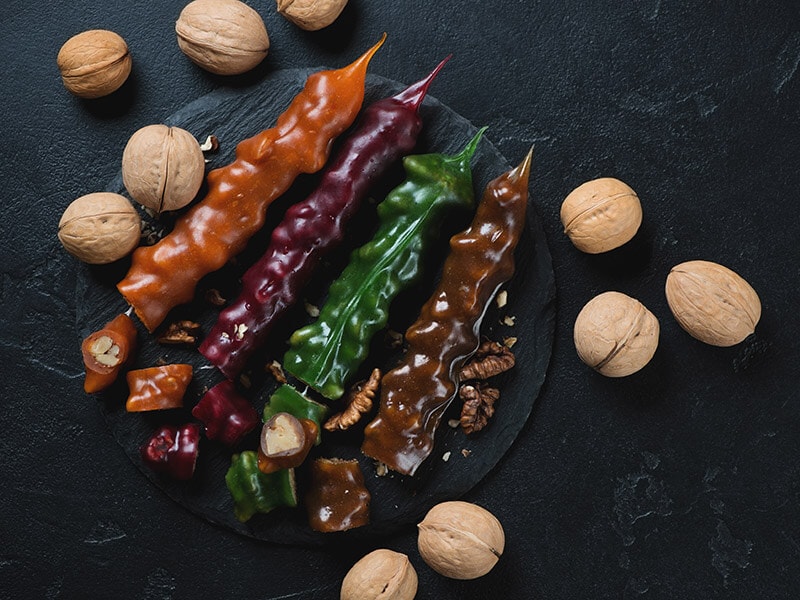 When it comes to the national dessert of Georgia, who can forget Churchkhela? This sweet treat contains grape must and flour. Some said the locals use leftovers from the winemaking process to make these candle-shaped candies.
Once the mixture thickens, walnuts (or almonds, hazelnuts, and occasionally raisins) are threaded onto a string, dipped in the sweet grape mix, and dried in the shape of a candle. This traditional method was inscribed on Georgia's list of Intangible Cultural Heritage.
Churchkhela is a typical dessert at Christmas and New Year. In the past, Georgian wives used to send their husbands Churchkhela since this treat is filling and can last for a long time.
Check out this short clip to see how the Georgians prepare Churchkhela!
20. Pelamushi – Georgian Sweet Grape Puddings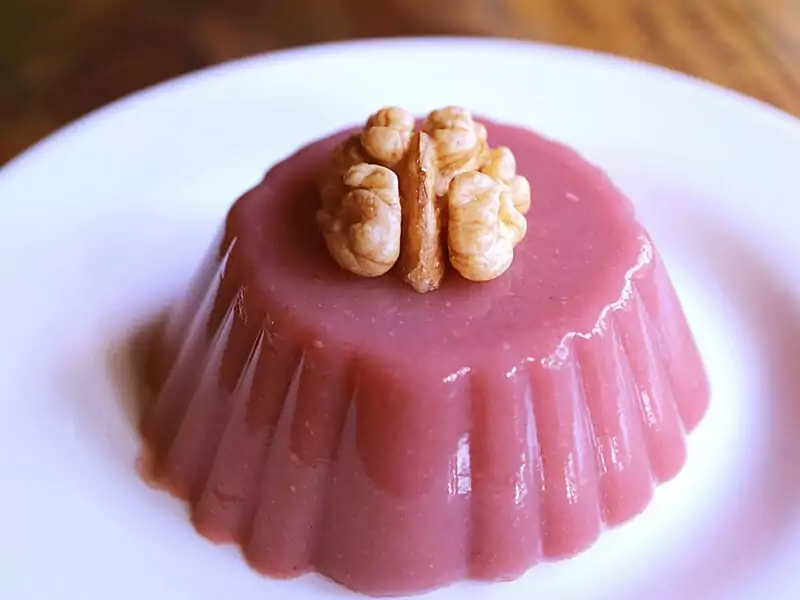 Remember the sweet coating mixture for Churchkhela that I mentioned earlier? This mixture can be used to make a different dessert: the Pelamushi.
Pelamushi is a grape-flavored dessert porridge or pudding with flour and condensed grape juice. This delightful yet straightforward dessert usually makes its appearance during the harvest season.
21. Gozinaki – Georgian Caramelized Walnut Candy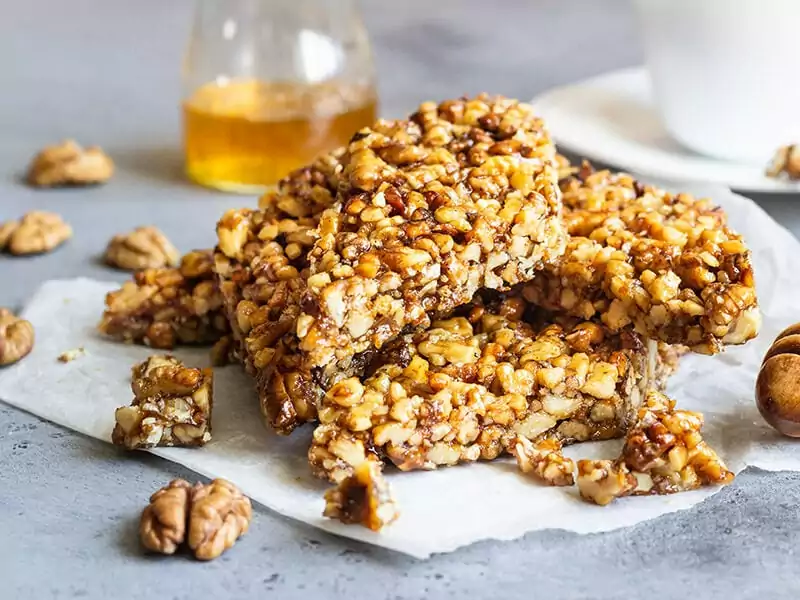 Gozinaki is a classic Georgian dish made with honey-fried and caramelized nuts (mainly walnuts). These traditional candies are frequently shaped into diamonds and eaten during New Year's Eve and Christmas.
Gozinaki used to be called Churchkhela in the western Georgian provinces of Imereti and Racha, which is understandable since both recipes call for walnuts. Walnuts and honey were once considered sacred in numerous rural Georgia communities.
If you have the chance to travel to Georgia, then good for you! You will now have the opportunity to experience this country's culture and cuisine as well as try the most beautiful traditional meals with the locals.
Before your trip, don't forget to jot down the names mentioned above. Try them all out if you can. Life's short; enjoy yourself!
I hope you had fun reading this article, remember to leave a like and comment below the dish you're looking forward to the most.
Also, sharing is caring! So be sure to send this link to your friends and loved ones to help them learn more about Georgian cuisine. Thank you for being so supportive! Take care and see you all next time!