Although Canada is well-known for its beautiful lakes and mountains, Canadian foods are what drive people to visit this lovely country.
As a multicultural nation, Canadian cuisine takes inspiration from many other countries such as England, Scotland, and France. That is why some traditional dishes of Canada are closely related to 16th-century French cuisine or British cuisine.
After this post, not only will you be able to know the names of the most famous Canadian dishes, but you will also learn a thing or two about their origin. So without further ado, let's get started!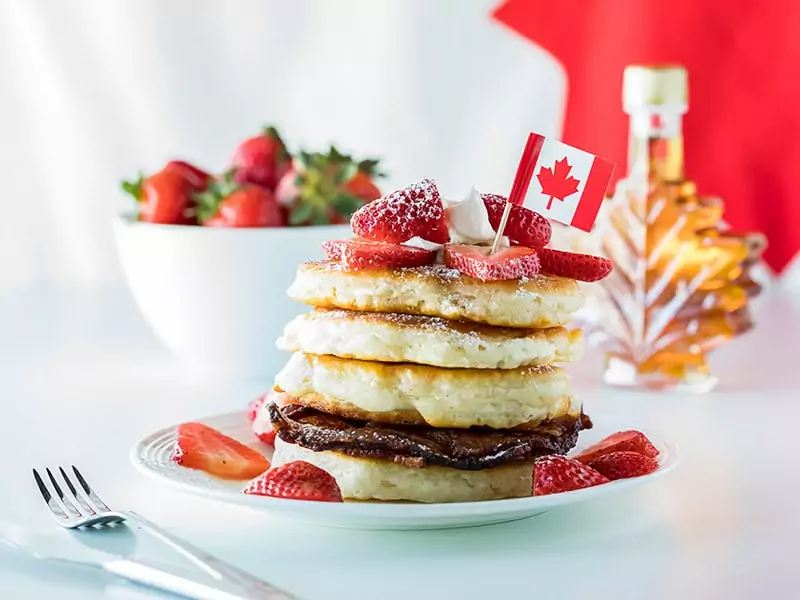 Canadian Savory Dishes
The savory dishes are the focal points of this nation's cuisine. These delightful Canadian dishes are mostly comfort foods, so they will surely warm you up and satisfy your craving.
1. Poutine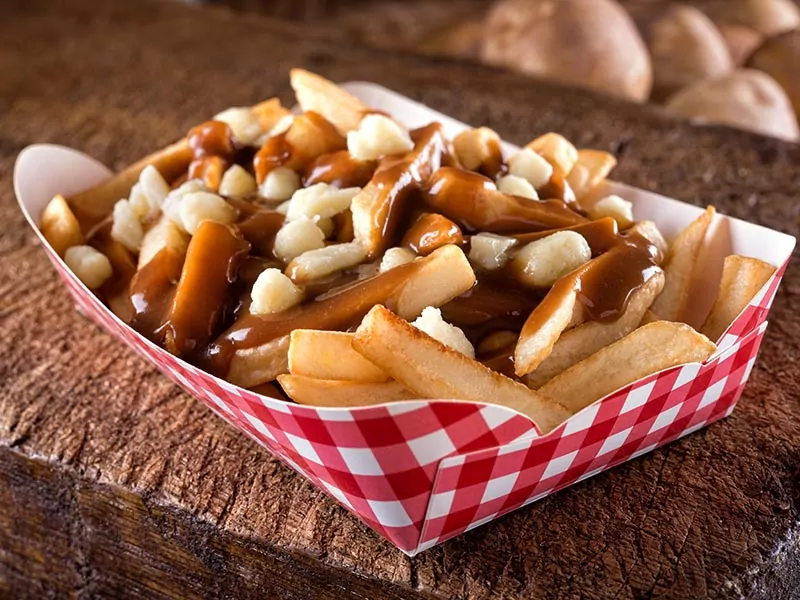 Poutine has to be the most iconic Canadian food out there. This French Canada culinary gem is credited to several small villages in Quebec, and it is supposed to date back to the 1950s.
This delicious type of fries contains all the best ingredients: Crunchy thick-cut fries, heavenly brown gravy, and squeaky cheese curds. When combined, the flavor of this dish is truly phenomenal.
If you want to make this dish, make sure that the fries are fresh, the cheese curds are melty, and the gravy is thick and meaty. Don't substitute these ingredients, or you will ruin the whole dish!
Let's take a trip to Montreal, Canada, and find the best poutine there!
2. Tourtière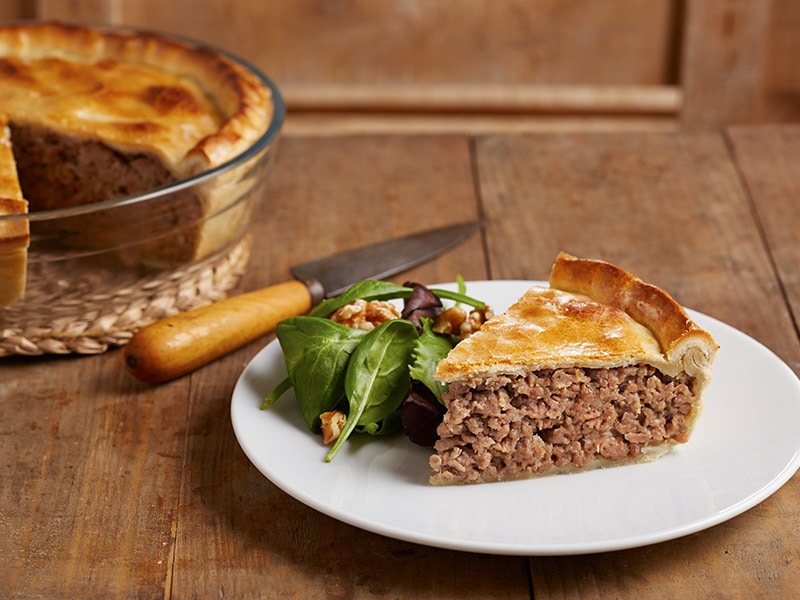 This traditional French Canadian dish gained popularity in the 1600s. The name of the dish can also be used to describe the vessel it was prepared in.
This hefty Canadian dinner dish is available year-round at Quebec grocery shops but is often made during Christmas and New Year.
Tourtière is filled with pork, beef, and veal; herbs and spices; mashed potatoes (to keep it firm); and finally, flaky pastry dough. In coastal areas, people even add ground fish to the mix.
3. Peameal Bacon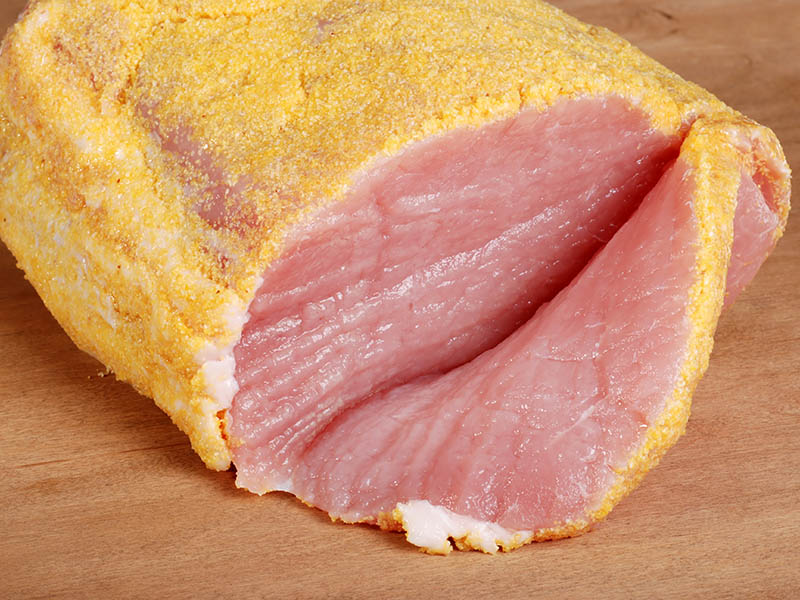 Canadian bacon, also called peameal bacon by the locals, is made from a lean pork loin rather than the typical pork belly. This dish was popularized in Canada thanks to a Canadian pork packer from England named William Davies.
Nowadays, this traditional bacon is brined and wrapped in cornmeal. However, in the past, peameal bacon was wrapped in ground yellow peas to improve its shelf life, which is the origin of the name "peameal".
For some reason, many people can't tell Canadian bacon apart from ham. However, these are two completely different dishes. They may appear somewhat similar, but it'd be a big mistake to think that Canadian bacon and ham are one and the same.
4. Montreal-Style Smoked Meat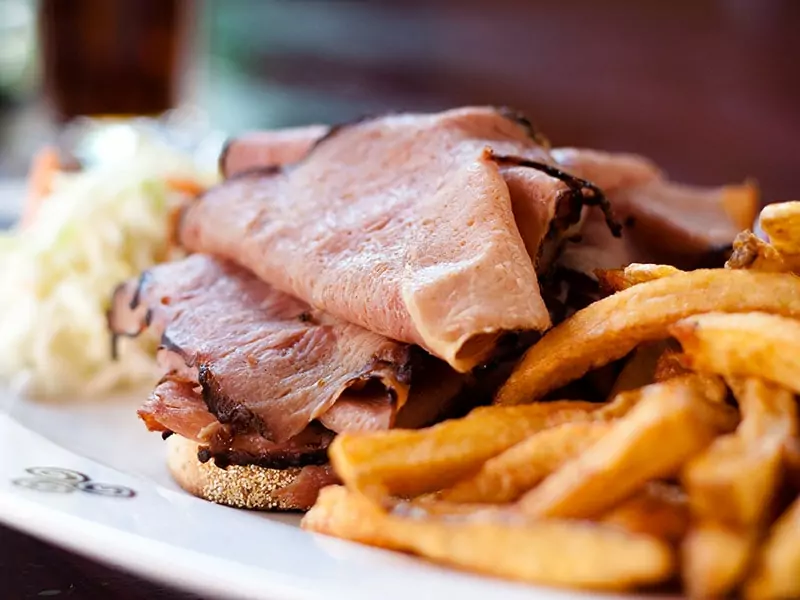 Montreal's smoked meat is made from beef brisket that has been cured and marinated for a week with lots of spices before being smoked and steamed. This meat dish can be used as a fancy topping for your poutine or a filling for your rye bread sandwich.
This kosher-style deli meat is a mainstay of Quebec cuisine. In fact, Schwartz's Deli's Montreal smoked meat sandwiches have gained international acclaim, with some devotees hailing it as one of Canada's top restaurants.
So if you consider yourself a sandwich lover, you must give this dish a try once you visit Montreal.
5. Split Pea Soup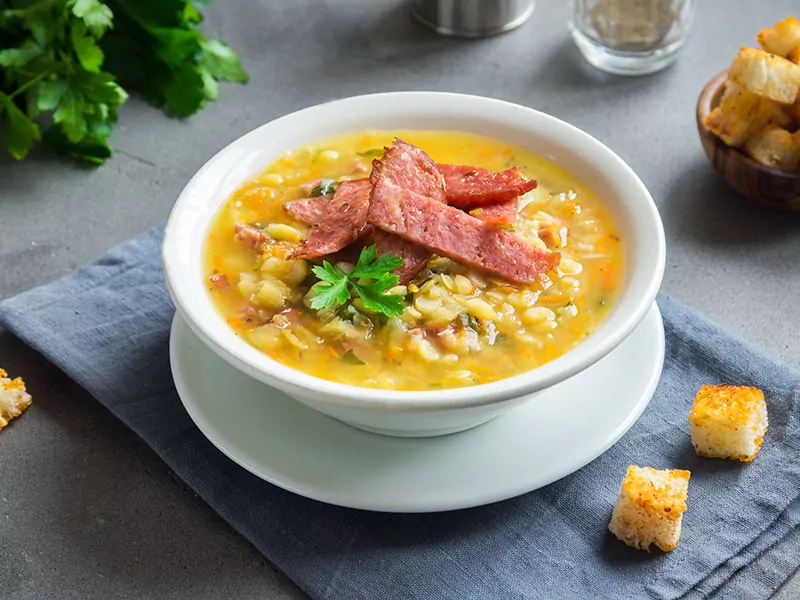 Here's another classic French Canadian dish that I know you will love. Although this traditional meal was created long ago, it has stood the test of time and become a familiar and well-known dish today.
Back story time: Marc Miron, a chef in Ottawa, was inspired to learn more about the food that nourished French explorer Samuel de Champlain when he first arrived in their new territory.
The answer was cured meats and dried peas; these foods have helped the explorer and other inhabitants survive their lengthy trek. So those became the main ingredients of this delicious soup.
What's more, split pea soup is a cozy soup you can make in a crockpot. When the weather turns cold, and you don't feel like cooking, simply toss all the necessary ingredients into your crockpot and leave all the hard work to this kitchen appliance.
6. Lobster Rolls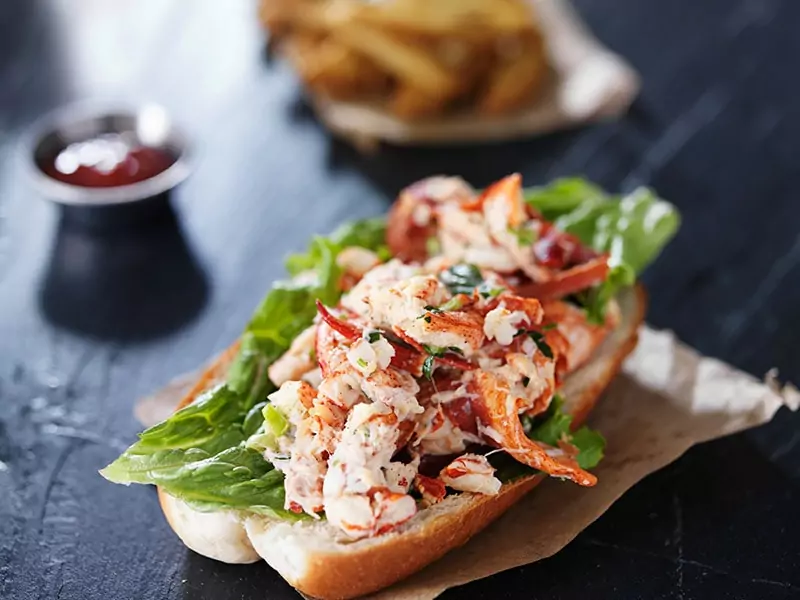 Canada has some of the most sumptuous seafood globally, and lobster is one of them. Lobster rolls are especially popular in Prince Edward Island. Here, the lobster is cooked in seawater and eaten with mayonnaise on a crusty bun.
Lobster rolls have their roots deep in New England and the Maritime provinces of Canada. In a short amount of time, it's gone from a humble small-town sandwich to a North American legend.
According to some, the importance of lobster rolls to Canada's east coast is similar to the significance of cheeseburgers to the United States. My personal recommendation is: eat this dish with clam chowder, and you'll be blown away by the divine flavor combinations.
7. Fèves Au Lard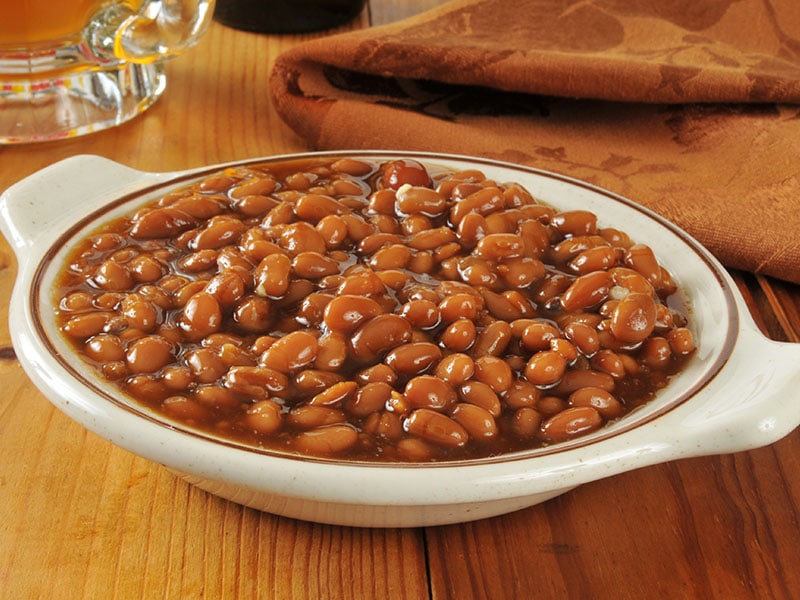 Fèves au lard was influenced by 19th-century cultural exchanges between Québécois and New Englanders, specifically the baked beans dish from Boston. This famous meal is also regarded as the reason for the gourgane bean's demise in Québec.
This typical Québécois dish can also be known as bines or haricots au lard. The ingredients for Fèves au lard include beans, bacon bits, maple syrup, and molasses. Knowing how to make baked beans thicker is also very important, as no one likes runny baked beans.
This simple side dish is typically served at sugar shacks in Québec and other French-speaking regions of Canada during le time des sucres.
8. Cretons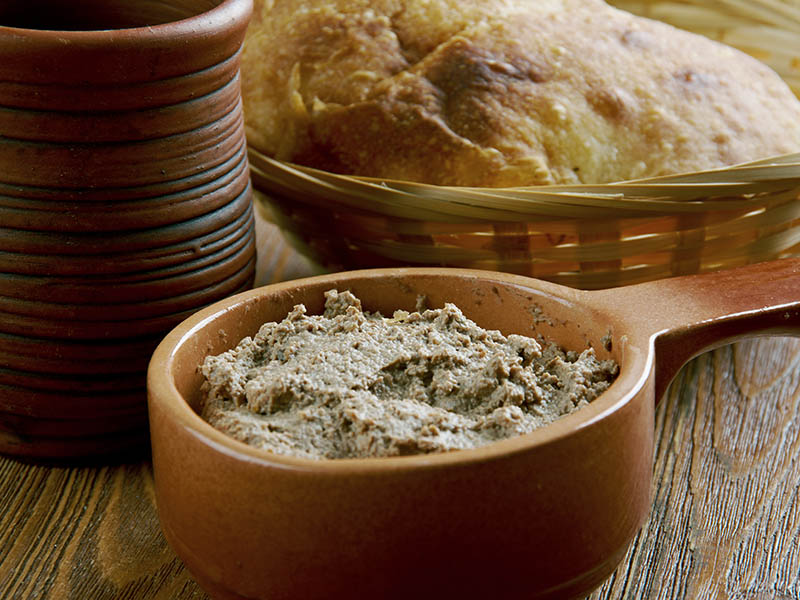 Cretons, also known as gorton or corton, is a pork spread with onions and spices popular in Quebec cuisine. This forcemeat-style spread was formerly quite popular among French Canadian forest workers.
As part of a traditional Quebec breakfast, cretons are frequently served on toast or multigrain bread. It has a delicious, fatty flavor that reminds people of French rillettes.
Besides pork, people also make this dish with veal or poultry, in which cases it's called cretonnade. A blend of various spices makes up Cretons' exquisite flavor. The most prominent and widely-used seasonings include ground cloves, nutmeg, cinnamon, etc.
9. Oreilles De Crisse – Crispy Pork Rinds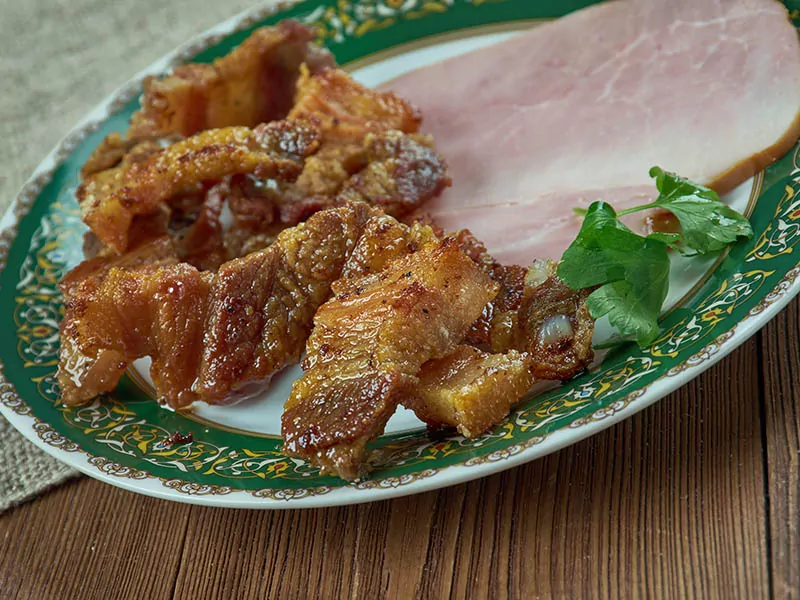 The deep-fried salted fatback is a classic Quebec delicacy. During spring, it's commonly offered in sugar shacks as a salty, crunchy side dish to go with maple syrup-heavy dishes.
The word crisse is derived from "Christ", which partially explains its origin. To be more detailed, at a logging camp on the Saint-Maurice River, a fighter called Christ had his ear swelled up like a cauliflower after a few battles.
A chef mocked Christ for the similarities between his cauliflower ear and the fried pig jowl, calling the dish "ears of big Christ". And that name just sticks from that point on.
10. Pâté Chinois – Quebec-Style Shepherd's Pie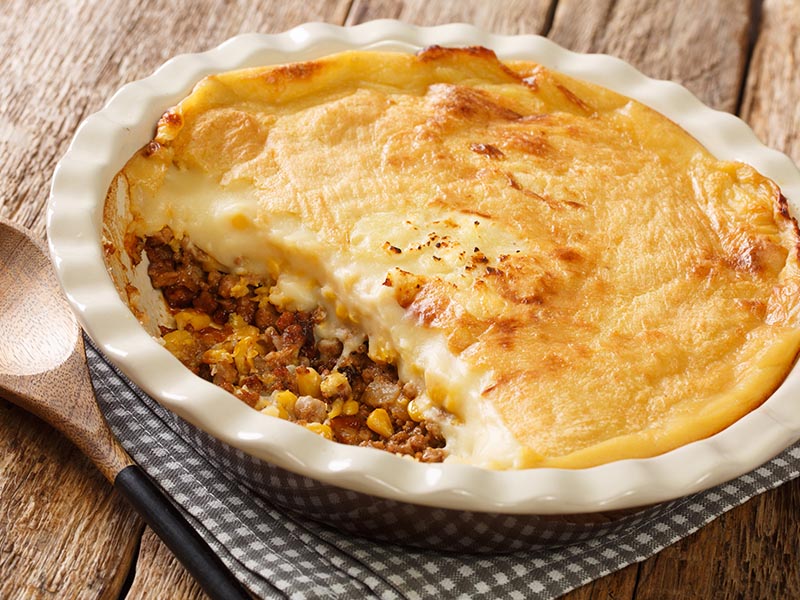 This French Canadian dish is comparable to the English shepherd's pie or the French hachis Parmentier.
Jean-Pierre Lemasson, the author of Le mystère insondable du pâté chinois, stated that pâté chinois made its first appearance on the tables of Quebecois households in the 1930s. However, its origin is still under debate.
Despite the true origin of this dish, Pâté chinois is a beautiful dish full of protein and flavor. This wonderful pie is considered a staple in Acadian cuisine. It is usually served with pickled eggs, beets, and even ketchup.
Canadian Desserts
Besides the flavorful main dishes, the Canadian desserts are also out of this world. So if you are into sweets, don't skip these delicious sugary dishes.
11. Sugar Pie
In case you've never tasted this traditional dish before, the sugar pie has a sweet but not overpowering filling and a smooth and creamy texture. It differs from American pie, which typically uses white sugar or a white and brown sugar blend.
It's difficult to pinpoint the exact origin of this dish since many immigrants from North America carried similar desserts.
For example, Shoofly Pie, a Pennsylvania Dutch delicacy, is a famous pie with nearly identical components. A similar dish called sugar cream pies is also popular in Indiana.
12. Nanaimo Bars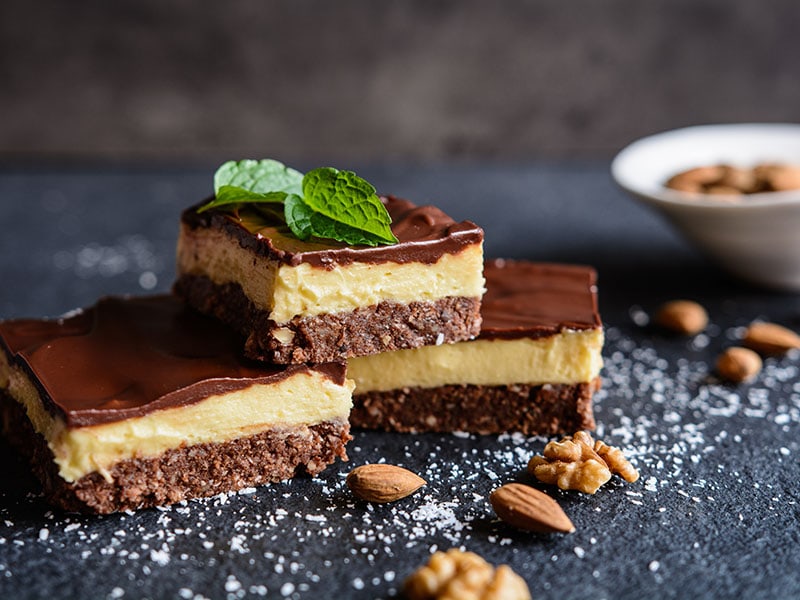 Named after the city of Nanaimo, the Canadian iconic dessert Nanaimo bar is a tri-layered dessert square made from a layer of nut wafer, a layer of yellow custard icing, and a layer of chocolate ganache to top it all off. Nanaimo bar is well-loved in all of Canada.
The dessert was believed to have originated from a 1952 cookbook called The Ladies Auxiliary to the Nanaimo General Hospital. At that time, it was just called "chocolate square".
Up until 1653, another cookbook was released with the recipe for this dessert using the name "Nanaimo bar". And this name just sticks from that point on. Should you crave some decadent deserts with rich coconut flavors, Nanaimo bar should definitely be your go-to choice.
13. Butter Tarts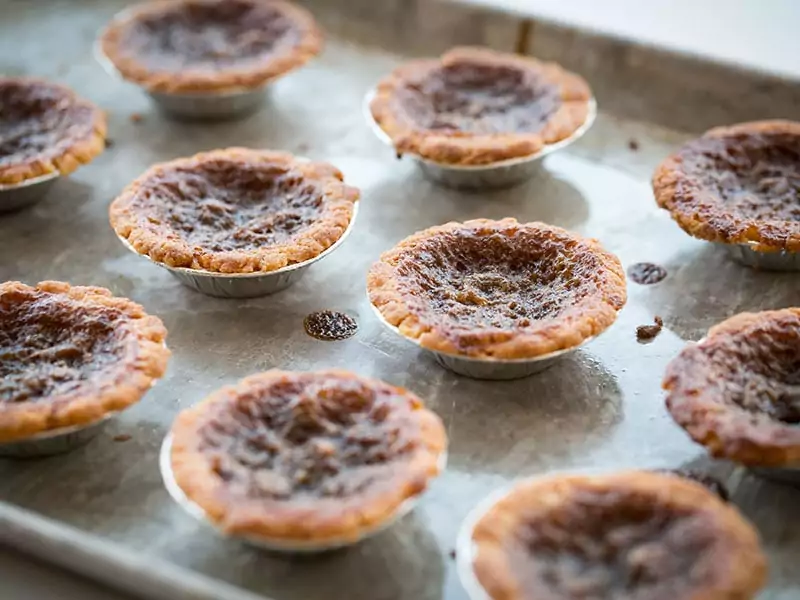 The butter tart is a stable representation of Canadian home cooking with an excellent taste that has won the heart of many. This tart is made with a simple mix of sugar, egg, butter, and sometimes currants.
The origin of this humble dessert can be traced back to the 1900s. The earliest recipe found for butter tart is in the Royal Victoria Cook Book by Margaret MacLeod.
Butter tarts can be enjoyed during home meals or in picnics, or they can be found in bakeries all over Canada. The most famous place to get your hands on this humble Canadian delicacy is the Butter Tart Trail, a street with 18 bakeries making and selling the nation's favorite dessert.
14. Saskatoon Berry Pie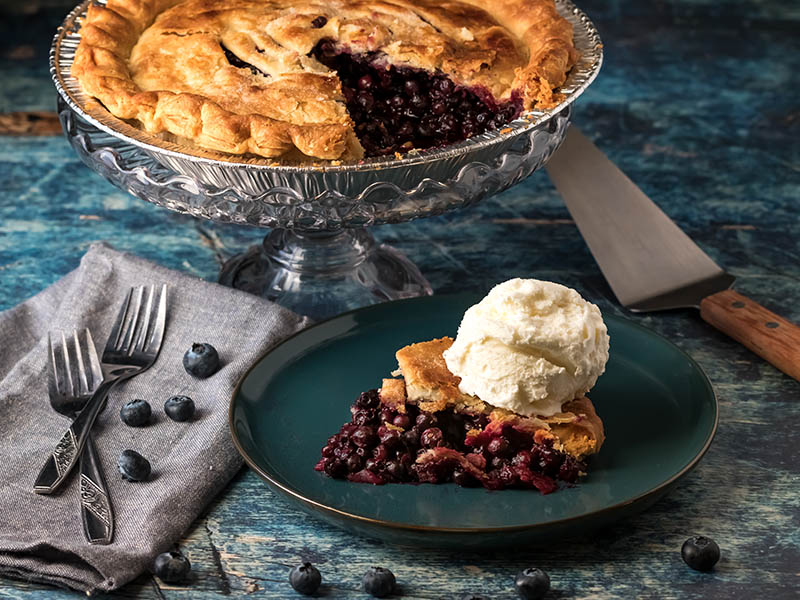 Saskatoon berry is a native fruit to Canada, and it was so famous that an entire city (Saskatoon, Saskatchewan) was even named after it. The name of this type of berry comes from the Cree word "misâskwatômina", which also means berry.
The fruit is described to have a sweet and nutty taste that resembles the taste of apple, blueberry, and almond.
Saskatoon berry is then used as pie filling for the famous dish with the same name. The pie has a vibrant gooey center and a golden crispy crust. It has a heavenly taste that balances sourness and sweetness beautifully.
15. Pouding Chômeur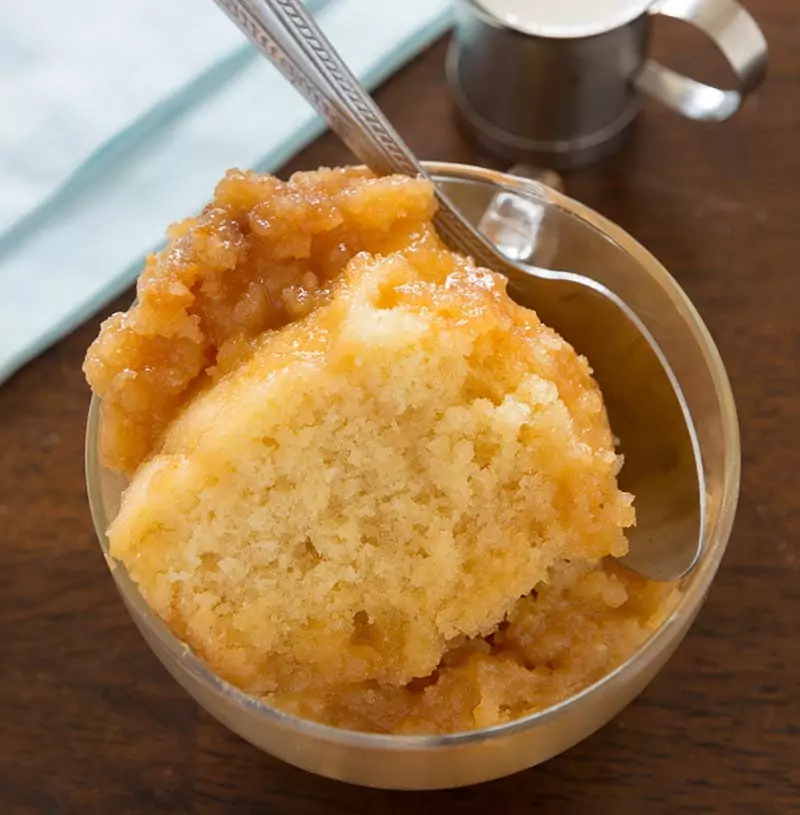 Pouding Chômeur, also known as "unemployment pudding" or "poor man's pudding", was invented during the Great Depression, which explains its unique name.
Despite the simple ingredient list, it is still a wonderfully fulfilling dessert. All you need to make this cake is flour, milk, butter, and eggs. Then it is covered by hot maple syrup (yes, very Canadian).
While it is baked, the sugar syrup settles on the bottom of the cake, forming a delicious sauce. During the Great Depression, the cake part was made out of stale bread.
16. Timbits
Tim Horton first introduced the Timbit in 1976, and since then, this dessert has become a must-have for both visitors and citizens.
These iconic doughnut holes are a mainstay of Canadian culture. Some even said you're not a true Canadian if you haven't ordered at least one box of Timbits.
Timbits come in various flavors such as old-fashioned, powdered sugar, chocolate, or honey. I recommend purchasing an assorted box and sampling them all if you're new to this!
17. Flapper Pie
Flapper Pie is a traditional meringue-topped vanilla custard pie. This delicious pie was known as Graham cracker cream pie in the 19th century, but the name changed to flapper pie throughout the 20th.
People top this dessert with whipped cream instead of meringue in South Saskatchewan. But despite what topping it has, everyone can agree that each slice of this pie is a tiny bit of bliss.
18. Bannock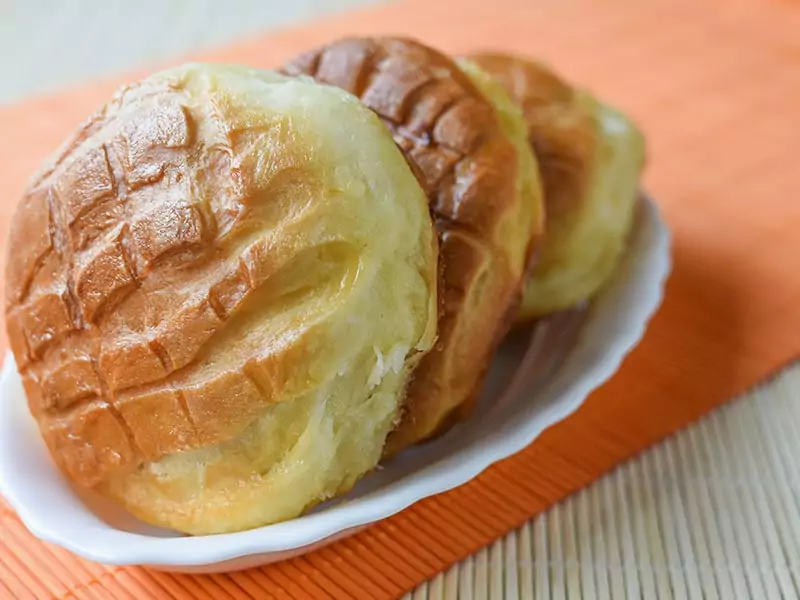 A traditional food of Scotland, bannock was brought to Canada by Scottish fur traders. The bread is known by various names throughout Indigenous Nations, starting with the name bannuc, an Old English word that means "morsel".
Bannock is unleavened bread that can stay fresh for an extended period. To savor this classic sweet and salty dish, pair it with some jam, honey, or plain butter and enjoy!
Canadian Snacks
It doesn't matter whether they're salty or sweet; these delicious Canadian snacks will put a smile on your face. So give this section a read and find out what you like most.
19. Montreal-Style Bagels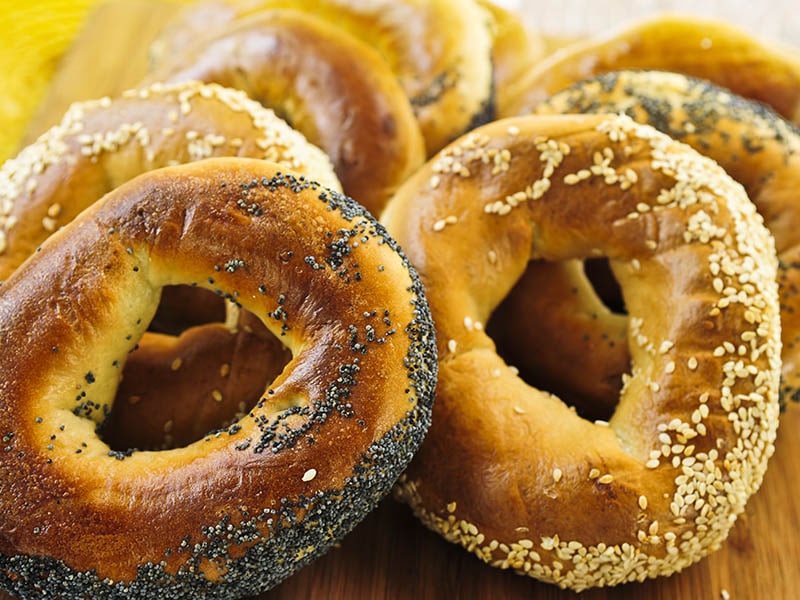 If you love New York bagels, wait until you hear about Montreal-style bagels! This is one of the most well-loved Canadian breakfast recipes that you must have at least once in your lifetime.
Montreal's bagels are denser, thinner, and a bit sweeter than their New York counterparts. This delicious bagel can contain maple syrup to make it extra Canadian in some recipes.
When you have the chance to visit this beautiful country, take a trip to either St. Viateur or Fairmount Bagel – the two most iconic bagel shops in Canada.
20. BeaverTails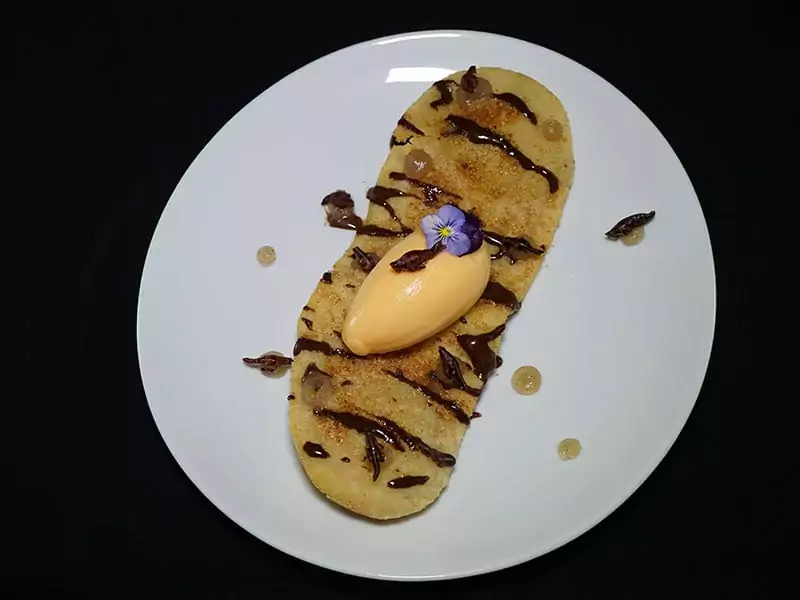 The BeaverTails, a fried dough pastry that resembles a real beaver tail, is one of the most iconic desserts in Canada.
This traditional pastry was invented by Grant and Pam Hooker. They first sold this pastry at the Killaloe Craft and Community Fair in 1978, and it eventually blew up. The Hooker's family then passed down the recipe for centuries, opening many restaurants from that point on.
You can upgrade this dessert by adding toppings, such as chocolate spread, banana sliced, cinnamon, or powdered sugar.
21. Maple Taffy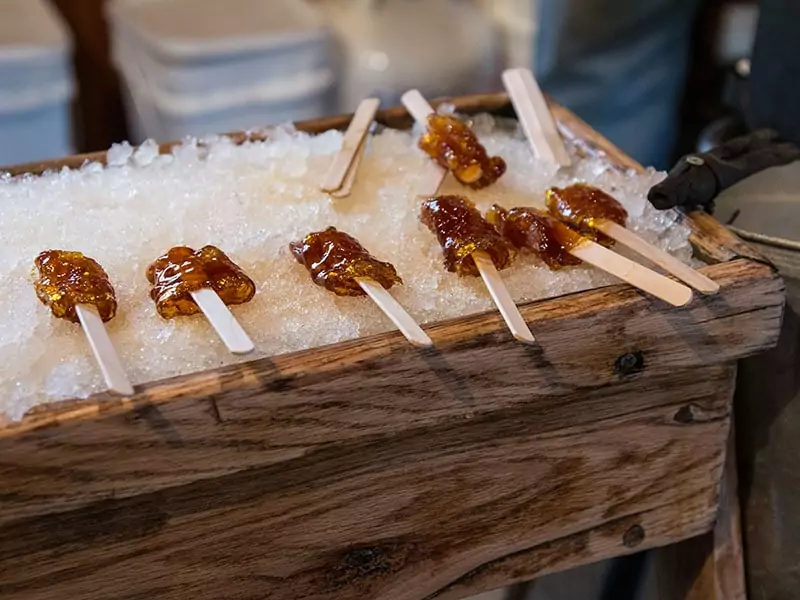 There is nothing more Canadian than maple syrup. In fact, the Canadians love maple syrup so much that they even make taffy out of it. Sometimes, this syrupy candy can be called the tire d'érable.
You can easily find a few maple taffy booths during every winter festival. This tasty treat is not hard to make; they just pour the boiled maple syrup on clean snow, wrap it around a popsicle stick and sell it for 2 dollars or so.
If you're craving this tasty taffy, grab some fresh snow, and let's get started!
22. Ketchup Chips
Although ketchup is one of the world's most famous condiments, the concept of ketchup potato chips is still unfamiliar to countries outside of Canada.
The ketchup chip was created in the 1970s when Lays gambled on a line of fruity chips, including grapes and oranges. They didn't have much luck with grape-flavored chips, but they made history with this tomato-based creation.
The flavor of ketchup chips is very distinct and flavorful. It has the perfect balance between sweet and sour, which pairs amazingly well with the crunchy texture of the fried potato slices.
Curious about the taste of ketchup chips? This can help you out!
Canadian Beverages
Why stop there? Let's finish your Canadian feast with some cold beverages! The boozy drinks from Canada listed below will go perfectly with Canadian lunch recipes. So if you're planning a Canadian theme lunch or brunch party, remember to include these drinks.
23. The Caesar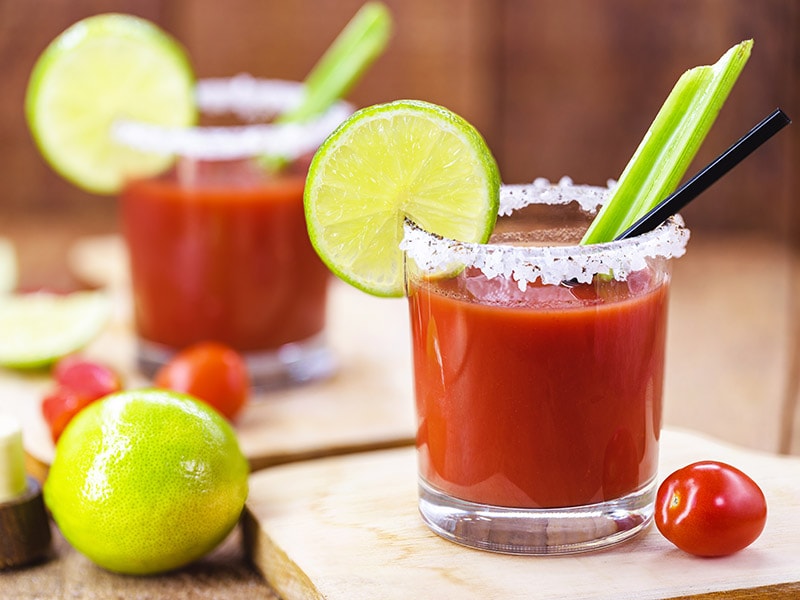 If you ask the Canadians about their national drink, the answer will always be Caesar. This drink made its appearance in 1969, when Walter Chell, the restaurant manager of the Calgary Inn, took inspiration from his favorite pasta dish, Spaghetti vongole, and invented it.
This cocktail is made with vodka, Tabasco, tomato juice, clam juice, and Worcestershire sauce. Then it is served with some ice in a salt-rimmed glass.
The great thing about Caesar is its garnish. Usually, the glass will be decorated with celery and lime. However, some bars will take a step further and add hot dogs, burgers, onion rings, or even a whole roasted chicken!
24. Ice Wine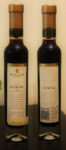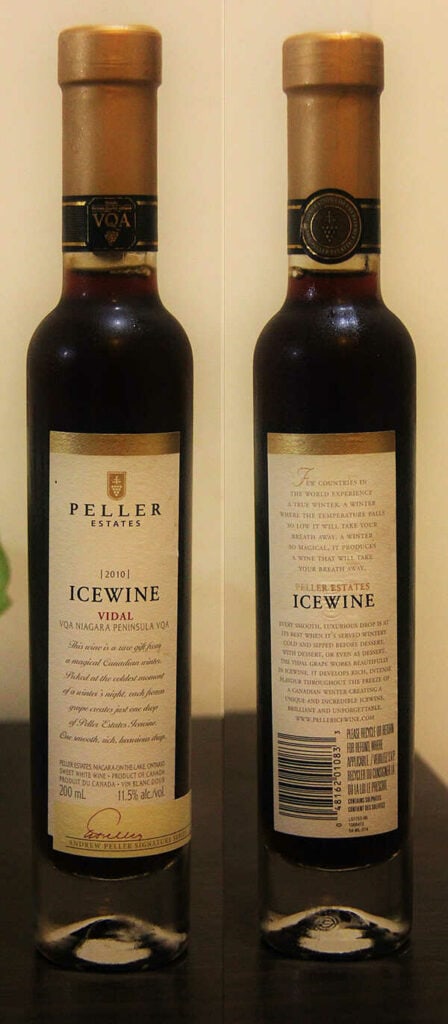 Everyone is aware of how freezing Canada can be. Although some might dislike this type of weather, it is a crucial component in the production of ice wine.
The first ice wine was created in Germany in the late 1700s. In the 1970s, German immigrated to Canada, continuing the custom of making ice wine in their new country, with ice wine being produced in British Columbia and Ontrairo.
Ontario is currently the top ice wine producer, thanks to the optimal temperature conditions for consistent ice wine production – warm summers to mature the grapes and cold winters to freeze the grapes.
Canadian ice wine even won an international wine trophy in 1991. So it is safe to say that this delicious drink is considered national pride for Canadians everywhere.
25. Ice Cider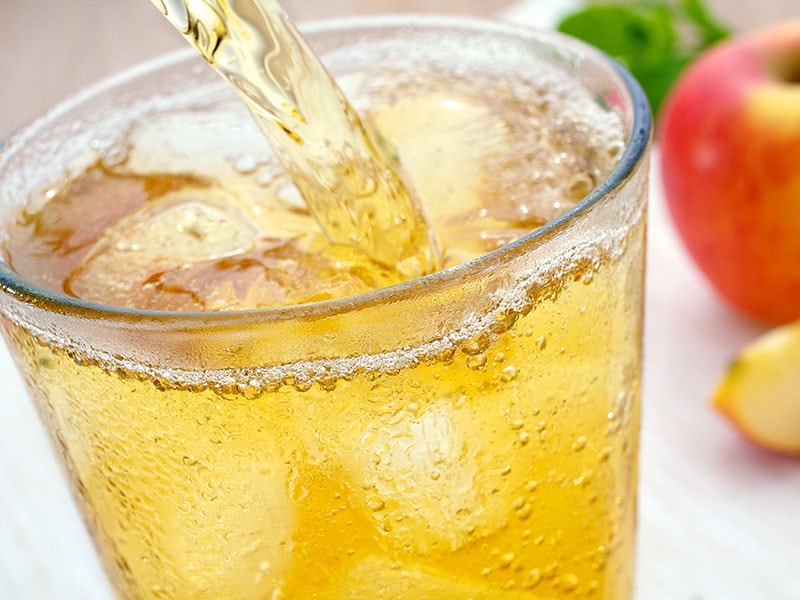 Now that you know how the Canadians handle their frozen grapes, what about their frozen apples? The answer is apple cider!
In 1989, inspired by the ice wines of the German, a winemaker from Dunham named Christian Barthomeuf created the first ice cider in Quebec. This man soon earned the title of "father of ice cider".
The frozen apples are carefully pressed to retain the remaining juice, creating this well-known alcoholic beverage. This drink will make an excellent brunch companion next to a cheese board or salad dishes.
---
Enjoy The Taste Of Canada!
Canada's multiculturalism is clearly expressed through its food. From the iconic poutine to the tasty maple taffy, this country has no shortage of delectable dishes.
Which mouthwatering Canadian dishes above are your favorite? Leave a comment in the section below and let me know!
Also, if you enjoy reading this article, please give this post a big thumbs up and share it with your friends and family. Have a fantastic day, and I'll see you next time!