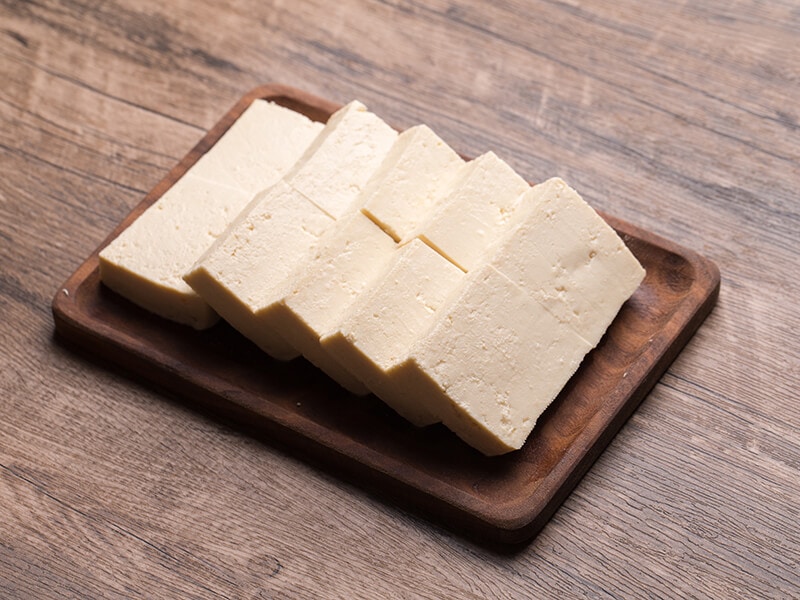 Bean curd vs tofu are famous ingredients in culinary. Especially if you are a vegetarian, you will be familiar with them in many vegan dishes. Have you ever wondered if they are the same or different? The truth will be revealed in the exciting content of this post.
You should have everything ready, like a pen and notebook, because the journey to compare bean curd and tofu will begin now. Let your body relax to enjoy this rewarding and informative trip.
Are Bean Curd And Tofu The Same Or Different?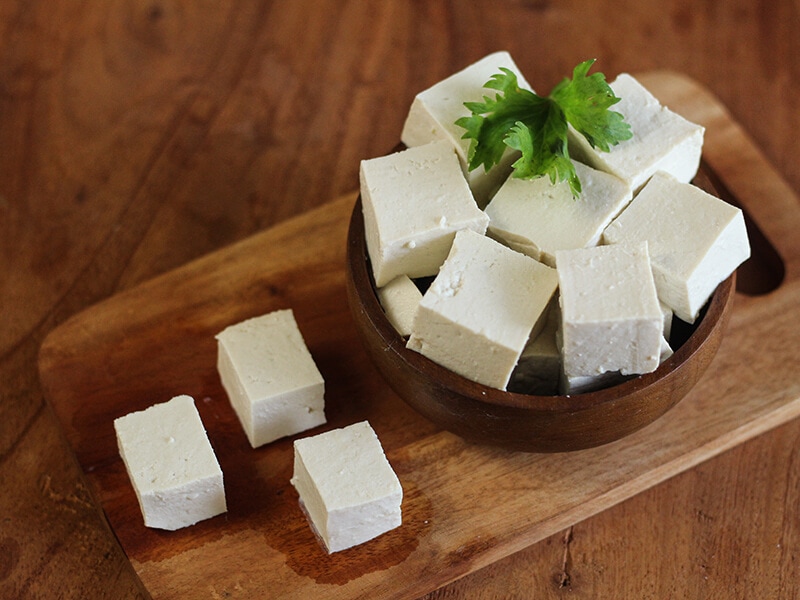 In fact, bean curd and tofu are precisely the same. Bean curd is another name for tofu. So you cannot find any differences between them. It can be said that tofu is the shape and block version of the bean curd since it is made from curds pressing.
There are many opinions that tofu is the bean curd, but bean curd is not completely tofu. To keep the information consistent, the culinary world has come to the conclusion that bean curd is another name for tofu. Bean curd is usually used to talk about firm tofu.
Compare tofu and bean curd to understand more about them. Let's see this video to know:
General Information About Bean Curd (Or Tofu)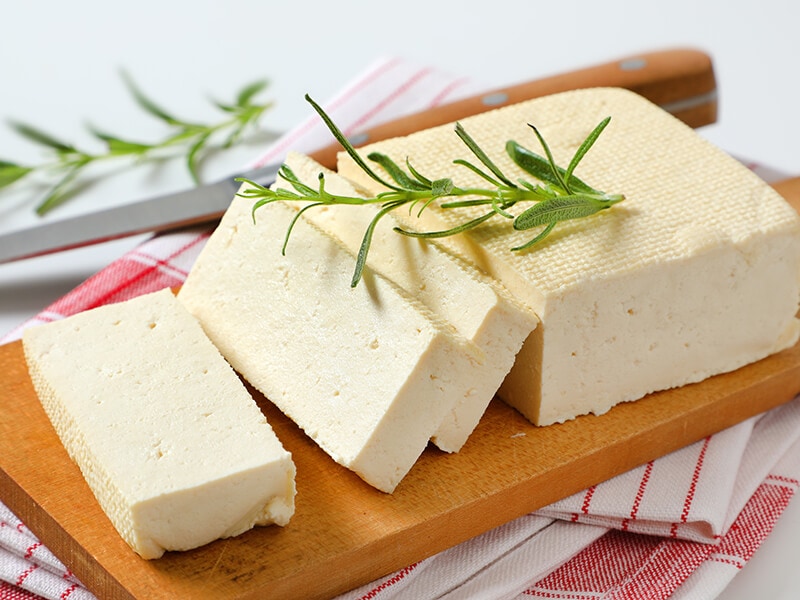 To get the most solid knowledge and insight into bean curd or tofu, I will bring you the most comprehensive and specific information on the origin, texture, uses, and flavors of bean curd (tofu). You should study them carefully.
Where The Bean Curd (Or Tofu) Comes From?
Bean curd (tofu) is a random and unexpected invention of the Chinese. So far, bean curd has been used in cuisine for more than 2000 years. It was first created between 179 to 122 BC in Anhui province.(1)
After that, bean curd was widely produced in Japan and spread to many countries in Asia, such as Korea, Thailand, Vietnam, India, etc. The primary ingredient to make bean curd is soy milk. Can this soy milk spoil and become inedible? Well, that's a story for another day.
The process of making bean curd is similar to cheese, and you need to go through soaking, grinding, and boiling soybeans. The method of coagulating plays an essential role in making bean curd. The curds will be pressed into tofu blocks with various shapes.
Typical Uses Of Bean Curd (Tofu) In Cooking
You will not be able to find an outstanding flavor from bean curd because its taste is mild. You can feel the very light sourness and subtle sweetness of the bean curd. However, when you combine it with other components and spices, the taste of bean curd becomes perfect.
The texture of bean curd is quite rich. Overall, most bean curd offers a creamy, soft, and silky texture. Sometimes, bean curd will have a unique firm texture. The texture of the bean curd depends a lot on the amount of liquid remaining inside the bean curd.
Tofu exists in various forms, including soft, silken, extra firm, and firm tofu. Types of tofu are identified based on their texture. Tofu is a common component in East Asian, Southeast Asian, and Asian cuisine. Today, it also appears in many places of the world.
Tofu is used in many different culinary recipes. Each type of tofu will be suitable for each different cooking style.
Tofu with a soft texture will bring softness to your dish. You can add it to soups to diversify ingredients. It is also often used as an egg substitute in scrambles. It's also an ideal alternative for egg whites. It does not matter when you use tofu in making baked goods.
Tofu is a great ingredient to have if you plan to explore Asian-inspired vegetarian dishes. It goes well with many salad recipes, and as tofu absorbs flavor really well, it can be used as a substitute for meat.
The firm and chewy texture of firm and extra firm tofu goes well with curries, soups, baked goods, and stews. Moreover, the shape of this variety will be preserved when you fry, bake, or saute it. You can incorporate it in noodle dishes for extra flavor.
If you have silken tofu, the desserts are a perfect choice. It is good to puree them to make smoothies or add them to sauces and salads to complement creaminess to recipes. Experience the tofu puddings that will stimulate your taste buds.
Gain all information about the tofu and the ways to cook it. Watch this video:
Why Are They Called Tofu Instead Of Bean Curd And Vice Versa?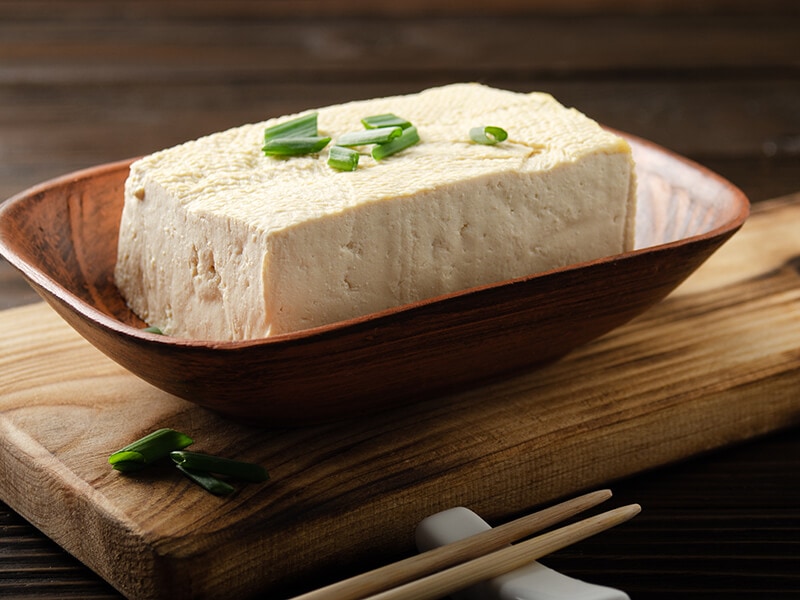 Tofu is a food created by the Chinese. The word "tofu" in Japanese comes from the Chinese word "doufu." "Tofu" means bean curd or fermented beans in the Chinese sense. Therefore, its English name "bean curd" is also derived from here(2).
Bean curd is the name commonly used to call tofu in the West. The name "bean curd" was first used by Americans in 1840. Asians will often call it with the name "tofu". Therefore, you can call it tofu or bean curd either way.
Blow Your Mind With Various Familiar Types Of Bean Curd (Or Tofu)
As I mentioned in the previous section, you can find countless different types of curd beans with different textures and shapes. Now is the right time to take a close look at each type of bean curd (tofu).
Types Of Tofu
Highlight Features
Uses
Soft Tofu (Soft Bean Curd)

It has a smooth texture and mild flavor
The shape does not change during cooking

Add to soups, stews, noodles, and steams
Silken Tofu (Silken Bean Curd)

Soft, creamy, and silken texture
You need to be careful when preparing to keep its shape

Soups, desserts, smoothies, salads dressing
Extra Firm Tofu (Extra Firm Bean Curd)

Firm, spongy, rubbery, and dense texture
Keep the shape during cooking
The water content is low
Poor absorption

Baking, grilling, frying, and sauteing
Firm Tofu (Firm Bean Curd)

The combination of soft and extra firm versions with soft, chewy, and firm texture
Keep its shape when cooked

Add to soups and braised dishes. Use in fried and stir-fried dishes
Tofu Skin (Bean Curd Skin)

The product of the skin on the surface of boiled soy milk
There are dried, fermented, and fresh forms

Saute or combine in spring rolls
Fried Bean Curd (Tofu Puffs)

They are pre-fried tofu with a crispy, chewy, and soft texture
They have many forms with various textures

Making stews, stuffing, and stir-fries
Dried And Fresh Bean Curd Sheets

Variations of tofu skin
The taste of the fresh version is better than the dried version

Soups, stews, dim sum and wrapped dishes
White Fermented Tofu (White Fermented Bean Curd)

Rich umami flavor and taste ranges from light to strong, and strange texture
Ferment with soy sauce, rice wine, vinegar, and miso

Eat with rice, marinate foods or add to stir-fried dishes
Red Fermented Tofu (Red Fermented Bean Curd)

Richer and more intense flavor than the white version
You need to ferment tofu with rice wine and red rice

Vegetable, stew, and braised dishes
Tofu Knots

Tofu skin is tied into knots
Pre-processed product

Soups and braised dishes
Dried Bean Curd Sticks (Bean Threads)

A product of the film on the surface of the soy milk cooking process
Moderate chewiness

Saute with veggies and add to braised recipes
Dried Seasoned Tofu (Dried Seasoned Bean Curd)
Tofu is seasoned with sauces and spices
Fried and cold dishes
Tofu Noodles
Noodle-like shape and thick texture
Stir-fry with veggies and use in salads
Five-Spice Dried Tofu
Brown on the outside and white on the inside
Eat without cooking, add to soups, stir-fried dishes, and combine with sauces
Doufu Hua (Douhua) - Tofu Pudding
Soft and silky texture
Combine with syrup and pearls to eat as a dessert
Smoked Bean Curd
Smokey taste like pork or ham smoked
Eat with rice or use in sandwich
1. Soft Tofu (Soft Bean Curd)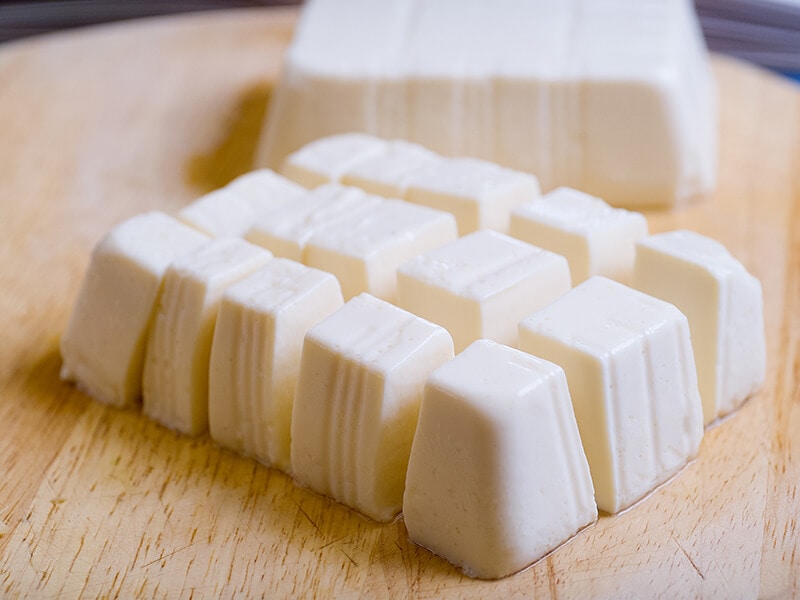 If you love soft bean curd, you must know soft bean curd. The name tells all about its texture. It is so soft and has a mild flavor. However, it retains its shape and texture when cooked well. Its soft character goes well with soups, stews, noodles, and steams.
2. Silken Tofu (Silken Bean Curd)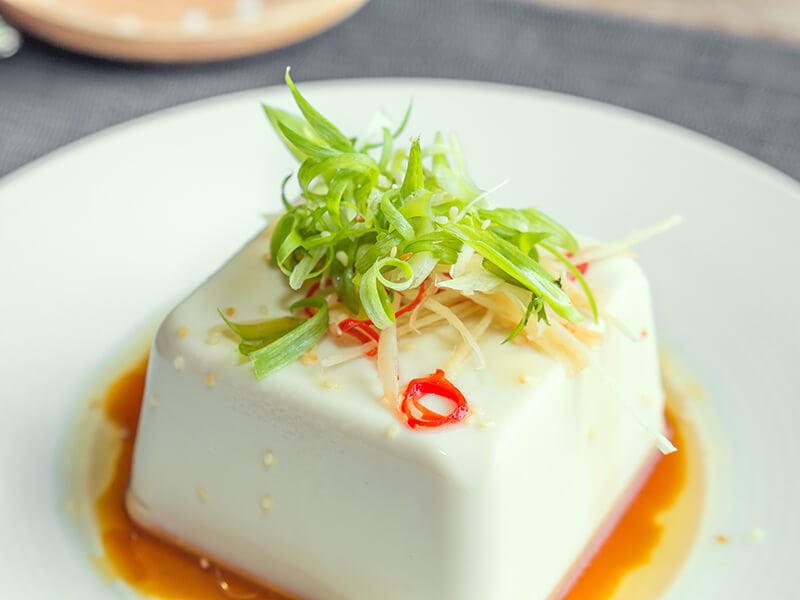 Like soft tofu, silken tofu (silken bean curd) has a soft, creamy, and silken texture. You need to be careful when using it so as not to ruin its shape and texture. This type is an integral part of the Chinese mapo tofu recipe. You can also add it to miso soup and desserts.
It is usually wrapped in plastic tubs or put in containers for sale in stores. Silken tofu is pretty popular, so you can buy it anywhere.
3. Extra Firm Tofu (Extra Firm Bean Curd)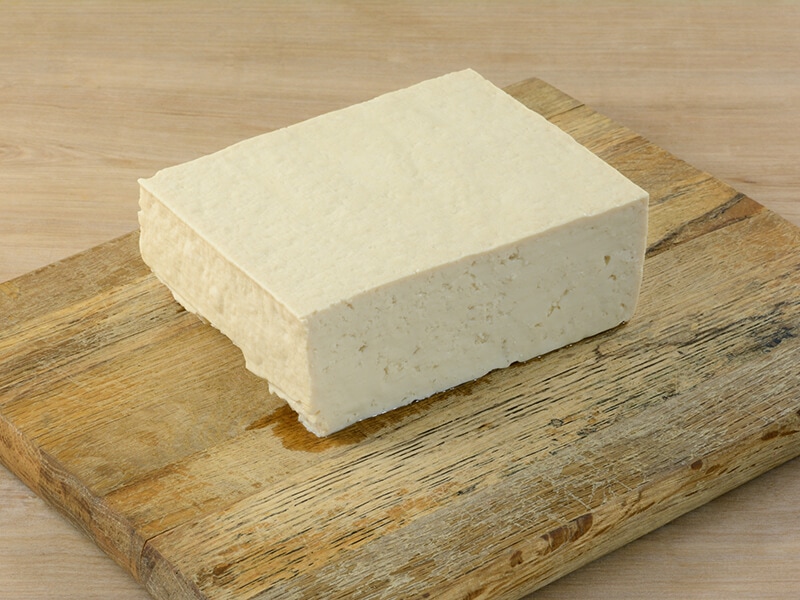 Thanks to its firm, spongy, rubbery, and dense texture, extra-firm tofu will make it easier for you to work with it. Its shape will remain intact during the cooking process. The firmness of the tofu is affected by the amount of water remaining in the tofu.
Its firm texture will reduce its adsorption quality. In terms of use, extra-firm tofu is an ideal ingredient for baking, grilling, frying, and sauteing.
Some even say this tofu shares some similarities with chicken meat. So, you can use it as a vegan substitute for your chicken. For example, make delicious loaded crispy tofu tacos with extra firm tofu.
4. Firm Tofu (Firm Bean Curd)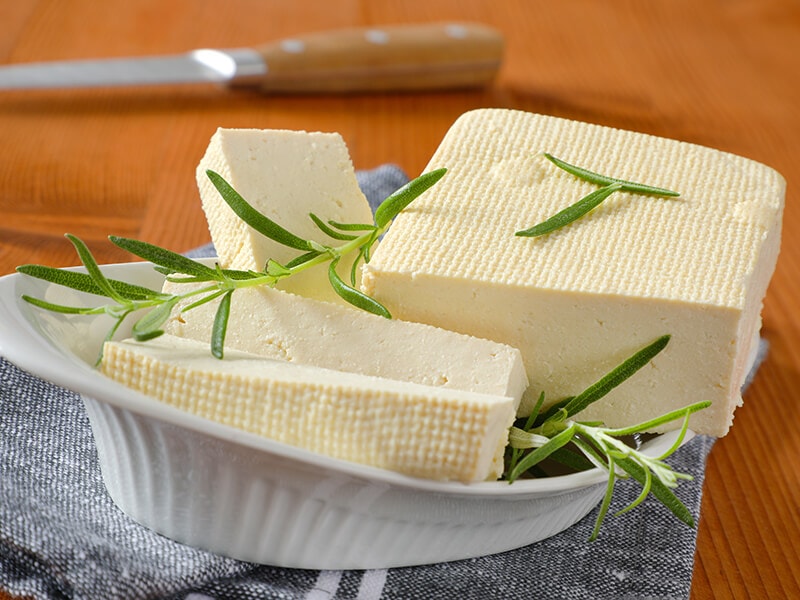 Firm tofu is a blend of soft and extra firm bean curd. You will find the softness of the soft version and the firmness of the extra firm one. Like the extra firm tofu, you will need to worry about its shape-changing when using it.
This type is combined in many formulations. Cooking soups and braising with it are perfect options. Besides, fried and stir-fried dishes with firm bean curd bring out beautiful flavors.
Discover all wonderful things about the firm and extra firm tofu:
5. Tofu Skin (Bean Curd Skin)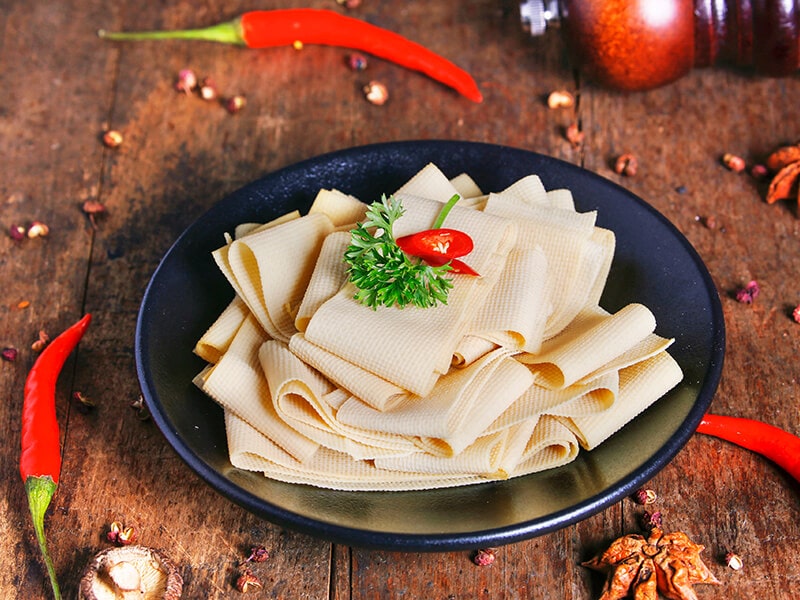 Tofu skin or tofu sheet is a type of tofu commonly used in Chinese, Korean, and classic Japanese dishes. The skin on the surface of boiled soy milk is taken to make tofu skin. You can use it in dried, fresh, or fermented forms.
When dry, it has a rather chewy and soft texture. If you like to use fresh tofu skin, you get the softness of it. This variety will bring out the subdued and clean flavors. You can saute it or use it to make spring rolls.
6. Fried Bean Curd (Tofu Puffs)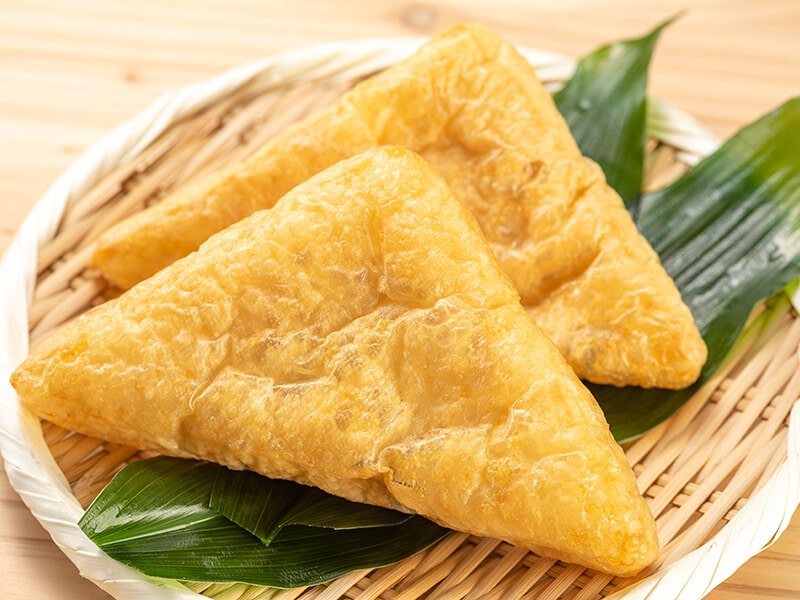 Fried bean curd is also known as tofu puffs. This variety is pre-fried, so it is suitable for those who do not have time to prepare. The outside of the bean curd puff is pretty crispy. When biting inside, the crunch is replaced by softness and chewiness.
This variety is well seasoned, thanks to its spongy texture. Fried bean curd comes in many different forms with various textures. This type is suitable for mixing with spicy and sweet elements. Try making stews, stuffing, and stir-fries with this bean curd right away.
7. Dried And Fresh Bean Curd Sheets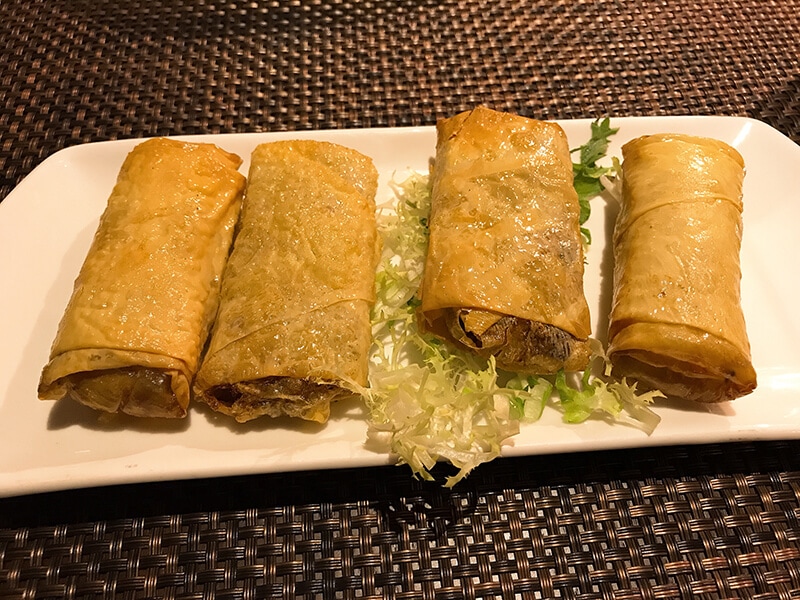 Dried bean curd sheets are a form of tofu skin. To cook with this type, you should soak them in water so that they become softer. Compared to the fresh form, this type offers a less delicious taste. Fresh bean curd sheets have a more delicate and delightful taste.
The soups and stews of mesmerizing Chinese cuisine will never lack these varieties of tofu. Furthermore, they also appear frequently in dim sum dishes. It is fantastic to enjoy the foods wrapped with a layer of dried or fresh tofu sheets.
Observe the ways to create bean curd sheets properly:
8. White Fermented Tofu (White Fermented Bean Curds)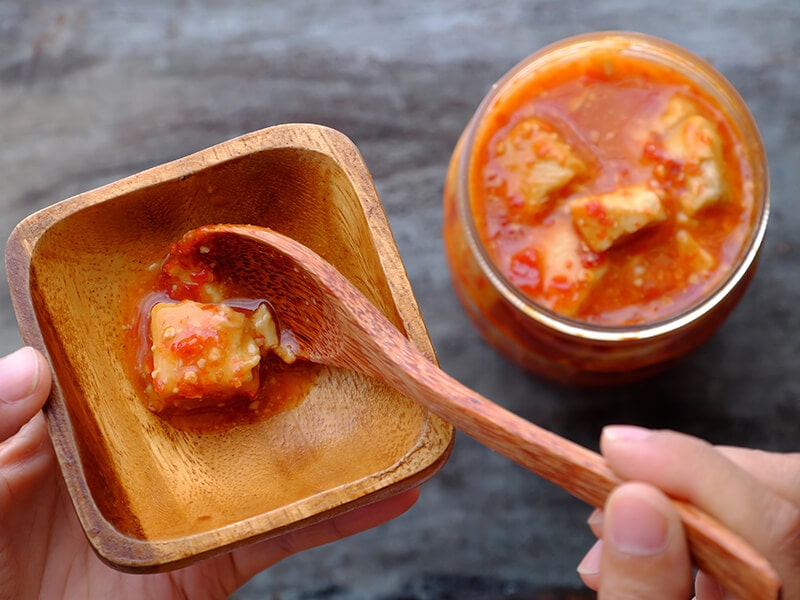 Asians have created many different types of bean curd. White fermented bean curds are a great invention. They give a rich umami taste when you add them to the dishes. There are many versions of fermented bean curds, but white and red are the two most popular.
Fermented bean curds have a rather strange texture. You can enjoy them with rice or use them to marinate foods. It is missing if you do not combine them with stir-fries to enhance their flavor.
9. Red Fermented Tofu (Red Fermented Bean Curds)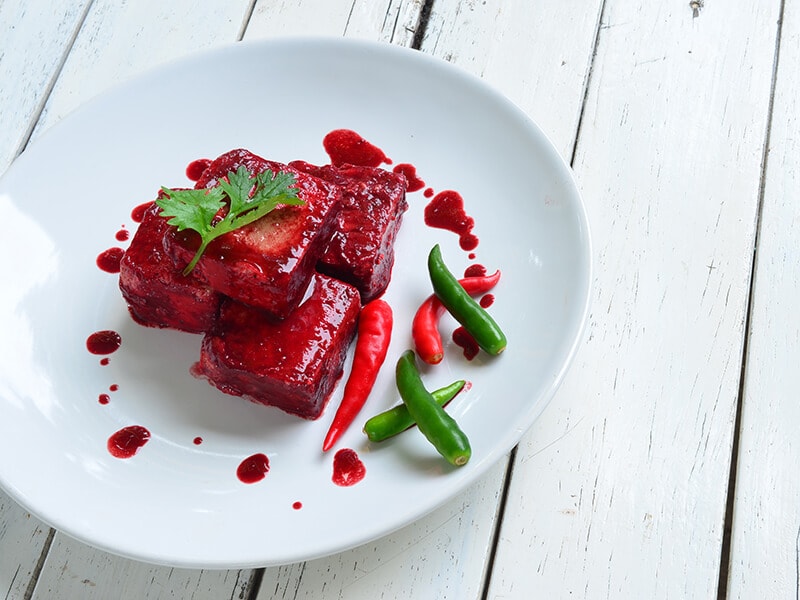 If you are cooking vegetarian dishes, you will need red fermented tofu. This is the result of fermented tofu with rice wine, red rice, and other spices. Its rich flavor is a fantastic addition to recipes. The taste of it is more pungent than white fermented tofu.
Stews and stock dishes are indispensable for red fermented tofu if you want the full flavor of the plates. Recipes like fried Chinese spareribs and Chinese ribs will be more fragrant and delicious with this tofu. You can add it to meat or seafood braised dishes.
10. Tofu Knots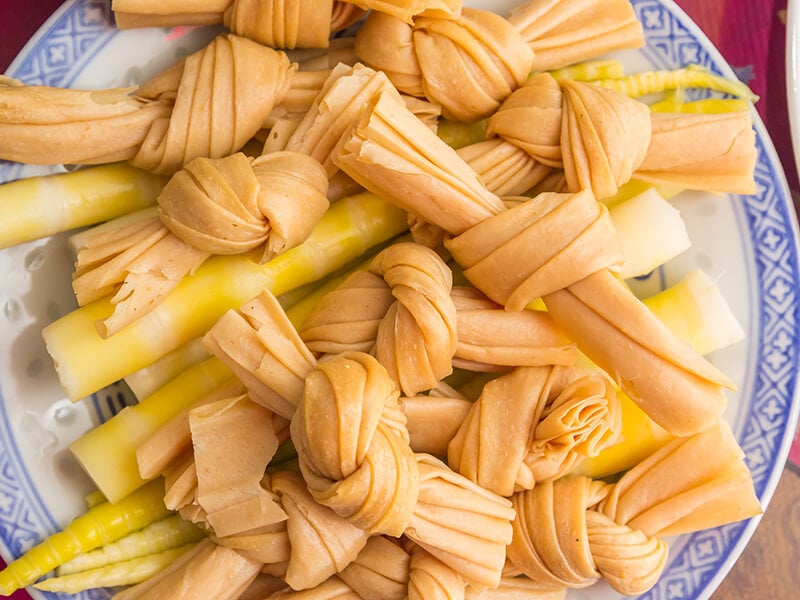 When you fold the tofu skins and tie them into knots, you will have tofu knots. You can find them in many stores. They are pre-processed and packaged in packages. This type can come with many attractive recipes.
Tofu knots are an excellent choice to add flavor to the soup. This variety of tofu, when used in braised dishes, will soak up the seasoning steadily. Tofu knots are very famous in Chinese cuisine.
11. Dried Bean Curd Sticks (Bean Threads)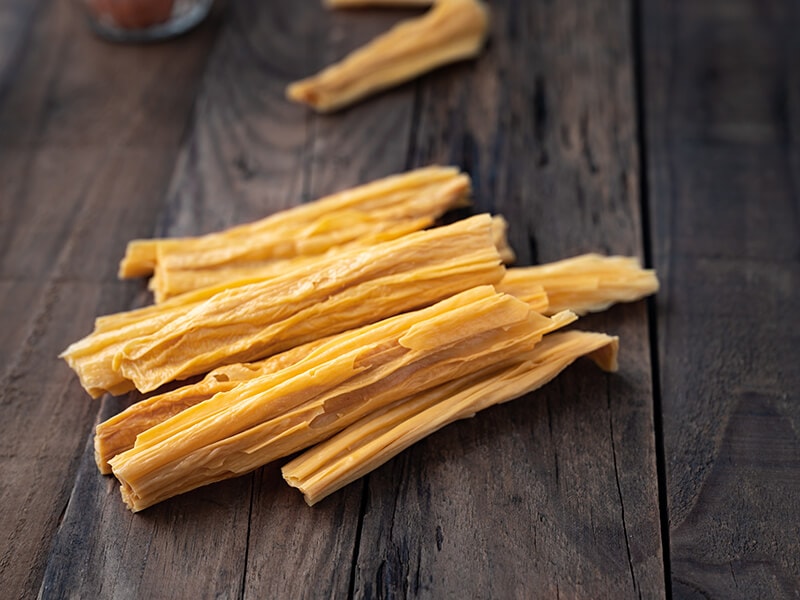 This kind is quite similar to tofu skin. The film that rises to the surface during the cooking process of soy milk will be dried into sheets or rolls. Many chefs love their moderate toughness.
Before using them, you should dip them in water for about 4 hours. When sauteing vegetables, you need to add them for a variety of flavors. Hot pot and braised dishes will become more harmonious and explosive when containing bean threads.
12. Dried Seasoned Tofu
Nowadays, there are many tofu options for lazy people. Dried seasoned tofu is one of them. The tofu will be seasoned with soy sauce, sesame, and garlic, so you just buy them from the store and use them.
There are various seasoning recipes for tofu, so you will have plenty of choices to suit your taste. Fried and cold dishes will require dried seasoned tofu.
13. Tofu Noodles
The texture of tofu noodles resembles tofu skin. However, they will be thicker than the tofu skin. These are shaped like noodles; hence they have the "tofu noodles" name. Compared to five-spice tofu, the shape of tofu noodles has many differences.
When it comes to tofu, vegetarian dishes will need them most, and so will tofu noodles. Delicious stir-fried vegetables always need tofu noodles. You should try making salads with them for a change.
14. Five Spiced Dried Tofu
Five spiced dried tofu is popularly sold in many Asian supermarkets. When you see small chunks of brown tofu, they are five-spiced dried tofu. Exploring inside, you will see a striking white layer of tofu.
You can eat this tofu after buying them without cooking. If you want to be more sophisticated, you can combine them with soy sauce, pepper, or stir-fry with vegetables to enjoy. Do not miss soup with this type of tofu.
You need to know the instructions to make five-spiced dried tofu. Watch this video:
15. Doufu Hua (Douhua) – Tofu Pudding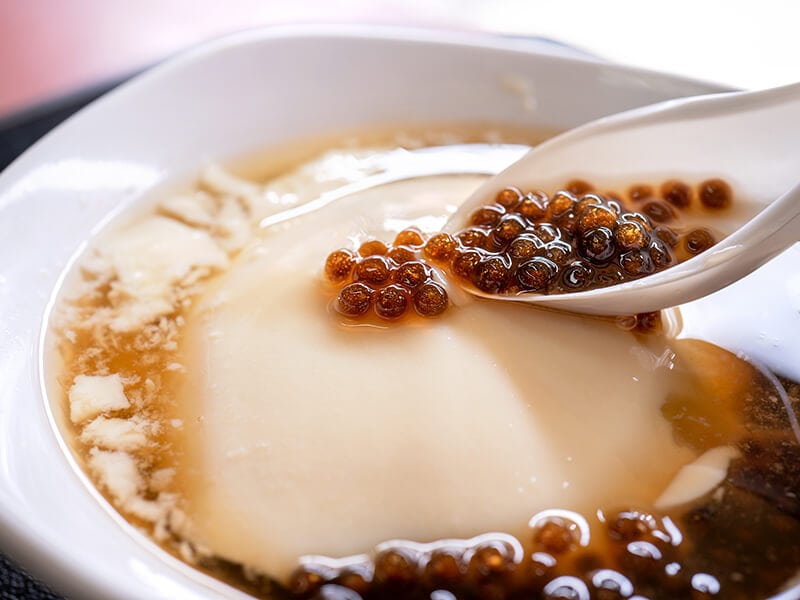 Douhua is a type of bean curd used to make desserts in China and other countries. This one has a soft and silky texture. It can be said that it is the smoothest tofu. The soft texture of douhua seems to melt in your mouth when enjoying it.
To spice up the douhua, sweet syrup and ginger are added. In different countries, there will be various combinations. For example, you will often find douhua, pearls, and syrup in a bowl in the Philippines.
16. Smoked Bean Curd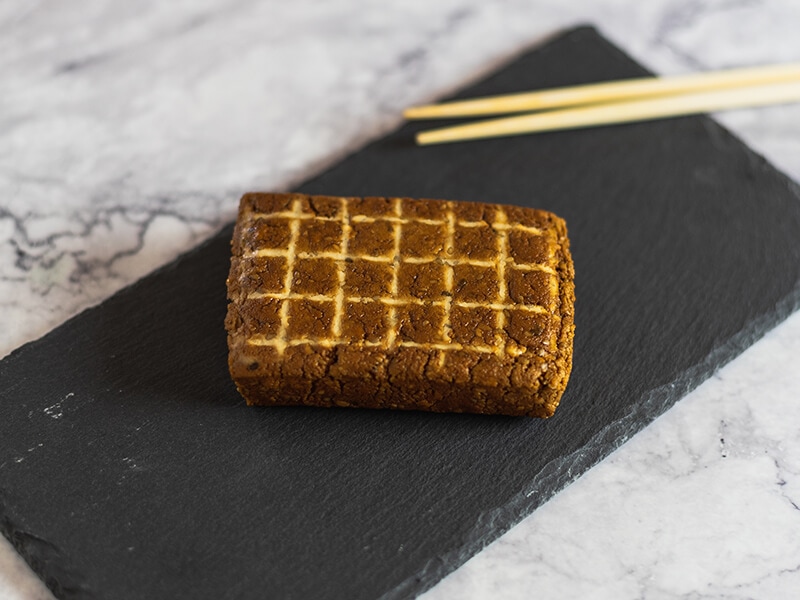 To diversify the flavor of bean curd, smoked bean curd was created. Making smoked bean curd is relatively simple because you only need to smoke the bean curd. As a result, you get bean curd with a distinctive smokey flavor.
This taste will make you think of attractive smoked pork. This type of bean curd is best eaten with rice. Why don't you have it with a sandwich?
How To Extend The Shelf Life Of Bean Curd (Or Tofu)?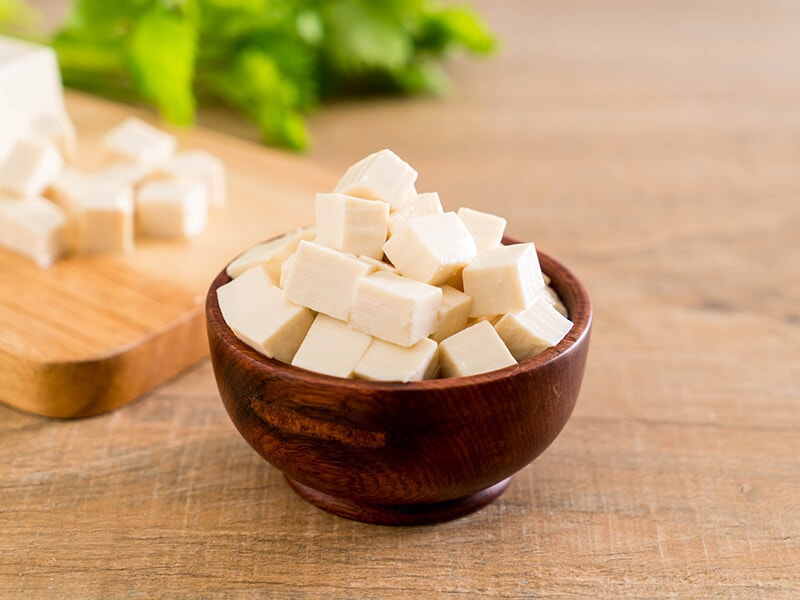 To reduce the possibilities of tofu going bad, you need to pay attention to the preservation methods. There are many good alternatives for storing bean curd. If you want to keep bean curd fresh, I will suggest 2 fantastic ways below.
1. Refrigerating Bean Curd In The Fridge
A primary preservation method is to refrigerate bean curd. This way is not only fast and convenient but also ensures the quality and freshness of the bean curd. Therefore, you should not waste the value of your refrigerator in this situation.
Step 1: If you have not used tofu, you should not open the packaging. This is great for tofu preservation.
Step 2: Once the tofu is unpacked, let's put the tofu in a container.
Step 3: Pour water into the container until the tofu is submerged.
Step 4: Close the container tightly.
Step 5: Put the container in the refrigerator. You should change the water regularly.
2. Freezing Tofu For A Longer Shelf Life
The shelf life of tofu is considerably extended when frozen. However, when the tofu is frozen, it changes color slightly. In some cases, tofu, after a period of freezing, will have a caramel color.
Step 1: Gently press to remove all liquid and moisture from the bean curd.
Step 2: Place the bean curd in a freezer bag or container.
Step 3: Close the container or freezer bag tightly.
Step 4: Place the freezer bag or container in the freezer.
Find Out The Shelf Life Of Tofu (Bean Curd)
The shelf life of unopened tofu in the fridge is about 2 to 3 months. You can freeze unopened tofu for a long time because it can last about 1 year. However, I recommend freezing for about 3 to 4 months to get the best quality.
Meanwhile, the shelf life of opened tofu when refrigerated is about 3 to 5 days. If you freeze tofu, you will keep it for about 4 to 6 months. Cooked tofu can last about 2 to 3 days longer than raw tofu.
| Bean Curd (Tofu) | In The Refrigerator | In The Freezer |
| --- | --- | --- |
| Unopened Bean Curd (Tofu) | 2 to 3 months | 1 year 3 to 4 months (peak quality) |
| Opened Bean Curd (Tofu) | 3 to 5 days | 4 to 6 months |
| Cooked Bean Curd (Tofu) | 5 to 7 days | Not recommend |
Enjoy The Party With Recipes Made From Tofu (Bean Curd)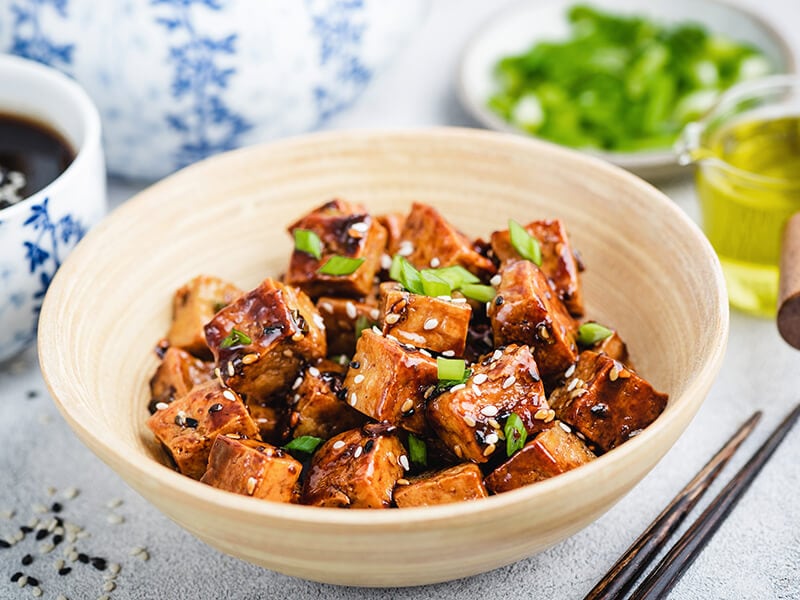 The mild flavor of bean curd can be combined well in many different recipes. Bean curd plays a vital role in vegetarian dishes. In addition, you can mix it with meat to create unique experiences.
Pan-fried tofu is probably the most straightforward recipe with tofu. Tofu cut into small cubes when fried with vegetable oil will be crispy on the outside and soft on the inside. You can add vegetables and sauces to make the dish more flavorful.
Learn the recipe to make delicious and crispy pan-fried tofu. Watch this video to know:
The meal will become more complete when enjoying a cup of coconut tofu curry with rich flavor. The characteristic spicy taste of curry combined with the sweet and fatty flavor of coconut milk will awaken all your senses.
Tofu stir fry is an immortal recipe of cuisine. Tofu is often stir-fried with vegetables and sauces. When combined with teriyaki sauce, the tofu will soak up the flavor of the sauce. The softness of the tofu will blend with the typical taste of the sauce.
Let's create a delicious tofu stir fry with teriyaki sauce at home:
If you have bean curd skin at home, you should try making this delicious dish. The appearance of mushrooms brings a natural gentle sweetness to the plate. The flavor of the bean curd will make a great culmination of this recipe.
The smokey flavor of smoked bean curd will create strange points for this recipe. For a fuller flavor, you should add a little soy sauce or other sauces during the stir-frying process. The recipe will have a mild spicy taste because of the presence of pepper.
FAQs
You should not miss the unique questions about bean curd and tofu. They will help solidify your knowledge and better understand the interrelationships between them.
Have You Been Able To Tell Them Apart?
Probably, everyone will think of bean curd and tofu as two completely different types. I am sure that you will be shocked by the information I provide about their relationship. That is all true, and I affirm that they are the same.
Although this information is pretty surprising, you have learned a lot of new knowledge and are not confused when asked about them. If you agree with my sharing, do not forget to like and share this post. I am looking forward to receiving your feedback about the article.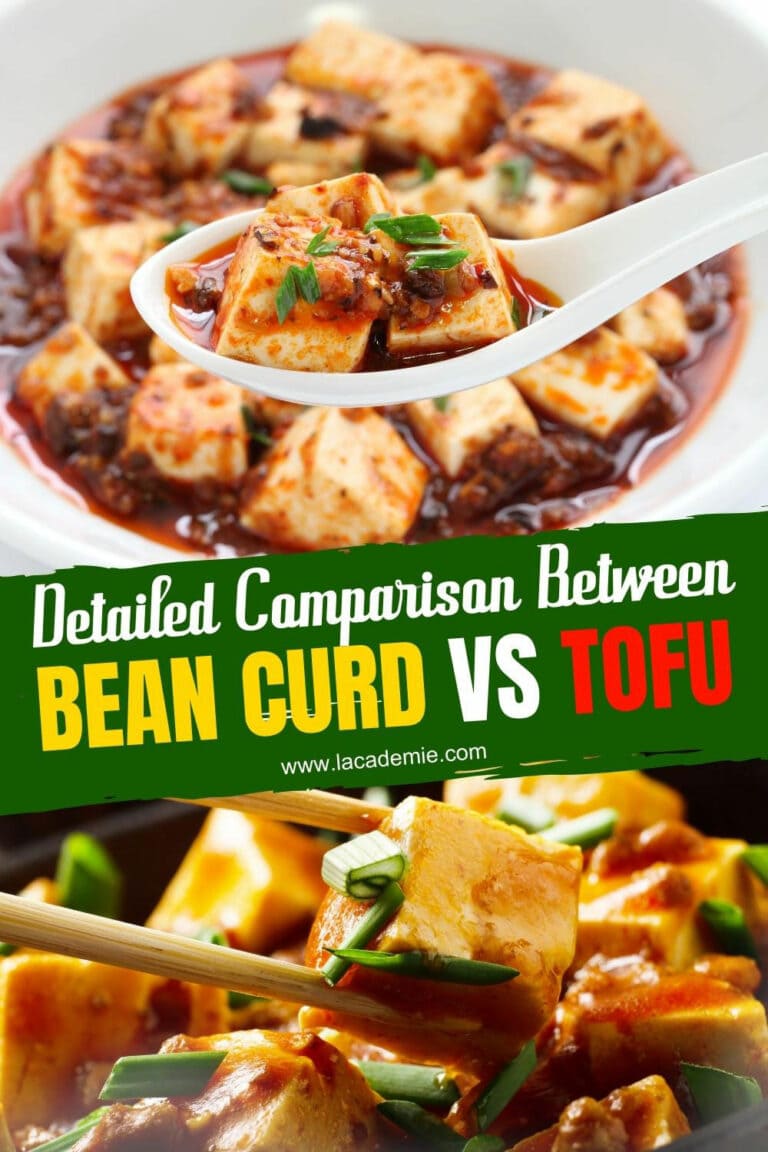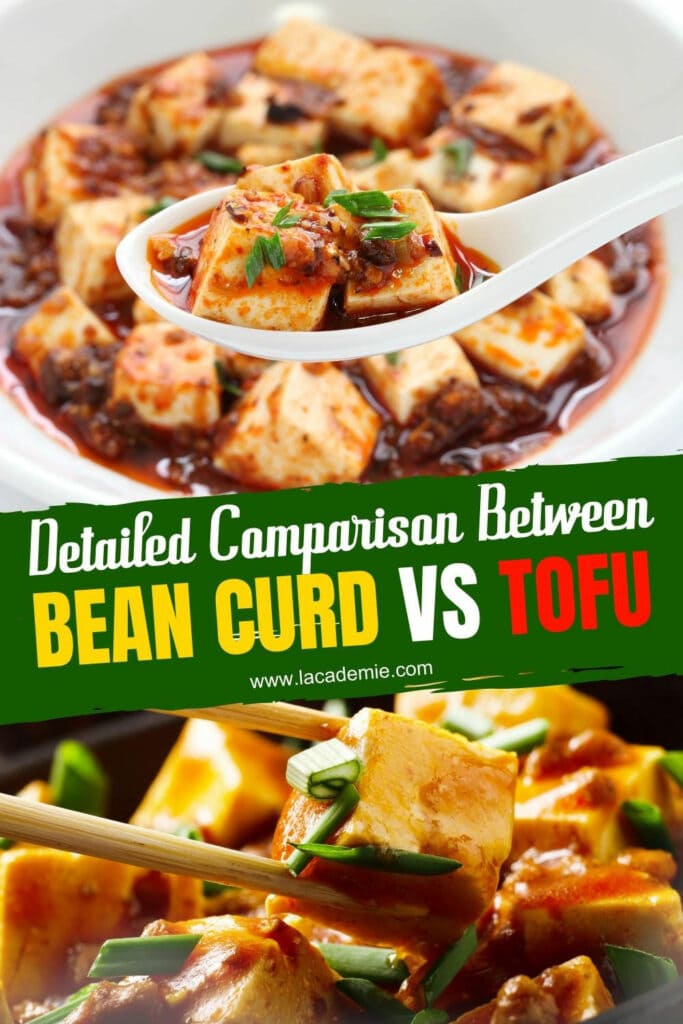 References
En.wikipedia.org. 2021. Tofu – Wikipedia.
"Soy, tofu might protect against heart disease." 23 March 2022,