There is no better way to celebrate the holiday season than with the best winter cookies. From the texture to the flavors, these delightful desserts will bring you and your family closer together, just like the spirit of the winter holiday.
Of course, you'll have to figure out what to make since there are thousands of recipes to choose from. Don't worry, because you have come to the right place. I'm going to help you with my own little list right here.
I've already picked out some of the most notable and simple cookie ideas that you can make at home. And to make things even better, I'm going to add more international recipes so your family can experience what the holiday is like around the world. Enough talk, let's go!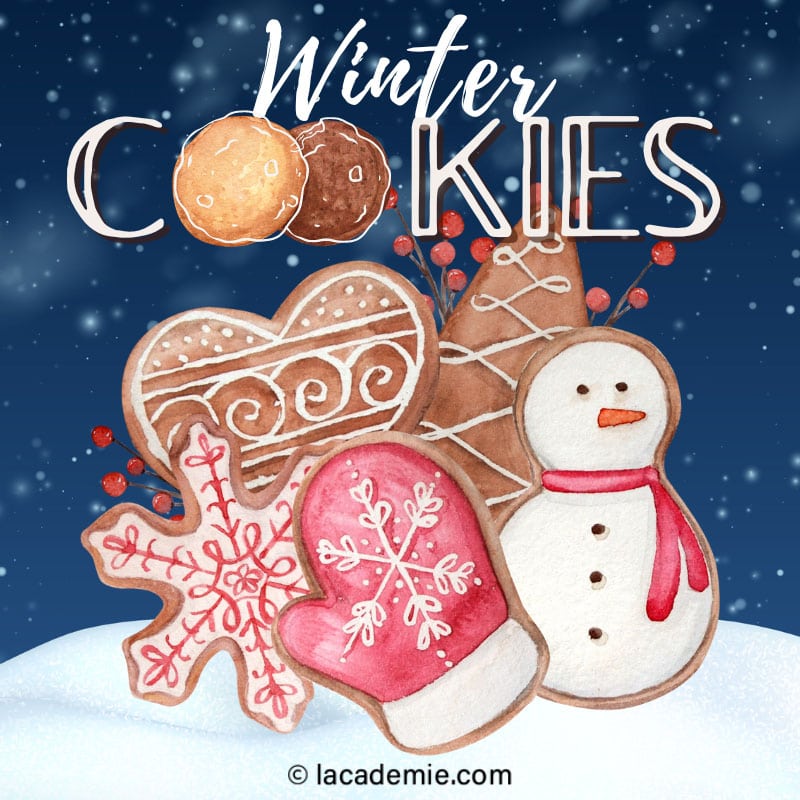 The feeling of having a delicious cookie alongside a cup of hot chocolate in the winter is just magical. And it's only getting better when you have a lot of to choose from. So, look below to see which option you might like the most, and get baking.
Total time: 20 minutes
If you are allergic to eggs, having delicious baked desserts during the holiday might be difficult. But you don't have to worry anymore because this cookie recipe for Christmas right here can help you enjoy desserts with other people.
For the preparation, it's not much different than a standard chocolate cookie when you have to mix flour, sugar, and cocoa powder together to create a batter. With the help of baking soda, the batter will rise up during the baking process, adding the signature puffiness to your food.
Now here comes the main part, the decoration. First, you melt the white chocolate and crush up the peppermint candies. Coat half of the baked cookies with white chocolate and sprinkle the candies on top. This creates a creamy layer that has a bit of crunch from the peppery candies.
Total time: 40 minutes
This recipe is going to be your favorite if you're a big fan of the movie as well as the classic tale of the Grinch. This little treat reminds you so much of the Christmas-time goblin. It's green, it's wrinkly, but more importantly, it's tasty all the way.
First and foremost, they are excellent vegan-friendly Christmas cookies as they contain no milk at all. The main ingredients are flour, sugar, and food coloring (green and yellow). If you want the cookies to puff up in the oven, add a bit of baking to the mix.
Apart from the unique appearance, this recipe does not taste so much different from other sugar cookies. You can feel the sweetness permeating all over the entire taste buds with just a bite alone. The butter offers a nice creamy after-taste.
These Grinch cookies look good and taste good as well.
Total time: 35 minutes
A good thing about cookies is that you can basically customize the sweet treat to include whichever candies or other desserts you like. In this case, let me show you a very delectable recipe that you and your kids are going to love.
The Gumdrop cookie is rather simplistic, with its base consisting of flour, almond extract, and sugar. However, the thing that makes this one stand out is the inclusion of gumdrops, which are these little soft and chewy gummies. They usually come in fruit flavors.
Thanks to these little candies, you can feel the extra weight in the texture. It's not only just the crumbliness from the dough anymore, but you can feel another layer of chewiness. The fruitiness of these candies also increases the delectability of the cookies.
Total time: 17 minutes
Are you getting a bit tired of normal chocolate chips being in every single cookie? Well, you're in luck because I have the recipe to help you right here called White Chocolate Cranberry cookies. This dessert is a good way to break you out of that boring option.
Both white chocolate and dried cranberries are the main factors that make this cookie so good. With the white chocolate, you can feel the richness that's just delicious and irresistible. Once you get to this part of the cookie, it cannot escape the grasp of white chocolate.
However, if you have too much of that creaminess, your palate can get overwhelmed. That's why the cranberries are there to provide the tartness. This acidity is quite delightful, and it can reduce the sweetness of the chocolate to a more bearable level.
Total time: 20 minutes
Nothing screams out winter better than the image of a jolly snowman. You see him everywhere, in various decorations and expressions. To the fans of the friendly snowman, I want to share with you this pleasant recipe called the Melted Snowman cookies.
Don't worry; these tiny snowmen are not hurt but just slowly melting away. They come from both marshmallows and white frosting. That's why this winter holiday-themed cookie tastes very sweet and creamy. It just makes you want to munch on more.
As for the base, it's just a simple sugar cookie that you can make from scratch, or you can buy from a grocery store. The cookie base adds a nice crumbly touch to contrast with the soft marshmallows.
This is another way for you to bake the Melted Snowman Cookies.
Total time: Around 30 minutes (excluding cooling-down time)
Animal-themed cookies are not only popular with the kids, but adults can also enjoy them since these little desserts remind them of a more innocent childhood. And I think making these Polar Bear cookies is not so bad when you want to have a comforting and enjoyable winter.
This recipe is great if you have leftover dough and icing to create sandwiched cookies. If you don't, you can just create a simple sugar cookie dough to make the shape of the polar bear. Just cut the dough into round shapes before assembling.
The other parts of the bear consist of white chocolate that makes up the ears, and milk chocolate that becomes the eyes and mouth. When it comes to the flavors, the cookies are sweet and homely. It's perfect for a family setting.
Total time: 23 minutes
Another popular animal that's often associated with winter, as well as the holiday season, is the reindeer. These majestic creatures are often in the hearts and minds of so many young children since they accompany Santa all over the world.
That's why, in the spirit of winter, I want to give you a little present in the form of this cookie recipe. Your little ones might enjoy these little desserts, but you can't also steal some for yourself.
To make the head, you combine the chocolate cake mix with eggs and vegetable oil. The cake mix is useful in that you don't have to add baking powder so make it rise in the oven. For the mouth, it's a mini vanilla wafer while both the horns come from mini Pretzels.
This cookie is very chocolatey, so if you're someone who likes chocolate, this one is definitely for you. The mini wafer has a pleasurable crunchiness that explodes in a sea of vanilla, while Pretzels taste pastry-like.
Total time: 20 minutes
Despite being called Turtle cookies, this type of sweet treat is not in the shape of a turtle. In fact, the name is more a reference to the way it looks, similar to a turtle shell. This recipe is going to give you a full-on chocolate overdose.
One of the best things about this dessert is its rich and flavorful dough. To get that, mix all-purpose flour with cocoa powder and butter. The cocoa powder provides a lot of that pleasant fragrance and slight bitterness that enhances the delectability.
And the final secret to a good Turtle cookie is its special caramel layer on top. It comes from combining soft melted candies with heavy cream. This layer adds a ton of creaminess to the cookies, creating a balance between bitter and sweet.
Total time: 30 minutes
If you think this list can go without ever mentioning Santa Clause, you are very wrong. When it comes to the winter season, this happy red-wearing man will always be there waiting in your chimney. So why don't you invite him in with these wonderful Santa Oreo cookies?
Since the base consists of just packaged Oreos, you don't have to spend much time recreating the cookies. The only thing you are required to do is to melt both red and white candies to make the beard and the hat.
First, you dip one half of an Oreo cookie in the white candy melt and the other ¼ into the red candy melt. Sprinkle sugar on the "hat" to create the fluff that you usually see on a Santa's hat.
Overall, this is a simple cookie that you and your family can make. It doesn't require too much effort and the final products taste incredible. After all, who doesn't love Oreos, right?
Total time: 30 minutes
When the winter is coming, you know that it's time for some delicious yet sugary desserts to get you through the tough period ahead. That can cause a bit of a weight issue if you don't know how to hold back. However, Shortbread cookies won't be that much of a problem for you.
So why did I say that? Because they are very light, with minimal use of cream and milk so you won't have to fear the excess calories. First, combine sugar and butter into a bowl. Next, you beat it until the mixture becomes frothy.
Fold in flour, cornstarch, and vanilla extra to thicken the mixture up into a dough. After you bake the balls of dough, the texture becomes super soft and airy. With a single bite, the buttery sensation attacks your taste buds so aggressively, that it's almost euphoric.
Shortbread cookies are quick little treats that you can make at any time.
Total time: 4 hours 25 minutes (including chilling time)
There is something so magical about shortbread. Eating this delectable sweet treat almost puts you in a trance, where you can't stop taking more bites. But a standard shortbread can be boring with just sugar alone. That's why you might as well try this version of Cherry Shortbread cookies.
Similar to the original version, this recipe limits the use of dairy products like milk and cream. Instead, it takes full use of the vanilla extract, almond extract, and Maraschino cherries to bring most of the flavors.
As a type of shortbread, you can expect the texture to be super light and easy to eat. That first bite comes with a wave of sensations, including the nuttiness of the almond extract. The cherries provide most of the sweetness and sourness to improve the palatability of this cookie.
Total time: 2 hours 30 minutes (including drying time)
Remember the time when you first saw snow in your life, and you wondered what it would taste like. Yes, we all had that disappointment when we realized snow just tasted like ice. However, this recipe is going to make up for the ruined childhood with its incredible flavors.
To make the Snowflake Sugar cookies, there are two parts that you have to consider. In the first part, which is the base, you can use whichever type of sugar cookies. As long as they are sweet and crumbly, then the overall texture is not going to be affected much.
Use a snowflake-shaped cutter to make the cookies into your desired shape. Spread royal icing (egg whites and powdered sugar) on top to create a rich and creamy layer. The final step is to sprinkle powdered sugar to replicate that snow effect.
If you have a sweet tooth like me, this recipe is a must-have in your pantry during the winter.
Total time: 30 minutes
While the normal Snowflake cookie is good, do you know what can make it even better? That's right; you've got to add a bit of that tartness to the cookies to stimulate your taste buds. And there's no better way than baking one of these Lemon Snowflakes.
With the Lemon Snowflakes, you get two different yet complementary flavors in one small package. First, there is the sweetness that comes from the sugar coating. When you bake the cookies in an oven, the exterior will caramelize to create a very fragrant layer.
The other factor that makes this cookie so irresistible is the heavy use of lemon-flavored ingredients, from the lemon extract to the lemon oil and lemon pudding (powder). This lemony aroma will probably make your mouth water before you can eat this dessert.
Total time: 20 minutes
The Amish are a group of Christian traditionalists, concentrating mostly in the northeastern part of the U.S. They are most famous for being not reliant on modern technology, instead choosing a more simplistic way of life.
It's no wonder their preferred dessert also reflects this rustic lifestyle with the Amish Sugar cookies. The ingredients for this recipe probably exist in everyone's pantry, like flour, butter, and powdered sugar.
It doesn't take a long time for you to make it, just combine the necessary components into a stand mixer until you get a dough. Bake the dough in an oven, and wait for the cookies to puff up. Sprinkle powdered sugar on top as a decoration.
The cookies have a pleasant and nostalgic taste, with the sweetness being the most apparent. This feels like something your mom would make back in the day.
With this recipe, you can easily make the Amish Sugar Cookies.
Total time: 33 minutes
This time, I'm taking you across the globe with some of the best cookie recipes that people like to have during the winter. Let's visit this beautiful Mediterranean country – Spain to see how they make their own version of shortbread, the Mantecandos.
Near the end of the year, you can feel the smell of almonds on every street corner of Andalusia, a region south of Spain. What's the source? Of course, it's Mantecandos. This crumbly shortbread is popular since it's tasty, nutty, and quite easy to make.
The most integral ingredients to create this delightful Spanish-styled cookie are lemon juice, almonds, and butter. Thanks to the juice, there is a hint of acidity that cuts underneath the nuttiness. As for the butter, it's the binder that holds this dessert together.
Without the richness of the butter, the rest of the Mantecando can be very flat.
Total time: 5 hours 42 minutes (including resting time)
Let me fly you north to meet this delectable Belgian snack called Speculoos cookies from the south of Europe. This type of dessert has a long history, dating back to the mid-17th century. Aside from Belgium, Netherlands and Germany also make their own versions of Speculoos.
Traditionally, Speculoos is made in the shape of St. Nicolas, which is the inspiration for Santa Claus. However, more new shapes started popping up, like animals or buildings. For the main ingredients, you're going to get brown sugar, egg yolks, and heavy whipping cream.
It sounds simple, right? Not exactly, since the secret to a good Speculoos is in the spices, which include cinnamon, nutmeg, cardamom, and cloves. These condiments really provide that blend of herbaceous goodness into the already rich cookies.
Total time: 2 hours 50 minutes
Linzer Cookies, or Linzer Augen as the locals would say, is a type of Austrian delicacy that's perfect as a type of winter treat. From the texture to the flavor, many of the ingredients blend so well together to create this masterpiece.
The most notable aspect of Linzer is the presentation. It's basically a sandwich cookie that consists of two layers of sugar cookies as the "shell" and a jam-filled middle part. The shell is very buttery and sweet. The herbaceous aroma from the cinnamon provides some variety.
The best part comes when you finally get a taste. When the crumbliness of this fantastic stuffed cookie delicacy touches your taste buds, you will feel the sugariness first. And then, the party starts when the fruity sweetness from the raspberry jam rears its head.
This Raspberry Linzer cookie recipe even teaches you how to make jam.
Total time: 1 hour 12 minutes (including resting time)
Speaking of European cookies, I can't just pass up a good chance to talk about a personal favorite of mine. Macaroon is a type of confection from France that's just incredibly irresistible thanks to its texture.
One of the biggest advantages of this cookie from France is how easy it is to combine other flavors. That's why you can find many variations of Macarons around the world, including this Mocha Macaron.
Compared to other types of cookies, this is a bit more complicated since you have to go through many steps like combining the ingredients, baking each part, and combining them together. However, the end result perfectly justifies the efforts.
When you finally get to enjoy the labor of your work, you can understand why I fell in love with this snack. The texture of the core is extremely airy so it almost melts in your mouth. Not only that but the clear mocha essence just spreads all over your tongue, slowly invading your mind.
Total time: 24 minutes
Making a cup of hot chocolate is fun in the winter, but have you ever wondered if there was a way to make it even better? In that case, I do have the answer you want. Instead of drinking hot chocolate, what if you can eat it?
I know, it's mind-blowing, but it's doable with today's recipe. First, prepare the dry mix by combining all-purpose flour, cocoa powder, and baking soda. On the other hand, the wet ingredients include butter, sugar, and eggs.
Combine the wet mix with the dry one to create the dough. Form the doll into small balls before you start baking. When the balls are in the oven, they will flatten and create a nice crust. This is the caramelization process to give the cookies a pleasant fragrance.
You can add marshmallows on top of your snack to replicate the appearance of normal hot chocolate.
Total time: 35 minutes
Easy, enchanting, and delightful are probably the best words that I would use to describe this next entry on the list. You don't have to use too many ingredients to bake these Cinnamon Oatmeal cookies, but they still come out fantastic regardless.
For the ingredients, the key items you should get are all-purpose flour, brown sugar, and cinnamon. It's not too different from normal yummy cookies except for the addition of cinnamon and brown sugar, which give this dessert a heavier and more caramel fragrance.
And thanks to oatmeal, these treats are also healthy to enjoy. If you can smell that cinnamony aroma wafting in your kitchen, that's when the cookies are done. In reality, this recipe is not only ideal for Christmas because you can also make them on any holiday.
Total time: 53 minutes
Without even knowing what this cookie tastes like, you will still be impressed with the way it looks alone. That redness coating just beckons you to move closer until you can't take it anymore and take one decisive bite. Red Velvet cookie is truly the siren of the cookie world.
Inspired by the popular Red Velvet cake, the cookie-style version is just as delectable as its originator. The main portion consists of brown sugar, butter, and all-purpose flour. Its signature color comes from the use of red food coloring.
With the Red Velvet cookie, the texture is just outstanding. Thanks to the baking process, the dough becomes chewy and soft. The recipe also requires you to drizzle a dash of white vinegar, so there is a tangy undertone to the overall sweetness.
The best type of garnish for your food is chocolate since it adds some creaminess to complement the sugary dough.
These New York-style Red Velvet cookies will satisfy your curiosity about this treat.
Total time: 20 minutes
This is yet another type of cookie that looks as impressive as it tastes. The Cranberry Pistachio Christmas cookies can make even the pickiest eaters fall in love with them, thanks to the combination of nuttiness dough with a generous amount of pistachio nuts and dried cranberries.
Despite the complexity of its appearance, this delightful dessert is very simple to make. All you have to remember to do is mix every ingredient together to form a dough. Form the dough into severa round cookies before you bake them in an oven.
I must warn you that the baking process can be dangerous since that irresistible fragrance might encourage you to take the snacks out early. You must resist until the cookies are done just right. That's when the mild sweetness of pistachios can fully show their true potential.
Total time: 60 minutes
A lot of people love to have candy canes in the winter since they're sweet and minty. But why would anyone want to stop there? You can even make cookies out of that beloved confection. That's right, my friend. Today, I'm going to show you how to make Candy Cane cookies.
This dish is going to have similar flavors to the traditional hard candy, but the texture is totally different. That's because the main components of this recipe are flour, vanilla, and peppermint extract. You also have to get red food coloring for one side of the cookie.
Due to the dough, the cookies are going to be quite airy and soft. Despite the change in texture, this cookie still feels like a normal candy cane with the inclusion of peppermint essence. And of course, you can't forget about the vanilla aroma when it is also very strong.
Total time: 45 minutes
Kourambiethes, or simply Greek Christmas Cookies, are inspired by a similar Middle Eastern dessert called Qurabiya. This is basically an almond-based shortbread that has a hint of brandy (a type of wine). However, the level of alcohol is quite low, so little ones can still enjoy the treat.
The necessary ingredients in these Greek cookie treats are not too complicated as you just need to get butter, sugar, and flour.
To make them, you combine the dry and wet components until there is a dough. Roll the dough into balls and flatten them a bit before putting everything inside an oven.
When you see your treats start to puff up and the outer layer turns a golden yellow, the cookies are already done. These wonderful treats would taste better with a coating of sugar. It's quite airy and sweet. The texture just crumbles right in your mouth.
Total time: 2 hours 30 minutes
Cooking is always about taking a plunge to discover combinations that you have never tried before. Some might not work, but some can work to create a spectacular result. This entry, Oatmeal and Chocolate Chip cookies, falls into the latter category.
And how does it work? The credit goes to the oatmeal as the main component for this dessert. When you mix flour and oatmeal to form a dough, the texture has a certain graininess to it. When you bite into the cookie, the chewiness makes the experience more special.
As for the other ingredients, they still have very important roles. For example, without chocolate chips, you can't feel the creaminess that enhances the overall flavor. Or if you somehow don't use brown sugar, the cookie will certainly lack the caramel-centric essence.
You have to try this wonderful recipe of Oatmeal And Chocolate Chip cookies.
Total time: 40 minutes
Are you feeling somewhat sleepy on a slow afternoon but you're too lazy to make a cup of coffee? That problem is easy to fix with this recipe right here called Coffee Drop cookies. You can make a big batch and put them in a jar next to your desk.
The preparation is easy and doesn't require too much effort. You just have to collect the right ingredients for this dessert, like flour, espresso powder, and baking powder. Just mix them all together with either a mixer or your hand.
Bake the cookie dough in an oven until you can smell a very clear coffee-like aroma in your kitchen. This is when you do the most important part, take the cookies out, dip them into melted chocolate, and chopped pecan nuts.
The coating offers a bitterness that blends exceptionally well with nuttiness. You can't really get enough with just one cookie.
Total time: 40 minutes
With so many great winter-themed cookies that originate from Europe, it wouldn't surprise me if the whole continent smells like a giant bakery when that time comes. Jokes aside, there's another European-styled dessert that I want to introduce to you called Marzipan cookies.
First, let me explain what Marzipan is. It's basically a type of confection that consists of sugar, honey, and almond meal (almond powder). It's almost halfway to becoming a cookie, so you might as well create one.
Marzipan is a combination of almond flour, egg whites, and others. When you see a smooth dough forming, scoop a spoonful of the mixture into a baking tray. Coat the dough with almond slices before baking. When the cookies are done, you can feel the nutty aroma in the air.
It's very crumbly with a side of crunchiness coming from the almond slices. The sweetness is palatable and not too overwhelming.
Total time: 25 minutes
I will share with you one secret. If you bake this treat during your winter stay with your family, you will become their most popular member. Candied Fruit cookies might be unconventional, yet the blending of flavors works in a magical way.
In this recipe, you get the best of both worlds. On one side, the cookies are still as incredibly chewy as possible. There is no denying that the butter-flour-sugar combination is very popular in the baking world since it always works in almost all delicacies.
On the other hand, the candied fruits are quite exotic. They are bite-sized pieces of fruit that are coated with sugar to create this combination of sweet and sour. To go alongside the fruits, you also have the nutty almonds to even that sweetness out.
Total time: 40 minutes
It would be entirely my fault if I didn't include the beloved Gingerbread Man cookies in this list of great winter cookies. If one can describe what their winter holiday experience would be like, the image of a Gingerbread Man will always be at the forefront.
There are a few reasons why people love this type of cookie. From a nostalgic standpoint, the taste of the Gingerbread Man cookies is connected to a more innocent childhood. That pepperiness from the ginger brings up many good memories of the past.
Even if your past did not have Gingerbread Man cookies as the focal point, it doesn't mean they're not a good snack. Thanks to the brown sugar, the snacks are sweet with a heavy caramel-like aroma. The butter gives quite an incredible creaminess.
Total time: 50 minutes
If the thought of eating a mini human is unappetizing to you, let me show you another way to enjoy this treat. This recipe is called Gingerbread Biscotti, and it takes a lot of inspiration from the Italian snack.
Unlike the normal version, this Italian-inspired cookie dish does not have any almonds at all. Instead, you have to use a generous amount of ginger, cinnamon, and cloves. The spices form that flavor base for this Biscotti variant, giving more depth to this dish.
After you're done with the baking process, it's time to do a little decoration with melted white chocolate. Not only does it provide a more aesthetic appearance, but the white chocolate can enhance the Biscotti with a lot of that creamy goodness.
Total time: 3 hours
This recipe of Gingersnap cookies is going to be what you need to get out of that winter funk. With the use of so many spices, this type of cookie will explode your taste buds with an invasion of different flavors.
Similar to other cookie recipes, the dough consists of a mixture of flour, butter, and sugar. However, the one secret ingredient that makes this dessert stand above the others is the addition of molasses, which offers a stronger and smokey type of sweetness.
Apart from it, the extra seasonings like cinnamon, ginger, and cloves can potentially bring the overall flavor to a new high. The herbaceous overtone is a rather bold choice when you bake a cookie, but it works for this dessert.
During the winter, this Gingersnap cookie recipe is the best.
Total time: 55 minutes
This is the recipe for those who are not just satisfied with just one cookie alone. But honestly, if a cookie is that good, why should you stop at one? And to make it better, throw in a layer of lemon-flavored cream, and you will get a new king of winter cookies.
That was probably how the Ginger Sandwich cookie got its start. Thanks to the dough, the texture of the "bread" is quite chewy. And when it comes to the taste, it's just bliss. You can feel the cinnamony aroma permeating, and then pepperiness just punches right through.
Of course, you can't talk about a tasty sandwich cookie without mentioning the frosting or the "filling". Consisting of cream cheese, sugar, and lemon, the filling complements the cookie with a perfect balance of sweet, gooey, and tart tastes that make you want to eat more.
Total time: 22 minutes
When you get a taste of the Chocolate Blizzard cookies, you can finally understand that the creator of this recipe named it that way. It feels like you're being caught in the eye of the storm, but instead of wind, that storm is full of chocolatey delight.
Let's talk about the texture first. When the ingredients like flour, brown sugar, and butter come together, the dough is going to be just right. It's not too hard and not too soft. The consistency comes just right in the middle so you can chew through it instantly.
Just like other cookies, the most important part is the flavors. And this dessert does not disappoint at all. The combination of white and black chocolate feels like a match made in heaven. The vanilla also does its part with a pleasant fragrance that you can feel in your soul.
Whether you are spending your winter alone or with family, there should always be a place on your counter for a plate full of delicious cookies. After all, a little sweetness in your life during one of the most difficult periods of the year is always a positive thing.
With that, I'm going to conclude today's journey. Thank you for your being with me here today and I hope to see you again soon. If you appreciate this article, please leave a like and share this post on your social media.
Also, if you have more ideas to show me, just write what you think in the comment section below. I'd love to receive your feedback. Once again, thank you and goodbye!
Nutrition Facts
26 servings per container
---
Amount Per ServingCalories109
% Daily Value *
Total Fat 5.3g

8

%
Cholesterol 11mg

4

%
Sodium 79mg

4

%
Potassium 41mg

2

%
Total Carbohydrate 14.7g

5

%

Dietary Fiber 0.8g

0

%
Sugars 9.2g

Protein 1.3g

2

%
---
Calcium

20

%
Iron

1

%
Vitamin D

2

%
* The % Daily Value tells you how much a nutrient in a serving of food contributes to a daily diet. 2,000 calories a day is used for general nutrition advice.