"What is imitation crab?" and the reasons making this fake shellfish become more and more popular in the market always pose a lot of questions for you. You have read a lot of documents but are still confused about these problems?
Don't worry! This post will answer all your questions. It also gives you the exact information related to what imitation crab is, how this product is made, and some suggested tips for using it.
If the above information is causing your confusion when using this kind of product, stay tuned, sit back, and check it out!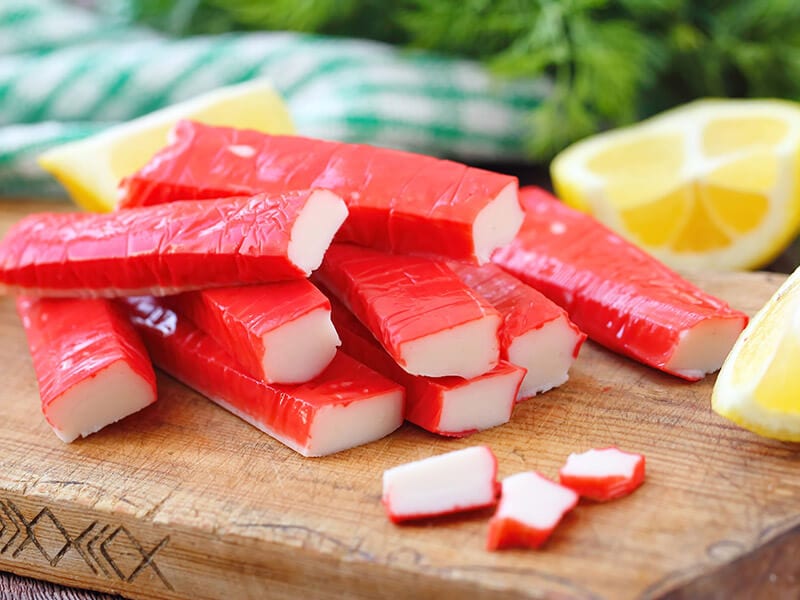 Imitation Crab And Something You Should Know
If you are a big fan of sushi and salad, you must be familiar with imitation crab. Imitation crab, also known as "the hot dog of the sea", is becoming more and more loved in the market. Let's find out more stories about this product!
History
In recent years, imitation crab plays an important role in a lot of American kitchens. So, let's learn a little bit about its history to explain its attraction.
As you know, Japan is always a leading country in creating convenient fast food products and the imitation crab is also an invention of "the Land of the Rising Sun".
Imitation crab first appeared in Japan in the 1970s as a less expensive version of real crab to meet consumers' needs. In Japan, it is also called "kamaboko". This kind of product received consumers' acceptance and is spread widely all over the world.
Major Ingredients
Imitation crab, also called "crab stick" or "seafood stick" is made from surimi, a paste from minced fish, often barracuda, mackerel, or cod. After that, some other ingredients and preservatives are added to make this mixture resemble real crab legs.
As this food name is "fake" crab, you might be tempted to add it to your vegan diet. But is imitation crab really vegan, though? Unfortunately, since its main ingredient comes from fish, vegans might need to think twice before enjoying it.
Let's take a look at some main ingredients included in imitation crab:
Starch ( Wheat, Potato, or Corn):
Starch helps to stabilize the texture of imitation crab and preserve it when frozen.
Water:
Water plays a key role in keeping the correct texture.
Egg Whites:
Egg whites are the main source of protein for imitation crab. It helps imitation crab become more glossy and improves the color and texture of the product.
Vegetable Oils:
Vegetable oils also help to improve the color, texture, and shelf life of imitation crab.
Sugar and Salt:
These condiments are added to imitation crab to improve its flavor. Salt helps it have a sturdy structure. Sugar plays an important role in storing imitation crab.
Some Other Additives:
Although additives are considered to come with many health concerns, it is also used for certain reasons such as improving the flavor of the product or expanding its shelf life.
Some additives that are often used in imitation crab are gums (xhanthan gum, carrageenan), red colorants (carmine, paprika, lycopene, beet juice extract), glutamates (MSG, disodium inosinate), and other preservatives (sodium benzoate and phosphates).
Nutrition Values
Although this kind of product is made from fish, it doesn't provide all the health benefits that fish can bring. Let's take a look to have a better understanding of imitation crab's nutrition values.
The main nutrients present in imitation crab are protein and carbohydrates, so it consists of only a small amount of fat. This makes it become such a low in calories seafood product.
Although sodium is essential for maintaining good health, however, eating too many products containing sodium will cause adverse effects. Imitation crab is a low sodium product that you should consider.
Imitation crab is a rich source of vitamins and minerals. In particular, the content of vitamin B6 and vitamin B12 in imitation crab is extremely high, which plays an important role in boosting nervous system health. (1)
This kind of product also gives you more selenium and phosphorus. Selenium promotes heart health and ensures the function of the immune system. (2) Phosphorus is required for DNA synthesis. (3)
Imitation crab doesn't contain as many Omega-3 fatty acids as real crab. However, due to the significant benefits Omega-3 fatty acid brings, some imitation crab brands have added this acid to improve their nutritional value.
The sugar and salt content added during the processing are the two biggest downsides of this stuff. Sugar will increase calorie intake. Long-term consumption of rich-salt products will cause osteoporosis.
"Will imitation crab fit in a keto diet?" is a popular question among foodies. Unfortunately, since imitation crab is a bit high in carbs, it's not considered a ketogenic food.
So adding this food to a keto menu is out of the question, but how about a vegan one? Is it acceptable for vegans to enjoy imitation crab? The sad news is, although it is "fake" crab, the ingredient still contains fish paste, which isn't vegan.
Secrets about imitation crab's nutritional value you should know.
Best Ways To Process This Fake Shellfish Foodstuff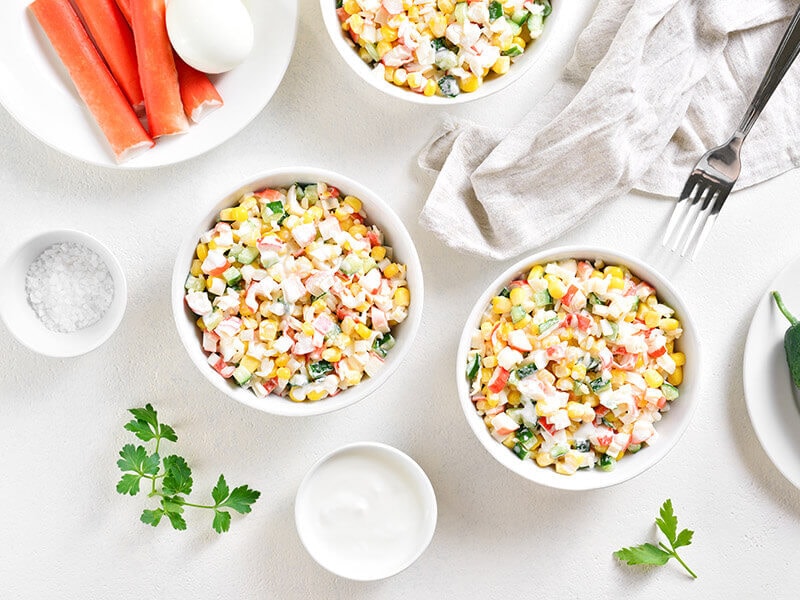 It's easy to apply imitation crab to your menus because its applications are diverse. Here are some popular ways you can use this convenient product:
"Can I eat imitation crab without any cooking?" – you might wonder. Because this kind of product is precooked during the processing, it's safe for you to eat raw. You can use it to make dips or salads to enjoy.
Many recipes made with imitation crab meat won't disappoint you either. Some processing methods that you can consider include making sushi, cakes, pasta, casseroles, rangoons, gumbos, soups, etc.
Is Imitation Crab Good For People With Shellfish Allergy?
Imitation crab doesn't contain real crab which makes people with shellfish allergies concerned. However, why do most imitation crab labels carry a disclaimer warning that they won't take responsibility if their products contain shellfish?
Unfortunately, although this product doesn't contain any crab, other additives and flavorings added are unsafe. During the process of making imitation crab, manufacturers can use some extracts from real crab as an additive to make imitation crab closer to real ones.
So, it's easy to understand when there isn't any guarantee in this regard. It's best to stay away from this product when you have an allergy to shellfish.
Potential Upsides And Downsides Of Imitation Crab
Regardless of whether your product is natural or artificial, it always offers benefits together with downsides. Consider carefully before choosing imitation crab for your family meals.
Reasons That Make Imitation Crab Popular
Let's take a look at some of the benefits that imitation crab brings to you:
Be Convenient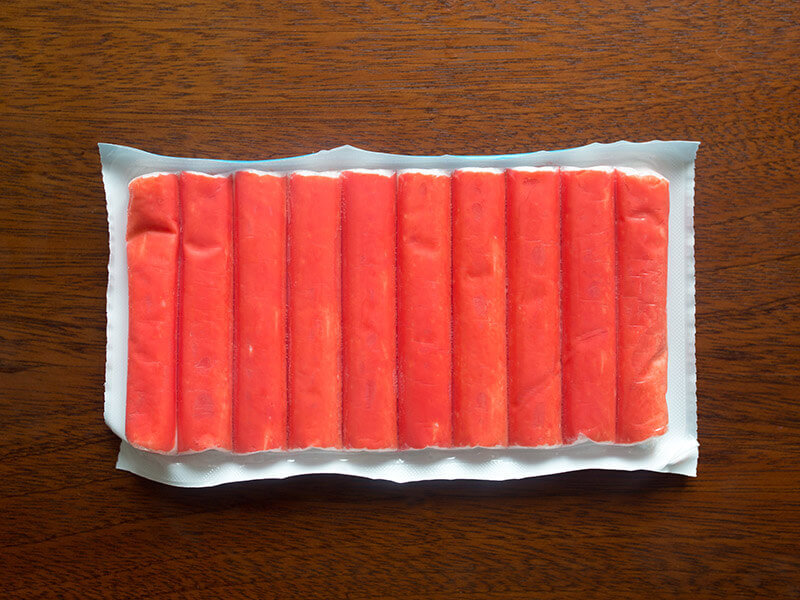 You can buy it at any grocery store surrounding your home. You don't need to take a lot of time to find a good place to buy real crab as you did before.
This artificial product is also cheaper than real crab. So, the price is also one of the most common reasons making more and more people choose this item.
Be Flexible
It only takes you a few minutes to prepare and process it. Its applications are very diverse and simple. You don't need to have a headache every time you cook with it.
Offer Many Nutritional Advantages
Imitation crab also has some nutritional advantages. It provides a little bit lower in calories and sodium than real crab.
Potential Downsides You Should Notice
However, you should consider these drawbacks carefully before working with this item:
Bring Some Nutritional Disadvantages
The content of other nutrients which are good for your health included in imitation crab such as vitamin B12, protein, minerals, etc. is also lower. Thanks to some ingredients manufacturers add to imitation crab, this product contains more carbs than real crab meat.
Result In Several Health Problems
"Does imitation crab contain gluten?" is a common concern. One of the main ingredients of imitation crab is wheat starch. So, people with gluten intolerance or gluten allergy have to avoid this product. Otherwise, you have to suffer some unnecessary symptoms like abdominal pain, diarrhea, etc.
Some harmful food additives contained in imitation crab can cause allergies, including shellfish allergy, and other phenomena like leaky gut or inflammation.
Some brands also add MSG to improve the taste of imitation crab meat. Therefore, many people who are sensitive to MSG may experience headache, muscle tension, fatigue after eating it.
Notable Shelf Life Of Imitation Crab
The shelf life of imitation crab also varies depending on the ways you store it. So, if you want to expand the shelf life of this product, don't skip the following information.
| Storing Form | In The Fridge | In The Freezer |
| --- | --- | --- |
| Unopened Vacuum-Sealed Imitation Crab | 2 months | 10-12 months |
| Unopened Imitation Crab In Loose Form | 3-5 days | 6 months |
| Opened Imitation Crab | 3 days | 6 months |
At room temperature, this product is only safe for 3 hours. After 3 hours, you should throw it away because it has been affected by some harmful bacteria.
Don't worry! Because you can completely store this item for longer. If you keep it in the fridge, its shelf life can be expanded to 2 months if vacuum-sealed and 5 days in loose form. Unfortunately, you have opened it, it's only edible for 3 days.
While many are still concerned about whether imitation crab is suitable for freezing, this is among the best ways to preserve imitation crab. At freezing temperature, you can store it for 1 year if vacuum-sealed or until the expiration date.
On the other hand, if your product is sold in loose form, you can buy and use it for no more than 6 months. This shelf life may also apply to imitation crab that has been opened.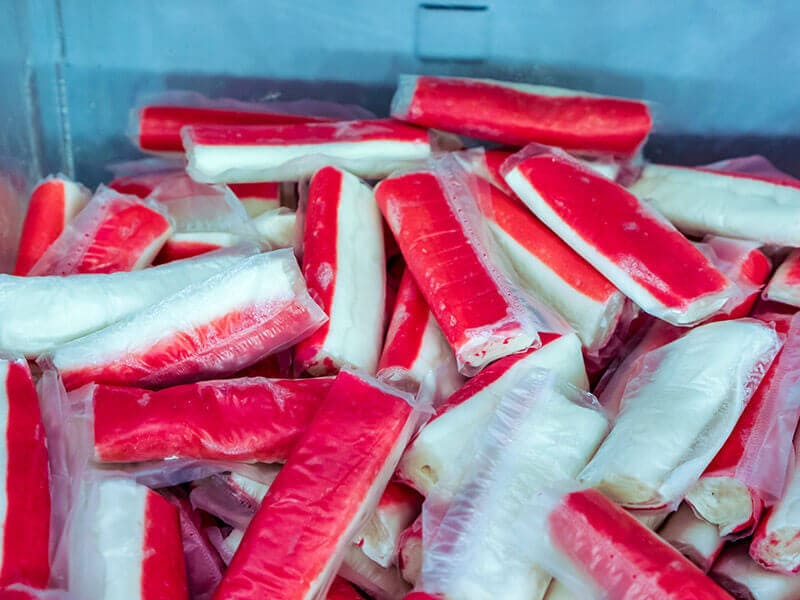 Imitation Crab Vs. Real Crab, What Is The Differences?
Imitation crab is the best choice to substitute real crab. Put these products on the scale to compare, which product will have more advantages. Keep on reading!
| Main Characteristics | Imitation Crab | Real Crab |
| --- | --- | --- |
| Taste And Texture | A little bit saltier and firmer than real crab | Naturally sweeter than imitation crab |
| Nutritional Facts | Nutritious | More nutritious than imitation crab |
| Price | Cheap | Expensive |
| Quality | Depending on the manufacturer | Depending on the type of crab, the part, and the freshness of crab |
| Culinary Applications | Same | Same |
Taste And Texture
The purpose of producing imitation crab is to create a product with a taste and texture similar to real ones. So, their taste and texture are almost the same, with only slight differences that you can notice.
Taste: Imitation crab is saltier than real ones. The flesh of real crab is sweeter than the fake ones.
Texture:Imitation crab is firmer than real crab meat.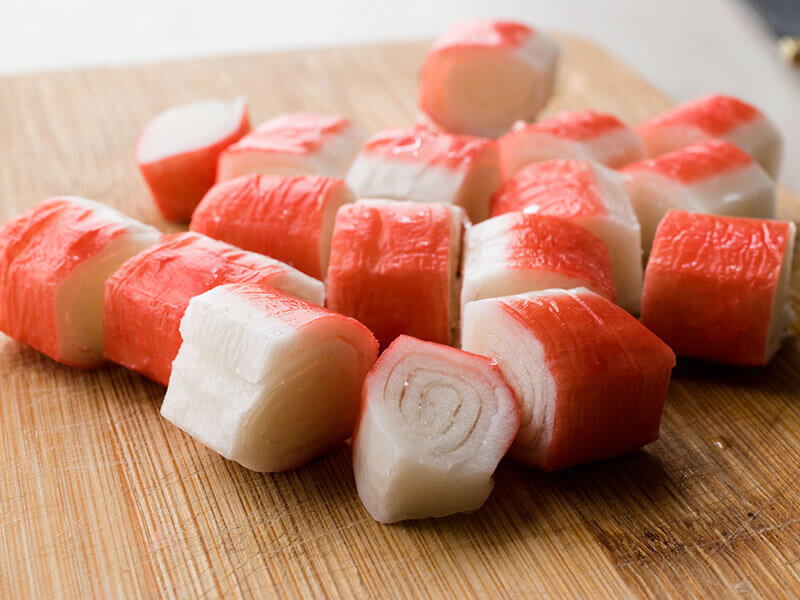 Nutritional Facts
Although imitation crab is a nutritious packaged product that you should consider for your quick family meals. When compared with real crab, the nutritional value of real crab is still higher than that of imitation crab.
Observe the table below to better understand their nutritional qualities:
| Nutrients | Imitation Crab | Real Crab |
| --- | --- | --- |
| Serving size | 100g | 100g |
| Calories | 95 kcal | 97 kcal |
| Carbohydrates | 15g | 0g |
| Protein | 7.62g | 19.35g |
| Fat | 0.46g | 1.54g |
| Vitamin B12 | 24% DV | 479% DV |
| Sodium | 23% DV | 47% DV |
| Phosphorus | 23% DV | 22% DV |
(*) Percent Daily Values are based on a 2000 calories diet. (4)(5)
Price
As you can guess from the purpose of creating imitation crab, it's far less prohibitive than real crab.
Quality
The quality of a real crab depends on the type of crab, the part from which you get its flesh, and the freshness of the crab.
The quality of fake crabs is evaluated based on the manufacturer. Because each manufacturer will balance the ingredients of imitation crab differently. Therefore, you should read the ingredients labels carefully before using them.
Culinary Applications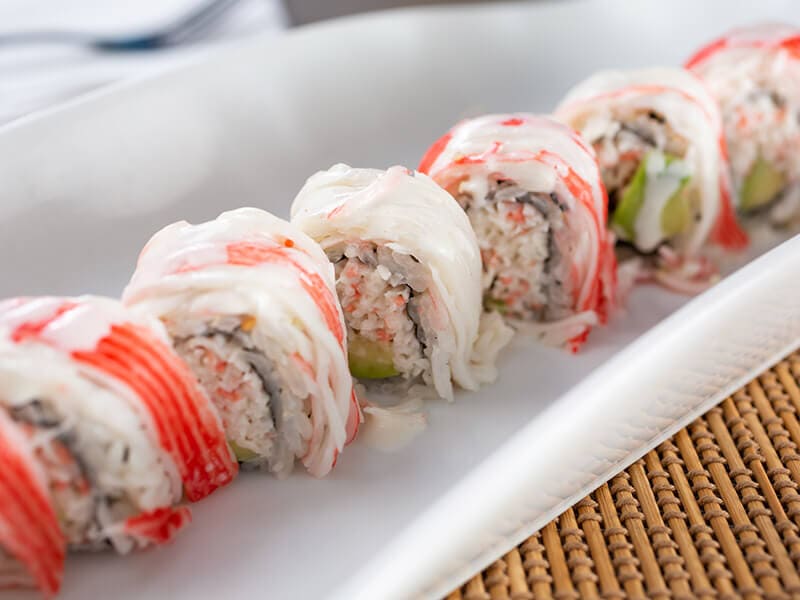 Both imitation crab and real crab work well with hot preparations like soups, pasta, crab cakes, etc. However, real crab is considered to bring better taste.
In particular, you can eat imitation crab raw for making a lot of delicious recipes. Its application is also more diverse than real crab.
How To Differentiate Real Crab From Fake One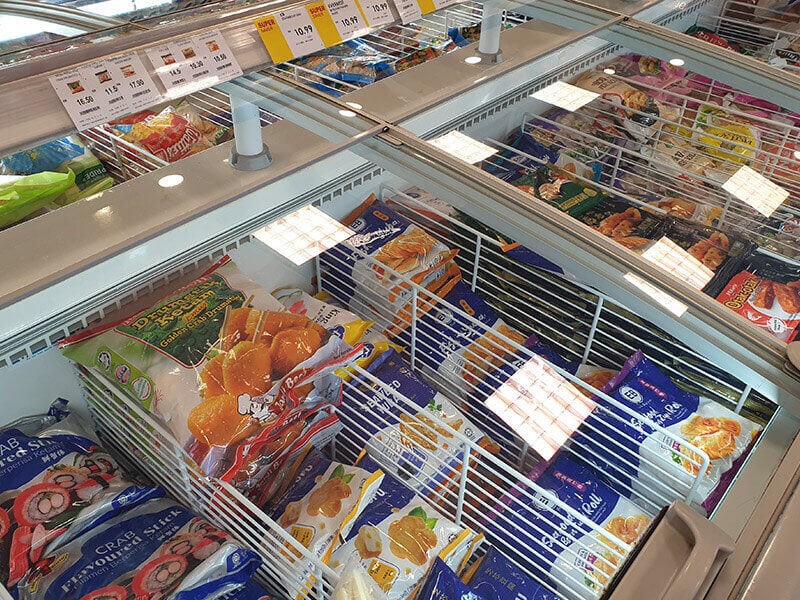 Although imitation crab and real crab still have distinguished differences, with such similar texture and taste, you must be confused when choosing them. Here are 2 ways you can add to your checklist every time you buy these products:
Check the product labels: The words like "imitation crab', "crab sticks", "crab-flavored sticks", or "surimi seafood" will appear on the products' label if it's imitation crab.
Check the ingredients on the package: For real crab products, in the ingredient section, the ingredient "crab" will be listed.
Don't skip this video if you want to understand better about these distinguished differences.
Recipes With Imitation Crab You Shouldn't Miss
If you already understand the features and usage of this convenient product, what are you waiting for without adding this item to your menu right away? Here are a few recipes with imitation crab meat you shouldn't miss.
Gary's stuffed mushrooms is an extremely nutritious cake. The main ingredient for making this dish is mushrooms. The delicious taste of oyster butter blends with the chewy texture of imitation crab and mushrooms to create a perfect dish.
Crab and swiss quiche is another version of traditional breakfast quiche but you will be surprised by its taste. You can use it at any meal without worrying that it will not be good for your family's stomach.
An easy and simple recipe for Crab And Swiss Quiche is a good option for your breakfast.
If you are craving a seafood cocktail but can't find the type of seafood you like. Imitation crab would be a great alternative. Mexican crab cocktail offers a fresh yet bold flavor that deserves to be the top choice when you think of an appetizer.
Just mix imitation crab meat with some other simple ingredients such as bell pepper, celery, cheese, etc., then bake this mixture, you will have a nutritious stuffed sole with imitation crab to enjoy.
The combination of imitation crab sticks with your favorite pasta makes a great imitation crab pasta. Combined with creamy sauce, choosing this dish on summer days will be a wise choice for you.
It takes you only a few minutes to make Imitation Crab Pasta for your family.
FAQs
I believe that the above information has helped you have a better understanding of this familiar product. However, don't skip this section because you can have the same questions as the others.
A Little Change In Your Meal
After going through this post, I believe that you have had a more comprehensive view of imitation crab. Don't let small questions make you hesitate to use this convenient product.
If my experience is useful for you, please share it with others to spread the useful knowledge. Leave a comment in the comment box to let me know if you are satisfied with the above information. Thank you!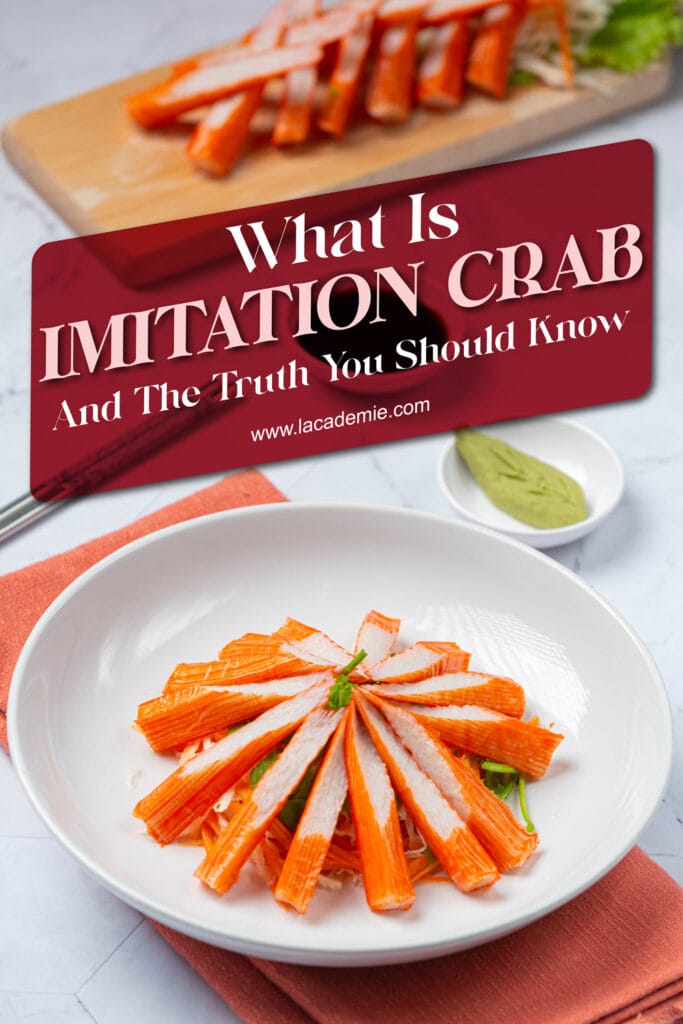 References
The Nutrition Source. 2022. B Vitamins.
Healthline. 2022. 7 Science-Based Health Benefits of Selenium.
Ods.od.nih.gov. 2022. Office of Dietary Supplements – Phosphorus.
Your-calories.com. 2022.
Nutrition Advance. 2022. Crab Meat: A Guide To Its Nutrition Facts and Health Effects.
Medicalnewstoday.com. 2022. Fat digestion: How it works and more.