Can you eat imitation crab raw? Is it harmful to your health as rumored? I'm here to help you solve all the problems in your mind related to this topic.
Don't get crabby! You will get the exact answer after reading this post. You also know some secrets behind this product, should you eat imitation crab or not, and some tasty recipes with this item. Here's the deal!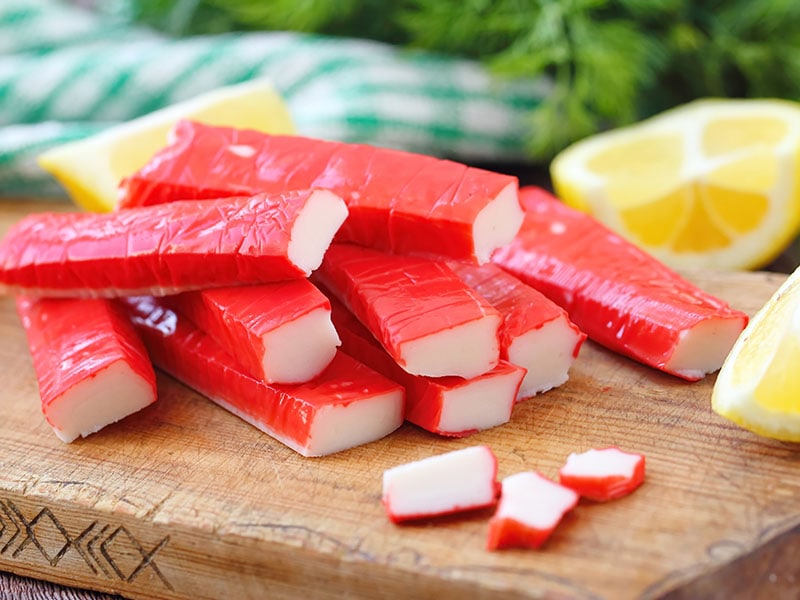 Surprising Facts You Don't Know About Imitation Crab
You can guess the nature of this product from its name. It is, of course, not a real crab product. But have you ever wondered about the ingredients as well as the nutritional value behind them? Stay here, and I will help you make sense.
What Is Special About Imitation Crab?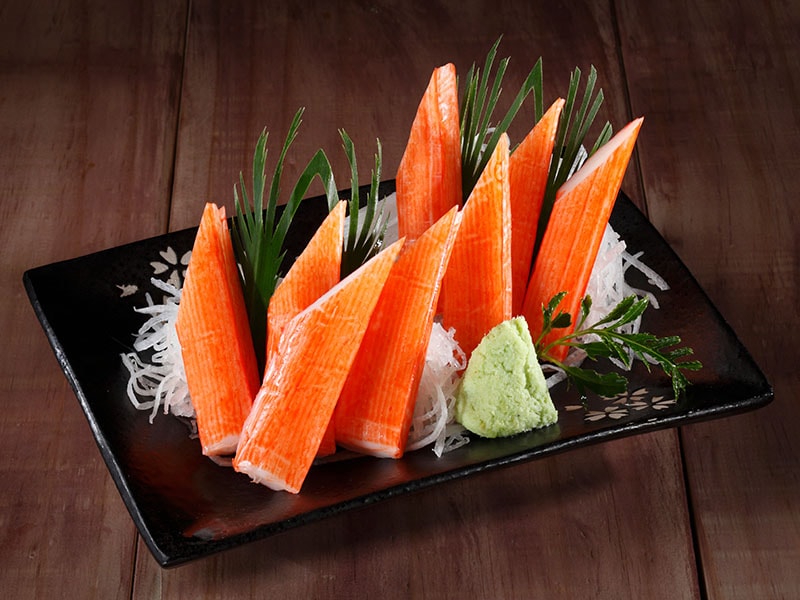 Imitation crab is a more and more popular packaged product worldwide. Its taste and texture are very close to real ones. Sure enough, you are also curious about what is inside imitation crab, right? Don't be in a hurry; you will get the answer right away.
Imitation crab, also known as "kanikama" in Japan, is an artificial product that appeared in the 1970s. Imitation crab is made from surimi, which is a fish paste, to create a product at a lower cost.
During the process of making imitation crab, manufacturers only use the flesh of fish. The fats and other unwanted parts of fish will be removed.
Manufacturers also add some other ingredients, such as starch, sugar, salt, vegetable oils, etc., and some additives to improve the taste and texture of imitation crab. Thanks to these ingredients, imitation crab will become more similar to the real one.
Don't skip this video if you want to understand better about imitation crab.
Is Imitation Crab Nutritious?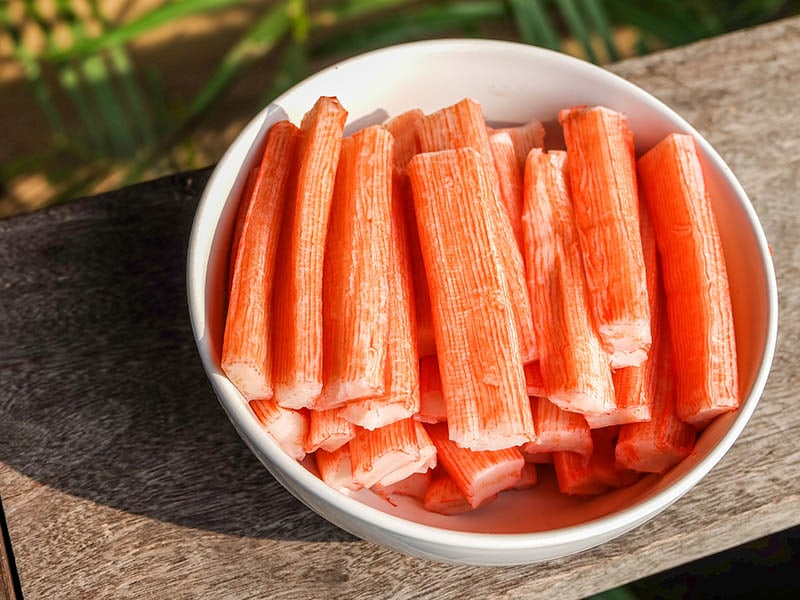 The quality of a packaged product is always a topic of discussion among housewives. So, what about imitation crab? Does it provide adequate nutrition and good benefits for your health? Let's check this out!
First of all, let's have a look at the benefits imitation crab brings to you. Imitation crab provides a good source of Omega-3 fatty acids, which are beneficial to your health.
Some of the powerful health benefits that Omega-3s offer include improving the risk of heart disease, improving mental disorders, reducing fat in your liver, etc. (1)
Imitation crab also contains high content in minerals such as phosphorus, selenium, etc. Phosphorus is necessary to maintain the health of bone and teeth and promote the nervous system, etc. (2)
Selenium boosts the immune system and contributes to relieving asthma symptoms, etc. (3)
Imitation crab is also a packaged product that is low in fat, so it's an ideal choice for those who want to shed their excess pounds or are on a diet. It contains a small number of calories. This makes it suitable for a low cholesterol diet.
This kind of product is low in sodium content. Consuming much sodium can cause some negative effects on your health. Therefore, in terms of sodium content, imitation crab is more advantageous than real crab meat.
However, imitation crab also has potential drawbacks to your health. It is highly processed and lacks some healthy minerals and vitamins. Moreover, some ingredients in imitation crab can cause allergies such as shellfish allergy and gluten allergy.
Watch this video to know more:
Is It Possible To Eat Imitation Crab Raw?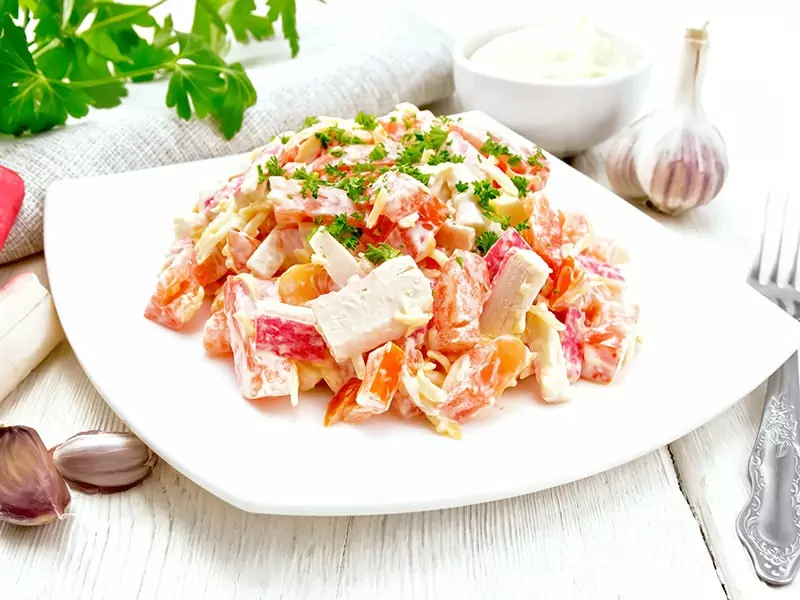 Uses of imitation crab are easy and diverse; however, is it safe for your health when eating it raw. Keep on reading this post to clear your doubts about this question.
Imitation crab is cooked during the processing. That's the reason why it's completely safe for you to eat right out of the packaging. However, you can reheat it before eating to improve its taste.
You can buy this highly processed product in the frozen or refrigerated food sections in any grocery stores or supermarkets.
Only when sold in those places will this product be good for your health. Because this product can go spoiled if it doesn't meet the necessary chilling standards..
Who Should Avoid This Kind Of Product?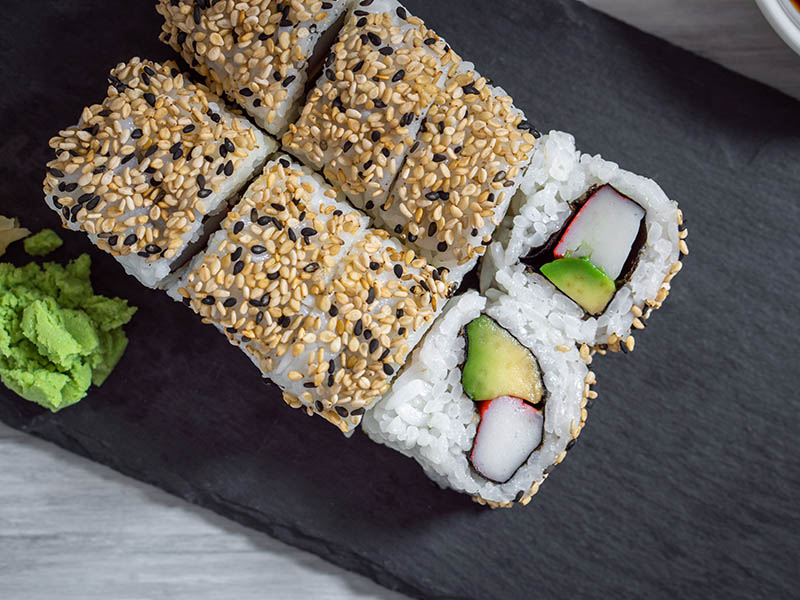 Since imitation crab is a highly processed packaged product, it's not always good for everyone. Please follow the useful information below to consider whether or not you should make use of this item for your family meals.
First of all, many people wonder if imitation crab contains gluten or not. As I mentioned before, imitation crab is made of wheat starch which is unsuitable for a diet without gluten. Therefore, you shouldn't use this item to avoid suffering from unwanted symptoms.
"Will imitation crab fit in a keto diet" is another common question. Unfortunately, the answer here is still no as it has a rather high content of carbohydrates.
Although fish is the main ingredient of this artificial product, the additives added afterward are not safe for you. Some artificial flavorings included in imitation crab are from crab extracts, so it can cause some symptoms for people who are allergic to shellfish.
Finally, since this product is made from fish, vegans need to think twice before eating imitation crab. Although a strict vegan or vegetarian diet might not allow imitation crab, you can still enjoy it if you're a pescatarian.
What You Should Notice About Imitation Crab's Shelf Life?
If you want to eat imitation crab raw, its shelf life is also a problem you should concern about. Below is essential information about its shelf life as well as how you can store this item for long-term use. Don't skip this part.
| Storing places | Opened Imitation Crab | Unopened Imitation Crab In Loose Form | Unopened Vacuum-Sealed imitation Crab |
| --- | --- | --- | --- |
| In The Fridge | 3 days | 3- 5 days | 2 months |
| In the Freezer | 6 months | 6 months | 10-12 months |
At room temperature, your raw imitation crab is only edible for 3 hours. After this time, your crab will no longer be usable. It can be spoiled or affected by harmful bacteria.
In the fridge, your imitation crab can be used for longer. In particular, if imitation crab is vacuum-sealed, you don't need to worry that the quality of the product will be reduced within 2 months.
This period will be shortened to 3-5 days if it is unopened but not vacuum-sealed. Storing the opened or leftover ones is also acceptable, but you should use them in 3 days.
The answer to whether imitation crab can survive in the freezer differs with various brands. But basically, you can freeze it for a year. Remember to vacuum seal it in advance.
For imitation crabs that are unopened but not vacuum-sealed and opened ones, you can store them for over 6 months for use.
If you want to preserve your imitation crab for long-term use, please notice the above timelines to make sure that eating it raw isn't harmful to your health.
You shouldn't eat imitation crab raw if you discover some odd-colored spots, green molds, or other mold types appear in your product. Because it means that your product has been spoiled and unsafe for you.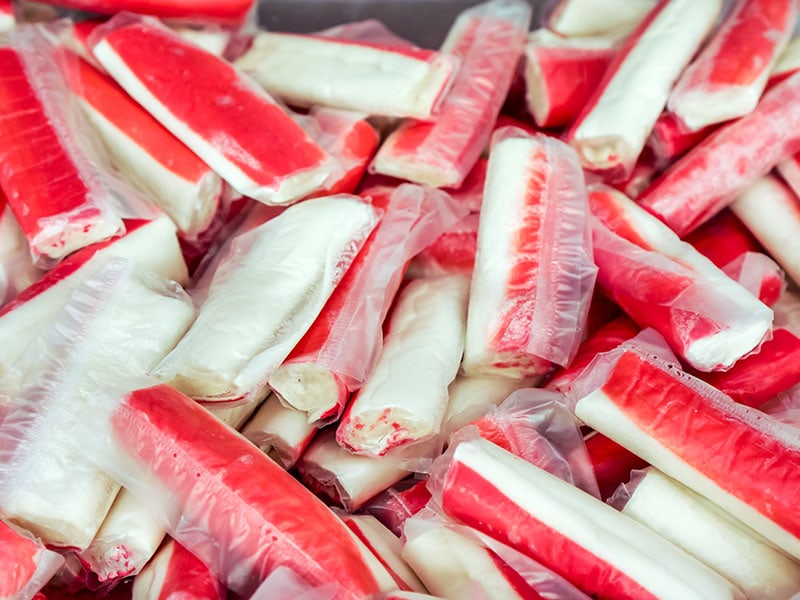 How To Prepare Imitation Crab?
You can eat imitation crab raw by adding it to salads or sushi, but I encourage you to reheat it before using it. Imitation crab is often placed in the chilling section, so it's frozen at the time you buy it. Reheating it before using it will help you enjoy the better taste of imitation crab.
Here are some common ways you can reheat imitation crab. Add them to your cooking diary to become a smart consumer.
Using a Pan
You need to unwrap imitation crab first. After that, put it in a pan and pour some cold water on the bottom. Place your imitation crab on the pan and heat it for about 5-10 minutes.
This method is very convenient when you have a large number of imitation crab sticks that need to be reheated.
Using an Oven
Firstly, put your imitation crab in an oven-safe pan. Preheat the pan to 2500F, then place the prepared ones in. You should watch out and take out imitation crab when it's hot enough to ensure the quality of this product.
Using a Steamer
This is the best way to help you preserve the best quality of your imitation crab. First of all, you should prepare a steamer, then place imitation crab sticks on the strainer or a plate.
You should only put them in one layer to make sure that all of them will be heated evenly. Plug your steamer, and let it cook for 3-5 minutes. If your imitation crab is frozen before, this process can last 10 minutes.
Using a Microwave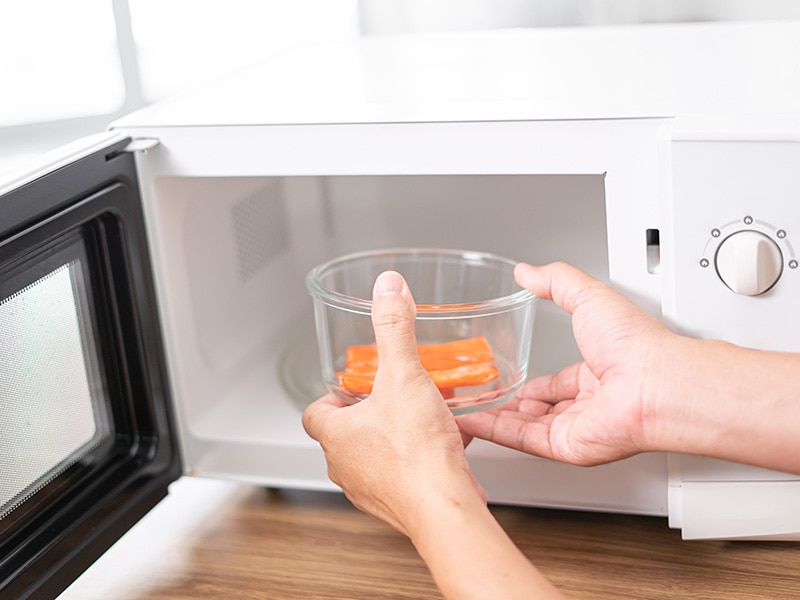 You also unwrap the imitation crab as above, then put it on a microwaved plate. Next, you should set your power at 50% capacity and heat it for 30 to 50 seconds at a time until done. This level of capacity makes your crab sticks warm enough and doesn't make them overheat.
Remember to take it out of the microwave as soon as it's warm enough to keep the texture and the taste of your product.
Top 5 Must-Try Recipes To Enjoy Imitation Crab
In addition to enjoying imitation crab raw, these recipes will level up your imitation crab-cooking game. Discover these great ideas to make your meals more attractive and more delicious than ever.
With catchy color and shape, Crab Rangoons are the ideal choice to make your dinner no longer boring but more attractive. These cakes are a blend of cream cheese and fake crab. They are surrounded by flaky shells and are tasty on the inside.
The taste of homemade Crab Rangoons will make you not want to go to the restaurant anymore.
Golden Corral Crab Salad is a mixture of imitation crab with some other spices like celery, bell pepper, mayonnaise, etc. Their flavors blend to create a simple yet wonderful recipe. Keeping it in the fridge overnight will help you savor the best taste of this dish.
If you are very busy and don't know what to prepare for dinner, this recipe is for you. Hot Imitation Crab Dip is affordable but delicious enough to be a hearty appetizer to make you satisfied. It's best when being served warm.
This is a popular and favorite dish in Chinese buffet restaurants. Chinese Buffet Crab Casserole consists of just imitation crab, onions, cheese, and some simple seasonings. The taste of this dish is also very yummy and makes a great side dish choice.
Making Chinese Buffet Crab Casserole has never been so easy.
FAQs
I believe that the above information provides you with a lot of useful knowledge related to imitation crab. Here are some extra explanations about some questions frequently asked about that kind of food. Take a look!
Eating Raw Doesn't Make Imitation Crab Less Attractive
I can't deny the popularity of imitation crab, so I hope this article has given you a specific look at this packaged product. Moreover, it also helps you understand more about its nutritional value as well as its effects on your health.
Please share this post with anyone who needs assistance with their imitation crab. I will be very happy if you can share your ideas about this problem in the comment box. Thank you!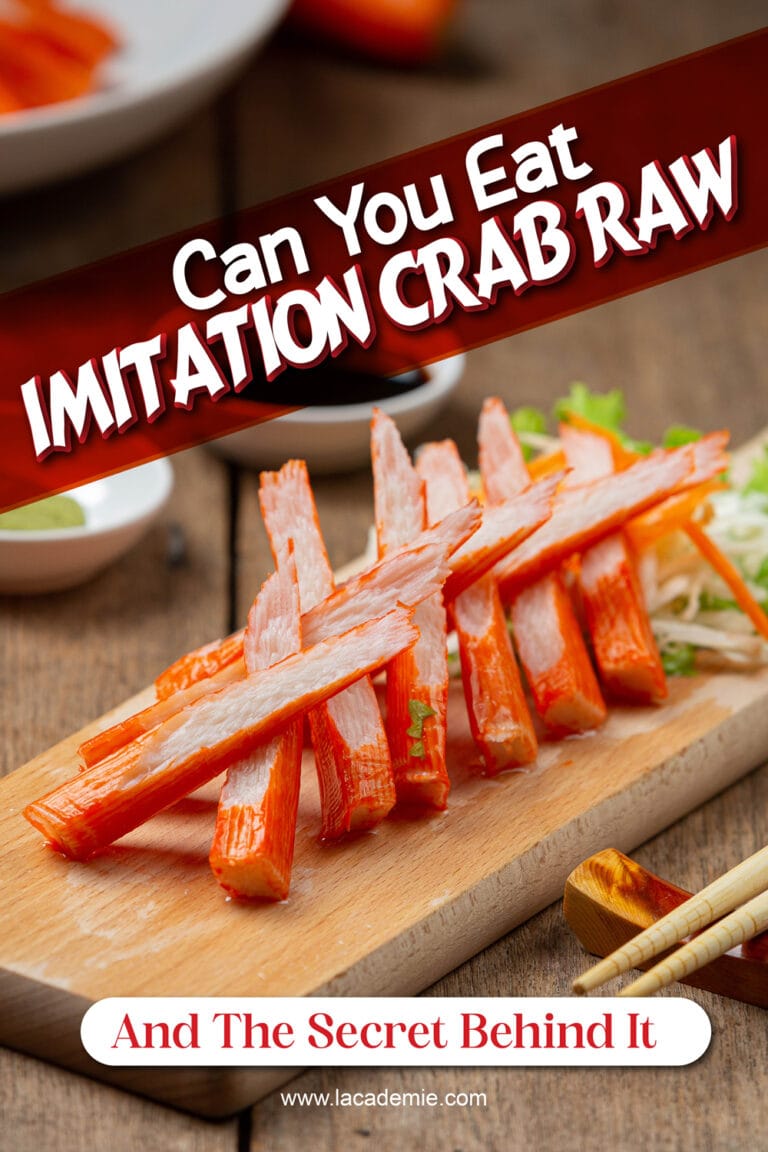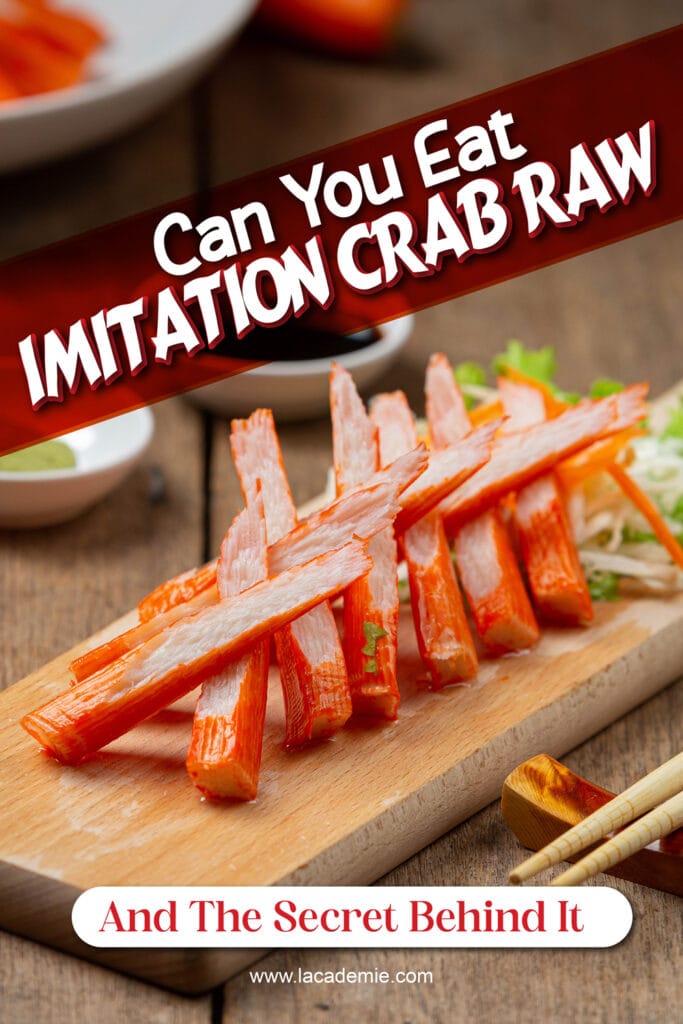 References
Healthline. 2022. 17 Science-Based Benefits of Omega-3 Fatty Acids.
Medicalnewstoday.com. 2022. Health benefits of phosphorus in your diet.
Jessimy, M., 2022. 11 Amazing Health Benefits of Selenium – Natural Food Series.