Have you ever heard of Lithuanian foods? The country might be small but it is mighty in culinary terms. Numerous scrumptious Lithuanian dishes deserve a place on your table.
Just imagine how interesting your daily fare will become with those wonderful delicacies. And your friends will surely be awestruck when they are served mouth-watering dishes that they have never enjoyed before. The reward of understanding Lithuanian cuisine is enormous.
So let's sit back and stay with me on this exciting journey to discover Lithuanian gastronomy!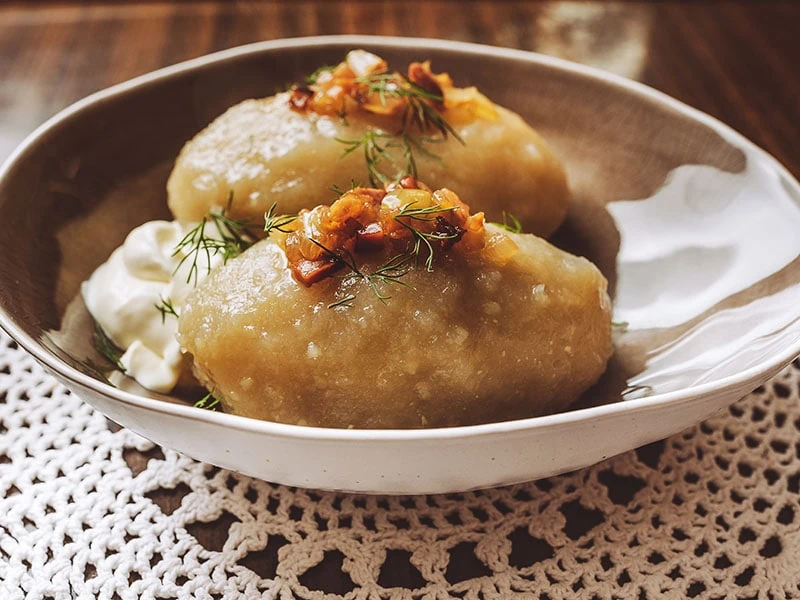 Popular Lithuanian Foods For Breakfast
The following Lithuanian breakfast recipes will provide you with a sufficient energy boost to start a new day. Dive in and you will find that they don't take much to prepare.
1. Kugelis – Potato Puddings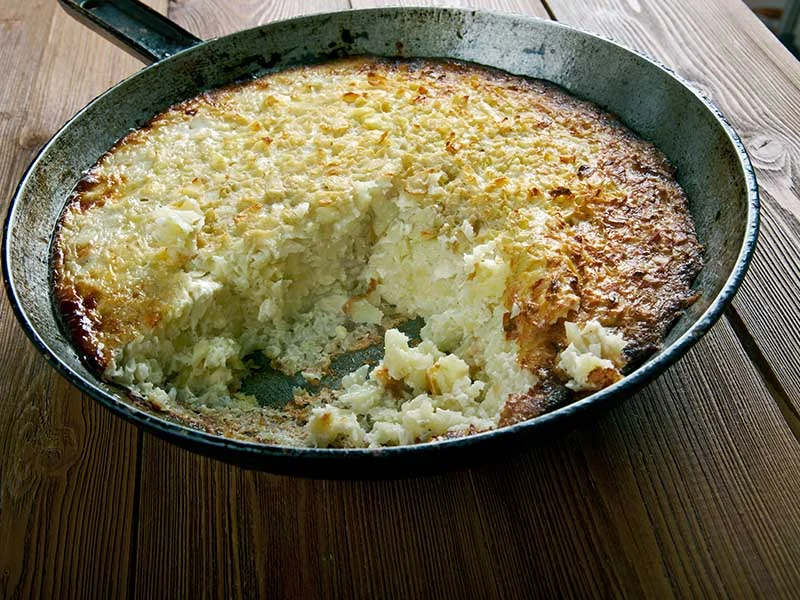 What do Lithuanians have for breakfast on Christmas morning? For many people, it's Kugelis, a type of pudding made from potatoes. Another name for the food is "Bulviu Plokstainis" which means "flat potato dish".
That should say something about the appearance of this dish. There are many ways to prepare it but the ingredients usually include eggs, onions, bacon, milk, and spices. Additionally, hearty and spicy Kugelis are suitable for meals on special holidays such as Christmas and birthdays.
Immerse yourselves in the historic town of Kaunas and taste local Kugelis.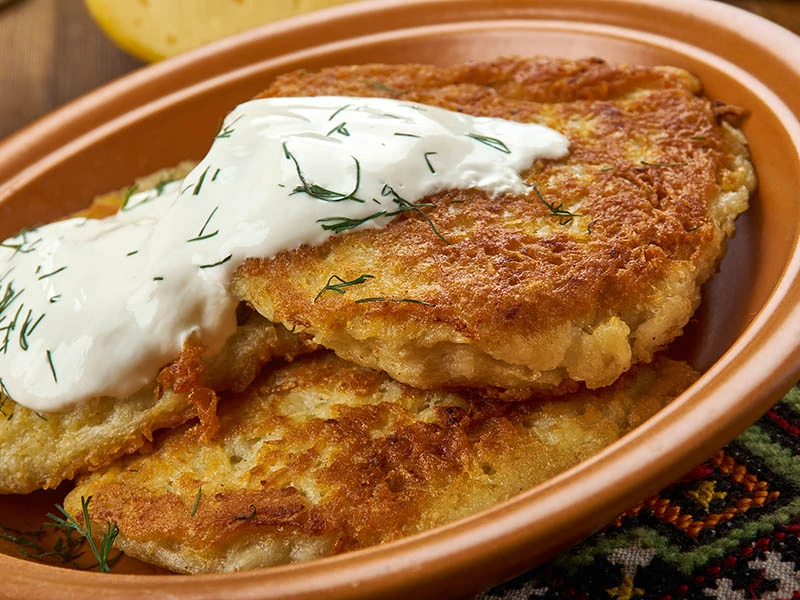 Compared to other staple foods, potatoes are somewhat at a disadvantage. They have a relatively short and maligned history, often nicknamed "the devil's fruit" in the past. But that didn't stop Lithuanians from enjoying great dishes with the plant, such as Bulviniai Blynai.
While potato pancakes possibly appeared first in Eastern Europe, they are now a favorite breakfast food with many Lithuanian families. Traditional pancakes only have potatoes, eggs, and onions but adding some minced meat isn't a crime. But eating them without sour cream is.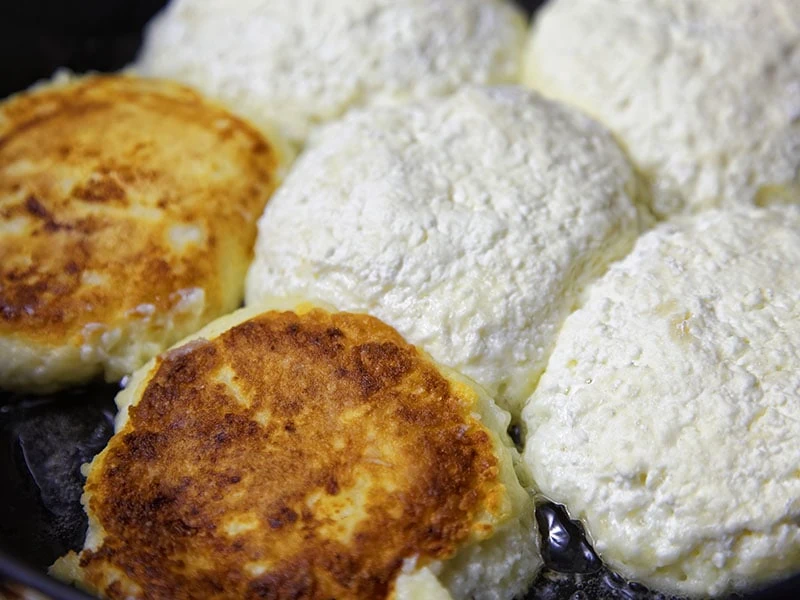 Curds are loaded with vitamins and all kinds of minerals necessary for a growing body. No wonder why they are so popular in Lithuania, especially among kids. Varškėčiai, or curd pancakes, are a well-liked breakfast choice for many Lithuanian children.
But adults love them, too. There is something quite appealing in the rich aroma and the creamy, briny flavor of the pancakes. Besides, they are versatile and can go with many foods, such as sour cream, jams, or fresh berries.
Tasty Lithuanian Dishes For Lunch And Dinner
Traditionally, Lithuanians reserved rich and filling dishes for lunch, while dinner was a light meal. It is different now because the line between lunch and dinner foods is becoming more and more blurred. Feel free to improvise with these dishes!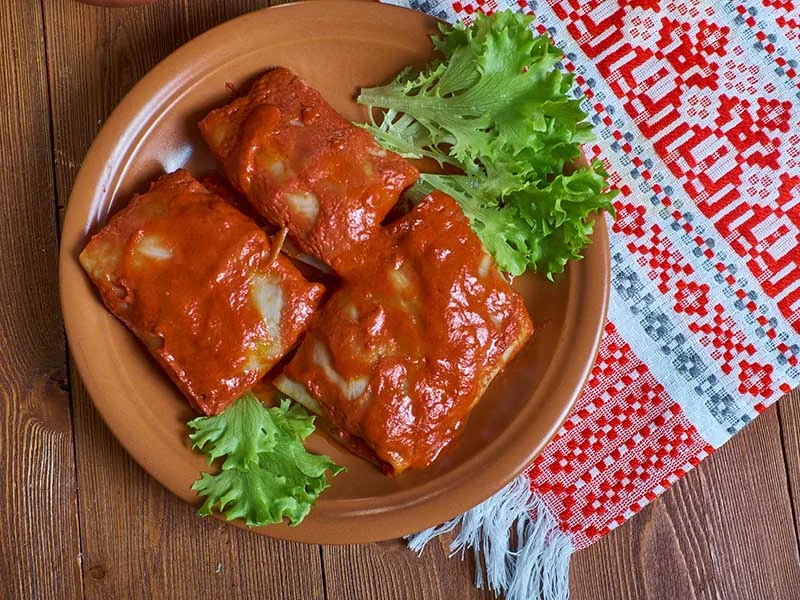 Balandėliai means "little doves" or "lovebirds" but I assure you there are no birdies in this dish. Instead, they are cabbage rolls mixed with minced meat, cooked rice, eggs, onions, and herbs. People believe that the fierce Tatars brought this dish to Lithuania in the 14th or 15th century.
Like other rolls, Balandėliai take a little long time to prepare (imagine that you have to gently wrap the ingredients in strips of cabbage leaves). Therefore, it makes more sense to cook them for lunch and dinner or holiday meals and weddings.
As Balandėliai suggests fidelity, they are a nice dish for couples to share. Don't forget that sour cream is a must-have to serve them with.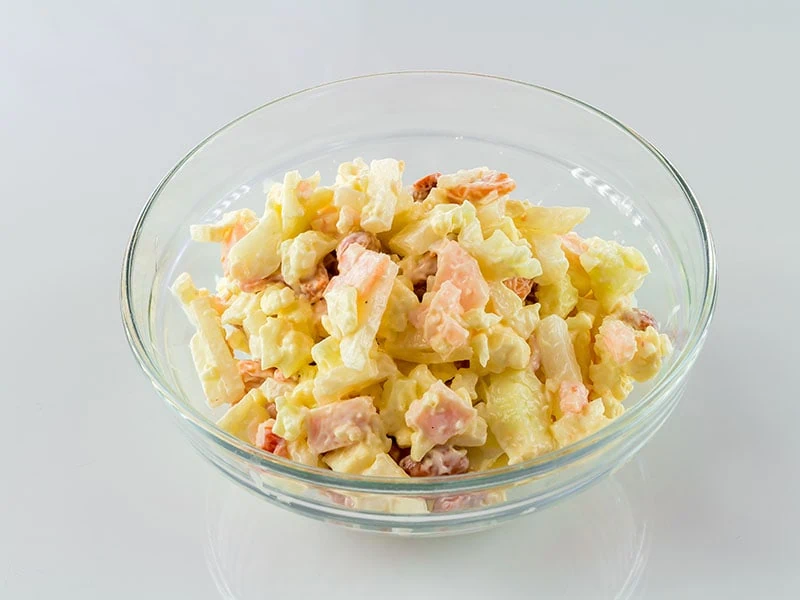 Are you bored by the overwhelming presence of fatty cream and greasy meat-based recipes? Then allow me to introduce some greens into your menu: Balta Mišrainė. Actually, the name means "white salad", while the dominant colors of the dish are orange, yellow, and white.
Balta Mišrainė is a fresh mix of boiled potatoes, boiled eggs, carrots, peas, and mayonnaise. Lithuanians usually eat it with bread or grilled meat before the main course.
The salad is suitable for the daily fare as well as big parties. If you want to lose weight, check out this exemplary specimen of Lithuanian dinner recipes. Why? Because it is low-fat and yet capable of keeping you from hunger for a long time, especially at night.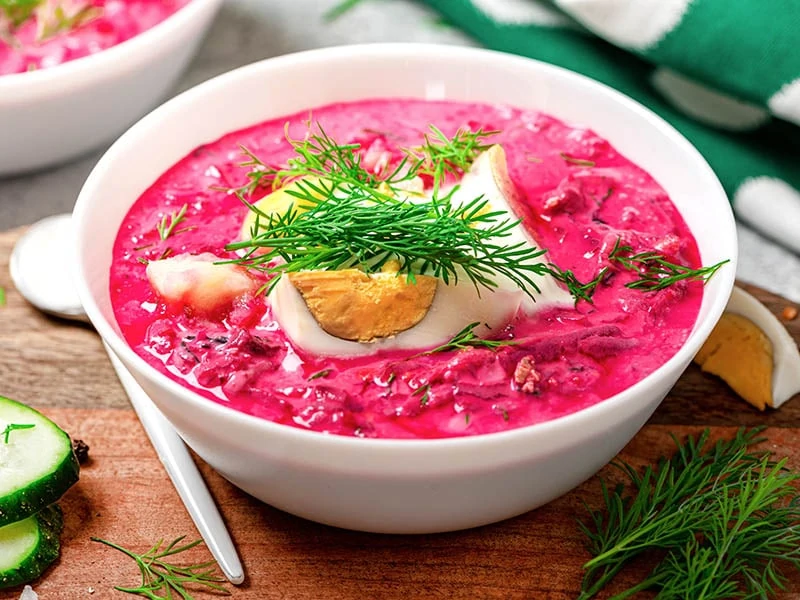 You are perhaps familiar with Borscht, the famous red beet soup from Slavic countries, especially in Moldovan cuisine. Lithuania has its own version of beet soup that has a beautiful purple color and is usually served cold.
People usually prepare and eat the soup in summer as a sign that warm weather is coming to this Northern European country. Beets are of course the main ingredient. But this summertime dish still has traces of a diet for winter survival: it contains a lot of sour cream.
The best accompaniments for Šaltibarščiai are fried or boiled potatoes, hard-boiled eggs, and grated cucumbers. The soup is great both as an appetizer or a main course.
Cool reactions from people who try Šaltibarščiai for the first time.
7. Skilandis – Cold Smoked Cured Sausage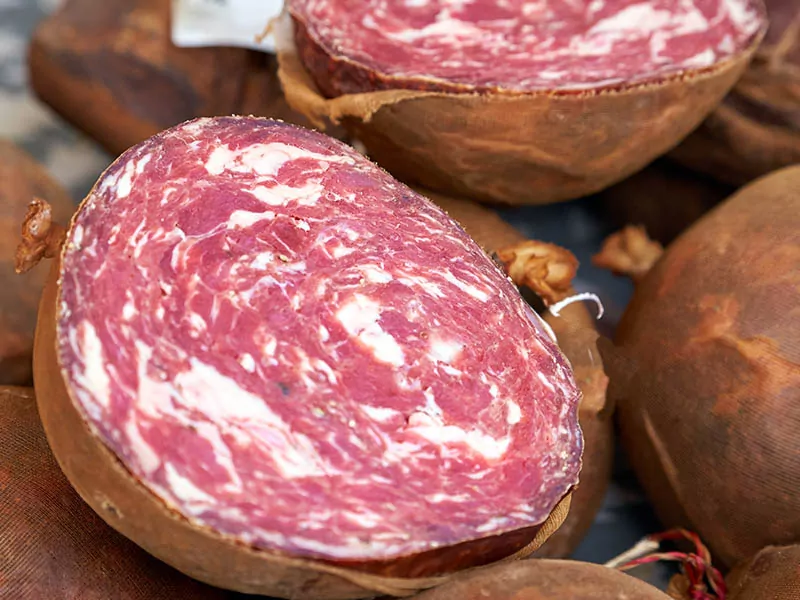 If you are a fan of Scotland's famous dish Haggis, you will certainly fall in love with the Lithuanian version. If you aren't, well, just give it a try and you will love this salty, smokey, savory sausage anyway.
Like Haggis, the first step of making Skilandis is pressing seasoned minced meat into a pig's stomach or bladder (modern varieties can use different skins). What's different is that the Skilandis are later dry smoked and left to mature.
Thanks to curing, Skilandis have their distinct flavor and can last for months. It is now an EU-guaranteed traditional specialty under the name of "Lithuanian skilandis".
Discover how Skilandis tastes like here.
8. Zrazai – Lithuanian Beef Rolls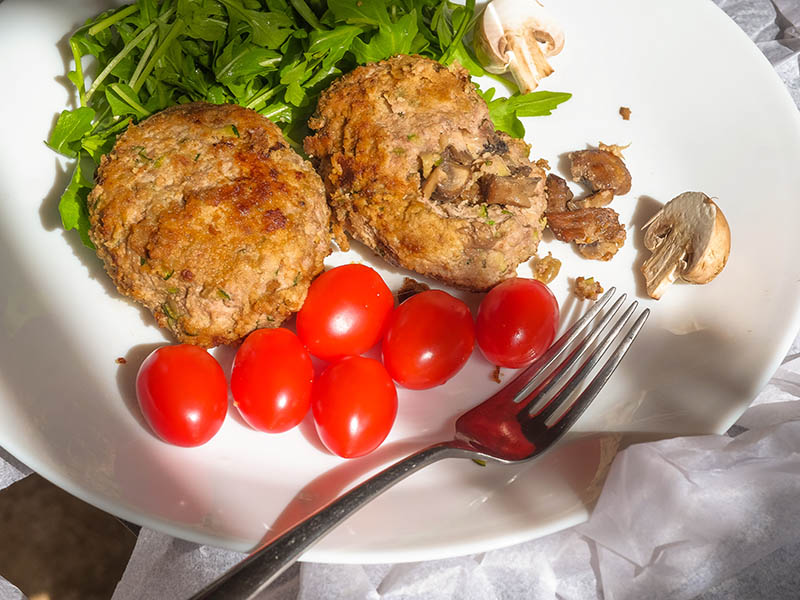 Once upon a time, Lithuania and Poland were united in the great Commonwealth, a force to be reckoned with in Europe. One relic of that glorious shared history is Zrazai, a meat roulade dish popular in both Lithuanian and Polish gastronomy.
The Lithuanian version of Zrazai had influence from classic French cuisine. It appeared between the 17th century and the 19th century. Stuffing choices are numerous, but classic Zrazai consists of potatoes, eggs, vegetables, and mushrooms enveloped in thin slices of beef.
The rolls have to be served with the broth that people stewed them in. Appropriate accompaniments are potatoes, mashed vegetables, and kasha (roasted buckwheat grains).
9. Silkė – Herring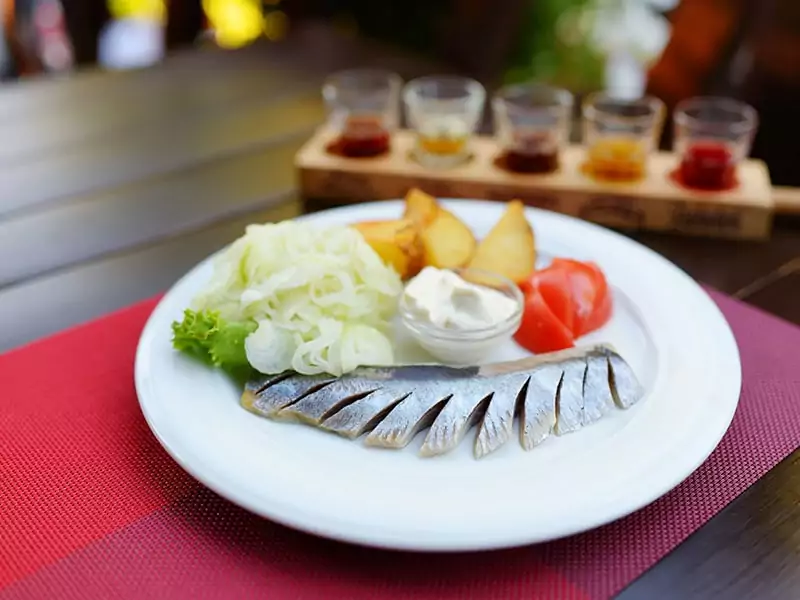 While Lithuanian cuisine places a great emphasis on meat, fish is still an important source of proteins for the country. The most popular variety is herring which has a strong presence in many everyday Lithuanian recipes.
The traditional way of preparing herring is not to cook it but to cure it by various means: salting, pickling, smoking, etc. People eat cured herring with a variety of foods, ranging from veggies like carrots and beets to baked potatoes, rye bread, and mayonnaise.
It is a Lithuanian custom to eat herring on Christmas Eve when people practice the Nativity Fast. At that time, meat and poultry are off-limits while fish is mostly allowed. Therefore, the dinner tables of Lithuanian families become laden with foods made from herring.
Learn the place of herring on a traditional Lithuanian Christmas dinner here.
Scrumptious Lithuanian Foods That You Can Eat Anytime
Many Lithuanian dishes defy categorization. You can enjoy them without having to notice whether it's breakfast, lunch, or dinner. Just grab your favorite and have a bite!
10. Cepelinai – Zeppelin-Shaped Potato Dumplings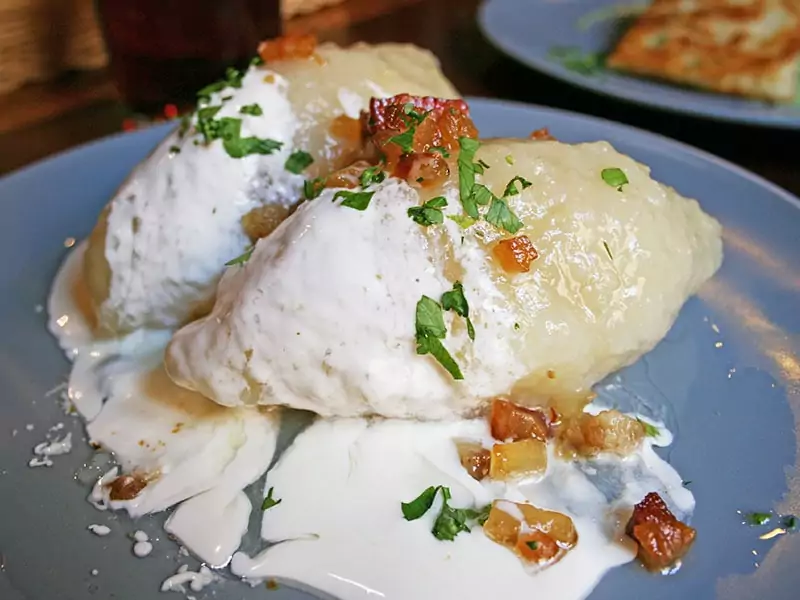 The German general – inventor Ferdinand von Zeppelin flew the first Zeppelin in 1900. Little did he know that his invention would become the inspiration for the national dish of a distant country. That dish is Cepelinai, a traditional food that most Lithuanians can't bear to part with.
Cepelinai consists of potato dumplings stuffed with spiced minced pork or cheese curds for vegetarians. People serve them with plenty of sour cream and rich sauces. The dish has a long history and was aptly called Didzkukuliai ("dumplings") in the past.
But people renamed it Cepelinai ("zeppelin") in the 20th century because it resembled the fearsome airship. Lithuanians love Cepelinai and consider it their national dish. It's not an overstatement to say Cepelinai is the crown jewel of Lithuanian recipes.
Acquire the art of cooking Cepelinai in 9 minutes.
11. Kibinai – Meat-Filled Pastry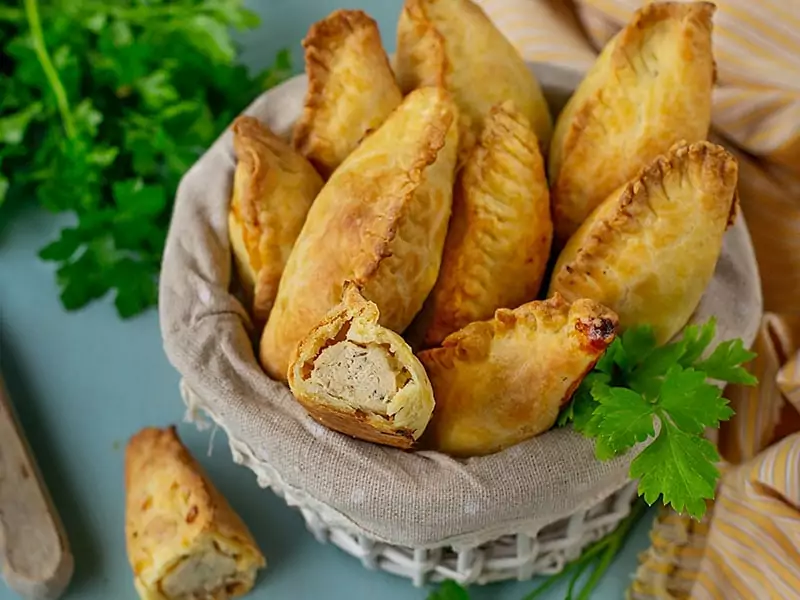 This is a contribution to Lithuanian cuisine from the ethnic Karaite people who migrated to the country in the Middle Age. They originally came from Crimea and follow Karaite Judaism. These people are also called the Karaim.
Kibinai refers to savory crescent-shaped meat-stuffed pies that the Karaim people eat separately as a snack or with soups. Classic Kibinai can only contain mutton and onions. But nowadays, there are all kinds of fillings for Kibinai: lamb, chicken, cheese curd, jam, etc.
You can find many places that sell Kibinai throughout Lithuania. But the best destination is Trakai, a historic city in southeastern Lithuania. A large Karaim community lives there and they offer excellent Kibinai.
Take part in the trip to Trakai – home to the best Kibinai.
12. Koldūnai – Stuffed Dumplings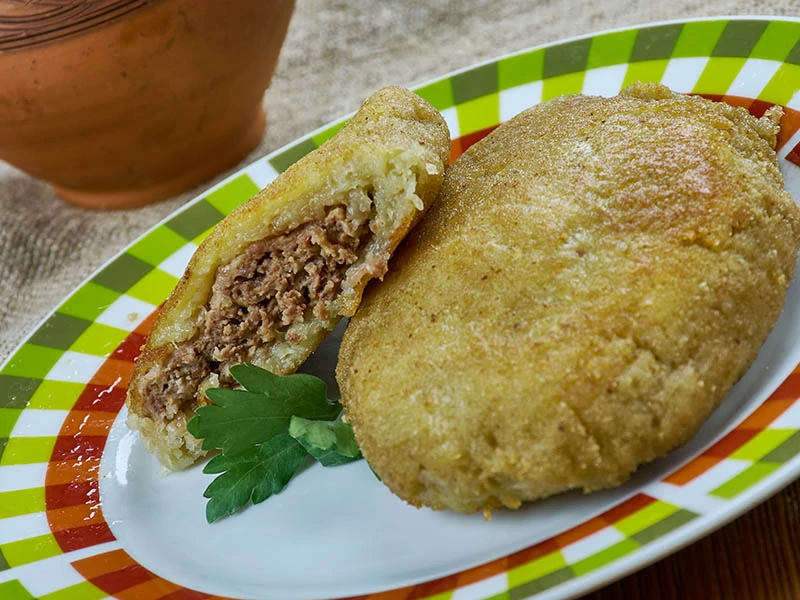 "Koldūnai" comes from "kalduny", a stuffed dumpling dish popular in Belarus, Lithuania, and Poland. The translation of the latter can give you a good scare. It's a Slavic word for "sorcerers". No one knows how such a mysterious name came about.
Witchy or not, Koldūnai are so scrumptious that you should hunt for them hard as if on a witch hunt. They are a wonderful combination of minced meat with curds, mushrooms, and salty dough.
Though both Cepelinai and Koldūnai are dumplings, you will find a world of differences in flavor between them. Koldūnai are great as a snack or a light main course for lunch.
13. Chebureki – Deep-Fried Meat Turnover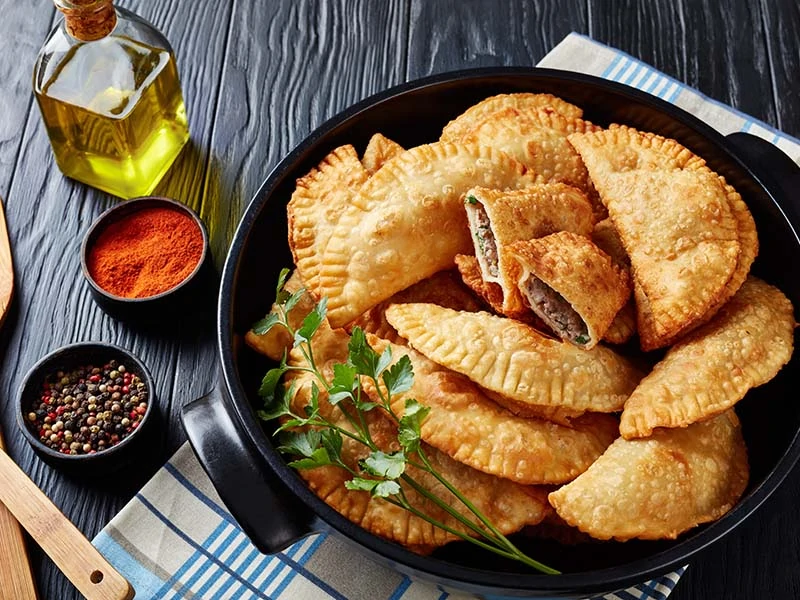 What is the most delicious Lithuanian street food? Answers may vary spectacularly but one contender is certainly high on the list: Chebureki. Many people think it belongs to the category of Lithuanian lunch recipes but there is nothing wrong with having Chebureki for brunch or linner.
It is a crescent-shaped turnover made of a single piece of unleavened dough folded over seasoned minced meat, spices, and onions. The best oils for frying it are sunflower oil or corn oil.
Chebureki is probably another culinary contribution from the ethnic Tatar because it is a national dish of Crimean Tartar cuisine. Nowadays, however, the snack is in great demand at many restaurants and street food stalls in Eastern European and post-Soviet countries.
Follow those easy instructions to prepare your own chebureki.
Discover The Diverse Lithuanian Snacks And Desserts
Lithuanian cuisine is a treasure trove of delicious light refreshments. Even if you aren't a kid, those toothsome dishes will still attract you like a magnet.
14. Kepta Duona – Fried Bread With Garlic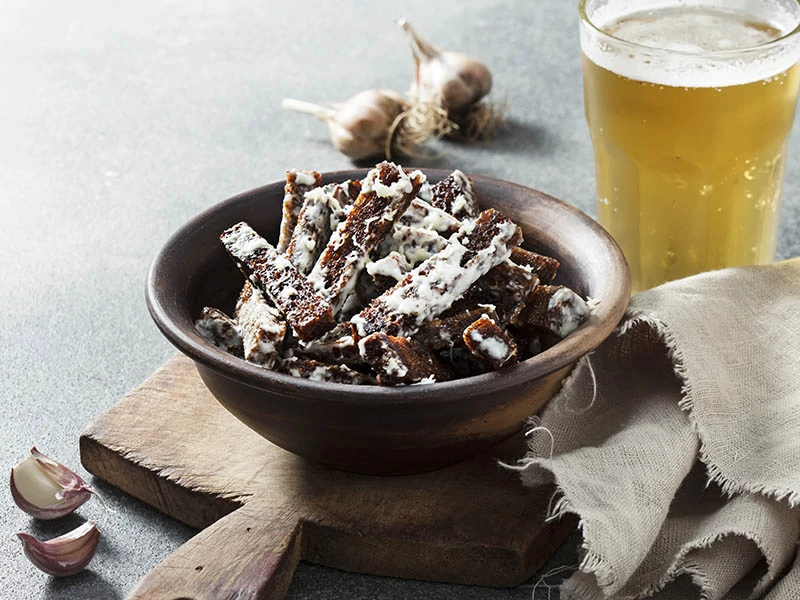 If asked to name common snacks off the top of your head, bread won't probably be on your list. Lithuanians beg to differ. One of their most popular foods to go with a beer at bars or in front of a TV is Kepta Duona or "baked bread".
But don't let the name fool you. This dish involves frying strips of dark rye bread in oil before seasoning them with garlic and serving with a cheese dip. Nutritionists may give a sigh of exasperation at its fat content, but ordinary people are madly in love with it.
Fried bread is cheap and easy-to-make comfort food for many Lithuanians. It is a usual snack to enjoy while watching a game of basketball, the sport that is considered the second religion of Lithuania.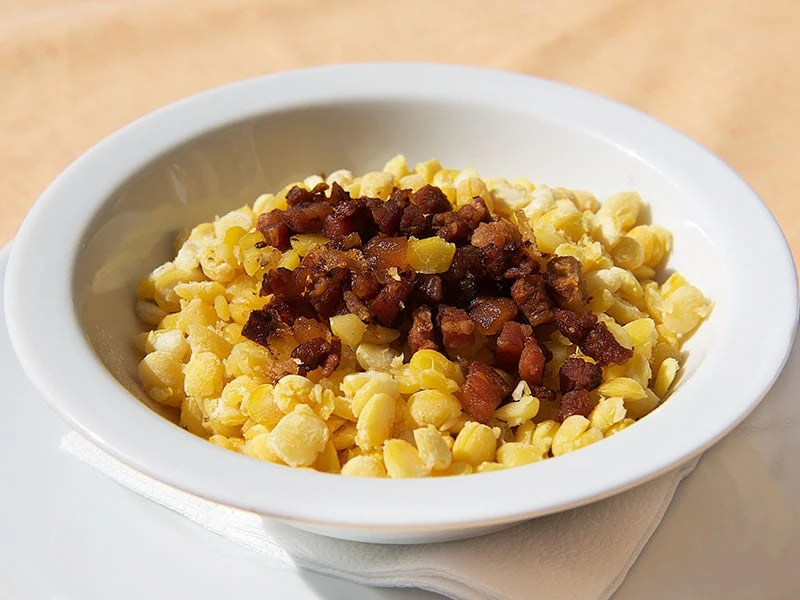 Kepta Duona isn't the only tasty Lithuanian snack you can enjoy at a bar. I give you the tangy Žirniai Su Spirgučiais or "peas with cracklings". While the word "cracklings" reminds you of animal fat, this food actually tastes like nuts.
The main ingredient of Žirniai Su Spirgučiais is yellow peas (some people say they are sweeter and milder than green peas). The peas are boiled until tender before being fried with smoked bacon and onions.
To complete your experience, the best beverage is beer. The snack tastes really good with it. Perhaps this is one of the reasons why Lithuanians drink so much beer.
16. Sakotis – Spit Cake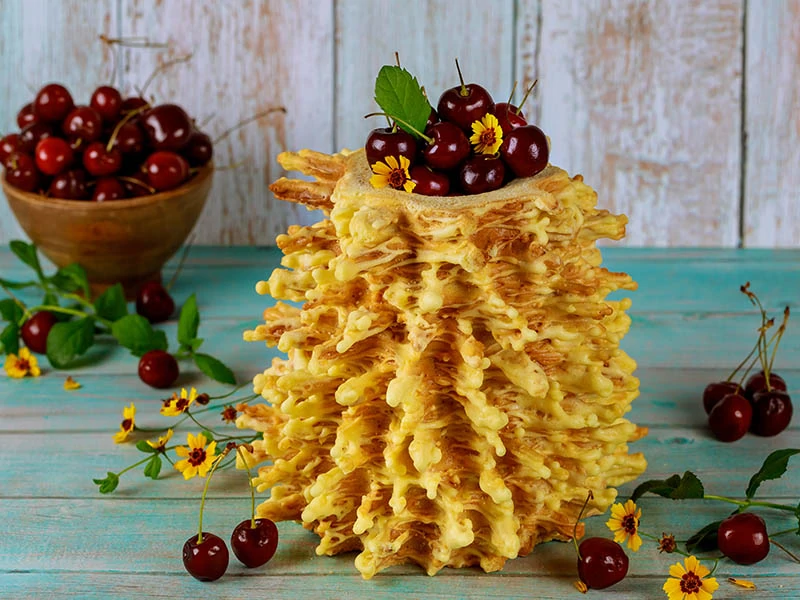 Like the rest of Europe, it is an age-old custom in Lithuania to serve impressive-looking spit/ tree cakes at Christmas and weddings. The Lithuania version is called "Sakotis" or Raguolis which means branchy. There is hardly a more suitable name to describe it.
Made of flour, butter, and other baking stuff, Sakotis is a large, hollow tree cake with "spikes" around the edge. But don't be alarmed by the deceptive appearance: the "spikes" are crunchy and tasty, smelling like cookies.
The cakes come in many sizes: from being small enough to fit in your hand to 50 centimeters in height. You don't have to go to a wedding to eat Sakotis. Bakeries and even airport gift shops usually have the cake for sale.
Check out everything you need to know about Sakotis here.
17. Grybukai – Mushroom Cookies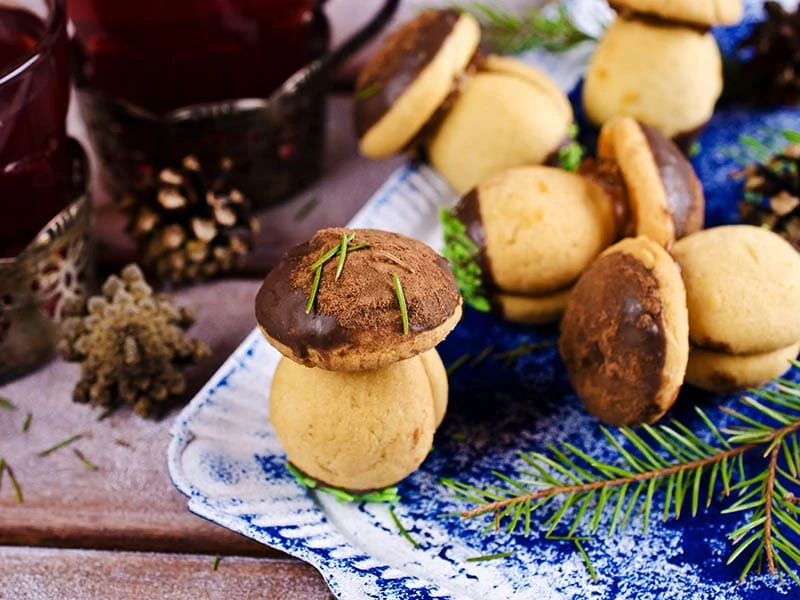 Here is the million-dollar question for you: what is the main ingredient of Grybukai, Lithuanian mushroom cookies? The answer is anything but mushrooms. The cookies aren't made from earthly-smelling fungus but rather shaped like it.
So what on earth are Grybukai made of? Just basic baking ingredients like flour, eggs, butter, cream, chocolate, and ground herbs for flavor. What really sets Grybukai apart is the care and effort going into molding and icing the cookies.
A Grybukai is one of the cutest Lithuanian desserts that you can serve at ordinary meals or big celebrations. It looks so pretty that you may be tempted into admiring rather than eating it. Freshly-baked cookies are soft but can become dryer and crunchier over time.
Bring beautiful mushroom cookies to your table by following this tutorial.
18. Šimtalapis – Hundred-Layer Cake/ Poppy Seed Cake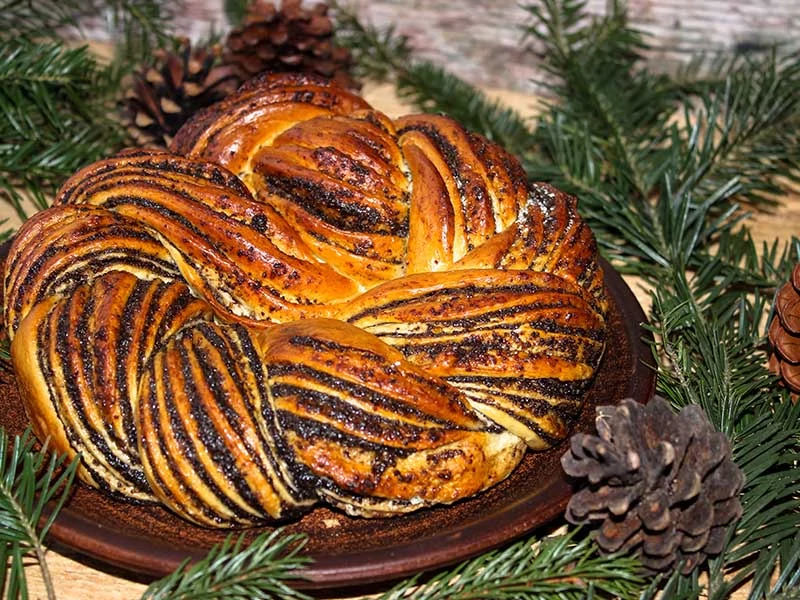 Šimtalapis is a sweet bakery brought by the Tatars to Lithuania 600 years ago. It contains sweet poppy seeds and raisins wrapped up by many paper-thin, crisp yeast pastry sheets.
How many sheets are there? The name is a clue: "simtalapis" means "hundred-leaf" or "hundred-layer". Because the pastry is complicated and time-consuming to make, it is reserved for special occasions like Christmas or birthdays.
Alytus, a city in southern Lithuania with a thriving Tatar community, is a happy hunting ground for Simtalapis lovers. You can find many variations of the pastry throughout the country but Alytus offers the best Simtalapis.
Check Out These Traditional Lithuanian Drinks
Right now you probably need something to wash down all those delicious Lithuanian dishes. Give these iconic drinks from Lithuania a try to enhance your experience of Lithuanian cuisine even further.
19. Gira – Lithuanian Bread Drink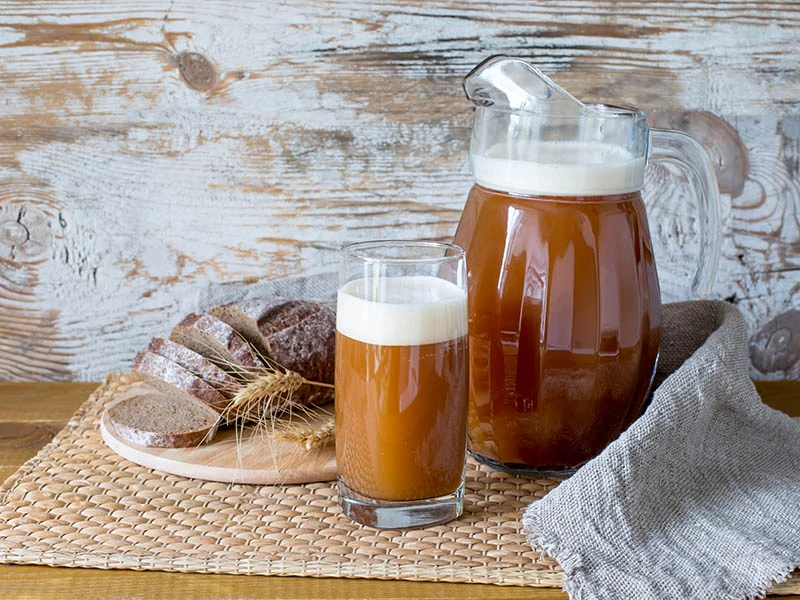 If you don't think of bread as a source of drink, you probably don't know about the Lithuanians. One of their most exciting drinks is Gira which is made from fermented black bread and flavored with fruits or herbs.
Gira usually contains little alcohol and is suitable for children. However, old Gira that has fermented for a long time can be slightly alcoholic so you should watch out. Also, Gira-flavored sodas that you may find in a supermarket aren't not Gira at all.
20. Midus – Lithuanian Mead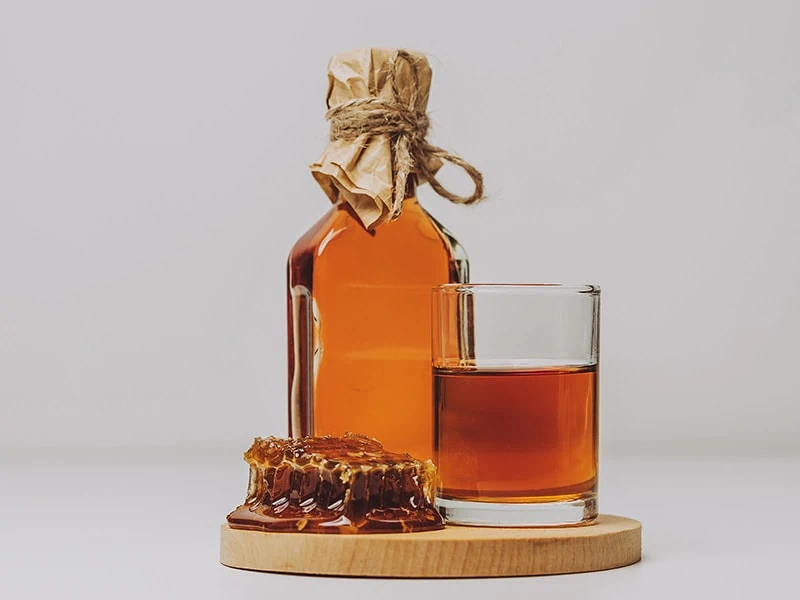 It would be a shame to omit Midus, a delicious honey, berry juice, and spice-infused alcoholic drink. Its history is perhaps as old as the Lithuanians. The beverage has earned the Protected Geographical Identification status from the EU ss proof of its excellence.
Midus isn't suitable for children, though, because it contains a considerable amount of alcohol (up to 14%). It is also very, very sweet. But if you can enjoy Midus, it goes well with meat and spicy foods as well as is a good cure for fever and body aches (according to local wisdom).
21. Kaimiškas Alus – Lithuanian Farmhouse Beer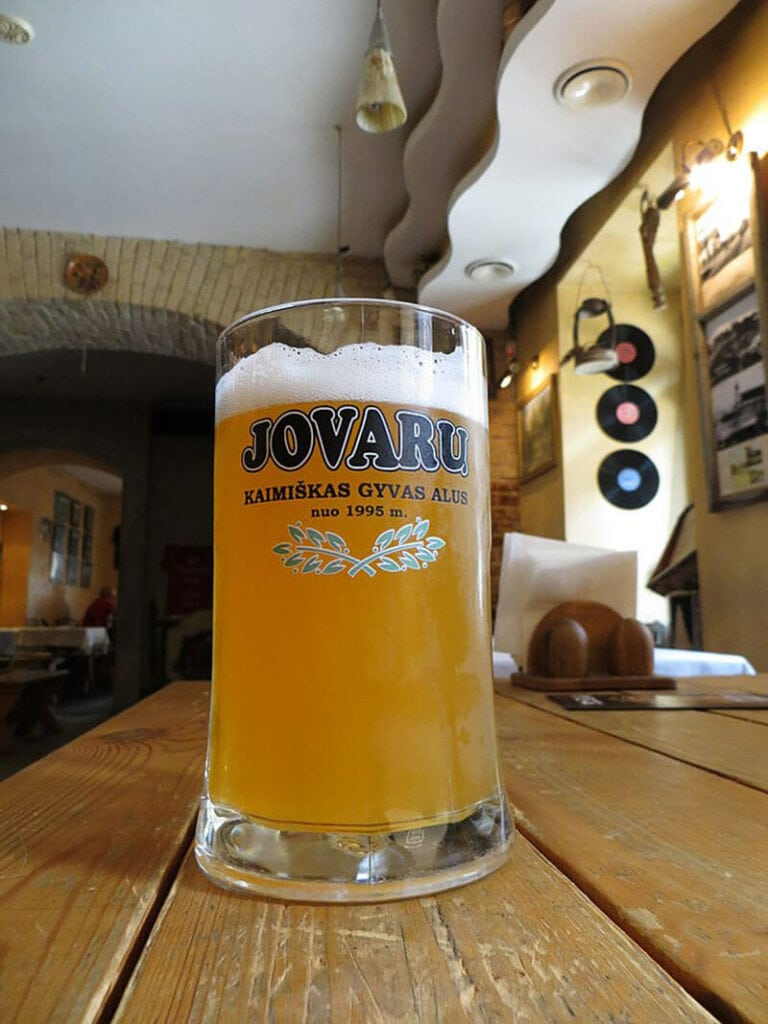 It is probably no surprise to you that Lithuania is among the heaviest-drinking countries in the world. And the title of the most popular alcoholic drink in the country goes to Lithuanian beer, the best variety of which is farmhouse beer (Kaimiškas Alus).
Lithuanians have been brewing this beer for almost a thousand years. There are many beer trails or tours that you can take when visiting the country. Munching on some Kepta Duona or Žirniai Su Spirgučiais with a cup of cool beer is a favorite pastime.
Why Not Give Yourself A Lithuanian Treat?
At first glance, Lithuania may give the feeling of a cold, barren land with little potential for culinary excellence. But when you look beyond that veneer, you will discover a rich and hearty cuisine devised by an ingenious people.
Besides traveling to Lithuania and experiencing these dishes firsthand, it would be a great idea to try popular Lithuanian foods at home. They are loaded with nutrients and flavors while still easy to prepare. With care and passion, you can easily incorporate exotic Lithuanian recipes into your meals and celebrations.
How did they go? Do you have great success with your guests? Don't forget to share this post with your friends and give your thoughts in the comment section below. Many thanks!