Are all Italian dressing vegan? I believe this is the question that many of you have when it comes to using it for your toothsome Italian accompaniments. The main examples that can highlight the importance of dressing are salad recipes.
Obviously, salad is an attractive dish that you should not ignore whether you are on your diet or not, and to make it tastier, more flavorful, and you should mix it with dressing. One of the most popular dressings is an Italian-style product.
In fact, most Italian-style dressing recipes are vegan, but some contain dairy products like milk and cheese. So how do you know if it includes non-vegan products?
Don't worry. This article will help you identify the non-vegan ingredients in Italian dressing and recommend simple, effective recipes to make your own vegan Italian salad dressing at home.
Check it out!
Which Dishes Does Italian Dressing Use For?
Usually, people use Italian dressing for a salad to make it more flavored and tasty. It's also great for use as a sauce for veggies, fruit salad recipes with pomegranate, vegan meats, pasta, stir-fries, and sandwich ideas! And I'm sure you will love it.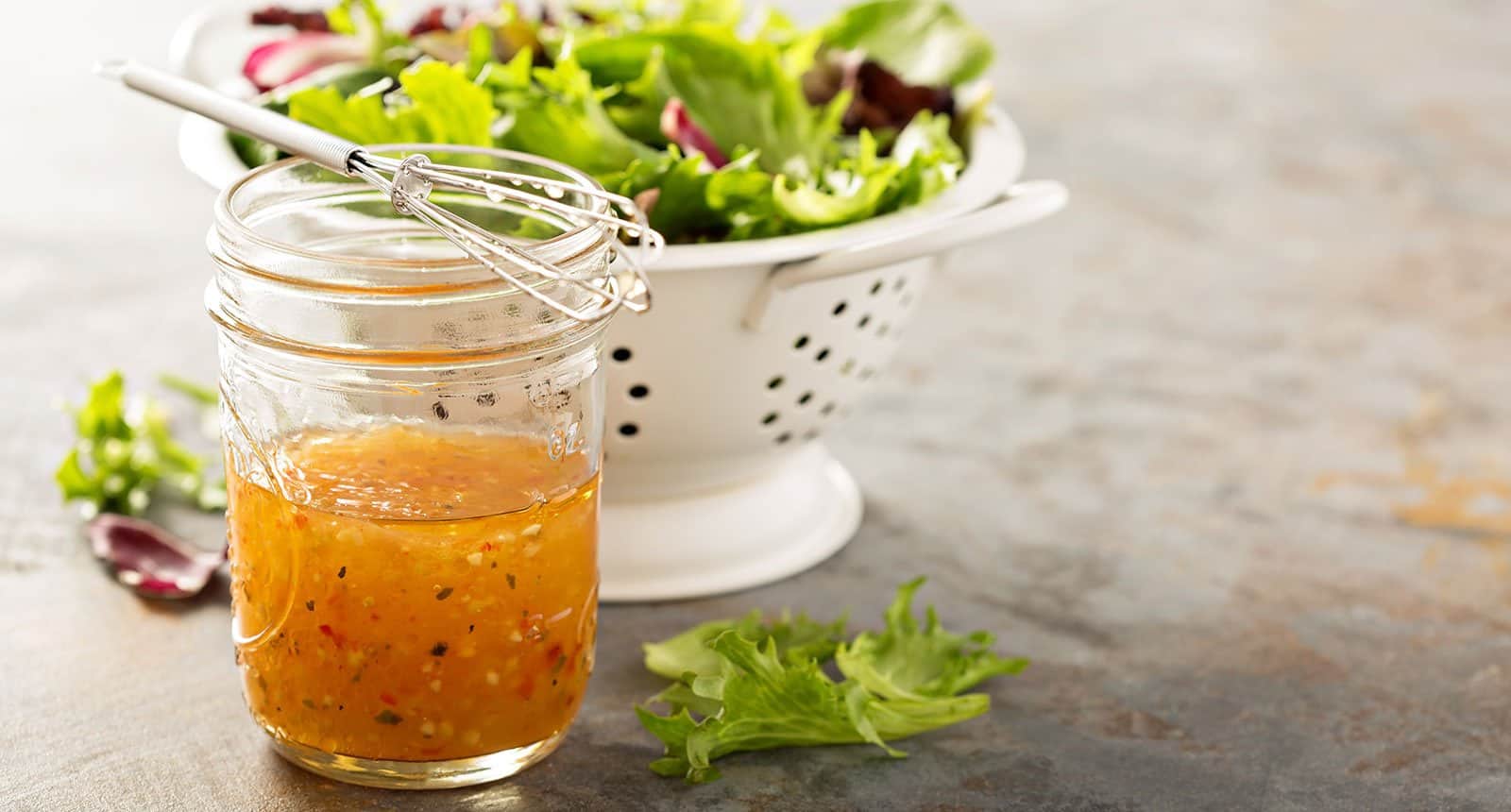 Non-Vegan Ingredients Can Have In The Dressing
It is easy to find dressing products at convenience stores, supermarkets, or online stores like Healthy Choice Plant-Based Italian Dressing or Wish-Bone products with no high fructose corn syrup or artificial colors Olive Garden salad dressing. These are all delicious and popular Italian-style salad dressing products.
To see if these available products are vegan, check their components in the ingredient list. And here are some of the non-vegan substances that can be found in Italian salad dressings.
Fish and anchovies: This is a common ingredient produced in Italian dressing to robust its flavor.
Xanthan Gum: It can be extracted from animal products such as whey and eggs used for thickening.
Cheese: The manufacturers can also add Parmesan cheese for texture and flavor.
Milk: Certain concentrated Italian dressing may contain milk for added weight and fat.
Egg Yolk: It is an excellent emulsifier to slow the separation of oil and water.
Why Should You Make Italian Dressing At Home?
Making Italian dressing at home is a smart choice if you want to strictly control your vegetarian diet because you will know precisely each ingredient. With dressing products available at the store, even if you have checked its ingredients and inevitably other additives and components that can lose their inherent flavor.
Moreover, when making Italian dressing by yourself, you can adjust the formulas that are suitable for your interests, and most recipes are quite fast and straightforward to perform.
Some Homemade Italian Dressing Recipes
Below, I'll give you some homemade recipes for this food whose name begins with "I" that you can follow. I can ensure that these are easy to make and suitable for your vegan diet.
They will make your dishes, like Italian hors d'oeuvre, more special and flavorful. So let's see how to make them.
Make Italian Dressing With Cashew Nuts
It is one of the favorite Italian dressing of vegetarians with delighted flavor and delicious food. You should try it for your salad.
What You Need:
2/3 cup raw cashew nuts
1/2 cup of water
2 tbsp red wine vinegar
1 teaspoon lemon juice
1 teaspoon maple syrup
1/3 teaspoon garlic powder
1/4 teaspoon dried yellow mustard powder
1/4 teaspoon chili powder
1 tbsp dry Italian seasoning
1/4 teaspoon ground black pepper
What You Do:
Soak cashew nuts in water for 12 hours.
Use the blender to grind cashew nuts until they are smooth.
Add other ingredients to the blender.
After mixing well, put in the refrigerator for one hour to cool.
Tips:
There are other replacements of garlic powder you can try if you don't have it on hand.
Add more wine or lemon juice to enhance the sour taste.
Add water to dilute the consistency when it's too thick.
Make Italian Dressing With Sunflower Seeds
If you want to have salad dressing with the flavor of sunflower seeds, you can refer to the recipe
What You Need:
½ cup raw or roast sunflower seed
2 teaspoons of lemon juice
1-2 teaspoons of white wine
1 teaspoon of agave powder or maple syrup
1/3 teaspoon of mustard Dijon adds rich flavor to the dressing
2-3 cloves of garlic or 2 tablespoons of garlic powder
¼ teaspoon of salt
1-2 teaspoons of Italian seasoning
What You Do:
No matter what sort of blender that you use, ensure it's an immense power blender. Then you can add the sunflower seeds directly and grind them. If not, you should soak sunflower seeds for about 15 minutes in warm water.
Put lemon juice, water, vinegar in the blender.
Add soaked sunflower seeds, garlic powder, agave powder, Dijon mustard, and salt.
Turn on the blender.
Then add the Italian seasoning powder and wait until the mixture is mixed well.
You can dress it on food right away or put it in a container with a tight lid and refrigerate. The dressing can be stored in the refrigerator for about 2 weeks. When kept in the fridge, it blends better and becomes denser.
Make Italian Dressing With Olive Oil
Here is my favorite recipe for Italian dressing as it is extremely simple and time-consuming.
What You Need:
1 cup extra virgin olive oil
1/2 cup red wine vinegar
2 tbsp of nutritional yeast
1/3 teaspoon mustard dijon
1/2 teaspoon of dried basil
1/2 teaspoon of dry oregano
1/4 teaspoon salt
1/2 teaspoon of dried thyme
1/2 teaspoon crushed red pepper
1/4 teaspoon garlic powder
What You Do:
All you need to do to get an Italian sauce is very simple, just put all the ingredients in a glass jar or container.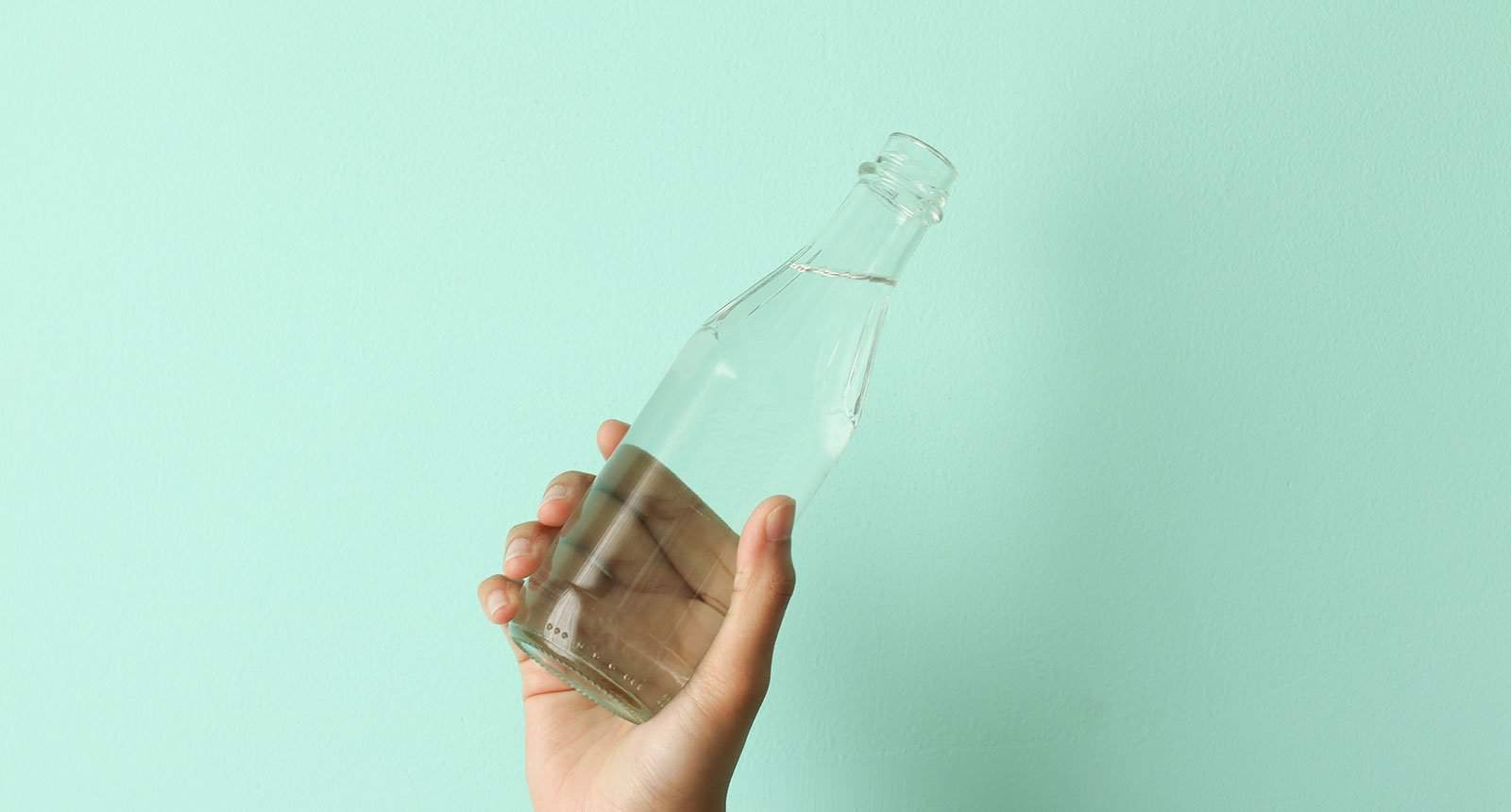 Shake or stir ingredients until well combined.
Use it right away on your favorite salad, or leave it in the refrigerator for a better taste.
Tip: After taking it out from the refrigerator, olive oil may be frozen. Let it sit for a while at room temperature before serving.
You can refer to this super simple and quick Italian dressing recipe to go with salad or other dishes.
FAQs
In this part, I give you some frequently asked questions related to Italian dressing. It will be beneficial when you make and use it. Let's keep reading!
Expectation Vs. Reality
Italian salad dressing is a great sauce to add flavor and taste for green vegetables or some dishes. It is a vegan product or not, depending on the ingredients that make it up.
When buying ready-made products, you should check their ingredients carefully or be sure that the dressing is vegan; you can buy ingredients and make them at home. Overall, Italian dressing recipes are simple to make and easy to use. However, sometimes you will have difficulty finding different ingredients.
How often do you make the Italian salad dressing by yourself? What is the formula that you follow?
Please share this article if you find it is helpful, so everyone knows! Also, if you want any more information about this writing, please leave your comments. I will assist you.