Is kimchi vegan? Name a dish that starts with K, and kimchi will certainly be at the top of the list. However, there are so many questions about it. Is kimchi delicious? Is kimchi vegetarian-friendly? What can be used with kimchi? etc.
Now you have a lot of questions to ask, and you can not find out the exact answers to these questions. Luckily, this article will shed light on your concerns and bring more useful information about this flavor to you soon.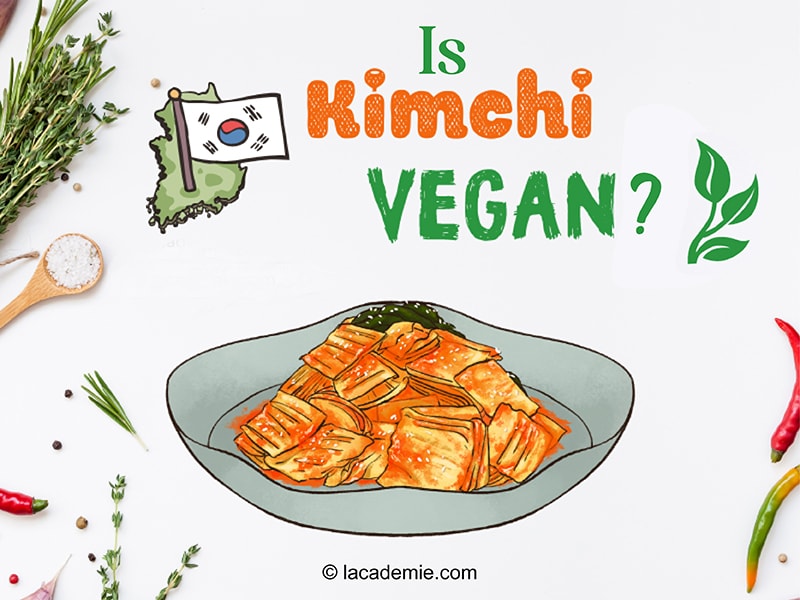 Kimchi: What Is This Flavor?
What do you know about kimchi? Can you tell me a little bit about this delicious flavor before you and I discover it? I promise you will love kimchi very much.
General Information About Kimchi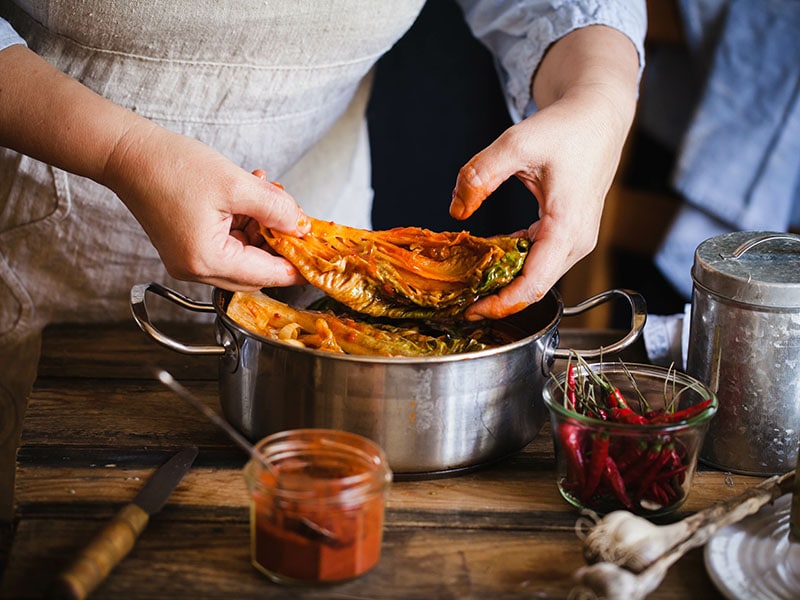 Kimchi is a traditional Korean fermented vegetable food that was first made thousands of years ago. Handed down from generation to generation, the recipe of kimchi still maintains the original taste.
In addition, Koreans consider kimchi a national dish since it has experienced a long history, and now kimchi has become more and more popular. Many traditional Korean dishes include this savory pickled vegetable specialty in their ingredient list.
The ingredients for this recipe are diverse. They include numerous vegetables, such as cabbage, radish, cucumber, etc.
To increase the taste of their national dishes, Korean also adds more Korean red pepper, spices, and other seasonings. Therefore, kimchi has a crunchy texture with a spicy flavor. You can enjoy your kimchi with other dishes. (1)
Do you want to find out how interesting the story of Korean kimchi is?
The Origin Of Kimchi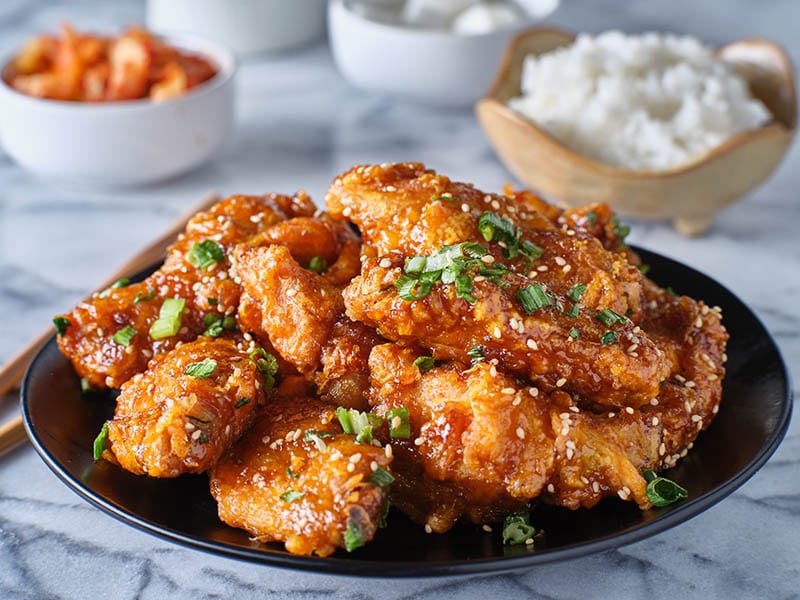 About the origin of kimchi, you can see the intelligence of ancient Korean farmers who employed the fermentation process to make this traditional dish.
In the past, the economy of Korea mainly depended on agriculture. During the Three Kingdoms Period (57 BC – 668 AD), the original kimchi was made from radishes since it was a local product, according to historical records.
The current version of Korean-made kimchi is based on the fermentation of Korean red pepper powder. However, it was not until the 19th century that using chili pepper in kimchi became popular.
This process produces beneficial bacteria that help preserve kimchi, even during the cold winter.
Learn more about the history of kimchi here.
The Characteristics Of Kimchi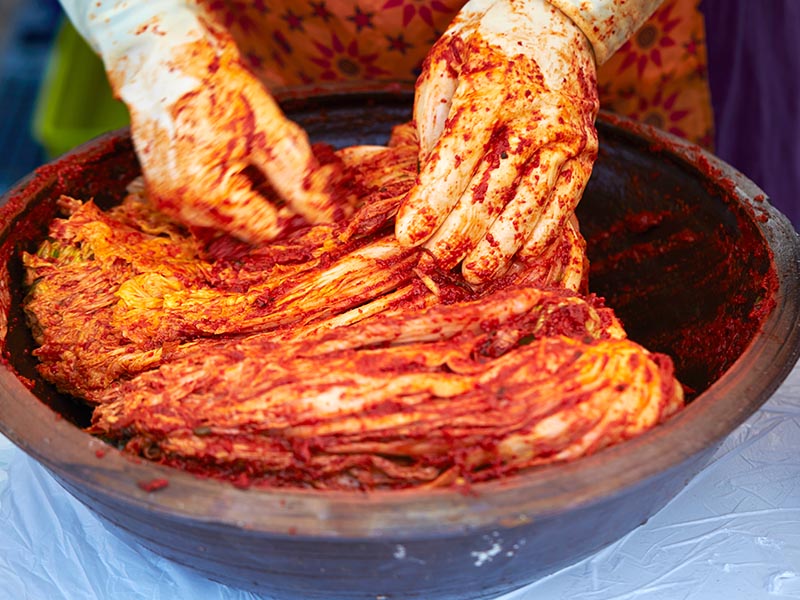 The characteristics of your kimchi may feature some differences from others due to the season, the geographic area, the ingredients in use, the brining and fermentation process, and the storage method. Let's learn more about them.
Korea has around 100 – 200 kinds of kimchi that are mainly divided into 2 groups. They are the ordinary kimchi and the water-kimchi (mul-kimchi). Depending on the recipe you are going to cook, you can choose the appropriate kind to improve the taste.
There are numerous typical examples of ordinary kimchi, such as baechu-kimchi, yeolmu-kimchi, kkakdugi, and so on. If you enjoy the mul-kimchi, some exemplary varieties are baek-kimchi, dongchimi, and nabak-kimchi.
Learn how to make traditional kimchi here.
Don't Ignore These Amazing Health Benefits Of Kimchi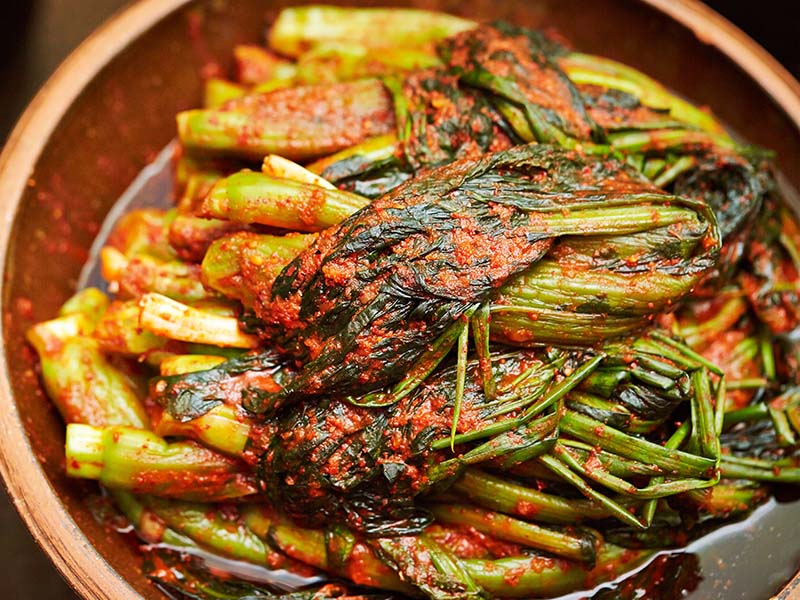 In spite of having a large number of varieties, all kinds of kimchi have one similar main characteristic: it is very nutritious. You will be surprised by the kimchi benefits.
1. Digestive Health
You can use kimchi in your meal to improve the immune system since it contains an amount of Lactobacillus species. You can usually find these bacteria in your digestive and urinary tracts. It directly helps your body's health in various aspects.
Lactobacillus bacteria can protect you from some negative organisms that can make you sick. Moreover, it can facilitate your body to break down the intake of food and absorb more vitamins, nutrients, and minerals.
2. Heart Health
Anti-inflammatory properties in kimchi can prevent you from many heart diseases. Inflammation can damage your heart, create blood clots in the arteries of the heart, and increase the likelihood of heart disease, which kimchi may help prevent.
Moreover, the fermented veggie can decrease fat growth, which will strengthen the health of your heart.
3. Immune System Support
The fermentation of kimchi creates numerous beneficial bacteria that can strengthen your immune system. They also reduce the negative effects of inflammation caused by diseases.
In addition, kimchi also contains an enormous amount of vitamin C. This vitamin plays a vital part in your immune system because it can support the production of white blood cells that can avoid some infections. (2)
4. Nutrition
About kimchi nutrition, you can consider kimchi as a healthy food since it contains some necessary nutrients for your daily needs.
Kimchi can provide numerous vitamins and minerals for your daily needs. For example, the amount of vitamin A, vitamin C, and vitamin K also helps manage blood pressure, lower your heart disease, defend against iron deficiency, and so on.
In addition, potassium and sodium in your kimchi may bring you various health benefits, such as improving the nervous system, supporting regulating muscles, helping heart contractions, etc.
Have you known about these kimchi health benefits before?
Is Kimchi Suitable For A Vegan Diet?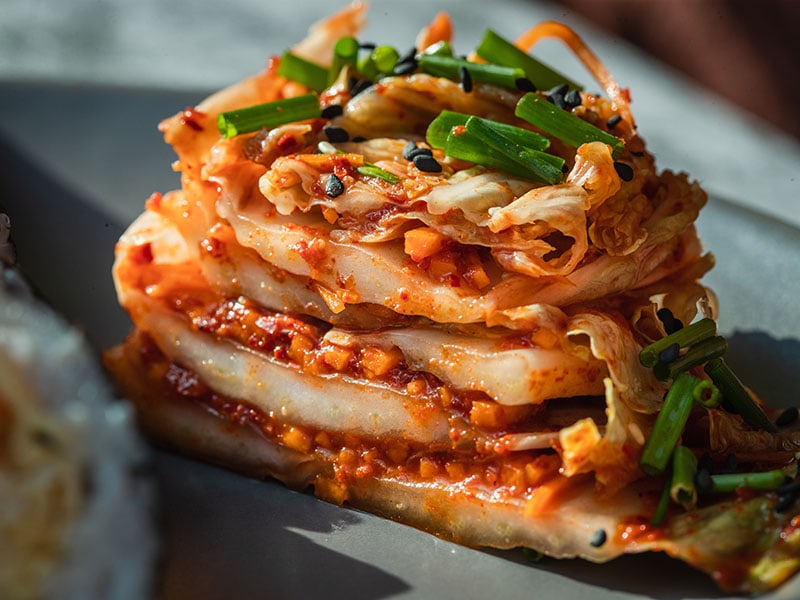 Korean cooks widely use kimchi in their daily meals because it can provide them with various sources of vitamins and nutrients. However, can you eat kimchi if you follow a vegan lifestyle? I will show you the exact answers.
Unfortunately, kimchi is not vegan. It is not suitable for vegans since its ingredients contain fish sauce, fermented shrimp, etc., which are animal-based products. The conclusion is that vegans can not use traditional kimchi.
However, there is also a vegan kimchi version for kimchi lovers, which does not include the fish sauce. I will show you the instructions on how to make it as well as many commercial vegan kimchi brands for you to enjoy.
The Differences Between Regular And Vegan Kimchi
Now, let's make a comparison between vegan kimchi and regular ones so that you can have a clear understanding of their ingredients, flavor, and shelf life.
Factors
Vegan Kimchi
Regular Kimchi
Ingredients
Excludes fish sauce, fish paste, and seafood.
Contains fish sauce, fish paste, and seafood.
Flavor
Spicy, sour, and sweet.
Spicy, sour, and full of umami flavor.
Shelf life

Sealed kimchi can last 3-6 months in the refrigerator.

Opened kimchi lasts only one week at room temperature.

Sealed kimchi can last 3-6 months in the refrigerator.

Opened kimchi lasts only one week at room temperature.
Ingredients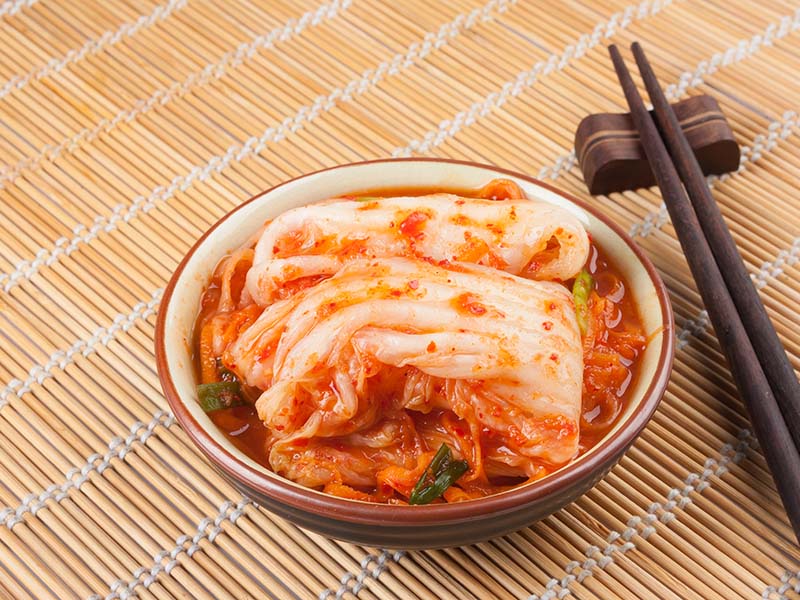 Traditional Korean kimchi comes from the fermentation of napa cabbage, radish, and other vegetables. However, there is also an amount of fish sauce, fish paste, and seafood in the ingredients.
Meanwhile, the vegan version does not contain ingredients that are derived from animals, although it still uses the same vegetables and condiments as the traditional variant. Therefore, they are suitable for vegans and many vegan dishes.
Flavor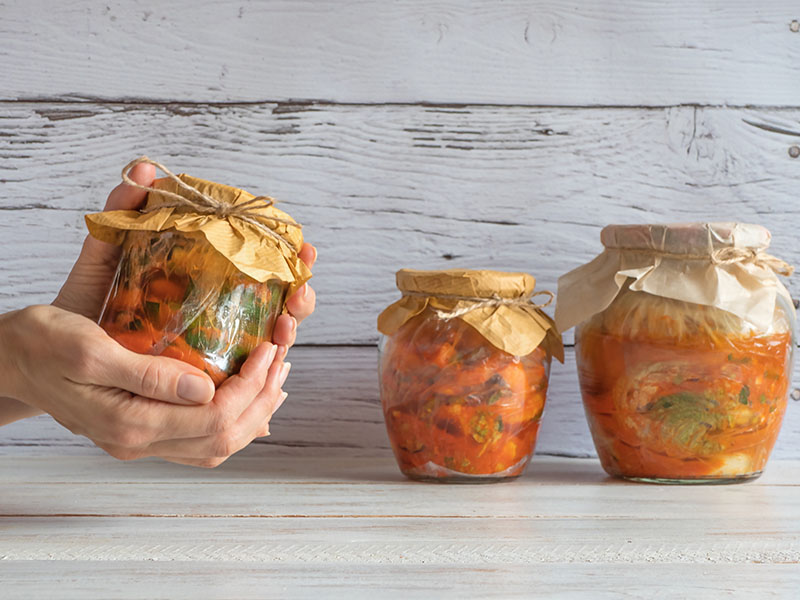 Since the vegan kimchi does not contain fish sauce and the like, there will be some minor flavor differences between them.
The traditional kimchi contains fish sauce and fish paste in the recipe, so it has a tangy, spicy, sour, and full of umami flavor. However, you can still notice the characteristically spicy, tart, and sweet taste of vegan kimchi.
Therefore, I believe the main difference is the rich-umami flavor that is more prominent in the traditional version. However, the disparity in taste is quite slight and should not affect your experience.
Shelf Life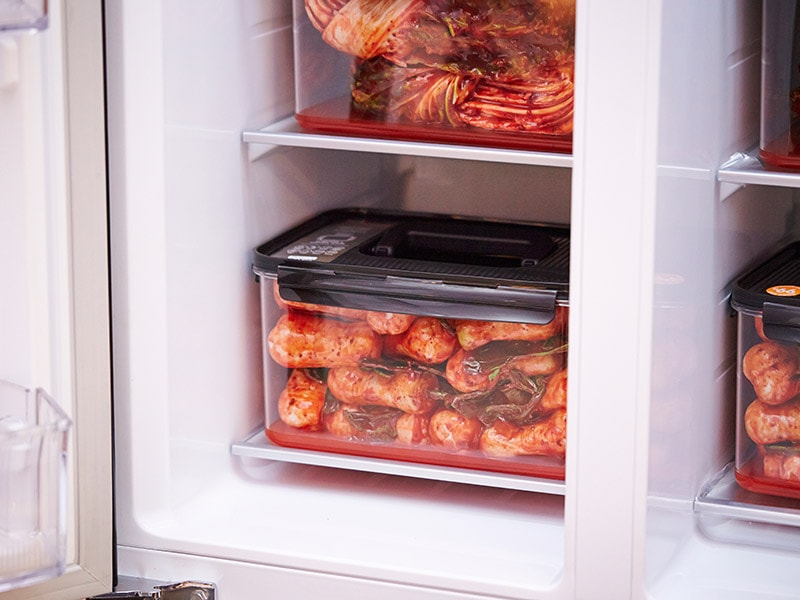 If you think kimchi doesn't spoil, that is an incorrect assumption. You may think that vegan kimchi will have a longer shelf life than traditional ones. But, from my experiences, I believe it is equally untrue.
Though the traditional kimchi contains seafood, the two versions of kimchi also share the same shelf life. In other words, both vegan and traditional kimchi can last about one week at room temperature and about 3-6 months in the refrigerator.
Nutrients And Health Benefits
The health benefits of traditional kimchi and vegan kimchi are the same. Wait… What!? Of course, they share the same benefits due to undergoing a similar fermentation process. Though they have different preparations, there is no change to the benefits they give.
Step-By-Step Instructions To Make Vegan Kimchi At Home
You love kimchi, and you want to add this flavor to your daily meal to increase the dishes' taste and improve your family's health. However, you do not know how to make it. This will be a useful step-step instruction for vegan kimchi fans.
Ingredients List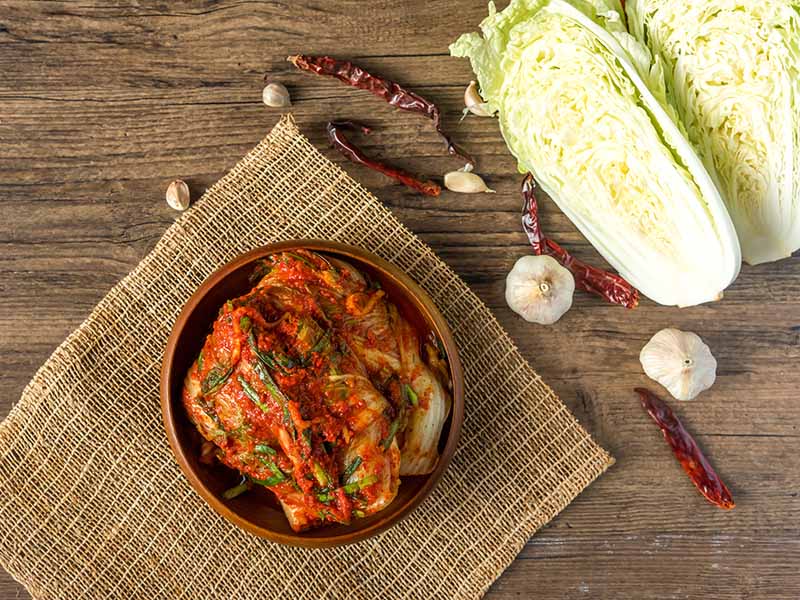 About the preparation, you need to carefully purchase these ingredients for delicious kimchi dishes. Luckily, you can easily buy them in the market in your neighborhood.
You need about 3 pounds of napa cabbages
Then, prepare 9 tablespoons of kosher salt and 2 tablespoons of sweet rice flour.
You also need 1 tablespoon and 1 teaspoon of sugar.
1 and ⅓ cup of vegetable stock and 1 cup of Korean hot pepper flakes.
Next, prepare 9 garlic cloves and 1 medium onion, which is cut into chunks.
You should use 6 ounces of Korean radish and cut them into thin strips
You also take 3 ounces of chopped garlic chives (optional).
Prepare 6 green onions and slice them diagonally.
2 ounces of thinly sliced carrots
Ingredients Notes
You should choose fresh napa cabbage since it will increase the crunchy texture of your kimchi.
Green cabbage, cucumber, daikon radish, etc., are all suitable substitutions for your napa cabbage.
Adjust the amount of Korean hot pepper flakes to suit your taste.
If you make white kimchi (non-spicy kimchi), you will not need Korean hot pepper flakes.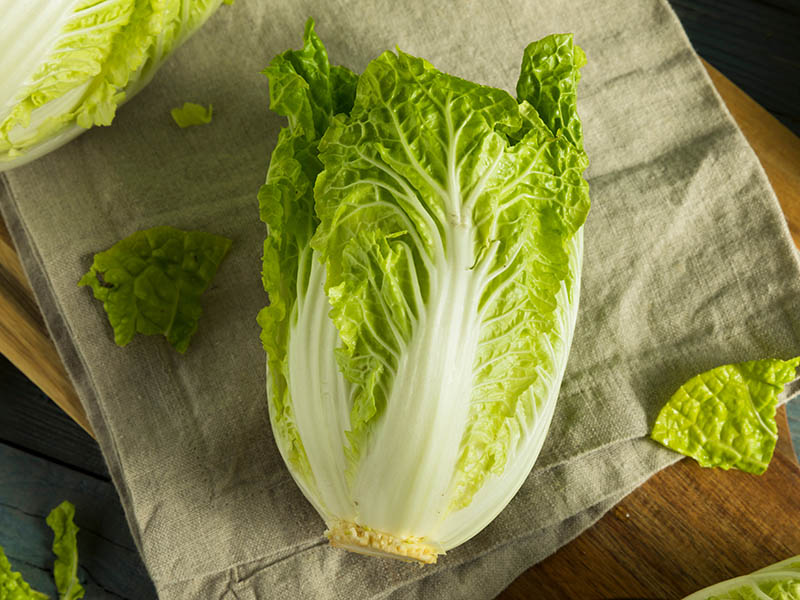 Instructions
Have you prepared all the ingredients needed for savory kimchi? Roll up your sleeves, and follow these informative instructions.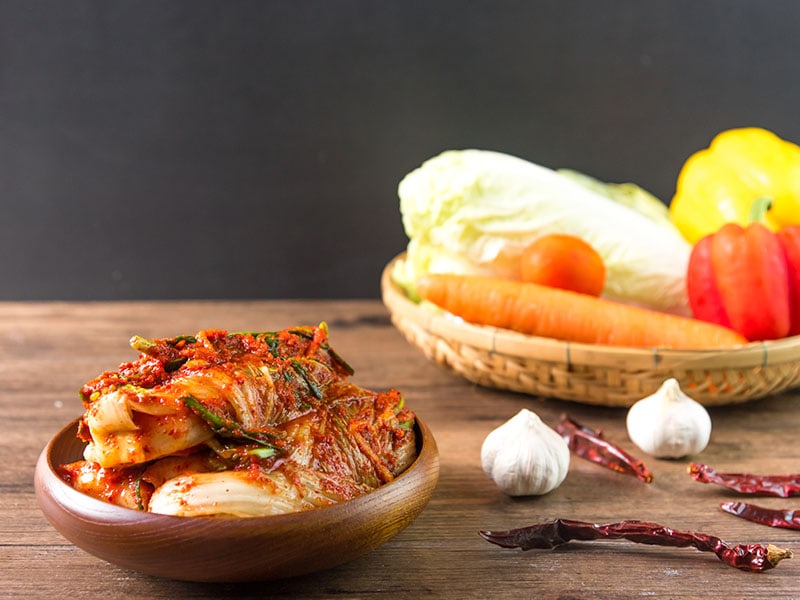 Step 1: Prepare Your Cabbage
You need to cut your cabbage lengthwise into quarters and cut away the center part of each quarter.
Then you should cut your cabbage leaves crosswise into small pieces and put them into a large container.
After that, add about 6 tablespoons of salt and 1 cup of water to them. Wait about 2 hours, and remember to mix them up every 30 minutes to brine evenly.
Step 2: Make Your Kimchi Paste
Mix your sweet rice flour with one cup of vegetable stock in a small saucepan on medium-high heat.
You should spend 2-3 minutes stirring your mixture until it bubbles. While you are doing so, add 1 tablespoon of sugar into the mixture. Stop stirring when it turns slightly translucent.
This process needs about 2-3 minutes. After that, you turn off the heat and let them cool.
Combine your cool mixture with the remaining vegetable stock, salt, and sugar. Add garlic, ginger, and onion to it. Then put them in a food processor and puree them until well blended.
Transfer your mixture to a medium bowl and add hot pepper flakes and mix it again.
Step 3: Rinse Your Salted Cabbage
Rinse and scrub your cabbage about 3-4 times with the cold water to get rid of dirt. Doing so also reduces the salt content. Let the vegetables dry.
Step 4: Mix Everything And Make Your Delicious Kimchi
Make your large bowl dry with a kitchen cloth.
Add all your ingredients together, including radish matchsticks, green onion, chives, and carrots. Put your kimchi paste and mix everything with your hands (preferably with disposable gloves on).
After that, use an air-tight container or glass jars to store your kimchi. Remember to press your kimchi down since they can be well stored and prevent the air from getting inside.
With these step-by-step instructions, I believe you can easily make your vegan kimchi.
How To Store Your Fermented Vegan Kimchi
After making your own vegan kimchi, you start wondering about how to store your vegan kimchi. Do not worry; I will show you some useful methods to store this national food.
After completing your vegan kimchi, you can immediately enjoy it. I recommend you to use it with sesame seeds to add more flavor to the taste. But you can also wait for it to ferment.
You only need about 1-2 days for the kimchi to ferment nicely at room temperature. In the refrigerator, the process may take up to 2 weeks. In return, you can control how sour your kimchi is this way.
If you choose to ferment your kimchi at room temperature, don't forget to put it in the refrigerator once it is sour enough for your taste.
Surprisingly, it will continue to ferment and become more sour day by day, although at a slower pace. Your kimchi can last for a long time with few risks of spoiling.
Always press your kimchi down every time you open the container to prevent the air from entering and spoiling the kimchi.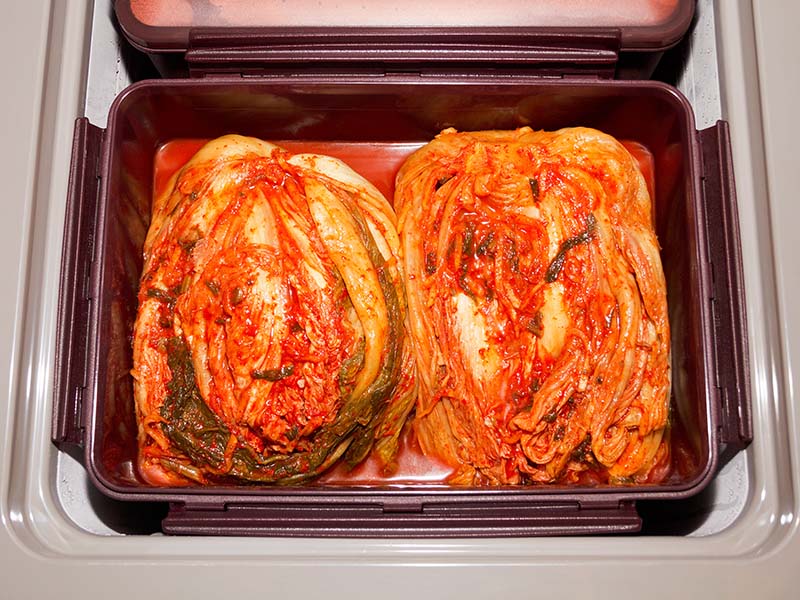 Reliable Vegan Kimchi Brands You Should Choose For A Healthy Life
If you can't make your own vegan kimchi, I recommend you can buy some commercial vegan kimchi. These 4 vegan kimchi brands are very popular with Korean vegans which you should give a try.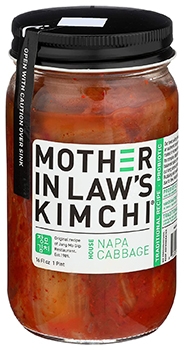 Mother In Law's kimchi is a great kimchi brand for vegans due to the great combination of spices and heat. In addition, this kimchi also has high nutrition and a good fermentation process. Though it is a little bit expensive, it is worth the price you spend.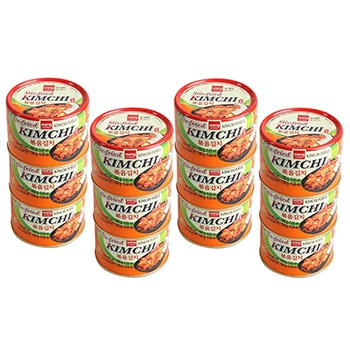 If you are looking for a widely available vegan kimchi brand, I can recommend you use the Wang Korean Stir-Fried Kimchi. This kimchi is soft and sweet, although there is also a spicier version.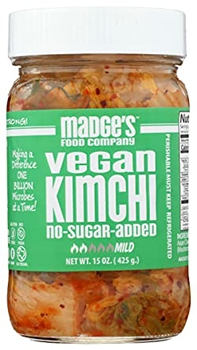 Madge's Vegan Kimchi is absolutely suitable for vegans because it does not contain fish sauce or any seafood in the ingredients. It uses the extract of mushrooms to duplicate the umami flavor of traditional kimchi.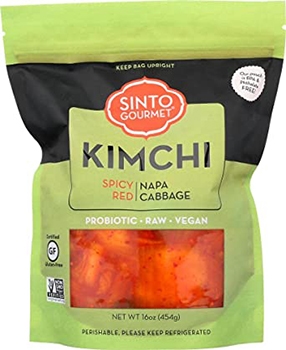 Sinto Gourmet Kimchi has a salty, sweet, and spicy taste due to the combination of various ingredients contained, such as napa cabbage, radish, red pepper powder, ginger, garlic, etc. You should give this kimchi a try and make your meal more appealing to everyone.
Here are the 5 substitutions for vegan kimchi that you should consider. Maybe it will be a suitable match when your vegan kimchi runs out.
1. Sauerkraut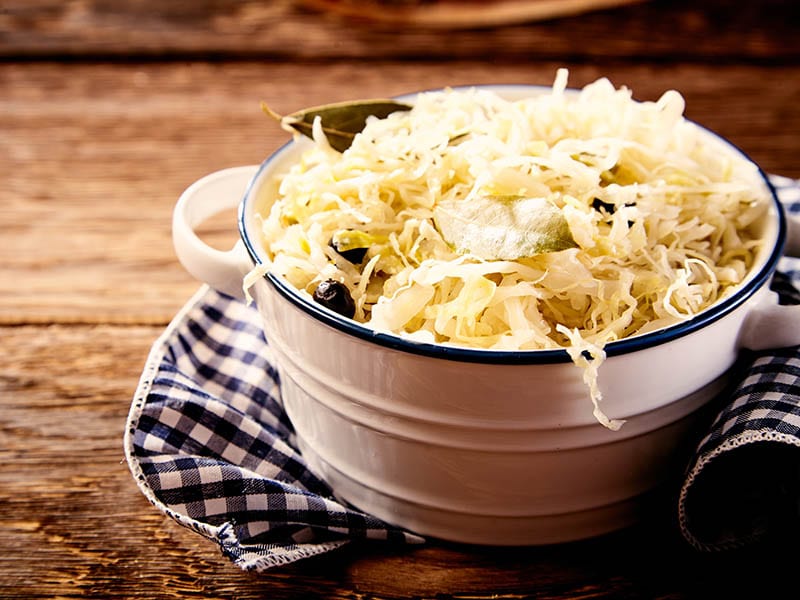 It is a good idea to use the sauerkraut as the kimchi substitutions. This delicious food comes from fermented cabbage which is similar to the kimchi process. Sauerkraut features a crust texture with a sour flavor.
You can use sauerkraut to improve the taste of your meal daily. However, there is a critical point that you need to notice: you should not wash your cabbage during the preparation process since it can decrease the useful lactic acid bacteria from the cabbage's surface.
2. Pickled Beet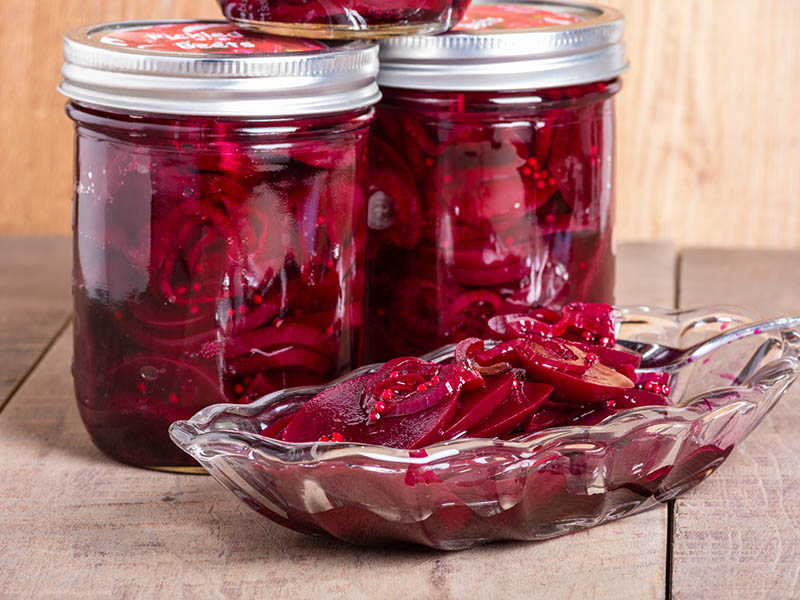 Not only sauerkraut but pickled beet also has the same texture as your vegan kimchi. To make this recipe, you need to cook and pickle your beet, so this will create a crunchy texture with a slightly sour flavor.
You can use your pickled beet in your salad dishes, sandwiches, and wraps to make them more delicious. However, kimchi is much spicier than the pickled beet, so you can only use your pickled beet as kimchi substitutions in certain recipes.
3. Pickles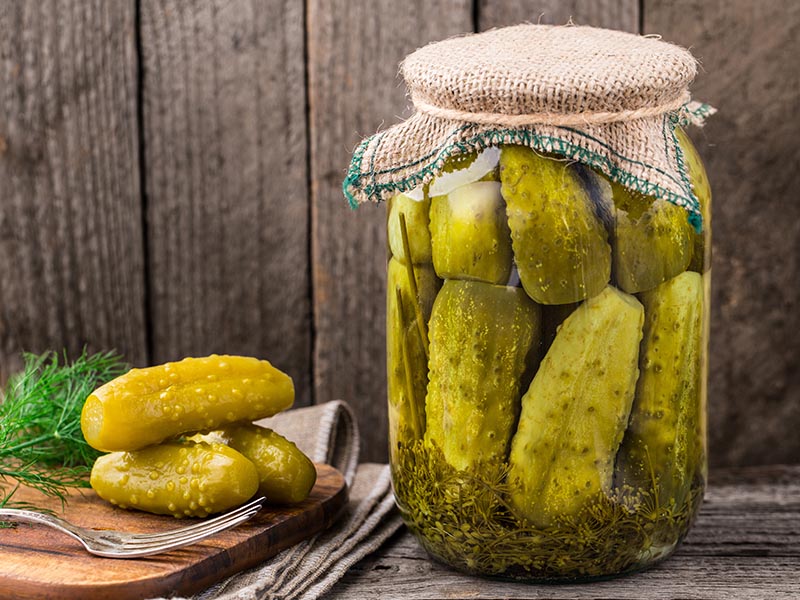 You can easily make your pickles at home since it only has some simple ingredients. You only need to soak your cucumber in vinegar and spices for about 1-3 hours, depending on the cucumber varieties.
It features a sour and salty flavor that comes from the cucumbers during the soaking process. However, the taste of your pickles may have many differences from the kimchi. Anyway, this culinary delight can make your dishes more diverse.
4. Kkakdugi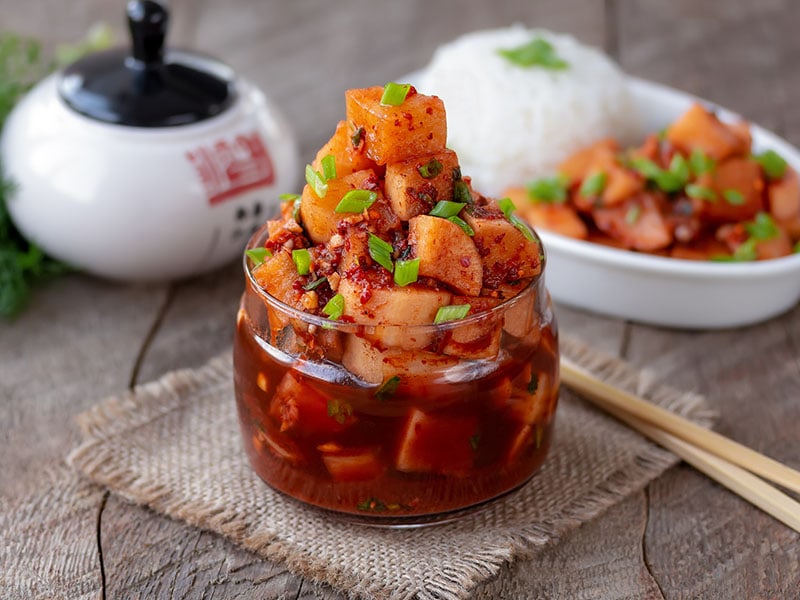 Kkakdugi, or cubed Korean radish kimchi, also results from kimchi fermentation. Therefore, it has a slightly sweet, sour, and spicy taste like kimchi. This side dish is a combination of napa cabbage, radish, garlic, ginger, etc.
To make this flavor, you should cut your vegetables and put them into salt brine, rice vinegar, and sugar. After that, pack them in containers or jars for fermentation. Koreans widely use this type of kimchi in some soups, stews, side dishes, etc.
5. Miso Paste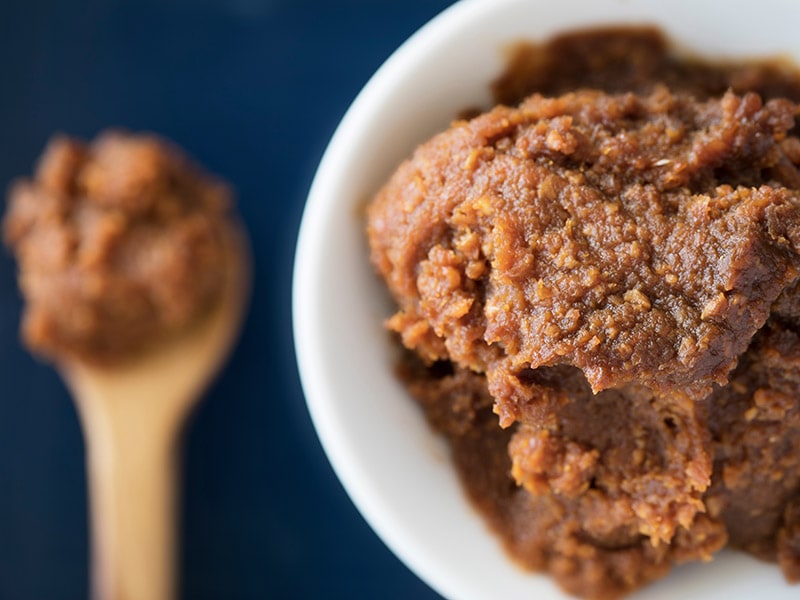 You can easily buy miso paste (a fermented soybean product) in many grocery stores in your neighborhood. This recipe also contains beneficial bacteria and vitamins like kimchi, making it a suitable substitution for kimchi.
The taste of miso paste is tangy and salty due to the inclusion of sugar and vinegar in the recipe. Therefore, you can use miso paste in your meal to improve the food quality.
Different Recipes With Vegan Kimchi You Shouldn't Miss Out
Would you like to make more savory dishes with this healthy kimchi? I will show you three different recipes to serve with kimchi for your choices.
Spend about 10 minutes for the preparation and 10 minutes for the cooking process, and you can enjoy your own Kimchi Tempeh Tacos. It is the combination of the spicy and crunchy kimchi, the signature sweetness of sweet potatoes, and the savory Tempeh Taco 'Meat'.
Do you want to make kimchi tempeh tacos at home?
Here is a great dish for your lunch and dinner. This kimchi-based recipe is very healthy and suitable for vegans. It has easy-to-make instructions, and you need about 10 minutes to cook them.
Do you like kimchi? Do you like red curry almond sauce? Why don't you combine these flavors together and make a mouth-watering dish? You should also add more brown rice, broccoli, and adzuki beans into your dishes.
FAQs
Kimchi is now well-known all around the world since it has fantastic flavor and fundamental health benefits. Therefore, people pay more and more attention to this flavor, and here are some more frequently asked questions about it.
From now on, I strongly believe that you fully understand your vegan kimchi, and you can easily prepare some delicious kimchi dishes for your friends and family. With the step-by-step ingredients included, be confident, and you can make your own ones.
And remember to like and share my post with others since it is a useful article that is appropriate for everyone. If you have any tips during the kimchi-making process, let me know and other people via the comments. I very much appreciate it.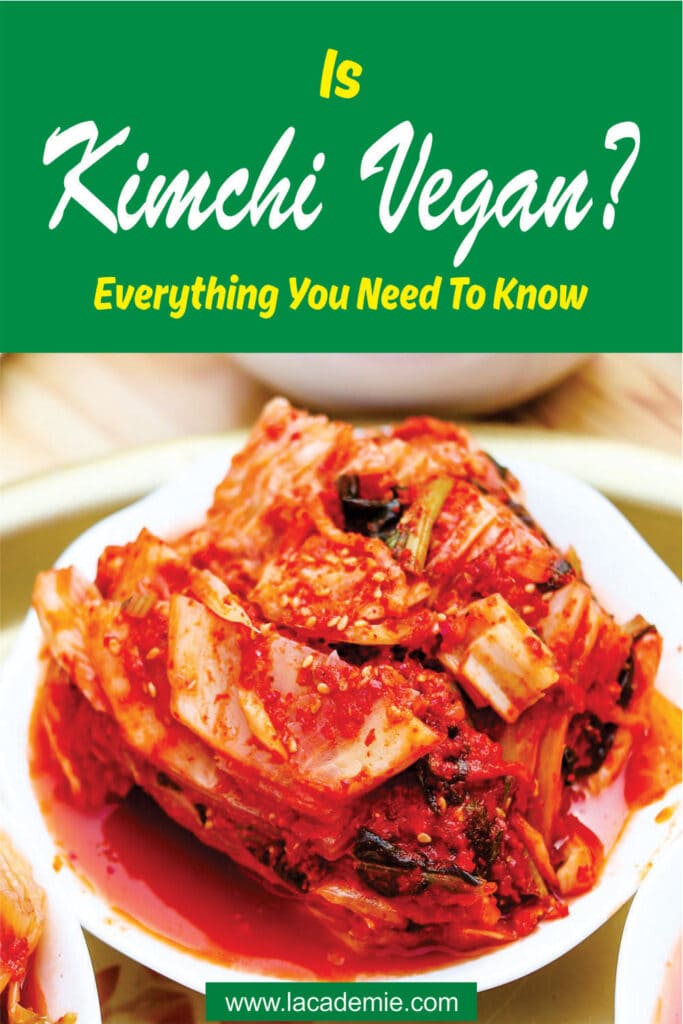 References
Extension.arizona.edu. 2022.
Harvard Health. 2022. Fermented foods can add depth to your diet – Harvard Health.