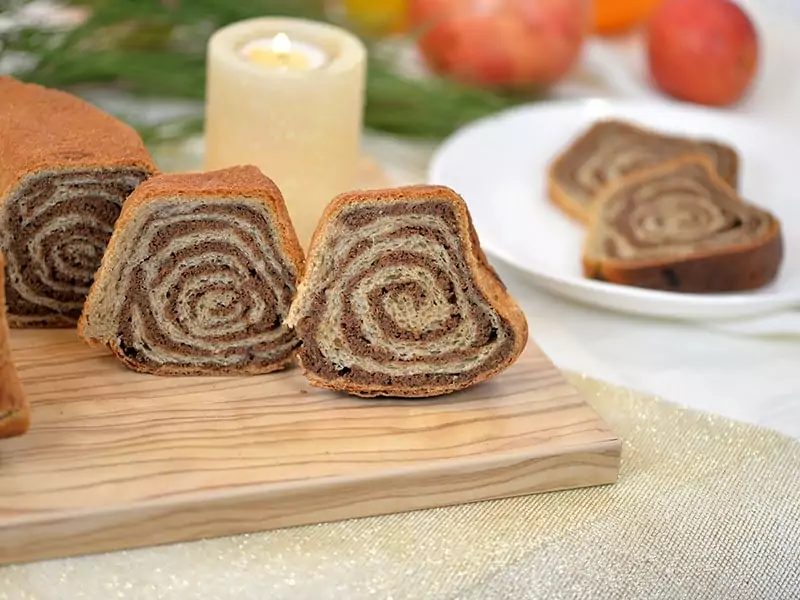 If one day the end of the world comes, I suggest you take some time to try Slovenian foods. They will make the last hours worth your time. But don't wait until disasters strike to realize the appeal of superb Slovenian dishes.
Sitting at the crossroads of multiple cultures, Slovenia enjoys the legacy of diverse cuisine. In addition, its breathtaking landscape, fabulous forests, and majestic mountains leave a mark on its foods. Sit back and stay with me during the journey to discover the allure of Slovenian cuisine.
10 Stunningly Delicious Slovenian Appetizers/ Side Dishes
Read on to find out how delicious the following Slovenian minor dishes are. Just be careful not to overstuff your stomach with them; there are still better things to come.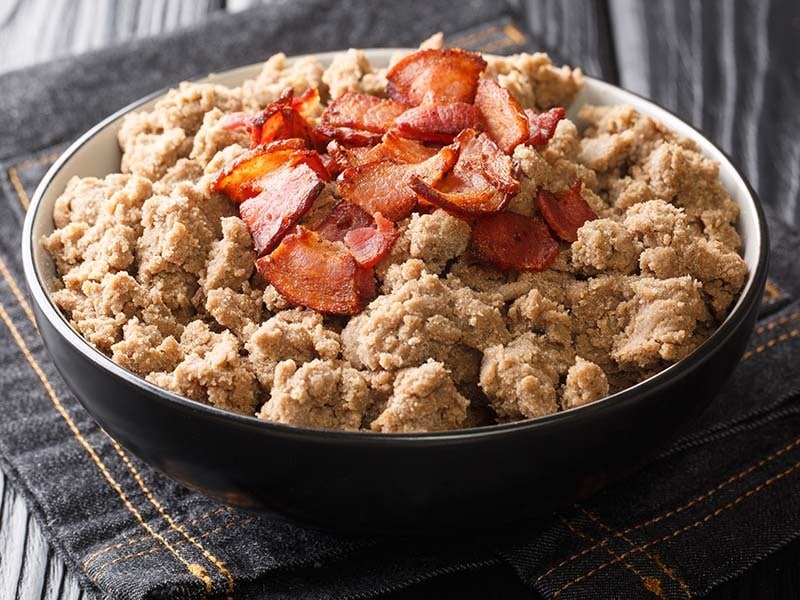 Ajdovi Žganci is among great breakfast dishes in Slovenia. Its name translates into English as "buckwheat spoonbread", but Ajdovi Žganci isn't bread at all. Likewise, its main ingredient is buckwheat which is anything but wheat.
Anyway, Ajdovi Žganci is an all-important starchy dish in Slovenian cuisine. It was formerly the staple food of people too poor to afford real bread. But nowadays, people pair it with all kinds of delicious dishes like salads, sausages, or soups.
Although buckwheat flour is the namesake ingredient for Ajdovi Žganci, it is common to use other things such as true wheat or cornmeal. People boil the flour in water first before toasting it with pork rind. Elevated from rags to riches, the spoonbread is now an icon of the country's cuisine.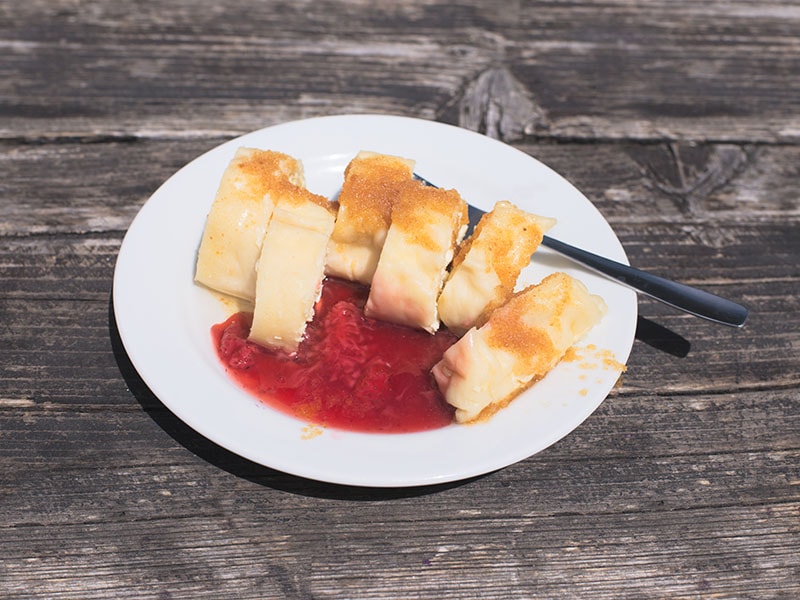 There are many contenders for the title of Slovenia's national dish. But at the end of the day, the most outstanding candidate is Štruklji. It is a traditional Slovenian dish that evolved from a 16th-century monastic recipe into a component of the layman's festive menu in the 17th century.
Štruklji comes in the form of rolls consisting of two parts: dough and filling. The former is made from wheat or buckwheat filo pastry, while the latter is customarily cottage cheese. However, walnut, apple, and poppy seed-stuffed rolls are common, too.
There used to be a time when only special occasions like Christmas allowed Slovenians to enjoy Štruklji. But it is currently an everyday side dish to go with meat and gravy or to relish with buttered breadcrumbs as a dessert.
How much do you know about Štruklji in Ljubljana, Slovenia's capital?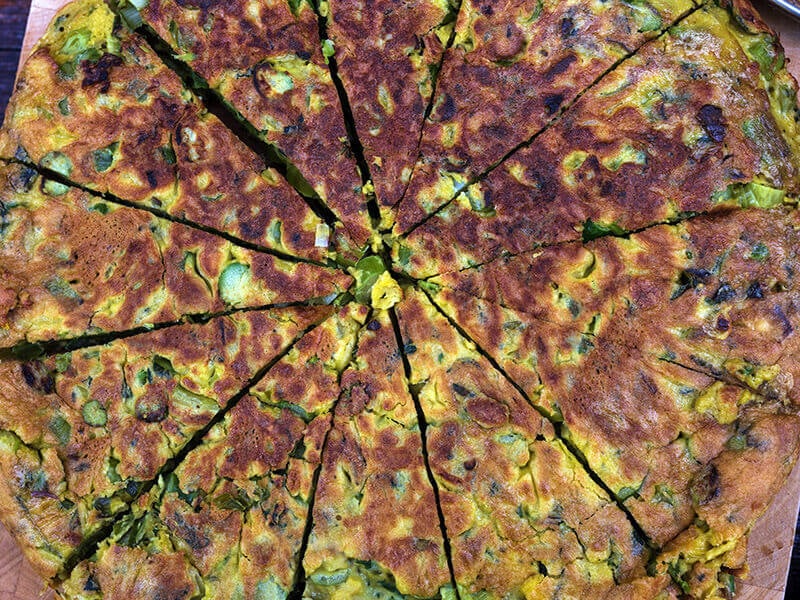 Many people refer to Slovenia as "the Land of Hayracks". In line with that rustic charm, the country offers many exciting dishes from the rural regions. Standing out from the crowd is Frtalja, a half-omelet, half-pancake dish with considerable popularity in western Slovenia.
Because it relies heavily on fresh herbs and greens, Frtalja is more common in the springtime. Almost all Slovenians cook this dish from wild asparagus, young garlic sprouts, fennel, plus mint. Chop everything, then mix with beaten eggs-containing flour before frying them in a pan.
There is nothing wrong with topping Frtalja with bacon chops, sausages, or mushrooms, although the dish is delicious enough on its own. According to a local custom, preparing Frtalja with fennel on May 1st will chase vipers away.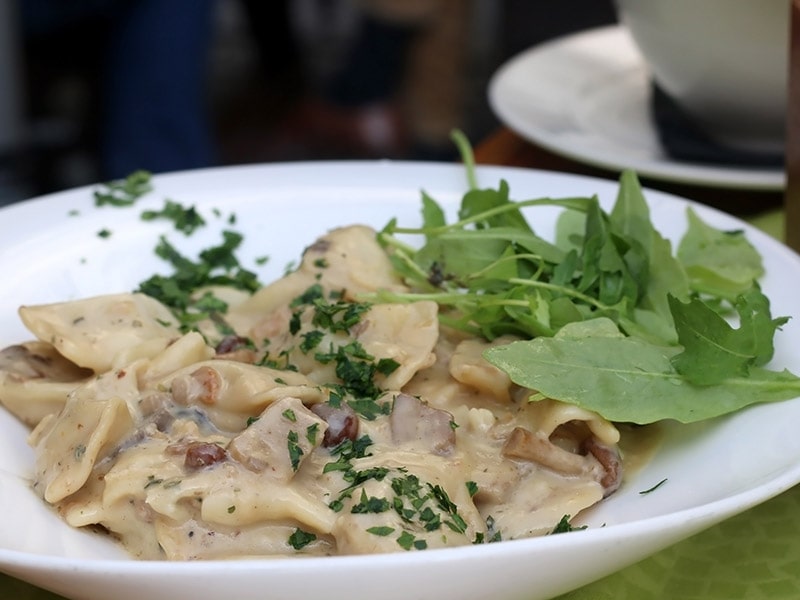 If you think that all dumplings are round, meet the Slovenian version: Idrijski Žlikrofi. The best way to describe its shape is that the dumpling resembles Napoleon's hat. But the French emperor had nothing to do with it; Idrijski Žlikrofi originated from the town of Idrija in western Slovenia.
How exactly the dumpling came about is something of a mystery. A prevalent theory says that the 19th century local miners' wives were responsible for its creation. Now, Idrijski Žlikrofi is one of the most popular dishes and enjoys the EU Traditional Speciality Guaranteed (TSG) status.
Making Idrijski Žlikrofi is chiefly the same as cooking other types of dumplings. The dish's uniqueness lies in the application of cracklings and mutton or rabbit sauce as its condiments. Understandably, you should head to Idrija to relish the best dumplings.
In the town, you will find Idrijski Žlikrofi of the perfect size: 3 centimeters in height and 2 centimeters in length. It may look like Italian Ravioli, but the Slovenian dish has two layers of pasta and is twice as fulfilling.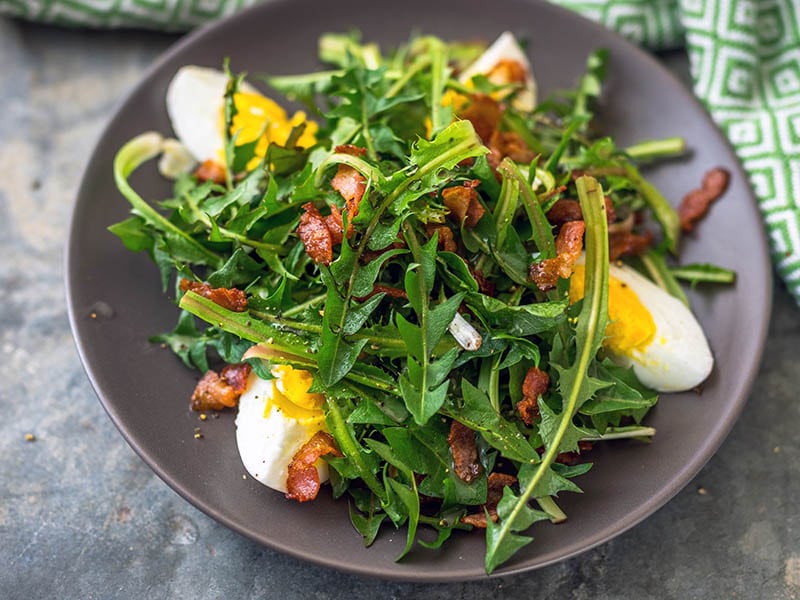 Besides its hope-related symbolism, dandelions make a veggie as delicious as hope. Slovenians recognized this fact long ago and invented Regratova Solata (dandelion salad).
You don't have to make much effort to whip up this simple dish. The main ingredients are boiled potatoes, boiled eggs, and dandelion greens. Dandelion leaves are slightly bitter and peppery, but you can add the sweet-tasting flowers to the salad.
Mix everything with olive oil and red wine vinegar. When the oil's fat essence and the tanginess of vinegar permeate the dandelions, you will have a bowl of mouth-watering salad to whet your appetite appreciably.
Check out how to make Slovenian dandelion salad from start to finish here.
6. Tlačenica – Pressed Pork Sausage
Given the scrumptiousness of Tlačenica, it's no surprise that Slovenians incorporate this Croatian dish into their menu. Also, going by other names like pResvuršt, or Švargl, Tlačenica represents an economical way to use meat and internal organs.
Slovenians make Tlačenica by mixing pork chops, skin, and offal (heart, tongue, cheeks, you name it) with spices. Then, they fill a pig intestine or stomach with the meaty stuff. The final step is to boil the sausage in water.
Tlačenica can be eaten right away with bread and garlic or smoked for long-term preservation. Either way, it will always make an excellent cold appetizer.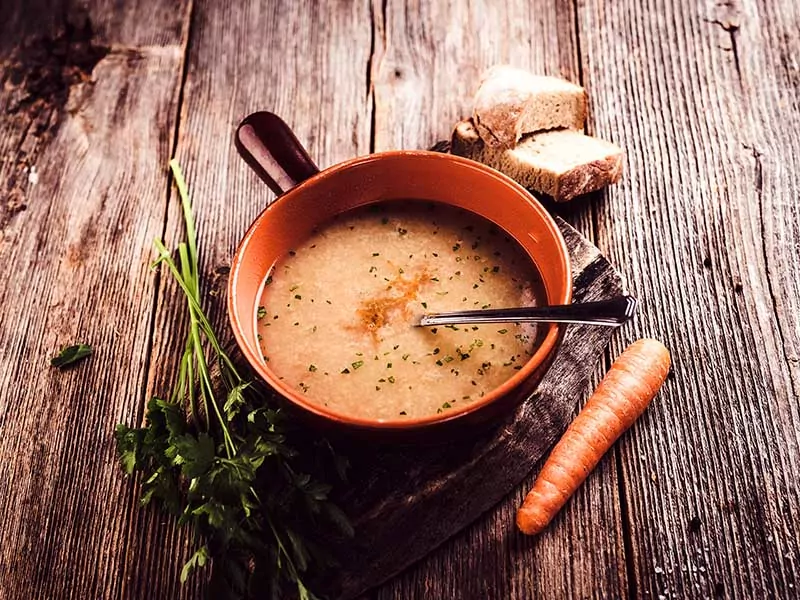 While Slovenia is a small country, its impressive culinary diversity is anything but small. A 2016 report divides into up to 24 gastronomic areas. One of them, the mountainous region of Upper Carniola in northern Slovenia, contributes a delicious soup called Prežganka to the nation.
Despite its simplicity, Prežganka, or "browned soup", can fulfill both your bodily and gastronomic needs. It only calls for flour or bread crumbs to be browned in oil before being mixed with water, beaten eggs, and seasonings.
From a remote area next to steep mountains, Prežganka is now a widely desired dish across Slovenia. The soup is part of the recommended diet for people with digestive problems. It is also a savory and effective cure for hangovers.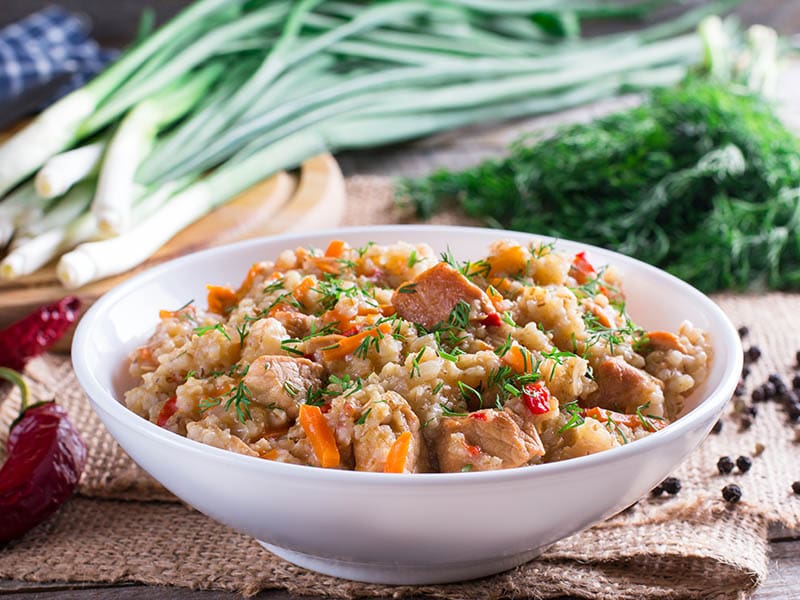 This superb Slovenian dish is a shared culinary property of many Central and Eastern European countries. It sometimes goes by Ješprenj, a Slovenian word for dehulled barley in Slovenia.
As such, you can guess that cereal is the soup's main ingredient. Whipping up Ričet means simmering barley in meat stock with spices, sauteed seasonal veggies, and cured pork (or other kinds of meat).
Ričet is an appealing rural dish especially popular in mountainous areas where hikers gather the shared plates filled with the soup. In the past, it was the typical fare for prisoners. But now, the dish is for free foodies to feel its scrumptiousness.
Dive into this easy guide on how to cook Ričet at home.
9. Kraški Pršut – Karst Dry-Cured Ham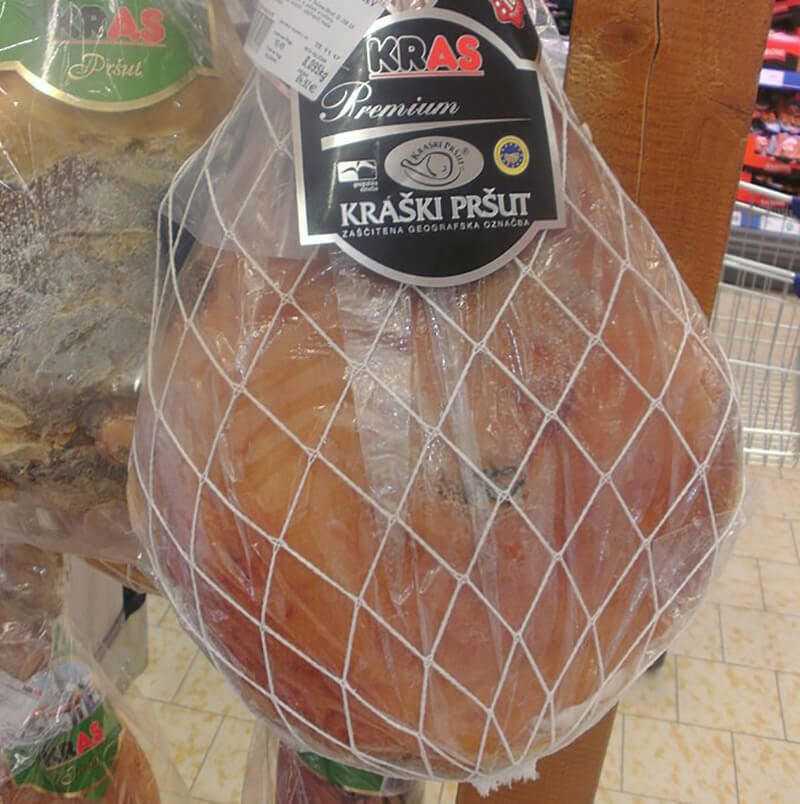 If you are hungry for a piece of premier ham, let's set your sights on Kraški Pršut. It is a specialty from the Karst Plateau in southwestern Slovenia. In addition to the distinct geographical feature named after it, Karst has the reputation of supplying a sublime kind of ham.
Kraški Pršut enjoys the prestigious Protected Geographical Indication ordained by the EU. A technique to endow the ham with its greatly appreciated flavor and texture is the use of coarse sea salt in the process.
You can find Kraški Pršut in any part of Slovenia, but the general advice is to go to the Karst region yourself. You will have a whale of a time enjoying the ham with Teran, the famous local red wine.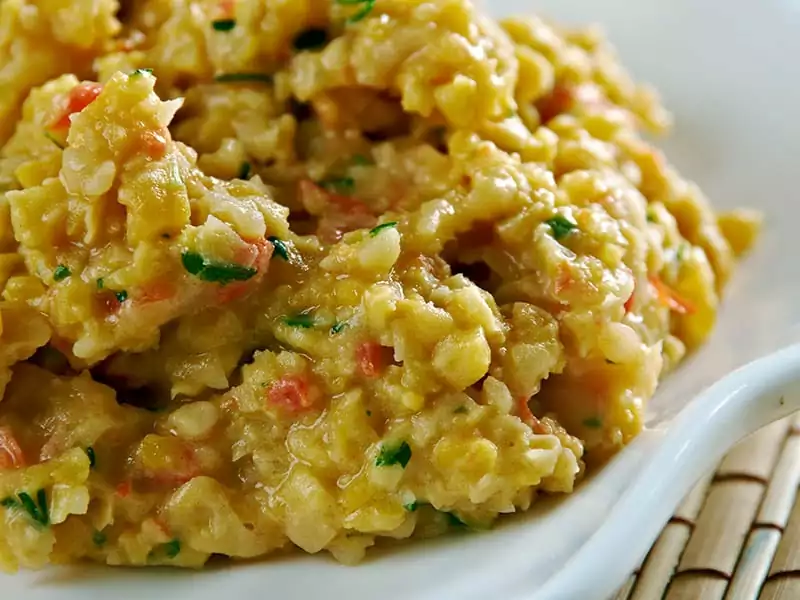 Many Slovenian culinary inventions started as humble dishes but eventually gained a solid footing with people from all walks of life. Matevž, a tasty mixture of mashed beans and potatoes, is one of them. It comes from the Kočevsko region in central Slovenia.
The name Matevž probably has its roots in the popular male name Matej (Mathew). Because Matevž is formerly a dish for the masses, it isn't difficult to cook. All you need to do is to mix cooked beans with buttered potatoes, sour creams, and cracklings and puree the stuff.
Matevž can serve as a versatile side dish with bacon or turnip salad. Alternatively, you can mimic Slovenians in the past by eating it for the main course.
10 Surprisingly Yummy Slovenian Main Dishes
Many Slovenian dishes have a rich taste as well as a high content of nutrients. They will vanquish your humdrum menu, introducing more vim and vigor to your foods.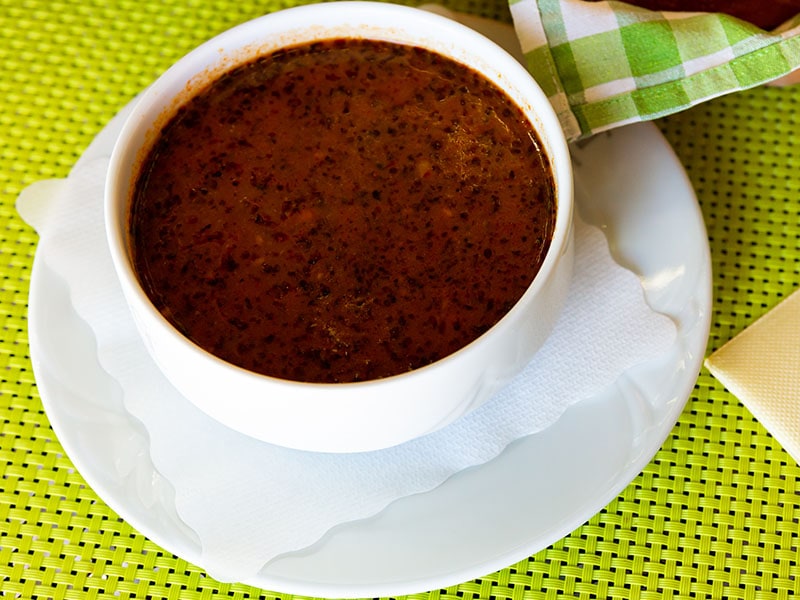 Many Slovenian dishes receive influence from neighboring Hungary. A delicious example of such culinary exchange is Bograč. It is a meat stew that probably drew inspiration from Goulash, a similar Hungarian dish.
Bograč calls for a variety of meat: beef, pork, and venison. Along with the meat is a large quantity of mushrooms, onions, potatoes, and spices. The rule is to cook the stew outside over an open fire in a traditional cooking pot called Bogracs, hence the name Bograč.
In August, you can watch a wonderful local competition called Bogračfest. The main activity is to find out the best Bograč cook, allowing you to experience superb samples. On top of that, you can taste other traditional Slovenian specialties, for example, Lendava pretzels and local wine.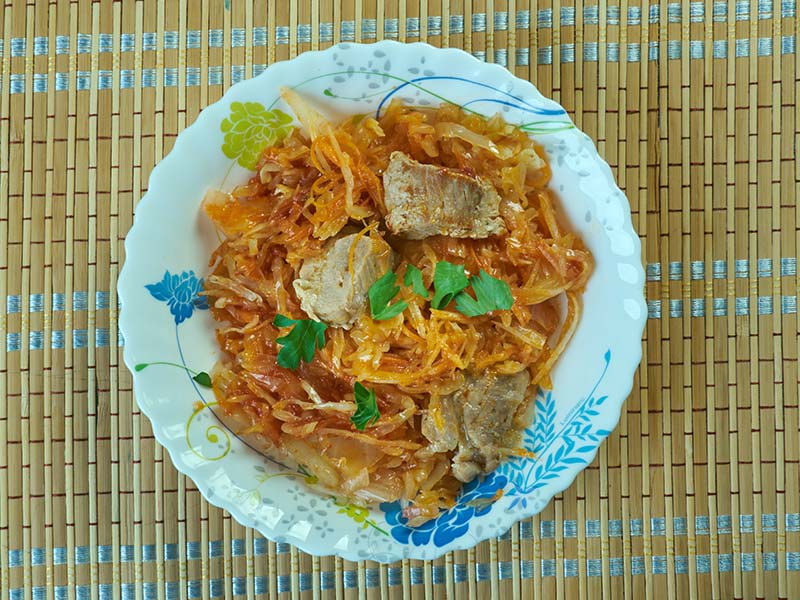 The list of best Slovenian dishes for lunch can't be complete without Bujta Repa. The name may cause some alarm: "Repa" means "turnip" while Bujta is "kill" or "slaughter"! Actually, the latter refers to the fact that locals gather ingredients from slaughterhouses to cook it.
Bujta Repa is a hot stew of grated pickled turnip, spices, and various pig parts such as head, skin, or neck. Additionally, boiled beans along with a lot of lard are also necessary for the stew to achieve its fatty, wintertime-enduring reputation. People usually serve it with millet.
High-quality Bujta Repa in times past shouldn't have any steam. It also had to be cold and greasy. Needless to say, that practice is long obsolete.
Slovenians in Prekmurje, the northeastern region, first came up with the dish as a way to survive winter. Today, some vegetarian recipes replace fatty, meaty ingredients with wholesome plant-based stuff. Anyway, the stew is still a wonderful option to spend your winter.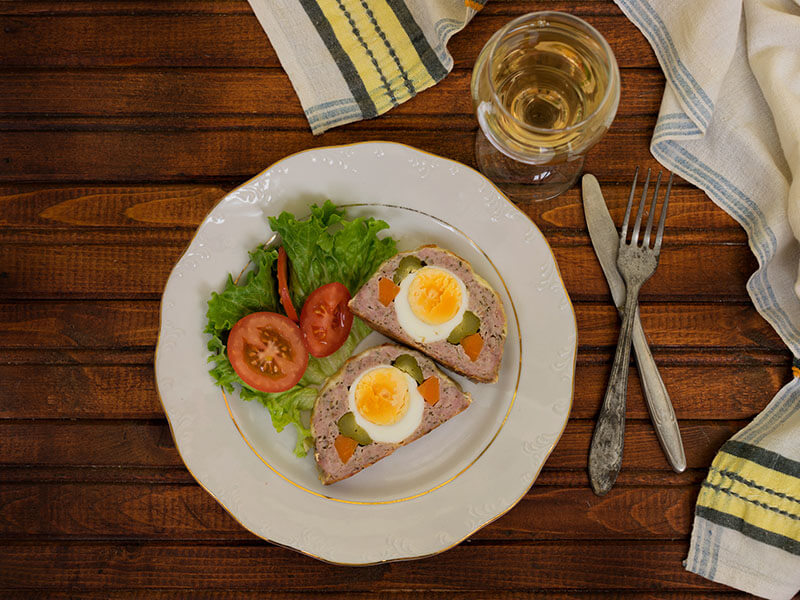 Meatloaf is an integral part of many nations' cuisine, and so is the case with Slovenia. Its version is called Štefani Pečenka ("Stephanie roast"). The dish is a common sight at feasts for special occasions, such as Christmas and New Year's Eve.
Štefani Pečenka includes minced meat (pork or beef), spices, and most importantly, hard-cooked eggs stuffed inside the loaf. Chefs have to position the eggs carefully so that when they cut the savory meatloaf after baking it, every slice contains a piece of creamy eggs.
Slovenian meatloaf is a hearty and nutritious food to pair with roasted potatoes which are the most common choice for accompaniment. Don't forget to douse the mouth-watering slices of meatloaf in fatty meat gravy for extra richness.
You can make a perfect Slovenian meatloaf at home by following this recipe.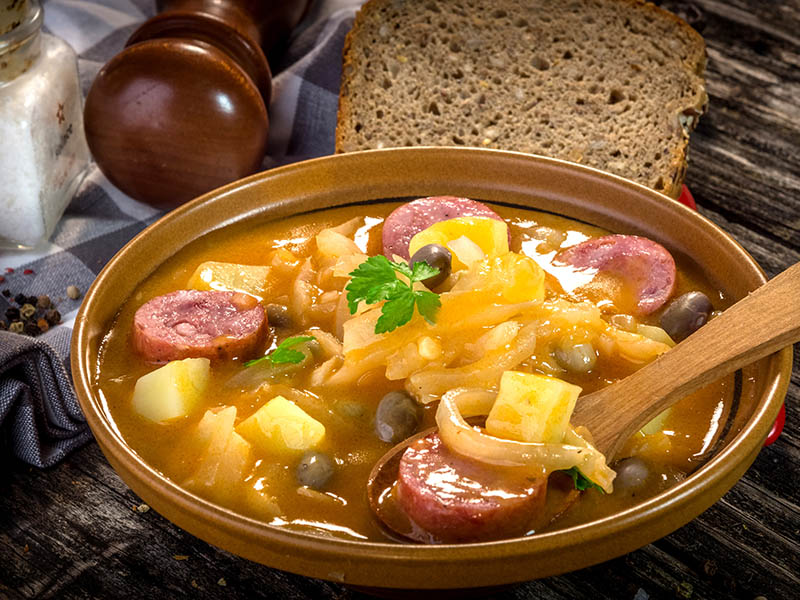 As hills and mountains dominate Slovenia's geography, the country's cuisine has a mountaineering element. An example is a resourcefulness to turn any locally available ingredients into great food, like the toothsome dish of Jota (or Istrian stew).
It is a popular soup-stew hybrid, with many variations across Slovenia. But Slovene Istria in southwestern Slovenia is the cradle of perfect Jota. Anyway, having a long shelf life, the dish provides locals with a great source of energy during winter.
In addition to Slovenia, Jota is also a famous dish in Croatia and Italy.
Classic Jota consists of boiled sour turnip, mashed potatoes, mashed beans, and cured pork (optional). It usually goes with boiled cornmeal. The combination sounds simple, but it creates a mouth-watering stew that, on a cold winter day, you can't help begging for more.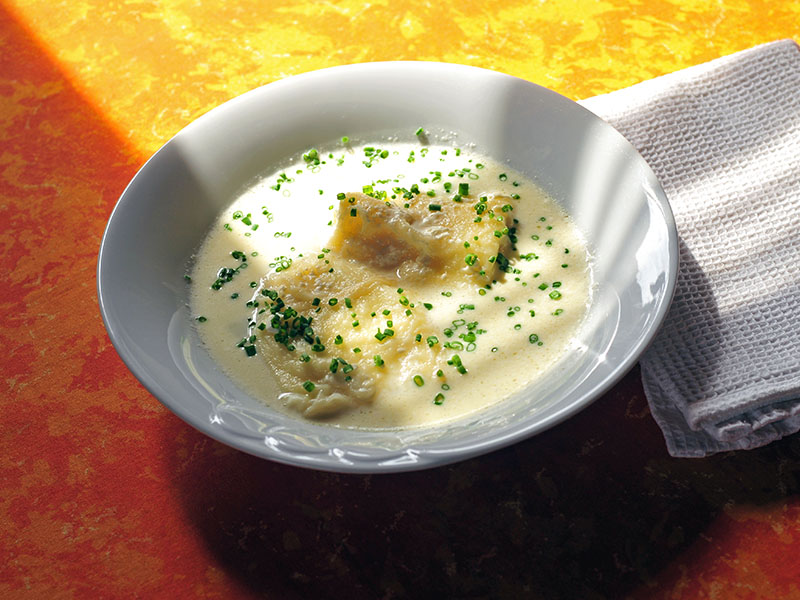 The Lower Styria region in northeastern Slovenia introduces to the national cuisine an easy way to make dumplings sexy. This is the birthplace of Štrukljeva Juha and a happy hunting ground for those wishing to experience Slovenian dumpling soup.
The most important part of the dish is its dumplings made from strudel dough, eggs, and cottage cheese. The last one is important because it will leak and thicken the soup when cooked. Don't forget to pair Štrukljeva Juha with slightly dry wine that brings out the dumplings' richness.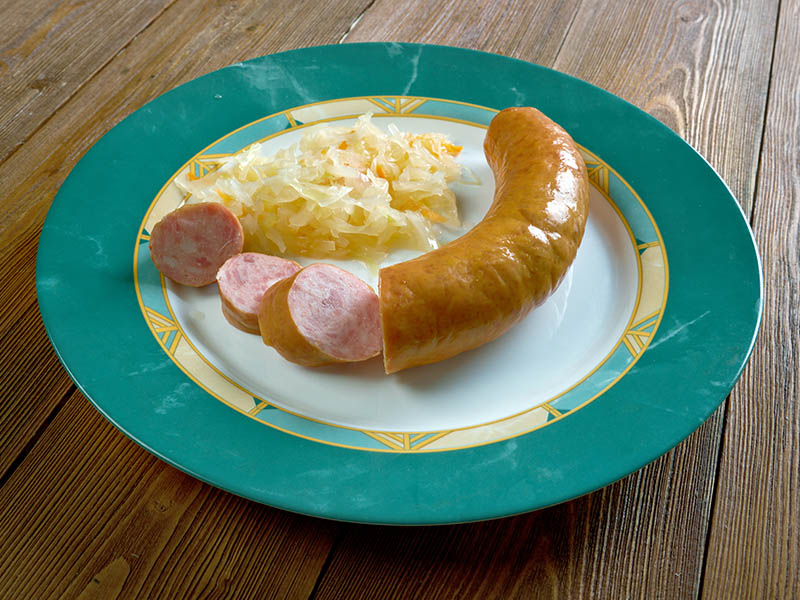 When it comes to culinary value, the Carniola region in western Slovenia is probably among the most influential contributors. It gives the whole country a recipe of immense international renown: Kranjska Klobasa, also known as Carniolan sausage.
What is so special about this iconic kind of sausage is its complicated makeup. Unlike other simple counterparts, Kranjska Klobasa requires a specific pork:bacon ratio (in some cases, 80% and 20%, respectively). Except for a few selected spices, nothing else is allowed.
This sausage has a distinct flavor that has won over the hearts of countless foodies. In 2006, it went to space with astronauts of Slovenian descent! And ten years later, Kranjska Klobasa received the prestigious Protected Geographical Indication (PGI) status from the EU.
See how Kranjska Klobasa passes the tasting test here.
17. Mežerli – Traditional Offal Dish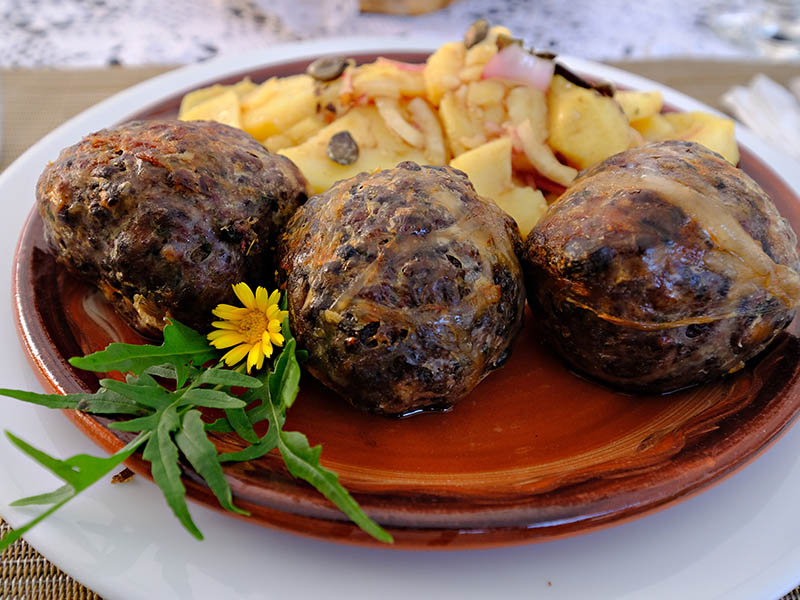 This one may not win the title of the prettiest Slovenian dish, but it is certainly the most impressive. Mežerli is made from bread, spices, eggs, and various offal parts (such as lungs or hearts). Mash them, knead the stuff into balls, bake them, and you have this exotic dish.
Many people identify Mežerli with the rocky Koroška region in northern Slovenia. It is a creation of an age of scarcity when nothing from pig or lamb slaughter should go to waste. At present, the Mežerli still exists as a thought-provoking dish to go with bread or mashed potatoes.
Tourists visiting farms and old inns in the region can have an opportunity to experience the exciting Mežerli. If you are one of them, don't turn it down.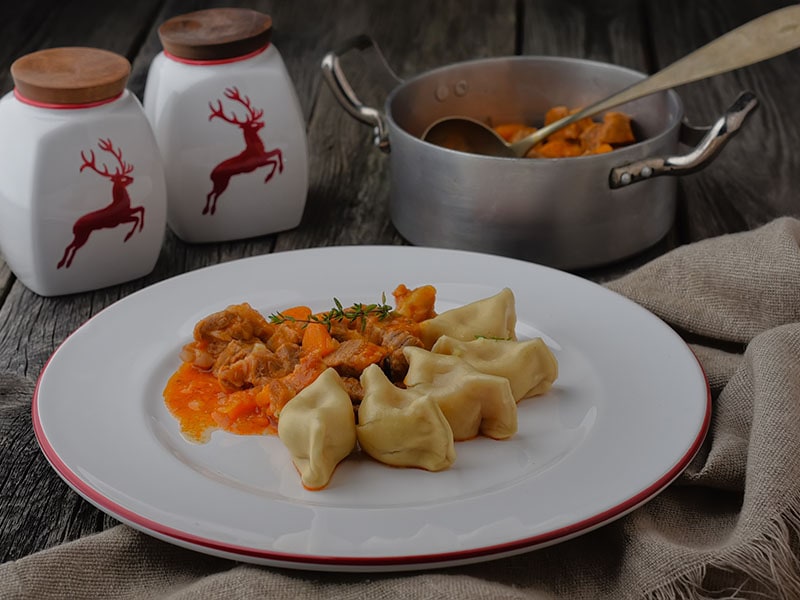 This stew is a delectable evening meal in Slovenia for busy bees seeking a way to recharge quickly after a hard day. When you wolf down this traditional dish, don't forget to thank the people of Idrija in western Slovenia for coming up with it.
Bakalca is both packed with flavor and nutrients. Its richness is due to a large amount of mutton, onions, olive oil, herbs, etc. Everything is cooked until well-infused with each other's essence of taste.
The term "Bakalca" means something like "to kill a wether (castrated lamb)", highlighting the main ingredient, though you can easily find beef-based Bakalca out there. Idrijski Žlikrofi, a special type of pasta dumpling also from Idrija, is the best thing to go with this stew.
Check out how the people of Idrija serve Bakalca with Idrijski Žlikrofi here.
Back in the pre-industrial days, people usually reserved meaty dishes for special occasions and holidays. Obara, a traditional Slovenian stew, was no exception. However, the modern age of plenty allows people to eat that dish freely on an everyday basis as well as innovate the recipe.
Obara usually has meat cuts, offal parts (nothing is wasted), any available veggie, and beans. Several restaurants even offer Polšja Obara, a variety made from edible dormouse! It is actually a delicacy that you should try (if you are a man and not a mouse).
It is difficult to pinpoint the exact place of origin for Obara. You can order it from just anywhere around the country. The best food to go with it is Slovenia's national "bread" Ajdovi Žganci.
20. Pasulj – White Bean Stew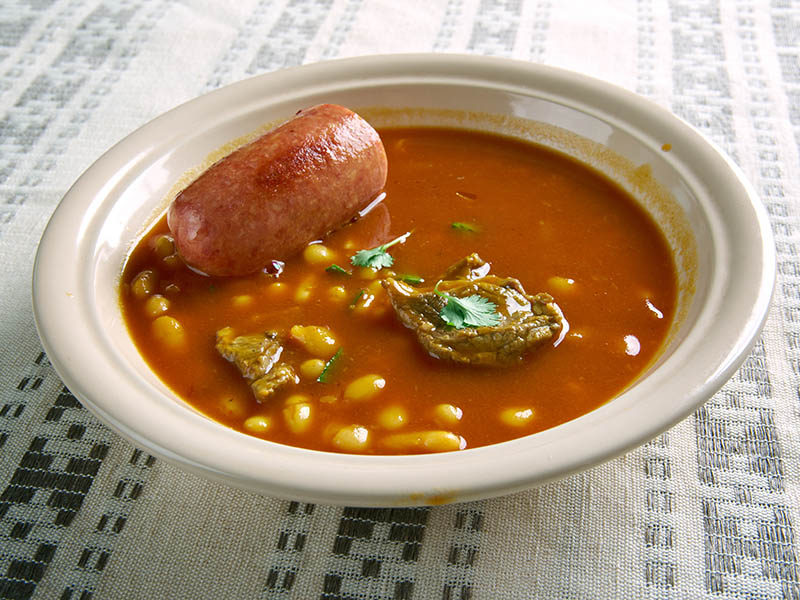 Due to the proximity and shared history in the former Yugoslavia, Slovenia welcomes many culinary inventions from the Balkans. That's how Pasulj, a savory Balkan stew, found its way to the country's repertoire of good food.
One reason why Pasulj strikes a harmonious chord with Slovenians is probably its nature as a winter survival food. The stew is rich yet easy to cook. You just need to stew white beans with vegetables, spices, and ham (optional) for a dish full of calories.
Starting as a classic Serbian dish, Pasulj is now proudly a mainstay of Slovenian cuisine. Many people even forget its original status as a peasant's food.
7 Amazing Slovenian Desserts For Your Sweet Tooth
You may not know it, but Slovenia is something of a dessert powerhouse in Europe. Just pay a visit to its innumerable bakeries and candy shops. You will come home loaded with goods.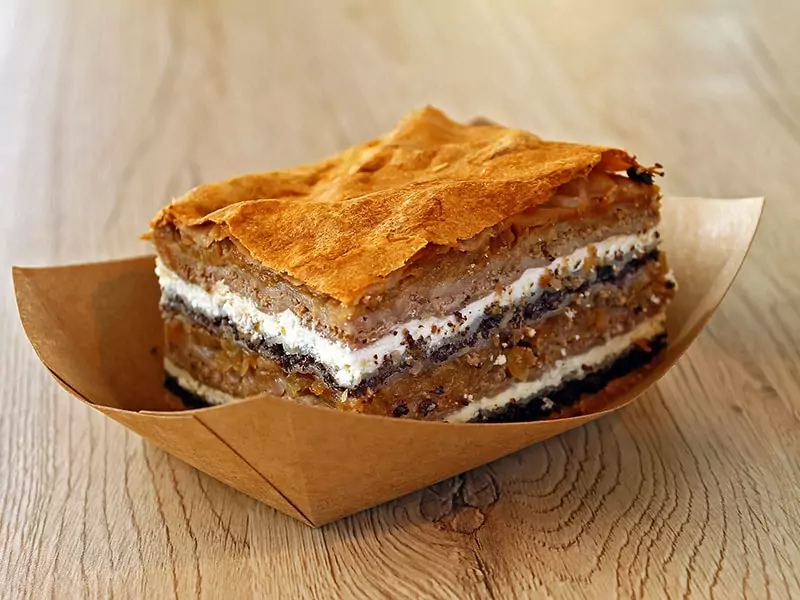 Gibanica, or layered pastry in the Slovenian language, is an art in this Central European country. There are various types of delicious cakes to attract and ensnare sweet lovers like Hansel and Gretel. Let's look at Prekmurska Gibanica, a prime example of Slovenian charm.
This mouth-watering European sweet treat comes from the region of Prekmurje in northeastern Slovenia, hence the name. A regional dessert at first, it quickly gained popularity in the country, continent, and the world.
The cake usually consists of filo dough, sour cream topping, and various choices of fillings.
In 2010, Prekmurska Gibanica achieved the distinguished Traditional Speciality Guaranteed (TSG) and has been under EU protection ever since. It is a must-have at major celebrations. For example, a Slovenian wedding is incomplete without it.
It is a great joy to taste Prekmurska Gibanica in Ljubljana.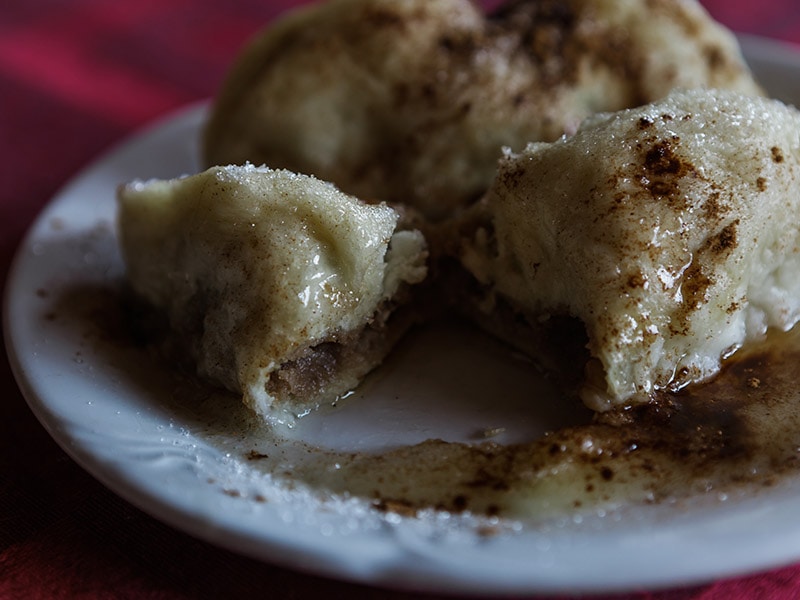 Anyone with a passion for reading knows about Kobarid, an area featured in Ernest Hemingway's classic 1929 "A Farewell to Arms". But Kobarid has a more wholesome, less war-focused reputation as the birthplace of Slovenia's delicious Kobariški Štruklji.
It is a type of sweet dumpling with a thin layer of dough unwrapping a filling of walnuts, raisins, or lemon zest. Before cooking the dumplings in salted water, people have to form the dumplings' shape by pressing the middle of each with their finger, thus "signing" their fingerprints on them.
You should always serve Kobariški Štruklji warm and wet. Take them out of the pot, drizzle sweet syrup over them, and probably add some powdered cinnamon and sugar. Your dumplings are good to go!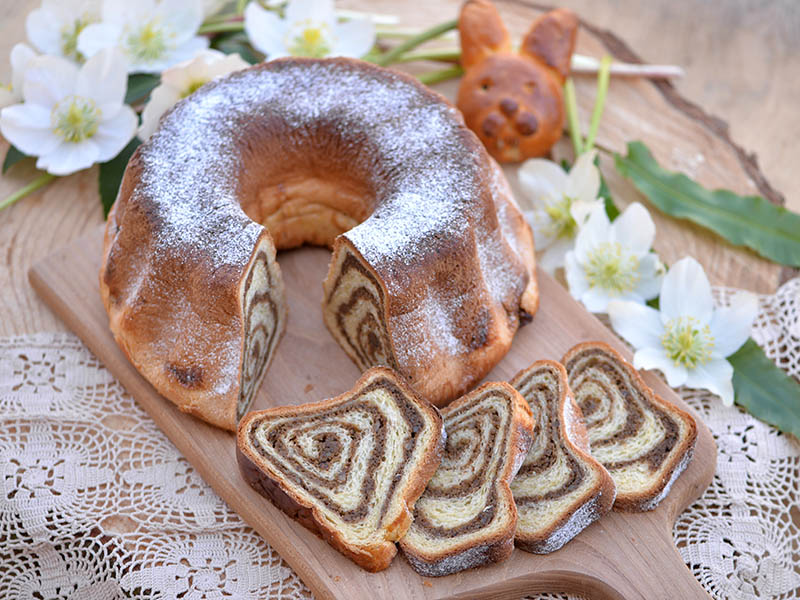 If you are wondering what is the best among the tastiest dessert in Slovenia, resolve your doubt with a bite of Potica. It is an iconic festive pastry whose first recipe appeared as early as the 15th century.
Potica derives its appeal from a flaky crust of paper-thin dough covering a toothsome filling. While ground walnut-filled Potica is the most popular, there are about one hundred more choices of fillings. You can choose from pumpkin seeds, bacon, or tarragon.
Making this nut roll requires a special baking mold to create distinct, mosaic-like patterns on each slice of Potica. There is no doubt that the beautiful cake is an attractive addition to all party tables. It also possesses the useful EU-approved TSG status.
Turn on your oven and make Potica at home with this grandpa's recipe.
Ajdnek is a dessert true to the rustic root of Slovenian cuisine. It is a beloved sight at festive occasions in the Upper Savinja Valley located in northern Slovenia.
The bread dough consists of yeast-raised buckwheat and wheat dough. But the part that makes Ajdnek impressive is its sweet filling of ground walnut made more tempting by honey and spices. Despite its lack of sophistication, Ajdnek is more than enough to steal your heart.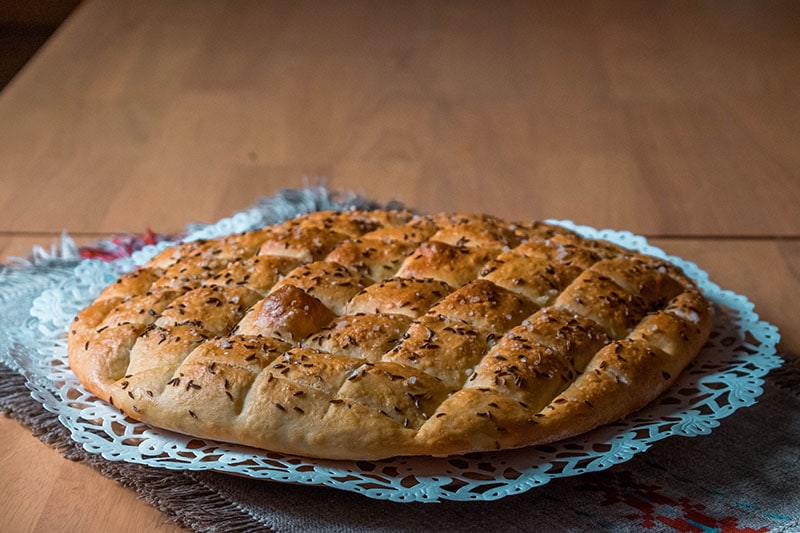 This is another TSG-registered dessert from Slovenia. It comes from the White Carniola region in southeastern Slovenian, possibly brought here by Balkan immigrants hundreds of years ago. The land is known as Bela Krajina in the native tongue, hence the name of the bread.
Belokranjska Pogača is a simple flatbread made from basic ingredients such as yeast-raised flour, sugar, and beaten eggs to coat the exterior. The bread has a grid-like surface with multiple angled lines. You should break your aromatic baked flatbread along those lines rather than cut it.
In the past, Slovenian mothers usually baked Belokranjska Pogača for their small children while waiting for the normal bread to be done. Today, Slovenian hosts welcome their guests with it.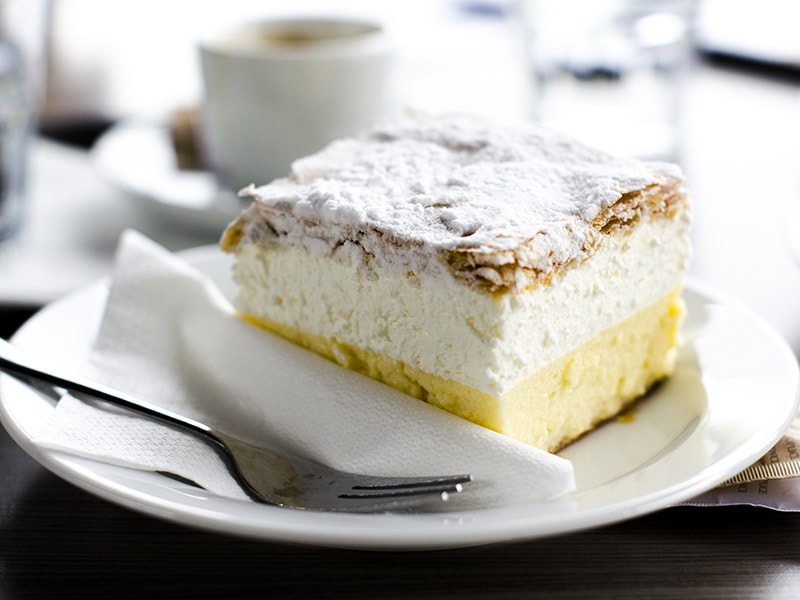 After enduring Ottoman rule, Slovenia became a dominion of another empire: the Austro – Hungarian Monarchy. This led to the introduction of many savory Central European dishes, such as the sweet cream dessert Cremeschnitte.
Apart from Slovenia, Cremeschnitte is a popular sweet course in Croatia, Poland, Austria, etc. Its Slovenian version is known as Kremna Rezina.
The best variety is to be found in the scenic alpine town of Bled in the northern region. This is the cradle of the modern Kremna Rezina. In the mid-20th century, a local chef expanded on the existing cream cake recipes to standardize the making of this delightful, lighter-than-air dessert.
Kremna Rezina consists of a crisp puff pastry base that bakers top with vanilla custard, whipped cream, and sugar icing. It is a much sought-after specialty of Bled, usually served in a seven-by-seven centimeter square. Many people call it Blejska Kremšnita in honor of the town.
Let's see what is so special about the making process of Kremna Rezina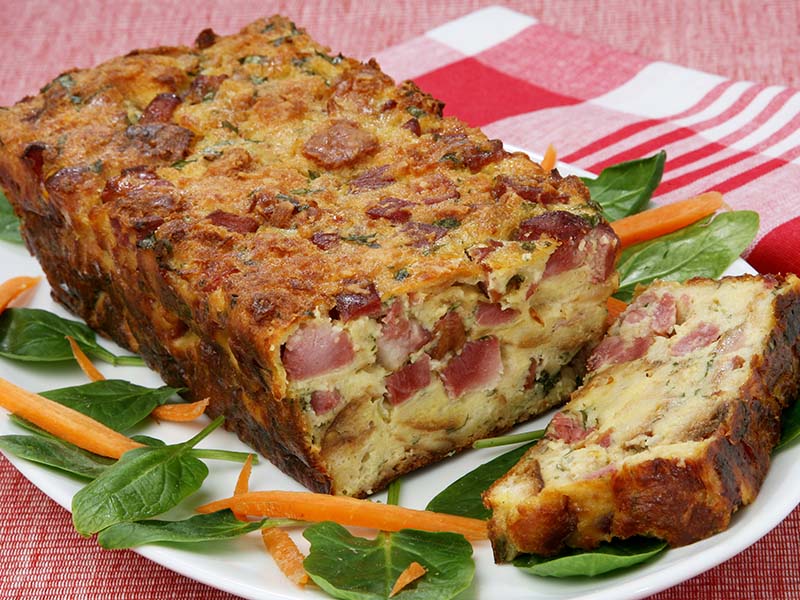 Also known as Prata or Budl, Gorenjska Prata is what many Slovenians have in mind when they cook after Easter. The term "Gorenjska" is Slovenian for Upper Carniola, a region famous for the national soup Prežganka.
The best thing about this bread pudding-like dish is its economy since Gorenjska Prata uses leftover bread and ham from Easter. Slice them into small cubes, which are sauteed with a milk-onion mixture. The next step before baking is to form the mix into a loaf.
Gorenjska Prata is full of flavor and calories. It is a deliciously efficient way to use up what's left of a hearty, lavish Easter meal. But don't wait for the holiday to cook the dish: The locals surely enjoy it whenever they want.
Savor The Essence Of The Mountains And Forests
By some estimation, 90% of Slovenian terrain is 200 meters above sea level, and more than half of the land is covered by forests. Therefore, it's fair to say that Slovenian foods reflect an untamed, imaginative spirit of being close to nature.
They also come with a gentle touch of rustic and Eastern charm. Munching on some Štruklji or a sip of Bakalca, you can soak up the best of the richness and freshness that Slovenian cuisine has to offer. Besides the country's breathtaking landscape, its foods deserve discovery as well.
That's all I have to share with you. Your thoughts described in the comment section will be a great source of encouragement for me. Please share the post with your friends as well as loved ones if you find it useful. Have a good day!