Latvian foods carry the memories and experiences of a northern country sheltered by the Baltic Sea. Using little to no spice, they rely on the freshness of highly seasonal produces for an authentic, down-to-earth flavor.
Due to the long wintertime, Latvian cuisine makes extensive use of meat, fish, dairy products, and starchy staples. Don't let this trend fool you into thinking its foods as dull and fatty. This article will shed light on the delicious dishes of Latvia that will astonish you.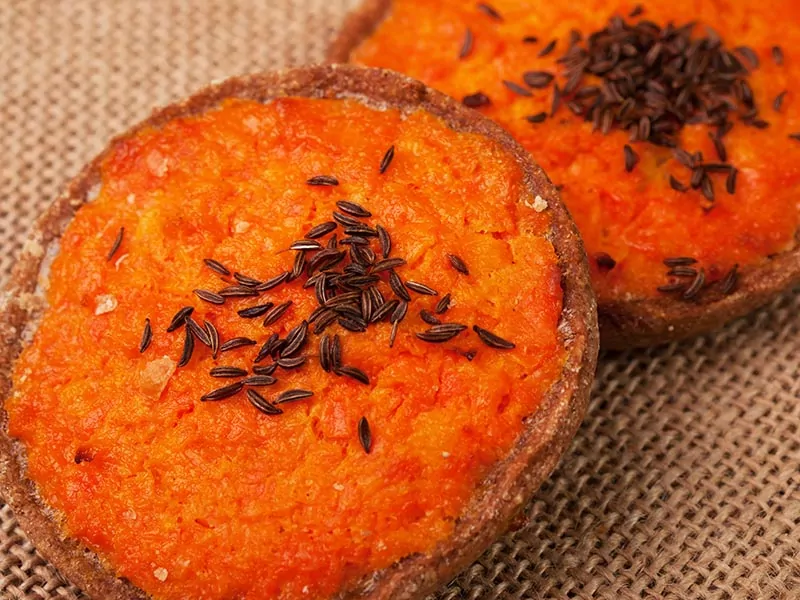 7 Wonderful Latvian Appetizers/ Side Dishes To Start Your Meal
Rye bread is the byword for Latvian side dishes, while potato salad is an immensely prevalent appetizer. In addition to those two, there are other dishes good for commencing or improving a Latvian meal.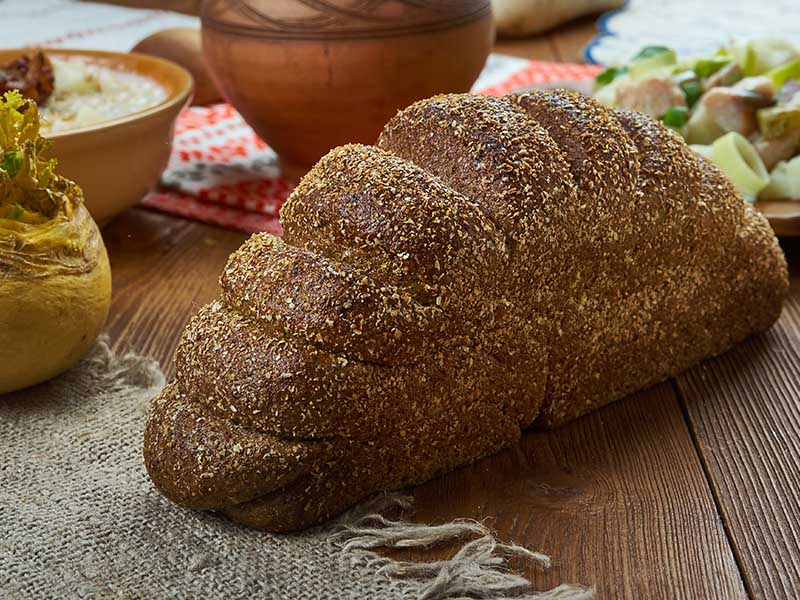 What is your bread made from? Is run-of-the-mill wheat flour the main ingredient? In Latvia, the most popular type of bread is Rupjmaize (rye bread) which contains more nutrients.
Just to be clear, rye bread is the staple food of many Baltic and Eastern European nations. But Rupjmaize is different from the rest in terms of ingredients. Besides rye flour, it contains malt and caraway seeds, giving it a gently sweet and sour taste alongside a grassy aroma.
There are two varieties of rye bread: the regular type and flat rye bread. The difference depends on the manipulation of the water temperature during the dough kneading process.
Latvians eat Rupjmaize with all kinds of dishes, for example, cheese, smoked fish, or cold meat. Its upgraded version made from partly sweetened rye flour, Salinātā Rudzu Rupjmaizem, is one of the EU-registered Traditional Speciality Guaranteed (TSG) dishes.
Rupjmaize is more important to Latvian social life than you can imagine.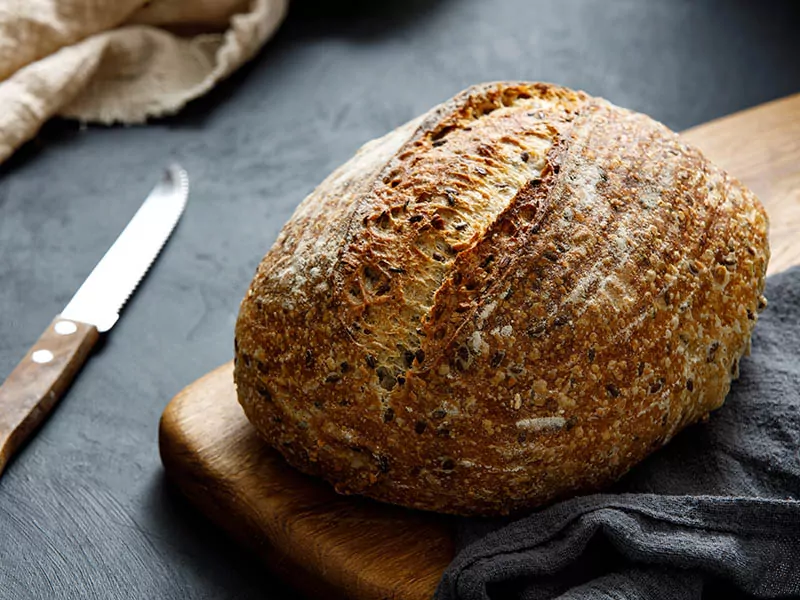 Many Latvian breakfast recipes are incomplete without sourdough bread. In addition to Rupjmaize, it earns an important position in the country's imagination. Say hello to the delicious Saldskaaba Maize.
To make this sourdough bread, people use flour, sourdough starter, caraway seeds, and especially apple cider. The last ingredient is vital in imparting the characteristic sweetness and tanginess to the loaf.
After the bread is out of the oven, you can top it with almost anything, from jams to cheese and ham. Bite it hot with some ice cream for a quick yet tasty meal.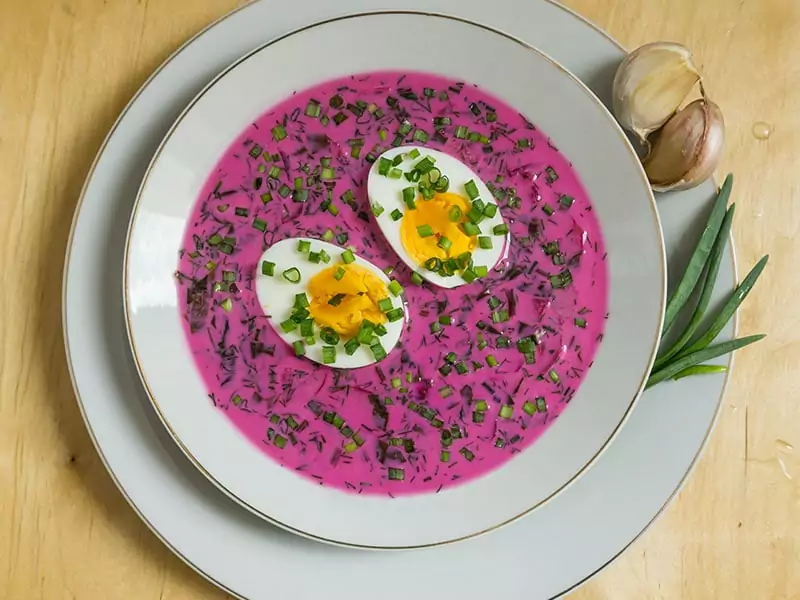 The name only means "cold soup" in Latvian. But since beets are the main ingredient, it is acceptable to call it a beet soup. Aukstā Zupa is strongly similar to Lithuania's Šaltibarščiai and Slavic Borscht.
The soup consists of cooked beets, fresh herbs, and various chopped vegetables. But the defining component of Aukstā Zupa is the creamy and sharp-tasting kefir (fermented milk). After being cooked, the soup needs to be chilled carefully to reach an exceptional degree of thickness.
Top the surface with halved boiled eggs when you serve it. The white and yellow eggs are spectacularly pretty against the magically purple background of the soup. Aukstā Zupa is an immensely popular dish in the summertime when people need to cool off.
Making Latvian cold beet soup will get easier with this tutorial.
4. Rasols – Potato Salad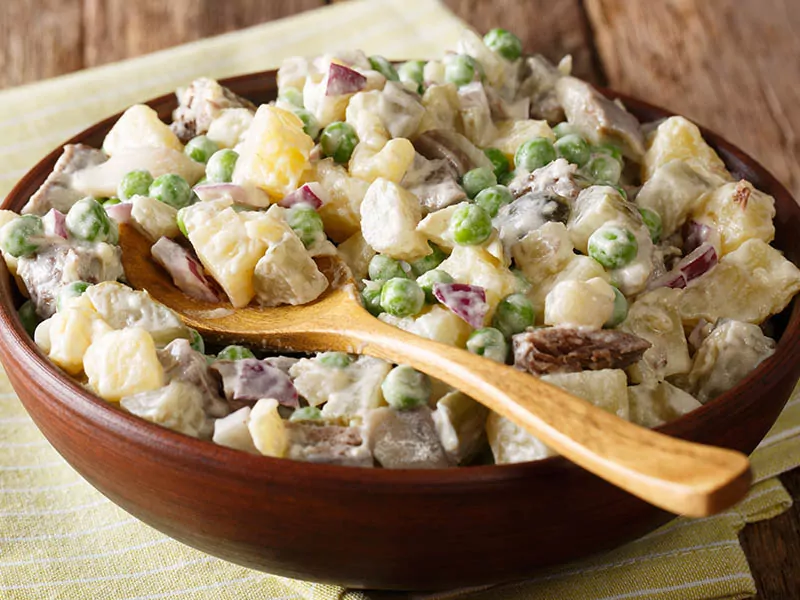 The Latvian potato salad has a long history. In the 1860s. Lucien Olivier, a renowned Belgian chef, invented a finger-licking salad named after him. After World War II, the recipe spread to Latvia where locals used it to modify their salad into the present form of Rasols.
Before the arrival of Russian influence, typical Rasols usually had potatoes, beets, herring, eggs, and veggies. Nowadays, the list of ingredients can be longer, with the addition of meat, sausage, and, last but not least, mayonnaise.
Regardless of the change, Rasols is always a hunger-provoking appetizer. Starting your meal with it is an excellent way to experience Latvian cuisine.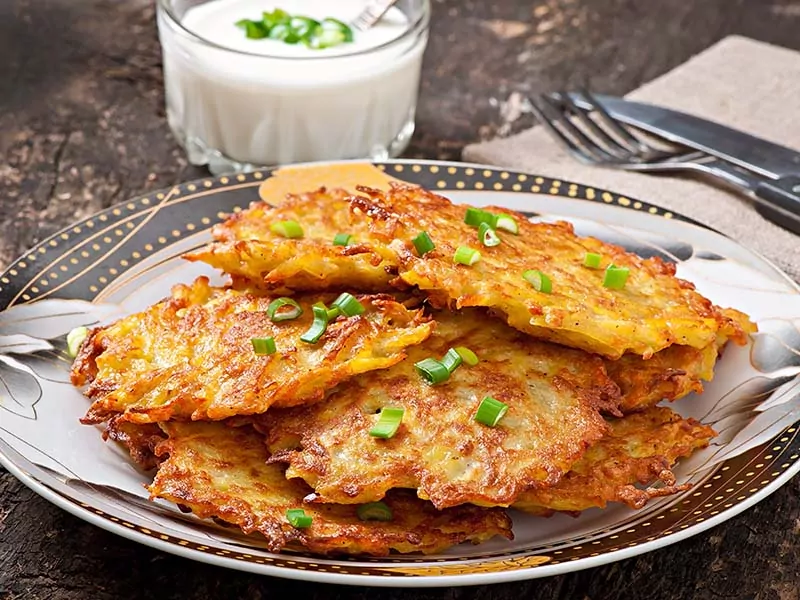 When the Duke of Courland Jacob Kettler brought potatoes to Latvia in 1673, he changed local agriculture forever. Fast forward a few countries, the starchy vegetable became a mainstay of Latvian recipes, present in many well-liked dishes. Kartupeļu Pankūkas is such an example.
In essence, it is an unsophisticated potato pancake dish. People simply mix grated potatoes with seasonings and fry the dough until crisp and golden. There is nothing fancy about them, and yet those pancakes paired with bacon or cheese have charmed countless generations of Latvians.
Another intriguing thing about Kartupeļu Pankūkas is its suitability to accompany expensive foods, such as Latvian sprats and caviar. The mixture of rustic simplicity and lavish luxury is staggeringly flavorsome.
Check out this amazing guide for making Latvian potato pancakes at home.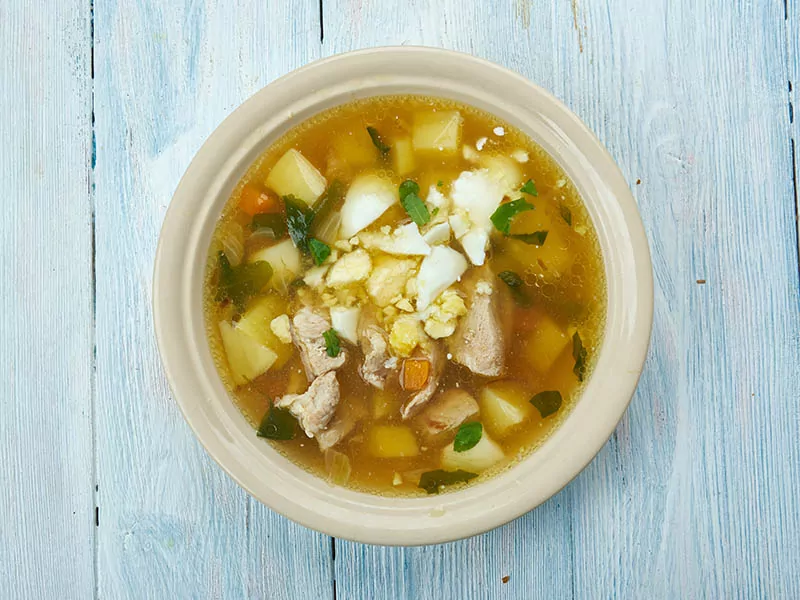 Who can say no to a pot of hot soup? Especially when it comes in the form of tangy sorrel soup (or green Borscht), which is a cornerstone in the menu of many Eastern and Northern European countries. The Latvian version, Skābeņu Zupa, will make your mouth water with its smell alone.
Besides sorrel leaves and broth, the soup also includes barley, onions, and potatoes. Fresh veggies like beetroots and dandelions sometimes make an appearance. For garnishes, there is no way that you can leave out halved hard-boiled eggs and especially a dollop of sour cream.
Skābeņu Zupa is a fantastic dish for any time of the year. A hot pot will warm your heart in the cold winter, while Skābeņu Zupa chilled with ice is nothing but pure summer pleasure. Let the pleasant sourness of the soup, followed by sweet cream, refresh your appetite.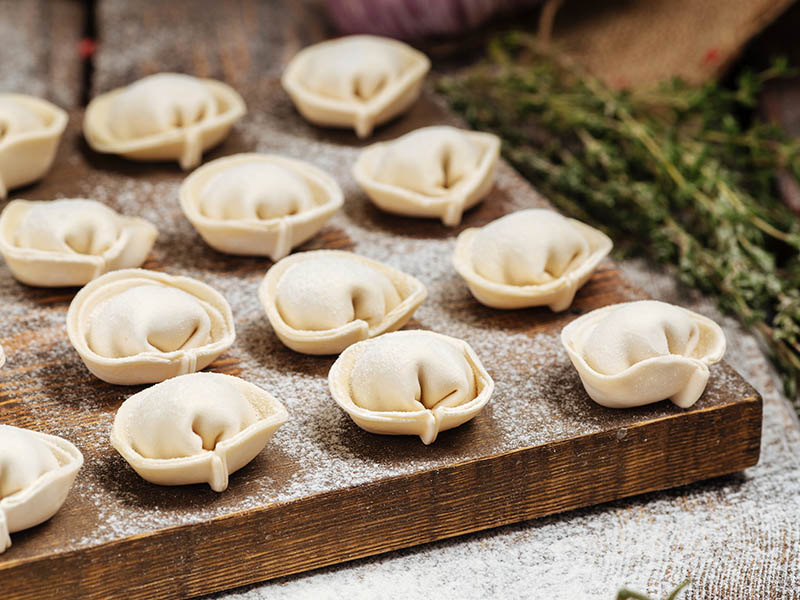 Pelmeni, literally "ear bread", started as a Russian specialty or even "the heart of Russian cuisine", as some people call it. But Latvians, as well as many Baltic neighbors, had no trouble incorporating it into their traditional menu. The scrumptiousness of those dumplings is to blame.
Latvian dumplings are pretty similar to the variety found in Mother Russia. They consist of an unleavened dough stuffed with minced meat and mushrooms. Add some local sour cream on top of fried or steamed Pelmeni, and you have a finger-licking Latvian dish.
If you think of Latvian foods as rich in fatty meat and potatoes, well, you're not very far from the truth. But that combination doesn't have to be an evil thing. Taste the following main dishes to see for yourself.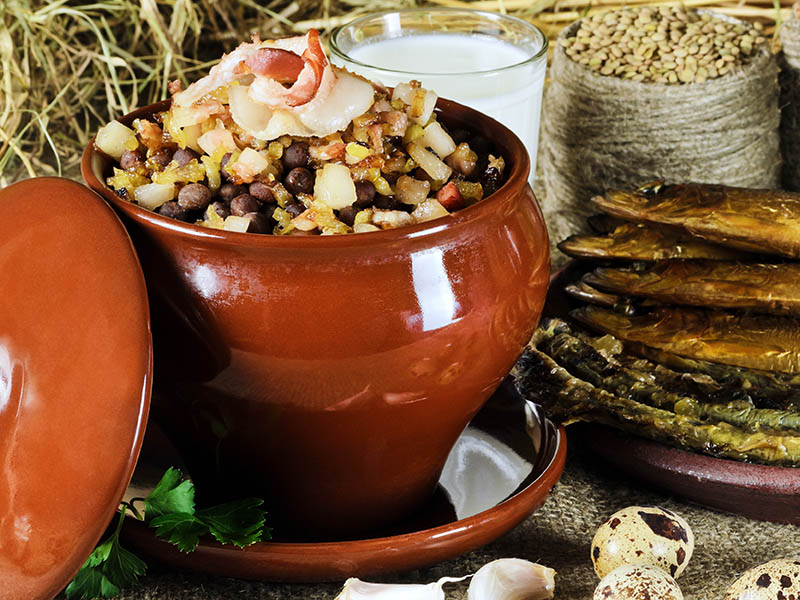 Do you know what the staple food of Latvians was before the introduction of potatoes? It was the local gray pea which is much larger, coarser, and tastier than other varieties. Despite the pea's fall from grace, a pea-based dish called Pelēkie Zirņi Ar Speķi is still a culinary mainstay.
This dish includes boiled gray peas, sauteed onions, and bacon chops. It is a simple yet addictive combination. Its popularity is such that at Christmas and other special holidays, no menu is complete without a lot of Pelēkie Zirņi Ar Speķi and Kefir on the table.
Many Latvians consider the dish to be their country's national dish. Despite being supplanted, the once-important gray pea has a happy ending. It currently has the designation of European Protected Designations of Origin (PDO).
Dive into how to make Latvia's national dish Pelēkie Zirņi Ar Speķi here.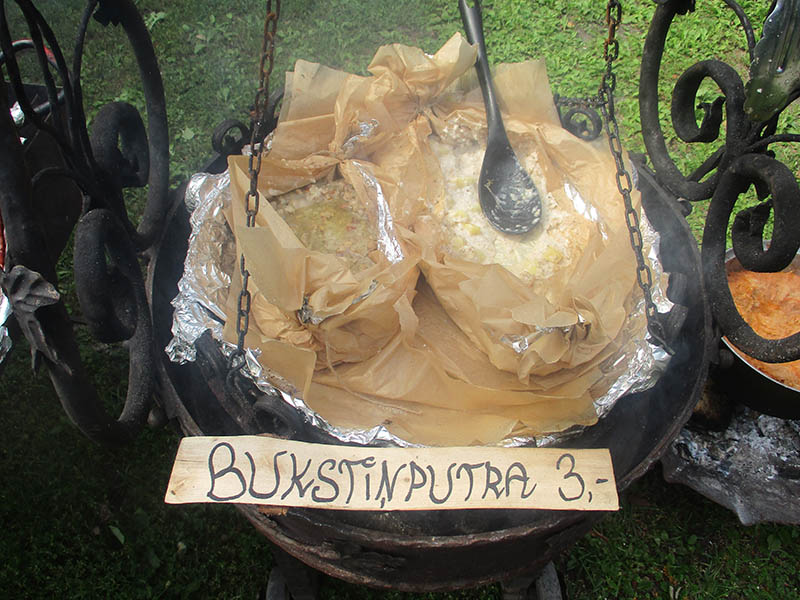 If you ask locals to name the best Latvian lunch recipes, Bukstiņputra is going to be high on the list. It is a convenient, time-efficient porridge to go with kefir that many children and adults in the country are familiar with.
It is made from barley groats (hulled barley), milk, onions, and potatoes. That's all for the preparation, but the porridge is imperfect without bacon, fruit jam (such as cranberry or lingonberry – a plant that grows in the northern parts of the world). Overall, Bukstiņbiezputrau is Latvian handiness in a nutshell.
10. Latvian Fried Lampreys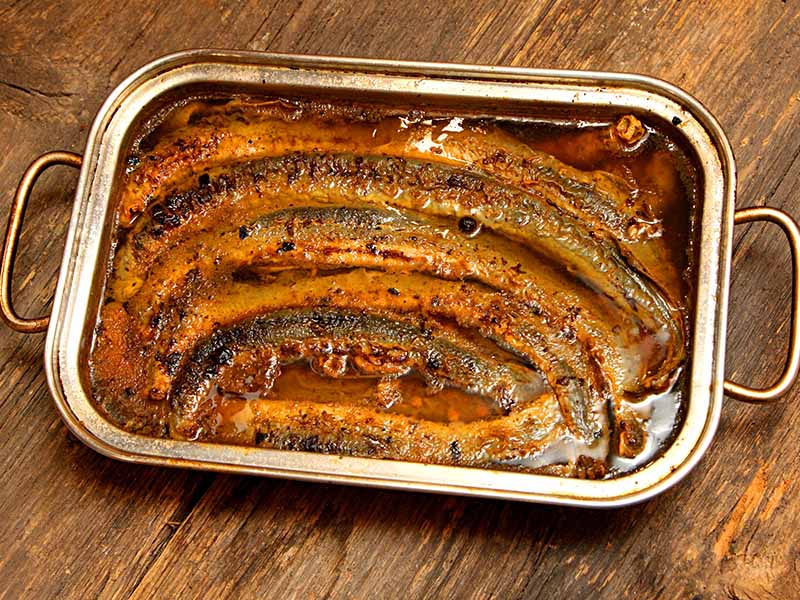 Latvia is a small country, but it has a huge number of rivers: Over 12,000 of them winding their way through the country. In those rivers lives a parasitic, jawless, eel-like fish called lamprey. Besides Latvia, it can also be found in other countries lying in the temperate zone.
The fish is an unattractive blood-sucking parasite (a closeup of its mouth can scare the faint-hearted). However, lamprey flesh is so hopelessly delicious that most foodies can't help loving the distinct taste of this round-bellied fish.
The best way to cook this delicacy is to grill. People wash freshly caught Lampreys with water before grilling it over hot coals (no gutting). Juicy cubes of fried fish will be soaked in a marinade and served with buttered bread to bring out the naturally sweet flavor of lampreys.
This is how people go lamprey fishing in Latvia.
11. Latvian Smoked Meat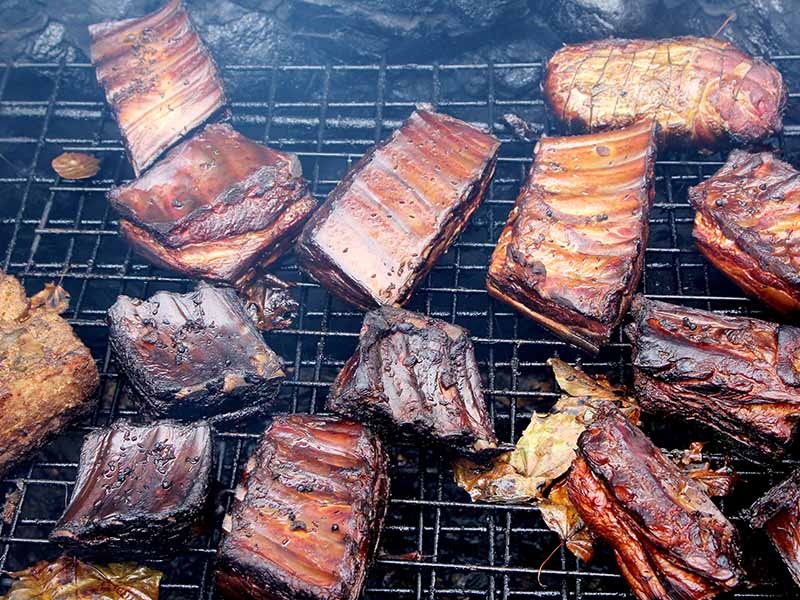 When you live in a northern country with a freezing winter like Latvia, it makes sense to turn meat preservation into an art. In the past, every Latvian family had its own smokehouse to cure meat. The abundance of commercial smoked meat has somewhat replaced that tradition.
Nostalgia notwithstanding, Latvia smoked meat is still as inviting as ever. You will be spoiled for choices: There are smoked pork, chicken, bacon, etc, which are quite juicy and full of wood-scented aroma. Pair them with bread, soup, or salad, and you're golden!
12. Latvian Smoked Fish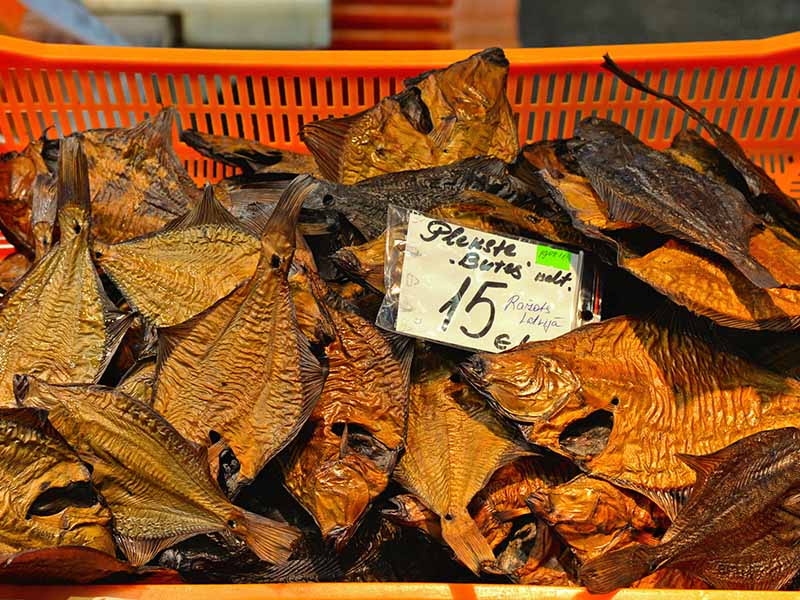 Having a lot of rivers and bordering the young Baltic Sea, Latvia has no shortage of fish. When locals can't use up all the fish they've caught, they naturally turn to longer-term preservation. Making smoked fish is a common option.
The list of ingredients is lengthy, from herring to salmon and mackerel. But the king of Latvian smoked fish is the expensive, gourmet-level sprat (brētliņas in the local language). It is a small fish that closely resembles herring but has a tastily salty flavor.
While many Baltic countries harvest sprats, only the Latvian variety becomes a specialty. It is one of the country's most valuable exports. Smoked sprats that are eaten raw with a sandwich (or boiled potatoes), cooked eggs, and sour cream are a veritable feast.
Imagine how tasty Latvia's renowned smoked sprat is.
13. Kotletes – Minced Meat Patty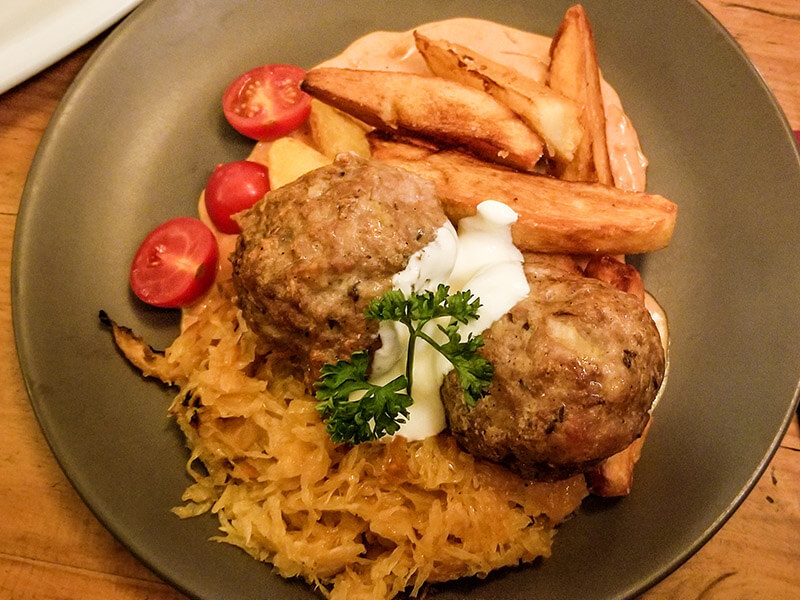 You may think of meat patties as an inseparable condiment to go with hamburgers. But Latvians have other ideas. They usually pair their juicy Kotletes, Latvian for meat patty, with boiled potatoes and mushroom sauce.
There is no fixed recipe as every Latvian has their own way of making Kotletes from beef, pork, or chicken. But the preparation usually involves mixing the minced meat with spices, as well as eggs and bread crumbs for thickness.
Sometimes, people soak the bread crumbs in milk before adding them to the patties. The cooking process always ends with frying the patties until crispy.
Discover this amazing recipe for making Kotletes at home.
14. Karbonāde – Latvian Pork Cutlets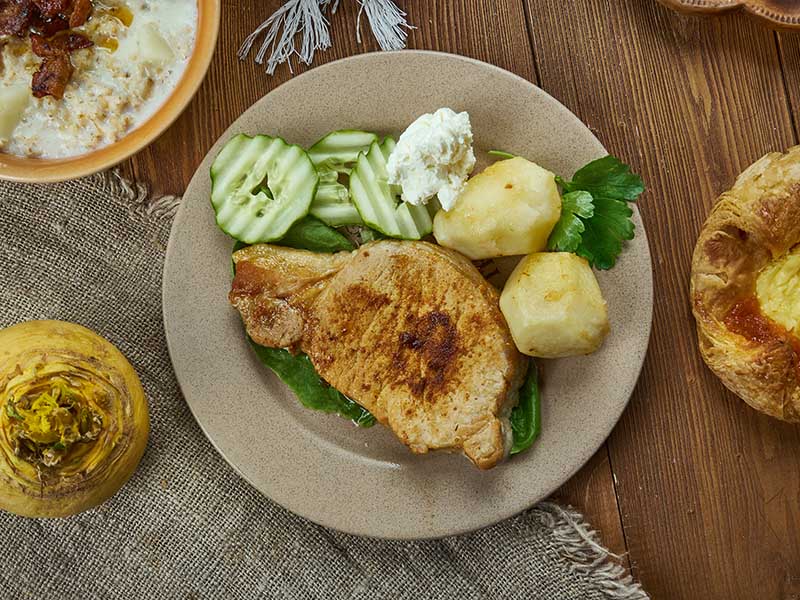 At Latvian wedding parties, people usually prepare a flavorful dish to celebrate the union of two souls: Karbonāde. It is a traditional pork chop dish strongly resembling the "Viennese cutlet" (more commonly known as Wiener Schnitzel) – a national dish of Austria.
Juicy Karbonāde rests its allure on many things. The mixture of flour and beaten eggs to coat the pork cutlet has to reach the right degree of thickness.
Likewise, the mushroom sauce to spoon over the cutlet after it is fried needs to be rich enough to impart a flavor-packed taste to the pork.
Karbonāde is a yummy dish to serve with rye bread, boiled potatoes, or pickled potatoes. Don't forget the Latvian way of eating foods with sour cream.
15. Putraimdesas – Blood Sausage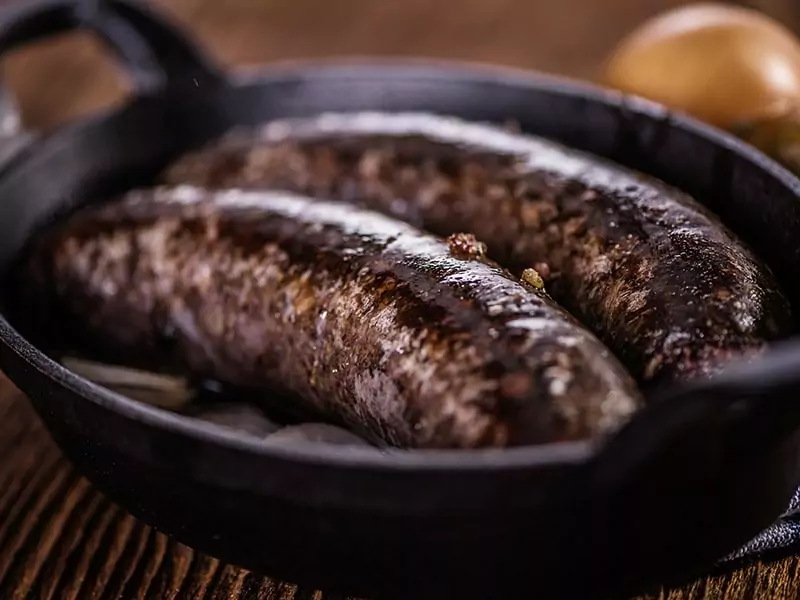 Every vampire fan probably knows by heart the philosophy "Life is in the blood". In that light, blood sausage, or its euphemism black pudding, is surely a nourishing dish with body-building nutrients. Try the Latvian version, Putraimdesas, if you dare.
The indispensable ingredient of Putraimdesas is pig blood, but Latvians only add it after they have created a fried mixture of barley and lard. The blood-soaked barley mixture will then be stuffed into a pig intestine or stomach and cooked.
Pan-fried or grilled Putraimdesas is an amusing dish to accompany lingonberry jam or sour cream. It has been around since probably the 19th century. If a local invites you to taste the sausage, suspend your judgment and experience the chance to expand your knowledge of food.
7 Scrumptious Latvian Snacks/ Desserts To Indulge Yourself
If you are looking for mouth-watering and fulfilling snacks, you're in luck. If you're into light and sweet desserts, your luck is still there. Latvia can offer both and more. Scroll down now to find out more.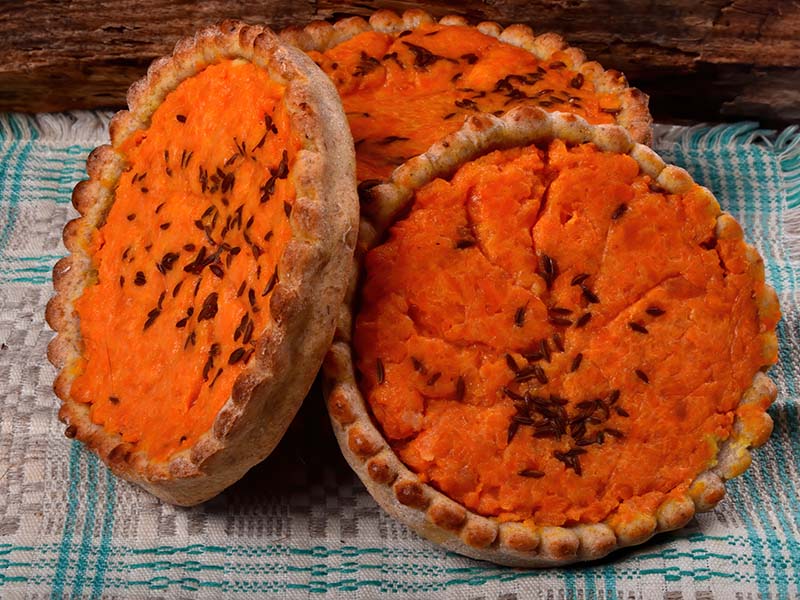 Sklandrausis (literally "slope pie") is a Latvian veggie-based delectable dessert. In case you regard vegetables as little more than bitter and bad-tasting fiber, this dish will show you a whole new sexy side of the stuff.
Like other varieties of pies, Sklandrausis has a crust pastry and a sweet filling. People create the former from a butter-mixed dark rye flour dough that they roll out and cut into small circles with the edges turned up. The latter consists of boiled potatoes, carrots, along with sour cream.
The pie has a distinctly sweet flavor due to the liberal amount of carrot filling. It is a great treat to serve cold with tea, milk, or honey. Originating from the 16th or 17th-century Courland region in western Latvian, this TSG-qualified, brilliantly orange pie will give you excellent eyesight.
17. Debesmanna – Cranberry Mousse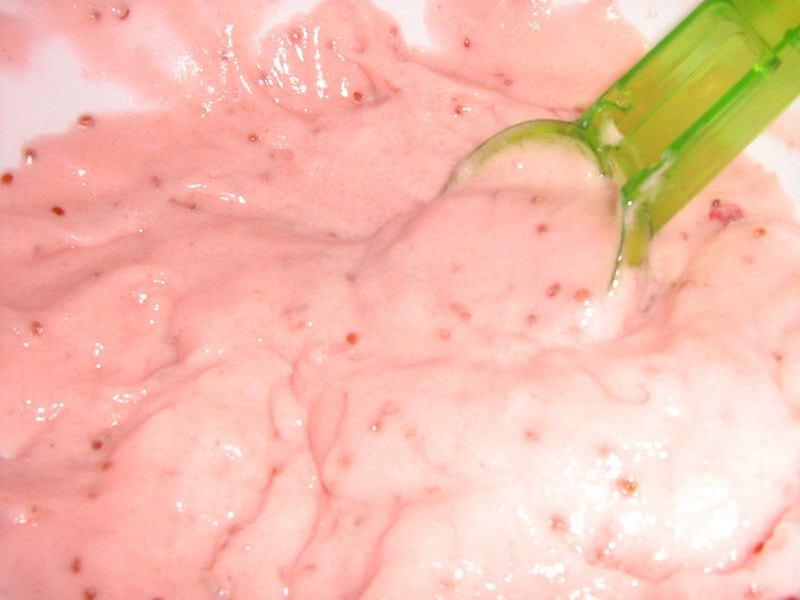 If asked about their favorite childhood desserts, most Latvians will automatically point to Debesmanna. It is a temptingly delicious mousse that is created from cranberry. Interestingly, Latvia is one of the few EU nations that cultivate this fruit.
Therefore, local people naturally take advantage of their cranberry abundance and turn it into this fluffy, airy delight. Debesmanna is a mixture of whipped cream, cranberry pulp, egg whites, with gelatin occasionally added for more thickness.
Debesmanna means "celestial farina (milled wheat)" in Latvian. Of course, its taste is of a celestial level. If you can't stand cranberry, you can substitute it for other types of berry, though the replacement will slightly dilute the uniqueness of the mousse's flavor.
Check out this easy recipe for whipping up homemade Debesmanna.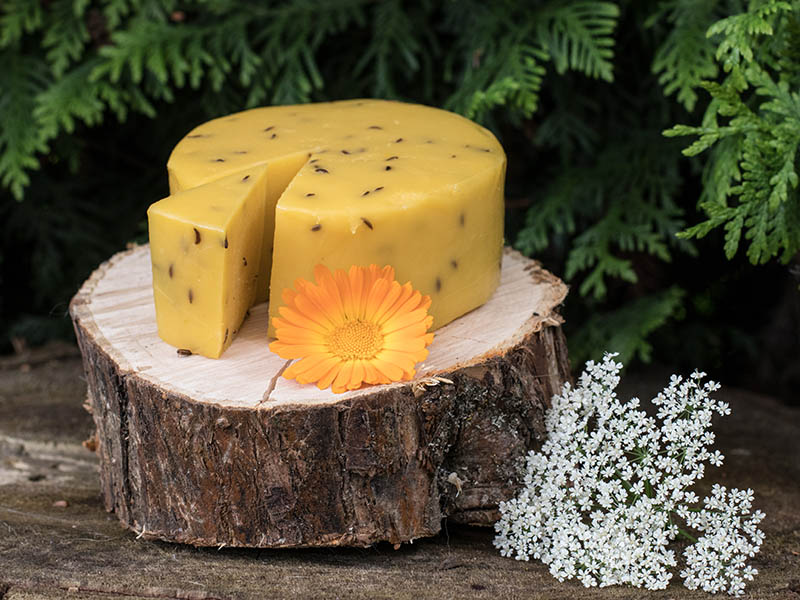 Summer solstice, or midsummer, has long been a significant occasion in Latvian culture, with a host of festivals and rituals. But Jāņi, the annual midsummer festival, is incomplete without a principal component of Latvian folk tradition: the beloved Jāņu Siers (Jāņi Cheese).
This one-of-a-kind type of cheese is different from the stuff you usually eat in many aspects. It undergoes a more complicated process of cooking. Besides, it includes many ingredients not typically found in cheese, such as sour milk curd, eggs, and, most importantly, caraway seeds.
Animal husbandry is an ancient part of Latvian culture. So it is easy to see how Jāņu Siers becomes something more than food, more like a paragon of Latvian closeness to its meadows and pastures. The midsummer cheese joined the list of the country's TSG dishes in 2015.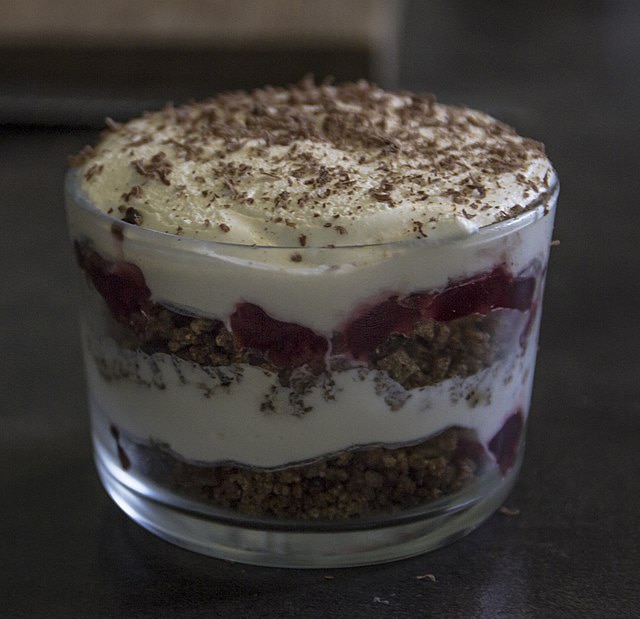 Rye flour is the building block of many Latvian desserts. Without it, those dishes wouldn't be as tasty and nutritious. Suffering the most of all would be perhaps Rupjmaizes Kārtojums, a traditional rye layered bread.
This whipped cream sweet treat usually consists of three layers: jam at the bottom, sweet whipped cream in between, rye bread crumbs on the top.
Those layers can be repeated for as long as there is still room in the dish or cup. A topping of rye crumbs, cinnamon, or chocolate will complete it.
Some people soak the bread crumbs in brandy for a sharper taste. Anyway, savory Latvian layered rye bread requires hours of chilling until all the ingredients absorb each other's flavor. You should serve Rupjmaizes Kārtojums with fresh (preferably wild) berries and cheese.
You can easily make Rupjmaizes Kārtojums at home with this thorough guide.
20. Kļockas – Latvian Cheese Dessert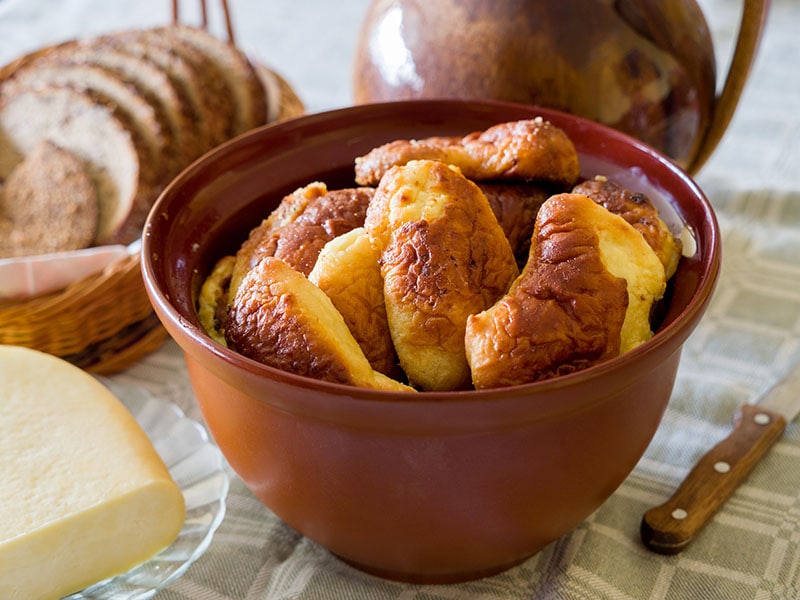 In the easternmost part of Latvia lies the culturally distinct region of Latgale. It leaves an indelible mark on the national cuisine with the contribution of Kļockas, a traditional cheese dessert.
It is ridiculously easy to prepare Kļockas. All you need is some yeast dough (any type of flour will do) that is stuffed with fresh cottage cheese and heated in a mixture of milk and cream.
Kļockas used to be only available during festivities. But it is now a shining example of Latgale hospitality. Whenever the local inhabitants have guests, they always treat them with a fulfilling meal, generally concluding with the sweet Kļockas.
21. Pīrāgi – Bacon Pie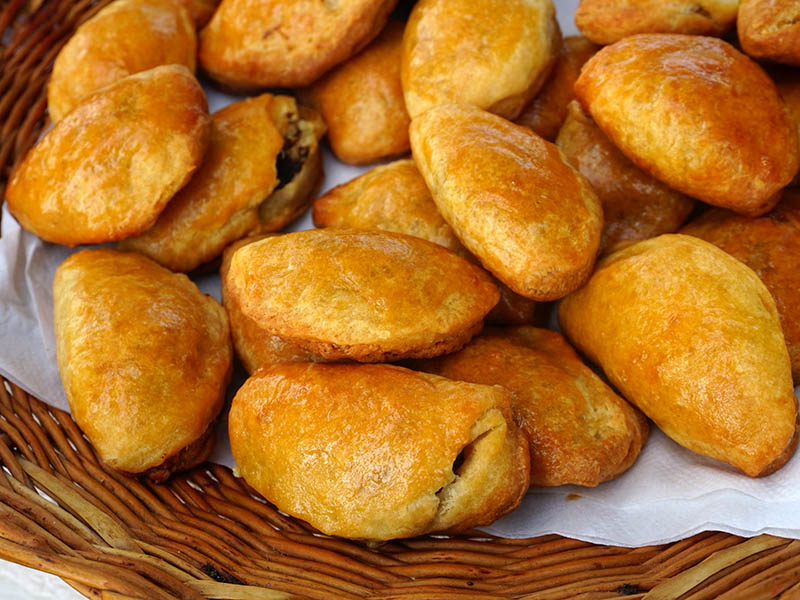 This mouth-watering snack goes by many names: Speķrauši, Speķa Rauši, or Speķa Pīrādziņi. But they all mean something like "fat meat pie". Anyhow, the pie is a labor-extensive dish, so you're more likely to find it during big holidays.
The main ingredients of Pīrāgi are dough, fatty bacon, minced meat, cheese, and cabbage. There are two types of pie, one is the plain yeast dough pīrāgi suitable for being eaten alone. The second variety is broth Pīrāgi made from sour cream dough and usually paired with soup.
Pīrāgi can vary wildly in size depending on what you want to eat it with. The variety to pair with other foods is usually smaller, while people wishing to make a nourishing snack out of Pīrāgi will opt for a bigger size.
Anyway, the pie has to have a half-circle shape and a bacon-based filling to be seen as authentic Pīrāgi. Whatever your needs are, feel free to shop at Latvian bakeries. You will be spoiled for choices.
22. Maizes Zupa – Latvian Bread Soup
This intriguing dessert represents an ingenious use of Rupjmaize. In nowhere else can you find Maizes Zupa, a yummy soup made from soggy rye bread. Tasting it is a must if you want to enrich your experience of Latvian cuisine.
Maizes Zupa preparation starts with cooking chunks of roasted rye bread in water (preferably leftover bread). Add some brown sugar, dried fruits, and a dollop of sour cream on the top of the soup. The delicious, money-saving dessert full of rustic allure is now yours to enjoy.
You Can Never Get Enough Of Latvian Foods
This is the end of the Latvian food tour. I hope you have realized that size doesn't matter in culinary excellence. Latvia is a tiny country of barely over 2 million people, but its treasure of scrummy dishes is the size of the Goliath.
One thing that you have probably noticed is the insignificant use of spices in Latvian foods. In some cultures, many people regard it as a deficiency in cooking. When experiencing Latvian cuisine, however, you will find that it brings out the raw authenticity of Latvia's fresh produce.
Thank you for reading this post, and have a good day! But don't forget to share it with your friends if you find it useful. Any question you leave in the comment section will be thoroughly answered, too.