"Is milk gluten-free?" is a question that more and more people are considering these days. It's especially important for gluten-sensitive people who want to drink milk or consume dairy products but fear whether milk contains gluten or not.
This article will give you a detailed answer as well as the classification of regular milk and gluten milk. Even if gluten isn't your top concern, some simple recipes of gluten-free homemade milk at the end will attract your attention. So scroll down to read all of it!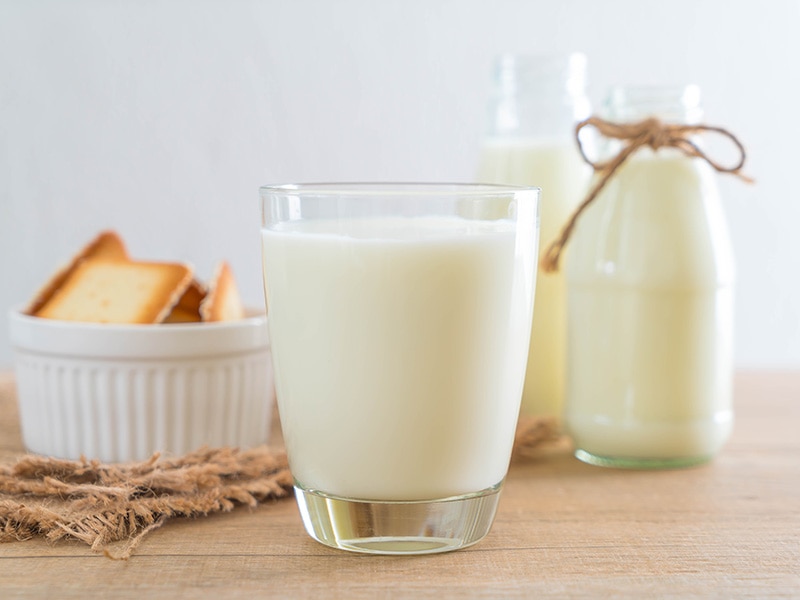 What Is Gluten?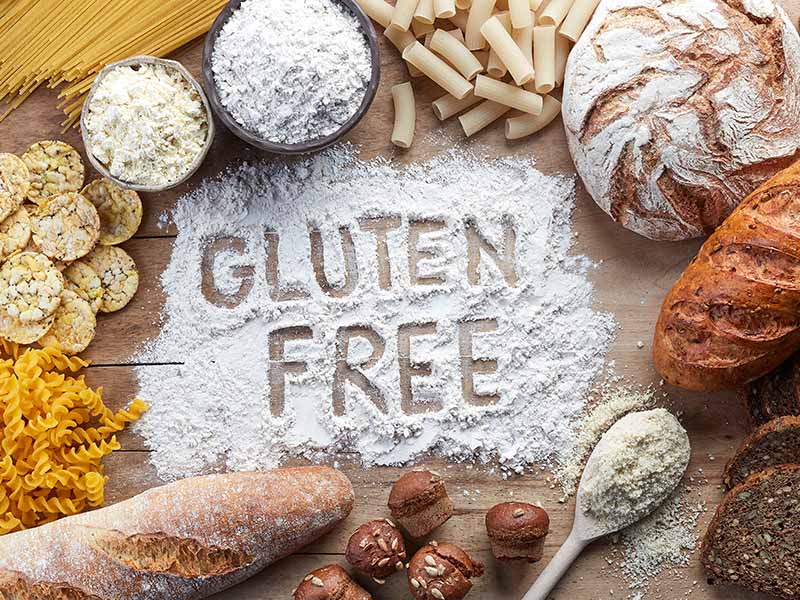 To begin, I will let you know clearly what gluten is. Gluten is a group of proteins including two main proteins: the soluble gliadins and the insoluble glutenins. It can be found in certain grains such as wheat, rye, barley, spelt, and triticale (a kind of grain between wheat and rye).(1)
Among popular gluten grains, wheat is the most commonly used. Gluten accounts for 85% – 90% of the composition of wheat.
Gluten has special features: heat resistance and good adhesion. When gluten is mixed with water, it will create a sticky structure like glue. This glue-like texture is a kind of food adhesive that helps food hold shape. So, it is used much in the bread-making process.
Especially, in the bread-making process, gluten determines the structure and physical properties of the dough. It also provides the expansion for various kinds of bread when baking and enhances its flavor.
Gluten also has the high ability to absorb and retain water to make cake, bread soft, and it keeps a long time of food storage.(2)
Why Do We Need To Consider Whether Milk Contains Gluten Or Not?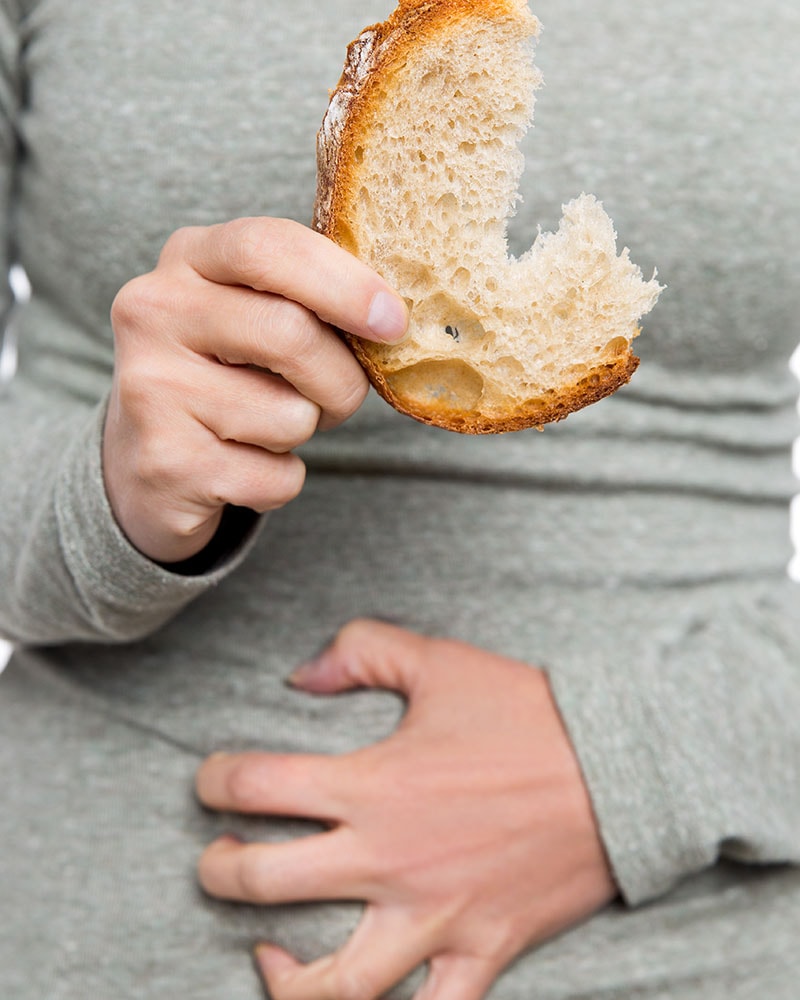 For most people, milk is an essential product every day. It appears in every family's kitchen and in every meal. Since the phrase "Gluten-free diet" became more and more popular, you sometimes even question if the milk contains gluten, right?
This question happens because gluten is a kind of protein that is hard to digest. While almost all people can digest gluten in food naturally, some people can't and even got some serious gluten allergies. Therefore many people are interested in classifying which milks are gluten-free to use.
Is Milk A Kind Of Gluten-Free Drink?
Milk has many nutritious ingredients that are good for your health. However, if the nutrition facts of the milk package include gluten, drinking milk may become a big concern for people who cannot tolerate it.
Before knowing what kind of milk contains gluten, you need to find out where milk comes from. Milk can come from any animal milk. The most common type of milk today is cow's milk. And there are some other kinds: goat milk, sheep milk, camel milk, and even buffalo milk.
Milk can also be produced from plants such as nuts, seeds, soy, coconut, malt,…There are even some types of milk containing strawberry, chocolate, and peach flavoring additives.
There are many types of milk, and I will show you which are gluten-free and which are not!
Milk From Animal Doesn't Contain Gluten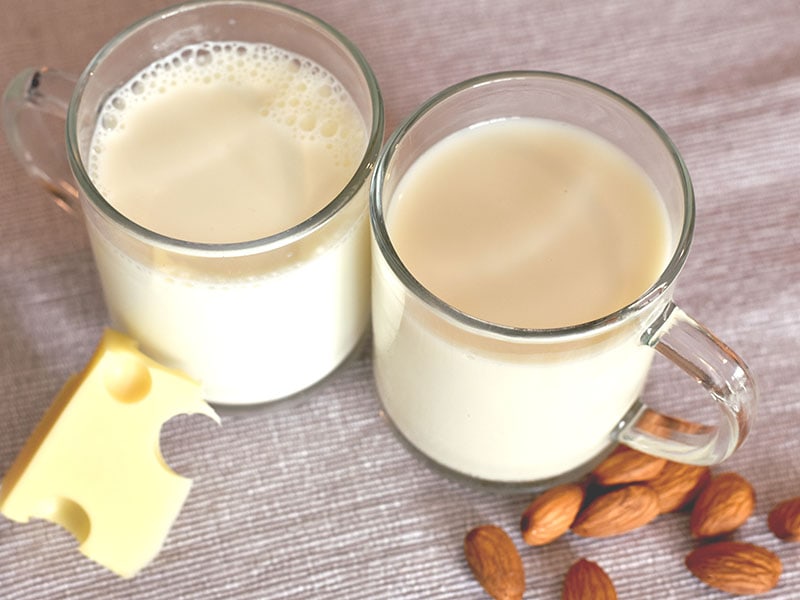 Animal milk – the most common type of milk today is gluten-free. As mentioned above, gluten comes from certain grains such as wheat, rye, barley, spelt, and triticale, so milk from animals doesn't contain any gluten grains. Therefore, regular milk can completely be safe for you to use.
Even if cows or other animals are fed gluten grains such as barley, there are very few cases of positive reaction. About 99% of people who can't eat gluten food have no problem consuming this kind of milk. 1% left is a case of being extremely sensitive to traces of gluten, but the symptoms are not too dangerous.
In some kinds of animal milk, there are some additive ingredients that can make it become gluten-contained products. So, you need to verify that your milk is completely from animals without gluten additives.
Among many sorts of food, dairy products (e.g., yogurt, cheese, and butter) are naturally gluten-free foods. However, the exact answer for "is cheese 100% gluten-free?" also depends on the cheese varieties.
Some Types Of Plant Milk Don't Contain Gluten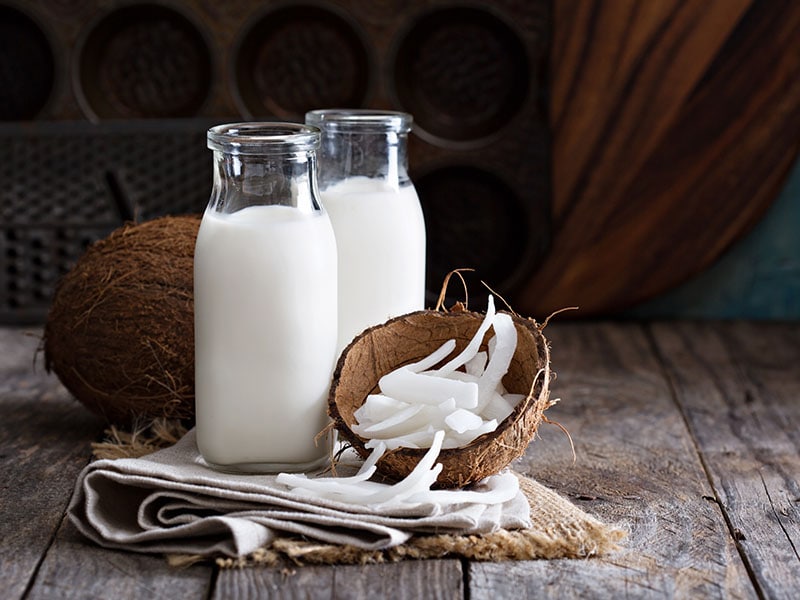 When it comes to plant milk, you might suspect that it could contain gluten. But that's not all the case. If you choose milk made of gluten-free nuts, seeds, and natural fruits, it is safe to use. Some gluten-free plant milk I can suggest like oat milk, coconut milk, quinoa milk,…They are even healthy milk and are recommended in diets.
Anyway, to be careful, you should also look at the ingredient table of products to check if manufacturers have added some gluten-contained nuts.
Some Kinds Of Milk And Dairy Products May Contain Gluten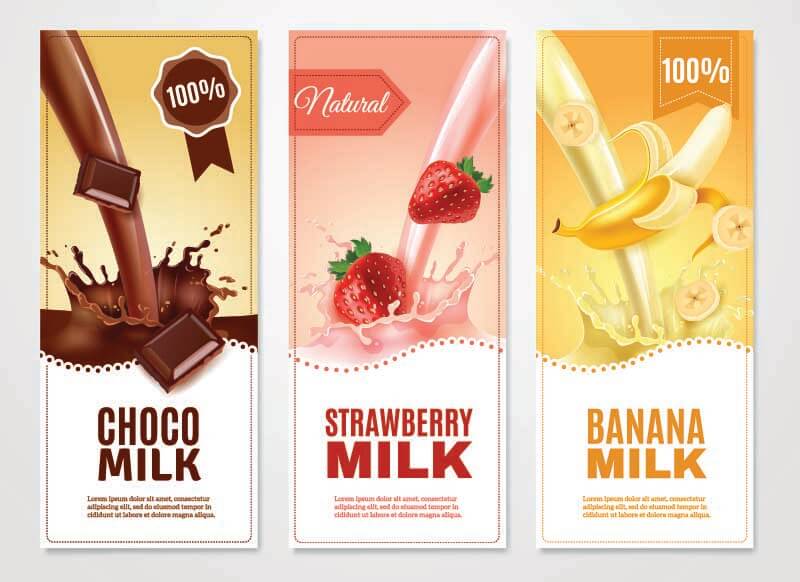 While most dairy products are free of gluten, there are certain cases that you should know. Of course, you will need to give up all milk made from wheat, rye, barley, spelt, and triticale if you are eating diets without gluten.
A special case of plant milk you need to be aware of is the type of malted milk. Malted milk is gluten milk because malt is made from barley, and barley is a gluten-rich grain.
Milk or dairy products that are flavored products like chocolate, strawberry, or vanilla milk may have gluten. This is the reason why it is necessary to check the ingredient list before buying. In the next part, I will suggest ways to choose brands and products that are zero gluten.
How To Avoid Gluten Milk And Dairy Products Safely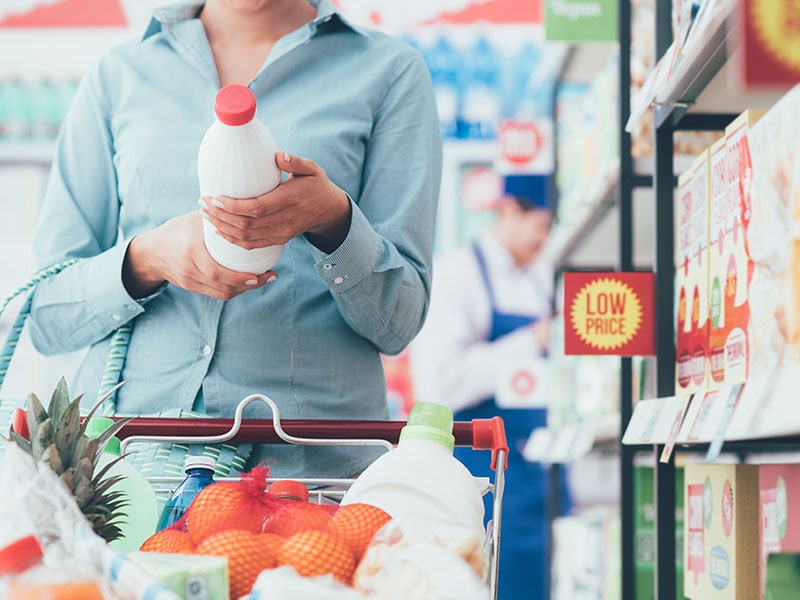 Normally, it is not difficult to buy gluten-free milk or dairy products. I have classified for you which milk doesn't contain gluten and which has. However, there are still a few ways you can do to ensure totally gluten-free milk.
The first and most important thing for people who eat gluten-free diets is double-checking the ingredients list. On the product's packaging, manufacturers often show the proportion and ingredients in milk and dairy products.
You need to check carefully whether the milk has gluten ingredients or any gluten-containing additives. You also need to notice how much gluten is in milk bottles.
Some animal milk and dairy products still have gluten additives, especially flavored cow's milk. There is also some nut milk containing gluten.
For example, you can find a lot of yogurt types in the market. But when it comes to the question about whether yogurt is free of gluten, you need to check its ingredients to find the answer.
If you are still unsure about the manufacturer, I will recommend some brands offer products that are completely gluten-free and have been verified.
Some Gluten-Free Milk Brands You Should Know
Any brand of fresh milk and whole milk can be free of gluten, but some brands ignore mentioning it in the ingredients list, so you can't be sure 100%. Here is a list of milk manufacturers having gluten-free milk, flavored milk, and dairy products that I would like to recommend for safe use.
Hershey's Shelf-Stable Milk has a wide range of flavors and sizes of milk bottles for you. Representatives of the company have confirmed that all of Hershey's milk products don't contain any gluten, including whole milk along with chocolate and strawberry flavors. Plus, even Hershey's chocolate syrup is also safe for people with gluten-free diets.
This supplies organic dairy products, whole milk, gluten-free chocolate, and vanilla milk. Therefore, you can comfortably consume Horizon Organic's milk, even flavored milk.
Nesquik is a popular brand that owns ready-to-drink flavored milk, flavored milk powders, and syrups. Their ready-to-drink milk has 8 kinds. Eight Nesquik ready-to-drink flavored milk types are considered as gluten-free products, and any potential sources of gluten will be stated on the product package ( So you need to check if you want more detail).
Organic Valley is based in Wisconsin, and it provides milk from small farm cooperatives. They sell various whole milk products along with chocolate milk. They also produce low-fat milk and instant chocolate drinks. These products are all gluten-free. But only one product from Organic Valley, which is not so you should avoid, is cottage cheese.
After evaluating these brands, if you are still not satisfied, I will suggest you 2 recipes for making nut milk without gluten at home. Check it out below!
Making Gluten-Free Milk At Home Has Never Been Easier
You can also make gluten-free milk on your own, and you can totally control the ingredients in your cup of milk. Below are 2 gluten-free nut milk recipes you can easily make for your family. They are also so yummy, too!
Homemade Oat Milk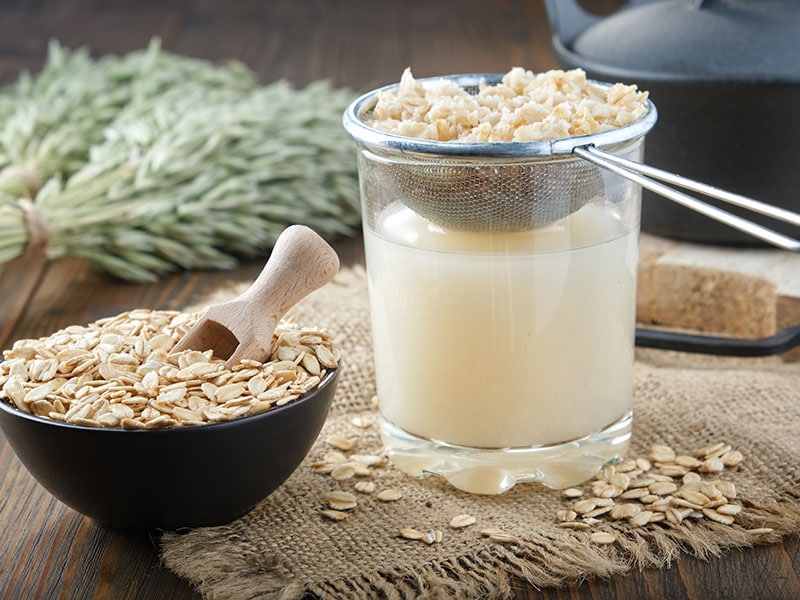 Desserts with oats are abundant, but have you tried preparing oat milk? Making oat milk at home is not difficult, and you can find gluten-free oats at any store or supermarket. The way to cook is also very simple, and here are the ingredients and how to do it:
Ingredients:
100g gluten-free oats
700ml water
½ teaspoon cinnamon powder, 1 teaspoon vanilla extract, or ¼ teaspoon vanilla powder (optional)
Directions:
Soak oats in water for 1,5 to 2 hours. After that, remove oats from the water.
Next, put oats and 750ml water into a blender and blend consecutively for 1 or 2 minutes until smooth.
Pour the mix out and filter them through a fine sieve to separate the milk from the oat grounds.
Finally, add ½ teaspoon cinnamon and 1 teaspoon vanilla extract or ¼ teaspoon vanilla powder to the milk if you want.
You can store milk in bottles and keep it in the refrigerator for later use!
It is so easy to make homemade oat milk, and it is free of gluten for your daily use.
Homemade Rice Milk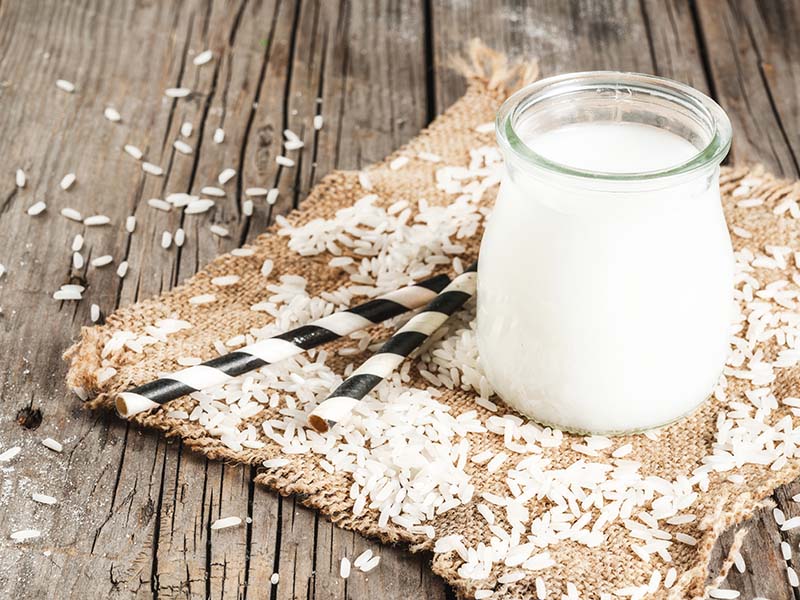 Like oat milk, you also can buy white rice easily these days, and it can also become delicious and safe gluten-free milk for you. The recipe for making gluten-free raw rice milk is presented below:
Ingredients:
100g white rice
700ml water
1 teaspoon organic cane sugar, ½ teaspoon cinnamon powder, and a strip of lemon peel (optional)
Directions:
Soak rice overnight and rinse with water.
Pour rice and 700ml water and use the blender to mix them consecutively for 2-3 minutes.
Pour out and strain the pulp from the milk by using a fine sieve. Then, use a pot with low heat to boil it, or you can not do that if you think it is unnecessary.
Add 1 teaspoon organic cane sugar (optional), ½ teaspoon cinnamon powder, and a strip of lemon peel into the milk if you want.
Like oat milk, you also can keep it in the fridge, and rice milk will even be more delicious when you keep it for a long time.
You don't waste so much time cooking this, but you can have a cup of delicious gluten-free rice milk.
Who Shouldn't Consume Gluten Food?
After understanding gluten and answering the question of whether milk has gluten, you may wonder who can't use gluten, right? I will list a few groups of people and the amount of gluten these people could consume:
People With Celiac Disease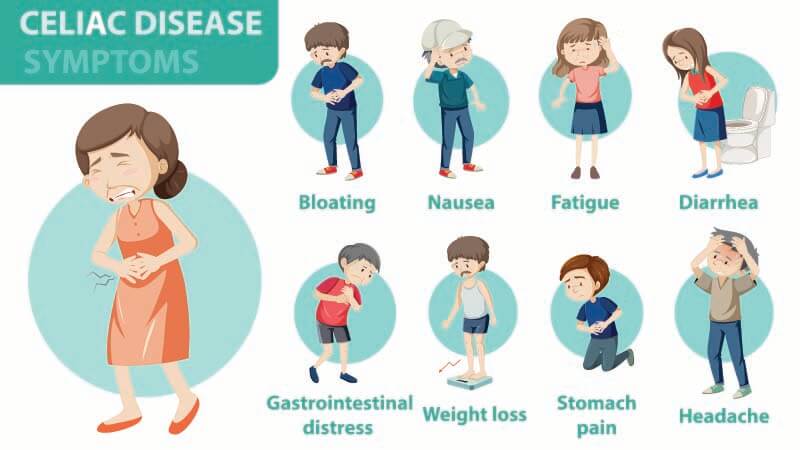 Celiac disease, also known as coeliac disease, is the most serious condition for people who can't tolerate it. It is a disorder of the immune system in which the human body treats gluten as an outside invader. The immune system fights against gluten as well as the intestinal mucosa, causing dangerous consequences.
One out of every 100 people in the world will get this disease. However, because of the complexity of celiac disease's symptoms, it can be difficult to diagnose. In fact, up to 80% of people with celiac disease don't know they got it.
People with celiac disease commonly find it difficult to digest food containing gluten. This disease can cause damage to the intestine tissue, severe abdominal pain, some diseases related to intestinal, headache, skin inflammation, depression, and weight loss.
In general, people with celiac disease need to eliminate gluten from their daily meals for better health. If you have this disease severely, you have to remove gluten from your food throughout your life.
People With Non-Celiac Gluten Sensitivity
Non-celiac gluten sensitivity is controversial because it is impossible to know if this disease is actually real. There are many people who are tested for not having the celiac disease but still have severe reactions when they tolerate gluten, hence the disease called non-celiac gluten sensitivity.
There is a non-specific definition of non-celiac gluten sensitivity, but it could be found after you can't tolerate gluten and experience symptoms similar to celiac disease. But in this case, you need to be diagnosed that you don't have celiac disease or celiac allergy.
In some cases, experts believe that the disease is imagined or caused by factors other than gluten in foods. Even so, people with non-celiac gluten sensitivity are still quite popular, and they also have to limit gluten foods to prevent more severe issues.
People With Irritable Bowel Syndrome
Irritable bowel syndrome (IBS) is a common digestive disorder that causes symptoms such as abdominal pain, cramping, bloating, and diarrhea. It is a chronic disorder and is often aggravated when you eat gluten food. Therefore, people with this disease need to change their nutrition with a gluten-free diet to manage symptoms.
People With Wheat Allergy, Gluten Ataxia, Schizophrenia, Autism
These are some types of people who don't need to remove gluten from their meals completely, but it is more beneficial for them to limit gluten. Many people often have wheat allergies after ingesting gluten, resulting in some digestive symptoms. But they can still consume other foods containing gluten such as barley or rye, without severe reactions.
Meanwhile, for people with schizophrenia or autism, a gluten-free diet will help a lot in the process of treatment. This group of people should eat a small amount of gluten food or apply a gluten diet if they can. In addition, not only do people with the above diseases abstain from gluten-containing foods, but gluten-free diets have also become a trend.
FAQs
When you find that you can't tolerate gluten easily or belong to one of these above groups, you surely have many concerns about gluten. I believe you also have many short questions related to gluten and milk. I have compiled some frequently asked questions that I think you will also be interested in:
Most Milk Is Gluten-Free, But You Should Be Careful In Some Cases
Indeed, regular milk doesn't contain gluten but some milk or dairy products have it, such as flavored milk or malted milk. Moreover, gluten is not good for people with celiac disease, irritable bowel syndrome, and some others, so you need to be careful when choosing milk.
Don't forget to check the ingredients list of milk products or buy milk from the gluten-free milk brand I listed. You also can try some gluten-free nut milk recipes I suggest.
If you think this article is full of information and helps you a lot, please share it with your family, friends, and other people so they can know how to avoid gluten in their meals.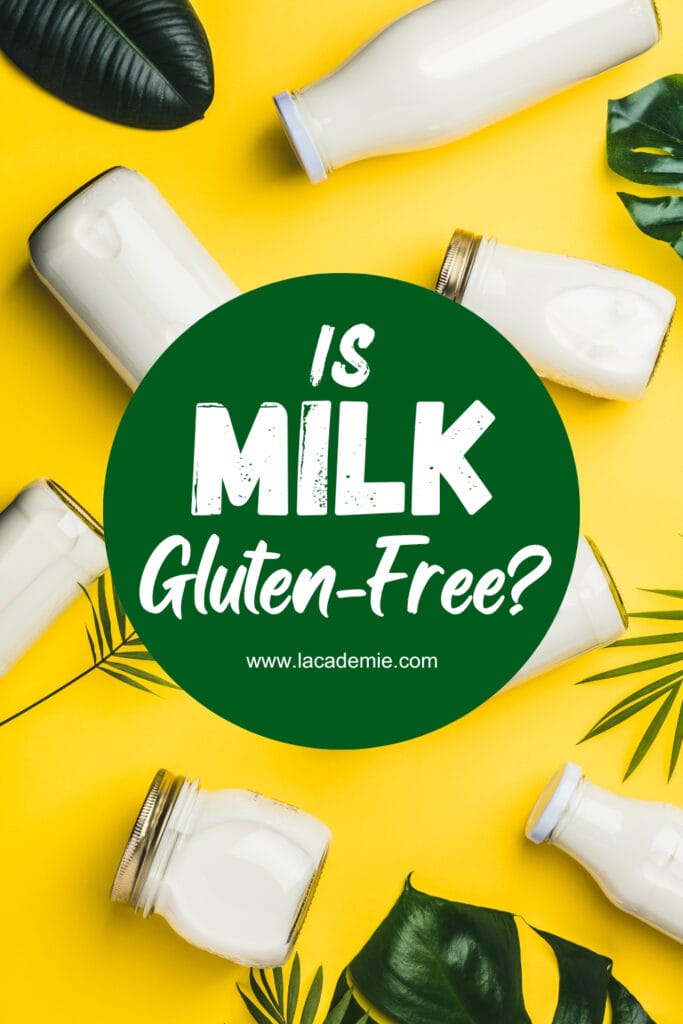 References:
Celiac Disease Foundation. 2022. What is Gluten? | Celiac Disease Foundation.
National Library of Medicine. 2022. Chemistry of gluten proteins | Herbert Wieser.