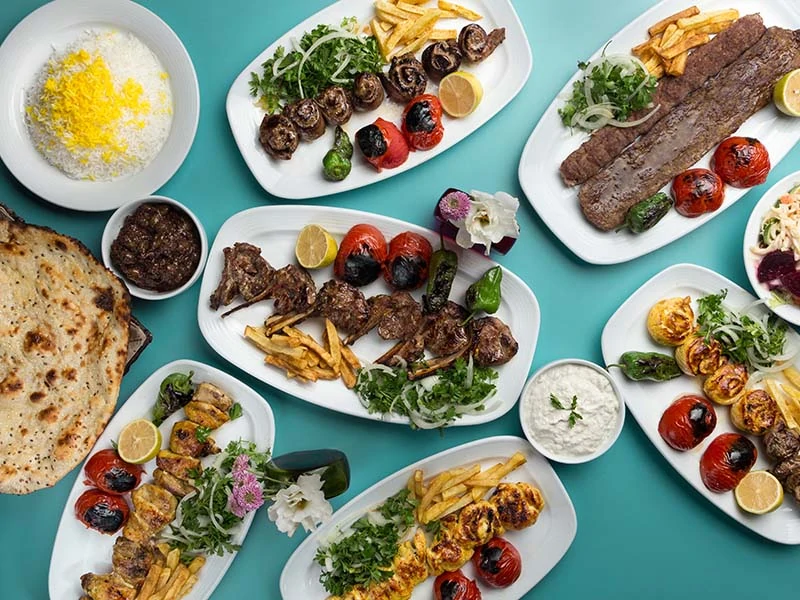 There's a reason why Iranian foods are so well-known in numerous cooking recipes in the Middle East. Not only does the cuisine from this region traced back to Persia, but the foods here are also excellent.
Iranian cuisine works with a wide range of foods, including pickled vegetables and dried fruits, herbs, and delicate, earthy spices like saffron, cinnamon, and cardamom. Overall, it is incredibly unique and worth exploring.
So if you're ready to pack your bag and take a trip to Western Asia, remember to jot down the inspiring dishes below before you go!
Savory Iranian Dishes That You Don't Want To Miss
Iran has one of the world's most complex and sophisticated cultures. And that culture reflects on the cuisine and well-loved traditional Iranian recipes in this nation.
When it comes to savory dishes, the Iranians have tons of options due to the vast diversity of vegetables and herbs. It's impossible to try them all in one go, so here's a small checklist of the must-try dishes that you shouldn't miss out on during your visit.
Fill Yourself Up With Some Traditional Flatbread In Iran
There are countless bread varieties in the wolrd. And bread is life here in Iran. Whether it's breakfast, lunch, or dinner, the Iranians always have some fresh flatbread ready to pair with different meat-based dishes.
So don't forget to try at least one of these types of flatbread when you have the chance to visit Western Asia.
1. Lavash Flatbread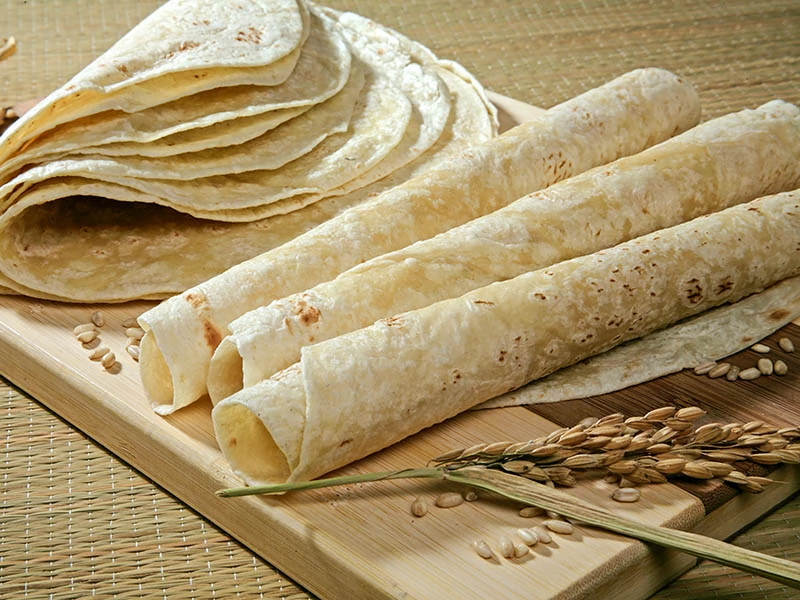 According to The American Heritage Dictionary of the English Language, Lavash is "a thin unleavened flatbread of Armenian origin". It was also defined as "a manifestation of Armenian culture" by the Intangible Cultural Heritage of Humanity in 2014.
As a result, protests erupted in Iran, Azerbaijan, Kazakhstan, and Kyrgyzstan, with locals saying that this cuisine was "regional". But despite this "scandal" and its true origin, this iconic flatbread is one of the most widespread types of bread in Iran until this day.
This bread is also a favorite food in Afghanistan. It used to be cooked on a sajj or tandoor, but now people can also use a skillet or wok.
2. Taftan Flatbread
Bread is the most crucial component of a typical Iranian breakfast, and that, of course, includes Taftan. This Iranian breakfast recipe is equally well-known compared to Lavash, but it's thicker and more leavened.
This famous Iranian bread is cooked in a clay oven with milk, eggs, and yogurt. The locals often flavor Taftoon with saffron or cardamom powder and use poppy seeds as a garnish.
Want to know how Iranian bakers prepare their iconic Taftan bread? Check this out!
3. Sangak Flatbread
Sangak is also one of the most popular in Iran. There are commonly two versions of this whole wheat leavened flatbread in Iranian bakeries: a generic version with no toppings and a more costly one with poppy seeds or sesame seeds.
The Persian word sangak means "small stone", referring to the bed of small river stones that this flatbread is cooked on when it's in the oven.
The first mention of Sangak bread was from the 11th century, when it was made for the Persian army. Each soldier carried some tiny stones and combined them to form the "Sangak oven" at camp.
They then used this oven to bake Sangak for the whole army and served it alongside lamb kebab.
4. Barbari Bread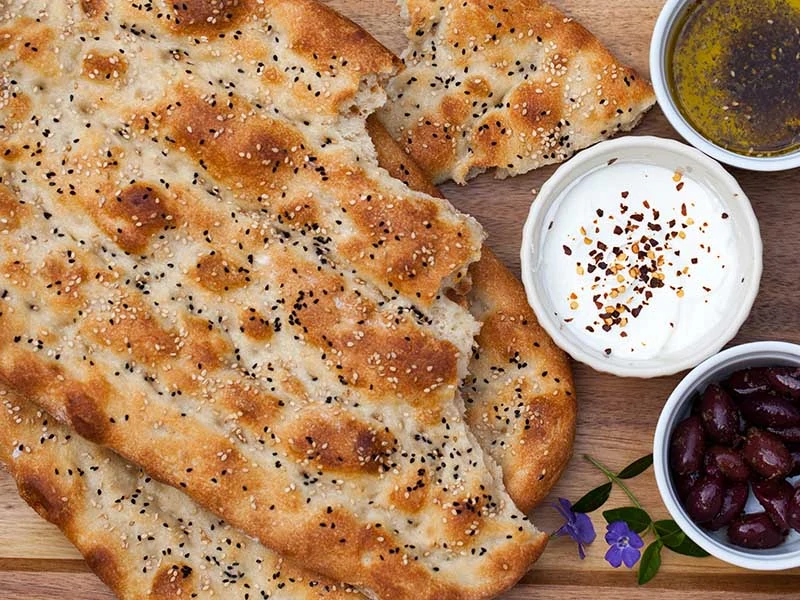 Here's another yeast-leavened flatbread that you would love! Barbari bread is one of the thickest flatbreads in Iran. This dish is also famous in the United States and Canada, where it is called "Persian flatbread".
Because of the Maillard reaction that happens while baking, the bread's top skin resembles a pretzel or lye roll. It also contains toppings like black caraway seeds or sesame seeds to make it extra flavorful.
The story behind the name of this dish is quite controversial. It is derived from an old derogatory term for the Hazaras ethnic group, the ones who first introduced Barbari flatbread to Tehran and other regions of Iran.
5. Tanur Bread – Clay Oven Baked Flatbread
In Iran, foods have been made in a tandoor (a traditional clay oven) for roughly five millennia. And when it comes to the most popular clay oven baked dishes, Tannur bread (or tandoor bread) is, without a doubt, a must-have.
Baking the bread in a tandoor oven allows it to have the signature smoky taste and crunchy texture. However, this oven is tough to maintain these days.
Nowadays, people have created inventive strategies to mimic the cooking process and the cuisine without using a tandoor oven due to its increasing inaccessibility. An oven or grill heated with charcoal or wood is a more common choice.
6. Sheermal – Saffron Flatbread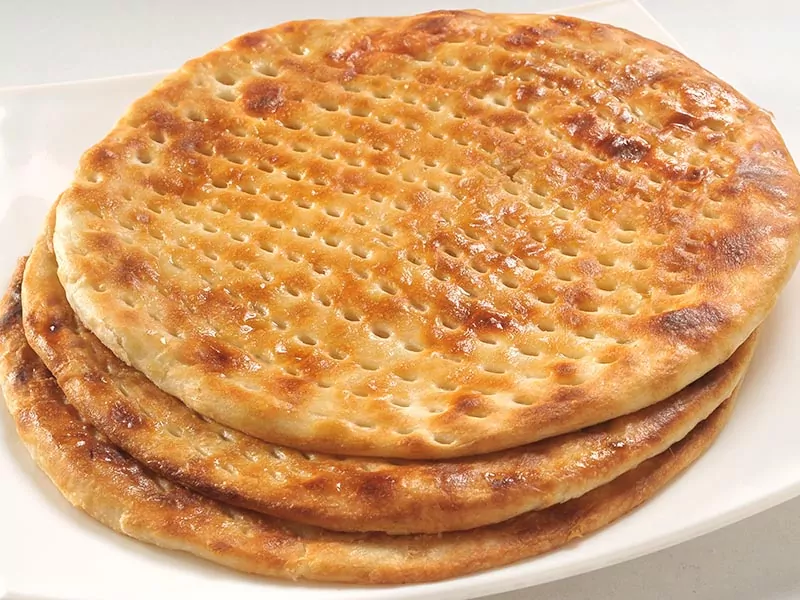 Sheermal is a classic saffron-flavored flatbread from Greater Iran, and this one is also a favored bread type in India. The literal translation of this name is "rubbed milk", with sheer meaning "milk" and mal meaning "to rub".
In Iran, each region has its own way to prepare Sheermal. It was made like a Roti in the past. However, today it is prepared like a Naan with sweetened warm milk and seasonings like saffron and cardamom. Sometimes, the cooks will put dried fruit in the dough to sweeten it.
While traveling across regions in Iran, you can often see Sheermal being sold as a souvenir. So be sure to grab some and get to know how different areas of Iran prepare this signature dish.
5 Rice Dishes In Iran That You Can't Resist
Rice is not only a staple in Iranian cuisine, but it is also considered an art form. According to almost every Iranian home chef, the Tahdig (the crust at the bottom of the rice pot) is the centerpiece of Iranian rice dishes. Learn more about them through this section!
7. Sabzi Polo – Green Herb Rice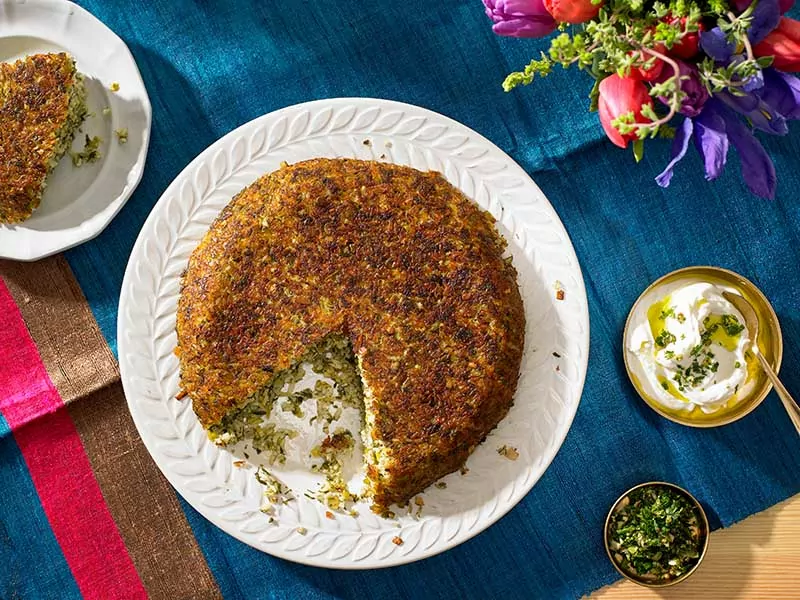 Sabzi Polo is a classic rice dish with chopped herbs and fish in Iranian cuisine. Sabzi (Persian for "green") refers to herbs or vegetables, whereas polo is cooked rice.
Coriander, dill, parsley, and fenugreek are some of the herbs commonly used in Sabzi Polo, either fresh or dried.
On Iranian New Year, or "the Nowruz", the Iranians typically eat Sabzi Polo with Māhi Sefid (white fish) for lunch with their families and relatives. Pickled garlic, herbs, and vegetables are also served alongside it.
8. Albaloo Polo – Saffron Sour Cherry Rice
Pairing rice with sour cherry perhaps doesn't sound quite appetizing to those living outside of this country. However, this saffron sour cherry rice dish in Iran is truly iconic. The word abaloo here means morello cherry in Persian, while polo is, again, a type of cooked rice.
Albaloo Polo pairs amazingly well with chicken, stews, or kebab. You can also serve it with Tahdig (the crispy rice layer) and enjoy the excellent combination of soft, sour cherry and crunchy, salty rice.
Albaloo Polo is surprisingly easy to make; take a look and find out!
9. Shirin Polo – Persian Wedding Rice/ Jeweled Rice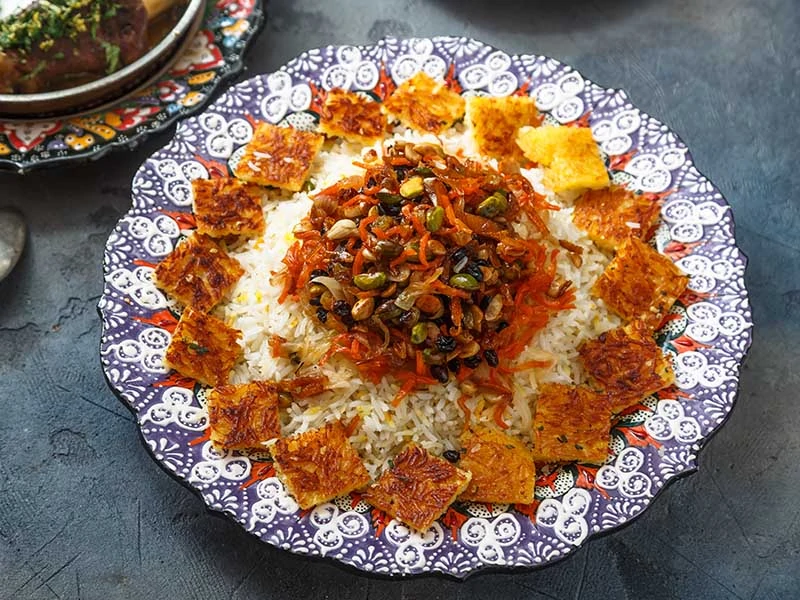 Shirin Polo is a classic Persian Pilaf frequently served at weddings. That is why sometimes it is referred to as "Persian wedding rice". The locals often have it with different nuts and dried fruits, including apricots, barberries, and dates on top.
You can find this dish in the authentic UAE cuisine. In these countries, Shirin Polo also makes its appearance during birthday parties, holidays, and other important events. In the Jewish community, people also eat this rice dish during Rosh Hashanah, Pesach, and the High Holy Days.
10. Tahchin – Baked Saffron Rice Cake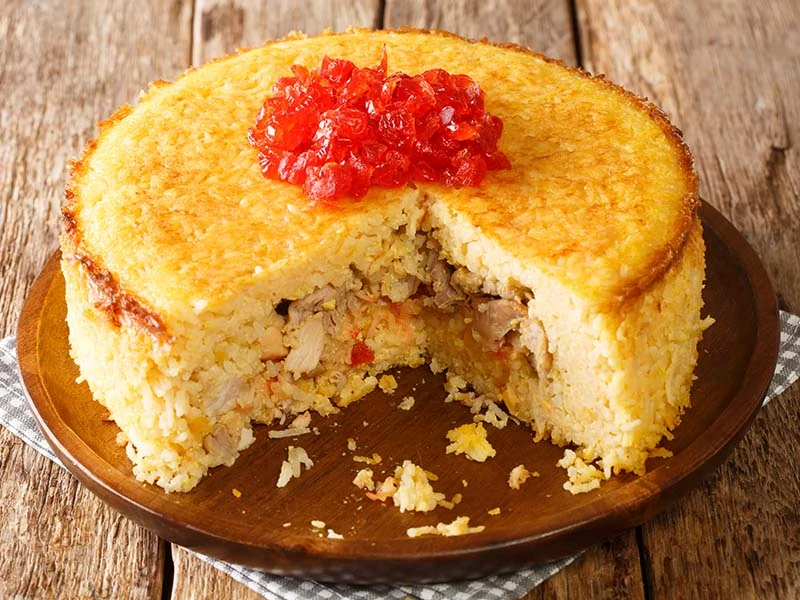 Let's tackle the name of this dish first: tah means "bottom" in Persian, while chin is "arrange". This name describes how you must organize and layer the ingredients from the bottom of a dish before cooking them.
This traditional Iranian rice cake is made mainly of rice, saffron, yogurt, and eggs. Some variants also include veggies and meat items such as chicken filets, fish, or red meat, among other ingredients.
The most delicious part of Tahchin is, undoubtedly, the thin, crispy Tahdig section at the bottom of the cooking pot. Some restaurants tend to serve only the Tahdig part and leave the white rice portion.
In case you want to learn the traditional way to cook Tahchin, give this a watch!
11. Biryani
The name of this dish actually comes from the Persian term Birinj Biriyan, which means "fried rice". The meal is said to have been inspired by Mumtaz Mahal, Emperor Shah Jahan's queen, in the 1600s.
For this classic Iranian lunch recipe, the locals will slow cook the marinated meat in its own juices and fry it with the rice and other aromatic elements. It can also contain a variety of optional extras like nuts, yogurt, and dried fruits.
However, some said that the modernized version of Biryani sold on the streets has transformed into luscious morsels of meat baked in a Rumali Roti. Most importantly, it no longer contains rice – an essential ingredient in the original recipe.
Treat Yourself To Some Delicious Kebab
You can't go to Iran without trying some delicious and flavorful meat skewers. Iranian Kebabs have everything you can ask for; lamb, pork, beef, chicken, you name it! So don't waste another second; grab a few and satisfy your craving!
12. Kabab Koobideh – Minced Meat Kebab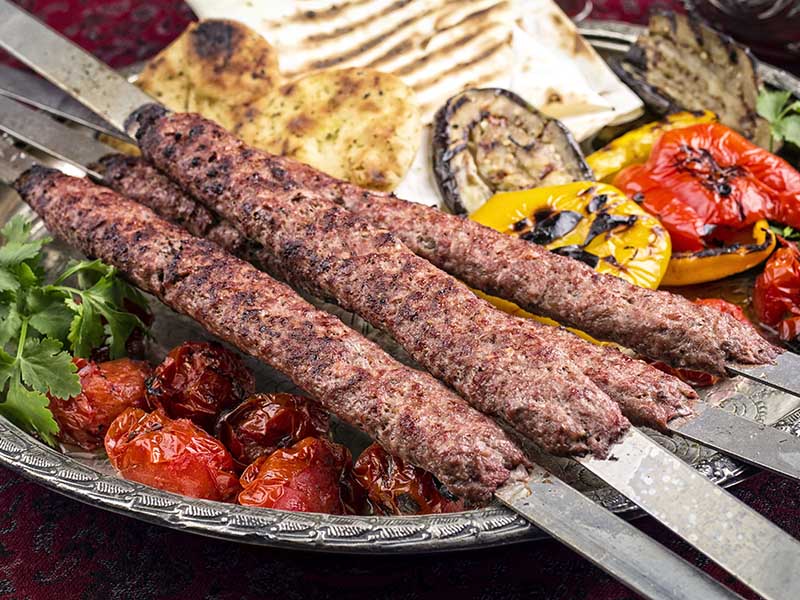 Kabab Koobideh has to be the most popular kabob found on Iranian streets. These smoky grilled meat skewers are available at fancy restaurants and nightclubs, as well as little snack carts around the parks in Iran.
This delicious Iranian meat kebab is prepared with ground lamb or beef (about 20% fat, 80% meat) and chopped onions. The meat is minced twice and smashed with a wooden mallet. Then it is grilled on a seekh (meaning "skewer" in Persian) over hot coals.
The scent and taste of Kabab Koobideh are truly irresistible. So when you arrive in Iran, follow your nose to this divine scent and grab a few freshly-roasted skewers.
Here is how Kabab Koobideh is prepared at Iranian restaurants!
13. Jujeh Kabab – Grilled Saffron Chicken Kabob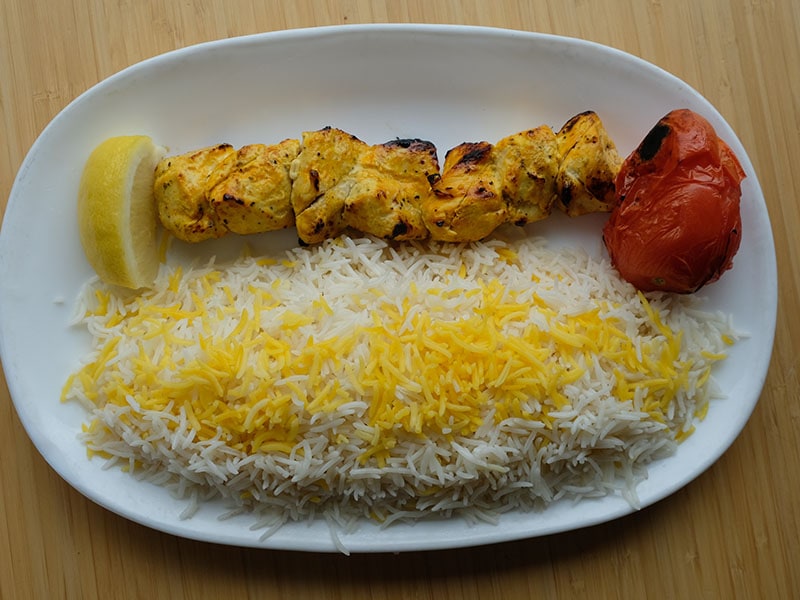 If you prefer something healthier, you can try some grilled chicken kebab instead! Jujeh Kabab, which literally translates to "grilled chick", consists of some grilled marinated chicken with chopped onion, saffron, and lemon juice. The chicken can either be bone-in or boneless.
The beauty of Jujeh Kabab lies in the marinade. The large chicken chunks have to be marinated overnight in a mixture of saffron and yogurt. After that, the saffron and lemon flavors will infuse the chicken nicely, making it incredibly moist and tasty.
14. Kabab Barg – Filet Mignon Kabob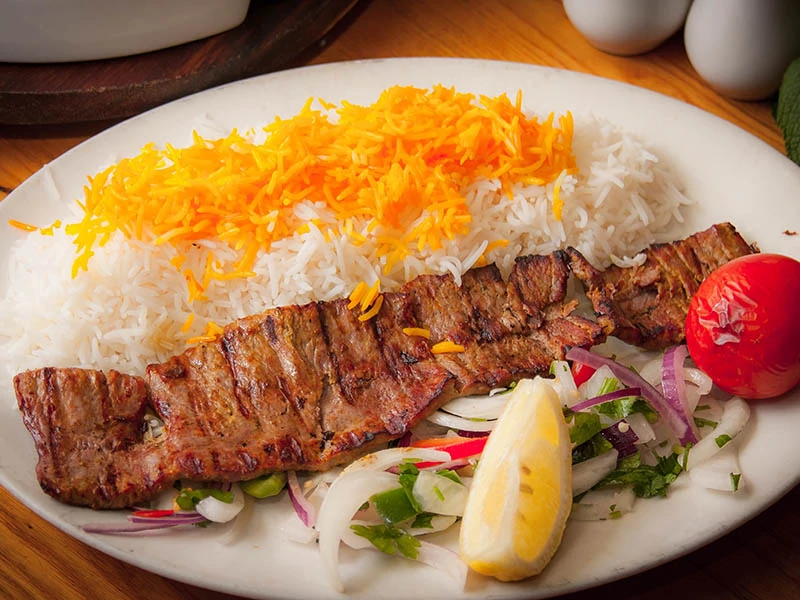 Another variety of Iranian Kebab that both locals and visitors love is Kabab Barg, meaning "Leaf Kebab" in Persian. The recipe for this Kebab calls for beef tenderloin, lamb sirloin, and perhaps chicken breast, coupled with onions and olive oil.
In Iran, the Kabab Barg recipe has been passed down through generations. The meat is marinated in saffron, olive oil, onions, and garlic after being chopped into strips. After that, it's skewered and cooked.
The combination of a Kabab Barg and Kabab Koobideh is known as Soltn in Iranian restaurants, which means "a sultan's feast". And if you add one chicken breast kebab to the combo, you will get a Şāh Äbbāsī.
15. Shashlik – Grilled Pork Kebabs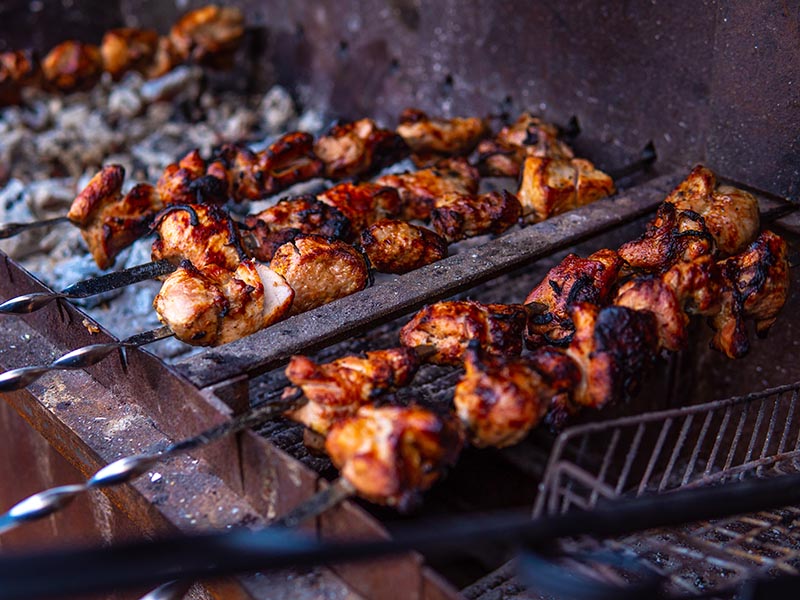 Shashlik is a skewered and grilled meat cube that became popular across most of the Russian Empire in the 19th century. Nowadays, it is available in nearly every restaurant and street food stall across the country. This dish is also made during social gatherings.
Also, Shashlik is a common food in Uzbekistan. It was traditionally made with lamb, but now, most people use beef, pork, or venison, depending on regional preferences and religious observances.
The skewers can be threaded entirely with meat or a combo of meat, fat, and veggies such as bell pepper, mushroom, and tomato. The meat will be marinated overnight in a high-acidity marinade such as vinegar, sour fruit, vegetable juice, and dry wine.
Meat for Shashlik frequently comes in large meat cubes in Iran. However, they will cut the meat into medium-sized bits in other areas, giving it a brochette-like appearance.
16. Bonab Kabab – Ground Mutton Kebabs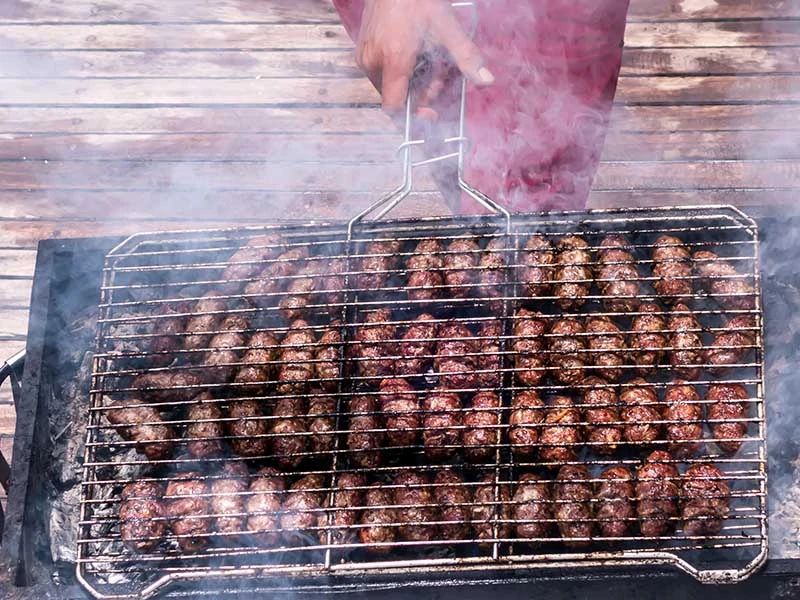 These flavorful Kebabs are made of ground mutton, onion, and salt. It is named after the city of Bonab in northwestern Iran, where it originated from.
Bonab Kabab skewers are double the size of a standard Kabab Koobideh, so if you're looking for a filling Iranian dinner recipe, this should be your go-to Kebab dish.
During the Qajar time, Bonab Kabab was a regal dish that is now renowned as a local and traditional delicacy of the people of Bonab. The vast number of barbecues that greet you at Bonab is the first thing that strikes you when you enter this city.
These Iranian Soups And Stews Are The Ultimate Comfort Food
During the cold days of winter, nothing can beat that taste and feel of a bowl of hot soup or a plate of flavorful stew. If you're in the mood for something comforting, something filling, something that can instantly warm you up, these dishes are perfect for you!
17. Fesenjān – Pomegranate and Chicken Stew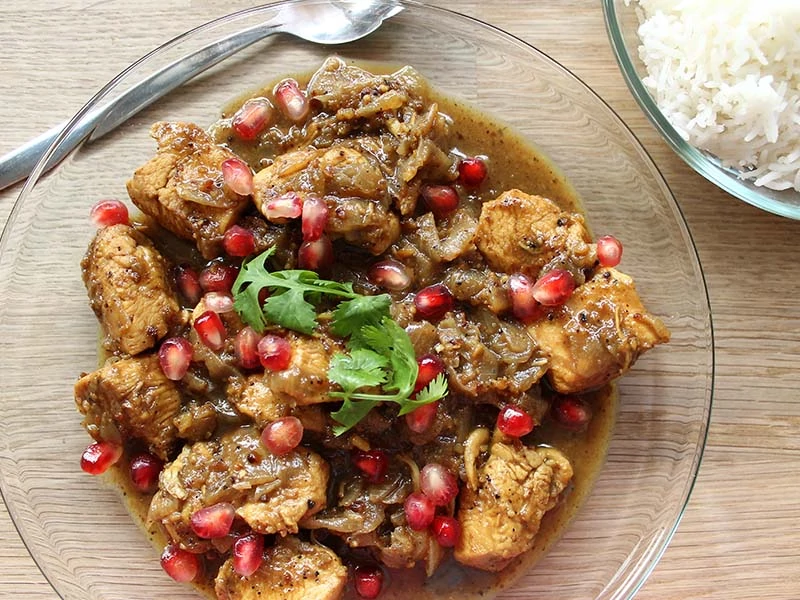 Pomegranate is not a common ingredient in savory dishes like soups or stews. However, you will be surprised at the number of recipes with pomegranates. And its sweet and sour flavor matches this meaty Northern Iranian stew.
Fesenjān is one of the oldest meals in Iranian cuisine. A tablet outlining the ingredients necessary to cook this dish was discovered in the ancient remains of Persepolis by archeologists.
Making Fesenjān is quite time-consuming, so the people in Iran only cook it on special occasions, such as Yaldā Night celebrations. Fesenjān is usually served with either Polo or Chelo (Iranian white or yellow rice).
To create the signature flavor of Fesenjān, the locals use pomegranate paste, ground walnuts, eggplant, poultry meat, and spices. Sometimes, they also incorporate meatballs and lamb pieces in this dish.
Remember to check this detailed tutorial when you want to make Fesenjān at home!
18. Gheimeh – Beef and Split Pea Stew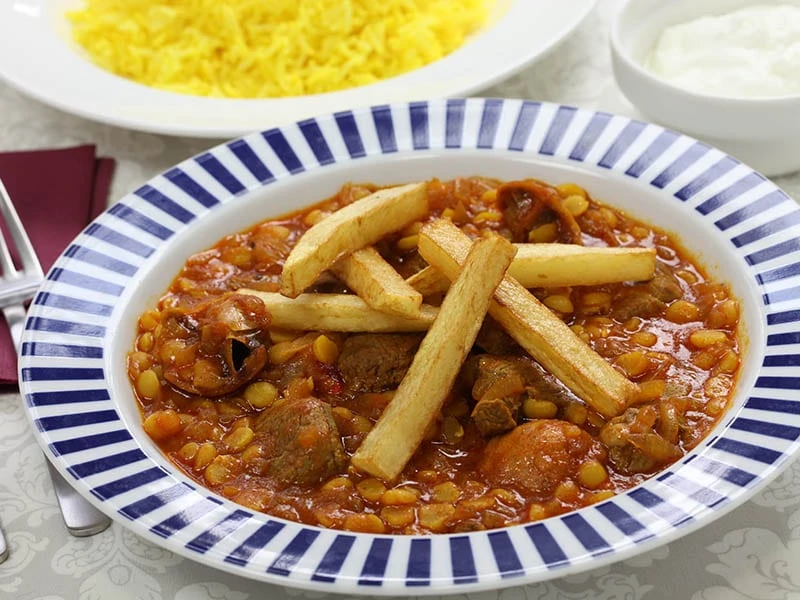 Gheimeh is another typical Iranian stew made with diced mutton, split peas, dried lime, and topped with golden crispy sliced potatoes. The stew pairs perfectly with white rice and fried eggplant or thin French fries.
Gheimeh's flavor is determined by its ingredients. For example, beef is sometimes swapped with lamb, altering the taste of the stew. The use of saffron also gives the dish a distinct flavor.
This tasty stew is frequently served as part of the main course. It's best served hot, and it goes well with various side dishes and drinks. This dish is also available on the street during Muharram to those in need.
19. Ghormeh Sabzi – Herb Stew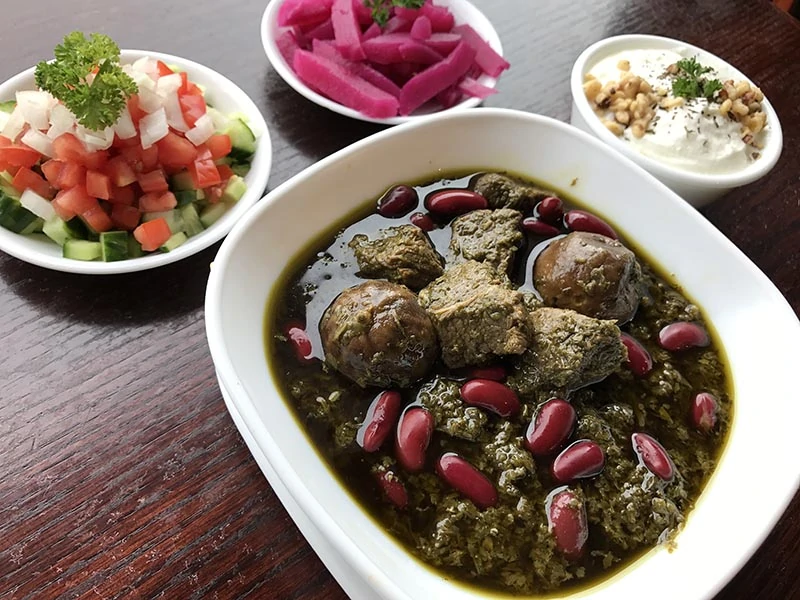 In the mood for something earthy and aromatic? Then grab a bowl of Ghormeh Sabzi and enjoy! Ghormeh Sabzi, also known as Khoresht Sabzi, is an extremely popular Iranian herb stew with a 5,000-year history.
Ghormeh is a Persian term that means "braised", while sabzi means herbs. And you guessed it, the main ingredient for this dish is a sauteed herb mixture, primarily parsley, green onions, coriander, and dried fenugreek leaves.
Ghormeh Sabzi was named one of the 12 most meaningful dishes by "Self" magazine among Iranian families. According to the Tehran Times, the meal is also considered "one of the most prominent dishes in Persian culinary heritage".
20. Baghali Ghatogh – Lima Beans with Eggs and Dill Stew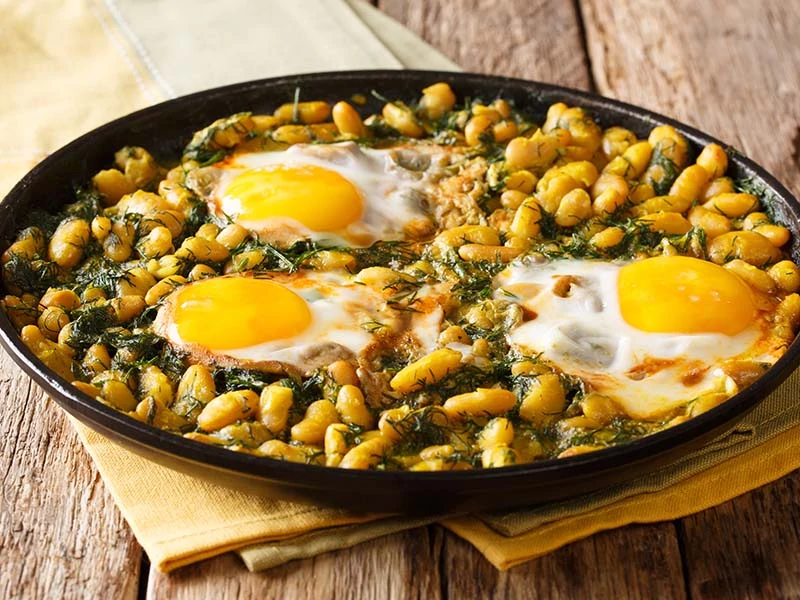 Baghali Ghatogh's green color and scent will take you to Iran's beautiful northside, where everything is connected to the sea, forests, and farmland.
This traditional northern Iranian meal is cooked with fava beans, eggs, dill, and seasoned with turmeric, garlic, salt, and pepper. It's an intriguing supper for vegetarians who want to taste Persian cuisine.
In northern provinces like Mazandaran and Gilan, it's commonly eaten with Kateh (a Persian rice dish). Outside of Iran, people often use kidney beans, lima beans, or fava beans for this delicious stew.
21. Abgoosht – Lamb and Chickpea Stew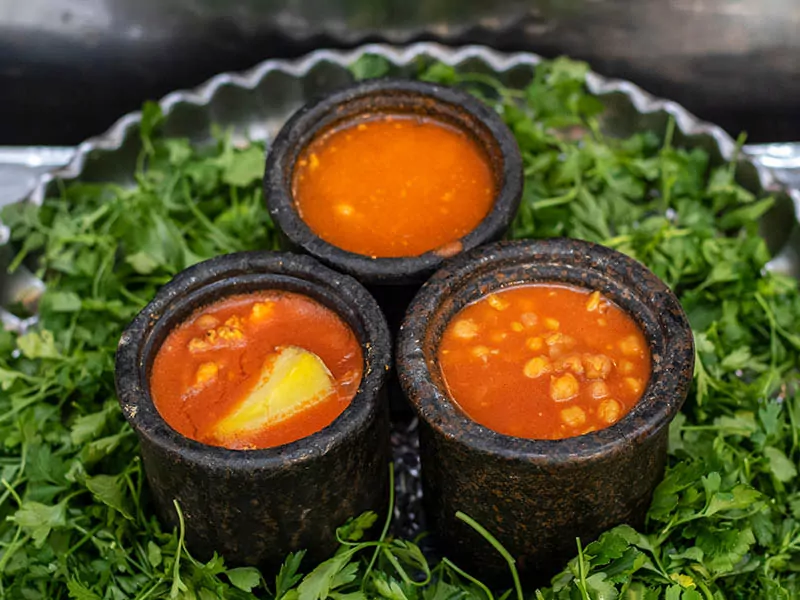 Abgoosht, also known as Dizi, is a traditional stew in Iran that contains lamb, chickpeas, turmeric, and potatoes. Some recipes incorporate other beans like black-eyed peas and kidney beans into the dish.
This dish is, without a doubt, Iran's most beloved peasant dish. Being made with cheap, bony cuts of lamb, the broth of Abgoosht is the soul of this iconic stew. People often serve it with warm flatbread, fresh herbs, pickles, or any palate cleanser that counteracts the stew's richness.
To serve Abgoosht, the locals remove the lamb and veggie from the broth and serve the broth first. The meat and vegetables will then be mashed or kept whole and served afterwards. In the past, the old tea houses used to make Abgoosht in individual clay pots.
22. Aush Reshteh/ Āsh e Reshte – Noodle Thick Soup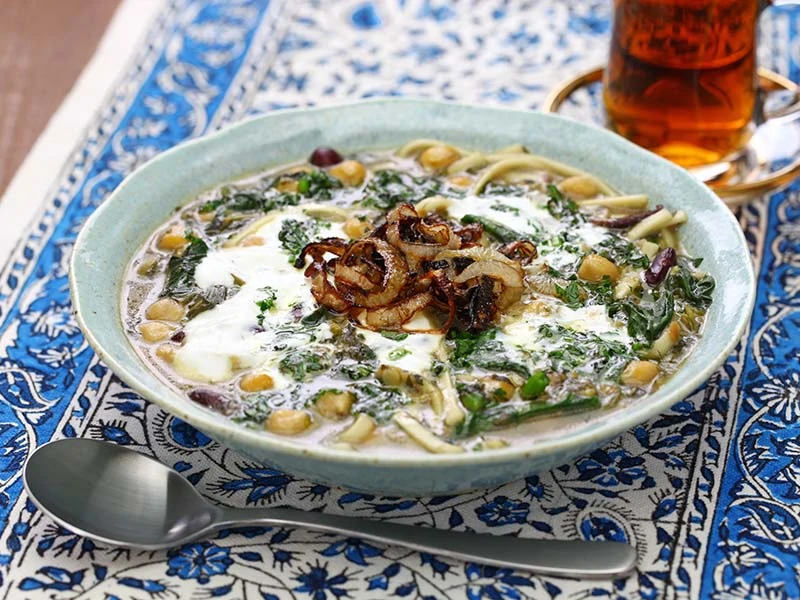 The name "Aush Reshteh" has already described this dish perfectly, with the term aush meaning thick Iranian soup and reshteh means thin noodles.
The recipe for this ancient soup has evolved over time. By A.D. 500, noodles had been added to the meal, bringing it closer to the current recipe. Aush Reshteh is traditionally served at unique Iranian occasions such as Sizdah be-dar, Nowruz, or during the winter season.
There are over 50 types of thick soup in Iranian cuisine, but Aush Reshteh is still one of the most well-known types in this big country.
Besides thin noodles and soup, Aush Reshteh includes a few Kashk (made from cooked or dried yogurt) and different herbs such as spinach, parsley, dill, or spring onion ends. Sometimes, the locals add beans, dried mint, or even meat to flavor this dish.
According to the locals, these noodles represent good prosperity in the coming year. It is most commonly prepared in the autumn and winter.
Reward yourself with a homemade Aush Reshteh with this recipe right here!
Delightful Iranian Sweet Treats That Will Make Your Mouth Water
Despite how incredible the savory dishes are, the taste of Iranian desserts will linger on your tongue even after you leave the country. So don't ignore your craving any longer; take a look at these yummy sweet treats and enjoy!
23. Zulbia – Traditional Deep Fried Pastry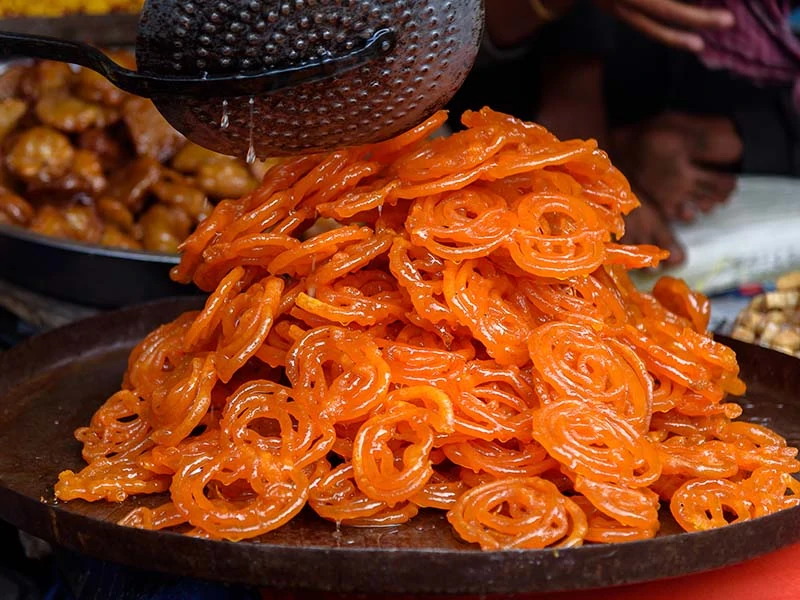 Zulbia, also known as Zolbiya or Zoolbia, is a worldwide famous dessert with varieties found throughout Asia, India, and the Middle East. But historically, it is believed to have originated in Persia around the 10th-century.
During Ramadan in Iran, Zulbia was distributed to the poor. Nowadays, this delicious deep-fried pastry can be enjoyed by anyone, especially during important occasions in both Iran and India. Additionally, the Iranians still love to enjoy this dessert after fasting during Ramadan month.
This sweet treat is made by mixing flour with yogurt or clarified butter, as well as baking soda or yeast. The batter is then poured into circular patterns directly into the hot oil to create its signature spiral shape.
After frying, these pastries are then dipped in a thick syrup flavored with saffron, honey, rosewater, or cardamom and topped with saffron threads or chopped pistachios. The result is a crispy and sweet delight that even adults can't resist.
Zulbia is usually paired with a cup of black and another deep-fried dessert called Bamiyeh.
24. Pashmak – Persian Cotton Candy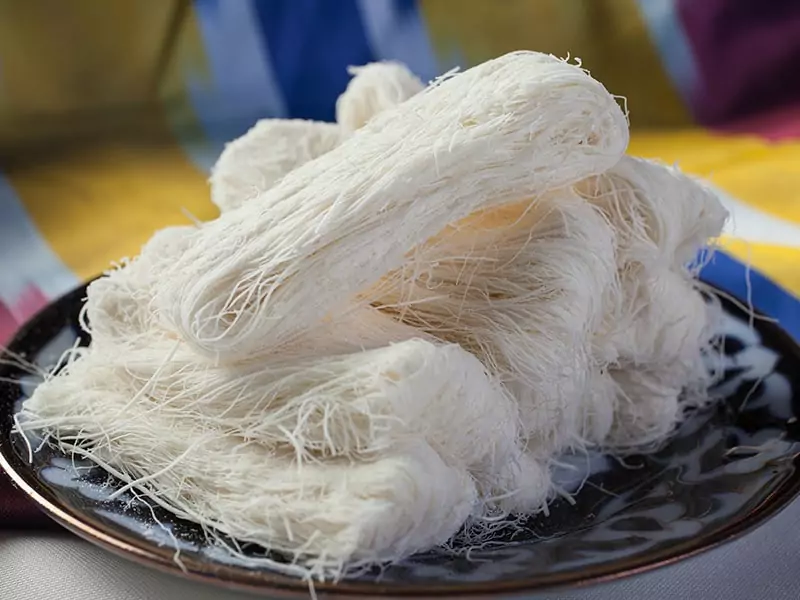 If you're a fan of the dragon's beard candy from China or Persian-based desserts with candy, you will love this sweet treat! Pashmak is a popular and yummy dessert in Iran. Because of how similar it looks to hair or wool, Pashmak earned the nickname "angel's hair".
This time-consuming dessert is made by toasting flour in butter and combining it with caramelized sugar. As the sugar cools, it's scooped up, stretched, and twisted with deftness until it becomes several thin and delicate strands.
The Iranian city of Yazd is thought to be the birthplace of Pashmak. While it is delicious on its own, it is also used as a decorative garnish for other sweet treats like cakes or ice creams.
If you're having trouble making Pashmak at home, this detailed guide can help you out!
25. Naan Berenji – Persian Rice Cookies with Poppy Seeds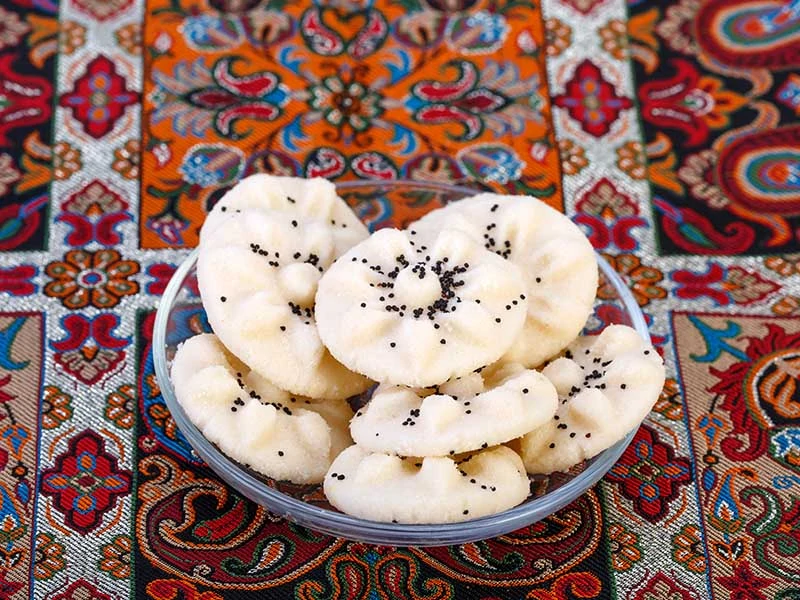 These light and crispy Iranian cookies will surely satisfy your sweet tooth! Naan Berenji is round flat rice flour-based cookies flavored with rose water or cardamom and garnished with pistachios, poppy seeds, or barberries.
The locals often serve these classic cookies as a light afternoon snack with a hot cup of coffee or tea during the Iranian New Year.
Naan Berenji is widely popular throughout the country, and it seems that every region has its version of this delightful treat. However, the ones from the Kermanshah region are the most authentic kind, according to the locals.
26. Sholezard – Saffron Rice Pudding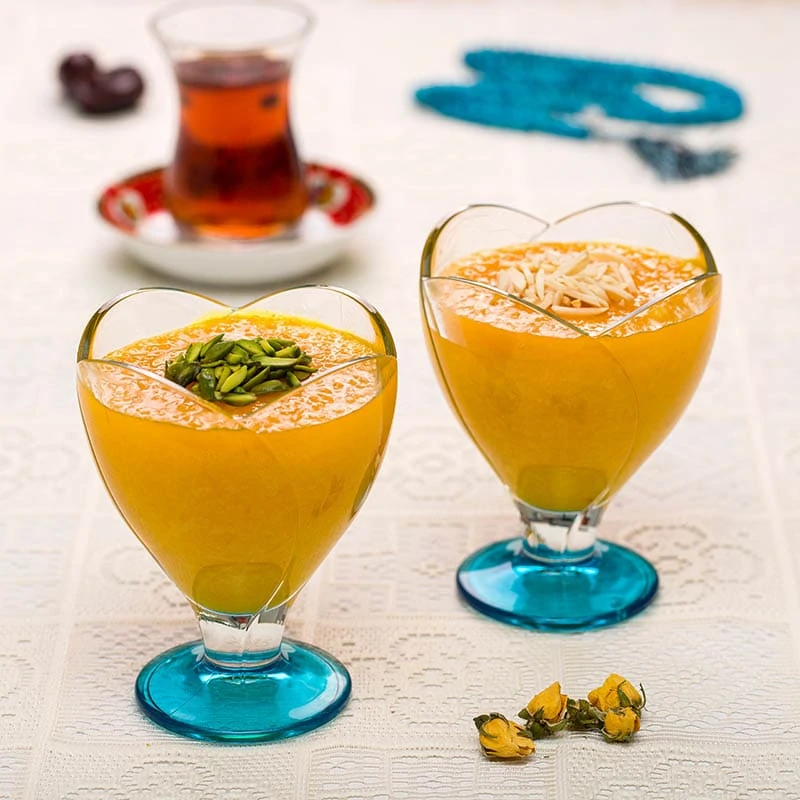 I bet rice pudding is not an unfamiliar dessert to all of you since almost every country has a similar dish to this. However, Sholezard still manages to stand out among hundreds of rice pudding variance with its unique addition of saffron.
This saffron rice pudding delicacy originated in Iran. Besides saffron, the locals also use rose water, cinnamon, cardamom, and butter to give the Sholezard more flavor. Almonds, pistachios, and rosebuds are also standard toppings for this yummy sweet treat.
Sholezard is usually offered during religious occasions like Ramazan. Legend said preparing it will grant you one wish. Once the desire is given, it can even spread to others.
27. Halva – Middle Eastern Sesame Candy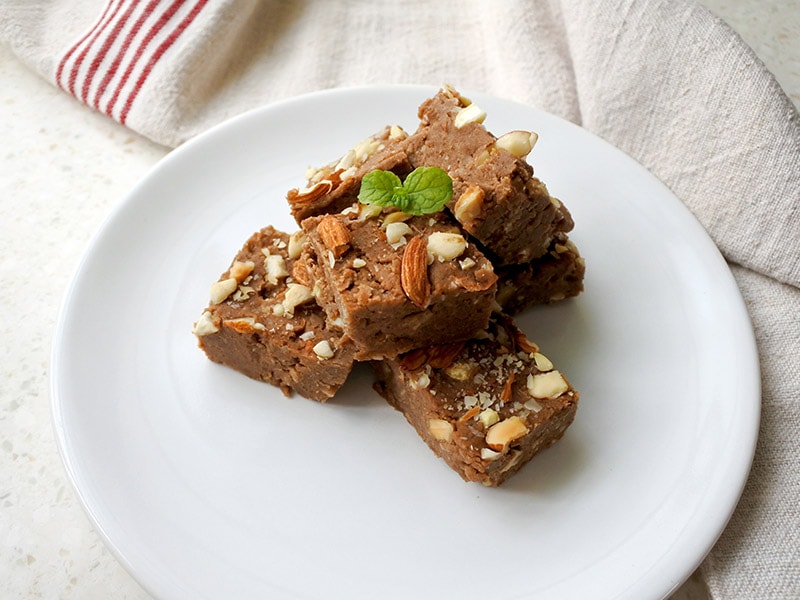 Halva is the name people use to describe this famous Middle Eastern type of candy. It can be made with various ingredients, but nuts and grains are quintessential to this popular treat. In the food culture of Tajik – a nation in Central Asia, Halva is known as Halvaitar.
Halva is traditionally cooked at religious festivals and served after burial rites in Iran. However, nowadays, you can often catch sight of Iranians enjoying their Halva every afternoon with bread, tea (especially with Persian tea – a simple Iranian drink), coffee, or even wine.
There are several types of Halva candies; some are made from sunflower seeds, some are made from semolina, cornstarch, or flour. The others can be made from sesame seeds, and they are by far the most famous type of them all.
The treat was rumored to first appear around the 7th century. This is because there was documentation of a delicacy made from a mixture of mashed dates and milk, which most people believe to be a traditional version of the modern-day Halva.
28. Bastani Sonnati – Saffron Ice cream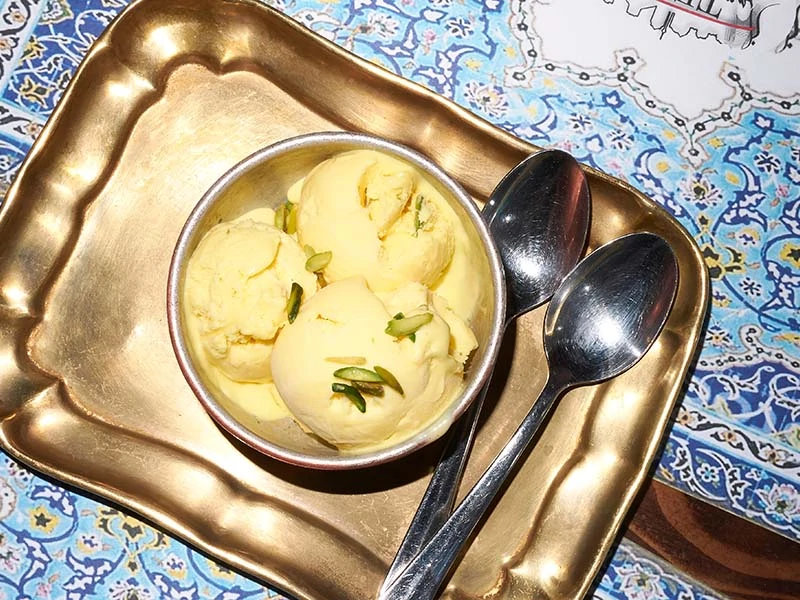 Bastani Sonnati is a traditional treat from the Middle East with a distinctive yellow color. It is also generally known as saffron and rose water ice cream.
Iranians create a mixture of rose water, saffron, vanilla, and pistachios to make this special dessert. The mixture is then frozen and can be enjoyed as a sweet treat to combat the intense heat of the Middle East.
The history of Bastani Sonnati is believed to have dated back to around 500 BC when people poured syrups over snow mixed with fruits, grape juice, and saffron to create a type of summertime treat called "fruit ice". It has evolved and become the dessert as you know of today.
29. Faloodeh – Lime and Rose Water Granita With Rice Noodles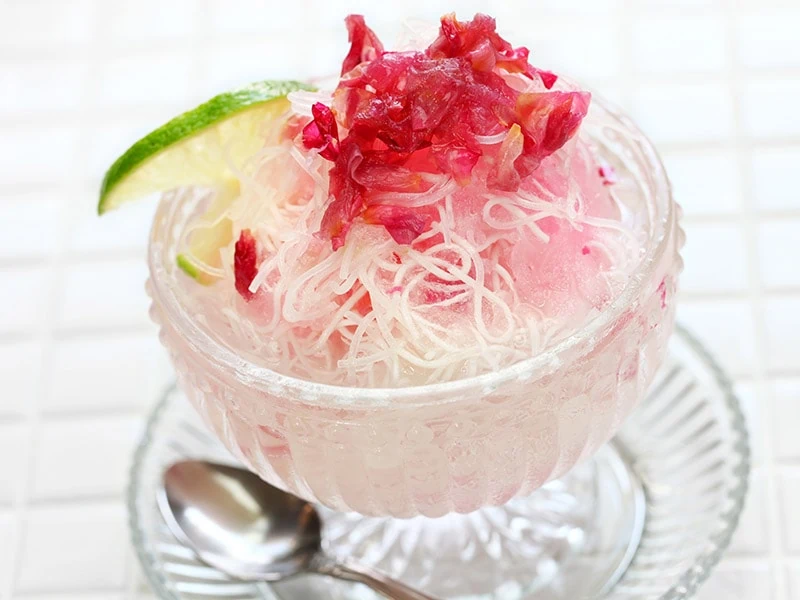 The Indo-Persian Mughal kings who ruled the land from the 16th to 18th centuries were credited for a cold dessert once called Falooda, which later became Faloodeh.
Faloodeh is another cold dessert from Iran, similar to Bastani. However, Faloodeh resembles sorbet, while Bastani is more like a traditional creamy ice cream.
The sweet treat is made from vermicelli rice noodles, rose water, lime juice, and cherry syrup. The unusual combination has created this delicate icy treat, perfect for a hot Iranian day. Faloodeh can be easily found in ice cream stores and coffee shops across Iran.
30. Kaymak – Clotted Cream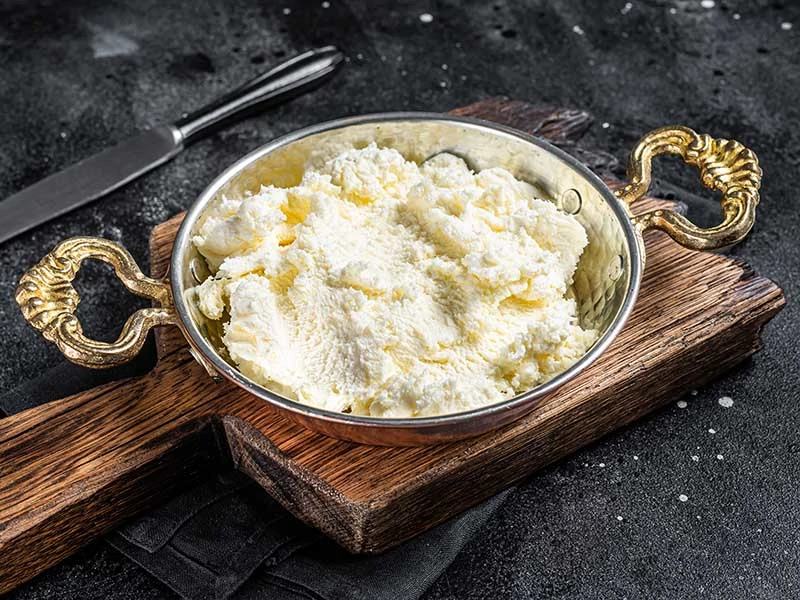 Kaymak can be considered a type of Iranian cream cheese or clotted cream made from the milk of native cattle such as water buffalo, cows, sheep, or goats.
The process of making Kaymak calls for slowly boiling the milk and simmering it for 2 hours, then leaving the mixture to chill and ferment for up to a few days. The result is a delightful creamy white cloud that can go well with honey.
The origin of Kaymak is not well documented, but we've learned that this name comes from the Central Asian region. Kaymak in Turkic means "melt" and "molding of metal". In Mongolia, this word is called Kaylgmak, a fried treat made from clotted cream.
31. Qottab – Almond and Walnut-Filled Crescents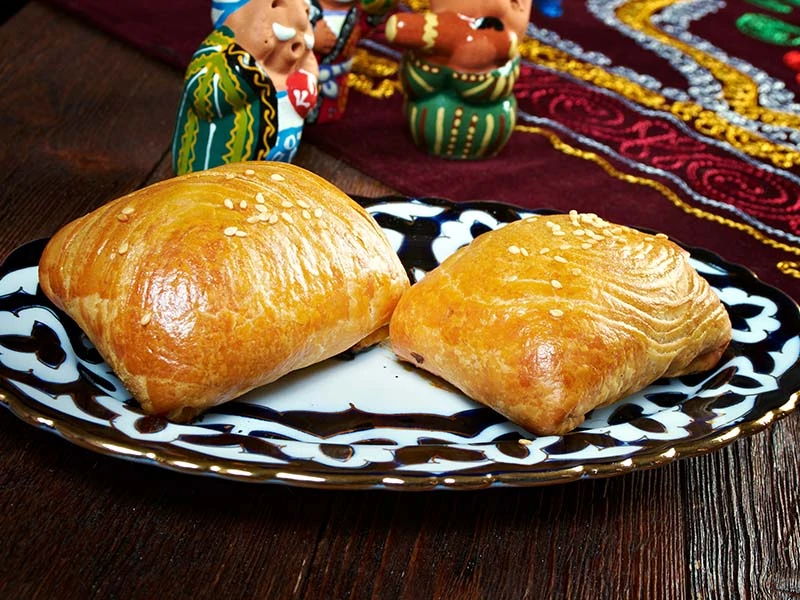 Qottab is a deep-fried pastry filled with crushed almonds flavored with cinnamon, cardamom, rose water, and orange blossom.
The outer layers of the dish are made from soft wheat dough and are shaped into a crescent pie. After coming out of the fryer, the dessert is heavily dusted with powdered sugar.
Qottab makes its appearance mainly at Iranian festivals and celebrations, and it is loved throughout the country. This dish is the traditional pastry of Yazd and Kerman province, Iran.
The history of this dish dates way back to the Achaemenid Empire. But despite that, it is still one of the most well-known and well-loved desserts in Iran until this very day.
Iranian Foods Deserve More Attention
Persia's terrain, history, and cultural influences have formed a wide range of ingredients and culinary methods in Iranian cultures. Iran has been invaded several times, yet it still retains its incredible culture, language, and identity.
I hope this article has successfully inspired you to try Irainain dishes. If it does, don't forget to share it with your friends or loved ones to persuade them too!
Which Iranian dishes above do you like most? Comment down below your top picks and let me know. Also, remember to leave a like if you enjoy this post. Thank you so much for your support, and I hope to see you all soon! Bye for now!