How long can pizza sit out? This is a delicious and convenient food that most people opt for on busy weeknights. Believe me, once you get a slice of this thing, you never want to stop there. That's why people often have a lot of pizzas stacked in their kitchens.
But like most food, they have a limited shelf life. Consuming expired pizzas can lead to serious health problems. Therefore, knowing how long pizza can sit out is essential to maintain its quality and ensure your safety.
Through this article, you will get the chance to learn about the lifespan of pizza in different storage conditions. Also, I will provide you with some tips to deal with leftover pizzas.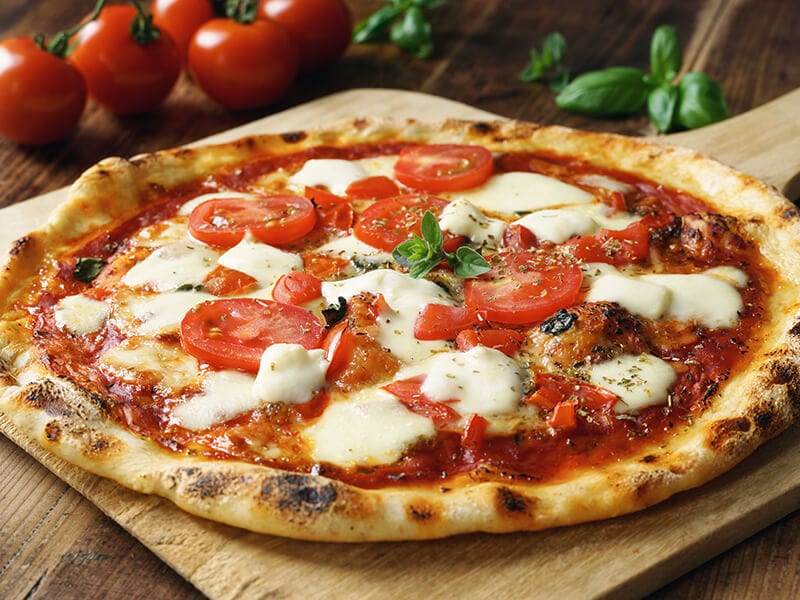 The Shelf Life Of Individual Pizza Ingredients
To have a better overview of how long pizza can last, the best way to start is to get to know its ingredients first. This section is the premise of the rest of the information. So, don't skip it!
Take a look at the table below to see the estimated time for keeping each pizza ingredient safe.
| Ingredient | At Room Temperature | In The Fridge | In The Freezer |
| --- | --- | --- | --- |
| Pizza dough | 2-24 hours | 5 days | 3 months |
| Tomato sauce | 2 hours | 5-7 days | 6 months |
| Pesto sauce | 2 hours | 2 weeks | 6 months |
| Alfredo sauce | 4 hours | 2 weeks | 3 months |
| Pepperoni | 2 hours | 3 weeks | 3 months |
| Mushrooms | 2 hours | 7-10 days | 10-12 months |
| Onions | 2 hours | 3-5 days | 3 months |
| Sausage | 2 hours | 3-4 days | 2-3 months |
| Bacon | 2 hours | 4-5 days | 1-3 month |
| Mozzarella cheese | 2 hours | 3-4 days | 8 months |
Pizza Crust
Do you see the beautiful brown and crispy base of the pizza? That's pizza crust. It's made from dough consisting of flour, yeast, salt, water, and olive oil.
Generally, homemade pizza dough (with more yeast) is safe to prepare for 2-4 hours at room temperature. Neapolitan-style pizza dough, however, can survive for up to 24 hours. Properly stored, the pizza dough lasts up to 5 days in the fridge and 3 months in the freezer.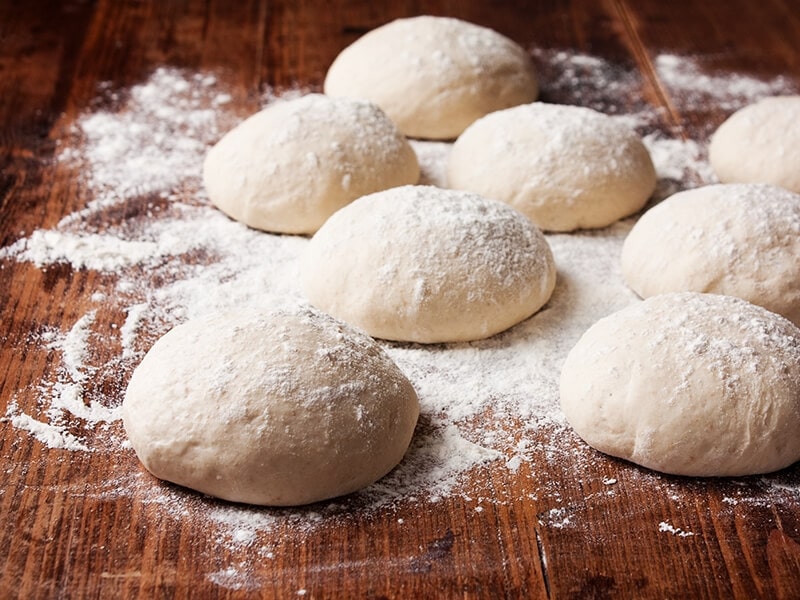 Pizza Sauce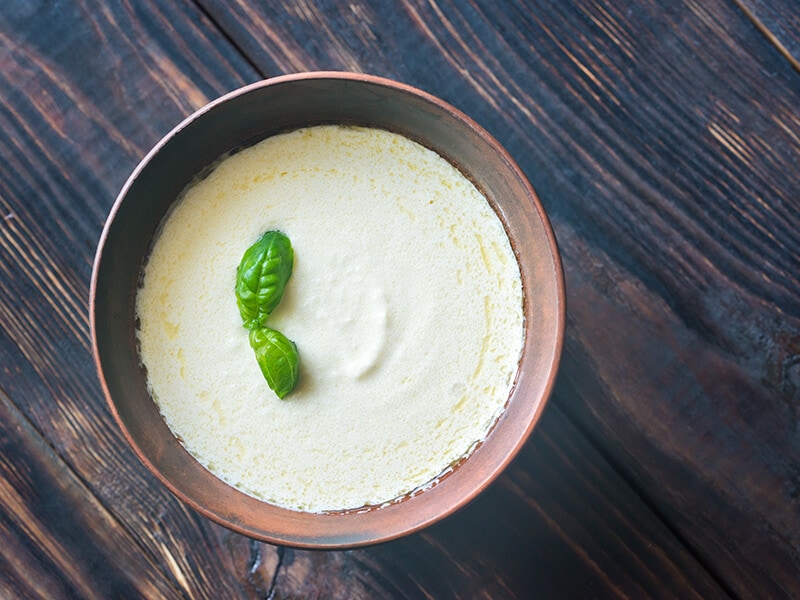 Pizza sauce plays an important role in shaping the taste of your pizza. It brings other pizza ingredients together, resulting in a consistent flavor. Popular choices include red tomato sauce, green Pesto sauce, and white Alfredo sauce.
Normally, the sauce for your pizza is a mixture of tomato sauce (pureed tomatoes or tomato paste works, too), garlic, oregano, basil, herbs, and spices. Since it is made up of perishable items, the sauce itself is perishable too.
At room temperature, pizza sauce keeps its best quality for several hours. Refrigerating extends its shelf life to 1-2 weeks, while the freezing method is ideal for long-term storage after months.
Did you know how to make the ultimate sauce for pizza? Check out this recipe now!
Toppings
When it comes to pizza toppings, there is no limitation. You can add as many ingredients as you like on top of your pizza. The most common toppings for pizza are pepperoni, mushroom, onion, sausage, bacon, and mozzarella cheese.
Overall, once cooked, these toppings last for 2 hours before turning bad. Putting them in the fridge allows them to stay edible for another few days. Frozen meaty food needs to be consumed sooner than vegetables or cheese.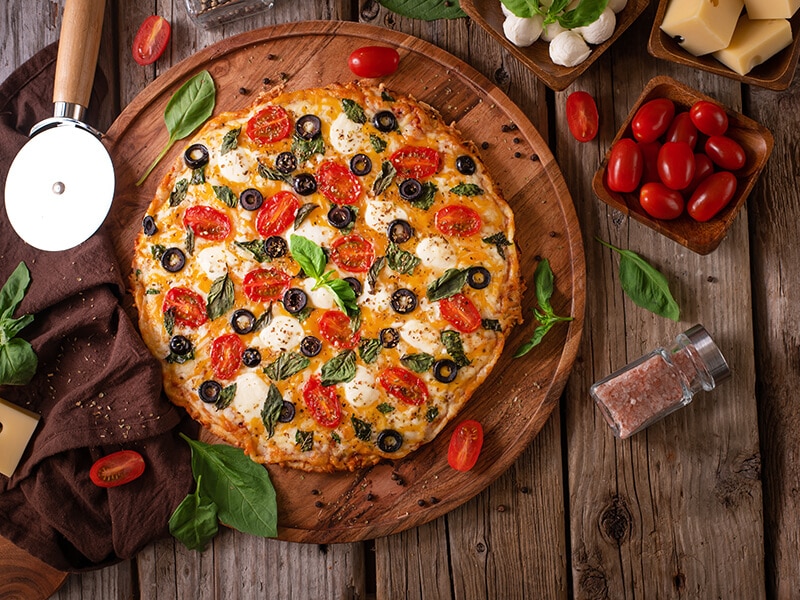 How Long Can Pizza Sit Out At Different Temperatures
You have just known about each pizza ingredient's shelf life, but what about combining them in a baked dish? Will it make any difference?
Yes, it will. The lifespan of pizza depends on how you store them. Various storage temps affect pizza significantly. Look at this table for a better idea:
| Storage Place | At Room Temperature | In The Fridge | In The Freezer |
| --- | --- | --- | --- |
| Leftover Pizza | 2 hours | 3-4 days | 1-2 months |
| Frozen Pizza | 2 hours | 3-4 days | 18 months |
| Vegan | 2 hours | 3-4 days | 4-6 months |
Pizzas At Room Temperature
Generally, most of the pizza ingredients are good within 2 hours after cooking because they comprise food-borne pathogens. Therefore, it's understandable that pizza can only last for the same amount of time. The reason for this can be attributed to bacterial growth.
Bacteria thrive at temperatures from 40°F to 140°F (40°C-60°C) (1). For pizza specifically, when the temp gets to 90°F (33°C) or higher, its shelf life decreases in half, which means it can only last for an hour.
But in reality, many store-bought pizzas can still taste good after hours or even days. The reason is that they contain a lot of salt and other preservatives. However, just because you can eat them, that doesn't mean you should!
Remember that bacteria are invisible to your eyes. Even if your pizzas still have excellent taste and appearance, there is probably a microbial ecosystem thriving in them. Keep that in mind the next time you chew on a two- or three-day-old pizza.
Homemade pizzas, on the other hand, have no preservatives, making them spoil faster. In addition, some pizza varieties are packed with highly perishable toppings, such as seafood. You should never leave these things at room temperature for too long.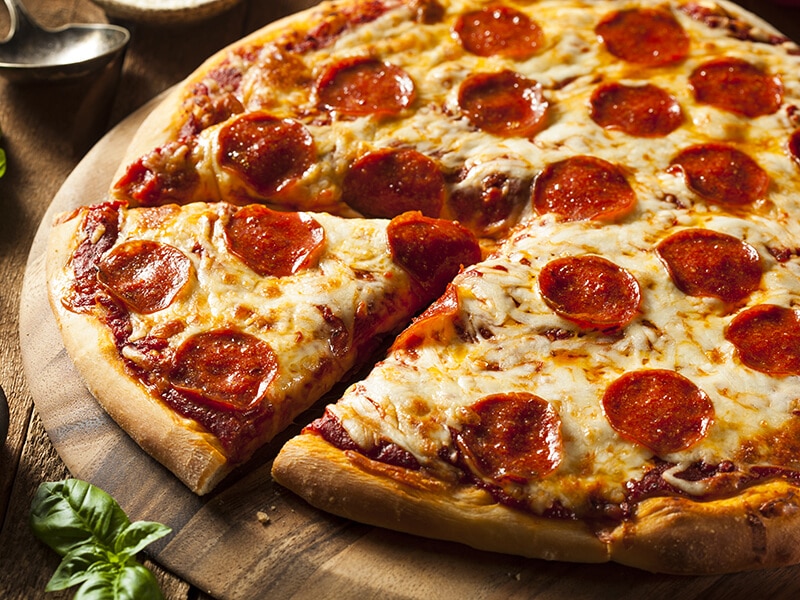 Pizzas In The Fridge
You may think since vegan pizza has no meat, it is fine in the fridge for a longer amount of time than the rest. But it's false: vegan pizza does not boast that ability.
All types of pizza, including leftover, thawed, or vegan ones, last for 4 days at most in the fridge, providing that the frozen pizza is heated before refrigerating.
And that only happens when you refrigerate them within 2 hours after baking, as well as properly cover them. After the suggested time, the quality of the pizza decreases significantly and starts to spoil.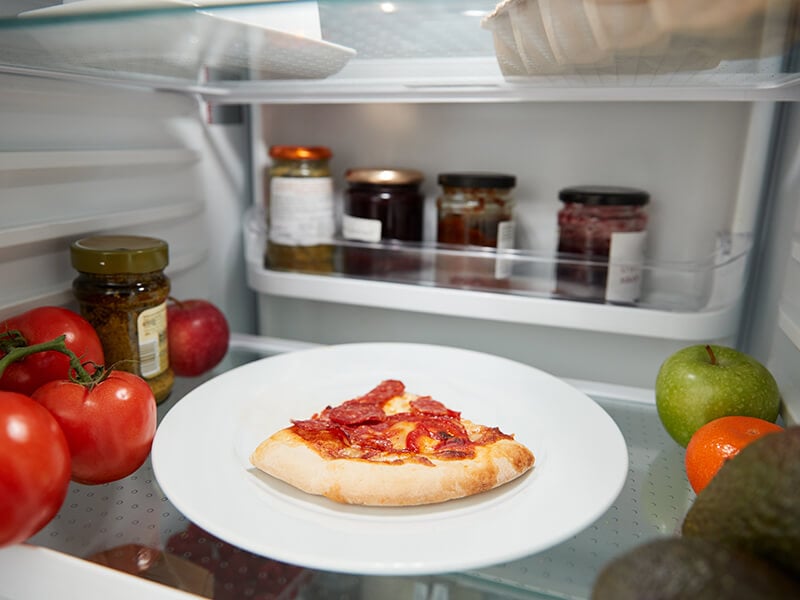 Pizzas In The Freezer
Pizzas freeze very well. They can hold their flavor and texture after thawing. Choosing a freezer for pizza storage allows you to keep it longer. This is beneficial if you are a home baker: you can stock up on as many pizzas as your space allows.
The life of pizza in the freezer varies among types. Leftover pizza is edible after being frozen for 1-2 months. With vegan pizza, 6 months is the maximum time to guarantee its best conditions.
When you buy frozen pizza and continue to freeze them immediately, you can enjoy it even after 18 months. If you make homemade pizzas to preserve them in the freezer, there is no need to cook them thoroughly. You only have to cook the base so that it can hold its shape.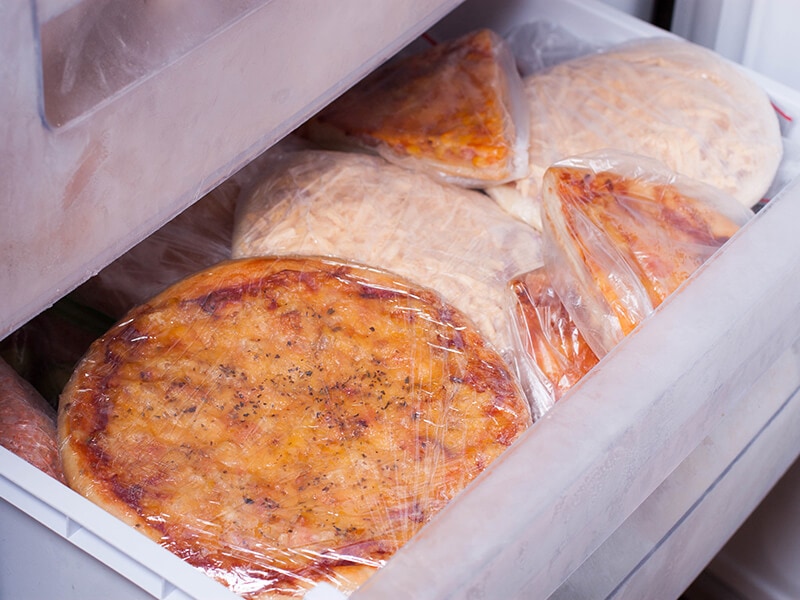 How to Tell If Your Pizza Is Bad
Like many other foods that have gone bad, spoiled pizzas have many telltale signs. What you have to do is take a closer inspection before consuming leftover pizza.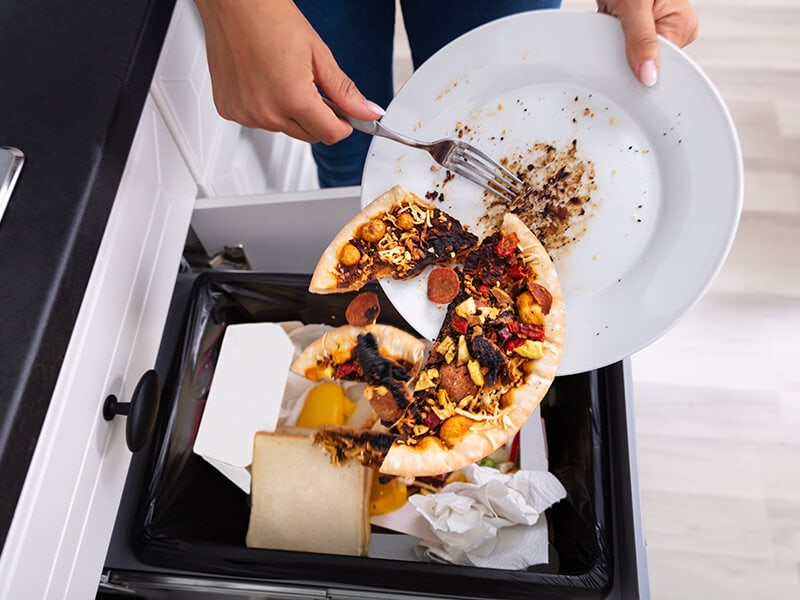 Odd Tastes
The worst thing to expect is a pizza that does not taste like pizza. A bad pizza loses its flavors and develops sourness that may make you throw up. Unfortunately, there is no way to detect bad-tasting pizza unless you try it. Therefore, you may want to scroll down for other signs.
Weird Smell
One of the clearest indicators is odor. Cheese smells really awful when it has gone bad, giving off an unpleasantly rancid stench. And since it's one of the basic ingredients that make up your pizza, the pie will likely cling to that stink.
Change In Texture
Opposite to freshly baked pizza, the bad one is dry and hard. Even if it's fine for consumption, the pizza has lost its enjoyable taste. And believe it or not, that dried crust can break or chip a tooth!
Molds
The evidence of mold on pizza is definitely a sign to throw your pizza away. Regardless of the color (green, gray, black, or white), as soon as you spot some fuzzy object on the pizza, it's time to steer clear of your pizza!
In addition, the mold spores can lay deep inside the pizza and spread around quickly. Therefore, even if you only see some tiny mold on a single pizza slice, toss it all for your safety.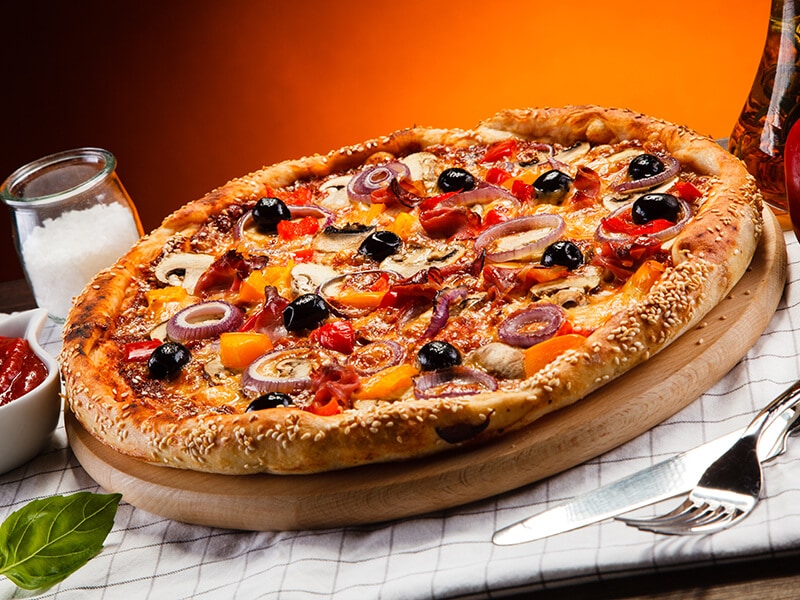 Slimy Toppings
Come cheese-free pizzas can still spoil due to other toppings like pepperoni, mushroom, salami, bacon, etc. When the quality of these things deteriorates, they become slimy and squishy. And it's certainly something you don't want to take a bite of.
Spoiled Pizzas And Their Danger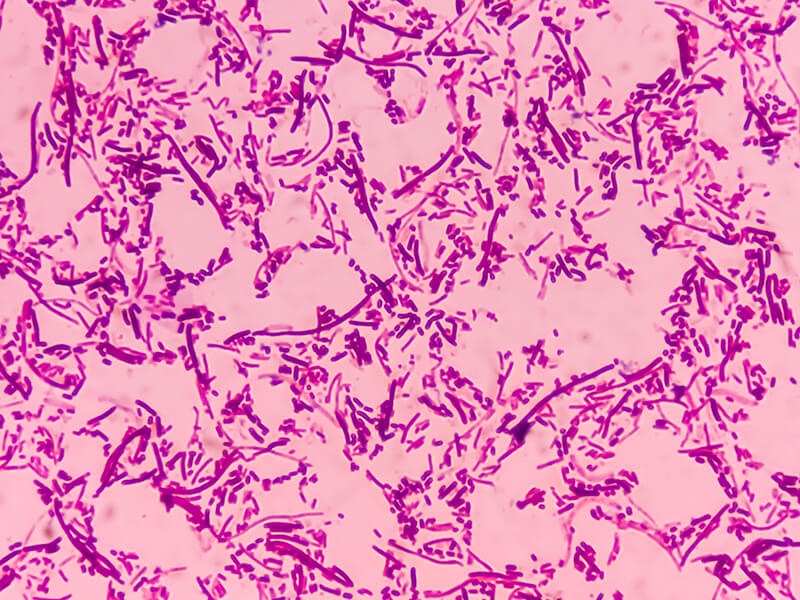 Pizza sitting outside the fridge or in a freezer for an extended amount of time can cause food poisoning for consumers. The bacteria in foods can increase their number twofold every 4 to 20 minutes (2).
They can grow slowly under 40°F and are destroyed at a higher temperature than 140°F. Between these two marks, it's heaven for microbial growth.
Spoiled pizza contains salmonella and listeria bacteria. The former usually appears in meat and vegetables, whereas cheese is a source of the latter.
Salmonella is the most common cause of food poisoning. It may get to your pizza through the soil in unclean vegetables. But the bacteria can't live above 165°F (74°C) (3), so make sure to check your pizza temperature for safer consumption.
Meanwhile, listeria infection is extremely dangerous for pregnant women and the elderly with weak immune systems. This strain can be found in unpasteurized milk products.
Another reason for food poisoning caused by bad pizza is E.coli bacteria in vegetables and fruits. In addition, spoiled pizzas include many parasites and viruses such as Toxoplasma, hepatitis A virus, and Norwalk-like virus.
Symptoms of food poisoning are nausea, vomiting, diarrhea, and stomach cramps. Normally, these signs will show up after a few hours of eating.
What is a food-borne illness and how does it make its way to your digestive system? Watch this explanation to know!
The Path To The Successful Storage Of Pizza
The given time above is an estimated time in which the pizza is safe to eat. However, it's only true when you store it properly. Any mistake happening throughout the process can lead to serious consequences. For your best convenience, it's worth consulting these tips.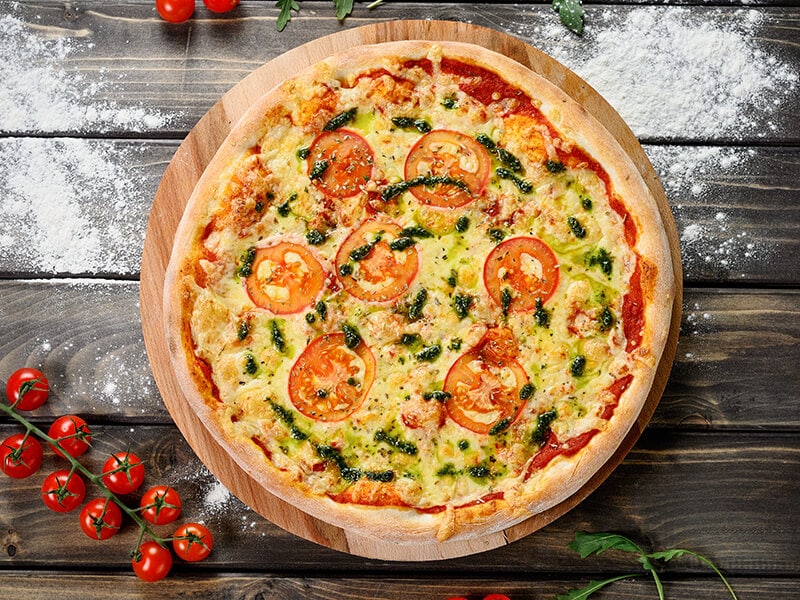 The Two-Hour Rule
This rule can be applied to most perishable items. Foods containing meat or eggs, vegetables, dairy products, or cooked rice and pasta are in this category. Pizza, of course, is not an exception.
In short, in less than 2 hours, these foods are harmless to eat or put back in the fridge for further usage. After that, unhealthy bacteria can grow and ruin the food.
This is a risk since the naked eye can not detect the change in their appearance. Therefore, it's essential to remember the two-hour rule when consuming some food.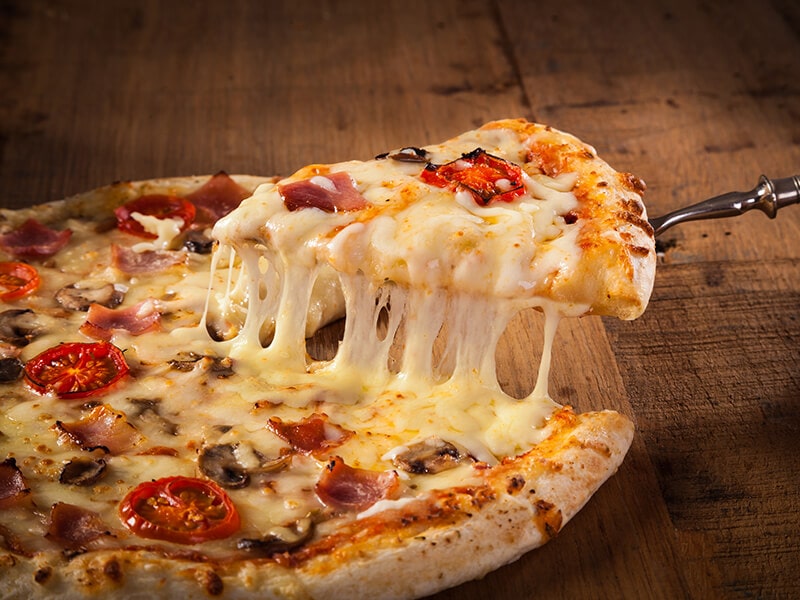 Keep These Tips In Mind When Leaving Pizza Out
The fridge is not the only thing that you can use to store a pizza. Let's check out these easy life hacks that will let you keep your pizzas for a long time without involving refrigeration.
Keep the pizza warm. If you want to keep the pizza for more than 2 hours without refrigerating it, you can put it in the oven. The constant heat will prevent the growth of bacteria.
The simplest way to keep your pizza safe at room temperature is to close the box after eating. Some of the heat trapped inside will keep your pizza warm for a little longer and slow down the spoilage. Wrapping pizza in aluminum foil is also a good option.
If you don't usually remember how long since the pizza was left out, set a timer for 2 hours every time you leave it outside.
Usually, before the ordered pizza reaches your house, it undergoes a transportation process where the temperature can drop below 140°F. That's why you should use a food thermometer to make sure the pizza temperature is within the safe range.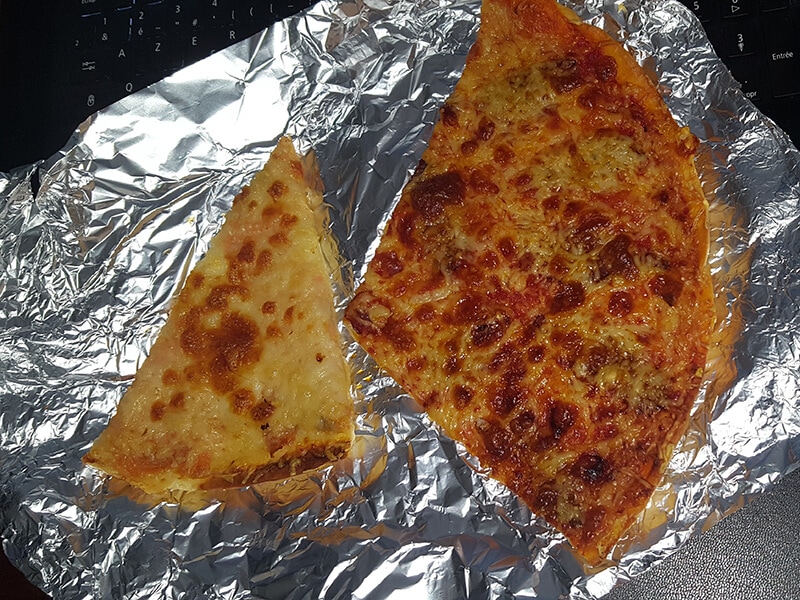 How To Store Pizza In A Fridge
Always choose an airtight container to store your pizza. It not only protects the pizza against contaminants but also keeps your fridge away from its smelly odor. Here are the instructions for you.
Step 1: Line The Paper Towel
First, you should choose a container with the right size. Place the paper towel on the bottom of your container. Meat and veggies are usually moist, so the paper will help to dry the moisture of your pizza.
Step 2: Stack The Pizza Slices
Let your pizza cool down before putting it into the container. Stack the slice one by one and add paper towels between them. If there are too many pizza slices, repeat the process with another container.
Step 3: Cover With A Lid
Seal the lid onto the container. Then, wrap a film around it. A layer of film will prevent the air from getting inside. You may skip this optional step and move on to the next.
Step 4: Refrigerating The Pizza
Transfer the container to a fridge and keep it in cold areas. Don't place it in the door of the fridge as the temperatures frequently fluctuate in this part when you open/ close the door.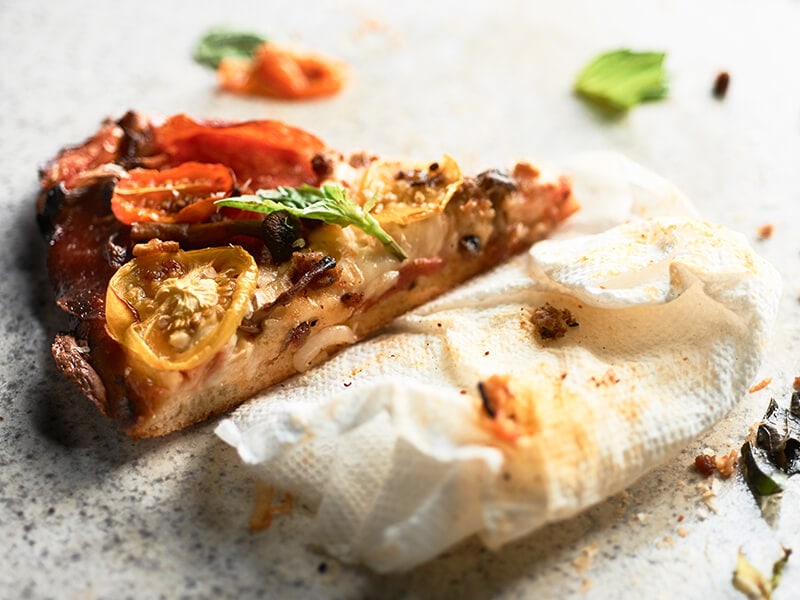 How To Store Pizza In A Freezer
If you have no plan for pizza for the next few days, freezing it is the best option you could have. And the good news is that this method is a breeze. Start by looking at this example.
Step 1: Separate The Slices
It's best to freeze individual pizza slices since a whole pizza might take up a lot of space. So you should cut them into smaller portions.
Step 2: Wrap The Slices With Cling Film
Roll out the cling film and wrap the pizza slice with 2 layers of it. Be sure to cover the slice on all edges to protect it against frost and moisture. Repeat the technique until all the slices are wrapped.
Don't try to speed up the process by wrapping many slices in one wrap. The air between them may cause freezer burns.
Step 3: Add Another Layer Of Aluminum Foil
Cut out enough length of a sheet of aluminum foil. Wrap around the slices and gently press the foil to ensure it's all tight. You can use a freezer bag in exchange too. In place of using aluminum foil, try an airtight container for a similar result.
Step 4: Freezing
Pile up the pizza slices in a flat sitting to save some space. But you should keep other foods away from the top of them.
You can also skip the cling film step when freezing leftover pizza like this tutorial.
3 Proper Ways To Reheat Pizza
While a cold pizza is completely edible, some people may find it unpleasant to enjoy. In addition, some pizza types might be unsafe to leave too long in the fridge. To make leftover pizza taste as good as when it's fresh, you can use the following methods to reheat it.
Using An Oven
An oven is the best choice for a pizza with a crispy crust and gooey cheese. What's more, if you want to reheat it in large quantities at one time, this method won't let you down. All you have to do is follow this guide.
Preheat the oven to 350°F (177°C).
Place the pizza on a foil sheet and put it in the oven.
Bake it for 10 minutes until the cheese melts, or leave it for longer for crispier pizza.
Alternatively, you can preheat a baking sheet in the oven and put the pizza inside. If you only need to reheat a pizza slice, use a toaster oven for 3-4 minutes.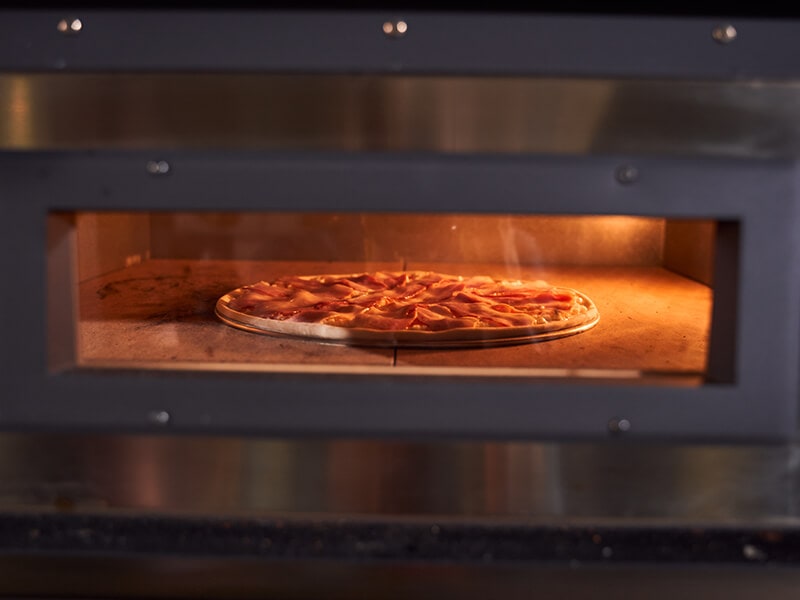 On The Stovetop
This technique works best with a skillet. It can retain the crispiness of the crust while the topping is soft and cooked all the way through. To do it, you'll need these instructions.
Heat the skillet on the stovetop over medium heat.
Place the pizza on the pan and cook for several minutes without covering.
Drip a few drops of water on the side of the pan to create a steamer.
Cover the skillet with a lid and leave it for a few more minutes.
A cast iron skillet will give you a crunchy pizza crust but take longer to heat up. Stainless steel skillets are a faster option for you.
Instead of a lid, you can use aluminum foil to cover the pizza slice. Watch this instruction to know how.
Using A Microwave
Although pizza reheated in the microwave is rather soggy, there is a little hack to solve this. Do as the directions shown below, and you won't have to worry anymore.
Put the pizza on a microwave-safe dish and move it to the oven.
Place a microwave-proof cup of water next to it. This will allow the pizza to heat evenly and the cheese to melt without eliminating all the crust's moisture.
Cook it on high heat for 30-45 seconds.
Another effective way that you can use is to finish the pizza in a toaster oven after heating it in the microwave.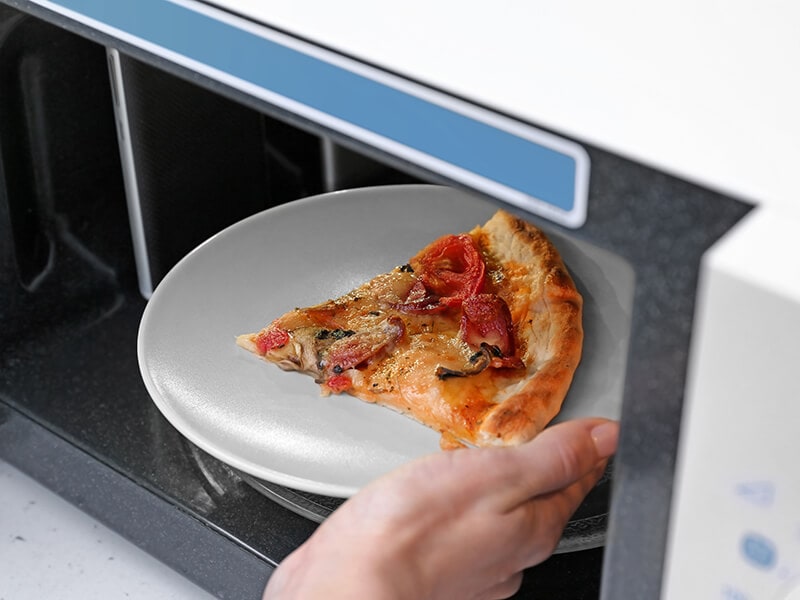 FAQs
Want to know more information regarding pizza? Look no further because it is right in this section. So don't stop scrolling!
It's Time To Recheck All The Pizza At Your Home!
Pizza is incredibly enjoyable. Whether you are a fan of it or not, I'm sure it's on your top list every time you need a quick meal. Occasionally, people buy too many pizzas without considering how long they can finish all of them.
As a result, it leads to some pizzas being left out for longer than they should. Pizza is a perishable food, so it can only survive for 2 hours at room temperature. If you want to keep it for an extended amount of time, a fridge or a freezer may help. But watch out for food poisoning!
This is the end of the post. Are you satisfied with what you've just read? If so, comment below to let me know! And if you have someone who has too much love for pizza, make sure this post can reach them by sharing it!
References
Healthline.com (2022), What's the Temperature Danger Zone?
Pnnl.gov (2021), Biological Sciences Division Research Highlights
Webmd.com (2022), Uncommon and Common Food-Poisoning Dangers