The flavor of Guatemalan foods will leave a deep impression in your mind after tasting. Therefore, I hope you will have a chance to enjoy these delicious dishes to check the information about them I mentioned in this article.
After reading this post, you will have a general and specific view of the taste, appearance, and relevant information about excellent Guatemalan dishes. So, concentrate on reading it.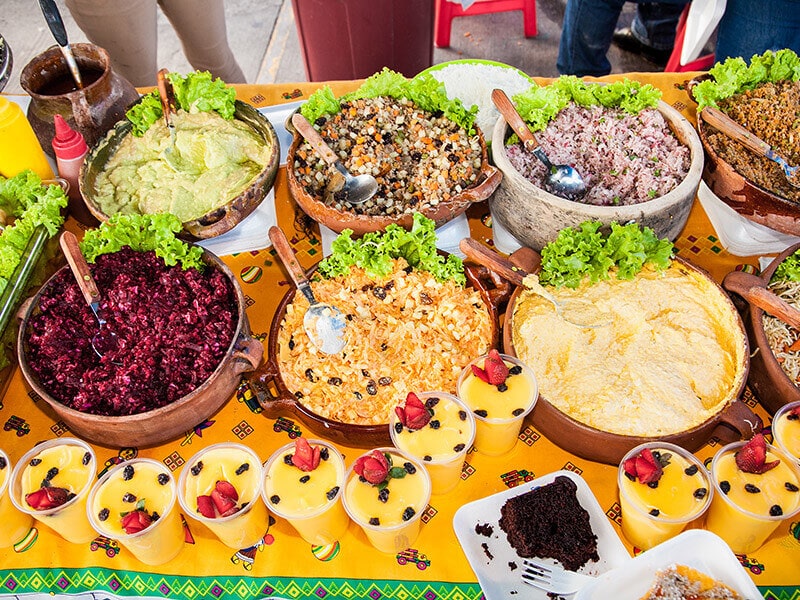 Add Nutrients With Incredible Guatemalan Meat-Based Foods
Meat is the main ingredient in the diet of most people in the world, so do not neglect Guatemalan meat-based foods in this section if you have an opportunity to travel to this gorgeous nation in the future.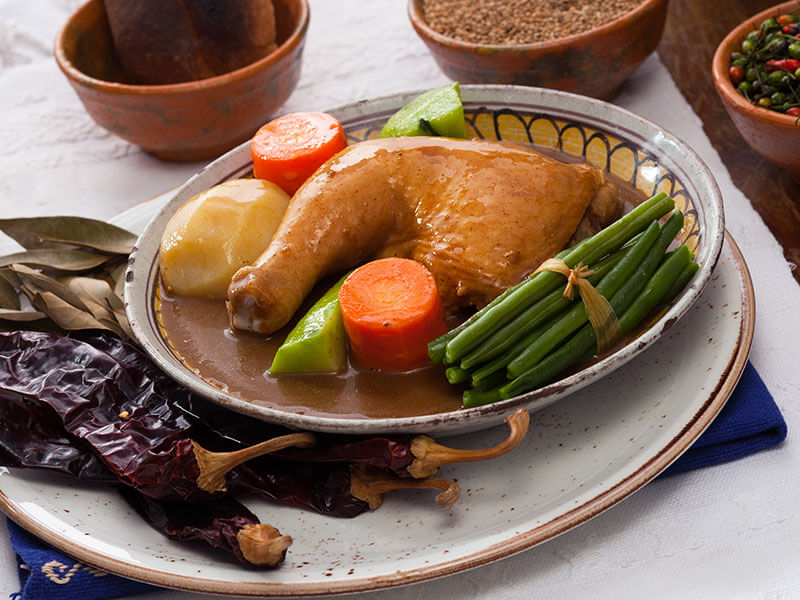 It is a pity not to add yummy Pepian to the list of must-try Guatemalan specialties for lunch. It was recognized as a Guatemalan national dish and heritage in 2007. You will love the signature spicy and brownish-red hue of this stew when tasting it.
If you choose the classic version, the flavor of chicken will tickle your taste buds. Moreover, you can change your palate with the versions with pork or beef. When eaten with rice, baked potatoes, and vegetables, it will get the perfect taste.
Pepian is an invention of the Maya-Kaqchikel ethnic group in the Chimaltenango of Guatemala. It has a long-standing history that appeared before Europeans came to the Americas. It plays a crucial role in the political ceremonies and rituals in Guatemala.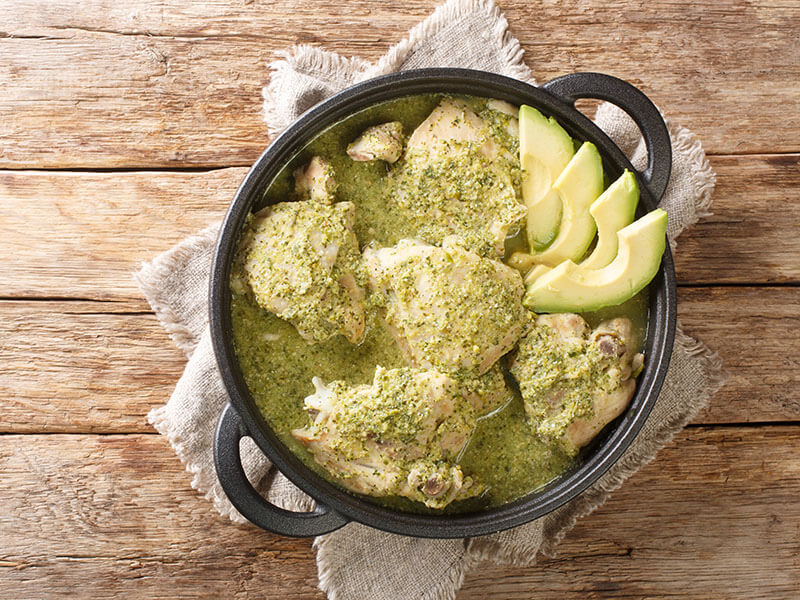 Jocon is an indispensable option you should add to your Guatemalan dinner menu. It is a traditional food of Guatemalan cuisine, and it is easy to find various versions of this recipe.
When stewed with cilantro, tomatillo, dried chilies, and bread crumbs, the chicken will have a staggering taste.
It is a staple food of many households in Guatemala and is sold in many local markets. It has become an iconic dish of Huehuetenango, and you also find it in some western regions of Guatemala. The word "Jocon" comes from the word "jok om", which means "mashed".
Go to the kitchen to make outstanding Jocon right now.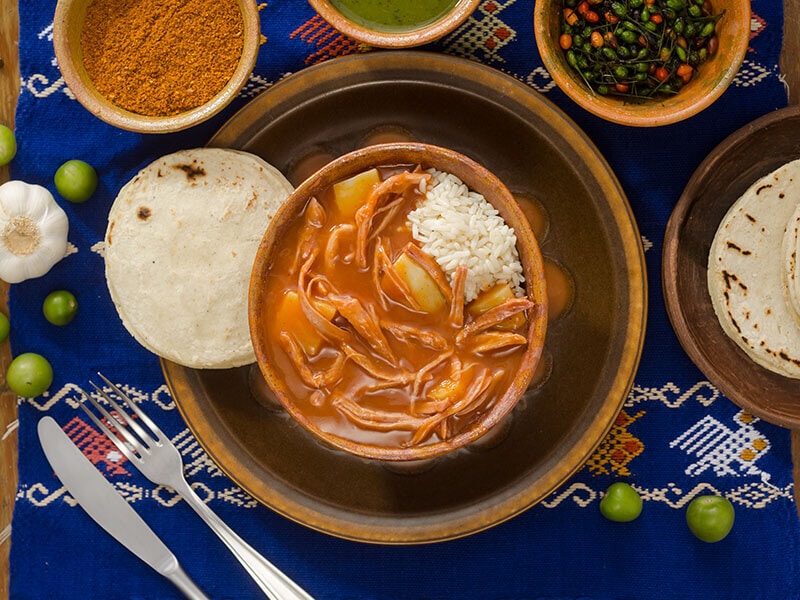 Hilacas is a must-try recipe of Guatemalan cuisine. This food resembles Ropa Vieja (the national dish of Cuba). You will find a rich flavor of beef, tomato, potatoes, sweet chili, and other components in this yummy stew.
It appears in the Guatemalan meal every week, and you can also eat it at the local market. Its name "Hilacas" means "rags", and it is famous not only in Guatemala but also in many other Central American countries.
4. Carne Asada – Guatemalan Grilled Meat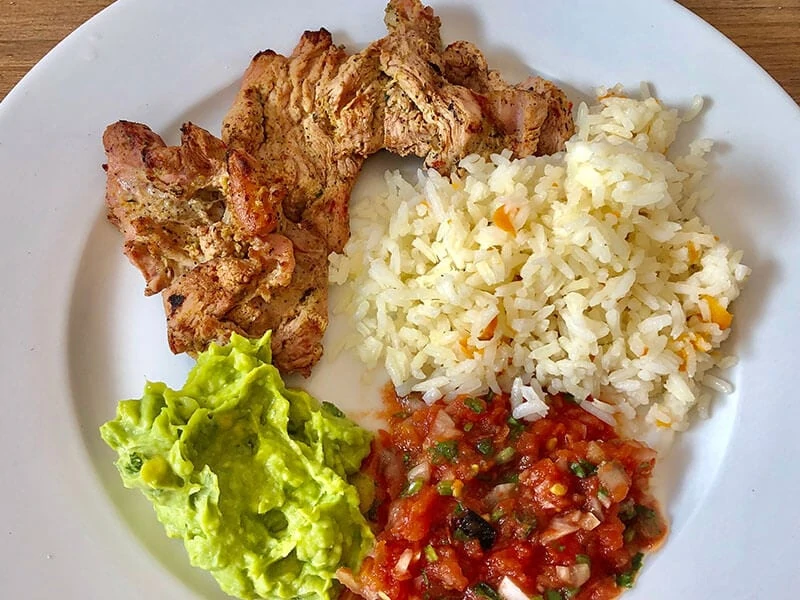 Although Carne Asada is derived from Mexican gastronomy, it is widely popular in Guatemala. This food is a traditional Guatemalan culinary identity when people hire a "Matador" to slaughter a cow or pig for special occasions, such as birthdays, weddings, or New Year.
In Guatemala, these fragrant and appealing grilled meat slices will appear with yellow rice, grilled corn, plantain, cheese, Guacamole, and types of sausage. Hot sauce, peppers, and fresh tomato sauce (Chirmol) are especially indispensable components when eating it.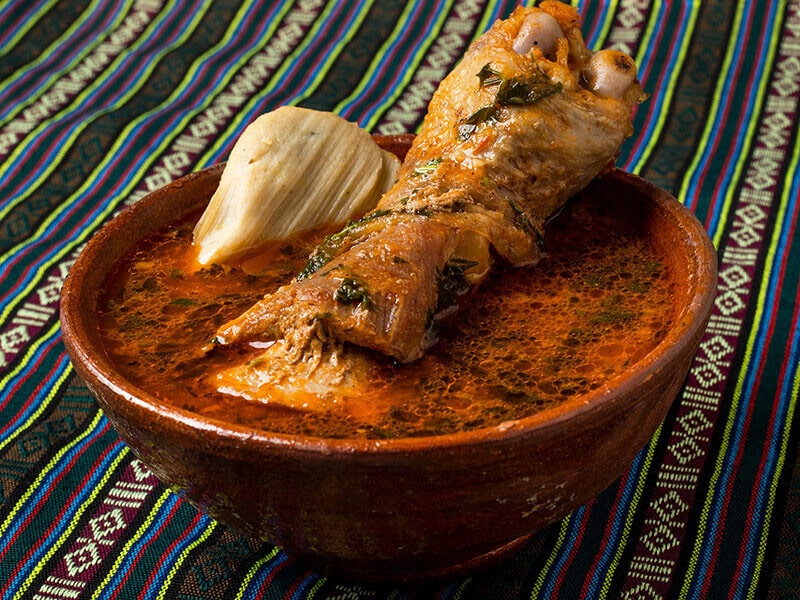 Kak'Ik is a traditional dish favored by many tourists when coming to Guatemala. If you want to enjoy the authentic flavor, go to Cobán since Kak'Ik is a specialty at the restaurants here. In Q'eqchi, the word "Ik" in its name means "spicy", and the word "kok" means "red".
This rich turkey soup was born before Spain conquered America. The Mayans who lived in the departments of Alta Verapaz and Baja Verapaz created this incredible food. Although Guatemala has a variety of chili, this dish is not too spicy.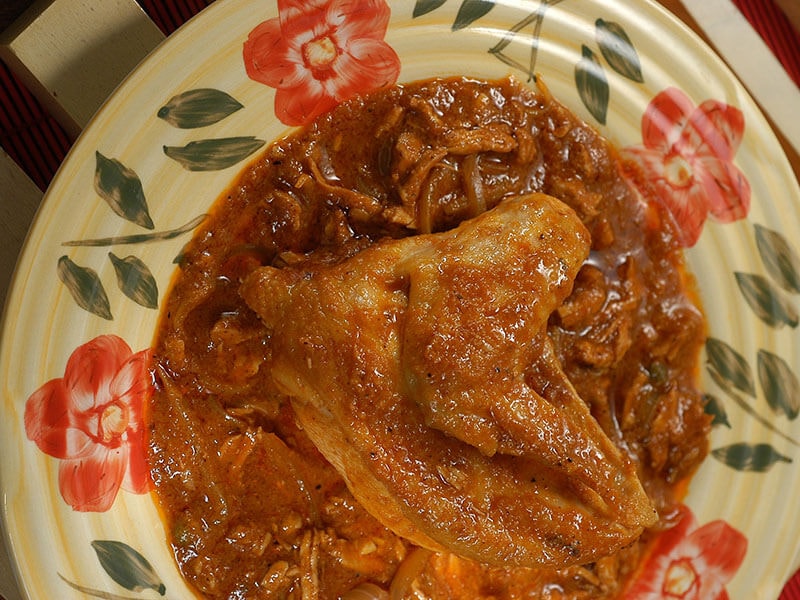 It is hard to resist the unique and excellent taste of Gallo en Chicha. This dish appears widely in restaurants in Guatemala and El Salvador. It is a harmonious combination of rooster and fruit wine.
The alcohol content in this food will depend on the amount of fruit wine (Chicha) that the chef adds to the recipe. The gentle sweetness of fruit wine will help rooster meat become more yummy, tender, and attractive.
Chicha is a famous drink in Guatemala. After fermenting nance, cherry, quince, and other fruits, you will have Chicha to add to this incredible recipe for about several months.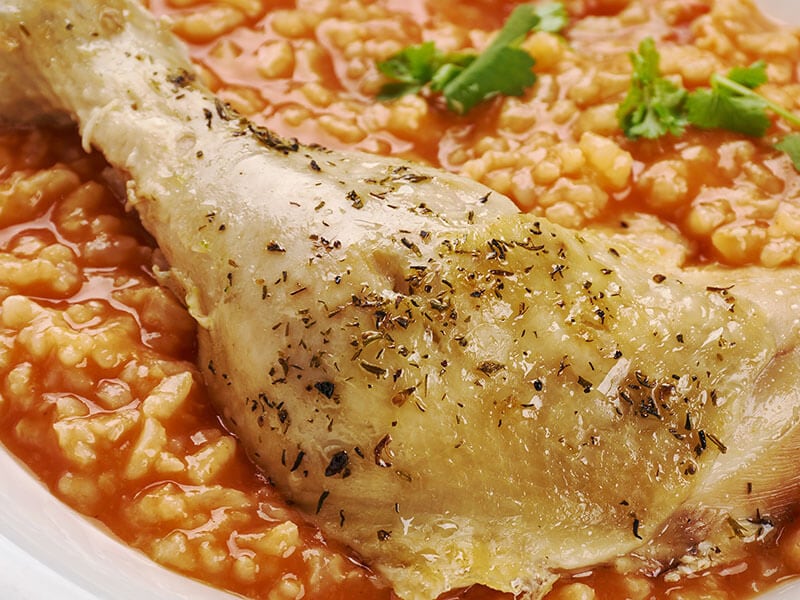 f you are looking for a rich and appealing stew, you should not ignore Pulique or Pulique De Pollo. It is an excellent invention of the Mayans and originated from the highlands of Guatemala. It is an indispensable food for holidays, ceremonies, and special occasions.
You will taste carrots, garlic, onions, and meats like beef, pork, chicken, or turkey when enjoying it. This is a well-known recipe in Chimaltenango city.
This food should go with rice or tortillas. Locals often use chicken with yellow skin more than white chicken.
8. Revolcado – Pig Head Stew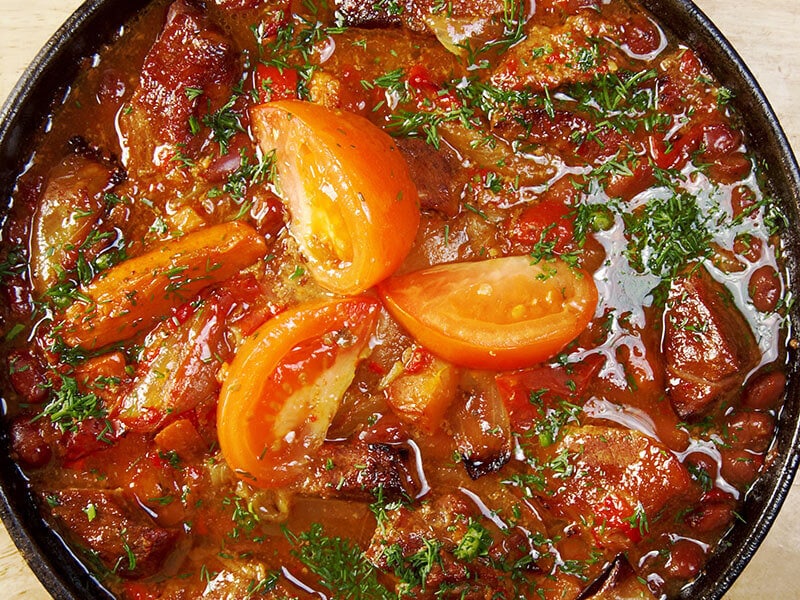 Until now, I still have not forgotten the feeling of happiness after enjoying the great Revolcado in Guatemala. The chef will stew the pig head and other organs until tender. In particular, you will be impressed with the rich broth created from tomato chile sauce.
Its intense taste is an ideal option to serve with rice. This excellent dish is the harmonious interference of indigenous materials and Spanish culinary culture. It first appeared in the 16th century during the colonial period.
What Do You Think About Yummy Guatemalan Snacks?
If you love to enjoy the delicious snack on the streets with friends and loved ones, these options in this part will not let you down. It is time to fall in love with yummy Guatemalan snacks.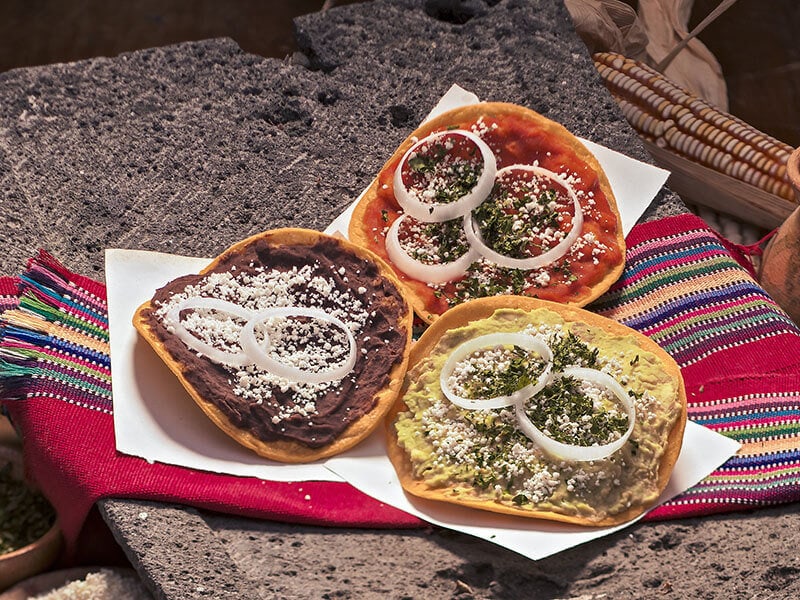 Tostadas are the following famous Guatemalan recipe I want to introduce to you. Initially, it was a traditional dish of Mexican cuisine, but it has become famous in Guatemala and many countries all over the Americas.
The people in Oaxaca, Mexico, created Tostadas first about 2000 years ago when they wanted to take advantage of leftover tortillas. Its name "tostada" means "toasted".
You will love the hearty taste of fried tortillas, salsa, guacamole, and other elements when eating it in Guatemala.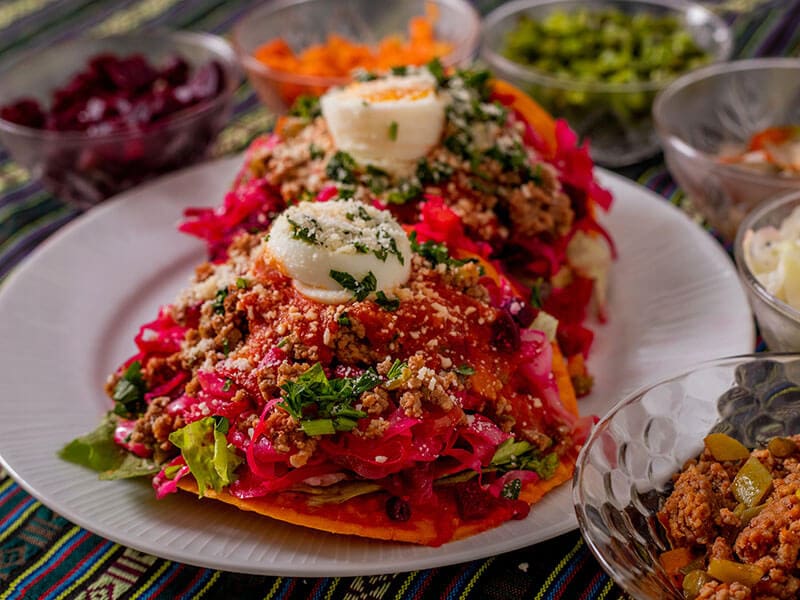 I love to enjoy Enchilada with a few beers on the streets in Guatemala. A lot of tourists and natives love it because of its fantastic flavor. This snack combines meat, diced veggies, boiled eggs, red salsa, cilantro, and a layer of queso fresco or queso seco cheese.
Although it is famous in Guatemala, it comes from Mexican cuisine. This delicious food appeared first at Aztec times who lived in the Valley of Mexico. There are many different versions of it in various countries.
Listen to some valuable information about making Guatemalan-style Enchilada.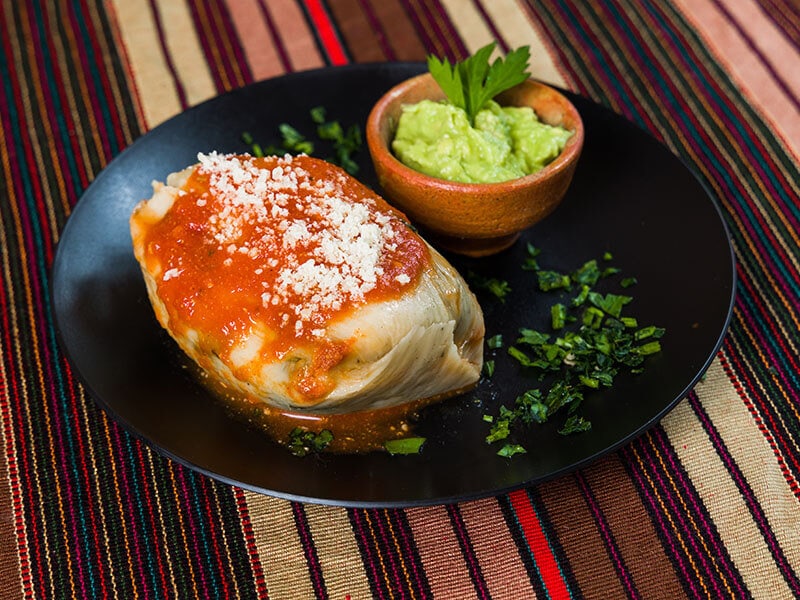 Regarding Guatemalan cuisine, I cannot help but mention the famous and delicious Chuchitos. It is a common choice for Guatemala's holiday celebrations, special occasions, and festivals. Its name "Chuchitos" means "small dog" in English.
You will get attracted to the tenderness and stickiness of corn dough. In addition, you can find succulent meat and tomato sauce in the filling. The chef usually wraps it in corn leaves to steam, so you can smell their aroma.
When you come to Guatemala, you can see the stalls and vendors selling Chuchitos on the streets and in local markets. It is easy to find Chuchitos served with more sauce and grated cheese to enhance the flavor.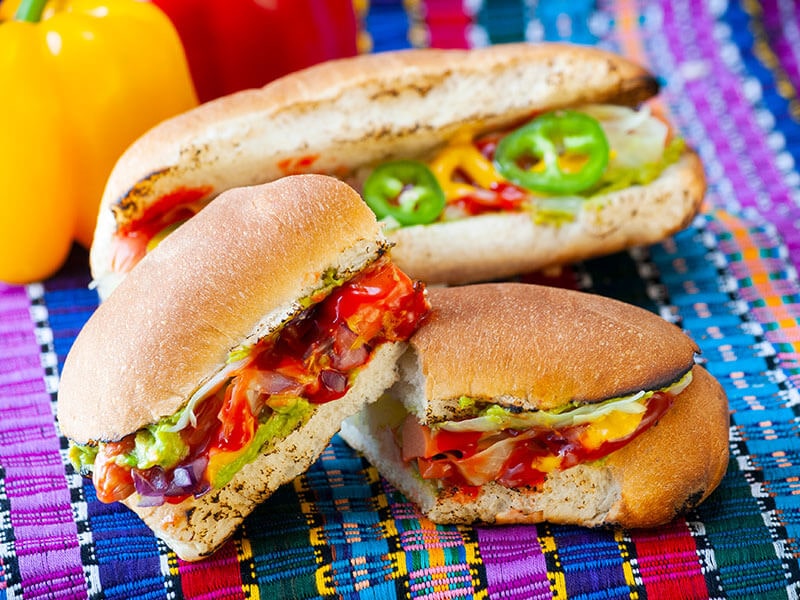 Shucos is one of the most famous street foods in Guatemala. To make this scrumptious Shucos, the chef will grill red sausage (Spanish chorizo), white sausage (Longaniza), or salami over charcoal and top it with guacamole, mayonnaise, and ketchup.
Guatemalans often eat it with long, narrow Shuco bread or toasted hot dog buns. You can come across various variations of it at hot dog carts on the bustling streets of Guatemala.
The name "Shucos" of this item means "dirty," as the Guatemalans notice the handling of materials that make up hot dogs are not clean.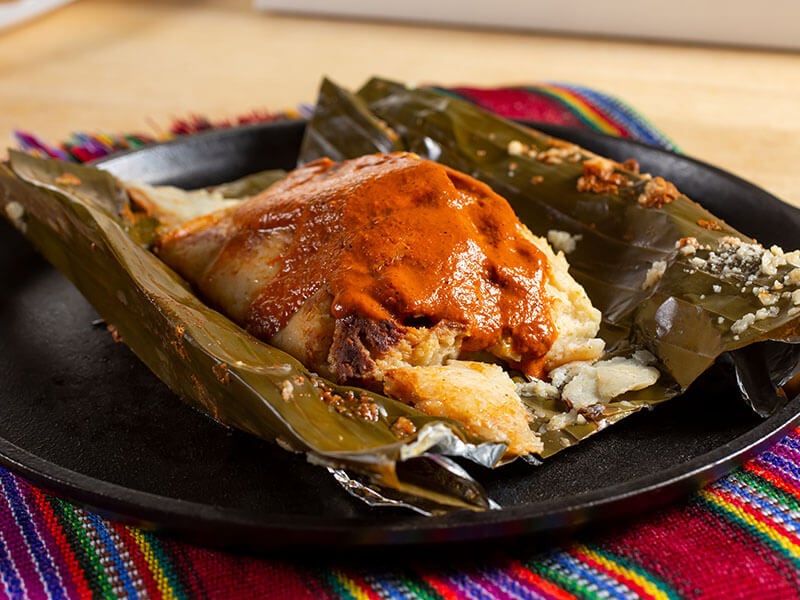 If you prefer corn dishes, you should not miss Tamal. Guatemalans often eat it on Christmas, but you can also enjoy it all year round. You will love the viscous texture of corn dough and the appealing flavor of meat and tomato sauce while enjoying this food.
Tamale is pretty similar to Chuchitos, but the chefs will use plantain leaf to wrap it instead of corn leaves. This steamed corn dough dish was born in 8000 to 5000 BC. The name 'Tamal" means "wrapped", originating from Nahuatl Tamalli.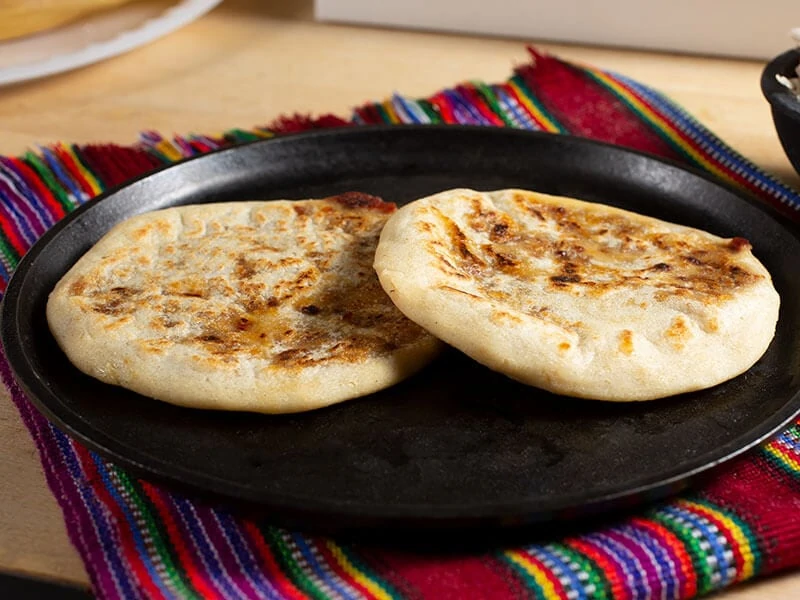 Pupusas is an excellent dish originating from El Salvador, but it is warmly loved in Guatemala.
The Pipil tribes made this food first 2000 years ago. And it appeared in Guatemala, the US, and Canada when the Salvadorans fled the country in the Civil War in the 1980s.
The primary component of this food is masa dough, and it becomes more attractive with cheese, chicharron, and refried beans. You can find pork or vegetables in this yummy food. In particular, its flavor will become more complete with tomato salsa and pickled cabbage.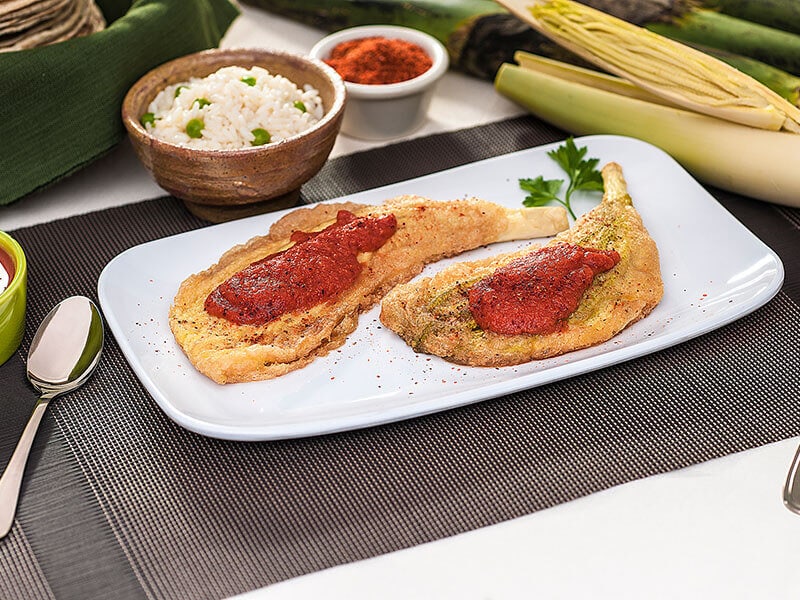 Pacaya is a typical and unique invention of Guatemalan cuisine. People in this nation took advantage of the Pacaya palm tree's flower pod to create this attractive dish. Its appearance is pretty like octopus legs with yellow tendrils.
Pacaya Palm is a plant derived from Central America and Mexico, so you can only find fresh Pacaya at local markets in these areas. The crispiness of Pacaya will stimulate your taste buds immediately, and a bit of bitter taste will make you remember it forever.
Moreover, this recipe will become more flavorful with the appearance of tomato sauce. When visiting Guatemala, you can buy this fantastic food at roadside vendors and market stalls all over the country.
It is time to try fresh Pacaya in Guatemala to explore its real taste.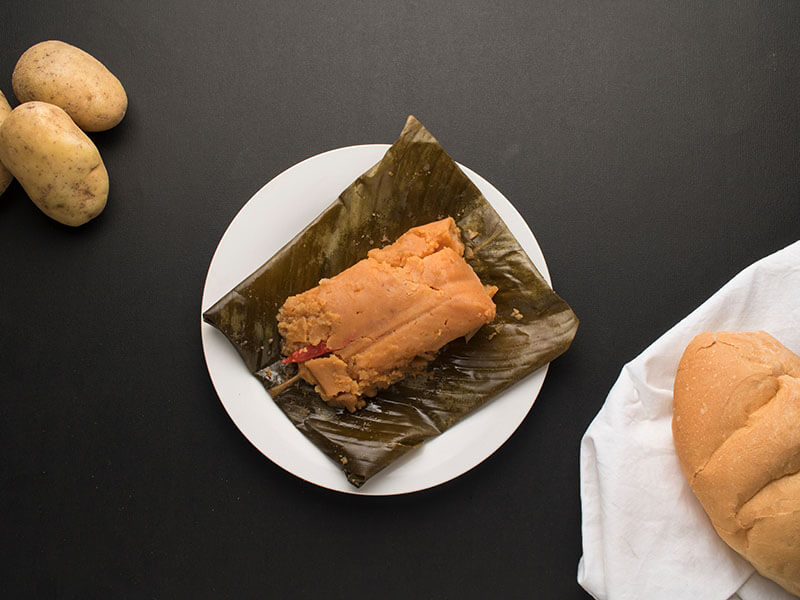 Paches are a type of tamales, but the chef will use mashed potato as the main ingredient instead of maize dough. Furthermore, you can not ignore the taste of achiote powder, lard, and allspice in this mouthwatering food.
Its filling with tomatoes, bell pepper, green onions, and chili pasilla will awaken your taste buds right away. It is a fantastic invention of Guatemalan cuisine. It is effortless to find in the Quetzaltenango region because it is widely common here.
Guatemalan Sweet Desserts Are Good Choices To End Your Party
It is essential to refresh your taste buds after each meal, and these sweet desserts I introduce in this post are suitable choices for you. Let's try all of them right now.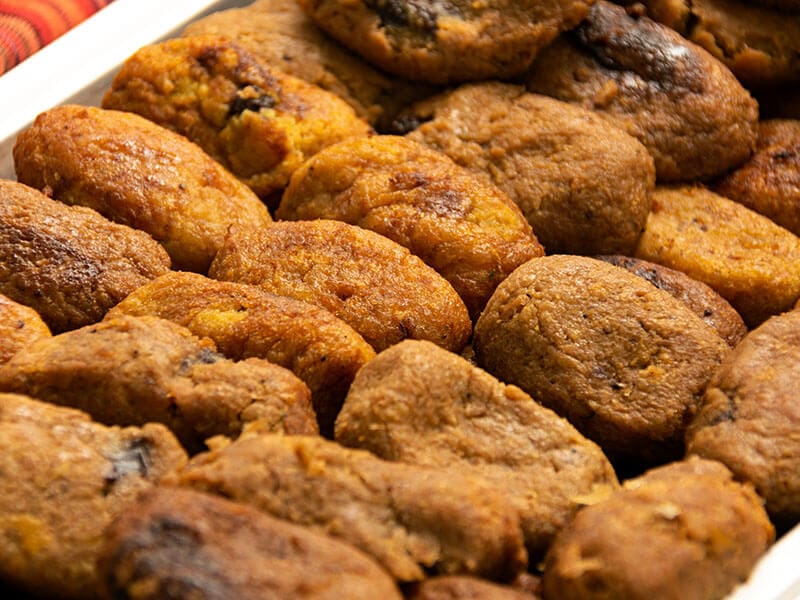 You should not skip this fantastic Guatemalan sweet treat. You will find Rellenitos in the form of balls with crispy fried plantain outside and the flavorful filling with black beans, chocolate, and cinnamon.
Its name has its origins in the word "rellenar", which means "stuff". It is a heritage of Spanish cuisine and appeared in Guatemala when Spaniards invaded the Caribbean region. The influences of Afro-Caribbean at the end of the colonial period made it more famous.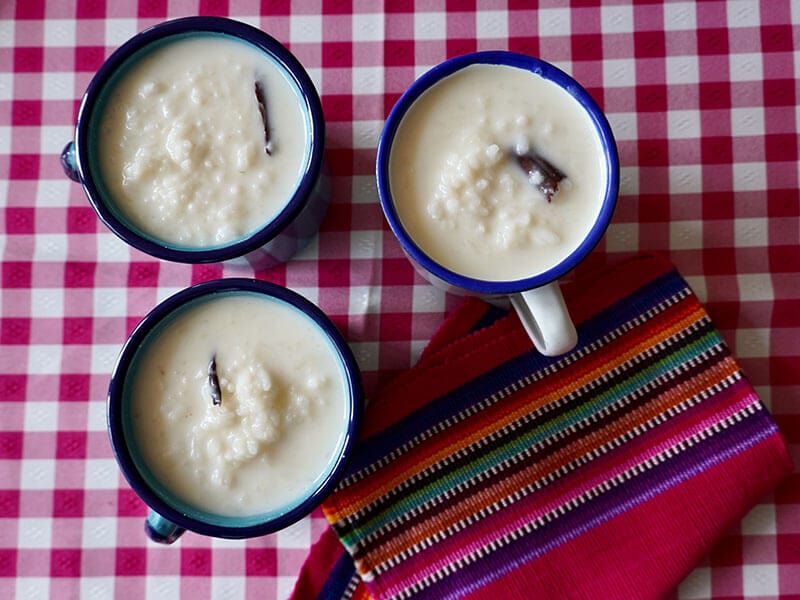 Arroz En Leche is a global dessert when it appears in many different areas in the world. Everyone often calls it "Rice Pudding," with milk, rice, and sugar being the main components.
You can find various versions of this sweet dessert in the culinary culture of Peru, Spain, and Mexico.
Furthermore, this food will look more attractive with cinnamon on top. This recipe is born a long time ago in the ancient period. It is a standard option throughout the stage of Ramadan and other special occasions.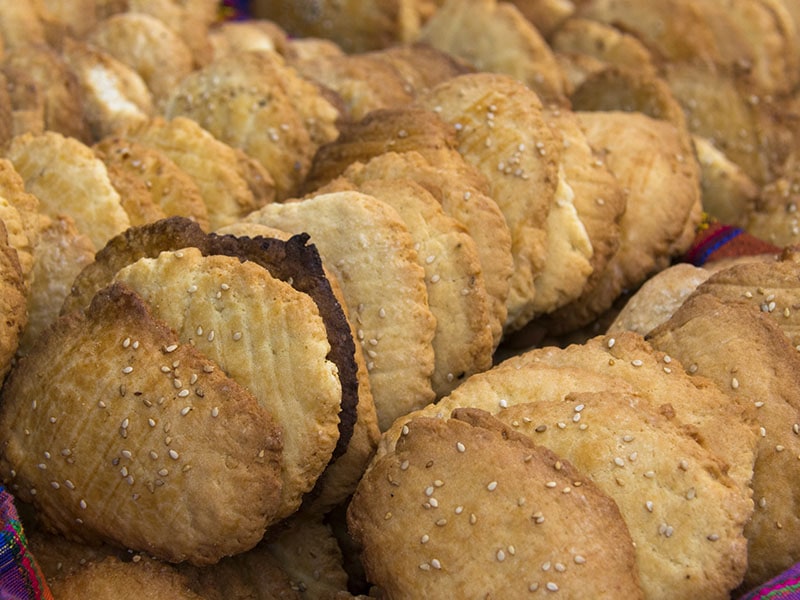 It is time to enjoy your coffee time with sweet and tasty Champurrradas. It is a pride of Guatemalan cuisine and is the common choice of many people after each meal to refresh their taste buds.
Champurradas are flat-shaped cookies with a biscotti flavor. You will fall in love with their crispiness and sweetness. Furthermore, the appearance of sesame will add fragrance and flavor to this dessert.
Follow these instructions to make delicious Champurradas.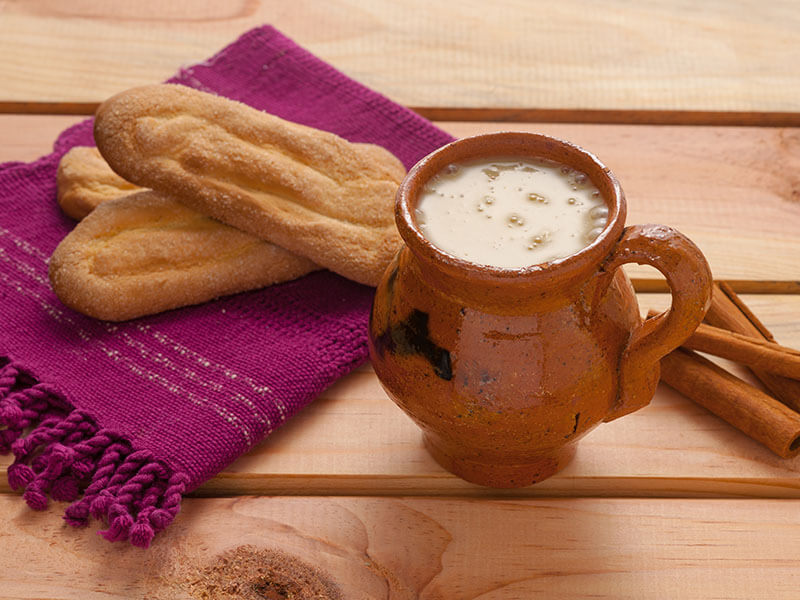 If you ask me about a well-known drink in Guatemala, I'll recommend Atol de Elote. This wonderful recipe combines ground corn, milk, and sugar. Guatemalan cuisine's version of Atol usually has a silky and soft texture.
It is a preferred choice for students and natives before going to school and working. It originated in the ancient Aztecs, and "Atolli" was its first name. This food is typical during festivals and holidays in Guatemala.
There are some superstitions about this food. The Guatemalan said that the dish wouldn't be delicious when more than one person stirred the pot. The dessert will curdle if there is a pregnant woman in the room. And, it will be bitter if someone in a bad mood touches it.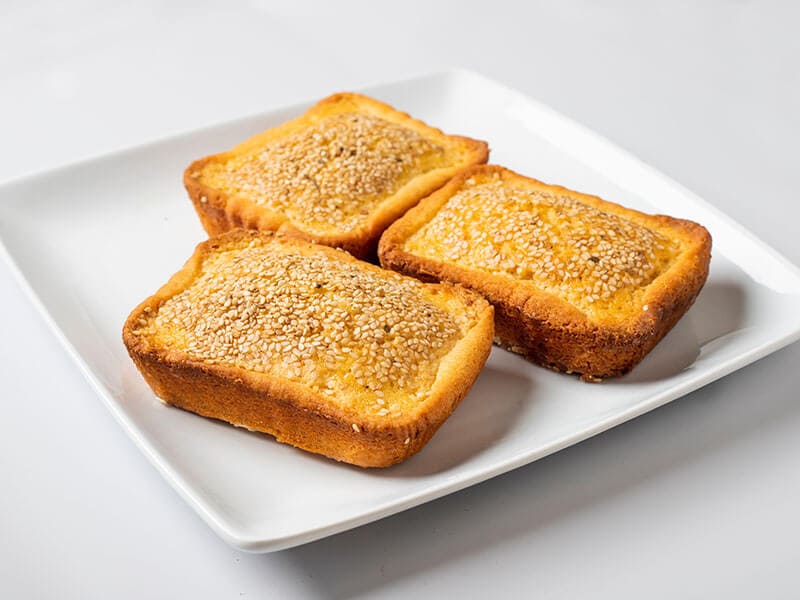 Quesadilla is a Guatemalan's favorite choice after each meal. The soft sponge cake is pretty famous in the Zacapa region of Guatemala. Especially the fantastic aroma of cakes will fascinate you immediately.
The essential element that makes up the appealing flavor of this dessert is a type of salty cheese created from cow's milk. You will find many stalls selling this special on the streets in El Rancho and pools in Balneario Pasabien.
22. Guatemalan Coffee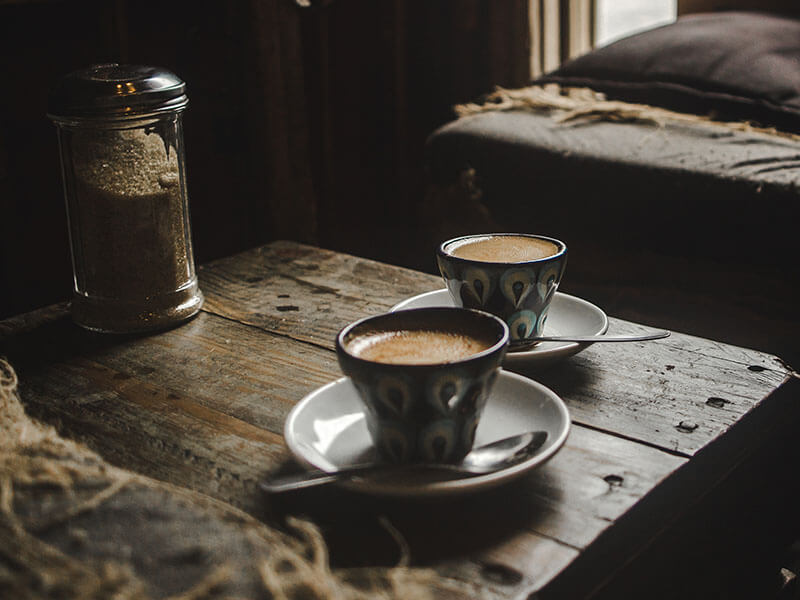 Guatemala coffee always leaves unforgettable impressions in diners' minds after enjoying it. Jesuit missionaries brought coffee trees to Guatemala in the 1700s, intending to make ornamental plants.
By the mid-1800s, Guatemalans grew a lot of coffee because the appearance of synthetic dyes prevented the development of this country's indigo and cochineal dye industry. There are 20 in the total number of 22 departments of Guatemala growing coffee.
Guatemalan coffee has a delicious and specific flavor thanks to the particular climate and good soil conditions. You can feel a hint of sweetness when tasting this coffee. It is considered the drink of the Gods in Guatemala.
Let's explore one of the most intriguing types of Guatemalan coffee: Volcanic coffee.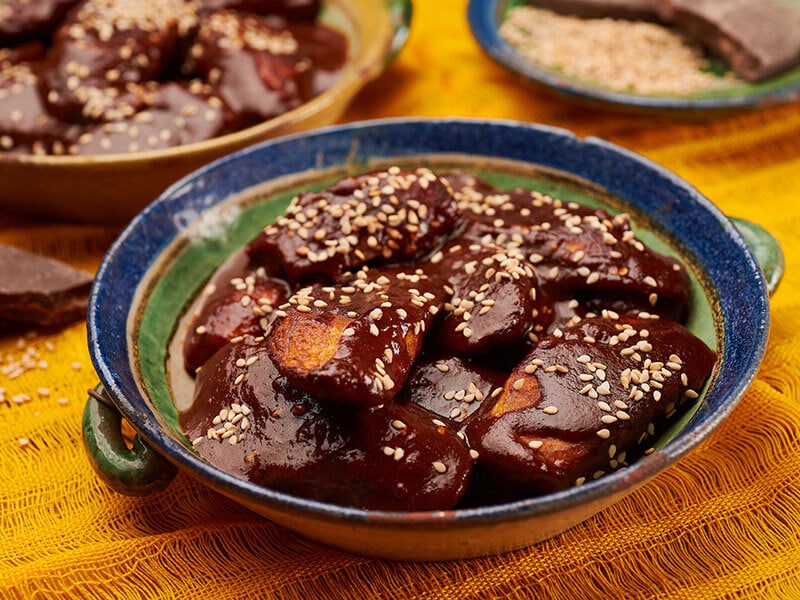 Platano En Mole is one of the iconic foods of Guatemalan cuisine. This dessert was born more than four centuries ago in the kitchens of oligarchy. It was recognized as a cultural heritage of Guatemala some years ago.
Sweetness is the dominant flavor of this incredible dessert because of the appearance of sweet plantain. Alternatively, you can feel a bit of bitter chocolate that bathes outside the plantain. Cinnamon and chiles will enhance the taste of it.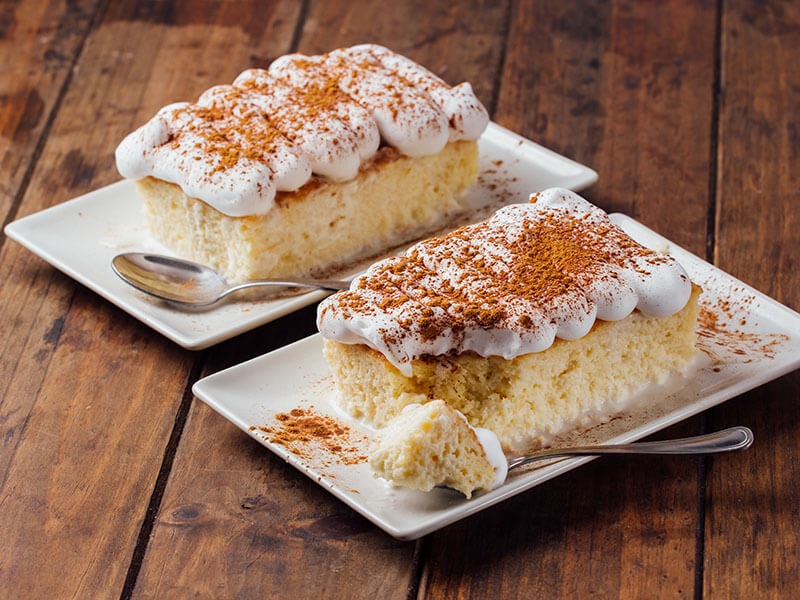 Tres Leche is a dessert cake famous in Guatemala and many other Latin American countries. It is hard to resist the sponge cake covered with condensed milk, evaporated milk, and whipped cream.
This fabulous dessert is a recipe from the people in Nicaragua and gradually spread to many other areas. It appears in most celebrations, holidays, and special events in Guatemala. It is an excellent ending after every party.
This dessert cake appeared in Mexico for the first time in the 19th century and resulted from the cultural transfer between Europe and America. This food was found on the label of Nestle condensed milk cans in the 1940s and became famous all over the world.
Please learn the recipe to make Tres Leches to treat your loved ones.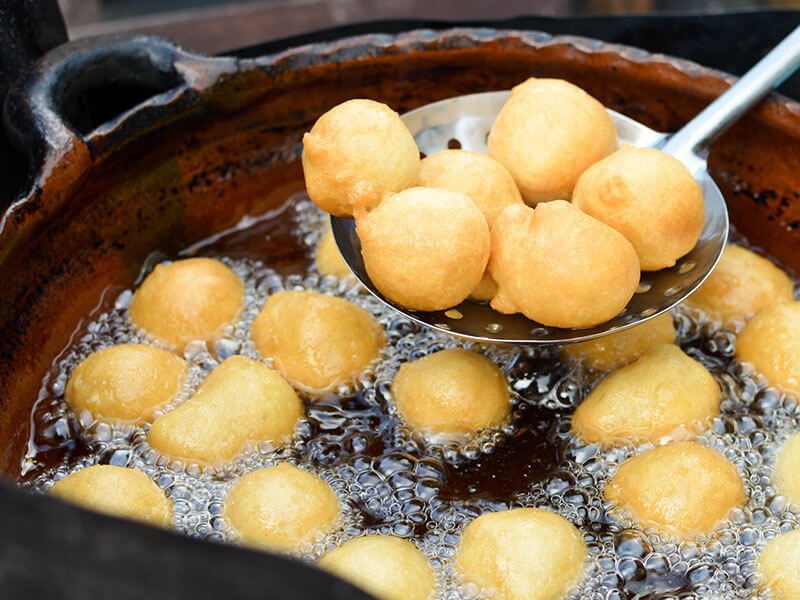 Bunuelos is a perfect choice to end your party. Thanks to the Spaniards who brought it when they invaded this continent, it appeared in the Americas. Historians consider this recipe to be a legacy of Arab settlers on the Iberian peninsula.
There are many different Bunuelos versions across the Americas, but the most famous is fried wheat-based dough. You will be addicted to crunchy outside and softness inside of Bunuelos. The typical flavor of anise and sweet syrup will fascinate you.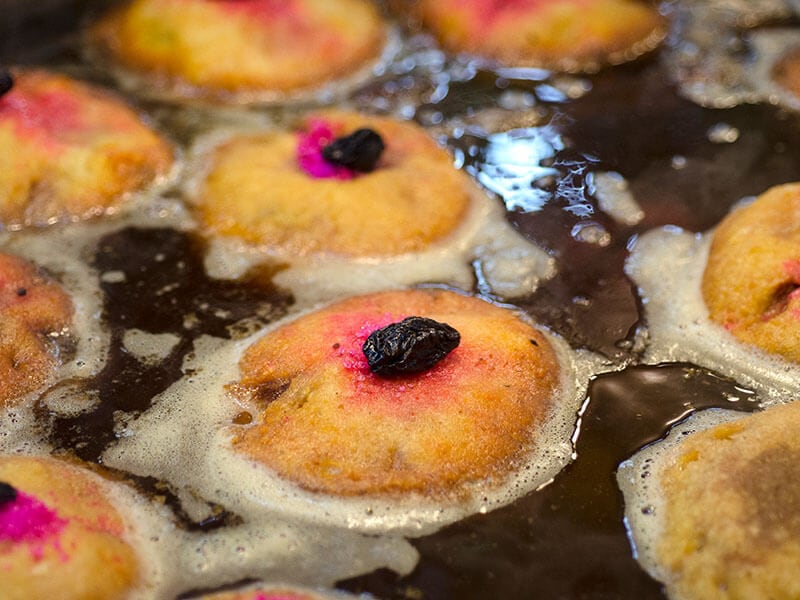 It is missing when not mentioning Torrejas in the list of famous desserts of Guatemala. In particular, most natives in Guatemala will eat this delicious dish during Christmas and Lent. It is considered the Latin American variation of the French toast.
To create delicious Torrejas, the chef will soak the bread in milk or eggs and deep-fried in oil until it reaches brown yellow and crispy texture outside. After bathing in sweet syrup, you will have a sweet and enchanted dish.
There are various versions of this exceptional food in Guatemala. You can find the taste of rum or orange zest in its other variations. The Spaniards brought this fantastic recipe to Latin America.
Be Unlimited With Other Guatemalan Outstanding Foods
Guatemalan culinary paradise still has many other attractive dishes waiting for you to explore. Here are other options that you should not ignore.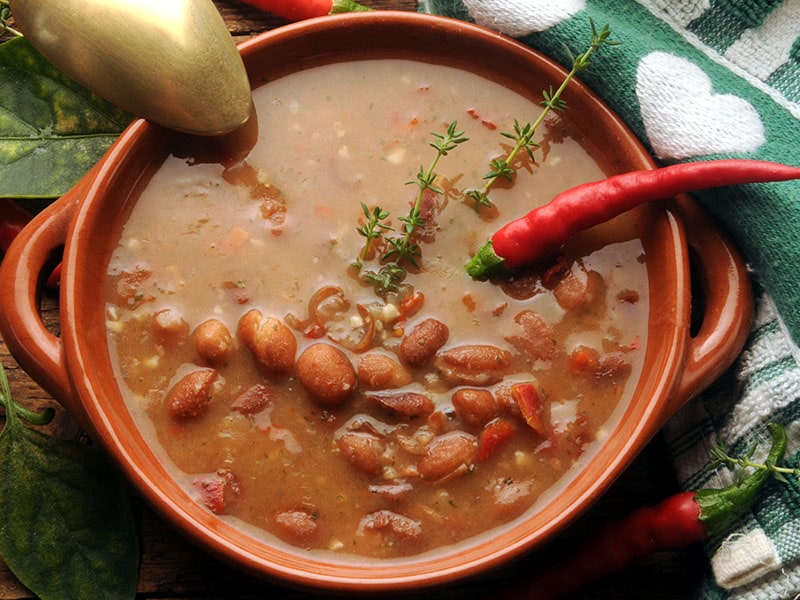 You should consider this black bean soup for a fabulous morning meal in Guatemalan. After eating it, you will have a pleasant and comfortable feeling to start a new day. The creamy, earthy, and rich flavor of black beans will make you flutter.
Black beans are a universal food native to South and Central America. People have cultivated it for more than 7000 years. In particular, after eating black bean soup, you will add fiber, vitamin B6, folate, and various nutrients to your body.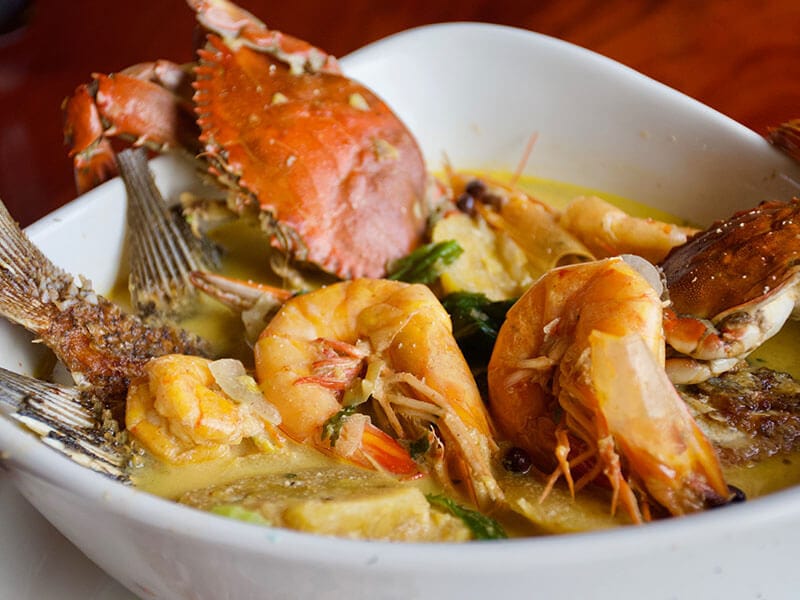 Tapado is an outstanding food that deserves to appear on this list. It is the quintessential of Guatemalan cuisine, and its taste will make you flutter. Its harmonious flavor is created by combining coconut milk, crabs, shrimp, fish, plantain, and other kinds of seafood.
The delicious seafood stew comes from the cuisine of Central American countries like Honduras and Guatemala. It has a tight relationship with the Garifuna community, a group of mixed African and indigenous people who live in Caribbean countries.
Take a trip to Guatemala to enjoy the fantastic taste of Tapado.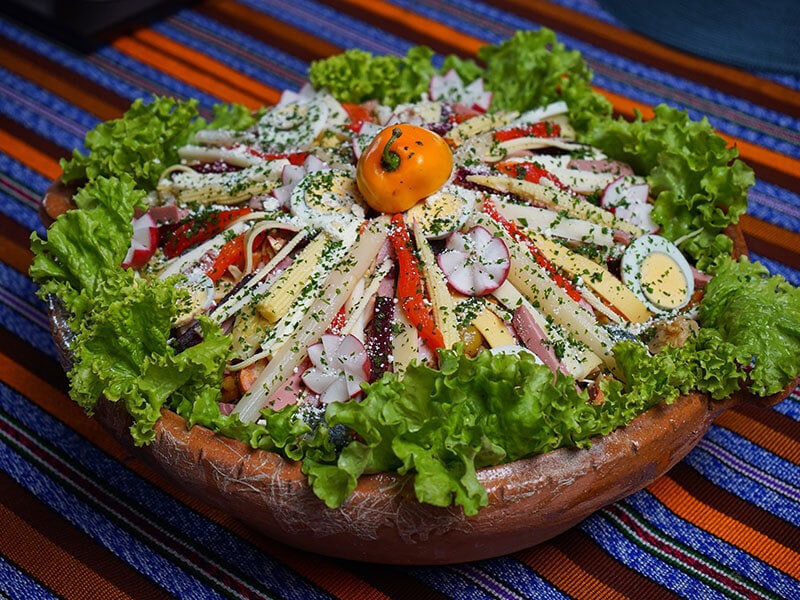 Fiambre is considered the mother of all salads in Guatemala. This recipe is an essential choice for Dia De Los Muertos (Day of the Dead) on November 2 and Dia de Todos Santos (All Saint Day) on November 1. It is a representative of the family and sharing in Guatemala.
This salad recipe has various flavors from chicken, pork, sausages, vegetables, and cheeses. This recipe was born when families went to cemeteries and mixed foods together. Then, they enjoyed the excellent flavor of Fiambre in peace together.
There is another interesting story about the origin of Fiambre. This food is thought to be born in a stage of food shortages due to the natural disasters in Guatemala. A Spanish family's chef has incorporated available materials to make this food to serve a Spanish commission.
Do you feel satisfied with my information about famous Guatemalan foods? I hope this article has expanded your culinary knowledge. Moreover, if you have a chance to visit Guatemala, let's try all of these yummy foods.
Do you know other delicious Guatemalan dishes? Do you want to know any additional information about this topic? If not, feel free to share your thoughts in the comment section, and I will try to respond to all of them as soon as possible. Thanks for your time!