The Eritrean foods have blended with other cuisines, but they retain signature features in each Eritrean recipe. The dish from this country is also influenced by its neighbor – Ethiopia.
When comparing the two, you will find the Eritreans tend to enjoy light-texture dishes that add less butter and spices than the other.
Moreover, you can realize several Italian elements in these foods as Italy used to rule Eritrea in the past. That's why Eritrean cuisine always makes me excited when tasting, and I want to inspire this feeling to you. Let's dive into that with me!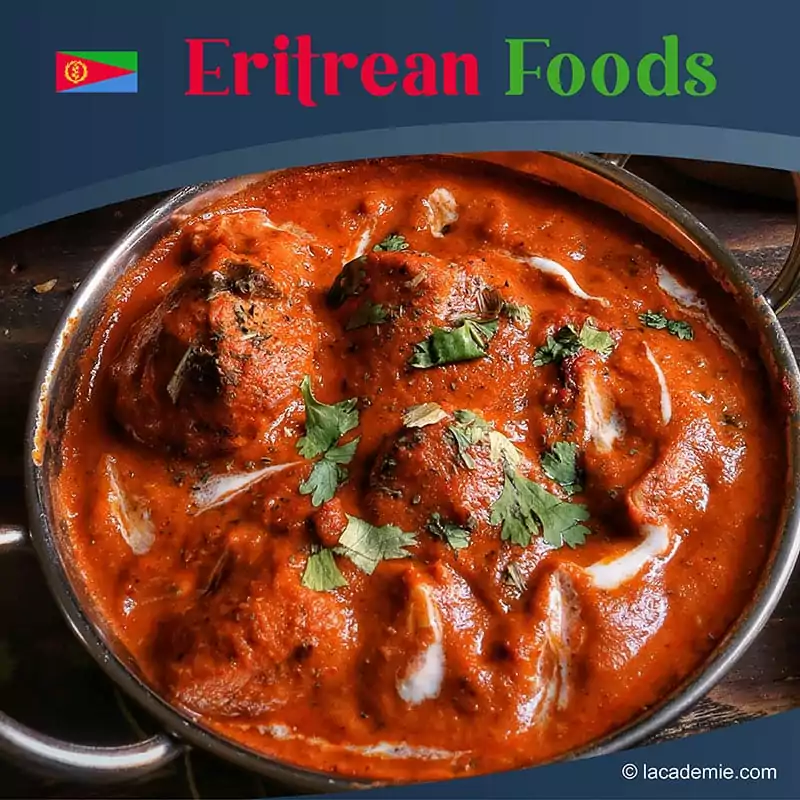 Brighten Your Day With Nutritious Eritrean Breakfast
You should try enjoying typical breakfast dishes from Eritrea when you land here in the early morning. These recipes are not too complicated and heavy, but they still provide you full of energy to help you visit around this country.
1. Shahan Ful – Sauteed And Ground Fava Beans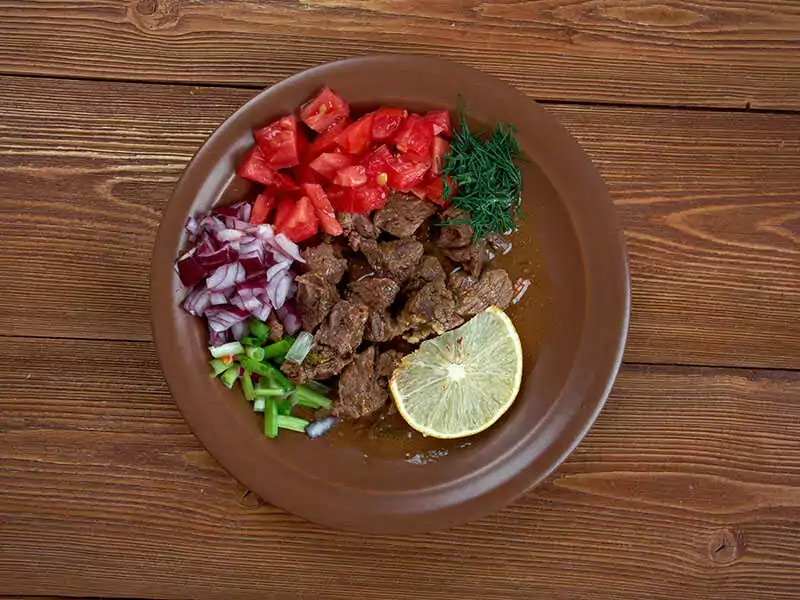 To comfort your growling stomach, you should order a steaming bowl of Shahan Ful, a slow-cooked fava bean dish. While many believe this to be a dish originating from Sudan, there's no denying that Shahan Ful is now a long-established food in Eritrea.
Not only found in your visiting country, but you can also taste it in some nations, including Sudan (of course), Ethiopia, Somalia, and more.
If you cannot remember its full name, you can call it "Ful". This is also a short name of Ful Medames, originating from Egypt, and both of them are made from fava beans.
After the beans are tender, you must mash them and mix them with green onions, hot green peppers, yogurt, and more. It is even more common in the Ramadan and Lent seasons. You should spread it onto a bread slice and enjoy it while watching the outside view.
Have you ever wondered how the locals cook Shahan Ful.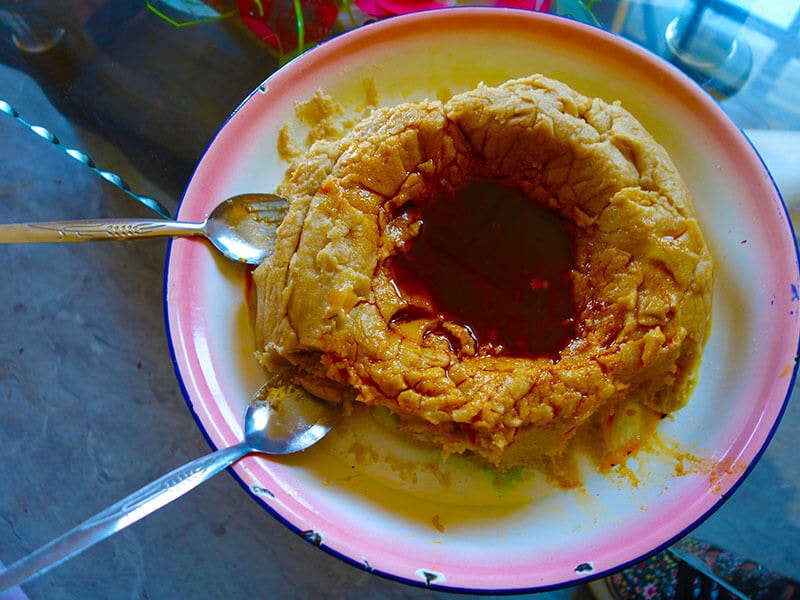 Genfo is stiff, porridge-like, and volcano-shaped. This is an everyday breakfast for most Eritreans and Ethiopians. If you are a lover of native African dishes, you will see several similarities between it and Asida, a flour-based porridge.
It is quite difficult to dig into the history of Genfo. Still, you can imagine that this kind of porridge could travel to Eritrea and Ethiopia through the Muslim population in the 7th century.
Normally, Genfo is made from barley flour; sometimes, you can make a twist by using wheat or cornmeal.
The flour should be dry-roasted to enhance the flavor. You can create a volcano-like appearance, add clarified butter, berbere and enjoy it with scoops. Many locals take a bite of it by hand.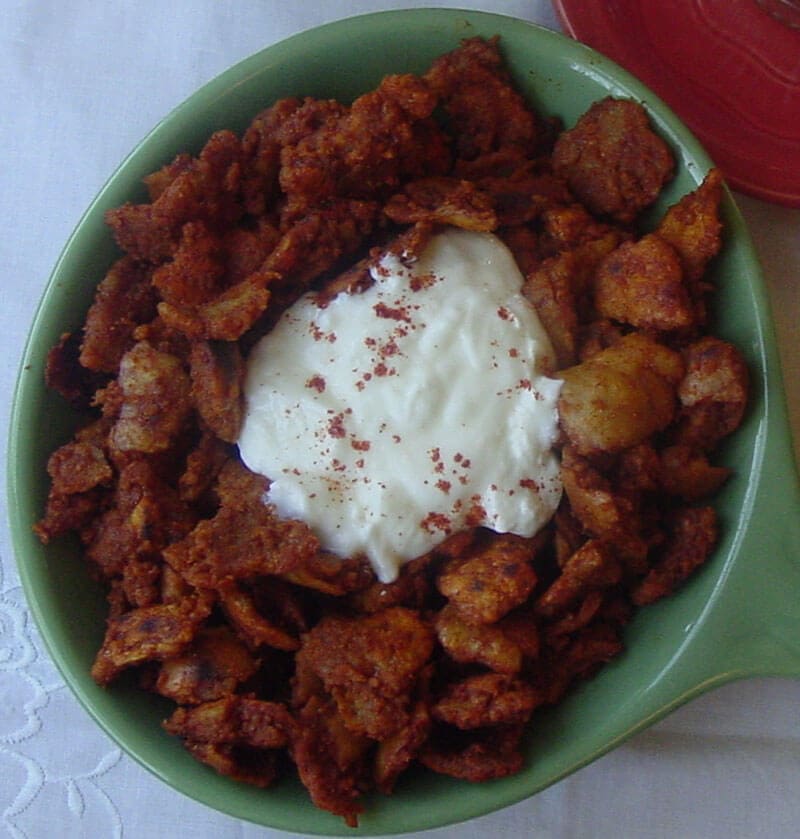 If you have traveled to Eritrea for a long time, you must have tried one of several versions of Fit-Fit. It is served popularly in both Ethiopia and Eritrea. These nations had border conflicts in the past, so you will realize that some dishes can appear in 2 cuisines.
The basic ingredients of Fit-Fit are shredded bread, clarified butter, and berbere. The first variation is Injera Fit-Fit. Can you imagine what this food looks like? As I mentioned Injera in the previous part, I will focus on the other – Kitcha Fit-Fit.
Kitcha is unleavened bread. The Kitcha Fit-Fit is made with the same methods and spice. However, you should order plain yogurt to eat with this food. I am sure that this is an unbeaten combo. Unlike other Eritrean foods, you will taste it with a spoon instead of by hand.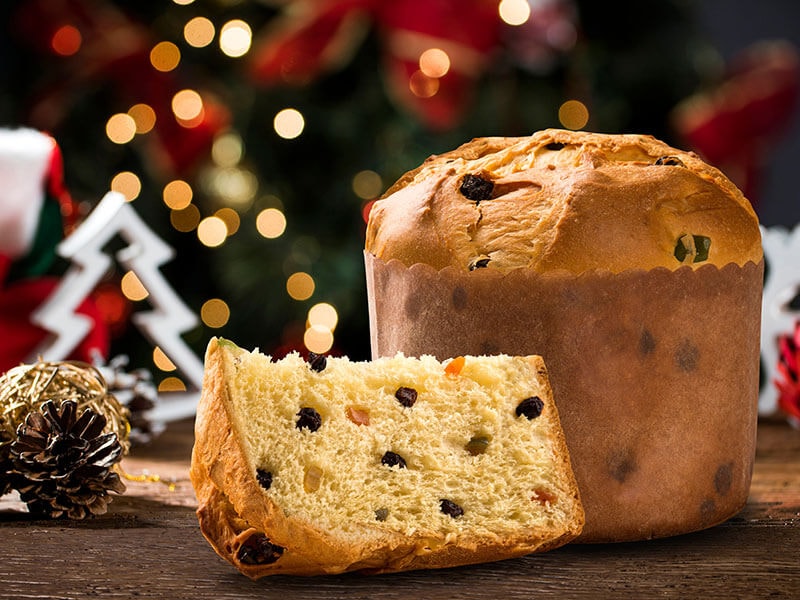 Panettone is not an authentic dish of Eritrean. It is a perfect result of the combination of Italian and Eritrean cuisines. Why did I say that?
The first time the Italians entered Eritrean was in 1869 and left in 1941. They not only left behind their special constructions but also their cuisine.
However, the Eritreans don't imitate the original recipes; they modify and add "Eritrean colors" to them. Panettone is a Mian sweet bread. It usually appears on the dining table at Christmas and New Year festivals.
In Eritrean, people often enjoy this sweet bread for breakfast and sip a cup of tea. Because of the influence of Italian culture, they also serve Panettone during Coffee ceremonies.
If you want to explore more about Italian-Eritrean cuisine, you can visit Asmara, which retains several Italian traces.
5. Taita/Injera – Sourdough Flatbread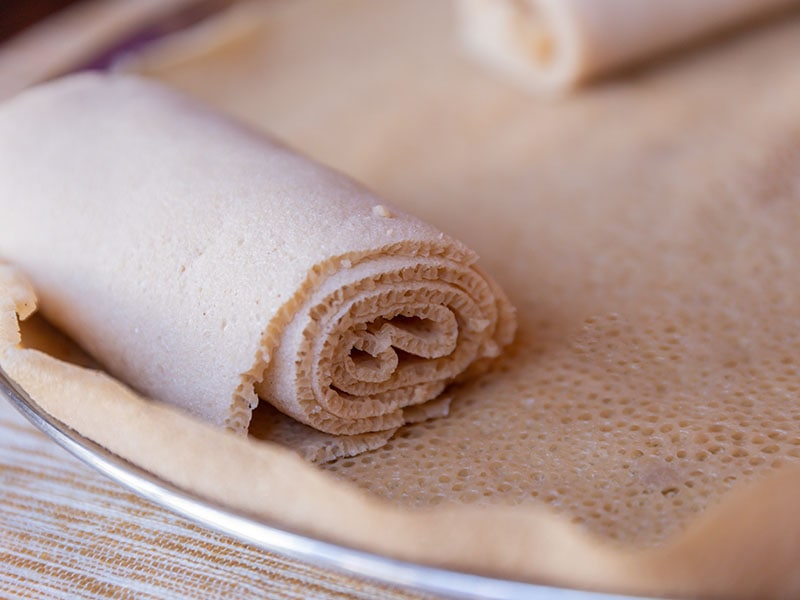 Everyone knows sourdough bread is super good for your health; thus, the Eritreans have created their own version and call it "Injera". It is also the favorite food of many people living in some areas of Sudan, East Africa, and others.
In the past, Injera was made from teff, an ancient grain grown on the highlands of Ethiopia. Due to the trace of teff in Egypt pyramids, many historians assumed that this grain appeared from 3350 BC ago.
Another opinion said they realized the pans to cook Injera hailing from 600 AD. However, teff is not always available. When short of it, people can use various grains: millet, sorghum, and barley instead.
The slightly spongy texture of the bread will go well with stew or salad, so don't forget to order them together. Injera with honey is also an old-school dessert in African cuisine. It is usually served at home, but it isn't hard to require it in local restaurants.
Let's learn how to eat Injera correctly. Ethiopian Injera is the same as Eritrean.
Fulfilling Eritrean Dishes For Lunch/Dinner
Tasting a table consisting of full Eritrean recipes for lunch or dinner will become worthwhile moments in your memory during a tour in this country. I hope you will not miss any great second.
Savory Dishes Will Awaken Your Taste Buds
Let's start a fantastic party with delicious Eritrean recipes for dinner/lunch. These are savory dishes symbolizing a long-standing history of the citizens here. You can know more about their culture through them.
6. Zigni – Eritrean Beef Stew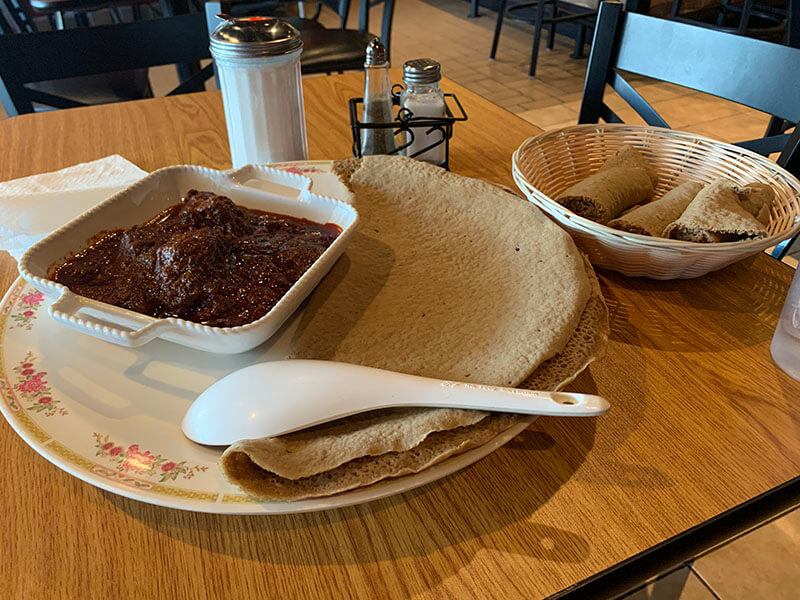 Even if you are not a real foodie, you surely have heard "Zigni" at least one time in your life. Why? Zigni is a staple and traditional stew in Eritrean. As you know, the long-established dishes in this cuisine are Tsebhi and Injera. Tsebhi is a common name for meat stews.
The chefs will cook meat with tomatoes, berbere spices, red onions and simmer for hours. You could taste tender fibrous meat with a spicy flavor. Due to being colonized by the Italians, you can see tomatoes reflecting the ruler country's cuisine.
The berbere spice is the core ingredient creating a hot taste and eye-catching color for this stew. Besides salt, ginger, cloves, etc., this blend cannot miss chili powder and fenugreek. You can adapt any spice, yet these 2 key ingredients cannot be replaced.
7. Shiro – Ground Chickpeas Stew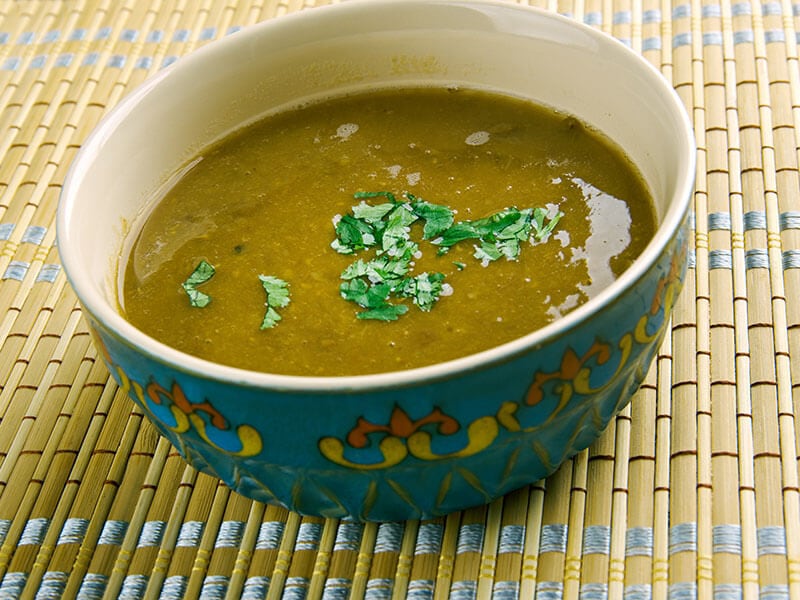 Tsebhi or stews are an essential piece in Eritrean cuisine. When you want to enjoy a vegetarian dish, remember to order a bowl of Shiro. This is a hot stew made from ground board beans or chickpeas.
There are different variations of Shiro you can taste during your travels. Tegabino Shiro is another vegan dish, but it contains heavily spiced chickpeas, fava beans, and more. To maintain its warmth, people usually serve it in a clay pot.
In case you want to add protein to this food, you can request Bozena Shiro. The recipe uses spiced clarified butter or meat to satisfy your taste buds. Besides regular meals, you can catch this dish on occasions, including Lent and Ramadan.
If you are obsessed with Shiro, you can make it at home with the help of a detailed guide.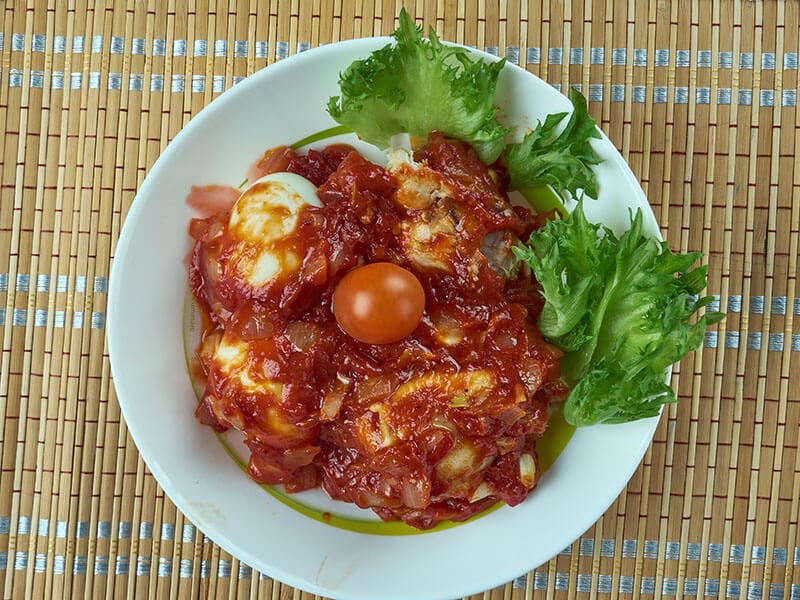 I know chicken is the favorite meat of many people as it contains healthier protein than pork and comes at a reasonable price. That's why you should taste dishes made from this meat wherever you come, and Tsebhi Derho is not an exception.
This stew is a long-standing food in this country, and its flavor is remarkable. As with other Tsebhi, the cooks will add berbere to the dish to improve the overall taste and appearance. Traditionally, Injera will come with each bowl of spicy chicken stew.
This stew is quite similar to Doro Wat in traditional Ethiopian cuisine. Since the 2 cuisines have a tight connection, you can find some common features in these stews.
9. Hamli/Gomen – Sauteed Collard Greens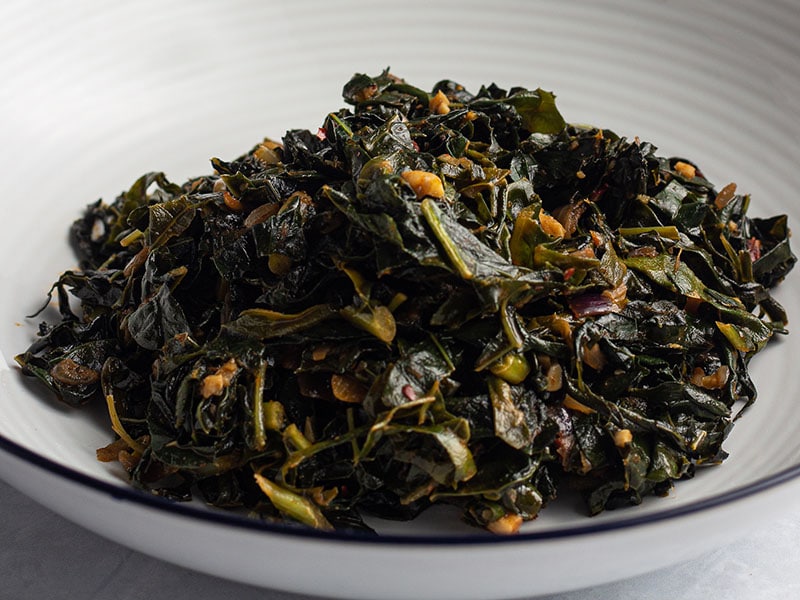 You should intake fiber besides protein nutrients, and don't forget to order a plate of Hamli. It is an Ethiopian dish; however, its fame has spread beyond this country and landed on the dining table of Eritreans.
The original recipe used green cabbage or collards. The collard green is pretty popular in African nations, and people also fall in love with it, so the "Gomen" word can be translated literally as "collard greens".
The most surprising factor: this saute is spicy food. That proves the Eritreans love spicy food, right? People usually add the dish on top of Injera and use their hands to take it. If you want to live a day-old life, you can use the pieces of Injera as a scoop to enjoy sauteed collard greens.
After trying Gomen, I determined this is my favorite recipe.
10. Birsen – Lentil Curry
Lentils can cook various Eritrean dishes, and the dish I want to introduce you to is Birsen. This is a traditional dish from Eritrea, but you can see the Ethiopians also love it.
Besides the official name, you also find this stew under Timtimo or Misir Wot (Ethiopian name). This food has numerous versions, and cooks can add or eliminate any ingredients to change the basic flavor, such as tomatoes, sauteed mushroom, and sliced okra.
The cooking process is simple; the chefs only need to stir well to avoid burning at the bottom. The typical food will use split red lentils simmered in berbere sauce to create a unique flavor.
11. Fata – Eritrean Panzanella
Fata is a salad that comes from Italian-Eritrean cuisine. In other words, it inherited the best features of Eritrean and Italian exquisite food culture.
Panzanella originated in Italy in the 16th century. Bronzino describes a salad containing cucumbers, onions, and purslane similar to present-day Panzanella.
However, the Eritreans don't imitate all ingredients of Italian recipes. The chefs don't use fresh tomatoes but toss crusty bread with tomato sauce. Besides, they also add some signature spices such as cayenne pepper, garlic, allspice, and more to enhance the taste.
Don't forget to dress full-fat yogurt on the salad to complement some touch of refreshing taste and relieve the spiciness of this food. For those who wonder the origin of the name "Panzanella", pan means bread, and you can understand "zanella" is a deep plate to hold salad.
End The Meal Perfectly With Dessert And Beverage
A spicy meal cannot be completed without a beverage and dessert. While the drink can help you refresh your mouth after a bite of stew or salad, dessert will adorn a few sweet things for your "red table".
As you know, the Eritreans love spicy foods, so the red tone from berbere seems to appear in all the dishes.
12. Makleel – Eritrean Doughnuts With Honey
If you have traveled to Greece, you will find this Eritrean treat quite similar to a mouth-watering Greek dessert called Loukoumades. The tourists call it "Eritrean doughnuts", and the locals call it "Makleel".
The ingredients of this food are not too special; however, you will taste the gently sweet taste from honey instead of sugar like other doughnuts.
If you plan a dinner party, don't hesitate to order this treat as it can satisfy both adults and kids. When you bite into it, its texture and flavor will seduce you. The crunchiness on the outside and softness on the inside will create a fun symphony in your mouth.
You can request a bowl of honey to dip one by one doughnuts or drizzle honey directly on them. No matter which ways to serve, the taste will not change.
13. Mies/Tej – Eritrean Honey Wine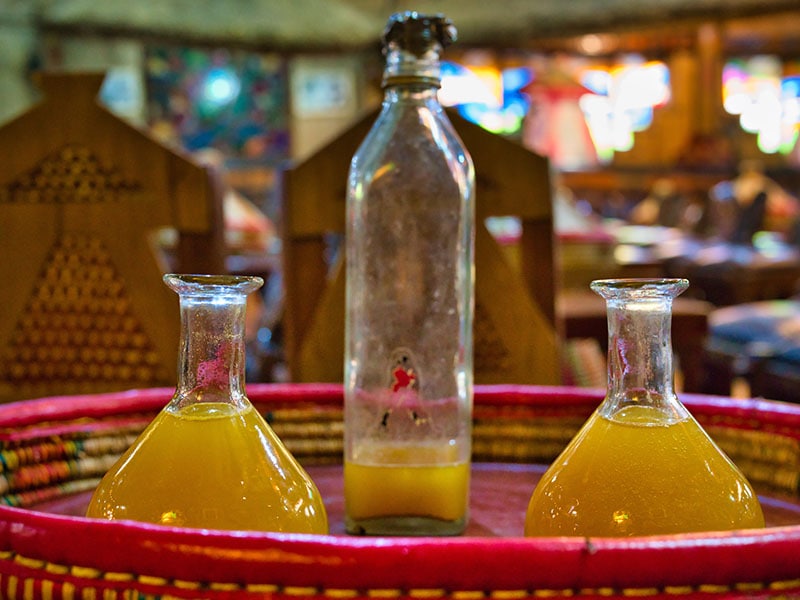 Do you know which country the largest honey producer in the world is? Bingo, the answer is Ethiopia. This is also the hometown of Tej, a famous honey wine.
Therefore, it is not strange this beverage has spread to Eritrea and become a popular choice on special occasions, including weddings or the new year. Homemakers often make Tej as it just requires 3 basic ingredients: honey, water, and Rhamnus prinoides.
In the 1900s, just King and his presence could taste Tej, but now, Tej is sold commercially, so you can buy it easily. The locals will pour wine into a flask-like pitcher to serve their guests. The eye-catching yellow tone will draw people's attention at first sight.
How To Eat Eritrean Foods Like The Locals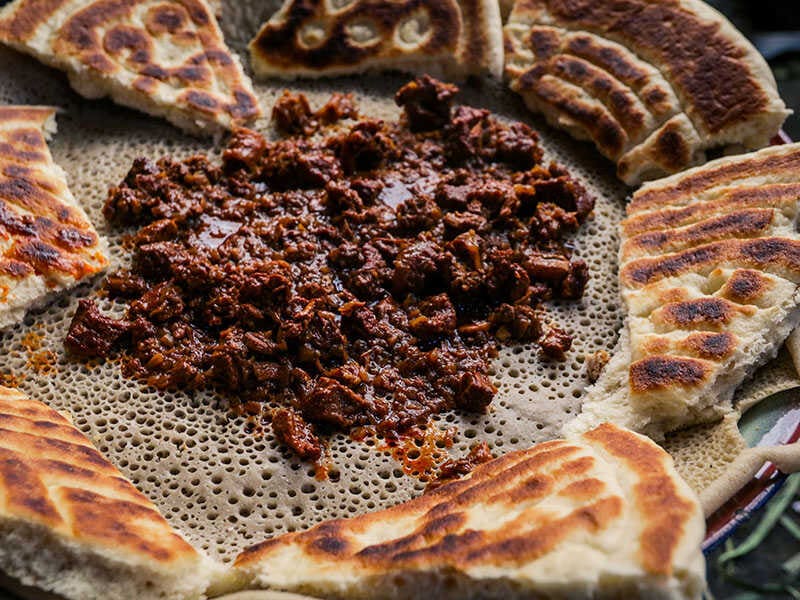 The biggest difference between Eritrean eating manner and others is the method to taste foods. While the Westerns enjoy food with knives and forks, the locals use their hands and just their right hand.
If you use your left hand to get food, the Eritreans will find it rude, and they can assume that you don't respect them. However, the hands are what you use to deliver food from the plate to your mouth since the real thing to scoop up food is Taita or Injera.
That's why this dish is an accompaniment for almost all Eritrean recipes. If you order soup or stew with Injera, the chefs can pour it on top of Taita. Almost all dishes are spicy, yet you also find some soups or stews having a mild flavor.
Before entering any local restaurant, make sure you have learned how to eat their food properly. You don't want to be misread just because of a careless action, right?
Don't Hesitate To Travel To Eritrea Right Now
Eritrea is a nation in the Horn of Africa located in Eastern Africa and has a close border with Ethiopia. You can buy a ticket to visit several states around Eritrea. It is to kill 2 birds with a stone.
Besides using common spices: onion, garlic, etc, Eritrean foods are famous for berbere spice, a signature ingredient that cannot be missing in any spicy recipes. If you are a big fan of hot dishes, This country is a must-go destination.
How about my post? Is it interesting and helpful for your upcoming trip? Don't forget to express your thoughts via a comment box or like and share it. Thank you for your following, and I wish the best for you.