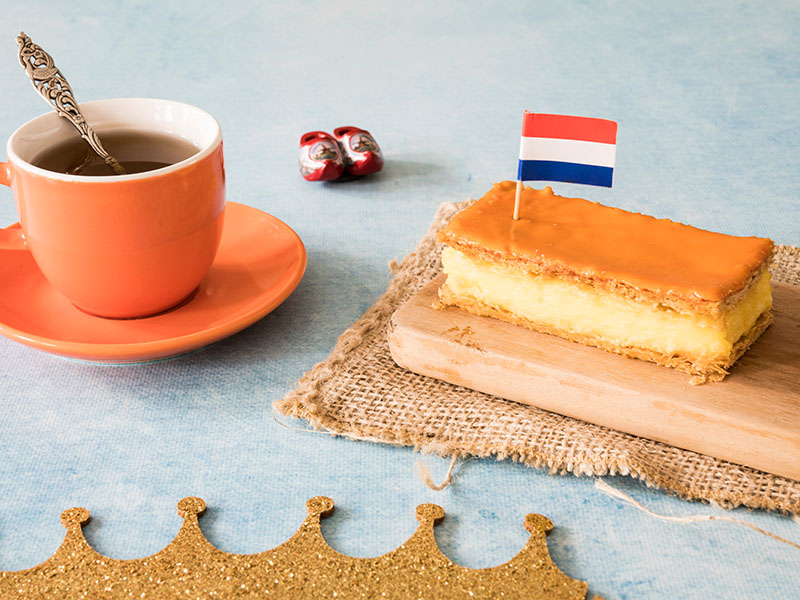 When it comes to Dutch foods or Dutch cuisine, it isn't as well-known as other European counterparts, like France or Italy. However, people still perceive it as a fresh view of food culture, and it deserves an innovative spotlight.
Although there are many controversial ideas about this cuisine, I'm sure that the more you try, the more you will appreciate it. This country is also home to many excellent restaurants and top-level chefs, so the food quality won't be a let-down.
So what are you waiting for? Let's go through some incredible and unmissable Dutch dishes together!
Delicious Dutch Breakfast Dishes That You Can't Resist
As you probably know, breakfast is considered one of the essential meals of the day. Dutch breakfast dishes seem simple, but they can store enough energy for you the whole day. Here are some recipes that you can try out while visiting this country.
1. Poffertjes – Dutch Mini Pancakes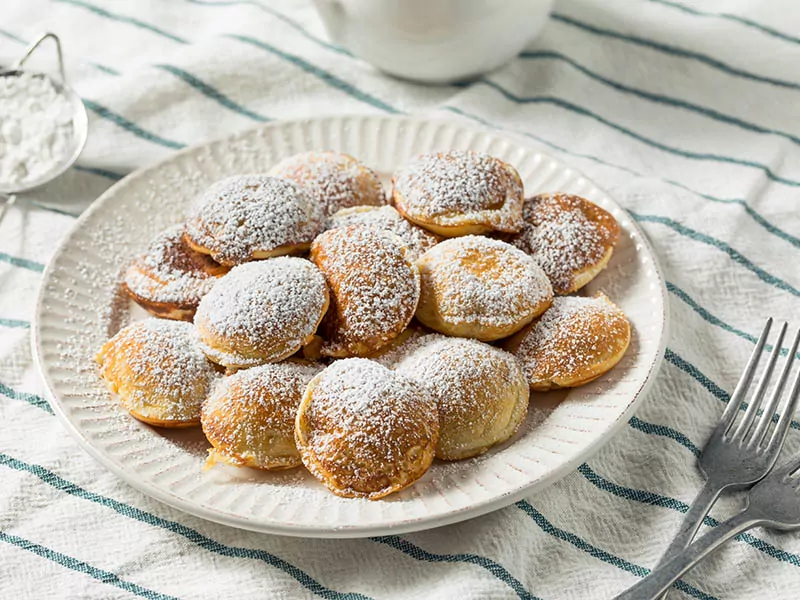 The first "sugar rush" you must try whenever you arrive in Amsterdam should be Poffertjes. They're Dutch pancakes made in a circular iron pan.
These miniature puffy clouds are best served with butter and sugar, but they also go well with Nutella, white chocolate, and fresh fruits. This dish is meant for holidays and festivals. However, if you want to eat it every day for breakfast, who can stop you?
Poffertjes originated from the sacramental hosts served in churches in the south of the Netherlands. This dish is made in the provinces of Limburg or North Brabant since the hosts are part of a Catholic tradition.
Let's take a trip to Albert Cyupmarkt, a street market in Amsterdam, and try out this dish!
2. Hagelslag – Bread With Chocolate Sprinkles On Top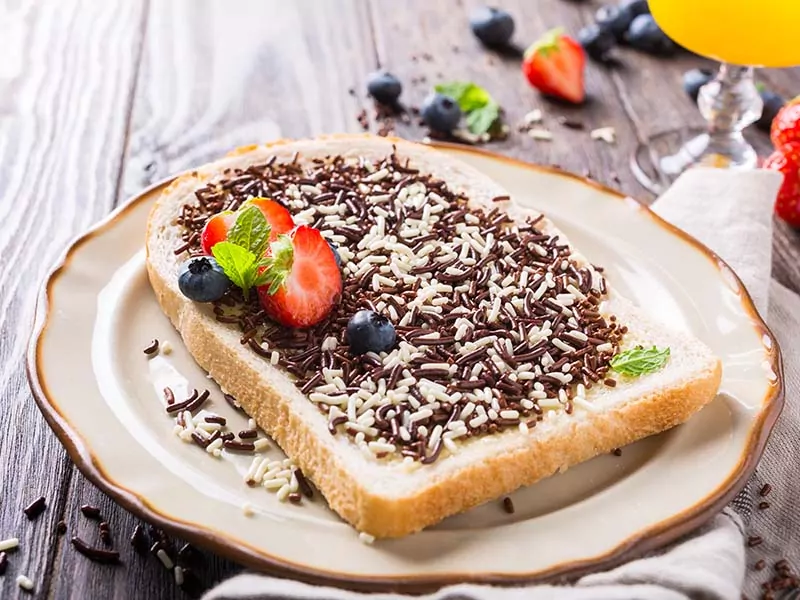 Do you know why the Dutch are ranked as the happiest people on earth? It's because they eat chocolate sprinkles for breakfast!
B.E. Dieperink, director of VENCO, was the inventor of Hagelslag. He supposedly came up with this concept during a hailstorm on a dreary fall day in 1919. That is why the dish is called Hagelslag, which means hailstorm in Dutch.
Dutch people have had an affinity for this kind of intriguing bread topping for years, and it's common to catch sight of sprinkle-filled jars on their shelves at home.
This Dutch recipe is super easy to make, just add some chocolate sprinkles on top of buttered toast, and you will have a whale of a time at breakfast.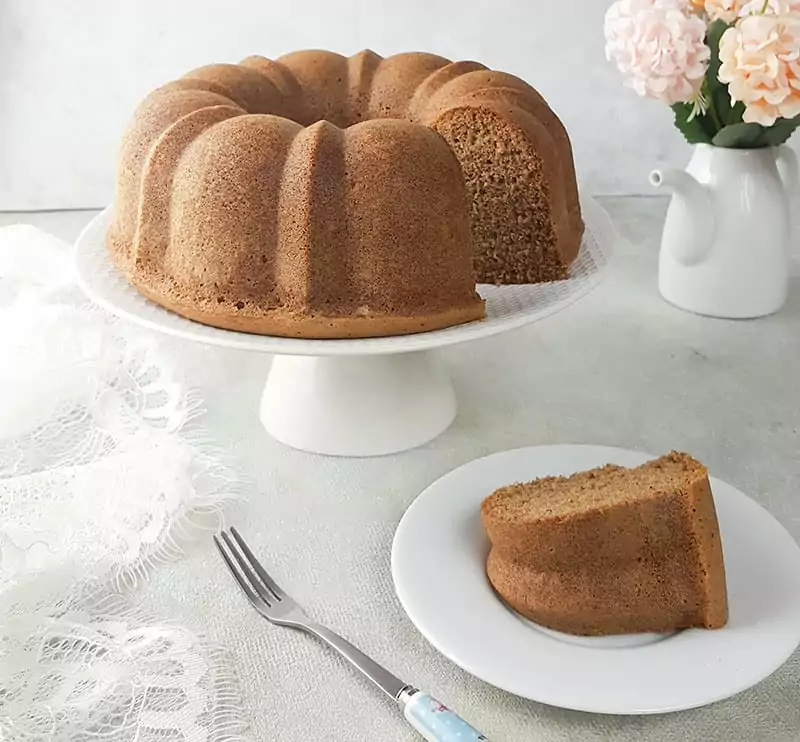 The literal translation of this dish is "breakfast cake". Ontbijtkoek is a traditional Dutch spiced cake – an exciting treat that goes perfectly with a hot cup of tea or coffee.
The cake can also be called peperkoek in the southern Netherlands, translated as "gingerbread". In the northern Netherlands, it's oal wief, meaning old women's cake. In the western area, it's simply known as cake or snijkoek.
Interestingly, this "cake" won't spoil for several weeks, even at room temperatures, making it possible to carry it throughout the day. Plus, this cake's soft and moist texture makes it the perfect food to start a hard-working day.
Want to make Ontbijtkoek at home? This tutorial will help you out!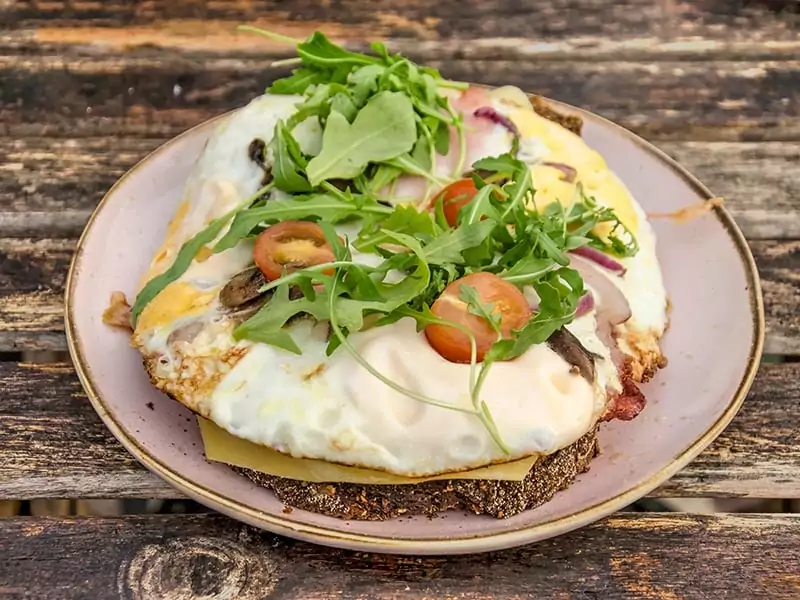 Back storytime! Uitsmijter Spek En Kaas used to be served at cafes late at night before closing time. That explains why Dutch people name it "Uitsmijter", which means "bouncer" or "doorman" in English.
Nowadays, it's one of the most popular breakfast options in the Netherlands. There are plenty of versions of it, but the most typical one is made with white bread, ham, Dutch cheese with a sunny-side-up egg on top.
This glorious dish contributed to the list of quick-made Dutch breakfast recipes that foreigners must try out.
Learn more about this mouth-watering dish with a cooking tutorial!
5. Pastechi – Fried Pastry
As Aruba was formerly a part of the Netherlands in the 1630s, this small island has such a multicultural society and cuisine.
People perceive Pastechi as a traditional Aruban breakfast, but sometimes it's surprisingly suitable for satisfying Dutch desserts.
Chicken, beef, tuna, and vegetables are the key fillings for this crescent-shaped dough. But if you want to add extra flavor, use mozzarella of the most premium quality. With the combination of Dutch and Caribbean cuisine, this deep-fried breakfast bread will surely blow your mind.
Let's take a closer look at this iconic breakfast dish!
6. Appelflap – Apple Puff Pastry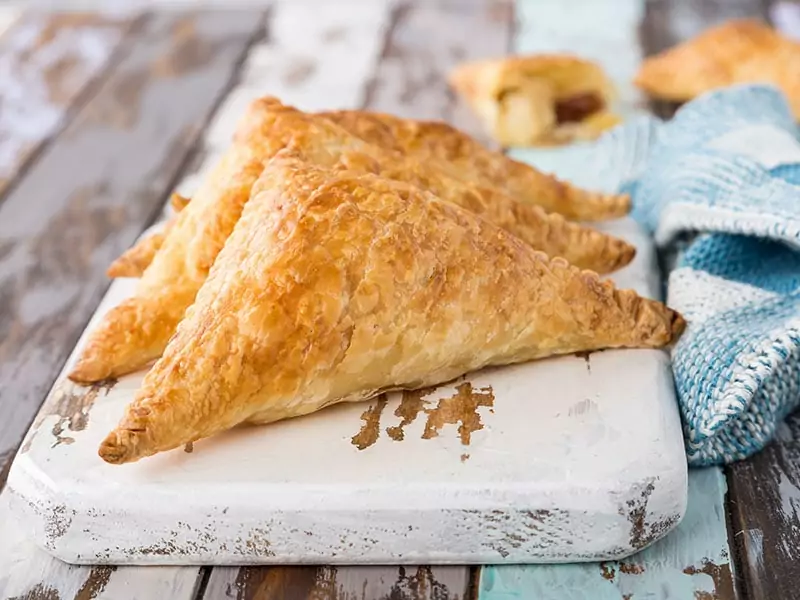 According to the Dutch dictionary, an Appelflap is a pastry made from dough, raisins, sour apples, and coated in sugar powder. This pastry has become one of the most popular recipes in medieval times.
The cooking method of an Appelflap is various in two ways: frying in the fryer and baking in the oven. Plus, there are endless possibilities to create this traditional breakfast. Sausage rolls and cheese sticks are also two common additions that pair well with apples.
You can find this well-known pastry in bakeries or coffee shops throughout the country. The crisp golden brown will give you a satisfying feeling that you can hardly find in other pastries.
With this cooking instruction, you won't have to struggle with making Appelflap anymore!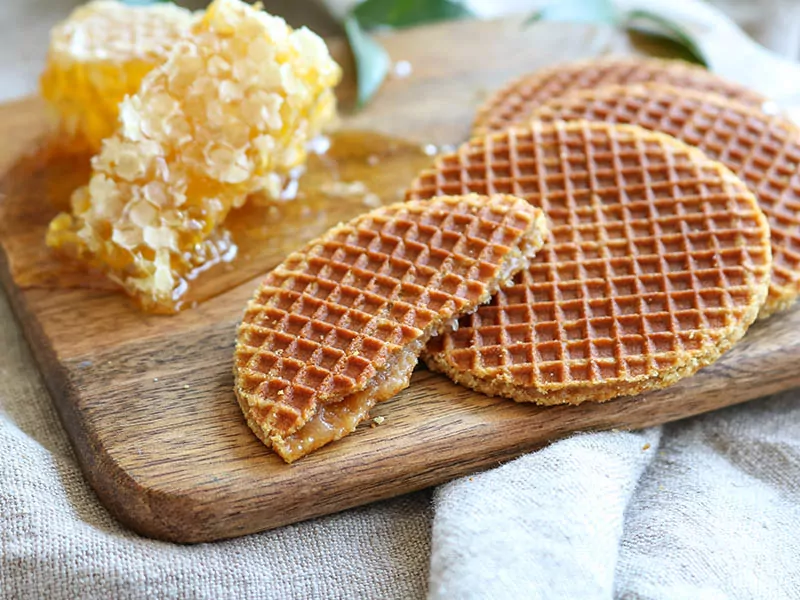 If you always feel snacky in the morning, why not carry some Stroopwafel in your pocket? It used to be a local Dutch delicacy, but all of a sudden, it became popular worldwide.
The exact date of this invention is still a mystery. However, most people estimated that it was created around 1810 in a small city located in the west of the Netherlands.
Just like other waffles, Stroopwafel is a dish made with a waffle iron. The dough is baked for a minute and cut in half with a sweet layer of syrup inside. Honey, rice, and caramel are some alternative flavors you can go for while enjoying Stroopwafel.
These Dutch waffles are the ideal breakfast to enjoy on a gloomy day with a cup of warm milk. You can also take a step further and put the waffle on top of the hot beverage. The waffle will melt in the liquid, adding the sweetness of the syrup to the drink.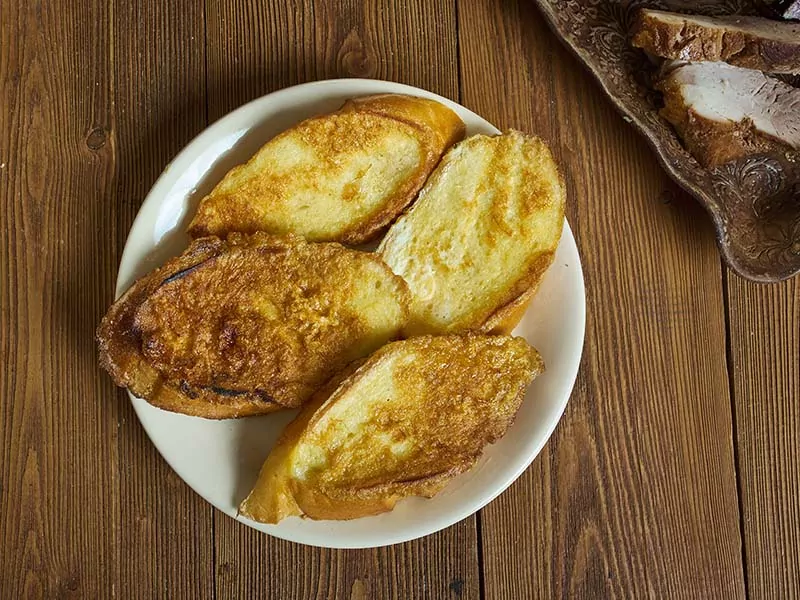 What would you do if you accidentally left a loaf of bread outside all night and it became hard? This recipe featuring leftover bread will be your life-saver if you don't want to waste food!
The translation of the term "Wentelteefjes" can either make you chuckle or grumble. "Teef" is Dutch for female dogs, while "wentelen" means to turn over, so the name of this dish kinda sounds like an insult.
Despite how weird this name is, it was not intended to insult the maids. The term stems from the Dutch phrase "wentel het even" meaning "turn it over for a minute".
This dish is also known as "draaideuren" (rotating studs) or "gebakken hondsvot jes" (baked dogs butts) in other parts of the country.
9. Speculoos – Spiced Biscuit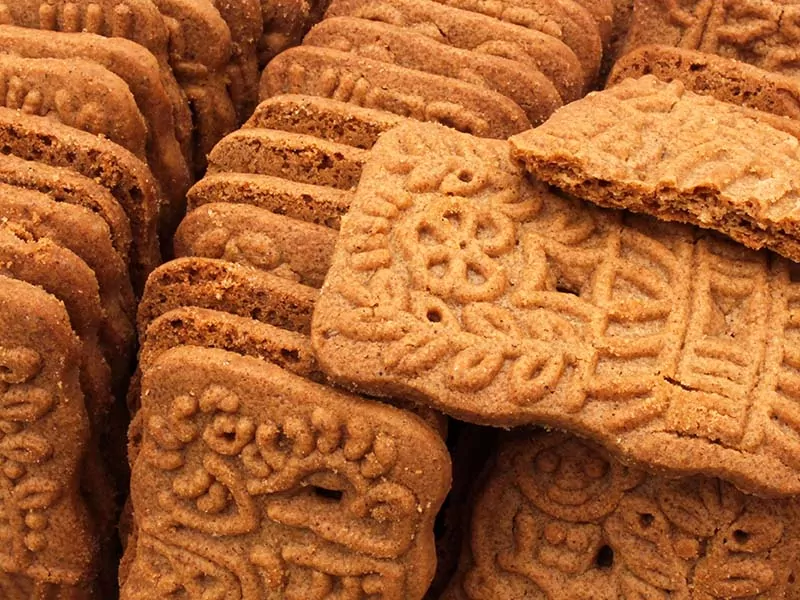 Speculoos is a spiced biscuit typically made around St Nicholas Day. These biscuits are frequently decorated with images of a farmhouse, ship, elephant, horse, or anything St. Nicholas-related.
The name of this sweet might be derived from the Latin word speculator, implying "one who sees everything" – a St Nicholas' epithet. But it might also have been derived from the Dutch word specerij, meaning spice.
With traces of cardamom, cinnamon, nutmeg, ginger, and cloves, these thin, crispy biscuits have stolen the hearts of the Dutch. In fact, they enjoy Speculoos so much that they've made their own versions, including those with anise or almond flour.
10. Pepernoten – Mini Spiced Biscuit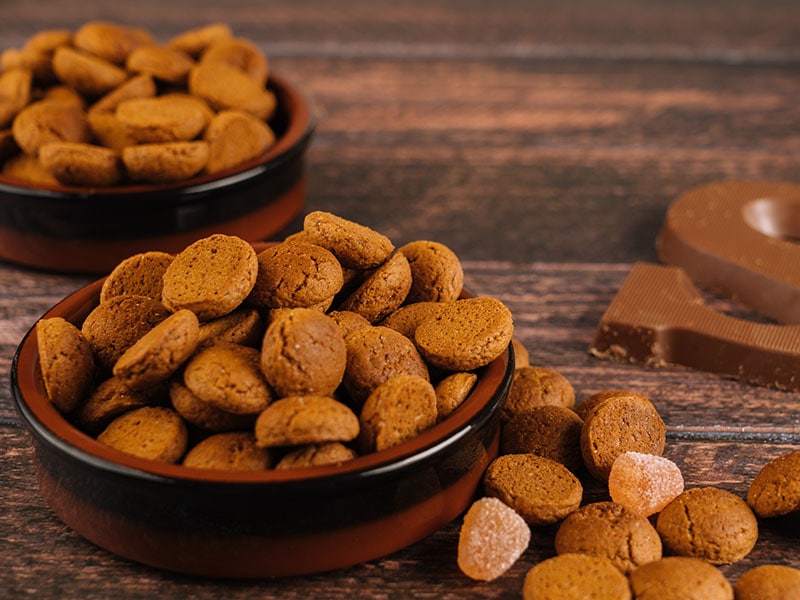 Pepernoten, which literally translates as "pepper nuts", arose in the 16th century when spices became more available in Europe due to commerce with the Far East. These tiny biscuits are prepared with rye flour, sugar, and anise, flavored with cinnamon or cloves.
On Sinterklaas day, Saint Nikolas is said to arrive by boat from Spain. He would leave gold money in the shoes of individuals who had left them out for him. He also tossed gold coins through the windows of three young girls' homes as a dowry.
Since then, handfuls of these oddly-shaped cookies have been dropped in children's rooms to encourage them to hunt for them on Sinterklaas day.
11. Tompouce – Traditional Dutch Pastry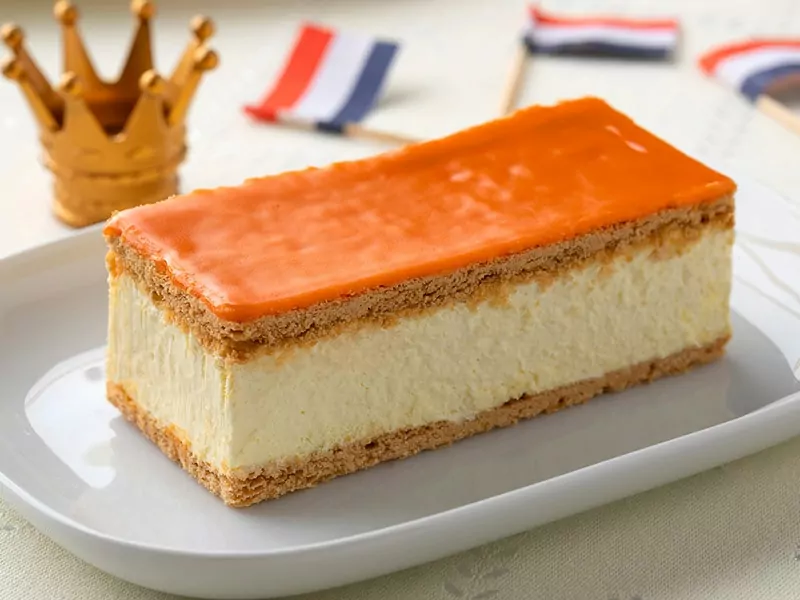 Tompouce is a local variation of the French mille-feuille, named after Admiraal Tom Pouce, the stage name of the Frisian dwarf Jan Hannema, and introduced by an Amsterdam pastry baker.
Made of two puff pastries filled with custard cream, Tompouce is truly an iconic dessert in the Netherlands. The frosting typically turns orange on King's Day to honor the Dutch Royal Family.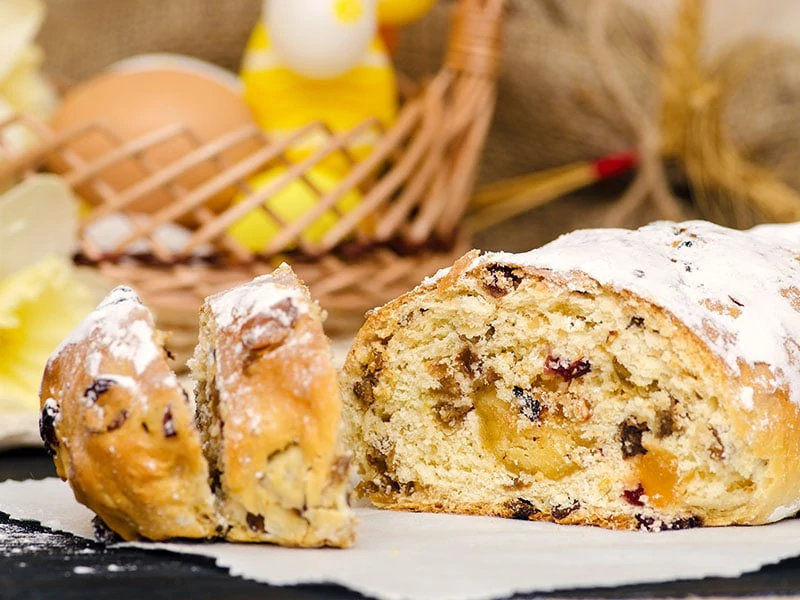 In numerous European nations, various customs surround bread usage during the holidays. And the Netherlands is no exception.
This type of bread can be served on both Easter and Christmas. On Easter, it's called Paasbrood. But when served on Christmas, it becomes Kerststol.
The crusaders gave rise to these popular oval-shaped candied bread when they brought back spices and almonds from the East. The German stollen, which has identical components, was the earliest known written record of the bread in the 14th century.
Typical Dutch Lunch Dishes To Make Your Day More Productive
Unlike other cuisines, the lunch menu in the Netherlands is quite different. These dishes are usually very light since big and heavy meals might make you sleepy.
So get inspired by the Dutch lunch recipes below and learn about the Dutch dishes that can fill you up and keep your energy boosted.
13. Tosti – Grilled Ham And Cheese Sandwich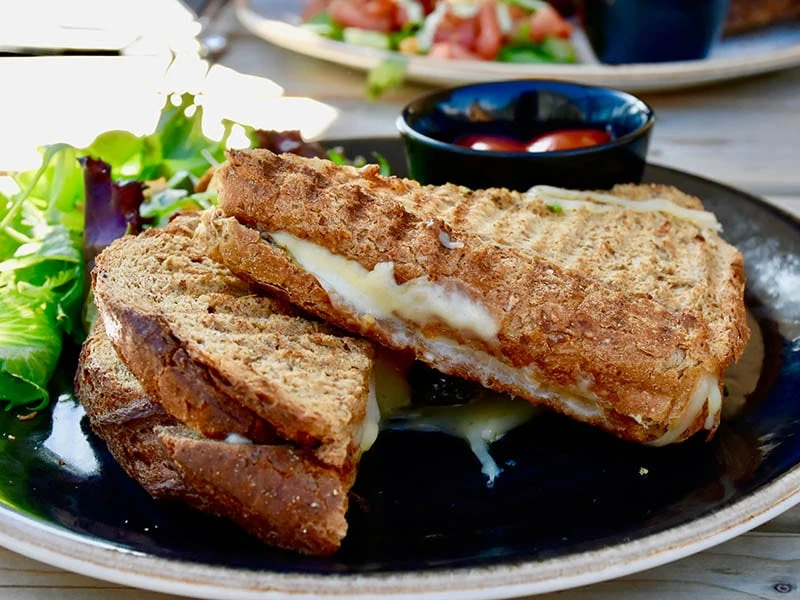 The best priorities for Dutch lunch dishes are fast, nutritious, and simple. These dishes have similar portions to breakfast meals and can be paired with milk or juice. Having a well-prepared lunch with two main dishes and desserts is not very common in the Netherlands.
In this case, sandwiches like Tosti are the go-to options. Can be packed easily and require little trouble to eat, this ham and cheese sandwich is one of the most well-loved meals for Dutch people at lunchtime.
If you're planning a trip to the Netherlands, you must try this delectable sandwich dish at Happy Tosti in Den Haag. I'm sure you'll be exhilarated by the inviting atmosphere and outstanding food quality.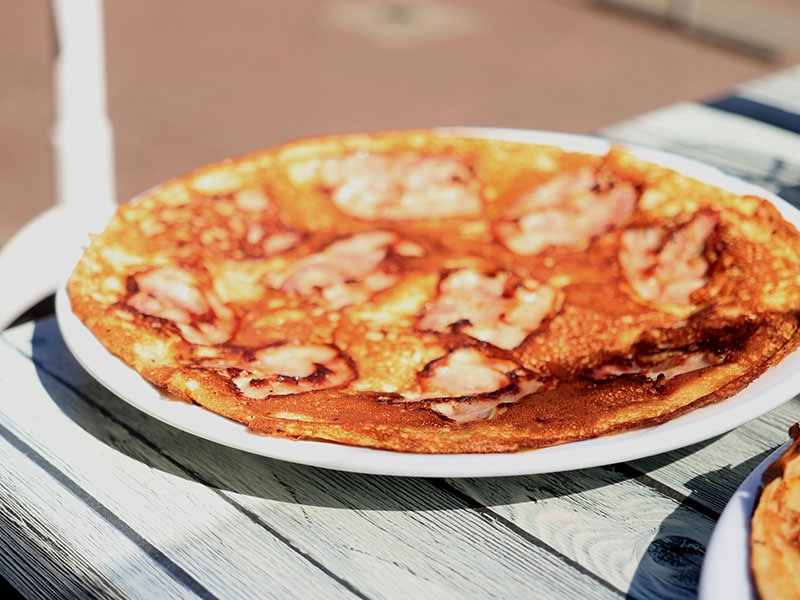 If you're craving pancakes in a different country during the midday, don't worry, Pannenkoeken has your back! Pancake is usually eaten at breakfast, but people also see it as a snack or a main course during lunch in Amsterdam.
Dutch pancakes are larger than traditional American pancakes and not as thin as French crepes. They're often served with fruits, but sometimes they can be enjoyed with savory toppings. So feel free to go wild with mixing ingredients!
If you're not in the mood to cook, I will show you several places to enjoy this dish. The first stop will be PANCAKES on Berenstraat 38, an international pancake shop ranging from Russian blini to Korean pajeon.
Another excellent recommendation is Upstairs Pannenkoekenhuis at Grimburgwal 2. Tiny but cozy, this restaurant has a traditional Dutch atmosphere with the best sweet and savory pancakes in town.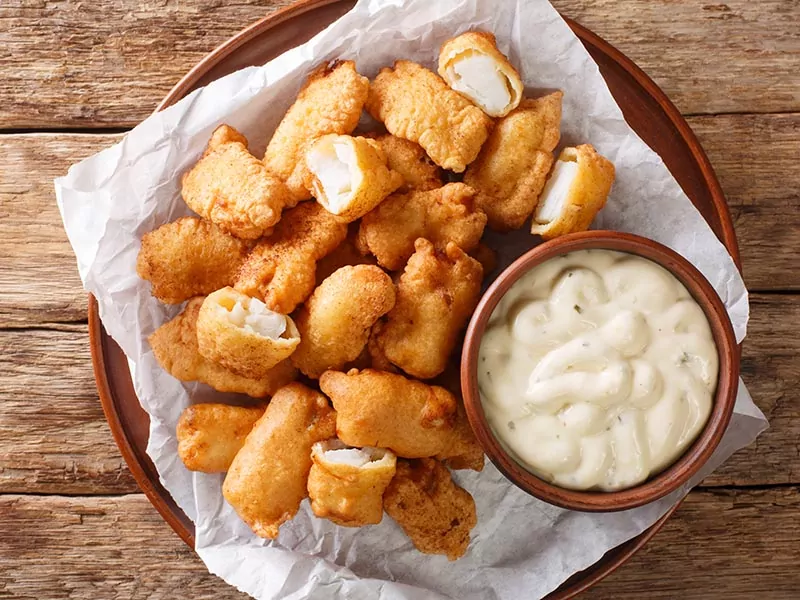 Still wonder how to keep a light stomach while strolling the Amsterdam streets? This popular Dutch street food called Kibbeling will be your best choice for lunch.
This dish consists of battered chunks of fish and is commonly served with garlic sauce or remoulade sauce. The term kibbeling originally referred to the remnants of cod, most often the cheeks, a significant component of 19th-century Dutch cuisine.
The main challenge of this dish is the crunchy coating outside. The chefs have to make the batter thick enough so it can stick to the fish, but making it too thick will prevent the fish from being cooked.
Overall, Kibbeling may look very simple, but it's challenging to make well. So the next time you travel to Amsterdam, remember to give this dish a try, you won't regret it.
Let's take a look at this tutorial to have a better understanding of Kibbeling.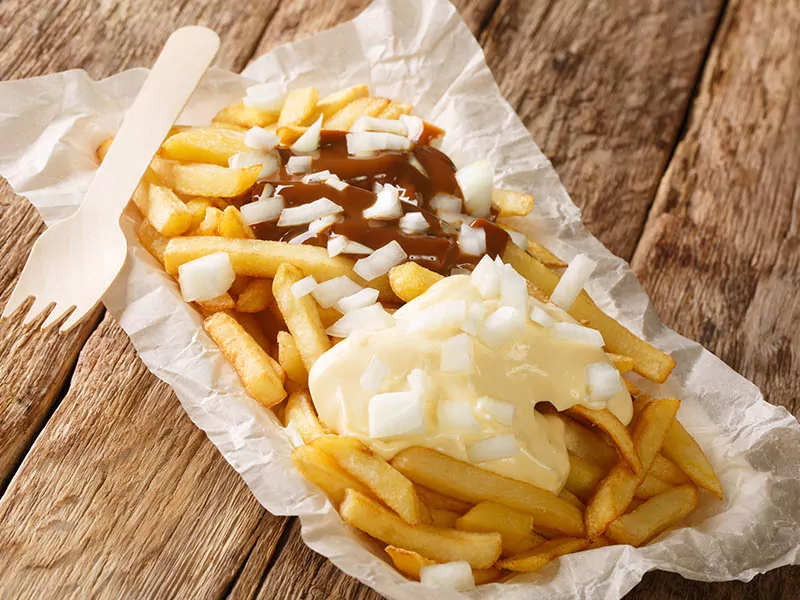 Turn your lunch break into a fun time while having a "war" with fries on the "battlefield". This intriguing dish is actually sliced potatoes that have been deep-fried and covered in an array of toppings like mayonnaise, Indonesian-style peanut sauce, and diced raw onions.
The inspiration behind this dish comes from Indonesian history. Indonesia used to be a Dutch colony for a very long time. After that, many citizens migrated and brought the breeze of their culture to the Netherlands.
That's why the savory and spicy flavor in Indonesian cuisine bombarded the plain and sweet in Dutch cuisine. As a result, Patatje Oorlog, an iconic dish with an excellently harmonious flavor, was born.
Curious about the taste of Patatje Oorlog? This can help you out!
17. Oliebollen – Old-fashioned Dutch Donuts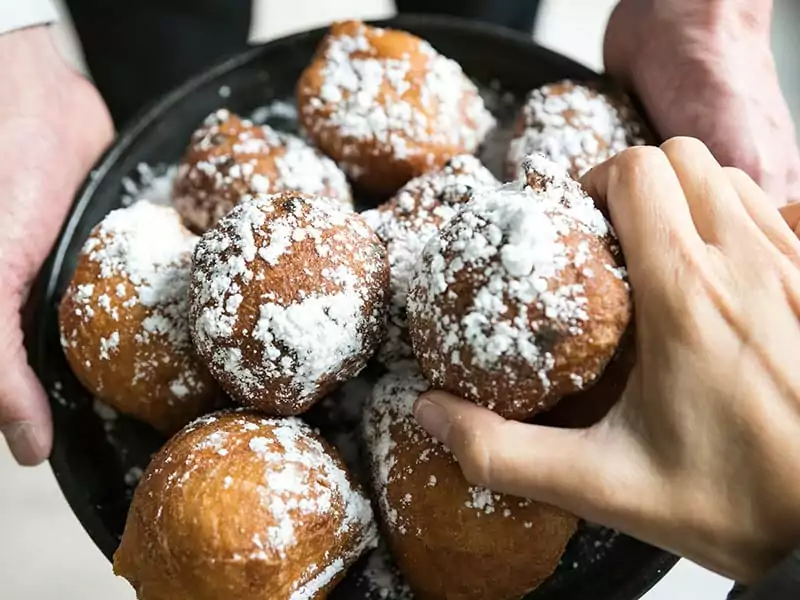 Not in the mood for sandwiches? Then why not bring back an old-fashioned treat for your lunch, the Dutch donuts. Even though they were traditional American donuts, they're still strong competitors to the evolved version.
The exact origin of oliebollen is still under debate. Some say they were initially consumed by Germanic tribes in Belgium and the Netherlands during the Yule. Some suggested that Portuguese Sephardi Jewish immigrants brought it to the Netherlands in the 15th century.
This amazing dish can be eaten all year round, but people prefer to enjoy it as a New Year's Eve treat in Holland.
Here's a history lesson about this light and fluffy treat!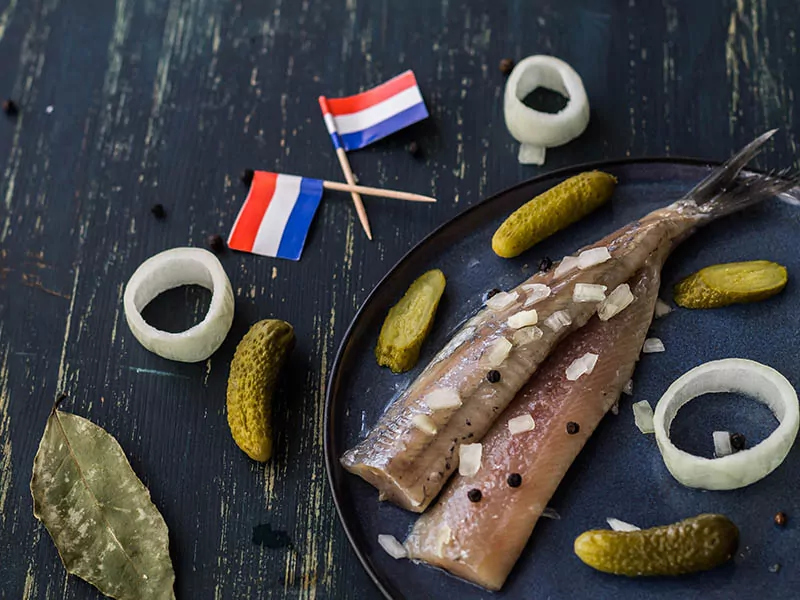 Hollandse Nieuwe is a raw herring soaked in preservation liquid, vinegar pickle, or Dutch brined herring. The marinade may also include vinegar, wine (sometimes cider or tea), sugar, chopped onion, bay leaves, and mace.
Typically, soused herring is baked in the marinade, but it can also be fried and soaked in the marinade afterward.
The Dutch invented this method of cooking herring in the Middle Ages. Herrings are caught in the North Sea near Norway or Denmark before the breeding season. Herrings are incredibly high in oils at this time, which increases the overall taste of the final dish.
Warming Dinner Recipes To Increase Intimacy Between Dutch Families
Dinner plays a crucial role in people's lives. It strengthens the nutrients in people's organs and creates memorable moments with their beloved. So take a cue from Dutch families and enjoy a great dinner with your family with the following dishes.
19. Hachee – Dutch Beef and Onion Stew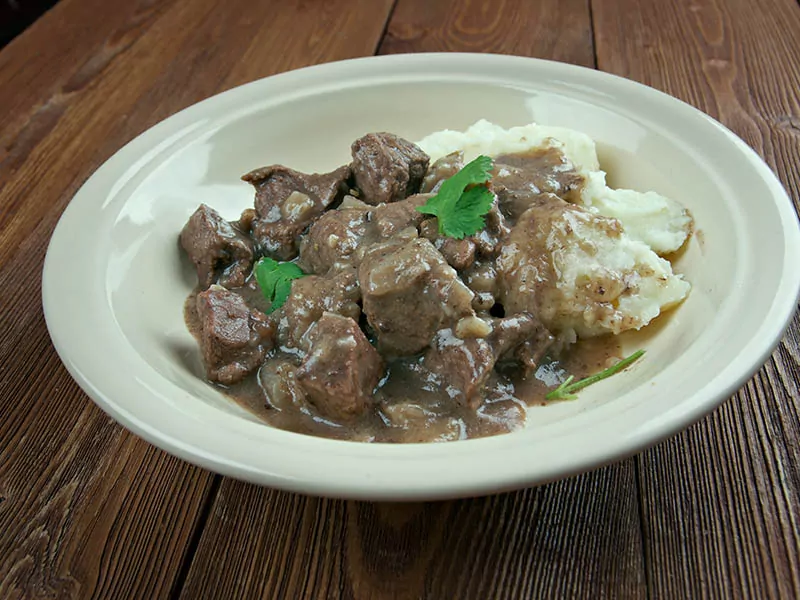 Hachee is typically a fall or winter dish, but craving it during the summer won't be a big problem. The word "hachee" comes from French "hacher", which means "to chop", referring to the method of preparing meat and vegetable for the stew.
The ingredients for this dish consist of beef, butter, onions, stock, and vinegar. You should also season it with bay leaves, cloves, juniper berries, and salt. After slowly stewing them in low heat for two hours, you will have a plate full of tender meat and flavorful sauce.
This Dutch dinner recipe is quite exotic compared to regular Dutch foods. Plus, it's one of the dishes that gets better overnight in the fridge.
20. Stamppot – Mashed Potatoes Pot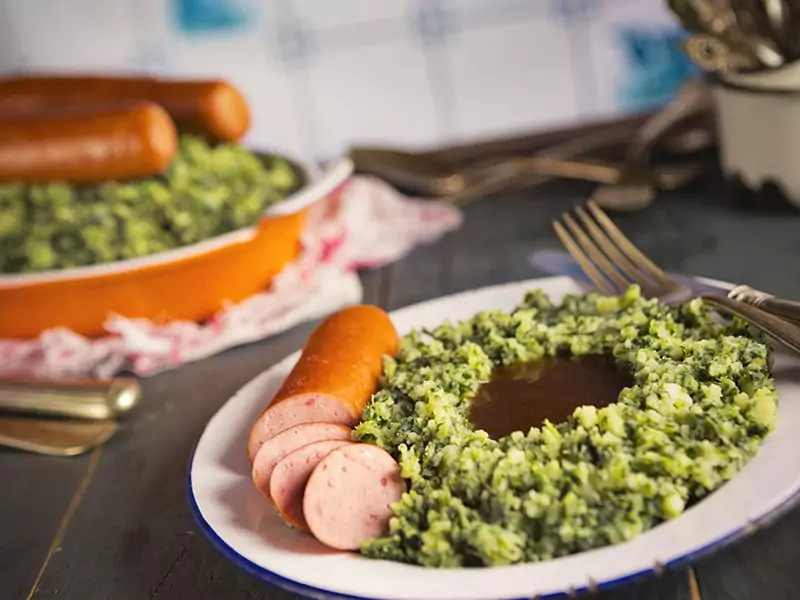 If you're looking for some comfort food in the colder months, consider Stamppot. It's a Dutch dish made from mashed potatoes and several vegetables such as kale, carrot, or onion. Smoked sausage and a drizzle of olive oil with scallions on top will create a flawless finish.
This dish is typically served in restaurants and street fairs. However, you can also easily make it at home.
Folklore dates the development of hutspot (boiled and mashed vegetable) to 1574, while the practice of eating raw green vegetables rather than cooking them with potatoes dates back to 1940. So the true origin of stamppot is very confusing.
If you're a fan of potatoes, pay a visit to this recipe for further directions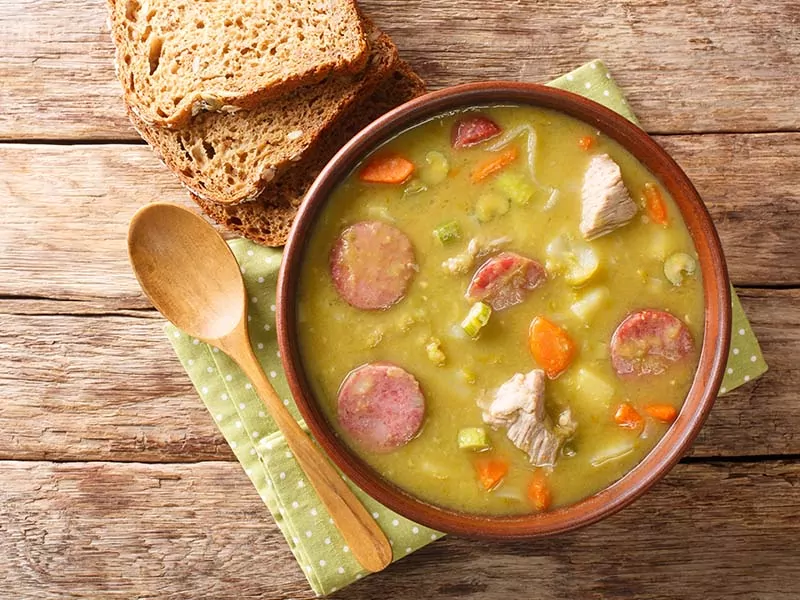 When winter comes, bundling up clothes to keep yourself warm is not the only thing you need to worry about; you also have to focus on the foods. In this case, Snert should be the go-to meal in this frigid weather.
Perhaps this dish isn't very appealing, but it's a tasty one! Made with split peas, vegetables, and pieces of pork belly, this delicious Dutch soup is a real winner throughout the fall and winter months in the Netherlands.
You can easily control the thickness of the soup by adding more or less stock to it. Served with rookworst and rye bread slices, this hearty soup will be the perfect meal on your table during cold days.
22. Rookworst – Smoked Sausage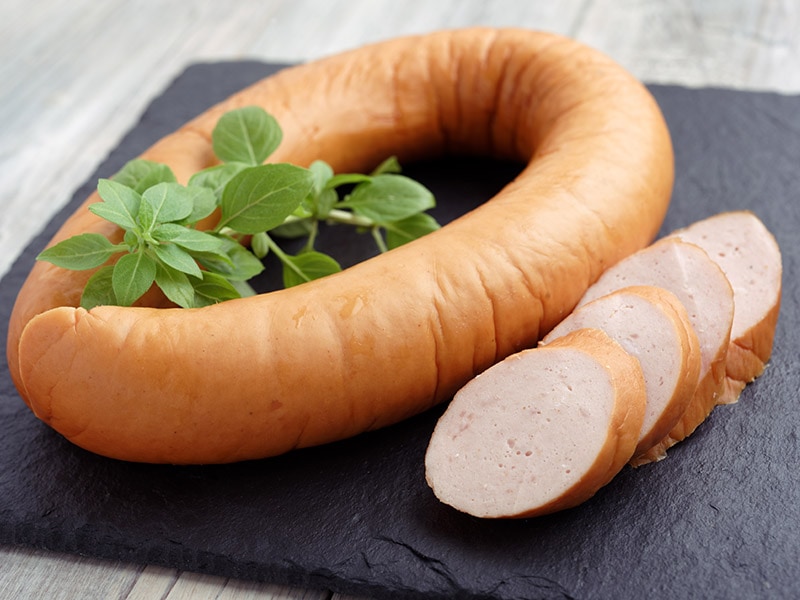 As I mentioned earlier, smoked sausage or Rookworst is an irreplaceable ingredient of Stamppot and Snert.
There are many different types of smoked sausage in the Netherlands, and the Dutch have evolved an exceptionally varied approach to them. Rookworst may be purchased hot from street vendors to eat while shopping, but they work best with Snert and Stamppot.
Back in the day, Rookworst was smoked over wood chips. However, most commercial Rookworst these days only add smoke aromatics to give it a distinctive flavor.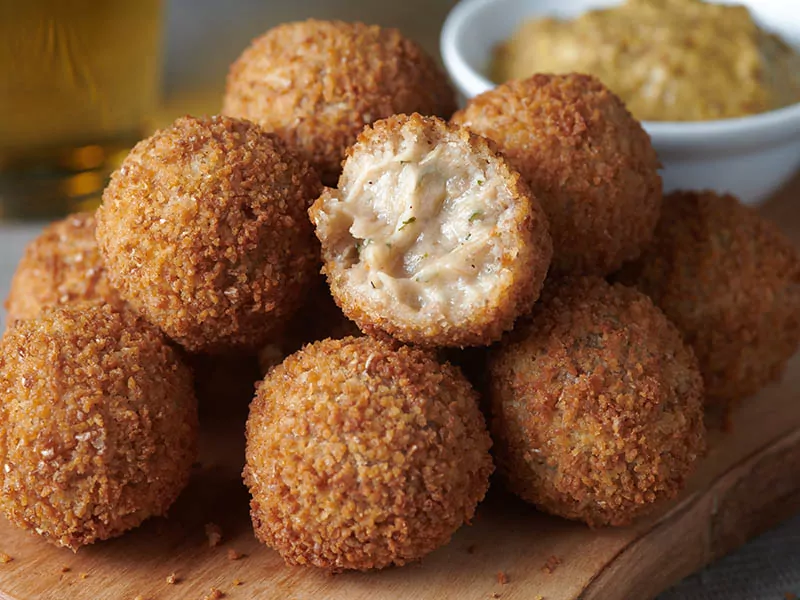 Despite the weird name, the bitter in this case is directed to the alcoholic beverages served alongside the Bitterballen. In the past, they were the perfect transformation from yesterday's leftover to today's appetizer.
Another reason why meatballs are among the best dishes ever is because they go well with many dishes. When you start to name meatball companion foods, you'll be surprised to see how well meatballs can blend with other dishes.
These Dutch meatballs are among the most popular snacks and can be eaten before lunch or dinner. The crunchy deep-fried meatballs combine beautifully with a small bowl of savory mustard for dipping. Try it once, and I'm sure you will get hooked!
24. Krokets – Dutch Beef Croquettes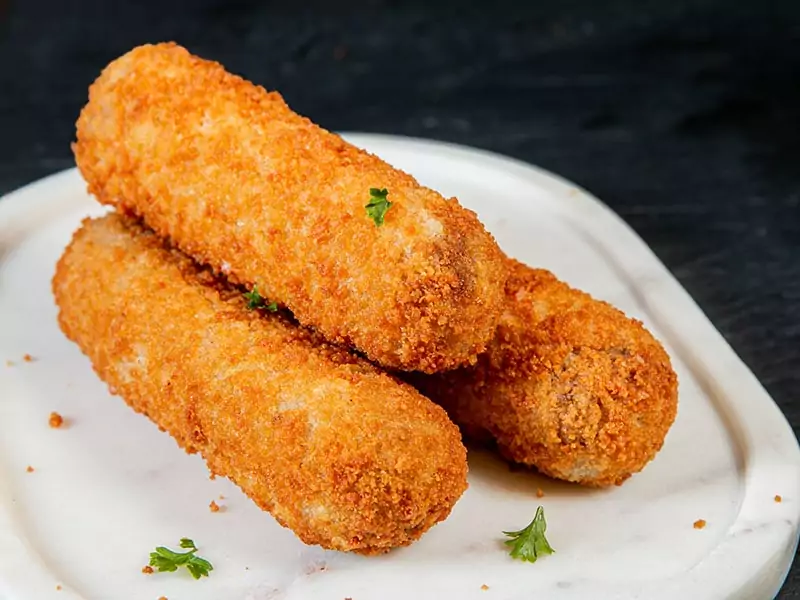 Krokets is a sort of dumpling made up of mashed potato and beef ragout that is breaded and deep-fried. It can be served as a side dish for dinner, similar to bitterballen.
The origin of this dish may be traced back to Louis XIV, who was a huge fan of Kroketten. The earliest croquette recipe is supposed to have come from Louis XIV's personal cook.
According to a 2008 study, the Netherlands consumes 350 million kroketten each year, making it the second most popular Dutch snack after frikandel. The majority of customers are between the ages of 35 and 49.
25. Frikandel – Skinless Deep-Fried Sausage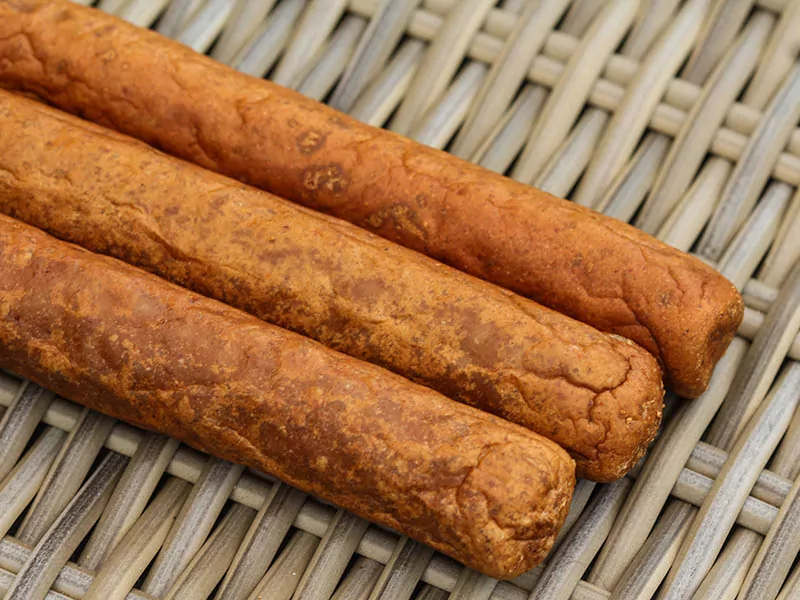 These skinless hot dog-style sausages are made of ground chicken, beef, or pork combined with pepper, nutmeg, and mace. Although the Dutch claimed this dish as their invention, some people believe that Frikandel is actually a Belgium-originated delicacy.
PC Hooft, a Dutch writer, referred to it as a recipe for elderly spinsters because of its phallic form.
The sausage is frequently served with raw onions, mayo, and curry ketchup. In this case, people call this dish the "frikandel speciaal". You can also have them in long buns called broodje with a side of fries.
In the past, Frikandel was made from minced veal and cooked in a veal net. People also spiced it with orange peel in addition to the pepper, nutmeg, and mace.
Indulge Yourself In Dutch Cuisine!
Although it's true that the Netherlands is not the most well-known culinary destination in the world, the dishes above have shown you how diverse Dutch cuisine can be.
Did the treasures in the list above inspire you to learn more about this unique food culture? Which of these dishes are you looking forward to sampling when you have a chance to visit the country of windmills? Give me your thoughts in the comment section down below!
Also, if you like this article, don't forget to give it a like and share it with your friends! Have a lovely day, and I hope to see you all soon!