Can you put glass in the microwave? A microwave is a modern and helpful equipment that each household should have. However, this appliance is not a one-size-fits-all solution, which means you cannot use any material for cooking food in it.
When you put inappropriate things into your microwave, there are some potential risks you should be aware of. In this post, I will explain what occurs when you microwave glass, how to microwave your glass safely, and some tips and tricks for using glass in the microwave!
Can You Put Glass In The Microwave?
Glass cookware has a high resistance to heat and may be used in the microwave. Moreover, thanks to its chemically inert nature, glass won't react with food when microwaved.
However, not all glass is created equal. Delicate glasses, such as wine glasses or drinkware meant to contain beverages, cannot be microwaved. Because such products are usually not heat-resistant, they very likely shatter when exposed to high temperatures.
You should use borosilicate or tempered glasses. These glasswares can endure temperatures up to 3000℉ (1648℃) (1) and are typically microwave-safe. Also, you can freely use glassware labeled as safe for the microwave.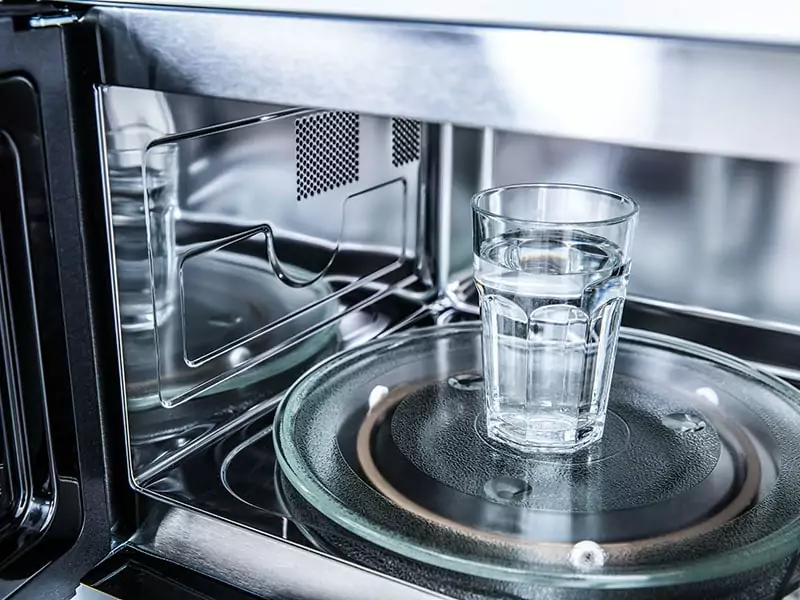 How Long Can Glass Be In The Microwave?
I recommend always using microwave-safe glassware for your safety. These glasswares do not melt at microwave temperatures and are not harmful to your health.
Yet, you should keep them in the microwave for a short time. The optimal time limit is 3 to 5 minutes. If you wait less than 3 minutes, your meal may not be thoroughly warmed, and waiting more than 5 minutes could crack the glass.
Although you can leave the glass in the microwave for 5 minutes, the ideal duration is 3 minutes. This period will ensure your safety while microwaving your glassware.
Glasswares will generally come with guidelines from the manufacturer. Even if they are microwave-safe, you should follow the manufacturer's instructions about the temperature they can withstand or how long they can sit in the microwave.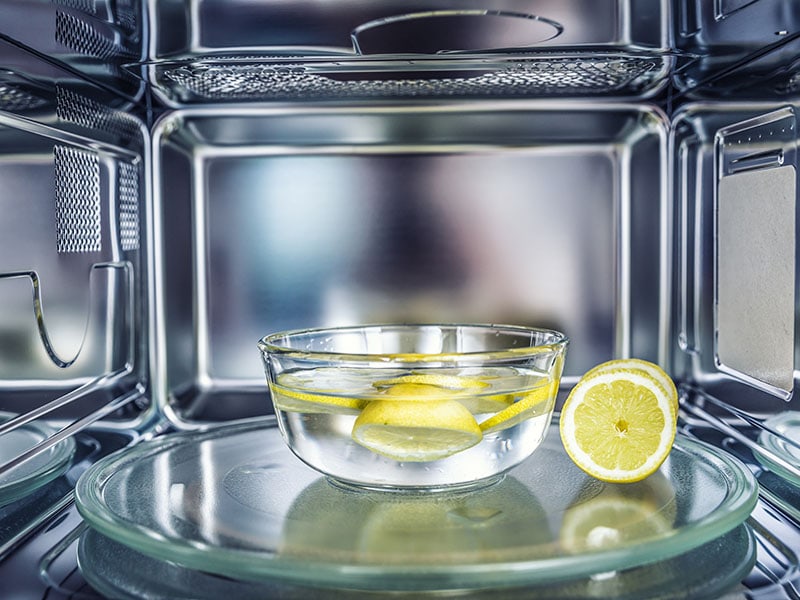 Why Do Certain Types Of Glass Break In The Microwave?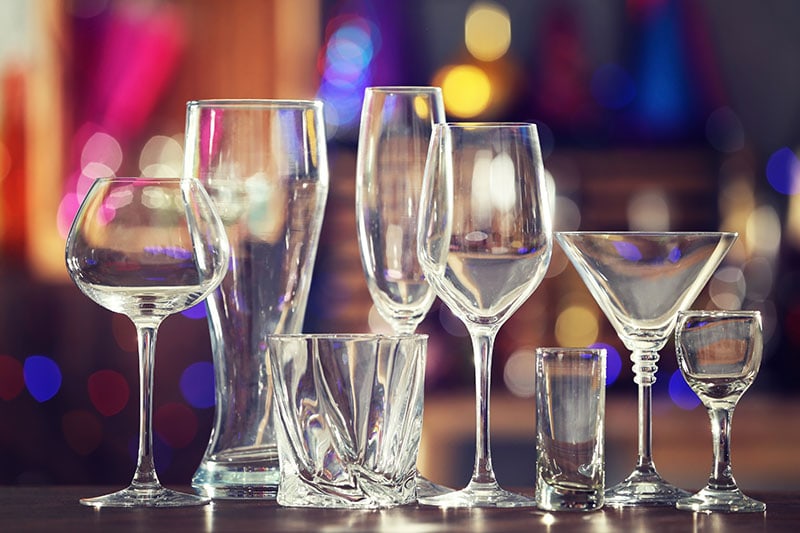 When you microwave oil-based meals, it requires a greater temperature than reheating water-based foods. Therefore, using glassware to reheat oil-based meals will likely cause the glass to break due to high heat.
Oil warms up quicker in the microwave than water-based meals because it reacts rapidly to heat. Consequently, the food will heat faster than the glassware, resulting in uneven heating and glass breaking.
Moreover, glassware with unequal thickness is quite unstable. Furthermore, this sort of glass frequently includes micro air bubbles. When heated, these bubbles progressively expand until they break the glass.
Additionally, even microwave-safe glassware can be broken in the microwave when it has minor cracks. Microwaving empty glass can also break the glass. Decorated metal glassware is not microwave safe, either. Those metal rims will spark and break your glass cookware.
Are you afraid that your glass container is shattered in the microwave? Why don't you try this recommendation?
What Is Microwave-Safe Glass?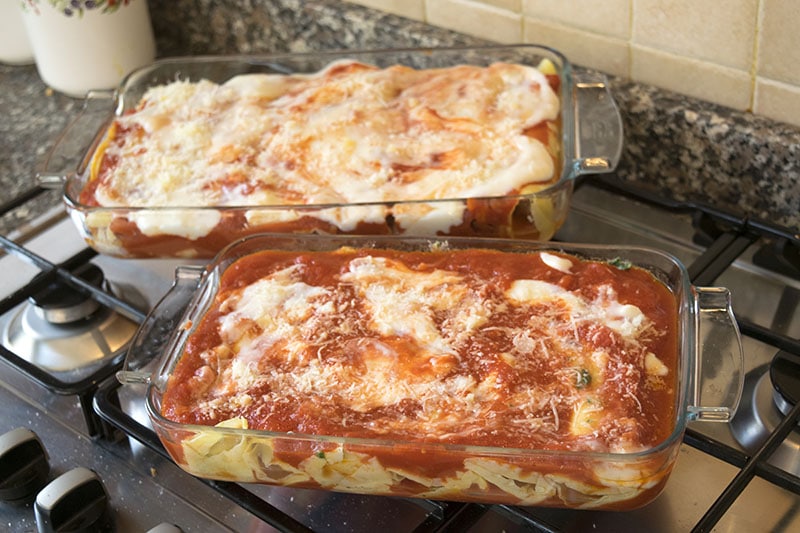 The three most common types of glass are borosilicate, soda-lime, and lead. For microwave ovens, borosilicate is the best option for its durability and high heat resistance (2).
Pyrex is a heat-resistant borosilicate glass made by repeatedly heating raw materials, such as silica and boric oxide, at extremely high temperatures. Moreover, Pyrex has excellent impact resistance and corrosion resistance.
Therefore, Pyrex is a well-known global brand that specializes in producing microwave-safe glassware.
Besides Pyrex, tempered glasses are normally an ideal choice for cooking in the microwave. Also, glassware that has passed the microwave test or glass labeled as microwave-safe can be used for the microwave.
Can you imagine how Pyrex glass is made? I will show you the process.
General Pyrex Handling Guidelines
Many people see Pyrex as the ideal glass for excellent heat resistance. Unfortunately, Pyrex glassware does occasionally break. Therefore, the manufacturer gives guidelines on using Pyrex glass properly so that customers may better understand how to use it.
Avoid Thermal Stress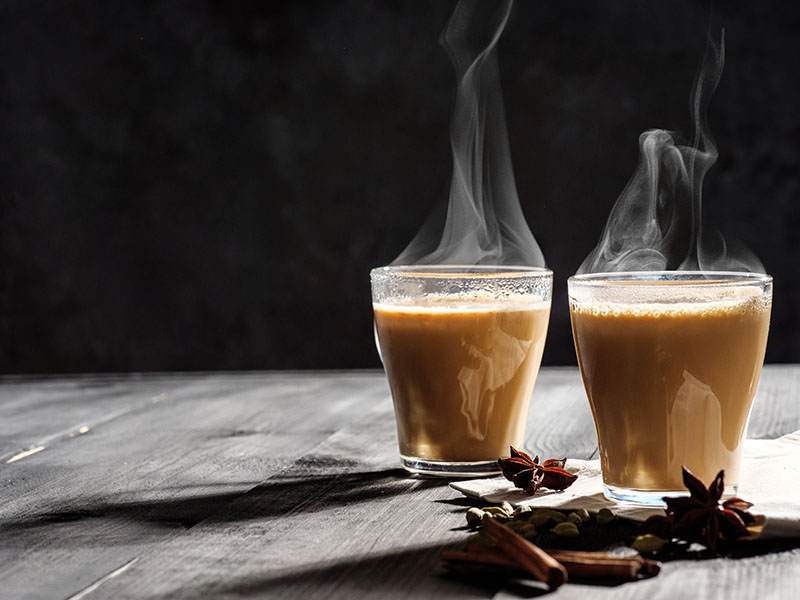 Pyrex is a heat-resistant glass, but it has the essential qualities of glass. As a result, Pyrex glass is susceptible to a sudden change in temperature or also known as thermal stress.
The molecules inside will respond when the glass temperature rapidly rises or lowers. It vibrates violently and breaks the bonds between them. In the end, your glass will shatter or break.
Pyrex glass is no exception. You should avoid pouring boiling water into a cold Pyrex cup or putting a hot Pyrex glass in the fridge. To prevent breaking, leave it at room temperature before cooling or heating it.
Avoid Direct Heat
When working with Pyrex glass, you should avoid direct contact with a heat source. In direct interaction, heat sources such as fire, stoves, or barbecue grills can break the glass.
Also, I don't recommend heating the glass without anything inside. Before reheating, you should add some water or food to reduce the likelihood of shattering glass.
Avoid Impact And Use Potholder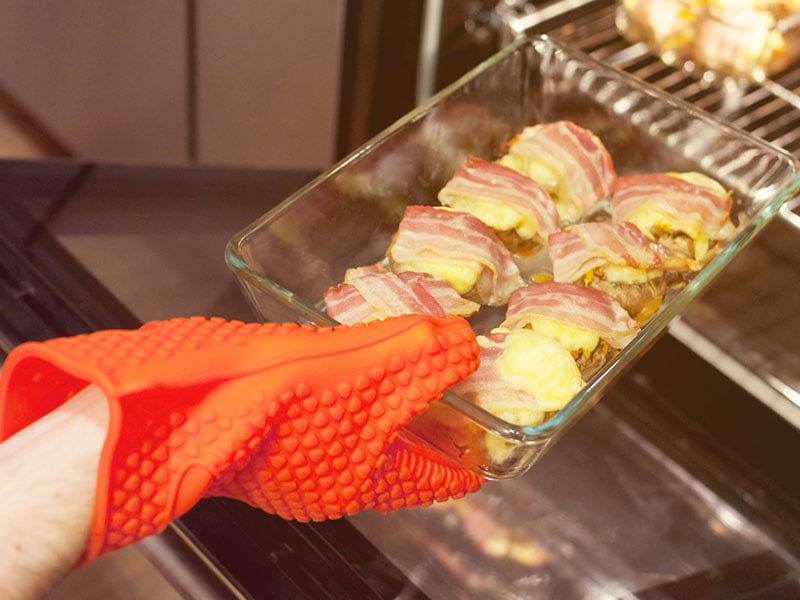 It is critical to always use oven mitts or potholders when working with heated glass. It reduces the possibility of burns and glass breakage.
In addition, avoid making an impact with the glass. While Pyrex is heat-assistant, its shock resistance is still limited. Finally, you should stop using broken or fractured Pyrex glass.
These guidelines will show you how to use Pyrex glassware properly.
Can You Microwave Cold Glass?
You must not microwave a cold glass at any chance. The microwave can heat the glass quickly, which leads to a sudden temperature change.
The layer inside of the glass will expand faster than the outer ones, which will cause the glass to vibrate aggressively, break, crack, or shatter. Moreover, when you microwave a cold glass, high temperature can make it deform or soften.
If you want to microwave your glass container, let it sit at room temperature for a while after taking it out of the refrigerator.
Besides that, leaving the glass in the fridge will frequently result in condensation on the glass walls. Before putting it in the microwave, you should wipe it clean. After that, you can microwave it.
When you microwave a cold glass immediately, the food or liquid inside will heat up quicker than the glass itself. It will lead to uneven heating, which causes breakage. Even if the glassware is microwave-safe, try to avoid microwaving it while it's still cold.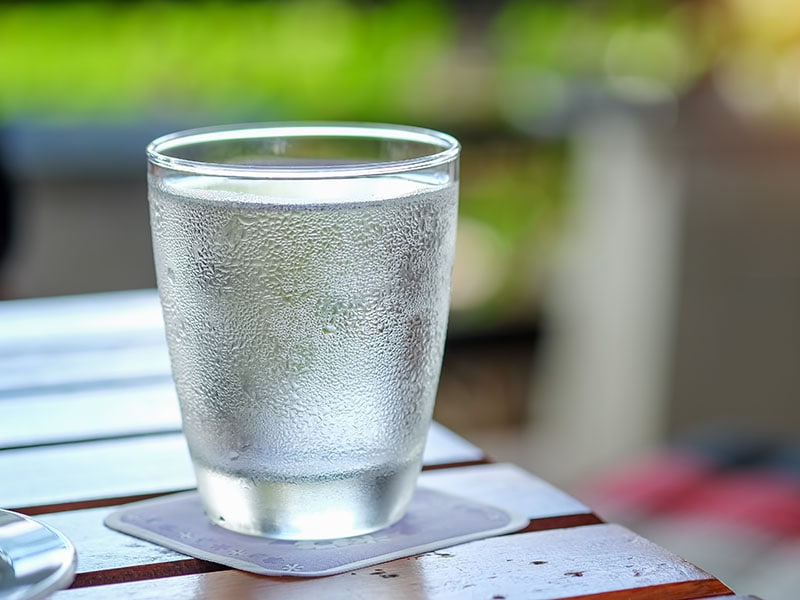 How To Know What Glass Is Safe For Microwaves?
As I stated before, some glass cookware can be safe for the microwave. However, it is always better to be careful when putting glass items into the microwave. Usually, the cookware will be labeled as microwave-safe or not for microwave use in the descriptions or labels.
You can also check the information at the bottom of the products. Many manufacturers use the microwave icon or the wavy lines in a triangle as the symbols meaning microwave-safe. If your glassware has any of these symbols, you can use it for the microwave.
But, when you want to double-check the quality of the glass, you can do a simple test. Follow the instructions to see what will happen to the glass. If nothing wrong occurs, it is microwave-safe.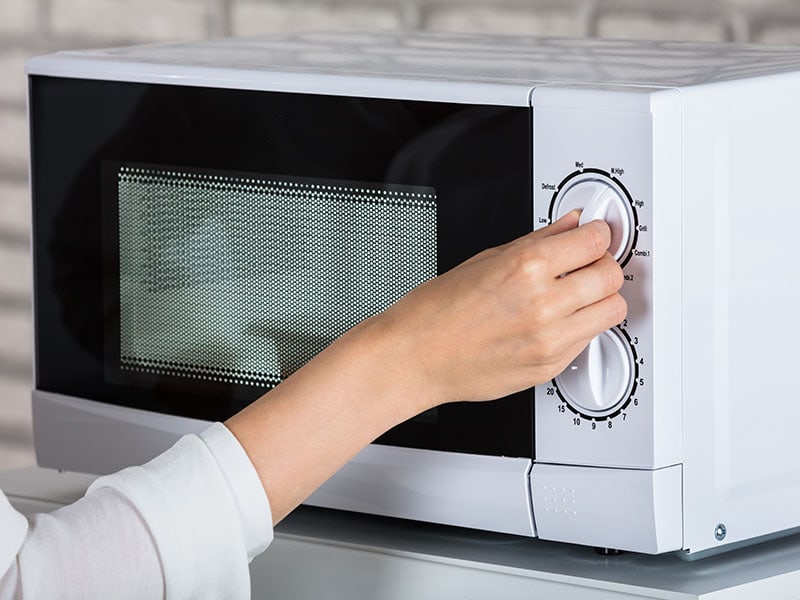 Step 1: Fill The Glass With Water
Start by filling another microwave-safe glass with water. Make sure not to overfill it. You just need to pour water ¾ full. If you want to use this test for a glass dish or bowl, you still need a separate glass.
Two glasswares will help you have an overview of the quality of the glass you want to test. You can use microwave-safe glass as a standard to check your glass properties.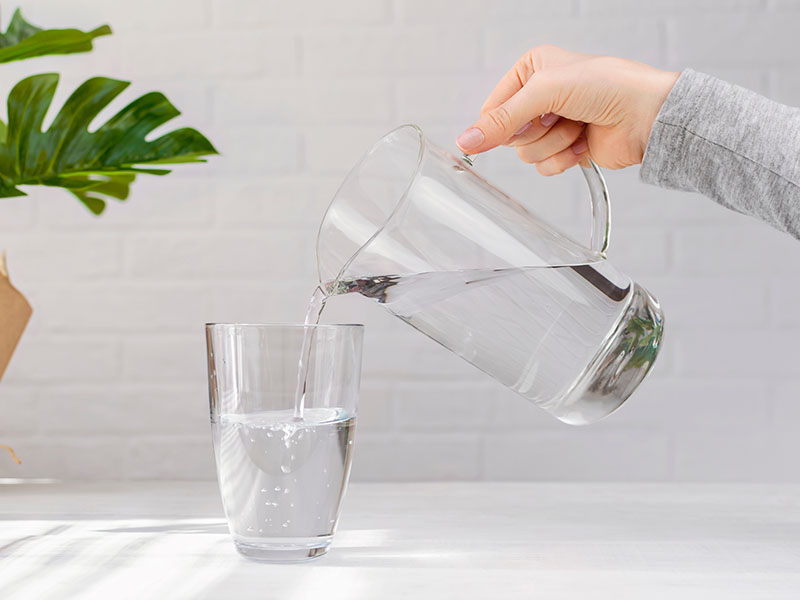 Step 2: Microwave It
Put those glasses in the microwave. You can put them side by side if the microwave has enough room. Next, choose the highest temperature mode to examine the heat resistance quality of the glass.
Setting the timer for 30 seconds or 1 minute would be enough. When you microwave the glass longer, it will likely be cracked or shattered.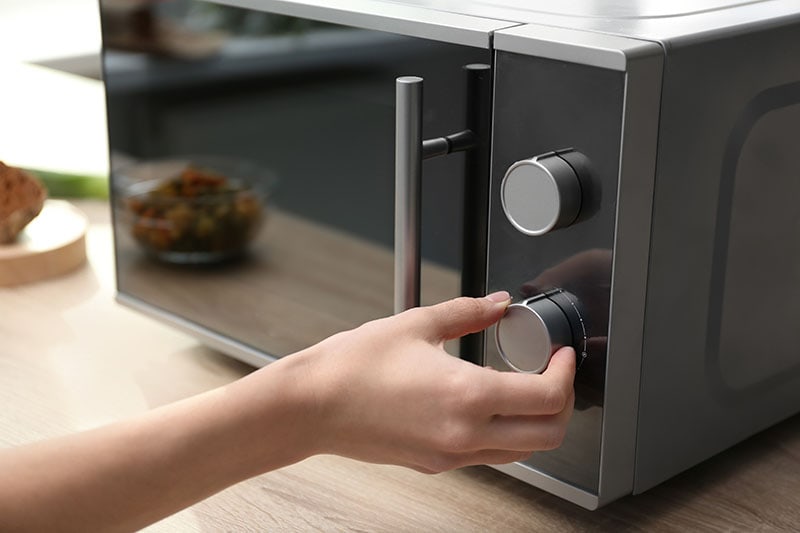 Step 3: Take The Glass Out And See The Result
After 1 minute, you can take out the glass. If the glass is hot or warm while the water is not, your glass is not microwave-safe. When the water is warm, but the glass is cool, you can use it for the microwave.
Tips & Safety Precautions For Microwaving Glass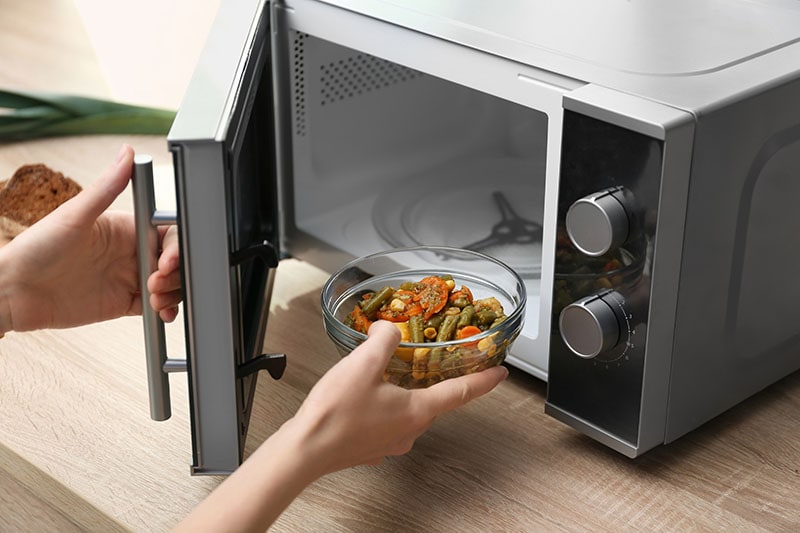 You may want to follow the manufacturer's recommendations to use glass for the microwave safely. You should also know more about using the microwave by reading the tips below.
Always use microwave-safe glass. Besides borosilicate glass, you can use any glass with high heat resistance. However, only use heat-resistant glass suitable for microwaves.
Do not use delicate glass or glass with metal trims or metal decorations. It will cause sparks in the microwave.
Never overheat the glass. When you overheat it, it will likely crack or shatter. You should microwave the food or drink for no more than 3 minutes at a time, stirring often. It helps reduce the risk and ensures your safety.
When you heat the water in the microwave, the overtop surface will be hotter than the bottom. So it will most likely explode when exposed to cool air. You can prevent it by stirring the water.
FAQs
To use the microwave properly, you must be careful with the materials you put in. This will minimize the possibility of these products breaking. Read the frequently asked questions below for more helpful information.
Do You Know What Glass Is Microwave-Safe Now?
According to glassware producers, heat-resistant glassware is safe to use in the microwave. They're often high-quality tempered glass that undergoes strict processing to give exceptional strength and temperature resistance.
As for low-cost glass products from unknown origin, the likelihood is that they will not endure the high temperature of the microwave. To be sure, you should check the product's description or do a microwave test to ensure its quality.
Thank you so much for staying with me this far. I would love to know your opinion about this post in the comment section. Did you find this material interesting and useful? If yes, please like and share this content with more people! Your support is the biggest motivation for me.
Paragraph
Raymond (2022) Glass melting point? (charts & 18 things U should know), GlassBeast.
Borosilicate glass (2022) Wikipedia. Wikimedia Foundation.