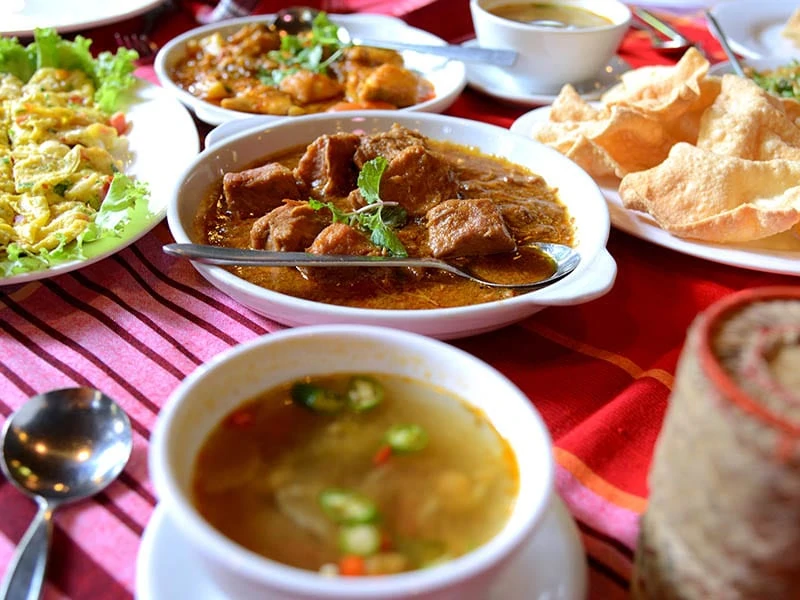 Everything is ready for your travel trip to Myanmar, but what to eat there? Look for no more because this post has every dish you want to taste in this beautiful country! Burmese cuisine is diverse, with thousands of rice, noodles, and salads dishes.
Many Burmese recipes are easy to follow. However, if you want to become a Burmese local, eat the authentic foods right where they were born! I'm sure that you will be super amazed by how they taste! Ready to know more about them? Let's get started!
Most Tasty Burmese Noodle Dishes You Should Not Miss
Burmese cuisine is famous for the delicious noodles and noodle soup dishes between thousands of different Burmese breakfast recipes! When you visit Myanmar, you can always have one of the following dishes for your first meal of the day!
1. Khow Suey (Burmese Curried Noodle Soup)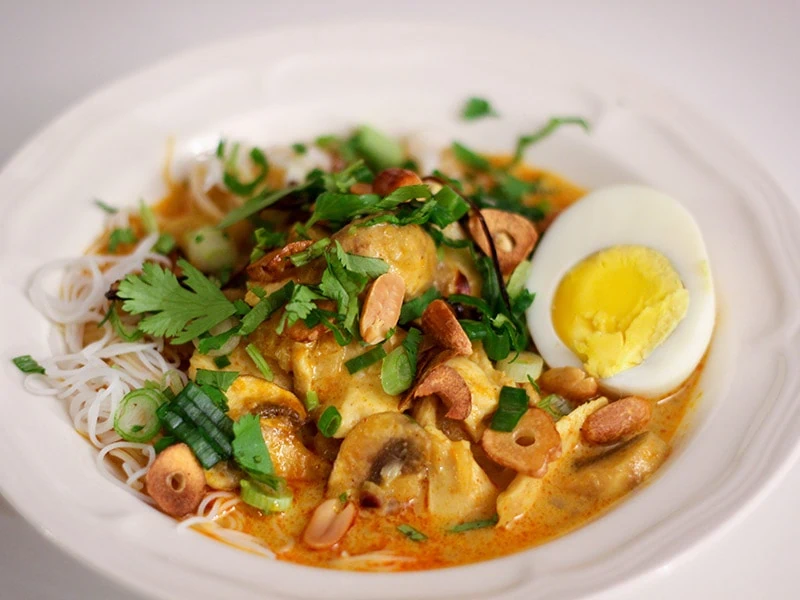 Khow Suey, or Khao Suey, is a wholesome noodle soup dish with noodles and chicken in a coconut milk based curry broth and many toppings. It is similar to Khao Soi, a famous street food in Thailand.
The dish originated in Burma. Indians working in Burma brought the original recipe to their hometown during World War II.
Burmese sometimes describe Khow Suey as soup for its texture. It also includes veggies, tofu and even has a distinctive version for vegetarians. Before eating, Burmese will squeeze a slice of lemon into the dish.
2. Mohinga (Burmese Fish Noodles)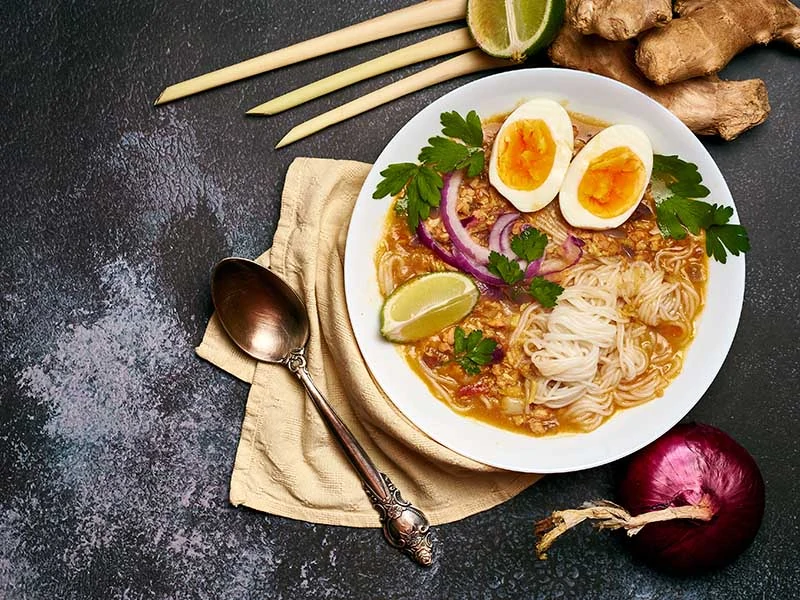 Mohinga is a famous noodle dish that plays an integral part in Burmese cuisine. It is one of the national dishes of Myanmar. It contains rice noodles and fish soup that can be served at any time of the day, especially for breakfast.
Burmese can make Mohinga from scratch or use a premade powder for the broth. There was a time when this dish was only available in the early morning for the customers to enjoy while watching open-air performances, which are pwès and zat pwès.
In the past, street hawkers sold Mohinga with a shoulder pole, including the soup cauldron on one side and other ingredients on the other side. Some peddlers started to sell Mohinga all day long in the 1960s and have made it famous.
The optional toppings of Mohinga may contain boiled eggs, deep-fried vegetables, lentil batters, or all of them. Before you eat this dish, you can season it with some slices of lime and dried chili flakes of your preference.
Mohinga has a lot of regional variations in different parts of the country with local ingredients. Rakhine Mohinga includes less soup and more fish, while Yangon Mohinga consists of catfish broth, chickpeas, and peanuts. All of them are special in their way!
See how the locals make Mohinga and sell it in street vendors!
3. Mont Di (Thin Rice Noodles)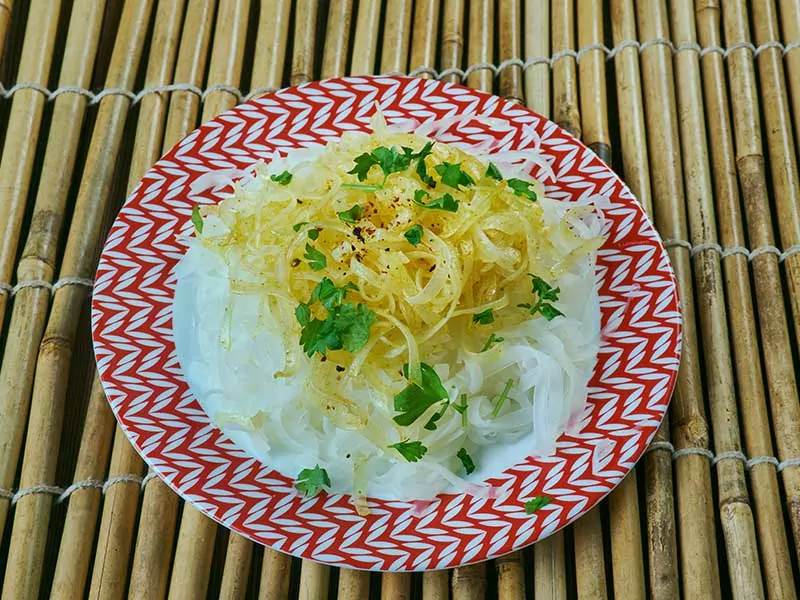 Mont Di is a Burmese term for a thin noodle dish with many regional variants all over the country. The term is used to specifically call the noodles in those versions. Mont Di is fresh and cannot stand the hot climate; therefore, Burmese prepare it quickly before cooking.
The Rakhine Mont Di from western Myanmar is the most famous dish served in two different ways: salad or soup. Another variant is Yodaya Mont Di, which uses curled rice vermicelli and fish. The locals will serve it with raw green beans and fried onions.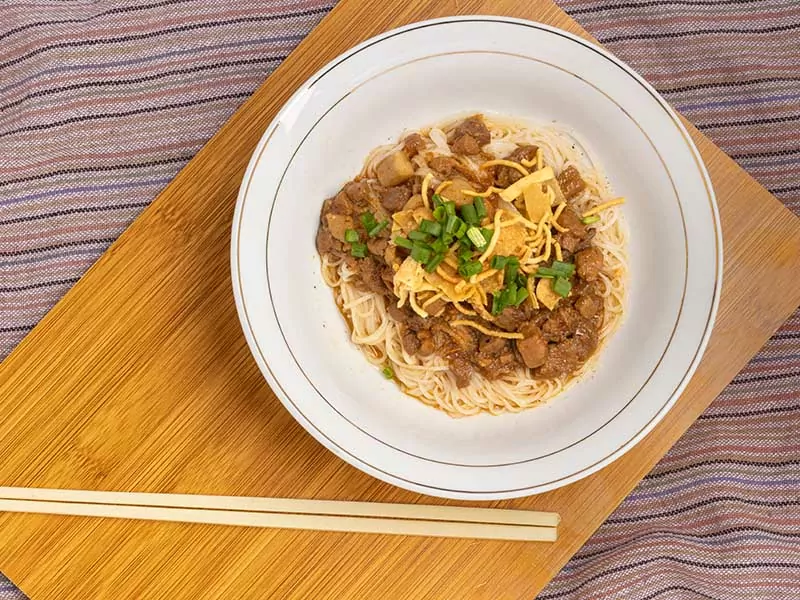 Shan Khao Swe is from Shan state, an attractive destination for travelers, lying in the east part of this country. Shan noodle is the traditional rice noodle of the Shan people. It is one of the most iconic dishes in Burmese cuisine!
This Shan Khao Swe noodle dish is also popular in neighboring countries of Myanmar. You can come across it on the menu of restaurants in the Chinese Yunnan province or Thailand's Chiang Mai. It is quite simpler than other Burmese noodle dishes but still tastes delicious!
Shan Khao Swe also has a typical dry version. Burmese will serve the noodles in one bowl and the broth in another bowl. Try both versions and choose your favorite one!
Shan noodles are truly mouth-watering with many toppings!
5. Meeshay (Rice Noodles With Meat Sauce)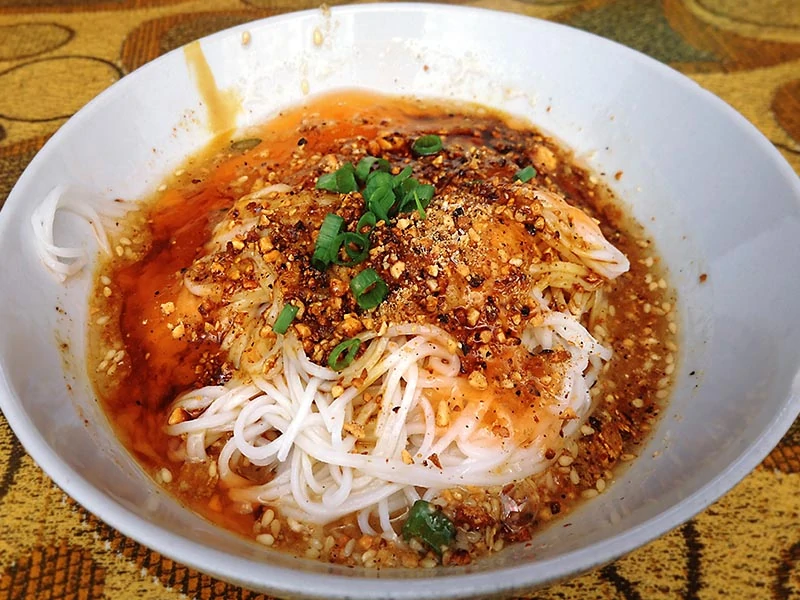 Meeshay is a specialty of Shan people in Eastern Myanmar. It originates from a delicious Chinese dish called Mixian. It has the popular Burmese noodle type, rice noodles, with meat sauce made from pork or chicken.
Like Mont Di, Meeshay also contains a lot of editions, such as Shan or Mogok Meeshay with a light sauce including onion; Mandalay Meeshay with oilier meat sauce. Another outstanding version is Myay-oh Meeshay with the noodles cooked in a clay pot.
6. Kyay Oh (Pork And Egg Noodle Soup)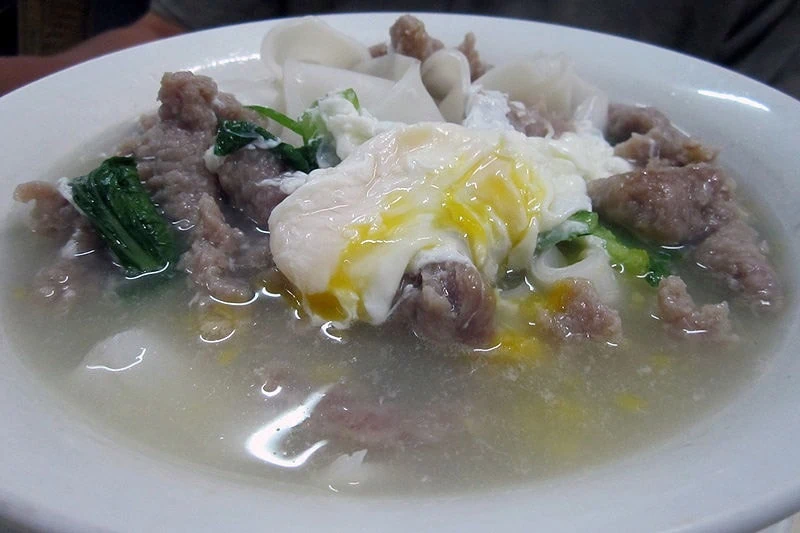 Kyay Oh is another famous Burmese noodle soup made from pork and egg. Although Kyay Oh originates in Chinese food culture, Burmese use Myanmar cooking skills to successfully turn it into their own version.
There are two other versions of this dish: one with fish as pork substitution and a dry one without broth. All varieties of Kyay Oh use rice noodles as the main ingredient.
Burmese traditionally serve Kyay Oh in a copper pot. This hot and spicy dish is perfect for rainy days in Myanmar!
Learn more about the origin of Kyay Oh and make it if you can!
7. Atho (Vegetable Noodles)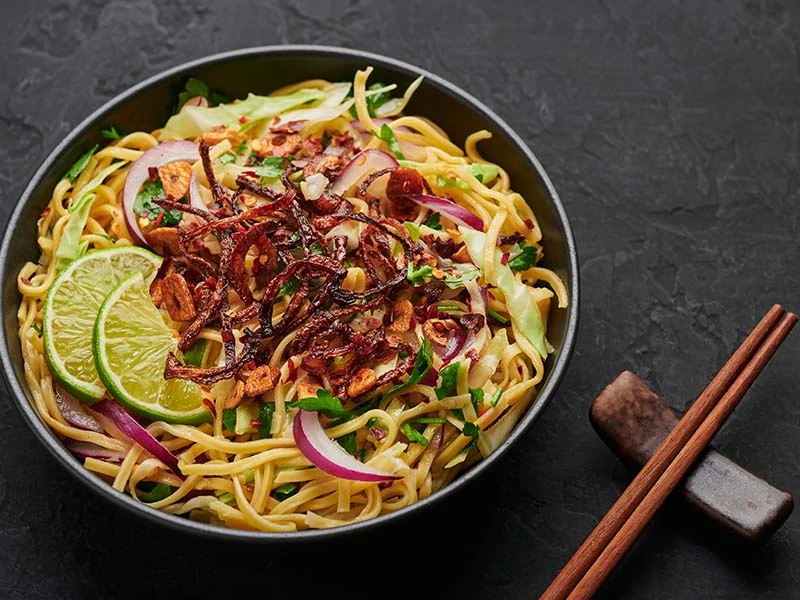 Atho is an egg noodle dish that may even define Burmese foods. It is a combination of orange noodles, onions, shredded cabbage, fried onions, garlic, and chili flakes. The noodles are usually handmade from rice and have a significant thickness.
Besides noodles, Atho is also a wholesome dish with fresh veggies such as cabbage, carrots, potatoes, and a large amount of coriander. You should know that this dish is also popular in Chennai, India, as street food.
The Best Burmese Rice Dishes Ever
When it comes to rice, Burmese take it seriously with many different delectable rice dishes with a lot of ingredients. Here are some of the best Burmese dishes including rice that you should not pass by when in Myanmar!
8. Htamin Gyaw (Burmese Fried Rice)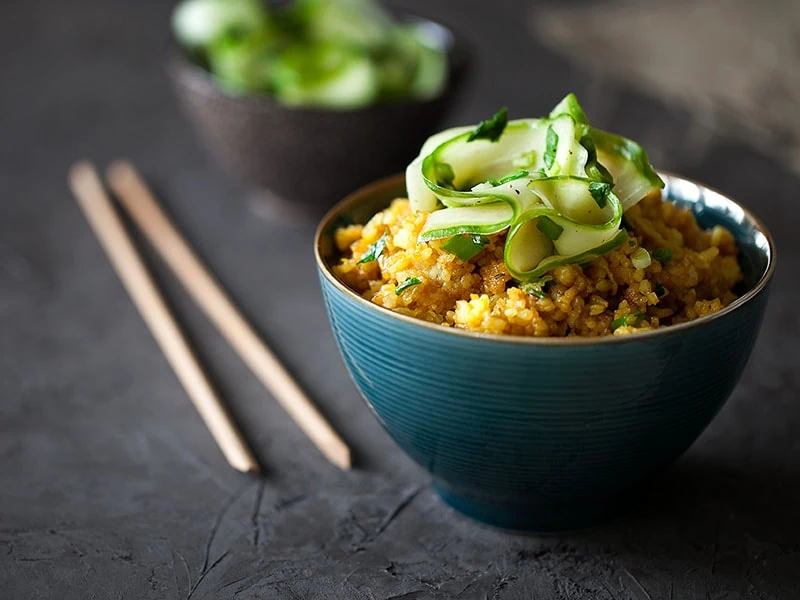 Htamin Gyam is the traditional fried rice of Myanmar with boiled peas. It uses Burmese short-grain rice called Paw Hsan Hmwe, shorter and rounder than other rice variants.
The most famous version of Htamin Gyaw is plain rice with boiled peas, garlic, onions, and soy sauce. The Burmese usually top the dish with a fried egg and serve it as a filling breakfast. But you can actually have it for any meal in a day.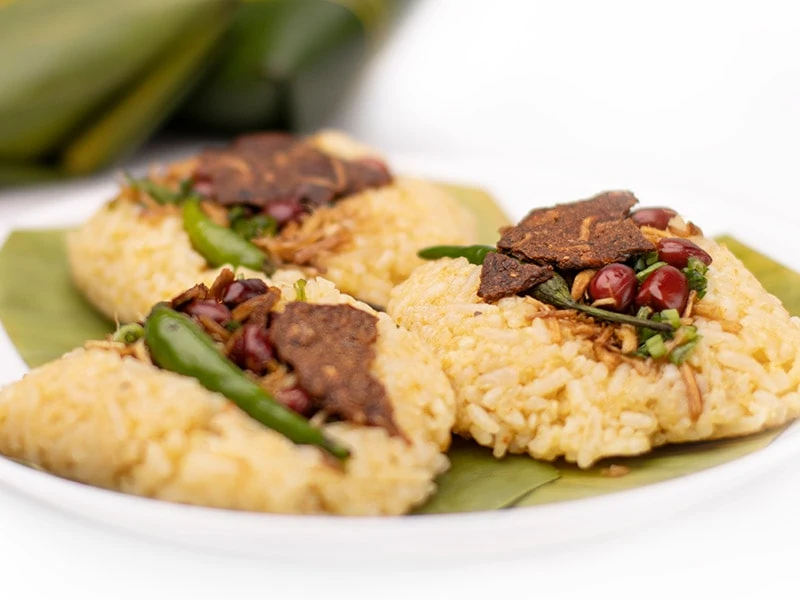 Htamin Jin is the name of Burmese fermented rice – another specialty of Shan people in Myanmar. It includes kneaded fresh or fermented rice with cooked fish, tomato paste, and mashed potatoes. The chef may also garnish the dish with some fried garlic and garlic oil.
The fish used in Htamin Jin are often from Inle Lake in Myanmar's Shan State. Burmese will likely serve this dish with roasted chili flakes. It can be your favorite Burmese appetizer when you visit this country!
10. Thingyan Htamin (Thingyan Rice)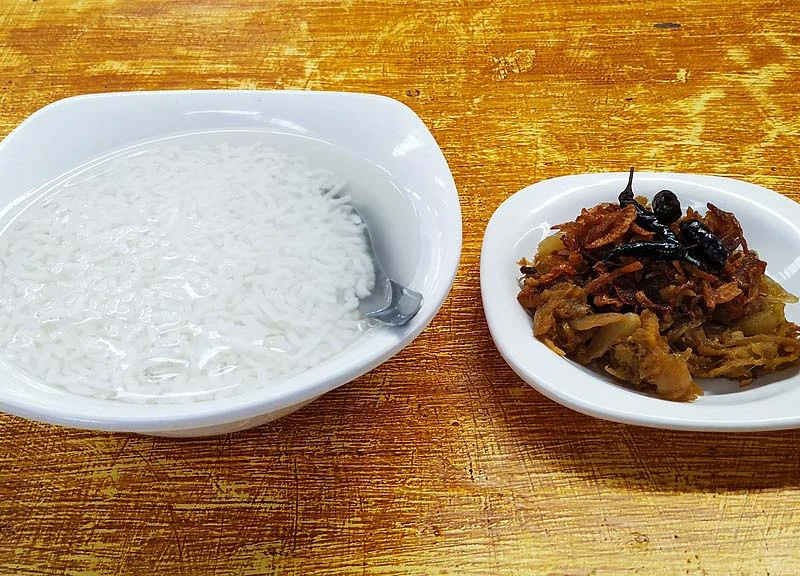 Thingyan Htamin is a festive dish that Burmese will serve during Thingyan. You should know that Thingyan is the traditional water festival, which is a New Year celebration of Southeast Asian countries including Myanmar.
Burmese will infuse Thingyan rice with water, then bring it to serve with fried salted fish salad, marian plum, and sour mango. They usually decorate the final dish with some slices of roasted chili peppers.
11. Dan Bauk (Chicken With Colored Rice)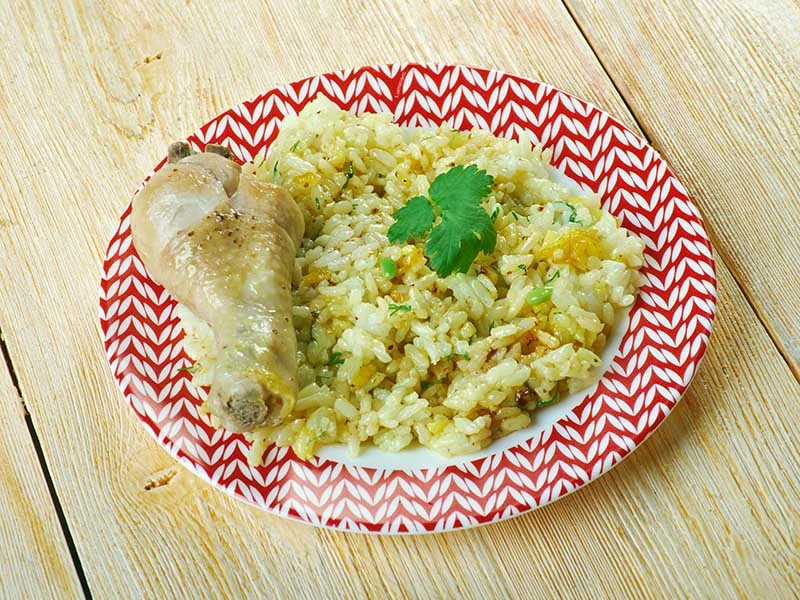 Dan Bauk is another Burmese rice dish that is inspired by a traditional Indian dish called Biryani, which uses seasoned long-grain rice. Burmese turns it into a healthier dish with various veggies, including beans, carrots, and peas.
What makes Dan Bauk special is the appearance of curry-spiced chicken, or sometimes lamb and mutton. The cook will also make the rice more colorful with the yellow color from turmeric powder. Finally, they will put a fresh mint leaf or mango chutney on top.
You will see Dan Bauk at grand festivals or special occasions in Myanmar, such as New Year's water festival named Thingyan, weddings, or donation events. Muslims own the most famous Dan Bauk restaurants and chains, but recently the Buddhists have got into the race.
Most Delectable Burmese Salads For You To Taste
There are a lot of scrumptious sides to accompany some Burmese dinner recipes. If you are looking for a salad delight to pair with a meaty dish, try the salad suggestions below! I bet that you will never be disappointed if you love to eat veggies and salads!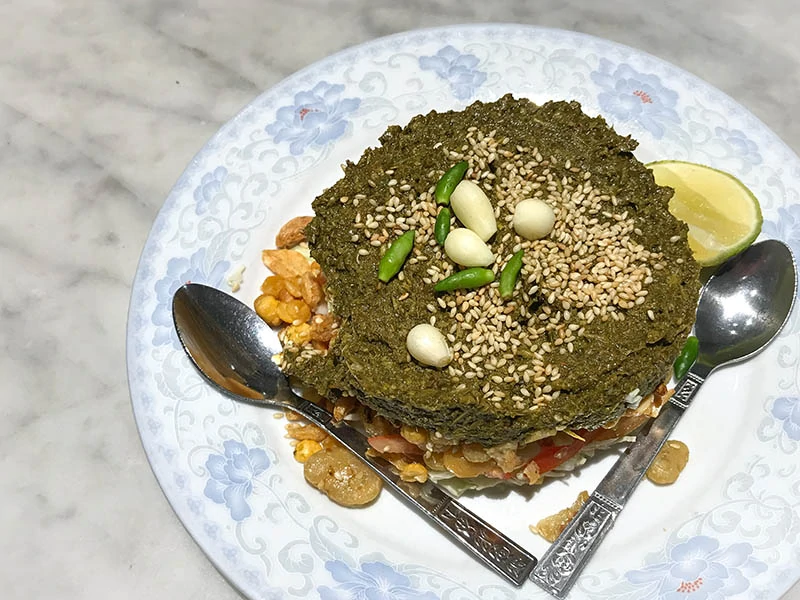 If you mention Burmese salads, Laphet Thoke will be one of the first names that pop up! The special thing about this dish is that it uses fermented or pickled tea leaves, especially green tea leaves.
This traditional tea leaf salad also includes dried shrimp, tomatoes, green cabbage, peanuts, fried garlic, sesame, and chilis. You will see Laphet Thoke at most traditional ceremonies in Myanmar. Burmese will serve it as an appetizer, a snack, or pair it with steamed rice.
Burmese will pick the best tea leaves for fermentation and make them into Laphet Thoke, while the remaining leaves will be dried for drinking.
In the past, Burmese gave tea leaves to neighboring kingdoms as a symbol of peace. Therefore, these bitter leaves are a meaningful gift to the Burmese. Nowadays, they usually eat Laphet Thoke as a snack or serve visitors to show their hospitality.
If you have a chance to visit Myanmar, stop by a street vendor and enjoy Laphet Thoke!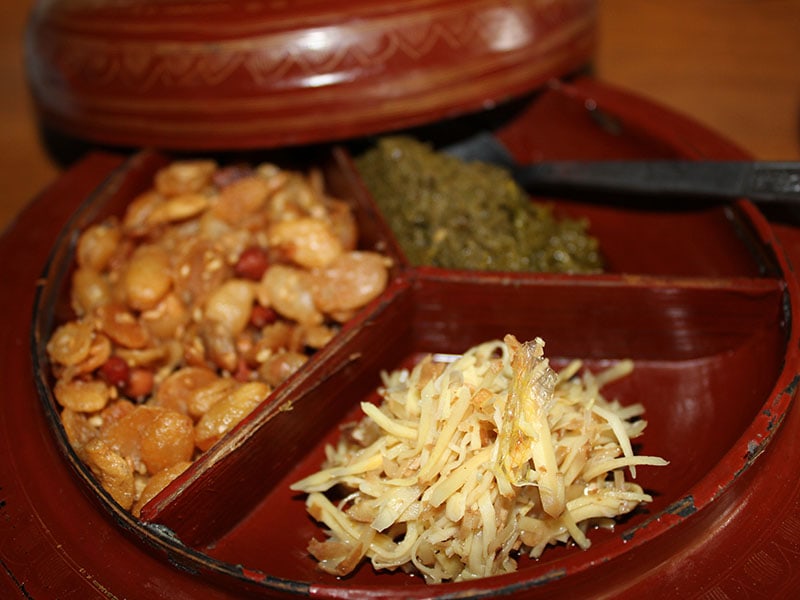 An aromatic Burmese salad with ginger is here! Gyin Thoke is a punchy-crunchy salad with legumes, fried garlic, shallots, chiles, and shredded pickled ginger. The cook will add the ingredients layer by layer to create Gyin Thoke.
The locals usually pickle the ginger in rice wine vinegar and palm sugar. The dressing for this ginger salad is also a superstar! It is a mouth-watering mixture of fish sauce, lime juice, chili, garlic, and shallot oil with a twist of sugar for the slight sweetness.
14. Nan Gyi Thoke (Thick Rice Noodle Salad)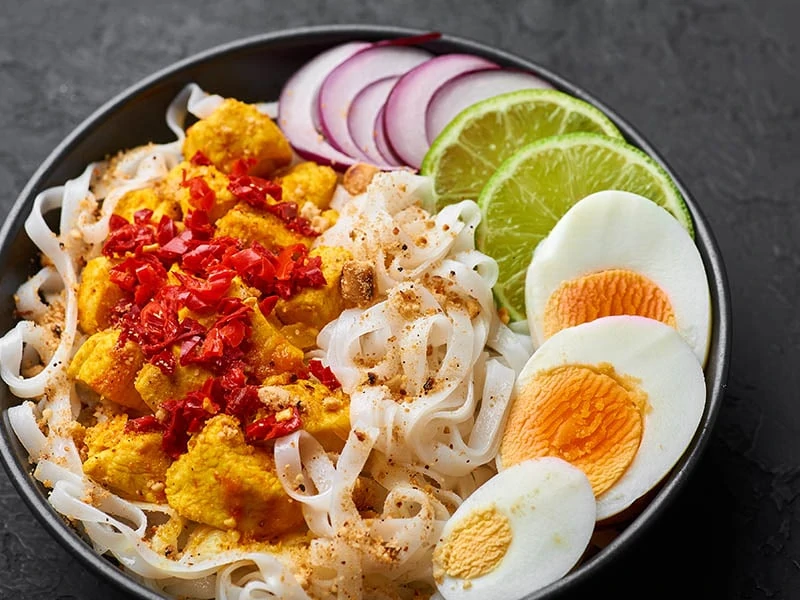 Nan Gyi Thoke is another well-known salad dish in Myanmar with round thick rice noodles. The locals usually serve it with chicken curry in Burmese style. This filling dish comes from the middle area of Myanmar or the Anyar region.
You can find Nan Gyi Thoke almost everywhere throughout the country, especially street vendors in Mandalay, Bagan, Naypyidaw, and Yangon. Actually, the thickness of the noodles in this dish may vary according to the place where it is prepared.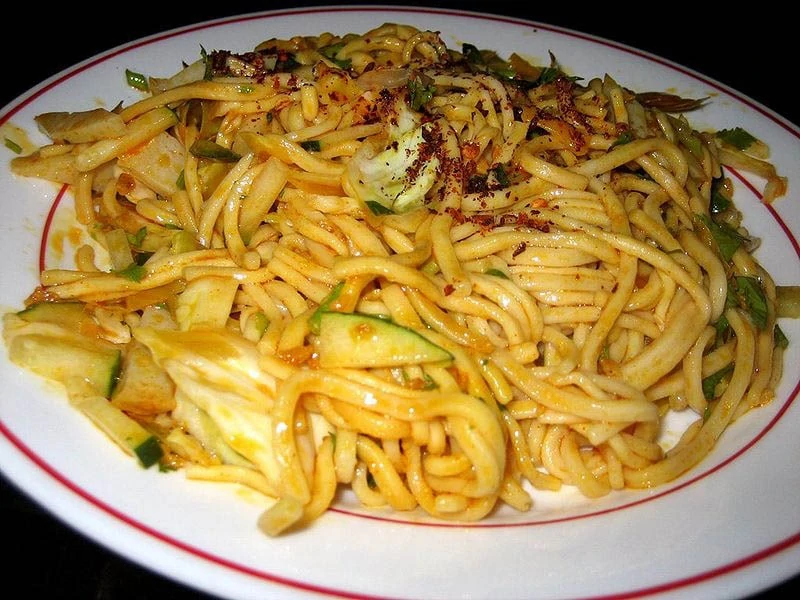 Another delicious "thoke" with noodles! Khauk Swè Thoke is also a healthy salad of Burmese cuisine with a lot of vegetables and other components, including shredded cabbage, dried shrimp, lime juice, fish sauce, and fried peanut oil.
An interesting historical story about this dish is that thousands of ethnic Indians in Burma emigrated back to India after World War II. They brought home the Burmese cuisine, which included this noodle salad.
Mouthwatering Burmese Traditional Snacks You Should Not Miss
Here in this list, you can find the most spectacular street snacks in Myanmar! If you are considering one between those Burmese dessert recipes, pick one from the dishes below! You'll be absolutely amazed by these special food treats!
16. Sanwin Makin (Burmese Semolina Cake)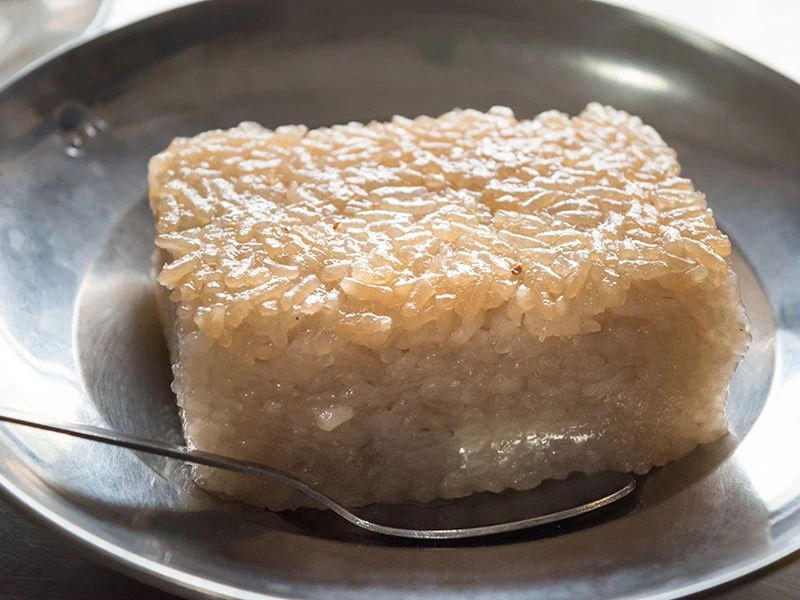 Sanwin Makin is a classic Burmese dessert and street snack that you can find any time, anywhere in Myanmar. Burmese will serve this cake more during Satuditha and donation feasts. It includes semolina, coconut milk, butter, condensed milk, and poppy seeds.
Like many other sweets in Myanmar, Sanwin Makin is heavily influenced by Indian cuisine. The main ingredient, semolina, actually originates from India. Sanwin Makin itself also comes from a South Indian dish called Kesari.
Recently, Burmese are likely to replace semolina in Sanwin Makin with some starches such as potatoes and bananas to make many other variations of this dish. They are all delicious and worth trying!
Your family will be amazed if you bring home some Myanmar twist with Sanwin Makin!
17. Pathein Halawa (Sticky Rice Sweets)
Pathein is the capital of the Ayeyarwady Region in Myanmar. There are a lot of sweet treats sold along the street in this city. The famed Pathein Halawa is made from glutinous rice flour, poppy seeds, coconut milk, butter, milk, and sugar.
Pathein Halawa includes two different versions, which are dry and wet. Halawa itself is a variant of Halva, a sweet snack that appears worldwide with versatile primary ingredients. The locals even consider Pathein Halawa a specialty of Pathein city!
18. Htamanè (Burmese Festive Sticky Snack)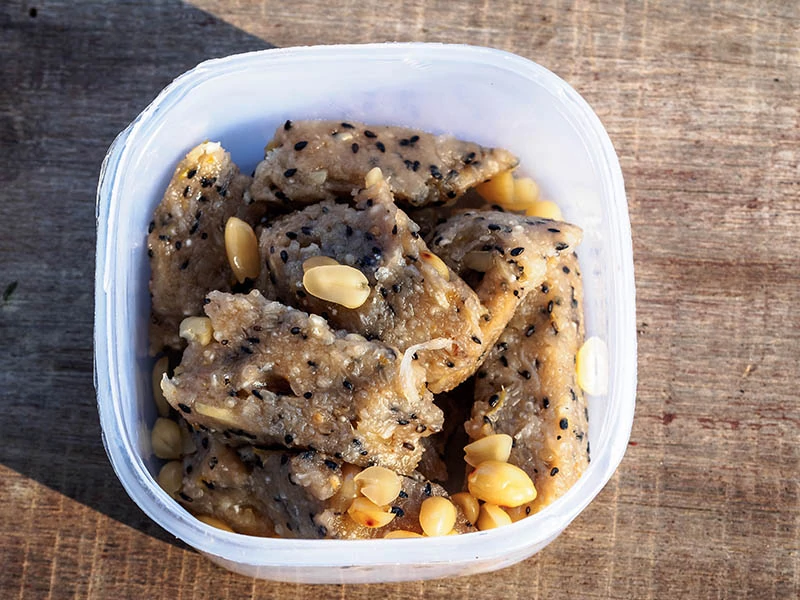 It seems like Burmese are so into using glutinous rice flour to make their snacks! Htamanè is a savory seasonal specialty that Burmese will serve on the full moon day of Tabodwe, the 11th lunar month, usually February, on the traditional calendar of Myanmar.
The cook will top the final Htamanè dish with coconut shavings, peanuts, and sesame seeds. This dish requires specific space and quantity conditions, so people usually make it in some specialized places or monasteries.
In Buddhism, Burmese will serve a small portion of Htamanè to the Budha first, then divide the rest to their family and friends as a festive gift. It is so popular that some monasteries and pagodas in Myanmar even hold many contests of making this delectable treat!
19. Shwe Yin Aye (Coconut Cream Sherbet)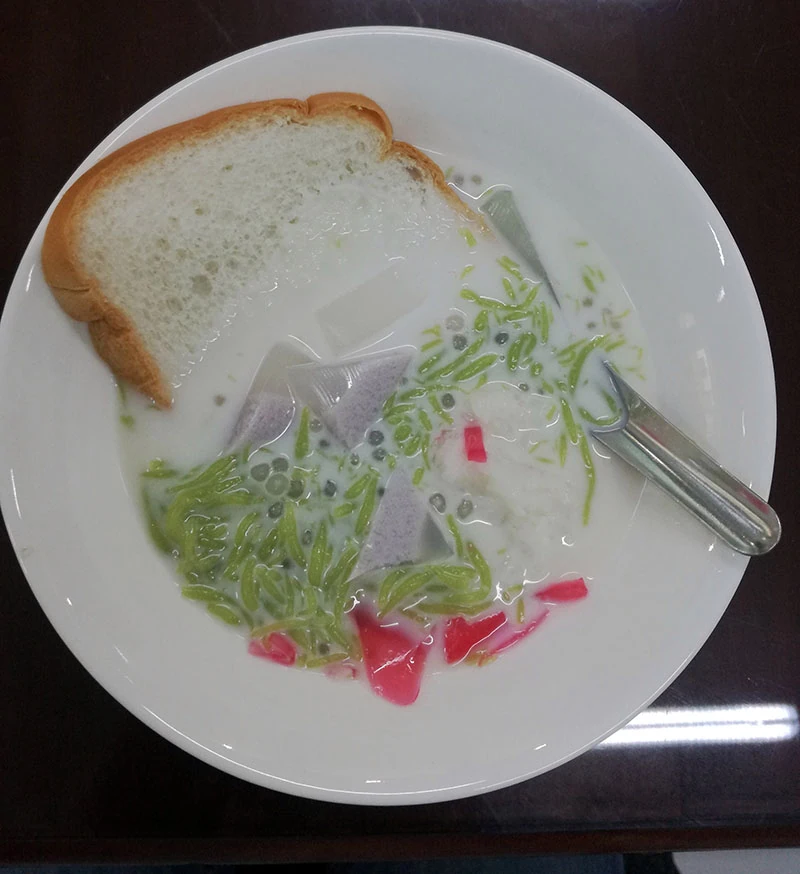 Shwe Yin Aye is a renowned dessert served in the Thingyan season. It contains pandan jelly noodles or cendol, sweetened glutinous rice, sago pearls, and coconut jelly. The Burmese will serve it cold with ice cubes and a plain white bread slice submerged in the mixture.
The name "Shwe Yin Aye" in Burmese means "golden heart cooler," which signals how the Burmese make and serve it. It is indeed a refreshing dessert to cool down those burning summer days with hot air!
20. Wet Tha Dok Hto (Burmese Pork Offal Skewers)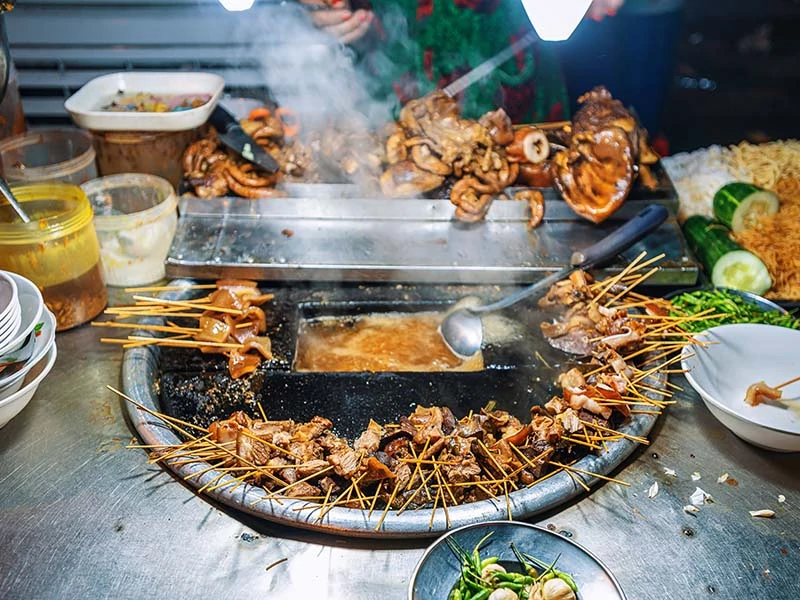 Wet Tha Dok Hto is a famous street snack along every Myanmar street! It is simmered pork offal skewers in light soy sauce. The cook will boil the meat from pig's offal first for the tender texture, then bring all of them to simmer in chili and garlic sauce.
You'll be surprised to know that the Wet Tha Dok Hto was in a cartoon from 1941! An artist named Ba Gyan illustrated this popular pork dish. In Myanmar, street vendors will directly put the skewers around the furnace bar and set up guests to gather around the vendor.
21. Nga Pyaw Thi Baung (Burmese Banana Pudding)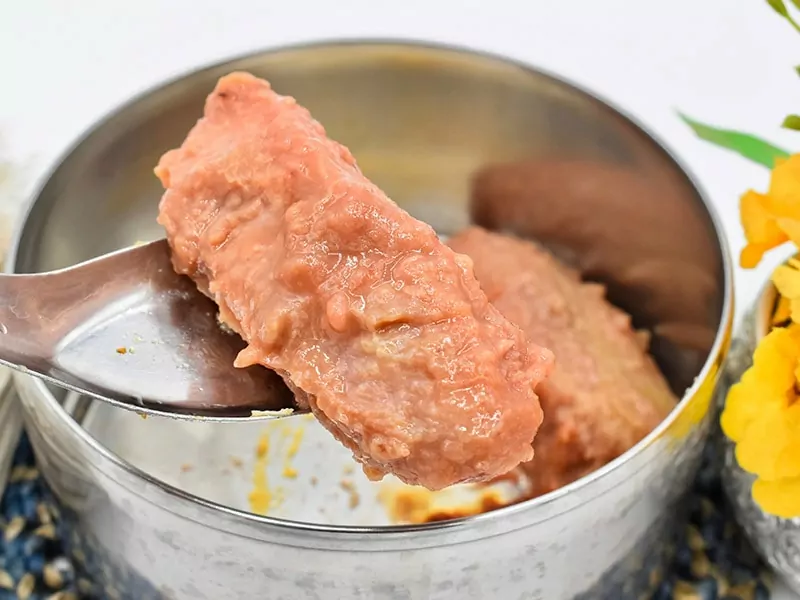 If bananas are your favorite fruit, try Nga Pyaw Thi Baung, also called Nga Pyaw Thi Bohn, in Myanmar! The stewed red banana is in a gravy of milk, coconut milk, and sugar. The locals grow bananas by themselves and use them to make this dish.
Burmese will serve Nga Pyaw Thi Baung as a pudding dessert with some toasted black sesame seeds or poppy seeds on top. You can also have this wonderful dish for a filling meal!
Have You Decided What Foods To Enjoy In Myanmar?
And those are the most famous Burmese foods that I think you should know and note for the next trip! What do you think? Are there any dishes that grab your attention? Comment below to share your thoughts! I love to hear your ideas!
There will be many more foods in Myanmar. Still, you should totally try my suggestions because they are the most outstanding dishes representing Burmese cuisine that you can't wait to discover! Don't hesitate to like and share this post with your food-lover friends!