If you are looking for mouthwatering Angolan foods to add to your menu, this post is a good source for you to consult. After reading this post, you will have a chance to access a list of delicious Angolan recipes. Let's satisfy your hunger right now.
Besides giving yummy foods, this article will help you expand your knowledge with much essential information related to them. The history, origins, and other things will be revealed in this post right now. Keep reading!
Add Protein With Mouthwatering Angolan Non-Vegetarian Foods
If you love dishes made from meat or seafood to supplement a source of protein for your body, the foods in this section will be a suitable choice for your wish.
1. Calulu – Fish And Vegetable Stew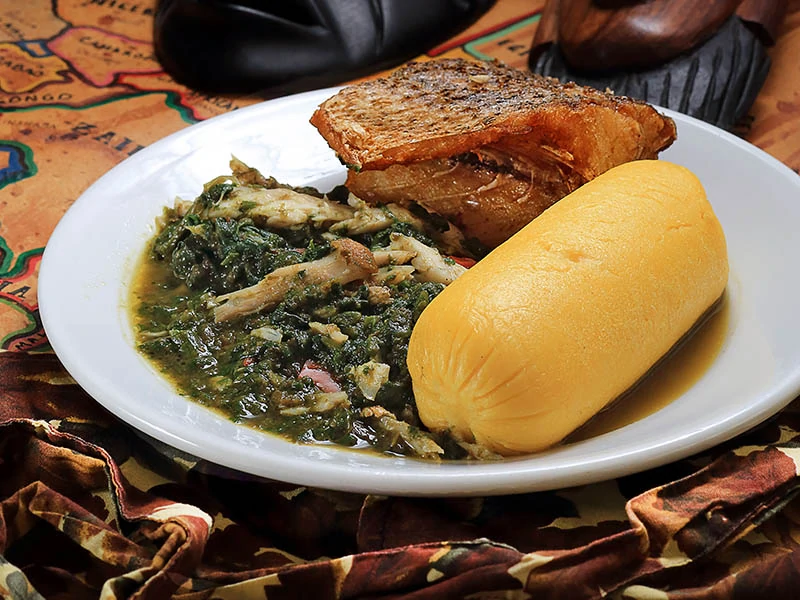 If you need to add an Angolan dinner recipe to the menu, you should consider Calulu. Angolans love it and cook it for their daily meals. It is a harmonious combination of vegetables and fish or meat. It is good to eat with rice or cassava porridge (Funje).
The typical taste of Okra will fascinate you. In addition, you can feel the flavor of potato leaves, onions, palm oil, and tomato in this stew. Angola is not the first place to make this food. It is a product of Brazilian cuisine, and it had the name "Caruru" originally.
2. Cachupa – Cape Verde Sausage Stew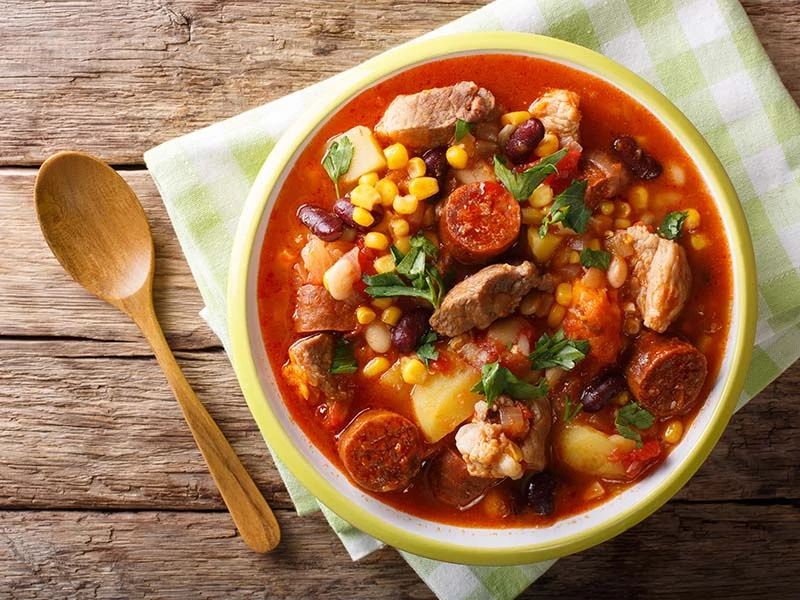 Cachupa used to be food for poor people with low prices and high nutritional value. This food is derived from Cape Verde (an island in the West African coastal region) from the 15th century when Portuguese colonists grew American veggies.
When it was introduced to Angola, it was modified to suit the local taste by Angolans. Besides beans as the main ingredient, you will find meat, potatoes, bacon, sausage, cassava, and cabbage in this food.
It has many different versions. Typically, you will find more ingredients in the Cachupa Rica version, while the Cachupa Pobre version will have fewer ingredients. Especially, Angolans also re-fried leftover Cachupa to make the Cachupa frita variant.
3. Makayabu – Salted Cod With Sauteed Vegetables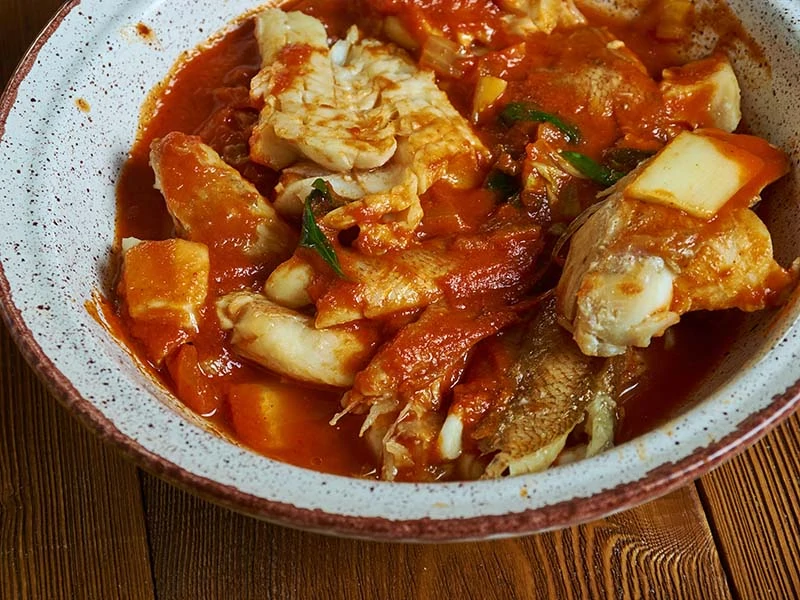 If you like dry fish, it is an excellent experience if you have a chance to try Makayabu in Angola. Although it is famous in Angola, Makayabu is authentic Congolese food. Cacusso or codfish plays a vital role in making this fantastic recipe.
After soaking about 2 hours in the water, the chef will marinate fish with spices, salt, tomato, vinegar, and cooking oil before cooking. Angolans usually eat it with Funge, Kizaca, Calulu, and cabbage to enhance the taste.
It is time to make delicious Makayabu with this easy tutorial.
4. Caldo De Peixe – Fish Soup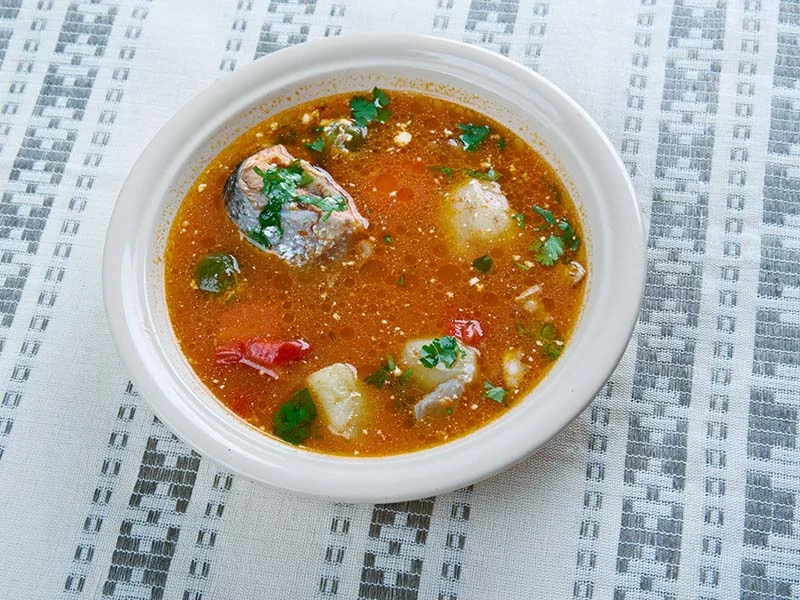 Although it does not have originated in Angola, it is a favorite Angolan breakfast recipe of the people here. This excellent food originated from Minho province in the north of Portugal. Gradually, it was introduced in Angola, Brazil, and other countries.
You will immerse yourself in the natural flavor of fresh fish when enjoying it. Angolans often eat it with sweet potatoes and cassava on breakfast after the parties to fight the alcohol. It is a perfect choice for hangovers.
5. Cabidela – Chicken In Rice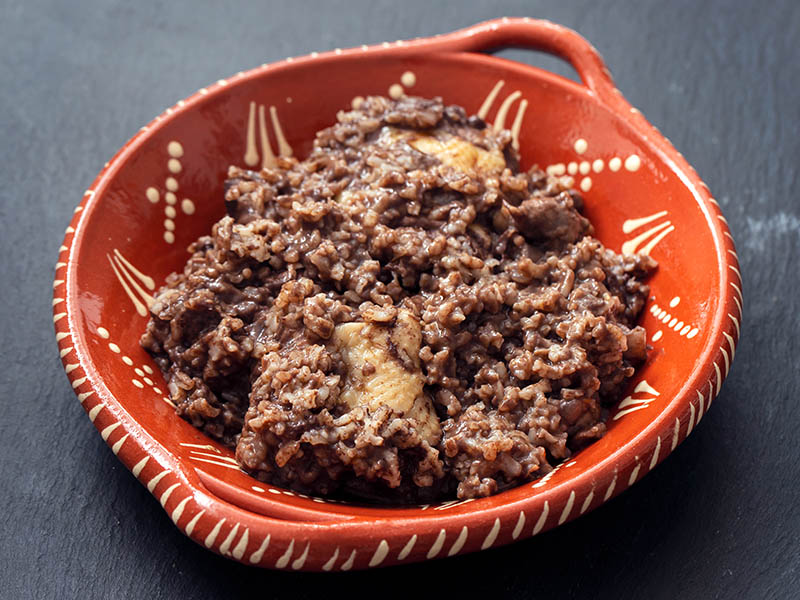 Cabidela is a recipe that I recommend trying. It originated from Portugal and is especially popular in the northern region of Minho. This Portuguese food has appeared in Angola for a long time. It is a combination of chicken and rice, and hen is often used to process this food.
In particular, chicken blood will be added to this food along with vinegar. The hen is sometimes replaced by duck, turkey, or pork in Angola. You will love the tenderness of the chicken and boiled white rice. Besides, Angolans also eat it with Funge.
6. Muamba de Galinha – Angolan Chicken Stew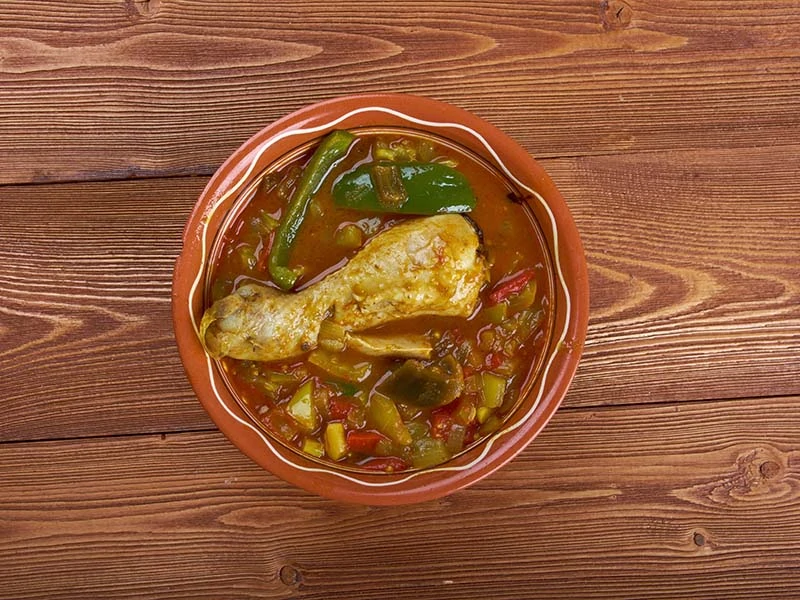 Muamba de Galinha is a great recipe to fill your hungry stomach. This food appeared on the list of 50 delicious foods in the World of CNN in 2011. The dish originated in Central Africa and is a national food of Angola.
You will be addicted to the flavor of this chicken stew. Chefs will slowly cook chicken with squash, okra, and muamba de dendem (red palm oil sauce) to make this delicious and attractive food.
The restaurant often serves it with Funge. Its flavor is famous throughout Africa. Occasionally, chefs will add Gindungo, a kind of Angolan hot chile pepper, to this food to create a spicy kick.
Follow these directions to cook Muamba De Galinha at home.
7. Cabrito – Goat Meat Stew
If you are a fan of goat meat, you should not miss Cabrito. Goat meat is a common ingredient in many foods of Angola. You can easily find goat meat products of Angola exported to many countries worldwide.
You will immerse yourself in the tenderness and fantastic flavor of goat meat cooked with onions, herbs, and salt. Angolans usually eat it with rice, Calulu, Jimboa, and Kizaca on the celebrations, gathering parties, and special occasions.
8. Bagre Fumado – Dried Catfish Stew
If you travel to the north region of Angola, you will have an opportunity to enjoy the incredible flavor of Bagre Fumado. It is a type of dried catfish. The fish will become more flavorful when cooked with onions, tomato, and salt.
This dish is a typical food of people along the rivers in Angola. To increase the flavor of this recipe, Angolans will eat it with sweet potatoes, okra, and Funge. It is time to fall in love with its enchanting flavor right now.
9. Mufete – Cacusso Fish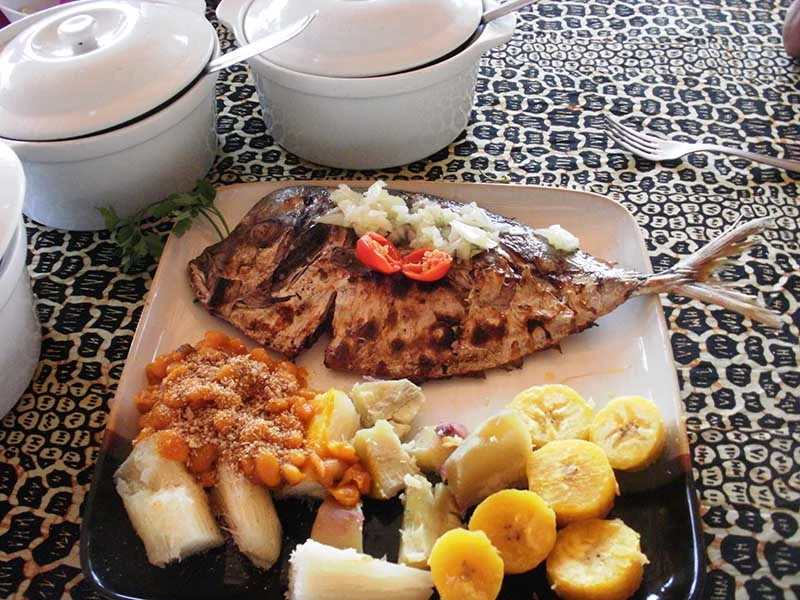 When it comes to Angolan cuisine, it is impossible not to mention Mufete because it is one of the most famous foods in this African country. It originated from the Luanda region. Initially, it appeared at weddings and celebrations, but it is eaten twice a week nowadays.
The beaches in Luanda have a lot of cacusso fish, and it is the primary ingredient that usually appears in the Mufete. Besides grilled fish, the food contains beans, red oil, boiled plantain, sweet potatoes, and flour.
Go to the chicken to make fantastic Mufete right away.
10. Kissuto Rombo – Roasted Goat Meat And Lemon Juice
Kissuto Rombo is a traditional recipe of Angolan cuisine. This food includes goat meat, lemon juice, garlic, hot peppers, white wine, and other spices. To make this dish, chefs should marinate meat with spices overnight and process it the next day.
When roasting the meat in the oven, the chef will baste it with white wine regularly to enhance its flavor. This delicious food is a perfect option to combine with rice and chips. Impressively, the meat still retains tenderness and juiciness after roasting.
Yummy Angolan Vegetarian Foods For A Healthy Diet
Nowadays, many people follow a healthy diet with vegetarian foods. If you are one of them, there is no reason to refuse these fantastic foods in this part.
11. Funge – Cassava Porridge
Funge is a favorite Angolan lunch recipe of many visitors when arriving at Angola. This famous dish is processed from Fuba (corn flour) or Yuca (cassava). People in South Angola often eat Funge containing corn, while Funge with cassava is more prevalent in the North.
Angolans often eat it with meat, fish, and vegetables. To enjoy the richer taste, you can try the versions containing stock, such as meat or fish stock. In particular, you will use your fingers to eat this food.
You will crush the Funge into a small ball and dip it into sauce or stew to enjoy. This traditional food is similar to Pirao of Brazilian cuisine and Cou-Cou of Lesser Antilles.
12. Farofa – Toasted Cassava Flour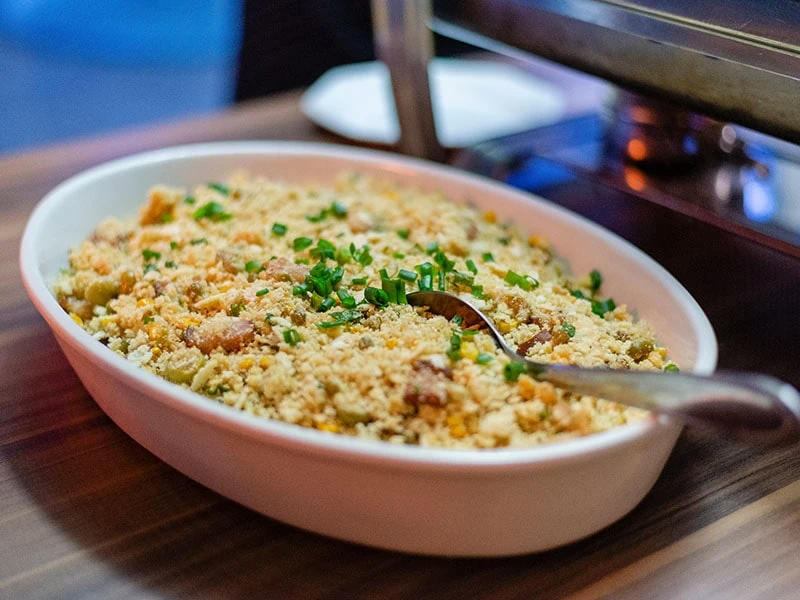 Farofa is an invention of Tupi-Guarani Indians in Brazil before Portuguese colonists invaded the country. It was born when these people needed a nutritious recipe to satisfy their hunger.
Despite originating in Brazil, this cassava flour-based food is prepared commonly across Angola. This nutritious food usually appears with meat, beans, and rice dishes. The chefs also toast it with sausage, pork, and eggs until the Farofa is golden brown.
13. Kizaca – Cassava Leaves Stew
You will not be able to resist the attraction of Kizaca when enjoying it. This famous food is the combination of European and South African cuisine because Angola has been the colony of Portuguese colonials for a long time.
Cassava is the main ingredient of this food originating from Brazil, and the Portuguese brought it to Angola. The chef will cook cassava leaves and peanuts until a thick texture is obtained. Moreover, it becomes more flavorful with tomatoes, salt, vinegar, and onions.
Angolans often combine it with meat or fish in meals. It has a variation named Kizaka Com Peixe containing fish and tomatoes. In addition, Angolans often use spinach to replace cassava leaves.
14. Chikuanga – Angolan Cassava Bread
Chikuanga is a well-known bread processed from cassava. This fantastic food is a specialty of people in the northeast of Angola. The softness and flexibility of cassava flour will leave deep impressions in your mind.
The flavor of banana leaves is a characteristic feature of this food. Cassava will be more fragrant and delicious when wrapped in banana leaves before boiling. It is fantastic to enjoy Chikuanga with Bagre Fumado and Mufete.
Most Angolan restaurants often serve warm Chikuanga with stews, sauces, and soups to help reduce its spiciness. This recipe usually appears in the form of thick round slices on the plate.
15. Fumbua – Wild Spinach Stew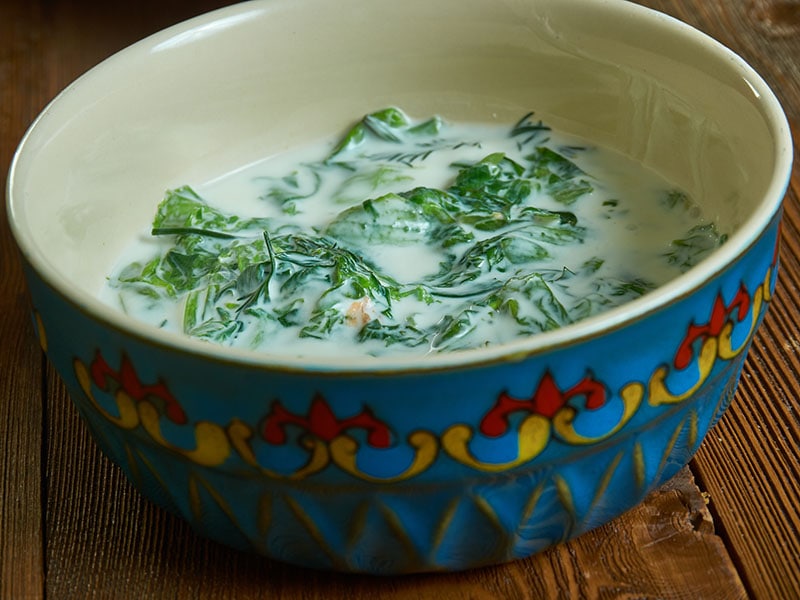 Fumbua is a food made from leaves found in tropical forests in Africa. These leaves only grow naturally, and people cannot cultivate them. This stew contains tomatoes, onions, palm oil, and ground peanuts.
It is a specialty in the North of Angola and is favored by the people here. Besides, Congo is also the nation where this food is popular. Fumbua contains many vitamins and is often eaten with Funge, Bagre Fumado, and Chickuanga.
Treat your loved ones by cooking outstanding Fumbua.
16. Arroz com Feijão – Rice And Beans
Arroz com Feijao is suitable for recharging energy after a long exploration day in Angola. It is a recipe of Brazilian cuisine and is popular in many South American countries. It is a nutritious food with a lot of protein, iron, vitamin, calcium, and carbohydrates.
Arroz com Feijao is a staple food in Angola as you can catch it on the dining table of Angolans anywhere. To increase the flavor and tickle taste buds, Angolans will eat it with Kizaca, Jimboa, and Calulu.
17. Piri Piri Sauce – Red Chili Peppers Sauce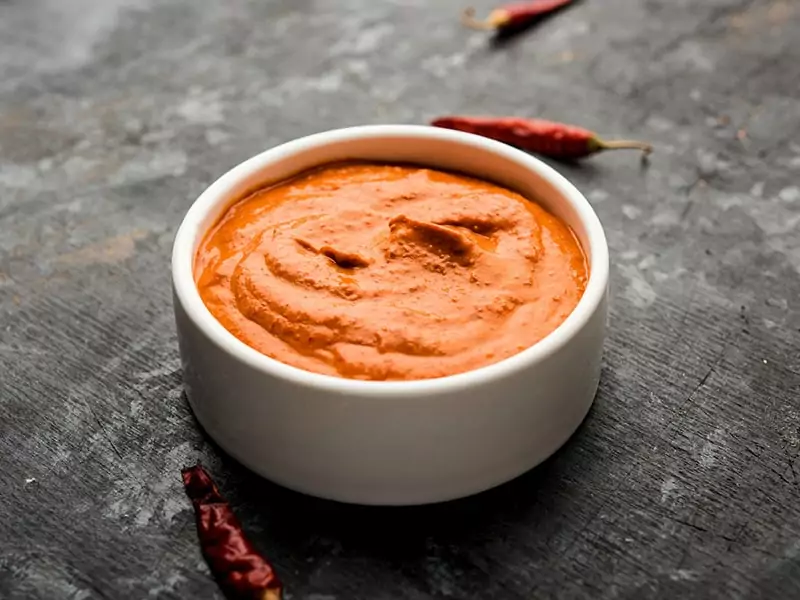 Piri Piri is a famous spicy sauce in many African countries. This fantastic recipe is derived from Mozambique when the Portuguese explorers made it in the 15th century in this country. Also, they were the ones who had found bird's eye chili pepper in Africa.
It is also the main ingredient of this sauce. In addition, the appearance of garlic, vinegar, red wine, paprika, and other European materials helps the taste of Piri Piri become more diverse. Nowadays, you can easily find it in Australia, Canada, and South Africa.
It is time to make Piri Piri Sauce at home with these instructions.
Satisfy Your Taste Buds With Angolan Desserts And Snacks
After enjoying these heavy dishes in the above sections, it is time to refresh your mouth with amazing Angolan desserts and snacks. Let's diversify the foods on your dining table now.
18. Leite Azedo – Sour Milk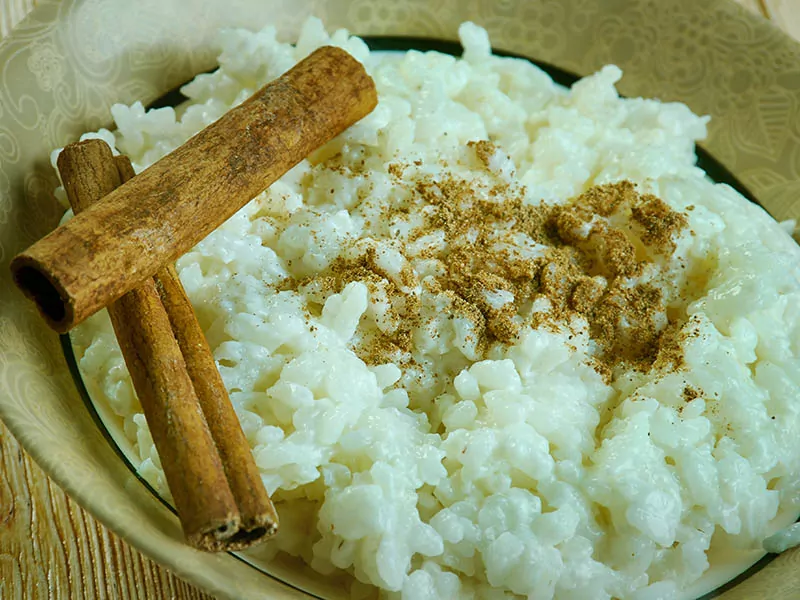 Leite Azedo is an Angolan dessert recipe loved by many tourists when they step into this country. This dessert is an initiative of a Mucubal ethnic minority group in Namibe in South Angola. It is made from a milk preservation method.
Mucubal women will use a hollowed-out gourd to accommodate cow's milk. Dairy products after fermentation are called Leite Azedo. Angolans often eat it as a dessert or combine it with Funge. The gentle sourness creates the distinctive feature of this food.
In particular, you will not be able to find this yummy African dessert in the markets because Angolans only prepare it for personal use. It is an essential component in traditional specialties like Maine and Manhini.
19. Ginguba Torrada – Toasted Peanuts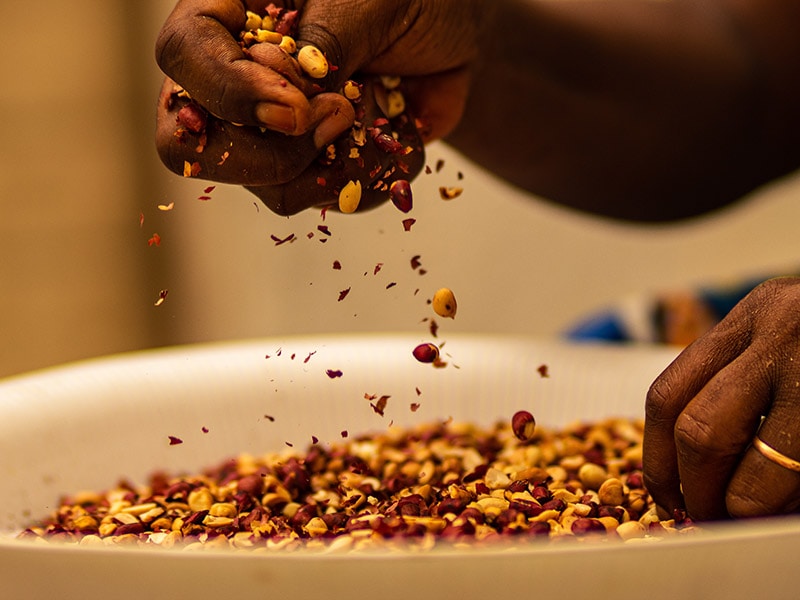 Ginguba Torrada is a great option when you walk on the streets in Angola. Peanuts are the primary ingredient of this snack. You will especially go crazy over the charming aroma and incredible taste of toasted peanuts while eating Ginguba Torrada.
In English, the word "Gunguba" means "peanuts". Angolans often mix it with roasted plantains or grilled cassava. In addition, you often come across it with Mukua and Kissangua on the dining tables in Angola.
20. Catatos – Angolan Caterpillar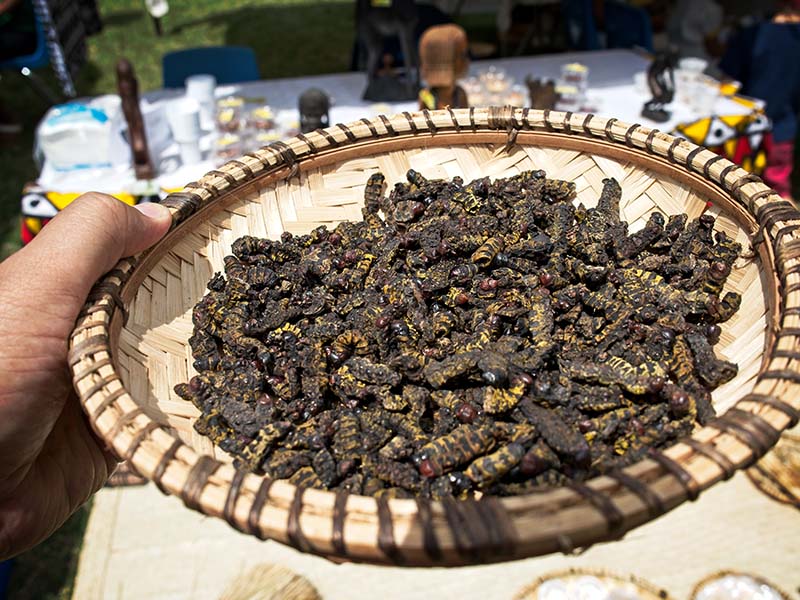 Catalos is a strange and unique recipe of Angolan cuisine. This food will stimulate your taste buds and curiosity. The main element of this well-known food is caterpillars. After they are fried with garlic, you will have a delicious and nutritious snack.
Its flavor becomes more appealing with peppers, tomatoes, and onions. Fried caterpillar's softness and crispiness will make you flutter. Catatos will often be served with rice, hot sauce, and Funge. It contains many good nutrients for the body, like protein and iron.
There are many ways to collect caterpillars. Children often catch them from the trees, and adults will find them in fields. It is a famous food in Uige province in northwest Angola.
21. Cocada Amarela – Angolan Coconut Custard
When referring to Angolan desserts, it is impossible not to mention Cocada Amarela. It is a traditional dessert containing eggs and coconut. The abundance of eggs used in this food leads to a characteristic yellow shade of it.
Its name "Cocada Amarela" means "yellow Cocada". Because of the profound influences of Portuguese cuisine on Angolan cuisine, this food is pretty similar to Portuguese pastries since it also uses a lot of egg yellow.
22. Banana Assada – Grilled Banana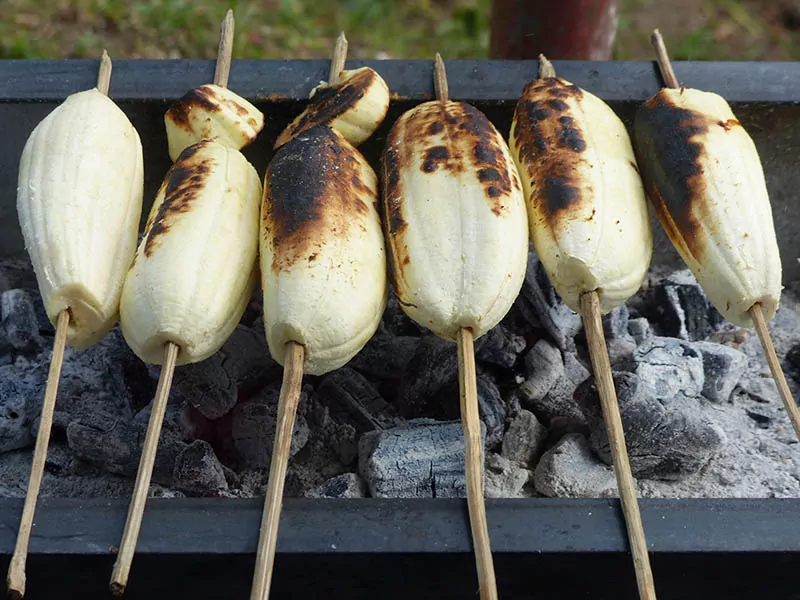 Bananas and plantains are popular foods in Angola. They appear in many different dishes, from main dishes to side dishes to tasty South African desserts. Angolans often use them to replace rice and potatoes during meals.
Banana Assada is one of the appealing foods made from bananas. The natural sweetness will make you love it on the first try. The typical smoky taste of grilled banana will make it unforgettable. In addition, the characteristic sweetness of honey will enhance its quality.
It is hard to resist the attractiveness of great foods on this list, right? Therefore, let's enjoy them during your upcoming trip to Angola. I guarantee you will not be disappointed with their flavor while enjoying them.
Do not forget to share your feelings after enjoying these beautiful foods in the comment section. I am delighted to bring this valuable information to you, so if you feel this article is helpful, please recommend it to your loved ones. Thanks a lot.