Paraguayan foods are one of the best things about this Latin American country. Besides Paraguay's football, great hospitality, beautiful landscape, impressive navy (for a landlocked nation), its flavorful and delicious dishes will make your time worthwhile.
It might be a small country of more than 7 million people, but Paraguay boasts an amazing and diverse cuisine that laughs in the face of geographical limits. In this post, join me in uncovering the precious culinary jewels of the beautiful land known as "the heart of South America".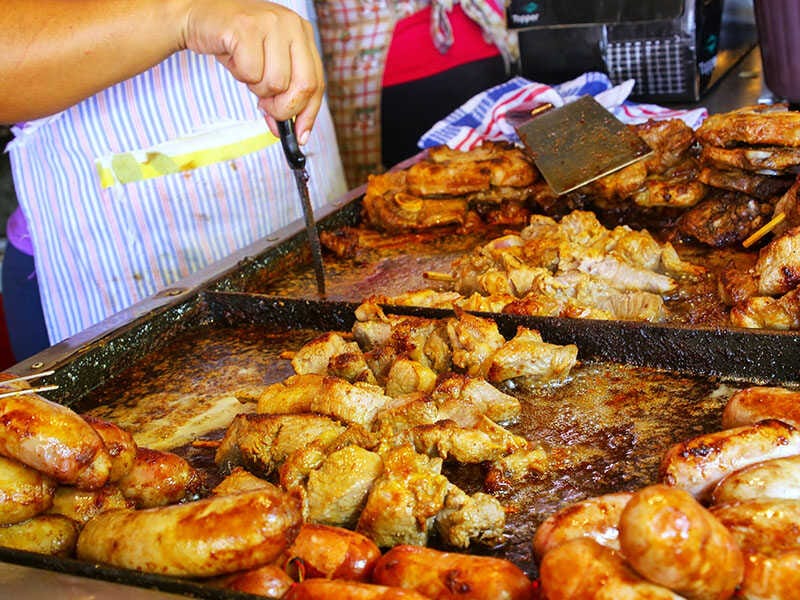 Start Your Meal With These Amazing Paraguayan Options For Appetizers And Side Dishes
Paraguayan cuisine offers many choices to complement your food. There is one thing you should know: many of its so-called cakes aren't snacks at all but side dishes to go with other foods.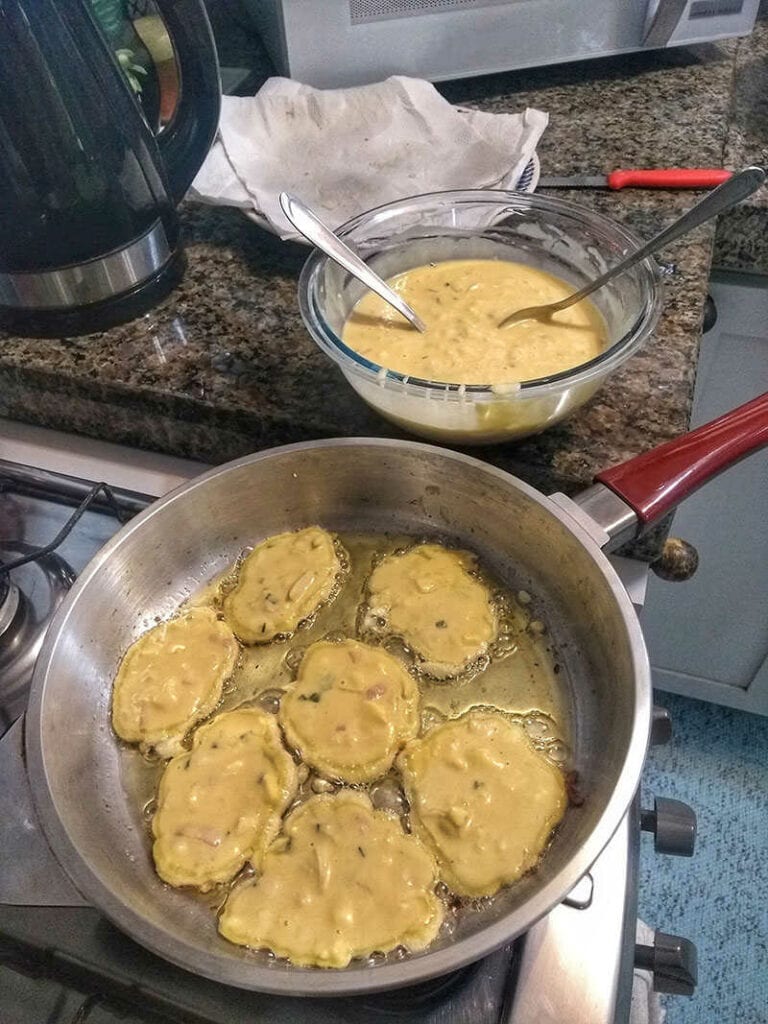 Perhaps you've heard of the corn Tortilla that is prevalent throughout entire Latin America, like those foods in Panama, Honduras, Nicaragua, etc. It's the same trend in Paraguay, but the local people have other varieties of Tortillas up their sleeves.
Asides from cornmeal, Tortilla Paraguaya, or Paraguayan Tortilla, can be made from all-purpose flour or mashed yuca (cassava). The dough is mixed with eggs, onions, milk, or Paraguayan cheese before being divided into flat circles and fried in oil.
Tortilla Paraguaya is usually a savory side dish to eat with other foods. It is a vital part of many Paraguayan breakfast recipes. But many people like to eat ground meat (usually beef) to the batter, turning the Tortilla into a fulfilling snack in its own right.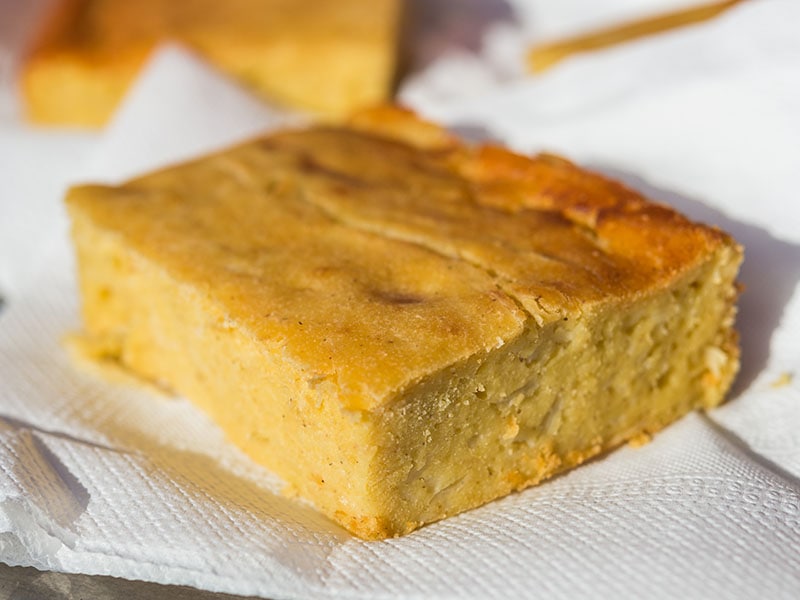 There are two things you need to know about Sopa Paraguaya, or "Paraguayan Soup" in Spanish. First of all, it is nothing like soup but rather a spongy cake. Secondly, it is the national dish of Paraguay and possibly one of the country's oldest culinary inventions.
Apparently, the Guaraní people, who were the original dwellers of what is now Paraguay, made the dish from cornmeal. When Spanish colonists arrived, they contributed cheese, milk, and eggs to the cake. Later generations improved the recipe with pork fat, onions, and cream.
Meanwhile, another origin story goes that a cook of Paraguay's first president invented the dish by accident. Whatever the case is, Paraguayans inherit a delicious and protein-rich cake. They serve it with (real) soup, meat stews, or Tortillas in festivals or special occasions.
Recreate the iconic staple Sopa Paraguaya at home with this guide.
3. Soyo – Traditional Paraguayan Soup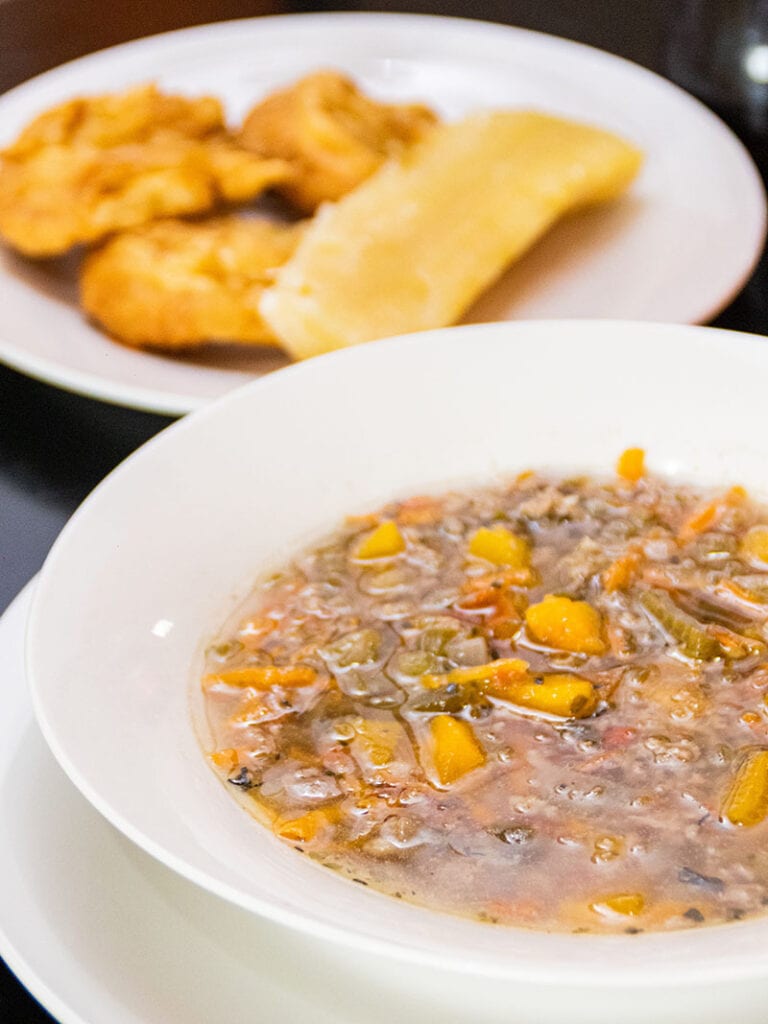 Unlike many neighboring countries whose people are entirely descendants of former colonists, Paraguay still retains its indigenous identity. A sign of that heritage is the traditional soup Soyo. The name is a shortened version of the native Guaraní phrase "so'o josopy" for "crushed meat".
That name says everything there is to tell about how to prepare the soup. People basically crush meat in a mortar and cook it with cold water, rice, spices, and vegetables in a pot to create a thick, nourishing soup.
At least it's supposed to be so now. In the past, Soyo was less flavorful, and only impoverished people consumed it. Nowadays, however, both rich and poor Paraguayans find this originally native dish quite delightful.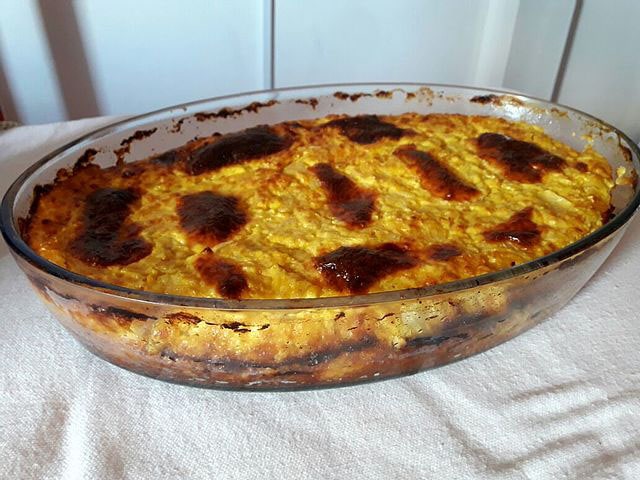 Chipa, or Paraguayan corn-based cake, is a curious case. It looks and sounds like a cake, but it can serve as a side dish or even a full meal for any time of the day. The most popular type of Chipa is Chipa Guasu which means "big Chipa" in Spanish.
It is made from fresh corn kernels or cornmeal, onions, sugar, spices, and milk or Paraguayan cheese (higher in calories and proteins than normal cheese). They are mixed into a batter that is later baked until golden and delicious-smelling.
Chipa Guasu is packed with nutrients and calories. That is no accident because it was created to help people survive a period of prolonged warfare and food scarcity. But now, it is a must-have dish for harvest festivals and holidays.
5. Chipa Almidón – Cheese And Starch Bread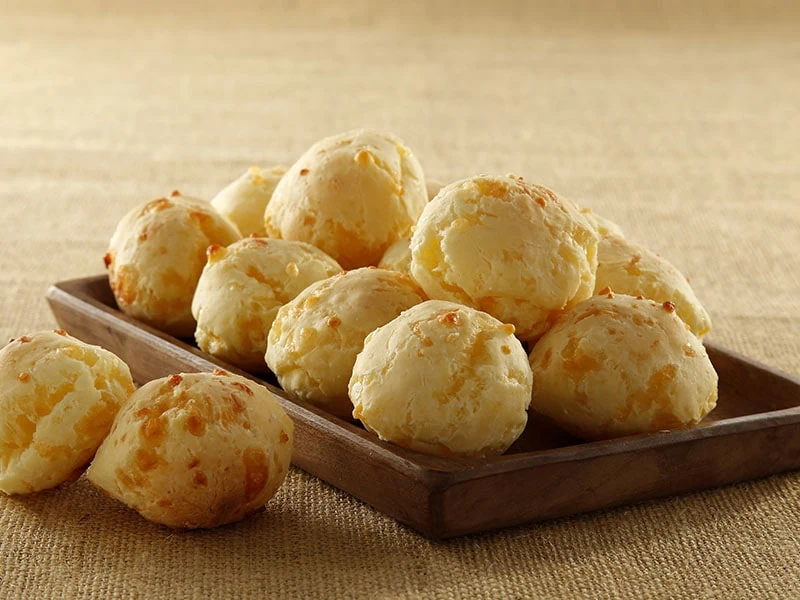 Chipa Guasu is delicious, but it is so big and cumbersome. If you're searching for a cuter and more compact version of Chipa in authentic Argentinian food, let's take a look at Chipa Almidón, or "starch Chippa" in Spanish.
Paraguayans prepare Chipa Almidón basically from the same stuff as Chipa Guasu. However, they add anise seeds and replace corn grains with yuca flour (hence the "starch" part). Also, people divide the dough into many smaller shapes and bake them, not the whole batter.
Chipa Almidón is a popular Paraguayan street food item to enjoy alone or to pair with many main dishes. There is another variety of Chipa Asador, which involves roasting a piece of yuca dough on a stick and over an open fire.
6. Mbeju – Starch And Cheese Flatbread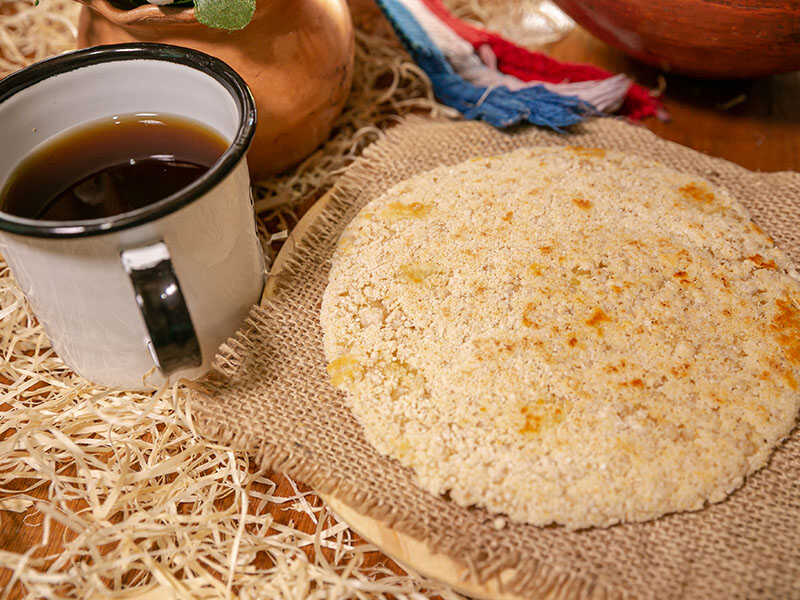 Mbeju simply means "cake" in the Guaraní tongue. The dish has been around for a very long time, well before the arrival of strangers from the West.
When Paraguay suffers from periodic cold air outbreaks, fatty Mbeju served with butter and coffee nicely warms the hearts of the people.
At the moment, there are a dozen recognized Mbeju recipes. But they are all about different ways of mixing together yuca flour or cornstarch with pork fat, salt, milk, and cheese and of frying the dough in oil until crisp and golden on both sides.
Check out this easy recipe for making Mbeju at home.
7. Chipa So'o – Meat-Stuffed Corn Bun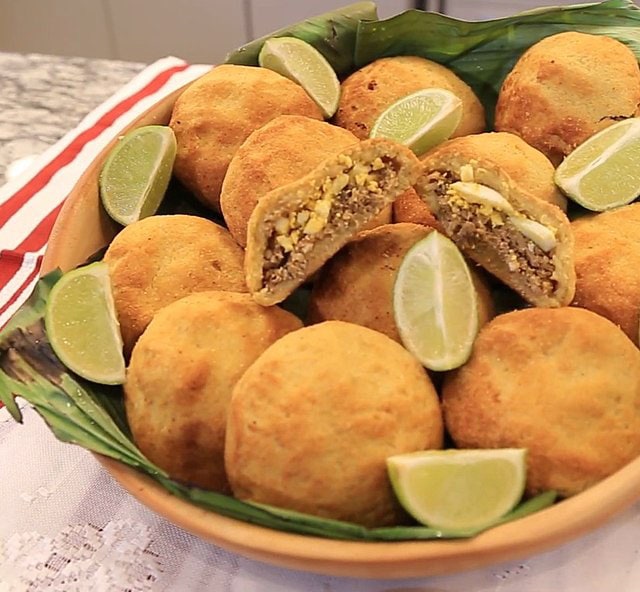 This is an especially fulfilling variety of Chipa contributed by the Guaranis cuisine (by the way, chipa is a Guaraní word). Its inventors were the first Guaraní people to live alongside Christian missionaries.
Its ingredients are like those of Chipa Guasu, but minus the milk and cheese. Instead, Paraguayans use a rich and savory filling, usually of spiced and minced beef. Chipa So'o is a wonderful side dish to serve with stew or broth, but the best accompaniment is coffee.
Give Yourself A Whale Of A Time With These Sumptuous Paraguayan Main Dishes
After whetting your appetite with some light foods, pay attention to the following dishes below for a terrific Paraguayan experience. Some are found at roadside food stalls, while others reside in lavish restaurants. But they are all wonderful.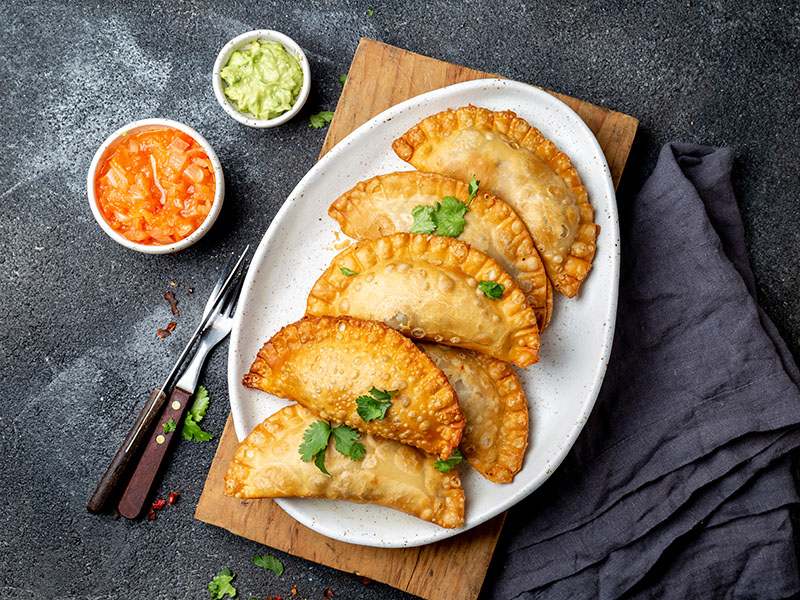 Empanada, meaning something like "coated in bread", is the hallmark of Spanish cuisine. When Spain established dominions all over Latin America, it became an important food in Ecuador, Colombia, El Salvador, Colombia, etc. Empanada is now a mainstay of Paraguayan cuisine.
The most popular variety in the country is perhaps "Empanada de Carne", a crescent moon-shaped turnover with two slices of deep-fried bread and fried or shredded beef, vegetables, and spices in between.
It is a very popular dish that is sold at many Paraguayan restaurants and food stalls.
See how it feels like to eat Empanada in Asunción, Paraguay's capital.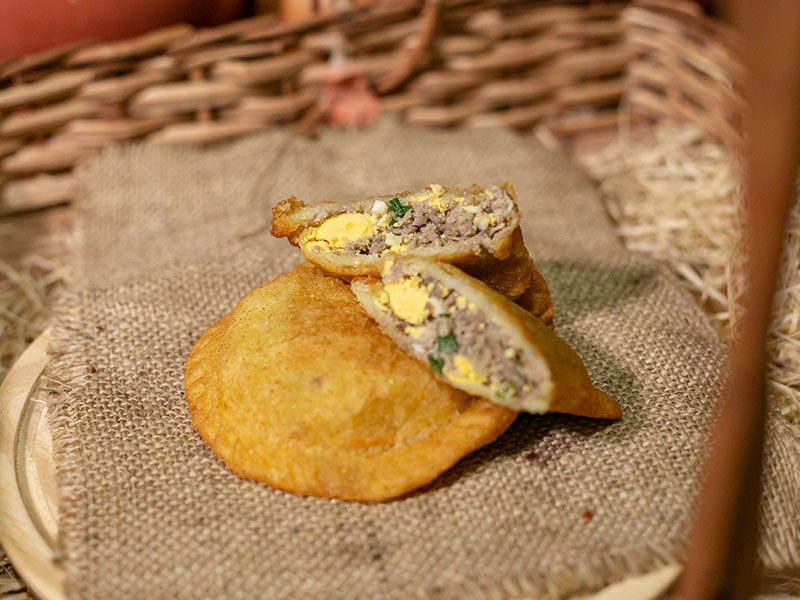 In case you don't know, Paraguay is a bilingual country with Guaraní as its second official language (the first one is Spanish). That's why many popular dishes have an indigenous name, such as Pastel Mandi'o or Yuca Empanada.
While the dough of normal Empanada is made from wheat flour, Pastel Mandi'o uses cornstarch and yuca flour which is richer in flavor and nutrients. Other than that, the two types have the same method of preparation.
Pastel Mandi'o is a wonderful case of how the oppressed turned the oppressor's culinary treasure into their own. Paraguayans eat it for all kinds of meals at any time of the year. But it is more popular during big celebrations, such as Saint John's Eve in June.
10. Lampreado – Cassava Hamburger Patty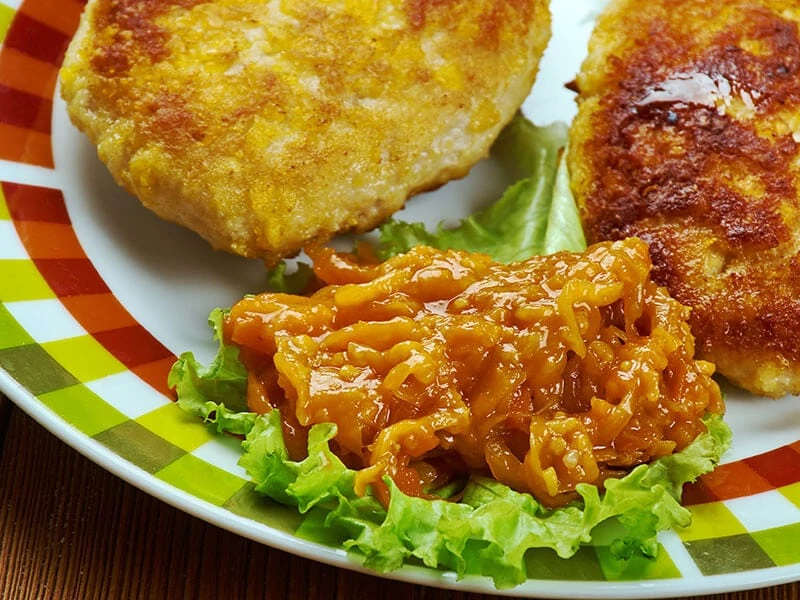 This is a spicy dish that can greatly improve your ordinary hamburger with an exotic touch. It is also known as Payagua Mascada, literally ""payaguá bite". The name refers to the fierce Payaguá tribe that constantly fought the Guaraní people and after which Paraguay was named.
Lampreado is a flavorful mix of meat mince, yuca starch, and spices. It is grilled and placed inside a sliced bun, just like any hamburger patty. But thanks to the liberal amount of yuca and strong spices, you will enjoy a more vigorous and ferocious taste than any plain sandwich.
11. Milanesa – Breaded Beef Steak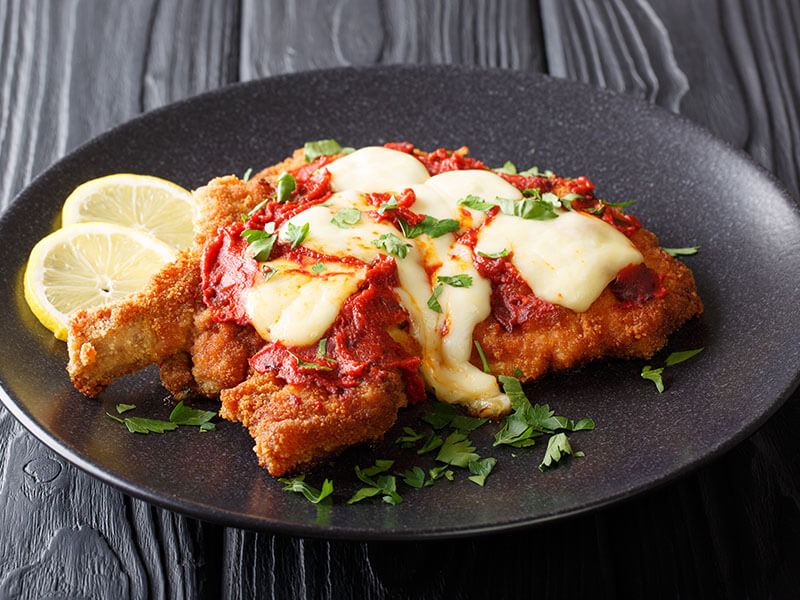 When people want to spread good food around, even an ocean's distance can't hinder them. In the 19th century, when Italian immigrants flocked to South America, they brought their famous Veal Milanese to the new land. The dish gave birth to a local variation known as Milanesa.
The Paraguayan version of Milanesa is based on thin slices of beef, pork, chicken, or even fish. They are mixed with beaten eggs and spices before being coated with bread crumbs and fried in oil. But some people turn to baking to reduce the amount of fat in it.
There are many types of Milanesa, depending on what kind of meat it contains. However, they all should be served with tangy salads or crisp fried starchy foods like yuca or potatoes. Milanesa is a wonderful combination of European delicacy and local ingenuity.
Discover the Paraguayan style of preparing Milanesa here.
12. Tallarín Con Carne – Paraguayan Pasta With Meat
Waves of Italian immigrants to South America during many centuries resulted in the region's cuisine absorbing some Italian elements. The iconic pasta is one of them. Tallarín Con Carne, or pasta (or noodles) with meat, is a Paraguayan dish that you've got to try.
It is a wonderful Paraguayan lunch recipe made from cooked pasta, preferably linguine or spaghetti. Other ingredients include sliced beef, green pepper, onions, tomatoes, spices, and soy sauce. They are sauteed into a thick, delicious mixture that people stir-fry with pasta.
13. Butifarra – White Sausage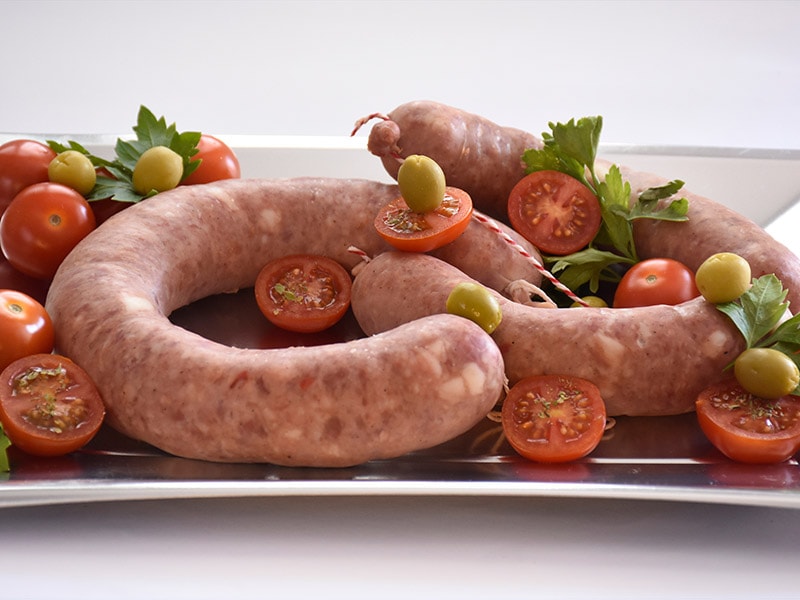 From the Spanish region of Catalonia, a delicious type of sausage called Butifarra crossed the wide Atlantic Ocean to take hold of Latin America. It soon mesmerized the local people and became a common sight at big gatherings and festivals in those countries, including Paraguay.
Butifarra consists of pig intestines stuffed with finely minced pork meat, pork fat, garlic, black pepper, and spices. It is iconic street food in Colombia and is one of the most popular dishes to be prepared at Asado, a barbecue-like social event on weekends that many Latin Americans enjoy.
14. Bife Koygua – Traditional Paraguayan Beef Stew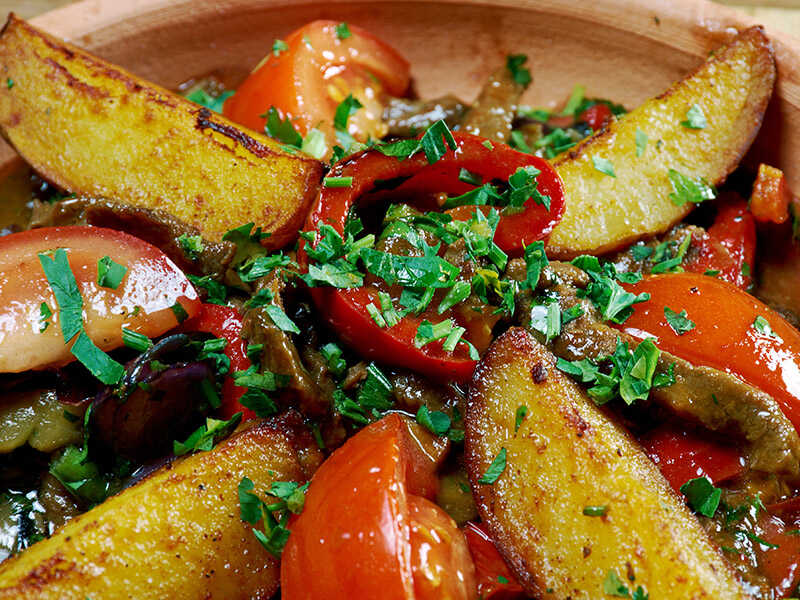 The name means "hidden beef" in Guaraní, describing how to prepare this traditional Paraguayan dish. Beef steaks are seasoned with spices before being fried and covered (or topped) with sliced onions, tomatoes, and halved hard-boiled eggs or runny eggs.
Bife Koygua is a somewhat accurate analogy to Paraguay, a country sandwiched between more populous neighbors. If so, Paraguay is the "steak" or, more appropriately, the heart of the region's cuisine, and Bife Koygua is an excellent example of the nation's culinary richness.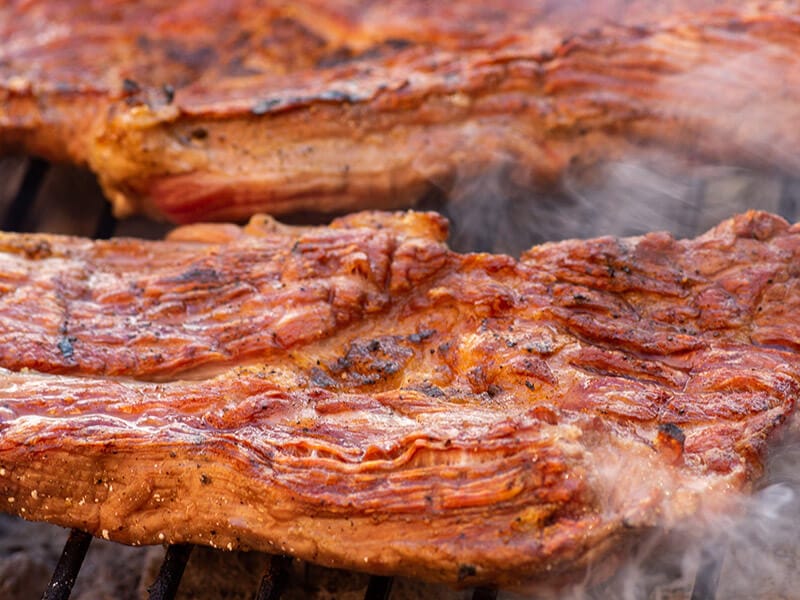 Carne Asada means "grilled meat" in Spanish and refers to both the food and the occasion when people gather for a barbecue. In South America, including Paraguay, another term "asado" is often used, but it only means the technique of grilling rather than the meat itself.
Since the dish is immensely popular, don't be surprised if you also see it in other Hispanic nations' cuisine. For example, Carne Asada is among the must-try dishes in Guatemalan gastronomy.
Sliced beef is the most suitable ingredient for this dish, followed by pork. Skirt steak or flank skirt is marinated in lime juice and spices before being grilled on a rack or a stick. Just like elsewhere, Carne Asada is food for thought, bonding, and conversations.
Check out how people grill meat in Paraguay here.
16. Bori Bori – Traditional Paraguayan Soup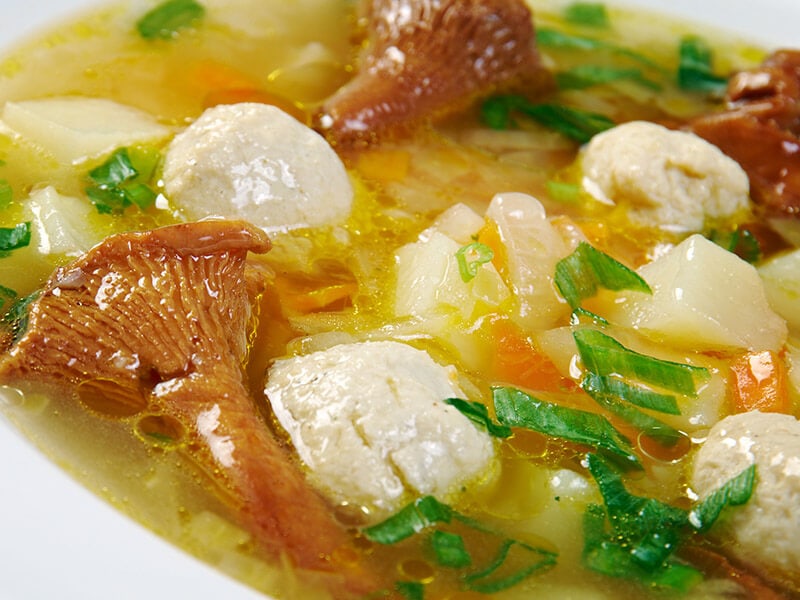 Also known as Vori Vori, this is an ancient and delicious Paraguayan chicken soup that has stood the test of time. It consists of chicken (preferably with legs), cornmeal, vegetables, herbs, and cheesy dumplings made of cornmeal and Paraguayan cheese.
"Bori" is derived from the Spanish word "bolita" for "little balls", which refers to the dumplings. The name is Spanish, but it follows the Guaraní rule of repeating a word twice to indicate a large number, hence "Bori Bori".
Representing the infusion of both the old and the new, Bori Bori is prevalent with people of all ages as comfort food. Paraguayans love to enjoy it with grilled meat during the chilly months of winter.
17. Ñoquis – Potato Dumplings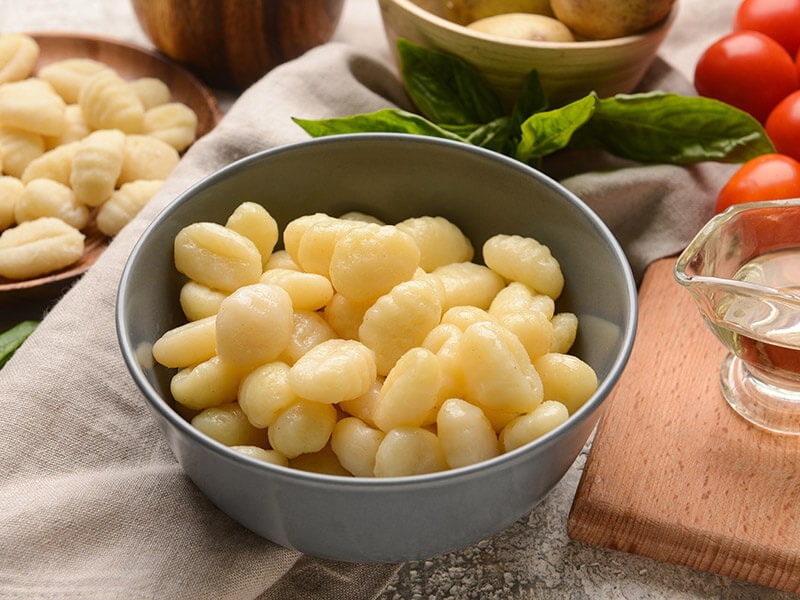 If you are wishing for a sumptuous, easy-to-make Paraguayan dinner recipe, Ñoquis is here to please you. It isn't a traditional dish of the country but rather a contribution from the Italian diaspora to South America.
Moreover, it is not too hard to find them on the food menu of Uruguayan with a similar name – Ñoquis de Papa. But in Paraguay, people have known as Ñoquis – the Spanish name of Gnocchi.
Gnocchi is dumplings that can be made from many types of dough: semolina, cornmeal, bread crumbs, etc. But in Latin America, people almost always prepare Ñoquis from mashed potatoes and cheese and drizzle the dumplings with a rich sauce of olive oil, tomatoes, and spices.
Starting as foreign food, it is now the apple of many Latin Americans' eyes. In many countries, including Paraguay, it is common to eat Ñoquis on the 29th day of each month. Locals copy that custom from Italian immigrants who survived on the dumplings until the next month's paycheck.
18. Caldo de Albondigas – Meatball Soup
Albondigas soup, usually called Mexican meatball soup, is a famous Spanish delicacy. But similar to many Latin American dishes coming from Spanish cuisine, Caldo de Albondigas is popular with other countries in the region, too. The Paraguayan version is something that will surely arouse your appetite.
Caldo de Albondigas consists of two parts: the meatballs and the broth. The former is made from minced pork, eggs, and rice, while people cook the latter from tomato sauce, chopped vegetables, and spices. Cook both of them well together and serve the dish with a spicy sauce.
Caldo de Albondigas traveled a long way from the Middle East to Spain and finally to the New World. The strong flavor and aroma of this savory and nutritious dish provide local people with tons of culinary pleasure.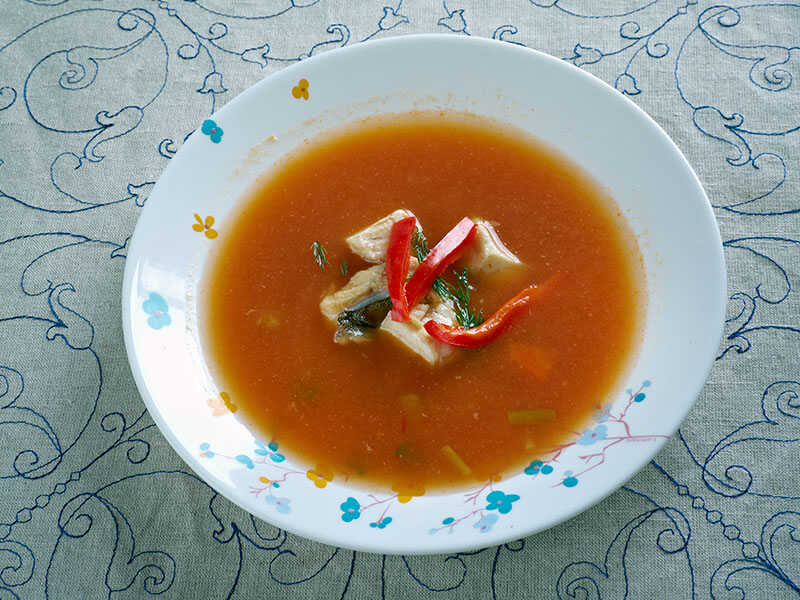 Paraguay is home to some of the world's most majestic rivers. There are several ways to explain the name "Paraguay", all of which are connected with water (from "born of water" to "river of the Payaguas"). And with a lot of water comes an abundance of fish and fish dishes.
The most delicious one is probably Pira Caldo, or "fish broth" in Guaraní. People cook it with succulent, locally caught fish such as mandi'y and surubi. Stir in the stew with tomatoes, onions, carrots, pork fat, and spices, and a smoking, mouth-watering pot of Pira Caldo is good to go.
Historians believe that people invented the dish to deal with the shortage of food during and following the devastating Paraguayan War in the late 19th century. In peacetime, Pira Caldo is the favorite comfort food of the whole country and possibly the whole region.
Experience how Paraguayans serve Pira Caldo in Asunción here.
Indulge Yourself With These Tasty Paraguayan Desserts
No country can pride itself on having superb cuisine without possessing some exemplary snacks and sweets. Let's see what Paraguay has to lure people with a sweet tooth into its grasp.
20. Mazamorra – Sweet Locro Corn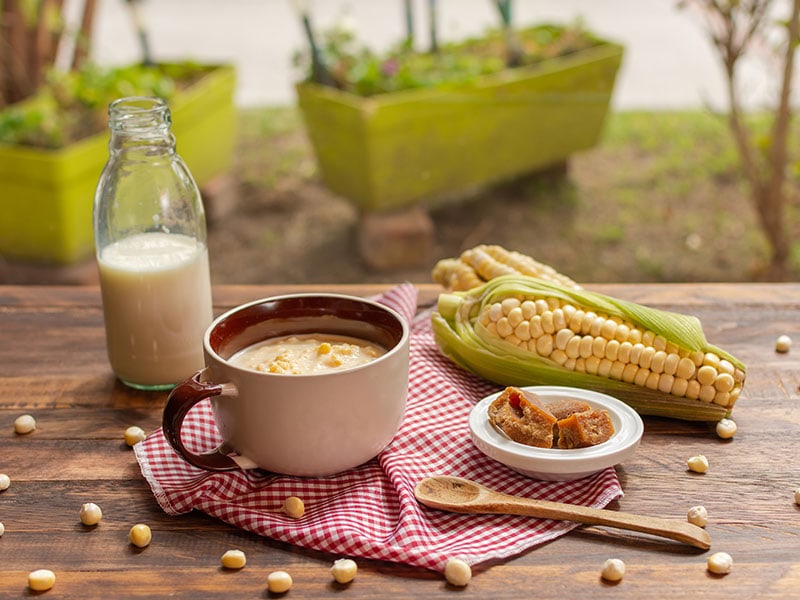 The native Guaraní people were among the pioneers of corn cultivation. So they naturally developed or inspired many great Paraguayan recipes with corn. One of them is a sweet and simple dessert called Mazamorra.
It is a thick, pudding-like dish made from corn, sugar, water, and milk or honey that you can also find in the Peruvian dessert list. Mazamorra can be served hot or cold.
While being merely a dessert, it is so nutritious that during the horrible Paraguayan War, many people relied on it as their main source of sustenance.
I will let you in on a secret: Mazamorra is actually a generic term for many traditional desserts of various Spanish-speaking countries. To find the true Paraguayan one, look for it by the Guaraní name: Kaguyjy.
21. Kosereva – Orange Peel Dessert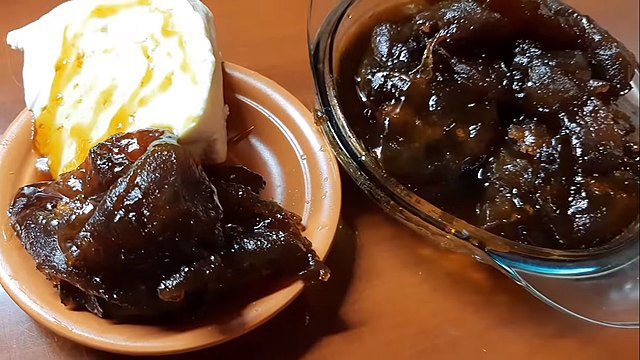 Orange is such a wonderful fruit that even its skin can't be wasted. Paraguayans demonstrate that truth with Kosereva. It is a sweet and sour dessert that perhaps Spanish conquistadors discovered by accident when they tried to preserve oranges with black molasses.
Paraguayan grandparents used to make this dessert for family gatherings by cooking thinly sliced and boiled orange peel in black molasses and sugar. The process takes a long time, but the resulting product is a shiny, ebony, protein-rich, flavor-packed dessert.
Homemade Kosereva with family love is sadly something of a rarity now, but with some luck, you can buy it from stores or supermarkets. It is usually served alone or with a piece of soft cheese.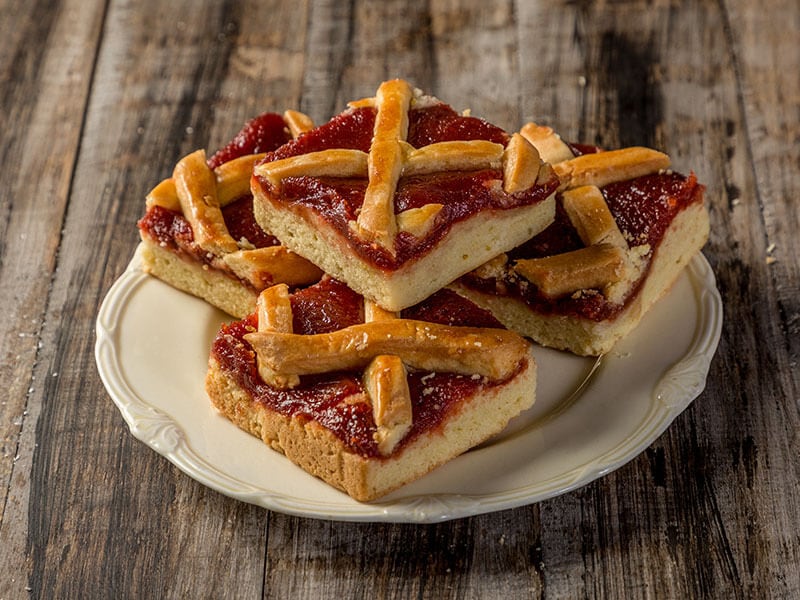 Pasta Frola is a classic Italian dessert that became a mainstay of Paraguayan cuisine thanks to 19th-century Italian immigrants. While the traditional version usually uses something ordinary like strawberry jam, Latin Americans give a twist to the recipe by utilizing exotic tropical fruits.
In essence, Pasta Frola is a shortcrust pastry that is topped with a lattice crust and filled with jam. Paraguayans characterize their dessert with quince or guava jam. They are delicious tropical fruits with a unique flavor that brings Pasta Frola to a new level of scrumptiousness.
Discover this recipe for making Paraguay-style Pasta Frola.
23. Kivevé – Pumpkin Cream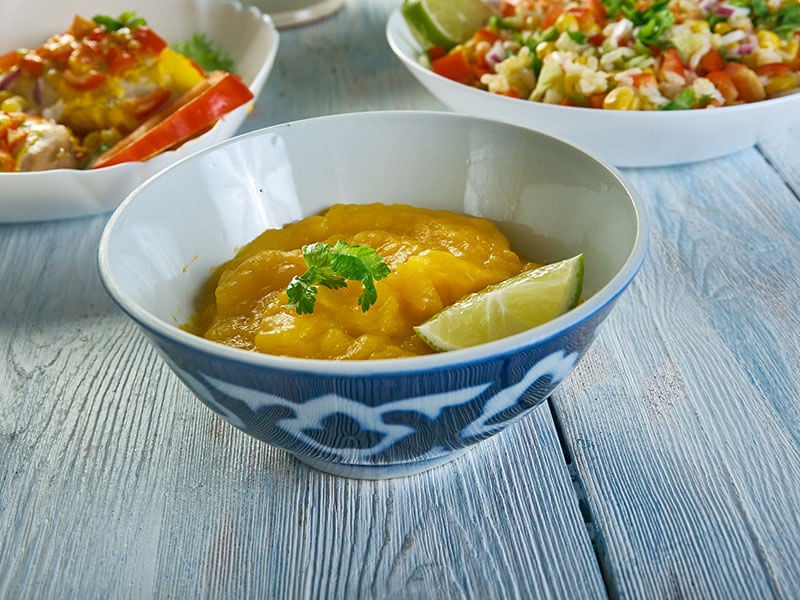 Kivevé, also going by the Spanish name of Quibebé, is a wonderful dessert full of vitamins and nutrients. The indigenous Guaraní created it, but other Paraguayans helped with the perfection by introducing new ingredients.
To make Kivevé is to puree boiled pumpkins (locally called "andai") with its own cooking water, cornstarch, and sugar before cooking the mixture. Top it with cheese or milk, and you have a rich and sweet snack that can even serve as a light breakfast.
Good Kivevé should have an attractive reddish color (its name actually means so in the local language). Kivevé is also a slang term for red-haired people.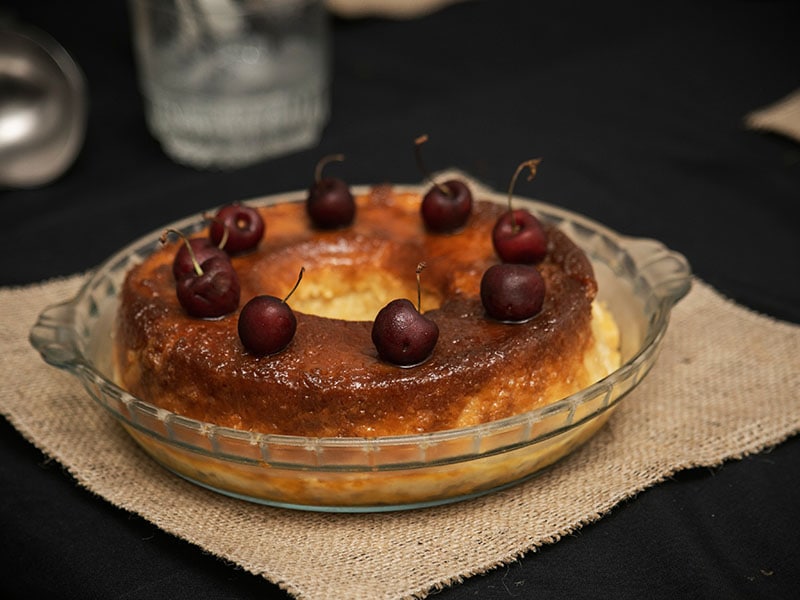 Bread pudding is wildly popular in many countries thanks to its money-saving virtue. Paraguay is no exception. The people don't throw their stale bread away too hastily but rather turn it into the economical Budín de Pan to serve with whipped cream.
This bread pudding is not only famous in this country, but it is also a favorite dessert among Puerto Rican. It is made from pureed old bread, milk, beaten eggs, sugar, cinnamon, and possibly some nuts and dried fruits.
After the mixture is baked in an oven or a bundt pan (for a nicer shape), behold the magic of cooking as the recipe transforms some soggy bread into a soft and creamy pie.
It is a terrible mistake to leave out Dulce de Mamón, the cream of Paraguayan desserts (though it contains no cream at all). The papaya tree is a common sight in the country, providing local people with delicious fruits to make this wonderful dish.
While ripe papayas are incredibly soft and sweet, people use green or half-ripe ones for Dulce de Mamón. They simmer chunks of green papaya in sugar syrup over a low fire for hours until tender before adding lemon juice and spices.
Another variation requires the papayas to be seasoned with sugar first before being boiled. Anyway, the result is always a fruity, syrupy-sweet dessert that melts at the tip of your tongue.
26. Tereré – Herbal Drink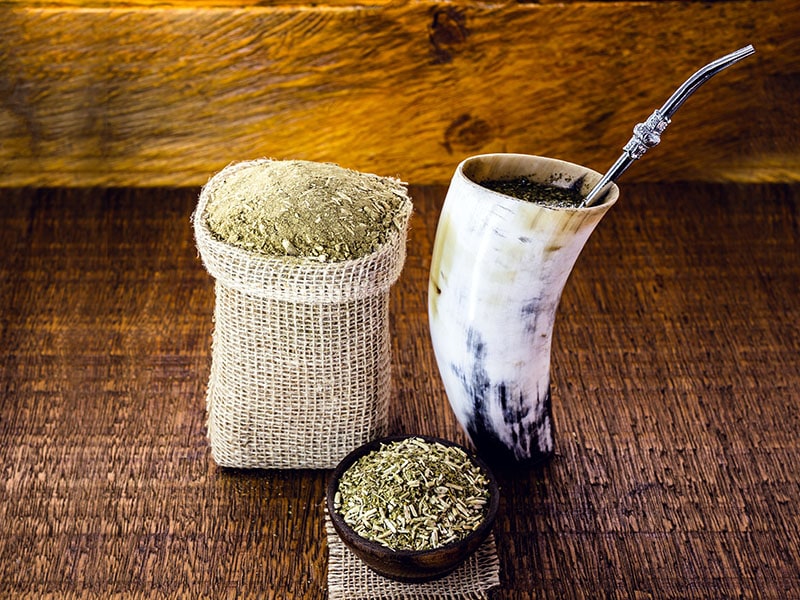 If you need something to wash down scrumptious Paraguayan food, reach for a cup of refreshing Tereré. The drink is so popular in Paraguay that they dedicate the last Saturday of February to the "National Day of Tereré". It is common in other Latin American countries, too.
Of Guaraní origin, Tereré is concocted from water, fruit juice (usually citrus), yerba mate (a native aromatic, caffeine-containing herb), and some other medical herbs whose pronunciation may twist your tongue. The drink should go with a lot of ice, making it perfect for hot weather.
Don't contain Tereré in just anything. The best vessel is Guampa, a container traditionally made from wood or animal horns, although the type made from stainless steel is very common now. Tereré is rich in aromatic oil but poor in calories, making it a healthy and invigorating drink.
You can make your own Tereré by following this tutorial.
Discover The Best Of Both Worlds In Paraguayan Cuisine
In the heart of Latin America lies the beautiful country of Paraguay, where the culinary heritage of the indigenous people is exceptionally strong. It is infused with a European influence to create a distinct and amazing cuisine that will charm even the pickiest eater.
Let's try Paraguayan foods to see if you will succumb to its allure. It isn't an unlucky thing if you do because that is the fate of almost everybody. If you can incorporate those wonderful dishes into your menu, it will be a terrific idea to improve the quality of your meals.
If you find this post informative, a great honor you will do me by sharing it with your friends. And also, by sharing your thoughts and experiences in the comment section, too. I wish you a good time with bountiful Paraguayan foods.