Fried vs. steamed dumplings, even though the distinction between these two dishes is obvious, only a few can tell what it is. Most agree that dumplings are delectable and gorgeous, but the choice between fried or steamed is still a matter to dispute.
Some people prefer the crunchy texture of fried dumplings, whereas others opt for their non-greasy variant. So what is the better choice for your taste? Let's dive into this article to learn more exciting facts about dumplings.
Interesting Facts About Dumplings
Many people think of dumplings as an Asian comfort dish, but there is more to dumplings than you might think. The variations of ingredients and making methods create this famous goodie's diversity.
A Wrapped-Up History Of Dumpling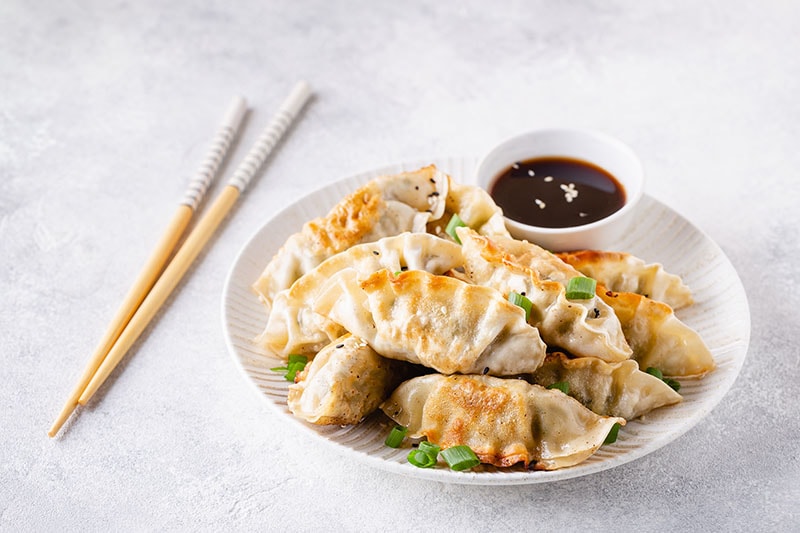 When discussing dumplings, most people might consider Asia as its first origin. It's a universal food that is prevalent in every cultural cuisine around the world. Dumpling is among the most ancient ways of preparing food.
Interestingly, dumplings are not an invention of any specific individual. Instead, the idea of making dumplings arose independently in many cuisines throughout the history of humankind.
Dumplings likely came from the idea of slitting the scarce source of meat into small wrappings with dough and vegetables.
Looking through the world map of staples, you will have difficulty finding a country without having some adopted dishes of dumplings. The evidence of this dish stems back to ancient times.
To your surprise, the first record of the dumpling wasn't in Asia but in a Roman cookery text. The first version of dumplings in China, called jiaozi, was invented in the Eastern Han Dynasty (206 BC to 220 AD) by Zhang Zongjing (1).
Enrich your knowledge of cuisine with this short history of dumplings!
What Is Dumpling?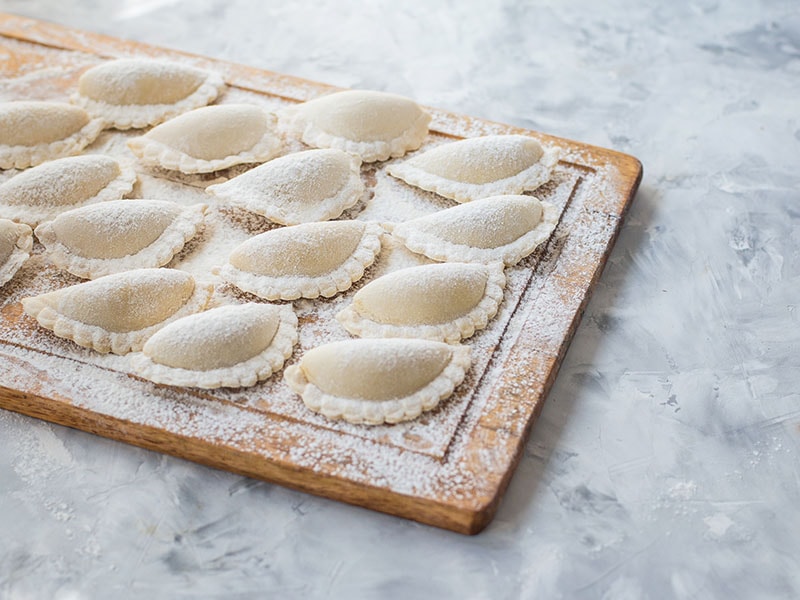 Dumpling is more of a group of dishes than a specific dish, with countless types of dumplings from different countries worldwide. However, dumplings all boil down to wrapping dough around the filling to make cake-like pieces.
People employ various types of starch sources to make different dumpling dough, ranging from wheat flour, rice flour, starch flour, buckwheat, potatoes, etc. The dough is kneaded into different shapes and sizes depending on the recipes.
Dumplings can come with the filling or without filling. The types of filling are the key factors that set different kinds of dumplings apart. Dumplings can be filled with ground meat, fish, tofu, vegetables, beans, or cheese (2).
You can prepare dumplings with many methods, such as boiling, baking, simmering, steaming, or frying.
The most famous dumplings originate from Japanese, Korean, Chinese, and Vietnamese, each with a unique flavor, shape, and size.
What Do Fried And Steamed Dumplings Have In Common?
Both recipes employ the same materials to create the two parts of the dumpling, the dough, and the filling. The dough is made by mixing flour with water to create a dough ball. The ball is later kneaded and separated into smaller segments to wrap the filling.
The filling is like the soul of any dumpling. It characterizes multiple types of this comfort food. Most kinds of filling are mixtures of various finely chopped and mixed ingredients.
For example, traditional Chinese dumplings called jiaozi consist of ground pork, egg, scallions, cabbage, and various spices.
Each bite into a dumpling gives you a feeling like a mini serving of an entire meal, with dough, meats, vegetables, and flavorful sauce.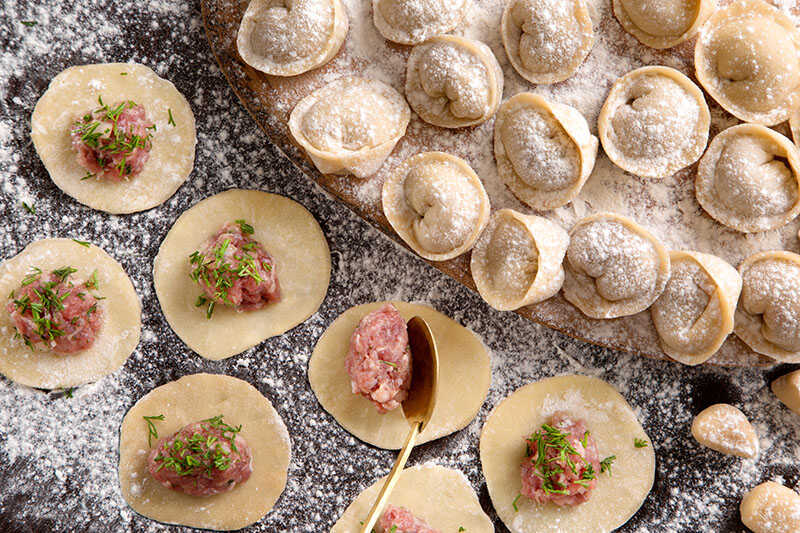 Differences Between Fried And Steamed Dumplings
The key discrepancies between these two kinds of dumplings are in cooking, taste, texture, and health effects. Here is a brief table for a general view of these two dishes.
| Properties | Fried dumplings | Steamed dumplings |
| --- | --- | --- |
| Cooking method | Fried and steamed in a pan for 10 minutes | Steamed in a pot or steamer, 10-15 minutes |
| Texture | Crunchy outside, soft inside | Chewy and doughy outside, soft inside |
| Flavor | Greasy, nutty, flavorful outside | Bland outside |
| Visual appeals | Neat shape, caramel color | A bit sticky, delicate, translucent |
| Health effects | More calories and fat | Less calories and fat |
1. Cooking Methods
As the name suggests, fried dumplings are cooked in a pan with oil or fat. There are many styles of frying dumplings, ranging from deep-fry, air-fry, and pan-fry. The most common way of making fried dumplings is the combination of frying and steaming.
With this method, people use both water and oil to cook the dumplings. The oil will fry the dumplings outside to give them a crispy texture, while water helps steam them to maintain a juicy filling.
Deep-frying dumplings require the oil to be preheated to 325-375°F (162-190°C) for a crispier and crunchier texture.
Traditional recipes prefer steaming over frying. A steamer is perfect for cooking steamed dumplings until they reach 165°F (74°C). Wooden steamers are said to give dumplings better texture and look.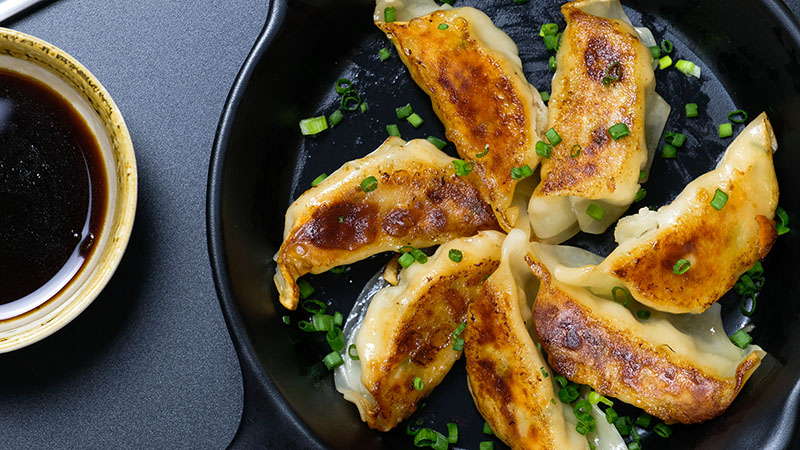 2. Textures
Fried dumplings bring a crumbly feeling in every bite. The crunchy outside is very satisfying to eat when combined with the soft and smooth inside.
On the other hand, steamed dumplings offer a bit of a chewy or soft exterior (depending on the methods of making dough) and the same softness inside.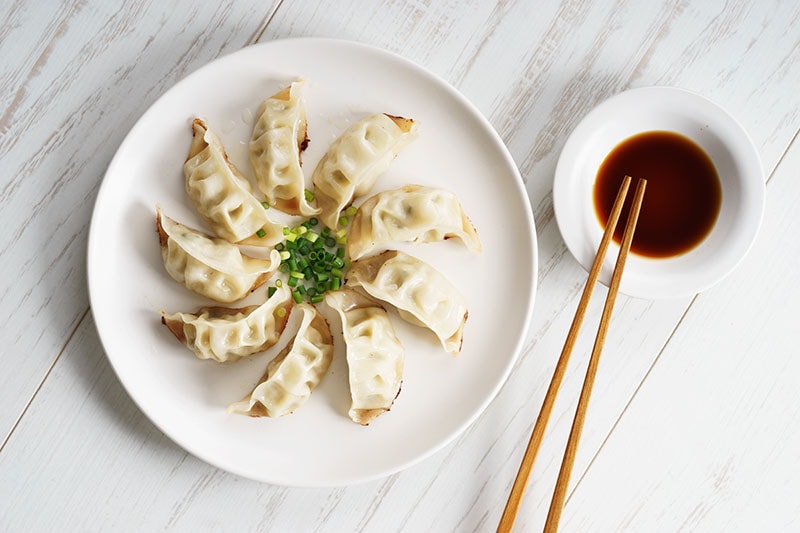 3. Flavors
Flavors separate dumpling lovers into two teams, fried and steamed dumplings. With the same ingredients, frying and steaming will turn uncooked dumplings into two dishes with completely different tastes.
Fried dumplings boast a nutty and caramelized taste as they get fried in oil. The kind of flour and oil also dictate the taste of the dough. Plus, the dumplings will absorb some oil and take on its flavor, so be careful when choosing oil to fry your dumplings.
Steam dumplings give you a more delicate taste on the outside, and they can feel bland to some people. When you bite into the dumpling inside, the juice will still burst with flavor, while the taste remains intact.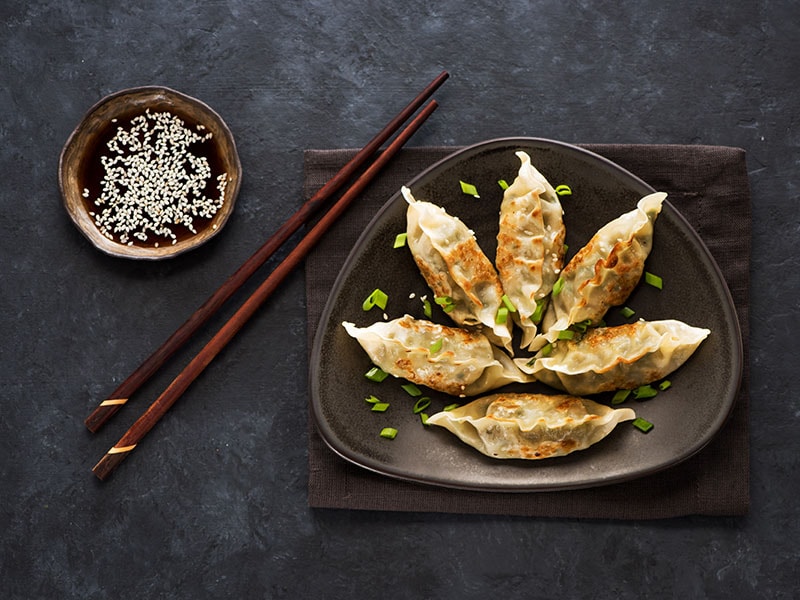 4. Visual Appeals
When fried, dumplings turn hard and remain in a fixed shape. You can easily stack them up in your lunchbox or pair them neatly with other dishes without making a mess. The classic golden brown color can mesmerize anyone at first glance.
Regarding steamed dumplings, they display a delicate and translucent look that can lighten up your meal. Some standard dumplings with ivory white color will pair well with some greenies.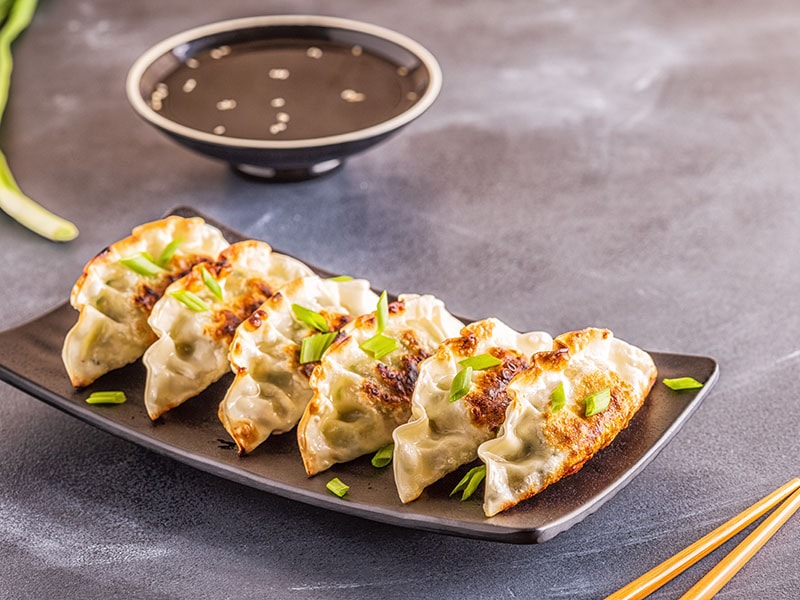 5. Health Effects
Due to being fried, dumplings absorb some oil, increasing their calorie and fat content. On the flip side, steaming helps keep the nutritional content of the food intact. Steamed dumplings are no doubt a better option in terms of health benefits since it is oil-free.
How To Recreate Dumplings At Home
Dumplings are among the most versatile dishes. You can be creative and flexible with your ingredients. There is no rule or compulsory component when making dumpling filling. As long as the ingredients pair well, you can easily combine them.
Assemble Your Dumplings
Both fried and steamed dumplings are made from uncooked assembled dumplings. You can make the dumplings for different cooking methods and slit the batch in half. Here are some steps to make a standard dumpling.
Step 1: Prepare The Filing
Mix the ingredients of the filling of your choice in a bowl. I recommend chopping the vegetables to combine with ground meat. Add spices such as pepper, garlic, green onions, oil, and fish sauce for more flavor.
Step 2: Wrap The Filling With Dumpling Wrappers
You can make the dough from scratch at home or buy dumpling wrappers at the stores. Use a teaspoon to scoop a spoonful of filling and put it into the center of the wrappers. Then, gently seal the rims of the wrappers.
Apply a bit of water and cornstarch mixture on the rim to improve its integrity and make it easier to seal. Pinch the edges together to seal the rims. There are many styles of encasing your filling with wrappers, depending on what kind of dumplings you make.
How To Make Fried Dumplings
You have done the hard part of the preparation. Now, if you want to turn your dumplings into a fried dish, prepare your dumplings and follow these steps.
Step 1: Pan-Fry The Dumplings
Heat your pan a bit and add oil. The oil should be around 325-375°F (162-190°C) before adding the dumplings to the pan with some spaces between them. Fry the dumplings for 2-3 minutes in medium heat until the outer layers turn golden brown.
Step 2: Add Water
Add ⅓ cup of water and cover the pan to steam your dumplings. By doing this, your filling can remain juicy. Wait about 5 minutes or until the liquid has evaporated before taking out the dumplings.
Let's add these yummy fried dumplings to your leisure cooking list!
How To Make Steamed Dumplings
Steamed dumplings are easier to make. Get your prepared dumplings and your steamer ready to make this simple dish.
Step 1: Prepare The Steamer
Introduce 2 inches of water before steaming the dumplings. Never put the dumplings into the steamer while the water is not boiled since that will cause soggy dumplings.
Step 2: Steam The Dumplings
Put the dumplings into the steamer. Don't put them too dense because they need space to expand. Cover the steamer and cook for 10 minutes.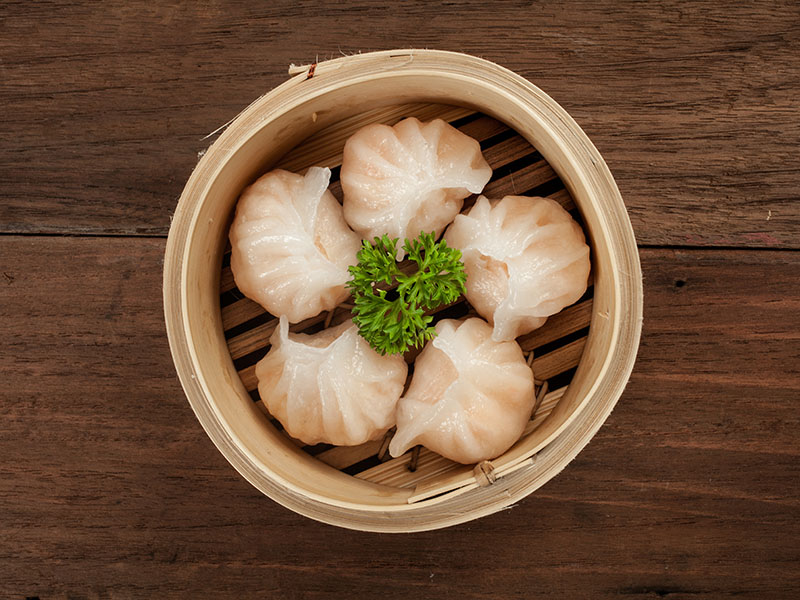 Fried Dumplings Vs. Steamed Dumplings: Who Is The Ultimate Winner?
Both dumpling recipes are delicious and come with their own merits. They have both similarities and unique features that set them apart. Fried dumplings are more blessed in the complexity of taste, while steamed dumplings are known for their simple yet exquisite taste.
If you want a fried dish with a crunchy texture and nutty taste from oil, fried dumplings are your best option. If you are looking for something light and delicate for a simpler diet, steamed dumplings should be your go-to.
Keep in mind that the sauce is also a major factor contributing to the success of these dishes. Traditional soy sauce with chili and garlic is the best sidekick of every Asian dumpling recipe.
In terms of health benefits, steamed dumplings are the better candidate. It's richer in nutrients and contains less fat and calories. Fried dumplings can absorb lots of oil and turn greasy.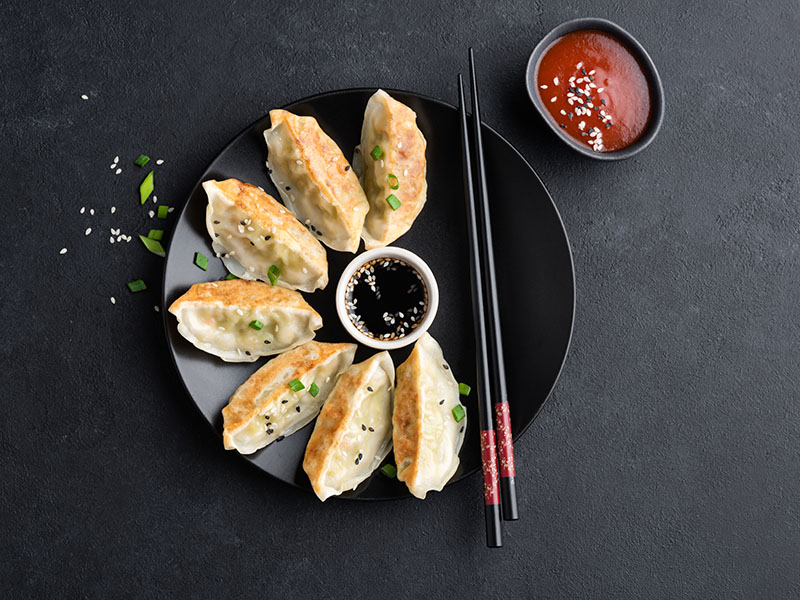 Best Dumplings Recipes You Should Try At Home
This vegan fried dumpling variant is perfect if you are looking for a light and delicious meal. The mushroom, tofu, cabbage, and spring onion make up a perfect filling combination. The chili soy sauce also complements the taste of your crunchy dumplings perfectly.
Vegan filling is no less tasty than its meat counterpart. Let's learn how to make this tasty dish!
A warm and hot potsticker recipe with a crispy outside and juicy beef inside will savor your day. This simple but tasty dish can keep you warm and full when you are down for crunchy fried dumplings.
This vegan potsticker version with ginger, mushroom, and sesame is better than most takeout dumplings out there. Each dumpling with a crispy sesame wrapper that is pan-fried to the point of amazing crunchiness will captivate anyone.
Along with sweet and spicy sesame sauce, this dish is just super delectable to have with such minimal effort. Try to make a healthy dinner for your family to enjoy every once in a while.
Filled with flavorful chicken and steamed in 20 minutes, this steamed dumpling recipe is super delicate and light for a simple day. The tasty lemon sauce will complement the flavor of the dish, giving it the savoriness it requires.
Steamed Crystal Dumplings live up to their name with a translucent and crystalized look. This delightful goodie with a delicate flavor and a bit of savoriness from the sauce will give your mouth a tender and satisfying taste.
FAQs
Dumpling is an easy and healthy dish you can try to cook at home. Preparing may take some time, but the result surely pays off. Next, I have some useful queries for you to learn about this wonderful dish.
Cook The Dumplings The Way You Love!
Dumplings are a delectable goodie and excellent in both taste and texture. How you cook the dish can decide the final result of the flavor and texture of the dumplings. You should try as many recipes with dumplings as possible to know what's best for you.
Dumplings are outstanding components to implement into other dishes. Feel free to add them to your favorite dishes for more flavor.
Thanks for reading this article. Comment your best dumpling recipes in the comment. Please like and share this on your social media to let more people know about this fantastic little food.
References
Butler, S. (2014) Delightful, delicious dumplings, History.com. A&E Television Networks.
Dumpling (2022) Wikipedia. Wikimedia Foundation.