Costco pizza types are one of the most popular pizza brands in the US. Besides the delicious comfort food, the Costco pizzas will bring your family a simple, tasty, and convenient meal.
I will introduce some of the best Costco pizza varieties, from classic pepperoni to more complex options like barbecue chicken and pesto. You can choose the best types for your preferences based on their distinct features and flavors.
All Types Of Costco Pizza
Costco pizzas first appeared in 1986 from a location in Seattle, Washington. Nowadays, the brand's pizza products reach a whopping nearly 100 million in annual sales revenue.
Costco originally offered three main pizza varieties: pepperoni pizza, cheese pizza, and combo pizza, plus side options like take-and-bake or frozen pizza. Unfortunately, the retailer has stopped offering its combo pizzas due to profit concerns.
Therefore, pepperoni and cheese pizzas are now the two main flavors you can order at a Costco retail chain. Let's overview each category's ingredients, flavor, and features.
| Features | Cheese Pizza | Pepperoni Pizza | Frozen Pizza |
| --- | --- | --- | --- |
| Ingredients | Tomato sauce, provolone, Parmesan cheese, and fresh mozzarella | tomato sauce, provolone, mozzarella, Parmesan cheese, and the pepperoni slices | Available in various ingredients, typically pepperoni and cheese |
| Taste | Cheesy and mildly sweet | Salty, spicy, and tangy, plus the mild cheesy flavor | A typical balance between sweet and savory taste, sometimes cheesy and ''squishy''. |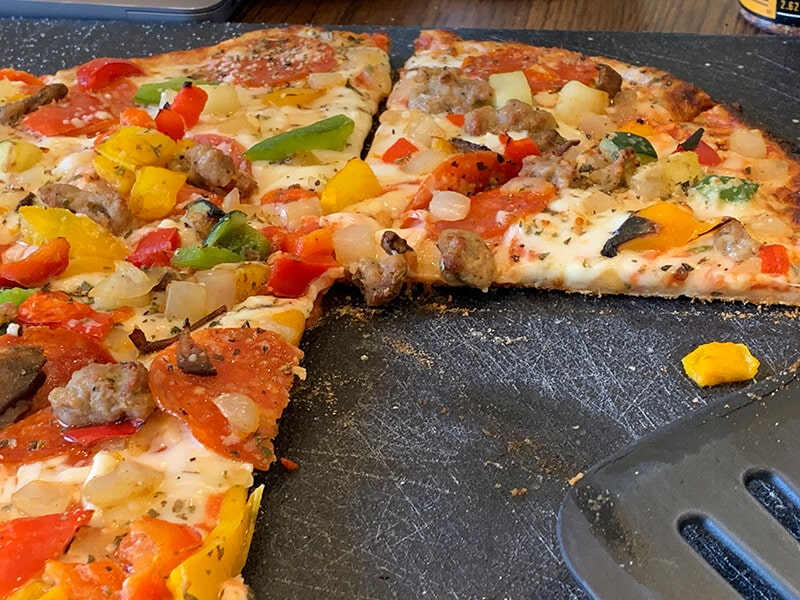 Cheese Pizza
The classic cheese pizza is everyone's favorite order at Costco. It features a crispy and filling pizza dough crust, plus tomato sauce (10,5 ounces) and a combination of provolone, Parmesan cheeses, and fresh mozzarella (24 ounces).
The cheese pizza recipe possesses many similar traits to the traditional New York-style pizzas with a thin-sized and foldable crust, plus a crispy texture. The pizza crust is generously topped with cheese and flavored with a tomato-based sauce.
This pizza variety brings a ton of cheesy flavor plus a mild sweetness that tastes like standard tomato sauce. Surrounding the chewy and filling pizza dough is a crispy crust that tastes like a biscuit mix.
Take a look at Costco cheese pizza's stunning beauty and flavors.
Pepperoni Pizza
Pepperoni pizza is basically cheese pizza with the addition of pepperoni. One typical pepperoni pizza features ingredients like tomato sauce, provolone, mozzarella, Parmesan cheese, and pepperoni slices.
All pepperoni pizzas have exactly 60 pepperoni slices, ensuring each bite you take features a similar pepperoni flavor. Like cheese pizza, pepperoni pizzas are also foldable with a crispy crust.
The cheesy taste of the pepperoni creation is milder than the cheese varieties. Meanwhile, the tomato-based sauce offers a hint of tanginess that combines excellently with the pepperoni slices' salty, spicy, and tangy flavors.
Don't skip this review to get to know about the pepperoni pizza flavor.
Frozen Pizza
If you feel lazy attending a pizza store whenever the hunger kicks in, the Costco frozen pizza is a brilliant choice. Frozen pizza from the store's frozen food section is available in wide varieties, including pepperoni, mini-sized pizza, and gluten-free options.
You just need to follow the product's instructions and bake the pizza in your microwave for a quick and convenient meal. The frozen pizza can last long in your freezer and bring a delicious taste, just like the baked products offered at the food court.
Costco Pizzas Topping
Tomato-based sauce, pepperoni, and cheese are the only basic ingredients of a Costco pizza. There are many other topping options offered by the brand, such as pineapple, green peppers, olives, red onion, mushrooms, and sausage.
Costco Pizza Sizes, Slices, And Preparation Time
The sizes and number of slices of Costco pizza are nearly identical for both cheese and pepperoni types. A whole Costco cheese or combo pizza has 18 inches in diameter, while the pepperoni pizza features an additional 16-inch diameter option.
A pepperoni or cheese pizza contains 12 slices, while a combo pizza can be divided into 18 slices. Each combo pizza takes 15 minutes to prepare, which is longer than the other flavors (6-12 minutes).
| Features | Pepperoni pizza | Cheese pizza |
| --- | --- | --- |
| Number of slices | 12 | 12 |
| Diameter | 16-18 inches | 18 inches |
| Preparation time | 6-12 minutes | 7-12 minutes |
Costco Pizza Nutrient Content
The calorie content of Costco pizza varies depending on its toppings and size. On average, a Costco pizza slice contains around 650 to 710 calories. Meanwhile, a pizza with 12 slices contains around 3880 to 4210 calories.
Since Costco pizzas are significantly larger than the other brand's products, their calorie content is higher.
In addition, the cheese pizza flavor contains higher calories than pepperoni, with 710 calories per slice. The increased calories come from the abundant cheese it has, which is 1,5 pounds compared to only 14 ounces on pepperoni pizzas.
| Features | Pepperoni pizza | Cheese pizza |
| --- | --- | --- |
| Calories per slice | 650 calories | 710 calories |
| Calories for a whole 18-inch pizza | 3880 calories | 4210 calories |
How Do You Order Costco Pizza?
You can make your order in person at a Costco store or place your pickup order via phone. If you don't know any nearby Costco pizza stores, access the brand's website and look for the nearest address using its warehouse locator.
The locator will show the nearest locations based on your city zip code and home address. If you want to attend the store, check its operating hours and services. The warehouse locator will also provide each store's phone number.
Tips For Ordering Pizza At Costco
The first piece of advice is to always call the store at least 15 minutes before attending it. It will help you avoid the long queue and conveniently get your pickup. You can increase the time to 1 hour during peak hours.
If you want to shop around the Costco shops, ensure that you make your order right after checking in. The pizza will be prepared when you take a shop detour at the food court, helping you avoid wasting unnecessary time.
Is Costco Pizza Available For Delivery?
One major setback of Costco is that it doesn't support delivery services and online ordering for its products. The only way you can order a Costco pizza is to call the stores or order directly at the food court.
However, some Costco pizza retail stores still support third-party delivery services for their pizzas.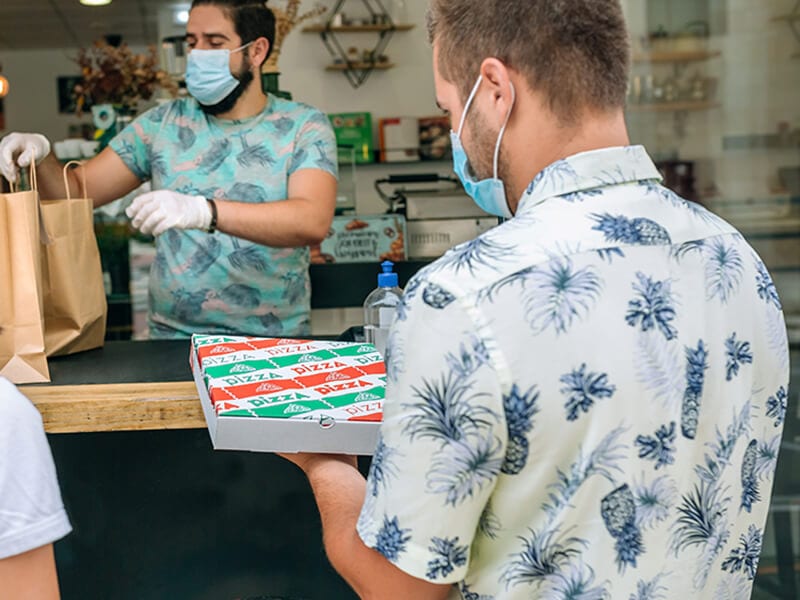 Should You Get A Costco Membership?
You can freely visit a Costco store and order food without a membership. However, some Costco Warehouse addresses place their food courts inside, which is only accessible to customers with a membership.
However, you can get around this rule by bringing along a person who subscribed to the Costco membership program. You can also use the member's card to enjoy the program's benefits without his presence.
Another trick is to pretend to go to the food court to buy these products and grab a Costco pizza, though you still need to pay in cash.
The membership brings various benefits, such as generous discounts on the brand's food, including pizza. Meanwhile, you can consider your habits and lifestyle to decide whether a Costco membership is worth it.
In addition, the membership allows you to purchase the pizza in slices using the membership card. Without the membership, you must purchase the whole pizza and pay cash.
With a 2% reward program, the membership is suitable for large families who want to purchase a large portion of food from Costco.
How To Prepare A Similar Costco Pizza At Home
Not everyone has time to attend a Costco pizza store whenever hunger strikes. In addition, preparing a pizza at home can save you a ton of money and allow you to customize its taste and toppings.
Here are the ingredients you need to make a homemade pizza that taste just as good as Costco's food.
One pizza crust (store-bought)
Marinara sauce (one jar)
Mozzarella cheese (one bag)
Pepperoni (one package)
Start with spreading marinara sauce, followed by mozzarella cheese and pepperoni toppings, on your pizza crust. Then, bake the pizza crust in a preheated oven (350 °F) for 15 minutes. Slice the pizza when the cheese melts to serve!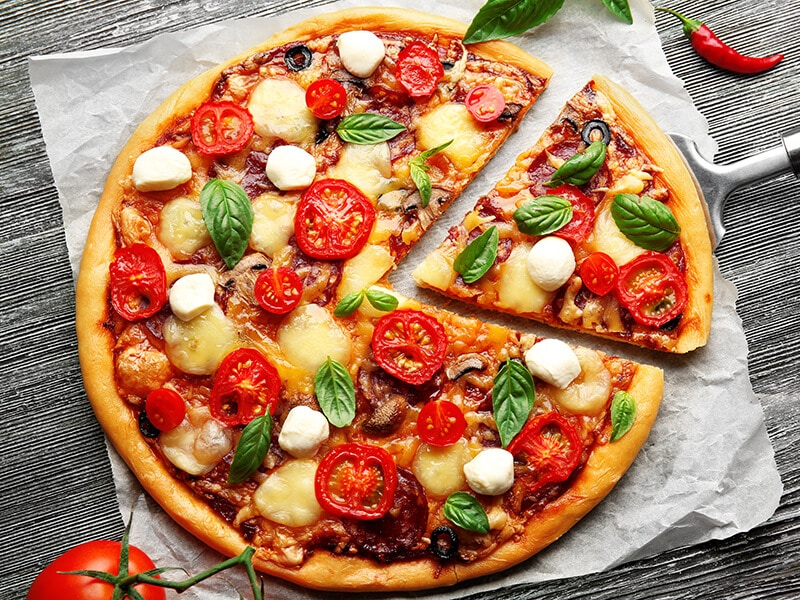 FAQs
Do you love Costco and its food quality? If the answer is yes, check out the sections below to discover more interesting facts about Costco pizzas.
Costco Is One Of The Best Pizza Brands In The World
The Costco pizza types come in diversified flavors and textures. From traditional cheese pizzas to everyone's favorite pepperoni, you can always find the best varieties for your preferences and occasions.
You may have found your favorite pizza flavor, but don't hesitate to try all the varieties available at Costco. Their stunning flavors and tasty textures won't ever cease to surprise you.
Before you go, please leave me a contributing comment and a thumbs up if you love the information and details provided. A share for this post would be the best gift of my day. Thank you for reading!
References
Costcofoodcourt.org. 2023. Costco Pizza. [online].
Businessinsider.com. 2015. Costco Is Becoming One Of The Most Popular Pizza Chains.