You may have eaten pizza leftovers all your life, but can you eat cold pizza? Is it really safe to consume pizza that is left in the fridge for some time? Will eating cold pizza affect your health? The answers to those questions are right here in this article.
Many people assume that cold pizza wouldn't hurt anyone. But now, you can know for sure if it is a good practice or not. This article will provide you with the correct information to protect your health.
So, are you ready to acquire thorough knowledge about eating cold pizza? If so, do not go anywhere else: allow me to walk you through these matters!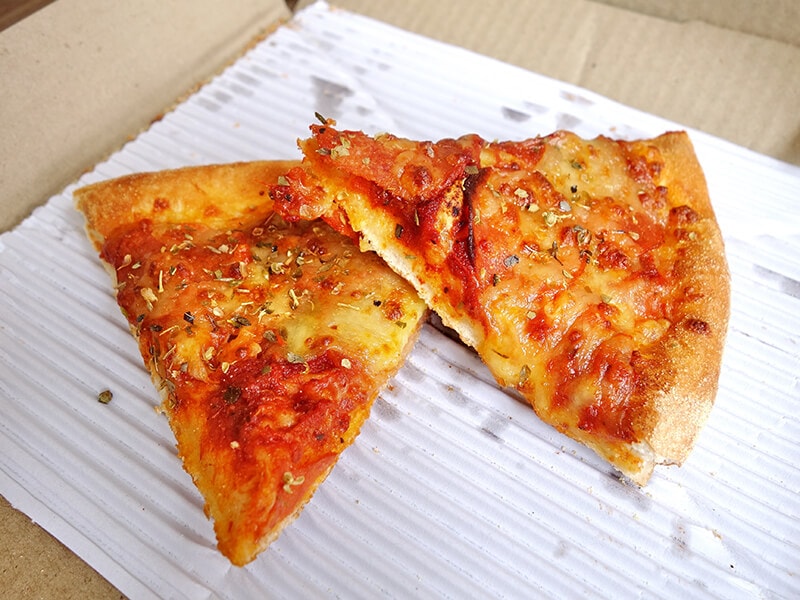 Can You Eat Leftover Pizza: Uncover The Truth
Pizza is such a popular meal not only in the U.S. but also around the world. In fact, many moms and dads love to order extra pizzas and save them for another meal. Some people would enjoy reheating leftover pizza, while others prefer eating it cold, but is it safe?
Proper Storage Is The Key
Pizza, even when it is cold, is an irresistible temptation. How good it is to grasp a slice of leftover pizza from your fridge and enjoy it! I do not think that someone would stop at that moment to question whether they can eat cold pizza.
Thankfully, pizza is a kind of food that you can safely consume its leftovers. However, just like other perishable foods, leftover pizza lasts for a certain amount of time only. Especially when they are at room temperature, it is best to consume them within 2 hours.
Pizza provides a good sort of nutrients for various kinds of bacteria to breed in. When the temperature is warm enough, between 40 °F and 140°F, it helps the bacteria to grow rapidly.
So, if you would like to enjoy your leftover pizza for a couple of days, make sure that you store them in the fridge. Wrap or cover the pizza completely or use a shallow container, then refrigerate it. Your pizza should be safe to eat cold for 3 to 4 days in that state.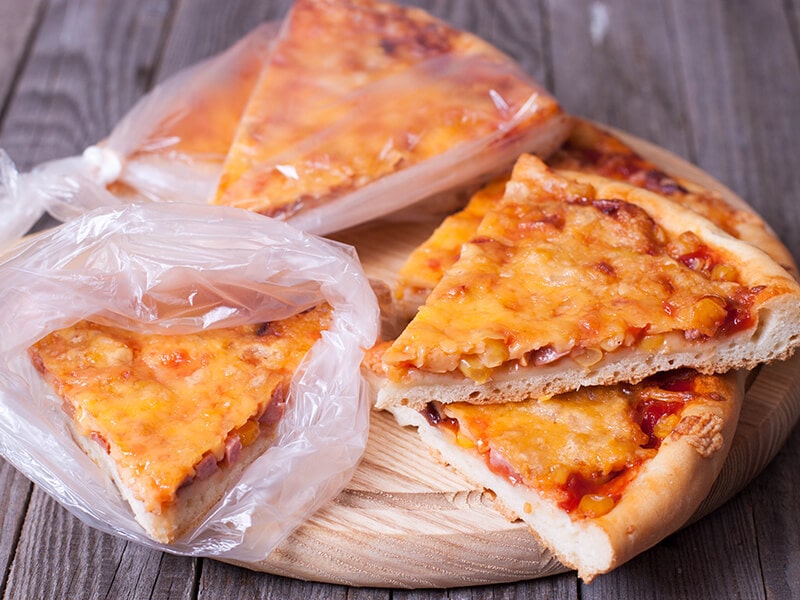 Does Eating Cold Pizza Cause Any Food Safety Risks?
When time, temperature, and storage guidelines are followed, cold pizza is good to eat without any health effects. However, when you leave pizza out at room temperature for too long (like overnight), it could cause safety concerns.
Many pizza ingredients, including the dough, sauce, cheese, and toppings, are perishable. Therefore, when you forget to refrigerate your pizza, it becomes a delicious meal for bacteria. The bacteria multiply quickly and produce toxins that hurt the immune system.
In that case, there is little you can do to salvage your pizza. Noticeably, even when you thoroughly reheat the leftover pizza and kill the bacteria, their toxins still remain. Two instances of this bacteria type are staphylococcus and Bacillus cereus.(1)
You may suffer from foodborne illness when eating contaminated food. Feeling its symptoms can start from a few hours to a couple of weeks after food consumption. The frequent symptoms are an upset stomach, diarrhea, vomiting, or fever.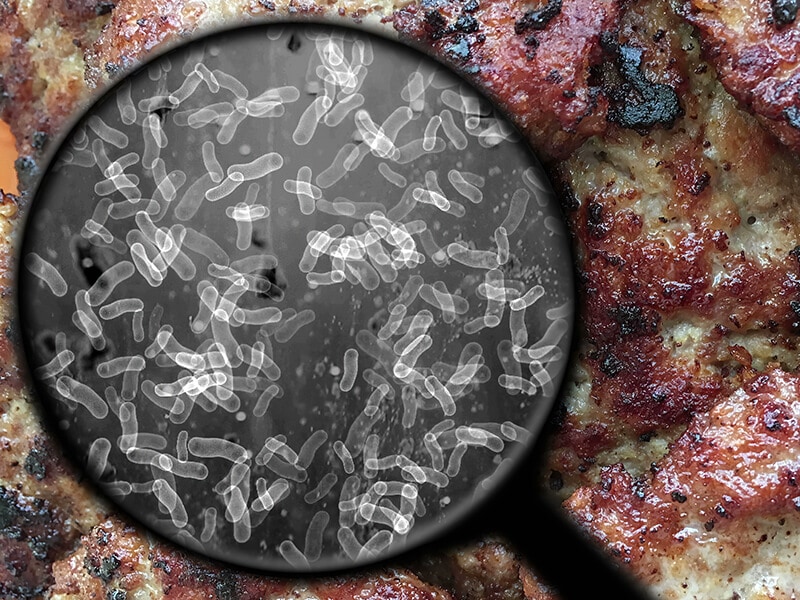 How To Consume Cold Pizza Safely?
Pizza is no doubt a favorite choice of many on a Friday night or for a relaxing weekend. Although pizza can be eaten hot or cold, you want to both enjoy it and eat it safely. Therefore, educate yourself about the time and temperature rules below to avoid any possible health concerns.
Follow The 2-Hour Rule
According to USDA, perishable foods which are left at room temperature for more than 2 hours should be discarded, and pizza is no exception. Consuming food kept between 40°F and 140°F for more than 2 hours is not safe.(2)
Refrigerate Pizza Between 14° F And 40°F
If you have leftover pizza, you should refrigerate it in temperatures ranging from 14°F to 40°F within 2 hours. Then, it is good to eat for 3 to 4 days. You can eat it cold from the fridge or reheat it if you prefer. I will talk about different ways of heating cold pizza in the section below.
Remember to always wrap or cover your pizza before you put it in the fridge. There are several reasons why you should do it. Firstly, it keeps your fridge from an unpleasant smell.
Furthermore, it prevents dangerous bacteria from uncooked foods in the fridge from penetrating your cooked pizza. Last but not least, your pizza won't dry out if covered carefully.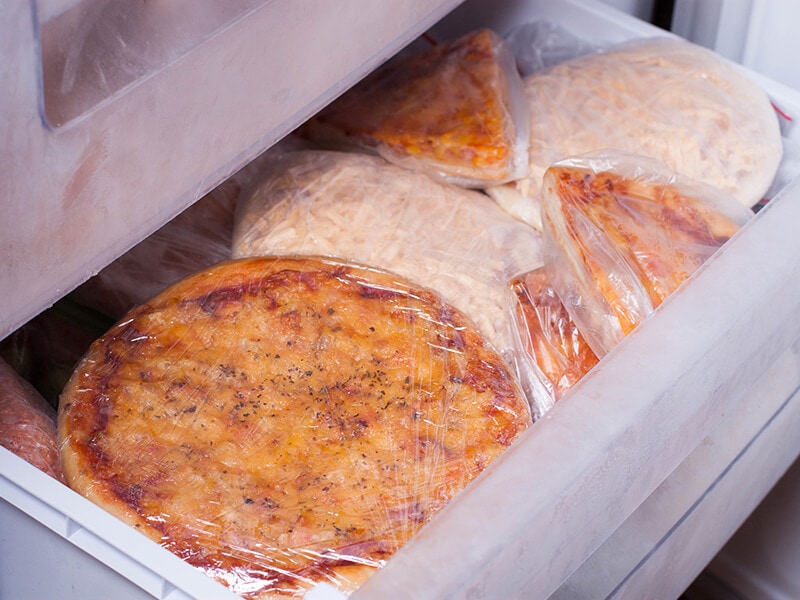 Freezing Pizza For Longer Storage Time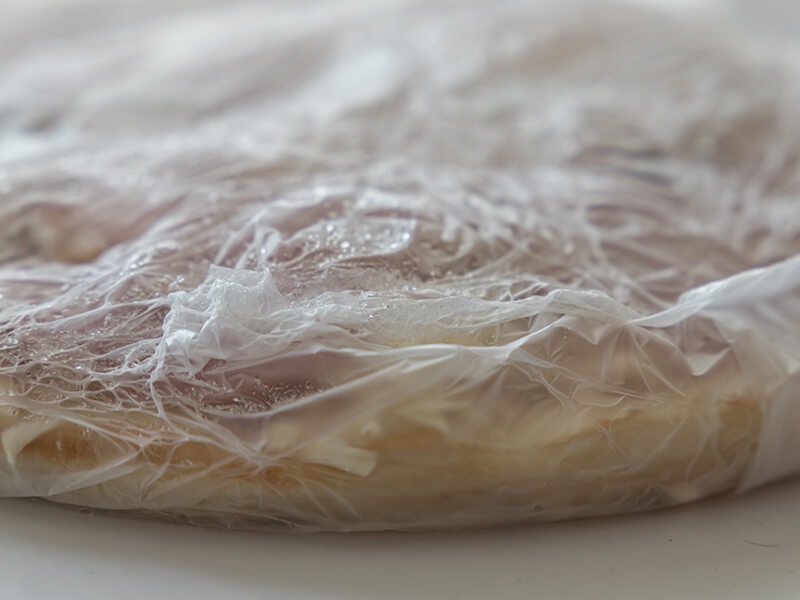 What if you have ordered or made so many pizzas that there is no way you can eat them all in a couple of days? What should you do to save your pizzas for a longer time? The answer is easy: Freeze them! Frozen pizzas can last for 1 to 2 months.
Let me mention a few ways to easily store your leftover pizzas in the freezer. The most popular way involves zipper bags. They are extremely useful in storing leftovers like pizzas, and they work well with both refrigeration and freezer.
If you have air-tight containers, you can place pizzas in them to freeze. Failing that, you can cover pizzas tightly with plastic wrappers or aluminum foil.
When you want to have cold pizza for a meal, defrost the frozen pizza by pulling it out of the freezer and letting it sit at room temperature to thaw; or you can microwave it for about 1 minute and let it sit for a few minutes. Then, your leftover pizza once again becomes a treat.
Let's learn the proper way to freeze leftover pizza here.
Why Do People Like Eating Cold Pizza?
Hot pizza is no doubt a food delicacy. Yet, many prefer eating this food cold rather than reheating it. Why is that? Let me give you some of the reasons for eating cold pizza. If you haven't tried this type of pizza before, give it a go!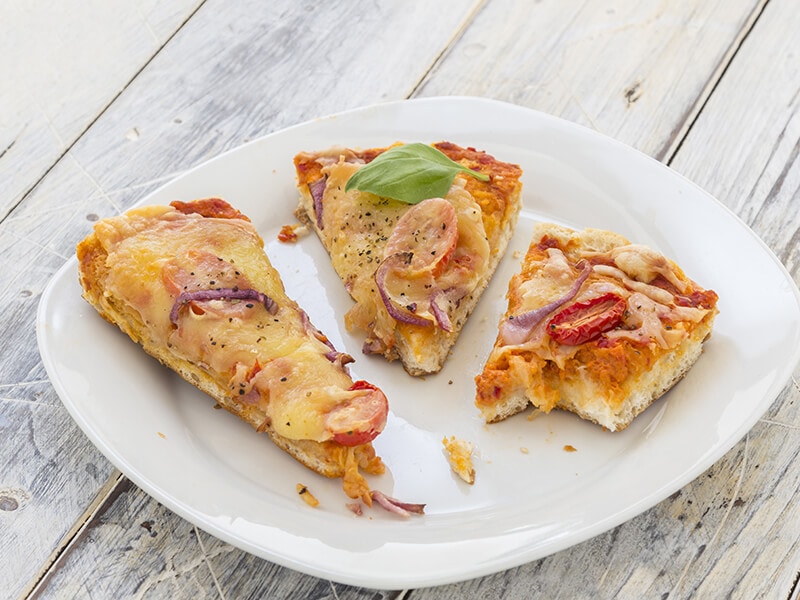 Cold Pizza Is A Convenient Meal
Are you happy to find some pieces of leftover pizza in the fridge? I am! Cold pizza is such a quick and easy choice for a meal. You can just grasp a piece without spending any time or energy to reheat it. That's why many people would love to have pizza leftovers.
The Quality Of Cold Pizza Is Constant
Pizzas are fickle in flavor. Even though you may try the best way to reheat leftover pizza, it cannot taste exactly the same as it was when it was first out of the oven.
Rewarming cold pizza can cause negative changes to its texture and form. Depending on how you reheat the pizza, it may result in a soggy or hard crust. Also, melting the hard cheese could alter its flavor and texture.
Besides, during the reheating process, the sauce and toppings cannot remain in their right place perfectly. By contrast, you don't have to encounter these problems with cold pizza. Everything stays where it is when there is no reheating.
Cold Pizza Has A Rich Taste
Pizza tastes quite different when it is cold, inducing many people to enjoy it in this state. When the pizza has time to cool down, it blends all the flavors well. Therefore, you can taste its richness in each bite.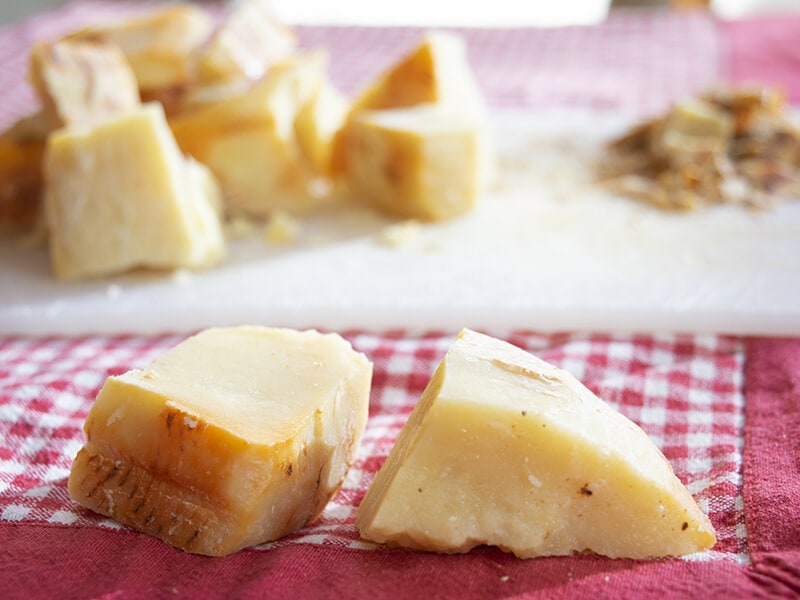 Does Cold Pizza Taste Better Than Hot Pizza?
Which way of eating pizza is better: hot or cold? I believe that there is no wrong way of eating pizza. While hot pizza with melting cheese and crispy crust makes your mouth water, cold pizza has its own unique taste. Before learning more about this matter, let's look at the comparison table below.
| Layers | Hot pizza | Cold pizza |
| --- | --- | --- |
| Crust | Crispy and crunchy, | Sweeter and chewier |
| Cheese | Runny, melting | Hardened, solidated |
| Sauce | Juicy, greasy | Sharper, stronger garlic flavors |
| Ideal toppings | Diverse (especially seafood and vegetables) | Diverse (especially pepperoni, chicken, bacon, and sausages) |
Crust
While a hot crust gives you the balance of crunchiness and tenderness, a cold crust texture changes to be chewier. Leaving leftover pizza in the fridge for some time also makes its crust sweeter, with the separated layers united into one wholesome version.
I think a thin-crust pizza might be a better choice than a thick one because when the pizza is cooled down, an overly thick crust can become somewhat harder. Wrapping your leftover pizza carefully to reduce this side effect.
Cheese And Sauces
Time makes the herbs and seasonings reach their full effects. It seems like the longer the pizza is "marinated", the better it tastes. As a result, It has a more pronounced aroma, while its sauce tastes sharper and thicker.
To top it off, the cheese provides a delightfully different mouthfeel when cold. Hardened cheese also has its own flavor, so combining it with the solidated fat will enrich your cold pizza abundantly.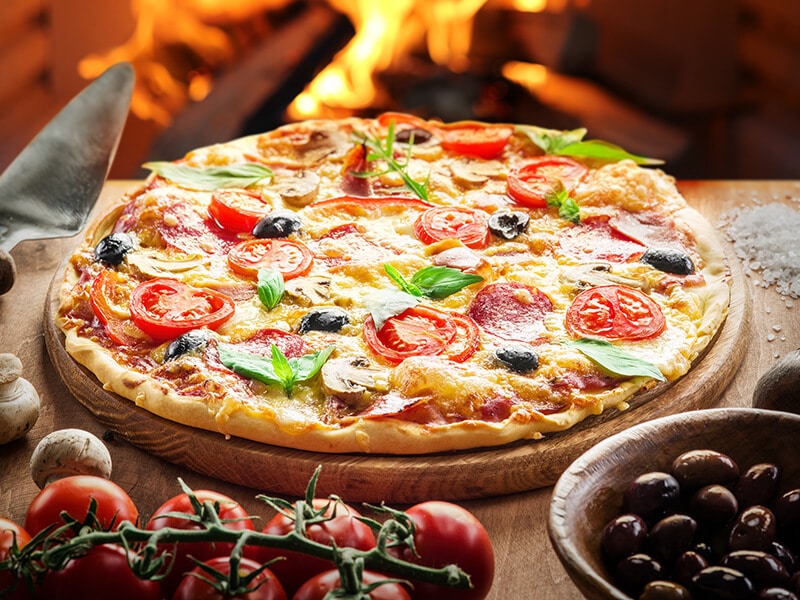 Toppings
Not everybody has the same taste and preferences for pizza topping choices. Some are meat lovers, while others prefer seafood or vegetables on their pizza. A few toppings taste fantastic in their hot forms and vice versa.
There is actually no fixed rule for that. But any pizza lover knows that most meat toppings, such as chicken, beef, sausages, or pepperoni, are fine when they are cold.
Meanwhile, I always like to have seafood and vegetable pizzas as hot and fresh as possible. Besides, some kinds of cheese pizza become rubbery when eating cold, so heating them up brings a more delightful meal.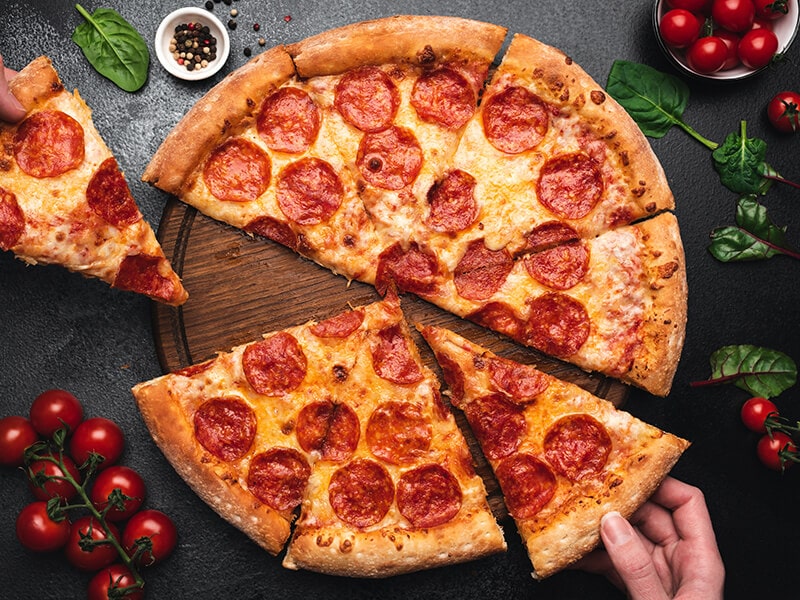 How To Tell If Your Pizza Has Gone Bad
Pizza does not last for a long time. Especially when it is not properly stored, it can easily go bad. No matter how much you love and want to keep your old pizza, discard the pizza if you see these signs of spoilage.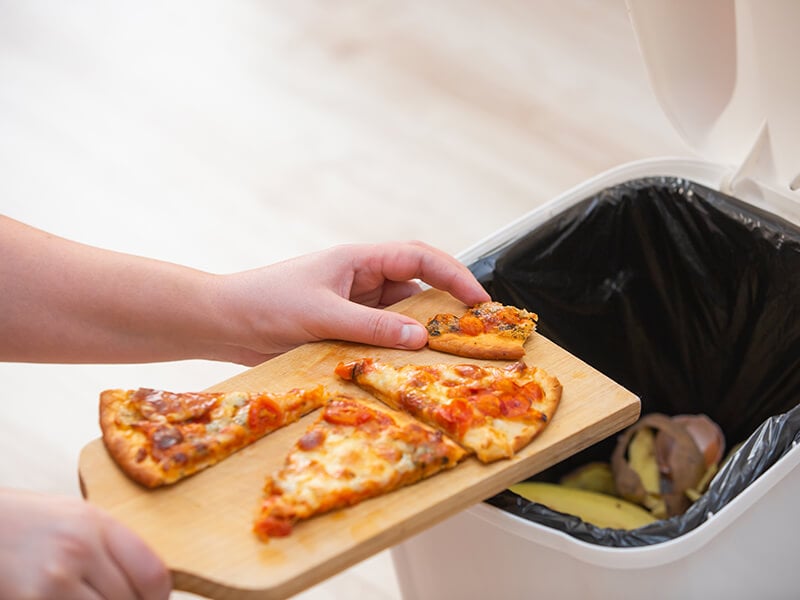 Mold
If you forget to refrigerate your pizza leftovers or let them sit in the fridge for too long, you may see signs of mold growth. Molds can have different colors, such as black, white, green, or orange. When you see these strange spots on your food, discard them immediately.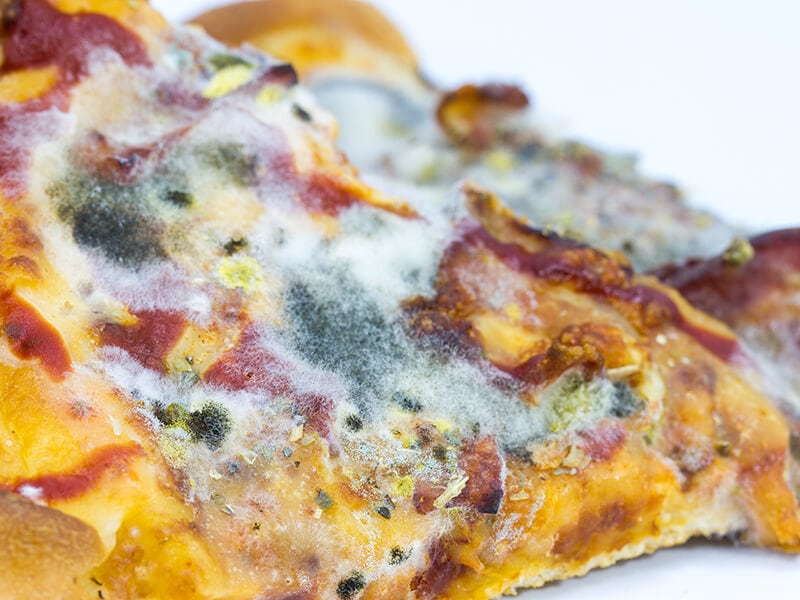 Bad Odor
What happens when you smell a hot pizza that has just come out of the oven? Your mouth starts to water. You love the smell of it. However, spoiled pizza has an odd and undesirable odor.
As soon as you smell a slight difference in the leftovers, for example, a rancid or alcohol-like odor, don't try to eat them. They should be thrown into a trash can.
Hard And Dry Crust
No one wants a tough and dry pizza that may become overly hard because it has passed its due date. In addition, a long time in the fridge or freezer can cause pizzas to dehydrate and develop a stale taste.
Terrible Taste
When you look at the pizza and can't find any signs of spoilage, then its taste will be the indicator of whether it is still edible or not. If the first bite of it brings a sour or an "off" taste, you mustn't continue eating or even reheat it.
Slimy Toppings
Don't hesitate to discard your pizza when the toppings are runny and smelly. When you see or touch the toppings and there is an unusual sticky liquid, then the pizza has already spoiled.
How To Reheat Cold Pizza?
Reheating pizza is a simple task, especially when there are so many useful kitchen supplies available. In this section, I will show you 4 easy ways to reheat your pizza. So, stay tuned and keep on reading!
Using An Air Fryer
With an air fryer, you don't have to take a lot of time and effort to cook or clean up after cooking. In terms of reheating your leftover pizza, it will bring a crispy crust and evenly heat the toppings.
So, how do you reheat cold pizza in an air fryer? All you need to do is to lay an aluminum foil or perforated parchment paper to prevent melting cheese from sticking. Then place a few slices in the basket and set the time for 3 to 5 minutes.
How many pieces of pizza you can reheat at one time depends on the size of your air fryer. Meanwhile, the size of your pizza affects its reheating time. The more and thicker slices may need an extra 1 – 2 minutes to make them crispy and well-heated.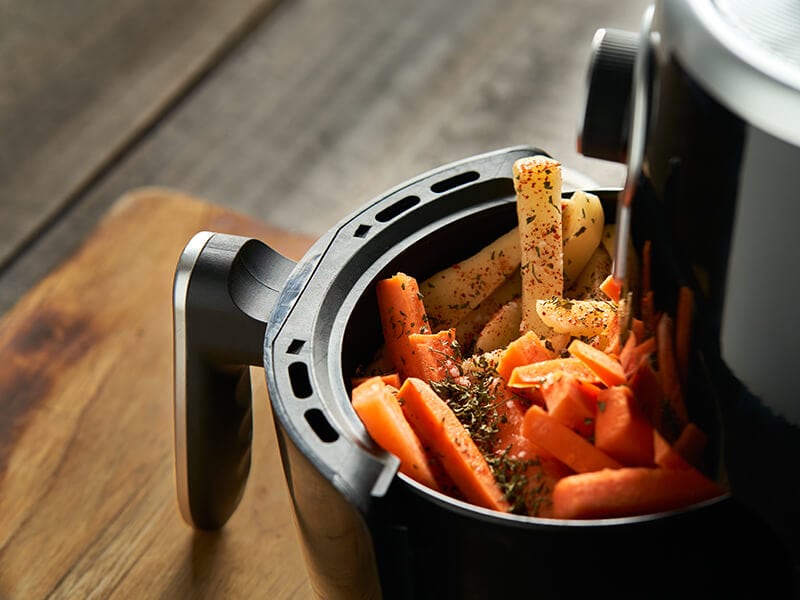 Using A Microwave
Sometimes when you reheat cold pizza in a microwave, it turns out to be soggy and floppy. But don't you worry! Here is what you can do to avoid that from happening.
When you place your pizza slices on a plate and put them in the microwave, don't forget to also put a cup of water in it too, and time it for 30 seconds. The water helps heat the pizza slowly and evenly without any significant loss of moisture.
Learn how to reheat a plate of pizza in the microwave with this great tutorial.
Using An Oven
Preheating cold pizza in an oven would take more time than the other ways. In return, you can reheat a whole pizza or get its quality as good as freshly made one. Here are the 3 steps to follow.
Step 1: Preheat The Oven
Just as when you bake or cook food in the oven, you need to preheat the oven to 350°F before heating up your cold pizza. If you would like a crispy crust, you could use a pan and reheat it.
Step 2: Place The Pizza In The Oven
When the oven is preheated, you can place the pizza slices on a sheet of aluminum foil and put them on the oven rack for even heating. In case you desire a crispier result, put the pizza on a preheated sheet pan.
Step 3: Bake It For 10 Minutes
After that, set the timing for about 10 minutes. You can adjust the time according to how crispy you prefer your pizza to be. Allow it to cool down to a safe temperature, then enjoy your delicious pizza.
How to preheat cold pizza in an oven the right way? Check it out!
Using A Pan On A Stove
Preheating pizza on a stovetop is a quicker method than on an oven. When you only have a few pieces of pizza leftovers, you may want to use a stovetop. This way also gives you a crispy and juicy pizza.
Step 1: Heat A Skillet Pan On The Stove
The first step is to put a skillet pan on the stovetop and heat it up on medium heat. You don't have to pour any cooking oil or liquid into it.
Step 2: Place The Pizza On The Pan
Next, add your pizza slices to the heated skillet. In this step, you can add a few drops of water onto the pan to maintain the moisture level of the pizza. Be careful not to let the water soak into the pizza.
Step 3: Cover The Pan And Heat It Through
Finally, quickly cover the pan with its lid. Cook the pizza for a few minutes until the cheese is melted. Be careful, though. You should not leave it unattended while cooking the pizza, or it can easily burn.
Learn to make the crispy crust by preheating leftover pizza on a stovetop.
FAQs
I have listed other related questions that you may also want to know here. So, take a few minutes to read them, and then you can clear all the matters regarding eating cold pizza.
Remove Your Doubt About Eating Cold Pizza
The verdict is clear: it is mostly safe to eat cold pizza. If you have eaten cold pizza before and still feel unsure about this matter, you can now rest assured about its safety.
What about those who have never tried eating cold pizza before? You may want to try and see what difference it has in the taste. Perhaps, you would end up loving cold pizza. However, I would like to emphasize following food safety guides to prevent any health concerns.
Thank you for staying and reading my post to the end. I hope that you have already learned how to eat cold pizza safely and enjoyably as well as useful ways to preheat leftover pizza perfectly.
If you think that this article would be helpful to your friends and family, please share it with them! Many thanks!
References
Food safety myths (no date) Washington State Department of Health.
Food Safety and Inspection Service (no date) Safe Handling of Take-Out Foods | Food Safety and Inspection Service.