Do you love eating peaches and often wonder, "can you eat peach skin"? Do you want to try eating the whole peach straight from the store but are afraid that the skin might be harmful? If so, you've come to the right place.
In this post, I will answer all your questions regarding peach skin in detail and give you useful tips on how to wash and peel peaches. In addition, you'll also learn some delectable recipes to make full use of this wonderful fruit. Let's dive right in!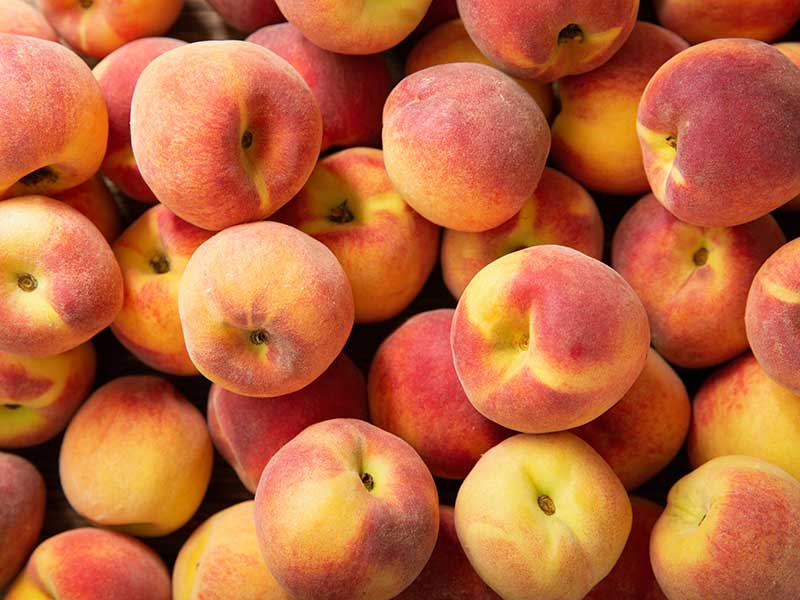 Essential Information About Peaches
Before getting to today's main question, here is the basic information about peaches, a delicious and nutritious type of fruit that everyone should try.
The peach, scientifically called Prunus persica, is a fruit-bearing tree that originated in Zhejiang province (China). It's in the same genus as the almond, apricot, plum, and cherry, meaning the peach is also a stone fruit. (1)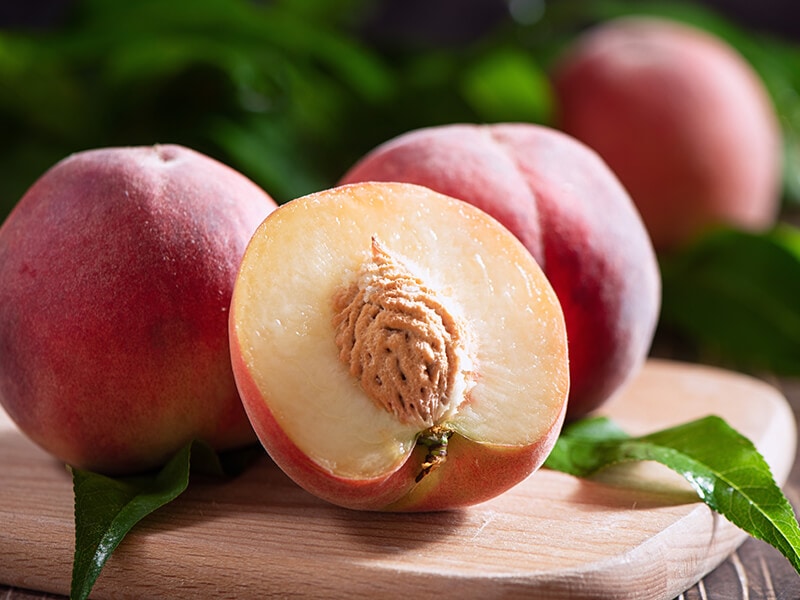 Depending on the variety, the peach can have red, pink, or orange skin and yellow or white pulp. Most cultivars are fuzzy on the outside, except for the nectarine, a glossy and fuzzless variation. There are 3 main categories of peaches:
Clingstone
As the name implies, clingstone peaches have juicy and sweet flesh that hangs tightly onto the stone in the middle. The soft pulp of these fruits is especially great for making canned peach, one of the most well-loved kinds of canned fruit, and other processed food.
Note that you might need help finding these fruits easily at grocery stores. If you want to try clingstone peaches, you should look for them in farmer's markets during the peak of summer. Arctic Supreme and Donut peaches are famous varieties in this group.
Freestone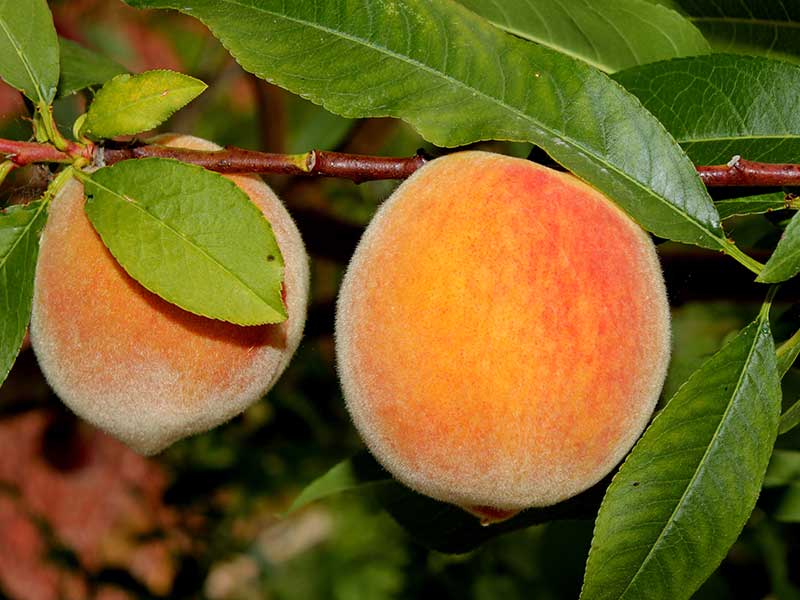 On the other end of the spectrum, you have freestone peaches, which come with flesh that freely comes off the pit. They are firm and are a favorite choice for snacking and baking. Thanks to their extended harvest season, freestone peaches are typically easy to find.
Elberta, Belle of Georgia, and Early Amber are popular species in the freestone category.
Semi-Freestone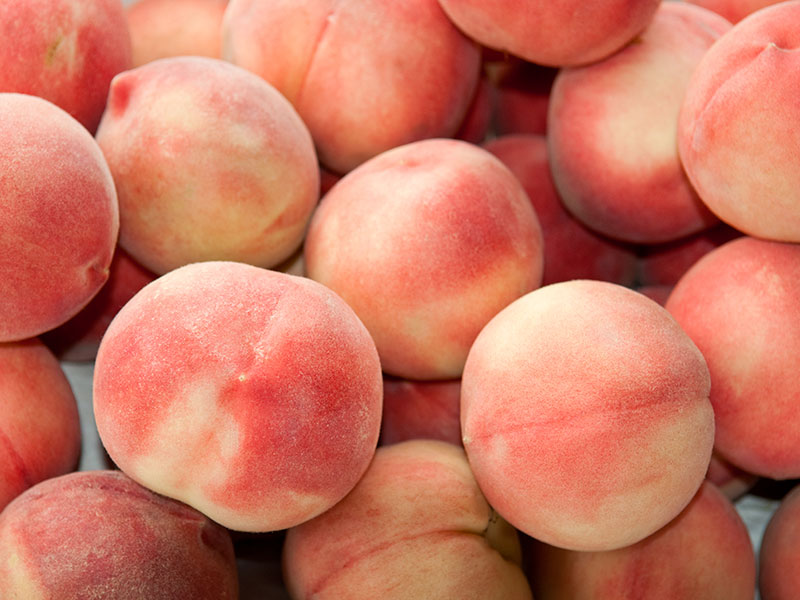 These peaches are a combination of the above two groups. When they're still green, the flesh stays attached to the inner stone. However, it gradually loosens as the peach becomes ripe.
The best thing about semi-freestone peaches is that they're incredibly sugary and juicy, making them an ideal option for various uses. Besides, they're typically commercially available in grocery stores and easy to prepare. Babcock, Dixie Red, and Red Haven are among the most well-loved options.
Learn more interesting facts about peaches and how farmers grow them.
Is Peach Skin Safe To Eat?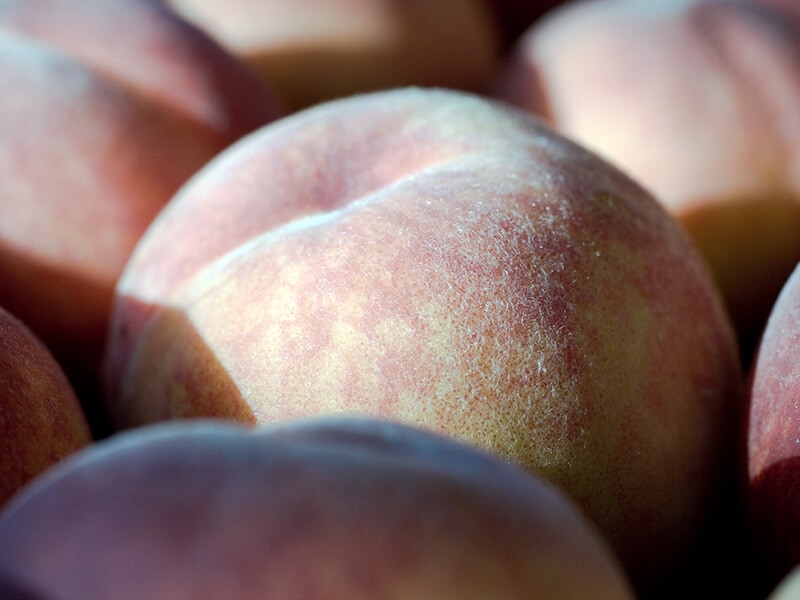 So, should you eat or get rid of peach skin? Fortunately, the skin of a peach is generally safe to consume.
But what about the fuzz on peach skin? One of the most convincing theories is that peaches develop fuzz on their delicate skin to protect themselves from insects, moisture, and other external factors. This is because the peel on a peach is not nearly as thick as other fruits, such as apples or pears.
For example, the fuzzy surface can ward off insects and make them less likely to lay eggs on the fruit. It also acts as a barrier to keep moisture, one of the main reasons for peaches' premature rotting, away.
It is not poisonous and is simply a natural feature of the fruit. So, don't be afraid; just enjoy the distinct fuzzy texture on the skin that a peach offers. However, if the skin's fuzziness bothers you too much, you can opt for nectarines instead.
One important thing to remember is that you should always wash your peaches carefully before eating them with the skin on. Although the skin does not contain any harmful substances naturally, it can soak up the pesticides used in the growing process.
Even when you buy organic peaches, rinsing is necessary to remove dust, bugs, bacteria, and other impurities that might have stuck to the skin.
If you don't know how to properly wash and clean peaches, keep reading, as there will be a whole section dedicated to this subject below!
Eating Peach Skin Is Beneficial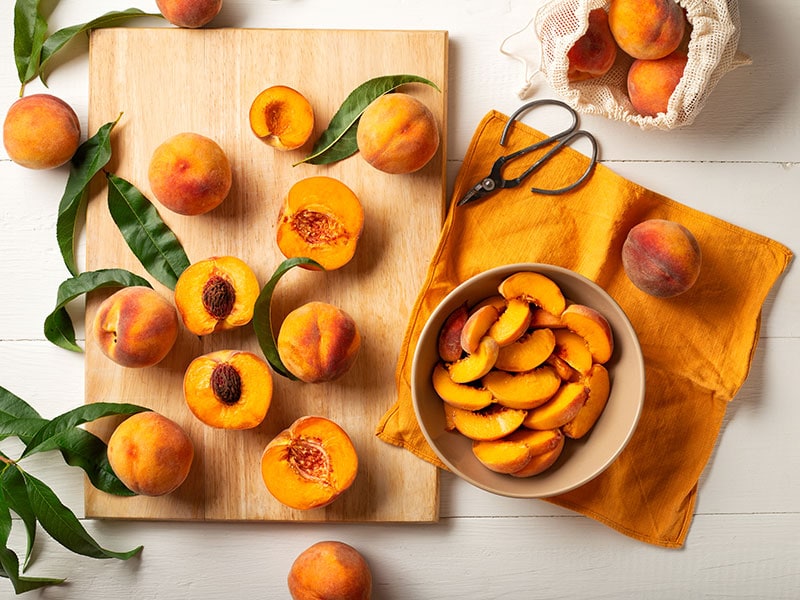 Not only is it perfectly safe to enjoy peach skin, but doing so might even provide you with other benefits. The following are some surprisingly positive outcomes of eating unpeeled peaches.
Provide Your Body With Vitamins And Minerals
Peach skin contains a significant amount of vitamins and minerals, particularly vitamin A. Getting enough vitamin A is essential for maintaining healthy vision, skin, bones, teeth, and reproduction.
The Skin Is A Rich Source Of Antioxidants
The antioxidants in peach skin will hugely aid your skin, specifically in fighting off signs of aging, reducing acne, preventing sunburns, and providing you with glowing skin. More importantly, these substances also protect you from cancer.
Add More Fiber To Your Diet
If you have digestive issues, eating peach skin may be able to help with that. In fact, the peel contains a large portion of the fiber found in peaches. Essentially, fiber can assist digestion, prevent constipation, and keep you feeling fuller for longer. (2)
Reduce Food Waste
Preventing food waste is one of the simplest and most effective actions to help the environment, save money, and even fight world hunger in the long run. So, consider skipping peeling the skin off the next time you eat peaches.
Better Flavor And Texture
Some fruits, such as peaches, taste better when eaten with the skin on them. The peel adds extra flavor and crunch to the flesh, creating a more satisfying mouthfeel.
By removing the skin, you will miss out on how delicious eating a whole peach can be. The peel generally has a subtle and tart taste, while the short hair makes it a little leathery.
Potential Risks To Be Aware Of Before Eating Peach Skin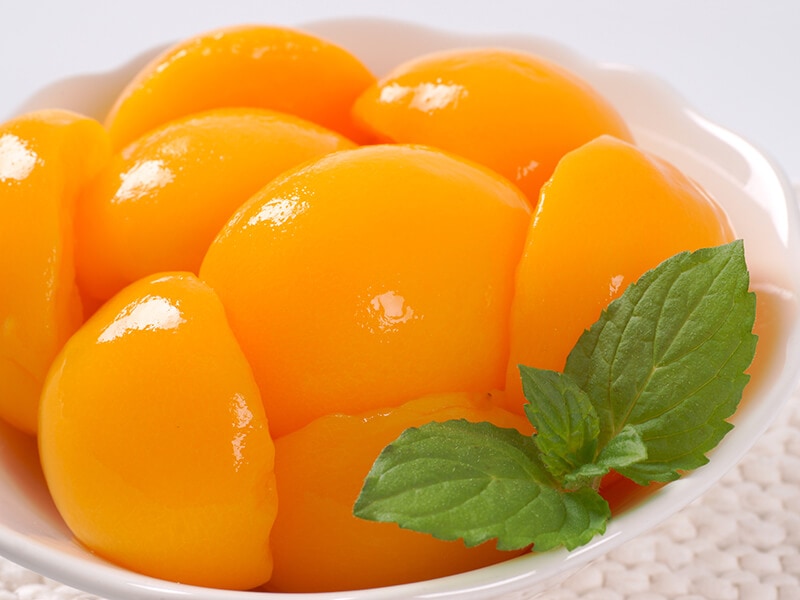 Although peach skin is safe for human consumption, you should always double-check these important factors before actually eating it.
Chemical Compounds, Germs, And Dirt
Because peaches are delicate, farmers often have to use pesticides to grow them. There could also be dirt or harmful germs that are not visible to your eyes.
To minimize the chance of you and your loved ones becoming ill, thoroughly wash the peaches, whether you intend to eat the skin or not. You can never be too cautious. Another way is to purchase organic-certified peaches that limit the use of pesticides.
Digestion Issues
While eating peach skin can assist with digestion, it can also make it worse. If you have moderate to severe inflammatory bowel disease or other digestive problems, please speak with your doctor first since having peach skin or any other form of fruit skin may not be safe.
The Best Way To Wash Peach Skin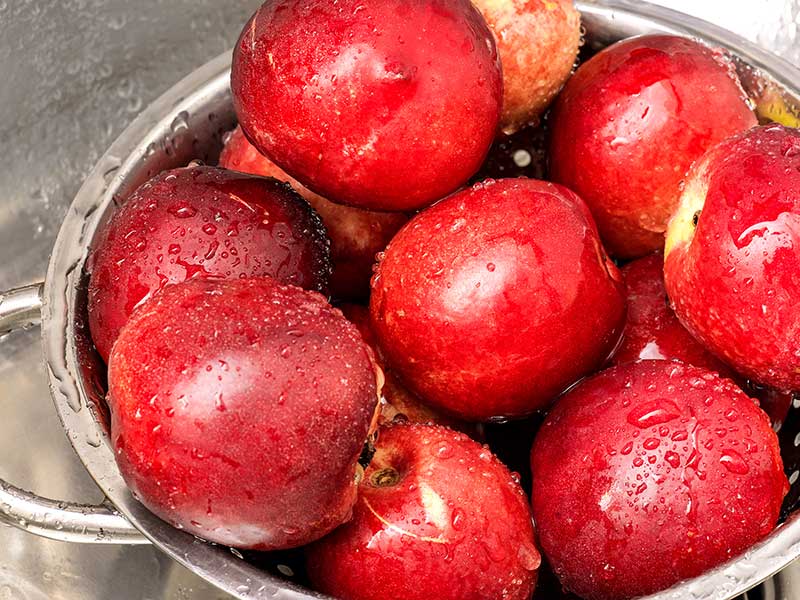 Now that I've successfully convinced you to eat peaches with the skin on, let's look into some efficient methods for you to clean them before eating.
Option 1: Water
Yes, you can simply wash peaches under running water. There is no need to get fancy or complicated.
Step 1: Brush The Peach
Cut off any leaves and stems. Brush off any dust present on the surface.
Step 2: Fill In The Water
Fill a bowl with cool water or half-fill your kitchen sink. Choose the option that is more convenient for you.
Step 3: Gently Rub The Skin
Place the peaches in the prepared bowl or sink. Then, rub the surface using your hands to further remove dirt and debris. You don't have to be rough; just make sure to do them thoroughly.
Step 4: Rinse
Rinse the peaches under cool running water to wash away any dirt or residue from the rubbing process.
Step 5: Dry
Pat the peaches dry carefully using a clean kitchen towel or paper towel, or you can just set them out to dry on a clean towel.
Note: Avoid using a scrub brush because it is excessively rough, the fragile fruit may be damaged, or the skin may peel off, which you do not want.
Option 2: Vinegar
If you want to be extra cautious and are concerned that washing peaches with plain water will not be enough, vinegar is what you need. Simply add a cup of vinegar to the water and repeat the rest of the steps as instructed in Option 1: rub the skin, rinse, and dry.
How You Should Peel Your Peaches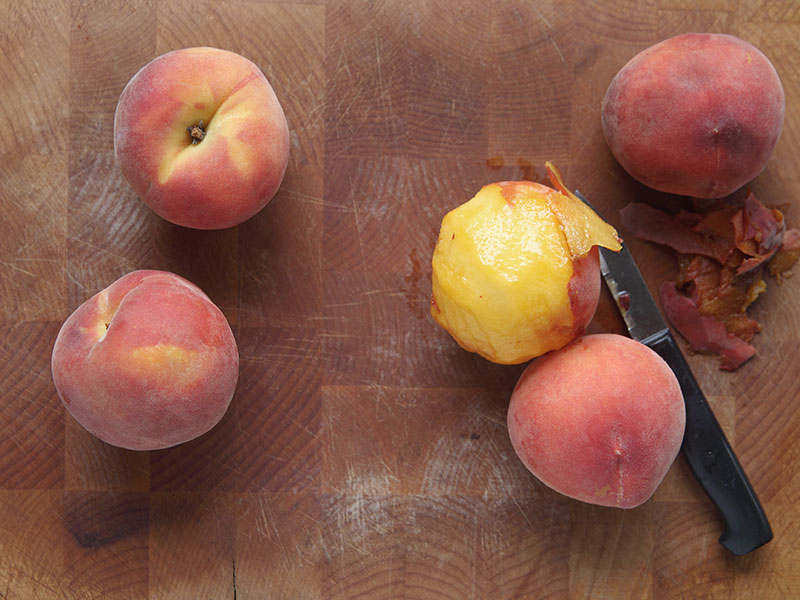 There are 3 easy approaches for peeling peaches depending on their ripeness level. Check them out in this section.
Option 1: Blanching Method
Blanching is the way to go if your peaches are only somewhat ripe and the meat is rather firm when holding them. Here are what you'll need:
A pot of boiling water
A bowl filled with ice and cold water
A knife
After preparing the required tools and ingredients, follow these steps to blanch and peel your peaches.
Step 1: Cut An X
Use a knife to make an X from the bottom of the peaches to make it easier to pull the skin off later.
Step 2: Blanch The Peach
Place all of the peaches into the boiling water pot and wait 30 to 45 seconds.
Step 3: Let Them Cool Down
Remove all of the peaches and dip them in a bowl filled with ice and cold water to cool for about 15 to 30 seconds.
Step 4: Peel The Peach
After the peaches have cooled, you can begin peeling the skin with a knife or by hand from the X, whichever is more convenient for you. Remember to transfer all the fruits onto a clean towel first.
Option 2: With A Peeler
When your peaches are fully ripe and soft to the touch, it is best to use a peeler to get the skin off. However, remember to wash and dry them beforehand, as there may be dirt or residue.
After that, all you have to do is take a peeler and start peeling off the skin, simple as that.
Option 3: By Hands
If your peaches have been stored for too long and are overripe, it is preferable to use your bare hands to peel them, as blanching and a peeler will cause them to break apart.
An easy-to-follow tutorial to peel a peach in 3 different ways!
How To Enjoy Your Peach To The Fullest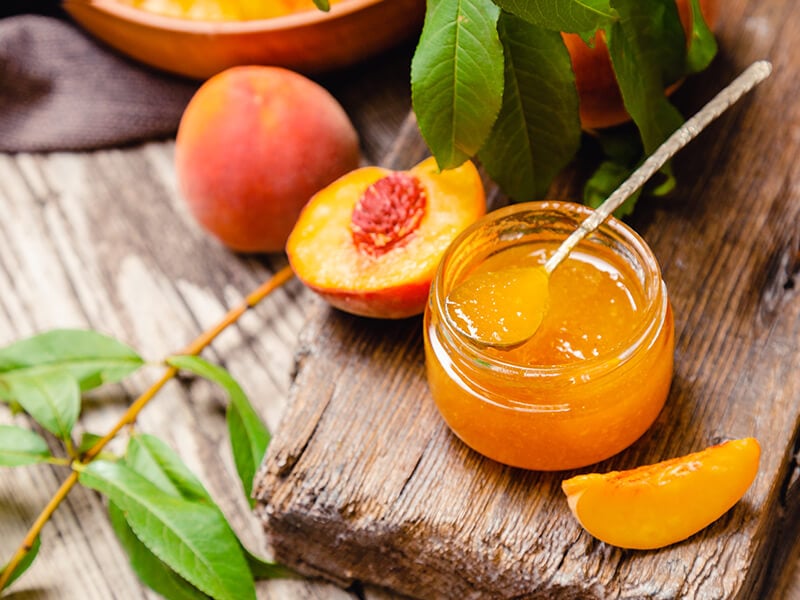 Now that you have perfectly cleaned the peaches, it's time to enjoy their sweet and delicious flesh. Whether you decide to peel the skin or leave it on, peaches are always a delight to eat. You can munch on it like an apple, but remember to prepare some tissue paper on the side, as the fruit can be juicy.
In addition to consuming peach peels raw, you can turn them into delicious recipes. One of the easiest ways is to make peach jelly or peach syrup. These fruits also make for delectable peach cocktails that you shouldn't miss.
Some people like to cut their peaches in half and remove the seed before eating. To do so, simply cut into a peach with a sharp knife, then trace the knife around the fruit like you're drawing a circle. Next, twist the peach, and it should break into two pieces.
The pits of freestone or semi-freestone peaches should have fallen off at this point. If you're dealing with a clingstone peach, you might need to cut the pieces into quarters in order to remove the seeds.
The best way to make delicious peach jelly from the peel.
FAQs
While the above sections should have covered all your concerns about peach skin, it always helps to know more. Here are the most asked questions on this topic.
Don't Waste The Good Part!
Not only does peach skin add to the overall tastiness of the fruit, but it also contains many nutrients. If you have been peeling off the skin of your peach, it's high time you gave it a try! I believe that you won't regret doing so.
Has today's post answered all your questions? If there are more things you'd like to know about peaches and their wonderful skin, don't hesitate to leave a comment. Lastly, please like this article and share it with more people. Thank you, and see you on other interesting topics!
Paragraph
Contributors to Wikimedia projects, (2002). Peach – Wikipedia
(NL), A. P. M. R., (2019). 10 Surprising Health Benefits and Uses of Peaches