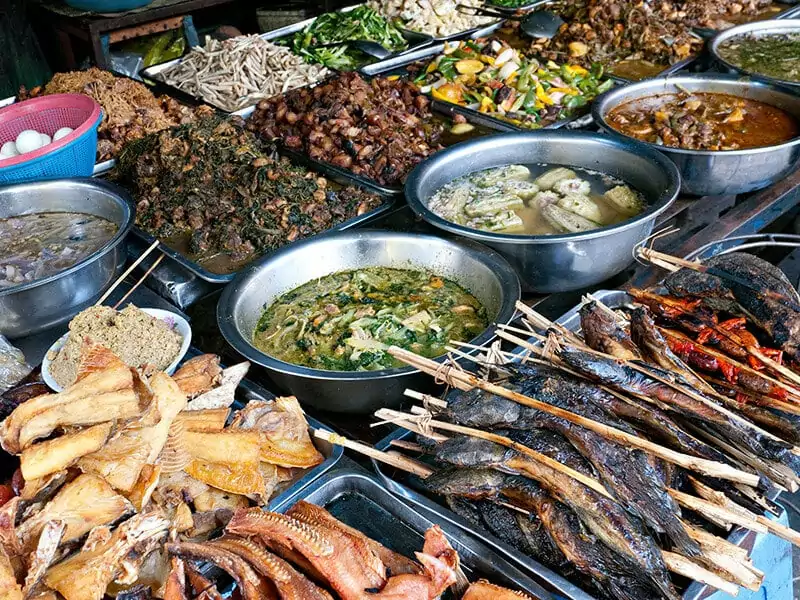 You should never miss Cambodian foods if you are really into Asian cuisine! They can be the most delicious dishes you have ever tasted! Read this article now to know some of the best food treats here in Cambodia!
Which one will be your favorite one among these Cambodian recipes? You'll have a lot of options to choose from when it comes to foods in Cambodia! It is the heaven of delightful dishes with meat, soups, noodles, curry, and many more! Let's come and see!
Best Cambodian Dishes Including Fish And Meat
Cambodians consume fish and meat like beef and pork daily in their meals. Their cuisine thereby has a lot of dishes using fish and meat. If you want to become a Cambodian local, just eat what they eat every day!
1. Lok Lak (Stir-Fried Beef In Brown Sauce)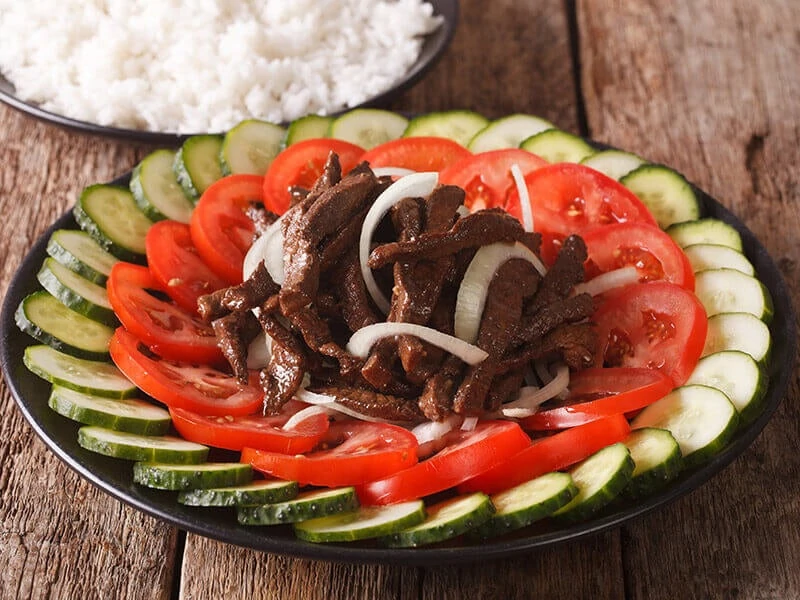 Lok Lak is a typical Cambodian beef dish. The French brought this dish to Cambodia from Vietnam, so it has French Indochinese origin. It is similar to a popular Vietnamese dish called Bò Lúc Lắc, which means "the shaking beef."
Similar to the Vietnamese Shaking Beef, Lok Lak includes stir-fried beef with fresh veggies like lettuce and cucumber. The cook will season the beef with basic spices and soy sauce – the secret weapon of this dish.
The mouth-watering beef with soy sauce will lie on the bed of vegetables, mostly lettuce. When they eat, Cambodians will pull each lettuce leaf from the bottom, then wrap the beef and other items inside and put all of it in their mouths. That's the traditional way to eat!
This is why the Cambodian Lok Lak is so addictive!
2. Khor Ko (Khmer Beef Stew)
Another delectable beef dish from Cambodia! Slow-cooked beef stew is always the best! The Cambodian version of beef stew is Khor Ko. It is pretty similar to a beloved Vietnamese recipe called Bò Kho.
Khor Ko is a hearty beef dish that includes many Cambodian herbs and spices like star anise, galangal, kaffir lime leaves, lemongrass, shallot, garlic, onions, dried peppers, etc. The mixture of this stew looks super eye-catching and mouth-watering!
This can be the stir fry dish you are looking for! Char Kroeung Sach Moun is a Cambodian stir-fried dish with a special paste. The essential ingredient of this dish is Kreung – a paste from pounded herbs and many other aromatics like turmeric.
With the Kreung paste, Char Kroeung Sach Moun will have a beautiful bright yellow color that is so eye-catching from first sight! This dish also consists of a brother named Char Kroeung Sach Ko, which uses beef in place of chicken.
4. Prahok Ktis (Fermented Fish Dip)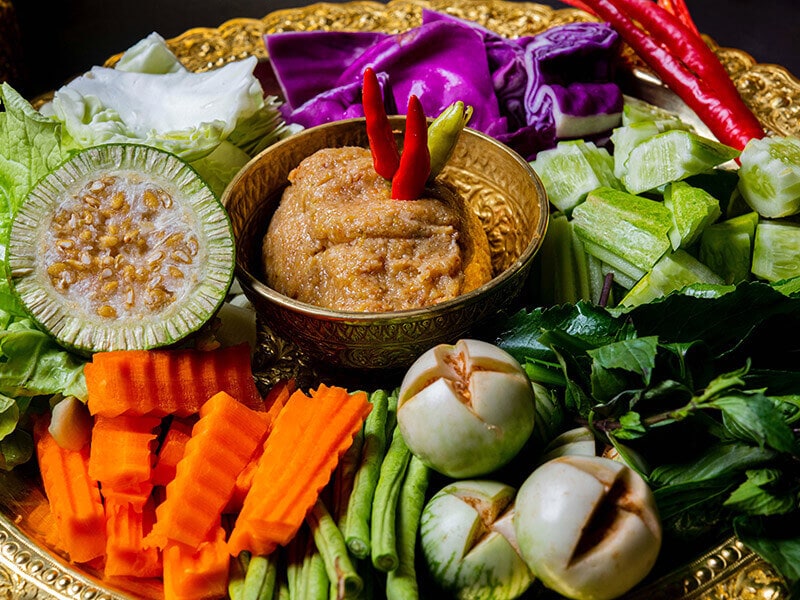 Prahok Ktis is a salty fermented fish dipping that Cambodians love. They humorously call Prahok the "Cambodian Cheese" for its unique texture and versatility that can be added to most dishes in Cambodian cuisine, just like cheese!
The locals will wrap the prahok paste in banana leaves and grill them whole. It is also an excellent way for Cambodians to preserve fish when no fresh fish is available. Prahok Ktis is so popular as an addition to other foods that the locals likely use it to replace salt in a recipe!
However, Cambodians also serve this special delight with steamed rice and vegetables (cucumbers, yardlong beans, eggplants, etc.) to become a filling main dish! You can have this meal any time of the day.
5. Twa Ko (Cambodian Sausage)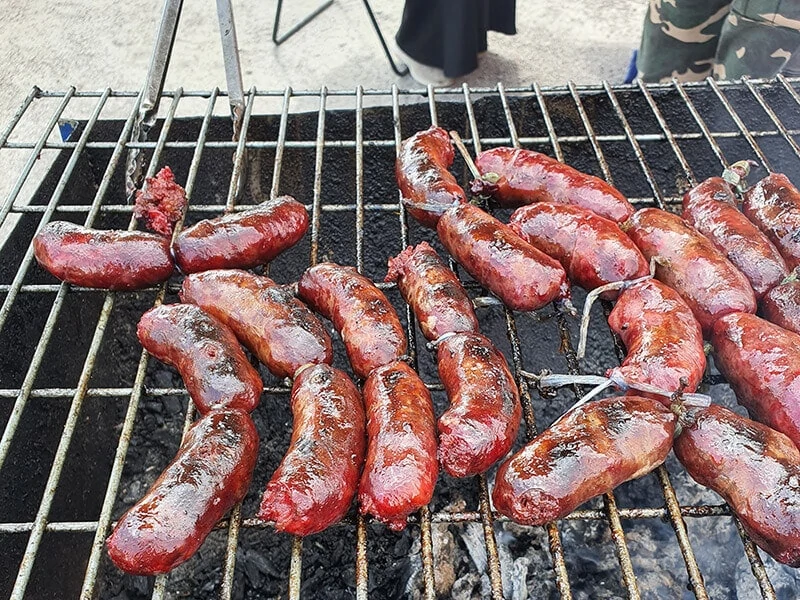 Twa Ko is the name of traditional pork sausage in Cambodia. It contains minced meat seasoned with a lot of herbs and spices such as galangal, crushed roasted peanuts, garlic, and cooked rice.
Twa Ko is easy to make at home so Cambodians usually make it and store it in the kitchen. You can fry, stir-fry, grill, or do whatever you like with Twa Ko. Treated pork sausages can be served with anything, such as salads, steamed rice, or noodles!
Bai Sach Chrouk is a delectable combination of grilled thin cuts of pork and steamed rice. There are many variants of marinade for the pork, but the most common recipe will include coconut milk, fish sauce, soy sauce, garlic, Kampot peppers, and palm sugar.
Cambodians usually have Bai Sach Chrouk for their breakfast. It gets along well with some pickled vegetables like carrots or cucumbers. This dish will be a great representative of Cambodian cuisine for a curious visitor! You cannot miss it if you love to eat pork!
7. Num Pang (Khmer Meat Sandwich)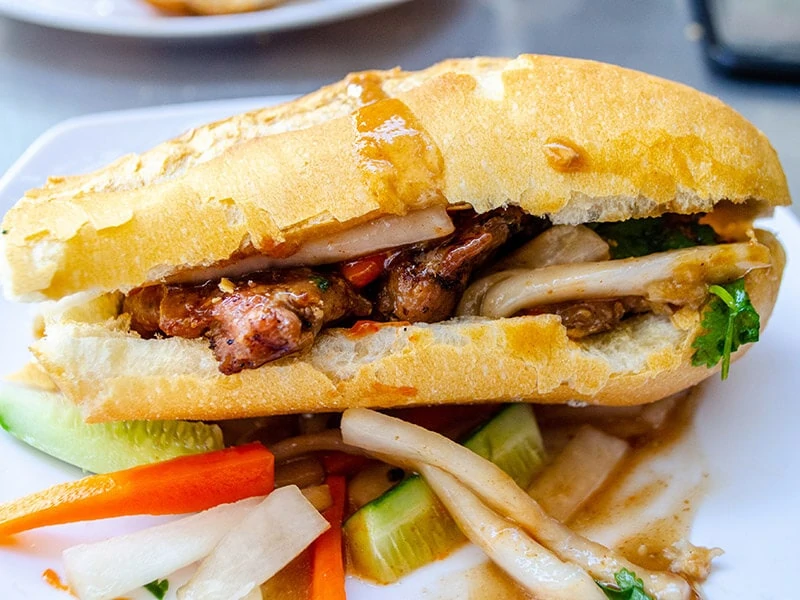 Num Pang is a famous Cambodian street delight that is really similar to the famed Vietnamese Bánh Mì. It is simply crusty white bread with many options of filling inside. The most basic version of Num Pang only has pâté with some garnishes.
The original Num Pang will have pork and/or pâté, some slices of fresh carrots, cucumbers, tomatoes, and a chili sauce by the customer's preference. You can always ask the vendors to add your favorite ingredients to Num Pang! You should find and taste it in Cambodia!
The mouth-watering Cambodian Num Pang will attract you from the first bite!
8. Trei Boeng Kanh Chhet (Fried Fish In The Lake)
Trei Boeng Kanh Chhet literally means "fish in the water mimosa lake." It is a hearty fish dish including a deep-fried whole fish dipped in coconut curry. The aromatic curry mixture consists of veggies (cauliflower, cabbage, etc.), chilis, and kroeung.
Almost every restaurant in Cambodia has the traditional Trei Boeng Kanh Chhet on its menu. This dish is from the Khmer people. They will serve it with hot steamed rice or rice noodles. It is truly a fish dish that you have to try when in Cambodia!
Pleah Sach Ko is a common Cambodian salad that usually appears in weddings and special occasions. It is the combination of raw beef marinated with lime juice, prahok and a variety of vegetables, herbs including eggplants, bell peppers, green onions, mint, basil, etc.
Cambodians often serve Pleah Sach Ko cool or warm and top it with some crushed peanuts and roasted rice. If you love to eat beef, this is another dish from Cambodian cuisine that you should never miss when you visit this country!
10. Aluek Trei Ngeat (Dried Fish And Watermelon)
Aluek Trei Ngeat is a special combination of fish and fruit. The local will serve chunks of sweet ripe watermelon with salt-cured dried fish, usually snakehead fish. Don't be confused! You will be amazed by how well these two contrast ingredients get together!
Trei Ngeat is worth trying when you want to taste something different from the ordinary fresh fish. Cambodians will dry it under the sunlight, which is the common technique that they have been using for centuries in storing and using up fresh fish!
11. Kha Trei Svay Kchai (Caramelized Fish With Green Mango)
Kha Trei Svay Kchai is a flavorful Cambodian dish that usually shows up on the dinner table of many homes in this country. It includes fish steaks caramelized with palm sugar and many other ingredients such as fish sauce, garlic, tomatoes and local ground black pepper.
The cook will gently shake the pot containing the marinated fish to mix up the ingredients, then bring it to cook on low heat. A special side of Kha Trei Svay Kchai is grated green mango, a delicious sour treat to pair with the savory fish steaks.
Most Delicious Cambodian Soups You Should Not Miss
The Cambodian soups are delectable in their own ways! If you are finding a delightful dish between many Cambodian breakfast recipes for your first meal of the day, try these soup suggestions! You'll fall in love with them for sure!
This dish has an exceptional name, which refers to the cooking method that the chef uses to make it. "Chrok Krao Chhnang" literally means "out of the pot." The cook will gather all the essential components in a container and pour the boiling water inside to make broth.
Chrok Kerao Chhnang includes smoked freshwater fish, boiled eggs, green tomatoes, and shallots. Cambodians usually serve this delectable soup with some steamed rice. The locals will squeeze a slice of lime on top of the dish right before eating it.
13. Samlor Machu Trey (Sweet And Sour Soup With Fish)
Samlor Machu Trei soup uses fish, mostly catfish, as the main ingredient. It also consists of lemongrass, garlic, tamarind juice, bean sprouts, pineapple with basic spices, and fish sauce. It is the all-time favorite refreshing soup of many families in Cambodia.
Cambodians undoubtedly love sour in their foods! That's the reason why many soups and other Cambodian dinner recipes include at least one ingredient to create sour flavors. Here in Samlor Machu Trei, they are tamarind and pineapple.
14. Samlor Korko (Cambodian Stirring Soup)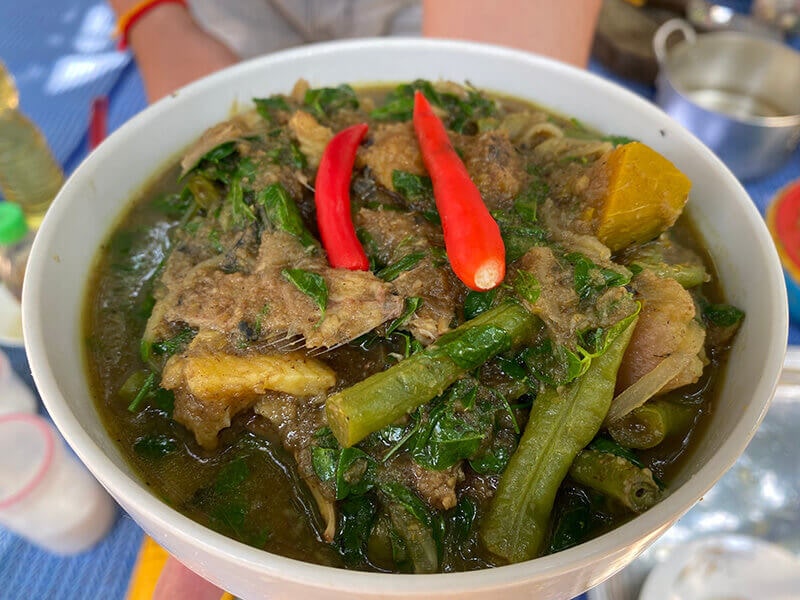 Samlor Korko, also called Samlor Kako, is a wholesome soup dish made from many types of veggies and green fruits. It may also include prahok, ground rice, pork, chicken, catfish, or herbs. A vegetarian version will have coconut cream and veggie stock instead of the meat.
Cambodians consider this hearty soup dish the Cambodian version of French's Ratatouille. This is a favorite soup of most older Cambodians. For them, if the soup doesn't contain catfish, it isn't called Samlor Korko!
Enjoy a healthy meal in Cambodia with the vegetable soup named Samlor Korko!
Sngor Chrouk Trey is another sour soup with fish but it is much simpler with fewer ingredients than the former. The light broth with lime juice and fried garlic makes the fish part stand out! Cambodian locals use the fish from a grand freshwater lake called Tonle Sap.
Sngor Chrouk Trey also consists of many versions of local herbs and spices, such as basil, saw leaf coriander, shredded green mango, or straw mushrooms. It is such a versatile dish with thousands of topping and ingredient options!
Tempting Cambodian Curry Dishes For Food Lovers
Do you know that Cambodian cuisine is also famous for curry dishes? Their curry is not only delectable but also has many exciting variations and stories behind it! If you can't wait to figure out what they are, read this section right now!
Kari Sach Moan is a Cambodian spicy chicken curry that is really popular throughout the country. It is actually less spicy than the curry from Thailand's original cuisine since the Cambodians use a type of mild local red chilies to make the dish.
You will meet this mouth-watering curry dish mostly at weddings and other special occasions of Cambodians. They will likely serve it with some sliced bread, steamed rice, or rice noodles. It often contains chicken, coconut milk, sweet potatoes, and kroeung.
17. Amok Trei (Fish Curry In Banana Leaves)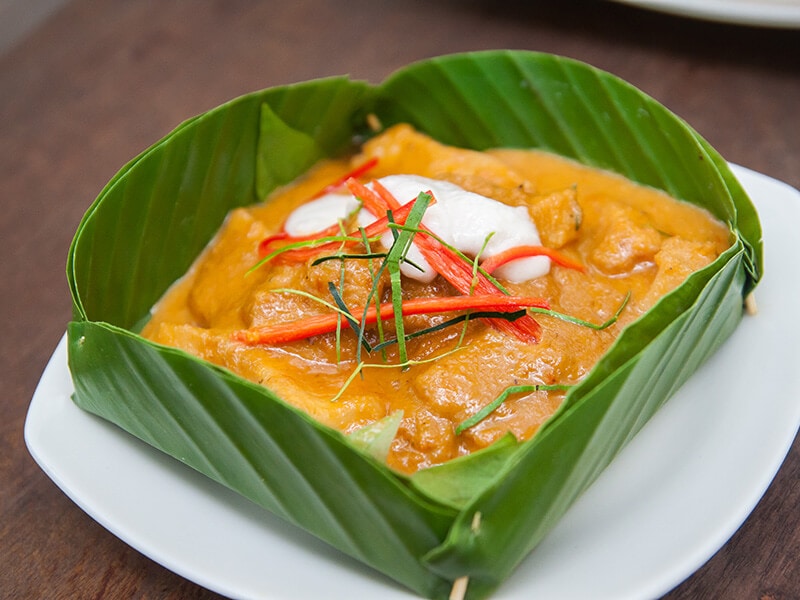 Amok Trei, or Fish Amok, is one of Cambodia's most famed national dishes! It is a stewed fish curry served in banana leaves. The fish used in Amok Trei is usually goby fish, catfish, or snakehead. The cook will marinate the fish flesh first before making the curry.
There are also some variants of Amok Trei with the change in the main ingredient – they can replace fish with beef, chicken, or even tofu. Cambodians will serve this dish hot in the banana leaf container or the coconut shell.
Let's see how this cook makes Amok Trei from scratch!
18. Kari Saraman (Beef Saraman Curry)
Kari Saraman, or beef Saraman curry, is Cambodia's richest and most complicated curry dish. This dish's origin is actually from Cham, not Khmer like many people think. People will serve this curry in some special celebrations in Cham Muslim communities.
The traditional recipe calls for beef, prahok or shrimp paste, coconut milk, roasted peanuts with many aromatic spices. You may find variants of Kari Saraman in neighboring countries, such as Malaysia's Beef Rendang and Thai's Massaman Curry.
Most Tasting Cambodian Noodles For Gourmets
In Asian countries, noodles are one of the essential dishes in their cuisine! You may easily bump into noodle dishes everywhere in Cambodia, from a tiny street vendor to a five-star restaurant! Here are some of the most outstanding Cambodian noodles!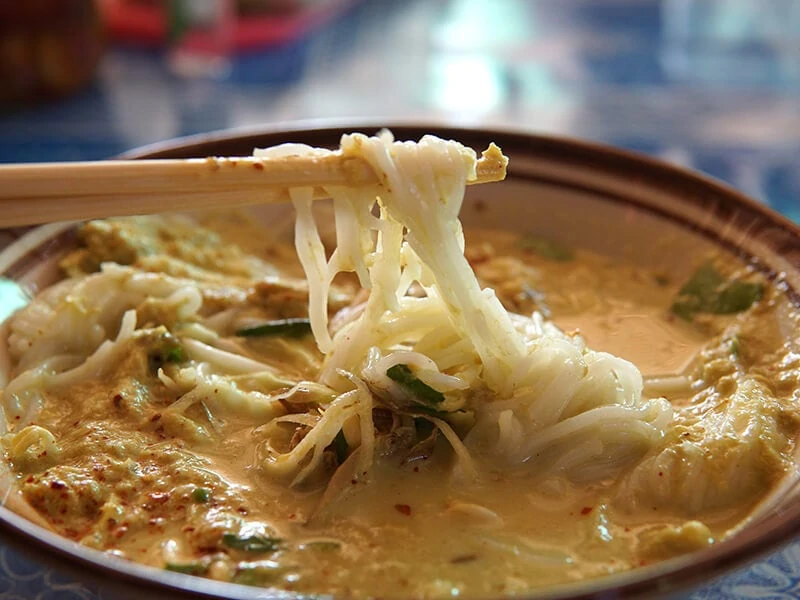 Nom Banh Chok is a Khmer noodle dish that consists of fresh lightly-fermented rice noodles with coconut milk, freshwater fish, prahok, kroeung, etc. The cook will top the final dish with bean sprouts, sliced cucumber, edible flowers, and aromatic herbs.
There is a folklore that Nom Banh Chok was invented in China by a Khmer revolutionary named Thonchey when the Khmer king exiled him to China. He sold the dish just to make a living, but it became so famous that it grabbed the attention of the Chinese emperor!
Do you know that the rice noodles in this Khmer dish are made by hand? The artisanal noodle makers across Cambodia make these noodles every day! They will soak the rice for a few hours, then grind it into a solid paste before pressing and making it into noodles.
20. Kuy Teav (Noodle Soup)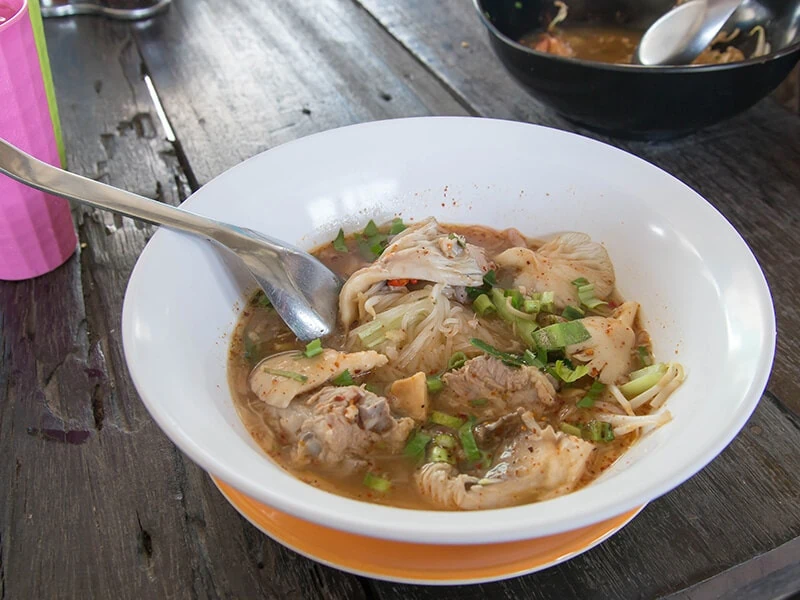 If you don't know what to eat for lunch between so many Cambodian lunch recipes and dishes, consider Kuy Teav! It is a famous Cambodian noodle soup, whose name is from a Hoikken Chinese word referring to a rice noodle type.
Kuy Teav includes rice noodles, pork broth, and toppings (minced meat, herbs, condiments, etc.). Its origin consists of two possibilities: one is from the Chinese traders, the other is from a region from southern Vietnam called Kampuchea Krom – an old part of the Khmer Empire.
In Cambodia, Kuy Teav appears in many street vendors or restaurants. Besides the original recipe with minced meat, you'll meet some other editions that contain intestines and liver. They may not be familiar to some of you, but they are all nutritious and tasty!
Kuy Teav is a tasty Cambodian dish that people worldwide are really into!
21. Mi Kola (Kola Noodles)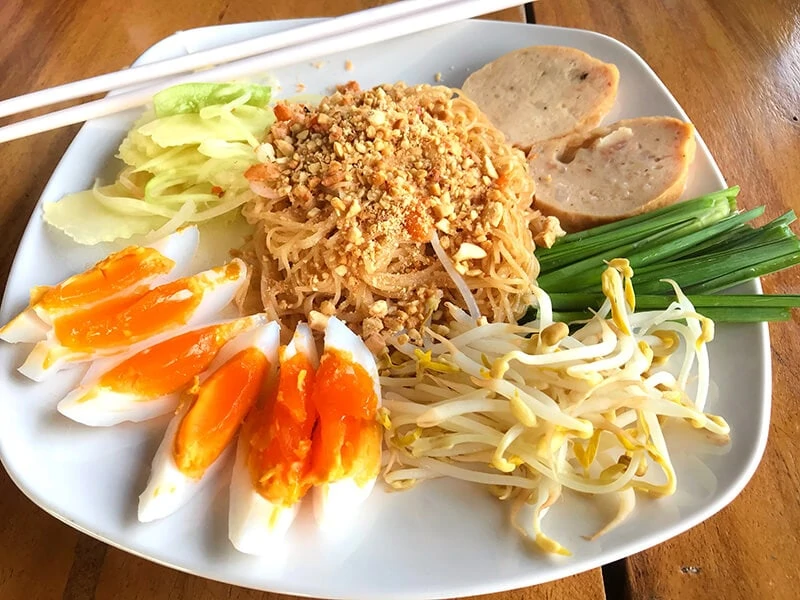 Mi Kola, as known as Mee Kula, is a simple noodle dish from the Northwest of Cambodia. It actually is a dish that originates from Burmese cuisine. The Kula people of Burma origin settled in the Pailin area of Cambodia and made such a significant impact on the Mee Kula that it was named after them.
This noodle dish is refreshing with pickled vegetables and light sweet fish sauce. It may also include protein-based ingredients such as sliced boiled eggs and shrimps. If you want to explore more about Khmer cuisine, you need to taste Mi Kola someday!
Intimidating-But-Delicious Cambodian Street Foods You Must Try!
Don't be a timid visitor! The following foods may look scary, but everything isn't as it seems! After the first bite, the fearfulness will disappear, leaving behind the tastiness on your tongue! Be brave and taste them once, and it'll be a memorable experience for you!
22. Balut (Fertilized Eggs)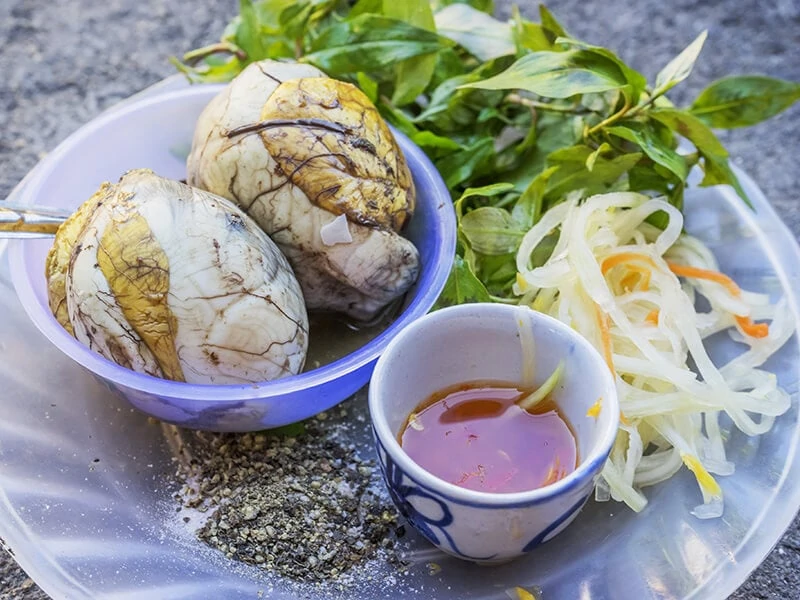 A Balut is a fertilized developing bird egg embryo, usually a duck's egg, which will be boiled and eaten from the shell. It may look disgusting from the first look, but it is actually a famed street food in Southeast Asian countries, including Cambodia, the Philippines, and Vietnam.
According to each local culture, people will let the eggs incubate by exposing them to some heat sources from 14 to 21 days. Then, they will boil them with plain water or coconut water and serve on a plate with pepper salt mixture and some baby egg leaves.
To eat Balut, you will need to squeeze a bit of lime into the salt mixture and stir it. After that, crack open the egg and drink the inside juice if you want, then add the mixture to the egg content and use a tiny spoon to eat it. Enjoy!
Balut may not look familiar at first but it is actually delicious, so try!
Frogs may not be the popular food for many people, but it is also a famous street barbecue along the Cambodian streets. They will stuff the headless frogs with minced meat (usually pork and frog), roasted peanuts, red chilies, and fresh kroeung, then bring them to the grill.
Cambodians will grill the prepared frogs on hot coals until they get the beautiful golden brown color. The final product will look like a sausage with juicy content inside. The whole frog may look frightening to you, but trust me, you'll forget about it after the first bite!
24. Tarantula (Fried Spider)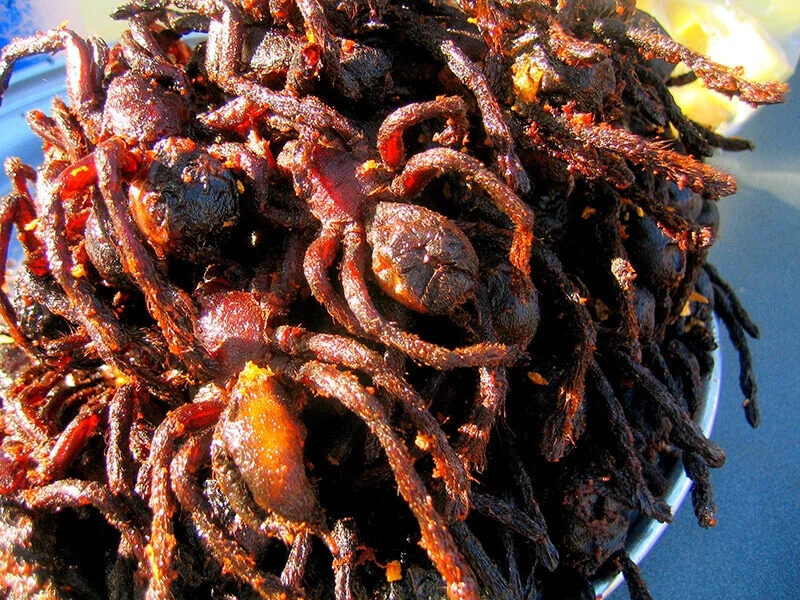 Tarantula is fried spiders – a regional specialty snack in the Cambodian town of Skuon in Kampong Cham province. Spiders can be a nightmare to many people, but they can also be delicious food if you dare to try! You should never miss Tarantula when in Cambodia!
Cambodians will use the largest edible species of spiders, which is about the size of an adult's palm, to make fried Tarantula. This dish has become popular since the 1990s in local markets. It always grabs the attention of any tourist passing by!
Some people will not recommend you to eat the abdomen part of Tarantula because it consists of the organs and even excrement of the spider. So you should notice when eating this snack!
25. Fried Crickets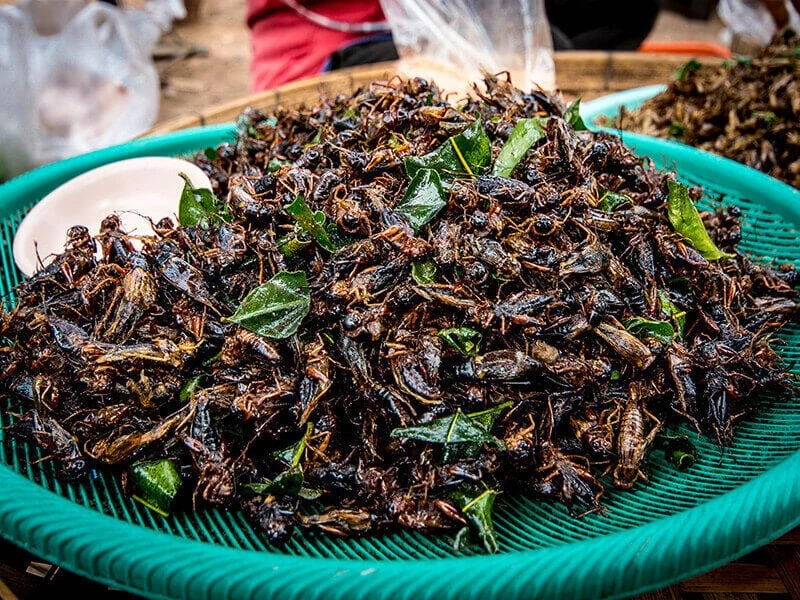 Besides Tarantula, fried cricket is another famous street snack that you must try! Cricket surprisingly contains a lot of protein and can lower cholesterol in blood. The locals will season it with garlic and chili then deep fry it in hot oil.
Fried crickets, together with many other insects, are a specialty of various Cambodian regions. They are especially renowned in rural Kompong Thom and are always the delicacy that makes people drool over them!
26. Scorpion On A Stick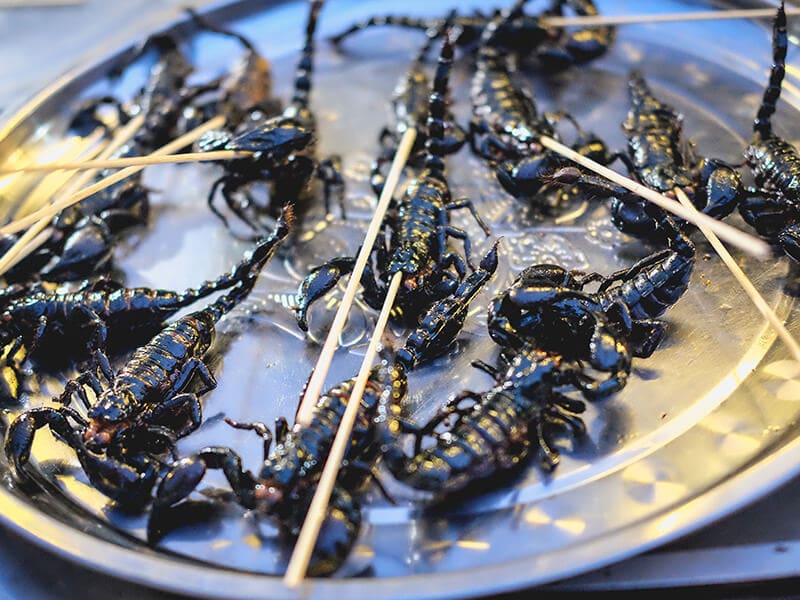 If you want something even bolder than a spider, try scorpion! The natives will attach these predatory arachnids on a stick, then skewer and fry them. Cambodian street vendors sell this famed snack with crunchy spiders and crickets along every street of this country!
You can easily find this special treat in any attractive destinations of Cambodia, especially the Pub Street in Siem Reap and Phnom Penh's riverside. The actress Angelina Jolie tried these delectable but intimidating treats once during her trip to Cambodia in 2016.
Most Scrumptious Cambodian Traditional Desserts And Cakes For You
If you find it so hard to choose one among thousands of Cambodian desserts, take a look at these traditional desserts and pastries! They are both savory and sweet dishes that can complement your big meal well! So, what are you waiting for?
27. Num Ansom (Sticky Rice Cakes)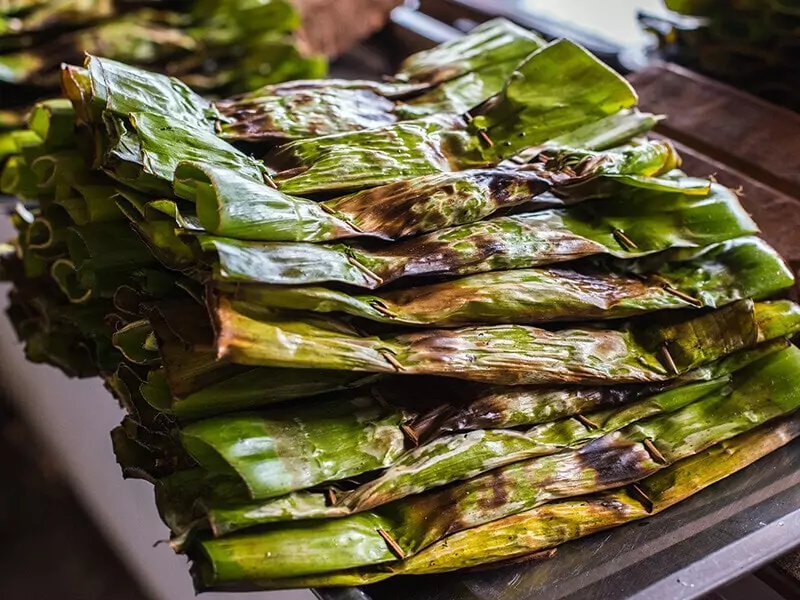 Num Ansom is the Cambodian traditional sticky rice cake wrapped in banana leaves. There is another well-known version called Num Ansom Chrouk with pork inside. Cambodians will serve the pork version at weddings, Khmer New Year's Eve, Pchum Ben festival, etc.
On Pchum Ben, women will make a large number of Num Ansom to present to their family, friends, the monks, and the manes of the ancestors to ask for the blessing to the rice fields. The cylinder shape of the cake represents Shiva; while the pyramid one symbolizes Shakti.
Num Ansom requires much time and skills to prepare and cook, but it seems that most Cambodians will know how to do it! If you are staying in Cambodia during the New Year celebration, ask some locals, especially the elders, to make your own Num Ansom!
Here's how the indigenous Cambodians make Num Ansom from scratch!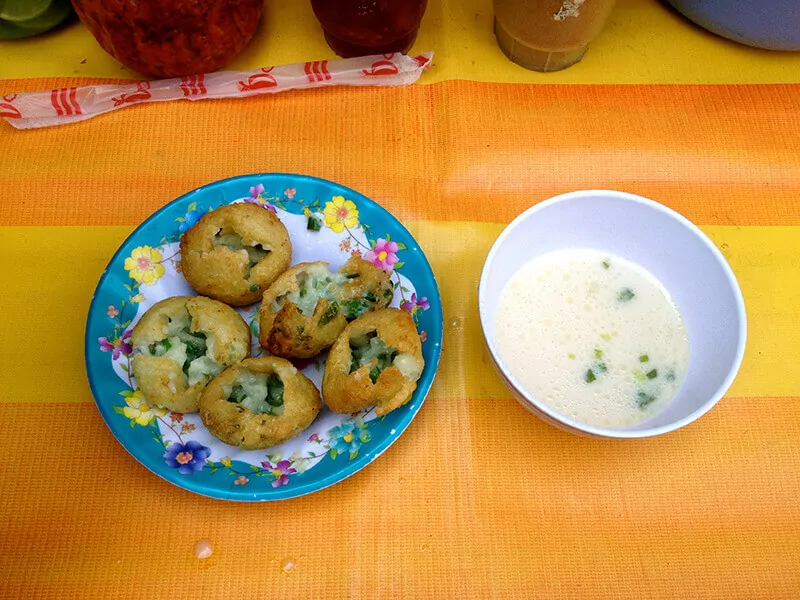 Nom Ka Chai is a Cambodian chive cake inspired by a street food in exquisite Chinese cuisine. Cambodian locals make this dish from glutinous rice flour and fresh chives. They will fry the patties in huge batches on pans and sell them as typical street food.
You can find Nom Ka Chai mainly in Phnom Penh, the capital city of Cambodia. The vendors will serve a hot portion of chive cakes with special spicy fish sauce to stimulate the taste buds. I'm sure it'll be a remarkable between-meal snack, so don't hesitate to try!
29. Num Plae Ai (Palm Sugar Rice Dumplings)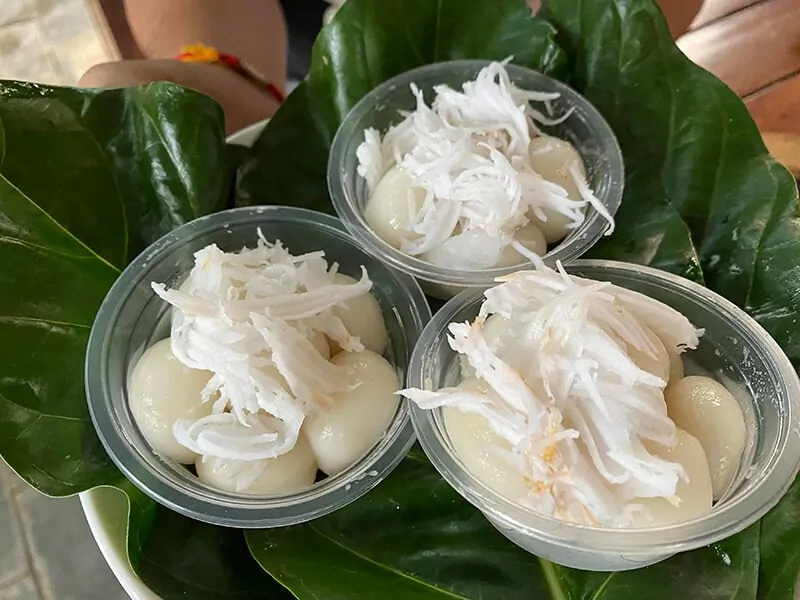 Num Plae Ai is a Cambodian traditional tapioca dessert made of rice flour with palm sugar filling that is topped with some coconut meat shavings. This palm sugar treat appears in every wedding in Cambodia with pandan desserts or husband and wife cake!
The "Num Plae Ai" literally means "husband killer," which is a humorous expression because these small dumplings are super chewy that can sometimes make people choke on them. This will be a delectable sweet treat for you!
30. Kralan (Sticky Rice Cake In Bamboo)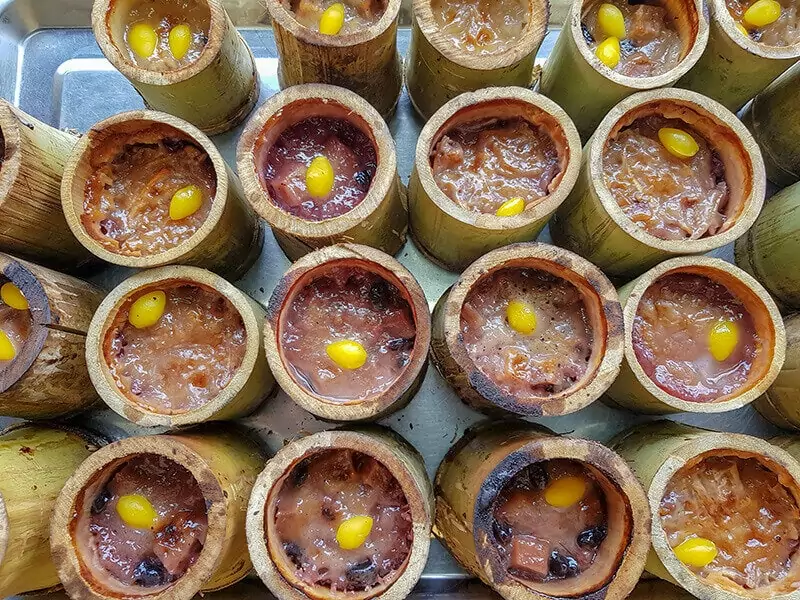 Kralan is a Cambodian roasted cake containing glutinous rice, coconut milk, palm sugar, and grated coconut. The cook will stuff this mixture inside bamboo poles and then grill them on an open fire. To eat the rice cake, you will split open the bamboo.
Based on a legend from the past, Khmer people used Kralan as military rations during the Khmer Empire. Nowadays, Kralan is super famous as a specialty street food in Samrong Khnong village in Battambang province and also Thama Krae village in Kratie province.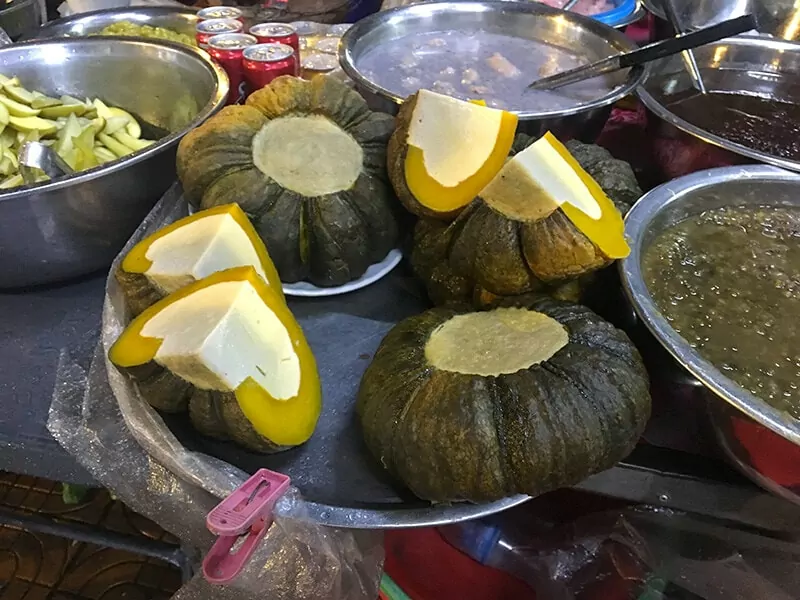 If you are into pumpkin and sweet treats, consider Sankhya Lapov! It is a delicious and outstanding dessert that you cannot miss! Cambodians will serve this dish after lunch and dinner, especially in special celebrations.
The cook will stuff a smooth and sweet custard filling inside in pumpkin and bring the whole to steam with heat. The result will absolutely amaze you!
Do You Want To Try All Of These Cambodian Foods?
I have revealed all of the best foods in Cambodia, so how do you feel about them? The list above includes various dishes that you have to try when visiting this country because they are the most incredible foods that no one, including you, wants to miss!
Don't forget to like and share this post if you feel satisfied with the information about Cambodian foods! Also, subscribe to the newsletter to get the latest information! Want to tell me about your awesome experience when in Cambodia? Comment below now!