There are so many different types of pomegranates: at least 500 cultivars. What I like about pomegranates, besides their centuries-long history, is the variety of colors. Pomegranates can range in color from red, pink, yellow, or green. Isn't it interesting?
Of course, I cannot include all pomegranate types in this article, but here I will focus on classifying some typical varieties by color. And regardless of their color, it is obvious that you can prepare many delicious and healthy recipe with pomegranate.
So are you ready to explore this wonderful world of pomegranates with me? Keep reading to find out!
Of course, I cannot include all pomegranate types in this article, but here I will focus on classifying some typical varieties by color. Are you ready to explore this wonderful world of pomegranates with me?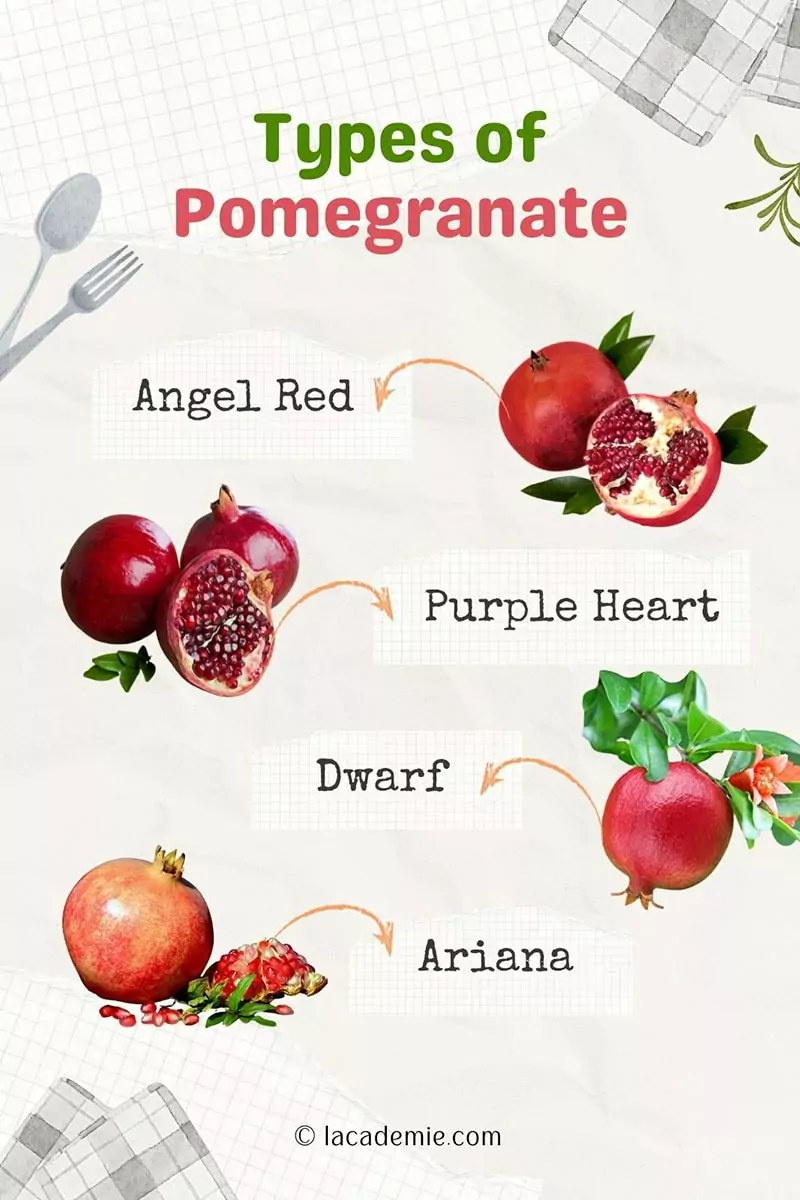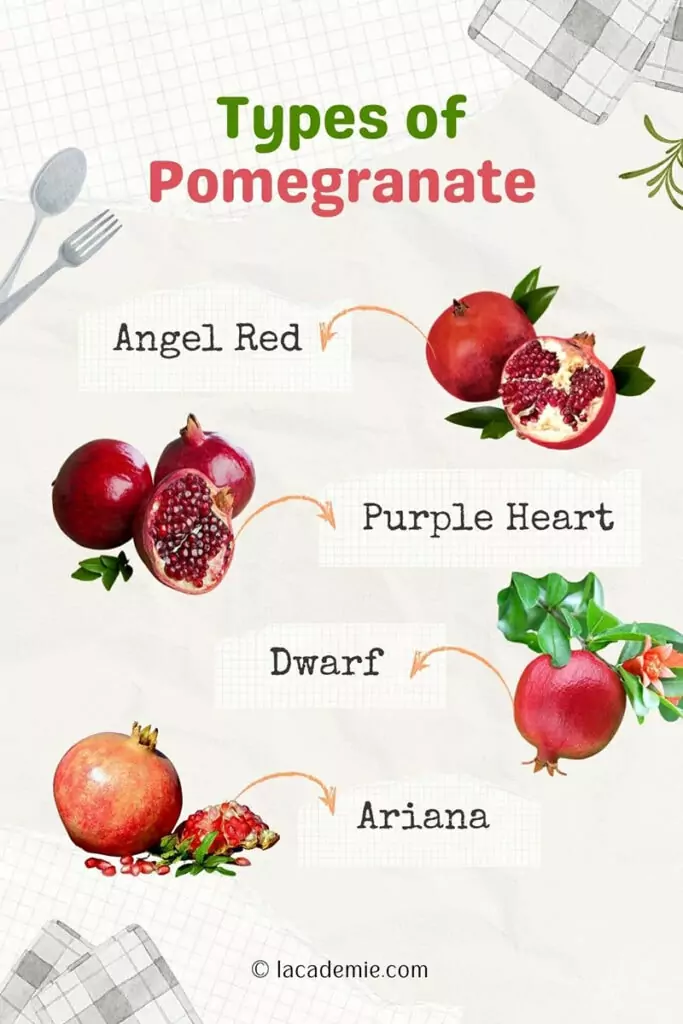 Red Rind Pomegranates – The Shades Of Ruby
| Name | Tree Height | Time To Pick | Taste |
| --- | --- | --- | --- |
| Angel Red | 10 feet | Early September | Milder and less tart |
| Purple Heart | 16 and 20 feet | October | Sweet to sweet-tart |
| Red Silk | 6 to 8 feet | August and September | Similar to red berries |
| Dwarf | 3 feet | September and October | Sour |
| Ariana | 6 to 10 feet | September and October | Sweet and sour |
| Granada | 7 to 33 feet | September | Sweet and subtly sour |
| Parfianka | 10 feet | September and October | Sweet and sour |
| Socotran | 8 - 15 feet | October to February | Bitter |
The shades of red are common among pomegranate varieties, ranging from medium red to crimson like the precious rubies. Most of them have the standard shelf life of pomegranates. The red color of pomegranates adorns your home garden when autumn, the harvest season, arrives.
1. Angel Red
An average Angel Red pomegranate tree can grow up to 10 feet in height and 10 feet in width. Compared to other varieties that can take off up to 20 or 30 feet, this plant size is still quite small.
Red-orange flowers bloom in late spring or early summer. Following the harvest season will fall around early September. The Angel Red pomegranate is also one of the plants that are patent-protected.
Any asexual reproduction from the variety is not allowed during the time of the patent.
Another interesting feature of the Angel Red fruits is that their seeds are soft enough for you to eat with the juicy arils. It is also a good ingredient in many top store-bought pomegranate juice. Its taste is milder and less acidic than traditional pomegranates.
Enjoy a garden trip and find out more about the Angel Red!
2. Purple Heart
The Purple Heart pomegranate, or you can call it Sharp Velvet, is one of the varieties that need sufficient growing space. The ideal height of this cultivar is between 16 and 20 feet, with a similar width making it look like a bigger sibling in the pomegranate family.
I always appreciate the tree's aesthetic value. Just imagine, the cluster of blooming red flowers in the summer will make you feel lost in the tropical lands. On the other hand, the eye-catching deep red color of ripe pomegranates will adorn your garden in autumn.
And it's not just about the look. The fruit flavor also wins the hearts of many fans. The taste of Purple Heart pomegranates ranges from sweet to sweet-tart type, a perfect choice for those who love to make juice at home.
However, growing Purple Heart may require more patience as it is one of the latest varieties that bear fruits in the fall.
3. Red Silk
Again, the Red Silk pomegranate is one of the varieties to grow in small gardens or yards. Its height of 6 to 8 feet is suitable for small spaces and requires little effort in maintenance.
Despite the small size, the tree is a high-yielding fruit tree. Red Silk was introduced to the public through the University of California's Davis College of Agricultural and Environmental Sciences and has received love and attention ever since.
Red Silk bears fruits at a young age, so you can see the results after one or two years of planting. Moreover, the variety is in the season between August and September. The fruits have a striking red color and resemble red berries in taste.
4. Dwarf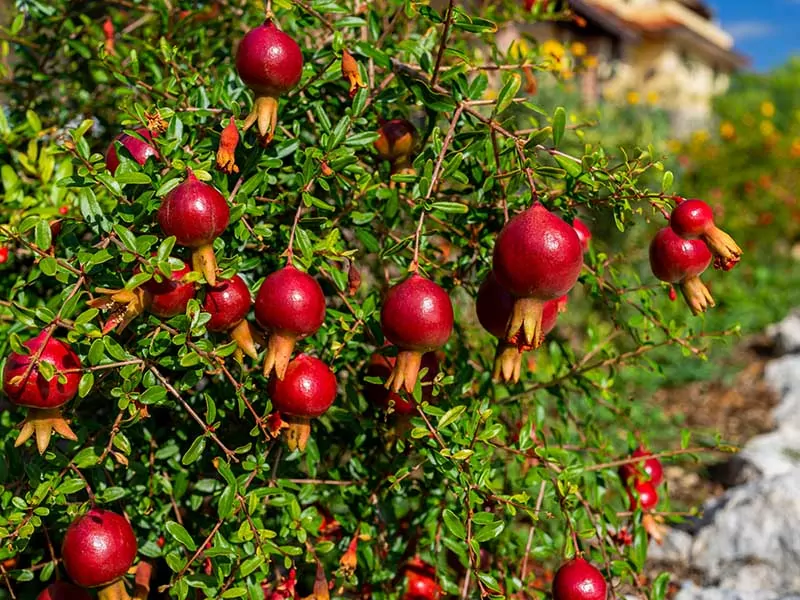 Sometimes, I have to admire the miracle of nature. It's hard to believe that aside from the towering and fruity varieties, there are "tiny" versions, just over 3 feet tall such as dwarf pomegranates (whose scientific name is Punica granatum var. nana).
The Dwarf variety is small in stature, so you can not expect its flowers and fruits to be big. Under the appropriate condition, orange-red pomegranate flowers will bloom throughout the summer. When ripe, the red fruits also have a similar appearance to a small orange.
Although the Dwarf pomegranates are edible, they don't display the characteristics of ripe pomegranates. They have an acidic taste, making them unsuitable for eating fresh. In general, Dwarf pomegranates are a better option to use as bonsai rather than fruit-bearing trees.
For your information, the Dwarf pomegranates also received the prestigious Award of Garden Merit by the Royal Horticultural Society.
Going through the journey of planting the Dwarf pomegranate here and see the results!
5. Ariana
The Ariana pomegranate (Punica granatum var Ariana) is arguably one of the best-tasting varieties. The tree produces medium to large fruits from late September to mid-October. The trunk can grow from 6 to 10 feet at maturity.
Ripe fruits usually have bright red rinds with soft crimson gems inside. People describe its flavor as sweet and sour. Therefore, in addition to eating fresh, the arils are a great choice to make a refreshing juice.
The Ariana pomegranate was the brainchild of Dr. Gregory Levin, a famous Russian botanist, during his time at the Turkmenistan Experimental Station of Plant.
6. Granada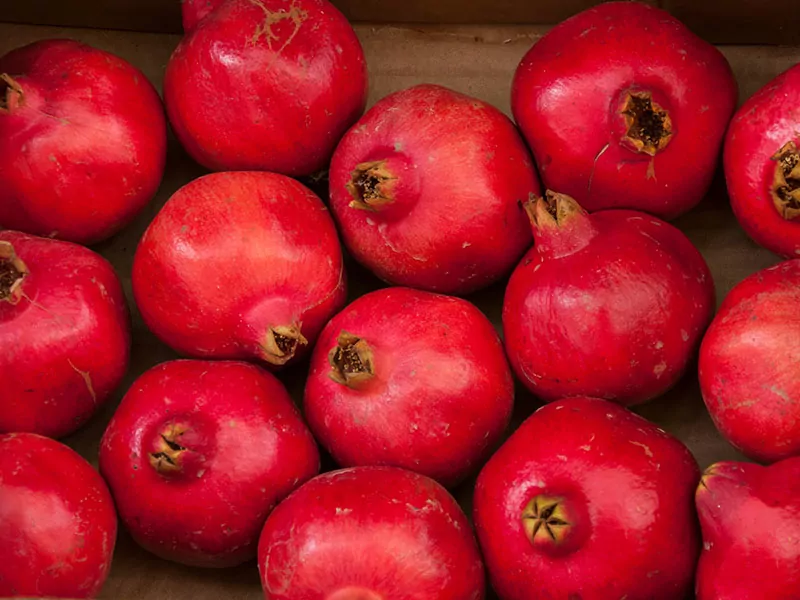 Do you know that Granada also means "pomegranate" in Spanish? This cultivar is a mutated version of the pink Wonderful variety, so you will notice that they have many similarities.
Compared to Wonderful, the Granada flowers are deeper red, and the fruits are also darker in color and less acidic. However, its hardening features are that the Granada will ripen a month earlier, and the taste is also less sour than Wonderful. The cultivation will start in September.
The full-grown trunk is up to 7 to 33 feet. The variety is a better choice for coastal climates than its brother. After all, you have to agree that the second version must have more improvements than the original.
7. Parfianka
Some people may know Parfianka under the name "Russian pomegranate" because it comes from Turkmenistan, a former Soviet republic in Central Asia.
Along with Ariana, Parfianka is one of the pomegranate varieties imported to the United States through the renowned botanist Dr. Gregory Levin. The average height of the tree is about 10 feet at maturity.
The trees begin to produce fruit even at a young age. You can expect the crop to start from the first or second year of planting. And the time to harvest this variety is from September to October.
The Parfianka receives love from pomegranate aficionados due to its beautiful color and small and soft arils, which retain the juiciness and the balanced sour-sweet taste. Interestingly enough, this type of pomegranate consistently ranks high in various tasting trials.
Have you ever tried a Parfianka pomegranate before? Learn more about the flavor here.
8. Socotran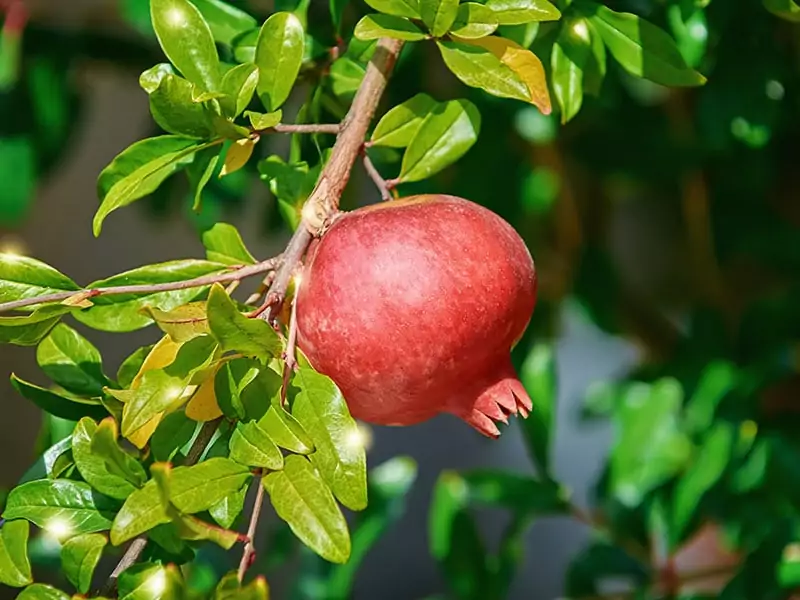 Socotran (Punica Protopunica) is native to the island of Socotra (Yemen), which can be considered the ancestor of the pomegranate. This isolated plant isn't popular partly because it has only lived in a fixed place while other siblings have spread through the world.
Socotran trees can be up to 8 – 15 feet when mature. Flowers and fruits will bloom from winter until next summer. As ripe, the fruit will be yellow-green or brownish-red. However, be patient because the plant does produce fruits until the year 5 or 6 of growth.
Frankly, the fruit of Socotran is not ideal for culinary use. Its seeds are bitter and leave a bad taste in your mouth, let alone the peel is acidic when unripe. Generally, the plant has more uses in the medical field as its peel can be processed to treat coughs and wounds.
Also, people take advantage of the wood to make small implements.
Pink Rind Pomegranates – Rich in Taste And Style
The pink varieties are commonly seen in markets or stores. They are the primary source of pomegranate consumption in the market. Usually, these varieties have a balanced sweet-sour flavor.
There are many reasons that make pomegranates a costly fruit, and those varieties are no exception. But how can you say no to their delicious taste? Also, with the compact size for small spaces, they can be a lovely display indoors or in your garden.
| Names | Tree Height | Time To Pick | Taste |
| --- | --- | --- | --- |
| Eversweet | 8 to 12 feet | Between August and October | Sweet and slightly sour |
| Wonderful | 8 to 12 feet | September | Sweet and sour |
| Texas Pink | 6 to 15 feet | October | Sweet and tangy |
| Sin Pepe | 10 feet | September and October | Sweet |
| Vietnamese Pink Pomegranate | 10 to 35 feet | Fall | Mild |
| Ambrosia | 7 to 16 feet | September and October | Sweet and sour |
| Sweet | 8 to 10 feet | Early September | Sweet |
9. Eversweet
If you look for the best-tasting pomegranates on the Internet, Eversweet will be one of the first names to pop up. That is enough to understand the popularity of this plant.
This cultivar is famous for several reasons. The Eversweet main advantage over other varieties is that it is mostly seedless. Also, this 8- to 12-foot pomegranate tree is suitable for growing in the home garden and a perfect fit for areas with cooler climates.
Another bonus point is that the tree can produce fruits in the first year of planting. The large reddish-pink fruit will be ready to harvest between August and October. Furthermore, the juicy arils have a naturally sweet taste with a slight sourness or nuttiness.
10. Wonderful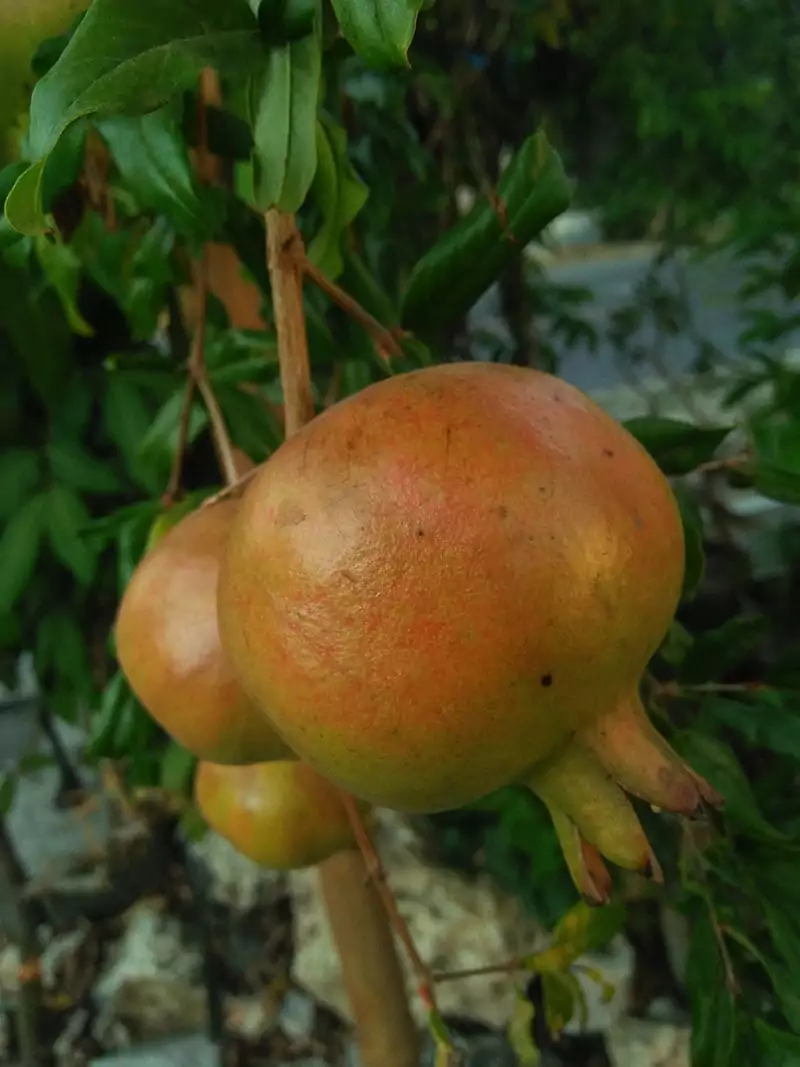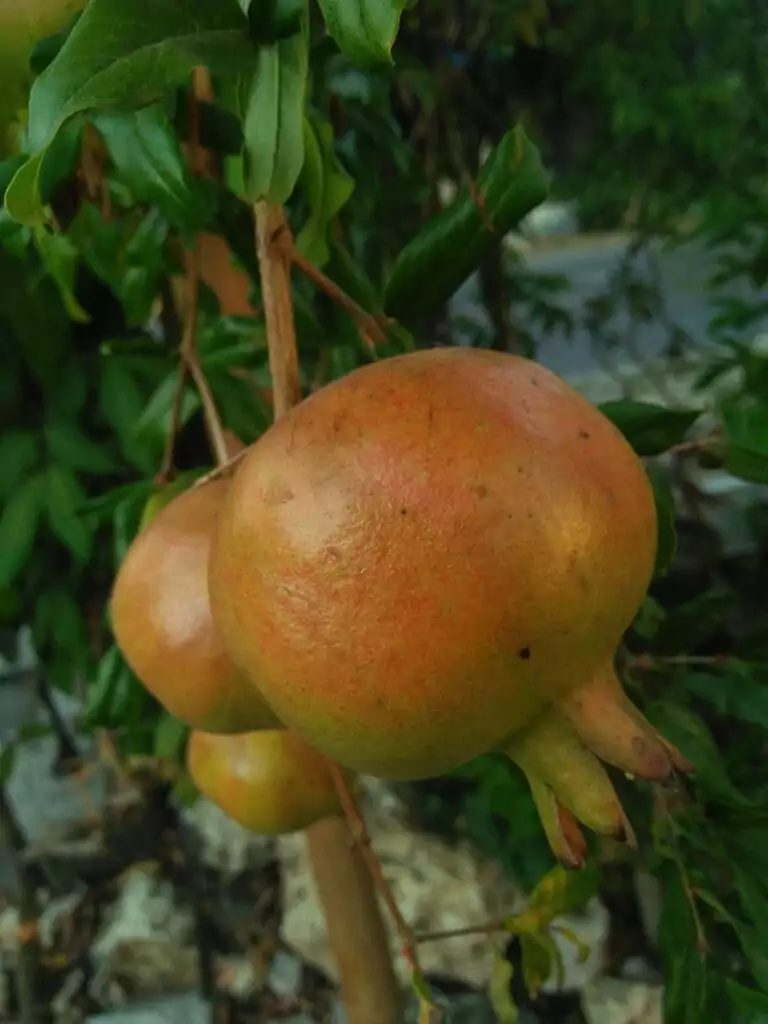 There is no doubt that Wonderful is the most popular pomegranate variety in the United States. This cultivar accounts for 95% of the pomegranate market in the US and is available in most grocery stores.
The Wonderful is a sun-loving and drought-tolerant plant, but you still need to water it regularly in the first year of planting. At maturity, the tree will be 8 to 12 feet tall.
The crimson-red flowers bloom in spring and summer, and the following fruits are ready to harvest 6 to 7 months later. Once ripe, the rind will vary from pink to deep ruby red.
People fall in love with this red variety due to its sweet-tart flavor and plentiful juice. The berry-like flavors of Wonderful are best to be eaten fresh or made into juice.
Pick up some more tips to take care of the Wonderful pomegranates here!
11. Texas Pink
The average height of Texas Pink at maturity is 6 to 15 ft in height and 4 to 10 ft in width. The red flowers will develop into large rosy pink fruits. The large pink fruits come with a sweet and tangy flavor and are ready to harvest in October.
You can use the pinky arils to make juices or smoothies or sprinkle them on salads and other dishes. However, Texas Pink is not only a fruit-bearing tree but also a special landscape ornament.
And with a compact size, you can grow the cultivar against a wall or turn it into a large bonsai tree. It normally has no pests or diseases and can produce fruits after a few seasons. What a 2-in-1 combo!
12. Sin Pepe
You can also call this variety Pink Ice or Pink Satin. The name Sin Pepe also means "seedless". But don't worry, the fruit still has dozens of extra soft, juicy seeds inside. When ripe, the fruit will range in color from pink to deep red and medium to large in size.
Sin Pepe pomegranates came from a plant introduction station in California. At maturity, the plant can reach a height of 15 feet and a width of 10 feet. Sin Pepe will be ready for you to pick up in September and October.
Pomegranate seeds are sweet, fresh, and fruity, with a light pink color. The tree is evergreen or deciduous, depending on the place of planting.
13. Vietnamese Pink Pomegranate
In Vietnam, pomegranates ("lựu") mean two things: a beautiful type of red-hued flower and a delicious fruit. The Vietnamese pomegranate variety is evergreen and highly productive.
Coming from a tropical region, the Vietnamese Pink pomegranate is perfect for growing in warm climates. Some believe this variety adapts better to the Californian weather than most of its cousins.
The size of a mature plant can reach from 10 to 35 feet depending on pruning. Flowers bloom all year round, and the biggest crop will start in the fall.
The seeds are deep red and have a mild taste, making them perfect for juicing, adding to salads, or eating raw. Also of note is that the trees can grow in containers.
14. Ambrosia
I have to say there are many reasons to love Ambrosia. And you should plant a tree in your home garden, if possible. Your garden will be a riot of colors in the spring with these red-orange flowers.
Not to mention the fruit of this variety is very large, three times the size of ordinary pomegranates. Ambrosia fruits can be the king compared to the size of other varieties.
When ripe, the skin is pale pink, while the purple seeds have a tense flavor with a hint of sourness. You can expect the super-sized fruits to dangle on the branches from September to October.
Moreover, the size of the Ambrosia plant is also average compared to other members of the pomegranate family. When mature, the tree will be 7 to 16 feet in height.
15. Sweet
I always think the Sweet pomegranate should be present in every summer garden. The plant requires a little effort to take care of but brings high aesthetic value. Try to plant one in your orchard or in a container near a bright sunlight spot to witness its lovely display.
A full-grown plant is about 8 – 10 ft tall, a bit smaller compared to other cultivars. Because of the small size, you can grow the Sweet pomegranates either indoors or outdoors, even in a colder climate. Just move the container indoors when winter arrives.
Meanwhile, the flowering is eye-catching with orange-red colors, and the harvest season following begins a little earlier than its brothers, in early September.
The fruit has a beautiful greenish-pink color outside and contains tiny soft seeds inside. As the name suggests, you can somewhat imagine the taste of the fruits. The Sweet has a sweeter taste than other varieties.
Even when unripe, the pink fruit is already sweet, but it's best to wait until the season comes and the fruit shows signs of ripeness.
Yellow and White Pomegrante Varieties – Rare and Exotic Gems
Compared to other siblings, the yellow and white varieties are at a disadvantage when they rarely appear on the market. They only grow in a fixed handful of places in the world and are rarely exported. Take a look at some of these unique pomegranates!
| Names | Tree Height | Time To Pick | Taste |
| --- | --- | --- | --- |
| Utah Sweet | 12 to 15 feet | October | Sweet |
| Kazake | 7 to 19 feet | August to October | Sweet and sour |
| Surh Anor | 12 feet | Late October to December | Sweet |
| Babylonian White Pomegranate | 8 to 12 feet | Early September | Similar to sour plums and green apples |
16. Utah Sweet
Another name for Utah Sweet is Dixie Sweet. The Utah Sweet Pomegranate (Punica Granatum) is a small cultivar that grows to 12 – 15 ft tall when mature. In general, this variety is cold-hardy and easy to grow. It does not require too many details and techniques in care.
With a compact size, Utah Sweet is a perfect ornamental tree for small spaces. Unlike other siblings, Utah Sweet stands out with pinkish-orange flowers when blooming. The fruit ripens in October, a little later than other varieties.
At the stage of ripeness, the rind matures to pink or yellowish pink. Moreover, the pink seeds are soft and sweet with non-staining juice, so it will be a pleasant experience to enjoy them fresh off the tree or by juicing.
A guide to grow, harvest, and cut open The Utah Sweet and The Wonderful varieties. Check it now!
17. Kazake
Kazake is a pomegranate variety from Uzbekistan, Russia. It can be considered a bushy and highly resistant plant, suitable for any type of well-drained soil. If you live in colder climates, this is the right cultivar for you.
The tree produces flowers and fruits at a very young age. After a few seasons, you can see the results. Kazake bears bright yellow fruits and colorful red seeds. Besides, each tree can produce dozens of fruits per season. The crop lasts from August to October.
The red arils have a naturally sweet and sour taste, but the seeds are quite firm. Therefore, I do not recommend swallowing them. Remember to be cautious when feeding children with this type of pomegranate.
Moreover, a fully grown plant will reach 8 -12 feet in height. Growing Kazake in your home garden as an edible hedge is not a bad idea.
18. Surh Anor
Please welcome another pomegranate variety from Russia: Surh Anor. Originating in low-temperature areas, this variety is also suitable for growing in cold climates. But there is something you must keep in mind.
Although mature trees can tolerate minus temperatures, unripe fruits will be at risk of damage if the temperature drops too low. Compared to its brothers, Surh Anor is a medium-size cultivar as a mature plant is up to 12 feet in height.
Also, Surh Anor is sometimes called white pomegranate because the seeds are a clear yellow color. Ripe fruits will range from pale yellow to rose red with slightly hard seeds inside and are sweet in flavor.
You can start the harvest season at the end of October, but the fruit will continue to ripen through December if the temperature in the area is mild enough.
19. Babylonian White Pomegranate
To be fair, the Babylonian White pomegranate is not a common plant in the US or even the world. This mysterious cultivar comes from Iraq. Legend has it that the fruit appeared in the Hanging Gardens of Babylon, one of the seven wonders of the ancient world.
A Babylonian White tree is up to 8 to 12 feet tall on average. When ripe in early September, the fruits are large and succulent, and the rind color changes from green to white.
The inner seeds are also in the same color as the outer peel. Interestingly, the taste of this mysterious fruit is quite intense, as it is a cross between a sour plum and a green apple.
Due to the sour flavor, the Babylonian White pomegranates are not a good choice for juicing. For a better experience, why don't you try them with salt to balance the sourness? This is a top-notch combo.
Choose Your Favorite Color Of Pomegranate!
Have you found a suitable pomegranate variety for yourself? Each type of pomegranate has its advantages and disadvantages and will create a unique character for your home garden. Or, if you are a casual shopper, now you can grasp a better understanding of the fruit world.
Remember that no matter what color a pomegranate is, it is an incredibly healthy fruit for you. So don't forget to add one to two cups of pomegranate seeds to your daily diet. Which pomegranate varieties will you choose for your next grocery shopping? Let me know in the comments below.
And, if you enjoy my article, please share the post with your friends. See you next time!