If you ever wonder how to tell if a pomegranate is ripe, I got you the full scoops. No doubt, you don't want to buy unripe or out-of-season pomegranates at stores. Rest assured, you will not encounter that scenario if you follow my instructions in this article.
As you read on, you will learn signs of pomegranate ripeness, how to store the fruits, some tutorials to make a yummy juice at home, and more. Without further ado, let's jump right in!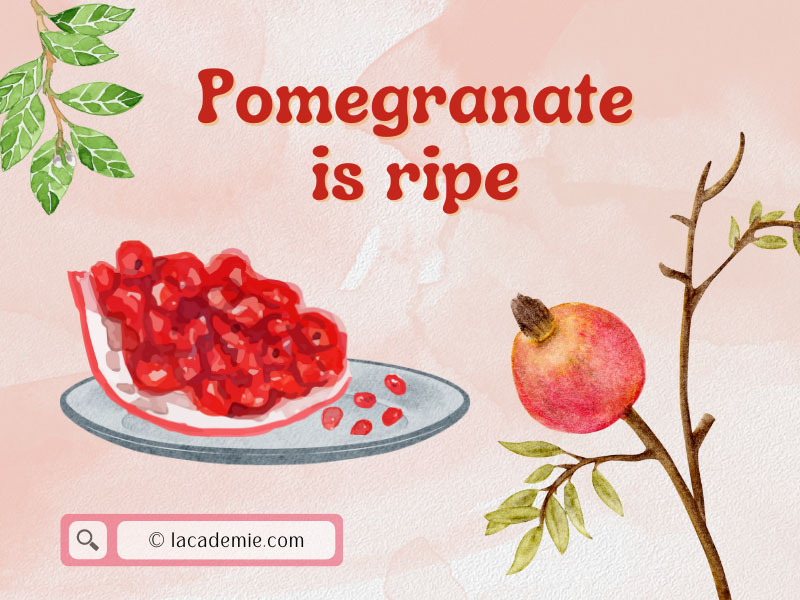 Signs To Know Your Pomegranate Is Ready For Picking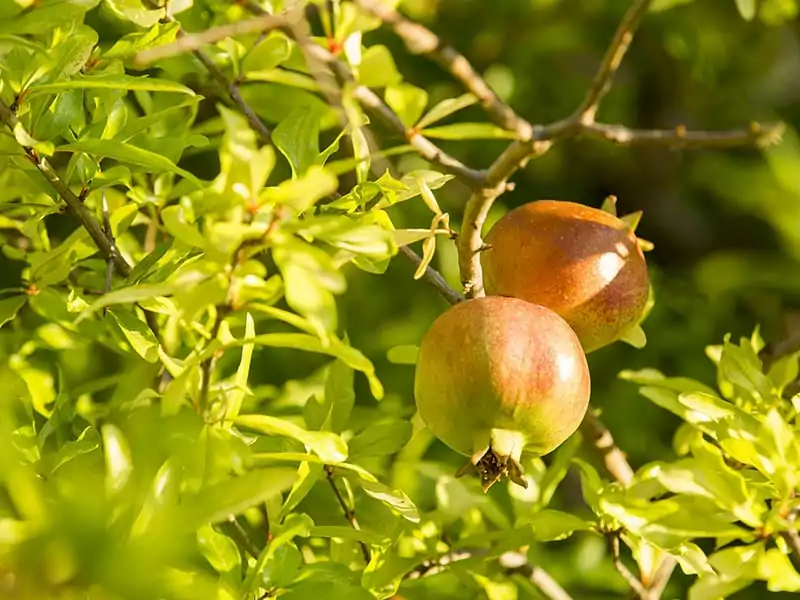 Commercial growers monitor the timeline, and perform acidity tests to determine the pomegranate ripeness. Meanwhile, home gardeners do not rely on the aid of professional tools, so they have to go through trials and errors over the years to recognize signs of ripeness.
And you, as a casual gardener, or a grocery shopper, can learn these signs in advance to assess the ripeness of your pomegranate.
Unripe and Ripe Pomegranate
Below is a brief comparison of the differences between unripe and ripe pomegranates.
| Essential Signs | Unripe | Ripe |
| --- | --- | --- |
| Color | Green or yellow | Dark pink to deep red |
| Skin | Lighter skin | Leathery |
| Size | Smaller | Heavier |
| Shape | Round | Flatten |
| Weight | Lighter | Heavier |
| Sound When Tapped | Hollow sound | Metallic sound |
| Birds And Critters | No interest | The birds will eat some fruits |
| The Crown | Open | Turn inward |
As you can see, ripe pomegranate has completely different characteristics from the unripe. Some features appearing on the exterior can help you determine which one is ripe in the store. That covers pretty much the basics. Let's get into details!
Weight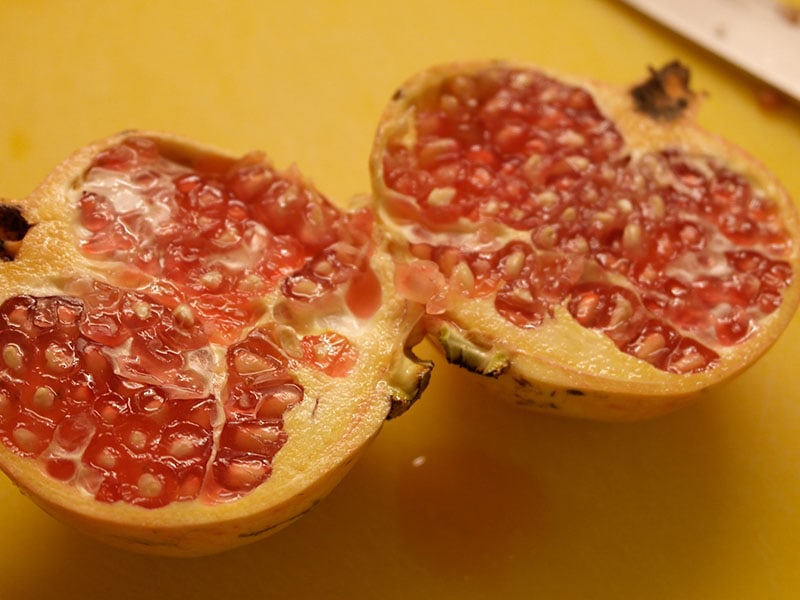 According to experts of the Pomegranate Council, weight is one of the factors to judge the ripeness of a pomegranate.
Since it is difficult to determine the weight of a pomegranate without special equipment, it is advisable to choose fruits with a more impressive weight or size. The pomegranate mass can be approximated by holding the fruit in your hand.
However, just holding one fruit doesn't give you a frame of reference. So, my recommendation is to pick up a few pomegranates to compare with each other. The mature fruit will be plump with juice and have larger seeds, and therefore heavier than its unripe counterpart.
Next time at the grocery store, if you are too lazy to go back and forth carrying a bunch of pomegranates to weigh on the scale, just bring home the heaviest.
Shape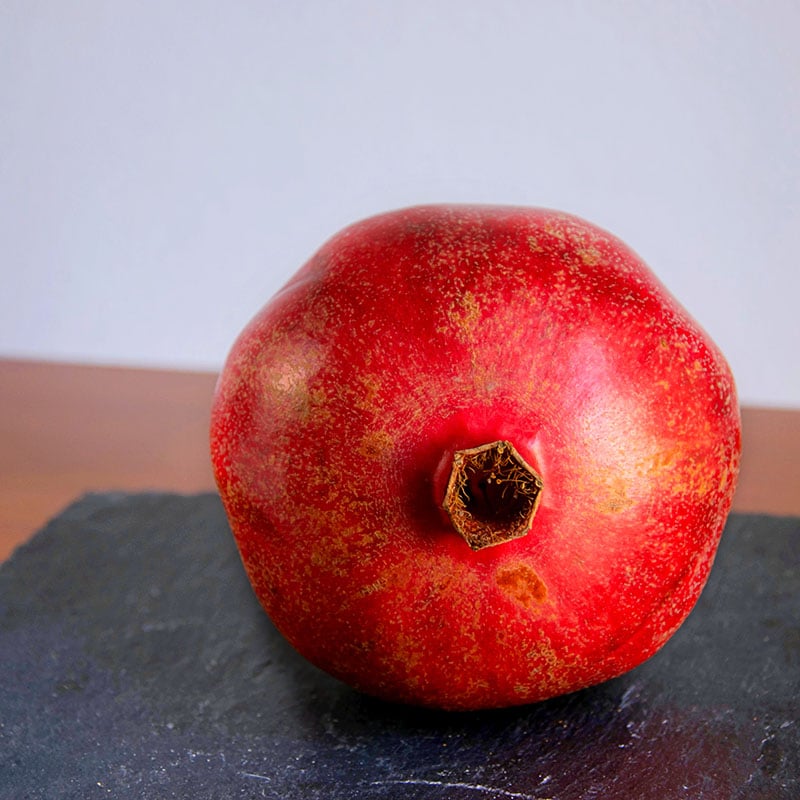 Never buy round pomegranates. Another indicator of a ripe pomegranate is the shape of the fruit. At the stage of ripening, its shape changes from being round like a ball to taking on a more squared appearance.
The seed, or the arils, inside reach the maximum size and push against the inner chambers, thus causing the fruit's side to become square. Also, if you notice the stem end, it will be flatter.
When ripe, the fruit will be in an angular shape and similar to an orange in size.
Color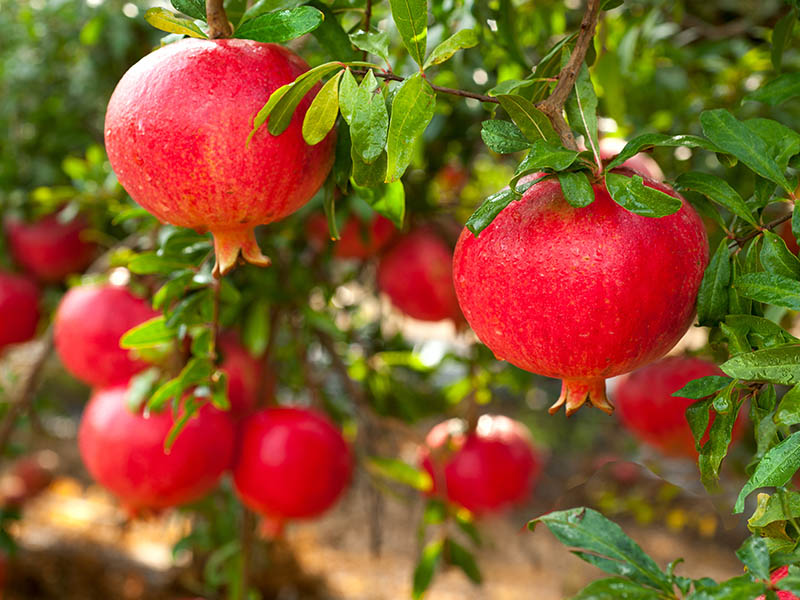 Another sign of pomegranate ripeness is color. However, when it comes to color, this criteria is a bit harder to judge. Ripe pomegranates vary in colors depending on the varieties of pomegranate you are growing.
For instance, some red varieties will turn from pink to deep red as their mature color, while some yellow or pink types will change to green when ripe.
However, if you are trying to pick the best pomegranate at stores, feel free to choose the medium to deep red pomegranates with no signs of green.
Besides, you should notice the stem end of the fruit. If there is a sign of yellow or green in the area, it's unlikely that the fruit is mature.
Skin Texture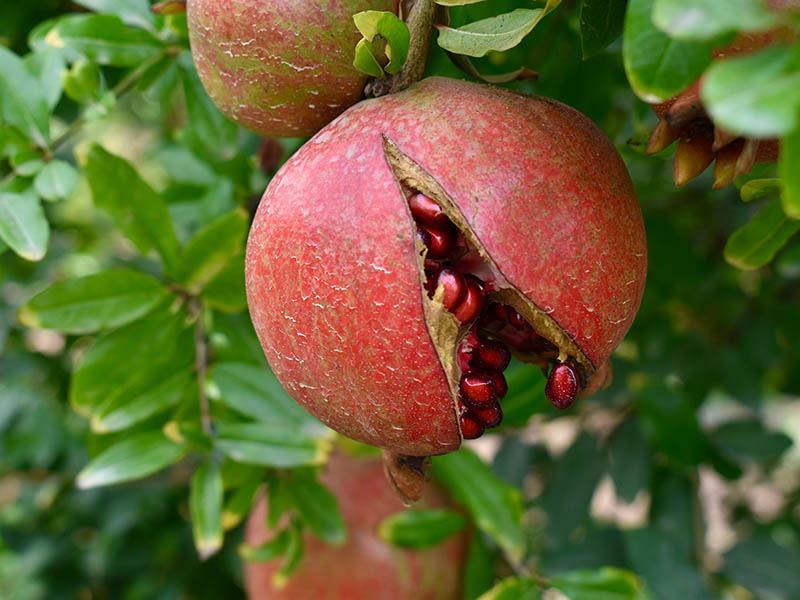 Soft, smooth, and leathery skin are good signs of a ripe pomegranate. There is a ripeness test by word of mouth that you may want to try. As such, you can do the fingernail test with gentle pressure on the fruit in question.
A ripe pomegranate's skin should be soft enough to leave a scratch. Therefore, don't put down a pomegranate just because it has scratches or marks on the surface, as these are not signs of spoilage or overripe.
Actually, cracks on the rind, also known as splitting, are a bonus sign of ripeness. When it matures, the skin will become more rough and taut. The rind can be so dry that it gets pulled apart, leading to cracking.
On the flip side, if you are a grower, you had better harvest the fruit as soon as possible because cracked pomegranate is an invitation for pest and arils damage.
Sound When Tapped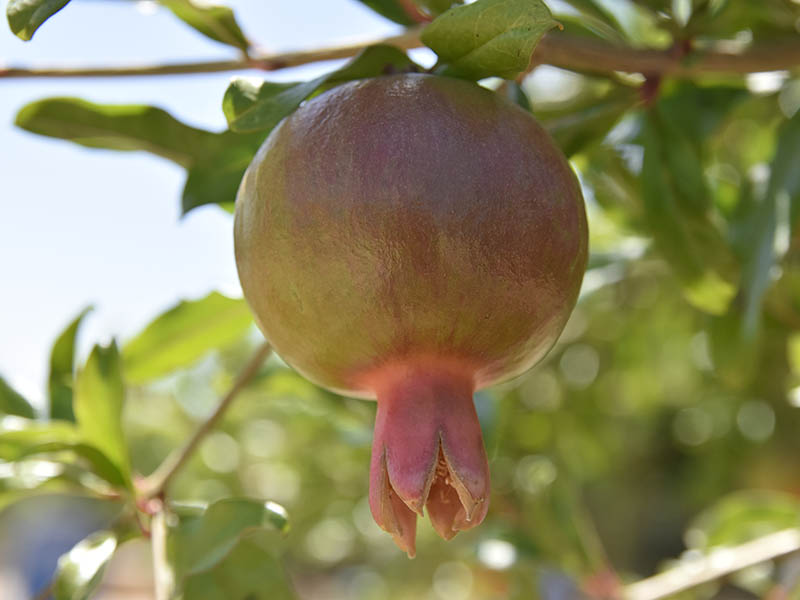 If your pomegranates are still waiting on the branch, another helpful way to estimate their ripeness is to check the sound when tapping the fruits. Hold the pomegranate on your palm, then tap the surface with the index finger 2 to 3 times.
You will realize that unripe fruit will have a hollow sound, while the one that is ripe makes a metallic sound due to a large amount of juice inside.
Birds And Critters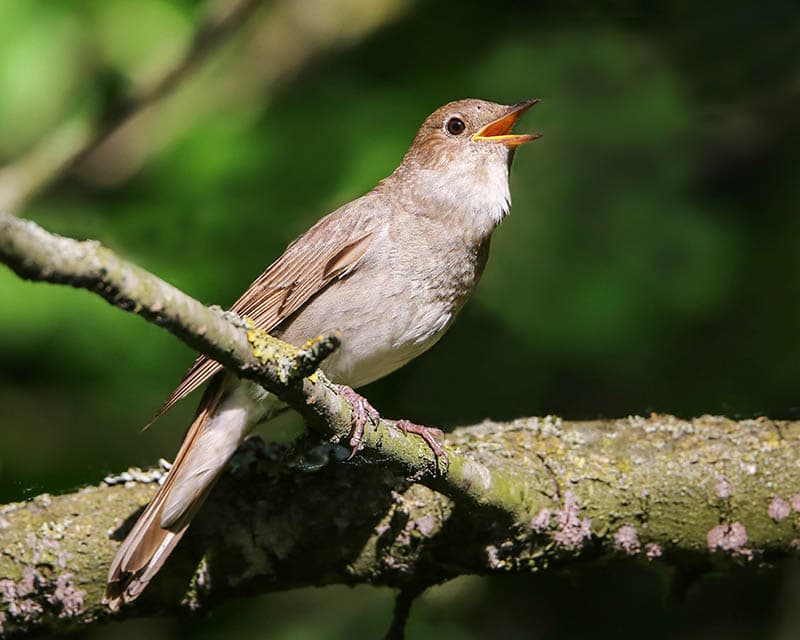 Given you are a grower and an agriculturist, you must understand the relationship between animals and plants. Never underestimate the animal senses. When birds and critters begin to hang around the trees more than usual, you should prepare for the harvest to come.
For gardeners who own too many plants and have no time to check the ripeness of their fruits, they make full use of this method. Some say to wait until the birds come to eat some fruit. Your job is to pick and check the damaged fruit to see if the sample is already ripe.
Then you can start harvesting and leave the unripe fruits alone until the birds show their interest again.
The Crown
The crown is the flower-lookalike attachment on the top of the fruit. Oftentimes, when the fruit is ready, the crown is slightly turned inward or appears to close.
Follow this gardener and unveil his tips on checking the pomegranate ripeness.
All About Harvesting
As a gardener, what could be worse than going through all the trouble waiting for your pomegranates to ripen only to find out they are unripe? I cannot even imagine that kind of pain. Accordingly, you should equip yourself with the knowledge to harvest these homegrown gems.
Countdown Since The First Blossom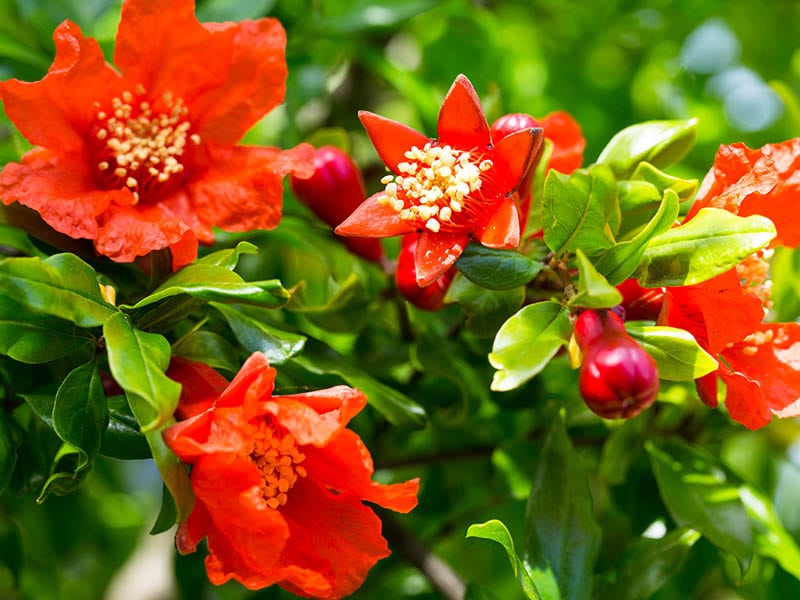 Pomegranates are plants that require a lot of patience and care. In the first year of growth, don't be discouraged if your pomegranate tree only produces a few fruits. It wasn't until two or three years later that the real crop began.
Flowering time is crucial to determine the harvest season. The fruits are in the season 6 to 7 months after the first flowers appear on the branches.
More specifically, pomegranate flowers will bloom during spring to early fall. Consequently, the crop starts from August to October, depending on the varieties. The harvest season begins from the end of September through November in California.
I should add that the flowers may bloom two to three times during spring and summer, so some fruits will develop late and never ripen. They will wilt and die on the tree.
If you are not too busy, make a trip to your garden from time to time during the harvest to check the ripeness of your pomegranates.
To Pick A Pomegranate, Snip It, Don't Twist It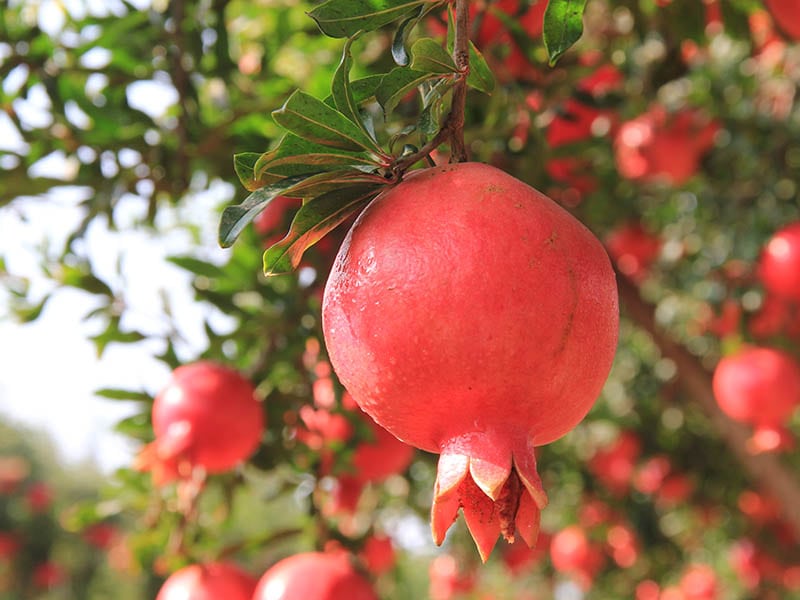 To harvest pomegranates, you should first wipe a set of sharp garden shears with alcohol to disinfect them. Then you can cut the pomegranates off the tree with the shears, rather than pulling or twisting.
Try to snip as close to the main branch as possible so the whole stem comes with the fruit. Never pull pomegranates straight off the tree since this can leave a stem on the branch. You don't want to risk damaging other nearby fruits.
It's best to put the fruit carefully into a basket rather than toss it in. You don't want to see the bruising appear on your gems. Moreover, you must discard any that have split or been chewed by animals. They can harbor fungi and pose other risks that you may not witness by eyes.
Even though what you eat is the arils in the interior, you should wash the fruit prior to storing or eating, especially when your trees require pesticides to grow.
Here's a tip for you, don't pick the fruits until they are bust at the seams. This usually happens a few days after the rain.
Pomegranates are non-climacteric fruits, retaining their deliciousness after being picked. Yet, they will not continue to ripen once they have left the branch. It is essential to pick pomegranates at the right time, not too soon or too late.
If the fruits stay too long on the branch, they will get spoiled and start to slit open which can attract pests.
Do you know how people harvest pomegranates on a large scale? Find out here!
Storing Matters – Take Care of Your Pomegranates
Preservation is no less important than the selection of ripe pomegranates. It's important to note that properly storing can help maximize the shelf life of pomegranates. Be kind to your delicious fruits!
You can check the table below for an easier frame of reference.
| Part | Room Temperature | Fridge | Freezer |
| --- | --- | --- | --- |
| Pomegranates (whole) | 1 - 2 weeks | 1 - 2 months | Not recommended |
| Pomegranate seeds | A few hours | 1 week | 1 year |
Room Temperature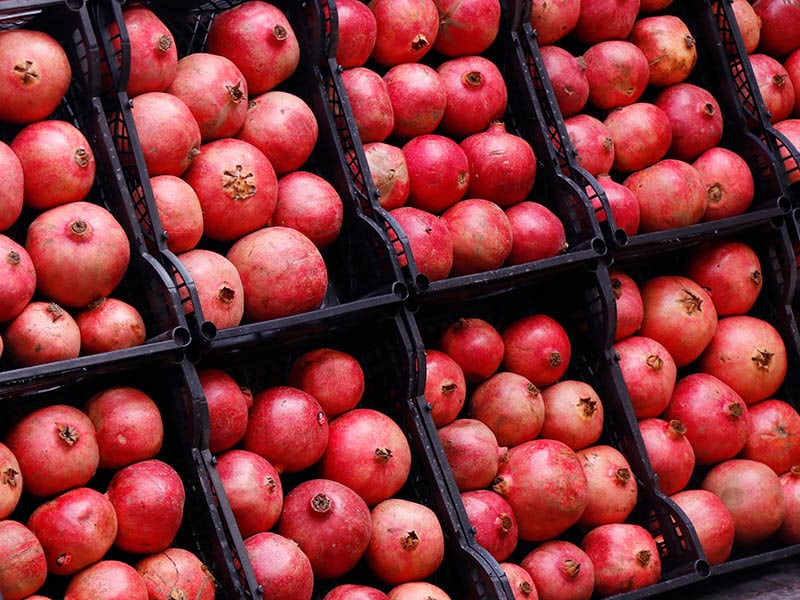 If you are not interested in refrigerating ideas, you should place pomegranates in a cool, dry place and away from sunlight (1). Keep your pomegranates in a cool, dark area at 40°F to 50°F. At this temperature, the pomegranate flavor will continue to improve.
Especially, avoid keeping the fruits in sealed containers, or places with high humidity. Also, you should leave them unwrapped.
At room temperature, pomegranates can last for one to two weeks. Do not leave them in direct sunlight. Remember to store pomegranate seeds in the refrigerator, or they will turn mushy within a few hours.
In The Fridge
Of course, you can enjoy pomegranates immediately straight from the tree or spread them on the pantry.. But in larger quantities, you need to have a proper plan to store the ruby gems.
Unpeeled pomegranates can stay fresh for up to 2 months in the refrigerator. But if you buy the fruits at stores, the shelf life may not be that long.
It must be noted that pomegranates already sat unrefrigerated within a few days in the produce section in the supermarket, so it will not retain the same quality as the ones picked in the garden. As for uneaten seeds, you can keep them fresh for about a week or so in a fridge.
In The Freezer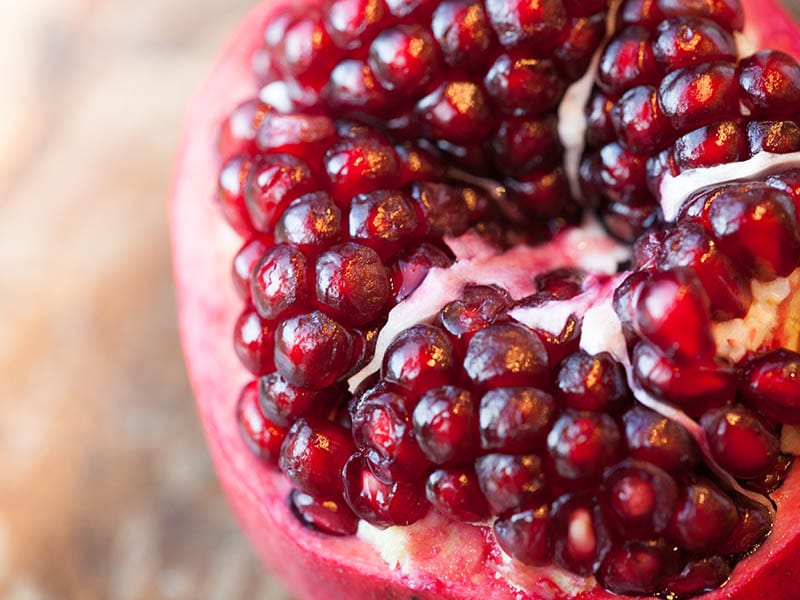 For long-term storage, pomegranate seeds still retain their flavors for around one year if frozen in an airtight container.
How Do You Know When A Pomegranate Goes Bad?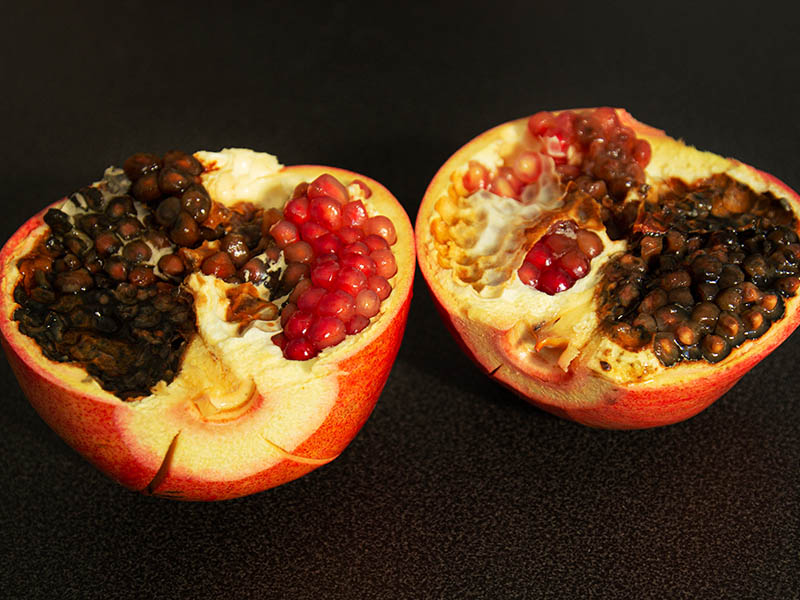 Alright. This may sound devastating, but sometimes you have to let go of the bad things. If you see these signs on your pomegranates, toss them immediately.
Weight
When ripe, the fruit should feel weighty with a burst of juice inside. So, it's time to say goodbye if your pomegranate feels light due to the dryness of the juice. However, just double-check to make sure.
Spots Of Darkness
Another sign of spoilage comes from the skin of the pomegranate. Pay attention to see if there are any black spots on the surface. A few small spots are fine as long as they are not mushy or hollow.
However, once they appear on the rind, you should test the fruit by slicing the pomegranate in half and examining the condition inside.
Off-Taste And Odor
It's unlikely that you could accidentally eat a bad pomegranate. You can tell the pomegranate seeds are rotten when you can smell the nail polish remover, or alcohol, from them. The decaying taste might cause you to spit it out.
Seeds Turn Brown
Although pomegranates vary in type, the seeds are usually ruby red. You might grasp that something terrible has happened, so the color changed. The brown seeds are also so slippery that you cannot pick them up between your fingers.
Pomegranates – A Healthy Fruit For Everyone, Or Not?
Apart from their incredible taste, pomegranates are one of the healthiest fruits, which is among many reasons why pomegranates are expensive. However, they are not the best choice for everyone. Read on to know more about the nutrient values of pomegranate and who is the exception.
Nutrition Value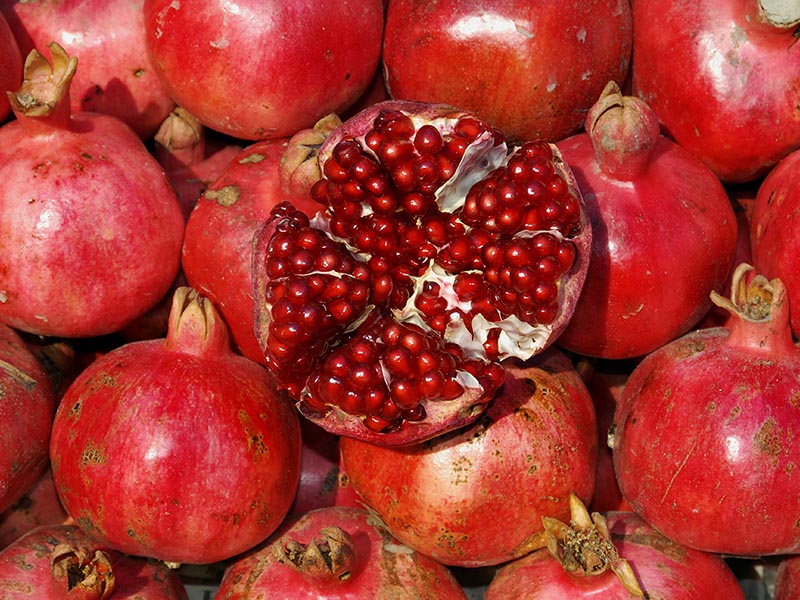 Pomegranates have a high nutritional value. Below is the nutrition parameter for the arils of one medium (282-gram) pomegranate:
Calories: 234
Fat: 3,3 grams
Protein: 4,7 grams
Sugar: 38,6 grams
Fiber: 11,3 grams
Vitamin C: 28,8 mg
The nutritional value of pomegranate and its seeds differ from pomegranate juice, because it does not contain much fiber and vitamin C. Fiber in the whole fruit is more than in juice. Additionally, the arils carry a kiss of sweetness, as they consist of 39 grams of sugar and 234 calories. (2)
Health Benefits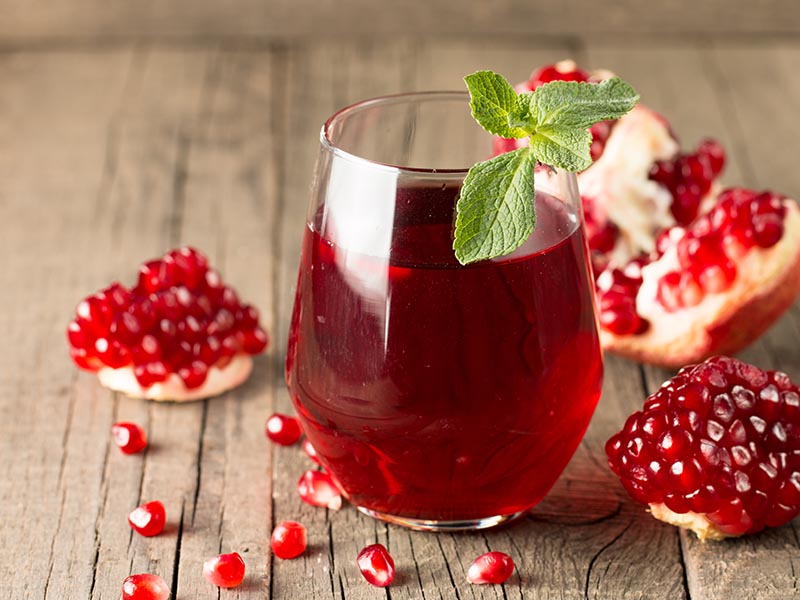 It's rational that people consider pomegranate one of the healthiest fruits. The red rich fruit carries many health benefits.
Eating pomegranate seeds or drinking the juice brings incredible health benefits to your body. The powerful antioxidant polyphenols in pomegranate pulp and juice protect you against the risk of developing certain cancers (3).
And yet, experiments also show that almost the entire composition of pomegranate has antimicrobial properties, thanks to the antioxidant capacity and a large amount of polyphenols.
Also, pomegranate is an excellent source of vitamins, especially vitamins C, vitamins A, and other minerals. The wonderful red juice exerts cholesterol-lowering effects and may slow down the aging process.
In addition, punicic acid in pomegranate helps reduce triglycerides, fight inflammation, and calm skin ailments such as eczema, psoriasis, and acne.
So next time you crave for a snack, munch on this divine fruit!
Have you heard about these insane health benefits of pomegranates?
Things You Should Notice When Eating Pomegranate
As you know, just like all kinds of fruits, how you eat pomegranates affects their nutrient content. Be careful, or else the fruits can cause harm to your health.
Be Cautious When To Eat Pomegranate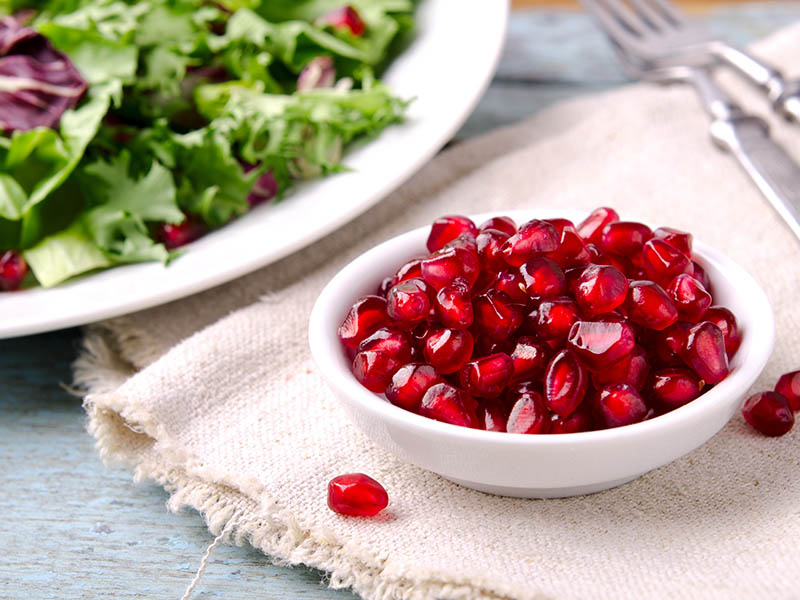 I know pomegranates are good, but you can not eat them all the time. The best time to consume the fruit is in the morning, when your body needs different energy for a new day. People with a normal digestive system can have the arils in the evening without any threat to health.
Although the magnesium content in this fruit can help you sleep better, it's worth remembering that you should finish the last seeds sooner than 2 hours before bedtime. If not, the fiber in pomegranates will make your stomach hard to digest at night.
Nutritionists agree that eating pomegranates or drinking its juice on an empty stomach causes no harm to your health. Thus, don't be afraid to try some pomegranate seeds in the morning when you wake up.
Why Pomegranate Is Not Safe For Everyone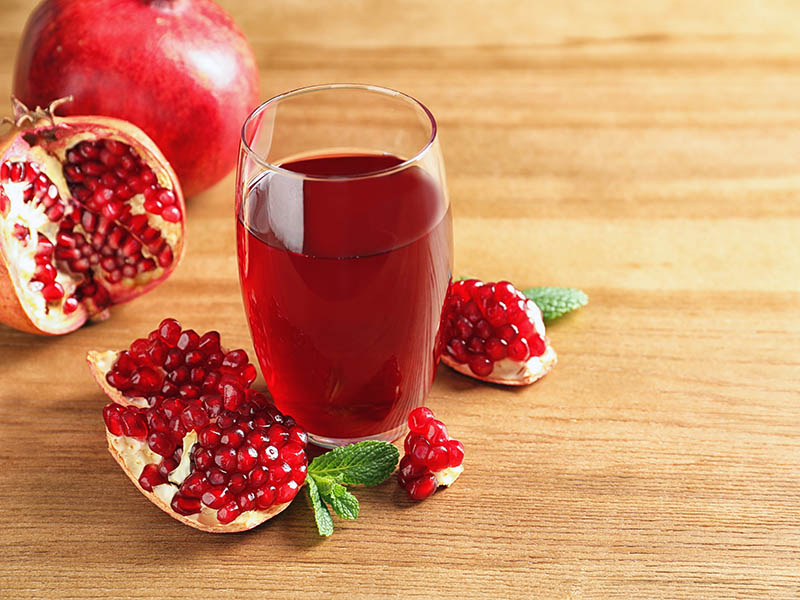 Most people do not experience negative side effects when drinking pomegranate juice. Nevertheless, people who are allergic to pomegranate should stay away from its juice.
Pomegranate juice contains medium sugar content, so diabetics should be cautious when consuming it. It's best to consult a doctor before taking on the juice.
If you suffer from low blood pressure or diarrhea, you should also limit your intake of this red juice. It is advisable to avoid any pomegranate products at least two weeks prior to surgery.
Women during pregnancy are one of the subjects that should limit pomegranate extract consumption because they could contain pomegranate rinds. The root, stem, and peel are unsafe for the vulnerable since they carry poisons.
Watch Over The Kids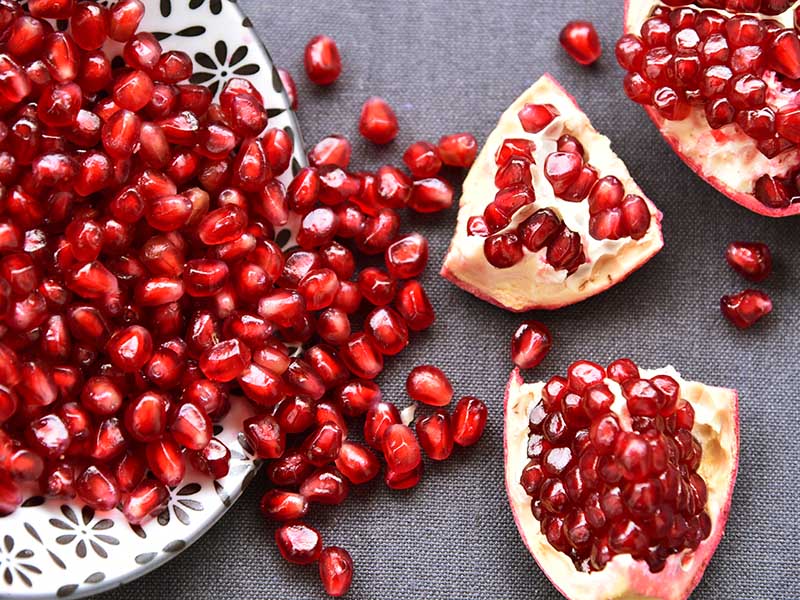 For the question of how many pomegranate seeds you should eat a day, the answer is 1 ½ to 2 cups of pomegranate arils per day, according to the Department of Agriculture (USDA) (4). A half-cup contains only 72 calories.
Ripe pomegranate arils have high nutritional value. Yet, there have been several cases of children in critical condition due to swallowing a large number of pomegranate seeds.
Especially, don't let children play with pomegranate seeds. If the arils are in the nose, you should visit the doctor immediately. In some cases, they might hinder the child's ability to breathe if it travels deep inside the nose and enters the body.
Easy Tutorials To Make Pomegranate Juice
Eating a whole pomegranate has its perks, but some people tend to prefer its juice. Believe me! You don't have to spend money buying juice at stores without knowing all of its ingredients. Follow my instructions to have a glass of nutritious pink juice in a few minutes.
Making Pomegranate Juice By Hand
Not everyone has a blender, or some people may prefer making things by hand. If you are in such cases, here's the guide to make pomegranate juice without additional electrical equipment.
Step 1: Remove The Seeds
Wash the pomegranate, and let it dry. Next, use a knife to cut off the crown on top of the fruit. Score the fruit into sections. I think scoring four times is enough, but you can do it a few more times.
Break open the fruit into sections. Then place the pomegranate into a water bowl. Loosen the arils from sections underneath the water with your fingers.
Step 2: Collect The Seeds
The arils will sink at the bottom while the peel and membrane will float on top. Drain the water from the seeds when you finish separating them from the rind. You can use a fine-mesh sieve to catch the ruby gems.
Step 3: Let's Start Rolling!
Put the seeds in the zip bag and use a roller pin to roll it from top to bottom until the arils are out of juice. After that, you can filter pomegranate juice using a sieve or strainer into a glass to serve.
Step 4: Bon Appetit!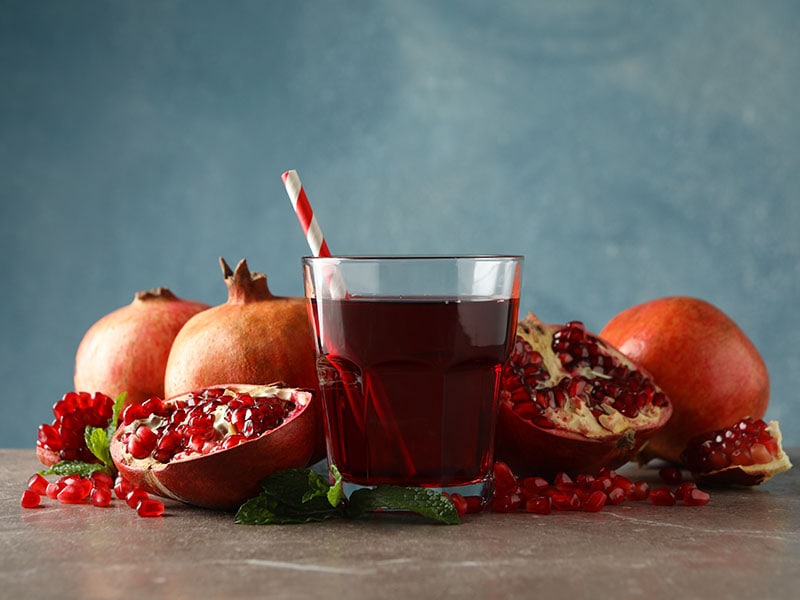 Now you can taste the fresh and delicious fruit. Add a bit of maple syrup or your desired sweetener to get the perfect level of sweetness.
Juice A Pomegranate With Blender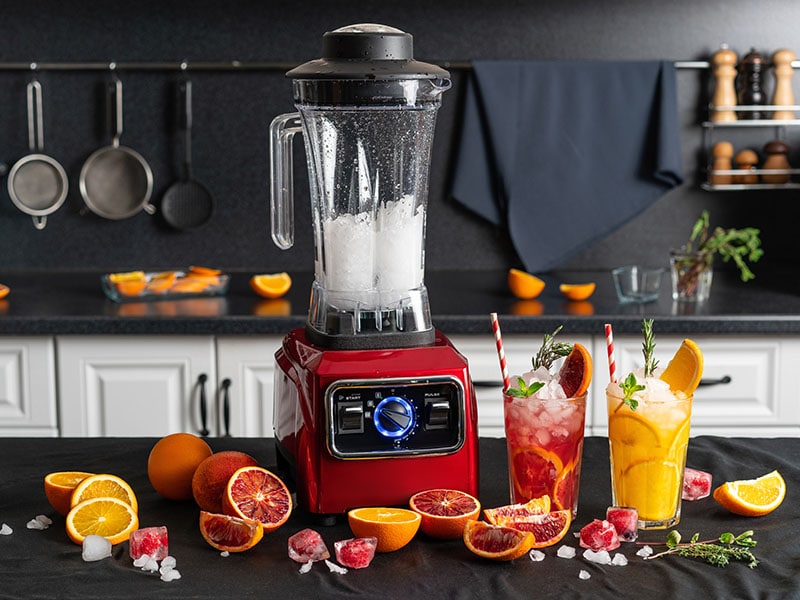 To shorten the process, a blender or food processor is what you need. When the seeds are ready, it only takes 15 to 20 seconds to see the finished juice.
Step 1: Get The Seed Out
This step is no different than the one above. Following cutting the pomegranate into sections, you can put them all in a bowl. Fill the bowl with cool water. Break apart the arils from the rind. Next, drain the water, and get the fresh seeds out.
Step 2: Turn The Seeds into Juice
Homemade pomegranate juice takes only a few minutes if you own a blender. Pour the arils into a blender, and blend or process until the arils have been crushed, but the seeds still remain (about 15-20 seconds).
Step 3: Enjoy Your Result
Transfer the juice to glasses through a sieve and enjoy your juice. To shorten the time, you can use a spatula to press the pulp. That way, the pomegranate juice will drop faster.
Everything you need to know when making pomegranate juice with a blender.
Tips To Use Stored Pomegranates That Become Overripe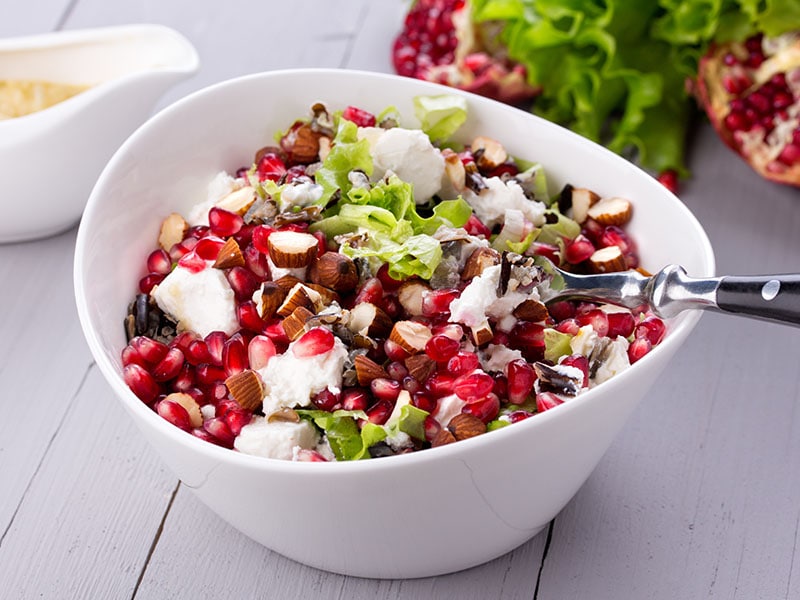 It's been a while since you put the pomegranates in the refrigerator. And now you realize they are all overripe. What should you do now? I am here as a problem solver.
Juice It
Juicing is the simplest and most effective way. If you already have the seeds, it only takes a few minutes to serve the juice. What's more, juicing the fruit helps to save the maximum nutrients. Given that you have no ideas to make one, you can re-read my instructions above.
Use It as A Salad Topping
Using pomegranate arils as a salad topping? Why not? What's stopping you? Indeed, the arils will add a crunchy texture to your summer salad. Even if they are overripe, the other ingredients will cover the flavor.
Freeze It For Smoothie
Have you ever come across a pomegranate smoothie? Instead of tossing the red gems in the trash, you can put them in an airbag and let them rest in the freezer for a while.
Then, whenever you craze a snack, you can combine the frozen arils with other desired ingredients to make a healthy smoothie.
Make Jam
Making jam is my go-to recipe for out-of-season fruits. I believe anyone who is a fan of bread will be on the same page with me. A jar of pomegranate jam can last for three weeks, so remember not to leave out a single drop.
Learn how to make a delicious pomegranate jam here! Make the best use of your overripe seeds.
Tie Your Apron And Try These Interesting Pomegranate Recipes
For adventurous people in the kitchen, a pomegranate is not a fruit but also an ingredient that you can play mix-and-match with. Here are quite unique combinations of pomegranates. Do you accept this challenge?
Generally, pomegranate is a versatile ingredient in many dishes. Pomegranates combined with chicken, though, is quite a unique experience. If roasted or fried chicken already sounds trite to you, it's time to make your dinner more interesting with this pomegranate chicken.
This dish is a spin-off of traditional Persian fesenjan. The preparation of this version is less complicated, and the taste is stronger than the original. It will take about 1 hour from start to finish, but I'm sure the result won't let you down.
Today is the day when you should try to make this pomegranate chicken at home.
Salad is my favorite food in the summer. When it's hot outside, there's nothing that can beat a bowl of fresh and raw vegetables and fruits. Allow me to introduce you to a rocket side salad to pair with any main meal.
This recipe has very few ingredients, which are all plant-based foods such as arugula, pomegranate, walnuts, and parmesan. Vegans, do you see this coming? Sweet, tart, and peppery are great adjectives to describe the flavor of this salad.
Pomegranate molasses is a reduction sauce used to add a layer of sweet and sour flavor to a dish. How inappropriate it would be if I forgot to mention this recipe.
Basically, the composition of molasses includes juice and sugar. However, sugar is not on the list this time to preserve the distinctive flavor of pomegranate. You can add a bit of salt to bring out the sour notes.
FAQs
I found out that you will have many other questions about pomegranates. I hope that I could answer some of your desired questions.
Can You Tell If A Pomegranate Is Ripe or Not Now?
They say there's nothing so hard that it can't be learnt. At first glance, it seems that to distinguish the ripeness of pomegranates, you have to be a professional. If you pay enough attention, you will realize there are many tell-tale indications around its ripeness.
Do you have any experience with ripe or unripe pomegranate that you want to share with me? Or any tips or advice to other fellow foodies? If your answer is yes, please let me know in the comment.
Also, please share this post to your loved ones. This article may be the one for those struggling at the pomegranate stall all this time. It's time for me to say goodbye! See you in the next article.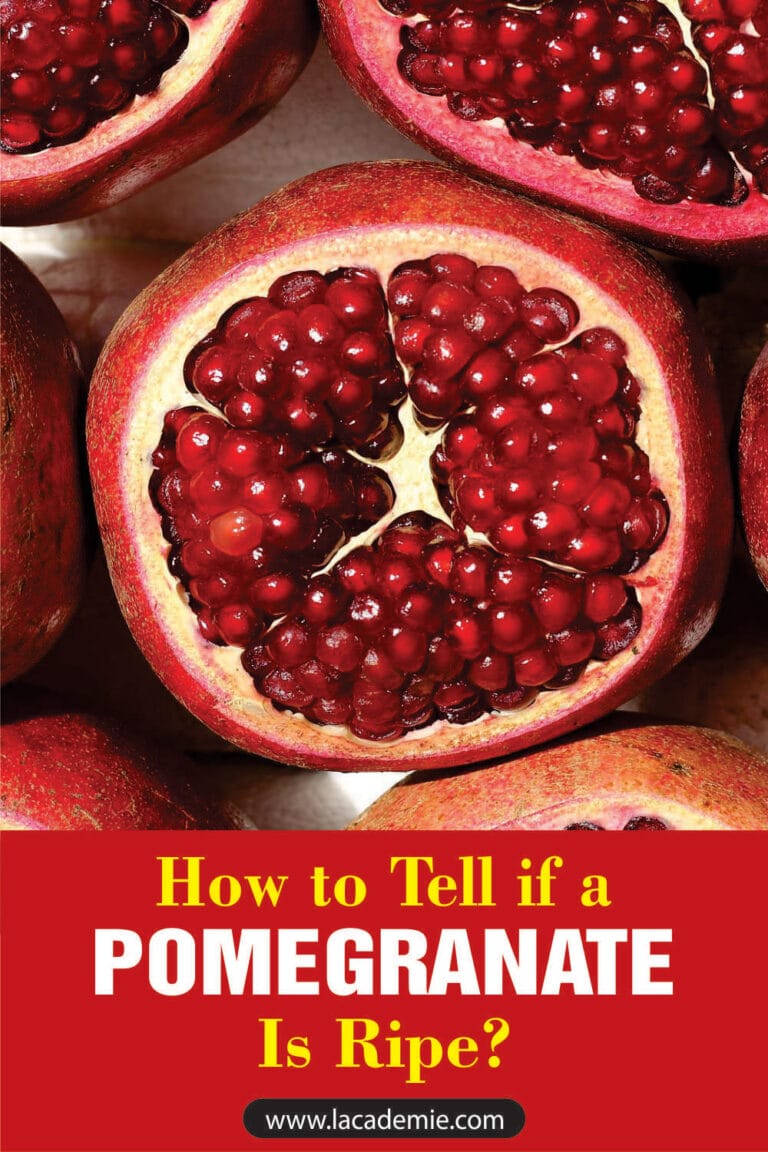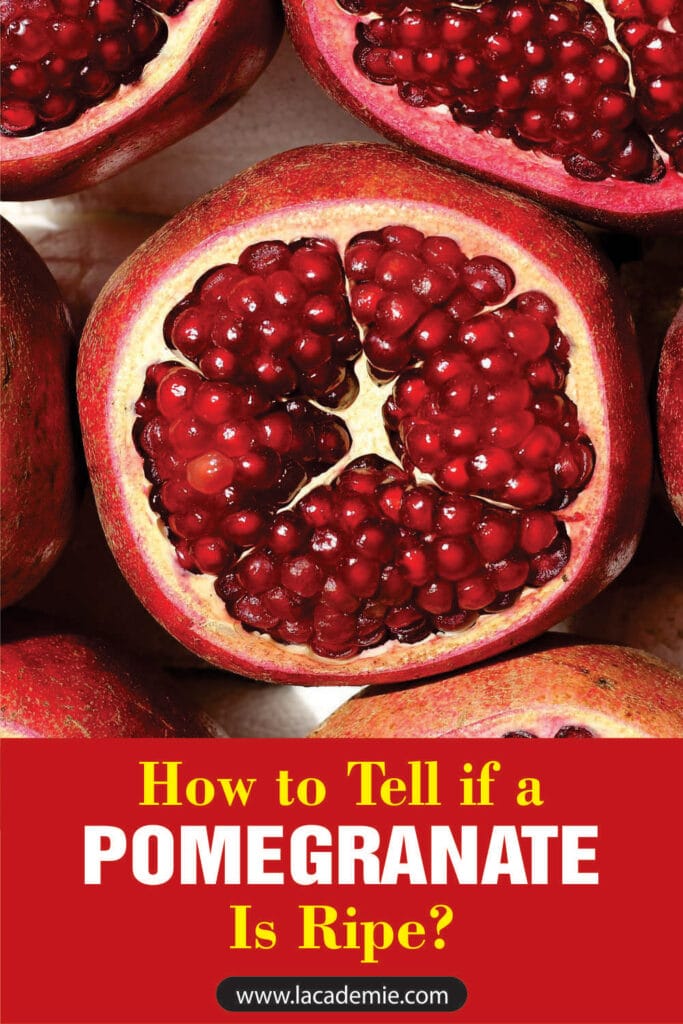 Reference
Crec.ifas.ufl.edu. 2022. UF/IFAS Citrus Extension: Pomegranates for Now.
Nutrition Data. 2022. Pomegranates, raw Nutrition Facts & Calories.
.Zhou, Y., Zheng, J., Li, Y., Xu, D., Li, S., Chen, Y. and Li, H., 2016. Natural Polyphenols for Prevention and Treatment of Cancer. Nutrients, 8(8), p.515.
Economic Research Service U.S. DEPARTMENT OF AGRICULTURE. 2022.