It's hard to give the question "How long does a pomegranate last?" a precise answer. You have to consider many factors such as storage conditions, where you get your pomegranates, and more.
This article will help you gain more knowledge about pomegranates preservation, its health benefits, and more delicious recipes to add to your daily menu? Does it sound tempting enough to you? Are you ready to get into details?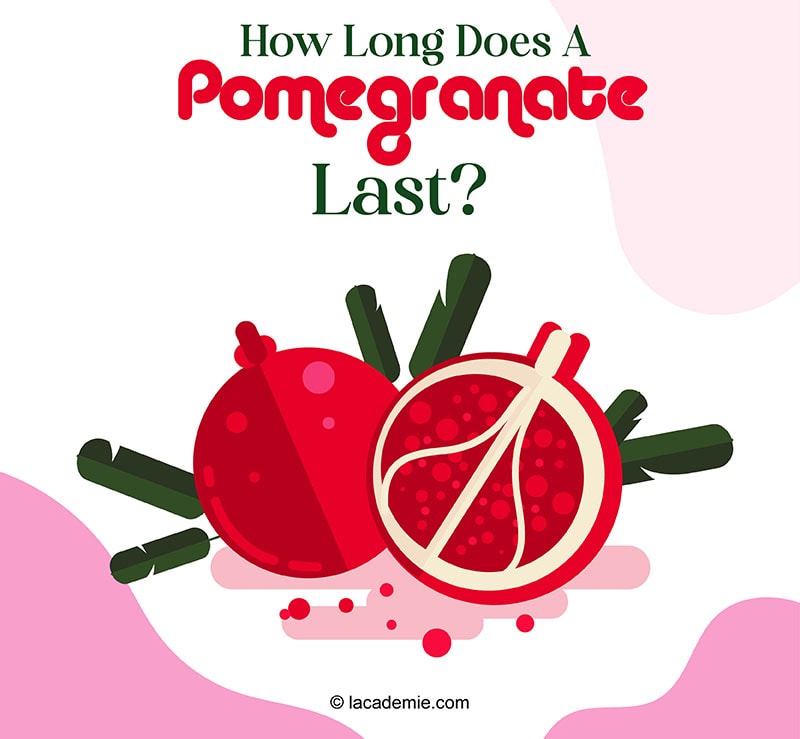 Pomegranate – A Fruit Associated With Mythologies
As well as being one of the longest-lasting fruits on earth, it is no surprise that pomegranates have been present in the culture and history of many countries.
One Of The Healthiest Fruits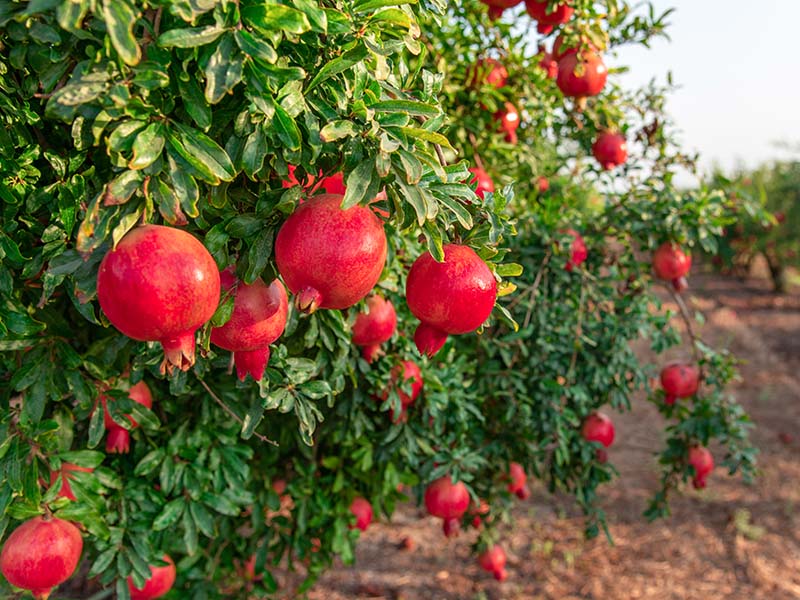 Pomegranates (Punica granatum) belong to the Lythraceae family. The ripe fruit is often in shades of red and is similar to apples in appearance. However, the stem end shape looks like a flower.
Pomegranate trees live more than 200 years. However, only those younger than 15 years or so can produce fruits. They are one of the healthiest fruits, which is why pomegranates usually have a high price tag. They're also long-lasting since the hard rinds do a great job of protecting the red jewels inside.
The peel of pomegranates is firm, thick, and inedible. Therein lies hundreds of juicy seeds. The shiny red fruit contains a lot of beneficial compounds, whereby you can view that pomegranates are superior to other fruits and foods from a medical standpoint.
Myths and Legends About Pomegranates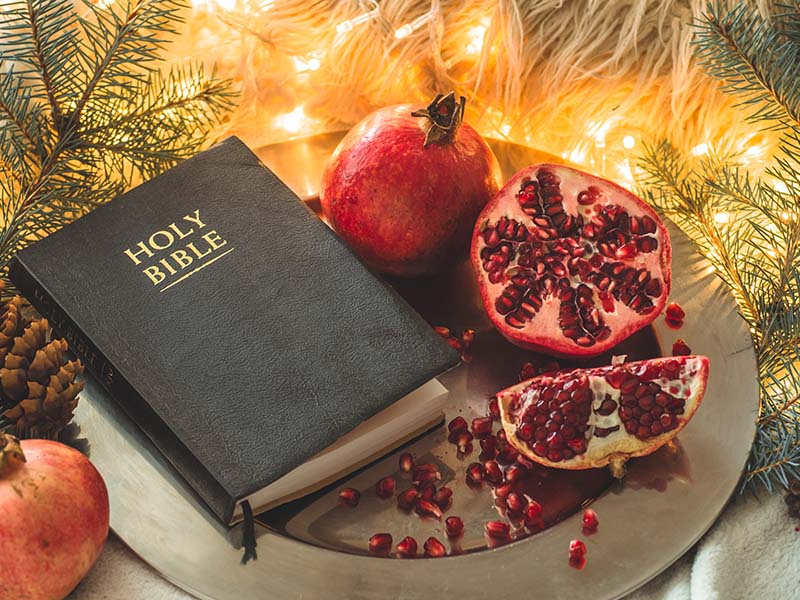 It may come as a surprise to learn that pomegranates are one of the oldest fruits on earth. Throughout history, the brilliant fruit has been linked with mythologies and legends in many parts of the world.
Pomegranates are native to the mountainous areas of the Middle East, including northern Iraq and northwestern Iran. Proofs of the fruit cultivation were found in Egypt even before the time of Moses.
According to scientists, people started to cultivate pomegranate fruits in Egypt as early as in the 18th Dynasty (1550 BCE–1292 BCE). (1) The fruit played an important role in Egyptian culture and mythology, symbolizing abundance and unity, as well as renewal and rebirth.
And you may not know that pomegranates are one of 7 fruits mentioned in the Bible. Muslims believe that the fruit represents wisdom, knowledge, and righteousness.
Interestingly, there is a belief that a pomegranate usually contains 613 seeds, matching the number of commandments in the Torah (an important book of the Jewish faith).
Nevertheless, this does not seem to be the case nowadays, as many fruits can possess close to 1000 seeds. So next time you open a pomegranate, don't try to count how many arils it has.
According to Greek mythologies, pomegranates were associated with various gods and goddesses. In particular, the story about how the death of Adonis, one of Aphrodite's lovers, created pomegranates gives them the name "the fruit of the dead."
Let's Talk About Pomegranate Shelf Life
Along with apples, pomegranates are one of the fruits that can stay fresh for the longest time in the refrigerator. This is all thanks to the firm and thick outer rinds. But it appears that your jewel-like seeds can't reach the maximum shelf life in every case.
Factors That Influence Pomegranate Shelf Life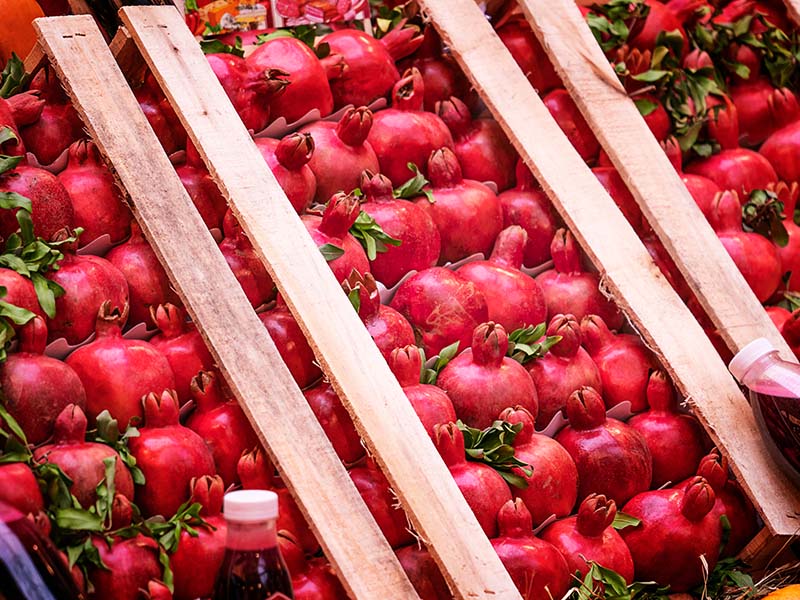 The harvest time depends on the shrubs and places they are growing. After being picked from the trees, the fruits will no longer ripen but still improve their flavor.
The shipping from local farms to the supermarket often takes 1 to 3 days. During this time, the pomegranates will be stored at an appropriate temperature until they are present on the fruit stalls.
That said, the shelf life of pomegranates varies depending on whether you pick them straight from the trees or buy them from stores. The shelf life of pomegranates will maximize if the fruit gets delivered from the orchard directly to your fridge.
By contrast, the pomegranate from the stores will last shorter. At supermarkets, pomegranates probably don't stay at the same constant temperature as inside your refrigerator.
The changes in temperature of moving from the cold rooms to the stall can also affect the shelf life of pomegranates.
How Long Does A Pomegranate Last?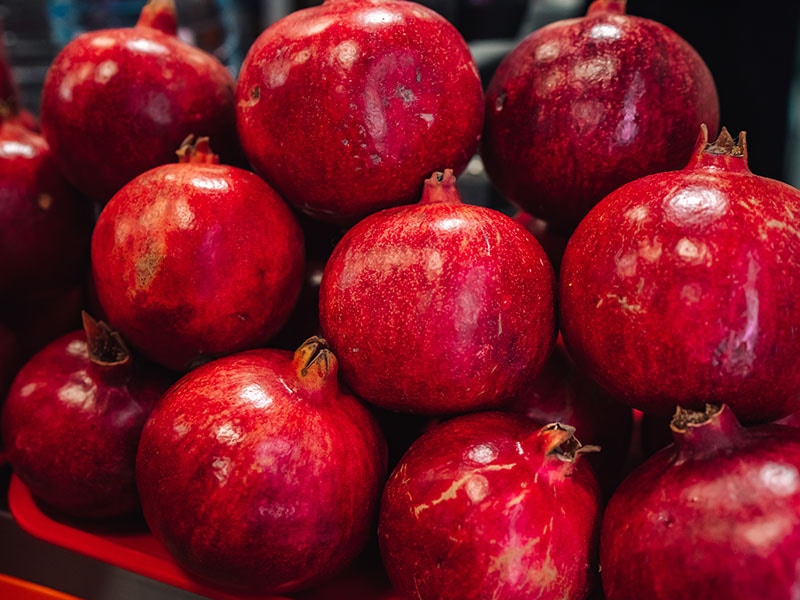 In this section, I will go into detail about how long you can keep your pomegranates fresh according to your desired method of storage.
At Room Temperature
A fresh, whole pomegranate can last one to two weeks on the counter. Some say the shelf life may be up to 1 month.
Never cut the pomegranate and leave the seeds at room temperature without using them because they will become mushy in 1 or 2 days.
What If You Keep Pomegranates In The Fridge?
Along with apples, pomegranates are one of the fruits that retain their freshness the longest in the fridge.
Under the temperature of 41°F (5°C), a whole and completely fresh pomegranate can last between a month or even two months, whereas the arils (seeds) will keep fresh for about 5 to 7 days.
Remember what I mentioned earlier about the time pomegranates sat unrefrigerated at stores. Your best shot is to finish the fruit within a month if you buy pomegranates from stores.
And What About in The Freezer?
When it comes to extending the shelf life of fruits, refrigerating is better, but not the best. Of course, you cannot leave a whole pomegranate in the freezer because it will take up a lot of space. One the other hand, the ruby seeds, if frozen, can last up to a year.
Keep in mind that all of the above timings are approximate. As I said already, the shelf life depends on other elements. Take a short trip to your refrigerator daily and check your pomegranates for any signs of spoilage to aid your storage effort.
It is worth remembering that vacuum packing contributes to better preservation, preventing the appearance of "snow" (freezer burns) when you freeze the fruit.
Learn to freeze the pomegranate seeds so that you can enjoy them anytime!
A Guide To Choose Ripe Pomegranate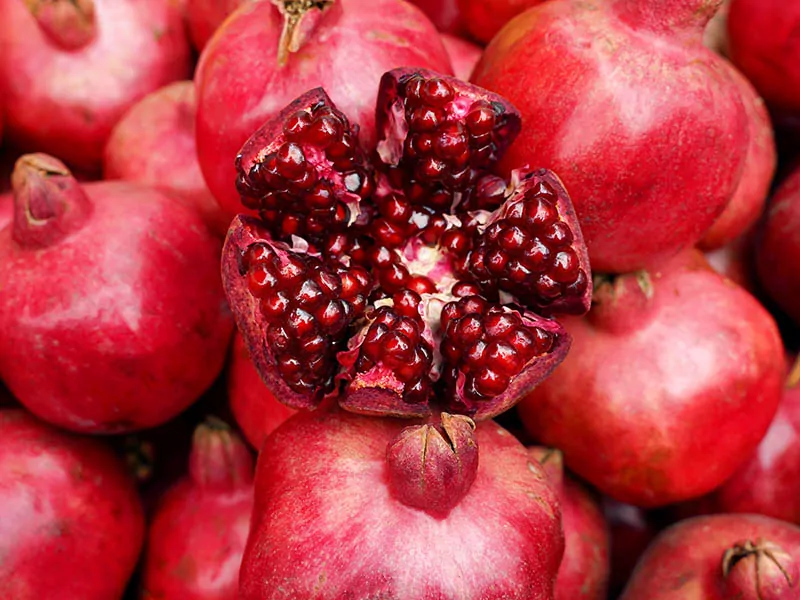 Assessing the ripeness of pomegranates is crucial whether you buy them from the store or pick them from the trees. Read these signs carefully to choose your best ones.
Color
When it comes to ripeness, color is the first thing that catches your eyes. Choose the fruits that are uniform in color and show no signs of green on the rind.
Shape And Skin
Another indicator of the readiness that you can identify by your eyes is the shape. The ripe pomegranates should have a rounded hexagonal shape. Besides, the ripe ones are firm, smooth, and free of soft or mushy spots.
If pomegranates are soft, chances are the fruit has rotted inside or got damaged during transit.
Weight
Now pick up some pomegranates and make a comparison. Regardless of the species of pomegranate, the ripe fruits are heavier than the unripe ones because they contain a lot of juicy seeds inside. Of course, you should not take this test while the pomegranates are still on the tree.
Pick up some more tips to identify ripe pomegranates here!
Extending Pomegranate Shelf Life With Proper Storages
Now that you have the ripest pomegranates in the kitchen, it's time to move on to the storage part. Note down these following tips and choose the best way to preserve your precious gems.
Avoid Sunlight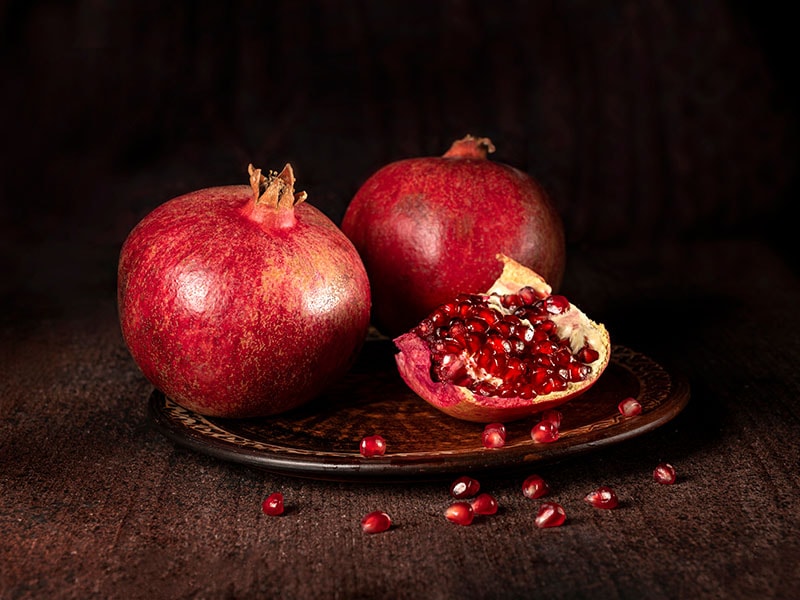 If you are not a fan of refrigerating fruit for many reasons (for example, you have no interest in eating cold fruit), leaving pomegranates on the counter is not a bad option. But make sure that you finish these sweet jewels quickly.
In such a case, keep your pomegranates in a cool, ventilated place and out of direct sunlight. Any fruit that has left the branch should stay away from the sunlight to maintain its flavors.
Make Airtight Containers Your Friends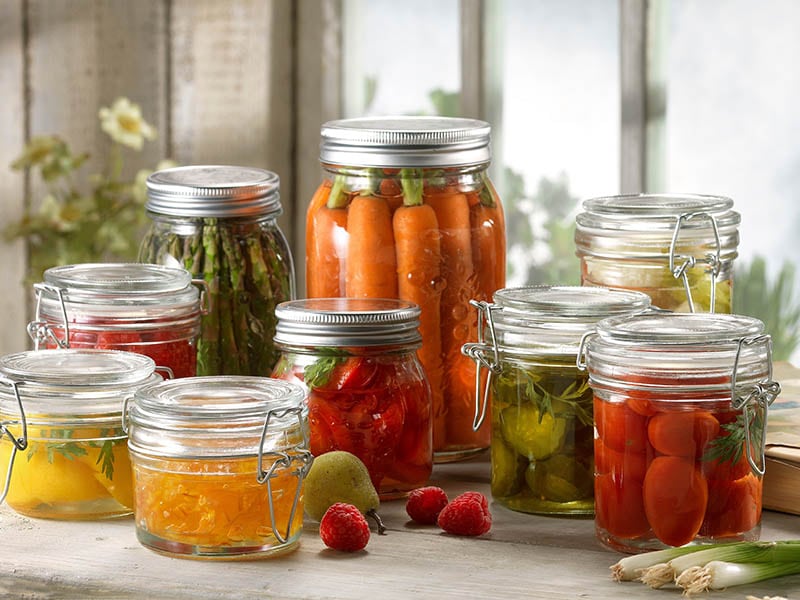 An airtight container can go a long way in this journey. Store your pomegranates in airtight containers when refrigerating or freezing the fruits.
Moreover, I would advise using glass or ceramic containers instead of the clastic ones for storing the seeds. Otherwise, they can pick up the chemicals in plastic, which could be harmful in the long run.
Whichever you decide to store pomegranates, whether keeping them in the fridge or spreading them in the pantry, make sure you leave the whole fruit unwrapped. The rind of uncut pomegranates is hard enough to protect the juicy arils inside.
Freeze Your Pomegranate Seeds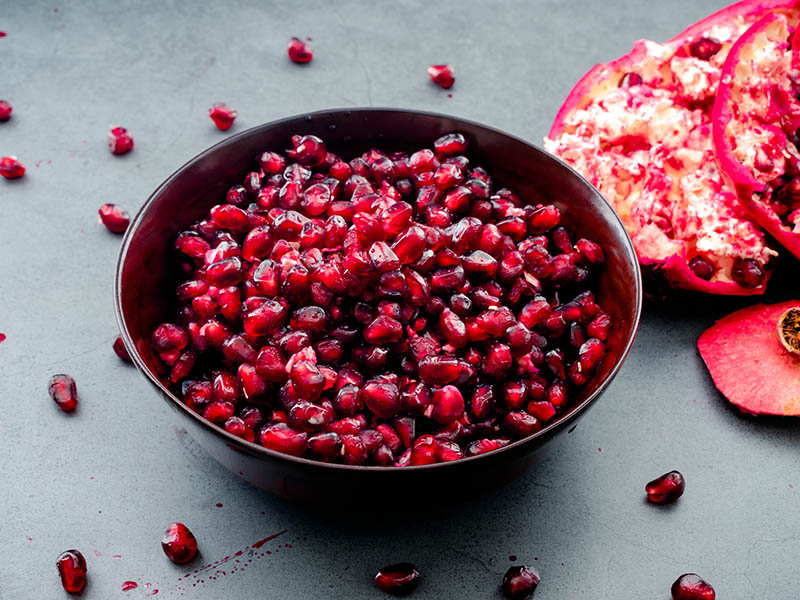 For longer storage, freezing the seeds is definitely on the table. Once you crack the whole fruit, the arils inside won't retain the flavor for too long. Meanwhile, these red rubies can only last for about a week under refrigerator temperature.
To get started, you can spread pomegranate seeds separately on baking sheets and place them in the freezer until they solidify. The reason behind this pre-freeze step is to avoid the seeds clumping together into a ball.
According to the University of Florida, the sweet gems should stay still in the freezer for about 2 hours. (2) However, the timing is not an important matter. You can remove the seeds once they reach your desired firmness after 30 – 60 minutes or even a night.
Next, pour the frozen pomegranate arils into a container and return them to the freezer. Frozen arils can last for about a year.
An Easy Guide to Open A Pomegranate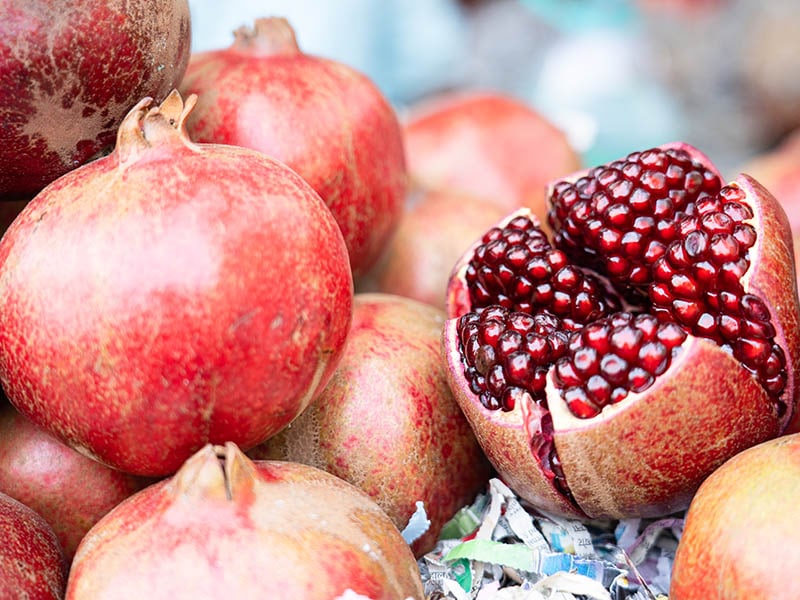 If you are struggling to open a pomegranate, then I am your savior. Your fresh juicy peeled seeds will be ready to serve in less than two minutes.
Step 1: Remove The Crown
After purchasing the pomegranate, you wash it carefully under the flowing water. Then, use a knife to cut across the top of the fruit. This cut should not be too deep to avoid touching the whole arils inside.
Use the tip of the knife to remove the crown. You will see the inside consists of 4 to 6 sections (or compartments) divided by thin, white membrane.
Step 2: Score The Skin
Use the tip of the knife to make a long slip from the top to the bottom. Do the same for each section.
Step 3: Open The Fruit
You can pull apart the sections by hand. Then, pry the seeds from the peels with your fingers now. Or you can fill a bowl with water before letting the split sections lay under the water.
Step 4: Remove The Seed
Use your thumbs to pry the seeds from the peels and membrane underneath. The heavier red arils will sink under the water, while the lighter membrane pieces will float to the top.
Use a spoon to scoop out the white membranes floating on top. Then, drain the water using a sieve, and your fresh pomegranate seeds are ready to eat.
Learn how to open the pomegranate with this easy instruction. Prepare a bowl!
Signs Of Bad Pomegranates To Toss Away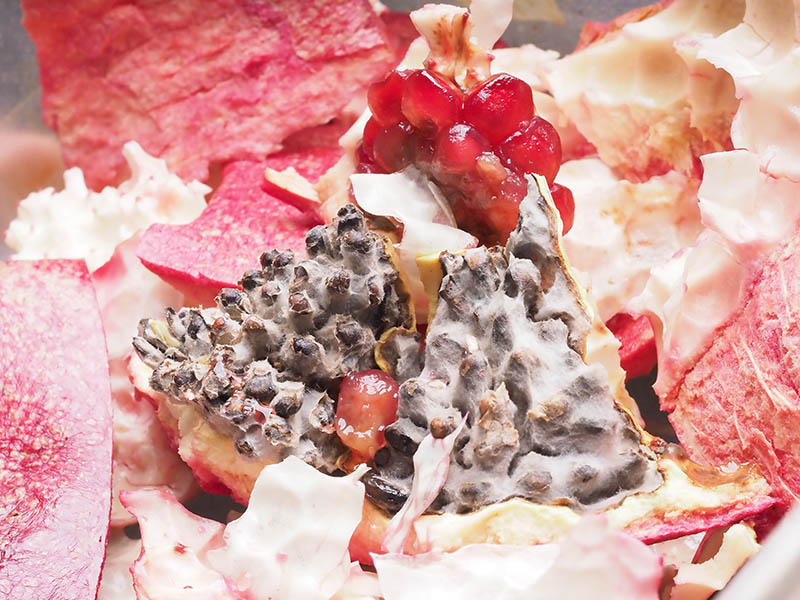 The saddest truth is that luck is not on your side sometimes. No matter how hard to try to practice food safety, your pomegranates can still be on the edge of spoilage, foodborne illness, or not. Here are some signs to say goodbye to your rotten pomegranates.
Check For External Evidence
External signs can also help you judge the rottenness of pomegranate. Check your fruit to see any sign of bruises on the rind or discoloration. Ripe pomegranate peels are firm and hard, so if your fruit turns soft, mushy, or brown, it has gone bad.
The second thing to check is the weight. If you feel a reduction in pomegranate weight, it is due to the juice deficiency. Nevertheless, you can open the fruit to check for sure.
An additional sign is the smell of pomegranate fruit. All rotten fruits emit a strange odor that you can tell right away, and your rotten pomegranates are no exception.
Examine The Internal Condition
Although the external signs also partly indicate whether the pomegranate is rotten or not, you should consider the condition of the seeds inside to get the final answer.
The signs of expiration show in the color of pomegranate seeds. If the ruby gems turn brown or black, discard them immediately.
Unveil The Pomegranate's Health Benefits
It amazes me to know that there are many health benefits in such a small fruit. Pomegranates carry antioxidants, vitamins C, and other nutrients that help strengthen the immune system, protect the heart and fight many diseases.
Nutritional Value
Below is the nutritional breakdown of one serving of pomegranate seeds (282g):
234 calories
52,7g of carbohydrate
3,3g of fat.
39g of sugar
0mg of cholesterol (3)
The ruby gems are a good source of fiber, potassium, phosphorus, and calcium.
In addition to a great package of vitamins and minerals, pomegranates contain two more compounds with powerful medicinal properties. These two compounds are the primary sources of most of the health benefits of the fruit.
The first compound is punicalagin, a powerful antioxidant in pomegranate peels and juice. Due to punicalagin, pomegranate juice possesses three times more antioxidant properties than green tea and red wine. (4)
The latter is punicic acid in pomegranate seed oil. Punicic acid has the effects of reducing inflammation, lowering cholesterol, and inhibiting cancer cell proliferation.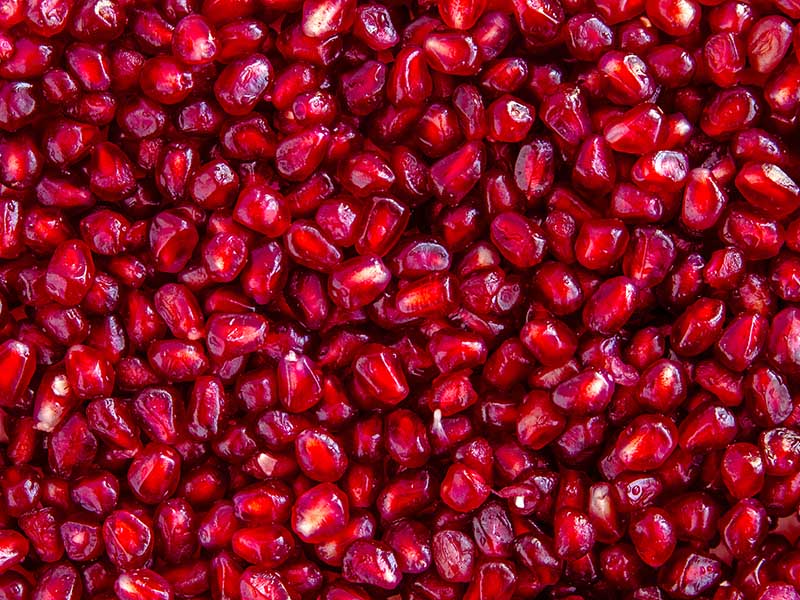 Health Benefits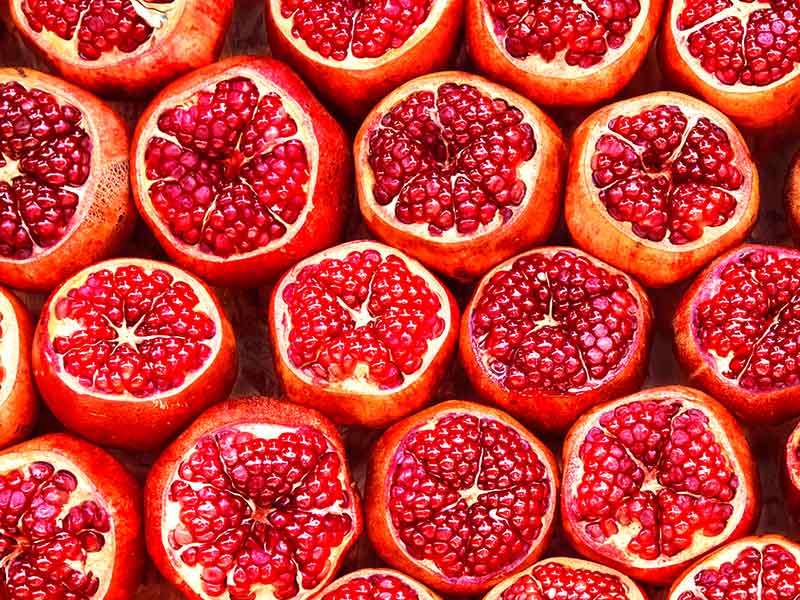 Perhaps, you are no stranger to pomegranate's effects on cardiovascular health. Pomegranate juice contains various antioxidants and bioactive polyphenols, which help prevent the hardening of the arteries and regulate blood pressure. (5)
Beyond helping to support heart health, some research shows that consuming blood-red seeds can treat natural arthritis. One key antioxidant agent of pomegranates, flavonoid, acts as an anti-inflammatory aid to your body. (6)
Do you know that the antioxidants in the fruit can prevent cells from free radical damage? Treatment with pink juice promotes apoptosis, a state in which cancer cells destroy themselves.
Prepare for these pomegranate health benefits to blow your mind!
How Not To Turn Pomegranates Into Your Enemy
The pomegranate is a great friend for your health and a powerful ally in many fights against diseases. But these blood-red jewels can become your big enemy in a blink of an eye if you don't consume them properly or at the right time.
Best Time to Have Pomegranates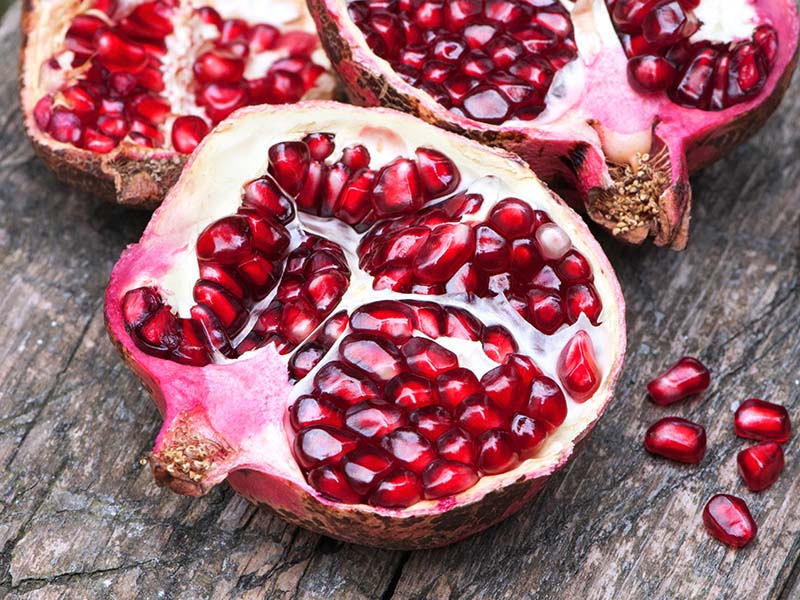 Indeed, you can eat the fruit at any time of the day. Yet, my advice is to consume pomegranate arils or juice half an hour before or after a meal.
According to nutritionists, you should eat ruby seeds in the morning because they provide energy for your body for a long time. At the same time, pomegranates help increase work capacity and stimulate physical activity, contributing to the burning of extra calories.
The question that many people ask is how many pomegranate seeds they should eat per day. Generally speaking, the daily intake for a healthy person is 1 ½ to 2 cups of seeds, according to USDA.
Who Should Avoid Pomegranates?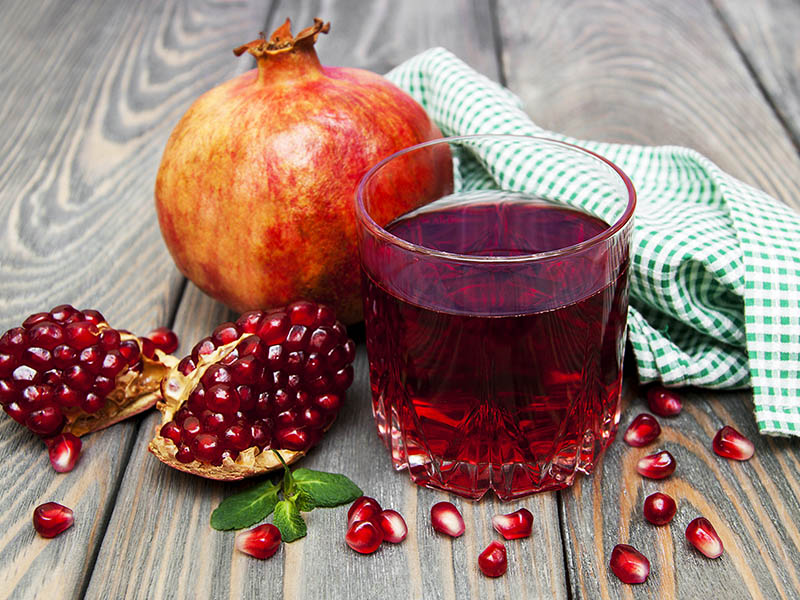 As I said earlier, pomegranates have a beneficial effect on your health, but according to nutrition experts, not everyone can eat a pomegranate.
Unfortunately, pomegranate allergies are possible to some people. The early symptoms are itching, swelling, running nose, or shortness of breath. If you experience them, stop consuming the fruit or fruit extract immediately and seek medical help.
Individuals with gastritis (inflamed stomach lining) or low blood pressure should stay away from pomegranates. Moreover, those who suffer from cavities have to stay cautious when munching the seeds because their juices can leave stains on your teeth.
It would be better to brush your teeth immediately after eating those sweet gems. However, consuming a moderate intake daily can contribute to strengthening your oral health.
Additionally, if you have kidney failure or kidney-related diseases, you should be cautious with any offer of pomegranates or their extract, which is usually high in potassium.
Take Advantages of Pomegranate Uses in Your Daily Life
It's safe to assume that almost every part of pomegranates is useful. You can see the fruit reaches its branches in many fields, ranging from culinary, beauty, and medicine.
One Glass of Pomegranate Juice A Day Keeps A Doctor Away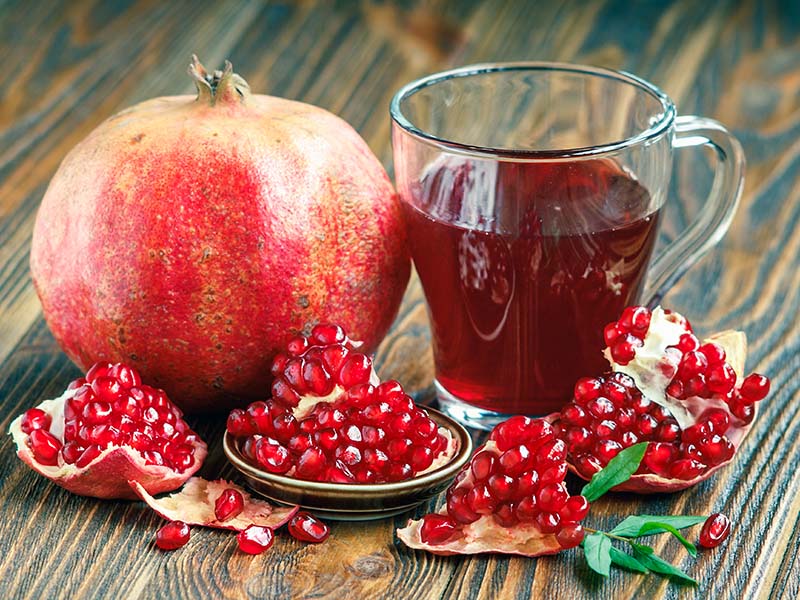 Pomegranate juice is the first choice for those who want to find a tasty and nourishing drink. Not only is it good for health, but the pinky juice also provides and adds many nutrients to nourish your skin. Also, consuming the juice helps you improve dark spots and fade on the skin.
Note that the roots, stem, or rind of this superfruit may not be safe when taken in large amounts as they contain poison.
A Magic Potion for Your Skin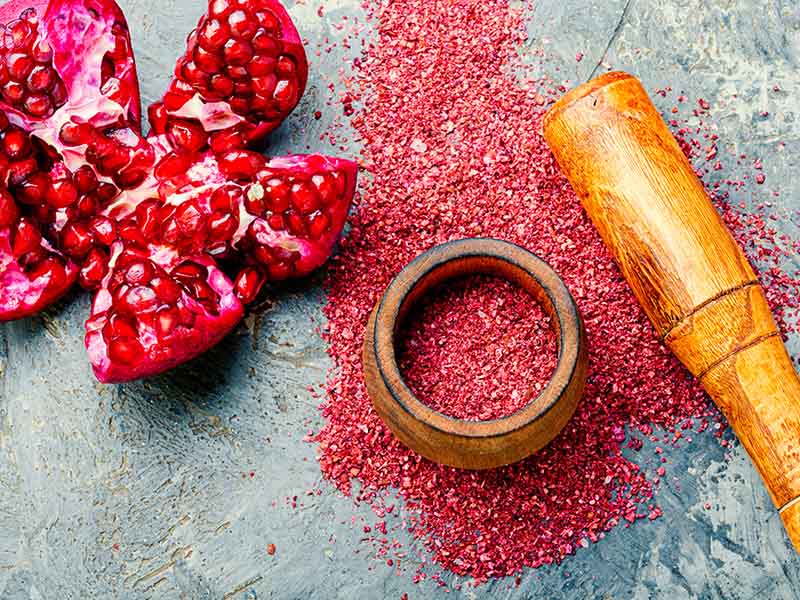 Because pomegranate peels contain a toxic amount, they are not safe to absorb into your body through the digestive tract. However, the peel powder works wonders on your skin. For your information, the brilliant red rinds contain antibacterial and fungicidal properties.
Therefore, the powder made from pomegranate rinds protects your skin from scars, acne, and other issues. Additionally, it also helps improve the overall complexion.
It's important to remember that some may be allergic to pomegranate extracts. Please stop using the product immediately if there are symptoms such as skin itching, swelling, runny nose, or shortness of breath.
A Versatile Ingredient In Your Kitchen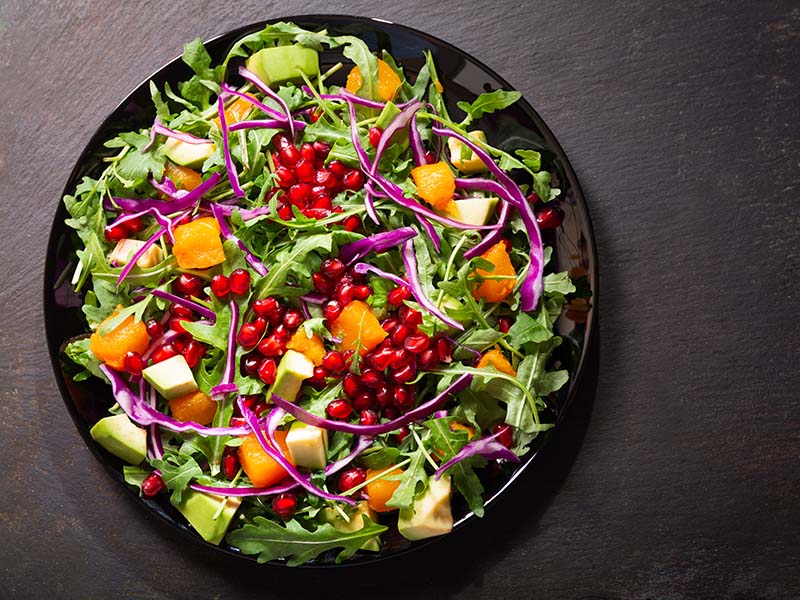 You can add the red arils to a variety of dishes such as salad, yogurt, or oatmeal. Cherry tomatoes, onions, lettuce, and cucumbers are many great companions to this superfruit.
Not to mention, the red gems can be a special accent to perk up or highlight the color of the main dishes. In addition, you can process the blood-red arils into a sweet and sour sauce to mix with salads, a wine to sip and relax, or jam to eat with bread.
Color Your Meal With These Pomegranate Recipes
After reading about all the wonderful uses of pomegranates for your health and beauty, you should hurry to apply these delicious recipes to your daily diets. Come on, let's get to it.
As well as being eye-catching in color and easy-to-find ingredients, the pomegranate raita is a perfect start for your menu. In just ten minutes and no cooking involved, you can enjoy this wonderful dish.
There are sweet and savory versions of raita, depending on your preference. If you prefer the latter, you just need to follow the recipe instructions. Or you can add sugar and omit the green chili, cucumbers, and onions to have pomegranate raita on the sweeter side.
And again, here is another gluten-free side dish complimenting your family meal. As the name suggests, this recipe includes plant-based ingredients such as brussels sprouts, pomegranate, balsamic glaze, or garlic.
You can either buy glaze at the store or make your own with balsamic vinegar. Roasting requires the oven's temperature to reach 375°F. Thus, avocado oil is a better option than olive because it can handle high heat better.
Pomegranates and salmon? What? Don't worry. There will be nothing wrong with your stomach. Moreover, this combination will make you drop your jaw in awe. Surprisingly, this recipe only needs two steps and 20 minutes from start to finish.
The pomegranate arils are a must for color and texture. I promise you couldn't take your eyes off the crazy combination of the blood-red arils and orange-cooked salmon.
Treat your family to this delicious salmon with spicy pomegranate-orange glaze!
FAQs
Here is more information about this superfruit that may come in handy someday. Feel free to ask me more questions in the comment section.
How Long A Pomegranate Can Last Is Up to You
On average, pomegranates can last from 1 week to a year, depending on your preferences. The important thing is to provide this precious fruit with optimal air circulation, appropriate temperature, and humidity.
All practices of storage require a little effort. But the result is delicious gems that will enrich your diet and add diversity to your daily meal. If this article has increased your interest in this superfruit, that is my pleasure and success.
Share this article with your loved ones who may have the same wonders about pomegranate shelf life. And don't forget to share your thoughts in the comments below.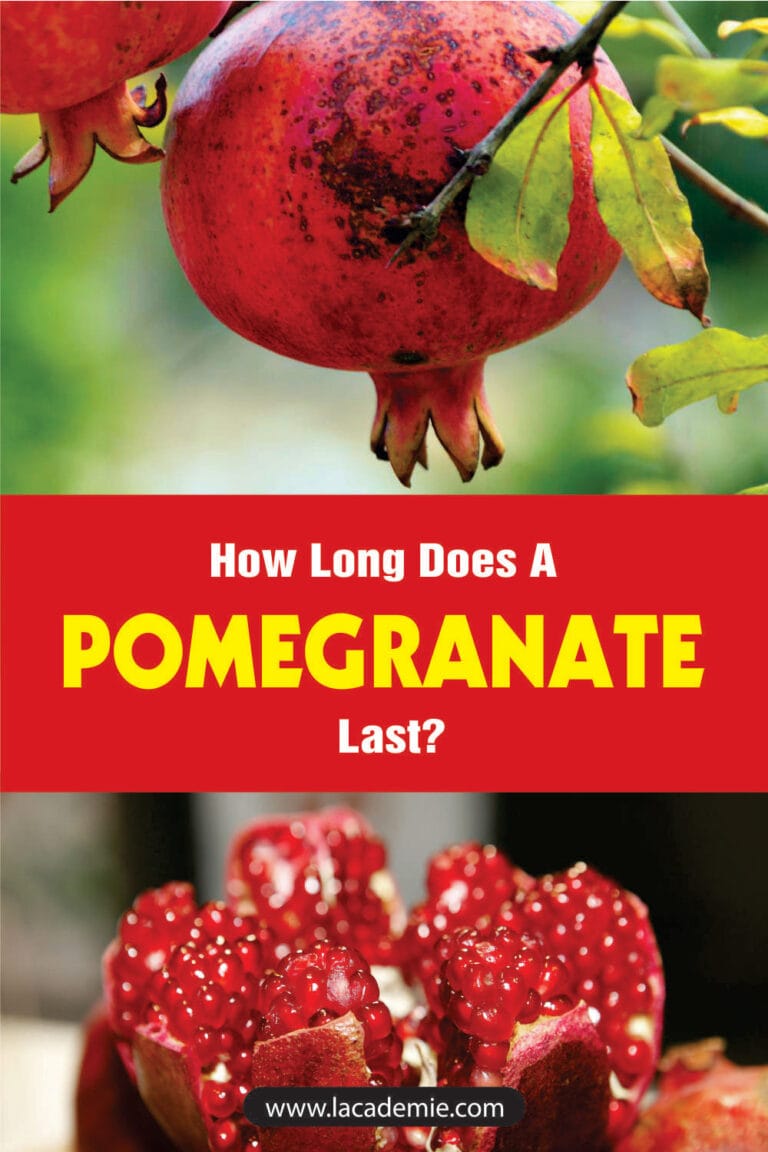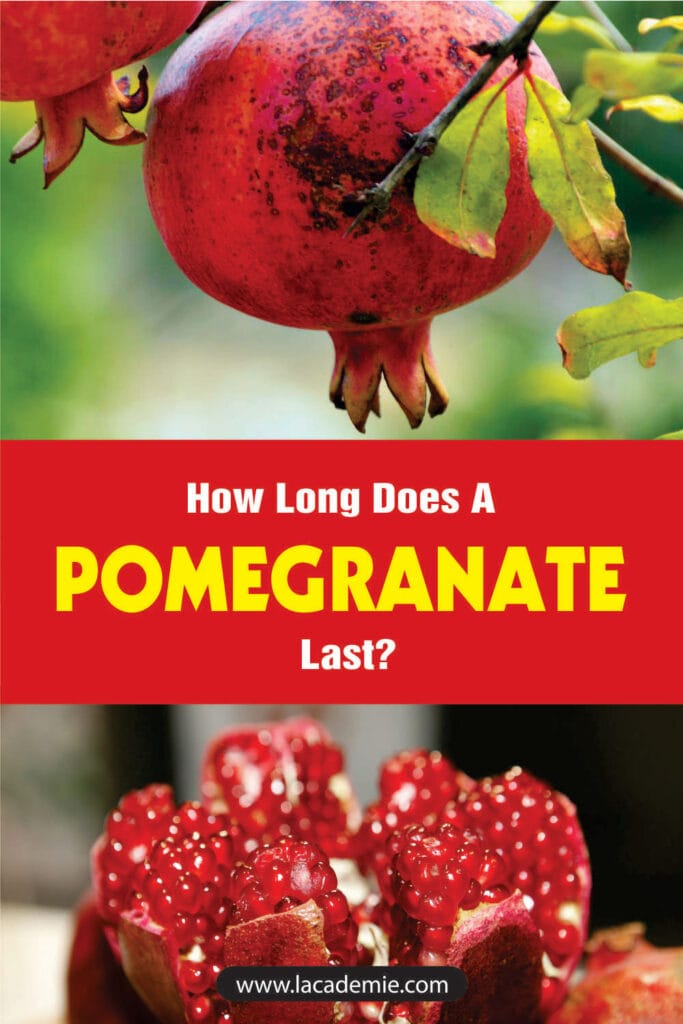 References
Elkassrawy, S. and El-Din, D., 2022. Pomegranates of ancient Egypt: representations, uses and religious significance.
M. Bryant, K., 2022. UF/IFAS Citrus Extension: Pomegranates for Now.
Nutritionix.com. 2022. Pomegranate Seeds.
Gil, M., Tomás-Barberán, F., Hess-Pierce, B., Holcroft, D. and Kader, A., 2000. Antioxidant Activity of Pomegranate Juice and Its Relationship with Phenolic Composition and Processing. Journal of Agricultural and Food Chemistry, 48(10), pp.4581-4589.
Aviram, M. and Rosenblat, M., 2013. Pomegranate for Your Cardiovascular Health. Rambam Maimonides Medical Journal, 4(2), p.e0013.
Ginwala, R., Bhavsar, R., Chigbu, D., Jain, P. and Khan, Z., 2019. Potential Role of Flavonoids in Treating Chronic Inflammatory Diseases with a Special Focus on the Anti-Inflammatory Activity of Apigenin. Antioxidants, 8(2), p.35.