Intro: Is honey gluten-free? This is an important question for certain groups of people who have problems with gluten. Such a pity to miss out on some delicious food due to a lack of knowledge, right?
As you read on, you will know more about honey as well as gluten. Let's find out if honey is safe for a gluten-free diet and make the right choice.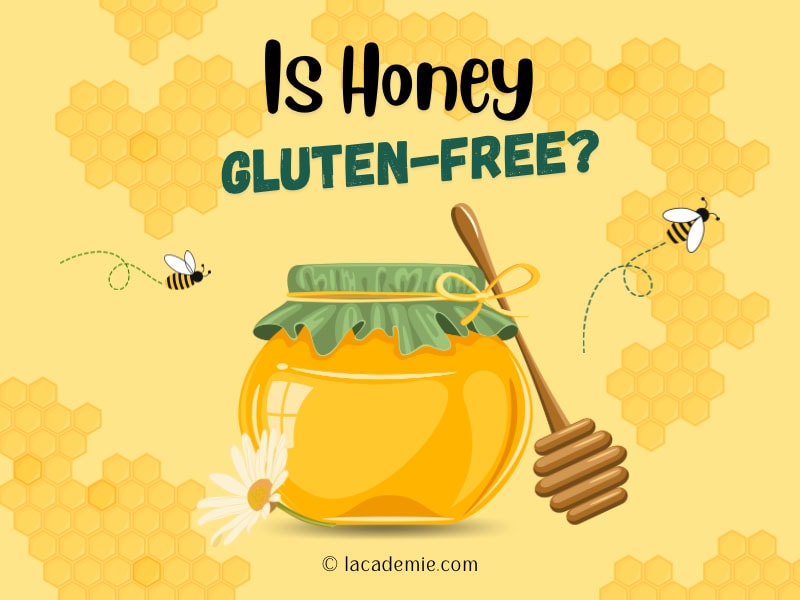 How Is Honey Made?
It's time for some education. Let's firm up your knowledge with some information about honey. It will help you get a better understanding of the further content.
How Did Bees Make Honey?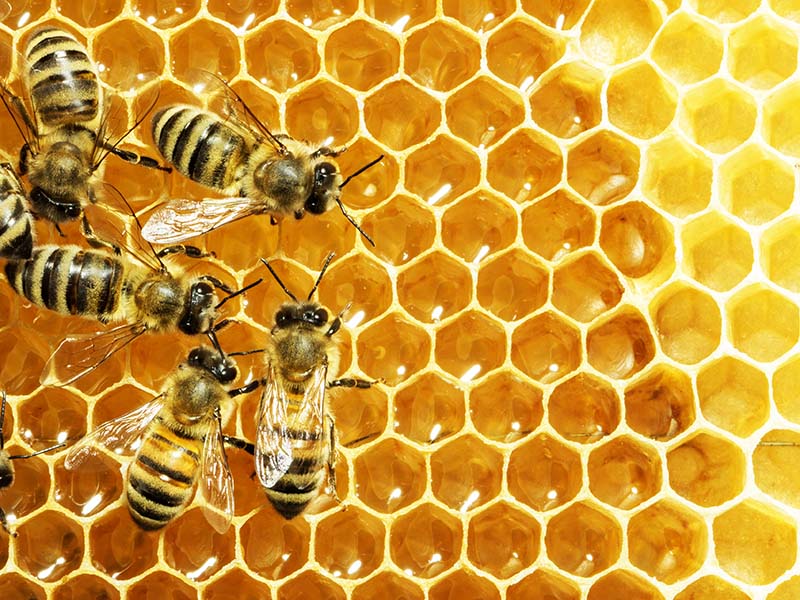 All bees have different roles in the hive. Worker honey bees, which make up at least 98% of the hive population, are the ones that produce honey during a complex process.
Every day, worker honey bees fly up to 5km, searching for flowers and their nectar. The main ingredient of honey and the primary energy source for bees is nectar.
Worker honey bees use proboscis, a long straw-like tongue, to suck nectar from flowers. Then, they store the nectar in the second stomach (specially designed to store honey) and fly back to the colony.
Once they return to the hive, worker honey bees pass the nectar to younger bees called house bees.
House bees bring nectar into the hive and store the honey in hexagonal beeswax holes. Then they convert the nectar into honey by fanning out warm air with their wings to dry the nectar. When the honey is dried, they cover the honey cell with a layer of fresh wax.
Bees produce and save their products, such as honey, royal jelly, propolis, etc., to survive during the winter and nectar-free seasons.
Take a look at how bees make honey and… bread here!
Honey Nutrients
I can proudly say that honey is one of the golden gifts from nature to humans because there are a plethora of health benefits associated with its consumption. Raw honey is a mixture of sugars, water, and some minerals. It typically consists of:
Fructose
Glucose
Sucrose
Maltose
Water
Minerals
Vitamins
Other sugars
The carbohydrate content covers 82% of honey, including two noticeable names, fructose (accounting for 38%), and glucose (accounting for 31%.)(1) There are also other ingredients such as maltose, sucrose, and other sugars.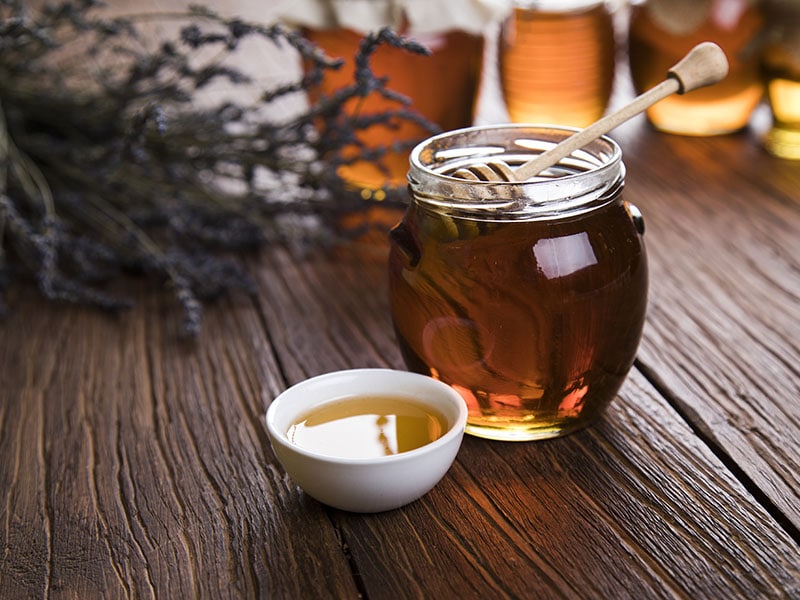 Uses
It is impossible to mention all the miraculous uses that honey brings to this world. You can enjoy honey as a food, as an element to your cosmetic beauty, or as medical help to wound healing.
No doubt, honey is every chef's best friend. You can use it to sweeten hot beverages, create a honey-based dressing, make a glaze for your roast, or bake it with bread. How amazing is that!
Honey gains exceptional favor from women due to its moisturizing effect on the skin, especially the sensitive ones. Considering that vitamins C and antioxidants help protect the skin from the sun and slow skin aging.
Additionally, consuming honey before bedtime can help you burn energy during the early hours of sleep. Essential hormones in honey-like melatonin enhance immunity and rebuild tissues during rest. (2) And voila, you'll wake up losing a few pounds.
But one use is more of a bolt from the blue. Honey can heal burns and prevent infection. Do you know that enslaved people used honey as medical help thousands of years ago?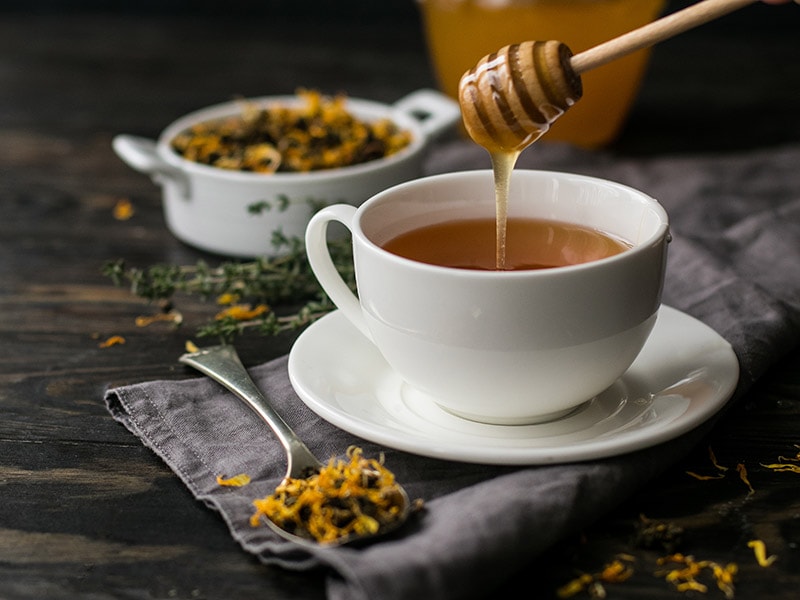 Some of Honey's Health Benefits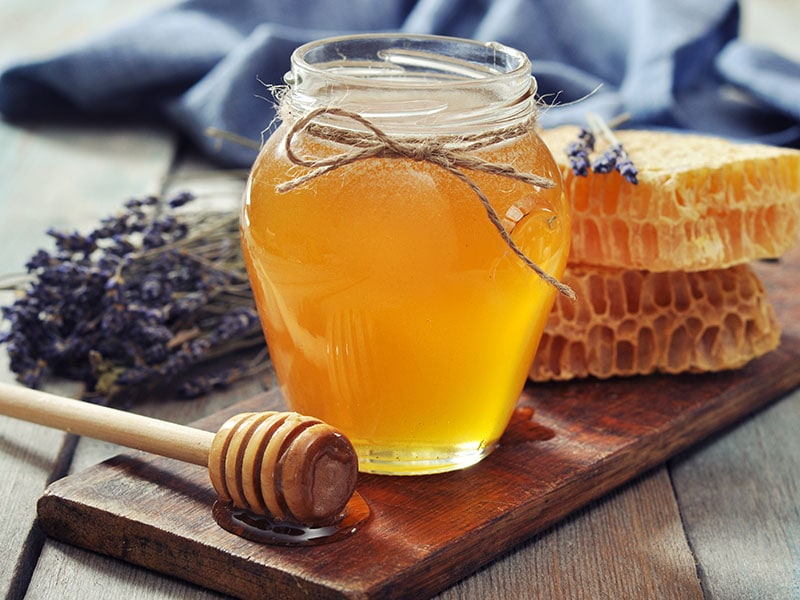 By and large, honey is a healthier alternative to refined sugars because it provides several minerals and has several additional health benefits attached.
Researchers have uncovered many health benefits of honey in modern medicine with positive results such as
High in antioxidant properties
Anti-inflammatory
Cough prevention
Wound healing
Enhance fertility (3)
Even though honey contains many promising properties in medicine, you still have to maintain a moderate intake. Still, honey is high in calories and sugar.
The American Heart Association points out that women should consume no more than 100 calories per day and no more than 150 for men. That means two tablespoons of honey per day for women and three for men.
The benefits are most evident when you use it to replace other unhealthy sweeteners. In terms of safety, you should search for honey products from well-known brands or liable sources because some products can be mixed with syrups to make them cheaper to manufacture.
Strengthen your knowledge with more health benefits of honey here!
General Information About Gluten-Free Diet
As people pay more and more attention to health issues, the gluten-free diet has quickly become a hot topic. There are reasons that the gluten-free lifestyle has surged in popularity in the US. So, what do you know about gluten-free diets?
What is Gluten?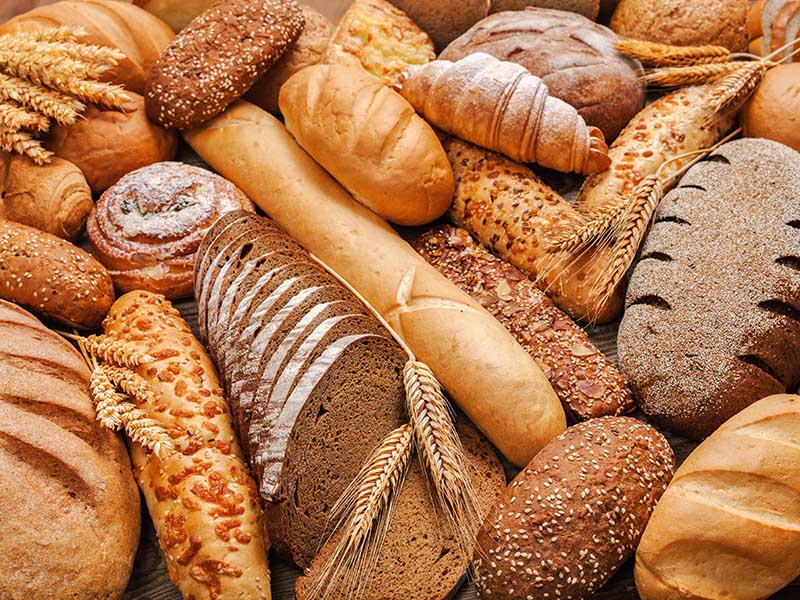 Gluten is a collection of proteins found in wheat and many different grains. In essence, gluten is a large family of hundreds of related but distinct proteins.
Therein lies the most important ones are gliadin and glutenin. Gliadin is responsible for most of the harmful effects on health.
Most people have a tolerance for gluten. However, it can be troublesome for those with certain medical conditions. This includes celiac disease, wheat allergy, and several others.
Join this brief lesson about gluten and the facts behind some gluten-related disorders.
Why Should You Go Gluten-Free?
As I have already emphasized, the bad thing about gluten is that it can cause severe damage to certain people. Individuals react to gluten in a wide range of symptoms. Sometimes, their bodies interpret gluten as a toxin and trigger immune cells to attack it.
In addition to the undeniable benefits of the gluten-free diet for celiac disease and other gluten-related medical conditions, there are plenty of other reasons to follow this diet.
For instance, gluten-free diets help reduce depression, increase energy, and ease joint pain. Besides, going gluten-free contributes to improving your bone health. I have mentioned that gluten intolerance takes a toll on your ability to absorb nutrients from food.
As such, gluten-sensitive individuals often face a low level of calcium. Thankfully, there are tons of gluten-free foods loaded with calcium awaiting you.
Is Honey Gluten-Free?
Here comes the most important question. But before giving you the answer, I will introduce you to a brief overview of gluten.
Does Honey Contain Gluten?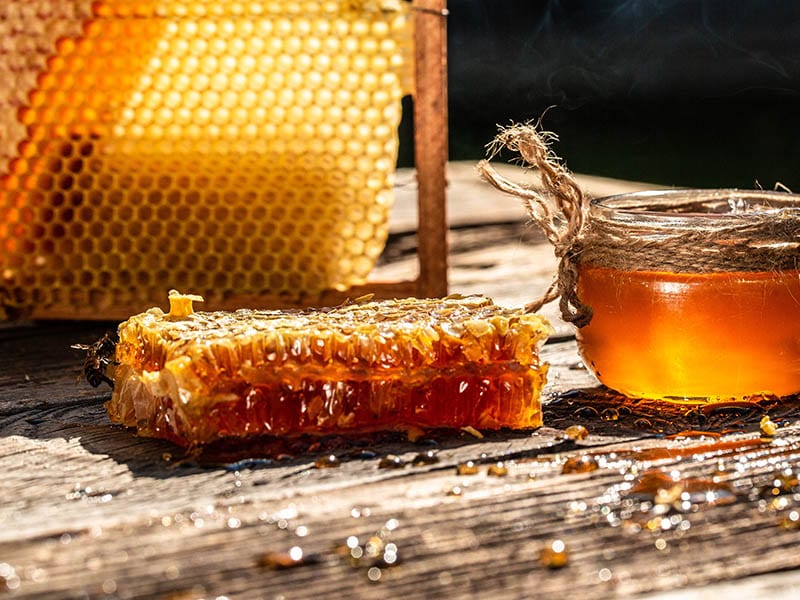 Generally speaking, honey is a safe choice for those with gluten intolerance and celiac disease. Based on the entire time bees make honey, you can be sure that honey is not associated with wheat, barley, or rye.
Honey is made from pollen/nectar and not from a grain itself. Bees only eat and collect pollen from flowers.
You'll often see some jars of honey labeled with different varieties depending on the type of flower that most worker honey bees get nectar from, for example, wildflower honey, manuka honey, or clover honey.
The list goes on with more than 300 different varieties of honey in the United States alone.
In simple terms, honey is just sugars from flowers, like glucose and fructose, with some trace elements, in its pure forms. And frankly, there isn't any logical reason to add a bunch of ingredients to honey other than to act as a filler to make it cheaper to produce.
As long as bees have nothing to do with agricultural plants that process gluten-containing grains and manufacturers have no reason to add glutenous flavorings to honey, you can expect all kinds of honey to be gluten-free.
You can see the differences between raw honey and ultra-processed commercial honey here.
When Is Honey Not Gluten-Free?
There are certainly a few things to keep in mind about honey if you want to make a safe choice for those with gluten intolerance.
Cross-Contamination
Honey may be packaged in facilities containing gluten products. There are possibilities it shares the same packaging equipment with gluten-products, given washed or not. All of these can lead to cross-contamination.
Some manufacturers are careful when switching from gluten to a non-gluten product. But unfortunately, that does not happen in every case.
Moreover, if bees obtain nectar from flowers near agricultural areas that grow grains containing gluten, there is a chance that the dust will attach to the hive and infect the beeswax and honey.
If the beehive is far from agricultural plants, you can rest assured that there is no risk of cross-contamination with gluten. Usually, bees only fly within 5 km around their hive to look for pollen.
Beehive Rental
With mass honey production, it is hard to define whether the jar of honey is free of gluten or not. In the US alone, farmers often rent beehives to pollinate their crops, and the hive then will be rotated to other farms.
Thus, you should buy raw honey from artisan beekeepers or locals that have strict rules about their honey production.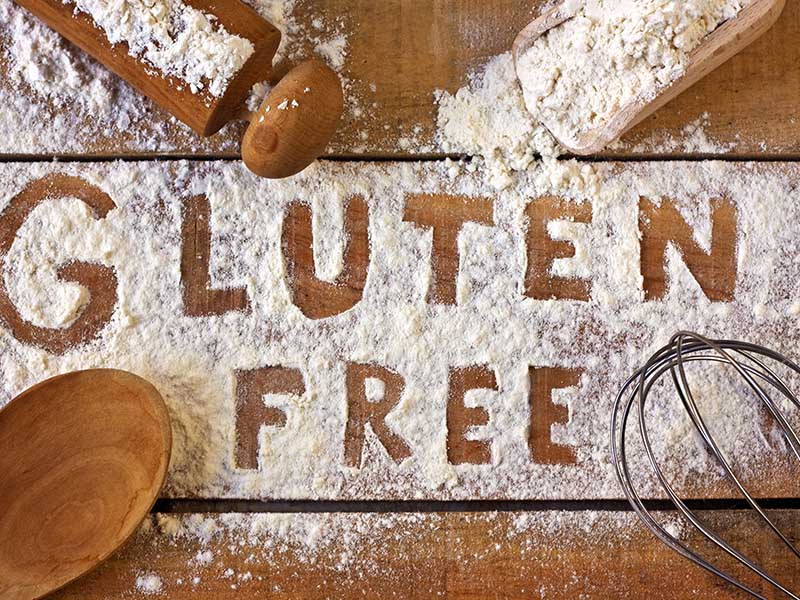 Flavorings and Honey-Based Products
Raw honey with as few additives as possible is the best. Manufacturers often add flavors as fillers and make their prices competitive in the market. Some flavors will contain gluten, so you should read the ingredients list carefully.
Except for raw honey, honey-based products such as honey mustard, salad dressings, or cereals are less likely to be completely gluten-free.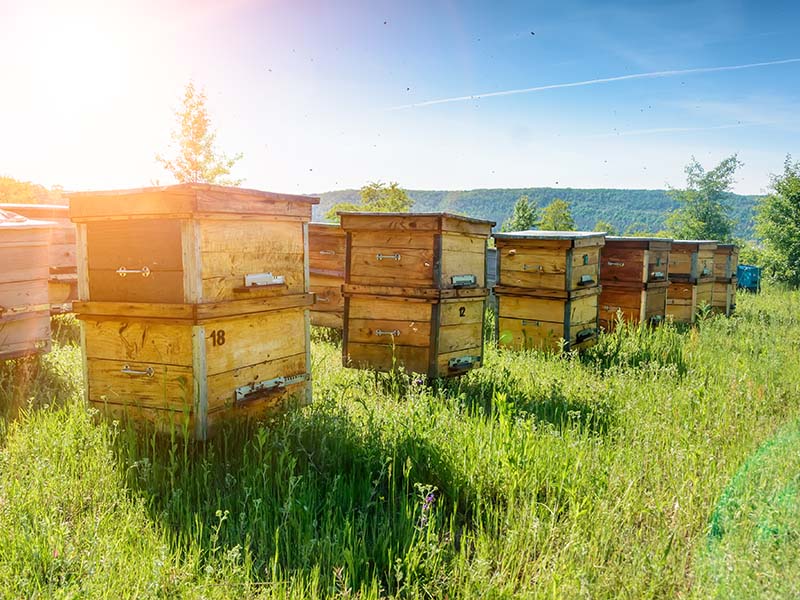 Here Come Some Things You Should Look Out For
If you think you already know enough about honey, then you are wrong. You still have a long way to go. Spend your money wisely by learning how to choose the right gluten-free ones. Beware of these factors that affect the amount of gluten in honey.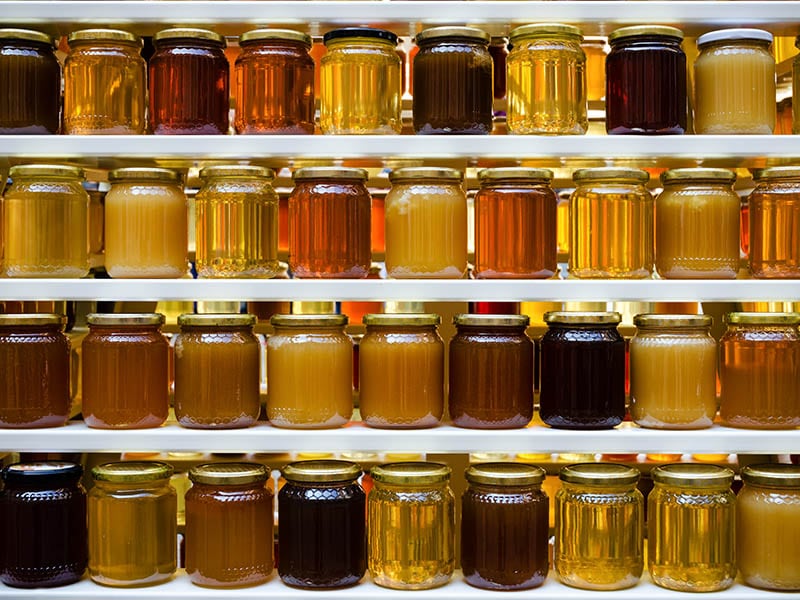 Keep An Eye On These Labels
If you are sensitive to gluten, check carefully for other things you might see on the label that signals gluten.
You have to watch out for the labels that read "processed in a shared facility", "may contain (traces of) gluten", or "made on shared equipment with" wheat/gluten.
You can also search for lists of raw honey from organizations such as The Celiac Disease Foundation and Celiac UK. Or else, you could buy it from a certified gluten-free facility. The US Food and Drug Administration (FDA) is responsible for inspecting these facilities.
Flavored Honey
Don't forget that there are tons of honey-based products that contain gluten. Some manufacturers will add glutenous flavorings to their honey. If the ingredient list contains anything related to grains such as wheat, rye, or barley, that product is not gluten-free.
Mass-Produced Commercial Honey
Considering that mass-produced commercial honey contains honey from various sources due to the large scale of production. In a sense, customers can't track down if their honey comes from the easy-contaminated gluten area or not.
Therefore, local honey is a safer bet, and it's always best to ask. It's easier to contact the beekeepers and get every detail you need to know.
As I stated earlier, you can see the connection between the hive's location and agricultural lands that grow wheat. Don't forget to check where your honey comes from and within a few miles radius of the bee farms.
You may haven't known how manufacturers produce honey. Find out here!
Top Brands
You can find numerous reputable gluten-free honey brands from your acquaintances, recommendations, or reviews from social networks. Here are some of the most well-reviewed honey brands, in my opinion.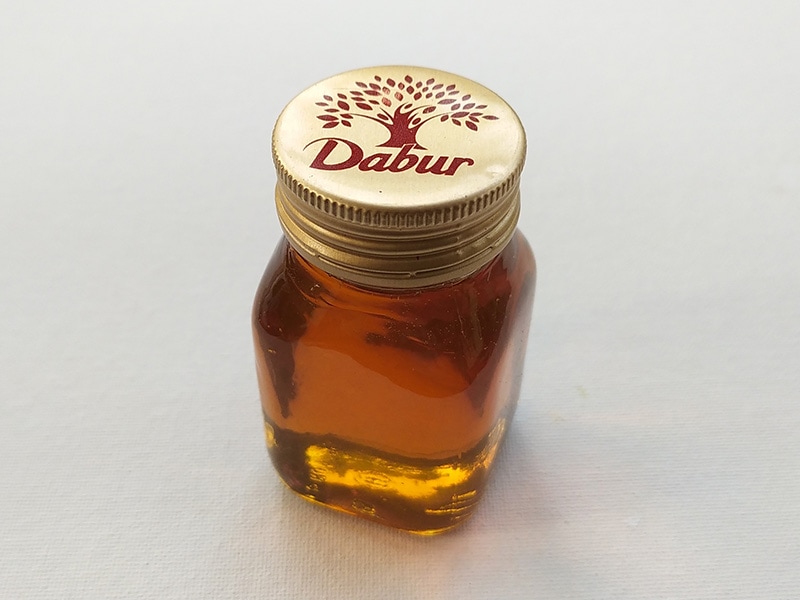 If you search on google for the best honey brands, then I'm sure Dabur will always be on the top with countless good reviews from customers. That alone is enough to ensure the quality and reputation of Dabur in the market.
The brand guarantees that its honey is 100% pure and indigenous. Dabur is also 100% compliant with the test parameters specified by the FSSAI for a purity guarantee.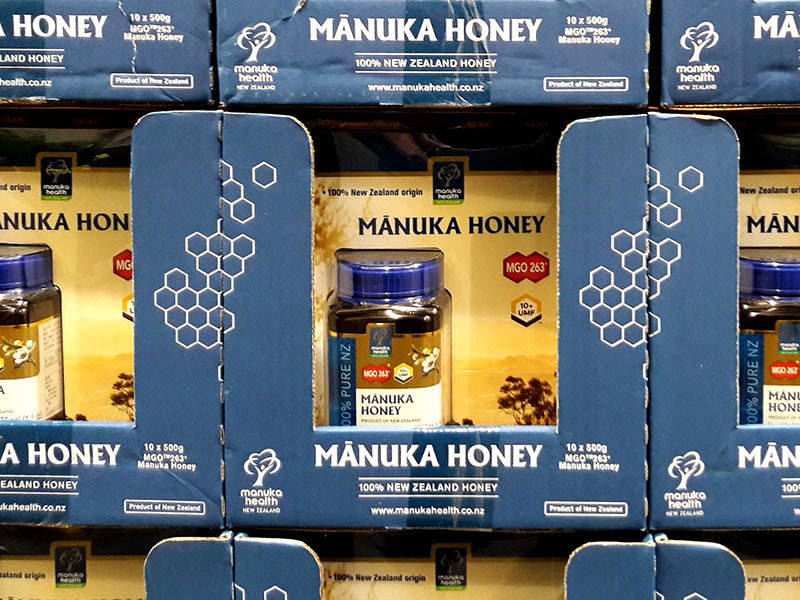 Do you know the competition between manuka honey and raw honey to see which one is better? Manuka honey is from the nectar of manuka trees in New Zealand. Manuka Health is one of the leading companies producing manuka honey.
On the packaging of manuka honey products, you will see the MGO symbol, followed by a wide range of numbers. MGO (Methylglyoxal) is an antibacterial property found in most honey. The higher the number on the label is, the larger the antibacterial properties in this jar of honey are.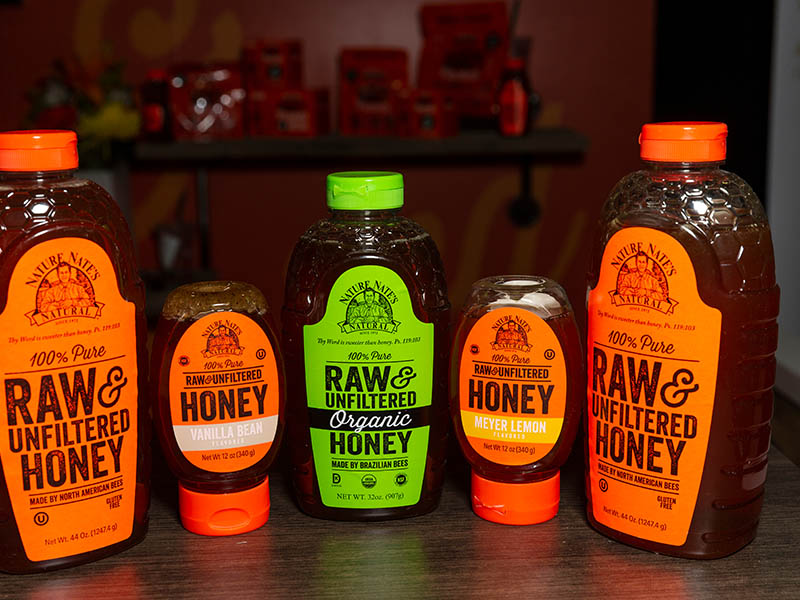 Nature Nate's is a natural honey brand from Australia. According to the spokesperson, Nature Nate's honey is raw and unfiltered. Instead of processing honey at a high temperature, they warm and strain the raw honey and then pour the sticky sweetness into bottles later.
Some reviewers claim that enjoying Nature Nate's honey takes them back to their childhood.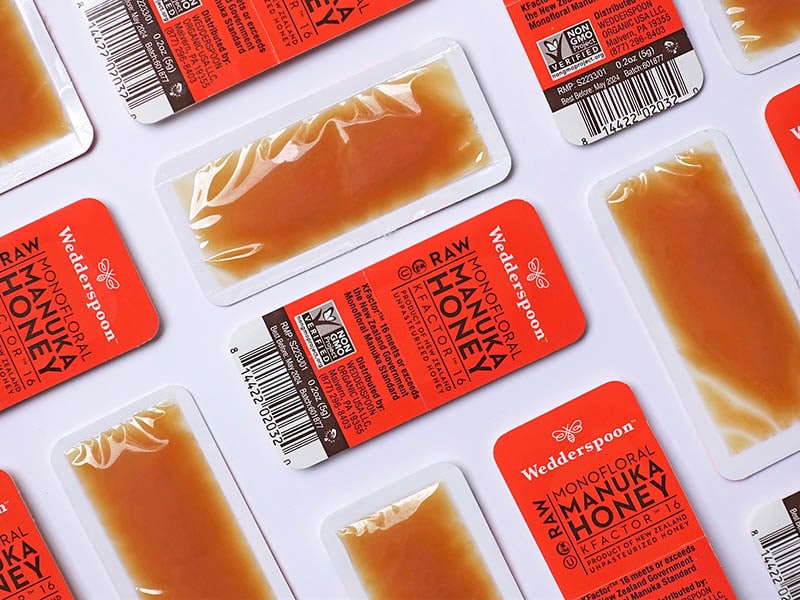 Wedderspoon is an extremely popular manuka honey brand in the market. Like Nature Nate's, they don't heat honey above a temperature of 118F to help retain antioxidants and enzymes.
Another plus point is that the price of Wedderspoon manuka honey is often lower than competitors of the same type in the market.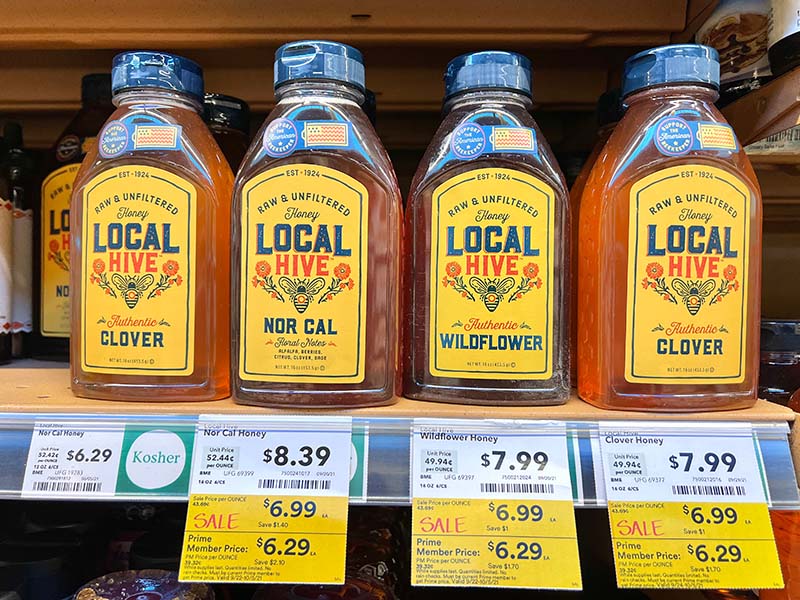 Local Hive is a fairly old honey brand when it started operating in 1924. Local Hive has long focused on producing raw, unfiltered honey from across the United States. You can check the quality of Local Hive honey through a series of good reviews on e-commerce sites.
What I like about this brand is that Local Hive donates a part of its profits to PACE. This non-profit organization aims to restore, protect and encourage pollination by bees and butterflies.
Let's Get Healthier With These Gluten-Free Honey Recipes
Honey is inherently a healthier alternative to regular sugar. Using honey to add a kiss of sweetness to your dishes is a wise choice.
Do you want a super moist and fluffy loaf of bread? What's even better is that it uses all gluten-free ingredients. It's a treat for celiac sufferers.
Gluten-free honey oat bread with jam is a perfect combination for your breakfast. It only takes about an hour to finish this easy snack. What are you waiting for? Treat yourself to a bread party!
How can you resist this yummy gluten-free honey oat bread?
Enough for breakfast and snack time! Let's find something for lunch and dinner. I got you a perfect choice here: gluten-free honey sesame chicken.
Who doesn't like a chicken dish for summer party? Count me in on the fan club. This Asian-inspired dish is best when you enjoy it with a bowl of hot rice. Honey sesame has become my new obsession.
How can I forget about the dressing when I have walked you through all meals of the day? My apologies! Alright, I will make it up with this honey mustard salad dressing.
A premium honey mustard on the market may cost a lot, but this recipe only needs four ingredients and a few minutes to create a tangy and sweet dressing. Pick up your stirring spoon now and make your salad extra delicious!
Some Gluten And Gluten-Free Foods You Might Want To Note Down
It's time for some grocery shopping! Choose your items carefully to fit your diet because the wrong ones could take a toll on your health.
Add These Foods To Your Gluten-Free Diet
Take your note out and write down this list of gluten-free foods. There are plenty of natural foods that can be part of your healthy diet, such as:
Fruits and vegetables
Fish, eggs, and poultry
Most low-fat dairy products, such as butter, milk, and cheese
Grains and starches, including amaranth, arrowroot, corn, and cornmeal
Gluten-free flours including rice, soybeans, corn, and potatoes
Rice and rice noodles
By law, gluten-free food cannot contain more than 20 parts per million (ppm) of gluten. Don't worry! You can replace gluten with other foods. There are multiple gluten-free versions of foods, such as bread, pasta, pizzas, and more. Expand your options!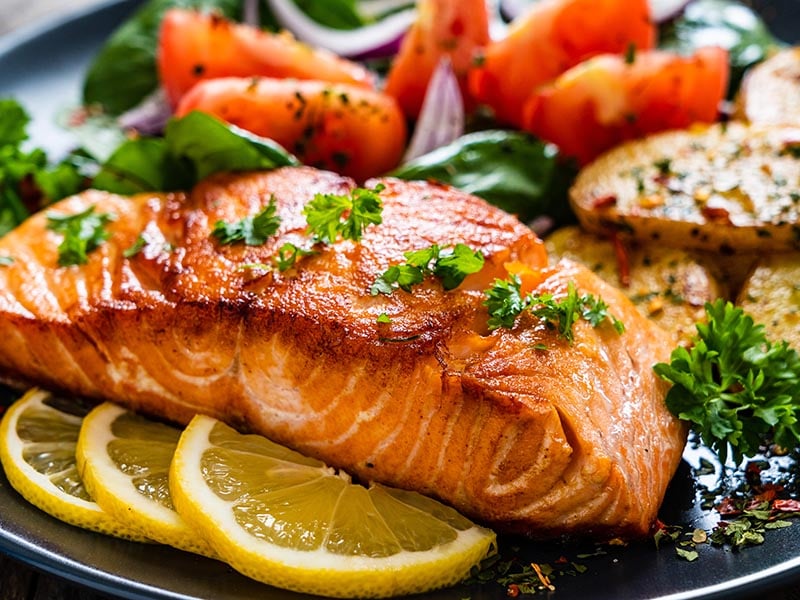 Foods Containing Gluten That You May Want to Avoid (or Not)
If you have gluten-related disorders, you should avoid items on this list. Of course, they can pass if they are gluten-free versions:
Cereals
Bread
Pasta
Pies
Cakes and pastries
Biscuits or crackers
Gravies and sauces
Concerning processed foods, you should read labels to determine if they are gluten-free or not. Products that contain wheat, barley, rye, or triticale must be labeled with the grain's name on the ingredients list, according to the Food and Drug Administration (FDA).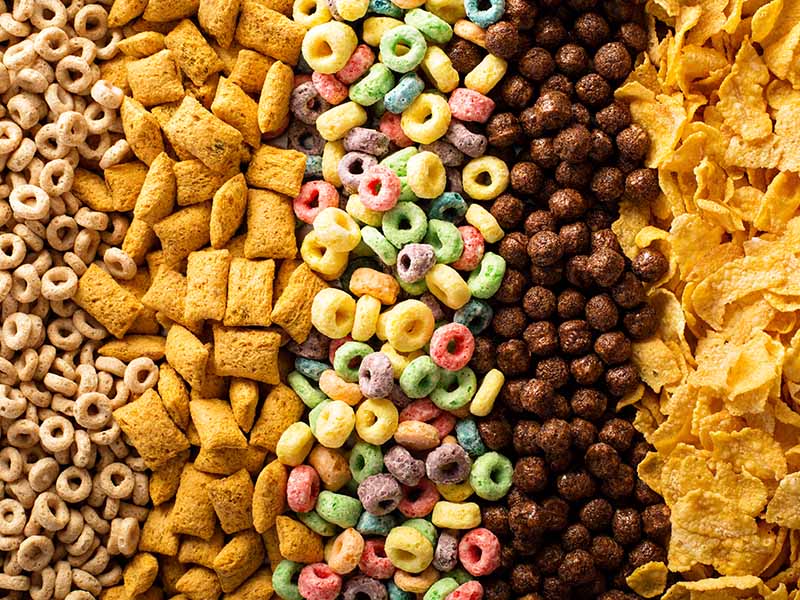 FAQs
The following question may not be within the scope of the article, but I believe some extra information here can help you now and then.
"Bee" Generous To Your Health With Gluten-Free Honey
Whether you have a gluten-related disorder, honey is a food with high nutritional value and is beneficial to your health. Make sure to add honey to your daily diet to keep your body healthy and young!
I always appreciate your feedback. If you think my post is helpful, I'd love for you to leave your thoughts in the comment section and/or share them with your loved ones. Be sure to come back for more interesting content! Ciao!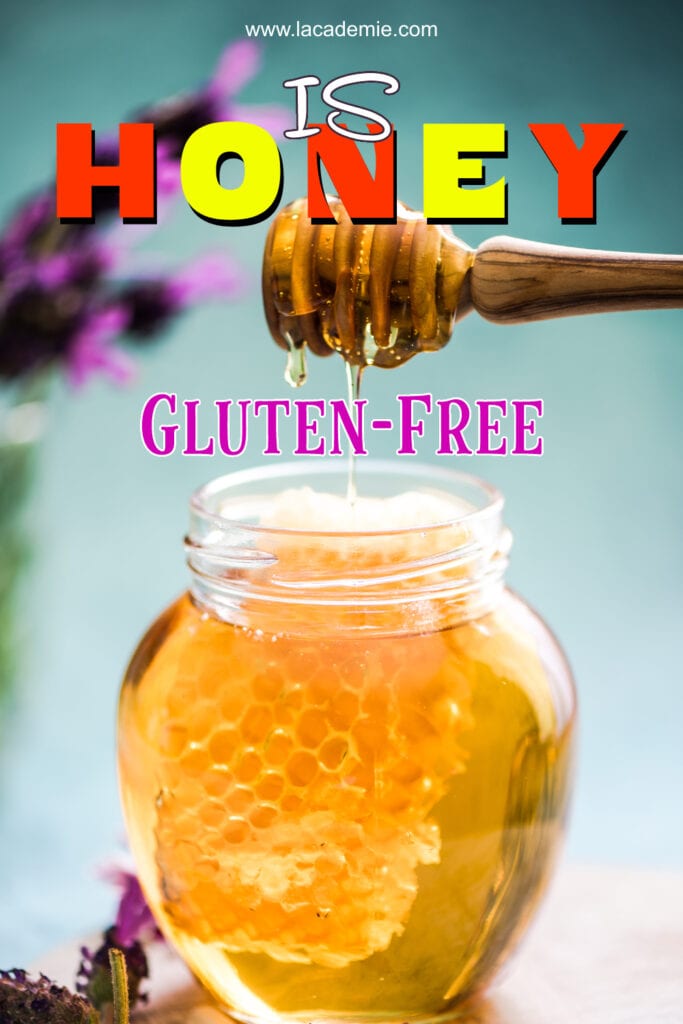 Reference
Bogdanov, S., 2022. HoneyBook PDF | PDF | Honey | Honey Bee.
Clinicaltrials.gov. 2022. Honey to Improve Sleep Quality – Full Text View – ClinicalTrials.gov.
Meo, S., Al-Asiri, S., Mahesar, A. and Ansari, M., 2017. Role of honey in modern medicine. Saudi Journal of Biological Sciences, 24(5), pp.975-978.