Can you juice frozen fruit? If you are looking for the answer to it, I've got your back. Apparently, some fresh fruits are hard to buy, making them sometimes pricey, especially imported fruits. In this circumstance, frozen fruit is the best alternative choice.
However, keeping frozen fruit in a bag and carrying it with you is not ideal. After all, turning them into juice is the best option.
Fruit juices provide energy, refreshment, and nutrients and are convenient to carry anywhere. So can you juice frozen fruits at home and use them every day? Let this article untie your knots and learn some methods, benefits, and great recipes to try with frozen fruits.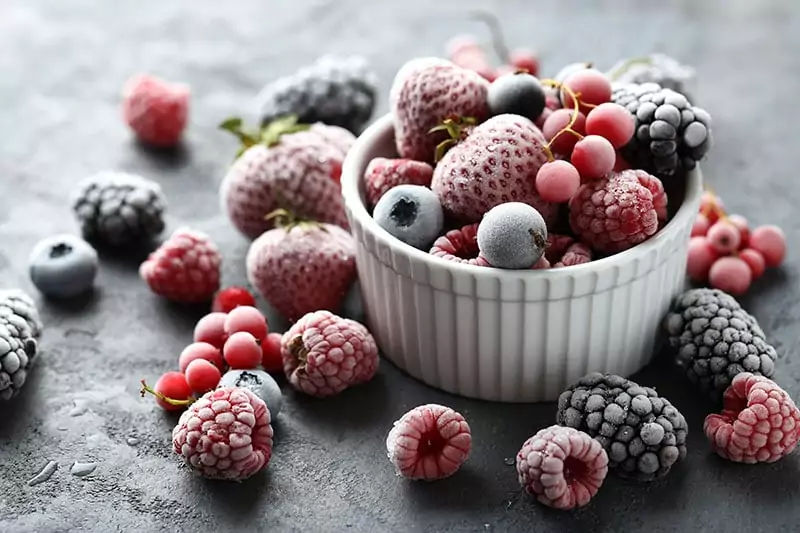 Is It Possible To Juice Frozen Fruit?
Yes. You can prepare many delicious and nutritious beverages from frozen fruits. However, please note that it is not a good idea to put frozen fruits directly into the juicer.
Firstly, frozen fruit is too hard to break out. Even if your juicer has high power, putting it in the device will interfere with its performance and may cause damage. It is the result that no one wants.
Frozen fruits, obviously, have different textures compared to fresh ones. They are more solid, making it a bit harder to extract the juice. So it would be better to defrost them first before making the beverage with frozen fruits.
However, besides defrosting, you also have many notes that need to be consulted to be able to squeeze a perfect and full glass of juice. Let's scroll down to see all the detailed instructions on juicing from frozen fruit that not everyone knows.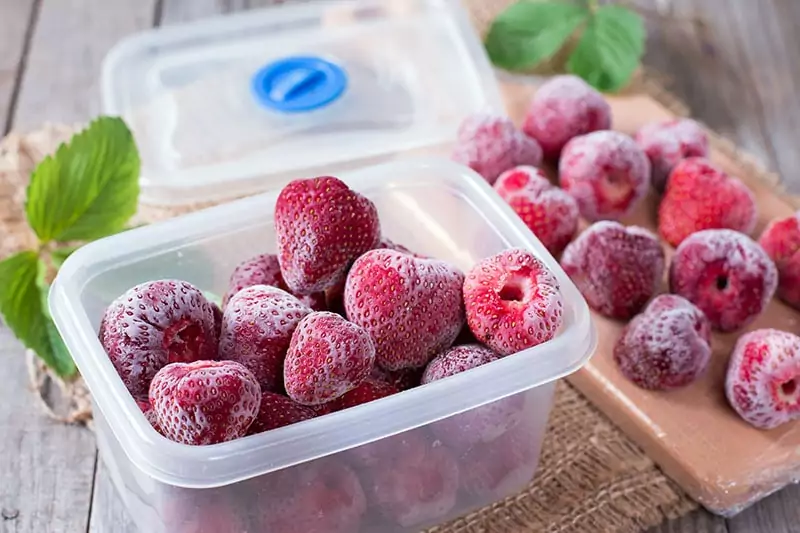 The Ultimate Guideline To Make Juices From Frozen Fruit
As mentioned, you can juice frozen fruit to create a nutritious drink. However, without the correct procedure and necessary tips, it might get messy. So, this article guides you from A-Z on how to make a perfect glass juice from frozen fruit.
Defrost Frozen Fruit
The first thing if you want to squeeze all the juice from frozen fruit is to defrost them. However, many people still do not know how to defrost properly and make some unnecessary mistakes in this step.
Not only affects the quality of the juice, but it also directly harms your health. So let me tell you three simple ways to thaw fruits that save your time and money, such as using cold water, refrigerators, and microwaves.
Use Cold Water
Using cold water to defrost frozen fruit is the simplest and most suitable for all frozen fruits. It does not require any tricky tools or techniques. However, using cold water is not feasible when you want to use the fruit immediately.
For this method, you need a sealed plastic bag or ziplock bag and put the frozen fruit in it. Then either you run cold water directly over them or prepare a bowl of water and drop the bag in. Check your bag every 15 to 30 minutes to make sure the fruit is defrosted.
Use The Microwave
A faster and more convenient way is to use the microwave. Most microwaves now have a built-in defrost function. You can use this mode to save time.
On the other hand, if there is no defrost mode, you can still use low power to do it. You need a container with a tight lid and the appropriate amount of fruit.
Either way, when placing them in the microwave, check the defrost status every 15 seconds. Defrosting takes less than 10 minutes, but it requires regular checking. If not, some mistakes such as overcooking or burning can happen.
Microwaves are quick and useful kitchen appliances for thawing fruit. Let the information in this video better visualize how to use them.
Use The Refrigerator
I recommend using the freezer defrost method if you need to use frozen fruit the next day. It is a way to slowly defrost food while preserving the entire quality of the product.
Consider placing a plate underneath a bag or container of fruit on top to prevent the water from leaking everywhere in your fridge. The frozen fruit will be defrosted in 6 to 8 hours (maybe more).
Cut Into Pieces (If Necessary)
Cutting fruit into small pieces is a good trick. You can either apply this tip while defrosting. Small pieces always defrost faster than big ones.
Or, after being defrosted well, the fruit becomes softer. You can easily cut it into cubes and put them in the juicer. Doing so can help the juicer operate more smoothly and produce more juice. However, if your frozen fruit is already chopped or soft enough, skip this step.
Many people think peeling frozen fruit is another good tip because the shells are usually hard. And the juicer has trouble crushing them. However, for some fruits like grapes or apples, you should use their skins as they contain many nutrients.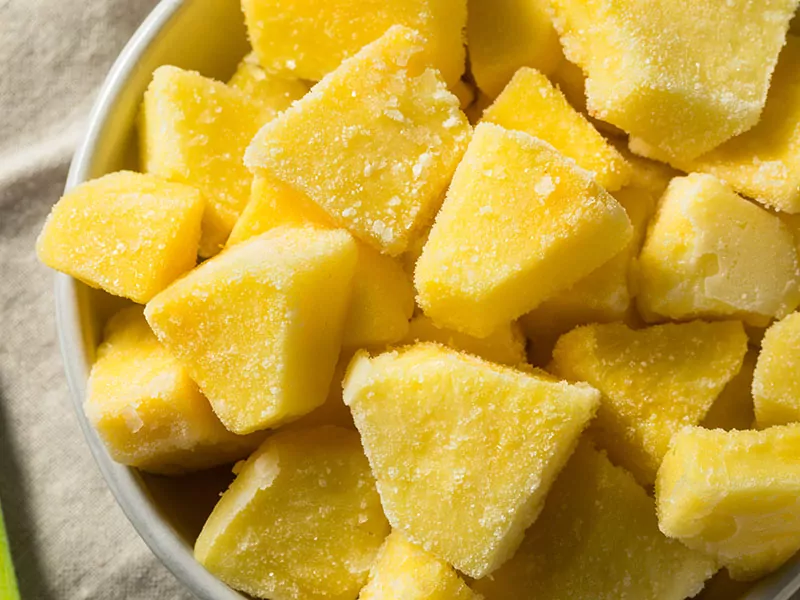 Juice Them And Keep Checking
Once the frozen fruit has been defrosted, and they are no longer cold, you can now put it in the juicer. However, make sure you keep an eye on this juicing process.
Sometimes there will be unexpected problems like the machine being too weak to grind or something hard preventing the blades from rotating. Therefore, continuous inspection helps to solve the problem in time, avoiding damage to the juicer.
And after you have finished juicing, you can either filter the juice through a strainer to remove the fibrous part of the ingredients or skip this step.
Tricks To Make Perfect Frozen Fruit Juice
Here are some other handy tips you should check to make sure your juice comes out perfectly. They not only help the finished product taste better but also protect your juicer.
In addition, the criteria for choosing the most suitable fruit for your health and the smooth operation of the machine are listed specifically.
Consider Frozen Fruit Quality
Do you agree that a proper process always requires two key components: raw materials and tools? Frozen fruit plays an important role in juicing that you need to take note of.
Base On IQF
What is IQF information, and why should you pay attention to it in the first place? If you have ever bought frozen fruit and read the information on the packaging, you will sometimes see the IQF information about the product.
It is an acronym for the phrase Individual Quickly Freezer – a specialized super-fast freezing system. It is applied to bulk products such as fruit, ensuring they are properly frozen and retain their inherent nutritional value.(1)
This frozen fruit product is the best in taste, color, shape, and especially nutritional quality. You can consume IQF frozen fruit in all recipes, such as juices, like how you use fresh fruit.
Base On Their Condition
The information on the frozen fruit packaging also says a lot. First and foremost, you must check the expiry date of the product. Thanks to freezing, the fruit can be used longer.
However, they have their own shelf life. It usually lasts up to 18 months. Expired products always have potential health risks.
It could be dangerous for your health if they past their expiration dates. Plus, you should not choose bags with clumped frozen fruit. Their structure should separate into individual pieces and retain their original color.
Base On Their Type
Once perfectly defrosted, the frozen fruit is completely ready for juicing. However, not all fruits are suitable for juicing. You should not use fruits that do not contain a lot of juice.
The juicer does not work well for these types, the amount of juice produced is not high, and there is also a risk of the fruit pulp getting stuck, causing damage to the machine.
So you should use frozen fruits like berries, citrus, apples, pears, tropical fruits like kiwi, pineapple, or melons like watermelon and cantaloupe. Although frozen equally, these fruits still retain their inherent juiciness.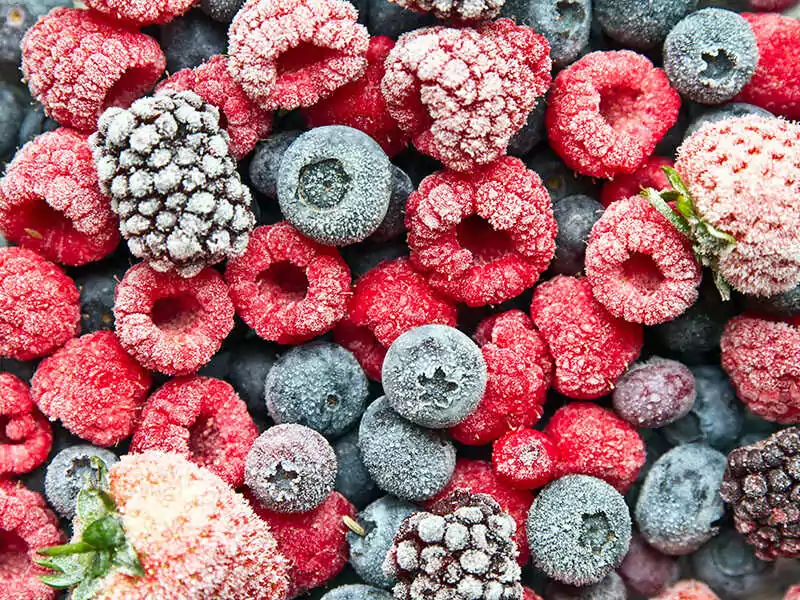 Match The Suitable Fruits Or Vegetables To Make Juice
Fruits are a great gift that nature gives because they contain many nutrients that are good for human health. Instead of using just one fruit, you can combine 2 or more types of fruits to enhance flavor or nutrients.
The combination of fruits is a great choice. You can try carrot and orange juice to aid in eyesight. Or combine fruit with vegetables like mint, kale, zucchini, or cucumber.
Choose The Appropriate Juicer
Not every type of juicer works well with all fruits. Each type has different specifications and operating methods. This depends on your usage needs. Therefore, you should consider your juicer type to properly make juices from frozen fruits.
Based On Capacity And Power
Based on the juicer power information, you can know its operating speed. It is a significant factor in determining how powerful the machine can perform.
On the other hand, the higher the capacity, the maximum amount of juice that you can get from the frozen fruit.
For soft fruit containing a lot of juice, you can use a low-power juicer. But please note that the fast juicing can create heat that depletes the fruit's oxidants, negatively impacting the nutrients packed in your juice.
Moreover, those fruit varieties with little juice or hard texture should only be pressed thoroughly by a machine capacity of 700W or more.
Based On Type
Centrifugal juicers and masticating juicers are the two most popular types today. Appearing on the market for a long time, the centrifugal juicer rotates the blade at high speed to grind and separate the juice from the pulp thanks to centrifugal force.
With the advantage of low cost, the centrifugal juicer can squeeze the fruit in a short time and is suitable for hard fruits. The disadvantage of this line is that it generates heat, which reduces nutrients and is not effective with soft fruits.
Lately, masticating juicers have a higher presence in many kitchens. It can masticate frozen fruit and separate pulp and juice into two separate exits at slow speed. It ensures the juice texture stays fresh without losing nutrients.
Also, a masticating juicer goes well with most fruits, especially berries. If you're not in a hurry, you might consider using a masticating juicer. The pressing time is longer than the centrifugal type, but the finished product is of better quality.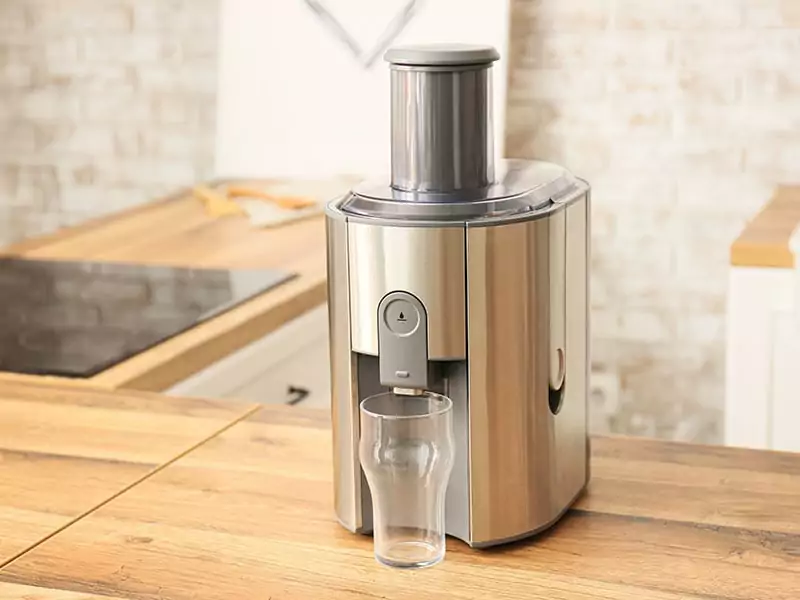 Outstanding Advantages Of Frozen Fruit In Juicing
Contrary to the misconception of some people, frozen fruit is not beneficial. Frozen fruit has many advantages that you may not know about.
As Natural As You Just Harvested
All frozen fruits are harvested at their peak ripeness – the time when they contain the most nutritional value. Moreover, after being picked from the tree, the fruit immediately undergoes a freezing process. So, freshness, flavor and all the nutrients are locked inside.
Contrary to popular belief, frozen fruit brings many practical benefits to you as being nutritious, reasonable, and versatile.
Available All Year & Reasonably Priced
Some fruits have their own time to develop and bear fruit. If you use fresh fruit, you must accept that you cannot find them for a certain period or pay a higher price than usual due to the out-of-season. This is the advantage that only frozen fruit has.
Frozen fruit is always available at supermarkets or stores. Besides, the price of frozen fruit is reasonable. Therefore, you can enjoy juicing your favorite fruits all year round and still ensure freshness
Convenient
One feature of frozen fruit that is suitable not only for juicing but also for most other recipes is convenience. Store-bought frozen fruit is always washed, peeled, and removed from all inedible parts.
When making juice, you don't need to spend time preparing fruit. In addition, there are many cases where the juicer is damaged due to the fruit not being processed properly. Many machines are not powerful enough to crush shells or seeds.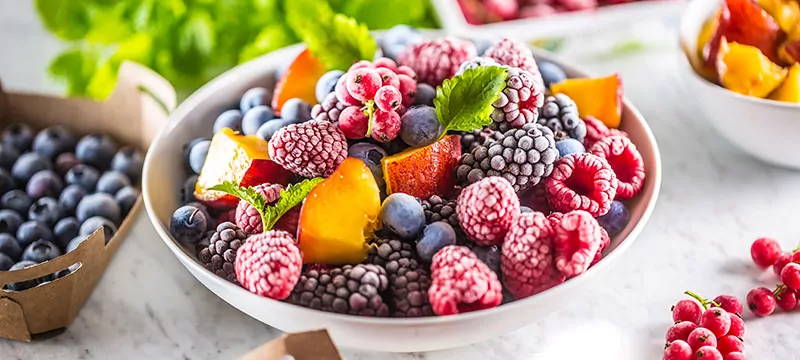 How Should Frozen Fruit Juice Be Stored?
Properly juicing frozen fruit is difficult. Preserving it also requires you to pay attention to some details. The following four notes will help you avoid the mistake of significantly reducing the quality of your juice.
Avoid Light
Nutrients are oxidized when exposed to direct heat or light. So, to make sure they retain all nutrients, you must avoid placing them under direct light or heat. You can put the juice in the refrigerator for better preservation.
Best Time To Store Juice
If you can't use it right away, you should store the frozen fruit juice in the refrigerator, which allows you to store it safely for about 1-3 days.
You can apply the freezing method when placing the juice in the freezer. Frozen juice can be kept for more than 3 days.
However, it is best to consume frozen fruit juice as soon as possible. Because the fruit has previously gone through the defrosting process, the amount of nutrients is also more or less lost. If they continue to be frozen, their quality can be significantly reduced.
Portioning And Applying The FIFO Method
If you intend to squeeze juice from frozen fruits and store them for later use, you need to divide the amount of juice into separate bottles instead of storing them in one big jar.
The constant change in temperature makes the preservation process meaningless. Moreover, using the FIFO method – first in, first out is another tip. Based on that, you use the juice bottles in chronological order. So you can mark the date on the bottle.
If you stock up on a large amount of fruit juice, try to divide it into servings, note the date, and apply the FIFO method.
Top 3 Incredible Mix & Match Frozen Fruit Juice Recipes
Frozen fruit juice is suitable for you to combine with many different ingredients into new drink recipes. More than simply combining common fruits and vegetables, the suggested recipes below will surprise you.
Total time: 10 minutes
Raspberry margaritas is a combination of fruit juice and alcohol. The succulent, sweet-and-sour taste of frozen raspberries ignites your taste buds.
With just four simple ingredients, you can create a summer drink that's both refreshing and enjoy it with your friends.
Total time: 5 minutes
The perfect combination of sour and sweet from mango and pineapple reminds you of the typical tropical taste. In this recipe, coconut milk is an important component to enhance the creaminess of your smoothies. You can opt for full-fat or regular coconut milk based on your liking.
Moreover, turmeric's characteristic aroma and honey's sweetness are other ingredients to liven up the smoothies, making them more flavorful and nutritious.
Total time: 2 hours 5 minutes
Fruit juices never go wrong with alcoholic beverages. This will be the summer savior drink. The refreshing taste of frozen watermelon juice, the sourness of lemon, and the mild warmth of rum create endless refreshments.
Nothing is more suitable and convenient for summer than Frozen Watermelon Daiquiri.
FAQs
Are there other concerns that you want to know regarding this topic? If yes, here are some of the most frequently asked questions with answers so you can fully understand frozen fruit and use them to make juice.
Juicing Frozen Fruit? Why Not?
Fruit juice is a drink with a multitude of uses. Besides Fresh fruit, frozen ones are the perfect substitution to supplement your nutrition, vitamins, and energy.
Instead of buying store-bought juice, you can create your own healthy and affordable beverages based on your liking.
However, juicing from frozen fruits might be tricky without clear instructions. There are some criteria to consider when juicing them, such as type of frozen fruit, type of juicer, or other necessary notes.
Through the information provided, I hope you have grasped all the steps, tips, and novel combinations for your daily juice menu. Please comment and share this article with your friends and relatives because maybe they also face trouble when juicing frozen fruit.
References
En.wikipedia.org. 2022. Individual Quick Freezing – Wikipedia.