There are countless types of dried fruit in the world that you may not know. Dried fruits are delicious and beneficial to health. Of course, they are more convenient to store than fresh ones. They also acquire interesting flavors and textures through the drying process.
Are you wondering what kinds of fruits can be dried, what they taste like, and how they can improve your health? In the article, I provide more detailed information about dried fruit by classifying them into 6 kinds to help you easily understand them.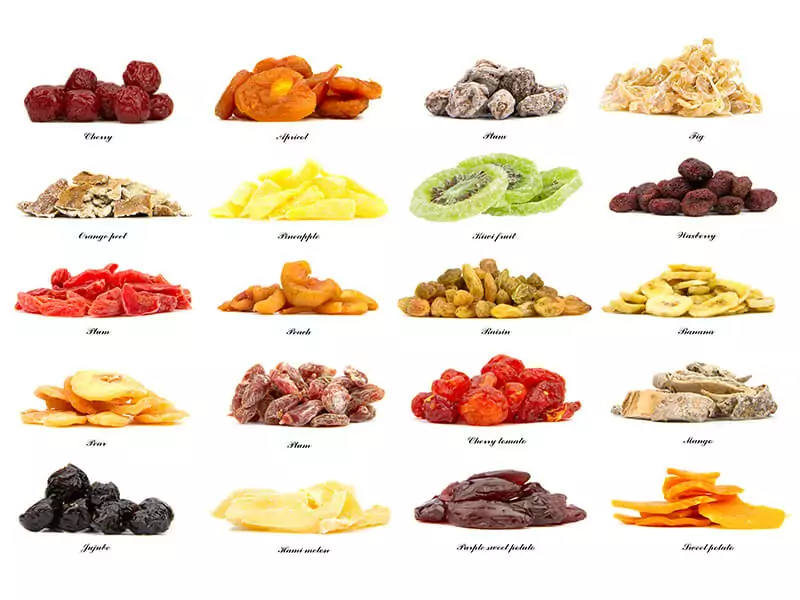 Enjoy These Well-Known Types of Dried Berry Fruits
Often found on vines (strawberries, blackberries, gooseberries), small bushes (raspberries, blueberries), and trees (cranberries, elderberries), berries are little, delicate, multi-seeded fruits.
There are currently about 400 different types of berries, with flavors ranging from sour, sweet, and bitter. Berries are among the richest sources of vitamins, minerals, and disease-fighting chemicals.
Name
Taste
Health benefits
Use
Raisins
Sweet taste (sometimes mildly sour)
Boost iron levels, aid digestion, and keep your bones strong

Good for blood cell formation
Eat raw

Make nougat cakes, dried fruit pickles, and bread rolls
Strawberries
Deep sweetness and mild sourness
Improve the immune system, Alzheimer's disease, or other neurological impairment

Prevent the possibility of cancer, the type 2 diabetes
Use as a nutritious snack

Use as a nutritious snack
Serve with cereals, salads, granola, ice cream, or yogurt
Blueberries
Sweet and slightly sour
Slow aging, infections, diabetes, cardiovascular disease

Lower the cholesterol level
An ingredient for ice cream, smoothies, muffins, and salads
Cranberries
Strongly tart
Improve memory.

Slow down the growth of tumors that fight against breast, ovarian, and colon cancer.
Make jams

Toppings for smoothies
Raspberries
Mildly sweet and strong sourness
Detoxify and inhibit UV absorption

Improve fertility in both men and women

Prevent eye diseases
Used for Ice cream, smoothies, cocktails, etc.

Paired with tea
Gooseberries
Sweetish and tartness
Fight diabetes and some types of cancer

Support collagen formation

Promote gum and capillary health
Eat as candies

Make baked goods

Mix with honey in its powdered form
Kiwis
Mild sweetness and acerbity
Build endurance level

Help to overcome asthma and serotonin

Improve sleep quality.
Use as a garnish for cocktails, smoothie bowls, or salads
1. Raisins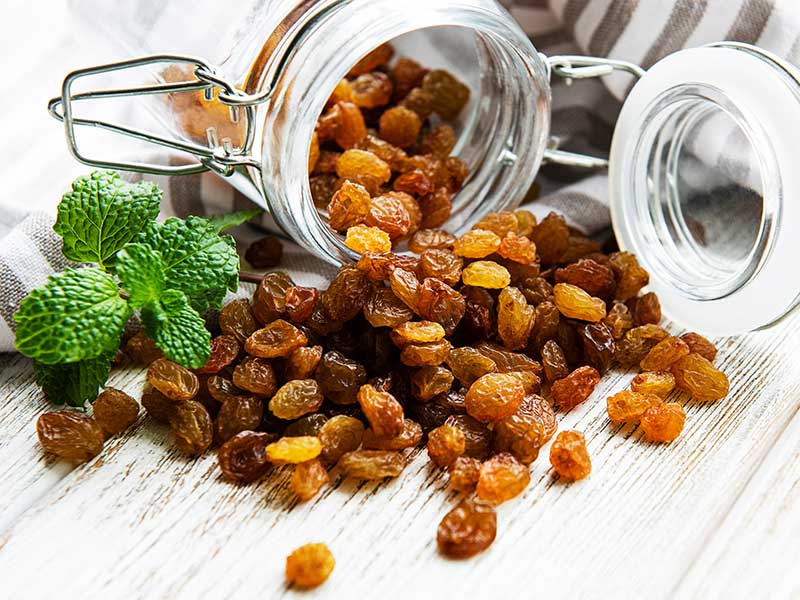 Raisins are the name of dried grapes. They are essentially fresh grapes that are dried in a food-grade dehydrator or hand-dried under the sun.
Produced in many parts of the world, raisins are a versatile ingredient because you can eat them raw or use them in various recipes, such as nougat cake, dried fruit pickle, and bread rolls.
So why are they called raisins? This is a word of Middle English origin, borrowed from Old French. Interestingly, modern French use this word for fresh grapes. Raisins have a sweet taste (sometimes mildly sour) due to their high content of natural sugars.
Their nutritional content will be similar to that of fresh types. Many studies have pointed out that raisins can boost iron levels, aid digestion, and keep your bones strong.
Also, compared to other popular dried fruits, they are very high in antioxidants and phenols. Raisins also contain vitamin B, iron, and copper – three important ones for blood cell formation.
Do you ever wonder how manufacturers make raisins to meet the high market demand?
2. Strawberries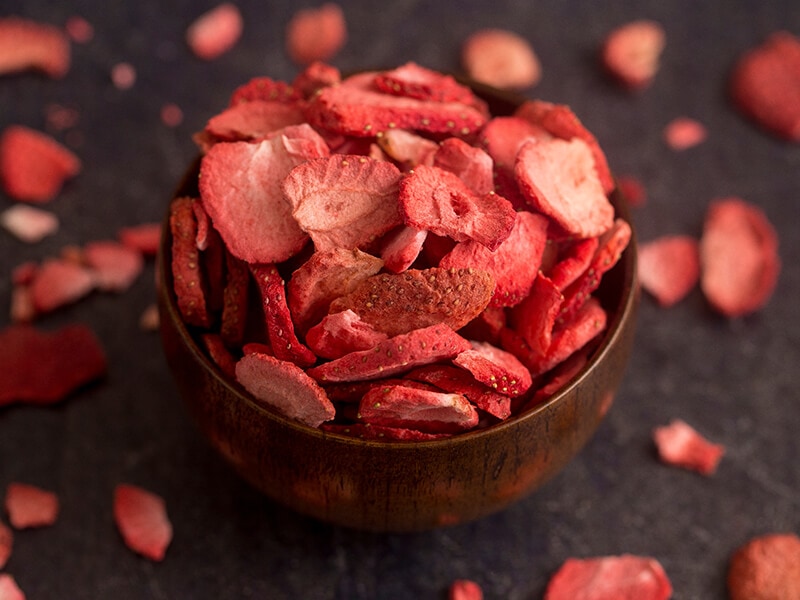 Strawberries attract many people because of their balanced sweet and sour taste and unique aroma. However, due to their succulent nature, strawberries cannot be kept for long, so dried strawberries were created.
The largest countries in the production of strawberries include China, the US, and Mexico, with the output from China reaching more than 3 million tons per year.
You can find two varieties: soft dried strawberries and crispy ones. These two types apply different drying technologies.
For the soft and chewy type, people heat-dry the whole fruit in such a way that it still retains a small amount of juice. However, when producing the crispy type, they cut strawberries into thin slices and start a freeze-drying process.
You can use dried strawberries as a nutritious snack, combined with cereals, salads, granola, ice cream, or yogurt. Alternatively, apply them to cake recipes like pancakes, muffins, or cookies.
Strawberries are an excellent source of vitamin C. They give you a healthy immune system, preventing the possibility of cancer. People with Alzheimer's disease or other neurological impairments are advised to supplement with strawberries daily.
3. Blueberries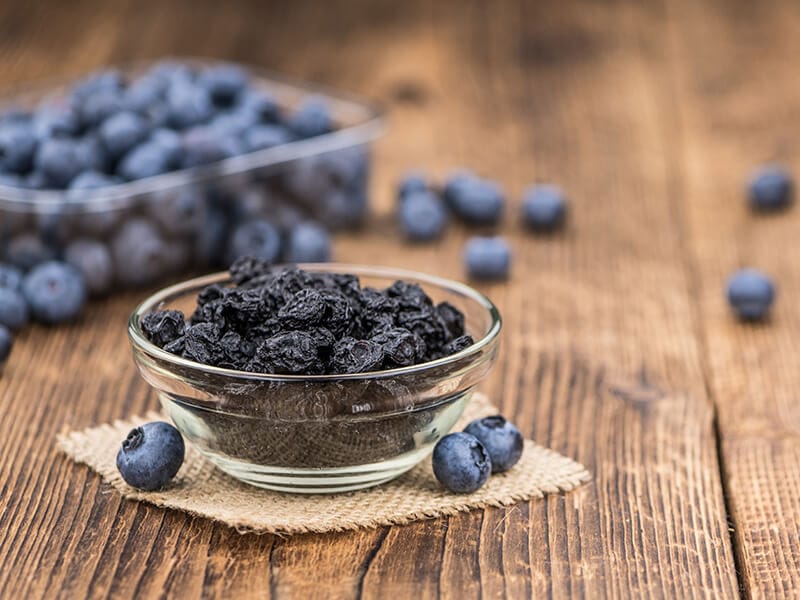 A favorite fruit around the world, blueberries are not only delicious but also offer many health benefits. After harvesting, people remove dirt by washing and putting them in a drying oven or a fruit dryer.
With the largest production, you can easily buy both fresh and dried blueberries in the US, Canada, and Peru. Dried blueberries contain vitamin C and also many polyphenols.
This substance helps slow aging and fight infections. Besides, diabetes, cardiovascular disease, and cholesterol level are less likely for people who consume this dried fruit.
Compact and convenient, you can use them as soft candy. Furthermore, you can't go wrong with some fresh summer dishes such as dried blueberry ice cream, smoothies, cobblers, muffins, and salads.
Follow this easy guide to find out how to produce dried blueberries at home.
4. Cranberries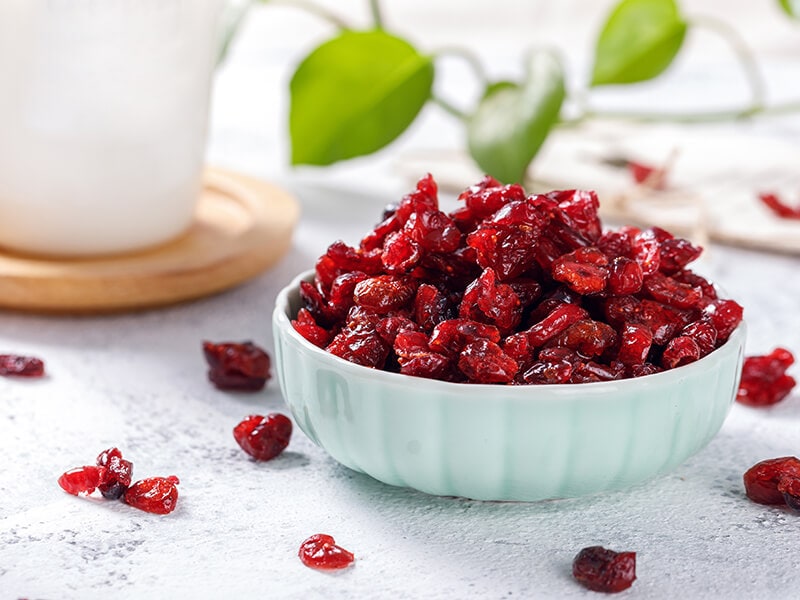 Originating from North America, cranberries are grown today in Canada, the United States, Chile, the Netherlands, and many other countries. This fruit is red and has a strong tart taste.
Because of their high nutritional value, people use cranberries in a variety of forms, such as jams, smoothies, or dried ones. You can snack on some dried cranberries to improve your memory.
According to many studies, cranberries slow down the growth of tumors, making it an ideal food to consume to prevent breast, ovarian, and colon cancer. They can be dried by sun exposure, microwave ovens, or dryers.
5. Raspberries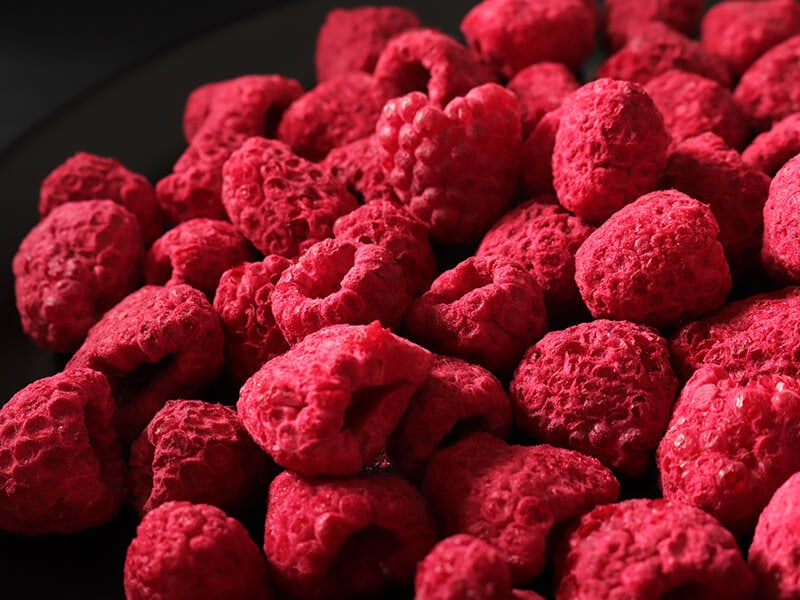 Raspberries are popular in North America and Europe. With their small size, they can be easily dried by sunlight and other specialized drying equipment. The taste of raspberries is a nice mix of sourness and sweetness.
The vitamin E in raspberries helps to detoxify and inhibit UV absorption. In addition, they improve fertility in both men and women. The fruit's combination of vitamins A, C, and phenol is very effective in preventing eye disease.
Its tartness is perfect for balancing the flavor of sweet dishes and often appears in recipes such as ice cream, smoothies, cocktails, or paired with tea.
6. Gooseberries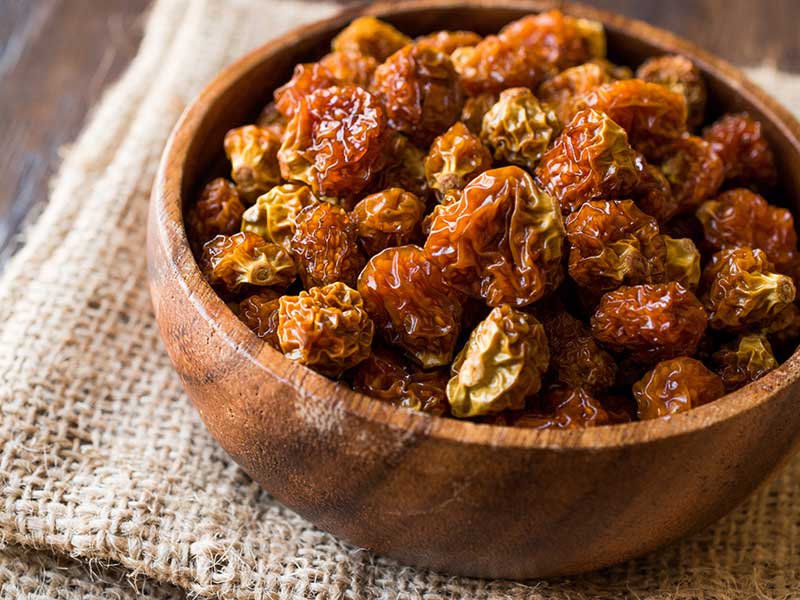 The next type of dried berry is gooseberries. They are a shrub of the vaccinium family. People also eat dried gooseberries as candies, make baked goods, or grind them into a dry powder to drink with honey.
Dried gooseberries have a slightly sweet and strong sour taste but are very easy to eat. With a lot of antioxidants (typically anthocyanin), they can fight diabetes and some types of cancer.
Dried gooseberries are a well-loved and nutritious snack. In addition to the nutritional value of other berries, dried gooseberries support collagen formation, promoting gum and capillary health.
7. Kiwis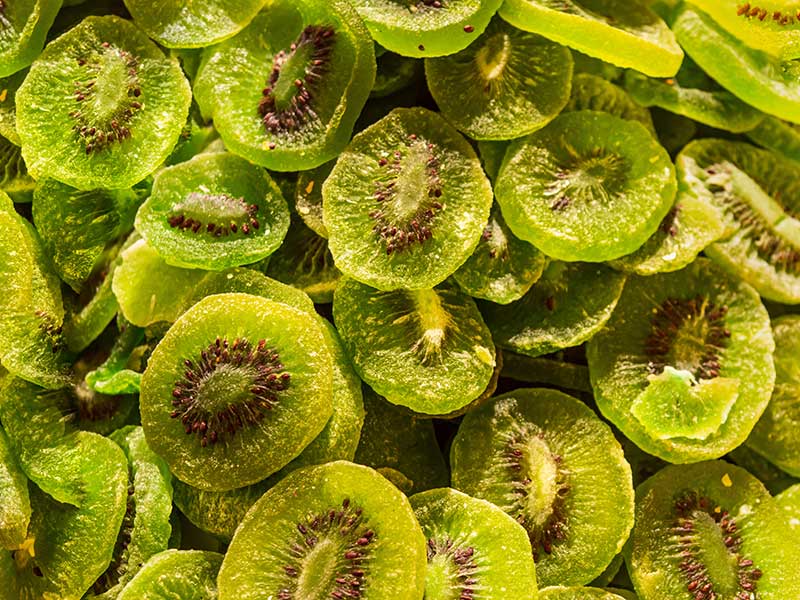 Toothsome dried kiwi pieces are a great and healthy snack. They are ranked at the top for the high nutritional content of fruits.
Kiwi has been around for thousands of years in China and was brought to New Zealand by a teacher named Isabel Fraser in 1904. The fruit gradually grew in popularity. At first, people here called it Chinese gooseberry.
Because of Cold War tensions, that name made it hard for New Zealand to export this type of gooseberry to the US. In the 1960s, New Zealanders renamed it after their national bird, the kiwi, paving the way for the fruit to become popular in the Western world.
Those pulpy fruits have a light green or yellow rind and a soft texture. You also have two choices to enjoy soft dried kiwi and crispy dried kiwi like strawberry. The characteristic sweet and sour taste of berries is worth a try!
Kiwis contain a variety of nutrients such as fiber, folic acid, potassium, carotenoids, and minerals that are essential for building endurance. Also, they can help people with their sleep quality.
You can use it as a cocktail garnish or mix with other fruits to make a smoothie bowl or salad.
You may learn to make dried kiwi from A to Z in just 2 minutes here.
Dried Tropical Fruits And Their Amazing Tastes
Tropical fruits are usually found in lands with hot and humid environments. A mixture of rich sweetness and mild sourness characterizes the majority of popular tropical fruits, which many people dry and utilize in various recipes.
Name
Taste
Health benefits
Use
Figs
Sweet with a mildly bitter taste
Reduce chances of hemorrhoids and gallstones

Healthy snacks for weight gain
Mix with jam and chutney

Use a dessert
Pineapples
Strongly sweet (sometimes slight sour)
Reduce phlegm and respiratory diseases such as sinusitis

Improve arthritis problems
Combine with granola, yogurt, other soft drinks, or overnight oats
Mangoes
Strong sweetness
Protect the eyes from the high-energy light waves of sunlight or electronic devices.

Help limit the risk of birth defects in the fetus.
An important ingredient for curries, energy balls, muffins, and tarts
Papayas
Strongly sweet
Provide the body with proteins and energy

Enhance the health of the digestive system

Minimize constipation
Flavor teas, smoothies, and desserts
Bananas
Sweetness
Improve the immune system health and brain development

Reduce pain and quickly restore strength after workouts.
Use as chips or add to breads and puddings
Jackfruits
Sweet and fragrant
Prevent thyroid problems in women, stroke or heart problems

Minimize the aging process of the skin

Slow down the growth of cancer cells
Enjoy as chips
Dragon Fruits
Mellow
Provide fiber to help control appetize

Helps to strengthen bone health in children and the elderly
Add to teas, fruit salsas, smoothies, and salads
8. Figs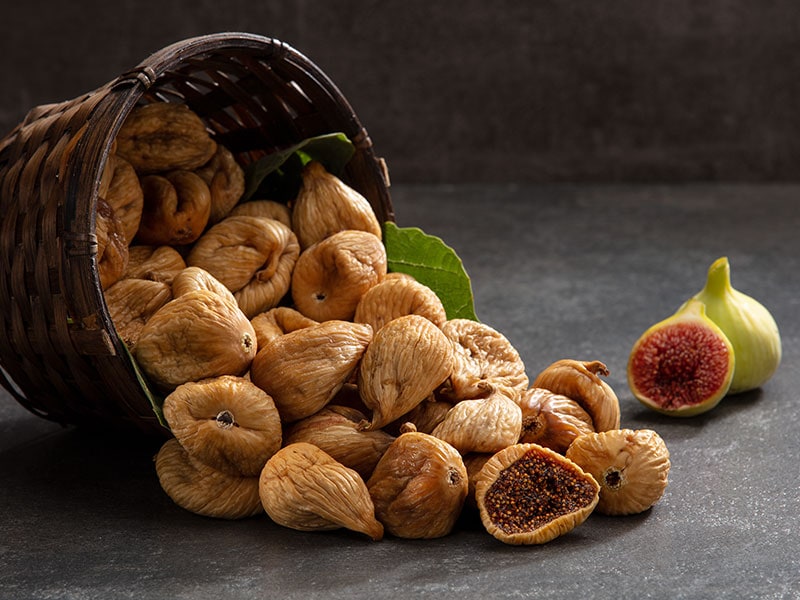 You can easily find dried figs in the USA, Turkey, Spain, North Africa, and many other countries. Fresh figs may dry up while they are still hanging on the tree.
Still, many people like to make dried figs with a microwave oven. Then, they may enjoy them raw as a dessert or mix them with jams and chutneys. Savoring dried figs with meaty or salty dishes is also a fantastic idea.
Fresh figs are sweet, with a bitter taste. When dried, the finished ones will be sweeter, with golden brown color and fleshy. The nutritional value of figs includes glucose, phosphorus, calcium, potassium, and several other vitamins.
Many consider them a dietary supplement for people with hemorrhoids and gallstones. With high calories, about 2-3 dried figs a day are healthy snacks for people who want to gain weight.
9. Pineapples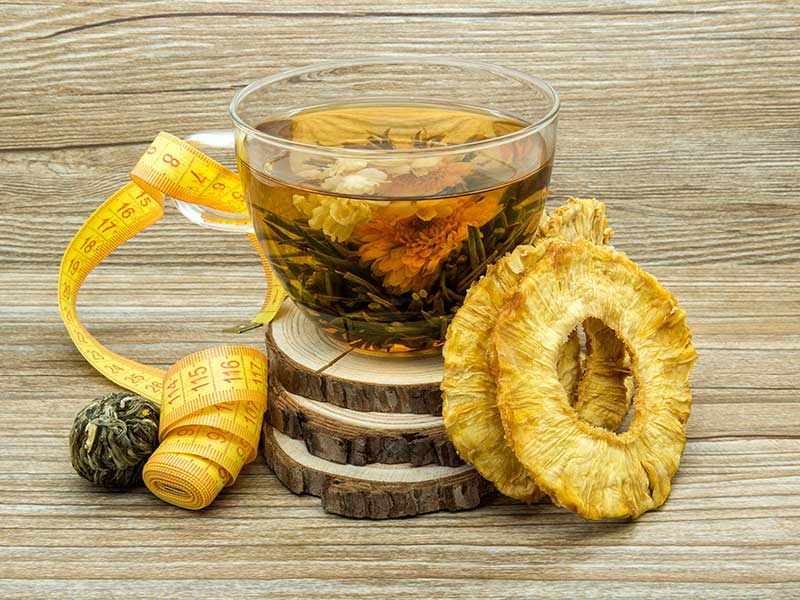 Outstanding for its unusual appearance and tropical flavor, pineapple is also a delectable fruit when dried. The loss of water makes the pineapple sweeter and more supple.
The price of dried pineapple products is also low and easy to find in convenience stores. If you find eating overnight oats for breakfast too dull, try topping dried pineapple on it. You freshen up to welcome the new day.
With functional anti-inflammatory effects, dried pineapple should be added to the menu of people who have arthritis problems. The combination of dried pineapple with granola, yogurt, or other soft drinks is the perfect duo for refreshment.
Have you ever heard of dried pineapple flowers? It is worthwhile to check out this demonstration right away.
10. Mangoes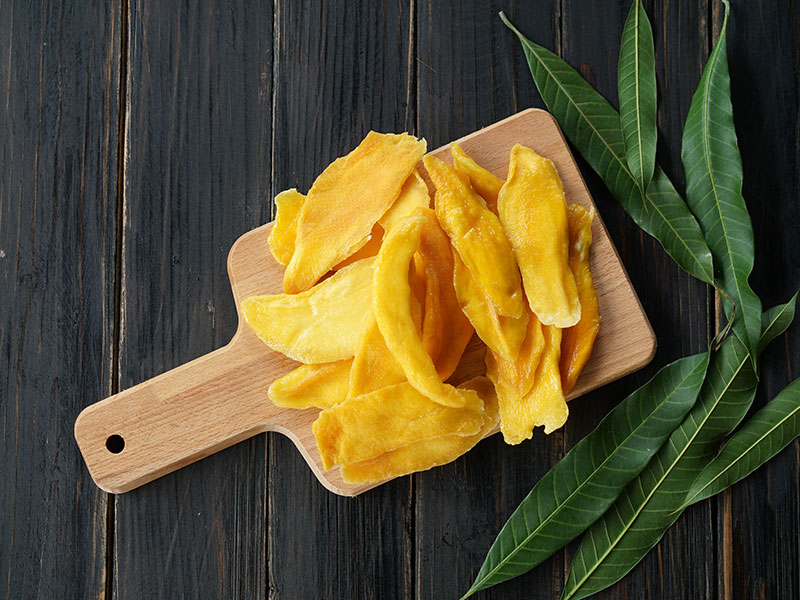 When mangoes reach their peak ripeness, they are carefully selected to make dried mangoes. This is when the fruit is at its sweetest. People freeze-dried them to help mangoes achieve the perfect chewiness.
In addition, antioxidants such as lutein and zeaxanthin protect the eyes from the high-energy light waves of sunlight or electronic devices.
Containing a certain amount of folic acid, pregnant women supplement with dried mango to help limit the risk of certain birth defects in the fetus. This type of dried fruit can appear in savory dishes, like curries and soups, or snacks, such as energy balls, muffins, and tarts.
11. Papayas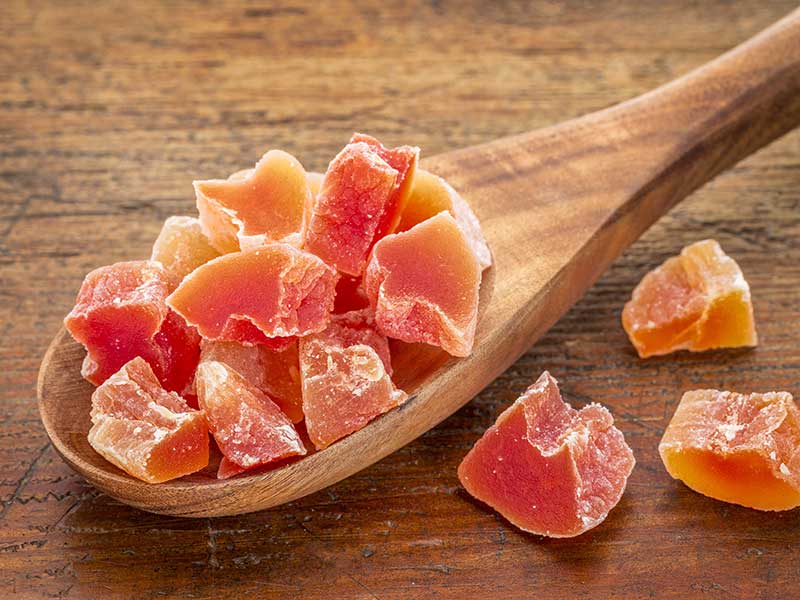 The world's biggest papaya exporters are India, Brazil, and Mexico. In the US, they are grown in places with high temperatures, such as Hawaii, Florida, California, and Texas. With their peculiar characteristics and taste, their price is high compared to other dried fruits.
Dried papaya usually has a naturally sweet taste, so it does not need to be soaked in sugar. Each piece of dried papaya is sweet, slightly crunchy, and chewy. Their highlight is that they contain a large number of proteins and energy.
Use them every day to enhance the health of your digestive system and help you minimize constipation. Mostly, dried papaya is used to flavor tea, dessert, or enhance the sweetness of the dish.
It's much more feasible now to make and store dried papaya powder for various recipes.
12. Bananas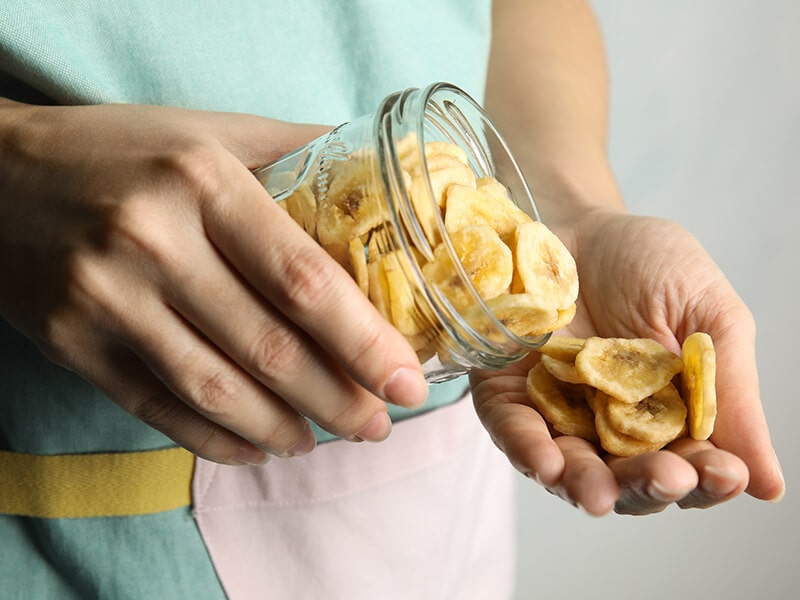 Bananas – one of the most popular fruits in the world, certainly aren't complete without the dried version. Belonging to the Musa family and native to Southeast Asia, bananas are well suited to climates in warm regions.
Used as a type of chips, dried bananas are an easy snack to carry when picnicking or making bread and pudding. With freeze-drying technology, they retain their natural sweetness, crispiness, and intense banana flavor like fresh.
In addition, if you like to eat it as a fondant, you can buy chewy dried bananas, which are mostly dried by sunlight. The amount of potassium in them means that dried bananas give you a healthy nervous system and heart.
If you practice sports or exercises, use it as a snack to reduce pain and quickly restore strength. Dried bananas play an important role in improving your metabolism.
13. Jack Fruits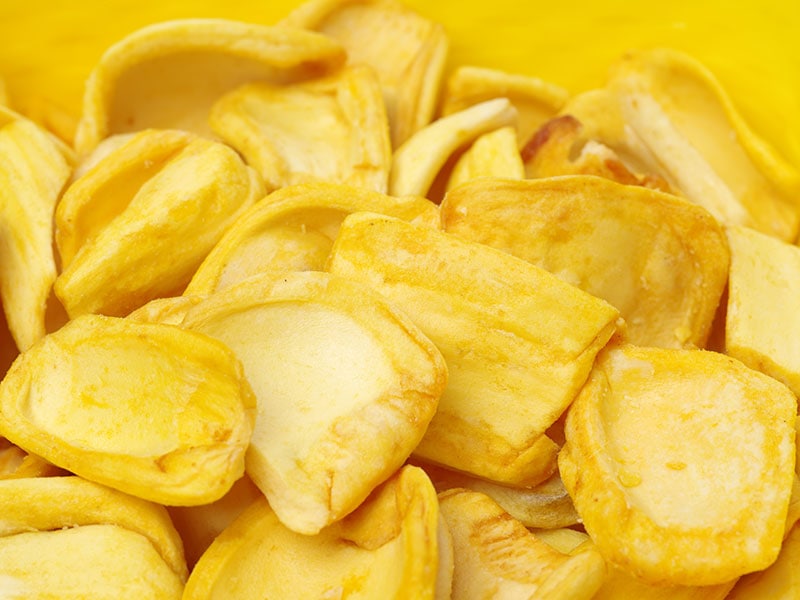 Though popular in Asian countries such as India, China, and Malaysia, jackfruit is not widely grown in the US. That's why it's hard to find fresh jackfruit here and of course, dried jackfruit becomes an alternative.
Sweet jackfruits are dried until crispy to keep their nutrients intact. People often confuse jackfruit and durian because of their similar look and peculiar aroma. Some people liken its texture to that of pulled pork.
The riper it is, the stronger its odor will be. If you find the scent of fresh jackfruits to be overwhelming, dried jackfruit is a great solution because it has a more subtle smell accompanied by a French fry-like crunchy texture.
Follow this straightforward tutorial if you want to make dried jackfruits at home.
14. Dragon Fruits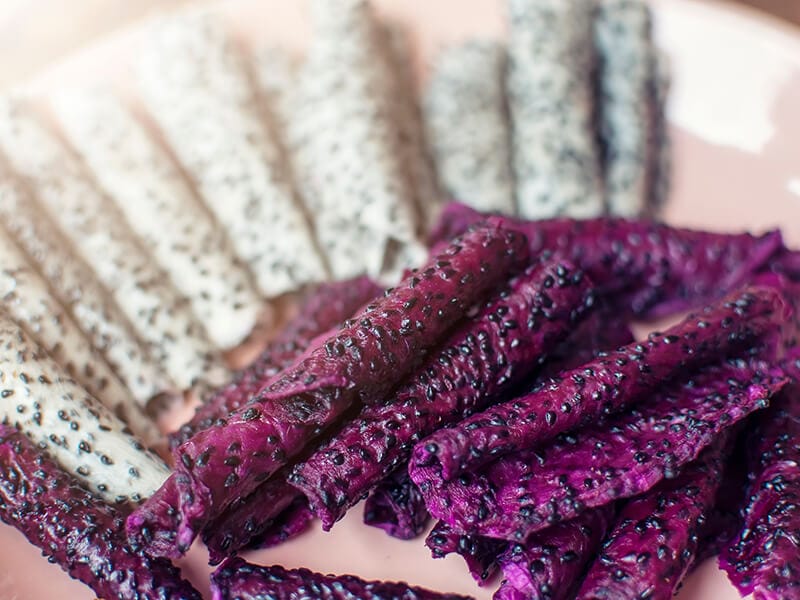 Unlike the mild sweetness of fresh dragon fruit, the dried type has a stronger flavor. Through the freezing process, the slices of dragon fruit are more flexible and tough.
If you want to lose weight, consider adding dried dragon fruit to your menu. Per 100 grams, they contain only 68 kcal but provide 1.34g of fiber to help control appetite. For children, consuming a lot of dried dragon fruit helps to develop height and strong bones.
There are many creative recipes from them, but the most special application is that you can use them as tea. Soaking dried dragon fruit slices in hot water before enjoying the drink with some cookies is a good idea, or you may make fruit salsa, smoothie, and salad.
Some Types Of Dried Stone Fruits You Should Try Once
When it comes to stone fruits, you probably think of cherries first. Characteristically, stone fruits have soft and thick flesh that surrounds a pit or stone.
Drupe is another name for them. The stone's exterior can be either hairy or smooth. When ripe, the fruit flesh will be quite mushy and easily bruised during transportation. As a result, drying them is a reasonable option if you want to keep them for longer.
Name
Taste
Nutritional Values
Use
Apricots
Tangy and sweet
Enhance memory

Reduce anxiety

Fights lung and pancreatic cancer
Make jam, milkshake, and salad garnish
Cherries
Sweet
Reduce uric acid in the blood

Lower chances of cancer cells, gout, and heart attacks

Help to calm down and prevent sleep disorders
Make energy bars, muesli mixes, or oat muffins
Peaches
Tangy sweet
Prevent anemia

Good for pregnant women

Reduce allergy symptoms such as itching, redness, or sneezing
Turn into cobbler, panforte, and granola
Dates
Excessively sweet
Limit markers of brain inflammation and the risk of Alzheimer's disease

Can replace refined sugar
Go well with smoothies, salads, cookies, and stewed chicken or steaks
15. Apricots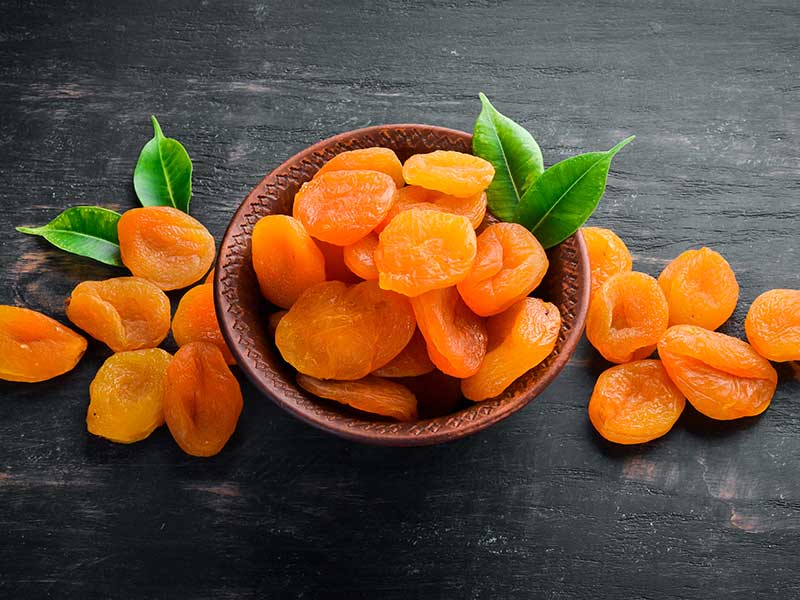 Apricot trees grow in tropical and dry climates and are native to Central and East Asia. Apricots are soft and juicy but not watery, suitable for tough drying.
Many people describe apricots as tasting like peaches and plums combined. However, their tartness is more prominent and suitable for jam, milkshake, and salad garnish. Therefore, people often add salt and sugar during the drying process to balance their flavor.
Dried apricots can enhance memory and reduce anxiety. Tobacco users can supplement beta carotene – a substance that fights lung and pancreatic cancer, through dried apricots.
Gain deep insight into the 12 health benefits of dried apricots here.
16. Cherries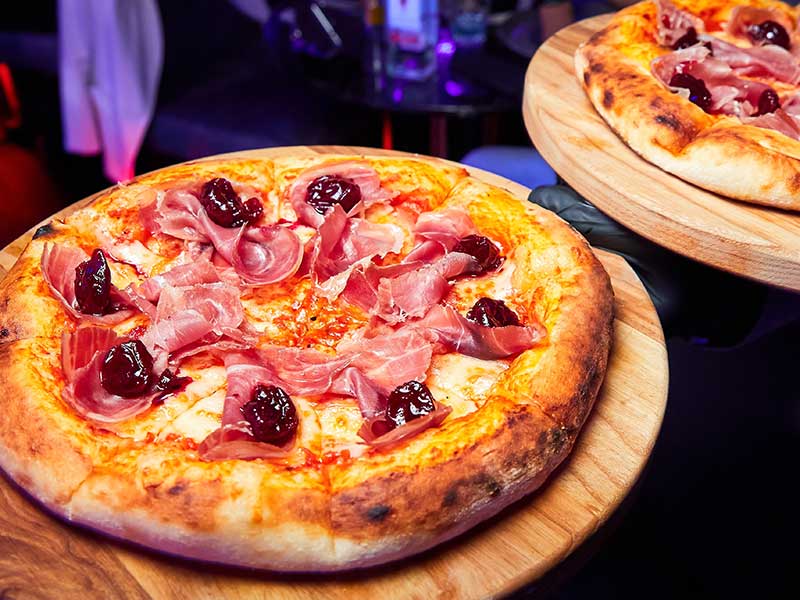 Cherries are considered super fruits, so what are their benefits? They are grown in abundance in Australia and are favored by countries in the Americas and Europe.
These stone fruits are red-skinned, heart-shaped, crunchy, and almost sweet. In addition to eating them fresh and making juice or smoothies, drying them also is another excellent choice.
Their composition contains strong antioxidants and more than 17 other substances. Dried cherries help reduce uric acid in the blood, cancer cells, gout attacks, and heart disease.
Serotonin and melatonin compounds will help you calm down and reduce sleep disorders effectively. Dried cherries are part of many healthy dishes like energy bars, muesli mixes, or oat muffins.
17. Peaches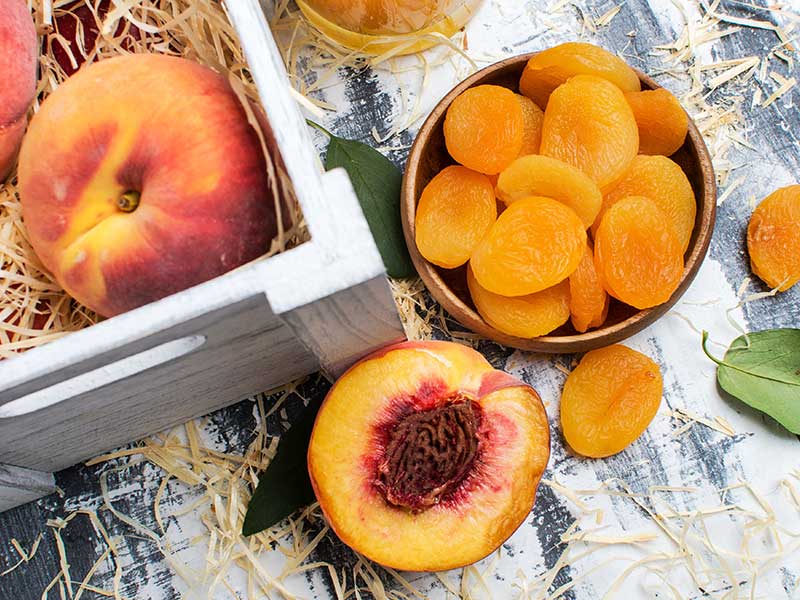 When it comes to summer, you will immediately think of peaches. However, dried peaches are also a great choice. Don't think of them as just a simple sweet and crunchy snack because their nutritional content will surprise you.
Dried peaches prevent anemia because they contain a lot of iron, vitamin A, potassium, and copper. It becomes a complementary food for those who are pregnant.
In addition, peaches suppress the release of histamines, which helps relieve allergy symptoms, such as itching, redness, or sneezing. I recommend that you can use dried peaches to create stunning panforte, cobbler, or granola.
Don't have a microwave or food dryer? No problem because you can dry peaches with solar power!
18. Dates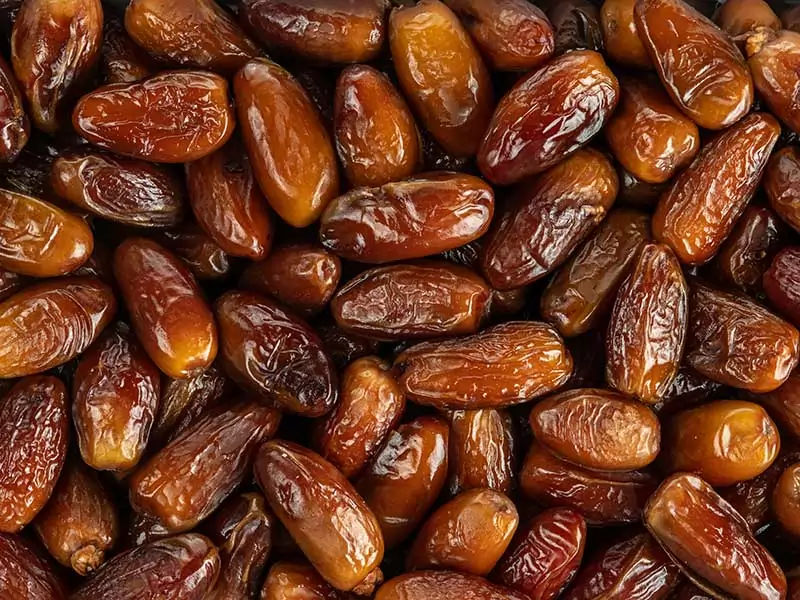 Unlike other fruits, dates are better known in dried form because of their longer shelf life. In contrast to the fresh variety, which is bright red to yellow, dried dates are dark brown and have wrinkled skin.
They are usually slightly chewy and sugary in taste. The menu of the elderly should include dried dates because they have been shown to limit brain inflammation and lessen the risk of Alzheimer's disease.
Containing a large amount of fructose, dried dates are used as a natural sweetener to replace refined sugar in cooking. The taste of dates goes well with most dishes such as smoothies, salads, cookies, and even savory dishes like stewed chicken or steaks.
5 Other Types Of Dried Fruits You Can't Ignore
Besides the three fruits mentioned above, melons, pomes, and citrus fruits can also be dried. However, depending on the structure and properties, different methods are applied to dehydrate them.
You will find these dried fruits in a crunchy form like potato chips or as chewy and chewy as a fondant. Let this article introduce you to that delicious dish!
Name
Kind of Fruit
Taste
Nutritional Values
Use
Watermelons
Melons
Strongly sweet
Relax the tension of blood vessels and support people with high blood pressure

Reduce muscle soreness
A great post-workout snack
Cantaloupes
Melons
Deep sweetness
Control macular degeneration and prevent vision disease in the elderly

Reduce cholesterol, prevent cancer, and improve the cardiovascular system
Serve with ginger and honey
Apples
Pome
Pleasant sweetness
Low in calories

Optimize the functioning of the circulatory and nervous systems

Limit fat absorption by boosting metabolism
Enjoy as chips or make apple pies
Pears
Pome
Sweet
Optimize the healing process and the immune system.

Reduce diseases related to the heart system

Repair damaged blood vessels
Turns into desserts or main dishes
Oranges
Citrus
Sweet

Dried peel is slightly bitter and acrid
Help relax and sleep better

Improve physical health

Reduce the likelihood of seasonal diseases
Combine with hot tea

Dried orange peels can make essential oils for hair
19. Watermelons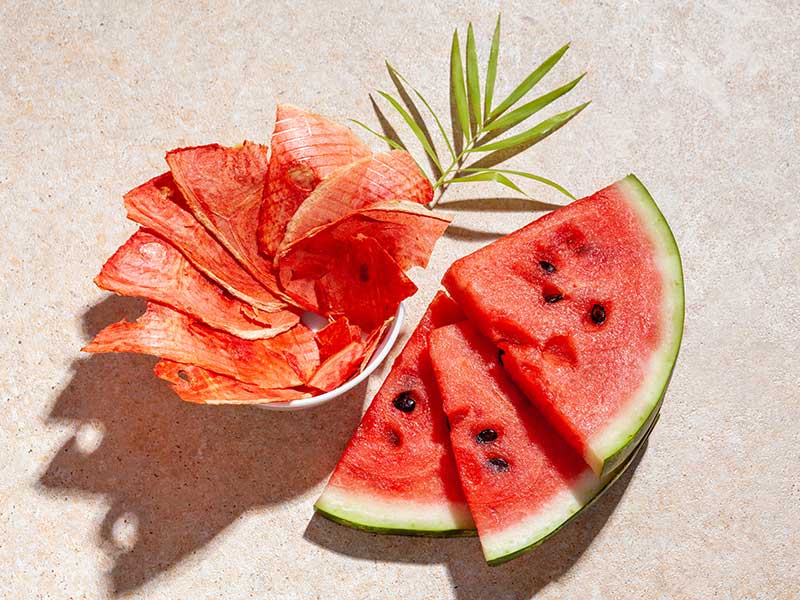 When you think of watermelon, you immediately think of succulent fruits. So you wonder how they are dried when containing more than 92% water? Dried watermelons are mostly produced commercially using food dryers. They contain a lot of essential vitamins for the body.
Despite losing most of the water, dried watermelons retain their sweetness and precious natural sugars of glucose and fructose.
Thanks to an abundant source of citrulline, this type of dried fruit helps relax the tension of blood vessels, thereby supporting people with high blood pressure. You should use them as a post-workout snack to reduce muscle soreness.
20. Cantaloupes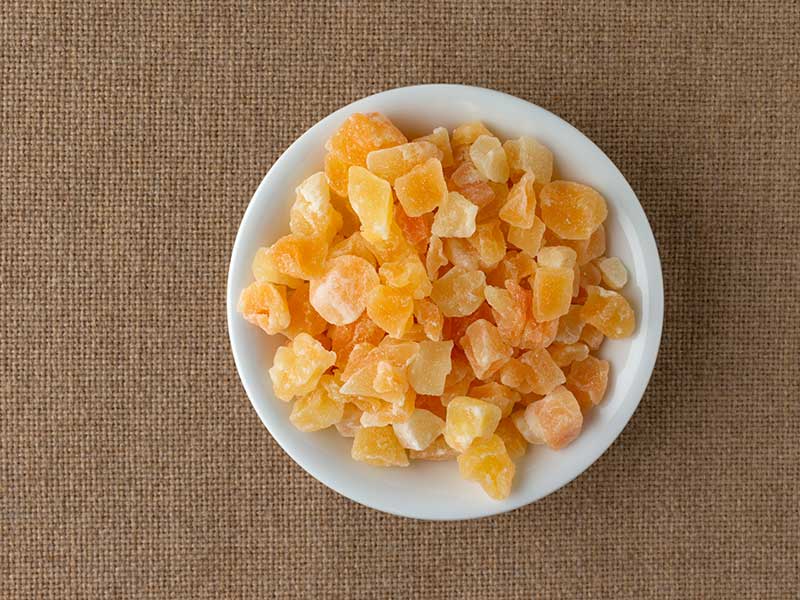 Although the same family of melons, cantaloupes, and watermelons are different. Cantaloupes are not too succulent and bear a stronger resemblance to papaya. They also have a characteristic aroma. When dried, the finished product is supple, chewy, and sweeter than watermelons.
Dried cantaloupe is rich in beta carotene, which can control macular degeneration – a disease that reduces vision in the elderly. Their nutritional components significantly reduce cholesterol, prevent cancer, and improve the cardiovascular system.
If you're suffering from a cold, cough, or sore throat, try making dried cantaloupe candy at home. Adding a little ginger and honey can soothe discomfort as well as boost your immune system.
21. Apples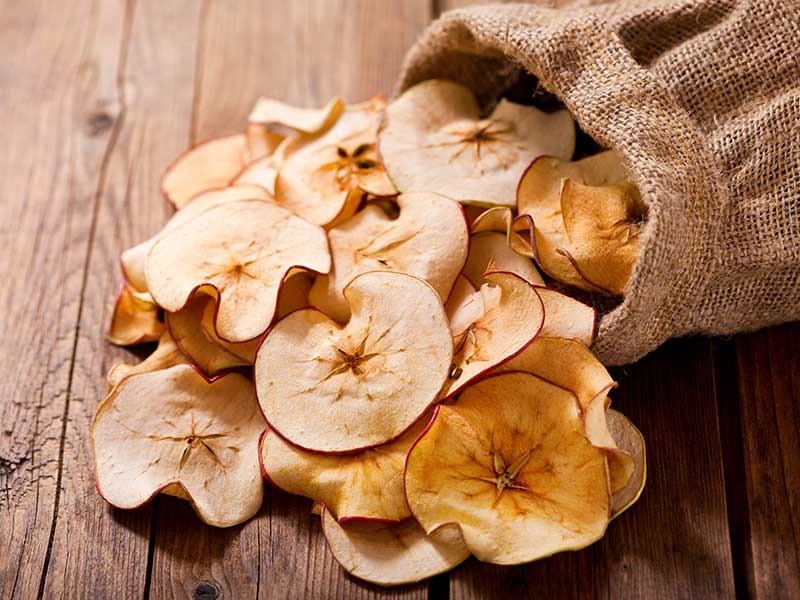 You must have heard the saying, "An apple a day keeps the doctor away". Though it refers to fresh apples, you can replace them with dried ones for the same effect.
Dried apples are a well-loved snack because they are easy to eat, have a pleasant sweetness, and are low in calories. You may enjoy them as chips or make dried apple pies.
The vitamin B and potassium in them optimize the functioning of the circulatory and nervous systems. The dried fruit also contains pectin, which helps limit fat absorption by boosting metabolism.
You can find them easily at the store and pair them with nuts for a relaxing afternoon tea. It is possible to make dried apples at home. Note when slicing apples to dry in the microwave, you should put them in diluted lemon juice to avoid oxidation.
It is a clever idea to make your dried apples more flavorful by using a few aromatic spices!
22. Pears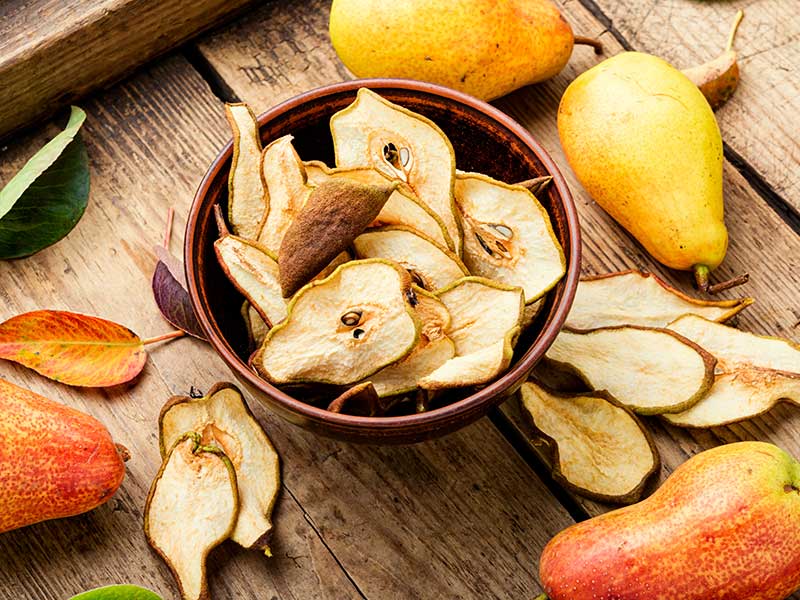 Not as popular as dried apples, dried pears are harder to find. Pears grow well in cold and mountainous climates. Their largest producing areas are China, Argentina, and several states in the United States (such as Washington and California).
Do you know that dried pears are a crispy fruit capable of accelerating the healing process? The ascorbic acid (vitamin C) in dried pears may reduce diseases related to the heart system. They also repair damaged blood vessels.
If you suffer from diseases such as colds, flu, and coughs, you should consider more dried pears as the main meal or snack. Their plentiful amount of vitamin C can strengthen the immune system.
23. Oranges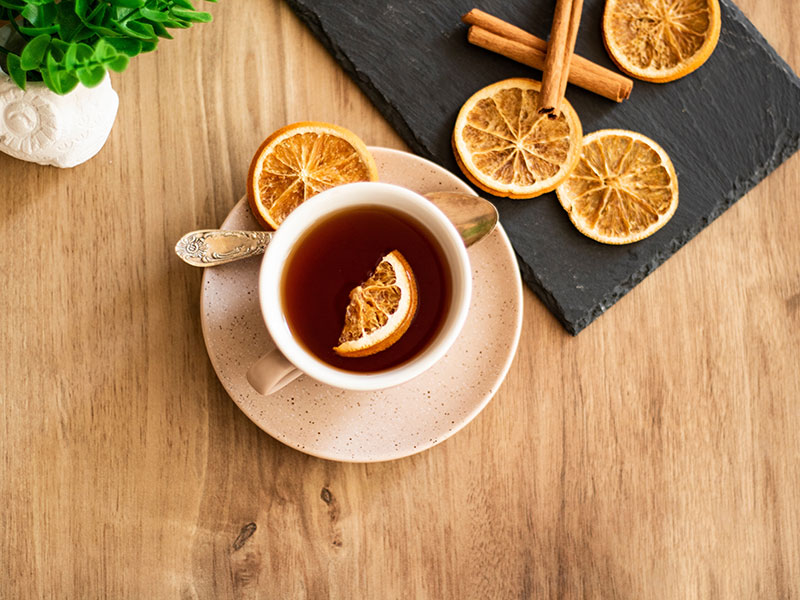 Dried oranges are sliced orange products that are dried at appropriate temperatures. This method retains all the initial nutrient content as well as the striking color of oranges.
You may try to combine dried oranges with hot tea and spices. The fragrance of this mixture helps to relax and sleep better. Besides the dried orange rind and pulps, people also create products consisting of only dried orange peels that are slightly bitter and acrid.
They are ingredients that help recover physical health quickly. Dried oranges reduce the likelihood of seasonal diseases. At the same time, the number of essential oils in the orange peel can make your hair healthier.
How to make beautiful dried orange slices on special occasions like Christmas? Find out here.
How Many Dried Fruits Have You Tried?
There are countless types of dried fruit that this article does not mention. Every type of dried fruit is quite wonderful in terms of convenience, nutritional profile, and flavors. Try them once, and I guarantee it will be an unforgettable experience.
I know there's so much information about dried fruits in this article, so how about saving it to reread later? Please hit the "like" button and share this post with your friends and family. It's a good idea to learn new information with them, isn't it?