You probably have encountered berries that look like blueberries, especially if you often venture into the wilderness. However, you may find it hard to tell whether they were blueberries or safe to consume.
And checking is important – some fruits look delicious and lure you in with their colorful appearance and juicy taste, but can sweetly poison you instantly. So how can you distinguish between what is edible and what is not?
Well, this post is here for that exact reason. I'm here to walk you through the basics of the berries family and how to check if that tasty-looking berry bush you just walked by could kill you or not.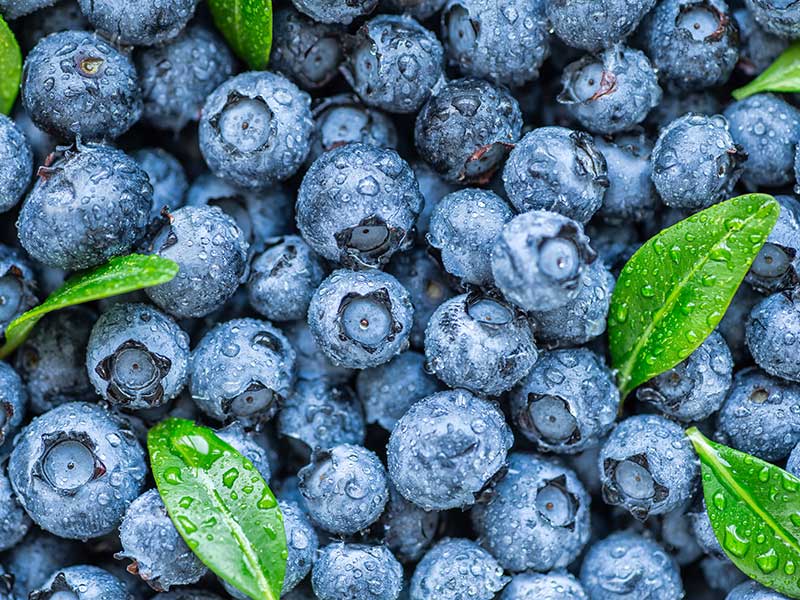 What Are Berries?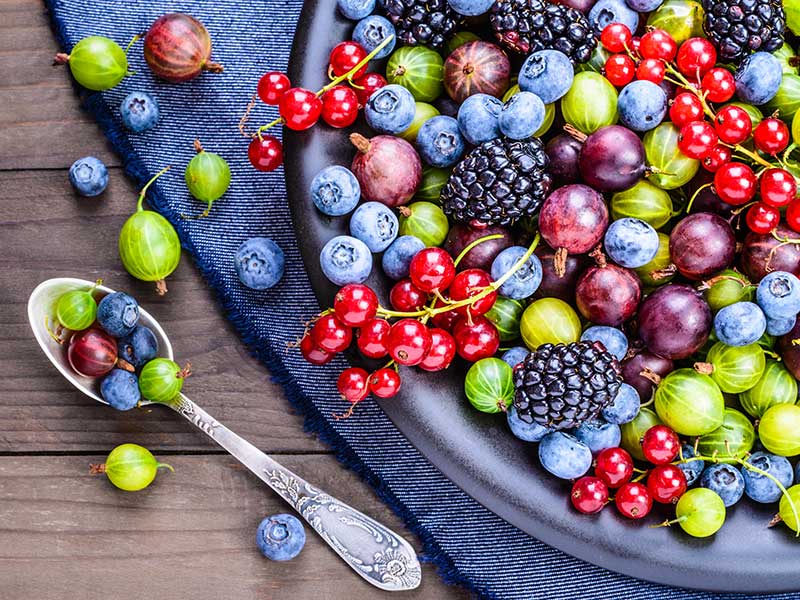 If you didn't know this before, here's a fun fact for you: Strawberries and raspberries are not berries. Bananas, eggplants, tomatoes, chili peppers, and cucumbers are. Is your mind blown yet?
At this point, you may ask, what makes a berry? Botanically, a berry is a fruit that has many seeds but is formed from one single flower (1). It has been around technically forever, as gatherers of the old times used to harvest berries for their meals.
Strawberries and raspberries are not berries; they are aggregate fruits – fruits that are formed from several flowers at once. Fruits like raspberries, blackberries, strawberries, and pineapples are aggregate fruits, not berries.
Berries possess a fleshy texture with a small and colorful appearance. Usually, they don't have a stone or pit, instead replaced by many seeds at once. Ever noticed how many seeds chili peppers have?
They can taste sour, sweet, or a combination of both. Berries are important in the culinary world – they can be used in jams, pastries, and preserves. You should be careful in consuming them; some may look harmless but poisonous in the end.
Berries are stars in the culinary world. People often use them in desserts, pastries, breakfasts, and smoothies.
Besides tastiness, consuming the right berries is very good for you. These fruits are rich in antioxidants, fiber, and nutrients and can fight against inflammation, high blood pressure, heart diseases, and high cholesterol levels.
Some of the most popular types of berries are raspberries, blueberries, blackberries, blackcurrants, white, and red.
What Are Blueberries?
Most people are familiar to some extent with blueberries. After all, it is a common fruit, especially when you're a fan of pastries.
But let's take it from the top. Blueberry fruits are dark purple-blue, round-shaped, and can fall between 5 – 16mm in diameter. These fruits also have a flared crown at the end.
You can tell if a blueberry is ripe or not from the color. A fully ripened blueberry is, well, blue all around, while unripe ones are white, greenish, entirely red, or reddish-purple. They tend to taste sweet with a tinge of tartness.
If you cut open a blueberry, you can see its flesh is not blue. Instead, it can be white, light green, or yellow.
Blueberries pack an impressive amount of nutrients with minimal calories. They bring exceptional health benefits, help prevent heart issues, increase bone strength and skin health, and even boost mental health.
Blueberry plants are native to North America. The height of the plants varies from species to species. There are two varieties of blueberries: Highbush and Lowbush blueberries.
Highbush blueberries: Highbush blueberry trees are tall, ranging from 2 to 5 feet. This type of blueberry is cultivated and harvested from mid-July to August. It has 9 varieties with different fruit sizes (2).
Lowbush blueberries: Opposite to highbush blueberries, lowbush blueberries are the ones you're likely to encounter in the wild. It has two main varieties: "low sweet" and "sour top".
"Low sweet" blueberries, with the scientific name "Vaccinium angustifolium", have smooth leaves and stems.
"Sour top" blueberries or "Vaccinium myrtilloides" have thin, white hair on their stems and leaves.
Now that I have cleared all the essential information, let's jump into the main part. The number of berries that look like blueberries is quite a lot, and the similarity can vary from type to type.
There are many reasons why you might need to identify if a berry is a blueberry or not. For safety reasons, you can look for blueberry specifically to know how to differentiate it from other berry varieties. After all, not all berries are harmless.
In the next part, I will talk about non-poisonous and poisonous types of berries that might resemble blueberries. Remember to commit the important details to your memory, as you might need them someday.
Delicious and Non-Poisonous Berries
Let's start with the harmless ones first and leave the doom and gloom for later. These berries might look more or less like blueberries, each being special and delicious in its own way.
But let's dawdle no further and dive in!
Types Of Berries
Appearance (bush)
Appearance (fruits)
Huckleberries
Anywhere from 2 to 13 feet in height
Appearance depends on the species
Red, blue-black, and purple-black
Bilberries
4 inches tall
White, pinkish, bell-shaped flowers
Dark blue skin and flesh
Serviceberries
15 to 20 feet tall
White flowers
Round-shaped, red-purplish color
Salal berries
5 feet in height
Thick & waxy leaves
Small, bell-shaped flowers
Dark purple-black shade
Slightly hairy skin
Açai Berries
Long stems
Brown-purple flowers
Dark purple color
Grow in bunches but have single seeds
Chokeberries
8 inches to 12 feet
Star-shaped pink/ white flowers
Finely toothed leaves
Wrinkled back-purple skin
Juicy inside
Black currant
Up to 1,8 meters in height
Strongly scented leaves
Grow in clusters; each berry contains 3 - 12 seeds
1. Huckleberries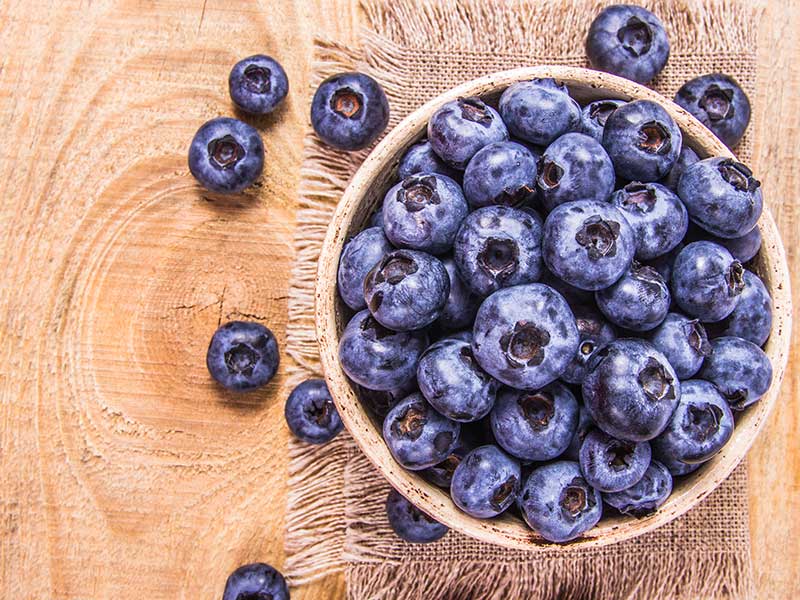 To inexperienced eyes, it might be hard to tell blueberries and huckleberries apart. While both belong to the Vaccinium family and other types of berries, like cranberries and bilberries, they have some key differences.
Scientifically known as Vaccinium membranaceum, huckleberries are also grown in bushes with oblong-shaped leaves. Their flowers are urn-shaped and vary in color from white to reddish-white.
While the plant's name origins are still unknown, it has been used for its extensive health benefits since long ago. Native Americans used huckleberries for pain relief, curing infections, and aiding heart ailments.
There are five main types of huckleberries, each with different appearances and tastes.
● Dwarf huckleberries: As the name suggests, dwarf huckleberry bushes are pretty short. They are usually only 2-foot in height, and their leaves have slightly pointy tips with yellow dots on the underside.
This species of huckleberries has brown-gray barks and white-pinkish flowers. This type of huckleberry is usually found from Florida to Newfoundland.
● Evergreen huckleberries: Evergreen huckleberry trees' height can range from 3 to 12 feet. They usually grow in the western coastal area along the Cascades mountains and the borders of forests.
As you might have guessed, this plant is evergreen, though its foliage might obtain a shade of bronze or purple in winter. It produces white-pinkish bell-shaped flowers and round, black-purple berries.
● Red huckleberries: Even taller than the one called "highbush" huckleberries, red huckleberries can be as tall as 13 feet. Unlike the others, while red huckleberries have similar sizes and shapes to blueberries, the color of the fruit is red or orange.
● Black huckleberries: This blueberry is often found in eastern regions, from southern Canada to the mountains of Georgia and North Carolina. The species thrives in dire environments like high woodland areas and acidic forests.
Black huckleberries can be as tall as 3 feet, and their berries have a blue-black color with a light red undertone and are similar in shape and size to regular blueberries. These berries contain antioxidants, vitamins B and C, potassium, and iron.
2. Bilberries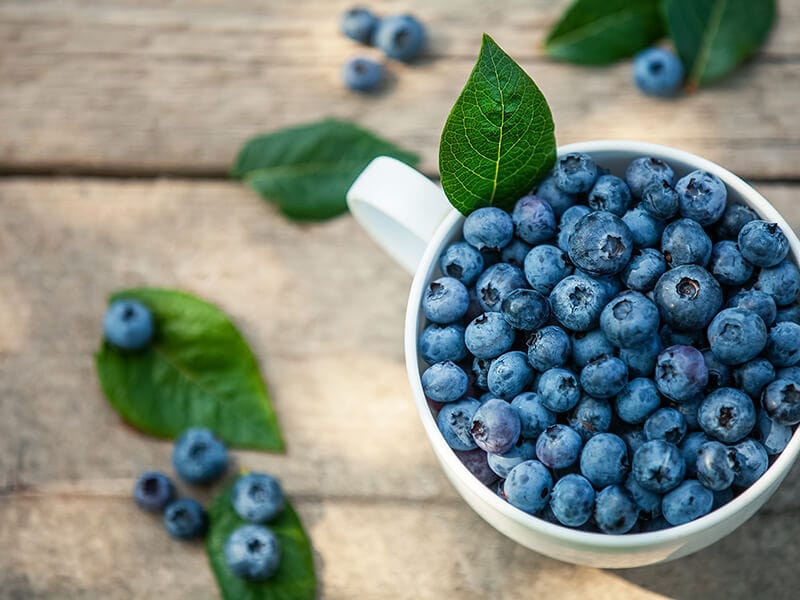 Otherwise called European berries, bilberries originate from, you guessed it, Europe. The fruit has a circular outline on one end and grows in pairs or singularly.
A regular bilberry bush is around 4 to 18 inches tall, and its flowers are small, white or pinkish-red, and bell-shaped. Bilberries are blue inside and out, but they are darker than blueberries.
Here's a fun fact for you: Bilberries can contain 4 times as many antioxidants as blueberries.
While there's little concrete scientific evidence to support bilberries' help in improving health condition, the fact is that it has been used as part of cures for inflammation, diarrhea, and diabetes. It is rich in nutrients and vitamins, namely vitamins B, C and anthocyanins.
While bilberries and blueberries look similar at first glance, they are different.
3. Serviceberries/Saskatoon Berries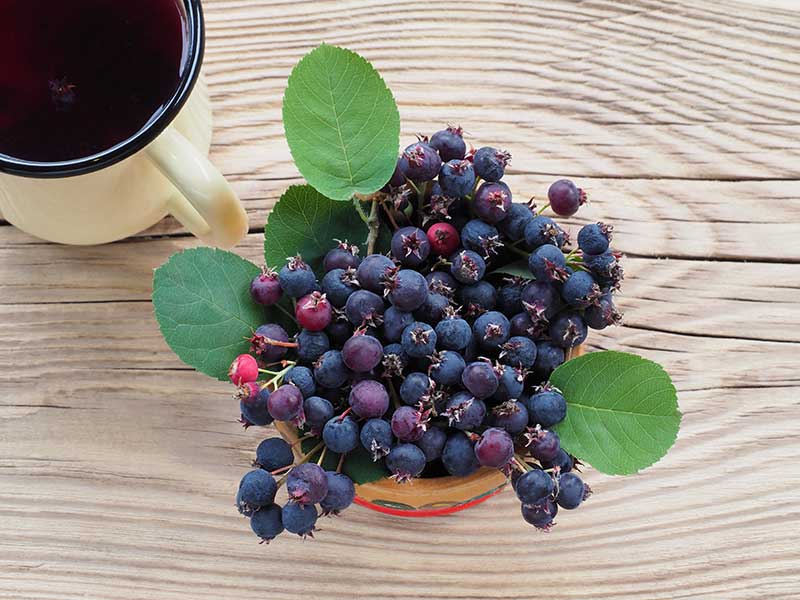 Now, the tree's official name is Amelanchier, which sounds like a fancy wine and doesn't reflect its plant status. The tree, and the fruit, are more commonly known as serviceberries, saskatoon berries, shadbush, or shadwood.
Maybe the most special thing about serviceberries is that their fruits are an absolute delicacy and their flowers are remarkable. These white, majestic flowers tend to bloom in spring, creating a magnificent sight.
Serviceberries shrubs are native to North America and grow up from 15 to 20 feet tall. Serviceberry fruits are round-shaped with red-purplish color and a tart flavor, though it leans more on the sweet side.
4. Salal Berries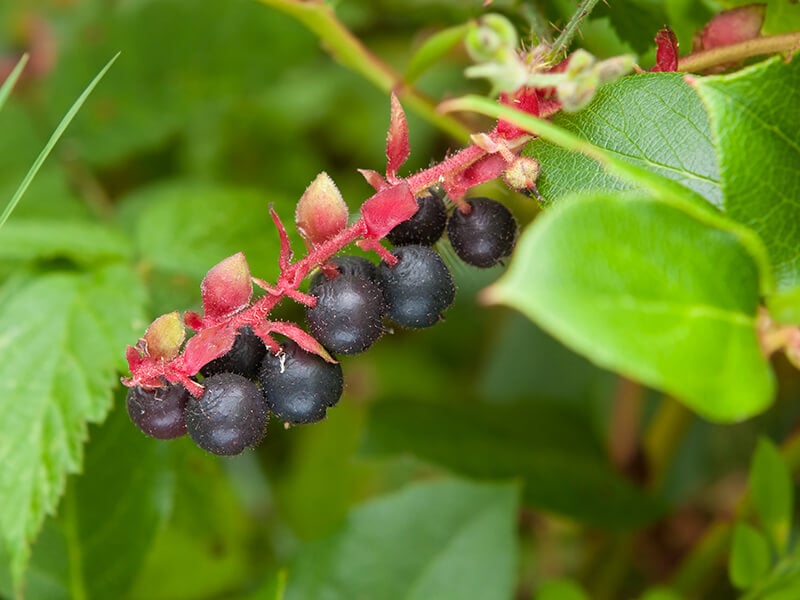 While the name might sound foreign, salal berries are native to North America. It grows abundantly in the Pacific Northwest and is a seriously underrated fruit.
Salal trees are not picky; they can grow almost anywhere, from mountainsides to dunes to coastal areas and swamps. They can grow to about five feet and have small bell-shaped white flowers. Their leaves are thick, green, and waxy.
Salal berries have a dark purple-black shade and a tart, sweet, earthy flavor, though they may vary from tree to tree due to soil and weather conditions. The fruit's skin is slightly hairy.
Like any other type of good berries, people also feature salal berries in cake recipes! They are also rich in antioxidants and can be used to cure colds and digestive problems.
5. Açai Berries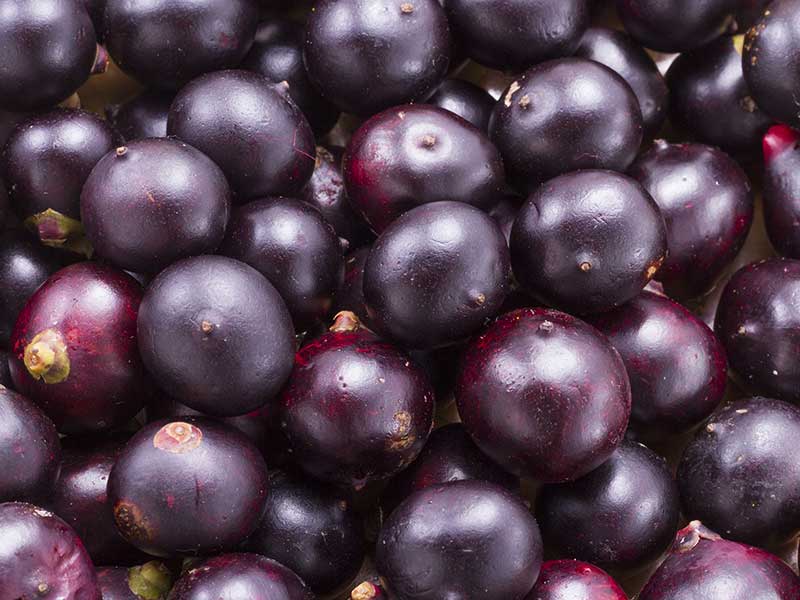 Açai berries come from Açai palm trees and are native to South and Central America. Like other similar berries, Açais are rich in antioxidants and provide many health benefits, like anti-aging and anti-cancerous properties.
Açai palm trees have stems extending to 82 feet/ 25 meters long and have brown-purple flowers. The berries grow in bunches and have single seeds. They usually are 1 – 2 cm in diameter and have a dark purple-black color.
While they look quite similar to blueberries, Açai berries have quite a unique taste. When ripe, Açai berries tend to taste slightly bitter with a tinge of earthy flavor, like a merge of dark chocolate and blackberries.
If you haven't tried Açai berries before, it's high time you do now.
6. Chokeberries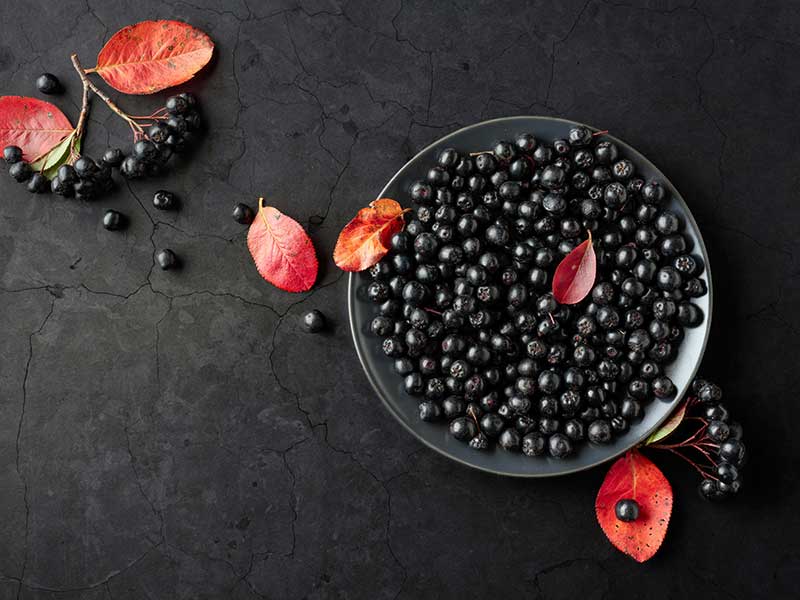 Chokeberries are native to North America but can also be found in other parts of Europe. The bushes can fall between 8 inches to 12 feet in height, with white or pinkish star-shaped flowers and finely toot green leaves.
They often grow in bunches, but each berry has a stem of its own. They have a juicy inside despite slightly wrinkled black-purple skin – don't worry, that's just a sign the fruit has ripened.
This type of fruit is also considered a superfood because of its incredible amount of antioxidants, being one of the highest naturally concentrated sources of anthocyanin.
Chokeberries' flavor is a mix of sweetness, bitterness, and tartness, with a tinge of earthy flavor. People also use chokeberries to make pastries and syrups.
Chokeberry is an amazing, underrated fruit that you have been missing out on.
7. Black Currant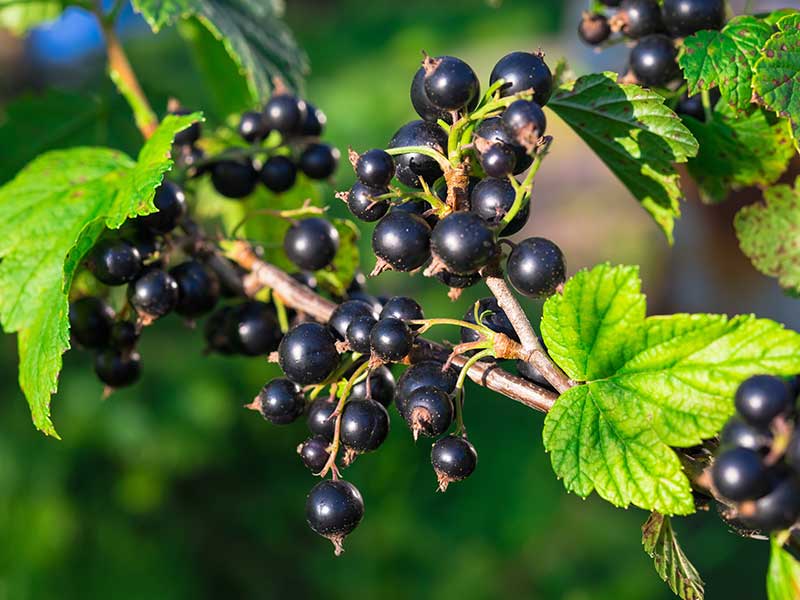 Unlike other berries I have mentioned, I think you are already familiar with black currant. This type of fruit grows in clusters, each containing 12 – 20 berries. Each berry is about ⅓ inch in diameter and contains around 3 – 12 seeds.
Black currant shrubs can grow up to 1,8 meters. Their leaves are very strongly scented with a fruity, woody smell.
Black currants' main flavor is tart with earthiness, while dried black currant is sweet. They can be used to make jams, jellies, and tarts.
Poisonous Berries That Look Like Blueberries
Pay close attention to this section, especially for those intending to go on a trip to the wilderness and pick wild fruits to bring home.
Now before I go over the details, here's a table to highlight the key points you need to remember about deceptive-looking poisonous berries.
Type of berries
Appearance (bush)
Appearance (fruits)
Moonseed
Vines as tall as 20 feet
Round, purple-black shade
Each berry has one crescent moon-shaped seed
Elderberries
Small shrubs
White/ Yellowish flowers
Various skin colors
Large, oval-shaped with hard texture
Belladonna berries
4 - 5 feet tall, dull green leaves
Five-star foliage
Purple-black, glossy skin
1,5 - 2 cm in diameter
1. Moonseed
Now, the first thing you should watch out for is moonseed, which can be deadly if you are not careful.
Moonseed grows in vines, which can be as long as 16 feet tall. These vines are often found in places with high humidity, like thickets, moist woods, and along streams.
Moonseed fruits are round and have a purple-black shade, which makes it similar to grapes or blueberries. They also ripen between September and October, which is the same time as wild grapes, so you have to be extra careful.
To identify moonseed, you can break the fruit to check what its seed looks like. Moonseed has seeds that resemble crescent moons – hence the name – and each berry contains one single seed.
Moonseed also tends to have a very strong, offensive taste, to the point of being unpleasant and disgusting.
This type of plant is extremely poisonous – in fact, all parts of the plants are classified as highly poisonous and can be fatal. So you shouldn't push your luck, and steer clear of any moonseed you have the misfortune to stumble upon.
2. Elderberries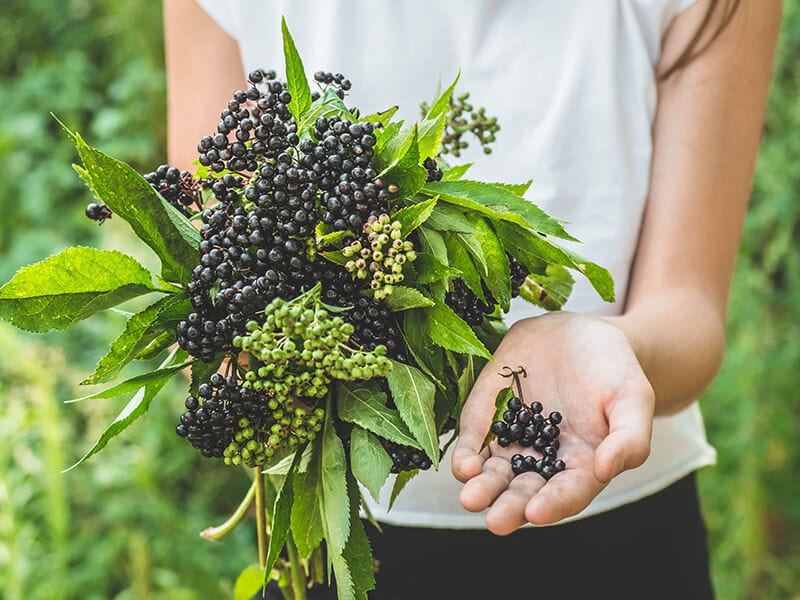 Elderberries look a lot like blueberries – if blueberries hold a contest to find the perfect doppelganger, elderberries would surely snatch some prize for themselves. But be careful because elderberries are not safe for consumption.
All parts of elderberry trees, including leaves, branches, seeds, roots, and flowers, contain a toxic chemical called cyanogenic glycosides. It causes symptoms like diarrhea, vomiting, and nausea upon consumption.
However, the good news is that you can cook elderberries to make them edible and not make you terribly sick.
Cooking destroys the toxins in elderberries, making them a perfect ingredient for jams, chutneys, crumbles, pies, sauces, and syrups. Elderberries require 30 – 40 minutes of simmering before consumption.
Elderberry trees grow in small shrubs, and their flowers are white or yellowish. The berries can be blue, black, red, or even yellow, but the most common type is black.
To tell elderberries apart from blueberries, check if it's oval or round-shaped. Blueberries are round-shaped, while elderberries are larger and have oval shapes. Elderberries are also much harder, while blueberries are soft.
Blueberries also have a crown at the end, while elderberries are smooth all around.
3. Belladonna Berries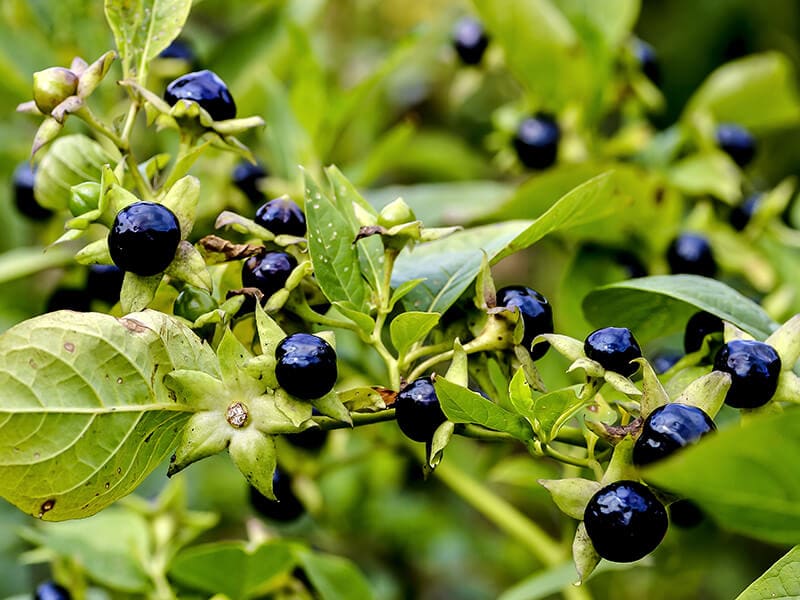 When people say pretty things are poisonous, they mean it. Despite their very pretty name and lovely appearance, belladonna berries are extremely poisonous and should be avoided at all costs.
Also named "deadly nightshade", belladonna is one of the most toxic plants. Yes, you heard me.
All parts of the plant, including leaves, seeds, flowers, roots, and berries, contain tropane alkaloids and other toxic chemicals, which can cause symptoms ranging from constipation to hallucinations and convulsions. It can cause permanent damage to your brain.
Belladone trees can be as tall as 4 – 5 feet tall or 1,5 meters, with dull green leaves. Their flowers are brown or brown-purple and bell-shaped, while their leaves are oval-shaped with pointy tips.
Belladonna berries grow singularly with five-star foliage and a purple-black shiny, glossy skin. They are round-shaped and are 1,5 – 2 cm in diameter.
Bear the cross and wear the crown – true to its crown-like foliage, belladonna is the queen of toxic berries.
Since berries are confusing and numerous, there's a high chance you still have some questions. And that's okay! In the next part, I will address some of the most commonly asked questions.
Berries Benefits and Dangers
Are blueberries keto-friendly?
The answer is both yes and no. Blueberries can play a role in a keto diet, but not too much, as blueberries also contain a noticeable amount of carbs.
Are wild blueberries better?
Yes, they are. Wild blueberries contain twice as many antioxidants and fiber and 30% less sugar than regular store-bought blueberries.
How many elderberries can kill me?
Eating elderberries can make you sick quickly, but you need to eat a lot of them to die. You would have to drink five cups of elderberry juice for the poison in elderberries to pile up to a life-threatening level.
How many belladonnas can kill me?
For a child, 2 berries are the lethal dose. For an adult, 10 to 20 belladonna berries would result in death.
Are serviceberries safe for dogs?
Sadly, while you can eat serviceberries safely, they can make dogs sick. So make sure you don't feed your puppy any serviceberry.
Let's Go Buy Some Berries!
Now I know that learning so much about berries can be exhausting – who knew there were so many types of berries that looked like each other? But it's important to learn the distinction between them, don't you agree?
I hope this post has helped you understand more about the world of berries. If you find this post useful, remember to share it with your friends who might need it. A little bit of knowledge-sharing can go a long way!