Belarusian foods are described as "fresh, flavorful, and healthful." Although they are not widely known worldwide, one thing is certain: everyone adores them. My article lists delectable Belarusian foods that you should try at least once in your life.
Do not confuse Belarusian food with Russian dishes they are an independent country with a unique culture imbued with their national identity.
When eating Belarusian dishes, you will find they use a lot of potatoes, mushrooms, sour cream, sausages, pork, and grains. Let's scroll down to know more details about them.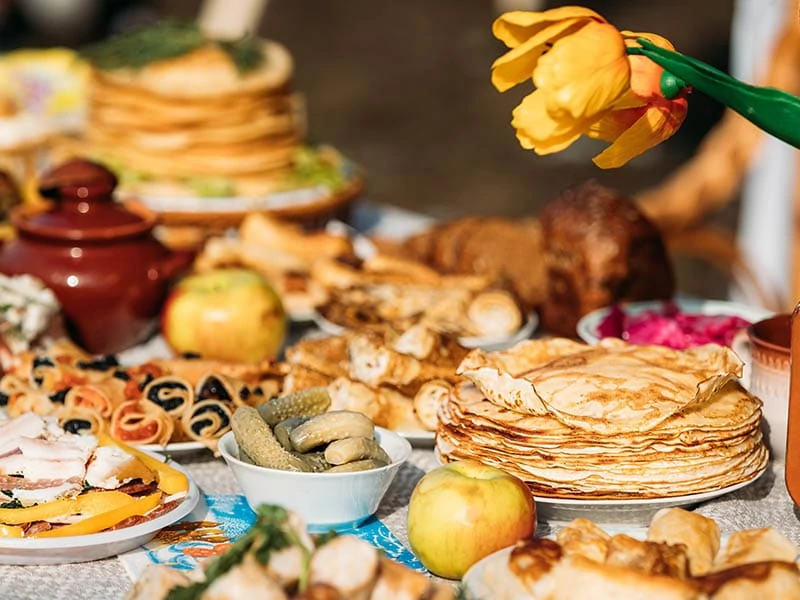 Belarusian Soups And Stews You Should Never Ignore
There will be days when you want to have a hot bowl of soup or look for a delicious hot stew. Therefore, my recommendations below will definitely be the best choices for you.
1. Ščaŭje / Schavel Borscht (Sorrel Soup / Green Borscht)
Schavel Borscht (or Sorrel Soup) is classic green borscht consisting primarily of chicken stock, sorrel leaves (which provide a lovely sourness), and salt. The soup represents almost every feature of Belarusian cuisine, with potatoes used and rustic flavors.
To be honest, this phenomenal Belarusian recipe is derived from the Russian variation. But it came to Belarus from the early Middle Ages (or earlier), so Schavel Borscht is twisted to show off the vibe of this country.
At first, the treat was made of only sorrel and nettles; however, since the early 19th century, Belarusian people prepared the treat with boiled eggs, additional potatoes, and sour cream to enhance its nutritional value. You can also find a somewhat similar dish in Latvian cuisine.
Tangy, acidic, and creamy tastes are what you can expect here!
It is time to know more about Sorrel Soup through this instruction.
2. Zhur / Kisyalitsa (Belarusian Fermented Cereal Soup)
Zhur is the name of a traditional Belarusian soup that has a long history and provides tons of health benefits. The soup has a thick porridge consistency and distinctive sourness that you cannot find elsewhere.
Zhur soup is also one of the few delicious Belarusian dishes that does not include potatoes in the recipe. Its main ingredient is fermented oats or rye, which means "zhur" in the Belarusian language.
To enhance Zhur' s nutrition, people in this country will add various other ingredients, such as mushrooms, beef, pork, and diced root veggies. Traditionally, Belarusian will prepare this treat at the beginning of the sacred Lent.
3. Holodnik / Khaladnik (Cold Beet Soup)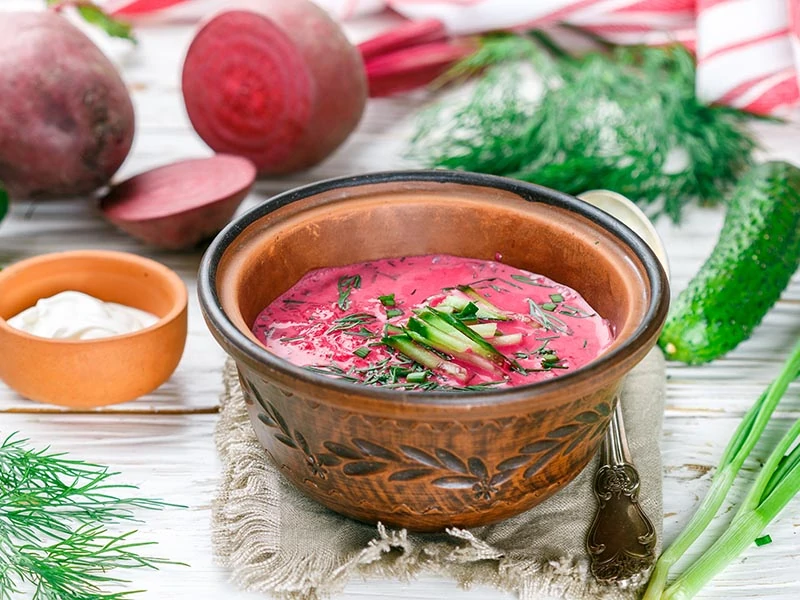 Unlike the previous Schavel Borscht, Holodnik is a unique cold soup consisting of beet extract, sour cream, or yogurt. The soup has a distinctive pinkish hue from the exceptional component so that it might appeal to you at first sight.
Holodnik also has various types of veggies, or sometimes chopped nuts, making it become a healthy treat that anyone wants to try once. After preparing everything, Belarusian people will add half of the hard-boiled egg onto the bowl for decoration.
Thanks to its cooling feature and toothsome flavors, this outstanding soup has been a summer staple in Belarus since the 18th century.
You won't regret knowing more about Holonik through this guidance.
4. Machanka (Belarusian Pork Stew)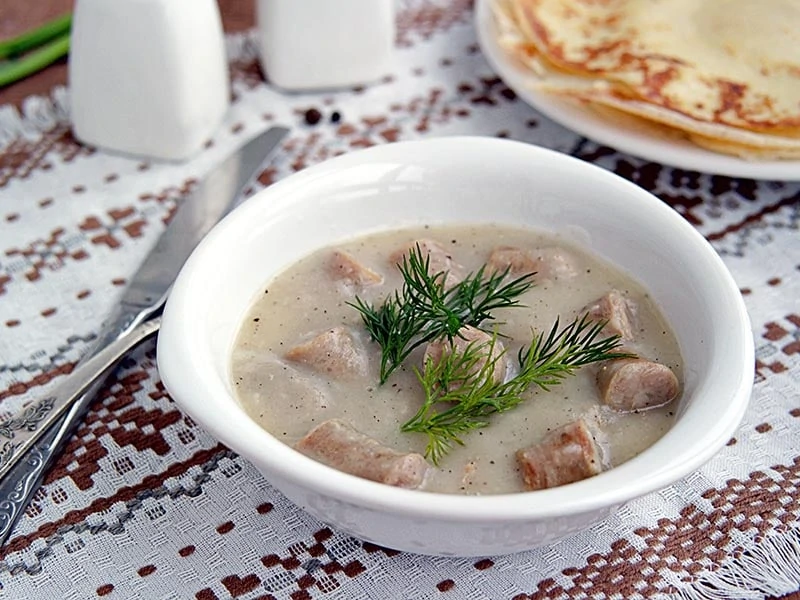 Once coming to Belarus, you should definitely try Machanka; it is basically a full-of-meat stew that can easily appeal to anyone's taste buds.
Besides pork, to make the food creamier and tastier, Belarusian chefs will add in eggs, milk, sour cream, plenty of cottage cheese, and flour to thicken the base. When serving the treat, they will sprinkle some crispy fried pork for a fascinating crunchy effect.
Yet, each household or Belarusian cook will have their own secret recipe to enhance their own variation of Machanka so that you might encounter a different style of this treat. Some may use sausages instead of pork chunks, and others may require mushrooms and dill.
Since "Machanka" means "dunk" in Belarus, people in this country love dunking some other foods into a luscious bowl of Machanka. Your options are boiled potatoes, pancakes, or crispy bread slices.
Here are some things you want to know more about the authentic Machanka.
Scrumptious Belarusian Savory Fried Treats
Stews and soups are famous in Belarus, but their fried treats are also palatable. Here are my suggestions for you!
5. Nalistniki (Belarusian Thin Pancakes)
Nalistniki can be part of any meal of the day; for instance, it will be a perfect light Belarusian-style lunch or a quick dinner. With a thin layer of exterior (which looks like a crepe – a popular French dessert), the whole dish won't leave a greasy feeling.
The fillings for Nalistniki vary based on different occasions. Belarusian cooks will stuff the food with expensive red/black caviar for festive days while it only has regular cheese, mushrooms, and Varenje (sweet berry jam) for casual days.
Sour cream is always the best topping for a piece of Nalistniki since it provides a distinctive and appealing effect to the dish.
6. Draniki (Belarusian Potato Pancakes)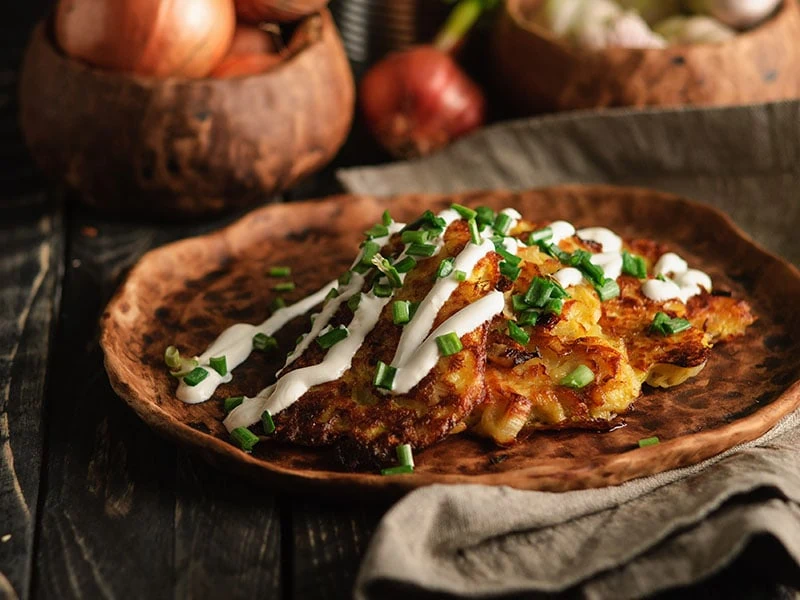 Draniki is considered a Belarusian national dish, yet, its origin is not in Belarus. The true hometown for this food is Germany, but it has become a long-favored delicacy in Belarus for years.
Flour, potatoes, milk, salt, eggs, pepper, onions, and butter are used to make these potato pancakes. The chefs will then fry the mixture until crispy, and your portion of Draniki will be done in a snap.
The most famous partner of Draniki is sour cream; the mild sourness from the side dish can surely efficiently decrease the greasy taste and upgrade the whole food's level. In addition, Draniki can go perfectly with pork crackling, fish, and several other things.
This is the perfect illustration to present you with some fantastic facts about Draniki.
7. Kolduny (Potato Pancakes With Meat)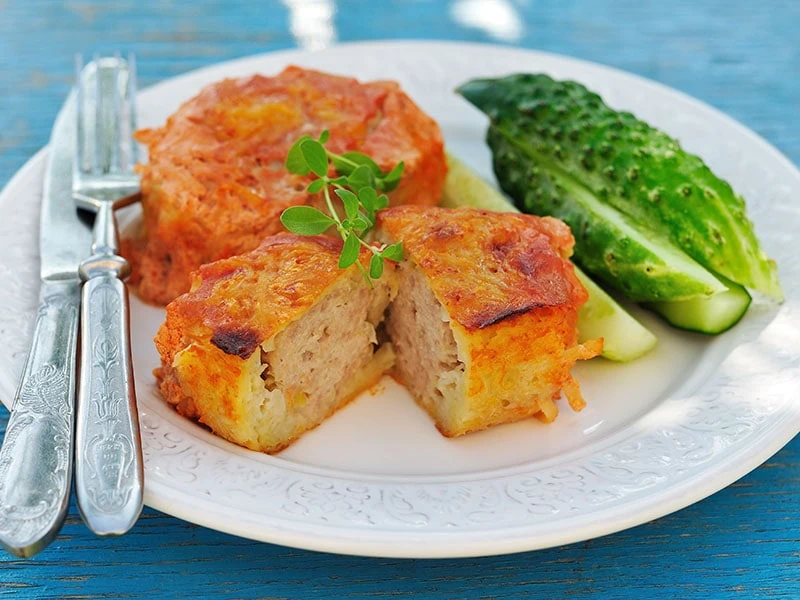 Kolduny is also called Potato Pancakes in English, yet, this delicacy is slightly different from the previous Draniki. You can have it for your first Belarusian breakfast because the treat will be light and nutritious enough for you to start a new day.
Instead of meat, in other regions of Belarus, they have developed some distinguished variations of Kolduny. For instance, in the Polesie area in the south of Belarus, they stuff their Kolduny with boiled eggs or fish. Besides, this dish is also loved in Lithuania and Poland.
A piece of Kolduny will generally be thicker than Draniki as it calls for the potato starch liquid in the ingredients list. Thanks to that, the texture of this special Potato Pancake is firmer, which helps you to feel full in a long time.
8. Tsibriki (Potato Balls)
If you are addicted to potatoes, Belarusian cuisine is perfect for you. The next potato-calling dish is these flavorsome Tsibriki balls. People in Belarus won't have the treat as a main dish; they serve it more frequently as a starter or snack while watching sports matches.
The idea to make this Tsibriki is quite simple; all the chefs will do is to form the cheese stuffed with grated potatoes into balls. After that, the yummy Potato Balls will be deep-fried in hot vegetable oil until the food has a crispy exterior.
Don't forget a cup of beer when enjoying this Tsibriki! It will be refreshing and tasty.
This Tsibriki-making instruction will tell you some exciting information!
Palatable Belarusian Desserts And Sweet Treats
How about taking a quick glance at some mind-blowing Belarusian dessert dishes? Have you ever wondered what these sweet treats taste like? I guarantee you that they will allure you from first sight.
9. Sbiten (Hot Honey Drink)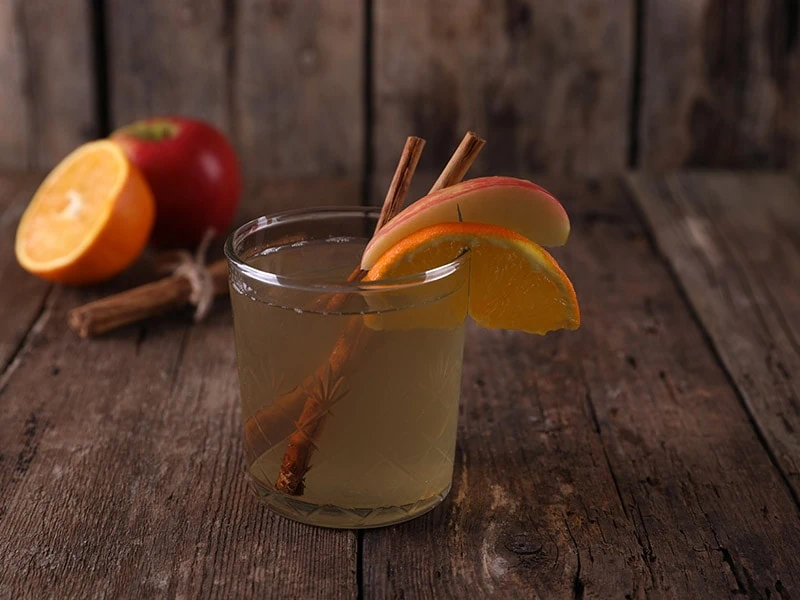 Before coffee and tea became more famous in Belarus, Sbiten was an irreplaceable drink in this country. This Sbiten or Hot Honey Drink is an authentic Belarusian delicacy; it was widely spread from the 12th to 19th century.
Because honey provides various health benefits, people in Belarus love using it during cold weather or winter days. The warm liquid soothingly flowing in your throat will offer a satisfying feeling.
With some other hot spices (cinnamon sticks), herbs (mint leaves), and some modern twists with additional alcoholic components (red wines), the drink is even more fragrant and toothsome.
10. Sirniki / Syrniki (Cottage Cheese Crumpets / Cheese Pancakes)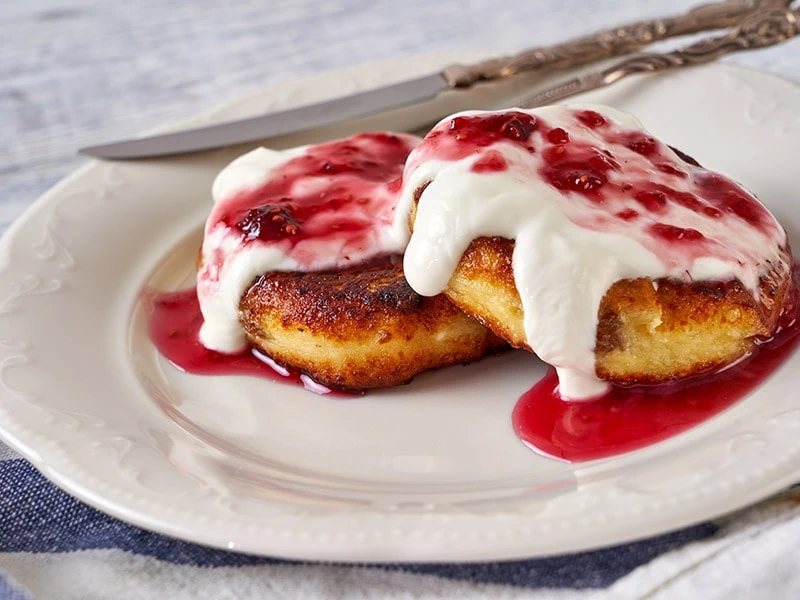 Cottage cheese is well-known for its saltiness and excellent milky and creamy flavors, making it an ideal cheese to pair with savory or sweet recipes. This Cottage Cheese Crumpets or Sirniki is proof of it.
Because a traditional Sirniki consists of only cottage cheese, egg, jams, raisins/dried fruits, and sour cream, many people enjoy the dish for its simplicity.
However, each family will have their own method of highlighting this primitive dish; some will add poppy seeds, while others might prepare Sirniki with bananas. Whatever way they twist this food, all versions are delicious and can be your ideal breakfast.
How do Belarusian people make their own variation of Sirniki/Syrniki?
11. Karavai (Decorated Bread)
Decorated with various figurines and symbolic flags, this ancient braided bread, Karavai, has been playing an essential role in Belarusian culture. It symbolizes respect and hospitality, so people usually serve it for sacred celebrations in Belarus (weddings).
Although you can find this tasty type of bread in various countries such as Russia and Ukraine, the Belarusian variation still accents its differences compared to the others. Since the Belarusian Karavai calls for plenty of milk and eggs, this bread tastes lighter and more delicate.
12. Vareniki (Stuffed Dumplings)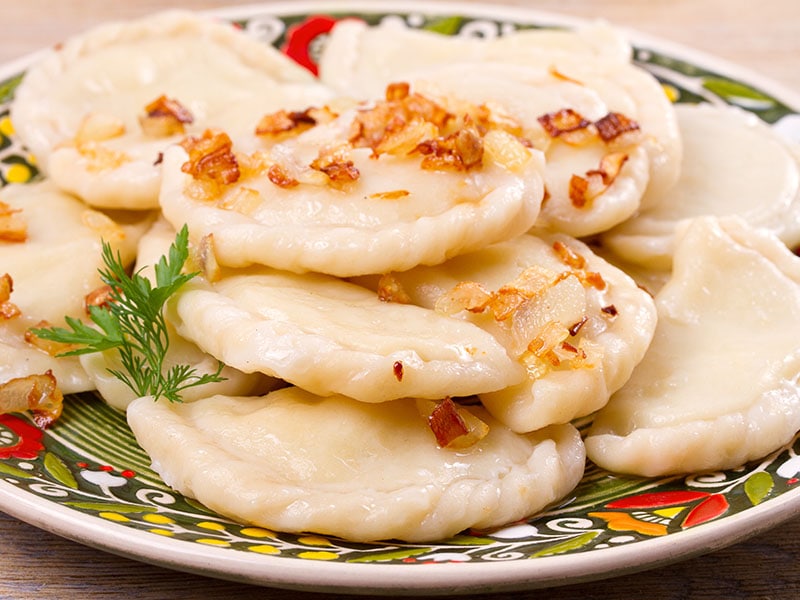 Vareniki are unleavened dough dumplings that look like Italian Ravioli, but they are not the same. The name "Vareniki" of these dumplings shows how they are made since it means "boiling" in English.
Vareniki are pretty versatile in that they can be made into both savory dishes and desserts. The savory variation will include minced meats, mushrooms, fish, or cheese, while the sweeter variation will have berries and dried fruits.
Centuries ago, Vareniki was not an everyday dish. It was actually a special treat in peasants' households, and they prepare it more frequently on holy days such as weddings and christenings.
The Other Delicacies You Can Find In Belarus
Let's move on to some other uncategorized foods from Belarus. The below recommendations are promising and worth trying once!
13. Lazanki (Belarusian Cabbages And Noodles)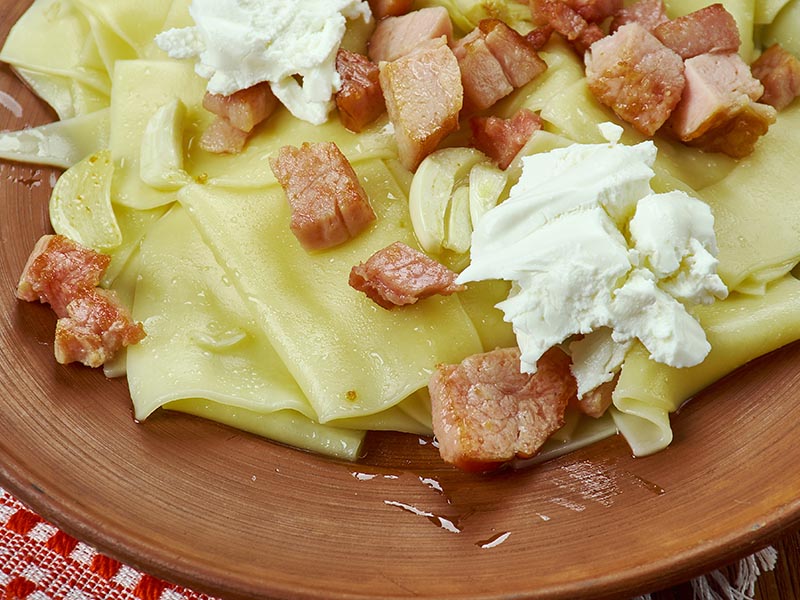 Lazanki has been around since the 16th century and is a famous dish in Poland and Belarus. Although the food's origin is unknown, its deliciousness makes its origin unimportant to visitors like me and you.
The name "Lazanki" relates to the pasta used for this delight (which contains buckwheat flour, salt, oil, and water); therefore, they opted to title the dish after its principal ingredient. In a perfect Lazanki, the pasta is cut into small, bite-size square or triangular shapes.
Other ingredients in this dish include mashed berries, poppy seeds, meats, cabbage, and sour cream. After baking in the same pot, these ingredients phenomenally complement the previously stated Belarusian pasta. How flavorsome!
14. Babka (Grated Potato Pie)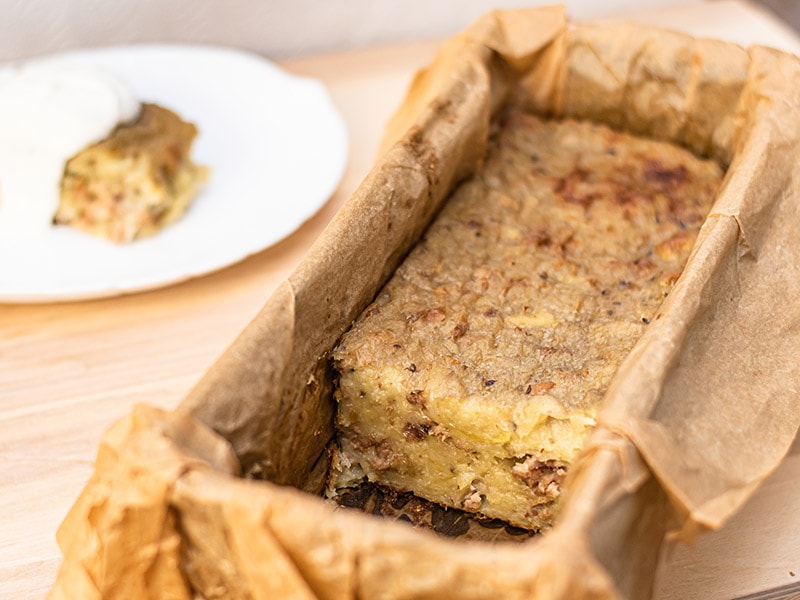 Belarusian Potato Babka is a well-known delicacy. This dish's recipe is straightforward, and it has become a favorite of many housewives around the world. Although Potato Babka originated in Belarus, this recipe is also popular in Poland under the name Babka Ziemniaczana.
Potato Babka's primary ingredients include potatoes, eggs, onions, bacon, sausage, butter, and pepper; hence, the flavor of this dish is quite promising. To accentuate the herby aroma, it would be best to bake Potato Babka in a clay pot.
After being cooked, a standard portion of Potato Babka must have a soft, creamy potato inside and a crisp exterior. This dish is often served with sour cream sauce and finely chopped fresh herbs.
15. Grechaniki (Minced Buckwheat And Meat)
Buckwheat, like potatoes, is a crucial ingredient in Belarussian cuisine. This item is used in various cuisines and dishes in this nation. Because the component is difficult to spoil, Belarusians will prepare the food ahead of time to keep for later usage in the winter.
Each piece of Grechaniki will be crunchy and firm with a rustic taste that can easily capture anyone's mind. That is also why this simple delicacy is treasured and mentioned in various Belarusian literary works.
16. Holodnoe (Meat Jelly)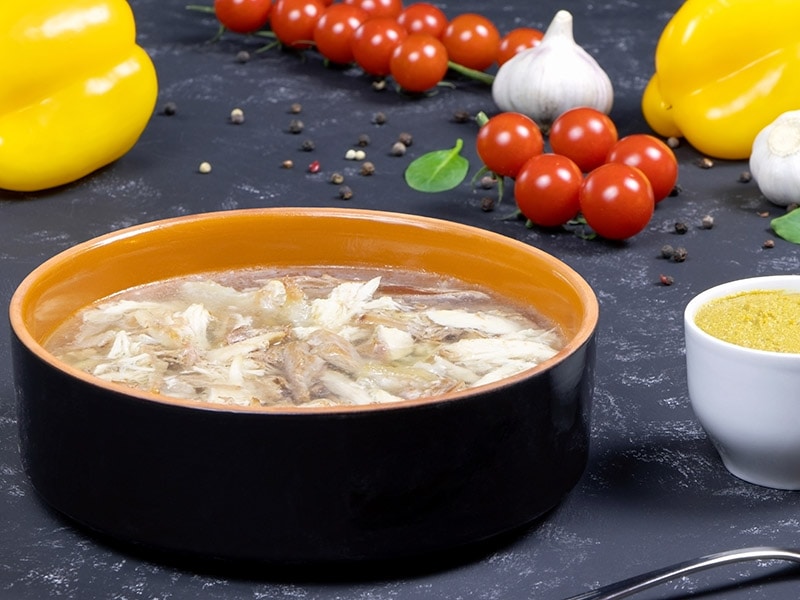 Holodnoe is not a famous everyday dish, yet, it is prevalent during festive occasions or holidays in Belarus. It might take a lot of time to cook Holodnoe, and it is also hard to make a perfect variant.
The name of Holodnoe is derived from an old Russian word, "holod" (meaning " cold " in English), which explains a bit about the food's processing method.
Belarusian people will cook beef, pork, poultry, veggies, and spices together, put the mixture into a bowl and let it cool overnight. After cooling, you will see it forms a gorgeous jelly-like look, and every component connects to the other.
17. Olivier Salad (Russian Salad)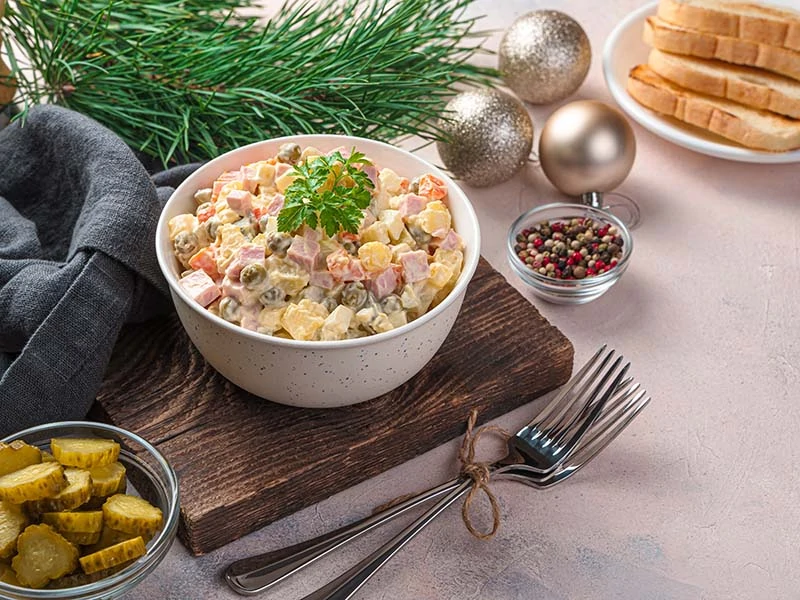 Olivier Salad is no longer a novel dish to a foodie, and it's a delicacy with Russian origins. Olivier Salad was devised by a Belgian chef who began introducing it in Moscow in the 1860s. It became a culinary trend at the time due to the deliciousness of the food.
Later on, the distinctive salad was more and more famous among the post-Soviet countries, including Belarus. It is still a must-have New Year treat in this beautiful country.
Nowadays, in Belarus, they still preserve the authentic recipe from the past using diced boiled potatoes, carrots, green peas, pickles, onions, chicken breast, and sausages. Pepper and salt are also applied to taste besides mayonnaise, the primary dressing.
18. Herring Salad (Herring Under A Fur Coat)
Don't be confused; this well-organized dish is a salad, or to be more specific, it is a fish salad. Herring Salad is a perfect starter for any Belarusian hearty dinner since it will be fresh, light, and flavorsome (with the help of various components).
All fundamental ingredients for this treat are chopped/grated carrots, beets, potatoes, salted herring fillets, and mayonnaise dressings. They might be simple, yet they go well with the others and become a tasty dish.
This particular salad is a festive treat that originated from post-Soviet cuisines; therefore, many countries have their varieties of Herring Salad. In Belarus, people may call it Herring Under A Fur Coat.
Herring Salad is believed to be created in the 20th century, during the Revolutionary period. It was considered a substantial culinary success and gradually became a staple on every New Year dinner table.
Herring Salad and something you might want to know more about is here!
19. Verashchaka / Vereshchaka (Belarusian Meat Sauce)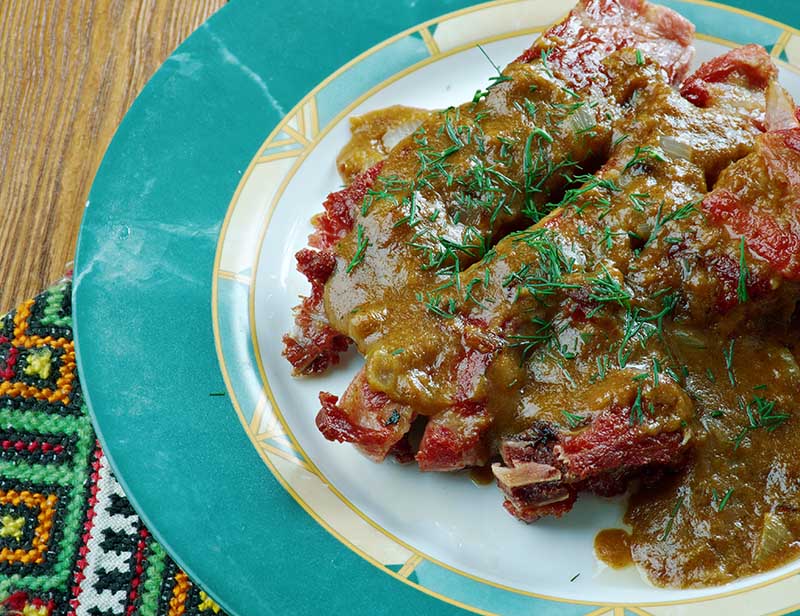 Verashchaka is a famous variation of Machanka prepared in the mid-18th century (or the early 19th century). The delicacy was named after the royal chef who created it.
People will put all the Verashchaka' s ingredients (pork sausages/tender pork ribs, bacon, onions, flour, beer, some dairy products, and spices) into one pot to cook.
One sad fact about this food is it is not very prevalent among the younger Belarusian generation. But don't worry, you can still see people cook it on festive occasions such as christenings, Christmas, weddings and so on.
On regular days, you can find Verashchaka in the traditional restaurants in various cities. If you are unsure where to have the best Verashchake, you might need to ask the local people for their recommendations.
20. Pelmeni (Belarusian Meat Dumplings)
If you are a meat lover, this Pelmeni is an undeniable suggestion for you since it will be loaded with minced meats (from pork/beef/lamb) or a mixture between them. The meat part will be well-seasoned before being wrapped in thin layers of unleavened, flat dough.
Since the Oriental-style dumplings inspire Belarusian Pelmeni, its appearance might remind you of them. There are various premade Pelmeni in the supermarket/convenience store and young people love having it for their quick meal.
21. Smazhenka (Belarusian Pizza)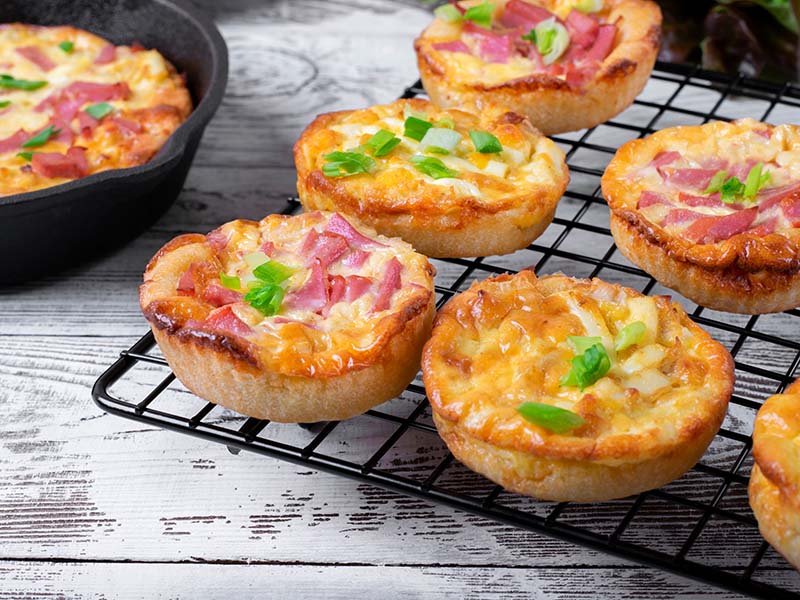 It might be weird to call a dish "pizza" just by its appearance. One significant difference in a piece of Belarusian Pizza, Smazhenka, compared to its Italian friend is it doesn't include pizza dough. Smazhenka often consists of a thick layer of batter loaded with toppings.
There are two main variations of these Belarusian dishes for you to choose from vegan-friendly (with only vegetables) and non-vegan.
The non-vegan ones have toppings like mushrooms, chicken, ham, and melting cheese, which will absolutely appeal to you.
A short intro that shows you what truly is a piece of Smazhenka.
22. Halušky (Belarusian Potato Dumplings)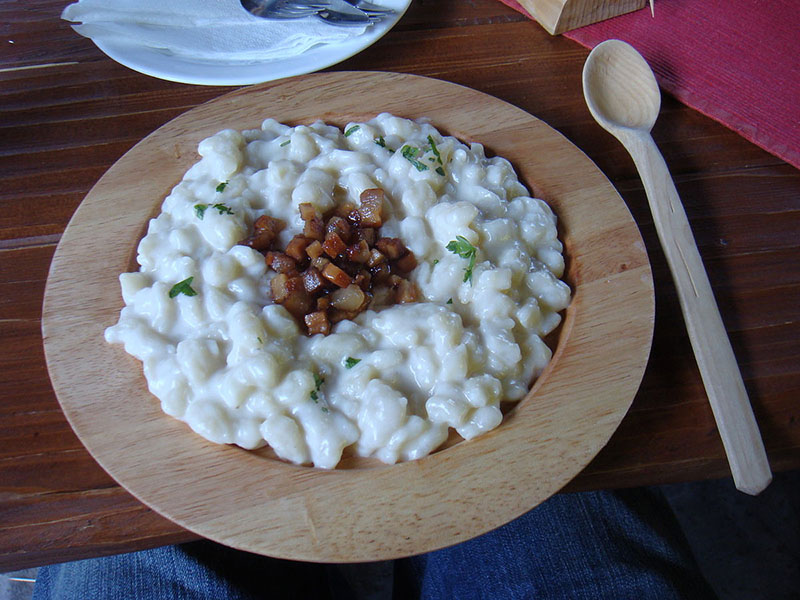 Halušky or soft Potato Dumplings is a famous dish in East and Central regions of Europe, and you can easily find its other variations in other countries. Yet, the Belarusian-style Halušky is distinguished compared to the others.
Made of freshly grated raw potatoes and flour, the Belarusian cooks will process the dough meticulously. After that, they cut it into small pieces (or strained through) and boil them in boiling water until cooked.
The outcome should be a batch of tiny, soft dumplings, and Belarusian people will match them with meat. Sometimes, people love eating it with fried bacon and cheese, making the whole delicacy more flavorsome.
Let's Have Some Belarusian Delicacies!
Each nation has its own culture and cuisine, with highly distinct meals that everyone recognizes when visiting that country. The Belarusian foods mentioned above are only a few examples, and you should indeed taste them at least once in your life.
You will discover even more fascinating aspects of this country's culture as you go further. I hope that the foods I've suggested will help you and your loved ones in your path to studying Belarusian culture. Leave a comment below to let me know what you think.