How to store aloe vera is one of the most popular concerns in many houses. The need for aloe vera is increasing, resulting in various questions related to this plant, especially how to store them for a long time without losing their original quality.
Storing aloe vera is considered an essential step you need to know since it is quickly rotten if you keep leaving it outdoors after harvesting, resulting in the loss of natural essences.
If you don't want to buy or waste time planting new plants, read and follow the methods in the following parts.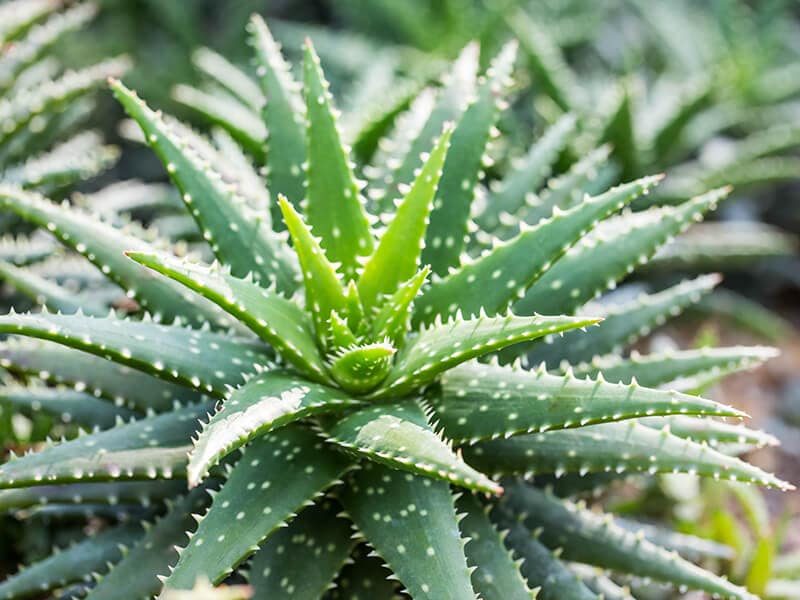 How To Store Aloe Vera Properly?
You may be confused about whether each type of aloe vera has different preservation methods or not. However, it is not a complex problem since you can apply the below methods for most types of this plant. Just scroll and find out now.
Method 1: Store The Whole Leaf
Method 2: Store The Aloe Vera Gel
Method 3: Mix With Honey Or Vitamin C
Don't rush and take your time. Instead, you should consider the following information to learn how to store aloe vera properly.
What Is Aloe Vera?
Aloe vera is a stemless herb that can be grown in extreme conditions such as poor soils and different kinds of climates. Nowadays, over 400 types of aloe vera are recorded worldwide, and most of them occur naturally in warm conditions.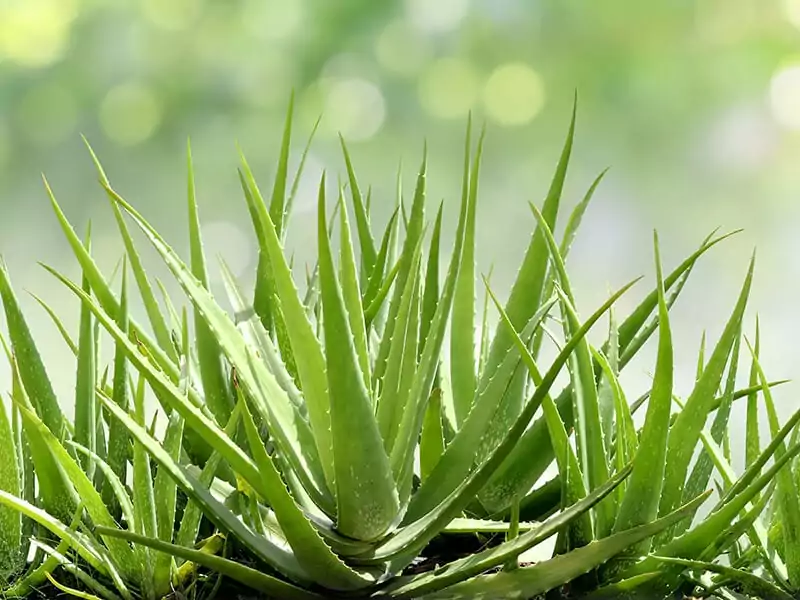 The Advantages And Disadvantages Of Aloe Vera
Before starting with the detailed instruction part, it's a good time for you to get more helpful information about the benefits and essential warnings when using aloe vera.
Lists Of Advantages
Aloe vera, be it the flesh or the juice from aloe vera, contains various healthy ingredients that help enhance your health and ensure the functions maintain a good state. You can see a list of aloe vera typical benefits below.(1)
1. Increase The Immune System In Your Body
According to many scientists, the aloe vera properties can create a barrier to protecting your body from internal and external factors' health risks and enhancing your body's functions.(2)
2. Improve Your Skin And Anti-Aging Naturally
The gel extracted from aloe vera can make your skin brighter and reduce the wrinkles appearing on your skin after a long time of sun exposure. Moreover, the accelerated process of collagen production will regenerate skin to become more elastic.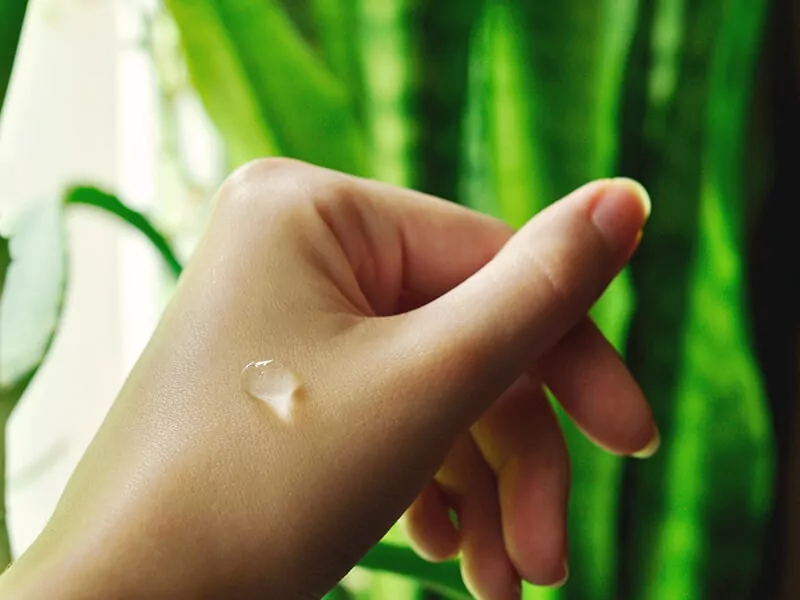 3. Inactive Viruses Or Bacteria
Many experiments have proven the efficiency of anthraquinones included in aloe vera. This substance can prevent your body from attacking harmful viruses such as influenza, herpes, etc.
4. Against The Inflammation
In the aloe vera gel, a chemical compound called C-glucosyl chromone is necessary for fighting inflammation by slowing down the hormones causing this illness.
5. Boost The Wound Healing Process
Since the 19th century, aloe vera was a common medication to cure the injuries caused by burns, and many users have proved its effectiveness by showing the reduced time spent (by 9 days) to heal wounds.
List Of Disadvantages
The benefits of aloe vera are undeniable, but in some cases, it can cause unexpected issues to your health. Therefore, you should pay attention to the notes I have introduced here.
1. Have Impact On The Digestive Tract
Anthraquinone is a component found in the aloe vera outer leaf, which may cause diarrhea if your aloe vera consumption is higher than normal. Therefore, you should pay attention to the amount at a relative level.
2. Be Careful When Using For Pregnant Women
The aloe vera is safe to use in an acceptable amount. However, pregnant women are often advised to avoid using this plant because the Anthraquinone substance can cause contraction in the uterine. Hence, remember to ask the doctor for advice if you're afraid.
How To Store Aloe Vera?
The aloe vera can be used for multi-purposes in your daily activity. You can store the whole aloe vera leaf if you want to use them immediately and keep them for future work. Otherwise, you can keep the inner leaf juice to use whenever you want without spending time preparing.
Method 1: Store The Whole Leaf
After harvesting, the aloe vera leaf can last for 24 hours at room temperature. However, what if you can't use all of them in a day? Then, you need to look up some ideas to keep the remains except throwing them away. Here are the measures you need.
Store In The Fridge
To store the whole aloe vera leaf, you need plastic wrap to cover the entire part of aloe vera. You should consider the suitable plastic wrap size for the amount of aloe vera leaf you want to keep and ensure that you cover all parts of aloe vera when wrapping.
After wrapping the leaves, you can put them in the fridge for up to 7 days. You can also choose whether it should be cut into shapes or not. Then, when you need to use it, unwrap and get the amount you want, and put it back in the fridge.
Store In The Freezer
If you want to keep it for the long term, you should put aloe vera in the freezer so that it can last for over 6 months, as observed. In this way, you can use plastic wrap like the previous step or a plastic bag to increase the protectiveness.
Remember when you defrost the frozen aloe vera, don't use any tool or equipment to speed up the process. Just be patient and wait until the cover ice melts.
Method 2: Store The Aloe Vera Gel
Aloe vera gel is the most valuable part of a whole leaf, and it is also the main ingredient of various products you use daily. However, you may regret wasting a lot of nutrition if you don't know how to store aloe vera gel in the correct ways. Scroll to learn more right now!
Extract and Store Homemade Aloe Vera Gel
Have you already had the aloe vera leaves? Now, I believe that you are trying to keep aloe vera gel by yourself, right? So, in the next section, I will show the fundamental steps which help you store aloe vera for up to 8 months.
1. Extract Homemade Aloe Vera Gel
As usual, 24 hours is the lifespan of aloe vera gel at room temperature. Unlike storing the whole aloe vera leaf, you have to learn how to preprocess it, also known as "extracting" the aloe vera gel. Let's start with some materials you need to prepare.
What you need:
Aloe vera leaves
A knife/ A peeler
A cutting board
A bowl
A jar or sealed bag
Hurray! After you've got all the needed tools, I will show you a step-by-step guide for storing aloe vera gel properly. Let's start!
Step 1: Rinse The Whole Aloe Vera Leaf
Firstly, you have to place the whole aloe vera leaves under the sink or water tap and wash thoroughly. Ensure that there is no dirt or object on the aloe vera surface because when you extract the gels, these objects may mix up with the original.
Step 2: Trim Off The Top And Bottom Edge Of The Leaf
After cleaning the whole leaf, trim off its top and bottom edge by around 1-1.5 inches depending on the length of the leaf. A utility knife would be useful for this task. It's also recommended that you should use a large cutting board for a better cutting speed and hand protection.
Step 3: Cut Off The Spines Of The Leaf
You place the leaf on the cutting board, estimate 0.2 to 0.4 inches from the spines, then cut off the spines along leaf length. Be careful not to cut too much into the main meat of aloe vera.
Step 4: Remove The Yellow Sap In The Leaf
When the edges of leaves are trimmed off, some yellow gels are exuded. You use a knife to split this gel, and then let them soak in water for about 30 minutes to filter all the remaining yellowing in the leaf. I will reveal the reason why you should do this step in the next section.
Step 5: Peel The Green Rind On The Top And Bottom Side
Let's rewash the aloe vera leaf. Then, you put a knife or peeler (recommend) at the top end cut of the green rind and run along down to the bottom of the leaf. You have to do this step on both sides of these plants.
Note: If your aloe vera leaves are pretty long, you can cut them into pieces before peeling. When you want to separate the inner gel and outer rind, you can use a spoon to scrape instead of a sharp knife or peeler, preventing your fingers from accidentally hurting.
Step 6: Cut The Inner Gels Into Cubes
If you want to save space in your fridge, I advise you to cut the meat of aloe vera leaf into cubes by knife, and you can use a bowl to store your cubes while you are cutting.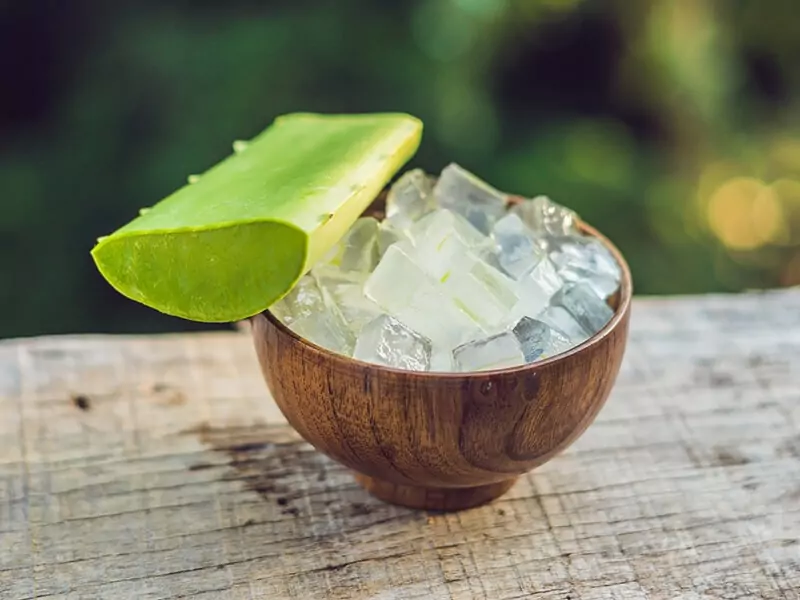 Tips: Glove and Peeler are two recommended tools you can use when cutting the aloe vera leaves.
Glove: Because the two sides of aloe vera have many thorns and slimes, a glove is very useful for protecting your skin from hurting and sticking.
Peeler: In many cases, the peeler is more favorable than a knife when peeling a thick and wide surface. It also prevents hurting yourself with the sharp knife edge.
You can save a lot of time cutting aloe vera leaves after considering this tutorial video:
2. Store The Homemade Aloe Vera Gel
Because homemade aloe vera gel is a natural product, you should decide where to store it as soon as possible to avoid unexpected loss.
Store At Room Temperature
The first choice of storing aloe vera gel is to place it in a dark warm place to prolong the gel usage time. To protect the gel quality, you should ensure that there is no air or water in the gel container. This way will be suitable for those who want to use it in a day.
After undertaking all steps above, you use a sealed bag to store the cubes you've made and place them in the fridge. The aloe vera gel can often last for a week, so be careful, or you can stick a note outside the fridge to remember the time you have stored them to avoid being rotten.
A freezer is a perfect choice for long time use. You can pour the extracted gels into an ice tray and then keep it in the freezer. These cubes are useful for healing wounds caused by sunburn or dry skin. The aloe vera gel is still good to use in 8 months.
As I have noticed in the whole leaf storage above, you need to have the frozen gels melt naturally.
Note: Ensure that the green rind has to be cleared totally from the inner gels.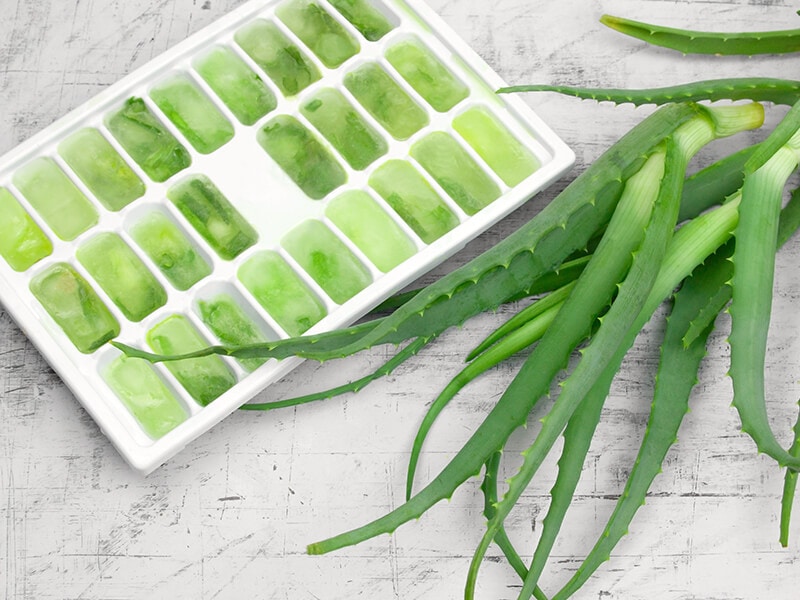 Store-Bought Aloe Vera Gel
If you buy the gel from stores, you can follow storage instructions sealed on products. Normally, you need to keep the store-bought gel in a dry, cool place and avoid sunlight. You can keep it for 1-2 years at room temperature or 2-3 years in the fridge and up to 5 years in the freezer.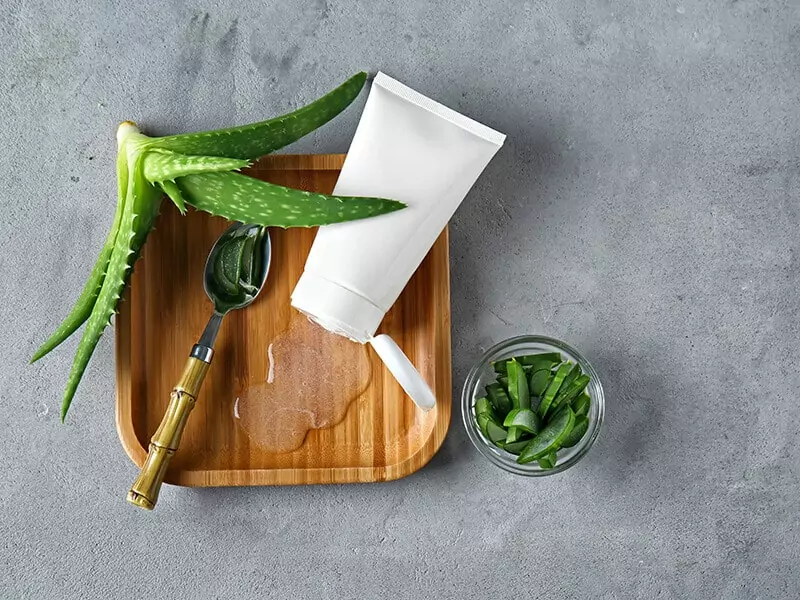 Method 3: Mix With Honey Or Vitamin C
If you find a way to store aloe vera gel for over one month, this method is definitely a good choice. You can look up how to mix up these substances in this post, so don't worry.
Blend With Honey
Honey, be it raw honey or high-quality ones like Manuka, is a substance that helps you increase the aloe vera storage period and enhance the gel quality for long-term usage.
On the other hand, this mixture is a wonderful way for you to make face masks. So you'll need to take into consideration the elements that make raw honey different from Manuka to decide which product makes a better choice for you, your body and skin type.
To begin with blending, you should prepare some materials as below.
What you need:
Aloe Vera Gel
Honey
Container (e.g., plastic jars)
Your job now is to take a container to store the mixture and start to blend the honey with aloe vera gel, following the ratio of 1:1. It means that one tbsp of aloe vera gel corresponds to one tbsp of honey. When finished, you place that container in the refrigerator.
Thanks to this mẹthod, the aloe vera gel can last for over a year, and you can freely use it anytime you need.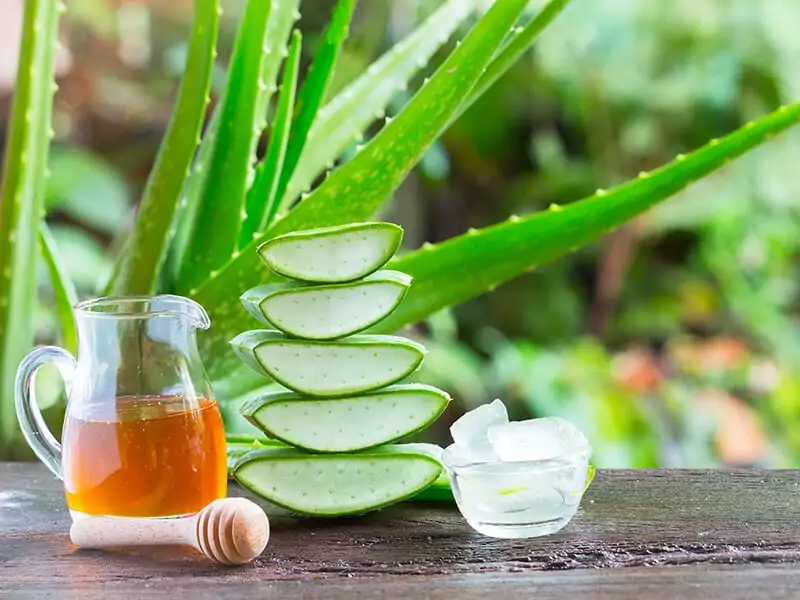 Blend With Vitamin C
Similar to honey, you can easily extend the lifespan of aloe vera by mixing Vitamin C. As observed, the aloe vera gel can last for a month by using this method. Now, I will start my instruction part with the preparation. Just read slowly and follow my guide.
What you need:
Aloe Vera Gel
Vitamin C
Blender
With the Vitamin C provider, you can find it in any pharmacy near your house.
First, pour all the aloe vera liquid into the blender. You can opt for blenders used for making green smoothies for this task. Wait a bit to blend the mixture into a liquid form. For a perfect mixture, use this ratio: 60ml aloe vera gel corresponds to 500 milligrams of Vitamin C powder.
Many people have preserved aloe vera successfully, thanks to the following video:
How Long Can Aloe Vera Last In Different Conditions?
The lifespan of an aloe vera depends on the way you store it. With different conditions, the aloe vera can last for up to 3 years. You can read the detailed statistics of aloe vera lifespan based on its state in the following tables.
| State | At room temperature | In the refrigerator | In the freezer |
| --- | --- | --- | --- |
| Whole Leaf | 1-2 days | 7 days | 8 months |
| Homemade Aloe Vera Gel | 1 day | 10 days | 8 months |
| Store-bought Aloe Vera Gel | 2-3 years | Up to 5 years | Up to 5 years |
| Aloe Vera blend with honey | 8 months | 8 months | 2-3 years |
| Aloe Vera blend with Vitamin C | Up to a month | Up to a month | 2-3 years |
How To Tell If Aloe Vera Has Gone Bad?
Suppose that you have a basket of aloe vera, but you don't know whether all of them are good for use or not. Thus, you need to learn how to distinguish them properly.
In terms of fresh aloe vera leaves, you will find them wilted, mucous, and smelly. With aloe vera gel, you can see its color fade and emit an uncomfortable smell.
FAQs
Despite the number of guidelines provided above, there is some information about the aloe vera you feel confused or wonder about. This section is the place where you can find the answers to certain questions. I hope it can help you in some ways.
Extra Tips To Store Aloe Vera
After rising under the water, you can let the aloe vera sit for 10-15 minutes to extract the gel easier.
Divide the number of aloe vera leaves into a suitable proportion for daily use.
I believe that with my ultimate guideline above, you can easily follow and do it yourself at home. On the first try, you may spend a lot of time extracting the gel successfully, but keep repeating the same action, and you will enhance your speed. I did it successfully. How about you? Don't hesitate to like and share my post if it's helpful for you!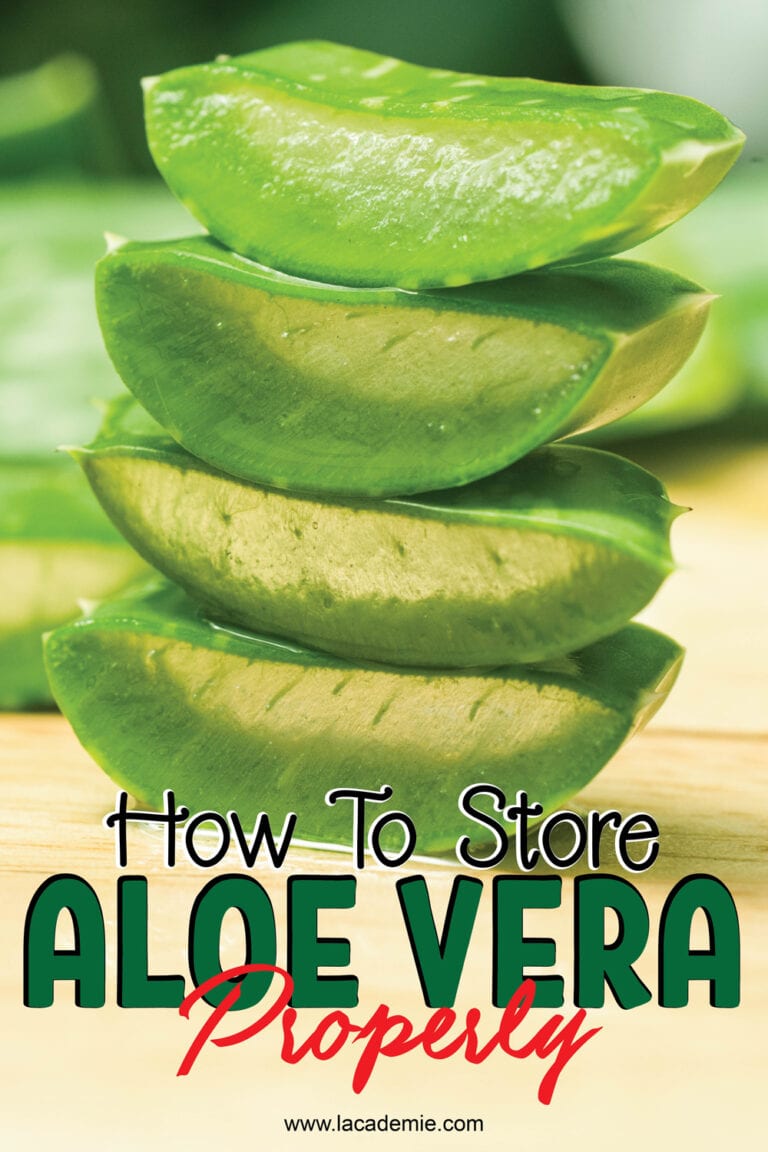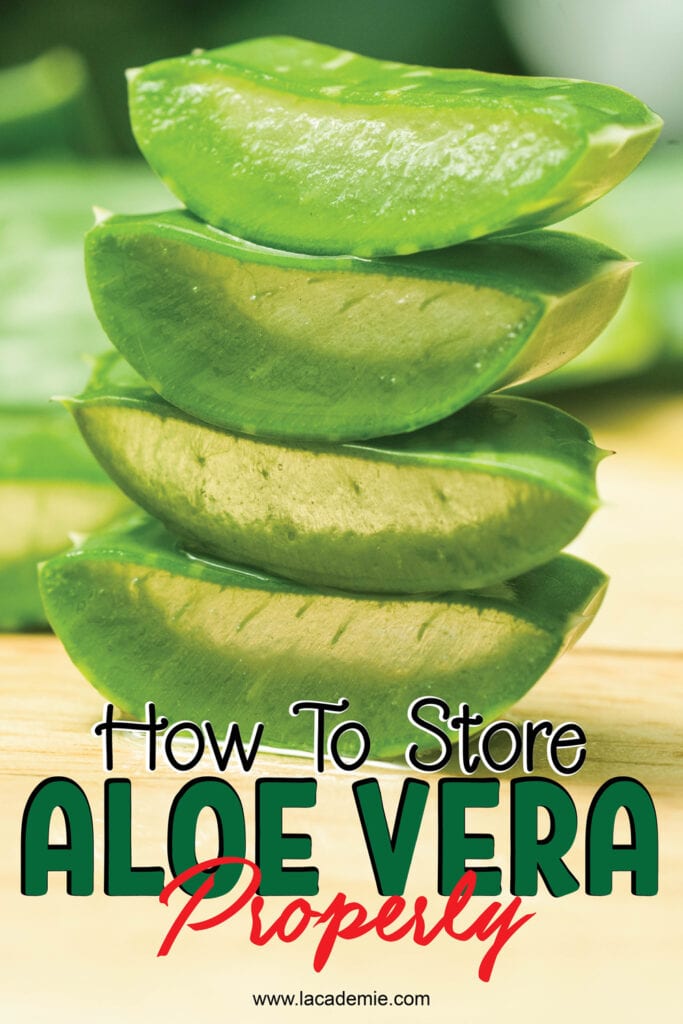 References:
Healthline. 2021. 9 Healthy Benefits of Drinking Aloe Vera Juice.
nutritionix.com. 2021. Aloe Vera Juice Drink.