What do you know about Gabonese foods? Many people believe that African countries' gastronomies are monotonous, which is not totally correct.
Although culinary supplies will be limited to these desert areas, Africans and Gabonese people always attempt to be creative in cooking. Everyone wants to make excellent dishes for their daily needs. Therefore, you can expect more from this cuisine.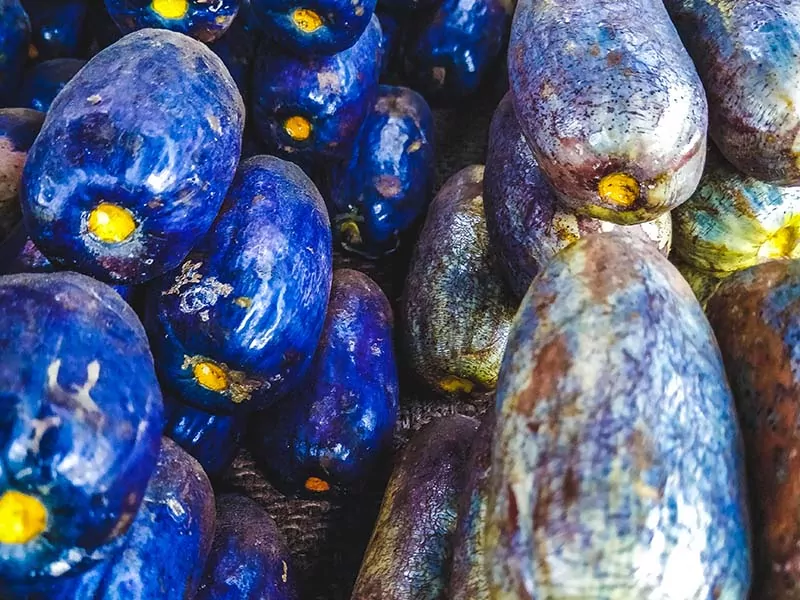 Savory Dishes You Should Try In Gabon
Let's start today's list with several savory dishes from meats and fish! Gabonese people have utilized and developed their distinguished dishes perfectly. Here are my recommendations for you!
1. Poulet Nyembwe / Moambe Chicken (Gabonese Chicken Stew)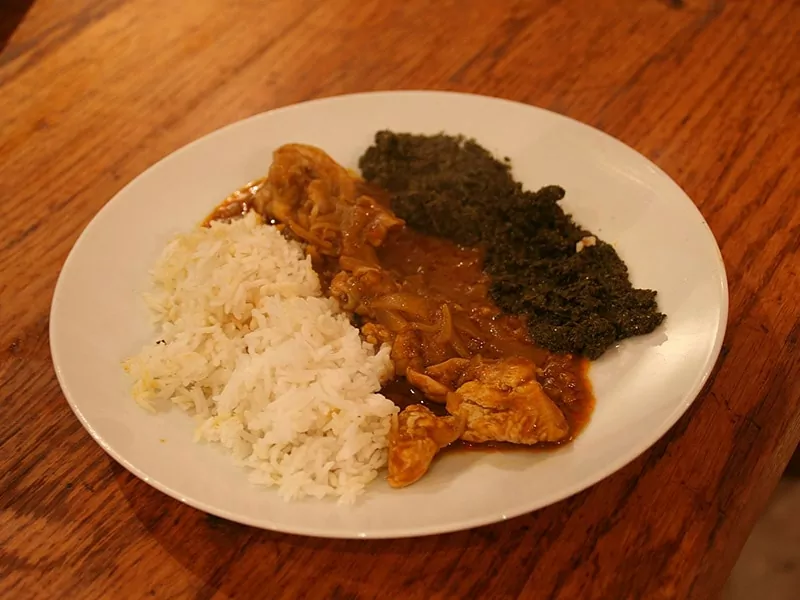 The name of the food says a bit about its main ingredient. "Moambe" or "Nyembwe" means "palm butter/oil", a popular plant in Central Africa, and people there use this ingredient a lot in their daily cooking. Nyembwe is also a star in this Gabonese delicacy.
One fascinating fact about Poulet Nyembwe is that it is not only Gabon's national dish. The Republic of Congo, Democratic Republic of Congo, and Angola consider this dish their national food as well.
Although chicken is the most frequently used ingredient in this Nyembwe recipe, you can still find some other variations of this treat made of beef, mutton, or even fish. Besides the protein, to make the food richer and healthier, the locals will also add veggies and spices.
This is the best illustration to show you how to make an ideal Gabonese Poulet Nyembwe.
Although Mustard Chicken is not an authentic Gabonese recipe, this French-inspired dish is loved in Gabon. People in this country can have this dish in their everyday meals since it requires almost no effort to make.
The ingredients for this delicacy are also simple; you can easily find them almost everywhere. It is not a lie since the components are only stock, onion, garlic, mustard, and lemon. Yummy!
3. Brochettes (Gabonese Skewers)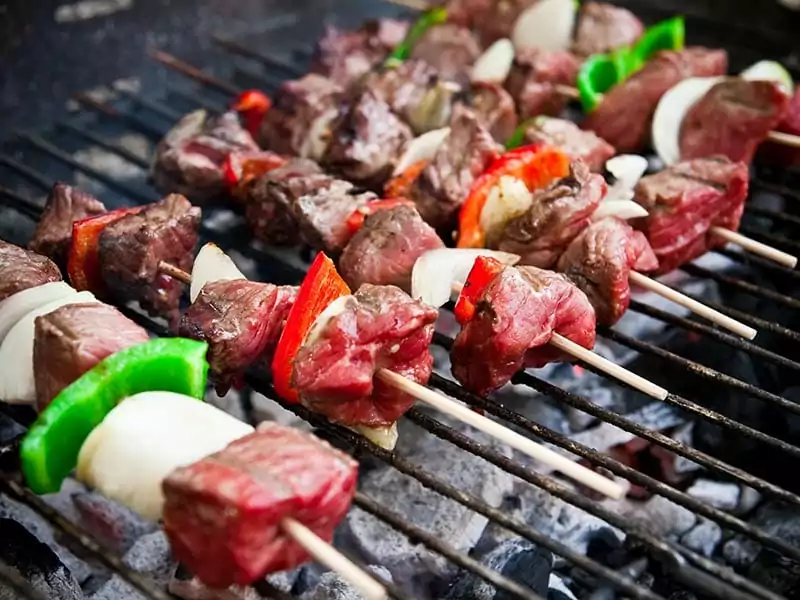 You should never neglect these Gabonese-style Brochettes if you are a meat lover. Many kinds of meat can be used for this delicacy, yet the most favored one in Gabon is chicken. Apart from Gabon, this yummy treat is famous in Rwanda and many African countries.
On a skewer, there will be well-marinated chicken (with garlic, cumin, parsley, paprika, etc.), onion, bell peppers, and some other things. The required ingredients might be basic, but this food is toothsome, and I highly recommend you to taste it once in a lifetime.
4. Dongo Dongo (Gabonese Okra Stew With Smoked Fish)
The combination of fish and okra might sound odd, yet, it's surprisingly delicious. Believe me; you won't regret trying Dongo Dongo.
Dongo Dongo is a versatile dish and a "rumored-cousin" of the famous Cajun-Creole Gumbo. It can pair with any starchy side dishes such as Fufu rice and be clarified as both sauce and soup.
Together with okra and fish, there are a variety of other ingredients such as hot peppers, stir-fried onions, and garlic added to the Dongo Dongo pot. Thanks to that, your treat will not taste greasy at all.
5. Poisson Salé (Gabonese Salted Cod Stew)
Poisson Salé is a long-loved and nutritious delight that may be found on every delicious Gabonese dinner table. You can also enjoy it for other meals of the day, so give it a try right now.
The salted codfish mixed with various kinds of veggies helps to enhance Poisson Salé's nutrition and flavors so that it can pair with many other starchy bases.
Rice is an excellent option for pairing with Poisson Salé. Besides, you can enjoy it with attiéké (African fermented cassava semolina). The sourness from the cassava paste will compliment the taste from the fish stew and support the overall digestion.
Promising Gabonese Sweet Treats
Now, turn to the undeniable Gabonese desserts! Every cuisine has its own alluring sweet treats, so you should see what you have to try in Gabon right here.
Bananas and plantains are commonly used ingredients in Gabon, and they utilize these fruits in various dishes, especially desserts. Baked Banana is a favorite dessert in Gabon, and people have them on almost every occasion or daily life.
The way they process bananas to create this delicacy is quite simple. First, the bananas will be sliced into thin pieces, dipped into the mixture of orange and egg, then coated with breadcrumbs.
The chefs will deep fry these banana slices until crispy before baking them in the oven for 5 minutes. Once the treat has cooled down, Gabonese people will serve it with sour cream or sprinkle some brown sugar on top for a sweeter taste.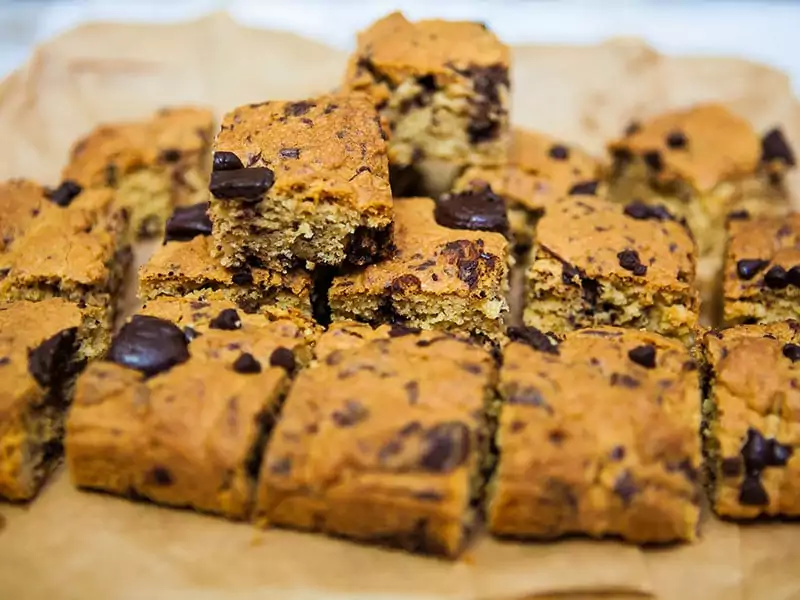 This treat, as the name suggests, is not an authentic Gabonese delicacy; but if you want something quick and light for breakfast in your Gabon trip, it's the one to go. Trust me; each bite will taste heavenly.
The way they make this dessert is quite simple; you will only need basic ingredients to form a perfect piece of Congo Bars. Sugar, butter, flour, eggs, and chocolate chips are what you can taste when munching this food. Sometimes, the allurement lies in simplicity.
Although these tasty treats originated in Congo, they are well-known in a variety of African cuisines. Therefore, there is no reason not to experience or give these Chewies a go.
You might want to know more about Congo Bars right here.
8. Chakery (Gabonese Couscous Pudding)
The next dessert is a true Gabonese delicacy, Chakery. If you come to Gabon in the summertime, a bowl of refreshing Chakery will help you fight the heat. In a portion of Chakery, there are couscous, milk, yogurt, fresh fruits (chopped pineapple chunks), and sour cream.
In some other variations, they also include cinnamon and other spices to enhance the flavor profile of this humble dessert. How can you resist something sweet, smooth, and tasty like this?
9. Beignets (Gabonese Fried Dough)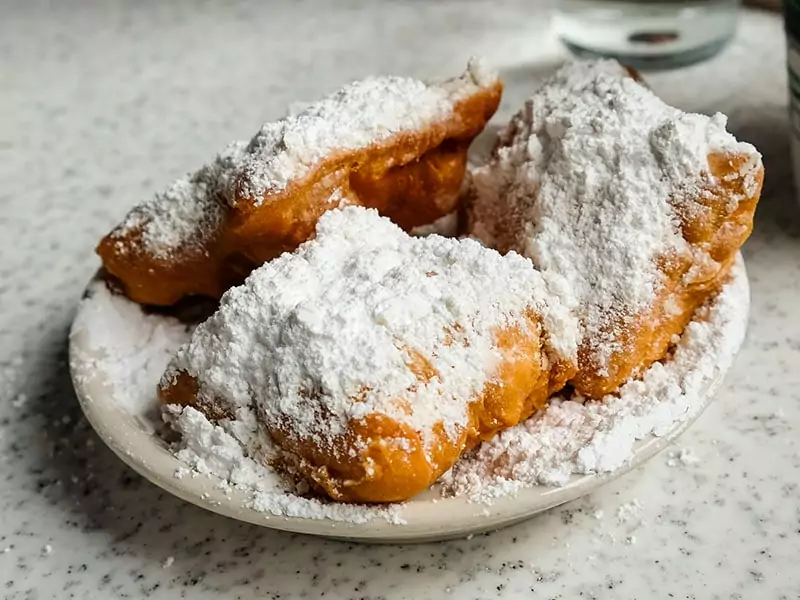 Beignets are Gabonese desserts, yet it was inspired by French cuisine (Gabon was a French colony for around 80 years). When looking at this treat, it makes me think of small, crispy pillows and the icing sugar reminds me of the flaky white snow.
I recommend you to have these Beignets as a snack (while waiting for a Gabonese lunch recommendation or at the end of the meal. Thanks to the simple components, this food can taste great even to the pickiest eater.
You can see how they make perfect Beignets through this short introduction.
Other Yummy Gabonese Treats To Crave For
The above foods are not everything you can expect from Gabonese cuisine; many other toothsome treats await you to discover right here.
10. Fufu (Gabonese Thick Porridge)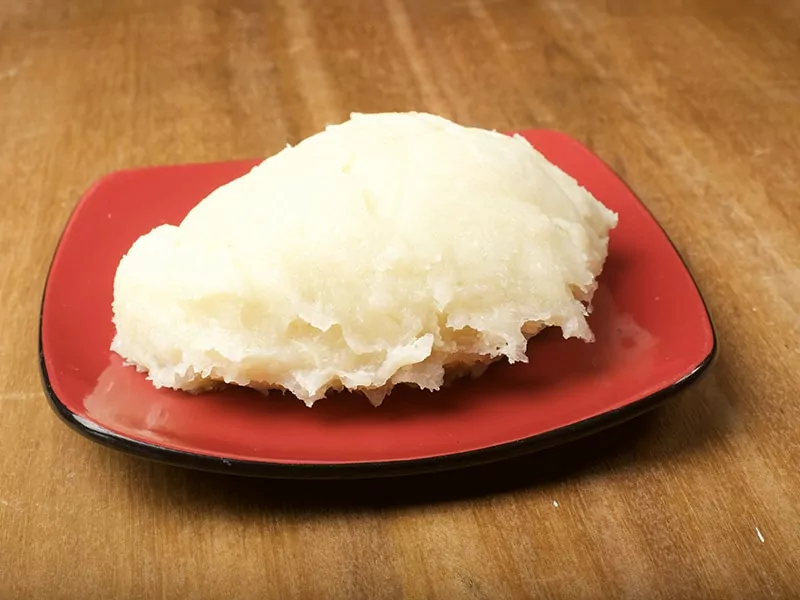 When experiencing the cuisine of Ghana, Gabon, or other African nations, you might easily see many dishes that are paired with Fufu. This is because Fufu is extremely versatile.
Fufu has a smooth, dense consistency and mild taste, which perfectly balances the other saltiness and savory flavors from the other treats.
Fufu calls for root crops/fruits as the main ingredients, and cassava roots/yams or plantains are the most famous. Simply serve a scoop of Fufu beside stews; you will be amazed by how they match the other well.
It is time to know the local people make their Fufu.
11. Atanga (Dacryodes Edulis / Butter Fruit)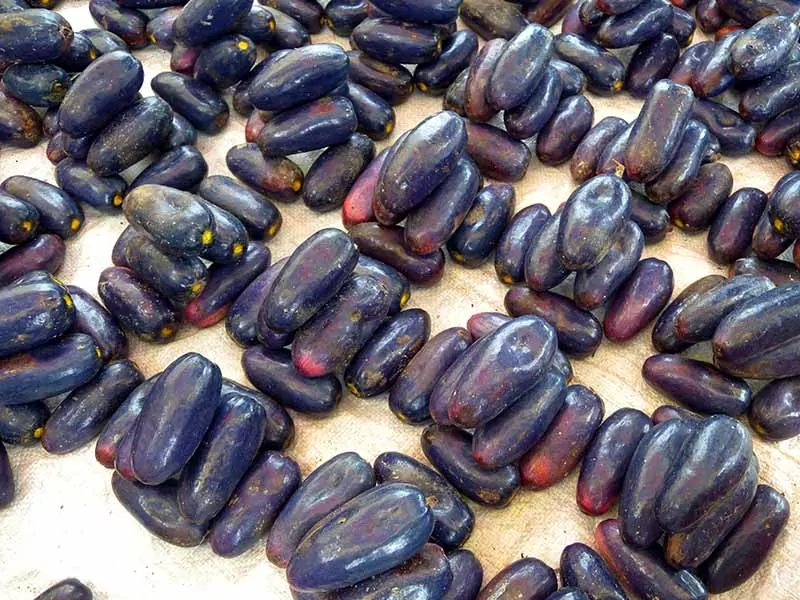 What is the remarkable thing about this fruit that makes it appear on this list? I guarantee you this special Atanga will please your taste buds on the first go.
The most recommended way to enjoy Atangas is to boil the fruit, take off the outer skin and eat the interior alone or with salt/sugar to taste. You can expect an avocado-like texture when biting, and a mild olive's tartness will rush into the tongue. Amazing!
Are You Ready To Give These Gabonese Treats A Go?
When learning more about any cuisine, you will be able to know more about new cultures and widen your knowledge. I hope that my article has helped you understand more about Gabonese distinctive culinary culture.
Have you ever tried any of my suggestions above? If you did, please leave your comment as a review or advice for me and other readers. Loving is sharing!