Blackberry vs. mulberry: What are the differences? Finding the correct answer to this tricky question might be a big challenge as these mouthwatering berries are indistinguishable with a mere glance. If you're reading this article, it means you are confused about choosing one of two.
Don't worry! I have you covered. Keep reading this post to learn more about these fancy berries. After that, you can easily tell them apart and may become a berry master even though you're not a gourmet.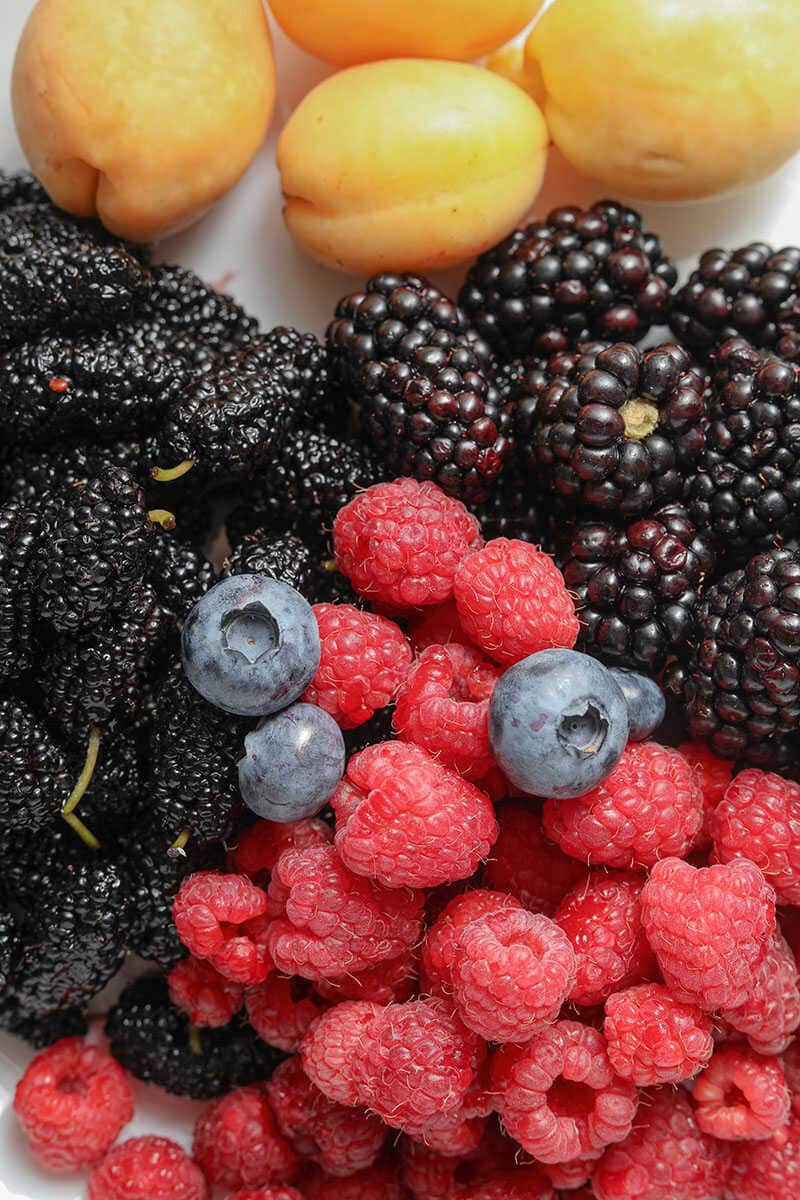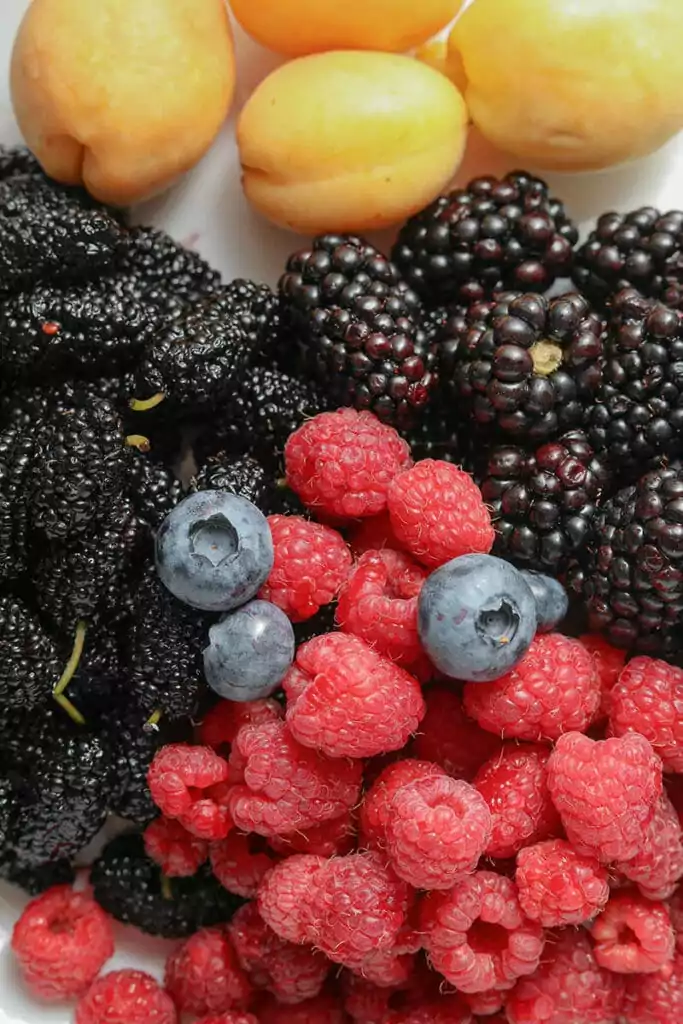 Things You Should Know About Blackberries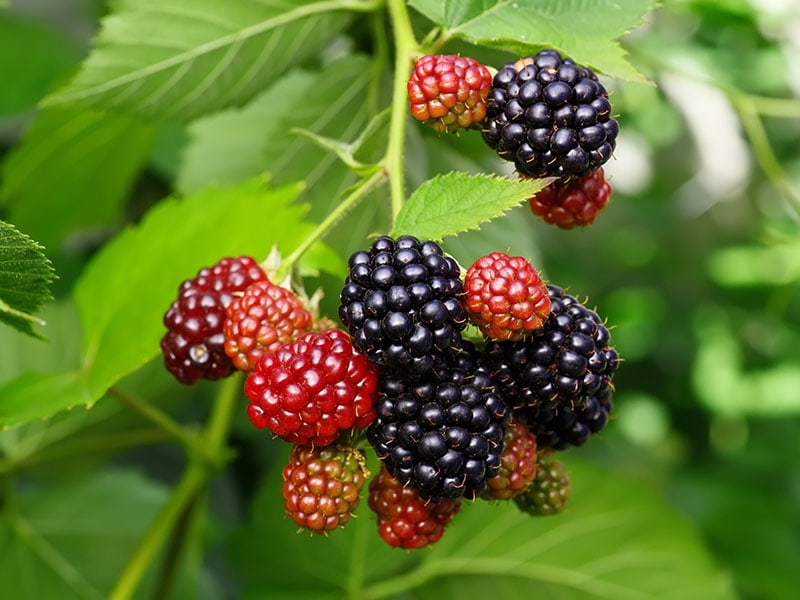 Blackberries are members of the Rubus genus, which belongs to the Rosaceae family. Despite the name, they are not berries; their precise category is aggregate fruit.
Berries are fruits developing from a single carpel (female reproductive organ of a flower) of a single flower. Their exterior layers grow into edible juicy portions. Conversely, aggregate fruits stem from the merging of different carpels in the same flower. (1)
It is hard to tell about their origin because nowadays there are a lot of varieties of them. You can usually find them in Europe and North America. What makes these fruits distinctive is that they don't grow on trees. They thrive on brambles or bushes with thorns.
Therefore, you should be careful when collecting them because their thorns may hurt you. Additionally, you should install a trellis to keep blackberry plants from covering most of your garden and surrounding trees.
Common Knowledge About Mulberries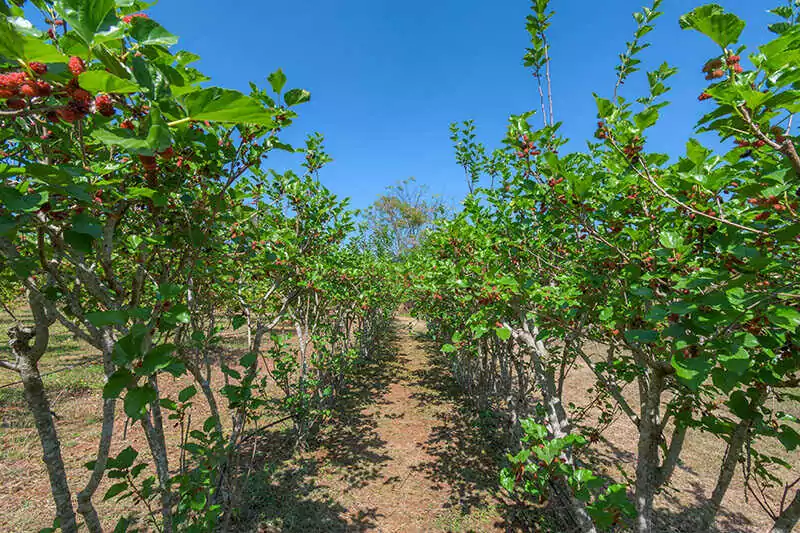 Belonging to the Mora family, mulberries are not precisely berries. They are collective or multiple fruits, which means they develop from the combination of different flowers' carpels.
They are native to Asia and Africa, but people can harvest them in other parts of the world. Unlike blackberries, they grow on deciduous trees.
Moreover, mulberry trees' sizes are different depending on their various species. For instance, red mulberry trees often reach 40 feet tall, while white mulberry trees can grow to be as tall as 60 feet.
They grow quickly, and people can harvest them after only a few years. Interestingly (or not), because the male mulberry trees produce a tremendous amount of mildly toxic pollen that harms people, some US states have banned planting them.
Similarities Between Blackberries And Mulberries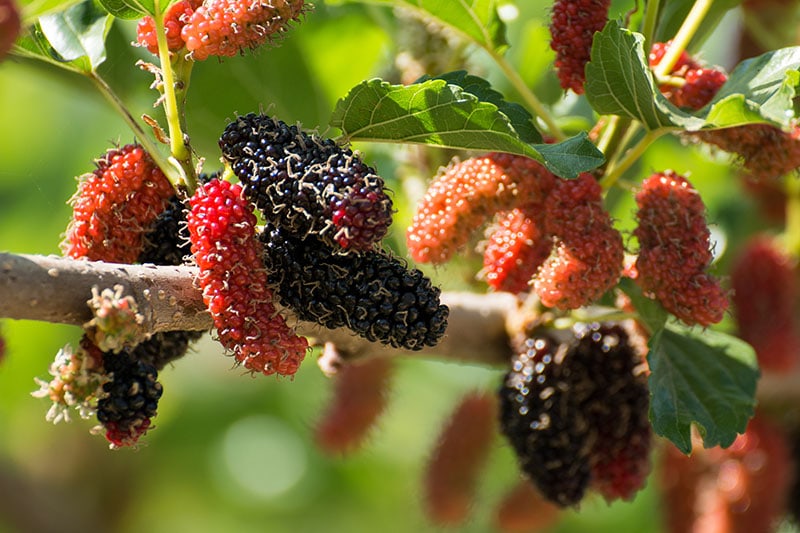 Blackberries and mulberries share various similarities, which could confuse people who want to tell them apart. Keep scrolling to learn about some main similarities.
Blackberry and mulberry are not exactly berries; they are aggregate or collective fruit. Both contain a lot of high antioxidants and can help you reduce the risks of chronic diseases.
In addition, they are small and edible fruits. People can substitute blackberries for mulberries and vice versa in various dishes, such as cereals, fruit salads, baked products, jams, etc. Both perishable fruits have a short shelf life of two to three days in the refrigerator.
However, you can store them in the freezer and extend their shelf life by several months. One last thing: Their color can change when they are ripe. These non-berry fruits have vibrant stains that people can use as natural food colorings.
Critical Differences Between Blackberries And Mulberries
Even though both these species share some similarities, as mentioned before, you can effortlessly tell them apart thanks to the helpful information I will provide in this section.
| Features | Blackberries | Mulberries |
| --- | --- | --- |
| Appearance | Round, short, and shiny. | Oval-shaped and long |
| Taste | Tangy and sweet | Vegetable-like, sweet, and tart |
| Leaves | Can cure oral problems | Can feed silkworms |
| Nutritional Values | Richer in vitamin B9, fiber, sugar, carbs, and calories | High levels of protein, vitamin C, and iron |
| Season | August to September | October to November and March to May. |
Appearance
One of the most notable differences between them is their appearance. Mulberries and blackberries grow similarly in shape and color, but there are some physical traits that you can look for to distinguish them.
Blackberries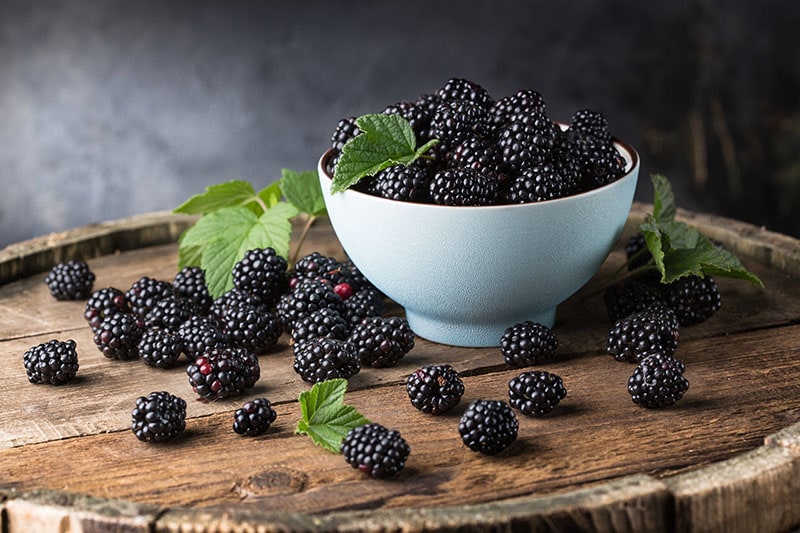 Blackberries resemble a funny oval grenade or a set of small black balls encircling a central point. Their size varies, averaging about 1 inch (2.5 centimeters) in length and 0.8 inch (2 centimeters) in width.
In terms of colors, the fruits don't stay constant throughout their life cycle. Immature fruits are green. But as they ripen, they gradually turn red, then fade to a dark purple shade that seems black from a distance.
Mulberries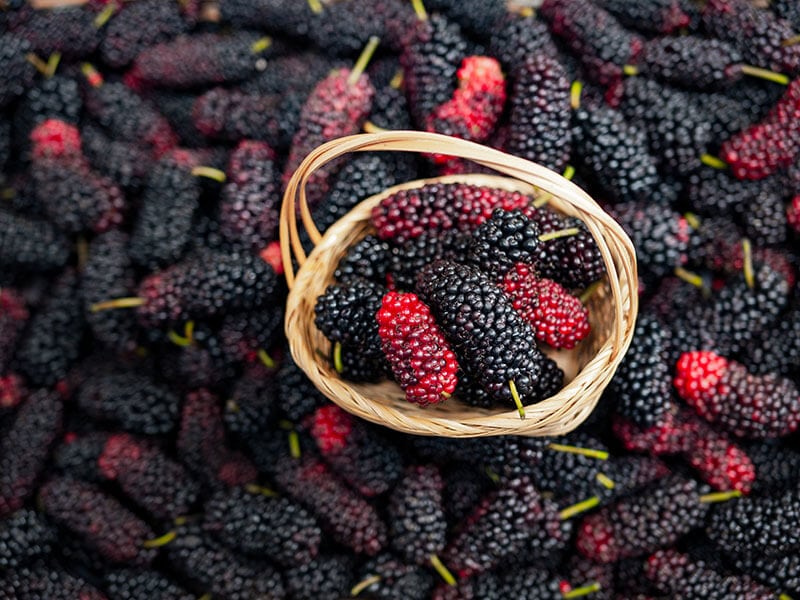 Mulberries share the same width as blackberries but are twice as long. When fully mature, they darken and resemble elongated blackberries. Another distinguishing feature of mulberries over blackberries is their penchant for staining.
If you've mashed a berry in your fingers, it's challenging to get the red juice out of your skin. The fruit can come in various colors: white, purple, black, and red.
Taste
The flavor of mulberries and blackberries may affect any dishes you want to prepare with them. To most people, the taste of blackberries and mulberries share no difference. Both of them have a sweet and tart flavor. Here is what you need to distinguish their taste.
Blackberries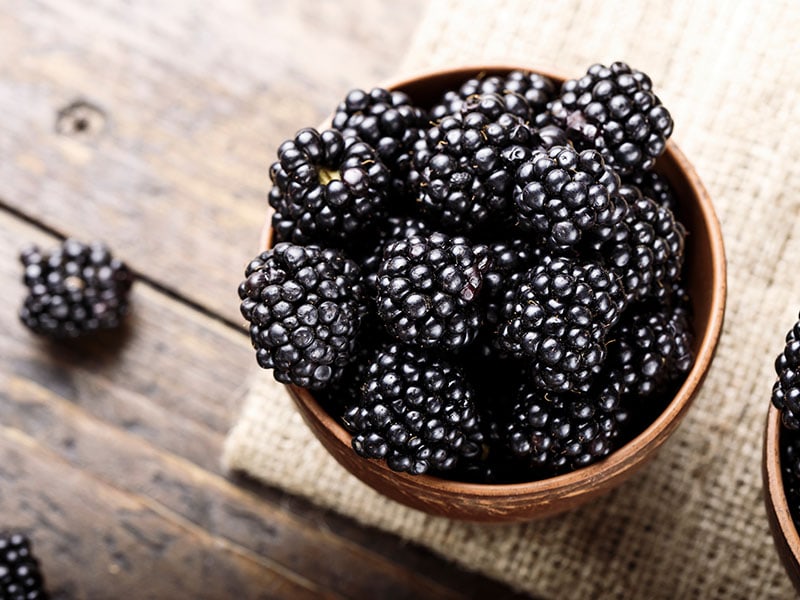 When you first taste blackberries, they have a tangy taste that is mixed with a lot of sweetness. Aside from that, blackberries have earthy tones that mulberries do not have.
Interestingly, the solid core contributes a mildly woody flavor and some earthiness to the berry. Some people find the middle of blackberries bitter, but only unripe fruits have this taste.
Because blackberries' bitterness can be concentrated in their white core and seeds, removing them could decrease that unpleasant flavor.
Mulberries
Most people consider mulberries one of the sweetest and juiciest berries. They are sweet and tart, but their flavor is gentler than blackberries. Their taste varies from sweet to tart-sweet.
There are three varieties of blueberries: white mulberries (Morus Alba), black mulberries (Morus Nigra), and red mulberries (Morus Rubra).
Mulberries are also much smoother than blackberries because they contain pectin, a fiber that helps give fruits structure. Surprisingly, some claim mulberries taste like a mixture of grapefruit and blueberries.
Note: It's important to note that the flavor is best when the mulberries are perfectly ripe. Immature species are usually very sour or tart and can get stuck in your throat.
You can learn more about how people feel about mulberries' taste and physical appearance.
Leaves
Another remarkable difference between these two fruits is their leaves. While a mere glance may help you distinguish them, there are several facts you won't know until reading this post.
Blackberries
Blackberries come from bushes, so their leaves come along the stem as compound leaves. Their leaves are stalked and usually feature three to five ovals.
Moreover, they are perfect for our health since they help improve oral health, gum inflammation, thrush, sore throat, and mouth ulcers. More importantly, people consider blackberry leaves immunity-boosting properties and health-promoting effects. (4)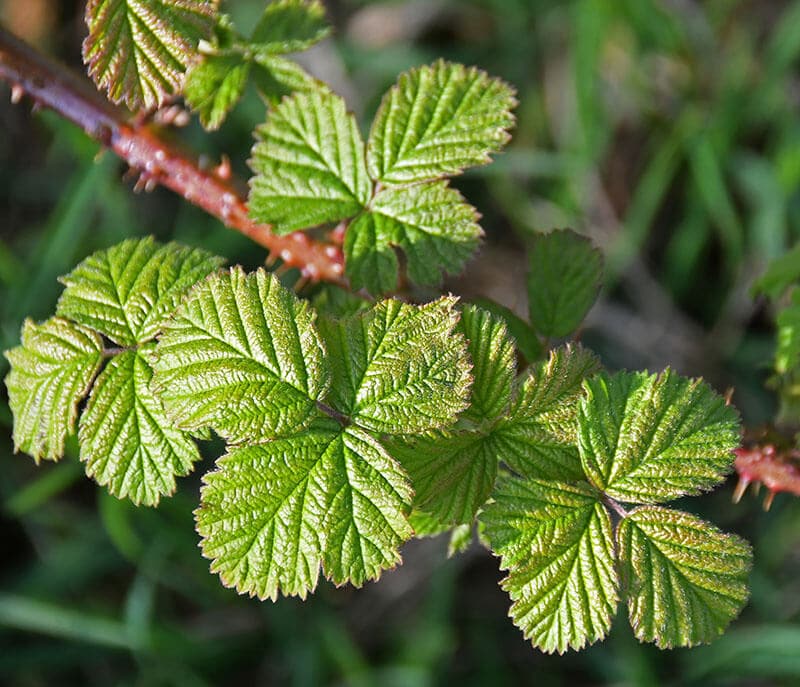 Mulberries
Mulberry trees have different growing stages, so their leaves may have various shapes. Older trees tend to have smaller leaves than young ones. Moreover, mulberry leaves are generally oblong in form, serrated edges, and can have up to four lobes.
Furthermore, mulberry leaves are helpful for our health and play a pivotal role in the silk industry as people ideally consume them as materials for silkworms.
The health benefits of mulberry leaves are that they help to maintain blood pressure, control blood sugar levels, reduce cholesterol, etc.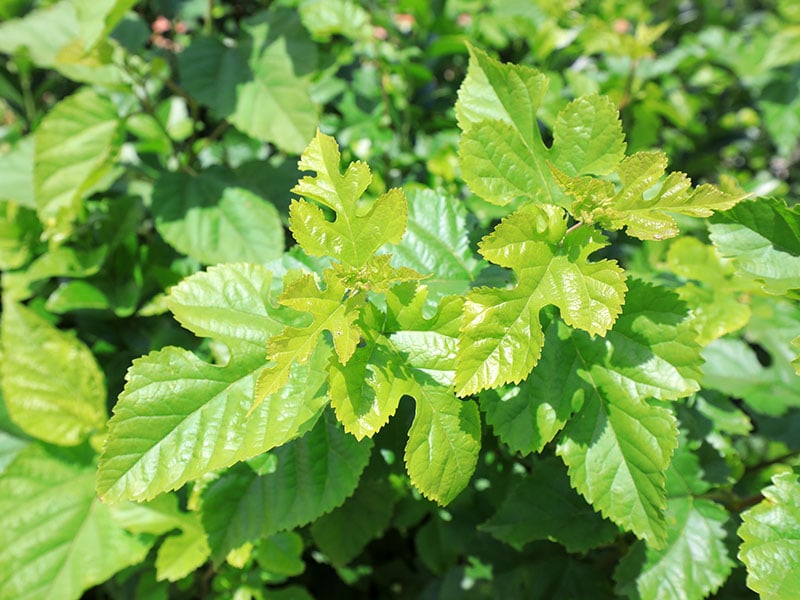 Nutritional Values
The most important thing you should consider when eating any food is its nutrients. Let's see how blackberries and mulberries score in this aspect. I will list the most important substances in them.
| Serving size: 100g | Blackberry (2) | Mulberry (3) |
| --- | --- | --- |
| Calories | 64 kcal | 43 kcal |
| Protein | 1.18 g | 1.44 g |
| Carbs | 15.7 g | 9.8 g |
| Total Sugar | 10.7 g | 8.1 g |
| Fiber | 5 g | 1.7 g |
| Total Fat | 0.43 g | 0.39 g |
| Iron | 0.8 mg | 1.85 mg |
| Vitamin B9 (Folate) | 34 mg | 6 mg |
| Vitamin C | 3.1 mg | 36.4 mg |
Blackberry
Due to their nutritional stats, blackberries are a natural cure for people's illnesses nowadays. Besides, daily consumption of these fiber-rich fruits helps promote your digestive health.
Moreover, with its high carbs and low fat, blackberries would be a perfect diet for those who want to lose weight. Furthermore, they help maintain the health of gums and teeth due to the high amount of vitamins.
Mulberry
Mulberry is not quite as different as its counterpart since its nutrient stats are familiar. However, there are still some diverse benefits to blackberries.
Mulberries are good for your immune system since they provide you with a large amount of vitamin C. Moreover, eating mulberries every day also improves your blood circulation, which can enhance your body in a better way.
Season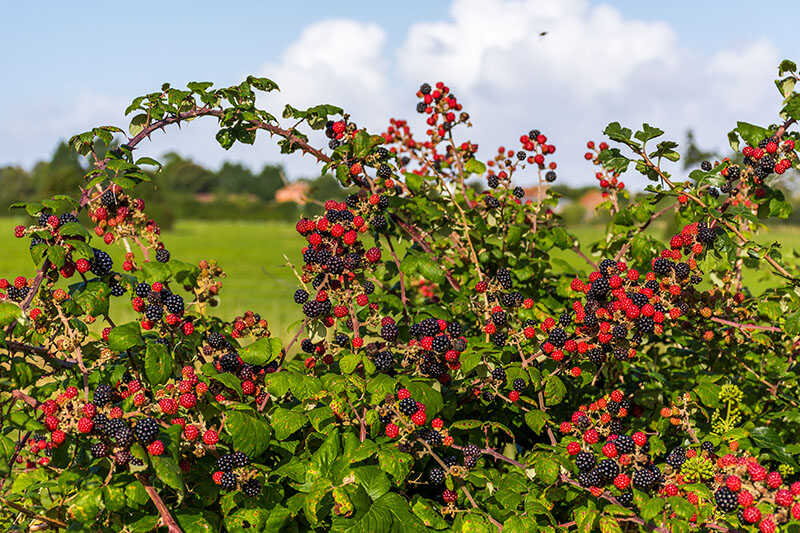 Knowing when it is suitable to harvest black and mulberries is vital to choose the best ones. Specifically, people usually harvest blackberries in July and August, and they will watch for early bloomers in late June.
Conversely, mulberries are available twice a year – from October to November and March to May. Additionally, you need to wait to enjoy the best berries until they are ripe enough to collect.
Other Types Of Berries You Should Know About
All over the world, there are not only two types of berries but also a variety of other kinds, which tend to be less common than blackberries and mulberries. Here are two particular types of berries that I want to recommend to you.
Raspberries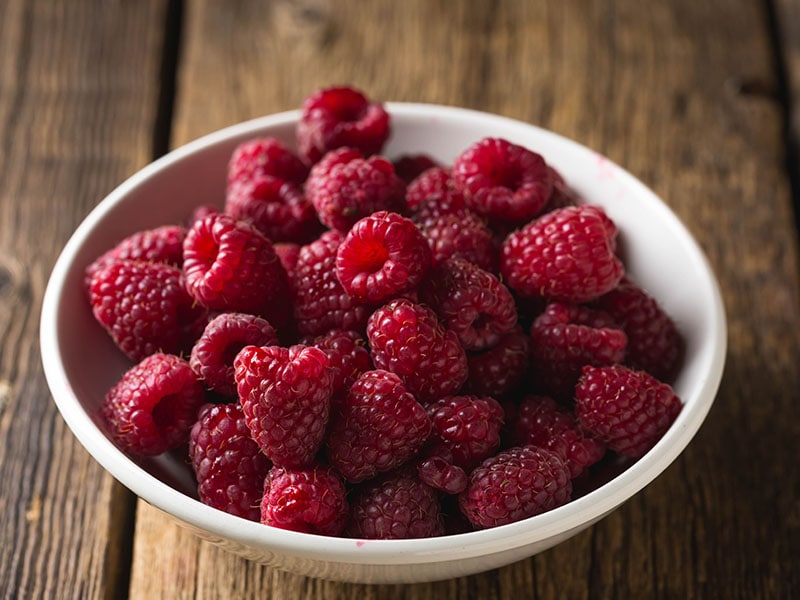 Raspberries belong to a small aggregate fruit formed by the various carpels of a single flower of the rose family. They are round and elongated in shape, with a diameter of one to three centimeters.
Those sweet fruits are a prime source of vitamins, antioxidants, and minerals. Raspberries are less tart than blackberries, though underripe fruits can be sour.
Their flesh is smooth, tender, and barely crunchy. Moreover, though they are available all year, their peak season is in the summer.
You can eat them raw or combine them with yogurt or cereal. You can also use fresh raspberries to decorate top cakes and desserts or use them in glazes, sauces, jams, etc.
You can learn more interesting things about raspberries here.
Boysenberries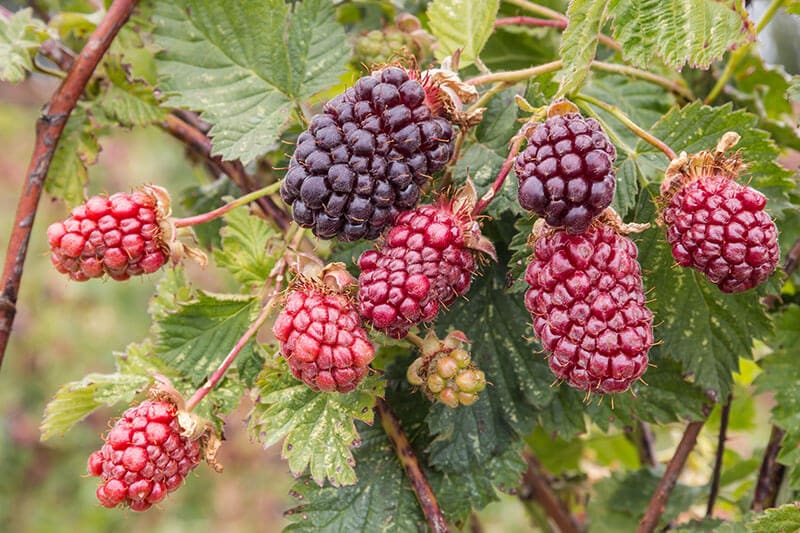 The boysenberry fruit is a cross of a Europe blackberry (Rubus fruiticosus), a longanberry (Rubus longanobaccus), the Europe raspberry (Rubus idaeus), and an American dewberry (Rubus aboriginum).
The plant's name comes from a Califonian farmer who first harvested it. They are like various small balls forming a circle and have a deep maroon-purple color. Moreover, their taste is a good cross between a raspberry and a blackberry.
Specifically, they have a sweetness ( like a blackberry) and a distinct tartness (similar to raspberries). The tartness and sweetness of boysenberries are well balanced.
They bring various health benefits, such as controlling blood pressure and triglyceride levels, improving lung function, decreasing the risk of epilepsy, and improving digestion.
How to Store Blackberries And Mulberries
Knowing how to store blackberries and mulberries properly helps you save food and your budget. I will provide you with some helpful ways to keep your berries correctly.
In The Refrigerator
One of the most compelling and accessible ways is to store them in the fridge. With a few simple steps, you can save your delicious blackberries for two to three days and mulberries for three or four days in your fridge.
Specifically, you need to wash the fresh berries with vinegar and dry them off with paper. Then you should put them into a container with a paper towel laid on it. Finally, place it into the fridge and enjoy your berries any time in a week.
In The Freezer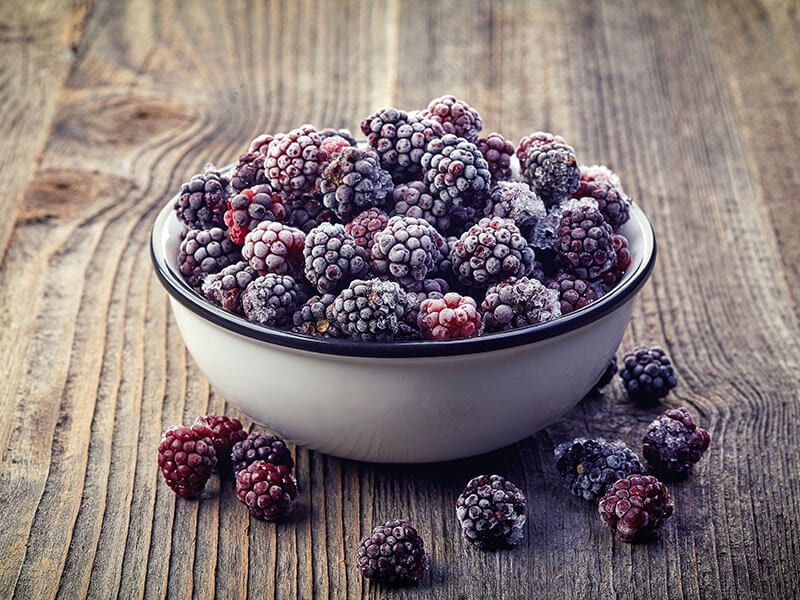 Before storing blackberries and mulberries in the fridge, freezing them is also a smart way if you want to keep them longer. It would be pretty simple, and you can store mulberries for up to six months and blackberries for up to nine months in the freezer.
To keep them in the freezer, you need to follow these steps: Rinse them carefully with vinegar and rewash them with cold water to ensure your berries are clean. Let them dry.
Arrange the fruits on a baking tray and keep them in the freezer for a few hours. Next, put them into a freezer container or a sealed bag before returning the fruits to the freezer. Remember to date and label the containers before putting them back in the freezer.
If you want to store blackberries and mulberries for a long time, you should keep them in the freezer.
Dehydrating
Besides using your fridge, there are many other ways to keep them. Dehydration is one of the most effective ways.
Dehydrated berries are less juicy than fresh ones. However, they still have the same flavor and can last for months. You can dry your berries with the dehydrator or the natural sun. It depends on your dehydrator and how large the berries drying requires various times.
Moreover, perfectly dried blackberries and mulberries can last roughly one year at room temperature or in the fridge.
Making Fruit Leather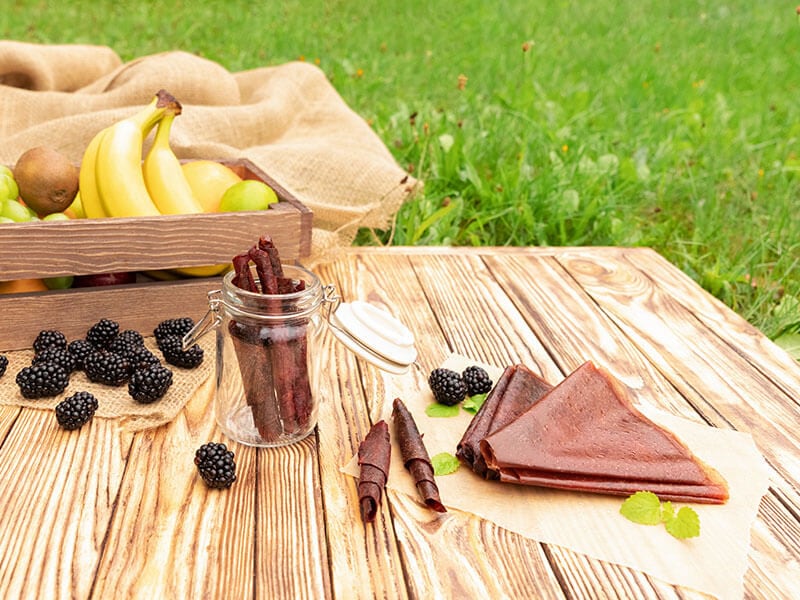 If dried berries are not enough, you can try making fruit leather out of those tasty berries. Making fruit leather from berries is not only an excellent way to preserve them, but it is also a perfect snack for your family.
Moreover, making fruit leather is more accessible than you may think. You need to blend the berries with the food processor or a blender until you see them combined, then put them out on a tray and dry them for six hours until they are scorched.
You can eat them immediately or roll them in parchment paper to store for the next bite. Fruit leathers remain at their best for one month at room temperature and a maximum of one year in the freezer.
Making blackberries leather is also one of the best methods to store blackberries and mulberries.
Fantastic Blackberry And Mulberry Recipes To Try
Depending on individual preferences, there are various recipes made with blackberries and mulberries. Keep reading, and I will give you four fabulous recipes you can easily make for your friends and family.
Apple and blackberry crumble perfectly combine the sweetness of apples, the slightly sour and sweet blackberries, and the crispy coating of crumbles. You can treat your beloved to a highly delicious and nutritious dessert with just a few simple steps.
You can easily make this delicious dish for your family at the weekend.
If you are a real fan of the delicious, easy-to-melt taste of tiramisu, this recipe is the best option. The tiramisu itself is famously delicious, and when combined with the slightly sour and sweet taste of blackberries and the chocolate toppings, it will create an explosion of flavor.
This recipe is the perfect choice for those pursuing a healthy lifestyle or needing weight loss. The perfect combination of spinach and mulberries will add nutritional value to this dish.
Additionally, it also helps you save a lot of time because it only takes a short time to cook with simple ingredients. Don't hesitate to try making this effortless dish at home and serve it to your friends and family.
FAQs
These frequently asked questions will give you a deeper understanding of blackberry and mulberry, so make sure to give them a thorough read.
Blackberries And Mulberries Are All Delicious
I firmly believe that from the helpful information in this article, you may have your own answer for which berries are more popular. But how about both of them? After all, there is no problem with being in love with these juicy delights at the same time.
Has this post answered everything you wish you knew about this topic? Please write what you think about the article in the comment section. I would be happier if you could like and share this post with others to help them gain more valuable knowledge.
Paragraph
Adamnp (2020) Everything you need to know: Is that a Berry?, Little Shop of Physics | CSU. Little Shop of Physics | CSU.
Fooddata Central Search Results (no date) FoodData Central.
Fooddata Central Search Results (no date) FoodData Central.
Ferlemi, A.-V. and Lamari, F.N. (2016) Berry leaves: An alternative source of bioactive natural products of nutritional and medicinal value, Antioxidants (Basel, Switzerland). US. National Library of Medicine.