Can you freeze prime rib? Well, this question has been troubling so many home cooks.
Who can deny a huge dish of prime rib roast? For any special occasion, tender, juicy prime ribs make the perfect centerpiece on the table.
There is only one problem: These better-tasting cuts of meat often come at a higher price. Hence, if your local grocery store has a special offer, you wouldn't want to miss the chance to pick up as many as you can and keep them until the big day.
While that will help you save a buck or two, don't forget that proper storage is key. In case you find yourself wondering how to store prime ribs, this guide will walk you through all the instructions you might need for freezing your meat.
Read on, and let me help you solve the problem!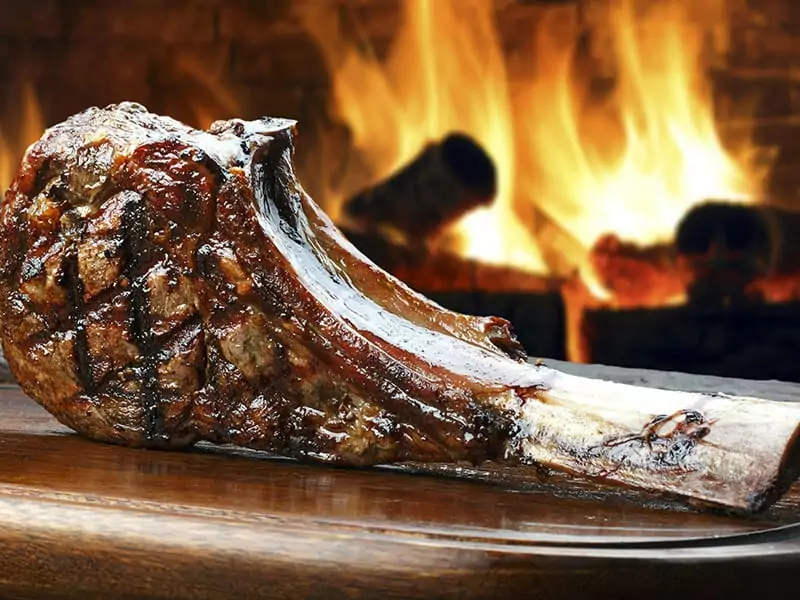 What Exactly Is Prime Rib?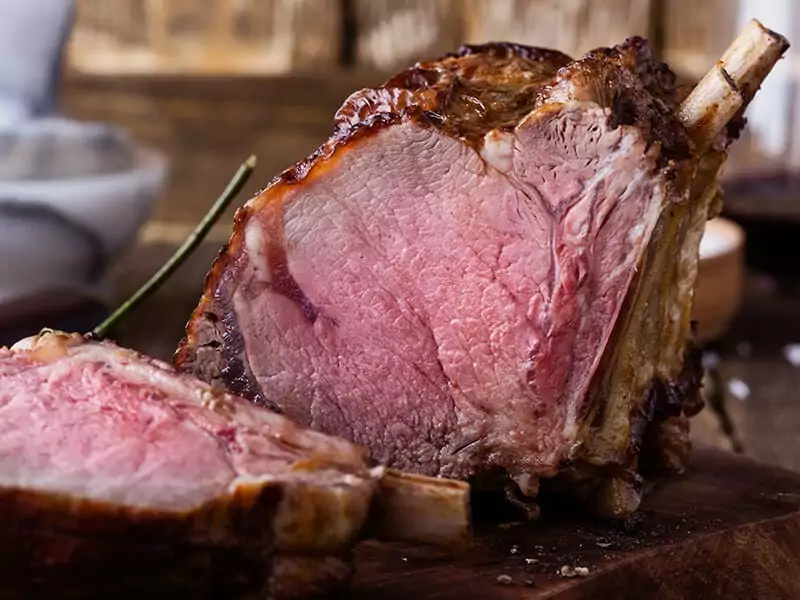 Sometimes referred to as the "standing rib roast", a prime rib is a tender, flavorful roast coming from the primal rib section.
More precisely, each side of a cow has thirteen ribs, which are numbered from the front of the animal to the back in ascending order. Ribs 1 to 5 are in the chuck section, 6 to 12 belong to the rib section, and the last one is part of the loin. Ribs 6 through 12 are the prime ribs you all know and love.
Here is a question I often come across: Is "prime rib" the same as "prime-grade" beef?
Well, the answer is no. The term "prime rib" just refers to the location from which the meat is cut. It has been around for much longer than the beef-grading system, which categorized beef into several classes based on its potential tenderness and savoriness.
Things got complicated after the United States Department of Agriculture implemented a labeling system and used the term "prime" for the highest quality.
Of course, you can get yourself a "prime rib" that's also "prime grade", but it's not always necessary. Even if it's not the highest quality, a standing rib roast is already a blessing on its own, and I will show you why.
Why Is Prime Rib More Expensive?
As the previous part mentions, butchers cut prime rib from a cow's rib section. The muscles in this area are not heavily used.
Therefore, if you look at a high-quality roast, you can see that it's well-marbled with creamy fat. The fat inside the prime rib allows the meat to have better texture and flavor.
How is that, you might ask? This generous amount of fat content renders down once cooked, making it easier for muscle fibers to slide past one another when you chew. As a result, you get to enjoy a melt-in-the-mouth texture.
In addition, fat is responsible for red meat's special flavor attributes. From professional chefs to home cooks, everyone is familiar with the mantra "Fat is flavor". Being fundamental about red meat, the phrase is so universal that you might even see it enshrined in the Constitution.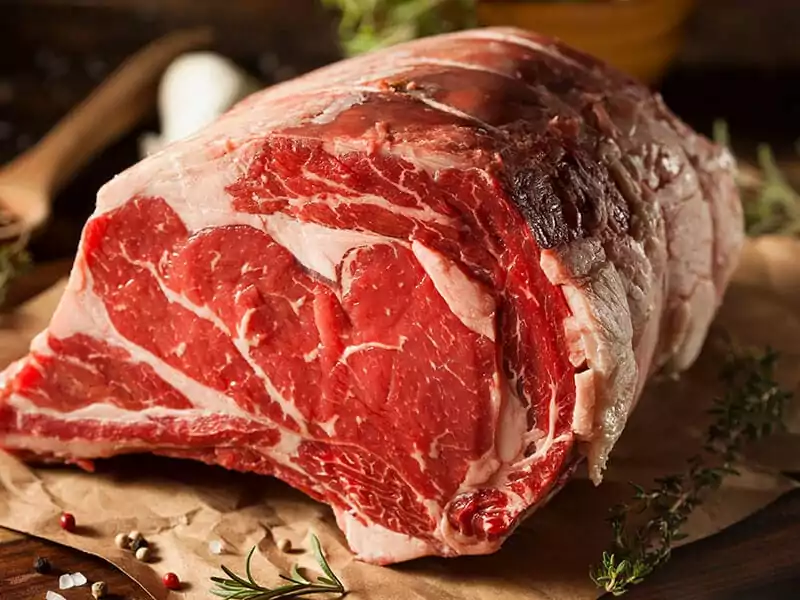 With that premium quality, there is no surprise prime rib is more desirable. It's the star of any special meal, but even on a normal day, people will still go crazy for a tender, flavorful hunk of meat.
Prime rib is also expensive because each cow only gives two of these superior cuts. As a result of high demand and low supply, the price goes up, yet it is definitely worth seeking out and paying for.
Can You Freeze Prime Rib?
So it's totally understandable if you can't resist a delicious prime rib that's special. Well, you have done the right thing: Not every day can you find these premium cuts of meat at a reasonable price.
In case you want to save it for the holiday or a special event down the track, though, you have to deal with the question: Can you freeze prime ribs?
Technically, the answer is yes. As noted by the FDA, raw prime ribs can stay in the freezer for up to a year. Meanwhile, it is possible to freeze cooked prime rib for up to 6 months.
The table below will give you a glimpse of how long you can store your savory beef cuts:
| Storing Methods | In The Fridge | In The Freezer |
| --- | --- | --- |
| Raw Prime Rib | 3-5 days | Up to 12 months |
| Cooked Prime Rib | 4 days | Up to 6 months |
Nonetheless, only when you pack your meat properly can you reach this maximum storage time. Keep this in mind before throwing your prime rib into the freezer!
Proper packaging doesn't only lengthen the shelf life of your meat but also keeps the impact on taste and texture at a minimum. For raw and cooked prime rib, you have to take care of them in different ways.
Freeze Your Raw Prime Ribs
Let's talk about raw prime rib first. If you have never tried to keep these premium cuts in the freezer, this method is more popular than you might think. In fact, you should have no problem freezing your meat, as long as you take note of a few things:
A Few Notes Beforehand
There is one caveat before freezing a raw cut of prime rib: Inevitably, freezing does affect the quality of meat. Its texture changes, and some fat will start to leak out of the muscle fibers. This leads to a less tender bite and an increase in fat in your diet.
So, before storing your standing rib roast, you should consider your purpose of using it later. For example, if you slow-cook the beef from frozen, you are good to go. But what if you want to cook it using the closed-oven method and enjoy butter-like slices? Forget about freezing!
Also, do not season the prime rib if you plan to keep it in the freezer for a long time. According to the AMSA, salt can suck out moisture and cause meat fat to oxidize, leading to a musty flavor and a shorter shelf life.
That means any kind of meat, including prime rib, will maintain its quality for a longer time without added salt.
Instead, you should only season your meat with salt and pepper no more than four days before cooking.
Finally, the biggest risk when you freeze your prime rib is freezer burn. This happens when the water in the meat turns into ice crystals, which ruins the muscle cell structure. At this point, the meat is still safe to eat, but its texture becomes tougher, and it might also taste bland.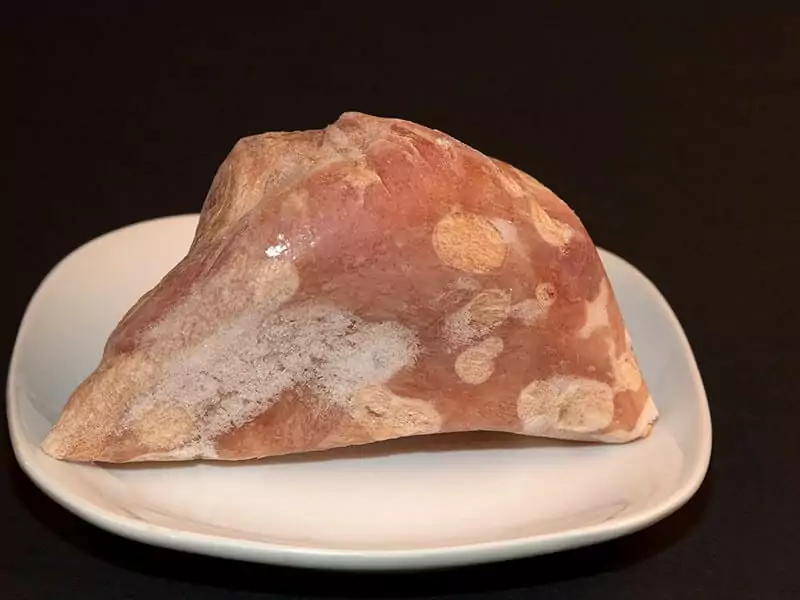 To avoid this, make sure that the meat is wrapped properly and sealed well. More information on that is below.
The Freezing Process Is Quicker And Simpler Than You Might Think
All you need are some freezer bags, aluminum foil, and a pen. I will guide you through the 3 simple steps of freezing your prime rib.
Step 1: Cut The Meat Into Meal-Sized Portions
Many people make the mistake of freezing a whole cut at once, which makes both the freezing and thawing process more challenging. Besides, a huge cut of prime rib can take up plenty of space in your freezer.
I'd recommend dividing it into 1–2 inch thick slices. Try to make each slice even in thickness so they can cook evenly after you thaw.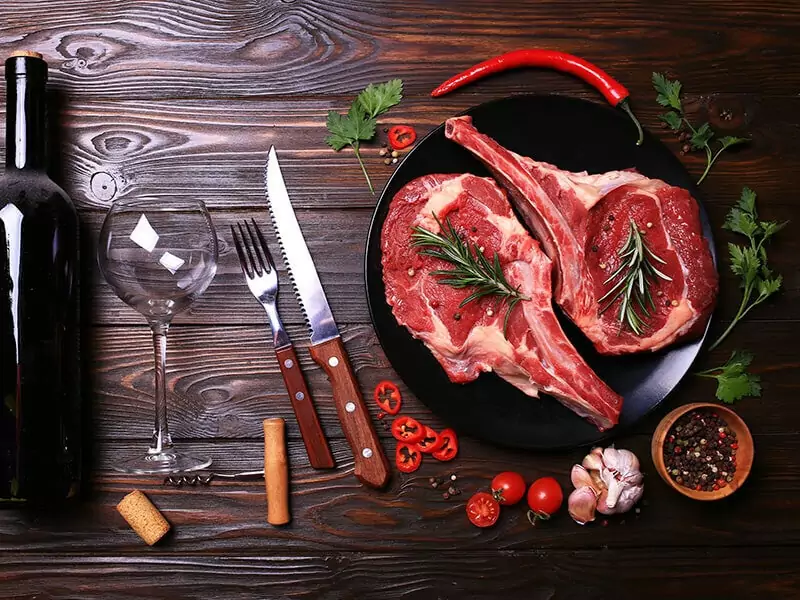 You will want to leave the fat or bones intact, though. This allows the beef's luscious flavor to remain when you cook it. Again, "fat is flavor."
Step 2: Transfer Each Portion Into A Bag
Make sure there is no excess oxygen in the package so your expensive prime rib can last longer. Vacuum packing is ideal for this task, but if you don't have a vacuum sealer on hand, freezer wrap is a good alternative.
A small tip from me: Regardless of which one you choose, it's best to wrap an additional layer of protection around the package. I often use aluminum foil. That way, you won't have to worry about your meat going bad over the next few months.
Step 3: Write Labels
Use a pen to write labels with the date you start to store your prime rib. Then put them all in your freezer.
And… done! It's super fast and easy, and I bet you only need 15 minutes to go through all the steps!
Follow this quick guideline, and your prime rib can stay fresh for months!
Defrost Raw Prime Rib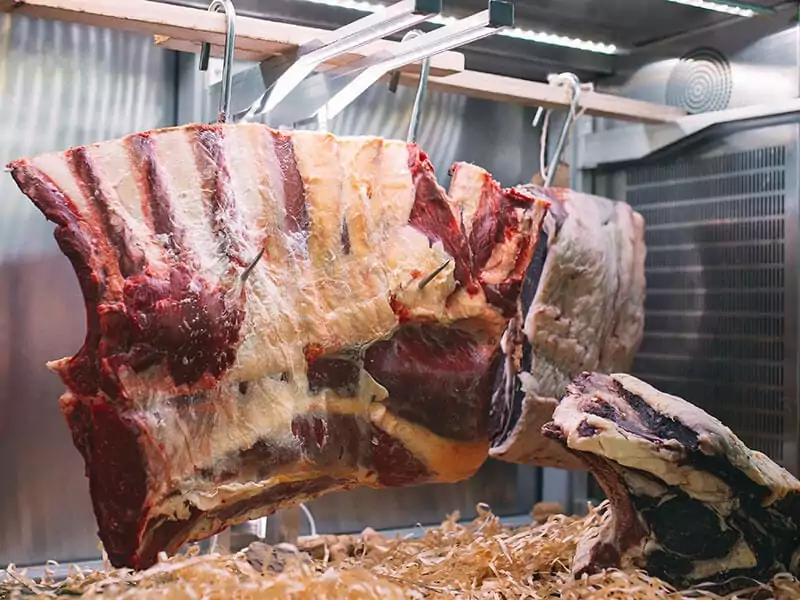 Generally speaking, you can cook meat directly from the freezer. Yes, I'm not kidding! Nonetheless, you should thaw your frozen prime rib beforehand if:
You are going to cook it in a slow cooker or crockpot. Cooking frozen beef in a slow cooker will allow harmful bacteria to grow, regardless of the temperature it eventually reaches. According to the USDA, you should always defrost meat before slow cooking it. (1)
You don't want to spend a lot of time cooking. The cooking process will be longer if you take the meat straight from the freezer to the oven.
Or perhaps you are worried about cooking raw meat. Indeed, defrosting prime rib makes it easier to cook it properly and evenly.
When it comes to thawing raw prime rib, you have 3 options to choose from:
Leave It Overnight In The Fridge
This method is time-consuming, but let's look at the bright side: It allows for an even thaw and protects the prime rib at a cold, safe temperature (below 40 degrees Fahrenheit).
Don't forget to place a plate or a tray underneath the meat when defrosting, just in case it leaks. If you let it stay in the fridge afterward, the prime rib will be safe for 3–5 days.
Leave It In The Sink
Perhaps that kind of advanced planning isn't always feasible. In that case, using your kitchen sink can expedite the process. Put the sealed package of prime rib in the sink and fill it with cold water.
The key is to change the water every half an hour to make it thaw faster. Additionally, keeping your meat below 40 degrees Fahrenheit prevents the growth of bacteria, so you should be attentive.
Prime rib thawed by this method can be stored in the fridge for a short time, but it's best prepared as soon as possible.
The fastest way to defrost a beef roast if you have no time.
Use A Microwave
Finally, if you are really desperate (or have a lot of prime ribs), you can microwave it on low power for 5–10 minutes.
However, this method is not recommended as it might result in uneven cooking. Make sure to check on your meat at regular intervals so that the cooking is even throughout. Microwaving can also make prime rib dry, so consider splashing it with some water.
Note: If you thaw your meat in a chilled environment that's less than 40 degrees Fahrenheit (such as the fridge), it is safe to refreeze it without cooking (2).
As soon as the meat begins to defrost and becomes warmer than 40°F, though, any bacteria that may have been present before freezing can multiply rapidly.
Hence, if you use the sink or the microwave to thaw prime rib, don't refreeze it. This will help you avoid food poisoning.
Time To Prepare Your Dish!
When it comes to preparing prime rib, the first thing that comes to our minds is slow cooking. In general, this entire cooking process prevents the meat from drying out and reduces its shrinkage.
This advantage becomes even more critical in preparing the prime rib that you just took out of the freezer, since cold storage might cause the product to dry out. Using this method, your frozen ribs will turn out juicier, more tender, and more flavorful than any fresh beef you have cooked.
Impress your friends and family with this simple slow-roasted prime rib recipe!
As mentioned, except for slow cooking, it is totally safe if you want to take the prime rib straight from the freezer to the oven. Most people only use frozen rib roast as an ingredient for casserole, soup, or any dishes that involve cooking.
However, here's a fun fact for you: Some renowned chefs out there can serve not-defrosting-at-all-before-cooking prime ribs as the main meal!
Of course, you should expect extra time as the cooking period will be up to 50% longer (or approximately 10–20 more minutes for each pound of meat). On the other hand, you don't have to plan ahead when you are making a roast for dinner. What's more astonishing?
According to Mark Mahnken of Legacy Beef, the flavor and texture of prime ribs that go straight from the freezer to the oven are the same (if not better) than thawed ones. Next time, don't hesitate to give it a turn!
Note: Wanna try out some exciting frozen prime rib recipes but are you concerned about cooking raw meat? A meat thermometer will save the day! It will be a worthwhile investment if you forget to thaw foods before cooking way too often!
No need to thaw it out, here's how to oven-roast beef from frozen.
What About Cooked Prime Ribs?
Truth be told, I was completely speechless to see some Quora comments suggest that you should leave cooked prime ribs at room temperature without freezing them. No, no, and no!
Your leftover roast will be spoiled after just a few hours, so if you want to enjoy them for a long time, it's also best to keep them in the freezer.
How To Freeze Cooked Prime Ribs?
The process of freezing cooked prime rib is quite similar to the raw ones, but you have to take some extra steps:
Step 1: Let The Prime Rib Cool
Ensure that the prime rib is completely cooled. If you just finished cooking, take the meat off the cooking tray and leave it to rest on a platter.
Step 2: Remove Excess Fat And Bones
Unlike raw prime rib, with the cooked one, you can remove excess fat and bones to save more space in the freezer. Then, cut it into smaller portions.
Step 3: Wrap It Properly
Wrap each portion tightly into a plastic wrap, then place them into airtight containers, heavy-duty freezer bags, or vacuum-storage bags.
Step 4: Seal The Packages
Seal the chosen packaging method, label them, and you are done!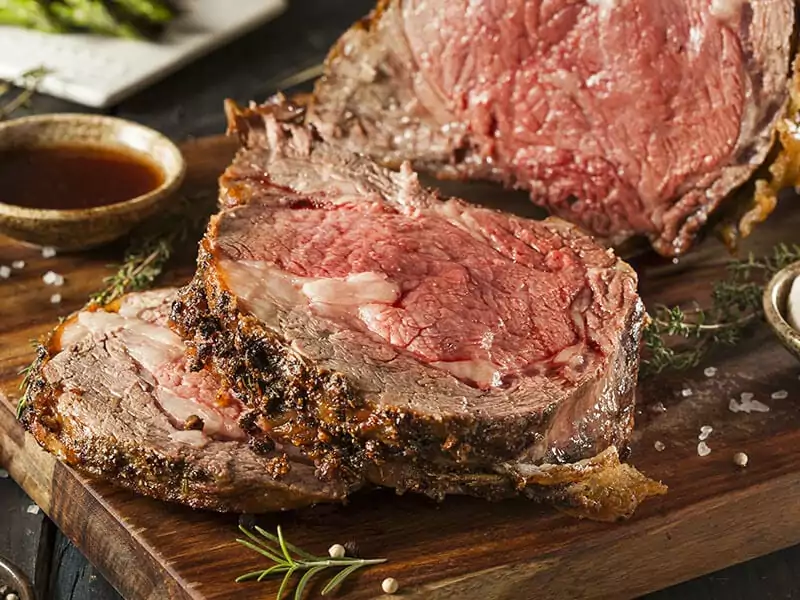 Reheat Cooked Prime Rib
Reheating the leftover prime rib can be quite tricky: Maintaining the hard-won moist, center pink is a real challenge. But, worry not! Here are some handy options to reheat your favorite prime rib without ruining its texture and flavor:
Use The Stovetop
For this method, you will need a steamer basket and a pot.
Pour some water into the bottom of the pot.
Put the steamer basket on top of the pot and let it simmer.
Cut the leftovers into slices and wrap each slice in an aluminum foil pouch.
Put the pouch in the basket and make sure it's well-covered.
Steam the meat for around 6 minutes.
Use The Oven
This process requires you to preheat the steamer to warm up a sliced prime rib to about 250 degrees Fahrenheit.
Place the prime rib slices on a small baking pan with 2 or 3 tablespoons of broth.
Put an aluminum foil tightly on the pan and leave it in the oven for around 10 minutes before transferring the ribs to a serving plate.
Just a few minutes, and your prime rib is ready to serve again!
Use The Microwave
This method should be used only if you are in a rush. The microwave is so powerful that it might wipe away all the flavors from your delicious treat and leave you with literally nothing. Nonetheless, it can still work, as long as you pay attention.
First, put your prime rib in a heat-resistant bowl with some broth.
Wrap the bowl with PE stretch film or cover it with a lid.
Microwave it at a high temperature for about 2 minutes.
By now, your prime rib should be heated. Move it to a serving plate right away to avoid overcooking.
Some Ideas To Use Up Your Leftovers
Leftover prime rib tastes just fine if you serve it as it is. Once in a while, though, I'd like to experiment with some new ideas for using up the remaining prime rib.
Trust me when I say, the leftovers of this savory dish are taken to the next level when you get creative and use them to make something different!
Just in case you don't know where to start or what can perfectly pair with prime rib, my favorite list will come in handy. This is not a long list because, you know, you don't have leftover prime ribs that often! But if, for some reason, your family ends up having a little leftover, you know where to turn to.
Are you the type that makes "sandwiches" by adding some plain mustard and bologna on white bread? If so, this recipe with leftover prime rib will change your thoughts about the sandwich once and for all!
Simply slice the remaining prime rib, then layer it on a fresh bun with horseradish mayonnaise, roasted garlic, and dijon mustard. In less than 20 minutes, you are ready for the most wonderful sandwich experience, perfect for both lunch and dinner!
The best way to make sandwiches using leftover prime rib!
Originally a Russian dish, beef stroganoff has now become a favorite comfort food in the US. Its rich and creamy taste reminds many of home, but you can take it to the next level by replacing ground beef with leftover prime rib!
All you have to do is slice the leftover prime rib and add some herbs, spices, and Worcestershire sauce. Place them on egg noodles… Voilà! You have a delicious, hearty meal.
For being quick and easy, this recipe is perfect for a heart-warming family meal, especially after Christmas when you have spent two or three days preparing for the big party.
Beef stroganoff is another quick and easy way to use up the leftover prime rib.
Or perhaps you prefer an Italian-style meal? Use leftover prime rib as a topping for your creamy penne pasta! This dish can be prepared within half an hour, but it's way too delicious.
Aside from sliced prime rib, its rich flavor comes from cremini mushrooms, sun-dried tomatoes, and a creamy pasta sauce. You can also add Parmesan cheese, parsley, or red pepper flakes, according to your preferences.
Although the dish is superior with prime rib, it's also an ideal solution to use up your steak, beef tenderloin, or any leftover beef you have in general!
Well, any meat can be used as a taco filling. For this recipe, you can mix your prime rib with avocado, lime juice, queso fresco, and mojo sauce. Then, prepare to get your mouth bursted with fresh flavors!
This street-style taco can be served as a snack or a light meal. You can adjust the recipe according to your taste, but I'd suggest keeping the taco seasoning and extras to a minimum to let the beef shine through.
Prime rib taco is an all-time favorite dish in Anaheim, but now you can make it at home!
Tell-Tale Signs Your Prime Rib Has Gone Bad
Following the guide above will greatly lower the odds of getting your prime rib spoiled. However, it can still go bad in the freezer after being stored for so long.
The last thing you want is for your favorite food to make you sick, so if you see these signs, do not cook or consume it:
It Looks Or Feel Slimy
The first thing you will notice if your prime rib has gone bad is a slimy surface. As you touch it, you will get a sticky feeling.
This slimy film often appears on bad beef a few days before it starts to mold. Of course, mold is a definite sign that your once savory ribs are no longer safe to consume.
If you don't see the film on the prime rib but can spot strange patches of colors, like brown, yellow, or gray, it also indicates that your beef is spoiled.
It Has An Off-Putting Smell
You can tell the difference between a fresh prime rib and a spoiled one by smelling it. Raw beef doesn't always smell the greatest, but if you can sense a distinct, pungent smell that will make your face scrunch up… well, you know you are not going to eat it, right?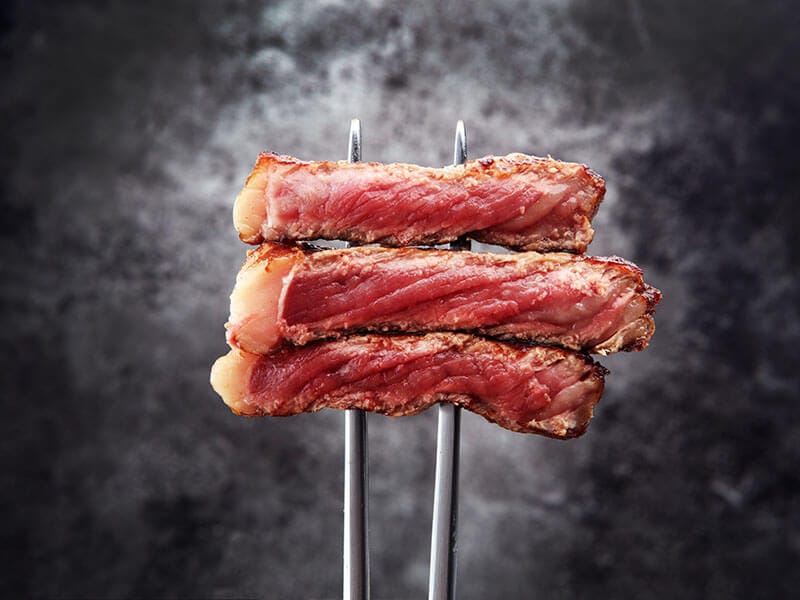 It's important to note that an expensive cut of dry-aged steak can give off a similar odor thanks to the lactic acid the meat releases during the dry-aging process. So, if you are not sure if your prime rib is dry-aged or just spoiled, you should check the other signs in this list to make sure.
It's Dry And Juiceless
The last tip is to examine the prime rib's appearance. Does it seem dry to the touch? Did you take the frozen rib out of the freezer to defrost, just to see all of its juices run out all over the bag?
Well, a dry, juiceless texture doesn't mean your beef is no longer safe to consume, but it will surely mess up the flavor. Unless your prime rib has a generous amount of fat as moisture content, you wouldn't want to end up with a hockey-puck like roast.
Don't know if your beef is spoiled or not? Here are the signs!
Is Ribeye The Same As Prime Rib?
Well, both ribeye and prime rib come from the rib section of a cow. However, while the prime rib is a large roasting joint, the ribeye is sliced from the most tender part of the rib.
So you can say, one prime rib contains 7 ribeye steaks! To be considered a ribeye, the meat must be cut into steak portions before it's cooked.
Both prime rib and ribeye are considered superior cuts, but you will find the former a bit more flavorful since it's not detached from the bones. For the same reason, it's also harder to store and freeze. Meanwhile, ribeye is softer, almost butter-like, and milder in flavor.
In the restaurant, these two serve different purposes: The chefs prepare prime rib by cooking it at a lower temperature for a longer period. For ribeye, they use the pan-searing or reverse-searing method for an even medium-rare.
Breaking down the cuts from the beef rib section.
FAQs
So that's it, your complete guide on how to freeze prime rib! Before wrapping up, I will address some common inquiries regarding this savory cut. If you have further questions, don't hesitate to leave a comment!
It All Starts With Juicy Cuts!
If someone brings up the question, "Can you freeze prime rib?", you can say yes with confidence now! With this guide in your hand, you may store these juicy cuts of meat in your freezer and keep them fresh for days before your special occasions.
Both your wallet and taste buds will be thankful for this.
Do you have any other useful tips? Share with us in the comment section! Also, don't forget to spread this information to your loved ones if you find it helpful!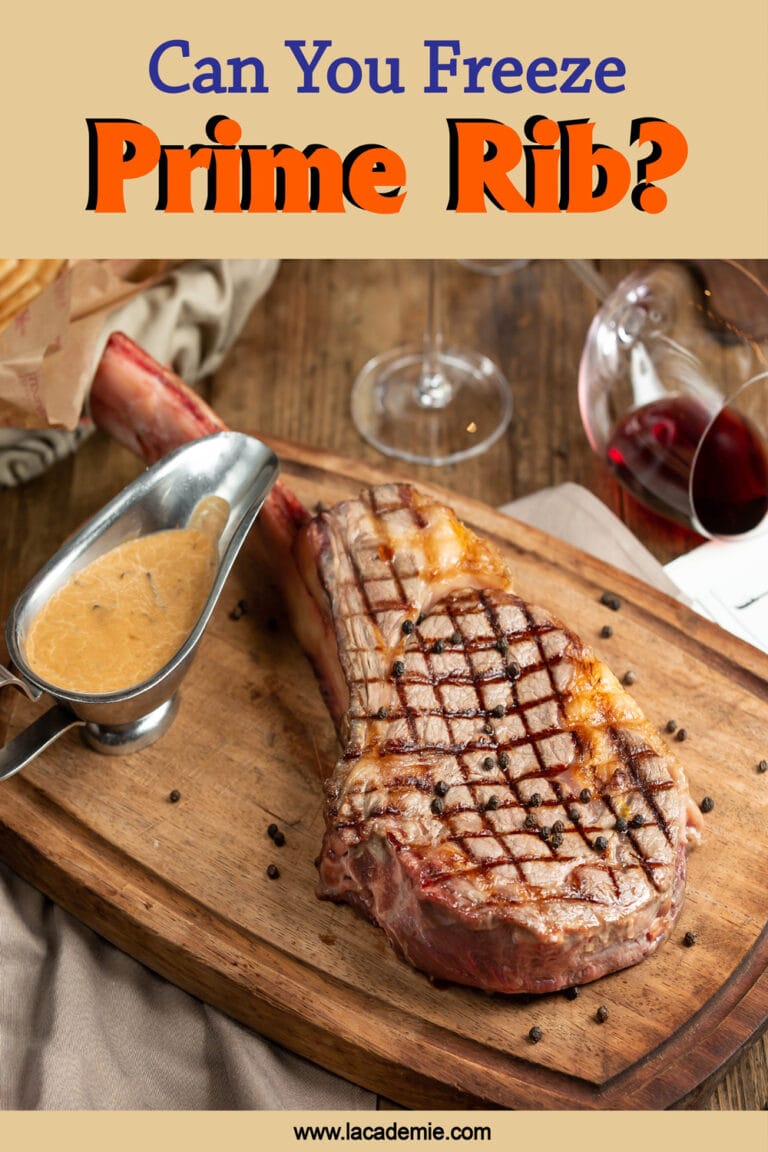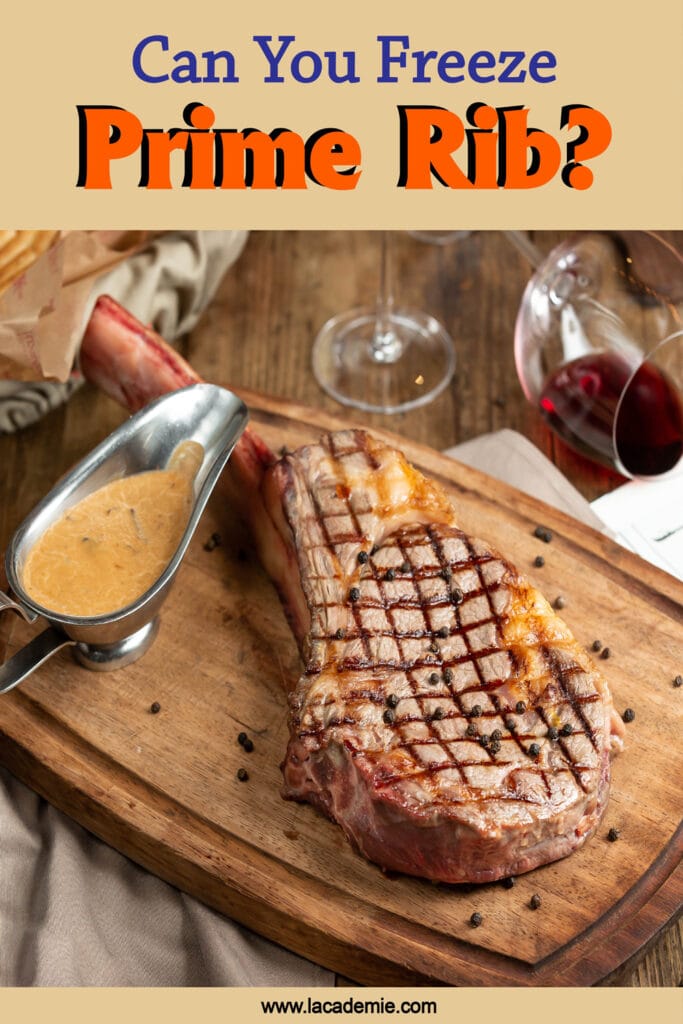 References
Usda.gov. 2021. Cook Slow To Save Time: Four Important Slow Cooker Food Safety Tips.
Fsis.usda.gov. 2013. Freezing and Food Safety.