Starting with these below winter salad recipes, you will find yourself more confident in the kitchen because you will have numerous choices in your back pocket.
Many people tend to think about warm soups and hearty dishes when it comes to cold weather instead of fresh and bright salads.
However, a balanced diet can't happen without greens and fruits; therefore, salad is highly recommended as a way to maintain and energize your body's health for around a year.
Luckily, you can still find much seasonal produce out there and many delicious and satisfying salad recipes that you can cook both in daily meals or festive events.
Below are 27 of my favorite winter salad recipes. Whether you're looking for a simple side dish or a decadent lunch, you're about to encounter something you crave.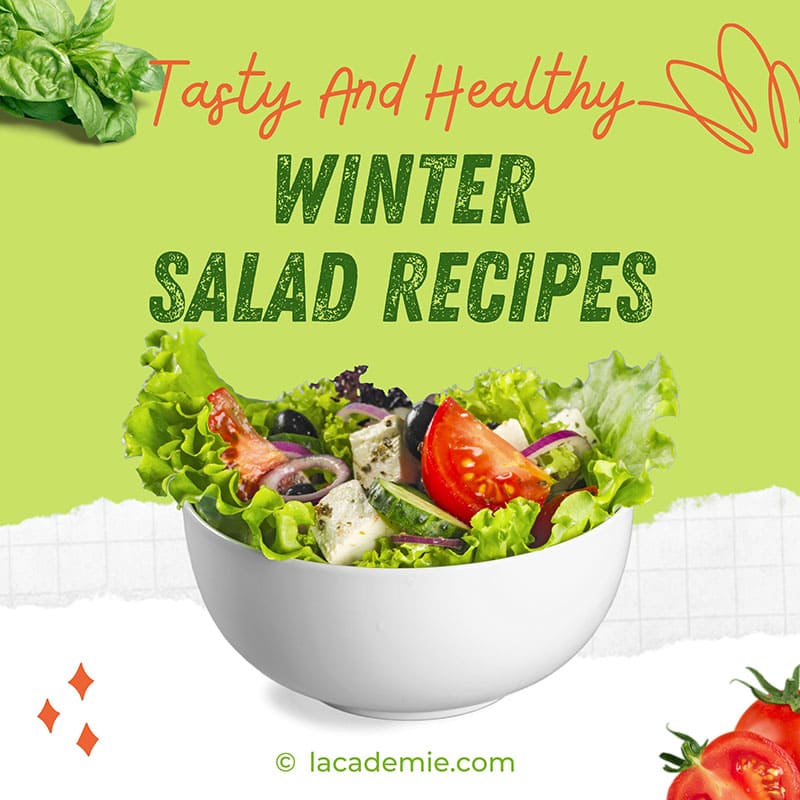 List Of Winter Salad Recipes You Might Fall In Love With
My collection of super salad recipes could help you enjoy your winter's meals a lot. Take a quick look at the below list, and feel free to start with your favorite ingredients.
Fruit Recipes
Citrus Salad with Avocado
Pear Salad with Balsamic and Walnuts
Avocado, Grapefruit, and Fennel Salad
Apple and Kohlrabi Slaw
Veggie Recipes
Rainbow Citrus Slaw
Roasted Butternut Squash and Wild Rice
Kale Salad
Butternut Squash, Cranberry, And Pecan Salad
Creamy Coleslaw
Korean Cucumber Salad
Best Broccoli Salad
Shaved Brussels Sprout Salad
Roasted Vegetable Salad
Kale Thai Salad with Peanut Dressing
Caesar Brussels Sprouts
Spinach Salad
Roasted Cauliflower Salad
Root Veggie Recipes
Beet & Carrot Salad with Sweet Citrus Vinaigrette
Roasted Beet Salad
Sweet Potato Salad
Moroccan-Spiced Carrot Salad with Lentils
Winter Lentil Salad With Carrots And Pomegranate
Others
Asian Chicken Salad
Ramen Noodle Salad
Curried Lentil Salad
Farro Salad
Wheat Berry Salad
27 Winter Salad Recipes You'll Crave On Cold Days
If you can't pass a day without consuming some wholesome salads, scroll down for what you need. All the recipes here consist of various seasonal veggies, root veggies, fruits, and nuts which are completely good for your well-being.
Delectable Fruit Recipes
Are you looking for a fruity flavor to add to your winter salad? I suggest that you toss some avocados, pears, apples, oranges, lemons, or grapefruits in a bowl, and you won't be disappointed because they can significantly add bright color and aroma to your dish and lift the flavor.
This colorful and flavorful salad can brighten your day more than you expected. Not to mention, they're super healthy and can be made again and again. The secret of an appealing taste? All ingredients are blended together using lemon vinaigrette dressing.
Pear salad with balsamic and walnuts seems to be an ideal dish for your hearty winter dinner meal. This elegant salad features a perfect balance between tart and sweet aroma, which you crave more in every bite. In short, juicy, sweet pears and tangy balsamic vinaigrette are a winning combination.
This salad is not only flavorful but also hearty, which I crave on winter days. It pairs well with many dishes, which possess from light to robust aroma.
The juicy grapefruit plays the primary role in this recipe, and crunchy fennel makes the texture more appealing. Not to mention, lemon-flavored dressing elevates the whole dish and makes it irresistible.
To end your meal, don't forget some signature winter sweet delicacies such as snowball cookies, Christmas blondies, champagne cupcakes, and more.
This crisp and peppery kohlrabi combines well with sweet apples to create an impressive winter salad which you should try one day. For those who aren't familiar with this root vegetable, it's also called a cabbage turnip and is used widely in the German kitchen for salads and sauté. You can whisk up this dish in around 15 minutes.
Luscious Veggie Recipes
These vegetable salads are not only healthy but also satisfying. They're fairly easy to prepare, especially if you have a large and easy-to-use salad spinner at your disposal. Find your new favorite green dishes by going over my list below.
Looking for a refreshing and colorful bowl of salad? I suggest you try rainbow citrus slaw. It's perfect for tacos and grilled dishes. Moreover, it's straightforward to make with only a handful of basic ingredients in your kitchen.
Let's make a rainbow citrus slaw with Jamie Oliver. You can see this video to know more:
Here's another incredible salad recipe for your guests in the Christmas feast. It looks wonderful and tastes amazing.
Although this salad requires time and energy to cook, it surely won't let you down. If you don't have much time, prepare it one day ahead and store it in the refrigerator.
If you are looking for a nutrition-packed salad, kale salad with carrot-ginger dressing is meant for you. Remember to massage kale leaves with some drops of olive oil and a pinch of salt before eating them because they tend to be sturdy.
And for the ultimate highlight of the dish, use an ergonomic lemon squeezer tool to get all the mouthwatering juice from the fruit. Drizzle the lemon juice generously onto your kale leaves, and get ready for a heaven-sent dish with unimaginably delicious flavors.
For those who wonder, people often perceive this recipe as energizing, filling, and toothsome.
This winter salad recipe is brimming with numerous delicious ingredients. I often bring it to potluck events and find out that people like it as much as I do. It's sweet, zesty, tangy, and vibrant.
Creamy coleslaw may be my favorite salad of all time. It takes you only 5 minutes to finish. I often make this dish both in summer and winter, and the plate always comes empty quickly, especially at BBQ parties.
This 15-minute first-course dish with cucumber is one of the easiest salad recipes I've ever done. Because scrumptious food from Korean cuisine also pairs well with pork and other meat, it's a favorite BBQ side dish and is often served during the meal as well.
You can see this video to know more:
Finding a more creative way to eat more broccoli? You've come to the right place. I guess you'll love this best broccoli salad as much as I do. It's also a perfect idea for a holiday dinner or potluck.
It's important to note that there is no need to blanch the broccoli before tossing them in the salad bowl. However, if you want to, you can.
This creamy and tangy salad will surely satisfy your taste buds and also is good for your health.
Cold November is a peak season for Brussels sprouts; therefore, it'd be remiss not to mention the dish made from this trendy vegetable in my list. You can use a mandoline slicer to shred Brussels sprouts as thinly as possible, or you can buy pre-shaved ones in the grocery store.
Don't forget to add salty-grated parmesan cheese and pine nuts to create a crunchy texture.
Filled with many different ingredients in textures and flavors, this winter salad can taunt your taste buds and make you want to come back for more. You can enjoy this salad in both warm and cold versions because all are tasty.
You might crave some Thai salads but don't have much time to go all the way to the original version. If it's your case, this recipe might be helpful. It has an aromatic, creamy, nutty flavor and crunchy texture.
You can see this video to know more:
This fantastic salad could be a hit for your party because its taste is out-of-this-world. It might significantly change the way you think about Brussels sprouts and give you a reason to eat more vegetables this winter.
Looking for a healthy side dish? Look no further than this spinach salad because it can combine well with everything on the dinner table. The best part? It's simple to make and undoubtedly crowd-pleasing.
This unique combination of roasted cauliflower and some simple ingredients will definitely make your guests ask for more. As you might not know, cauliflower tends to become sweet and juicy once being roasted.
Not to mention, it acts like a sponge and quickly absorbs all the flavorful dressing in the salad bowl.
Nutrient-Dense Root Veggie Recipes
If you're a fan of beets, carrots, and sweet potatoes, this part is essential, so keep reading until you find your favorite salad recipes.
It's one of my favorite side dishes in the winter. This healthy recipe is simply made with earthy beets and sweet carrots. More importantly, the salad dressing is impressive. It will definitely tantalize your taste buds because it's anything but boring.
This recipe uses both beets and beet green to create a unique dish that is healthy and savory. To enhance the flavor of beets, they are seasoned with salt and pepper and baked until tender.
Sweet potatoes are as indispensable to everyday cooking as carrots and potatoes – and even more versatile. They add a slight sweetness to any recipe and make it more filling. Therefore, this salad can be considered a straightforward and tasty lunch.
Mix roasted sweet potatoes with some delicious fruits and vegetables, and you will have a healthy salad bowl full of fiber, vitamin A and vitamin C.
Discover why roasted sweet potato & chickpea salad with tahini dressing is super famous. You can see this video to know more:
Another lentil salad made from cooked lentils and Moroccan-inspired ingredients will be my next suggestion. Earthy lentils combine excellently with sweet and flavorful roasted carrots.
When it comes to salad, among numerous lentil varieties, French lentils are the best candidate because they can stay in shape when being cooked. This salad is simple to make, and you can change the ingredients up to your taste preference.
Other Recipes That You Must Try
Opt for salads with meat or cereal? I've got you covered in this section below. Check them out and have a good time in your kitchen.
This colorful, hearty, and flavorful chicken salad could cheer you up on cold days. Asian chicken salad contains a dozen vegetables, root veggies, and fruits, so it's super healthy and recommended for everyday meals.
Surprise your family and friends by making this Asian chicken salad. You can see this video to know more:
If you're a fan of ramen, this Asian salad should be in your back pocket. This dish is flavorful yet filling and can be served as a main dish. The homemade dressing could vary and depend on your taste preference.
This curried lentil salad could be one of your fantastic lunch options in the winter. It's healthy, hearty, chewy, and everything-you-ask-for-in-a-winter-salad.
Believe it or not, you can eat a lot of this salad every time it's served due to the addition of diced carrots, cucumbers, sunflower seeds, and chopped red onions.
What's the best part? You're able to keep it in the fridge for up to 1 week.
Crave a vibrant and refreshing winter salad? Off the top of my head, I suggest you try farro salad. It's perfect for parties and get-together meals. This Italian dish can be made in advance so you can save plenty of time if you're in a hurry.
This fruit-filled and chewy wheat berry salad is loaded with goodness. Once you try it, I guess you'll savor every bite due to its wonderful taste.
Some people might prefer to store it overnight so that the dish will taste more decadent. It's an ideal choice for lunch or a side dish.
Switch Up Your Salad Game
You can't go wrong with a bowl of salad because it's undoubtedly tummy-friendly and acts as a simple method to freshen your taste buds.
I am a salad person, so I eat salad around the year, and I find out that you can always make a good salad despite the weather outside. The only thing that you need to do is learn how to do it properly.
Of course, there will be a lot of variation between the vegetables that grow in winter and summer, so the salad bowl ingredients are also seasonal. As the vegetables vary, the dressings need to be adjusted accordingly.
Keep in mind a few winter ingredients (squash, Brussels sprout, kale, lentils, beets, cabbage) and primary salad dressings (ginger vinaigrette, rice vinegar, peanut butter), and you can make your own salads according to your taste and mood.
The best part? You can even take advantage of leftovers in your fridge to create salads.
So, what's your favorite winter salad recipe? Share your recipes if you're willing to. Let me know your opinions so we could discuss them further.
Nutrition Facts
6 servings per container
---
Amount Per ServingCalories181
% Daily Value *
Total Fat 15.3g

24

%
Sodium 26mg

2

%
Potassium 455mg

13

%
Total Carbohydrate 11.9g

4

%

Dietary Fiber 4.5g

18

%
Sugars 4g

Protein 2g

4

%
---
* The % Daily Value tells you how much a nutrient in a serving of food contributes to a daily diet. 2,000 calories a day is used for general nutrition advice.