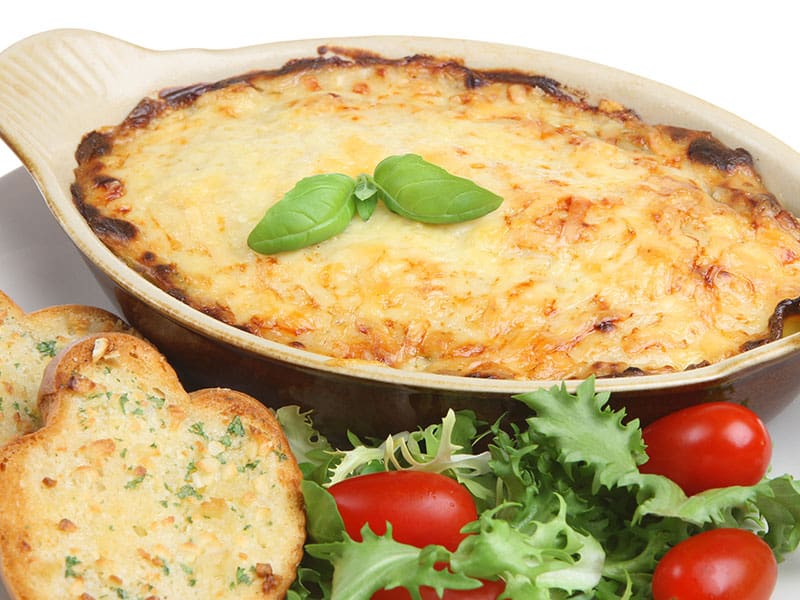 If you need new ideas for what to serve with lasagna, whether it's homemade or a tasty frozen lasagna, today's article is strictly for you. Lasagna is usually comforting enough with meat, cheddar cheese, and vegetables. However, it's nice to have a side dish for a more complete meal.
Here's a list of 33 yummy side dishes to pair with lasagna that isn't just salad. Just pick your favorite and get a little creative with your lasagna.
What Is A Good Side Dish For Lasagna?
Lasagna is the oldest type of pasta. I don't know about you but I love lasagna. The stacked layers of flat and thin pasta packing different fillings such as cheese, ragù, veggies, and spices like oregano, garlic, and basil, make me feel happy.
And if you manage to make a beautiful lasagna without all the noodles sticking together, all you need is a side dish to make the experience more enjoyable. However, aside from over-familiar salads, I decided to make a list of 33 other side dishes.
You'll find various fascinating recipes in this list. And I also included a few salads, but trust me, they're far from boring. As for the list of wines to serve with lasagna, I'll introduce you to some of my top favorites another day. For now, let's check out the best lasagna side dishes.
1. Prosciutto Bread
When you bake this soft, aromatic, and savory loaf, your home will be overwhelmed by Italian aromas. It smells like a mix of bread baking and bacon cooking. The taste is even better! However, don't forget to a few ice cubes to the baking tray for a tender dough. Follow the next video for instructions.
2. Raw Veggies Tossed With Italian Dressing
Raw veggies like cherry tomatoes, carrots, and cauliflower tossed with a vinaigrette make the easiest yet delicious side dish for lasagna. Slice your veggies with a manual or electric vegetable chopper and you're good to go! It's still a salad. However, at least it's not a boring one.
3. Roasted Broccoli Rabe
Roasting broccoli rabe is the ideal way to balance the bitter taste of this ingredient. It will transform the leafy broccoli rabe into a super delicious vegetable side dish for any vegetarian or meat pasta bakes. You can serve it warm or hot, topped with some lemon juice or Parmesan cheese for extra taste.
4. Buttery Garlic Bread
There's nothing better than buttery garlic bread. I just love the fragrance and crispiness of this staple. If you also enjoy garlic bread, you can use it as a side dish for your tasty lasagna.
Use a soft loaf of Italian or French bread, fresh crushed garlic, and some butter. Top slices with chopped parsley to add value to your dining experience. Watch the video for more details.
5. Vegan Roasted Garlic And Lemon Soup
If you prefer a dairy-free side dish for whatever reason, this rich-tasting and super creamy roasted garlic soup is the perfect choice for you. You can use almond flour instead of all-purpose flour, and almond or soy milk instead of regular milk.
In case you opt for plant-based milk, be sure to check whether it's possible for soy milk to spoil, how to store almond milk, etc. You might also find the following helpful when making the switch between regular and plant-based products.
6. Dinner Rolls
Whether it's just a regular Sunday-night family/friends gathering or Thanksgiving, there's one thing that your table isn't complete without – warm rolls. I'm not talking about store-bought rolls.
I'm talking about the real thing. Homemade dinner rolls are easier to make than you might imagine. Just follow the next recipe and you will get the perfect warm side dish for your tasty lasagna.
7. Buffalo Wings
Who can resist spicy buffalo wings? They can be eaten on their own. However, they also make a perfect side dish for lasagna. They're small enough that they won't be too filling as a side dish.
They're also fun enough that they will offer a warm welcome to your guests. If they're too spicy for you, simply replace them with seasoned fried wings. Prepare your wings as you normally would or follow the next recipes if it's your first time preparing buffalo wings or simple seasoned fried wings.
8. Bruschetta
The bruschetta is a popular staple for any Italian night meal. And it's so easy to make it at home. Nothing tastes better than garlic-infused toasts, topped with fresh basil and ripe tomatoes.
To prevent the bruschettas from getting soggy, let the tomatoes sit for a couple of minutes while you toast the slices.
9. Giardiniera
Giardiniera is a mix of colorful, briny, and tangy vegetable pickles that often appear on Italian restaurant menus as a part of the appetizer plate before the main course.
Making this mix at home is easy and makes a great side dish for lasagna. Let the pickles in your fridge for 7 days before leaving them to room temperature before eating.
10. Classic Wedge Salad
If you don't have the time to prepare a warm side dish for your lasagna, a simple salad will do the trick. You can make a classing wedge salad with ripe sliced tomatoes, salty crumbled bacon, and small onions sprinkled over with a blue cheese dressing. It's so simple yet delicious.
The creamy dressing is easy to make with any type of food processor blender combo you like. Even if it's your first time hearing about this type of salad, you just need to follow the preparation instructions to complete it.
11. Instant Pot Minestrone
The instant pot minestrone is one of my favorite comfort foods. It's a heart-warming soup very popular in Italy and the US. It requires only 10 minutes to prepare and common ingredients. It's a tomato-based veggie and noodle soup that goes well with any pasta dish.
12. Garlic Knots
Start with frozen or refrigerated pizza dough to prepare these small bread knots. They make a great side dish for any pasta dish. The best part? Your home will smell amazing as they bake. Store any leftovers in the fridge for up to 60 days. If you're not familiar with this recipe, follow the next steps.
13. Baked Cauliflower With Cheddar Cheese
With only 5 ingredients (plus pepper, salt, and paprika), making this cheesy veggie bake is a breeze. It's a great way to enjoy baked cauliflower florets topped with delicious Cheddar cheese. This unique side dish will increase the nutritional value of your meal. Follow the next cooking instructions.
14. Cesar Salad
Cesar salad is the most popular salad in the world. And makes a perfectly healthy dish for lasagna or any pasta dish, for that matter. It's made with romaine lettuce, Parmesan cheese (shaved or shredded), crisp croutons, and Cesar salad dressing. The next video can help you make this salad in easy steps.
15. Sautéed, Steakhouse-Style Mushrooms
Garlic, butter, hot sauce, and white wine bring out a lovely savory flavor in sautéed mushrooms. Guess what? They go well with a vegetarian lasagna. It's a healthy yet rich-tasting side dish that can be used as a topping for veggie burgers, too. The next video can help you make sautéed mushrooms.
16. Grilled Eggplant
The properly grilled eggplant is crispy around the edges and creamy in the middle with a meaty umami taste. That well-known taste complements vegetarian lasagna just perfectly. Brining the eggplant is very important to ensure delicious grilled eggplant every single time.
17. Fig And Kale Salad
If you're a fan of elegant salads, then this kale salad is the perfect side dish for your lasagna. It's a mix of crunchy nutritious kale and other sliced veggies of your choosing.
The creamy avocado-lemon dressing is what makes this salad exceptional. It's so good that you will think for a moment that this salad isn't healthy. However, it is. And it's easy to make.
The freshness of this blend provides a great balance to sweeter lasagna recipes such as those made with butternut squash. Now, let's watch the video for prep instructions.
18. Balsamic Roasted Veggies
The sharp and deep taste of aged balsamic vinegar is the best manner to boost roasted root veggies. It gives a beautiful opponent to richer entrées. Once you compliment your lasagna or any other pasta dish with this recipe, you will catch yourself making it every time you prepare any favorite pasta.
19. Sun-Dried Tomato And Basil Arancini
If you're a fan of Italian cuisine, then this Italian recipe is the perfect side dish for you. It consists of rice balls filled with cheese, topped with bread crumbs, and deep-fried. Just imagining this as I write it down makes my mouth water. They're just perfect for dipping into marinara sauce.
20. Whole Roasted Carrots
Forget all you know about cooked carrots. Forget slicing them into tiny pieces. Also, forget boiling them because from now on, this recipe for roasted carrots in their original form is the only thing you will ever need. The result is mind-blowing and makes a great side dish for any pasta dish.
21. Pesto Zoodles
Pesto is one of my favorite sauces because it has the power to enhance almost any dish it's paired with. For instance, zucchini noodles. A single layer of homemade basil pesto on top of these noodles takes this dish to a whole new level. Sprinkle some Parmesan and enjoy the heavenly taste.
22. Classic Italian Fried Zucchini Flowers
If you have visited Italy, you have probably fallen in love with both the street and restaurant food. I love fried zucchini flowers. They're present in almost any menu in Italy for a good reason.
You can stuff these blossoms with ricotta (combined with lemon zest and herbs). Or with anchovies and the delicious mozzarella cheese. Either way, you will get a bold and unapologetic dish.
23. Spinach Salad With Apple Vinaigrette
If you're looking for a healthy side dish for your lasagna but don't want to go with the boring salads, opt for healthy spinach and some sliced apples along with other common ingredients.
Use a suitable apple corer to get those perfect, peeled apple slices. Sweet onion, apple cider vinaigrette, seasonings, feta cheese, or crumbled cooked bacon can be added for a better taste.
24. Baked Gorgonzola Bites
Ladies and gentlemen, I think I just found the best party appetizer and side dish for your lasagna. It's the baked gorgonzola bites. They're made of 5 ingredients and take only 30 minutes to make. I promise you won't be able to stop snacking. Follow the next video for preparation instructions.
25. Delicious String Cheese
Both kids and adults love having flavorful string cheese as their snack. But here's the kicker. You can combine this ingredient with crackers, sandwiches, or lasagna. You can either buy string cheese made of different flavors or make them at home.
26. Fennel Orange Salad
Another cool and fun salad that goes well with lasagna is fennel orange salad. It consists of oranges and sliced raw fennel. The fennel gives the salad a subtle licorice essence. Just blend the two, top with citrus vinaigrette, add some toasted almonds and you're good to go!
27. Breadsticks
The bread- pasta combo is one of the traditional combinations for a good reason. The bread will soak up that pasta sauce. Types of bread to eat with lasagna or any other pasta include asiago, focaccia, ciabatta, garlic bread, and of course, warm, mouth-watering seasoned breadsticks.
For even better results, serve your warm breadsticks with little bowls of olive oil and marinara sauce for dipping. In case you need an accompanion for your chili, these breadsticks are also amazing to enjoy with this food. If you want to make breadsticks at home, follow the next steps.
28. Baked Zucchini Chips
If you want to up your lasagna game, add some baked zucchini chips as a side dish. They're fun and easy to make at home. And it's something your loved ones will request again. The high temperature will take away the moisture from inside the zucchini and crisp the top to a golden brown.
29. Green Bean Sauté With Garlic
Crisp and tender green beans sautéed in a butter-garlic sauce make a light, flavorful side dish for meat lasagna. Add some Parmesan cheese if you like to give your dish a more Italian taste. Or sprinkle on red pepper flakes or some lemon juice for a spicier side that goes well with creamy pasta.
30. Cherry Tomato Caprese Salad
A traditional Caprese salad made of basil, tomatoes, and fresh mozzarella cheese is one of the best and most delicious side dishes for lasagna. To up your Caprese salad game by utilizing a blend of mozzarella balls known as bocconcini and multicolored cherry tomatoes tossed in vinaigrette.
31. Instant Pot Ratatouille
The instant pot ratatouille seems like it needs a lot of work to make. However, that's not true. It's super easy to make. It's a French dish that you can make in no time by following the next steps.
32. Antipasto
Antipasto is a famous Italian dish that compliments pasta nicely. It comes in many varieties and requires no cooking skills. Just roughly put piles of marinated olives, cheese, and some cooked deli meats on your good old pastry board along with your meat lasagna and enjoy.
33. Fresh Tomato And Feta
Last but not least, I have a side dish for your lasagna that asks for no special preparation. It's super easy to make and takes just minutes of your time. This combo is both light and flavorful.
Cut some cherry or regular tomatoes into pieces and feta cheese. It's preferable to slice the feta cheese into cubes. You can also throw in thin slices of sweet red onion for even better results.
Let's Get Creative In The Kitchen
There you go! Now you have 33 side dishes for lasagna you can choose from and surprise your friends or family with. Just pick your favorite and allow yourself to be more creative in the kitchen.
If you have other side dish suggestions, cooking advice, or questions, drop a comment below. Also, don't forget to share this information with your social media friend and help someone in need.
Nutrition Facts
8 servings per container
Serving Size1 loaf
---
Amount Per ServingCalories300
% Daily Value *
Total Fat 3.1g

5

%
Cholesterol 8mg

3

%
Sodium 347mg

15

%
Potassium 73mg

3

%
Total Carbohydrate 24.5g

9

%

Dietary Fiber 1g

4

%
Sugars 0.1g

Protein 5.6g

12

%
---
* The % Daily Value tells you how much a nutrient in a serving of food contributes to a daily diet. 2,000 calories a day is used for general nutrition advice.