Coming up with leftover shrimp recipes is necessary, especially when you've cooked more than the necessary amount of shrimp for one person. By transforming the leftovers into luscious dishes, you can enjoy the next lunch or dinner with your favorite seafood and avoid food wasting.
Moreover, it is not a good option for you to repeat familiar recipes because you will tend to feel bored with the ordinary flavors. Hence, it's time to update addictive shrimp cooking ideas, which will bring you sound meals with refreshing food tastes in no time.
For these reasons, in this post, I would like to introduce to you 21 delicious dishes cooked with all sorts of shrimps in your fridge. I hope that you will get useful ideas for using up the leftovers for your second or even third meals. Now, let's head into the name list first!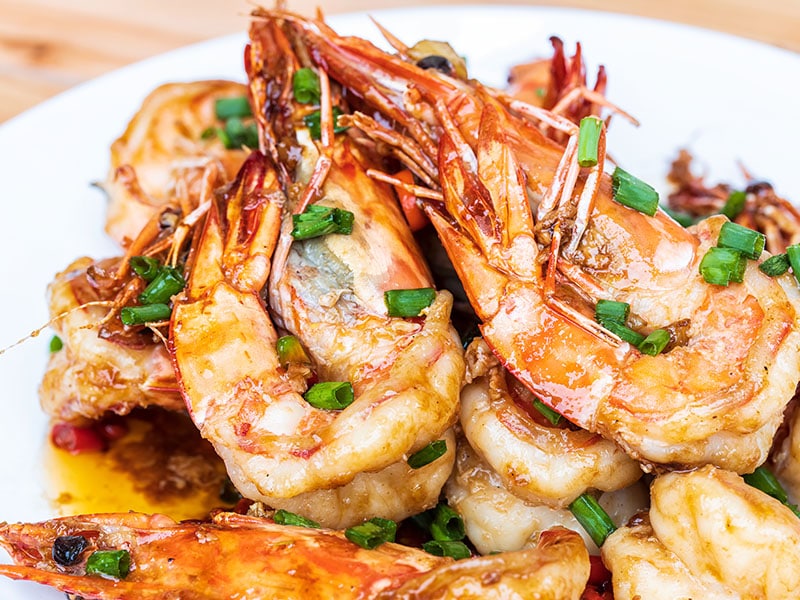 List of 21 Worthy Leftover Shrimp Recipes You Can Try
Now, just take out unconsumed shrimp to make the following simple and delicious dishes, from light salads to tasty soups.
Shrimp Salads And Dips
Restaurant Style Shrimp Salad
Shrimp Pasta Salad
Zesty Lime Shrimp and Avocado Salad
Shrimp Stuffed Avocados
Mediterranean Shrimp Salad With Cannellini Beans
Retro Shrimp Dip
Shrimp Scampi Dip
Baked Shrimp Dishes
Garlic Grilled Shrimp Skewers
Sheet Pan Shrimp Boil In Oven
Bacon-Wrapped Shrimp
Chili Lime Shrimp
Crispy Baked Coconut Shrimp
Shrimp Stir Fries
Garlic Shrimp Stir Fry
Garlic Butter Shrimp Scampi
Healthy Shrimp Pad Thai
Shrimp Fried Rice
Garlic Butter Shrimp Pasta
Shrimp Soup Recipes
Shrimp Chowder
Easy Shrimp & Sausage Gumbo
Thai Butternut Squash Soup With Shrimp
Thai Shrimp Soup
Must-try Dishes Made With Leftover Shrimp
Realized that the time length cooked shrimps can last in fridges is not forever? If you have tons of leftover shrimp, do not worry. It is because you also have various shrimp recipes to choose from. Let's dive into each one!
6 Salads With Uneaten Shrimps
Are you planning to make a full meal with leftover shrimp? Just get started with the following yummy salads that can be served as an appetizer.
Having some leftover shrimp in the fridge, right? Take them out to make one of the most refreshing salads that will be served perfectly with sandwiches.
The shrimp will be folded with lemon juice, mayonnaise, celery, scallions, shredded lettuce, and seasonings.
This shrimp recipe is perfect for a breakfast or light meal during the day. So easy to make but super creamy and bright!
How about combining leftover shrimp and pasta? This will be a worthy side or main course you should try at least once!
All the ingredients, including shrimp, pasta, and veggies in the dish, are in mini size so that they can mix well with the creamy and light lemon mayonnaise dressing.
For the best taste, you should let the salad with the creamy sauce chill in the fridge at least 30 minutes before serving!
If you need a visual instruction for making shrimp pasta salad, you can watch this video.
On hot summer days, you can wow your whole family with some wonderfully tasty lime shrimp and avocado salad!. This is a mixing bowl with shrimp, tomato, avocado, veggies, and seasoning.
After that, a lovely flavorful and citrus dressing will be poured into the salad mixture. When everything is folded together in the same bowl, taking a bite of salad will bring you to heaven!
Each half-cut avocado packed with an appetizing shrimp mixture will be a big hit for your family members. If your children hate green veggies, you can change their minds by giving them this beautiful salad!
The rich avocado will match well with the bright cilantro lime dressing, and serving the salad with some favorite main courses will bring you a full meal.
For a scrumptious dish with Cannellini beans and leftover shrimp, you should try this salad recipe. I am sure you will love it so much that you'll find yourself making this dish over and over again.
The perfect blending of beans, shrimp, peppery arugula, tomato, and onion with the tangy dressing will satisfy the food taste of all demanding guests.
In addition, if you are planning for a picnic on the weekend or at the end of this month, you can enhance your joyful day with some delicious bean salad.
This is a traditional shrimp dip recipe that is still alive now. The shrimp will be cooked thoroughly in tomato soup, onion, and celery.
After that, some cheese will be added to the soup mixture to create its creaminess and smooth texture. Serving some salty crackers with the shrimp dipping will be a perfect light meal.
In the dipping recipe, your leftover shrimp will be hidden in a creamy and cheesy baking dish.
The seasoned and cooked shrimp is stirred well with cream cheese, mayonnaise, sour cream, mozzarella and Parmesan cheese, and a hint of parsley.
After that, you will bake the mixture until its cheese surface turns golden. Dip a slice of toasted bread into the cheesy dish and put it in your mouth!
6 Shrimp Baked Recipes
The baking method always brings you the most flavorful shrimps, so let's take a look at appetizing shrimp recipes.
Grilled shrimp skewers marinated with flavorful garlic herb mixture will be liked by your whole family!.
Although it is a simple recipe with shrimp, lemon juice, and herbs for a savory marinade, the moist and slightly sweet shrimp will get you excited a lot.
If you find eating the shrimp on its own boring, you can serve it with some creamy mashed potatoes or your favorite fresh salad.
In late weeknights, when you want to make a light meal to fill up your almost empty stomach but are afraid of making a mess in your kitchen, this sheet pan shrimp recipe is right for you!.
The shrimp, sausage, potatoes, and corn will be folded in a garlicky and buttery seasoning before the mixture is popped into the oven. Have a nice meal!
A crispy piece of bacon wraps up a moist and savory shrimp, and then the combo will be dipped in a sweet and spicy buttery sauce dip.
What is better than this bite-size portion? It will be a delightful starter for every meal.
Do you want a step-by-step direction in making bacon-wrapped shrimp? If yes, just watch the video.
Are you thirsty for a spicy dish with leftover shrimp? If yes, just try this simple baking recipe, and you will never go wrong with it!
The super appetizing and versatile dish can be served with rice, tortillas, or lettuce wraps. Hence, making your full meal with the shrimp recipe is not tricky at all!
To make the dish, you will marinate shrimp in a mixture of chili powder, lime juice, salt, and spices. After the marinated shrimp is cooked, it will be mixed with baked veggies for a hot serving. Such an appealing treat for both look and flavor!
If you love the sweet and aromatic coconut, I have a heaven-sent recipe for you. Baked coconut shrimp will be a great treat for every crowd. Crispy and tender shrimp dipped in a sweet and spicy apricot sauce will stimulate constant reaching for more!
So remember to prepare a big batch of shrimp, or it will disappear sooner than you think. In this recipe, the seasoned shrimp will be dipped into the flour, whisked egg, and then coconut crumb mixture.
Next, you will bake the shrimp until it reaches a perfect golden color and crispiness. Super tasty but not greasy! Don't forget to pair some side dishes with coconut shrimps as well! You'll be blown away by the flavor combinations.
How About 5 Shrimp Stir And Fries?
Now, you take out a skillet and your leftover shrimp and do any cooking tasks with it. That's so great!
Spend 15 minutes of your long day making garlicky stir-fried veggies and shrimp, and you will never disappoint with this! The blending of shrimp, sweet and garlic-flavored soy sauce and veggies in a quick stir-frying recipe will bring you an instant favorite. Finally, serving it with some rice will help balance your meal.
Although shrimp scampi is a stir-fried dish, you will not find it greasy at all. It is because it is tossed in a super refreshing garlic butter white wine sauce.
Some savory shrimps sitting on a bunch of hearty linguine noodles will be a match of heaven!
On weekends, when your family and friends get together, you can prepare some shrimp scampi to serve the crowd, and they will surely love it!
There is no doubt that Thailand is well-known for its distinct cuisine. One of the specialties building up this fame is Pad Thai. Before you dive into this delicious dish, I suggest whetting your appetite first with some must-try appetizer from Thailand.
The rice noodles and pan-seared shrimp will be stir-fried with a salty, sweet, and tangy soy sauce. This would be a mouth-watering shrimp dish from Asian cuisine that no one can turn down! If you love some sour flavor, you can squeeze some lime juice into the dish. Let's enjoy it!
How about making a full meal with a handful of shrimp stored in your fridge? That's a great idea! So, let's start! This is a skillet recipe with a few common ingredients such as shrimp, rice, veggies, beans, and seasonings.
The mixing of juicy shrimp, rice, and tons of flavorful veggies will be folded in a tasty soy sauce, which will bring you a satisfying meal. It takes you about 20 minutes to make the dish, and its taste would be worth it!
When you feel hungry during weeknights and want to get a light meal, some pasta and shrimp would be among your top choices! It is simple, quick, and not greasy. So, is there any better choice than this?
The buttery, garlicky shrimp and pasta will be tossed in a creamy Parmesan sauce and then topped with some fresh herbs. More importantly, the light dish will not make you feel too full at night. What a beautiful recipe!
What if you prefer something more fulfilling? Simple! You can use the pasta as a side dish to serve alongside another main course.
4 Appetizing Soups Cooked With Leftover Shrimps
If you want something lighter but still nutritious, you can pop the leftover shrimps in the following soup recipe.
Do you want to put your leftover shrimp in a one-pot meal? If yes, shrimp chowder should not be missed! It comes with a thickened texture of flour, butter, milk, and cream-style corn.
The smoky, sweet, and spicy chowder coating small shrimps and corn will be a wonderfully perfect meal for you. It is even more flavorful with some bacon topping.
Cooking shrimps in a herbal and buttery tomato sauce will give you a savory gumbo to serve with rice.
The slow-cooked method allows every ingredient like onions and diced tomatoes to be cooked thoroughly with herbs and seasoning, which creates the delicious flavor of the gumbo sauce.
After that, the shrimp will be soaked up in the pot until it becomes tender but still juicy from the inside. When served with rice, the gumbo soup will be absorbed in every single soft grain. Such delightful stuff you should try!
One more Thai recipe you can take to use up leftover shrimp before its quality goes down. The butter squash soup is made with coconut milk, shrimp, butternut squash, and a touch of spicy red chilies.
When it comes to serving the soup, you can soak up some rice or noodles into the dish. Now, I guess you can imagine the deliciousness of the recipe, and I have only one word to describe it: "Delightful."
It is so easy to bring Thai flavor to your meal. Now, check out your fridge, remove from it all of the leftover shrimp, and I will show you how to wow your family members in this evening dinner!
The garlicky and buttery shrimp will be simmered in red curry soup until it turns to a thick consistency.
The blending with coconut milk, cilantro, and lime juice makes shrimp more addictive. Stirring the soup with some cooked rice makes up your perfect dinner.
Be Wise With The Leftover Shrimps!
Despite the fact that you can make dozens of beautiful dishes with leftover shrimps, you should take caution in storing and consuming them.
I mean that sometimes if the shrimp are not preserved in proper ways, they will go bad easily. It will be much worse when we do not realize this and eat spoiled food, and we may suffer from health problems.
Hence, you should minimize the leftovers as much as possible. To do this, you should estimate the amount of food you or your family members can consume within a meal and then cook enough food for the consumption.
I think this is also a good habit that you should get used to.
If you have any ideas about leftover shrimp and recipes coming with it which I have missed, please feel free to share them with me. When finding my post useful, just give me a like or share!
Nutrition Facts
2 servings per container
---
Amount Per ServingCalories386
% Daily Value *
Total Fat 21.8g

34

%
Cholesterol 220mg

74

%
Sodium 970mg

41

%
Potassium 940mg

27

%
Total Carbohydrate 12g

4

%

Dietary Fiber 7.7g

31

%
Sugars 2.9g

Protein 38.7g

78

%
---
* The % Daily Value tells you how much a nutrient in a serving of food contributes to a daily diet. 2,000 calories a day is used for general nutrition advice.