If you're looking for some show-stopping potluck recipes that'll please the crowd, you're in the right place. Whether it be for work, church, or holiday gatherings, these easy and delicious dishes are meant to steal everyone's attention.
At its best, potlucks are a great gathering occasion for people to bond, especially over good food. While some folks get a jump start on their dishes, others tend to forget about the shared meal and come up with a last-minute recipe to save the day.
From delightful appetizers to filling main courses and indulgent desserts, the possibilities are endless. In this post, I've scoured the global cuisine to bring you the best potluck dishes along with their recipes, ingredients, and how to serve them on the party table.
What else are we waiting for? Let's head to the kitchen and recreate some crowd-pleasing courses that'll disappear faster than you think!
42 Best Potluck Recipes That'll Make You The Queen Of The Party
When picking a potluck dish, your cooking abilities, budgets, and the weather are something you should take into consideration. Here's a roundup of the most delicious potluck recipe ideas that are guaranteed a huge hit with the crowd.
Potluck Appetizers
Slow Cooker Three Bean Chili
Apple Honey Brie Crostini
Deviled Eggs
Mini Shrimp Roll
Pepperoni Bread
Pineapple Salsa
Potluck Dip Recipes
Grilled Onion Dip
Loaded Baked Potato Dip
Sesame Chicken Dip
Smoky Guacamole
Taco Dip
Potluck Main Dishes With Chickens
Bang Bang Chicken
BBQ Chicken Slider
Chicken Tikka
Honey Garlic Chicken Wing
Slow Cooker Crack Chicken
Potluck Main Courses With Ground Beef
Cocktail Meatball
John Wayne Casserole
Taco Casserole
Other Potluck Main Dishes
Baked Beans With Sausage
Cheesy Monkey Bread
Chicken Tater Tot Casserole
Ravioli Lasagna
Spaghetti And Meatball Nest
Turkey Pasta Casserole
Potluck Salads
Blackberry Salad With Creamy Feta
Chicken Waldorf Salad
Cucumber Tomato Salad
Rainbow Pasta Salad
Parisian Potato Salad
White Bean And Artichoke Salad
Potluck Side Dishes
Chilled Tortellini Romesco
Cornbread
Corn Pudding
Heirloom Tomato Pie
Pizza Stuffed Mushroom
Potluck Desserts
Chocolate Chip Cookie
Lemon Bar
No-Bake Cheesecake
Strawberry Pretzel Salad
Peanut Butter Pudding Dessert
Zucchini Carrot Cake
What're The Yummiest Potluck Recipes To Please A Crowd?
Potlucks can be so much fun and a great way to connect with others. If you need some inspiration on what to bring to your next potluck, these yummy, no-fuss recipes will make you the life of the party.
Tasty Potluck Appetizers To Get The Party Started
When it comes to palatable appetizers that'll please the crowd, look no further. Here are the best starter ideas for your next potluck.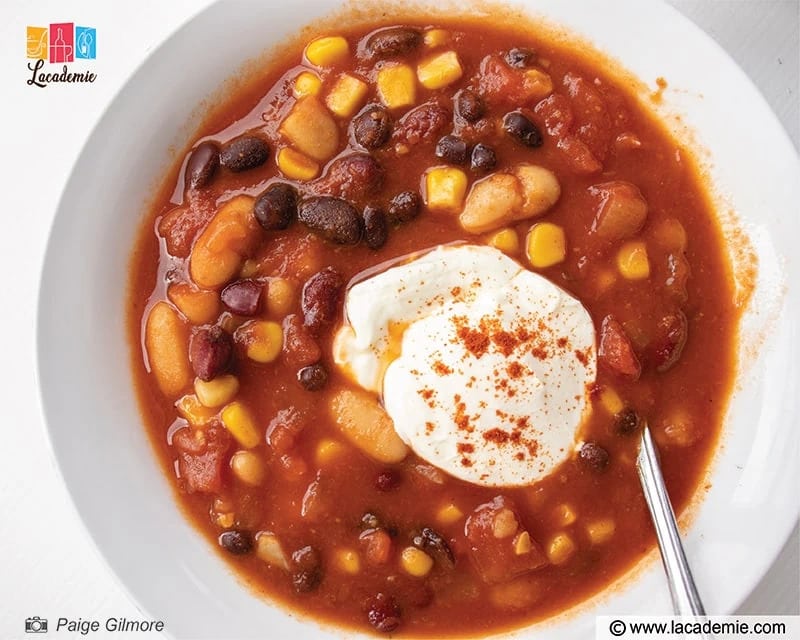 When it comes to feeding a crowd, slow cooker chili is a fail-proof main course that you can always rely on. A hot pot of chili stew is probably the best comfort food to cure the winter's cold. It's so hearty and delicious yet such a breeze to whip up.
Just toss in beans and spices into the slow cooker and let it do the rest of the work. For four hours straight, the stew slowly simmers to develop a rich, tender texture and allow all the flavors to meld together.
The end result is a savory, juicy, and lightly spicy delight that mesmerizes your palate in every bite. This classic batch of chili stew is the dinner recipe that most people can agree on at any gathering.
However, on the rare occasion that the chili is too watery, don't sweat, for you can still rectify the situation. One of the most common ways to make chili thicker is by adding a thickening agent such as cornstarch.
Fingers crossed, classic Italian first courses are always a huge hit at parties and gatherings, and this apple honey brie crostini recipe is no exception. It's a combination of all the flavors you'd want in an appetizer: sweet, spicy, and savory.
For this dish, apple slices, warm and creamy brie cheese, toasted pecans, and apple butter are nicely placed atop a baguette slice. Then, a drizzle of hot honey is added as a finishing touch to balance out all the flavors and give it a mesmerizing golden glaze.
Though the crostini may come across as a gourmet delight that just came out of a cookbook, it's actually such a doddle to make. Especially, this is the kind of appetizer that'll impress the crowd in a holiday potluck.
Nothing screams potlucks like a few big, tantalizing platters of deviled eggs. Simple and classic, it's the one appetizer that people of all ages can agree on. Though this recipe is an icon of springtime and Easter, it goes way beyond that to make a year-round favorite.
The best part about this crowd-pleasing staple is how easy and fast it is to whip up. Hard-boiled eggs are sliced in halves lengthwise. Then, the yolk is removed and mashed with mayonnaise, mustard, and vinegar before being filled back in the egg whites.
For some extra kick, you can sprinkle some paprika on top. These eggs are soft, creamy, and delicious. Plus, it's easy for anyone to pick it up with their fingers and relish the full flavor in one bite without making a mess.
15 minutes to recreating a classic seafood appetizer? That's a big yes from me. These mini shrimp rolls are a reminiscence to the good old Maine lobster rolls that actually fit the bill, especially when you plan to entertain a big crowd.
The key ingredients for these rolls are cooked shrimps, pickled jalapenos, cream cheese, fresh herbs, all stuffed in between two buttery-sweet rolls. Good things are likely to come in small packages, which is why these mini rolls are so delicious and full of flavors.
A well-kept secret to making sure you get the perfect bites is to keep the ingredients separated on the way. Assemble them when you're ready to serve to get the most freshness and crunch.
Do you need to ensure that your potluck is off to a great start? Serve this pepperoni bread for an appetizer! In essence, this Italian favorite is pizza dough stuffed with tons of shredded mozzarella and pepperoni.
However, unlike pizzas, this appetizer is rolled into the form of a loaf and baked to create layered stuffed bread. It's golden and crispy on the outside, yet the center remains soft and gooey, making every bite taste like heaven.
A simple marinara sauce would be the perfect match for this pepperoni bread. Whether it be for game days, casual gatherings, or simply an afternoon snack, this tasty treat is worthy of a spot on your menu list.
Here're a few guidelines to make your made-from-scratch pepperoni bread easier than ever!
While the concept may seem uncanny at first, pineapple salsa is actually an amazing party appetizer that tastes as heavenly as it looks. This tropical favorite calls for fresh pineapples, bell peppers, red onions, and cilantro as the stars of the show.
All ingredients are finely chopped and diced before being stirred well and seasoned to the taste. Each bite of this salsa almost feels like an explosion in your palate, with the sweet, tangy, and savory flavors perfectly complement each other.
Add your pineapple salsa to the potluck table and watch it disappear in a sec. Anytime you need a refreshing meal that fits the bill, whip up this bowlful of summer salsa, and you won't be disappointed.
Scrumptious Potluck Dip Recipes That Get All The Attention
Fingers crossed, creamy and flavorful dips are an indispensable part of any gathering table. If you're looking for a crave-worthy recipe for your next party, here are the best ideas to try out.
When you know that the upcoming party's going to involve lots of chips, a yummy grilled onion dip is the way to go. Tuck away those boring packs of ranch dressin; this dip is a way cooler way to enjoy those kettle chips to the fullest.
Fresh onions are grilled in butter and olive oil until the color turns dark brown. They're then stirred in a mixture of mayonnaise, sour cream, and lemon juice. The end product is a lightly sweet and creamy appetizer.
With such a versatile dip, the options are endless. Serve this mesmerizing cold appetizer with potato chips, kettle chips, and even grilled barbecues, and the flavor boost will satisfy even the pickiest eater in the crew.
If you're afraid that a batch of potato chips won't be enough for the crowd, opt for some baked potato dips instead. In essence, this dish is a wonderful blend of flavors from old-fashioned loaded baked potatoes channeled into a dip version.
To make this fun dip, combine sour cream, cheddar cheese, bacon strips, hot sauce, and fresh chives. It can be enjoyed both warm and chilled to suit your taste. For folks who prefer the dip cold, it's best to stash it in the fridge for at least 15 minutes before serving.
The end result is an incredibly creamy and decadent dipper that'll be a huge hit for any potato lover. Besides potato chips, the dipper doubles as a savory filling for waffle fries and plenty of other dishes.
Let's find out the best way to recreate this classic loaded baked potato dip at home! You can see this video to know more:
Fresh, light, and creamy, this sesame chicken dip is likely to taste even better than your favorite Chinese takeout. Despite its crazy look, it's actually an easy appetizer that anyone can create at home and is perfect for every occasion.
In this recipe, a cream cheese layer at the bottom is followed by chicken bathed in a sweet and sour sauce. It's then sprinkled with lots of peanuts and green onions for extra crunch. Let the whole thing sit in the fridge for a few hours, and you're ready to serve.
On the flavor, it's salty, sweet, spicy, and tart altogether on a creamy base. Try it with rice crackers or wonton chips, and you'll have to force yourself to stop eating. Be it summer potlucks or holiday gatherings; this starter is always one of the first dishes to disappear.
If you're looking to make a quick, effortless contribution to the feast that still has the potential of stealing people's hearts, smoky guacamole is your best shot. With a subtle smoky twist, this guac version will probably make you forget about the old classic recipe.
As an avocado-based dip, the dish calls for a big pile of avocadoes, peppers, onions, cilantro. All of which are mashed together and finished off with a squeeze of lemon. The chipotle peppers add a delicate smokiness without overpowering the avocado flavor.
It's one of those beloved dips that can be whipped up in a flash. Besides tortilla chips, a few other fantastic dishes you can pair with guacamole are burgers and toasts.
It's safe to say that taco dip is one of the most versatile foods that everyone knows and loves at a shared meal. Whether as a side dish for tacos, tortilla chips, or even crackers, there seem to be endless ways to make use of an appetizing taco dip.
For this recipe, combine sour cream, cream cheese, and taco seasonings in a medium bowl. Then, give it a good whisk until the dip is fully blended together. If you want to add more colors, feel free to toss in some chopped berry tomatoes and onions.
Given how this dish requires 10 minutes to come together, it can be your lifesaver for when you completely forgot about the potluck until the last minute. The creamy and rich taste is sure to satisfy your taste buds from the first bite.
Delicious Potluck Main Dishes With Chickens
A universal ingredient that everyone can agree on, chicken is the star of many feasts. Let's have a look at the most savory potluck main courses with chickens as the main attraction.
Yes, you heard that right. Originally from Chinese cuisine, Bang Bang chicken is named after the act of using a hammer or a good meat tenderizer to pound the chickens. Traditionally, this dish consists of shredded chickens and julienned cucumbers dressed in a spicy sauce.
A real-deal Bang Bang sauce is a wonderful blend of intense flavors: sweet, savory, and nutty. However, there're plenty of Americanized versions that use a much simpler chili mayo sauce. It's up to you to choose a recipe that suits your fancy.
The chickens are fried to develop wonderful golden crispiness. Combined with the creamy sauce, this dish is filled to the brim with flavors that are sure to blow everyone's minds and palates.
If you need a rapid tutorial for this Bang Bang chicken delight, here's how!
Let's be real. The power of chicken sliders is that anyone can relish these mouth-watering courses with their fingers on the spot. It's the mini version of a sandwich, so you can have a taste and still sample lots of other dishes at the potluck.
Besides chickens as the starring role, this classic party treat also combines BBQ sauce, onions, cheese, and other stuffing that your heart desires. Assembled between two slider buns, it's ready to win the crowd over.
There're just no limits as to which ingredients you can use for this recipe. Be it rotisserie, canned, or shredded chicken thighs, these sliders will turn out finger-licking good. Delicious as they are, these mini dishes can be prepared in only half an hour.
If you're seeking an exotic way to serve small bites, chicken tikkas are the way to go. Like other toothpick appetizers, it's not the most attractive dish, but the scrumptious flavors make up for it all.
The traditional Indian recipe consists of bite-sized pieces of marinated chickens skewered and chargrilled. At its best, this appetizer is soft, juicy, and full of incredible flavors. You can use chicken breasts, but thighs would be better for soaking up the marinade if you're in a rush.
With a cooking time of 45 minutes, it's a great starter recipe to have on hand when you plan to spice your menu up. It's pretty easy to make, and all the essential ingredients might be lurking in your kitchen already.
When it comes to potluck feasts, you can't go wrong with those sticky, sweet-and-sour honey garlic chicken wings. These wings are oven-baked until nice and crispy rather than fried and drenched in a delicious honey garlic sauce.
If the sticky, finger-licking glaze isn't enough to mesmerize you, the taste surely will. Thanks to a wonderful blend of spices, this dish is loaded with so many flavors, and every bite goes wild in your mouth.
These chicken wings are best served hot on the day they're made. However, you can always make them three days ahead and quickly reheat chicken wings with a few simple steps before serving. Just be sure to prepare a big enough batch, because they will go faster than you know.
A popular slow cooker recipe that anyone can hardly turn down, crack chicken is easy, quick, and irresistible. To recreate this classic, combine chickens, bacon, cream cheese, cheddar, and ranch dressing into a slow cooker, set the timer, then let it take care of the work.
Upon 6-7 hours of cooking, the end product will turn out so tender it easily falls apart. At its best, the smokiness from bacon, juiciness from chicken flesh, and creaminess of cheese blend into one pot of goodness.
This addictive recipe truly lives up to its name. However, given how time-consuming the cooking takes, you might want to plan it ahead of time. You can relish it as a comfort meal on its own or pair it with sandwiches, nachos, and other crunchy sides.
Savory Potluck Main Dishes Starring Ground Beef
If you've got some ground beef at the back of your fridge, here are the best ways to turn them into crowd-pleasing potluck main dishes. Bring these delights to a shared meal, and you can expect folks to come at you asking for the recipe.
It's safe to say that cocktail meatballs are one of the simplest recipes that you can make with minimal ingredients. All it takes is some frozen meatballs, chili sauce, and grape jelly. Toss everything into a slow cooker and let it simmer away.
Given how easy it is to double or even triple the portion, cocktail meatballs can be a lifesaver when you have to feed a big crowd. The sweet, tangy, and smoky sauce gives the juicy ground beef an out-of-this-world flavor that's always a huge hit at potlucks.
Whether served as a savory main course alongside rice and veggies or a classic appetizer, these meatballs are something people can agree on. If you don't have a slow cooker on hand, just grease a baking tray and pop it in the oven.
With this easy recipe shown here, making a crowd-sized batch of cocktail meatballs is such a doddle! You can see this video to know more:
For folks who haven't heard of this ground beef casserole, it's a beloved Southwestern recipe that gets its name from the legendary actor. Yes, John Wayne loves this dish so much; it's named after him.
I should warn you beforehand that this is a far cry from diet food. In fact, it's an old-fashioned family meal filled with layers of ground beef, shredded cheese, fresh veggies, and jalapenos, altogether baked on a biscuit crust.
Simple yet super delicious, this hearty casserole alone is enough to keep the crowd full and satisfied. Such a warm and filling recipe is comforting food at its best and what a carb lover can possibly ask for.
A Mexican casserole delight that's destined to be everyone's favorite, this taco casserole can make you queen of the feast. The standard recipe includes tortilla chips as the bottom layer, followed by seasoned ground beef, sour cream, cheddar cheese, and lots of diced veggies.
Some might say this one-pot meal gathers all your favorite taco flavors in the world into one, and it does. What's even better, the whole thing takes around 40 minutes to assemble. And the fact that it can be made two days beforehand is a great deal for busy folks.
You can always shake things up and add your favorite taco toppings to take this meal to the next level. Since taco casserole is a Mexican classic, it pairs beautifully with tasty Mexican sides like cornbread and avocado corn salads.
Other Flavorful Potluck Main Dishes To Please The Crowd
When it comes to show-stopping main dishes to bring to a potluck, the options are endless. Scroll down to find out more main course recipes and have everyone mesmerized with your cooking.
Simple yet so fulfilling, beans and sausage is a timeless recipe that many folks know and love. You can turn this easy weeknight course into the centerpiece of a potluck without much trouble. It looks and tastes like an award-winning stew that's hard to resist.
The two main starring roles in this dish: spicy pork sausages and baked beans, make the perfect fits for each other. As with other bean courses, it's sweet, hearty, and rich in flavors. You can relish it on its own or scoop some on a slice of crusty bread.
In case you haven't noticed, this Southern delight tends to be one of the first emptied at potlucks. Ready in minutes, it's one of the yummiest one-skillet meals that you can whip up in no time. You might even want to consider if baked beans are a freezable food to save some for later.
One of the first courses to be emptied on potluck plates, cheesy monkey bread is just the recipe you need to step up your party game. This pull-apart bread rolled in roasted garlic butter and stuffed with mozzarella cheese is probably no stranger to cheese lovers.
The whole process tends to be time-consuming. But the end product is a scrumptious masterpiece that will satisfy your palate. Hence, if you plan to bring it to your next potluck, make sure to get a jump on it.
Given how the monkey bread is already cut into bite-sized cubes, it's a cinch for everyone to eat it with their hands. Bite by bite, and you'll realize this sweet-savory treat is simply beyond compare.
If what you're after is a family favorite that combines a well-rounded meal into one, this chicken tater tot casserole is your best bet. After all, what's not to love about chickens, bacon, tater tots, and cheese?
From start to finish, this dish takes 40 minutes and little effort in the making. All you need to do is gather all the ingredients in a baking tray and toss them in the oven. The heavenly smell that fills up the kitchen is a telltale sign it'll please everyone at the party.
At its best, the golden-brown crust covers up a tasty, cheesy, and satisfying filling that's simply hard to resist. Gobbled up with a crunchy side of salad, it's the kind of meal that people will remember for good.
As a matter of fact, almost all foodies have a soft spot for lasagna. It's easy to tell from the name that this Italian delicacy is a mixture of two pasta dishes: ravioli and lasagna. If you've got those frozen ravioli tucked away in your fridge, it's time to make use of them.
Simply put, this delicate meal consists of layers of ravioli alternating with cheese and marinara sauce. As gorgeous as it looks, the meal can be done with no fuss and still turns out beautifully. For extra crunch, feel free to toss in some salty Italian sausages mixture.
Fingers crossed, this cheesy, gooey, and absolutely delicious lasagna hits the spot every time. Some crusty pieces of bread on the side will be great accompaniment as they soak up the excess sauce.
Are you in the mood for some Italian delights? Whip up this ravioli lasagna as follows!
No matter the potluck's theme, nothing goes faster than a classic pasta dish. Rather than taking the old-fashioned approach, by channeling the classic into a little nest, it's easier for anyone to scoop a piece or two on their plates.
Despite its mini size, this perfect Italian bite has everything it takes to satisfy a pasta lover. For it to resemble an actual nest, spaghetti is baked in a muffin tin then tossed in with a juicy meatball and drizzles of gooey cheese all over the top.
With this fancy nest-like dish, it's time to kiss messy slurping goodbye. In addition to being a fun and customizable cooking project, this recipe yields satisfying results every time, making it a huge crowd-pleaser in potlucks.
No potluck festivity would be completed without a hearty, creamy casserole for the main course. This turkey pasta casserole is a combination of vegetables, turkeys, pasta, mushrooms covered in crumb toppings, and an abundant amount of cheese.
If you don't have any turkey on hand, you can replace it with chickens or beef, and the result will be as delicious. This creamy, crowd-pleasing casserole is the ultimate comfort food that people turn to at potlucks when no other dish seems to suit their fancies.
What's more, it's a great way to make use of those leftover meats at the back of your fridge. A trick to succeed with this recipe is to undercook the pasta a bit. This way, it'll become tender when baked off without ending up too mushy, which all foodies despise.
Refreshing Potluck Salads That Are Guaranteed Well-Received
It's safe to say that no potluck feast is completed without crunchy, refreshing salads on the side. Take a look at some easy crowd-size salads that'll go faster than you think.
If you've never had blackberry salad with feta dressing before, you're totally missing out. This summer salad has it all: juicy blackberries, mint leaves, and pickled onions. It's then drenched in a simple feta cheese dressing to bine all the flavors together.
Rich in both texture and flavor, it's the kind of fun side that'll leave a big impression. The combination of sweet, tangy, salty, and creamy taste is sure to blow your taste buds away from the first bite.
This blackberry salad makes the best accompaniment for grilled meat recipes. Although, it's also a delicious side for almost any meal. The whole thing takes 5 minutes to throw together, but the flavor explosion is guaranteed a huge hit for the summer.
As its name implies, chicken Waldorf salad is a famous specialty hailing from Waldorf Astoria hotel in New York. Since its debut in 1893, this delight has been a timeless culinary classic for good reasons.
There's a lot to love about the original blend of fresh apples, grapes, walnuts, and celery, all dressed in good-quality mayonnaise. With a meaty twist of chicken breasts added to this healthy salad, you get a hearty course that fits many healthy dieting needs.
Creamy, sweet, rich, and super crunchy, chicken Waldorf salad is such a delicious combo, people are likely to come at you asking for the recipe. Plus, it's an easy comfort food that you can make yourself on a rainy day at home.
Need a visual demonstration to recreate this authentic chicken Waldorf salad? Hear it from the expert!
You can't go wrong with bringing a classic cucumber tomato salad to a potluck. With fresh seasonal produce in mind, the standard recipe includes ripe tomatoes, cucumbers, onions, dills, and parsleys, all sliced and dressed with a homemade vinaigrette.
Simple yet satisfying and healthy, this vibrant summer salad does a great job feeding a crowd. If you've got extra time, don't be shy to add some mozzarella balls or avocado slices on top. Like other veggie-based dishes, the salad tastes best the day it's made.
With little prep work needed, this delicious recipe makes a great last-minute fix that doesn't suck. A well-kept secret is to gently add the dressing at least one hour before serving and refrigerate it until chilled, allowing the flavors to meld and develop.
From the aesthetic appeal to the wonderful blend of flavors, rainbow pasta salad is a great go-to potluck dish in the summertime. This bowlful meal is packed with an abundant amount of fresh veggies, tri-color pasta, and cheese.
A good rule of thumb for this recipe is that the more elements you throw in, the more fun and palatable it gets. The beautiful blend of deliciousness is the perfect way to wake up your appetite for the big feast ahead.
With a cooking time of 30 minutes or so, it's a quick and easy fix to take to your next potluck, even when you're in a hurry.
Though potato salads have had a bad rap at summer picnics and potlucks due to the risky addiction of mayonnaise, this Parisian potato salad will put your mind at ease. It's easy, safe, and makes a wonderful crowd-pleaser.
You can taste lots of French-inspired factors in this dish like red potatoes, black peppers, olive oil, parsley, and mustard. Skip the mayo; this summer salad is beautifully dressed in a herb-infused vinaigrette.
The end result is a light and refreshing side with a subtle flavor punch. This no-mayo salad is perfectly safe for serving at potlucks and backyard barbecues. Like other salads, it tastes best on the day it's made, but you can keep it in the fridge for four days as needed.
Any vegetable enthusiast knows that both white beans and artichoke hearts are nutritional powerhouses. And when the two combined, they make one of the best healthy and scrumptious salads that everyone can much on.
Besides the two main attractions, this vegan recipe is also packed with plenty of tomatoes, onions, bell peppers, and herbs. While fresh ingredients obviously work best, you can also use the canned artichoke hearts and marinated beans stock in your pantry.
At its best, the flavor mix is tangy, light, and wonderful, that it stands a big chance of pleasing the crowd. Not only is it an easy-to-make recipe at any time of the year, but the health benefits are also endless.
Quick And Easy Potluck Side Dishes That'll Soon Be Emptied
Besides hearty main courses, side dishes are a big part of a potluck table. From delicate puddings to stuffed veggies, check out the most toothsome accompaniments you can make.
A big batch of cheesy Italian pasta is a default potluck dish guaranteed to make everyone happy. If you haven't made Romesco before, it's a bold Spanish sauce full of roasted tomatoes and red peppers that really shine through.
Combined with a bowlful of cheese tortellini, scallions, and olive oil, this pasta simply tastes out of this world. Nutty, smoky, and savory, it's the kind of summer side dish that'll keep the whole crew coming back for more.
Fingers crossed, it's such a cinch for anyone to prepare a batch of this Italian delight for your main courses in minutes. While it works warm, most folks prefer it chilled or at room temperature.
A Southern classic side dish that never goes out of style, cornbread will fill the room with a pleasant aroma that draws everyone to it. Visually, these thick slices of bread have a lovely golden color and perfect crumbs.
Bite by bite, the rich, buttery, and moist center will melt in your mouth. This recipe requires some ingredients that are most likely lurking in your pantry already, such as butter, buttermilk, cornmeal, and brown sugar.
No doubt, cornbread is a no-fail side that goes well with almost any main course. Hence, you can bring it to potlucks of all themes, whether it's for work, church, or holiday gatherings.
When the first chill of fall arrives in the air, nothing makes a better comfort food than this oh-so-heartwarming corn pudding. A combination of corn kernels, creamed corn, corn starch, butter, and sour cream gives this dish an ultra-creamy texture that's simply irresistible.
For folks who haven't tried this pudding, it tastes like a wonderful marriage between warm creamed corn and eggy mustard. Of course, the delicious corn flavor shines through. But it's also luscious, buttery, and subtly sweet.
Essentially, this delicious canned corn dish is comfort food at its best. It's safe to say that no holiday gathering is completed without this beloved pudding. Five minutes of prep work and an hour of baking are what it takes to come together.
Learn the best way to make this Southern corn pudding right here!
Heirloom tomato pie is a cherished favorite from Southern cuisine that makes a great refreshing side in potlucks and picnics. When the tomato season is at its peak, this juicy recipe deserves a high spot on your list.
In this dish, a thin layer of salty cheese sits nicely on a bottom crust. The topping is a colorful blend of heirloom tomatoes, onions, herbs, and occasionally some bacon slices as your heart desires. Then, a light touch of vinegar helps bind the flavors together.
All of these make quite a juicy, scrumptious summer pie that's full of sun-soaked flavor. The key to perfecting this classic is by going for ripe, firm tomatoes in the first place, whether they come straight from the vine or a local market.
An unusual way to enjoy some "pizzas" at a shared meal, pizza stuffed mushrooms are essentially flavorful goodness in one bite. Big and chunky mushrooms are filled with sausages, pepperonis, tomato slices, cream cheese, and a tasty pizza sauce.
There's no right or wrong with the fillings. You can add pretty much any topping that your heart desires. Upon baking, these stuffed mushrooms turn out so scrumptious and tender; people are likely to stick around for more bites.
What's more, this treat comes together in less than 30 minutes. By replacing typical pizza dough for mushrooms, it's a great low-carb and healthy side that you can munch on without guilt.
Satisfying Potluck Desserts To End The Meal On A Sweet Note
What's the better way to round out a shared meal than a sweet, indulgent dessert? Here are some exceptional potluck dessert ideas that'll make you the star of the show.
Let's be real. Is there anyone who doesn't have an affair with cookies? This classic mini dessert is made with melted butter, sugar, egg yolk, flour. The perfect cookies are brown and crispy on the edges yet chewy and soft on the center.
You don't even have to be a seasoned baker to create this classic recipe. It's such a doddle to make with no special ingredients needed. However, a little tweak to ensure success is to let the dough rest overnight to enhance the flavors.
These bite-sized, yummy bites of goodness stay firm enough to travel well, making them a special treat at potlucks and any gatherings. You can keep it simple with chocolate chips or customize it to your taste with other flavor variations.
For all the lemon fans, this tried-and-true dessert is the quintessential staple that you can bring to any gathering. A foolproof recipe calls for just five ingredients, including butter, sugar, flour, eggs, and lots of fresh lemon squeezes.
When baked to perfection, this crowd-pleaser has a thick lemon curd filling on top of a rich, buttery shortbread base. Give it a sprinkling of sugar, and the bar will be the most elegant dessert on the table.
Bite by bite; you'll sense the perfect balance of sweetness and tanginess in your mouth. Clearly, this finger food makes it easy to share around. And while it can be a bit messy, this classic lemon bar is bound to satisfy any sweet tooth.
Did you forget to make a good dessert for the potluck that's coming up real soon? Fear not because this no-bake cheesecake has come to the rescue. With this last-minute recipe, the whole process takes only 15 minutes and no baking is involved.
Just like regular cheesecakes, the no-bake version turns out delightfully smooth and fluffy with a mousse-like texture. It sets up the perfect base for whatever topping that you like, from whipped cream to fresh fruits.
When summertime is in full swing, and you simply can't stand hours beside a hot oven, this is your go-to dessert. If you've got time, make a double batch and expect everyone to come to request the recipe.
Don't let the name mislead you. While this potluck delight may have the word "salad" in its name, it's actually a straight-up dessert. From the first glance, the dish is a phenomenal piece of art that no one can resist taking a bite or two.
This cool dessert is made up of three layers: a salty pretzel crust on the bottom, a smooth cream cheese middle layer, and strawberry jello with fresh strawberries sitting nicely on top. It has a unique contrast in texture that makes every bite almost addictive.
Sweetness and saltiness is the unlikely flavor duo that really shines through. But if you give it a little try, it stands a big chance of becoming your new fruity favorite. Be it holiday celebrations, potlucks, or summer picnics; this pretzel salad is a great fit for all.
Let's see if you can make this work-of-art strawberry pretzel salad following this tutorial!
No potluck is completed without a nice dessert to round out the heavy meal. Visually, this layered sweet treat is destined to steal your heart, and it tastes even better.
For this recipe, you'll need a handful of easy-to-find ingredients like flour, milk, butter, cashews, chocolate, and vanilla. Layers of creamy, decadent cake, pudding, and whipped toppings sit nicely on each other.
As a finishing touch, sprinkle it with some candy bars and cashews to create a contrasting crunch. If cashews aren't your thing, don't be shy to toss in your favorite nuts instead. There's a big chance this palatable dessert will have people scraping every last bit off the plate.
This praiseworthy zucchini carrot cake might just be your best bet to end the potluck on a sweet note. It's the kind of dessert that everyone gravitates towards and loves for good reasons. Despite the starring roles of two veggies, it tastes nothing like vegetables.
The flavorful spring dessert is a crumbly cake covered in cream cheese icing. Thanks to the vegetables in the batter, it turns out super moist and light to balance the sweetness of the frosting. Each bite tastes like it was made in heaven and is such a pleasure for your taste buds.
In essence, this zucchini carrot cake is comfort food at its best. So you can expect it to go fast at potlucks and gatherings. Prepping tends to take long hours, and it gets better the next day when the flavors mingle, so you'll probably want to get a jump start on it.
Leave A Delicious Impression At Your Next Potluck!
It seems that was it for my collection of the best potluck recipes for your next gathering. Whether you're hosting the feast or assigned to bring one crowd-sized course, there's surely at least one recipe that fits your needs.
A golden rule of thumb for the next potluck is to plan on small portions on the platter. This way, everyone can have a taste of everything without feeling all full or bloated too soon.
Besides making a great impression at the party, these scrumptious recipes are perfect for some indulgence at the comfort of your home, whenever you feel like it. Don't hesitate to give me an update on your experiences with these foods in the comment box right here!
Nutrition Facts
6 servings per container
---
Amount Per ServingCalories297
% Daily Value *
Total Fat 5.6g

9

%
Cholesterol 3mg

1

%
Sodium 365mg

16

%
Potassium 996mg

29

%
Total Carbohydrate 52.3g

18

%

Dietary Fiber 14.7g

59

%
Sugars 4.9g

Protein 16.3g

33

%
---
* The % Daily Value tells you how much a nutrient in a serving of food contributes to a daily diet. 2,000 calories a day is used for general nutrition advice.