Do you know how many great caviar recipes there are? Most people think that caviar should be served alone. That is one way to enjoy this food, but you can greatly enhance its flavor by mixing it with other ingredients.
But preparing caviar is anything but easy since all available sorts of caviar are quite delicate. Fear not because I'm going to present some exciting recipes to improve your caviar. Keep on reading to find out more.
Before getting to the main section, if you're a vegan, you might want to check if caviar is considered vegetarian or vegan. As you may know, veganism and vegetarianism are not the same, so it's best to make things clear to avoid accidentally ruining your dietary plan.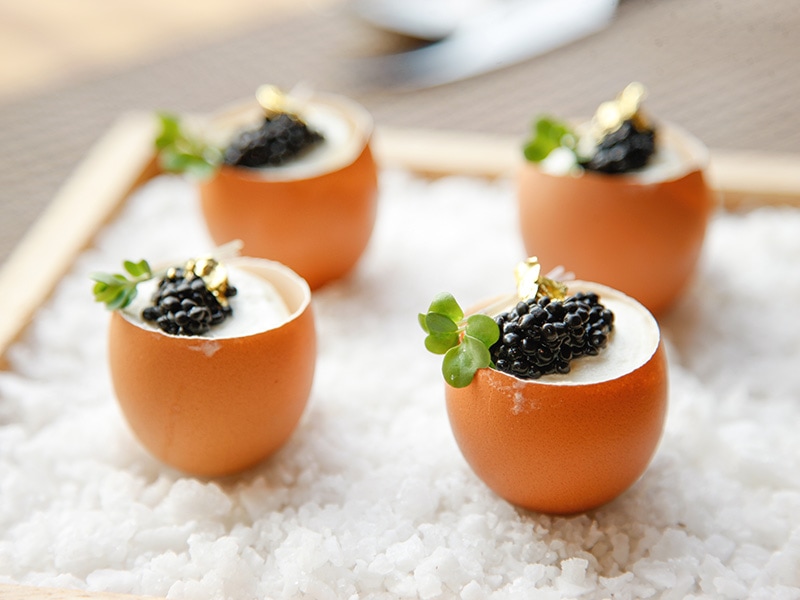 Discover Inventive Ways To Serve Caviar
Many people regard caviar as a great appetizer and nothing else. Therefore, I'm going to show different ways you can serve caviar by incorporating it into your main courses, snacks, desserts, and beyond.
This is another ingenious way to turn caviar into a memorable dish. All you have to do is to cut some caviar into small slices and mix them with lime juice, onions, herbs, olive oil, and seasonings. Then, arrange some salmon tartare with the mixture, and decorate the dish with tomatoes.
You will find the rich and strong tastes of caviar, salmon, and olive oil strike a harmonious chord with each other. They are made even more agreeable by the pleasant tangs of lime, tomatoes, and salads that accompany the dish. You can add some potato pancakes for a more fulfilling meal.
Russia is one of the world's cradles of fine caviar, so it makes sense to enjoy this food the way they do. Blini, a must-try Russian dish, is a vital part of it. You can buy these ready-made traditional Slavic pancakes at the supermarket, top them with caviar and eat right away.
But if you want to have some fun, roll your sleeves and go to the kitchen to make your own blinis. You will need buckwheat flour, egg yolks, heavy cream, butter, and milk to create the batter.
The pancakes may take hours to prepare; in return, you will enjoy fresh, crisp pancakes that crumble nicely on your tongue. They will also highlight the features of caviar, making the delicacy even more delicious. The lingering scent of sweet buttermilk is an added bonus.
Above all, the sublime flavor of caviar coupled with this scrumptious dish from Russia will make you forget all the troubles.
Here is an easy way to serve blini with Danish caviar.
If you prefer pancakes that don't take long to prepare, this recipe is at your service. Potato pancakes are a traditional dish in Austria, Russia, and much of Eastern Europe.
They are ridiculously easy to make. Shred potatoes, onions, and eggs into a paste and fry with oil. Voila, you have a dish quite crunchy and loamy-smelling to go with your toothsome caviar. Add some sour cream or creme fraiche to complete the flavor.
This food is good to eat every day. Besides vitamins and beneficial antioxidants, potatoes are rich in fiber which can help you achieve weight loss and better digestion.
Do you know that Italian fisheries produce some of the world's best osetra caviar? Given Italy's historic liking for caviar, it's understandable why the iconic pasta agrees so well with it. Any kind of pasta will do: capellini, lasagne, macaroni, etc.
For a true Italian experience, garnish your pasta with finely-grated Italian cheese like Parmesan, Pecorino Romano, or creamy and delicious Mozzarella. Add some lemon juice and olive oil and, lo and behold, you have a bowl of toothsome Mediterranean pasta beautified by delicious black pearls.
This dish calls for a hearty serving of caviar. Go on and treat yourself with the silky pasta, amid its pleasantly eggy aroma, made glossier and fattier by cheese and caviar.
Though an old and reliable dish to go with almost everything, waffles aren't often thought to be high on the list of caviar accompaniments. It's time to dispel that myth by having a breakfast of champions with caviar-topped waffles.
Thanks to their honeycomb pattern, waffles lend themselves to creative caviar presentations. My idea is to fill the pockets with different stuff, some with ebony caviar, some with colorful fish roes, white sour cream adorned with emerald chives in others. Now sit back and look closely at your work.
It's isn't just a bunch of waffles, I'd like to unabashedly call it a work of art. After you're done feasting your eyes, don't hesitate to sink your teeth into the fresh, savory waffles made even sweeter by the fatty caviar and cream.
There is nothing in common between caviar and sandwich. One is picky, expensive, and delicate, the other is cheap and convenient to eat at any time. That's why you will be astonished by how they go so well together.
This simple dish only calls for two slices of buttered and toasted white bread with some sour cream, chops of salmon or creamy boiled eggs, and caviar in between. You can add more fiber to it with some salty pickled cucumber.
That's it. Now you have a tasty snack that can be enjoyed on the go. Munch on it and learn a whole new meaning of "opposites attract" as the crisp texture of toasts noisily blends itself with the soft, succulent caviar in your mouth.
You will have a great insight into how to make smoked salmon and caviar sandwich.
Let's start with the least demanding recipe; chicken, duck, or quail eggs are all acceptable. True to its simple appearance, this recipe does not take long to make. And if you have a user-friendly cooker for eggs at your disposal, your fancy caviar with boiled eggs will be done in minutes.
There is sophistication in complementing the fat and fine fare of caviar with the down-to-earth simplicity of boiled eggs. You can add minced onions and some herbs like chives or parsley to improve the taste.
Serving caviar with boiled eggs is for beginners. Get yourself a level-up by making some deviled eggs. When you don't know what food or drink to pair with caviar, you can revert to the classic combination: deviled egg topped with caviar served alongside fruity Riesling white wine. 
The upgraded version requires the boiled eggs to have their yolks sipped out. Then, you stir and mix them well with mayonnaise, creme fraiche, and your favorite spices. Stuff the paste into the eggs, top each one with bits of black caviar, and add some chives or parsley.
For your troubles, you will savor the creamy and tangy flavor of the newly-improved eggs. Can you feel how the richness of mayonnaise/cream escalates the flavor of your eggs and caviar? And how the fiery passion of spices provide just the right touch?
Watch this video to know more:
Lobster meat is another luxury food that goes great with caviar and scrambled eggs. As a healthy body should have a healthy breakfast, you should make it count by the addition of such nutritious foods.
Don't wolf down this dish so hastily; you need to behold caviar's beautiful color first, then enjoy the sweet, refreshing oceanic scent emitting from both lobster meat and caviar.  Now, take out some toast and creme fraiche to eat the eggs with.
It would be hard to differentiate the similarly rich, nutty, flavory tastes of caviar, lobsters, and eggs but there is no reason to do so. All you need to do is to live fully in the present moment of refined cuisine.
Making an omelet without breaking eggs is impossible. In this case, that goes for both chicken and fish eggs. But the result is really worth it.
This type of omelet only demands you to add sour cream, herbs, and strips of pressed caviar to the fried eggs. To increase the nutritional value of the dish, it wouldn't hurt to add smoked salmon and herbs.
Pressed caviar may not be a favorite with many foodies. But when enhanced by the moist, creamy texture of the omelet and the fatty cream, it will make you forget even the premium beluga caviar.
Fingerling potatoes might be small, but they're mighty. They come in tiny sizes but are loaded with nutrients and are more expensive than big, cumbersome tomatoes. If you need something more pleasing than fulfilling, then those cuties when drenched in olive oil and topped with caviar are your answer.
This dish should be served right away but first, spend some time admiring your work. The jet black caviar contrasts brilliantly and deliciously with the snow-white cream and golden pert potatoes.
They look so beautiful to eat but feel free to take a bite. When the combination of tangy caviar and sweet potatoes overwhelms your senses, you will feel like there is no other pleasure like it. Add some more creme fraiche and your dish is golden.
Check out how to cook beautiful cups of fingerling potatoes with cream and caviar.
Although people usually eat caviar before the main course, many recipes can turn it into a delightful snack. One of them is to put caviar on top of captivating corn cakes. This dessert is usually served in the south, meaning anywhere that is always sunny and balmy.
Boxed corn cakes are widely available, but I think you should make your own by running some fresh corn with flour, baking powder, butter, and eggs in a blender.
Cook until the pancakes become crisp and golden, top them with caviar. If you feel like it, add traditional garnishes like chopped boiled eggs and red onions.
This soft and tasty snack will provide you with wonderful relief from the heat of the summer. The sweet, fresh-cut grass-like scent of corn is mild enough to remind you of vast green fields, a lovely memory made more pleasant by rich caviar.
Caviar can make an excellent sauce to dip in with other foods or caviar products. But this recipe calls for some kind of caviar sacrifice, so you want to choose an inexpensive variety. American hackleback caviar is the best ingredient for this sauce.
Don't think that a low price equals low quality. There are many causes behind caviar's high price, so expensiveness is not necessarily an indication of quality. So, don't underestimate the flavors that American hackleback can bring to your dishes.
To make this luxurious sauce, whisk and mix some cream with lemon juice, your favorite herbs, and seasonings. Next, stir it gently with some caviar and salmon roes (optional). Now, you have a delicious sauce to spoon over meat, salmon, pancakes, fish roes, or even caviar.
This sauce has a very high nutritional value and will impart a deliciously sweet, meaty, and nutty taste to your foods.
How would you describe a mousse? Most people think of it as sweet and savory, but also "fluffy" and "airy", as if it could fly away. So anchoring it down with a generous topping of caviar would be a good idea.
To make a caviar mouse, you need to use a blender to mix some hard-cooked eggs with butter, chopped onions, and sour cream. Store the mixture in the refrigerator overnight. Don't forget to add your favorite flavor: chocolate, vanilla, or even espresso!
When it is ready, eat it with caviar and toast. The bitter flavor of onion surprisingly goes with the sweet taste of cream and the richness of caviar and eggs. This wonderful sensation is yours to enjoy, and it's not going anywhere.
This is a great dessert that you can make at any time of the day or year. You can see how delightful this dish is right in its name. Four layers mean four times the sensation and pleasure you can enjoy in just one bite, a feat not all dishes can claim.
The best thing about this caviar snack is its diversity and flexibility. Except for the outer two layers that are always cheese cream and caviar, you can make the first two layers with almost everything.
They can be made either from butter, milk, and flour; or for a healthier choice, boiled eggs and red onions. Regardless of the ingredients, the fantastic four layers will come together to create a rich and delicious dish.
People usually think of pies as a kind of food that has to be baked in the oven, such as the classic apple pie. That isn't always true. Let me show you how to make toothsome caviar pies with no fire involved.
This dish is ridiculously easy, calling only for simple stuff such as mayonnaise, eggs, cream, cheese, and onions. You can process the ingredients separately or make the recipe even simpler by dumping everything into a blender and puree until well mixed. Your pie is ready.
Serve it with caviar and crackers and enjoy! You can replace caviar with cheap fish roes. But savoring fresh, creamy pies with fatty, succulent caviar is a great joy you should experience.
You should see the video below:
Although not in the same league as caviar, truffles and crab are notoriously expensive. You can describe the taste of truffles and crab as juicy, musky, along with unique flavors reminiscent of fertile forests and deep seas. It would be a moment of splendor to unite those luxuries in one dish.
Since the main ingredients are rich in calories, it would be healthy to make a low-fat custard. You should also be picky with the truffle varieties to ensure that your truffle-and-caviar-topped custard will make a great hors d'oeuvre. 
Let's start the feast by whetting your appetite: take a whiff of rich, hearty luxuries. Just one bite and you will feel both the rich earth and the deep sea at the tip of your tongue.
Most of the accompanying dishes you see in this list are fried, roasted, baked, or boiled. Oysters are unlike any of them. In fact, they are the closest thing to caviar in terms of freshness and sensation-exciting quality.
Just thinking about their tender, succulent flesh makes me hungry already! If you think caviar can't be any sweeter or nuttier, wait until you pair it with oysters. Both of them are briny and creamy, so when they combine, every taste bud on your tongue will be indulged by freshness twice as much.
But before you try the dish, don't forget to enjoy the sweet scent of the sea delicacies. Remember to douse your raw oysters properly with vinegar and mignonette sauce.
If you don't have an affinity for raw oysters, let's tone it down a bit by simmering the oysters for several minutes. When you detect a smell like the ocean breeze, put them on the plate with a few slices of amber pickled cucumber on top, finish with a touch of velvety black caviar.
Your first bite will attack you with the unrelentingly salty, sour taste of pickles. But the rich and buttery combination of caviar and oysters will immediately come to the rescue, turning the briny taste into a lingering sweet aftertaste.
Many people think of pizza as cheap food. So let's give it a value upgrade by paring it with delicious caviar and equally scrumptious smoked salmon. You can easily order precooked pizza but what is the fun in that?
Instead, get your hands dirty so that you can put on the table your own deliciously warm pizza. Garnish it with dill cream and smoked salmon, plus some caviar toppings at its heart. Finally, sink your teeth into the fresh, sweet bread dough, fatty caviar, and fleshy salmon.
Guess you didn't see it coming, right? Who on earth wants to mix such rich food as caviar with equally fatty chocolate? It turns out that a lot of foodies love this stuff.
Any kind of chocolate would do but let's go for the more expensive white chocolate. Melt it down with cream, then dollop it with a pinch of high-end caviar. With some homemade champagne/ wine jelly, your unlikely caviar chocolate is ready to serve.
Your eyes will see the jet black caviar contrast beautifully with the dazzling white chocolate. Meanwhile, your nose and tongue will tell you the similarities in the flavory smell and richness of those two are united just as beautifully.
If you don't like eating vegetables, this is a very effective way to make greens sexier. Simply peel a fresh cucumber into long slices, roll them into the shape of roses, finally top them with sour cream and caviar. The crunchy, fatty "roses" are now ready to serve.
Don't let the simplicity of this dish prevent you from appreciating it. The sensation of munching on fresh, tantalizing cucumber fattened by rich caviar is quite delightful.
It's Time To Turn On Your Oven
I've just introduced to you many great caviar recipes. Caviar may not be cheap enough for everyone, but that will only make it a more welcoming addition to your party or meal.
Though people may advise you to eat caviar alone, don't be afraid to innovate. Let the sky be the limit, not the sky-high price of caviar.
What do you think about this post? It would be a great pleasure if you can share the recipes I have included with your friends. Many thanks and have a good day!
Nutrition Facts
8 servings per container
---
Amount Per ServingCalories21
% Daily Value *
Total Fat 1.4g

3

%
Cholesterol 11mg

4

%
Sodium 95mg

4

%
Potassium 64mg

2

%
Total Carbohydrate 1.8g

1

%

Dietary Fiber 0.2g

1

%
Sugars 0.6g

Protein 0.7g

2

%
---
* The % Daily Value tells you how much a nutrient in a serving of food contributes to a daily diet. 2,000 calories a day is used for general nutrition advice.