Canned corn recipes are precisely what you need if you don't know what to do with the massive amount of store-bought corn stored in your cabinet. They are also a great way to learn more tasty dishes to add to your cozy family meals.
If you think that there are very few dishes you can make with canned corn, you'll definitely be surprised to see the wide variety of meals made with corn. From mouth-watering dessert to savory dishes for the main course, canned corn can cover it all.
Plus, there's no need to worry about whether corn has gluten or not since most canned corn is free of this protein. So, what are you waiting for? Let's jump right in my article for the best canned corn recipes you should consider making in 2023.
Top 30+ Canned Corn Recipes To Try Right Today
If you need some quick suggestions for canned corn recipes, you can have a look at this shortlist. If you find something to your liking, you can read more about them in the section below.
Soups
Crockpot Chicken Tortilla Soup
Corn Chowder
Creamed Corn
Chinese Chicken Sweet Corn
White Bean Chicken Chilli
Sloppy Joe Stew
Gumbo in a Jiffy
Turkey Corn Chowder
Chunky Vegan Chili
Texas Cowboy Stew
Mexican Meatball Soup
Savory Dishes for Main Course
Creamy Chicken, Tomato, and Corn Skillet
Corn Salad
Fiery Stuffed Poblanos
Skillet Mexican Sweet Corn
Cornbread Casserole
Trinidad Corn Pie
Fish Finger Loaf
Mexican Buddha Bowl With Fajita Veg
Mexican Beef Tamale Pie
Mexican Stuffed Pepper
Spring Roll With Corns
Spicy Corn Carbonara
White Zucchini Corn Pizza
Zucchini Enchilada Roll Up
Snacks and Desserts
Vietnamese Corn Pudding (Che Bap)
Corn Pudding
Sweet Corn in Coconut Milk (Ginataang Mais)
Honey Skillet Cornbread
Corn Cookie
Vietnaese Sauteed Corn
Crack Corn Dip
Crispy Corn Fritters
Cowboy Caviar Dip
Hearty Soups Made From Canned Corns
Among the many canned corn recipes, my favorite ones have to be the warm, hearty soups. Whenever the weather gets cold, or I need some comfort foods, these amazing soups made with canned corn are always my go-to choice.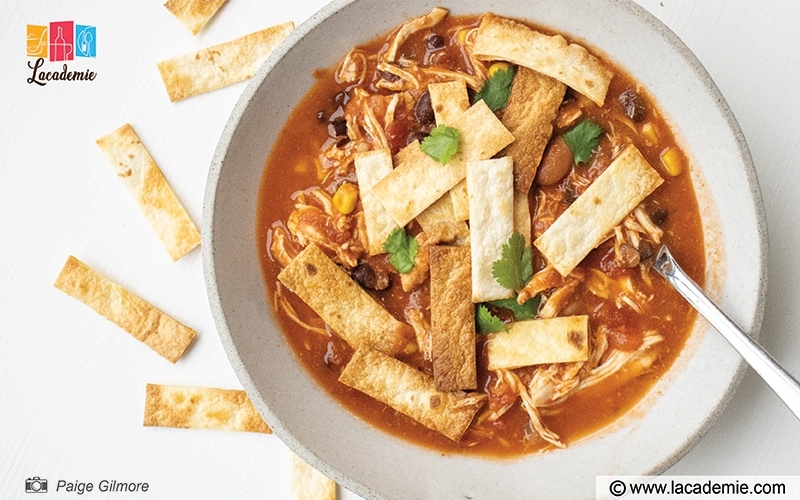 You can go for chicken tortilla soup if you don't want to prepare several dishes for dinner. It contains so many delicious ingredients that one pot of this fantastic soup is enough to feed the whole family.
Even though the tomato and chicken stock are the stars of this dish, chicken tortilla soup will taste lackluster if you forget to add a handful of canned corn to it. This will give your soup more texture and a characteristic fragrance from delicious corn.
If you're craving a thick and creamy soup, you need to make corn chowder. I doubt there's anything that can beat slurping on a delicious bowl of hot soup on a chilly day. Your tastebuds will delight with the impossibly creamy and thick texture of corn chowders.
Even more impressive, you can combine corn chowder with many different side dishes. If the creamy soup is not enough to sate you, some grilled cheese is definitely more than enough. You can also dunk Artisan bread into the soup for a more fulfilling meal.
What if you're craving canned corn with something cheesy? What if you don't want any additional ingredients like carrots, potatoes, or chicken? In that case, I'd suggest that you check out this recipe for creamed corn.
As you've probably guessed, creamed corn features mostly canned corn and various dairy products. You can sprinkle in some herbs and spices to flavor the dish, but the key factors in this dish are delicious corn and thick, cheesy cream.
If you've ever fallen head over heels for Chinese chicken sweet corn soup like me, then you should check out this fantastic recipe. If you've never heard of this soup before, it's a light yet fulfilling dish you can enjoy in any weather type.
Another impossibly thick and creamy soup for you to consider, white bean chicken chili, features tender chicken shreds, earthy white beans, and sweet canned corn. For a strong spicy kick, you can even add a generous amount of herbs, peppers, paprika, or Tabasco sauce.
If you're a busy person, you can make this soup by throwing all the ingredients into a crockpot before you go to work. Set the temperature to low, and you'll have a steamy meal waiting for you at home.
This canned corn recipe might be called "Sloppy Joe Stew", but it's by no means sloppy. If you have heard of "Sloppy Joe Sandwich" before, you can probably guess that this recipe is a variation of that dish. As this stew doesn't require bread, it's fantastic for low-carb diets.
Like the Sloppy Joe Sandwich, this stew variation consists of tomato sauce, Worcestershire sauce, ground beef, peppers, onions, and canned corn. As the recipe doesn't require any complicated preparation, you can cook the Sloppy Joe Stew all in one pot.
7. Gumbo In A Jiffy
A great soup to prepare if you're short of time, the gumbo in a Jiffy soup requires less than 30 minutes to make. While this dish might sound unfamiliar, I guarantee that you'll soon fall in love with the savory taste brought about by smoked sausages and corn.
This one-pot corn chowder is all you'll need when the temperature plummets. With only 30 minutes and a few simple ingredients, you'll be able to make an ultimate dish to ward away the cold during wintertime.
For the turkey corn chowder, you'll need some shredded turkey (leftovers are ok too), canned corn, sliced carrots and yellow onions, diced potatoes, shiitake mushrooms, as well as some herbs.
Chunky vegan chili is a robust soup that will undoubtedly leave you full and satisfied. This vegan chili is so savory and hearty that it can even enchant the meat-eaters. Even better, this dish is so simple that even a child can make it.
Boasting distinct Southwest flavors, the Texas cowboy stew is a simple dish that you can make with little time and effort. You'll get different kinds of veggies, sausages, and meat in this flavorful and nutritious soup. This is why one pot of Texas stew is enough to feed the whole family.
Are you looking for a spicy vegetable soup with some savory meatballs? If so, you definitely need to check out the Mexican meatball soup. For this recipe, you'll need diced carrots, tomato, zucchini, and corn. These will taste amazing when combined with peppers and chili powder.
Of course, it will not be Mexican meatball soup if it doesn't have any meatballs. Broiled meatballs will work best for this canned corn recipe. For more flavors, you can serve this dish with avocado, tortilla chips, or sour cream.
Savory Dishes That Go With Canned Corns
What if you prefer some canned corn recipes that are more fulfilling to serve as main dishes? What about delicious side dishes to flavor up the main course? The list below will surely not disappoint you.
12. Creamy Chicken, Tomato, And Corn Skillet
Make dinnertime more wholesome with this excellent recipe for creamy chicken, tomato, and corn skillet. You only need to go through three simple steps and 30 minutes to prepare this hearty and nutritious dish.
A colorful concoction of healthy ingredients, corn salad, is a great choice if you want to cut down on fat, sugars, and calories. The recipe contains mainly veggies such as canned corn, broccoli, carrot, and cauliflowers. So this salad is ideal for weight loss diets.
You may think that corn salad is not enough to keep you full. However, I'm sure you'll change your mind once you have a bowlful of this hearty salad. It might look like much, but it's nutritious enough to keep you going for the whole day.
This dish might be named "fiery stuffed poblanos," but it's not as spicy as its name may sound. Once you stuff the poblanos peppers with canned corn, zucchini, black beans, diced tomatoes, and garlic, the spicy flavors in the peppers will be virtually unnoticeable.
Mexican sweet corn can be served with many different things, including grilled chicken, rump roast, BBQ burgers, and brisket tacos. What's more, the dish only requires 15 minutes to make. This means that this canned corn recipe is a fantastic choice for a quick dinner.
This easy-to-make casserole is a ground beef dish mixed with diced tomatoes, canned corn, taco seasoning, green chilies, shredded cheese, and cornbread.
As for cornbread, aside from the freshly baked, you can make this dish with leftover cornbread as well. When combined together, these various ingredients can result in a tasty, nutritious, and hearty meal.
Even though this cornbread casserole contains Rotel and taco seasoning, it's not overly spicy. So anyone can enjoy this savory, appetizing dish. If you want it to be spicier, you can add pepper, paprika, and siracha to your serving.
Another irresistible corn casserole for you to consider, the Trinidad corn pie is about that spicy and creamy goodness. While this famous food from Trinidad and Tobago might not be packed with as many nutrients as the cornbread casserole, it sure can still fill your belly.
You can also change the recipe a bit to make it more healthy. For instance, you can substitute cow's milk with almond milk. You can add more veggies like spinach to the recipe and cut down on the sugar. The resulting corn pie will still taste amazing enough to awe you.
If you want to learn how to make Trinidad corn pie, check out Trinidadian style corn pie recipe.
18. Fish Finger Loaf
In case you don't know it yet, fish fingers are processed food made from fish such as haddock, pod, or pollock. They are usually baked or deep-fried to gain a crisp and crunchy texture.
With these savory fish fingers, you can whip up a delicious dish for dinner. Remember that they'll taste amazing with canned corn, mashed potatoes, spring onion, and cheese.
The pinnacle of healthy food, this recipe for Mexican Buddha bowl is a perfect choice for anyone trying to go on a strict diet. The Buddha bowl represents the perfect balance between different ingredient types. As a result, this dish is a lot more delicious than it looks.
With the Mexican Buddha bowl with Fajita veg, you'll find that eating healthy is easier than you imagine. The balance of flavors and nutrients in the dish will delight your taste buds and your body. So be sure to check this amazing dish out.
If you have never tried the Mexican beef tamale pie before, you're definitely missing out. The tender, fluffy cornbread is elevated by the savory, shredded beef and appetizing canned enchilada sauce. Throw some melted cheese into the mix, and this dish will be impossible to resist.
Let's be honest; bell peppers are a lot tastier when stuffed. The oozing and cheesy flavored peppers are so enticing that everyone I know loves them.
You can get inventive with the stuffing for bell peppers. Aside from crucial ingredients like beef, canned corn, onion, you can switch rice for quinoa; you can substitute tomato paste with salsa, or you can add some black beans,
It's true that canned corn is not a typical ingredient for spring rolls; however, you'll be surprised at how well corn pairs with this dish. In fact, if you want to make this dish vegan, you can substitute meat with even more canned corn. The taste will definitely blow your mind.
Can you say no to something as impressive as the spicy corn carbonara? I sincerely doubt so. Thick, creamy pasta is already hard to refuse in the first place. Top it with smoky bacon, sweet corn, and cheese, and everyone will be rushing to try this dish.
It's important to make this corn carbonara spicy. Why? Because you'll find that the heat will balance out the creamy and sweet flavors from other ingredients. If you can't handle the heat well, you can use black pepper to spice up the dish.
When fresh, juicy zucchini and canned corn combine atop a cheesy pizza slice, it's instantly a delicious dish that everyone would love to try. While zucchini corn pizza might not be as popular as others, its flavors and texture still can warrant a memorable meal.
What if I tell you that you can make Enchilada with zucchini? That's right; you can use thinly sliced zucchini as wrappers instead of the tortilla. Stuff the zucchini with yummy ingredients such as canned corn, chicken, enchilada sauce, and you'll have the perfect meal.
Mouth-watering Snacks That Require Canned Corns
You're not reading this wrong – you can make many irresistible snacks and desserts with canned corn. Have a look at these canned corn recipes for amazing treats that everyone will love.
One interesting fact about Vietnamese corn pudding is that you can enjoy this delicious dessert either hot or cold, depending on what you prefer. Even if you're inexperienced with Vietnamese cuisine, you can still prepare this sweet dessert without any problems.
The key to a perfect bowl of Vietnamese corn pudding is the soup's thick consistency. While the sweetness can be adjusted according to each person's taste, thick consistency is a must when it comes to this tasty dessert from Vietnam.
Even though its name is "corn pudding," this treat is actually more similar to a casserole. It's a perfect dish when you yearn for something rich, creamy, and slightly sweet. While the corn pudding might not seem like conventional desserts, it's a great way to finish your meal.
At first glance, some people might mistake this delicious dessert with Vietnamese corn pudding as they appear quite similar. However, they are actually two different snacks. A signature dish from the Philippines, ginataang mais tends to be sweeter and thicker in texture.
If you have some rice in your house, don't hesitate to try out this fantastic Filipino sweet recipe since the thick, glutinous texture in ginataang mais comes from cooked sticky rice. That's why you'll notice that this dish has a slightly chewy feeling to it.
I know that traditional cornbreads are usually unsweetened; however, I find that they taste drastically better when you combine them with honey. This natural sweetener is a lot more delicious than sugars, and it's also healthier too.
When making this cornbread, you should switch the conventional baking pan for a cast-iron skillet. This will make the cornbread's crust crispier and tastier while still maintaining a soft and tender texture on the inside.
I'm sure you've heard of chocolate chip cookies, macaron cookies, gingerbread cookies, or sugar cookies. However, I suppose that corn cookies must be something brand new to a lot of you, as corn doesn't seem like something suitable for making cookies.
However, I'm sure you'll be delighted to try this canned corn recipe for making cookies. Whether you're an adventurous soul or a baking enthusiast, these amazing corn cookies will be an exciting dessert to make and try.
I'll admit that Vietnamese sauteed corn can look like something you have as a main course dish. However, it's actually a popular street snack among Vietnamese young people. Aside from canned corn, this dish also features savory butter, dried shrimps, and fried shallots.
Some people might think crack corn dip is more similar to a side dish for dessert. It's not exactly the main star, but it helps the star shine. For instance, your tortilla chips will taste noticeably better if you pair them with some crack corn dip.
Although crack corn dip might look like something coming straight out of Master Chef, it's actually quite simple to make. As long as you're following this canned corn recipe, you'll be able to make the perfect crack corn dip to entertain yourself and your loved ones.
Aside from snacks, crispy corn fritters can also be used for a quick breakfast or a light dinner. Easy and quick to make, these delicious fritters only require a few simple ingredients: canned corn, eggs, flour, onion, flour, and some oil.
Because crispy corn fritters can be stored in the fridge and the freezer, you can make a large batch in advance. This will allow you to always have something delicious to munch on when you feel hungry.
This dish is called the cowboy caviar because it originates from Texas. Contrary to its name, the dish doesn't contain any caviar (unfertilized eggs). The dip tastes nothing like caviar, either. It's called "caviar" because the ingredients in this dish are all chopped up to mimic "caviar."
Cowboy caviar dip is an excellent vegan-friendly, gluten-free dip. Instead of indulging yourself in sweet, creamy, and unhealthy dip, you can opt for this yummy dip instead. I guarantee that your tortilla chips will taste a lot better with this.
What's Your Favorite Canned Corn Recipe?
As you can see, most canned corn recipes are quite simple and easy to make. Canned corn can be combined with many different ingredients to yield different dishes. Whatever your preference is, there's always a canned corn recipe suitable for you. Tell me what you think of my list of top canned corn recipes. What is your favorite? Do you happen to know any delicious canned corn recipes? Don't be afraid to comment down below and let me know.
Nutrition Facts
8 servings per container
---
Amount Per ServingCalories439
% Daily Value *
Total Fat 2.8g

5

%
Cholesterol 24mg

8

%
Sodium 340mg

15

%
Potassium 1784mg

51

%
Total Carbohydrate 72.4g

25

%

Dietary Fiber 17.1g

69

%
Sugars 4.3g

Protein 32.3g

65

%
---
* The % Daily Value tells you how much a nutrient in a serving of food contributes to a daily diet. 2,000 calories a day is used for general nutrition advice.