Breakfast potluck ideas are indispensable when it comes to the long-awaited special occasion when the friends and beloved family members gather around the morning table. I'm glad to bring you the best recipes for potluck to make these events more memorable?
Don't worry if you can't find your favorite dish on the list. I will walk you through the delicious and simple popular ideas for a potluck party that involve all types of flavors and ingredients to create a joyful and warm breakfast,
The ingredients are popular, easy to find, and portable so that each member can bring a part to the shared meal. Now let's dive into these fabulous recipes!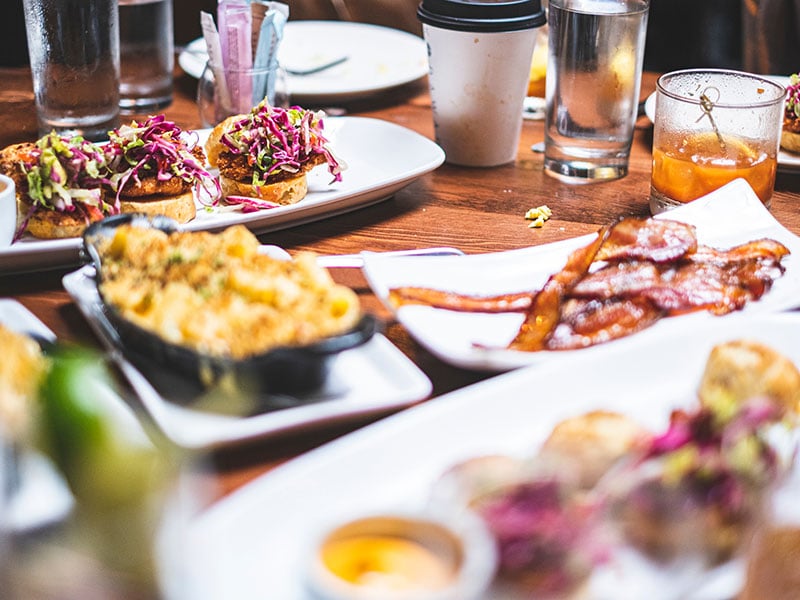 Have A Great Time Together With These 24 Breakfast Potluck Ideas
This section involved diversified dishes from vegan sweet treats to common foods like pizzas and bread. They are suitable for various needs and preferences: cold and hot, light or heavy breakfast.
You know a potluck is great when it can satisfy everyone at the table. It is best to ask for the crowd's opinions about a specific recipe before you decide.
Total time: 35 minutes
Here comes a great treat to boost your focus in the morning and prepare the party for an intense day at work. The classic coffee cake features a classic combination of bitter and sweet flavors.
Like the regular cake recipes, you need self-raising flour, eggs, butter, and sugar. Don't pour all the things in the bow; just add one component at a time until you get a smooth texture.
Add instant coffee granules and continue mixing until they dissolve and the texture turns brown. Use a cake skewer to shape the cake and bake it in the oven at high temperatures.
Ensure that you use the ingredients, especially the coffee, at room temperature so that you won't melt the butter and ruin the flavor of the dish.
Total time: 1 hour and 45 minutes
The tiny cinnamon rolls are among the most delicious potluck ideas for side dishes to celebrate a special occasion like Christmas or New Year's Eve with your family. The dish requires attention and patience as the preparation process is quite complicated.
Delicious cinnamon rolls need to be tall and eye-catching, but they should melt softly in your mouth. It involves three parts (dough, filling and cream layer) made mainly from powder, cream, sugar, and butter. The ingredients must be mixed in proper proportions.
To save time, you should prepare these three components the night before. If you freeze them in the refrigerator, remember to cover the components with plastic wrap and take them out 45 minutes before baking.
There's nothing better than cinnamon rolls for a Christmast morning.
Total time: 8 hours and 5 minutes (8 hours to soak and 5 minutes to prepare)
Pumpkin is a healthy and dairy-free ingredient suitable for vegan people. The idea of freezing oats with pumpkins may sound weird, but they make a great combo.
Feel free to add any nutrition booster like chia seeds or flaxseeds for toppings if you follow a healthy diet. These components add more fiber, omega three, and healthy fatty acid, a perfect substitute for regular sugary treats.
Blend all the ingredients in a large bowl and cover the top with plastic wrap to avoid cross-contamination. Freeze the mixture for one night, and your tasty pumpkin morning treat is ready to serve. The pie tastes best when frozen, so don't hesitate to dig right in.
If you are short on time, 2-3 hours of freezing is sufficient, but the texture may not be as soft and crunchy as true overnight oats.
Total time: 54 minutes
Remember the last time your grandma made the delicious sticky buns? I will finish this list with maple pecan sticky buns. It will remind you of the good old days and beautiful childhood memories.
The fluffy dough and appealing scent of cinnamon are not something you can get from the bakeries. A delicious and crispy dough is not sufficient for a perfect sticky bun; you have to pay extra attention to the accompanying sticky sauce made of pecan and maple syrup.
The recipe is quite complicated, so follow each step slowly.
Total time: 30 minutes
How about a simple and delicate egg-free breakfast recipe? The balanced taste of strawberries, oranges, and honey syrup will surprise you.
To create this savory salad, you can use any fresh or processed fruit products available in the fridge. It is best to use as many types of fruits as possible to create a colorful and eye-catching salad. Some great options are fresh pineapple, strawberries, and a little orange juice.
Pour the ingredients into a large bowl, add honey syrup and orange juice before stirring them gently so that the salad doesn't turn into a smoothie. If you use processed orange juice that contains sweeteners, use less honey to reduce the sweetness.
The fruit salad is the best dessert for heavy meals like BBQ or potluck. Your friends and family will absolutely love it.
Fed up with sugary and buttery food? Try out this healthy fruit salad recipe!
Total time: 45 minutes
Fed up with sweet and sugary treats? Try out this nutritious breakfast egg muffin with fresh ingredients to add more protein and energy to the meal.
The flexibility in mixing the ingredients is what makes this yummy morning finger food so special. You can use any available component in the fridge like ham, bacon, vegetable, or cheese and mix them creatively to create a unique flavor.
These processed foods are inherently tasty and familiar, so the muffin can satisfy everyone. It is also good to use the leftover food in the fridge instead of dumping it in the wastebasket. The kids and picky guests will be amazed by the special flavor of your dish.
Total time: 10 minutes
Is it the first time you have heard of this dish? The fruit bagels are a fun way to add more fruit and vitamins to your diet. The best thing about this treat lies in its eye-catching and highly customizable decoration.
Making this dish requires a little creativity because you have to arrange the fruit slices in a ring. You can use any fruits, from kiwi to strawberry. To finish the decoration, spread a beautiful cream cheese layer on top of the bagels.
Prepare many small servings and place them in the lunchbox to freeze in the fridge one night before the morning potluck. It may take more time, but everyone will appreciate your effort.
Total time: 40 minutes
Do you have some leftover ham and bacon in the fridge? These ingredients are perfect for a nutritious meal with the savory Croque Madame Toastie Cups. This recipe uses only three basic ingredients: ham, eggs, and cheese sauce.
To prepare the dish, remove the crust of the white sandwich or loaf of bread and flatten them with a rolling pin. Press the slices of bread into a cup-like shape before baking.
It is very similar to serving a regular sandwich. The ham goes to the bottom of the cups, then you crack the egg on top with melted butter and milk.
Finally, sprinkle some black pepper and salt on the muffin cups to season. You can add one or two tablespoons of mustard to enrich the flavor, but some people may not like it. Brush a layer of melted butter around the bread to create a beautiful brown color after baking.
Total time: 25 minutes
The kids will love these fluffy one-bite coffee cake muffins, a delicious treat for holidays and gatherings. Try out this simple and delicious recipe if you still crave a sugary caffeine dessert but cannot eat a whole cake.
It tastes like the traditional coffee cakes with the beautiful golden brown texture of the baked cinnamon sugar on top, which adds a mildly sweet flavor to the dish.
Blend the ingredients and preheat the mixture to 350°F in the oven. The components are quite hard, so a fork will help you blend them easier. You should melt the butter first to make the cake more crunchy.
Depending on the number of guests, pour the mixture into an equivalent number of mini muffin pans. This recipe is sufficient for 16 mini servings (about the size of a golf ball), and you can flexibly adjust the proportion by adding or reducing the ingredients.
What is the best dish to serve with a cup of tea or coffee?
Total time: 50 minutes
The fans of bananas should not miss this recipe, a perfect snack for the breakfast potluck. Recipes that involve bananas never get obsolete. Bananas are everyone's favorite fruit with a mild and flavorful sweet taste, qualities that shine in this recipe.
The bread tastes better when you use ripe bananas with dark spots. Although it is called cheese banana bread, the dish is actually a cake made from banana and cream cheese.
Slice the bananas into small pieces for easier blending. Add the baking powder and flour and bake the cake for 30-45 minutes. You can wait for the bread to cool down and freeze it (optional) before bringing it to the party on hot summer mornings.
Total time: 35 minutes
People in love with peanut butter and banana can't help salivating over this treat. The appealing and delicious blend of simple ingredients in a muffin-style recipe will not let you down. In only half an hour, you can create twelve fluffy on-the-go muffins.
Oatmeals are inherently rich in healthy nutrition, a perfect option to kick everyone's hunger for the whole morning. Feel free to add extra fiber boosters like chia and flax seeds to make the dish even healthier.
To prepare, mash the bananas in a large bowl using a spoon or special mashers. Add the mashed banana, almond milk, and peanut butter and stir until they blend just like a smoothie before dividing it into cups and baking them.
Total time: 1 hour and 10 minutes
Don't miss this great Italian recipe for the first meal of the day if you are too lazy to wake up early. The iconic flavor of the Italian sausage combined with healthy veggies is perfect for a special potluck.
The eggs are the soul of this dish, so you need to find the highest-quality farm fresh eggs purchased from local markets if possible. Use unsweetened whole milk because excessive sweeteners can ruin the dish's flavor.
To prepare, gently cook the sausage on a non-stick pan at medium heat. You will know the sausage is done when it turns from pink to golden brown color. If you don't have non-stick pans, add extra olive oil. You can bake the dish right away or put it in the fridge for one night.
Fuel your body and start the day off right with the classic Italian casserole!
Total time: 25 minutes
How to serve pancakes to many people without spending hours flipping the pancakes on a hot frying pan? Try out these fluffy oven-made pancakes with the mild cinnamon scent and savory pecans.
The beautiful yellow color of the dish is a perfect match for breakfast in the fall seasons. It will warm up everyone's spirit and add more color to the potluck. This simple recipe gives you more time for coffee and morning news and lets the oven do all the jobs.
You need to cover the pumpkin batter with pecans, sugar, and spices and blend the ingredients thoroughly. Remember to preheat the oven before baking to ensure the crunchiness of the pancakes.
To serve, add some extra butter or honey syrup to satisfy your sweet tooth.
Total time: 35 minutes
This recipe will bring the biscuit flavor to another level by baking it in the gravy. The gravy's mildly salty and sweet taste combined with the crunchy texture of brown biscuits creates an unforgettable flavor.
The great thing about this casserole is it's cheap and easy to find ingredients. You can save time by purchasing commercial biscuits, browned meat, and sausage in the grocery stores. Cut the biscuits into small bites and bake on the hot pan for 10-15 minutes.
It's time to prepare the gravy, the soul of this casserole; You will need a creamy and thick gravy texture. Finally, pour the flour straight on the biscuit pieces and browned meat before baking. Don't mix the flour with eggs or water, or your gravy will get lumps.
Total time: 30 minutes
How about a simple and delicate blueberry morning dish to impress the guests? Regular pancake-making involves too much time and hard work for a tiring morning. This recipe for blueberry pancake squares doesn't require much effort, but it still stands out from the other dishes.
This dish's mild sweet taste and hearty denseness can satisfy your pancake craving. It can be prepared many days ahead of the occasion if you are short on time. Both fresh and frozen blueberries are applicable by adjusting the baking time.
If you can't find this kind of berry, any other types such as strawberry or redberry will work as fine. It is recommended to use an 8×8 inch baking dish to create beautiful and even square shapes. There is no fixed baking time, so you should check the dish every 15 minutes until done.
Impress your friends with these beautiful blueberry pancake squares!
Total time: 50 minutes
I can't wait to introduce the exciting monkey bread for special holidays like Christmas. Serve this dish, and your friends will remember its funny name and savory taste for a long time. It is also more airy than any store-bought bread, coming with a beautiful golden texture.
Unlike store-bought sweet bread, the monkey bread's dough has a lighter and airier flavor . This dish is so special because it involves yeast in the making. Yes, you didn't hear wrong.
It is the secret component that makes your baking much easier. To prepare the dough, pour in an instant pack of yeast powder purchased in the local store. There is no problem with kneading it by hand or using an electric mixer.
Total time: 33 minutes
Finally, a dish that involves everyone's favorite food – chocolate. Featuring one of the most popular flavors in the world, it is no surprise that everyone loves your chocolate chip muffins. Prepare as many servings as possible because people will crave it.
Besides the basic ingredients like flour, baking powder, and chocolate chips, add anything you have to enrich the dish flavor. Some great options are Greek yogurt, egg, and vanilla. Keep them at a moderate proportion to retain the delicious chocolate flavor.
What can be greater than having a moist and tender chocolate muffin served with a hot cup of tea? The dish tastes best at room temperature. Remember to reheat the muffins before serving if you previously kept them in the fridge.
Total time: 45 minutes
Here comes a breakfast recipe devoted to pizza lovers! The crunchy pizza loaded with left-over crisp bacon, onion, garlic, and creamy mozzarella cheese will melt your heart. A true breakfast dish with bacon and eggs to share with friends and family members.
Don't forget to preheat the oven and use the baking sheet to not overbake the pizza. The hardest part is cracking the eggs evenly on the pizza surface. One carelessly broken yolk will ruin the beauty of the whole dish, so be careful.
Jump right into it when the pizza is still hot and crunchy. Add red pepper and green onion for garnishing if the colors look too dull.
No fan of breakfast pizza should miss this delicious recipe!
Total time: 30 minutes
When was the last time you had taquitos for breakfast? It is a popular Mexican food made of tortillas rolled with meat and cheese. This recipe is a must-try for those missing the iconic buttery flavor of cheese and meat stuffed in small deep-fried taquitos.
Making this dish has never been easier. Just place on the stuff (eggs, sausage, avocado combined with sun dried tomatoes) and roll the tortilla from top to bottom, and you get perfect taquitos. Then let the oven do its job and have a relaxing morning shower.
Or you can prepare the taquitos the night before and freeze them in the fridge if you are short on time. However, the rolls won't taste as good and crunchy after cooling down, so it is best to serve immediately.
Total time: 55 minutes
It's time for this delicious lemon poppy seed bread to shine with the light and refreshing taste of the lemon flavor. The recipe uses only gluten-free and dairy-free ingredients, suitable for people with special allergies and Celina disease.
The graze adds more natural sweetness and extra moisture to the bread, making it a perfect substitute for refined sugar. Opt for dairy-free cashew milk and avocado oil to enhance the fatty taste and healthy value of the bread.
Suppose you don't have time to make the avocado oil and graze, use the instant coconut oil and honey syrup. The low-fat dairy will work fine, but you should make sure that nobody in the potluck party suffers from lactose intolerance.
Total time: 30 minutes
This is a simple recipe to impress the guests with the authentic English scones flavor. I promise it is one of the best cakes you have ever tasted, with an incredibly tender and light texture.
Its fatty and sweet flavor from simple ingredients like milk and butter will satisfy your appetite. To prepare, mix the eggs, butter, and milk until they are perfectly blended.
Take two spoons of the mixture aside, then continue adding baking powder and flour until it gets super sticky. If the mixture is too thick, add a little milk and water before transfering the dough onto the floured surface to knead it.
There are two scone versions: English and American. Their main difference is the amount of butter used. The American scones also have larger sizes and more numerous variations.
Learn to make authentic foolproof English scones with the professional chef!
Total time: 30 minutes
The Frittata is one of the easiest and most versatile dishes on the list, with only 30 minutes to prepare. If you don't know what a frittata is, its main components are egg-baked and covered with healthy vegetables and herbs.
It can be paired with any vegetables on hand to create a unique flavor. Some best combinations are broccoli and feta or red pepper and spinach. Try experiencing some more variations you like; maybe it will taste even more delicious.
Total time: 30 minutes
Inside the crispy exterior of the Belgian Waffles is a fluffy and creamy texture topped with cream, honey syrup, and fresh berry. This lovely dish will melt everyone's heart with its beautiful appearance and tasty flavor.
Traditional waffles are made with yeast, but you won't have time for that. This recipe uses a simpler method with simple and easy-to-find ingredients: baking powder and egg white. They can make up similar and delicious Belgian Waffles.
Don't choose this dish if you don't have high-quality butter, as the recipe involves multiple tablespoons of butter. If you are fed up with sugary treats, consider adding some fried chicken on the top.
Total time: 28 minutes
Apple is an ideal fruit for muffins due to its iconic sweet flavor and healthy nutrition. This tasty apple breakfast treat is perfect for people following a healthy diet by using all-natural sweeteners like honey and maple syrup.
Please don't remove the beautiful green peel of the apples because it is the part richest in nutrition. Chop the apples into tiny pieces and let them rest for a few hours if possible. Add flour, baking soda, and baking powder and whisk the ingredients gently in a large bowl.
The apple has a lot of water, so you should squeeze the mixture gently and remove the apple juice. The types of apples will have different sweetness. After it turns golden in the oven, have some taste of the mixture first before adding honey and maple syrup.
Don't skip this delicious muffin if you love eating apples.
Express Your Love And Attention By Sharing Delicious Food
Serving your friends and loved ones delicious foods is one of the nicest and most meaningful gestures. Pick one recipe among these 24 fabulous breakfast potluck ideas and prepare it with love and attention.
It is totally fine to pick simple and easy recipes if you don't have much experience in cooking. Overall, a great potluck is where everyone shares joy and happiness after tiring days at work. I welcome your questions and contributive ideas, so feel free to leave your comments.
It's time you forget all the stress or sorrow in life and have a great time with other people. I hope that you are satisfied with the information provided in this post. Don't hesitate to share the post with your friends if you find it helpful!