Breakfast drinks combined with a nutritious and light meal in the morning is everything you need for a perfect morning. You need a lot of energy after a long day working or studying, so breakfast is the most important meal of the day.
However, if you don't have much time to prepare a meal, consider making delicious morning beverages for a fresh start. By reading this post, you can learn to create the most delicious morning drinks with various flavors.
I will give you much more than regular coffee and water. From hundreds of healthy and nutritious ingredients, you can blend them in various combinations to create a fascinating breakfast beverage with a unique color and flavor.
The recipes provided are also healthy and can help you keep fit or reduce weight effectively. Continue reading this post if you want to enjoy the best drinks of the day after a good night's sleep and adopt a healthy lifestyle!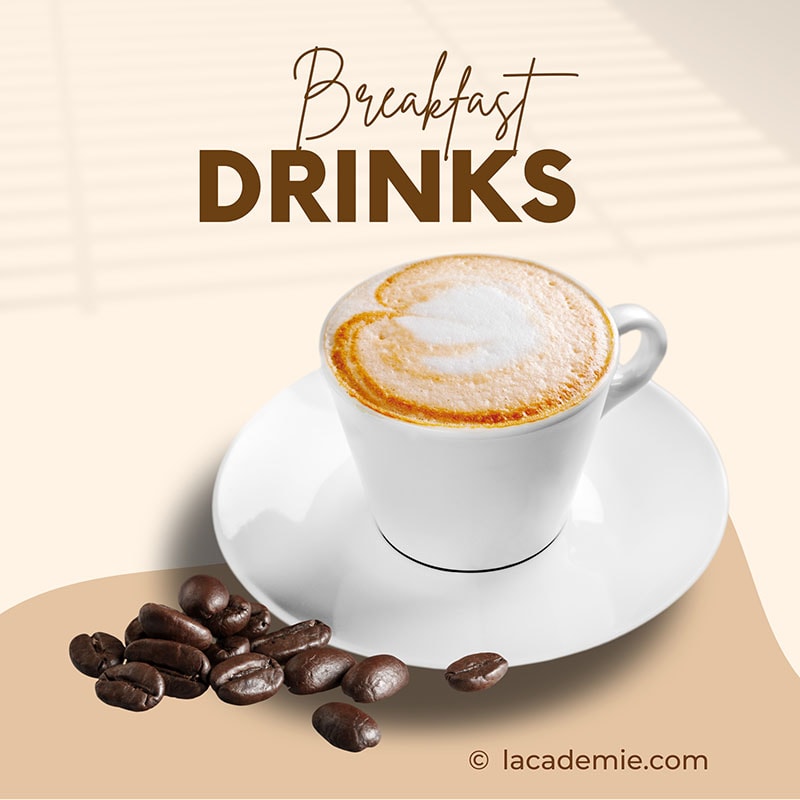 The Types Of Breakfast Drinks
What do you often drink besides water, tea, and coffee in the morning? Do you know that multiple categories of morning beverages can satisfy your thirst? Any drink can be consumed in the morning, so I will categorize them into health benefits and the making process.
Here are some basic types of morning drinks that involve different ingredients and making methods.
Common Breakfast Drinks
Popular drinks such as water, tea, coffee, and wine are available in many homes. Apart from water, you can purchase commercial tea or coffee products in every grocery store and supermarket.
This post will only mention homemade drinks that involve these popular ingredients because of their popularity. You can create unique morning beverages using the original coffee or tea power combined with interchangeable ingredients, such as milk, sugar, and honey.
The drinks can retain their signature scent and flavor while adding more tastes to your life.
Healthy Morning Drinks
Do you want to supply the body with more healthy nutrition such as vitamins, minerals, and carbohydrates? If the answer is yes, I will give you the recipes for making smoothies and plant-based juices.
Consumption of various fruits and vegetables gives you nicer skin, a healthier digestive system, and tremendous health benefits. Besides their rich nutrition, smoothies are significantly tastier and more eye-catching.
With distinct colors and flavors from various fruits, each drink brings a unique taste and experience. Feel free to try them out and add more happiness to your life.
Alcoholic Drinks For Breakfast
What if you are throwing a morning party and want to impress the guests? After having breakfast, an alcoholic drink is a great way to make your morning more special.
Combined with signature wine products such as cocktails, gin, and various fruits, alcoholic beverages can strengthen your mood with classy taste and appearance.
9 Common Breakfast Drink Recipes For Busy People
This section is devoted to busy people who don't have time to shop for ingredients or prepare smoothies every morning. The fruits will get too ripe and no longer edible after a long time. Therefore you have to purchase new fruits and store them in the refrigerator every few days.
These recipes involve easy-to-find and popular components, such as tea and coffee, that have significantly longer lifespans. Each beverage also doesn't take much time and effort to prepare, giving you more spare time to enjoy the meal.
Total time: 10 minutes
The refreshing lemon iced tea can satisfy your thirst on hot summer days. With the perfect combination of sweet and sour flavors, this drink will filter out the toxins and harmful chemicals in the body.
It also has a positive effect on your mind as the refreshing scent of lemon and tea helps wipe out stress. Making lemon iced tea has never been easier. All you need is affordable ingredients such as tea bags, a few slices of lemon, and sugar.
Even more surprising, the total cost of its ingredient is cheaper than regular lemon iced tea in beverage stores. For people who want to reduce weight, just consider removing sugar from the recipe and still get a pleasant sweet taste.
I will show you how to make the best homemade lemon iced tea.
Total time: 6 minutes
The fans of coffee and chocolate will love this beverage with the duplicated iconic taste of Starbuck drinks. The moderate sweetness and eye-catching brow color of the drink bring a fascinating experience for a moody morning.
The preparation process is more complicated than just blending the components. You have to cook and melt the brown sugar with water before letting it cool down for a few minutes. Ensure that the ratio between water, espresso, and sugar is perfect for getting the best flavor.
Both commercial and homemade espresso are applicable to this recipe. Add two to four sips of espresso, depending on your preferences. The drink helps you concentrate better in the next hours of working or studying, which is the perfect way to start an energetic morning.
Total time: 2 minutes
Have you ever come to Vietnam and taken a sip of the traditional iced coffee? Many Vietnamese people favor this drink due to its simplicity in preparation. It has a delicious and unique flavor utilizing the simplest ingredients: condensed milk, coffee, and ice.
As coffee is the main ingredient of the beverage, you should use the highest-quality coffee to get the best flavor. It is best to use a tall glass and pour the coffee on top of the milk layer.
Gently squirt the glass with a small coffee spoon. The image of coffee and milk blended slowly turning into a beautiful brown beverage will give you tremendous relaxation. Remember to take one sip at a time and enjoy this drink slowly.
The signature black and white layers of coffee and condensed milk is what makes this drink so famous. Vietnamese people often drink it while chatting with friends or family members on the weekends. I guarantee that It will taste better after each sip.
Total time: 6-10 minutes
A brewed French Vanilla Cappuccino is perfect for a cold and chilling morning. The beautiful milk foam layer on top of the drink will warm up your soul. You will need milk, espresso, ground cinnamon, and vanilla beans.
If the espresso is unavailable, replace it with regular hot coffee. Heat your milk with the vanilla first until it starts to bubble, then add brown sugar and cinnamon to enhance the airy scent of the beverage. Remember to remove the vanilla beans from the mug before following the next step.
Whole vanilla beans can be expensive and hard to find in many regions. You can substitute it with regular vanilla extract sold at a more affordable price. If you have a sweet tooth, just add more brown sugar.
Total time: 10 minutes
Have you ever considered adding ice to the signature winter London fog to drink on hot days? As good as the one from Starbuck, this London Fog recipe can satisfy you throughout the summer.
The great thing about this beverage is its flexibility in using ingredients. You can use any type of tea bag and adjust the amount of sugar to control the drink's sweetness. Dairy-free almond milk with no processed sugar is optimal.
For people with allergies to dairy, replace the almond milk with the other regular unsweetened milk products. Remember that some types of tea bags or loose tea may contain caffeine. If you don't want caffeine, check your teabag ingredient description carefully.
Total time: 10 minutes
What to drink when you get sick from the flu on a cold day? Ginger lemon honey tea can cure your sore throat using great natural remedies like honey, lemon, and ginger. You should not skip this drink for its great health benefits and soothing effect on the mind.
The vitamin C in lemons and antioxidants in ginger can help prevent inflammation and reduce the negative effects of cough, flu, and cold. To prepare the drink, chop the lemons and gingers into small slices and put them in a mason jar in alternating order.
Finally, pour the honey on top, and you are good to go. Ensure that you purchase the authentic honey and freshest ginger with the highest qualities. These ingredients will go bad after a short period of time, so it is best to keep them in the fridge.
I guarantee that this beverage is more effective than any regular medication in treating colds with clean and plant-based ingredients.
Cure your sore throat right away with this simple ginger lemon honey tea recipe.
Total time: 10 minutes
If you love the Iced Coffee at McDonald's, don't miss out on this copycat homemade vanilla iced coffee. However, when ordering this drink at the restaurant, you may end up with a bunch of fast food and chicken budgets.
Therefore, it is best to make the drink at home and enjoy it with a light meal in the morning for a healthier lifestyle. This vanilla iced coffee recipe is also sugar-free and comes with an enhanced vanilla flavor suitable for people following a healthy diet.
However, the ingredients for this beverage are quite hard to find. You have to find the sugar-free syrup products, which you can buy from online retailers. Another option is using the French vanilla purchased in nearby coffee stores.
Total time: 10 minutes
Are you a fan of drinks and apple-based dishes for breakfast? The apple tea is a top choice autumn beverage with an amazing scent from cloves and cinnamon sticks. This drink is perfect for a fall morning due to its light and delicate flavor.
The ingredients needed are cloves, cinnamon sticks, apples, sugar, and tea bags. Boil the cinnamon sticks and cloves in hot water first, then add the two tea bags and let them rest for 3 minutes.
Gently remove the tea bags, add apple juice, and simmer the liquid at low heat. The apple juice is already sweet, but you may want to add extra sugar or sweeteners to enhance the drink's flavor. Get some slices of apple and place them on the bottom of the glass to serve.
Total time: 13 minutes
The unique spicy flavor and amazing fatty taste of almond milk in the chai tea latte can brighten your morning. In just 13 minutes, you can prepare a warm and delicious beverage that is significantly cheaper than tea lattes from coffee stores.
This tea latte helps you concentrate better in the next hours and prevents dizziness. The soul of this drink lies in the Chai tea bag with the signature black color and various healthy spices. Any type of milk is applicable for this recipe; opt for dairy-free milk products if you are on a diet.
Want a bit more caffeine? Consider adding one or two espresso spoons to enrich the bitter flavor of the Chai tea latte. Maple syrup is optimal for sweeteners, but you can also use sugar or honey.
Say goodbye to the Starbuck stores with this simple Chai tea latte recipe.
11 Delicious Breakfast Drink Recipes For A Healthy Morning
If you are fed up with regular tea, coffee, and milk, try out these scrumptious smoothie recipes. Each recipe utilizes a different theme fruit that brings a unique scent and flavor. Consuming these healthy and nutritious drinks is a great way to stay in shape.
Total time: 5 minutes
The creamy yellow texture of the pineapple mango smoothie will melt your heart. The natural sweetness of mango combined with a mild sour pineapple flavor brings a refreshing tropical atmosphere to the drink.
The drink is so easy to prepare as it only requires three basic ingredients: mango, pineapple, and coconut milk. Remember to freeze the fruits before blending them to ensure the freshness of the beverage.
Want to lose weight and supply your body with extra fiber and vitamins through delicious breakfast dishes with a lot of fiber? Try adding some chia seeds or frozen cauliflower for a nutrition boost as well as a thicker texture.
Blend all the ingredients in your preferred ratio to get a creamy, eye-catching yellow texture. Feel free to add some water and milk if it is too thick.
Total time: 5 minutes (For two servings)
The nutritious strawberry banana orange smoothie is a perfect option if you want to skip breakfast. This beverage is high in calories due to using green and healthy fruits, giving you a powerful burst of energy in the morning.
The orange and strawberry slices may taste a bit sour; therefore, frozen yogurt is needed to sweeten the beverage. You can add liquids such as orange juice, almond milk, or just plain water to get a creamy texture.
Put all those organic ingredients in the blender and puree at low speed until you get a beautiful light pink smoothie. If it looks too simple, add a few slices of strawberry or banana to decorate the beverage.
Total time: 5 minutes
Apple and spinach are loaded with vitamin K and minerals, which are vital nutrients for bones. Therefore, the apple spinach smoothie is a great drink before going to the gyms or working out in the morning.
You will need an apple, fresh spinach, banana and milk (dairy-free if possible), and hemp hearts to prepare this drink. Remember not to peel the apple to retain its rich nutrition. Blend all the ingredients in a high-speed blender until you get a smooth and green texture.
On a side note, ensure that the spinach and hemp hearts are fresh and unprocessed to reap the greatest nutritional benefits. Also, opt for dairy-free milk products such as almond milk if you are sensitive to dairy.
I will tell you the secret to keeping a fit body shape through this.
Total time: 15 minutes
Have some ripe bananas and bags of oatmeal in your home? Try out the convenient and delicious oatmeal smoothie. With the simple ingredients, you can prepare the beverage with one press of a button.
The simplest way is using instant oatmeal and one ripe banana per 2-3 cups. Add some almond butter and almond milk to create the fatty taste and the creamy texture. As a ripe banana is naturally sweet so you don't need to put in extra sugar or sweeteners.
Remember to peel the banana and cut it into small slices for the blender to work because the oatmeal is quite hard.
Total time: 5 minutes
Peanut and butter work so well with each other to create a fatty smoothie with the iconic nutty flavor. Compared to the other fruits and vegetables, peanuts are one of the richest protein and healthy fat sources.
To prepare, slice the banana into tiny pieces and let it freeze in the fridge. Place the peanut and button in the blender first before putting in the frozen bananas; blend until you get a smooth texture.
Add any types of milk you want; go for gluten-free and dairy-free products if you have allergies. They all produce a creamy and fatty taste. For people attending the gyms, consider adding a few tablespoons of protein powder or oatmeal to get more nutrients from this drink.
Total time: 10 minutes
I'm glad to introduce a simple and nutritious smoothie for chocolate lovers to create wonderful protein-rich breakfast recipes. The condensed protein from peanut and chocolate powder combined with the natural sweetness from frozen bananas create an irresistible morning breakfast.
It is a perfect alternative for a light meal for people who have to rush to work or school. You need coffee to supply caffeine and simple ingredients like bananas, almond milk, and chocolate powder. Add some peanut butter if you want the fatty taste.
Unsweetened milk is the best choice, but you can add honey to satisfy the sweet tooth. Using fresh bananas is fine, but freezing them at night will enhance the flavor of the beverage. Finally, blend all the ingredients in a high-speed blender and enjoy.
Total time: 20 minutes
The refreshing squeezed orange juice is all you need for breakfast on hot summer mornings. It is all about orange, with no additional ingredients like sweeteners and additives. Therefore, this homemade orange juice recipe is many times healthier than commercial products.
Prepare twelve oranges for one serving and freeze them in the fridge overnight. Remember to clean the peel thoroughly and slice the oranges in half, then squeeze them with your hand. It is best to use a high-speed blender to save time and effort.
Peel the oranges with a small knife and cut each one into four equal parts. Blend the pieces until you get a smooth and flawless texture. Some types of orange don't taste as sweet as the others, so add sugar if the smoothie tastes too sour.
Total time: 10 minutes
The green smoothie certainly earns the highest place when it comes to health benefits and fitness.. This beverage will satisfy your appetite and supply your body with energy and healthy nutrition after a tiring morning workout.
Use unsweetened and dairy-free almond milk combined with health boosters like chia seeds and leafy vegetables to achieve the greatest result in fat burning. These ingredients are a rich source of omega-3 acids and antioxidants, slowing down your aging process.
For overweight people who are suffering from cardiovascular diseases, consuming green smoothies every morning will change your life forever. Add water and ice if the smoothie is too thick.
Total time: 5 minutes
Pineapple is delicious and beneficial to the digestive system as it detoxes the harmful chemicals and prevents inflammation. Follow this recipe to supply your body with all the antioxidants and healthy nutrients condensed in one glass.
After a hearty morning meal, the cucumber pineapple juice helps boost the immune system and facilitates your digestive system to absorb the nutrients better. This delectable Whole30-approved breakfast also involves whole-grain chia seeds, an abundant source of healthy fatty acids.
First, wash and peel the fresh fruits thoroughly before cutting them into small slices. Add chia seeds, ginger, and lemon to enrich the taste and scent of the beverage. Blend all ingredients at high speed; if the texture is too hard, pour in some water and continue blending.
The nutrients will be oxidized over time, so you should not store the beverage in the fridge but enjoy it right away.
This beverage will help you get rid of fat and harmful oxidants.
Total time: 5 minutes
Another delicious smoothie with supper fatty and creamy taste. Adding almond butter to smoothies may sound weird, but it is the secret ingredient that creates the creamy and unique texture of this beverage.
However, replace almond butter with regular nut butter if you don't like the almond flavor. Frozen banana, butter, almond milk, and yogurt are the other main ingredients. Feel free to add healthy boosters, like chia seeds or flaxseeds, or raw vegetables to get more healthy nutrients.
If you forgot to include frozen bananas, add some ice cubes to keep the smoothie cold and refreshing. The great thing about this recipe is that you can complement it with refreshing ingredients like broccoli, raw spinach, and any type of milk or butter. Each component will lead to a unique and tasty flavor.
Total time: 5 minutes
Among the breakfast delights with strawberries, nothing can beat this mixed berry smoothie. With its refreshing red color and unique sweetness, the refreshing berries can breathe more vitality into your morning.
Whip various types of frozen berry (blue, black, and strawberry) at hand to create this savory smoothie. Regular fresh strawberries are sufficient if you can't find the other types of berry.
Use Greek or whole milk yogurt as a substitute for sugar to increase the smoothie's sweetness. Adding regular commercial honey is also a great option if you don't have yogurt.
Put the sweeteners in the blender first as well as fresh slices of strawberries on top. Blend at high speed for one minute and enjoy. You don't need to add ice cubes when using frozen berries.
The fans of berries should not miss this great smoothie.
4 Best Morning Alcoholic Drink Recipes
How about morning parties and breakfast with friends on special occasions? Serving the guests with regular tea and coffee is too simple to make a great impression. You will want something more robust and classy.
Please note that these fabulous sugary breakfast recipes do contain alcohol and are not suitable for kids as well as people with alcohol intolerance. Here are the four best alcoholic drink recipes to make your mornings more memorable.
Total time: 2 minutes
From Thanksgiving to Christmas, the iconic Mimosa is suitable for many occasions with a light and fresh flavor. This recipe requires only two basic ingredients: sparkling wine and orange juice, blended in an equal proportion.
Place the serving glass in the fridge to chill them because this recipe doesn't involve ice cubes. The reason is that ice cubes can dissolve the fluid and ruin the fine taste of orange juice and wine. If your alcohol tolerance is decent, blend wine and orange juice in the 1:2 ratio.
Remember to pour the wine from a champagne bottle to make the serving more classy. Remove all the pulp and solid parts from the juice before mixing it with the sparkling wine for homemade orange juice.
Total time: 2 minutes
No one wants hot or brewed alcoholic beverages on hot summer mornings. So this tsweet and cool Sea Breeze cocktail will rock your party with just three simple ingredients: grapefruit juice, cranberry juice, and vodka.
Use tall glass, such as the Collins, to increase the appeal of the serving. Fill half the glass with small ice cubes, then pour vodka and juices on top. Hold the top of the class with your fingers and gently stir the mixture until it turns into a beautiful mild orange color.
Decorate the beverage with a lime wedge or cranberry juice to create a subtle seafoam layer on the top. You can substitute Gin for Vodka and pineapple juice for cranberry for more flexibility in choosing ingredients.
Impress your friends with this simple Sea Breeze cocktail instruction.
Total time: 10 minutes
Are you excited about the idea of combining Coffee with beer? The traditional age-old Irish Coffee, with nearly one century in history, is one of the simplest breakfast dishes from Ireland and drinks.
You need brown sugar, brewed coffee, and, most importantly, the Irish whiskey to create an authentic flavor. A true Irish Coffee has a beautiful white cream texture on top of the drink, which requires precise mixing techniques.
For one serving, put eight spoons of brown sugar in the glass and pour in hot coffee. Stir gently and wait for the sugar to dissolve, then pour in one ounce of Irish whiskey. Finally, whip on the white cream layer to cover the top of the glass.
The key point is to keep the cream layer staying separately on the top of the fluid. Use the back of the coffee spoon to hold the cream from sinking. Whether the cream sinks depends on the amount of sugar you added.
Total time: 5 minutes
The last on the list is the royal Blood Mary Cocktail, a classy beverage with various names and versions. This recipe is relatively simple and easy to follow, but it still retains the original flavors of famous Bloody Mary versions in the world.
However, you will need a bunch of ingredients to create the drink, from fruits and vegetables (tomatoes, celery, and lemon) to sauces and wines (vodka or tequila). Measuring all the components in precise proportions is quite complicated to follow.
But it is also the fascinating part of this drink. The wonderful flavor from the combination of those ingredients is a worthy payoff for your hard work and attention.
Healthy Breakfast Drink, Healthy Life
Think about it. The first thing you do in the day will affect the following tasks. Would you prefer rushing to work or school with an empty stomach or having a healthy meal with savory breakfast drinks?
I hope that the great recipes provided can bring more joy and flavors to your life. Each recipe involves different ingredients with a unique flavor and texture. Depending on your body condition and preferences, opt for a category that suits your taste and spare time.
I recommend trying out all the 24 recipes on this list because you can never know which is the best until the first taste. Please share the list with your friends and loved ones if you find the list helpful. Feel free to comment on this post and leave me any contributing suggestions.
Thank you for reading!
Nutrition Facts
10 servings per container
---
Amount Per ServingCalories28
% Daily Value *
Total Fat 0.2g

1

%
Sodium 48mg

2

%
Potassium 24mg

1

%
Total Carbohydrate 6.7g

3

%

Dietary Fiber 0.1g

1

%
Sugars 6.7g

Protein 0.2g

1

%
---
* The % Daily Value tells you how much a nutrient in a serving of food contributes to a daily diet. 2,000 calories a day is used for general nutrition advice.